Sharing our FULL extreme house makeover – DIY renovation style! Sharing every inch of this remodel in a before and after style full home tour.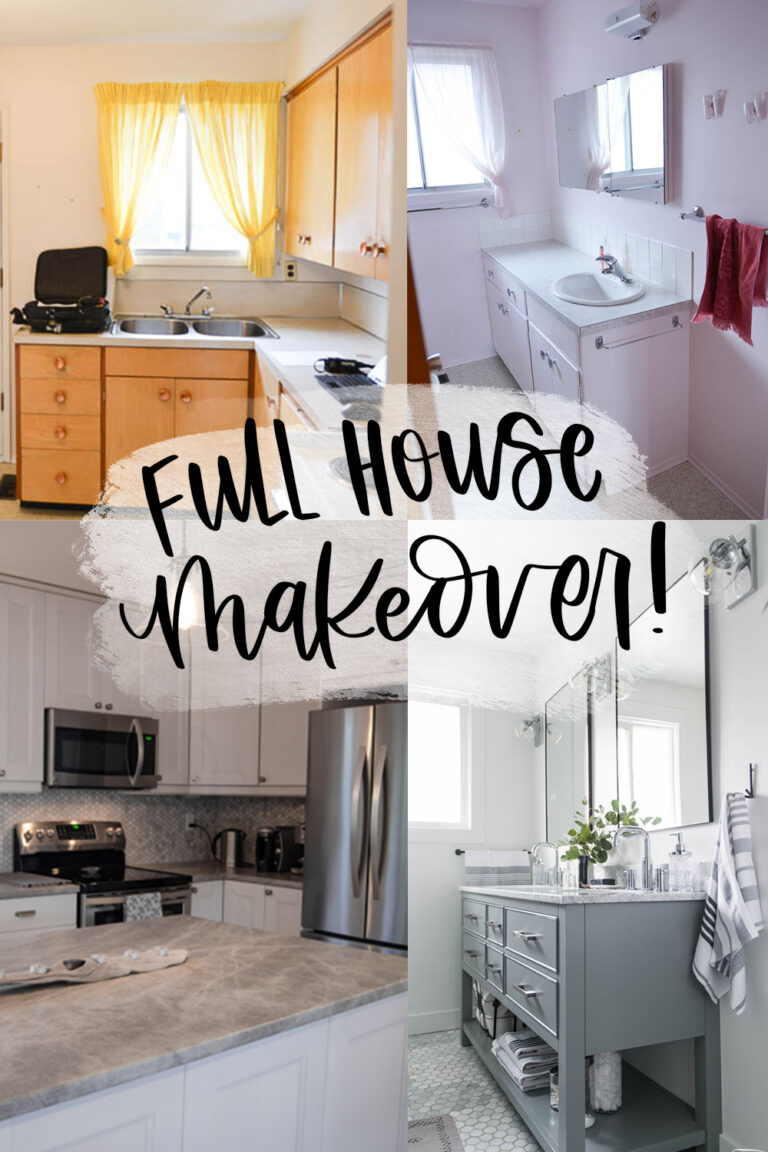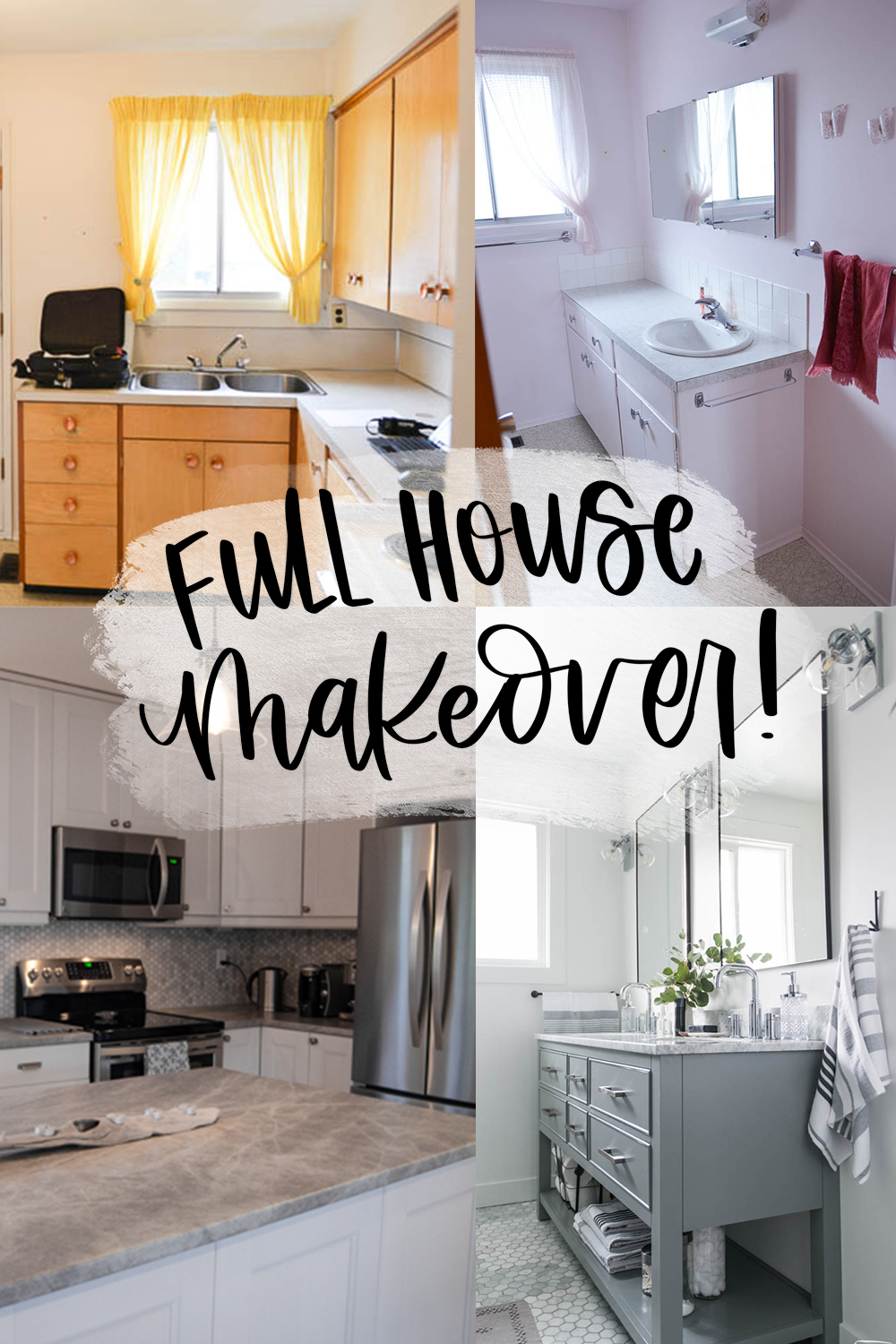 We're wrapping up a few remodels in our current house and knee deep in some others and none of them are at the exciting stage to share… yet. Although this video took me so long to edit that I'm pretty darn close on one of them now- ha! So I decided this little gap in time was the perfect push to pull out old footage and photos and FINALLY do a full home tour for our last house!
So today I'm sharing our first full family home before and after with you guys. We moved from an apartment to this house we're calling the 'Vic Split' when our twins were just babes. We DIYed every single space in this house and finished just in time to sell it and move here. Selling was a bit of a rush decision and the move date came up quickly so I never took the time to do a proper full house tour video then- and we dove straight into renovations in our new place so didn't take the time to do it after either. It's now been… 2 years. Which is crazy. But I still get asked lots of questions about these spaces so late is better than never, right? ;)
So I thought a lot about how to write this post and I think I'll just share a couple of photos of each space with a link to the full blog post if there is one about the space. If there isn't- I'll add a bit more information. Instead of asking me about one of the rooms- I'd love for you to click through and see if your question is answered in the full blog post about the room you have a question. If it's not- I'll do my best to answer your questions, keeping in mind I don't live there now!
A few details before we dig in- this is a cathedral entry house which is essentially a split level home where you enter onto the stairs (you can go up or down). There's tons of these houses in BC so they're commonly called the 'BC Box'. We converted the better half of the basement into a rental suite (I'll share that later too) so we really focused on making every inch of this house work hard. The house itself was built in 1965 and we really lucked out with this house as it was well cared for by the original owner. It was listed for a really great price but did need a ton of updates- like upgrading the electrical so we could run a dryer. We took 3 months before we moved in to do updates like the electrical, refinish the floors, paint the upstairs, replace windows and doors, remove the kitchen wall and renovate the kitchen. You can see a blog post all about refinishing those old thin hardwood floors RIGHT HERE!
You can see a full tour of the home before we touched a thing RIGHT HERE.
You can watch this in video form here or keep scrolling for the photo/text!
Exterior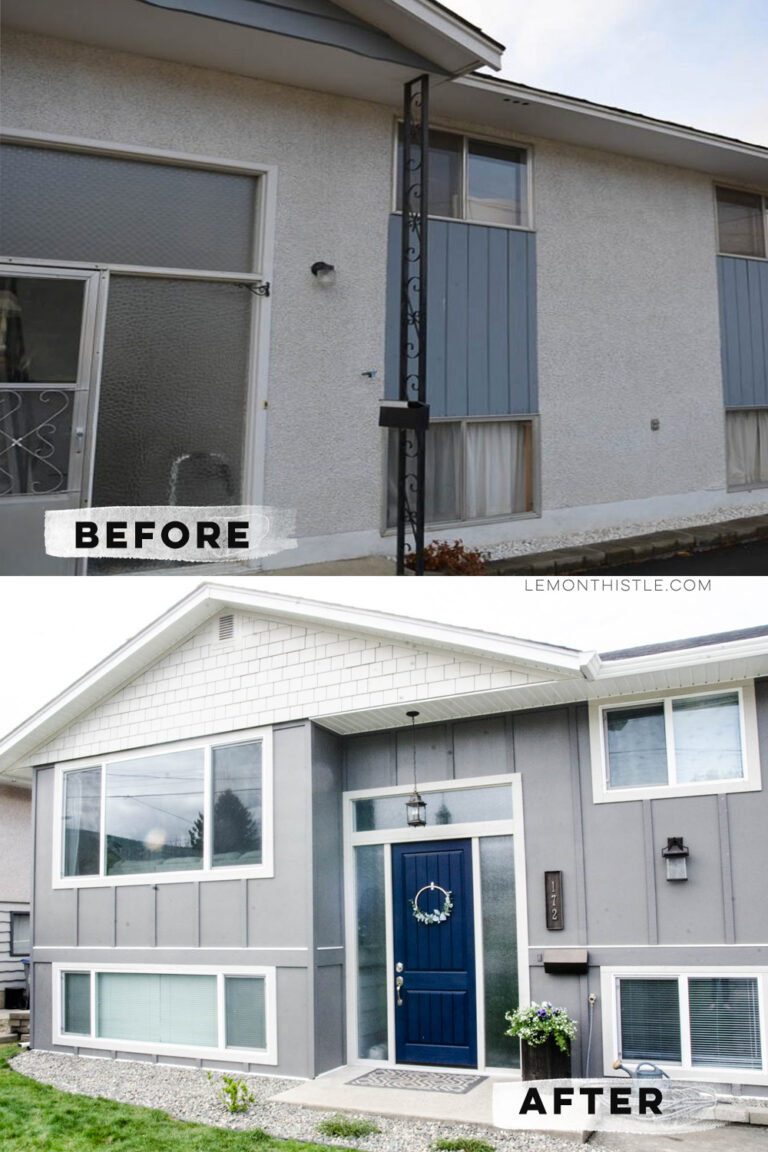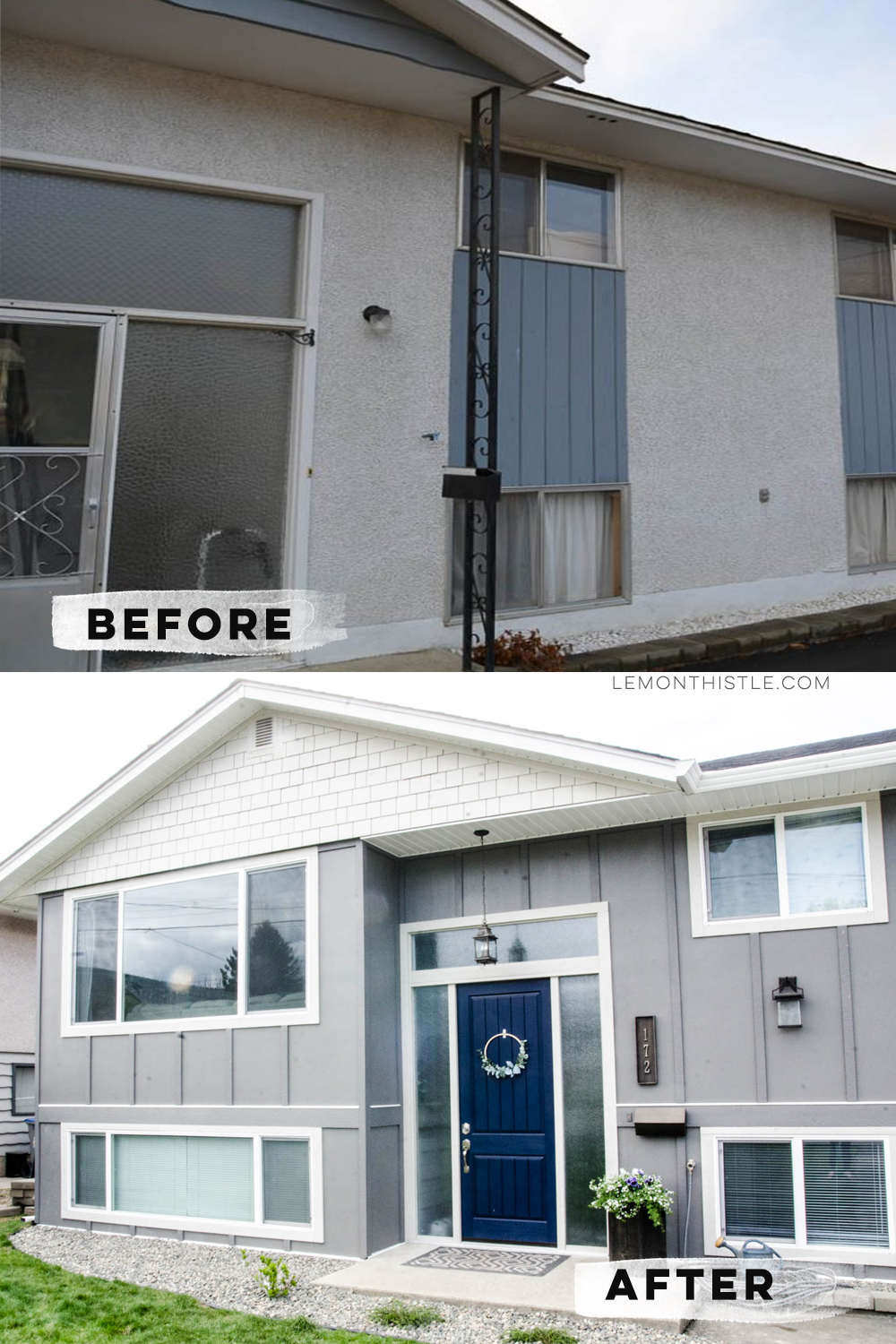 The exterior of this home was stucco and wood siding when we bought it. We stripped all of that off and replaced it with Hardie board and batten. This system is much quicker to install when you're DIYing by yourself than the traditional hardie boards. This is the same system we are using on our new house (which we're currently working on!). We love how it modernized the exterior! I never did write a reveal post for the exterior, but I did give some tips on installing hardie board in this exterior update post RIGHT HERE. We also had some landscaping done before we moved out. We had a free form garden dug out around the front step to disguise the cement pad a little bit.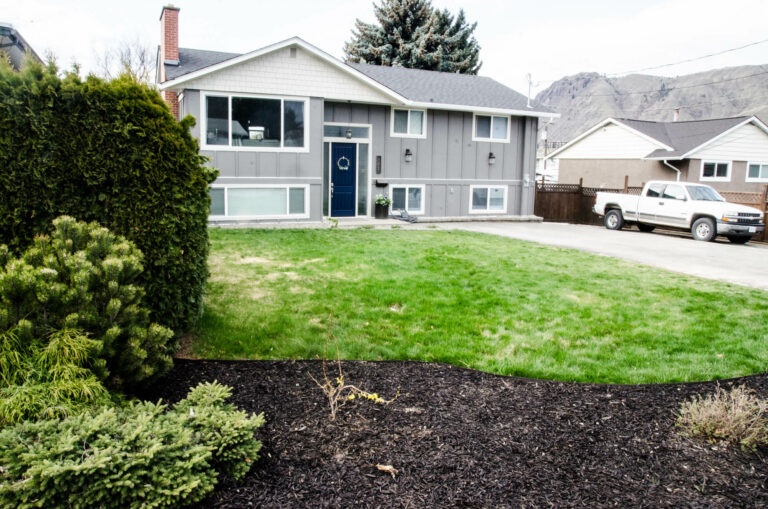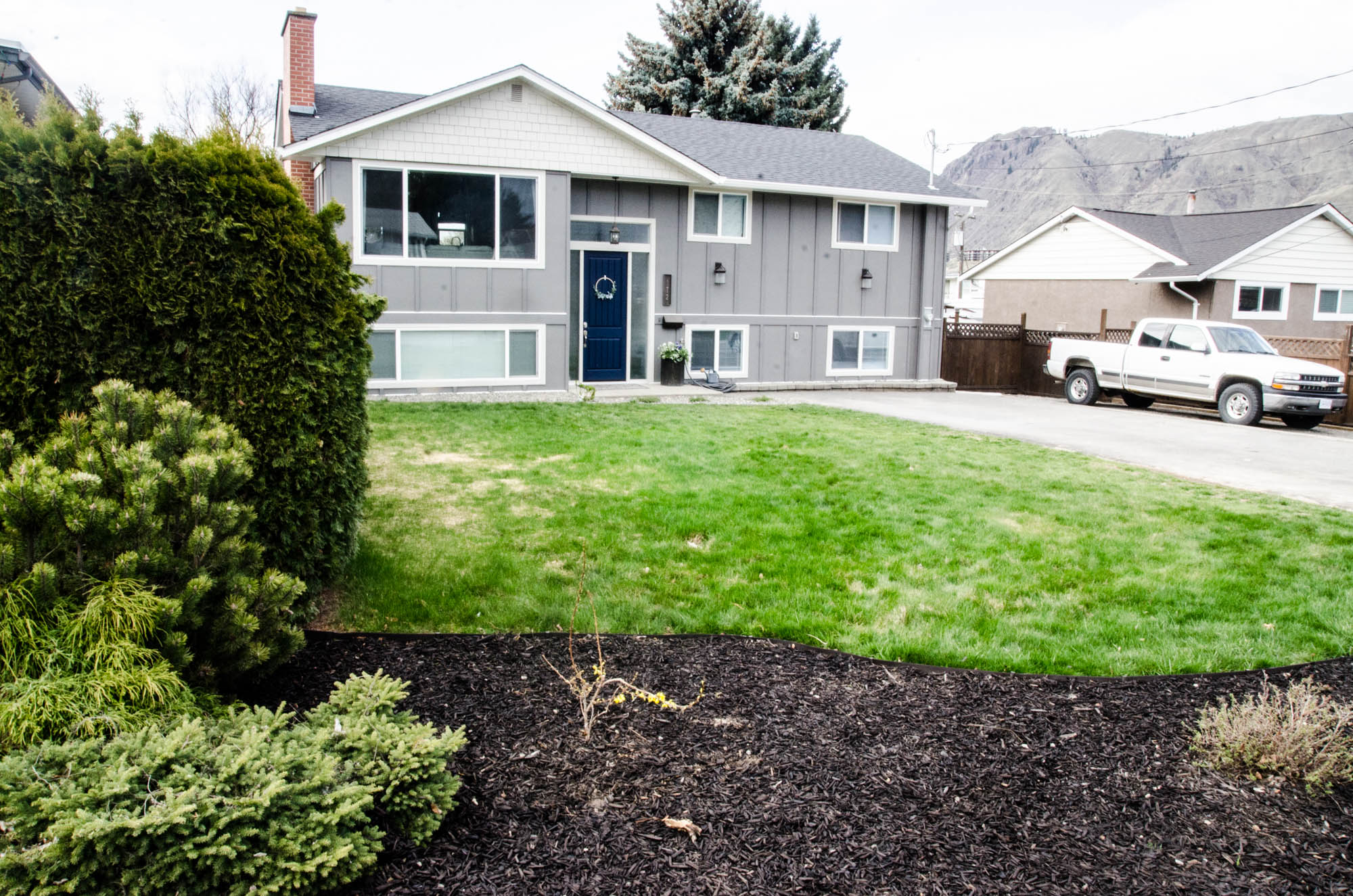 Since there's no blog post about this space- here's another pic for ya!
Kitchen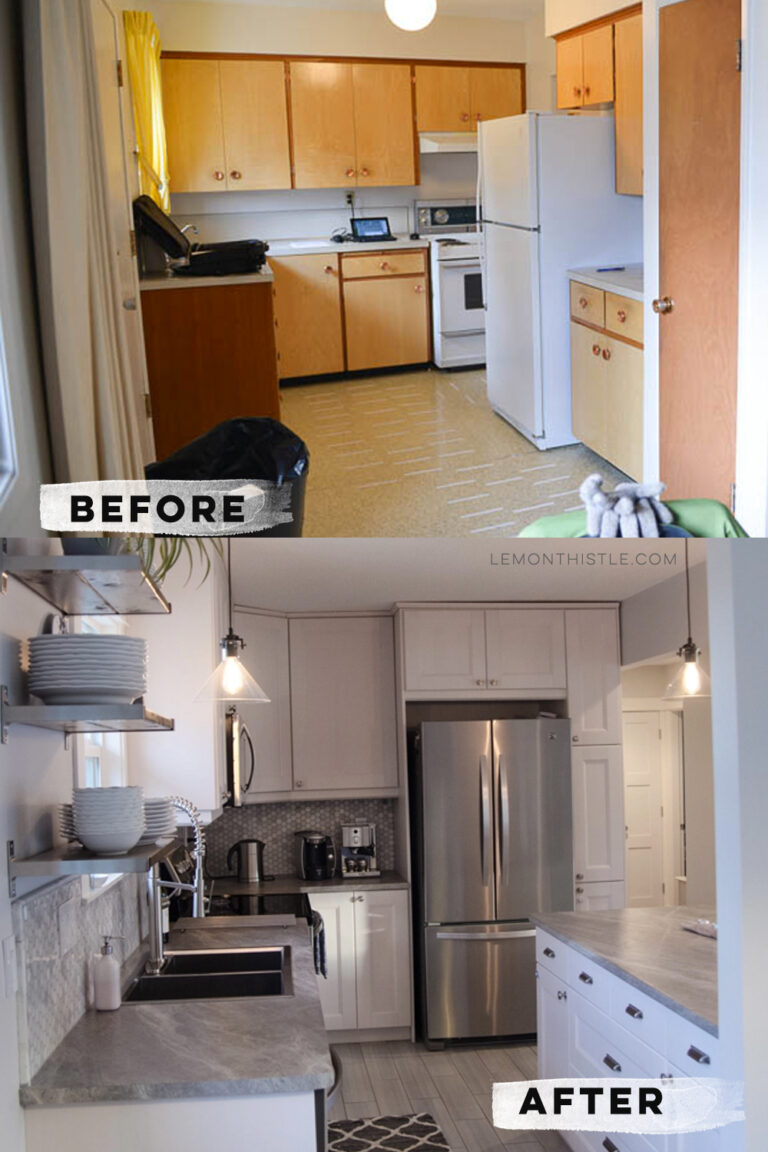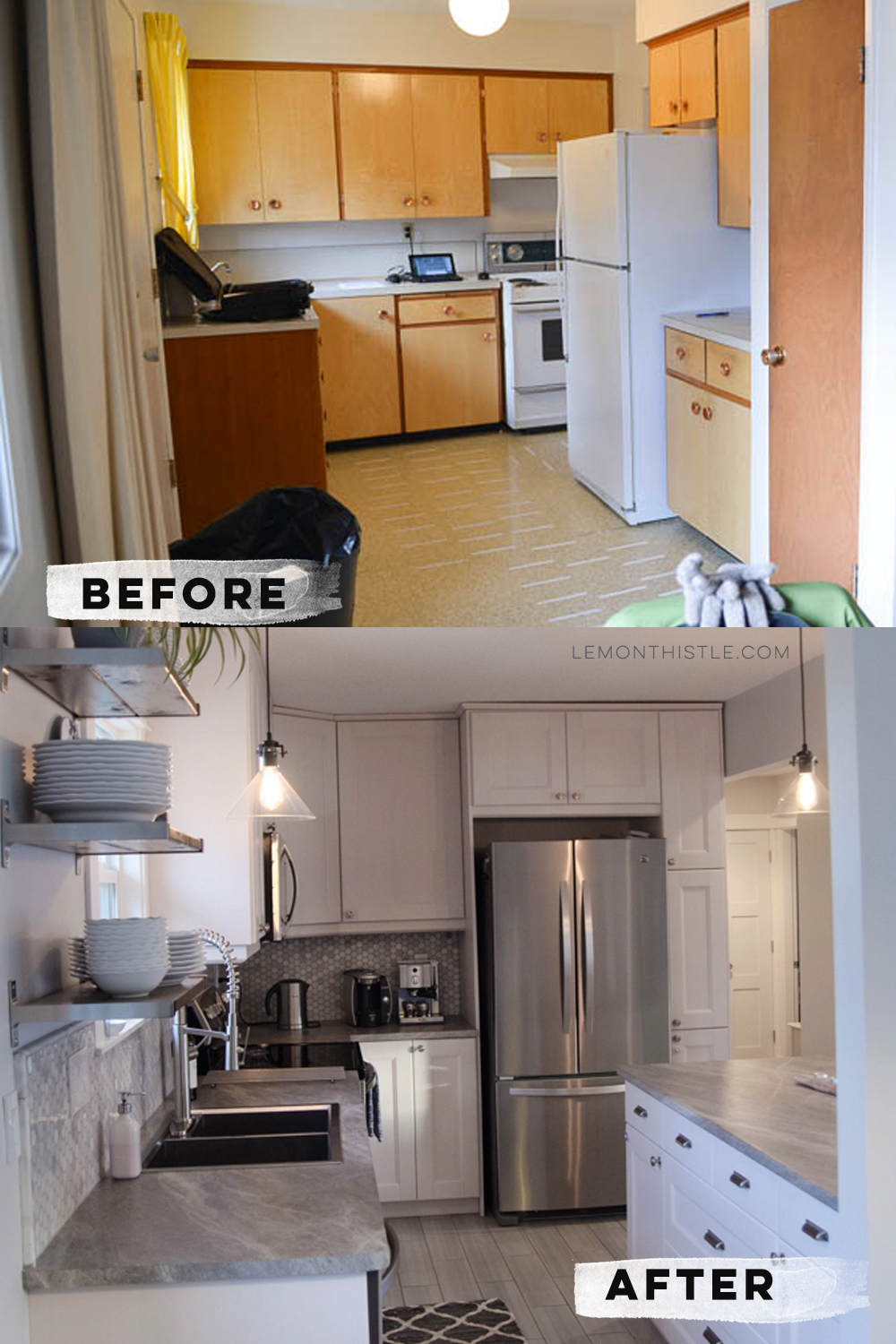 This kitchen was the first real renovation we ever took on. It was a major job- from moving an exterior door and window to removing a wall and installing a beam. Let alone picking flooring and paint colours and tiling oh my! I'm so proud of how this kitchen turned out- we did it all ourselves (with lot's of help from family) and learned so much. We went with a safe white kitchen that was excellent for resale. I answer most of the questions about this kitchen including what IKEA cabinets we used and how we added extra storage on the back of the island in THIS BLOG POST.
Dining Room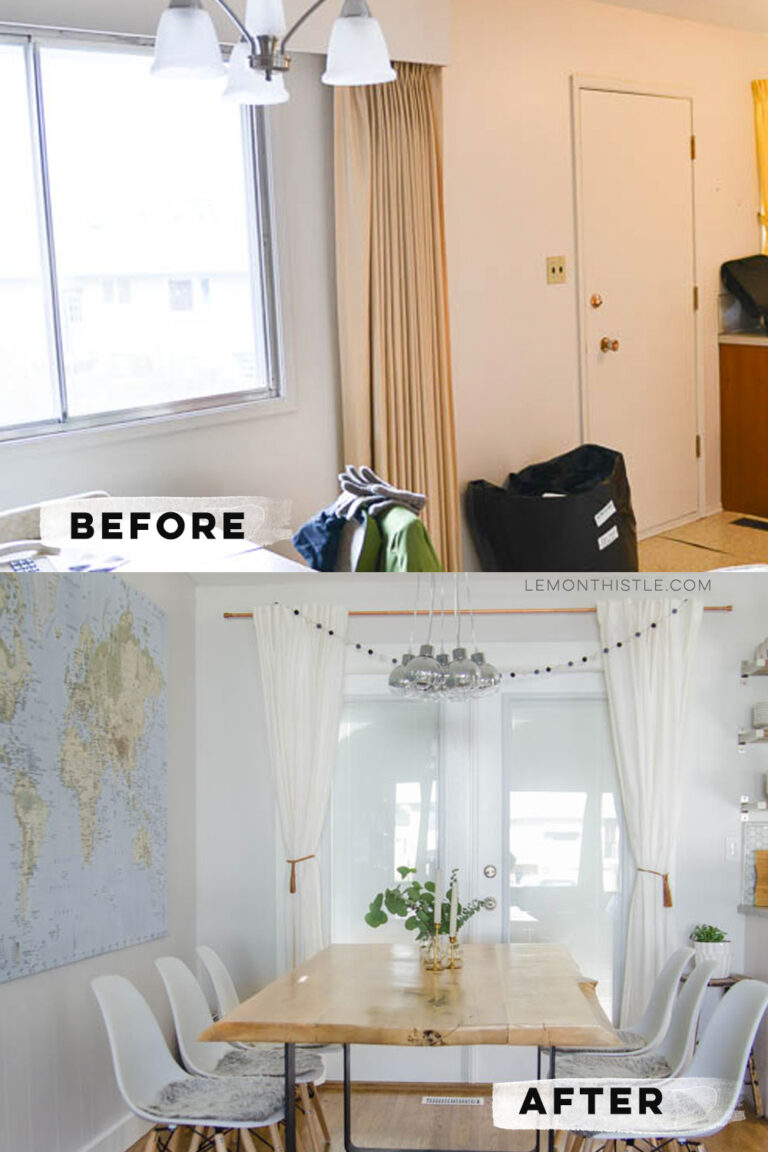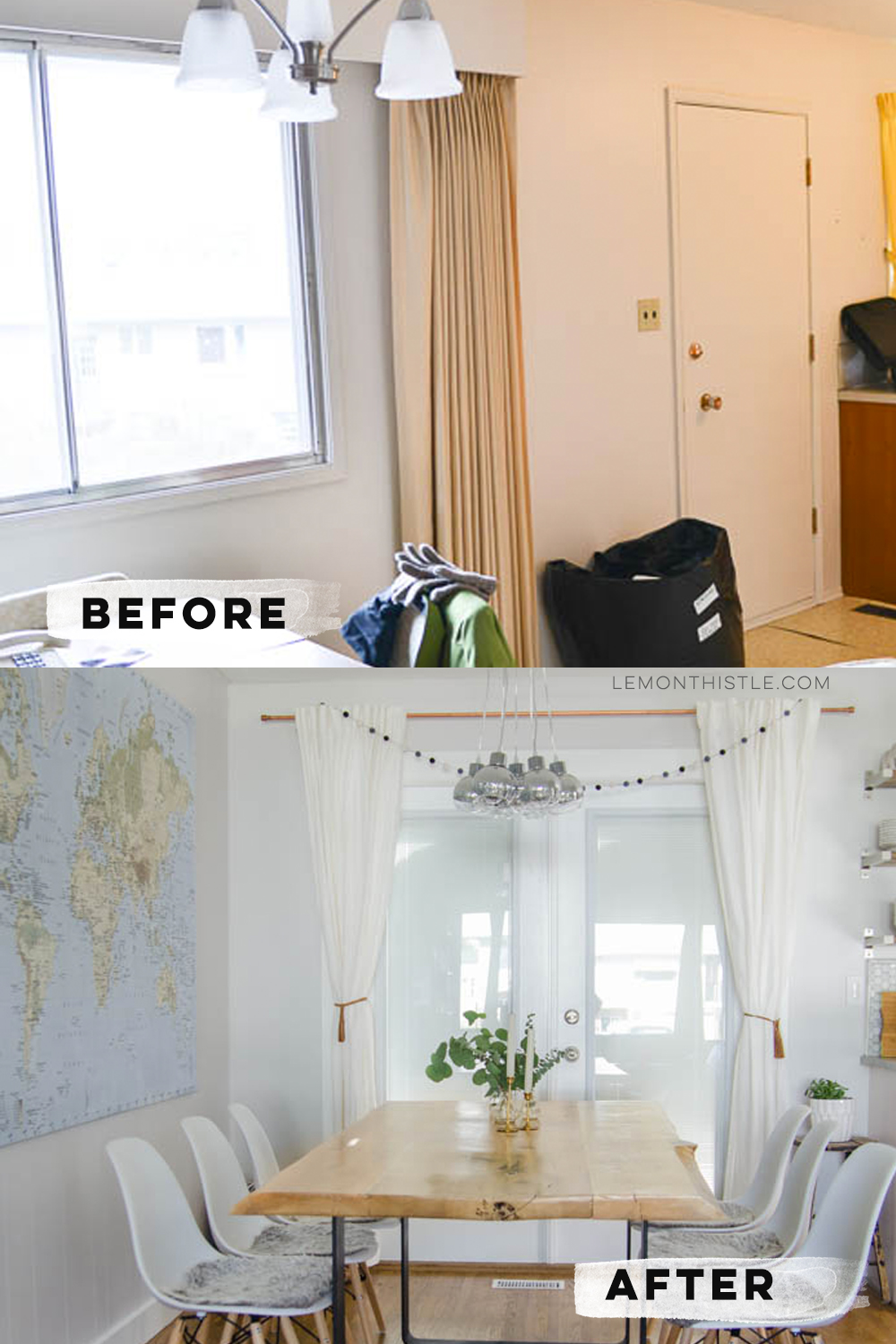 This dining room was so simple but honestly one of my favourite rooms in the house. It got such great natural light from the patio doors and the living room windows. I have more photos of my kids at this table than anywhere else in that house- crafting, laughing, all the things. We made that table and yes- we moved the door. Moving doors seems to confuse people- I have had a lot of 'that's not the same space' comments for the kitchen and dining room (yes, really) so I've included another view below! You can see the full dining room transformation and links RIGHT HERE.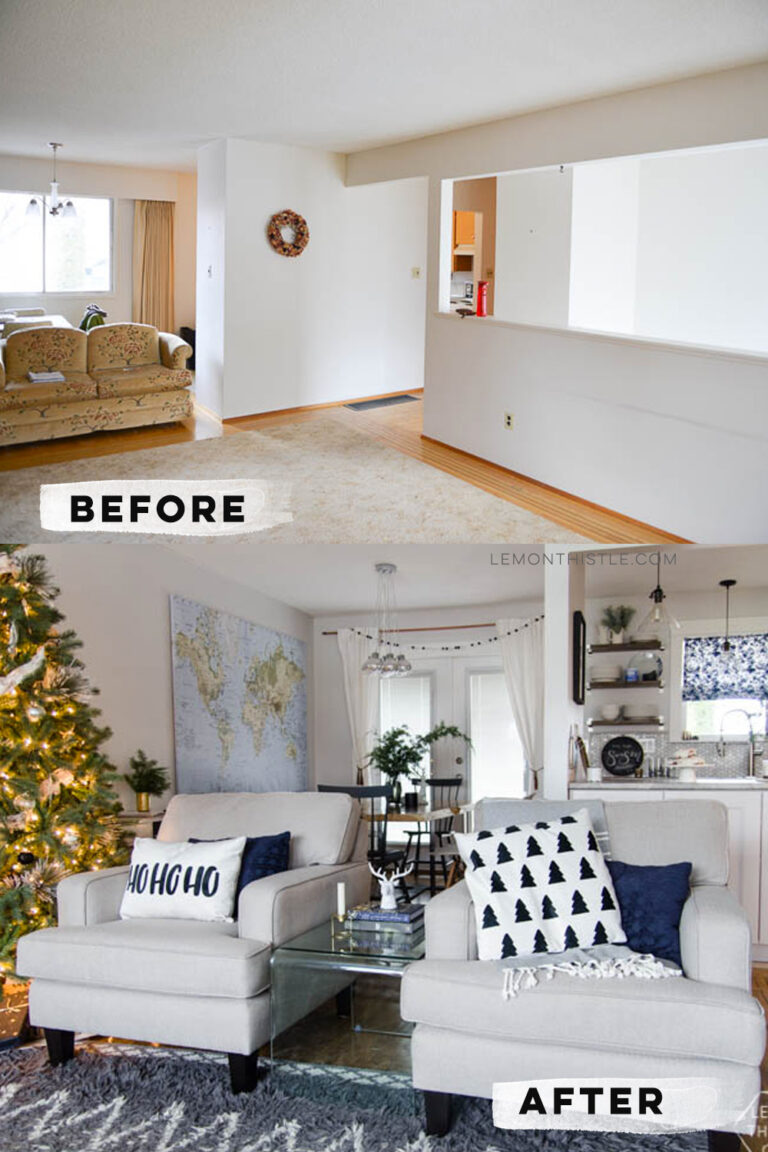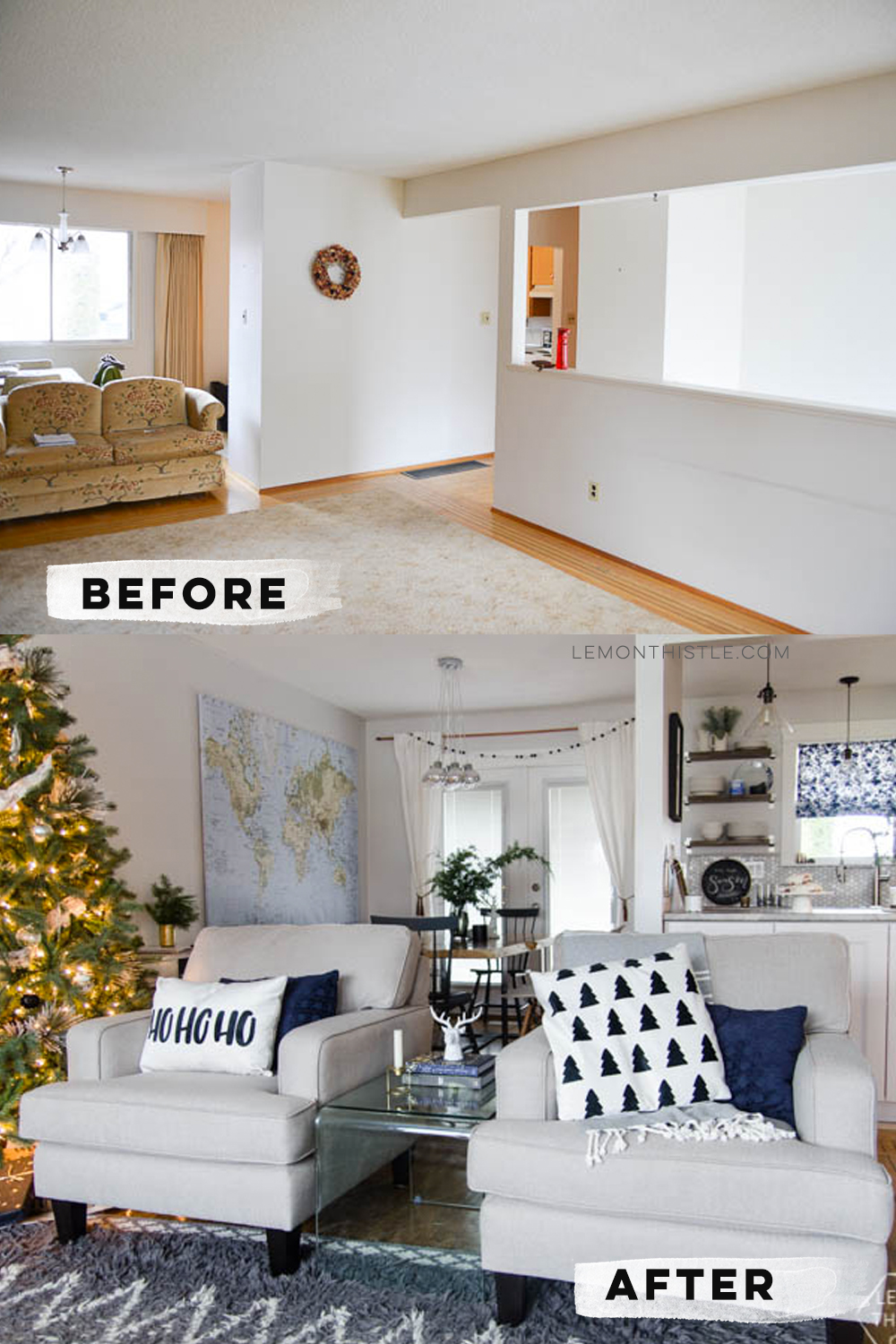 You can see that we removed the wall to the kitchen, putting in a beam instead. With the knowledge and DIY skills we have now we probably would have put that beam in the ceiling. We left a small wall on the end of the island. We thought that looked nicer than a post. The kitchen window was moved to make room for a range hood and the door to the backyard was moved to the dining room. We painted the panelling and speaking of painting things people tell you not to paint… we also painted the stone fireplace in the living room.
Living Room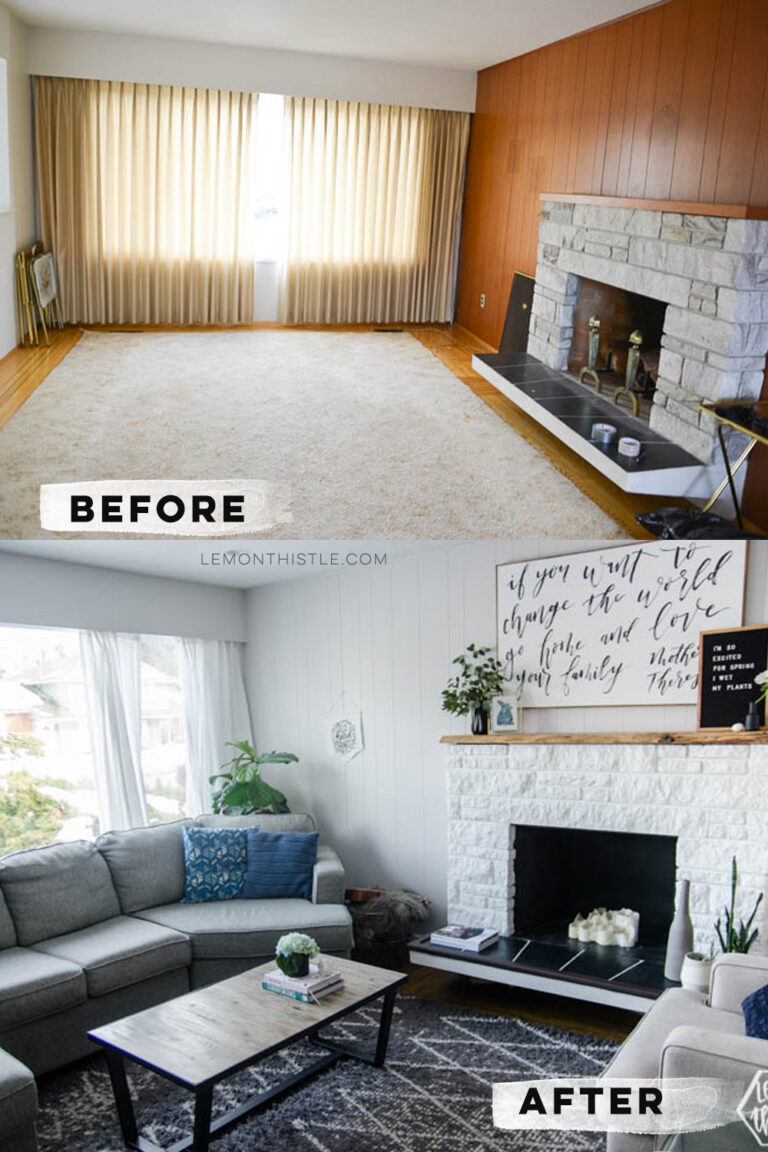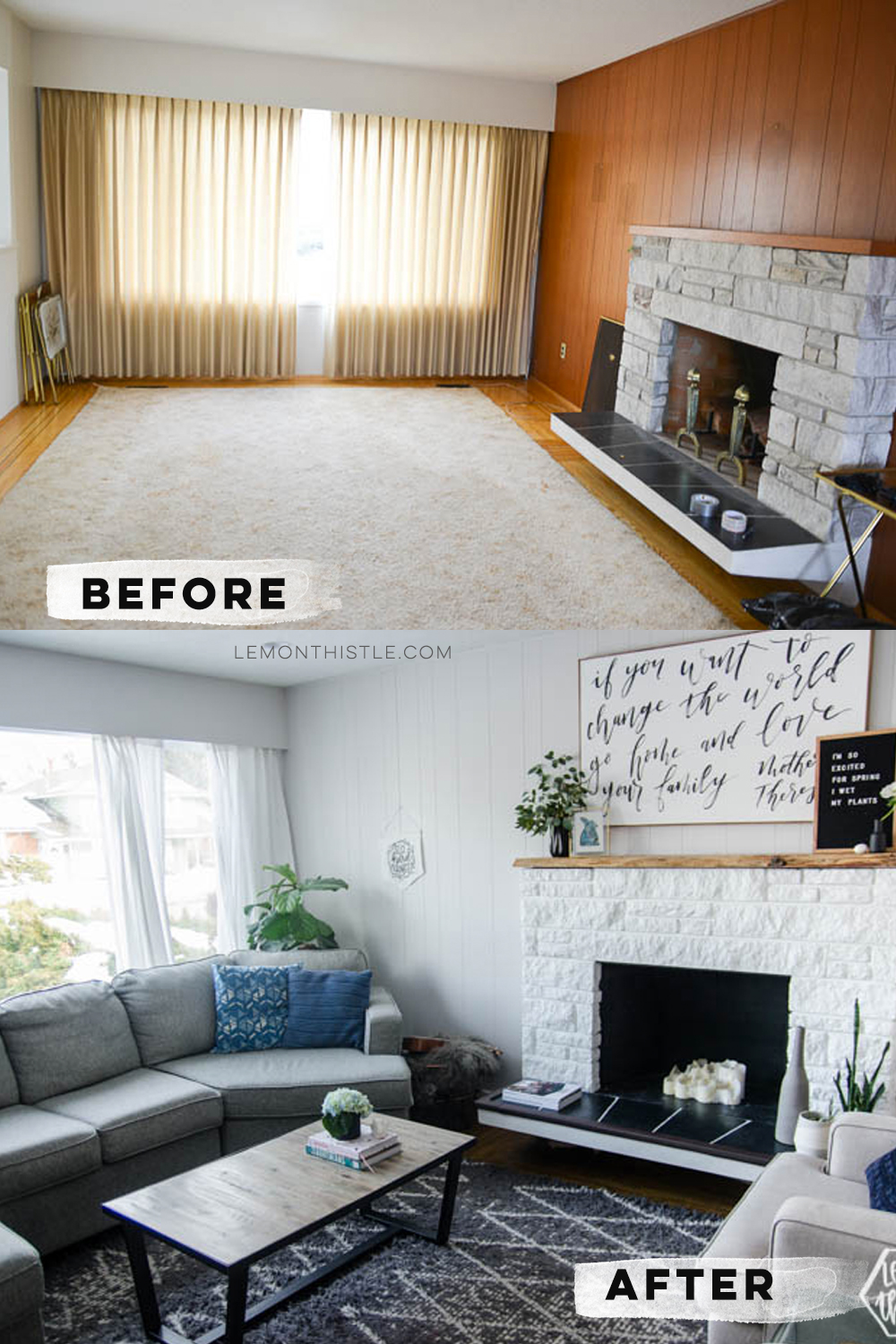 Doesn't the painted panelling make for such a cozy vibe? I totally love the texture it adds. So yes, we painted the stone fire place and no… I don't regret it one bit. I love that thing. I never did a living room reveal post but I did write aaaall about that fireplace makeover in a blog post RIGHT HERE.
While we did remove the valance in the dining room, we kept this one. Could we have removed it? Yes. Do I wish we did? Yes. But there was nothing behind the valance and we had to patch the panelling. We did that in the dining room but at the time, the thought of doing it on a larger valance intimidated us. Again… the things you learn from remodelling two houses, we'd totally do it now! We actually wrote a post all about removing valances after doing a couple in our new home.
Entry Way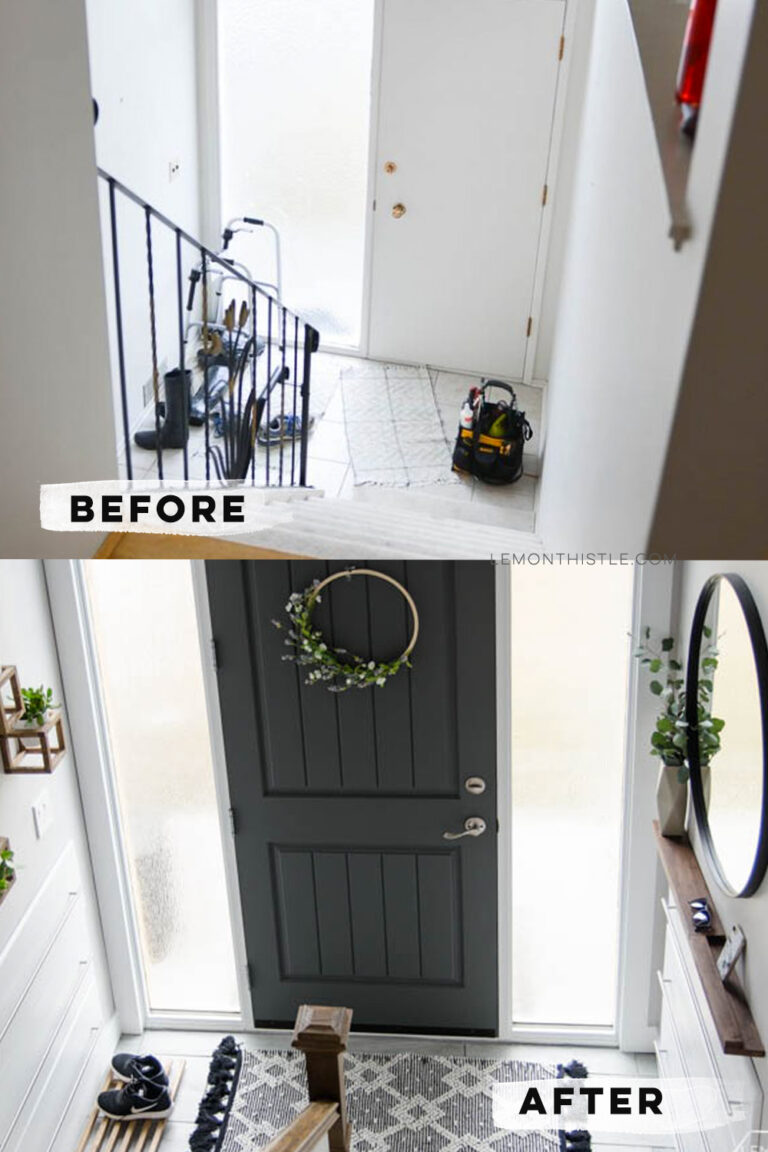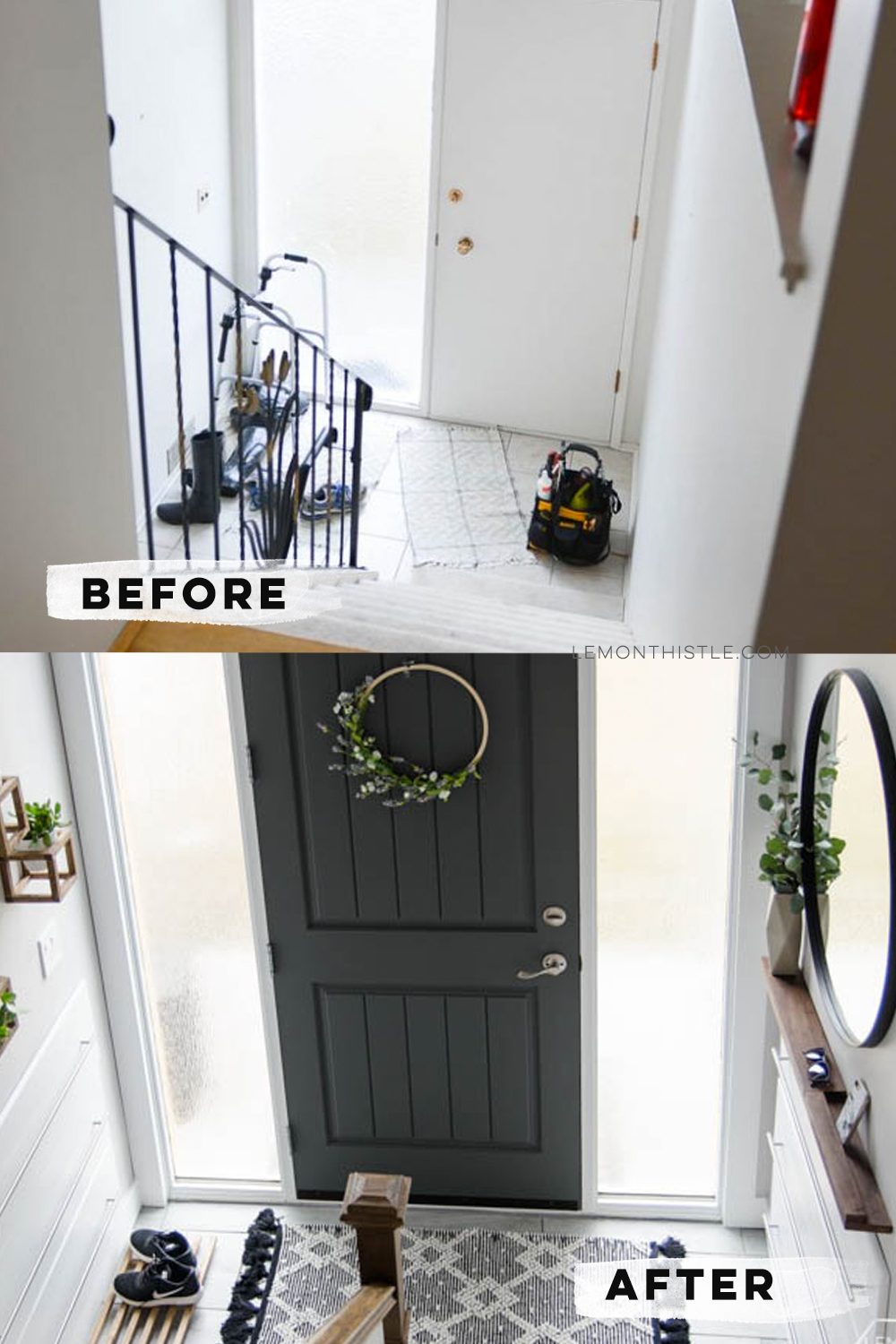 This entryway was such a proud reveal for us. Cathedral entry ways without closets are so cramped- this one had no storage at all. Which meant a mountain of shoes to trip over every time you came in the door. We dreamed up built in drawers for our shoes and a tiny ledge shelf for coffees and phones. We also replaced the door for this oversized number and centred it. You can see the full entry reveal RIGHT HERE.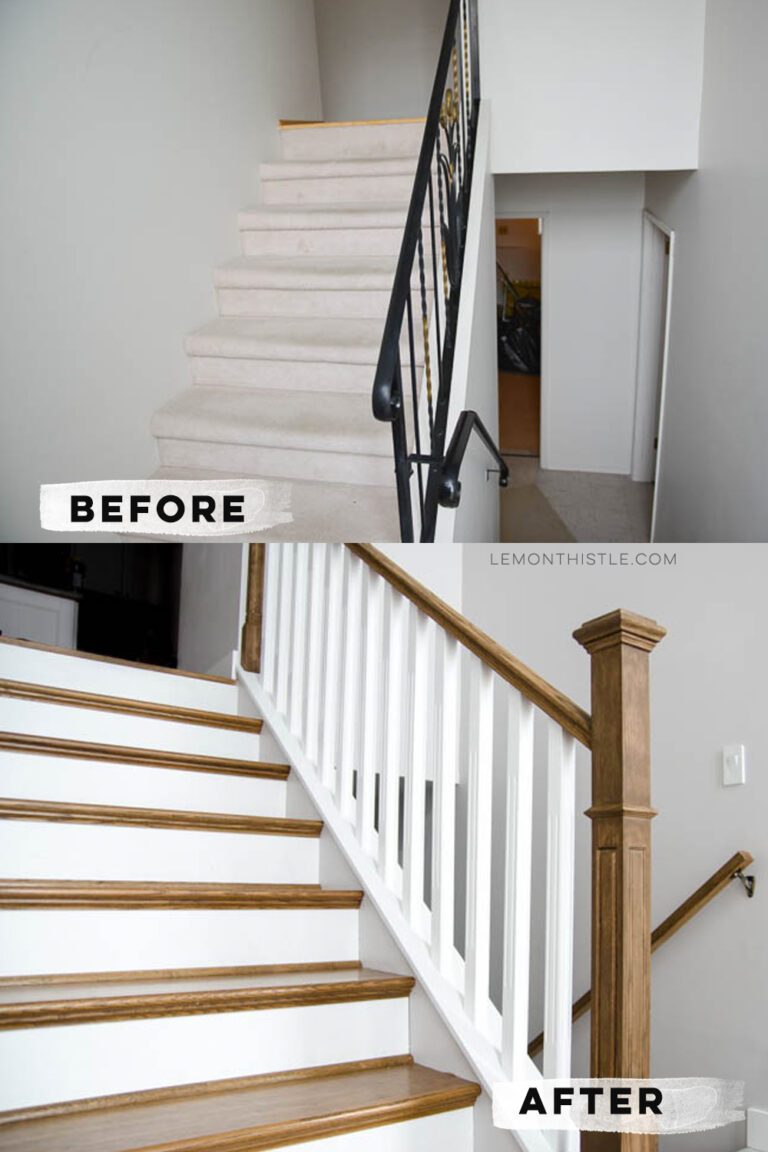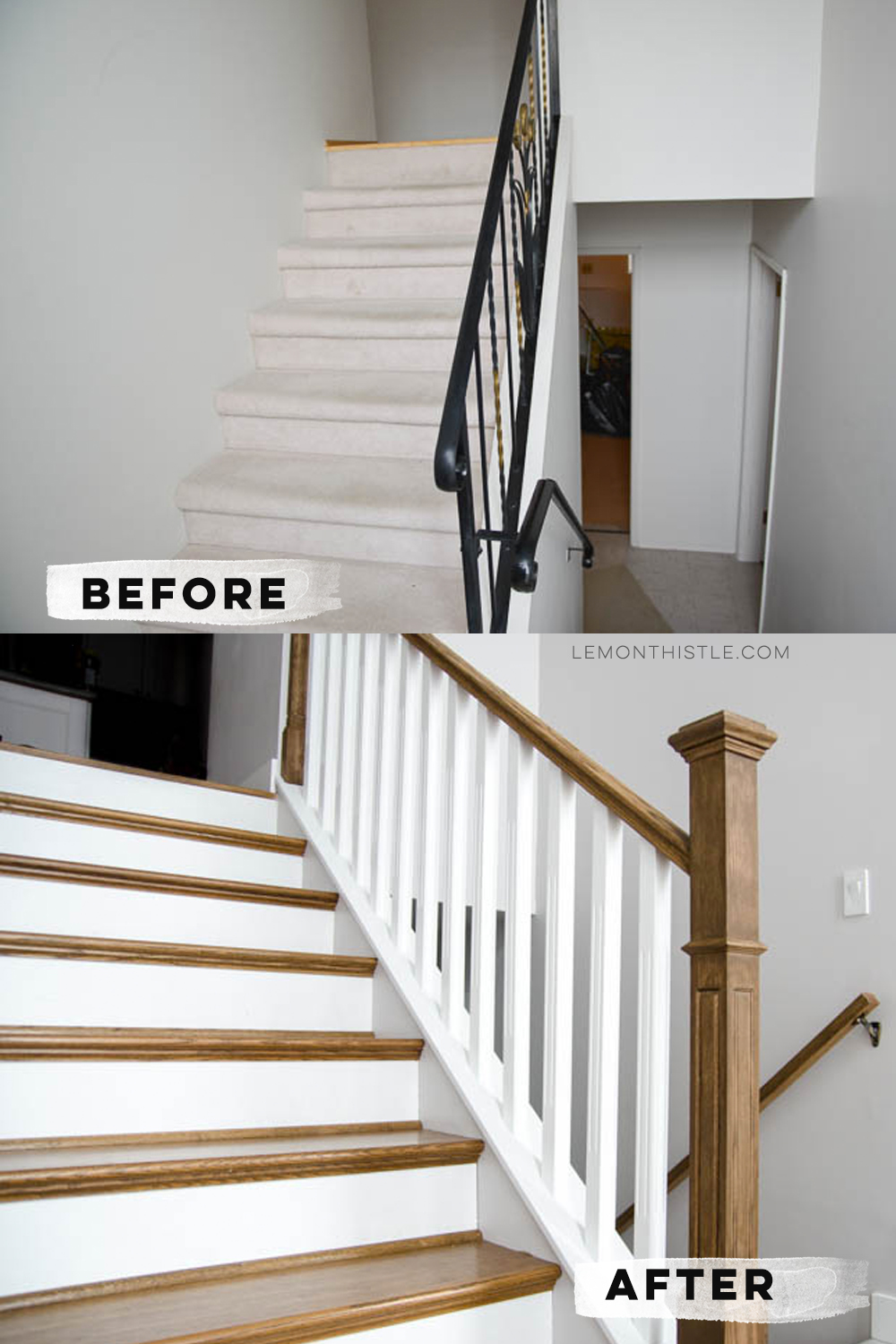 Facing the other way, you can see that we also replaced the metal railing with a DIY wooden one and replaced the carpet for plywood risers and stair caps.
Mini Mudroom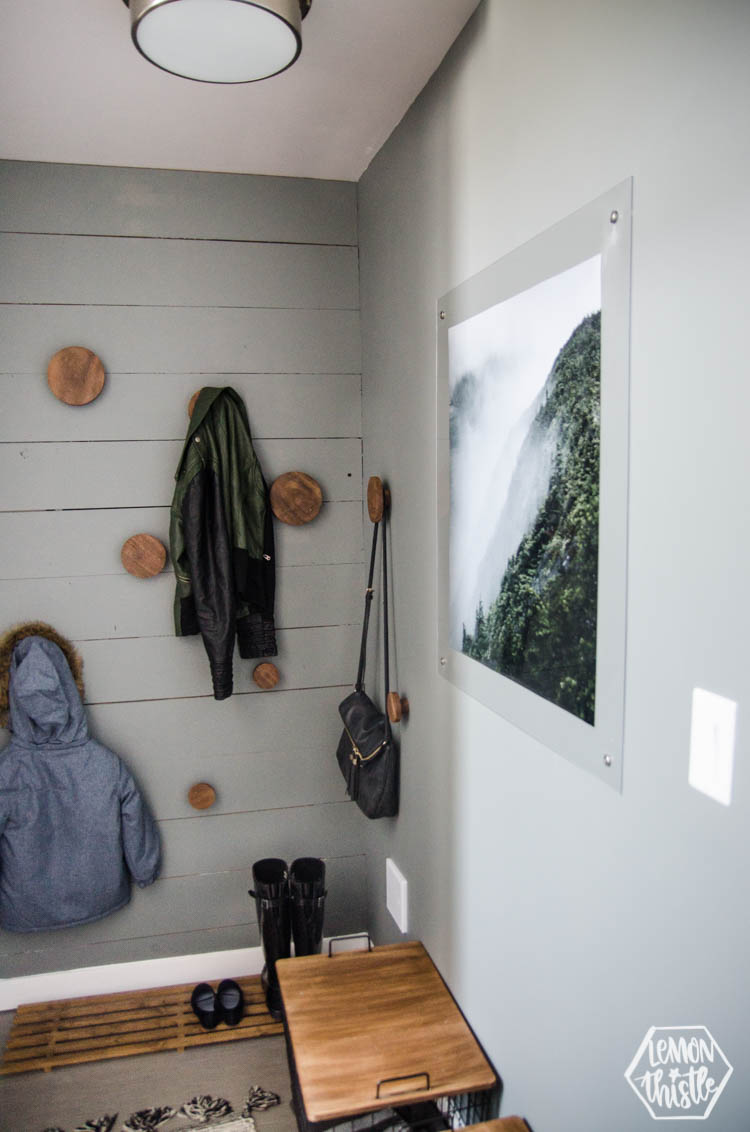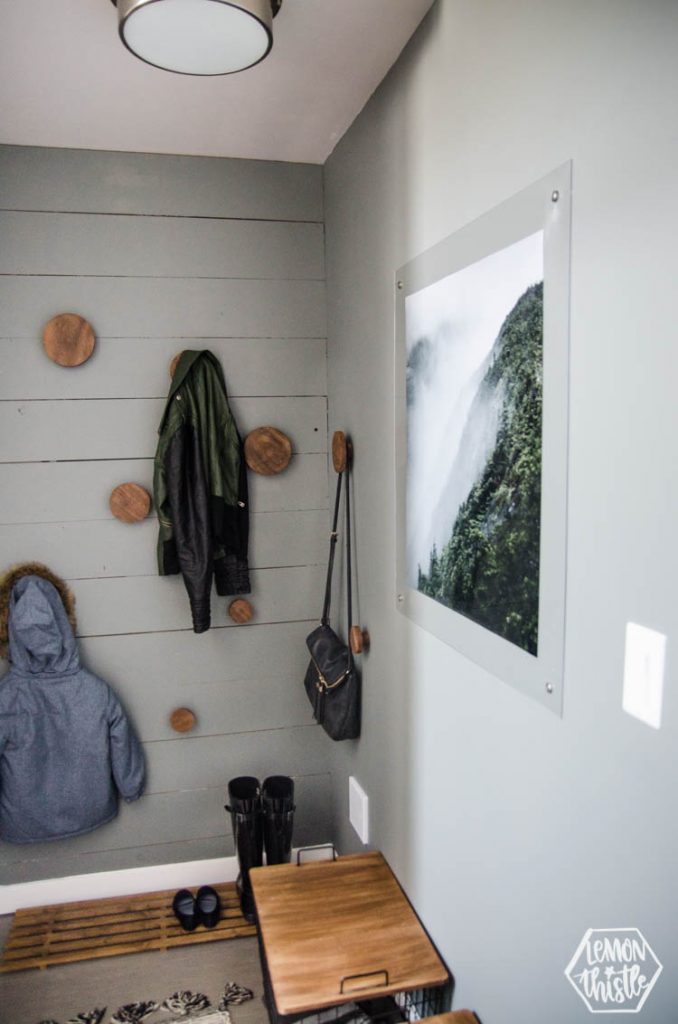 I mentioned that the entryway was small. There wasn't room for a mudroom or entry seating but at the bottom of the stairs, before going into the rec room, there was this little landing. We made it into a mini mudroom with some storage baskets that doubled as benches, a shoe rack and some hooks for jackets. This saved us in the winter when those baskets filled with snowpants! You can see the full makeover HERE.
Master Bedroom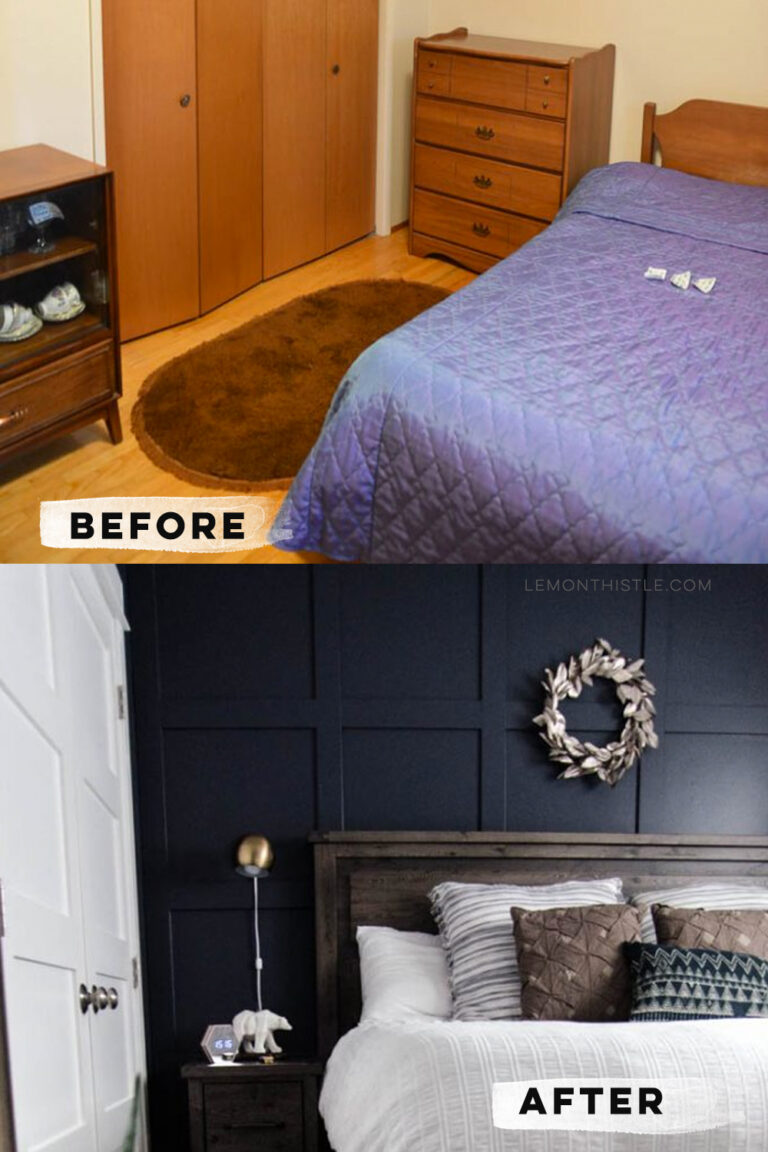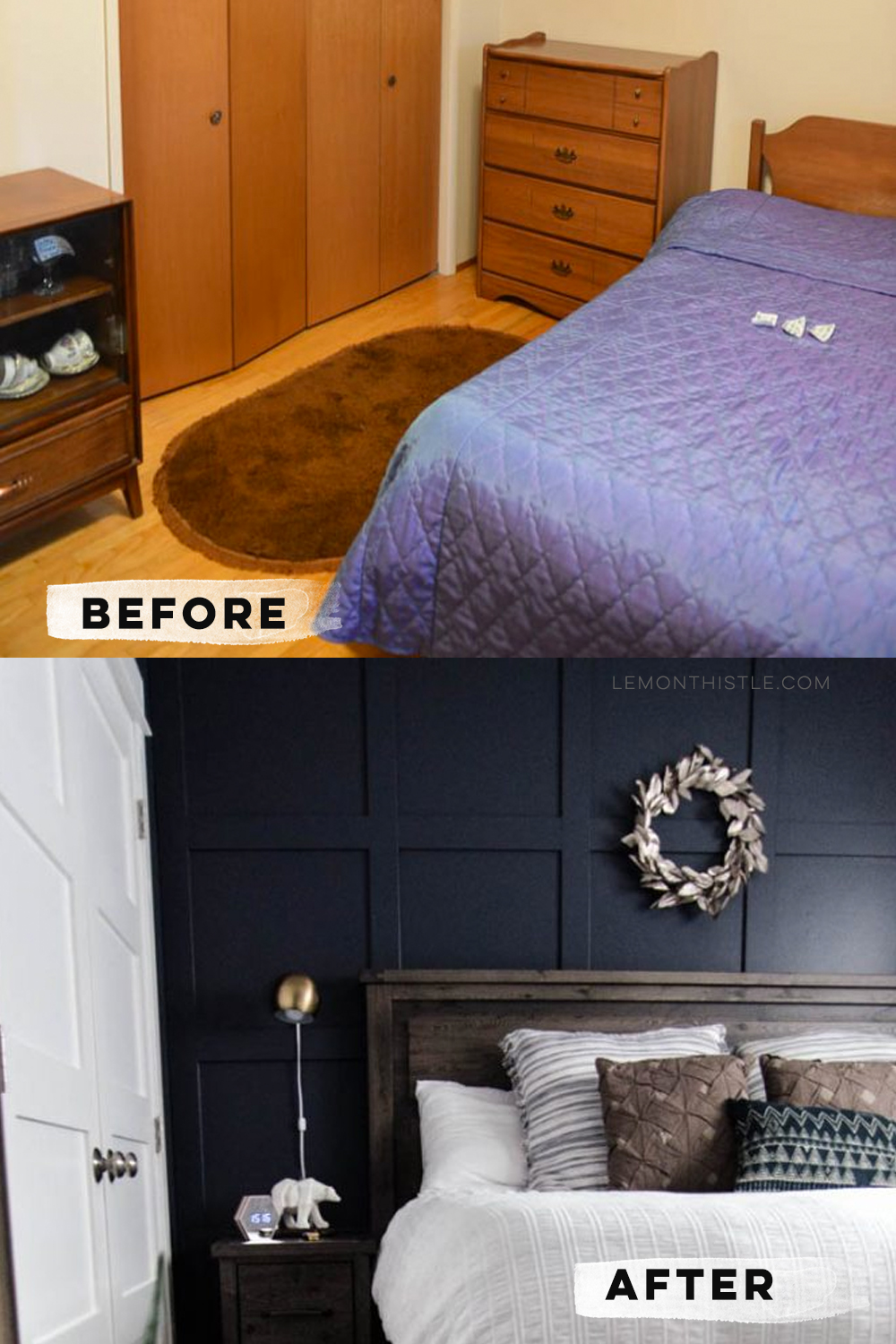 This was the beginning of the love affair with dark bedrooms for me. I LOVED the navy bedroom so much that we took it one step further and painted our new bedroom black. We also added a moulding wall in our new bedroom too. You find the things you like…. then keep doing them ;) You can see that we also replaced all the bifold closet doors with standard doors that open. We love the look of this and found it really functional. See our full master bedroom reveal with video tour RIGHT HERE.
Shared Kids Bedroom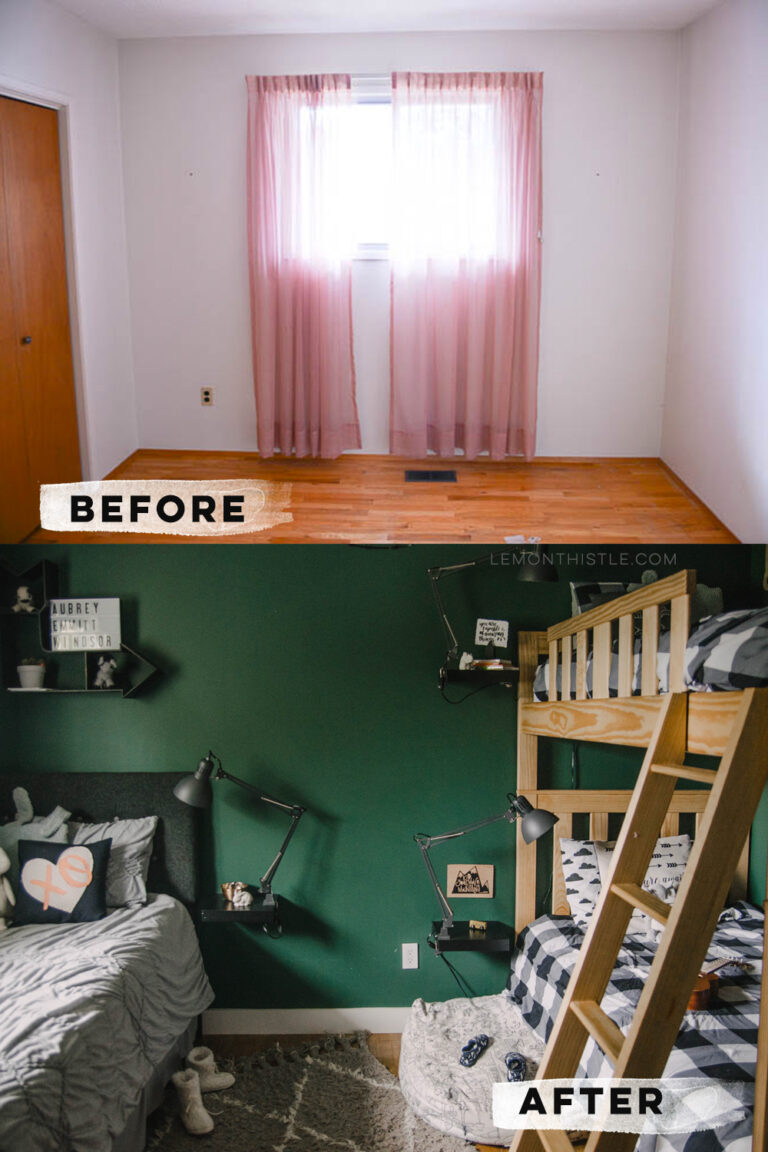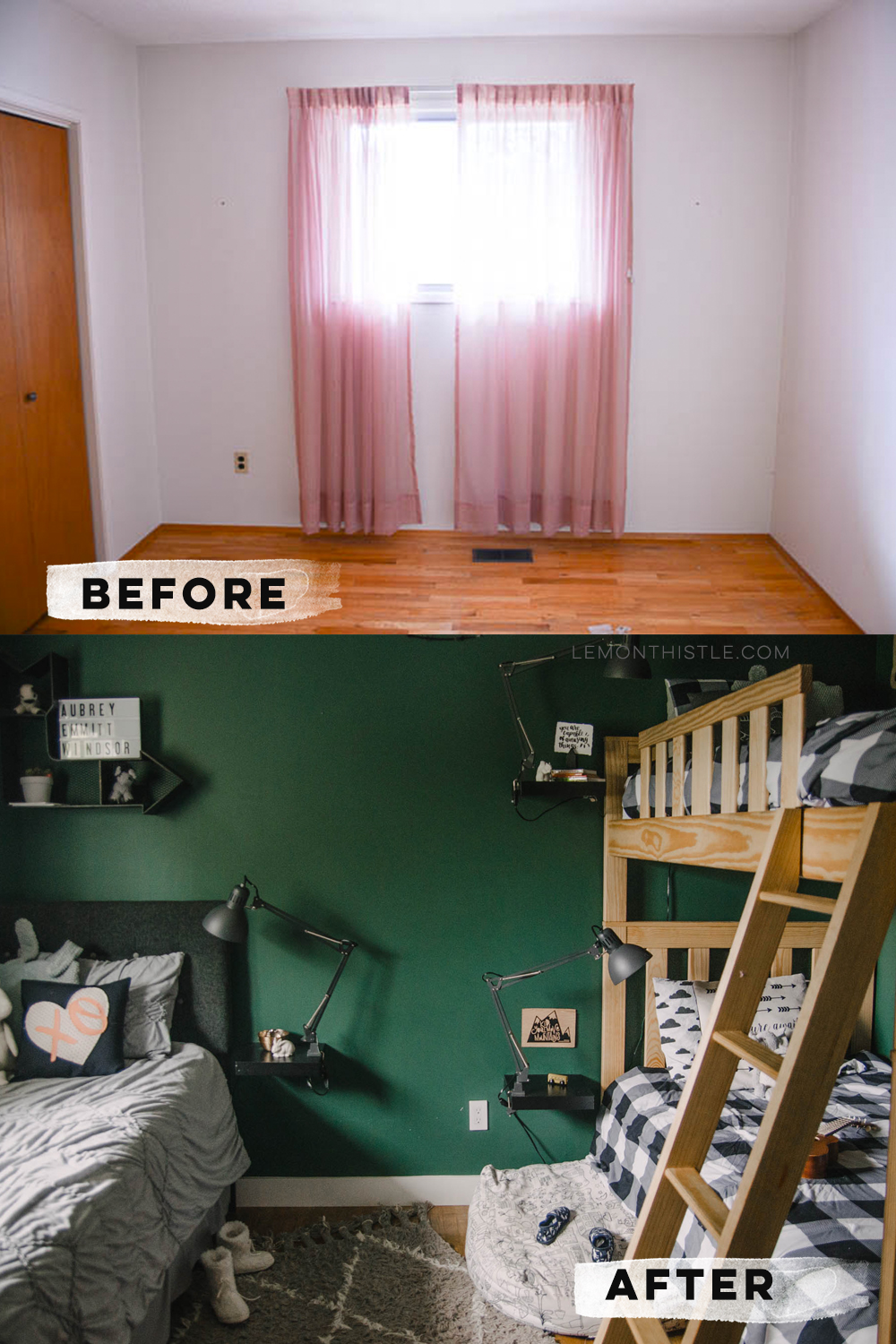 When we moved into this house, we had twin babes (about 6 months old). By the time we moved out… we had 4 littles! We put the three together in one room when our youngest was born and took over the nursery. Since our twins are boy/girl, we always stuck with a gender neutral design and this forest green colour was perfection. It's called Lafayette Green from Benjamin Moore and no… I never made a reveal for this room! WHY NOT?! Lol, I love it. I did however post a bunch of photos of it decorated for the holidays right here.
We were short on floor space so used the 12″ IKEA floating shelves for nightstands to keep the little floor space left free. I love how this worked! We added IKEA clip on lights for each.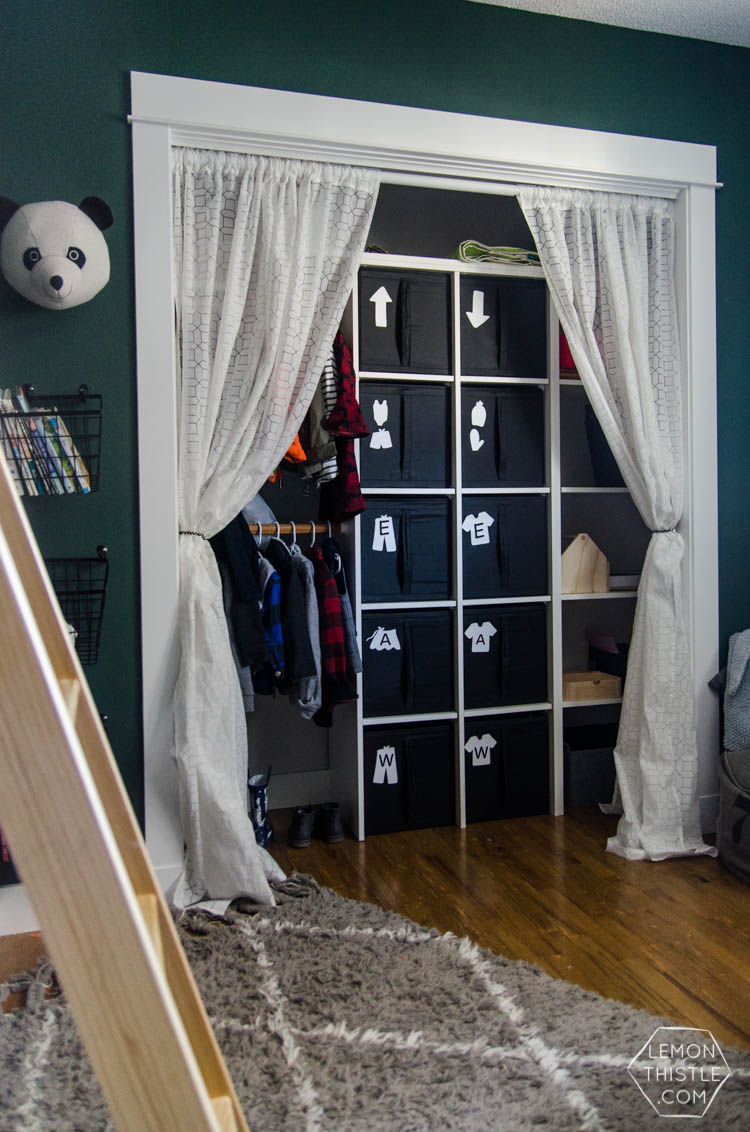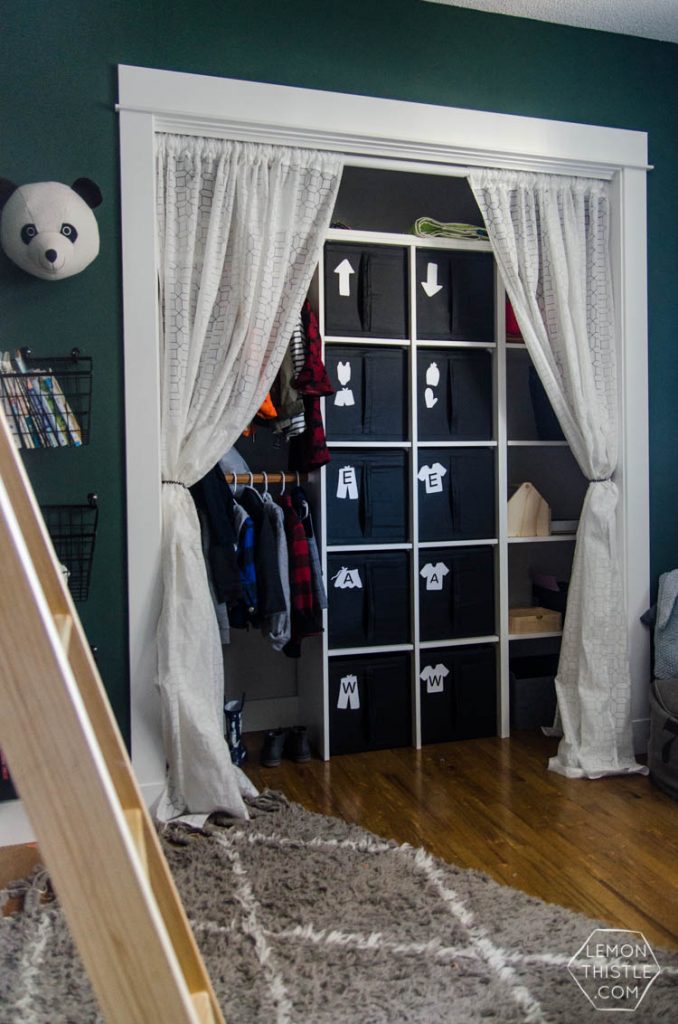 Speaking of making the most of a smaller footprint… I posted all about their closet right here!
Nursery
So I didn't take any before photos of this room! It was just a little room that we didn't use for anything but junk storage with a desk for me for the first year we lived there. But then… we made it a nursery!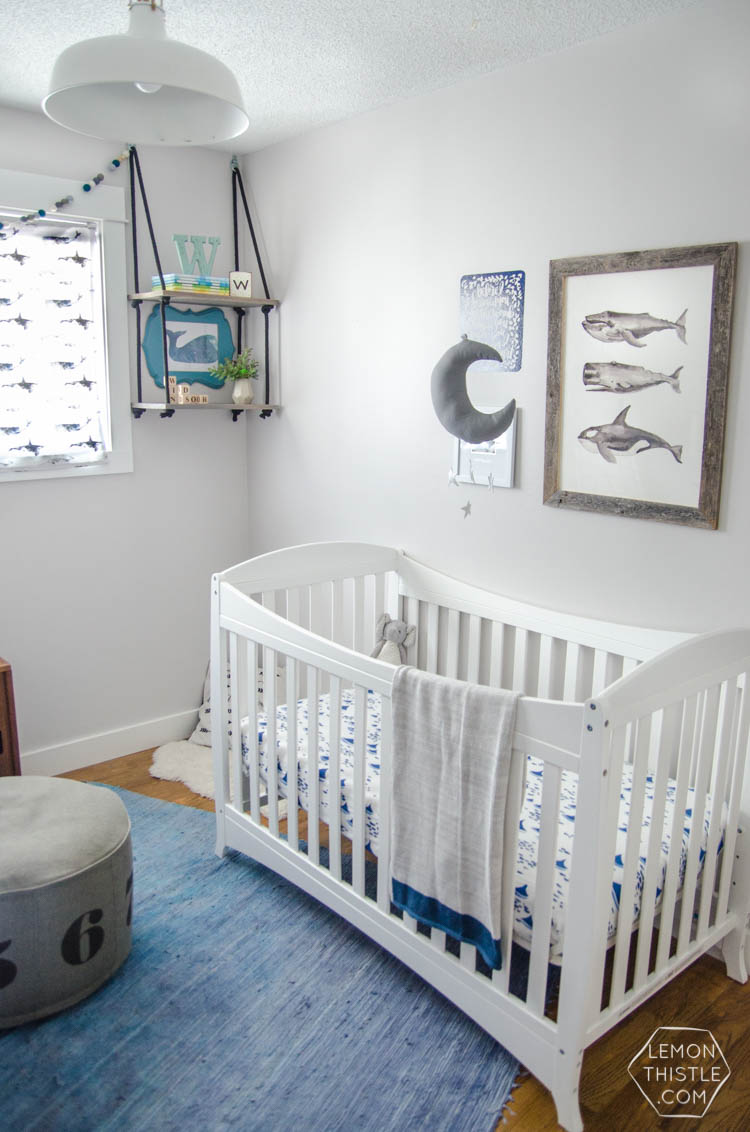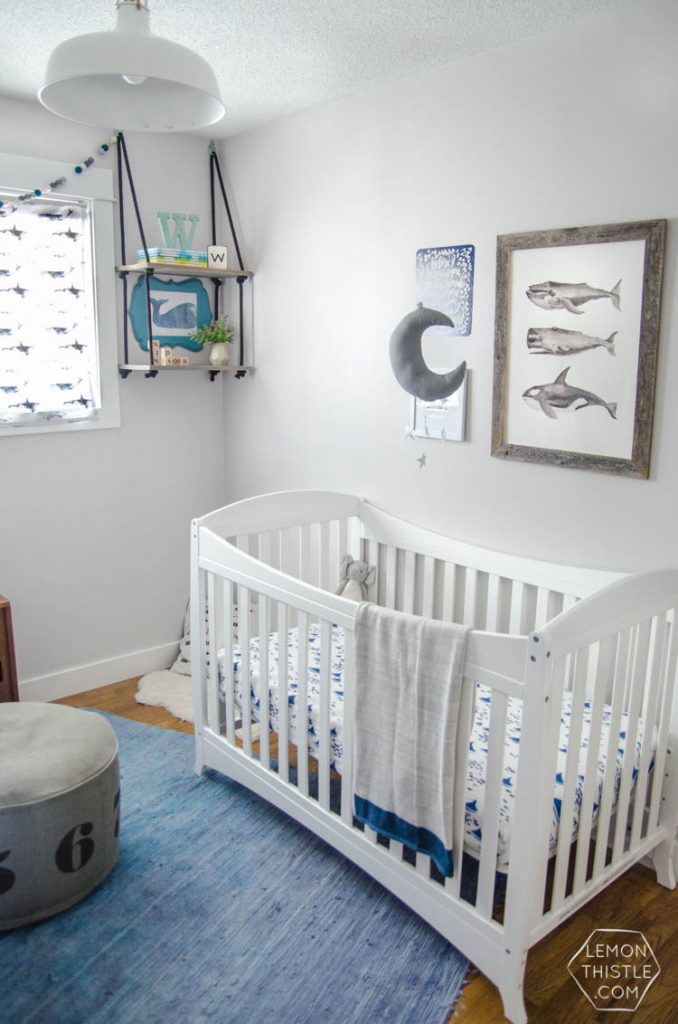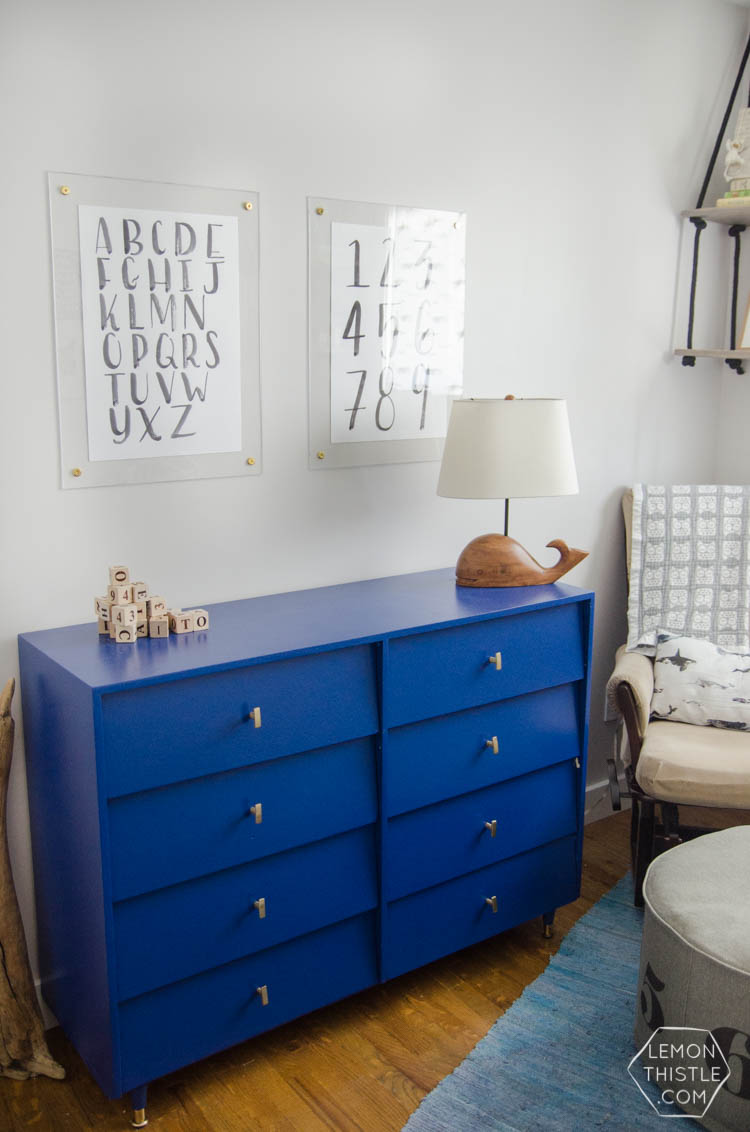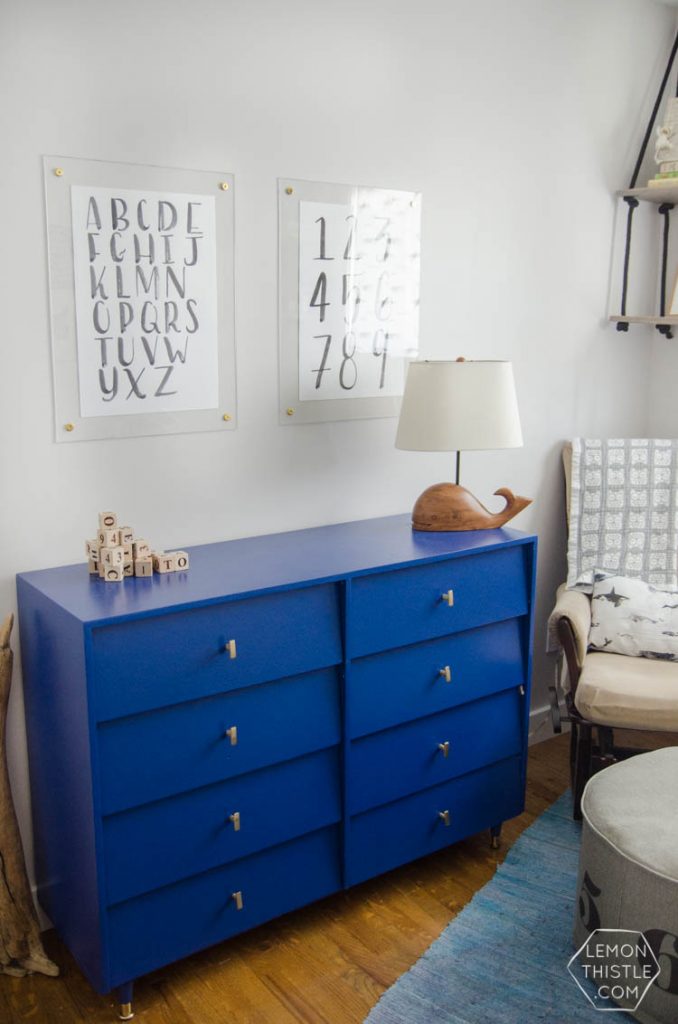 I'm usually not one for themes in home decor. I don't know why but I just think of jungle or under the sea nurseries and I cringe a bit. But then I went and made a theme nursery. Ha! I love the way that the bright blues played with all the neutrals in this space. From the DIY hanging shelves to that rag rug makeover… this room was full of DIYs. You can see the full nursery reveal RIGHT HERE.
Bathroom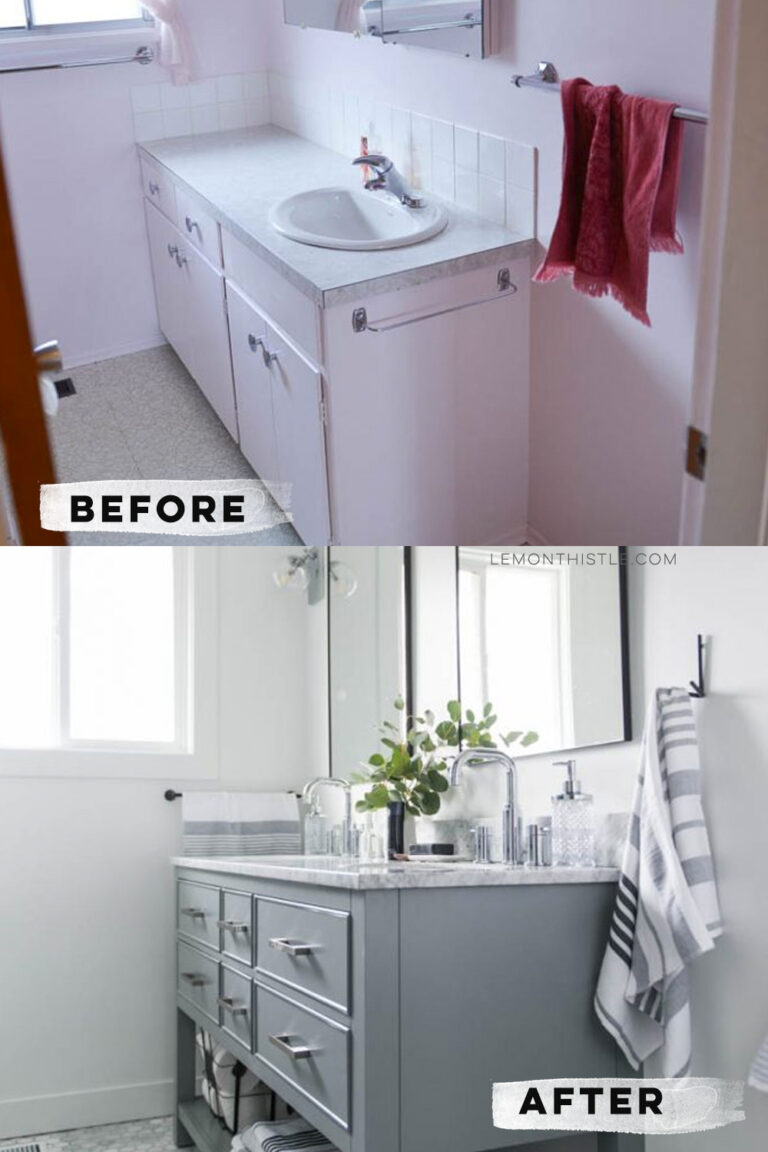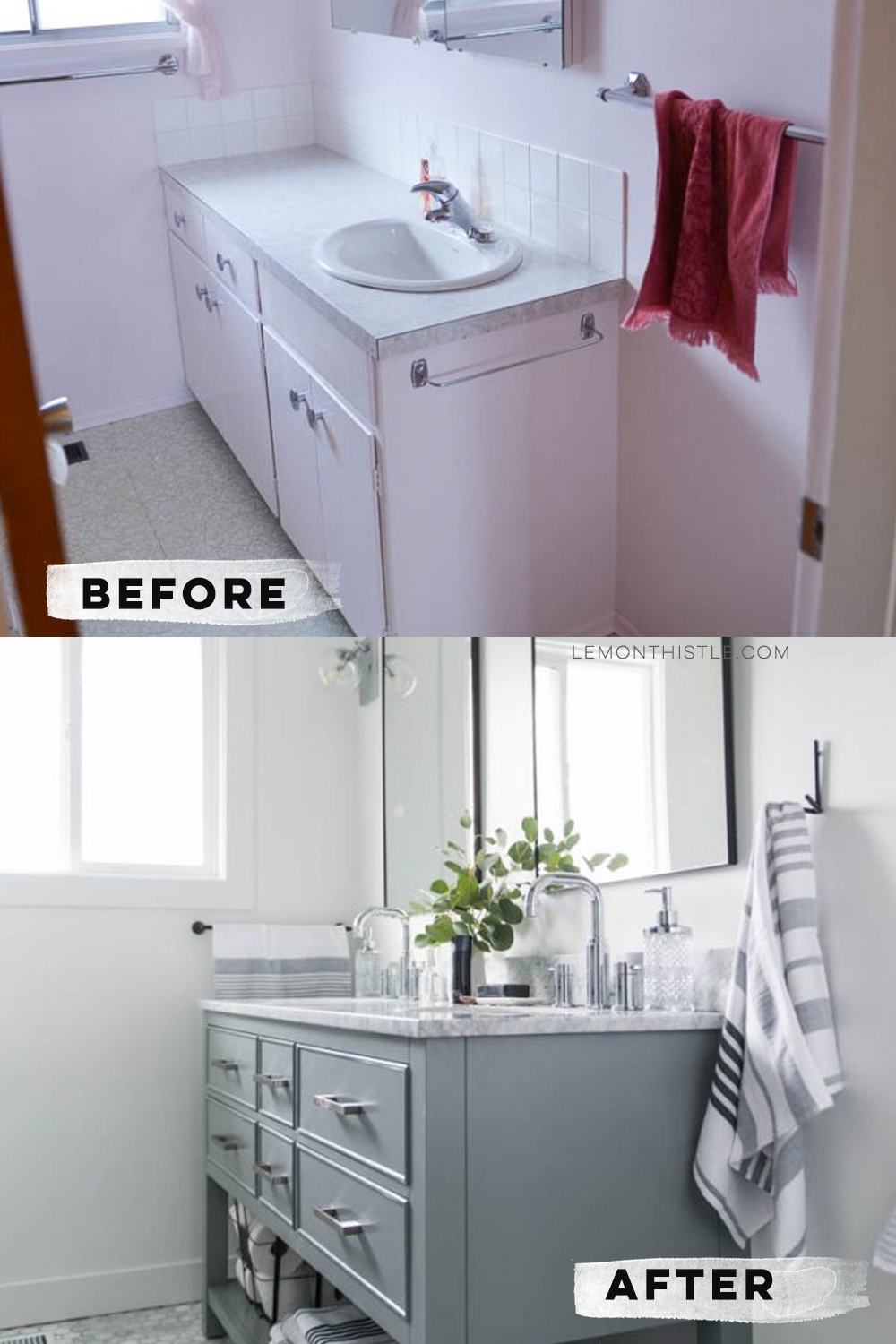 This bathroom was the swankiest part of this house, I'm not going to lie. It was too fancy for us. But it sure was beautiful. We actually renovated this space in stages. We had planned on renovating it a year or two after moving in- gotta pace those renovations, you know! But then the first week we moved in and started showering, the basement would pour water. So the tub and allll the plumbing had to be replaced. We renovated the shower/tub combo then and painted everything, replacing the flooring with a temporary fix. Years later when we had saved up, we took on the rest of the space.

The stage one renovation was such a good fix for the few years we lived there before we could do a new vanity. Since we renovated the bathtub first, we made an effort to match the aesthetic when we were choosing the rest of the finishes.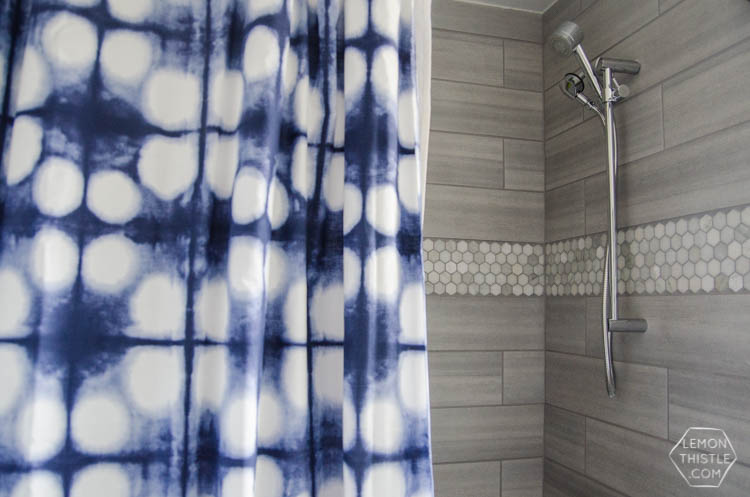 I think we did a pretty good job of tying it together :) You can see the full bathroom tour RIGHT HERE.
Rec Room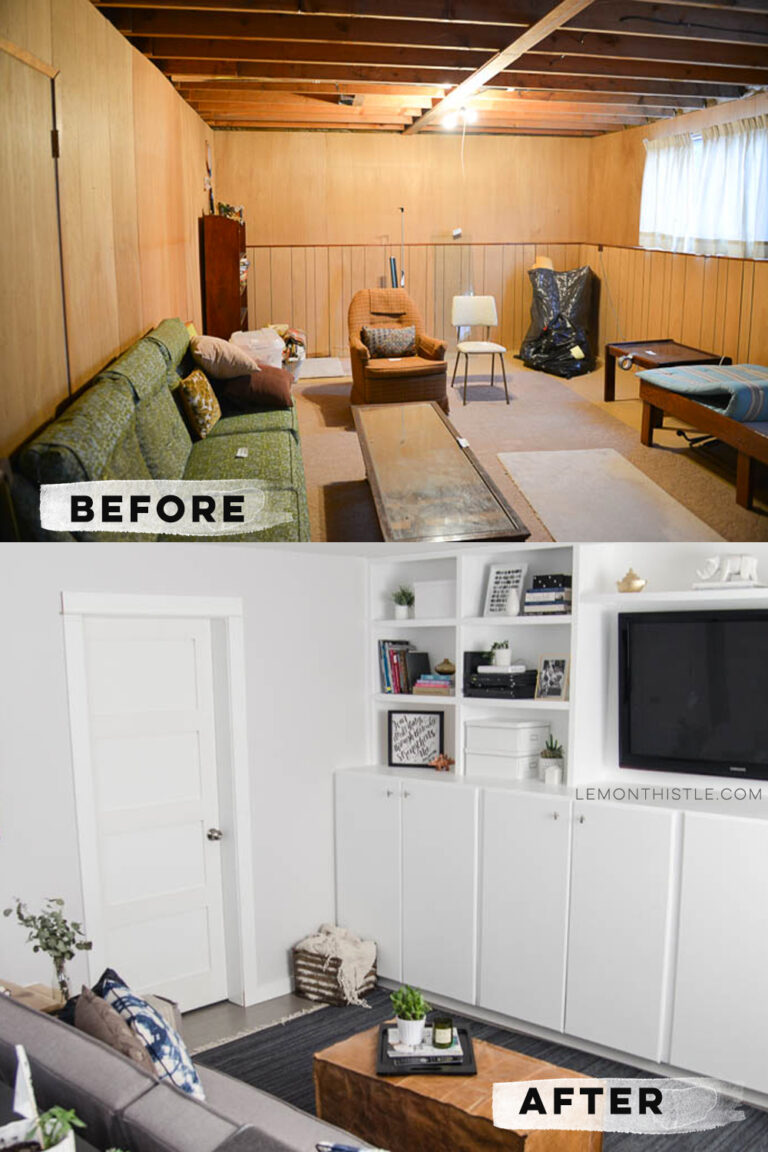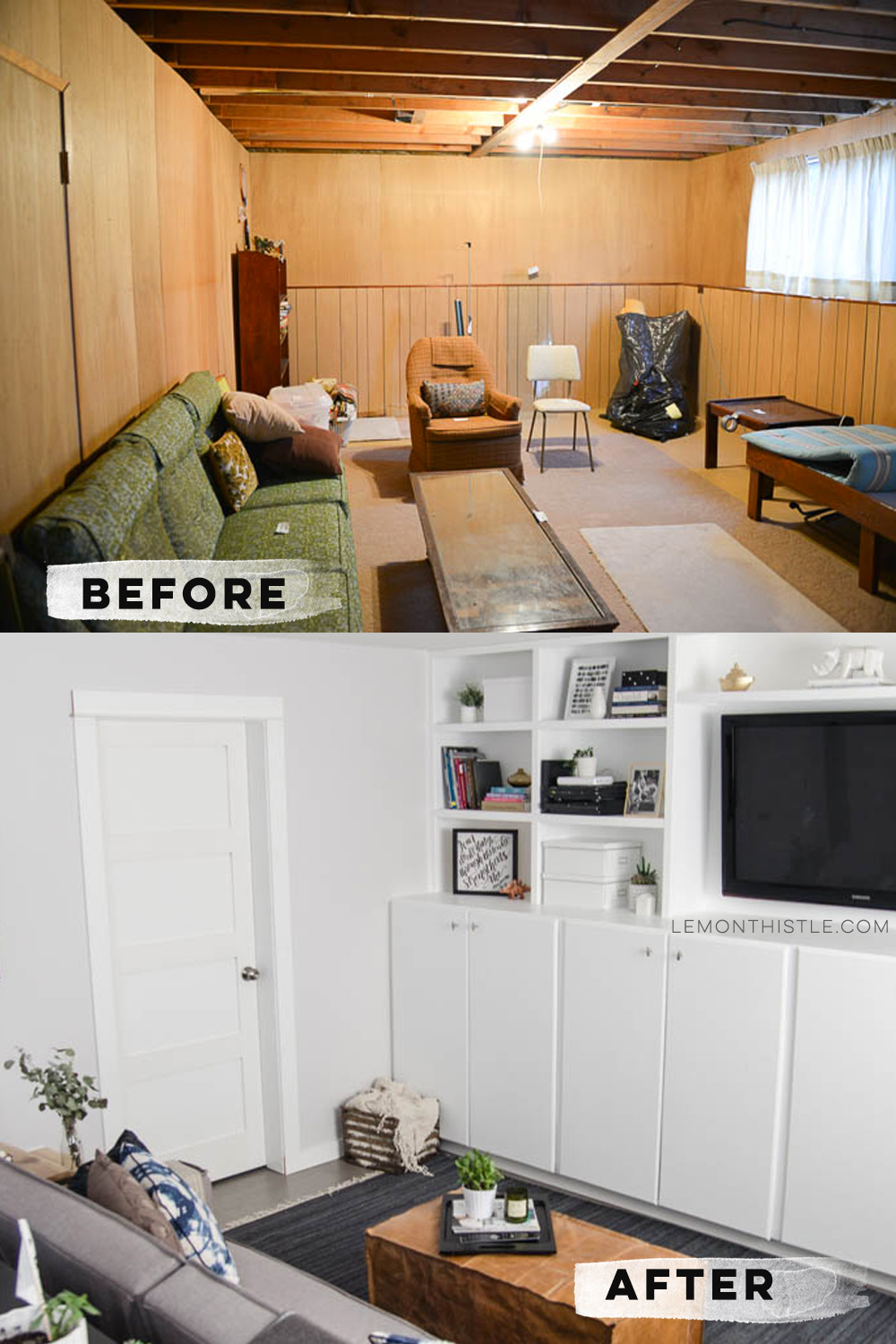 The basement was a blank slate when we moved in. We divided it in two- one part for us and one for a rental suite. The part for us was this rec room and a laundry room. We divided the rec room in two- one half for this TV area and the other half a play room (below). We built these GIANT built ins to house all my office supplies, our games, and books. You can see the full rec room reveal right here.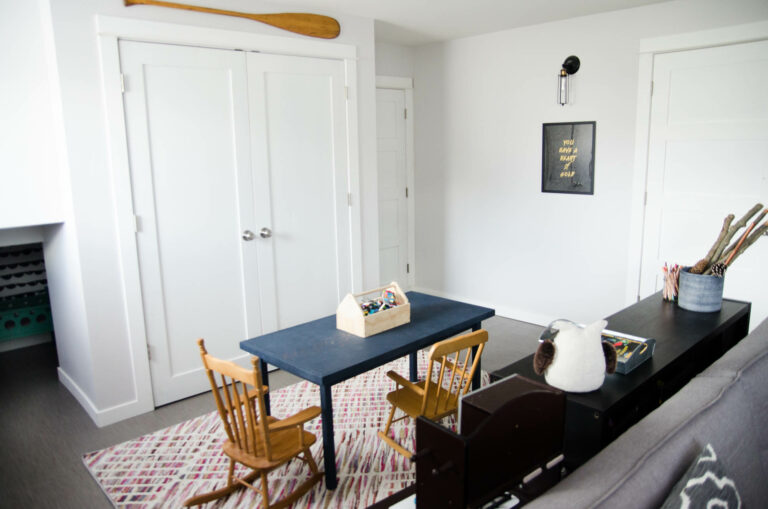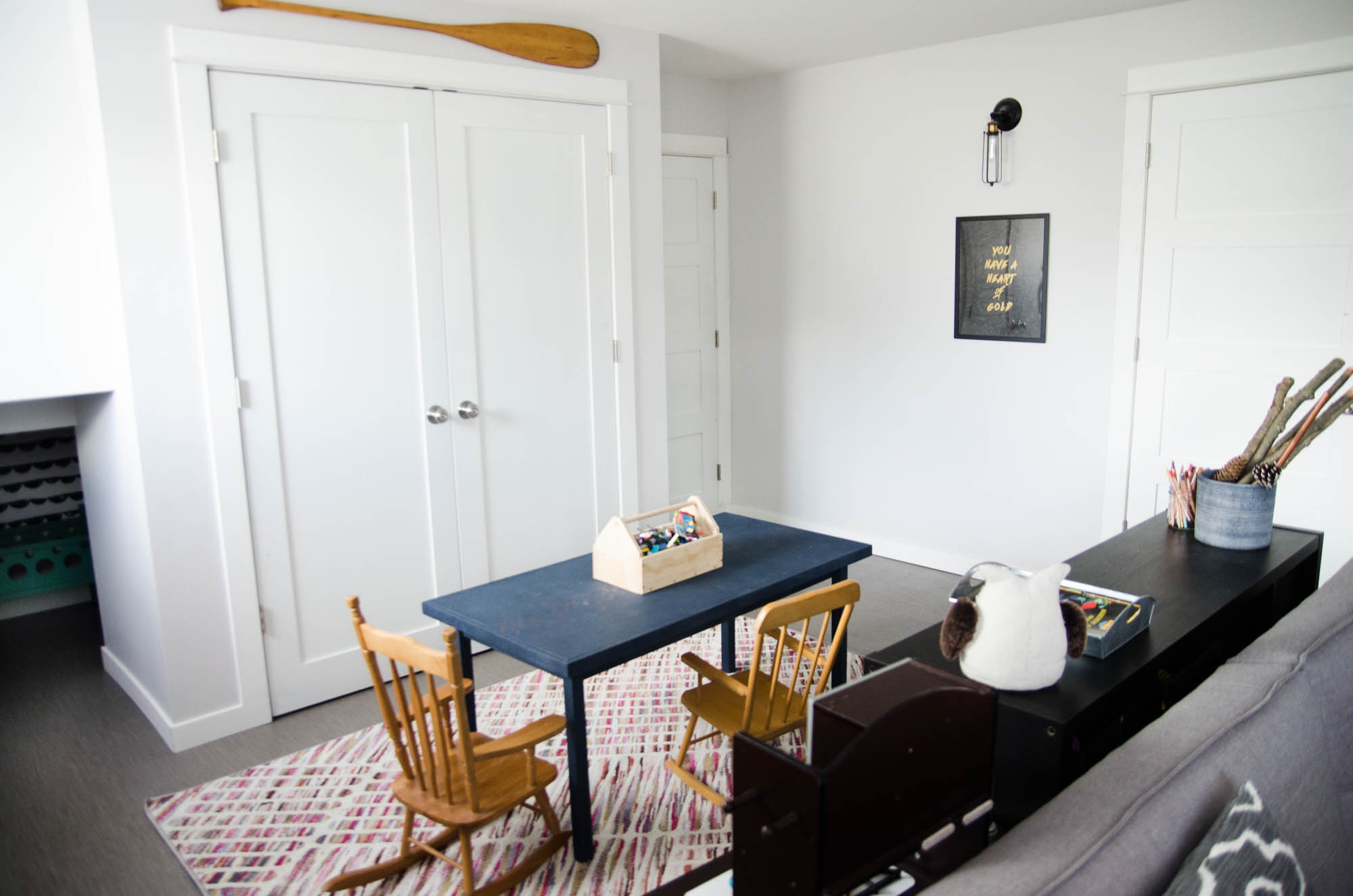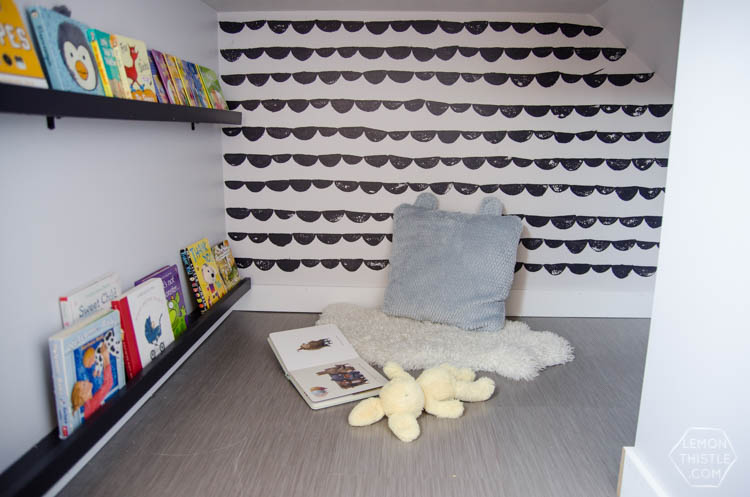 You can see there's a little under stairs cubby. We used that side (it's like… hip height so not super useful for storage) into a kids area with books and pillows. You can see that right here!
Laundry Room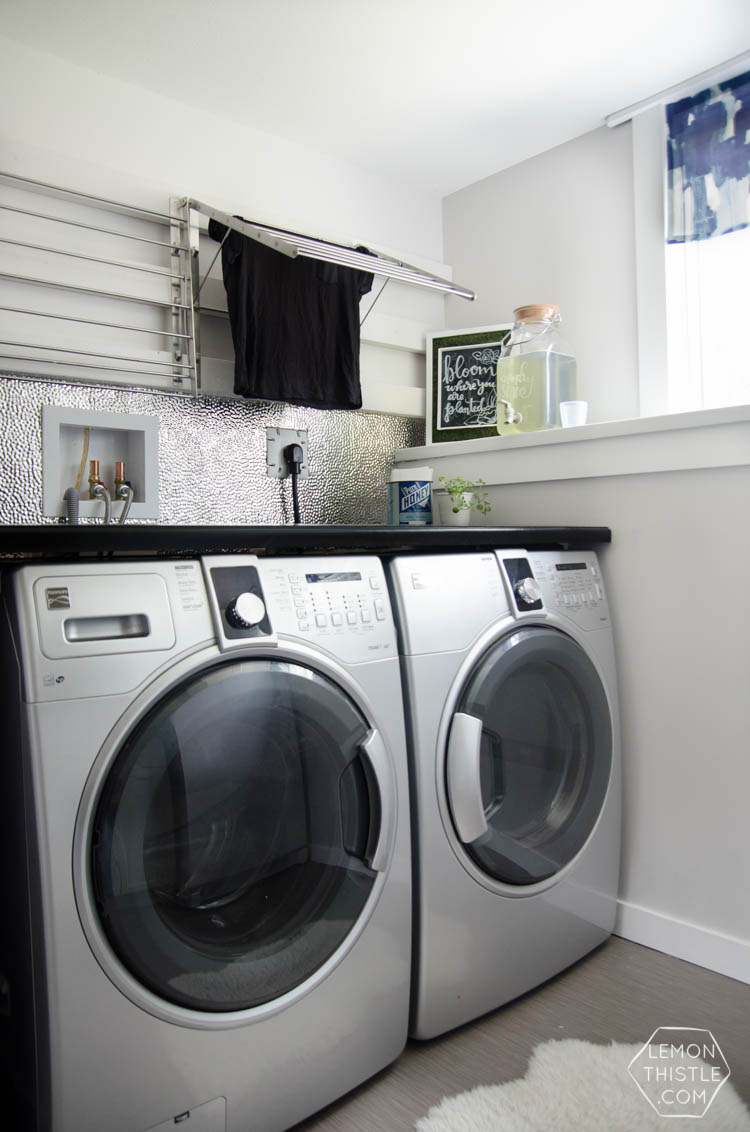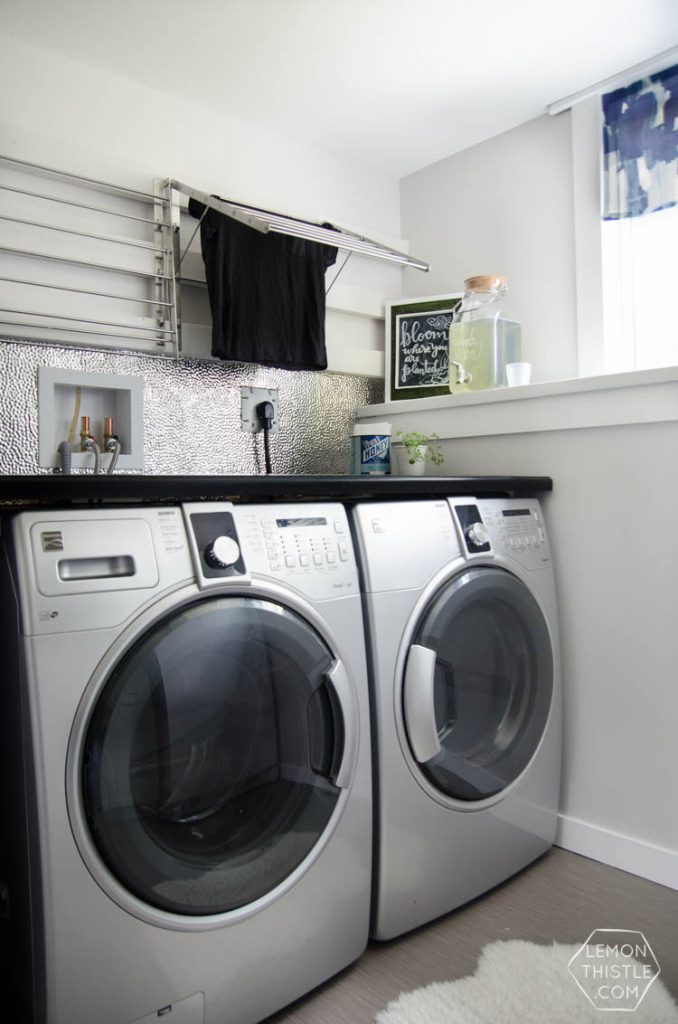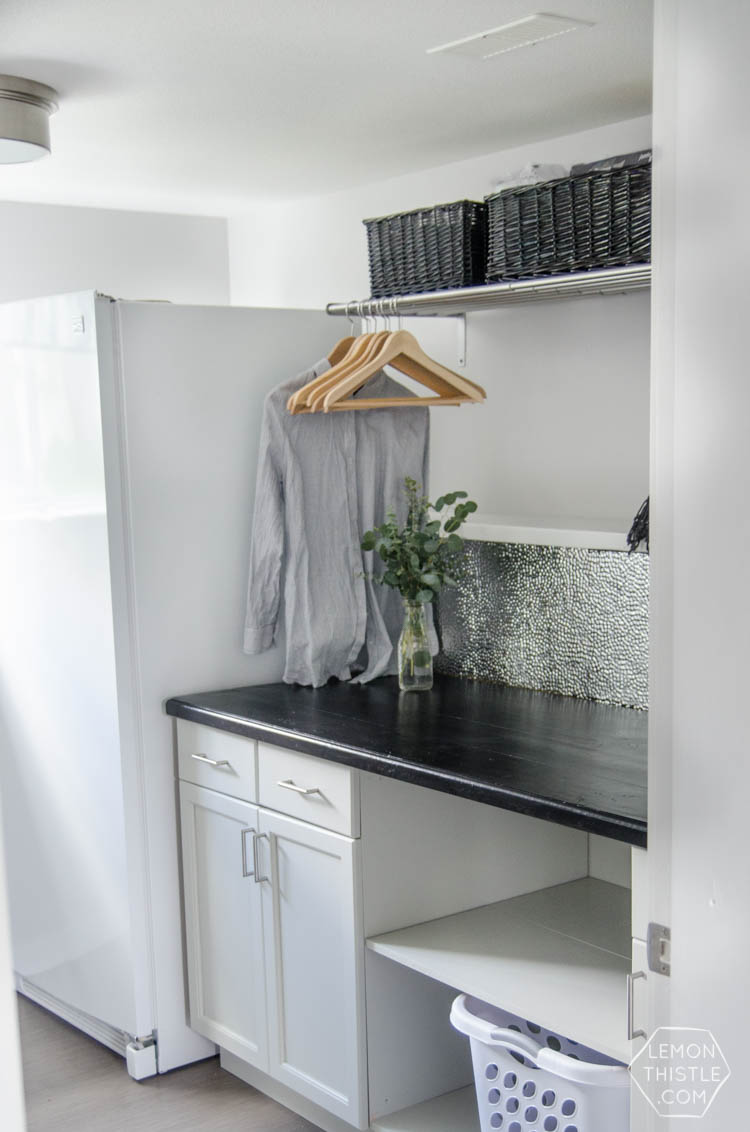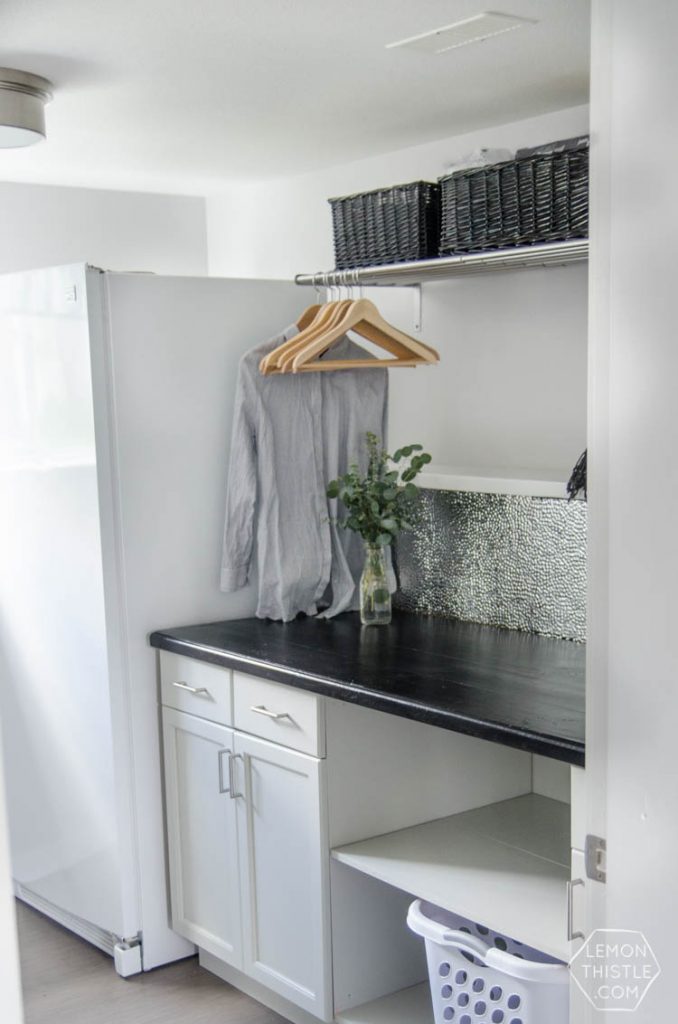 It was such a treat to have a dedicated laundry room in this house! Prior to this house, we'd lived in an apartment with a laundry closet and before that a basement suite with a washer/dryer in the kitchen. This was a total dream! We built the countertops from lumber and used ceiling tiles for a fun backsplash. You can see the full reveal right here.
Basement Suite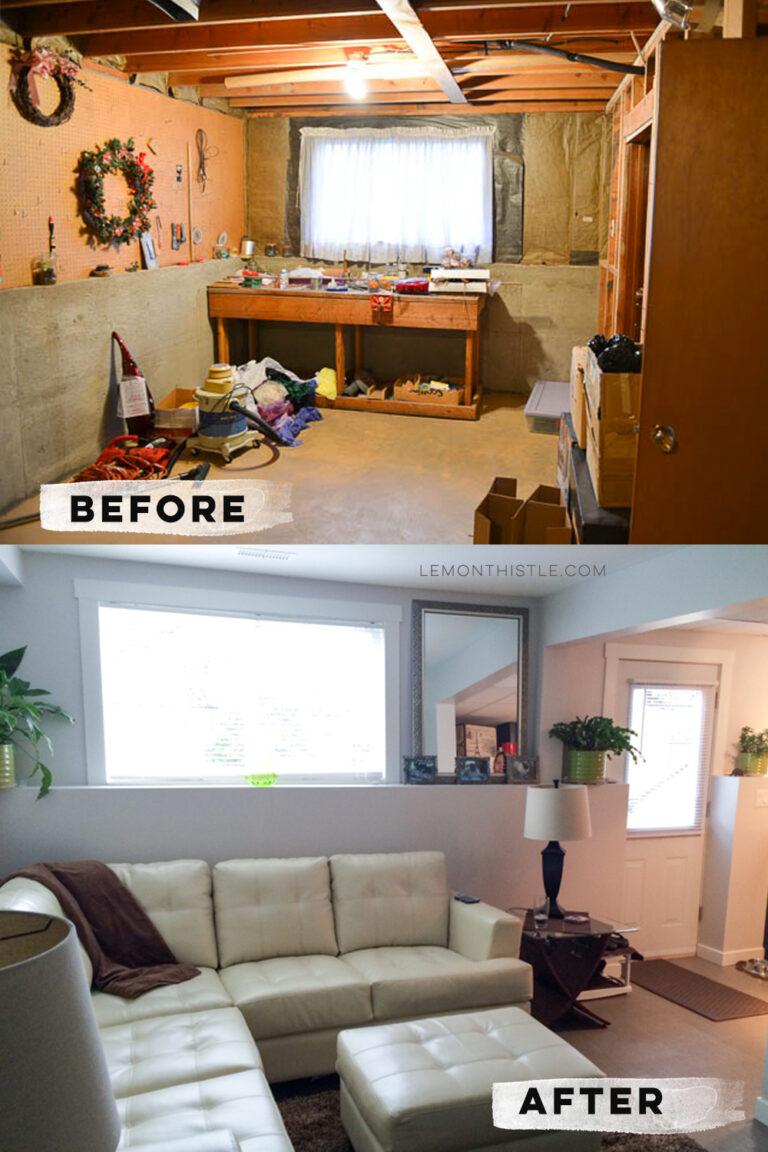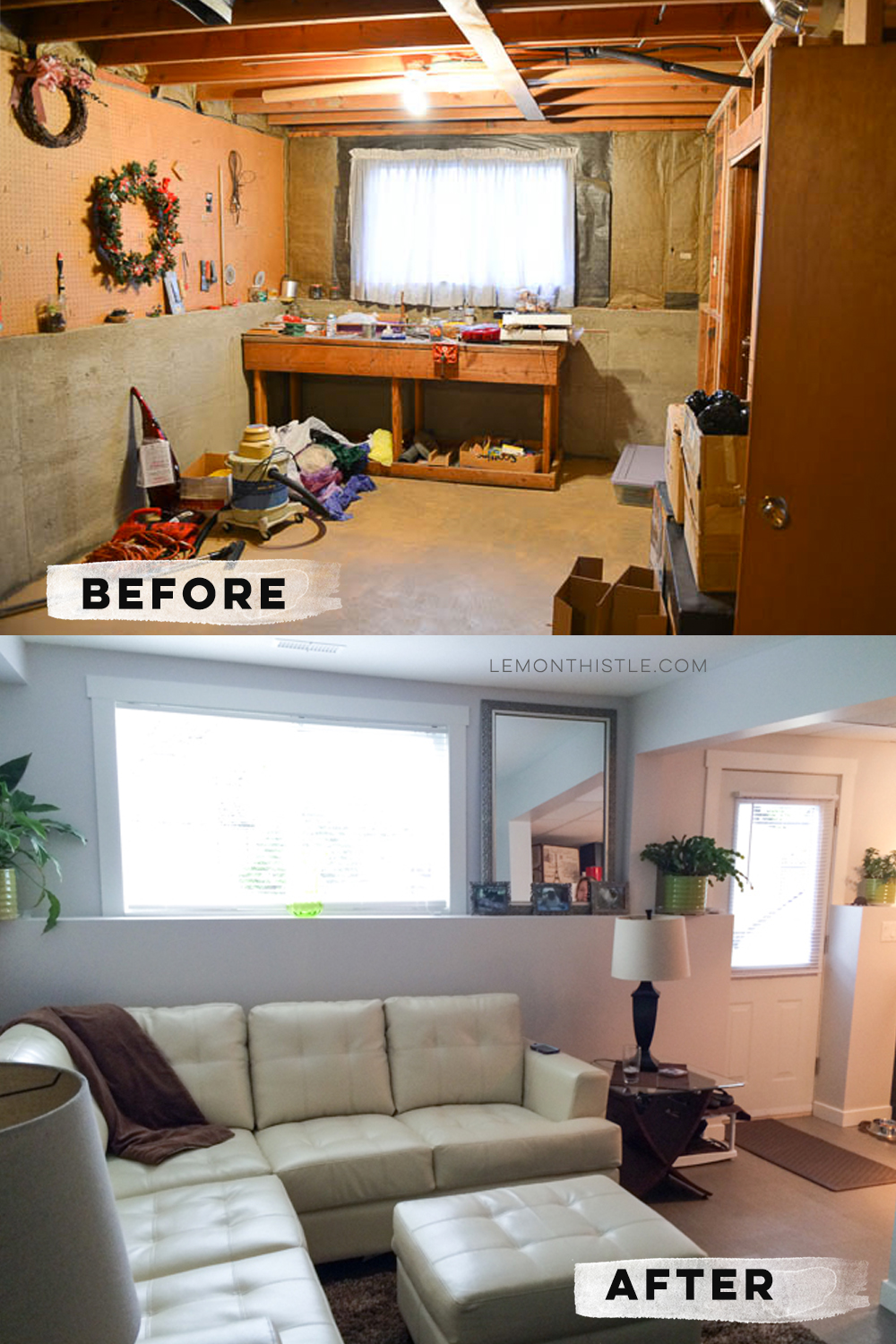 Our city has a huge demand for rentals. Many homes convert basements to rental suites and this was such a great way for us to fund our renovations!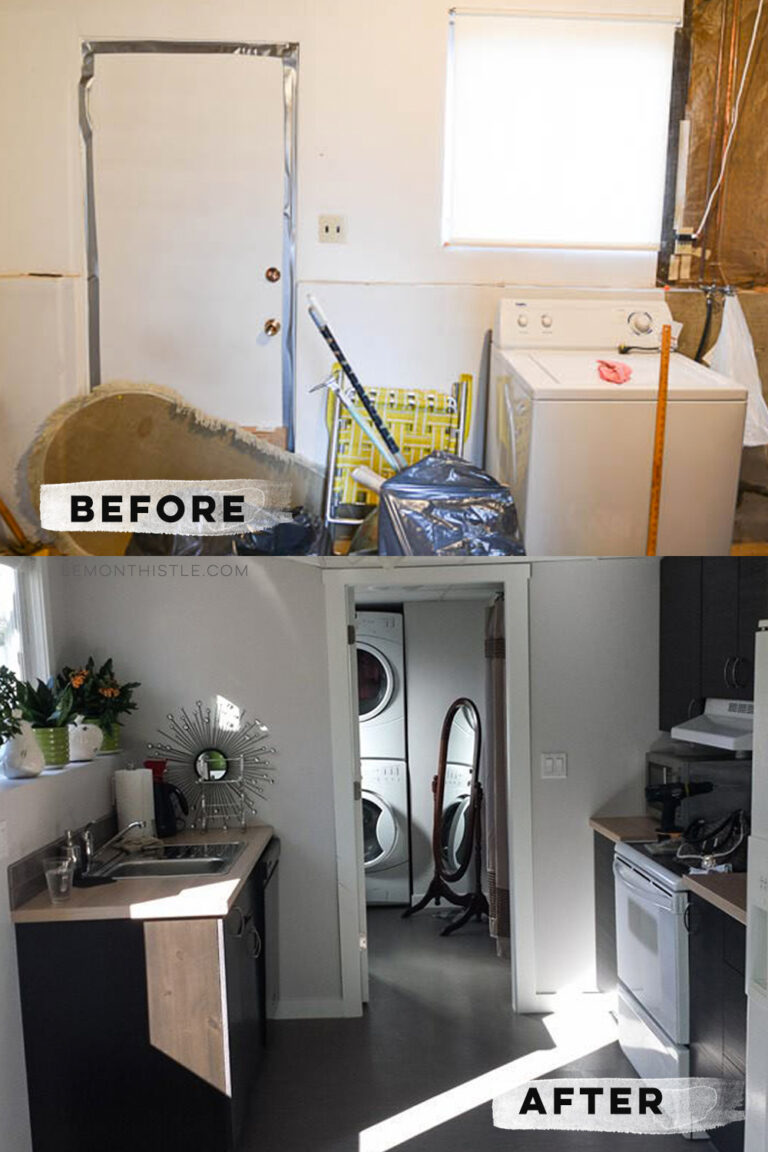 We put in this cute IKEA kitchen (can you spy the dishwasher hiding there?) and a stacker wash dryer in the full bathroom. This basement got so much daylight, I wish the one we lived in when we were first married was this bright- ha! You can see the full reveal RIGHT HERE.
PATIO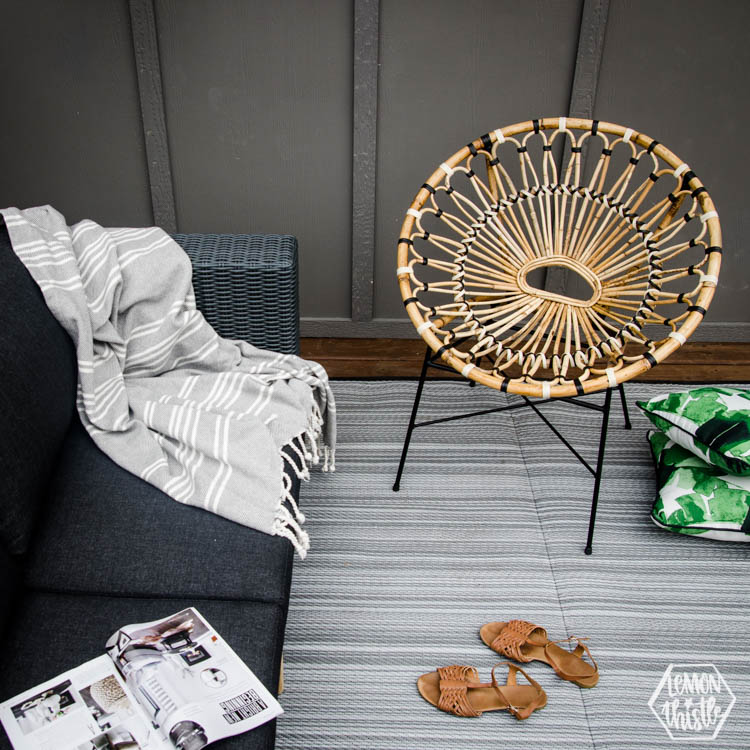 Okay, the last space that I wanted to share is this deck we built! There was no deck before so there's no before photo but this deck was a total dream to extend our living space in the summer. You can see a full blog post about the space RIGHT HERE!
Whew! That was a long post, hey?! It feel so good to hit publish on this, I've been meaning to do it for… years. Can't wait to get to the point in our current home renovation that I can put together a full home tour post for it too!