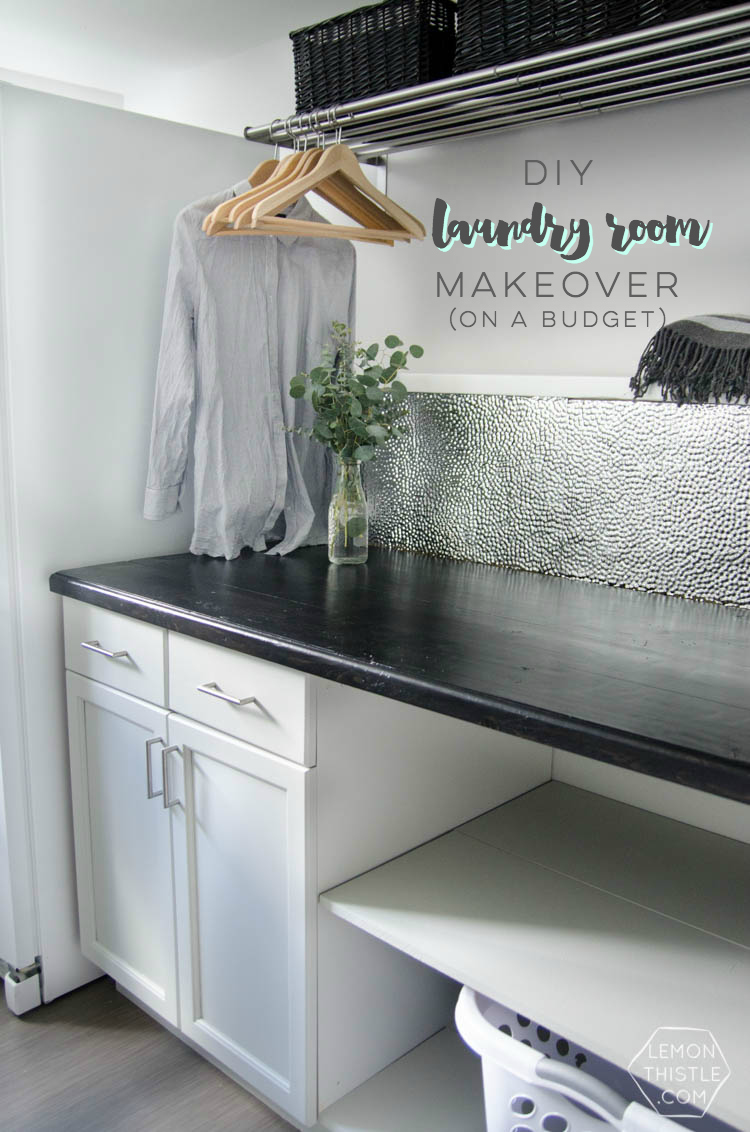 You guyyys! This one is a big one and it makes me so crazy happy to have it done. It's really exciting to finally be at the stage of our renovation where we're finishing rooms- not just bits and pieces of them. I have a few great reveals coming down the pipe… but today? Let there be laundry!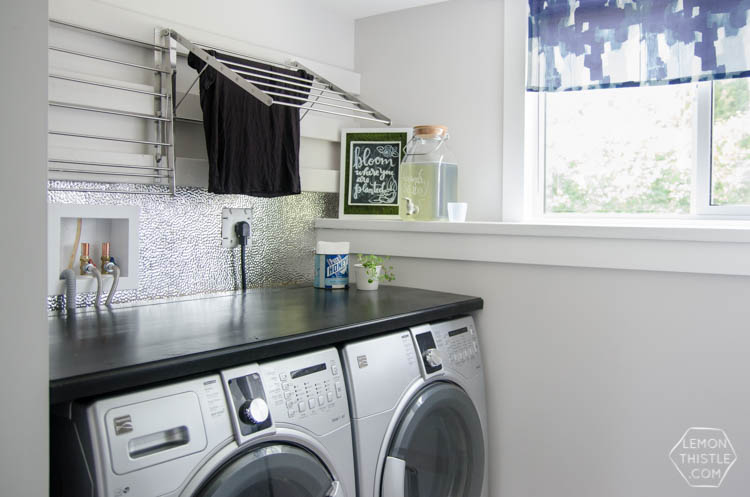 So if you haven't checked out the 'before' of our house… hop over there and do that. It's the unfinished junkroom of a basement. And there wasn't even enough power run to the house to have a dryer. Seriously! So other than the obvious upgrade of the electrical panel (hiding behind the cabinet door)… we also added a real laundry space. And now that we're finishing up the rest of the basement, it's so wonderful to be able to go down there with laundry and not have to put shoes on and hope you don't drop any of the clean clothes! It's the little things, right ;)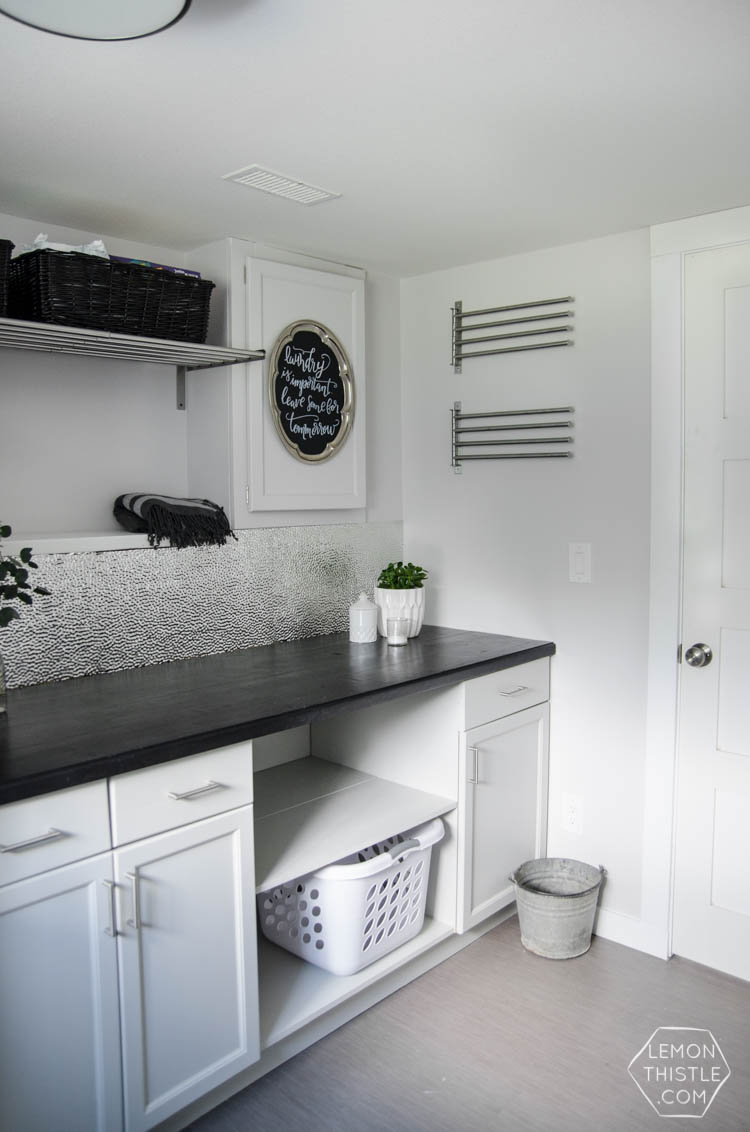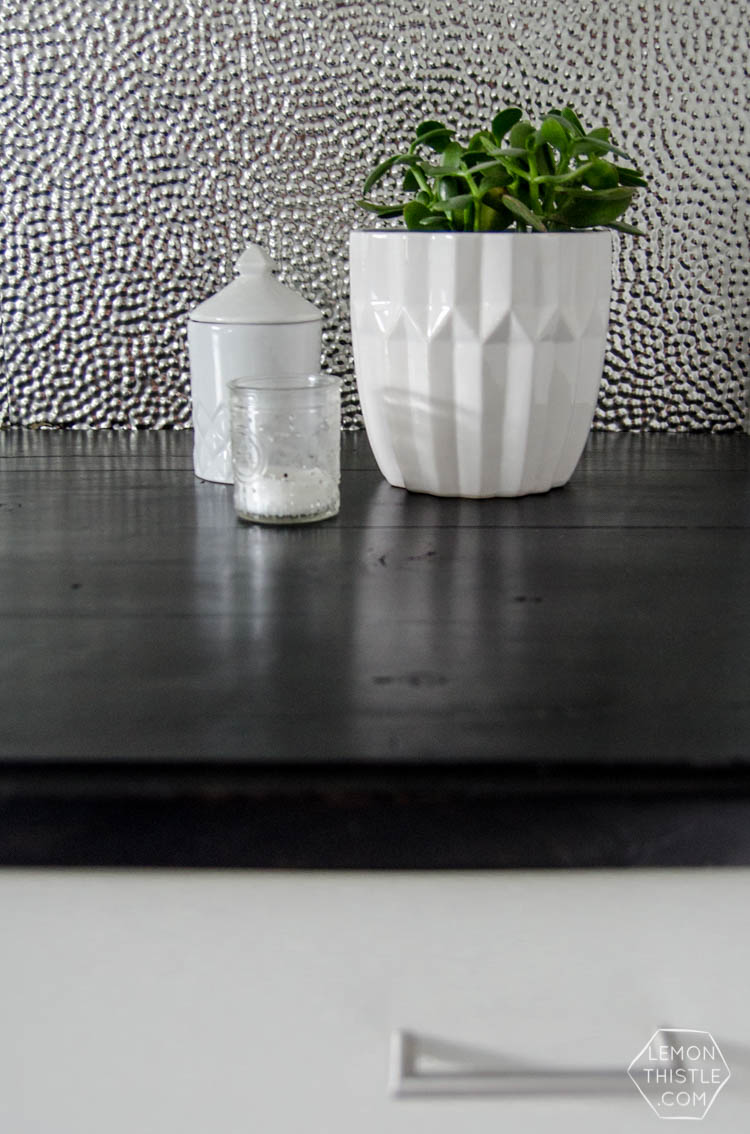 We started by replacing the window and framing the room in. It has a ledge around the outside walls as the foundation is thicker than the studs on top. We chose to frame that into a ledge so we could maximize every inch of storage in here and a ledge= good storage for laundry soaps and such. We didn't have much of a choice on where to put the washer and dryer. All the plumbing is in behind that wall so it made sense. In a perfect world, we would have loved a laundry room sink (so much), but it would have meant breaking up the concrete to get the proper slope on drainage and that expense just wasn't possible for us.
The walls are painted a the same colour as the rest of the house (it's a custom grey, you guys I'm sorry!) and we added farmhouse trim and shaker style doors to the space. The floor is a vinyl interlocking tile that we did in the whole basement. You can read more about my installation tips and what we think of it in this post, but the short is that we really love it (less than $2 a SF! and it's warm on the feet without underlay). We did splurge on a new washer/ dryer set when we moved in a couple years back, since we do a lot of laundry with three kids under the age of three (they're pretty darn messy). I'm so glad we did as these guys are work horses! The stand up freezer was a gift from my mama, so we needed to accommodate it in the space as well.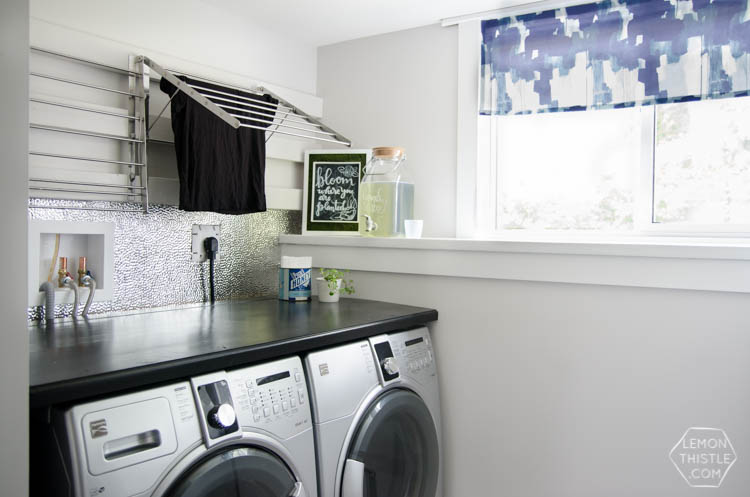 Other than framing it in and getting the drywall painted and flooring down… we didn't have much money for the space. It was finished enough to be used, but it wasn't being used efficiently (or enjoyably). We decided we wanted to get the job done right though, so pulled together some cash to officially finish it up.
CABINETS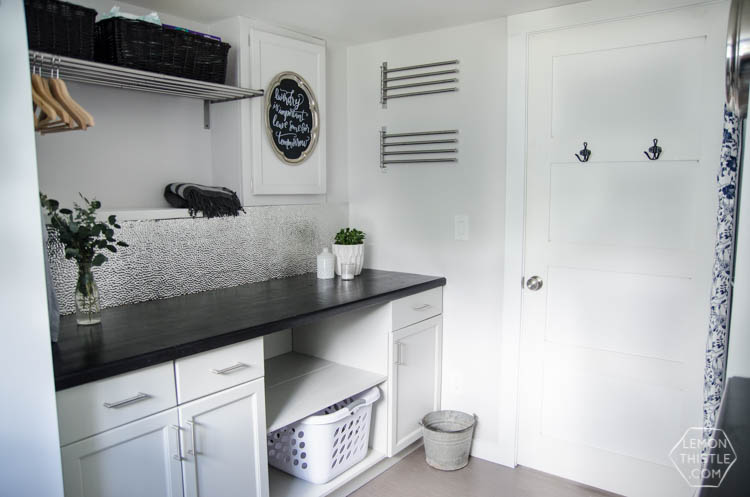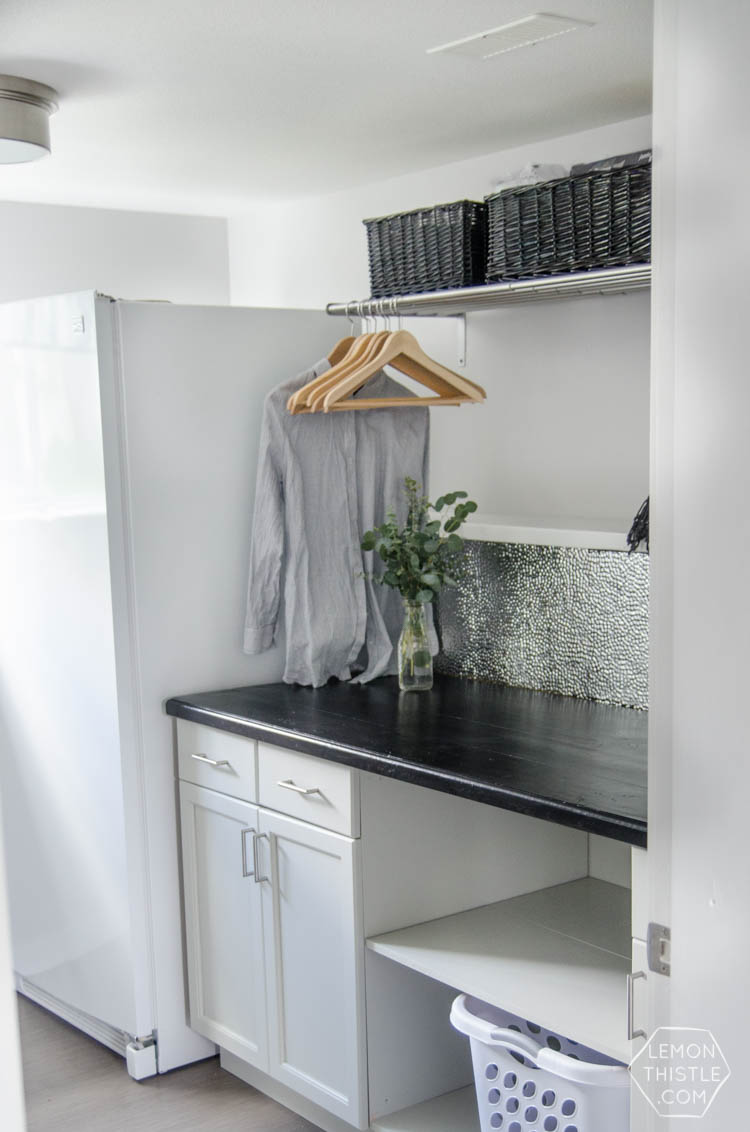 The cabinets are hand me downs from my dad's old kitchen. We split the two and built shelves for laundry baskets in between using MDF shelving. We ripped a piece of plywood to use as a kick so they look like one unit and painted them all.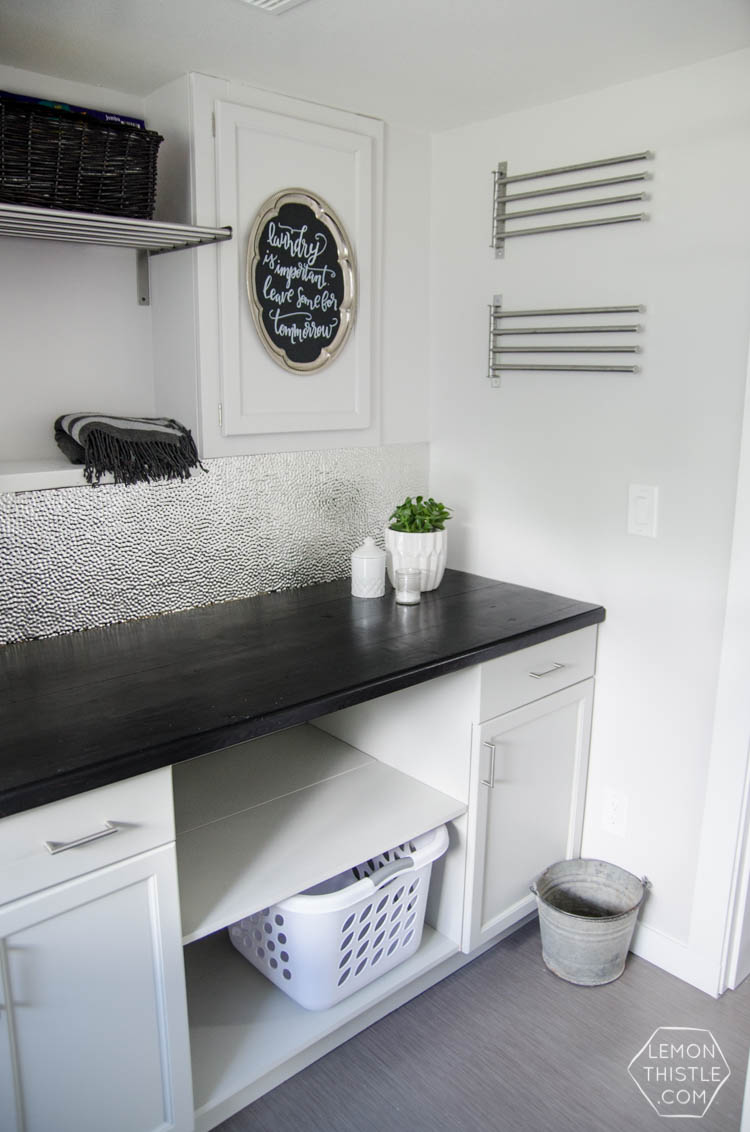 This was my first time painting cabinets, you guys! I used Para Ultra Cabinet Paint and it was really awesome- I only did two coats! I was impressed with how it leveled- so smooth. The color I chose is called 'Designers Choice' by Para Paints (P5213­34D) and is a bit of a muddier (that's a term) gray than the wall color we have. I really like how it tied in the darker counter tops and floors. I will also tell you that although it's only been about two months with the cabinets painted, they hold up well! I've erased LOTS of toddler drawings from them (if blogs had emoticons, this one would have the monkey covering his face. Because, ugh.), witnessed plenty of 'fixing' (hitting them with tools), and had toys dragged all over them. So far… not a lasting mark! I'm calling it a success and can't wait to try painting more cabinets and furniture with this stuff.
We finished the cabinets off with these simple satin pulls from D. Lawless– the hardware the cabinets had before was preeeeetty awful, so this feels like a complete upgrade. I ordered them before we decided exactly what direction we wanted to take decor in there and I love how simple they are which helps them fit with any kind of decor.
COUNTERTOPS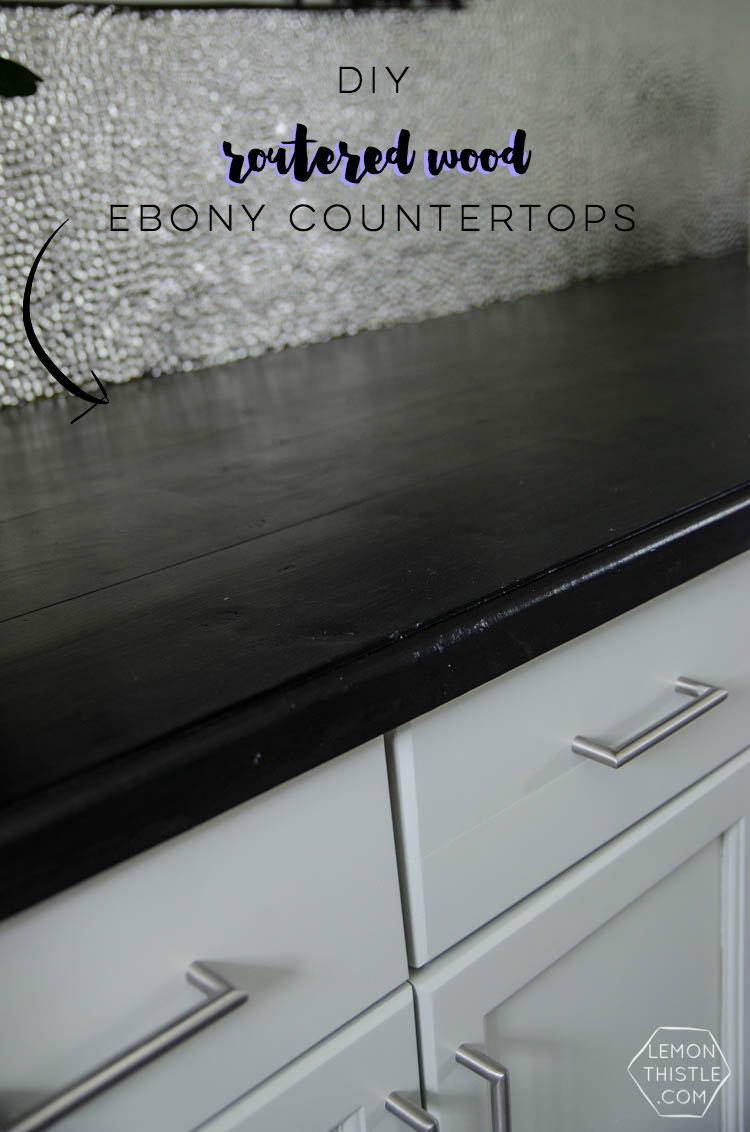 The countertops were a labour of love (and frugality). They're made of 2x6s and I have to say that I'm totally in love with them! I didn't take process photos so won't be doing a tutorial post but will do my best to describe the process in a few sentences. We used a table saw to rip the edges of each 2×6 off (y'know the curved corners), then laminated them together using wood glue and a Kreg jig (pocket holes). We sanded the whole thing level with a belt sander, then routered the front edges (my favourite feature of them!). We stained them a dark stain (Ebony from Minwax) and sealed them with 6 or 7 (seriously) coats of Varathane Crystal Clear in Satin. The countertops are mounted over the washer and dryer leaving a gap at the back for cords and hoses by using Utility L Brackets.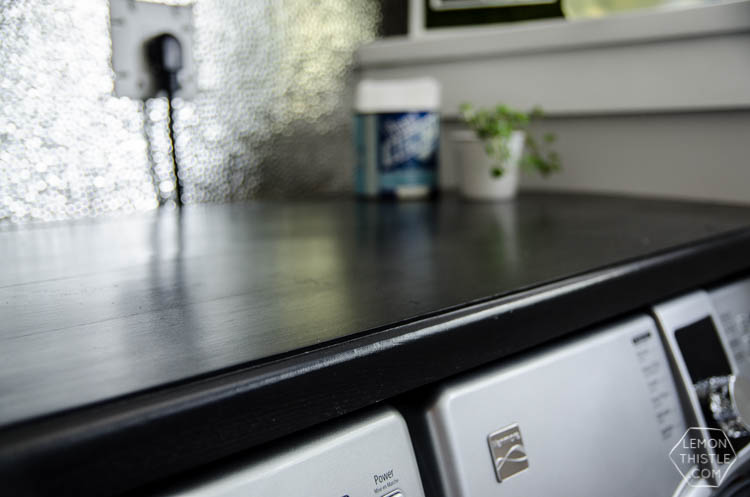 DETAILS & DECOR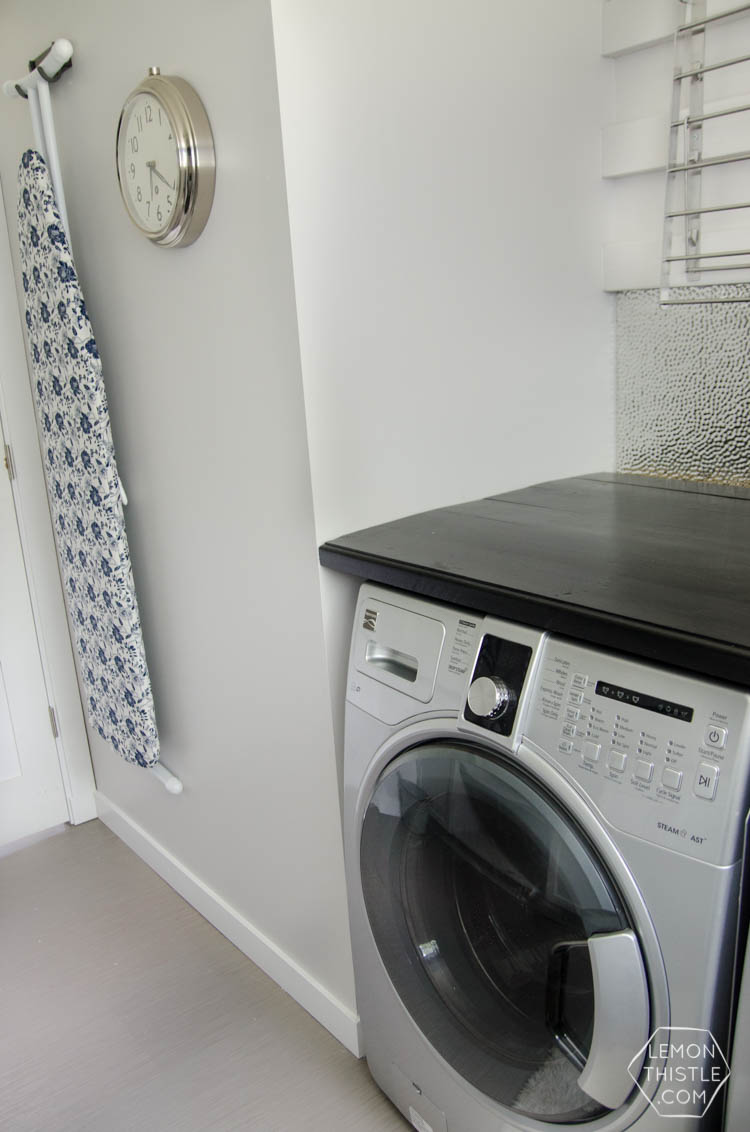 This post is turning super long, super quick so let me try to speed things up. Almost all of the shelves and hooks are from Ikea (of course), including the double hook that the ironing board is hung on. The clock is Debbie Travis from Canadian Tire, but I scored it on Facebook for $2! We also moved our detergents into drink dispensers which I lettered using a chalk pen. I really love the way these work but chose the cheapest ones at the store ($12) and the flow is pretty darn slow with the thicker liquid in them. I used a vintage tin to hold dryer sheets. It's nice to have everything we use for each load of laundry up on the counters and ledges so I'm not digging in cupboards for every wash. I have the stain removers and iron and such in the cabinets. I also brought down a couple plants, eucalyptus, and a candle for some life. I used the silver framed chalkboard as well as the moss framed chalkboard I DIYed as some decoration. The silver one now says, 'laundry today or naked tomorrow' which makes me laugh.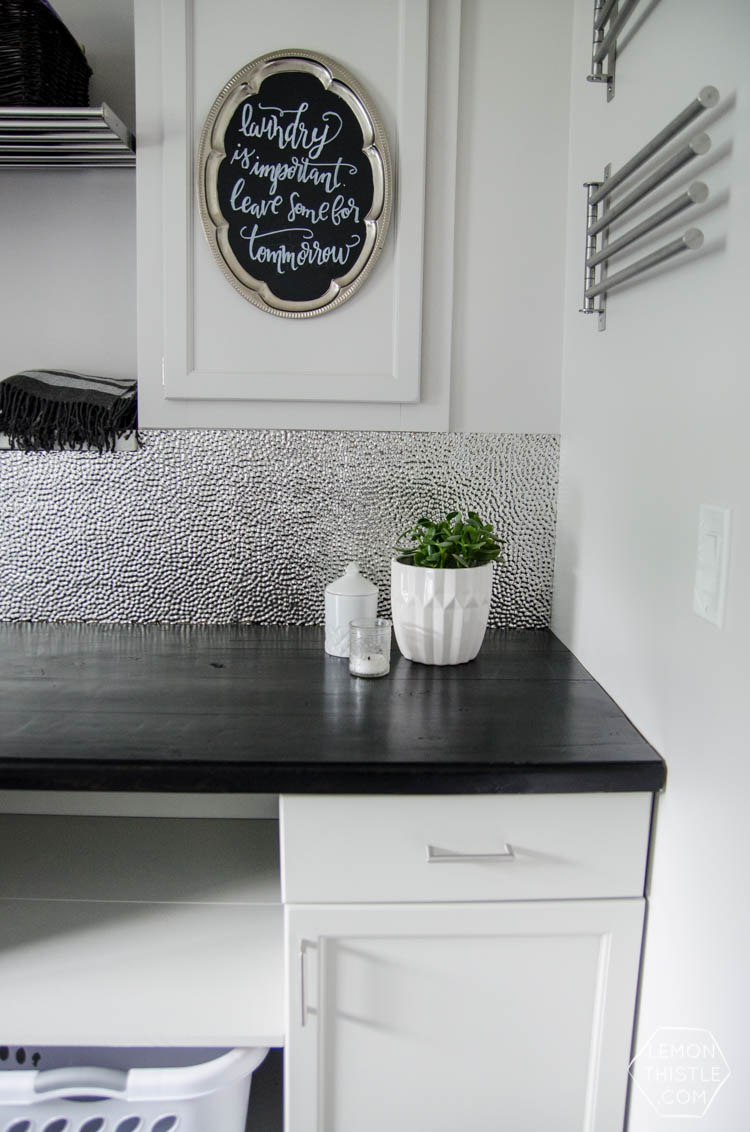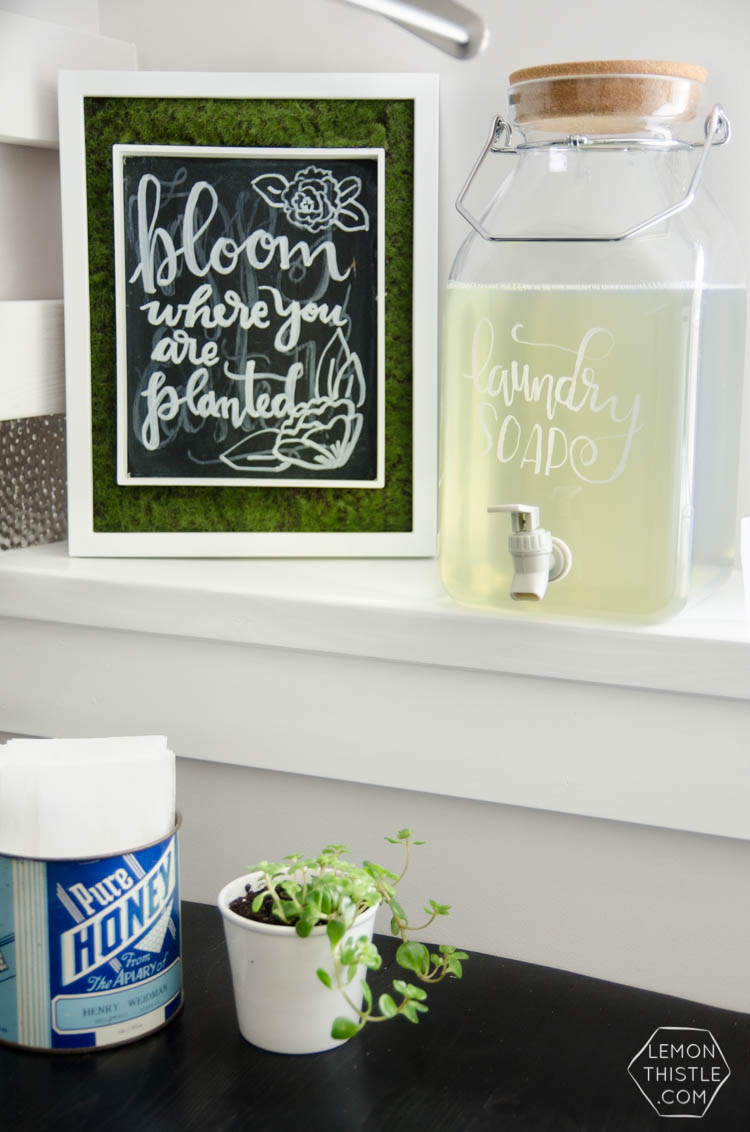 That window shade is just a fabric valance over mini blinds. We love the affordability of mini blinds ($10 a window, you guys!) but don't love the look of them, so the valance hides them  while they're up, and it's rare we put them all the way down for privacy. The fabric is a bit difficult to see here, but it's a beautiful brush stroke print I had gotten from Minted to make throw pillows with.

BACKSPLASH

Last but not least, that backsplash is made of ceiling tiles! I am sharing the full DIY tutorial for it today over at Remodelaholic (including a video!), so you can hop over there and check it out if you're interested.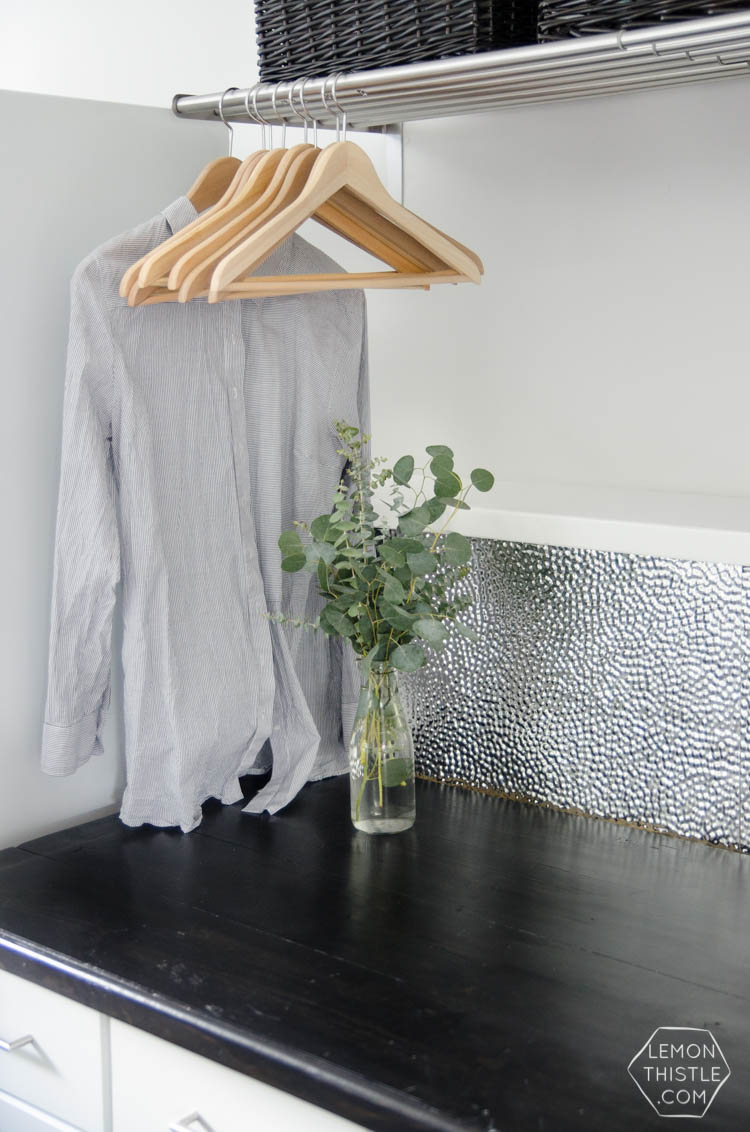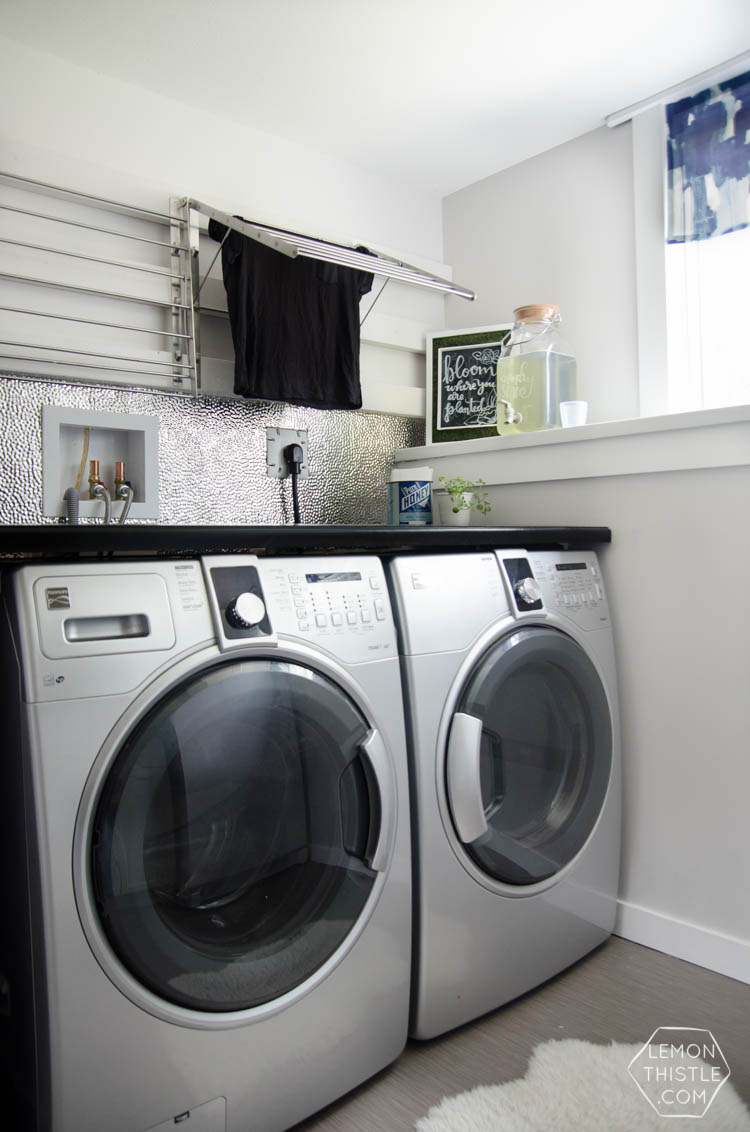 I am so happy with how this turned out, you guys. It feels like we're using every inch of space in there to the fullest. All the hooks and shelves and hangers just make it completely functional. And now that it's a 'finished' space… it's officially the cleanest room in the house. I sort of want to hide in there from the mess that is the rest of our home right now! #truestory
I'd love to hear what you think! Would you try wood countertops? What are your tricks to a functional laundry space?