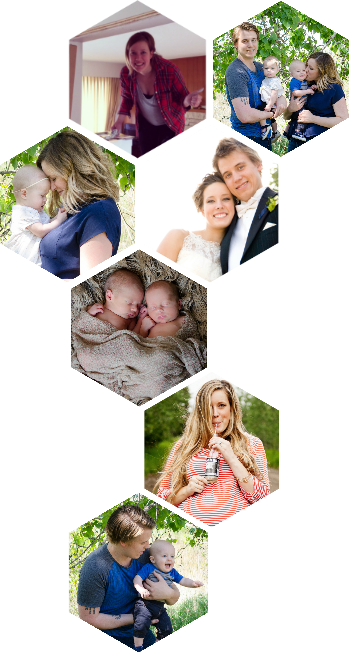 *New pictures are on the way! These ones are about 3 years old ;)*
Thanks for dropping by! I've gathered up some tidbits about myself and this blog so we can get to know each other a bit better.
ABOUT ME
Hi, I'm Colleen. I'm a 20-somethings mom, a project dreamer upper, and the blogger behind Lemon Thistle. When I'm not making memories with my family, you can find me tackling a DIY project, brush lettering yet another quote, or blogging away.
I've got a case of the 'I can do that's and a husband that says 'why not?'. Together we're working our way through top to bottom renovations of our 1965 home (the DIY way!) making this old house into a home full of life, function, and style. You can see more about our home right here.
Family
This mama has 3 wild ones 3 and under… with one more on the way! We started off with a head start- twins! Emmitt and Aubrey are almost 4 and we followed it up with Windsor- he's almost 2. The newest addition is scheduled to arrive this November and we couldn't be more excited.
Emmitt is a total boy- he loves to build and bike and is constantly creating diagrams of water towers, diggers and buildings I can't pronounce. He's also the sweetest boy I've ever met- always complimenting my cooking, my projects, and my hair (seriously, his daddy has taught him well). Aubrey is just like her mama. She's the best sister to her brothers, she never stops singing, could craft all day, loves dress up and generally dances through life. She also loves doing dishes but certainly didn't get that from me. Dishes are the worst. And lastly… Windsor is the most joyful thing. Since day one, he's brought nothing but smiles and the older he gets, the more we see how much of a jokester he is and how much he totally adores his brother and sister. His love is music- as soon as it's on, he's dancing and playing an instrument.
More?
When the twins were born, we took the plunge, sold our tiny apartment and traded up to a real house (with yardwork and everything!). We spent a couple months renovating before moving in and haven't stopped since. We might stop just in time to sell ;) Blogging, crafting, and renovating with little ones under foot makes for non stop adventures. It can be a handful, but we wouldn't trade it. We hope to take on another fixer upper when we're done with this one- we really do love turning a house into a home to love. We love testing things out and trying to find our style.
Even though I know it's tabu to talk about money… I'm always talking about things I probably shouldn't be ;) I believe you can have a beautiful home, party, & life without spending a lot of money- just a little creativity. And even though we're totally conscious of money… there's some things that are always worthwhile to me (on a budget of course). Celebrating, making a home that inspires you, and experiences with those you love. Every day deserves to be special, there's no accomplishment too small to celebrate. And DIY helps stretch every dollar. I hope that my children will learn to love the little things in life. In a nutshell- this is why I'm doing this.
Above all the beautiful photos, projects, and art, for me, blogging is about authentically connecting with others. I try to share the beauty with a healthy dose of reality. A DIY didn't totally pan out? I share that so you don't have to find out the hard way. And renovations with toddlers underfoot? Let's talk about that!
I hope you take the time to click around and find some projects that inspire you. Have something to say? I'd love to hear from you. Thanks for making me a part of your day!
ABOUT LEMON THISTLE
Lemon Thistle is a DIY blog to the core. Founded in 2013, it's been growing steadily each month. It's home to hands on DIY tutorials, unique hand lettered designs, rad home decor and renovations (that real people can tackle), and beautifully simplified entertaining ideas. We're keeping it real with a budget, so everyone can join in the fun.
My hope is that anyone who finds their way to Lemon Thistle will leave having learned something new, be inspired to try something new, or to look at something in a new way. I aim to take the intimidation out of DIY and creativity through hands on tutorials, authentic dialogue and endless inspiration.
There's pros, then there's 'the rest of us'
that's who Lemon Thistle serves.