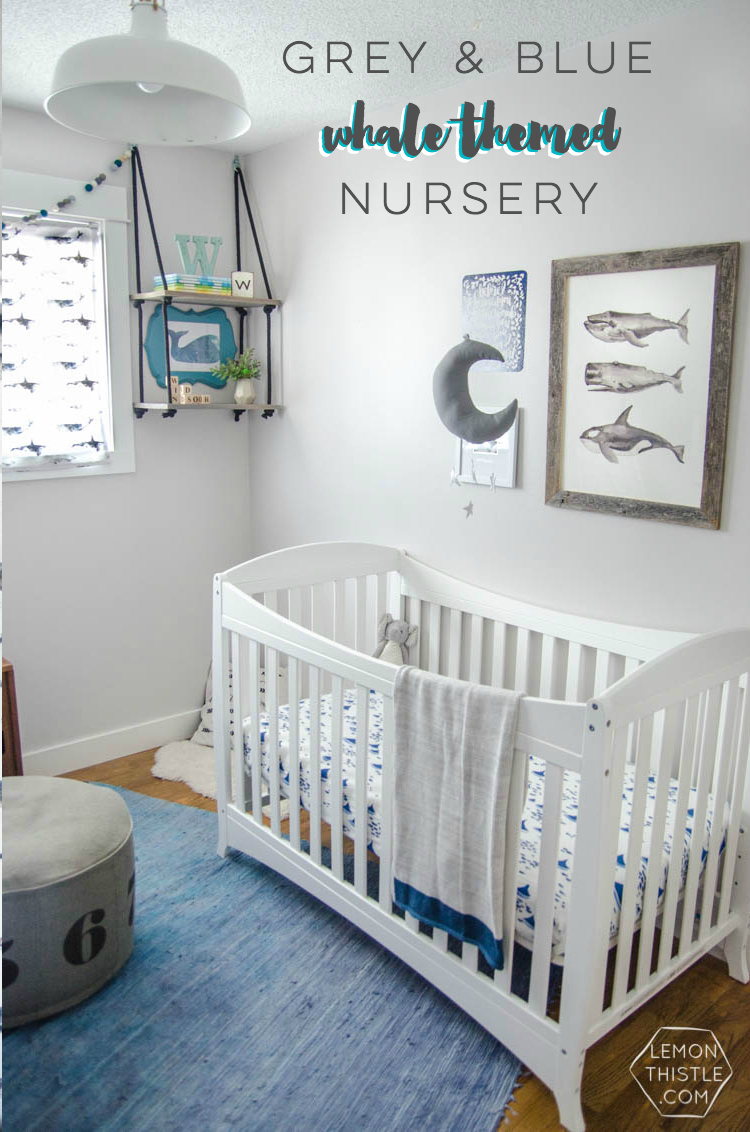 I am so excited to share this with you today! I really love the way this space turned out. We went with a whale theme- and usually I'm the first to throw themes out the window, but I really like the way it worked! The whales are pretty much everywhere… but they're not cartoonish and the colours are pretty muted (except that dresser!).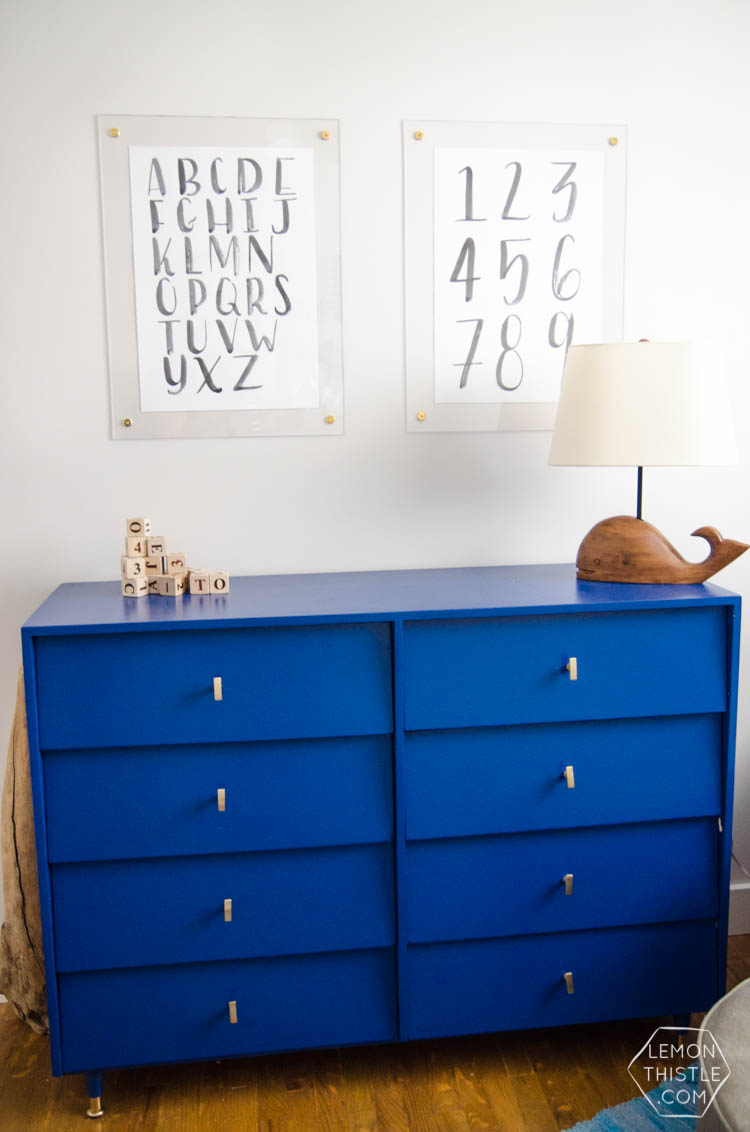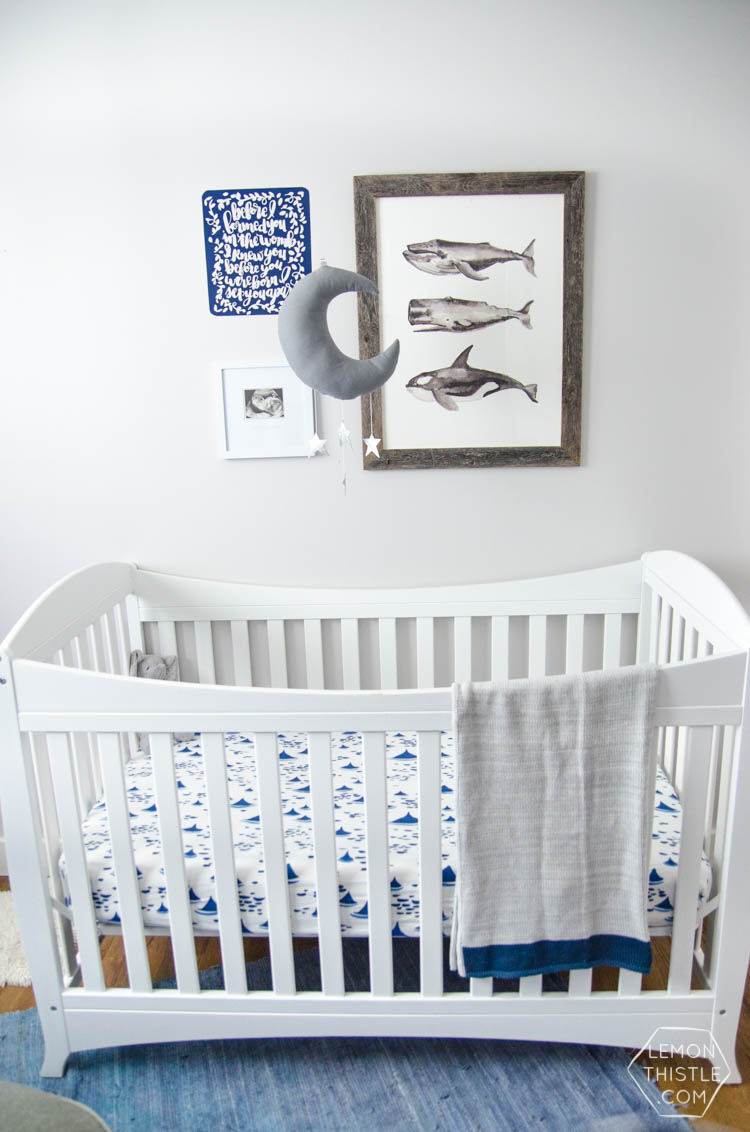 This has felt like it is a long time coming. Windsor is 5 and a half months old and we are JUST finished his nursery. I know that sounds like a long time, but it's not because he's the third kid… really! The twins never did get a finished nursery. And it took at least a year before they got one that was even remotely 'finished'. It's just how we work, I guess. Living in renovations will do that- we have too many other things that are UGLY to look at going on, so we tend to put our time into those instead of getting rooms totally 'finished'. I love that blogging gives me the motivation to finish a room to the point that I can take photos or I'm not sure rooms would ever get decorated!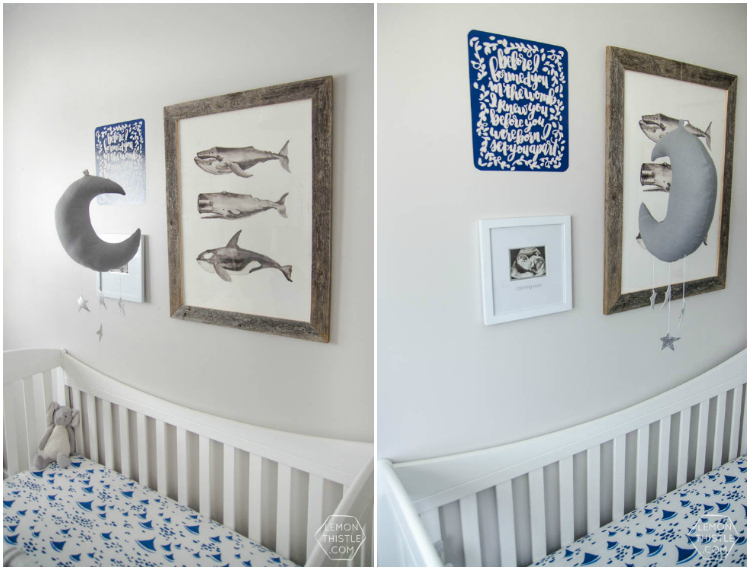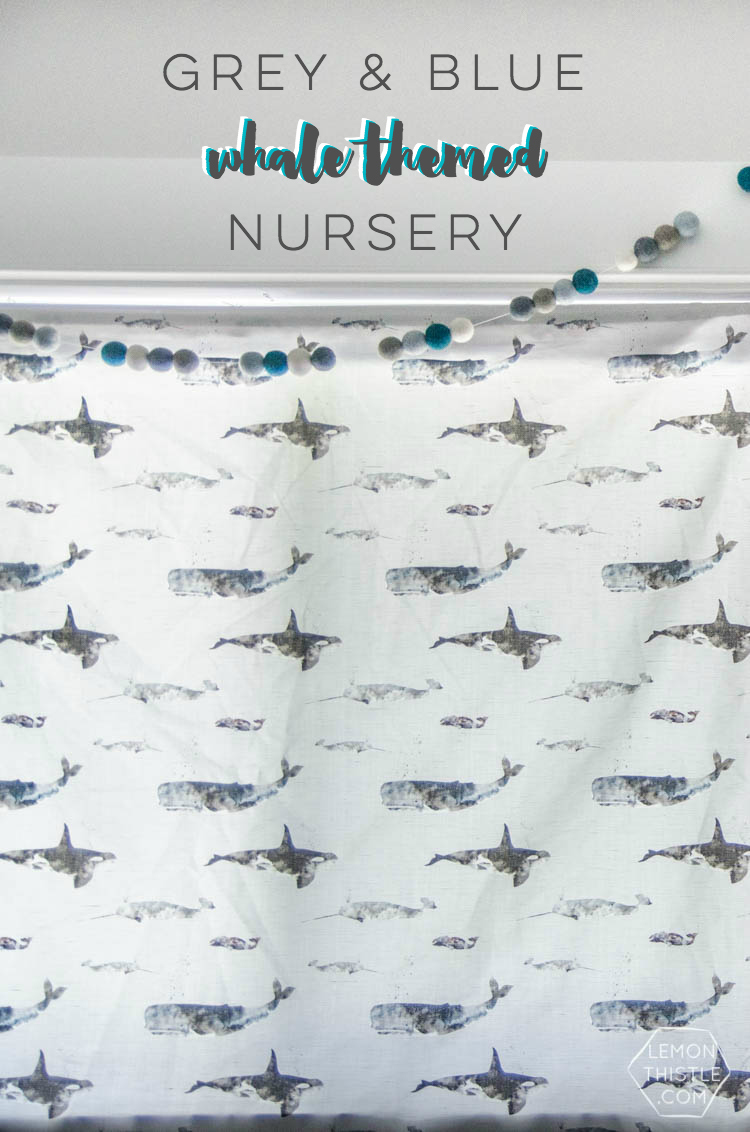 So let me talk a little about this 'theme' since I've kind of opposed them since we had kids. I don't like them. But it's because they're usually done with matching sheet sets, coordinating cartoon prints, and decals. It's not my thing. And that's okay- that's why home decor is so much fun, you can do exactly what appeals to YOU and not someone else in your home. But then I spotted this whale print from Minted. It's watercolour, black and white, AND barnwood? Seriously, could you say no? And then… when I went to search for it and show my husband, up popped this whale fabric. And I got all the heart eyes and decided to abandon my soapbox- we had to do a themed nursery.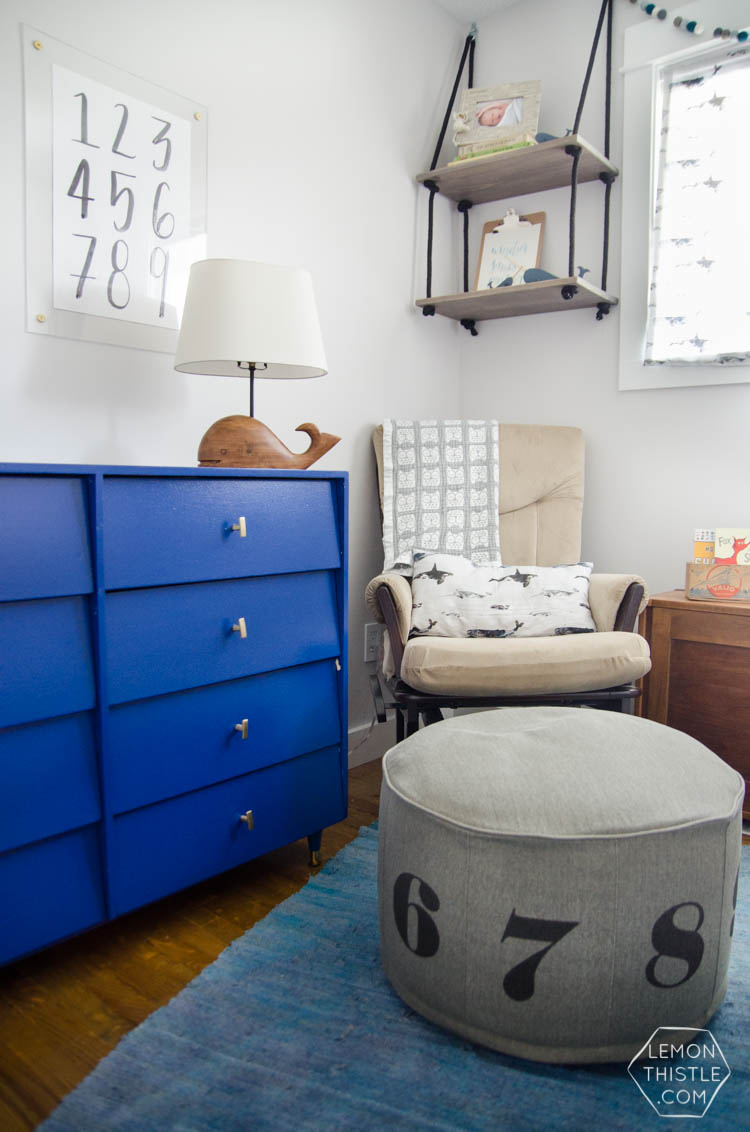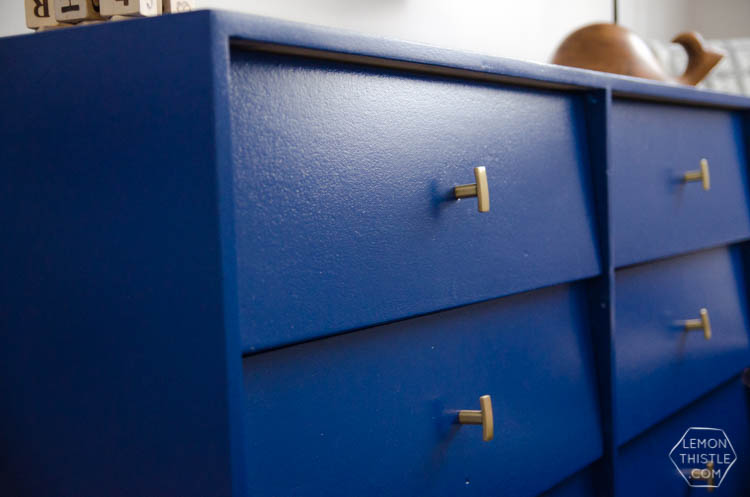 Next came this blue dresser! It was actually a Facebook steal for NINE dollars. It looked rough. I sanded it down and painted it a semi-gloss (did you know it's really hard to find glossy paint? I originally wanted high shine) bold blue. This blue is called 'First Step' from Para Paints (P5004­85). I used a cabinet paint from them and it went on really well! It was my first time painting a dresser with anything other than spraypaint and I'm happy with how it turned out. The one thing I found surprising is how long it takes to dry. I talked to my Dad's wife who paints furniture a lot and she said that I probably should have let it dry longer (who knew!). I am just so impatient. At first I was bummed with how light the blue was, but each coat I put on made it a little deeper and richer. The colour is so perfect now!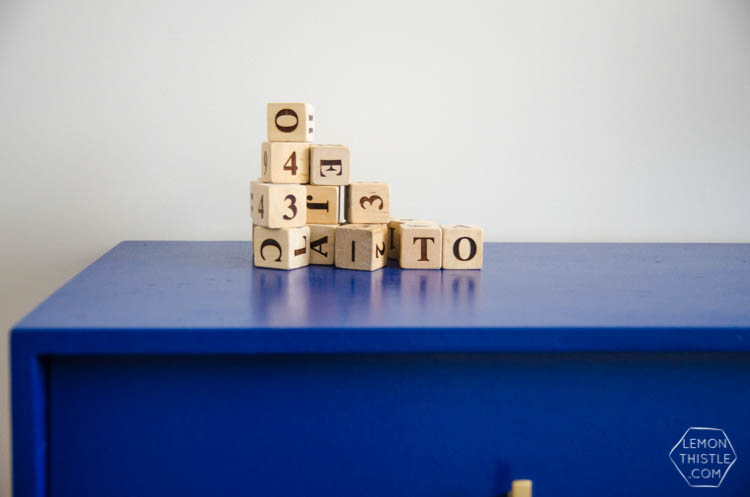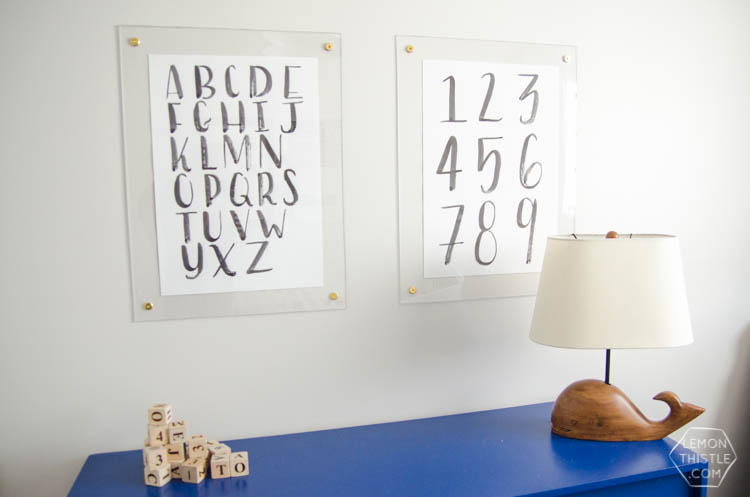 We added the simple brass hardware (from The Home Depot, the website doesn't have the brass colour but these are them) and legs with brass feet (here at The Home Depot). I love the contrast of the brass on the blue- it's my favourite right now!  We tied the brass in with these DIY acrylic frames above the dresser and they're a fraction of the cost of the DIY ones you can order from Etsy. I lettered the ABCs and 123s to put in them. I love the simple graphic punch that gives the space.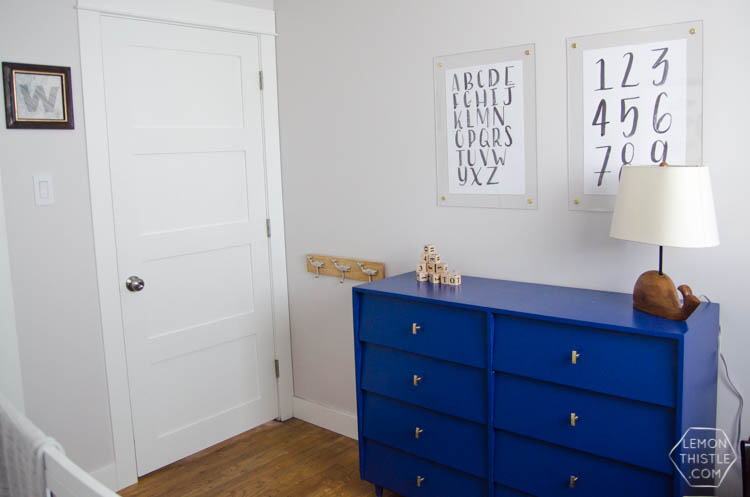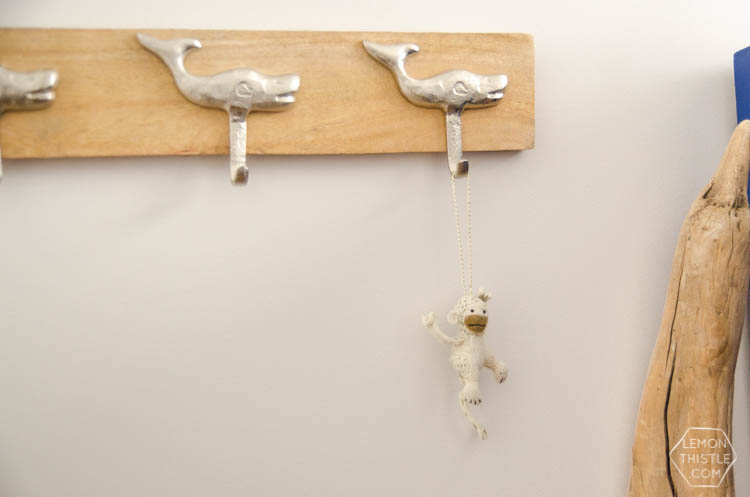 Other decor things? That lamp! A sure sign that I was taking to this 'theme' thing. It's from The Land of Nod and it's amazing. The blocks are a gift from when the twins were babies (thank you Erin!) and since I think 'decorations' that kids can't touch in a kids room are a losing battle- they made the perfect 'decor'. Those whale hooks were a fluke! A friend (thanks Kristin!) gave it to me for Windsor's baby shower and she didn't even know the theme we were running with. It's from Homesense :) And that little W by the door is a DIY as well. I'll be sharing it over at The Land of Nod sometime soon (I'll be sure to let you know).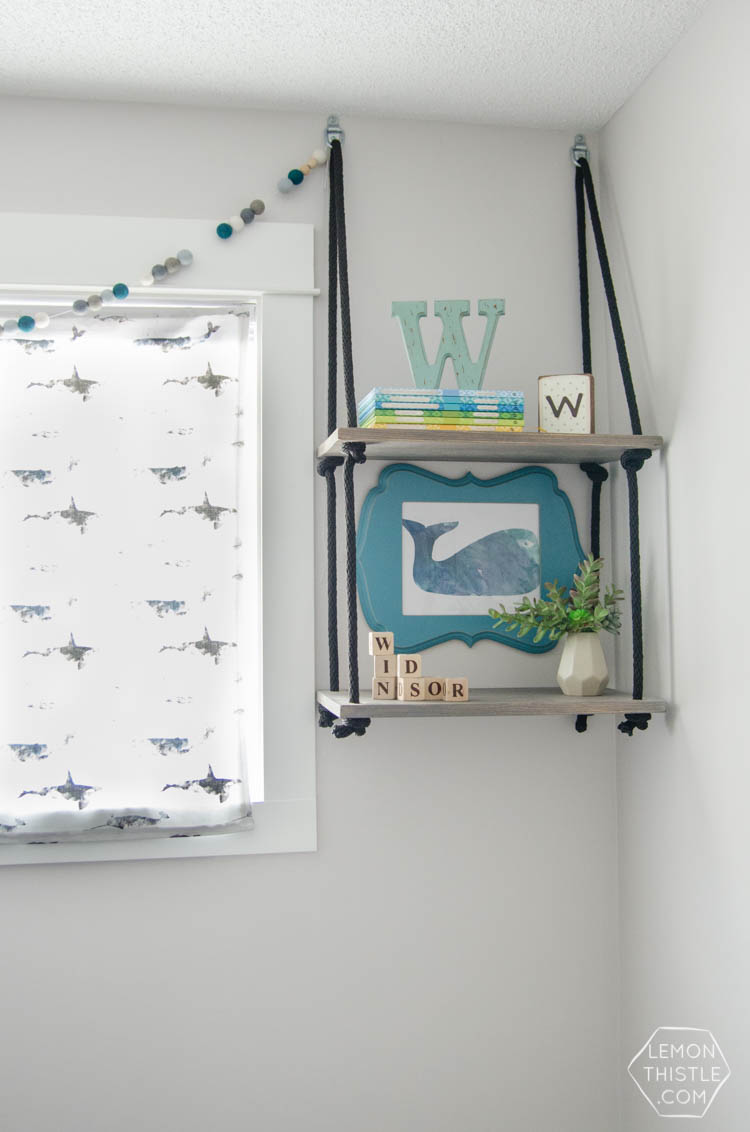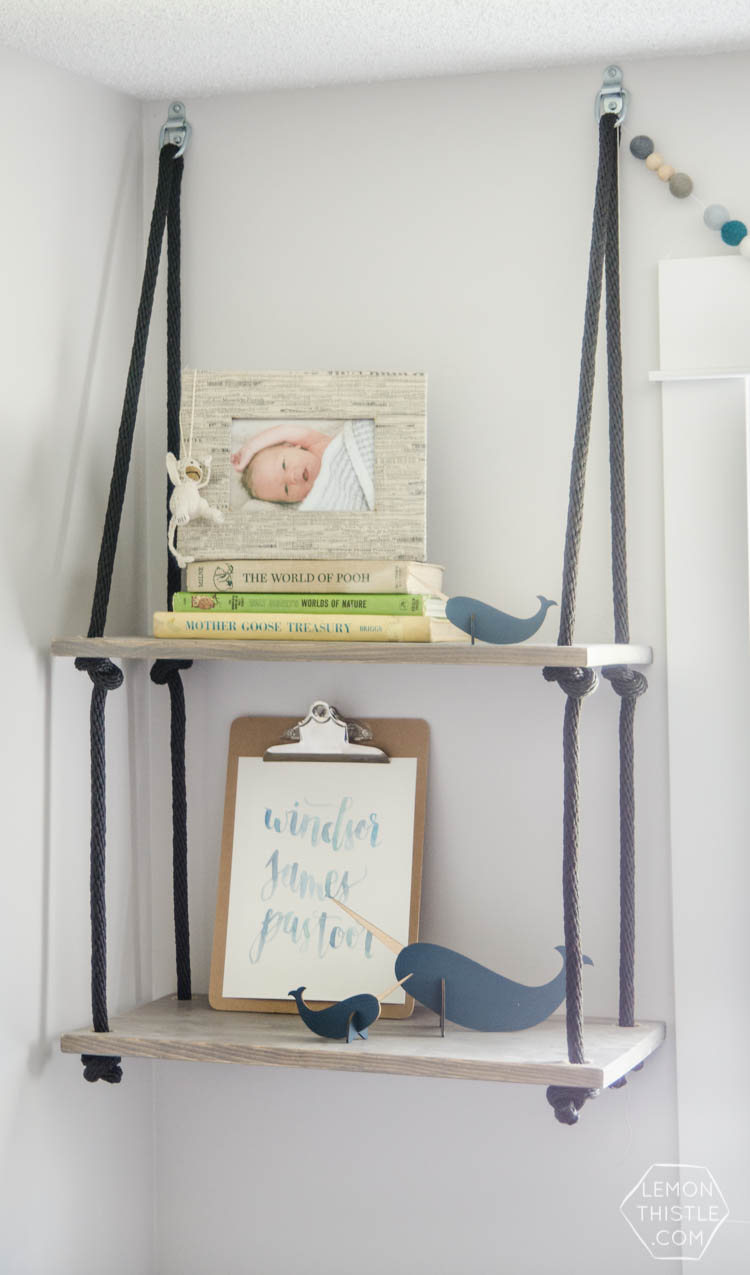 Then there's these DIY hanging shelves… I thought I liked them in my office- but they're perfect for the nursery! I love the way the colours tie in with the barnwood. I filled them with lots of personal touches. That whale painting is by my toddlers (see the DIY here), the watercolor lettering is by me (I'll be giving TWO custom ones away this week on Instagram and FB so keep your eyes out). Speaking of giving away… we're packaging the print up with a custom felt garland from Cozy Canada (see that beauty over the window!).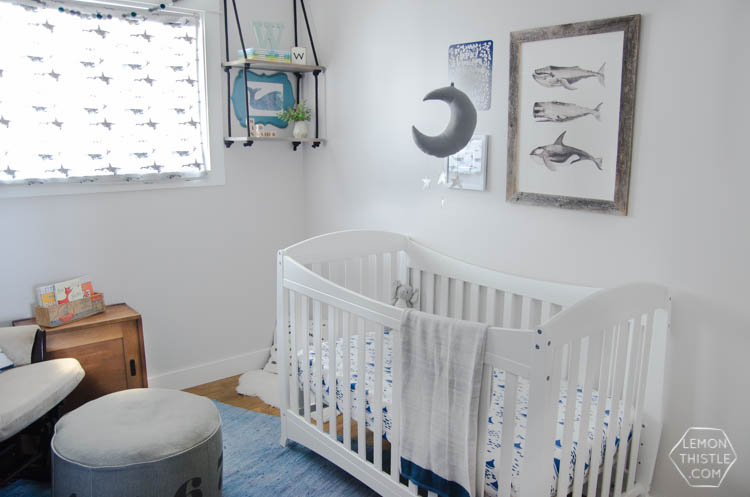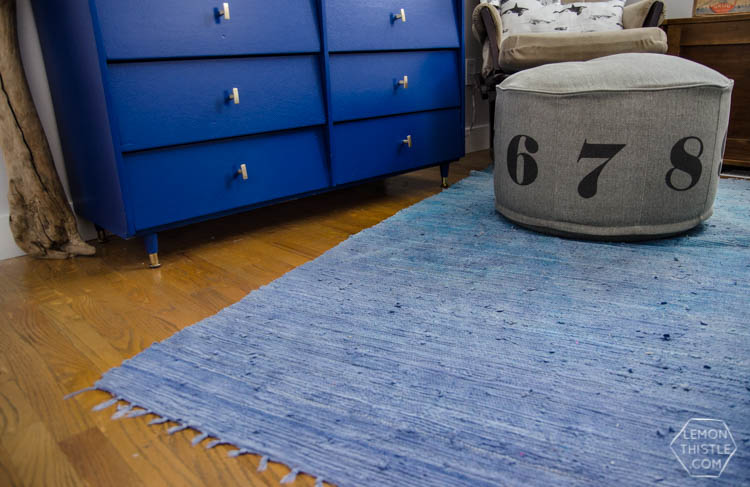 One thing that was on my wishlist for this space was a rug but it just wasn't in the budget (I had been eying this grey one). BUT then I spotted an old faded green rag rug on Facebook for $5 and though I could swing that to try dying it. I ended up dying it THEN spraying it with dye for a more vibrant ombre effect. I did take photos of the process but don't know if it's something you guys would like to have a tutorial for? Oh! That rad pouff is from The Land of Nod as well.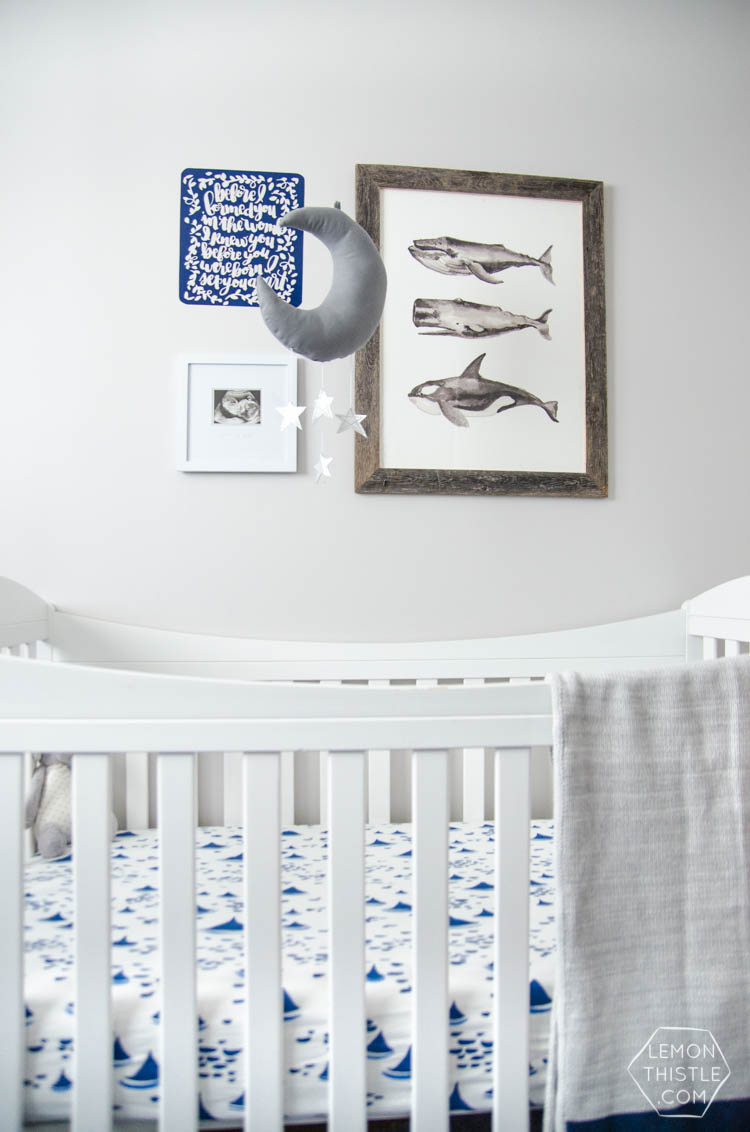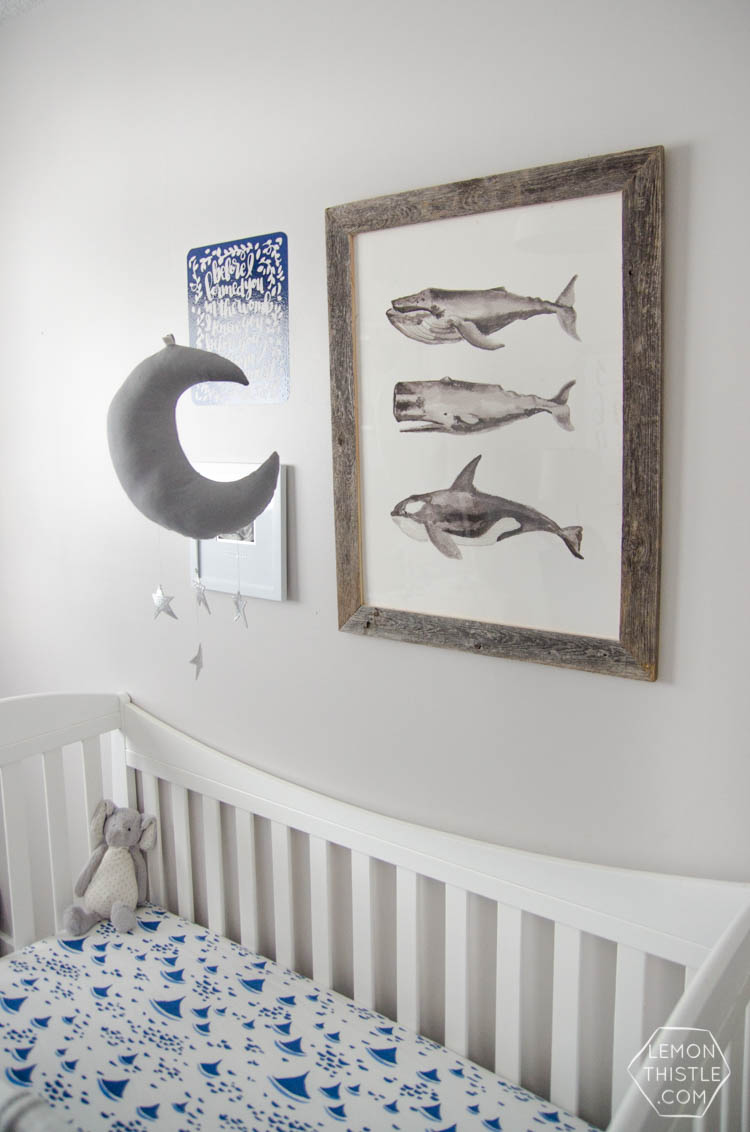 Can we talk about this mobile for a minute? I am in love with Baby Jives mobiles, I've been following them on Instagram for a LONG time, so I was excited to see they're stocked at The Land of Nod now too. They're the same company that makes those cloud mobiles you see all over Pinterest. I had originally planned on grey sheets, but I'm so glad Shane talked me in to these brighter blue 'regatta' sheets (also from The Land of Nod) to balance the bright dresser. Our back up sheets are a light grey and when I have them on the room looks really out of balance with all the blue against the one wall. The knit grey and navy blanket is also from The Land of Nod (and it's so soft!). That adorable elephant is one of Windsor's favourite toys- it was a gift as well (thank you Aunty Carolyn!) and it's from Chapters Indigo. They also gave us that cute owl blanket that's on the rocker (also Chapters Indigo). We've kind of been spoiled with gifts- I think since we have all the clothes from the twins, people branched out to decor (awesome!). Other art is that DIY reverse vinyl quote and the simple white sonogram frame. We have those frames for the twins too, so thought it was fun to carry on the tradition Maybe one day I'll put all three together :)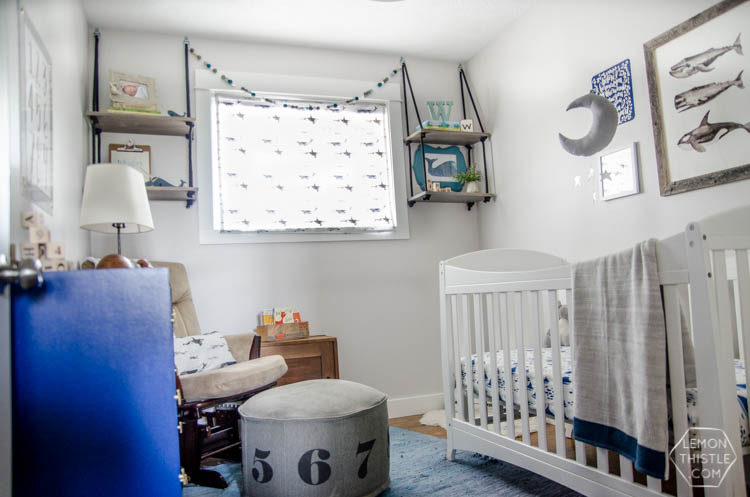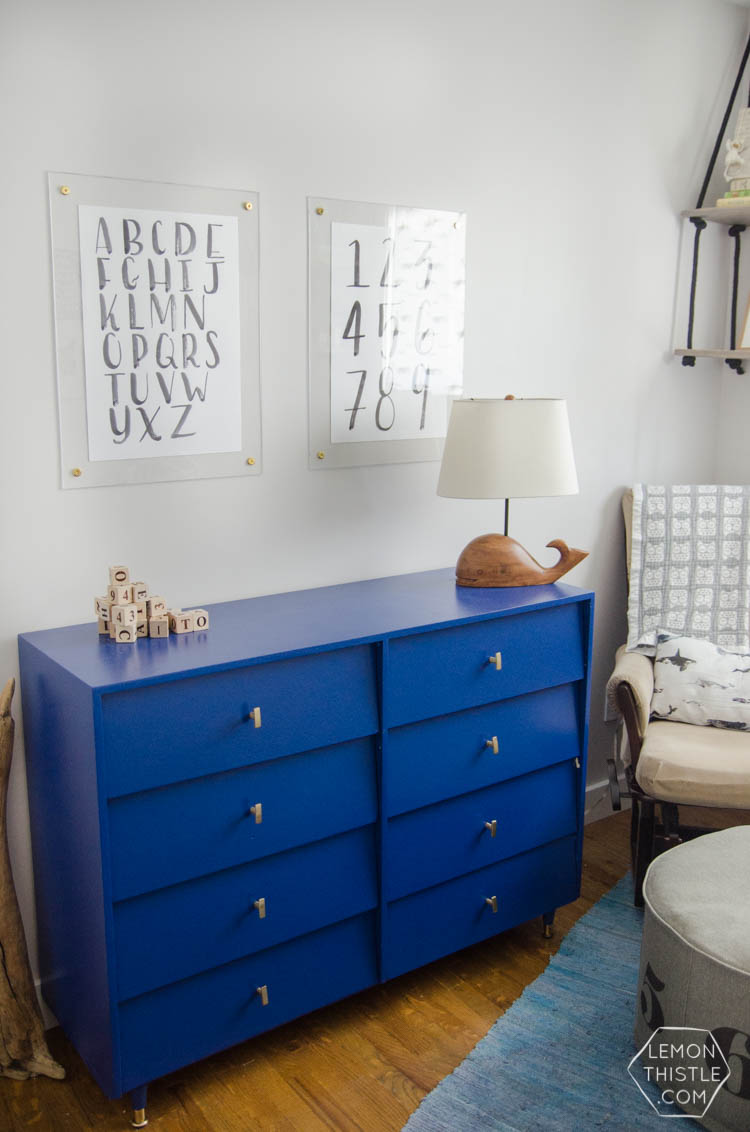 Funny story about that rocker. I bought a Craigslist rocker when I was pregnant with the twins. It is beautiful, completely upholstered with a skirted rocker on the bottom. I got new foam cushions cut with a square, modern profile and got all the way through upholstering, but about when it was time to add the skirting and sew the cushions… I got put on bedrest. It's been in storage since (even three years later!!) so while we were in the hospital with the twins, my mom's family bought this baby and set it up in our apartment. It's so comfy that I haven't had the motivation to pull out my beautiful project and finish it. I made a little cushion out of the same Minted whales fabric I used for the window shade to try tie it in.
Beside that rocker is a little end table we made out of a vintage payphone box (how cool is that!?) which was another FB find for $13… I don't go to stores any more you guys. FB and online shopping. We added casters to it and called it a day. The door comes off and you can store stuff in there too. Eventually we'll fill it with books I think (I might add a shelf in there to make it more useful), but for now we're just keeping a few favourite books on the top in a little vintage cheese box.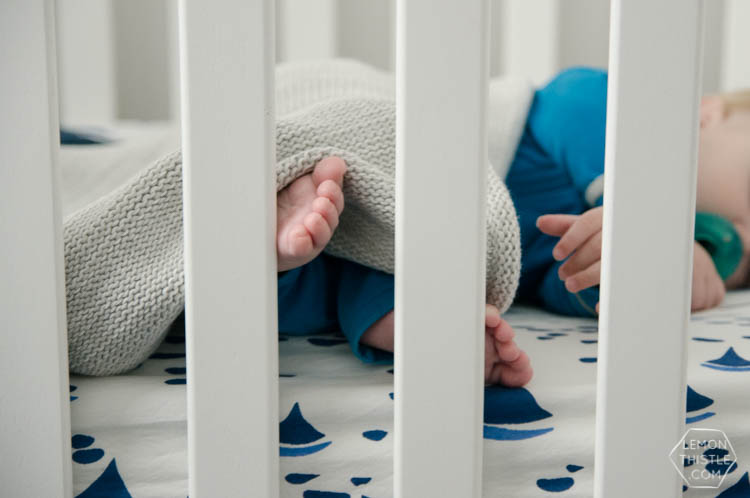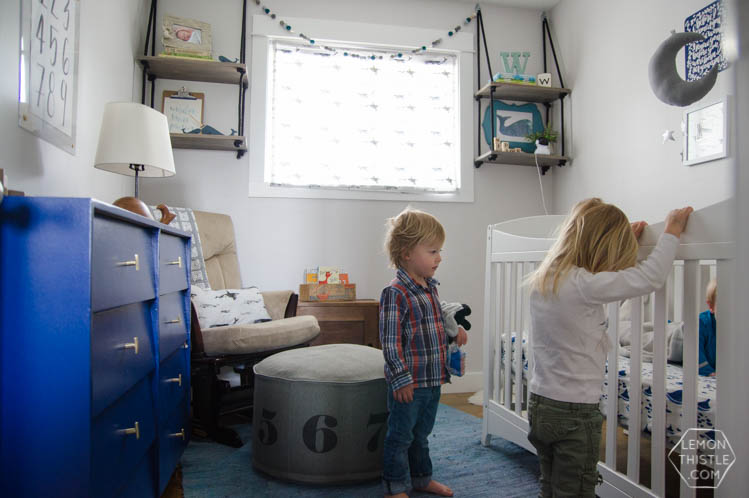 I think I've said more than enough about this space. If I missed anything, hit me up in the comments and I'll do my best to answer. I'll give you a source list below just to make it easy to find anything you might like.  Before I go though… I thought I'd add in these pictures of the room 'in use'. It's really quite a small room, but it works perfect for a nursery. And those tiny baby toes were sleeping in the crib half of the time I was taking photos (I got the crib photos before we put him down), and before I finished these two munchkins came in to wake him up. It is HARD to get photos of a baby's room when said baby likes to only sleep in his bed. He's either awake and I'm hanging out with him… or he's sleeping and I'm essentially locked out of that room. #bloggerproblems
Can't wait to share some of these DIYs with you soon!
SOURCES: