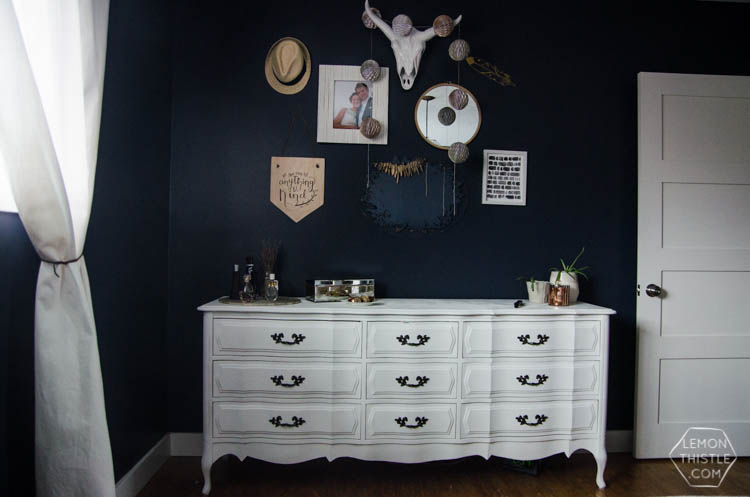 You guys, I did something I've never done before. And it scared the crap out of me. I've been playing with the idea of refinishing the dresser we got for the kids room for quite a while now. I LOVE it. But I didn't love that it was a creamy white when everything in our house is gray or bright white. Plus, it had taken a bit of a beating since it was last refinished- before I snagged it on craigslist. BUT… I had never refinished furniture before and so was nervous to try. I'm not a patient DIY'er (I think I've fessed to that before), so even though chalk paint is apparently 'easy', the thought of taking all that time was too intimidating. So I left it. But when we built the kids big kids' beds (I can't wait to share those with you!), the dresser migrated to our bedroom and I really wasn't happy with the colour. So when I spotted Krylon Chalky Finish Spray Paint? Well, I know how to spraypaint- so I knew I wanted to give it a go. The only thing I didn't realize is that you should probably refinish something you don't LOOOOVE just to get the hang of it because it's not an easy job. But I'm totally done (it just took me way longer than expected… because I was so pregnant I had to take breaks all. the. time.) and I'm completely in love with how it worked out. I'll tell you all about the process and things I found while using the product in a bit, but first…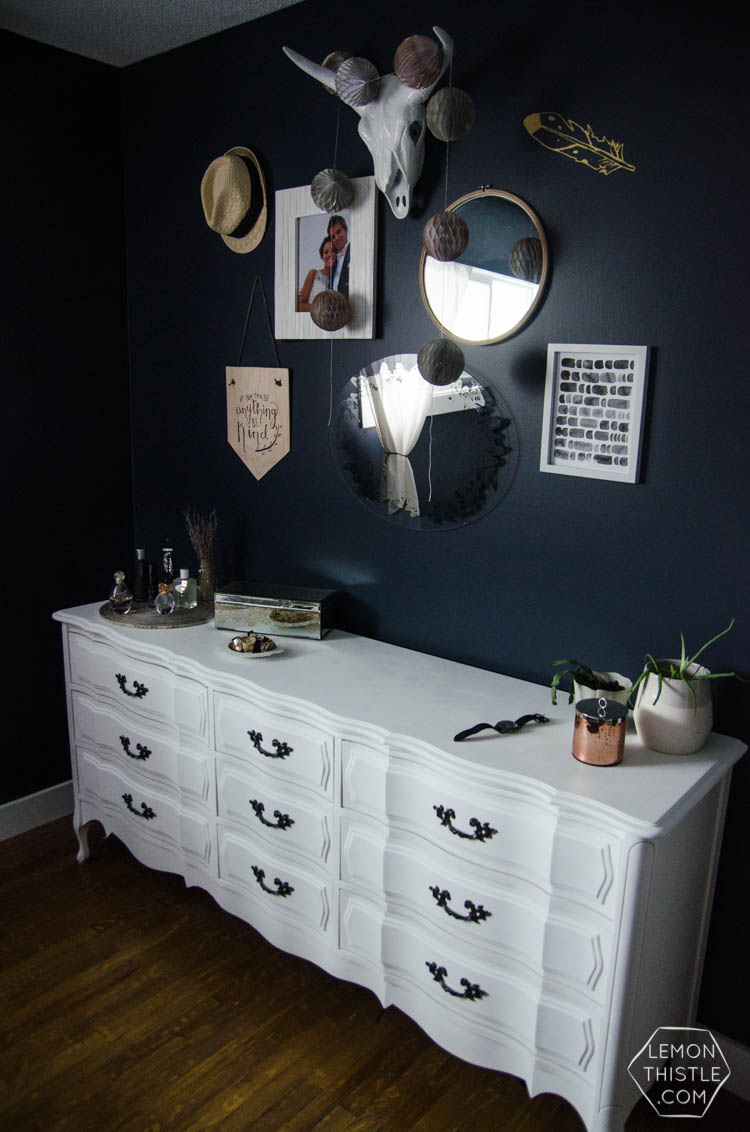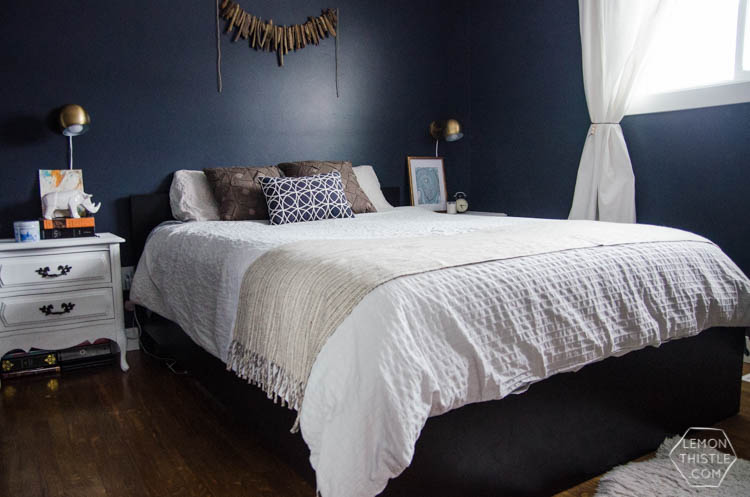 So now that we have that awesome dresser and nightstand set in there- I thought it was time to share an update to our bedroom! I shared a sneak peak before, but it's finally feeling more 'done'. And since I took these photos, it's changed yet again when we moved Windsor's basinet to the foot of our bed. When we moved our tall dressers out of there to make room for this one, the wall felt pretty empty, so we had fun collecting a few frames and items from around the house to create a bit of a gallery wall above the dressers. And it's full of DIYs. In the whole room there's: that 'Be Kind' wallhanging, the hoop mirror, metallic mini honeycomb garland, gilded frame with marble art, and the driftwood garland. Just DIY all the things, am I right? I love how these items, make our room feel unique to us. Plus, this is the only room in the house now that isn't a light, light gray. I love that the navy walls are so dark and cozy, it's like leaving our crazy, full of toys, home and entering a sanctuary (except when the toys make their way into here).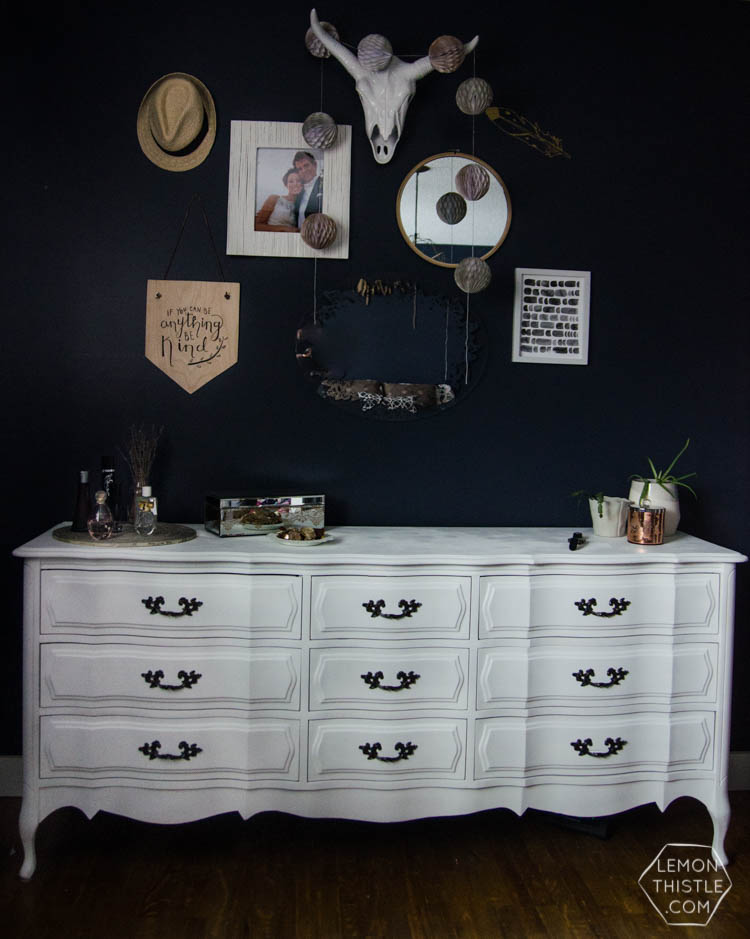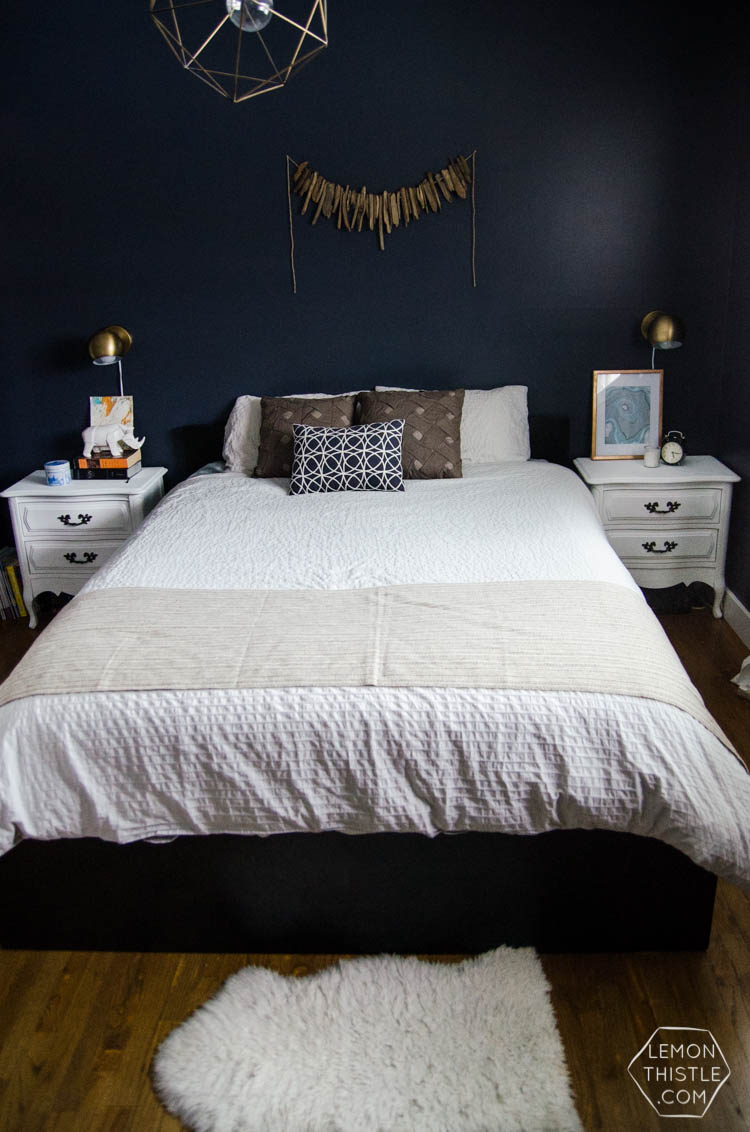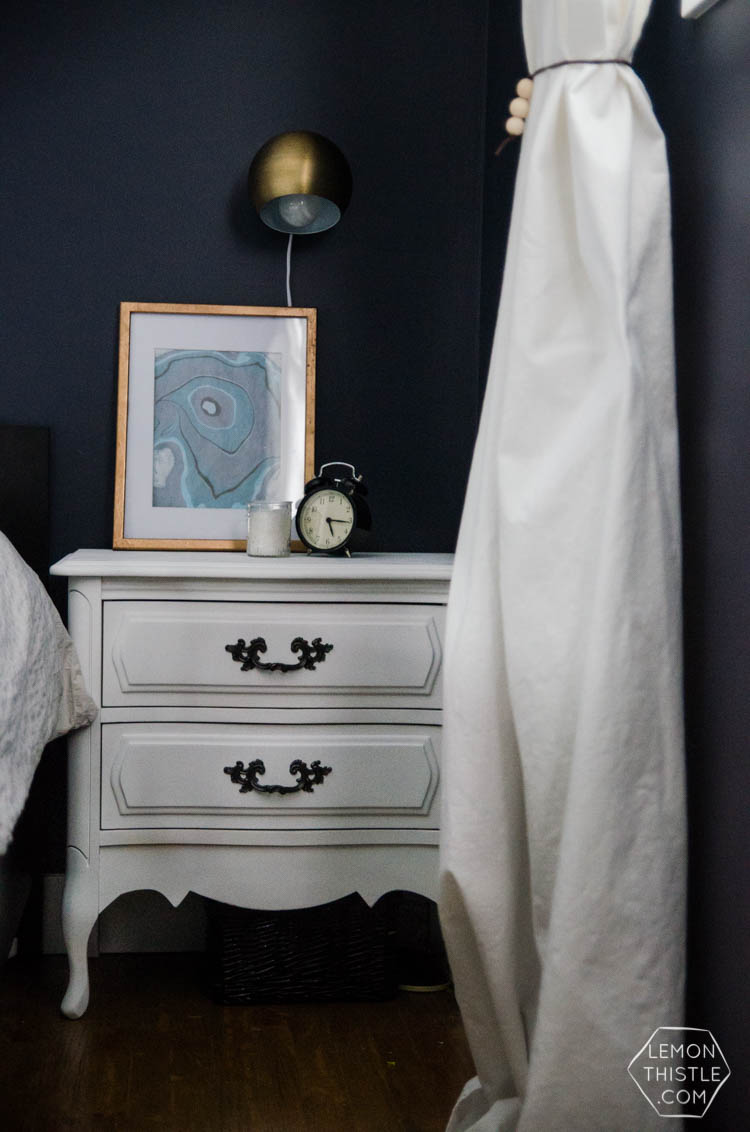 The wall you don't see in these pictures has our closet on it and we have yet to get closet doors. What!? I know! They're just so darn expensive. So we built ourselves a closet organizer and just ignore the fact that it's right there. It's on our list for 2016… doors. I also want to find or build a giant mirror for that wall. We have a small floor length mirror there right now but the scale is all wrong. So that's another dream for 2016… then I'd say the room is officially 'done'. Oh- and hemming curtains, but I've been saying I'll do that for over a year now so I'm not counting on getting around to it anytime soon.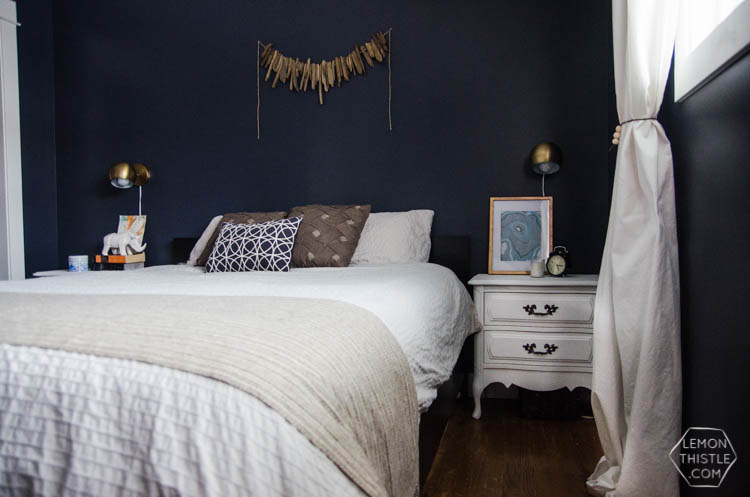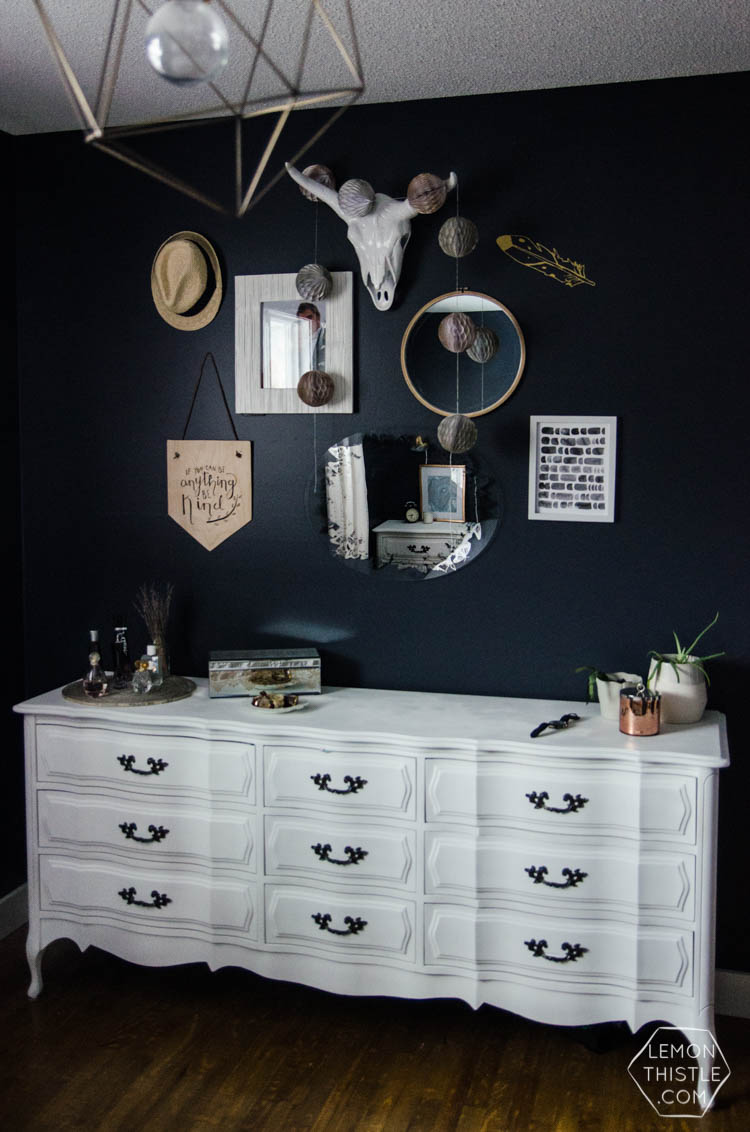 Okay, so let's talk about Krylon Chalky Finish Spray Paint (we used the classic white). Chalky paints adhere really well to surfaces, so you don't always have to sand before application. But since I was super nervous (or in love with the dressers), I chose to sand with 220 grit paper all over. This took me for. ever. Seriously, sanding all those nooks and crannies with a big baby belly was brutal. But I'm really happy I did because I don't want to have to refinish these guys again any time soon! I spray painted like I would anything, light coats and lots of them instead of heavy coats. That said, I found that the paint ran a little easier than traditional spray paint. But it also had better coverage than traditional spraypaint so I'm not sure if both are just because it's a bit thicker. I was really crazy happy with how it went on the details and curved drawer fronts. The finish is so beautiful and flawless. The one area I had issues was the dresser top. Before getting started, I read Bre's review of the product and she did mention that it might be a bit uneven on large surfaces. I threw caution to the wind and did it anyways and after 6+ light coats, I could not get an even finish. I found it was like the chalk came out in spurts almost and left a different sheen(?) in some spots. BUT you don't notice it at all in most lights and I know we'll be making our own marks on the dresser in no time so I am really happy with how they turned out.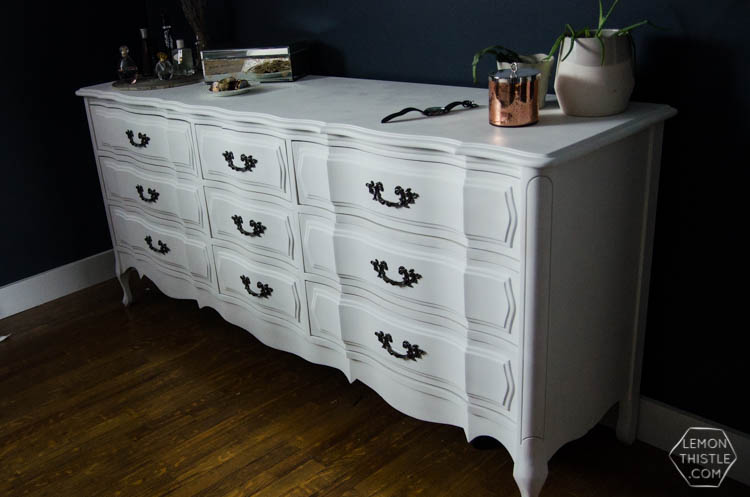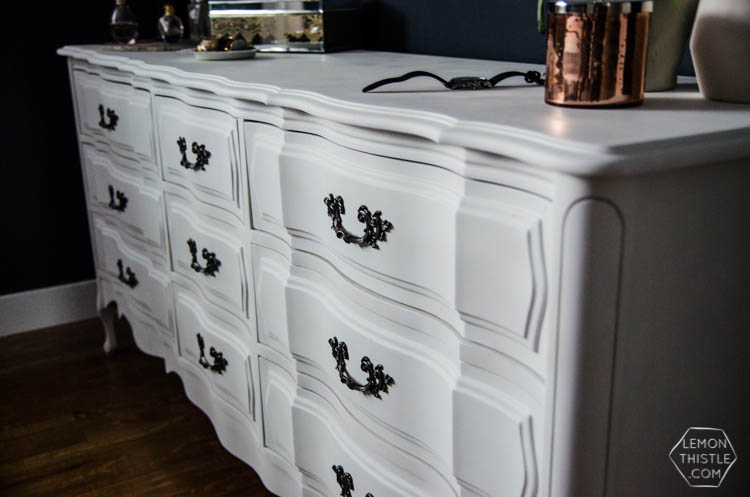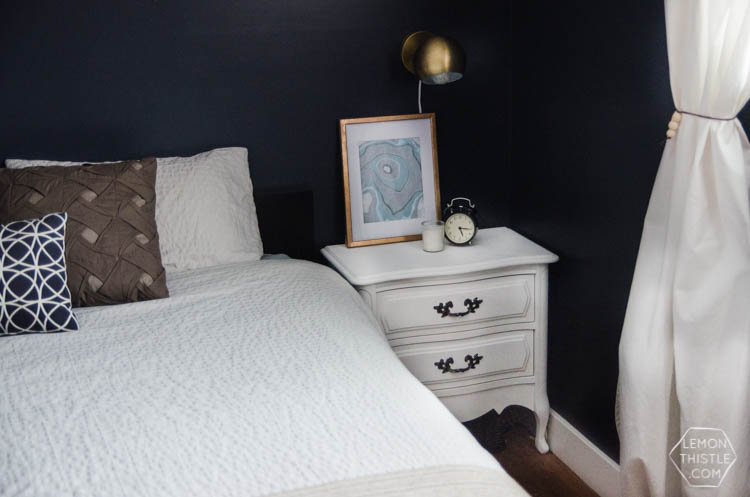 The Chalky Finish spray paint was way quicker to apply than regular paint (or chalk paint) and I love that I could just do it all over with another chalk spray (without sanding!) in a couple years should I want to. OH! I should also tell you that I chose not to use a wax. I know, naughty naughty. But I tried it on a small section at the back and just didn't love how it made the white creamier. We really like how bright and matte the look was without AND I really liked the idea of being able to repaint without prep in the future. With wax on I would have to fully remove it before repainting.
Enough jabber, I have a baby to snuggle. If you have any questions about the dressers, let me know in the comments and I'll do my best to get back to you!