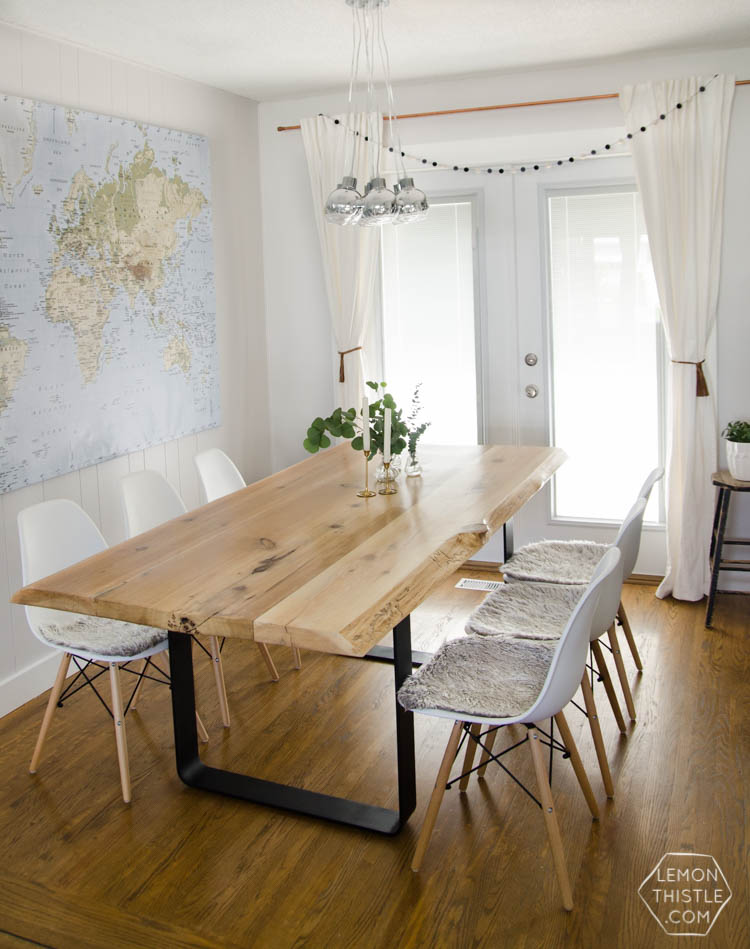 I LOVE that we are finally at the fun stage of renovations, where we are getting rooms all ready and decorated. These room reveals seem to be such a long process for us since the majority of our renovations in the upstairs finished almost two years ago now, but we've had other big renovations in the basement (like this suite and this family room) to work on before we got to take time to decorate and do the fun stuff. I'm going to go give you a peek at the 'before' of this space.
Crazy, right!? If you want to take a look at all the befores of our home, you can check out the whole post here… it's come such a long way!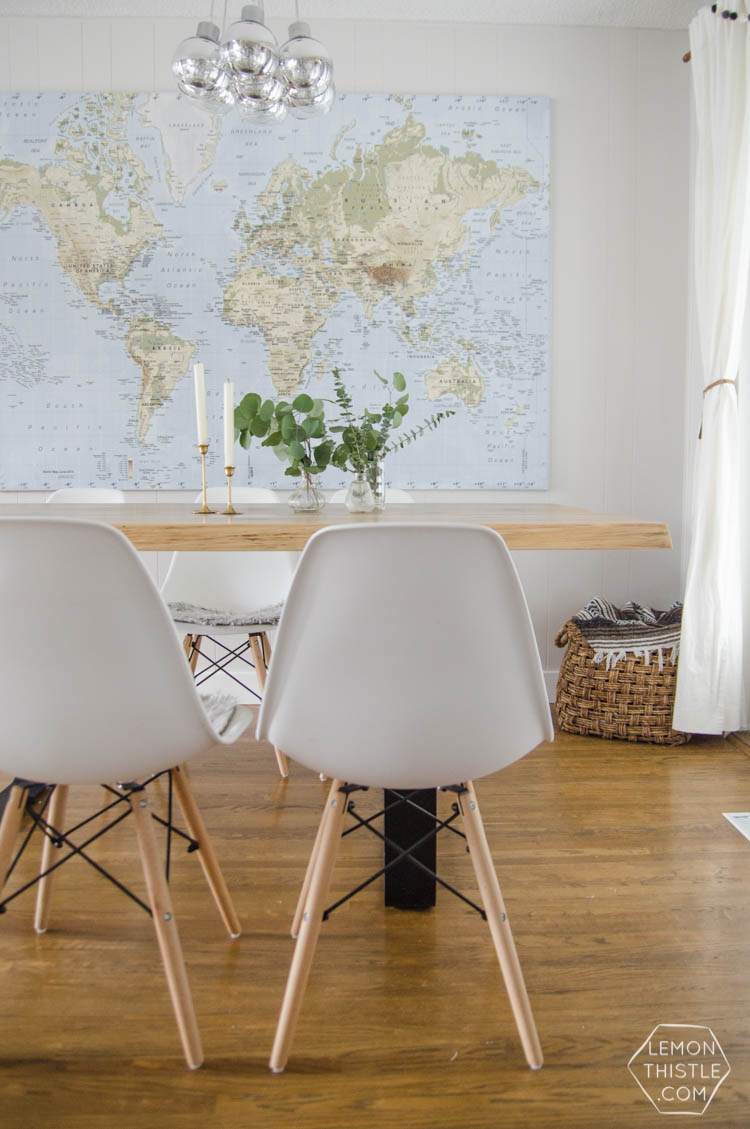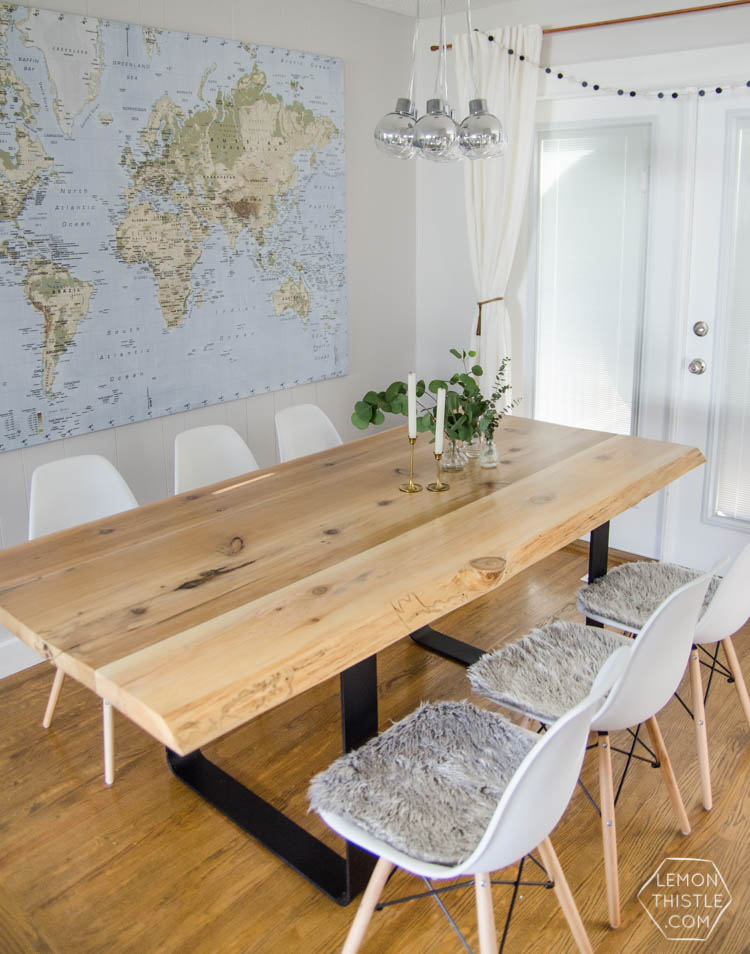 The first things we did- the basics before we even moved in were refinishing the hardwood, knocking out the valance, and opening up the wall to the kitchen. Also paint! Then last year we went and put a deck on the back of the house and knocked a hole in the wall to make put in the french doors. Oh! And we moved the light, because it was in such a funny spot in the room, it made everything look out of place.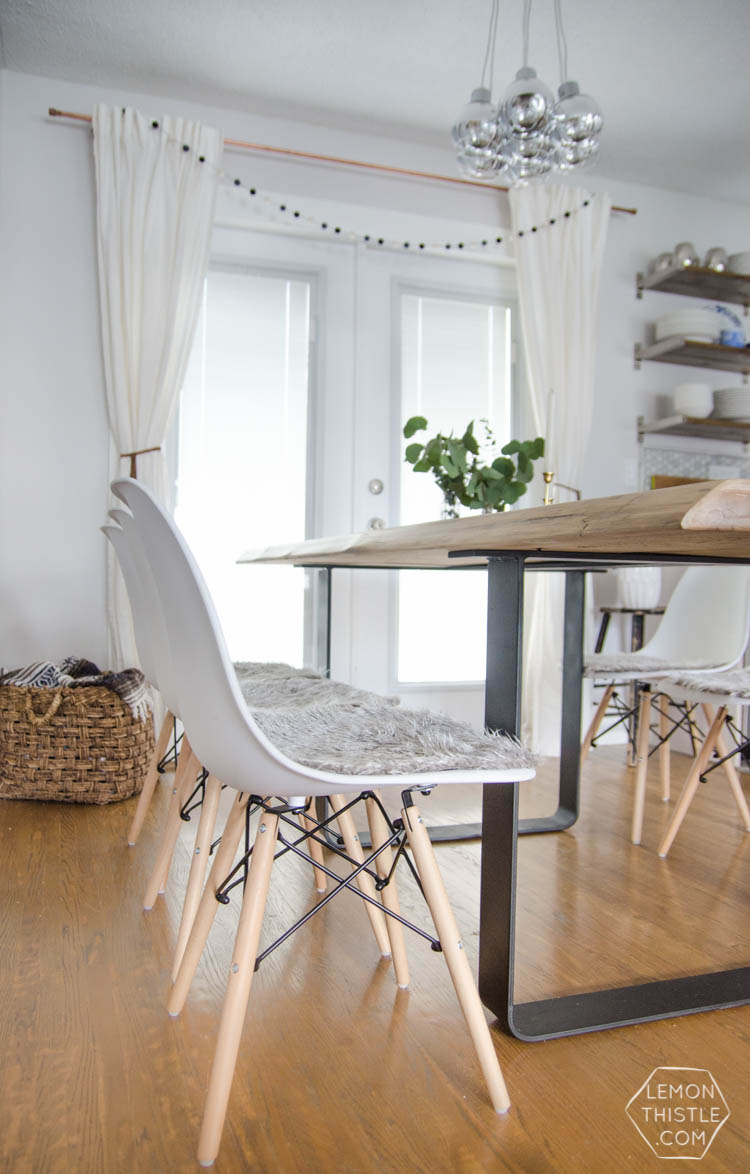 Then it was the fun stuff… we added a DIY salvage copper curtain rod, basic white Ikea curtains and the giant map is from there as well. Have I ever talked about this map? It was Shane's pick when we bought our kitchen from Ikea, we got a gift card back (kitchen event!) and he was set on this. I questioned his decision because it was so huge, and agreed that we could put it in our entry way on the giant wall, but he hung it here while I was trying to decide what to do with this wall and I fell in love with it there. He likes to remind me that he makes good design decisions now because of this.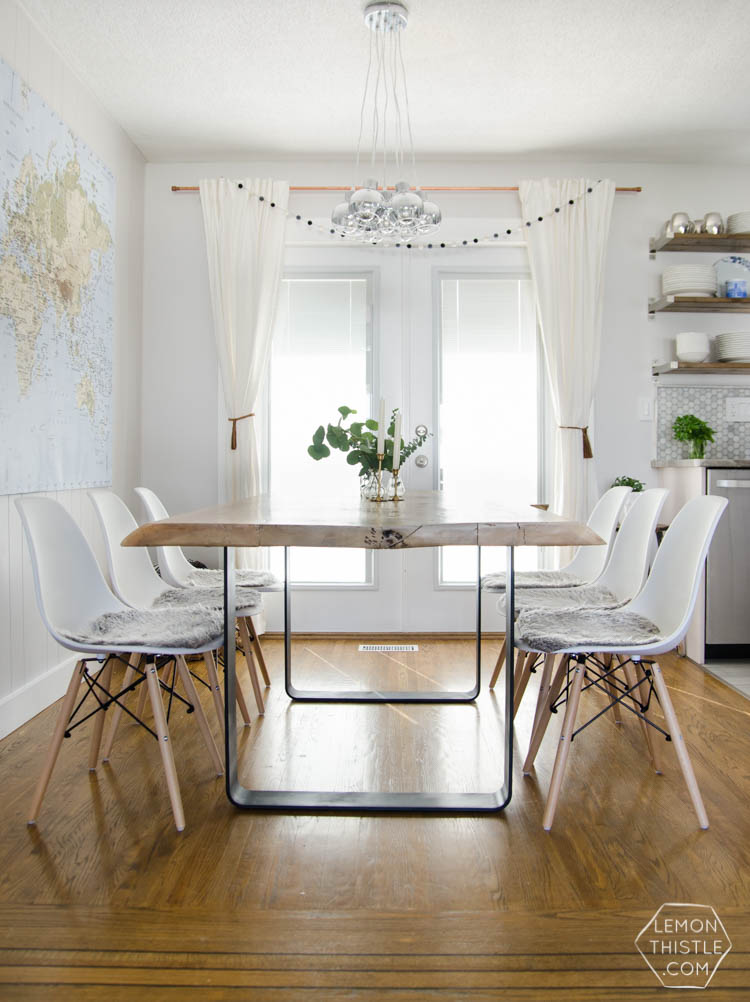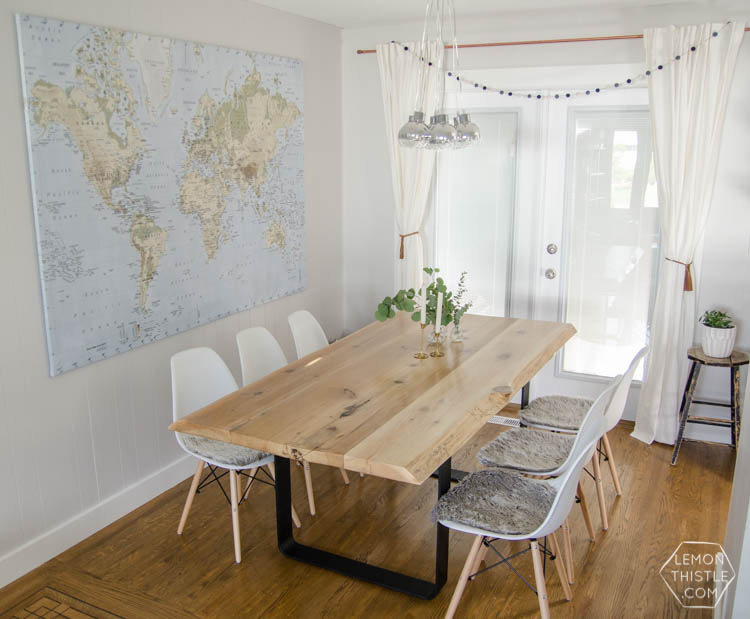 Now let's talk about this beautiful chandelier. You know that we're budget conscious around here, so everything here is completely affordable. This light is from the Canvas line at Canadian Tire (Elise Chandelier) and if you haven't checked out that line… seriously, you should. We don't have much for affordable home decor around here (since we lost  Target in Canada), but Canadian Tire is stepping up their home dec game lately! The other light from there I was looking at is this brass little number– isn't it amazing too?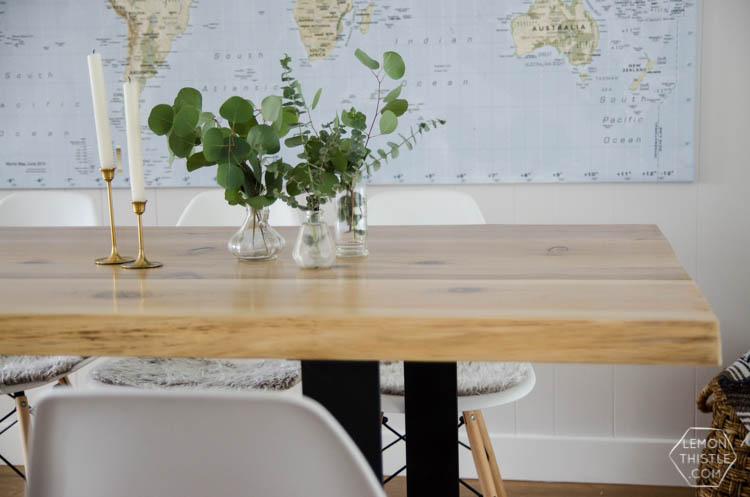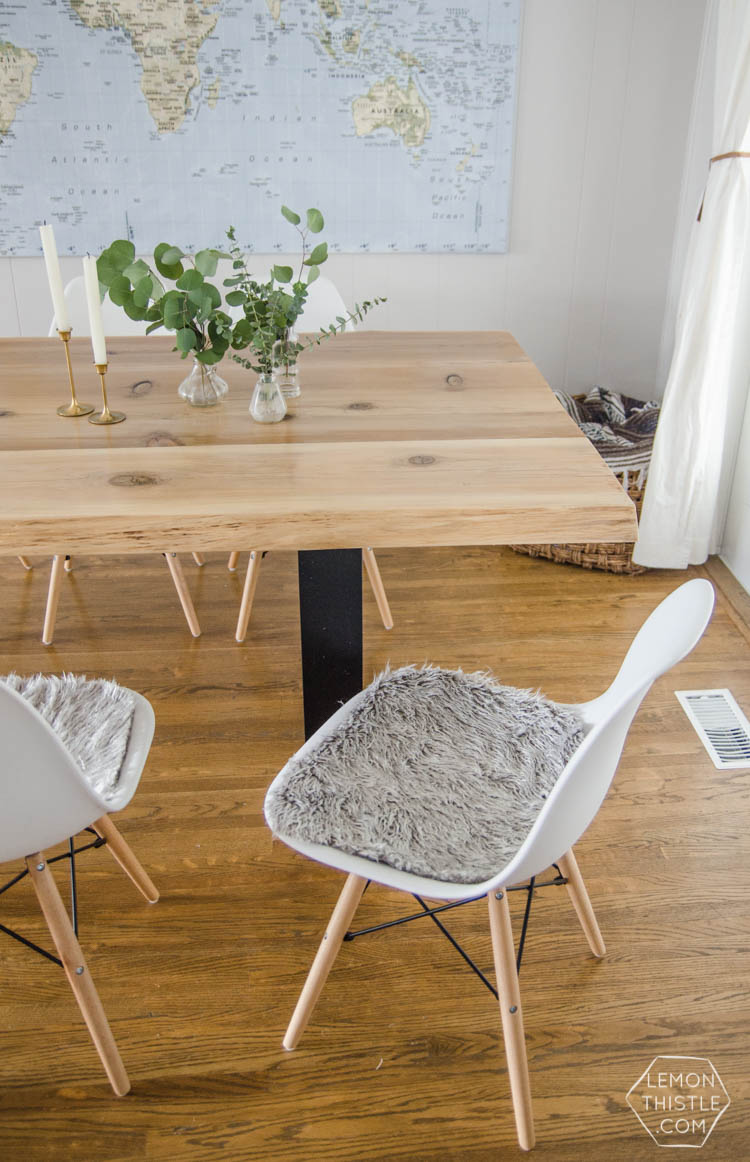 And how about our table! It's a DIY that I'll be sharing the how-to on Friday…
I can't believe how well it turned out. We learned a LOT with this one, so I'll be sharing all those tips with you. We paired them with these awesome molded plastic chairs, and I love well they play with the live edge table to create a bit of a scandi style space. Any guesses where you can grab them? Also Canadian Tire (also Canvas- they're called the Henrik Chair). Seriously, you guys… they're killing it right now! They're regular $100 but if you're familiar with Canadian Tire, you'll know they have rad sales all the time. Right now these ones are on 30% off.
I cut some faux fur I had bought for baby pictures to make pads for them, but they're really just as comfortable without, I would just rather toss these in the wash when the kids spill spaghetti sauce and I don't realize instead of scrubbing chairs #lazymom.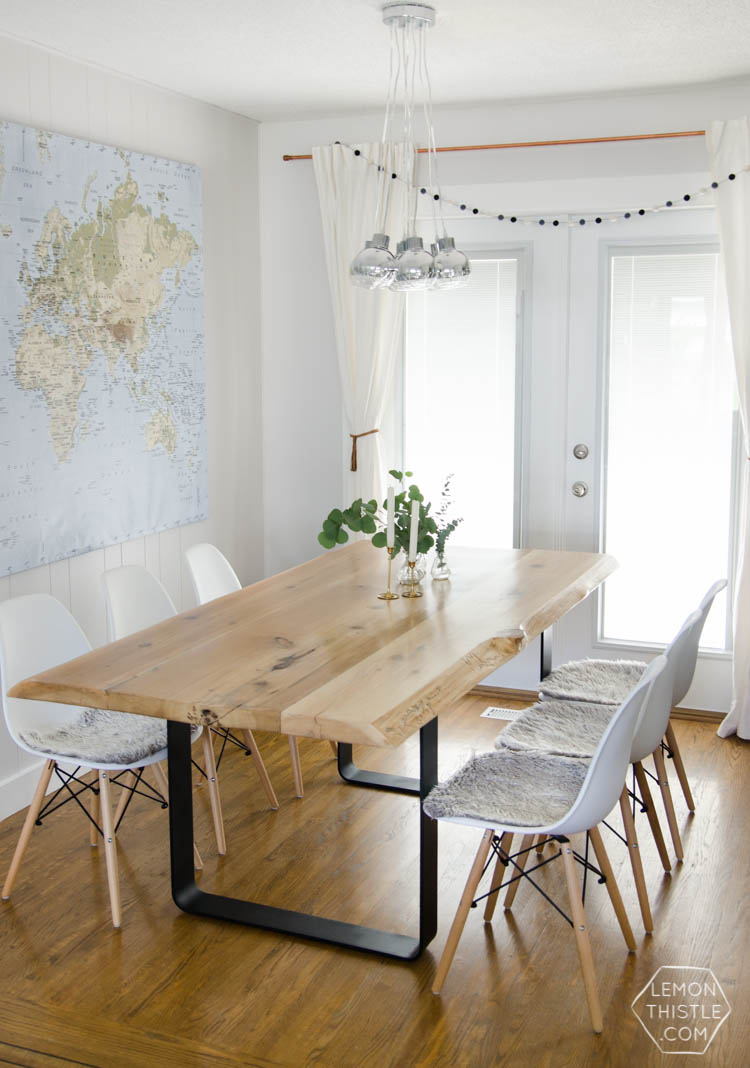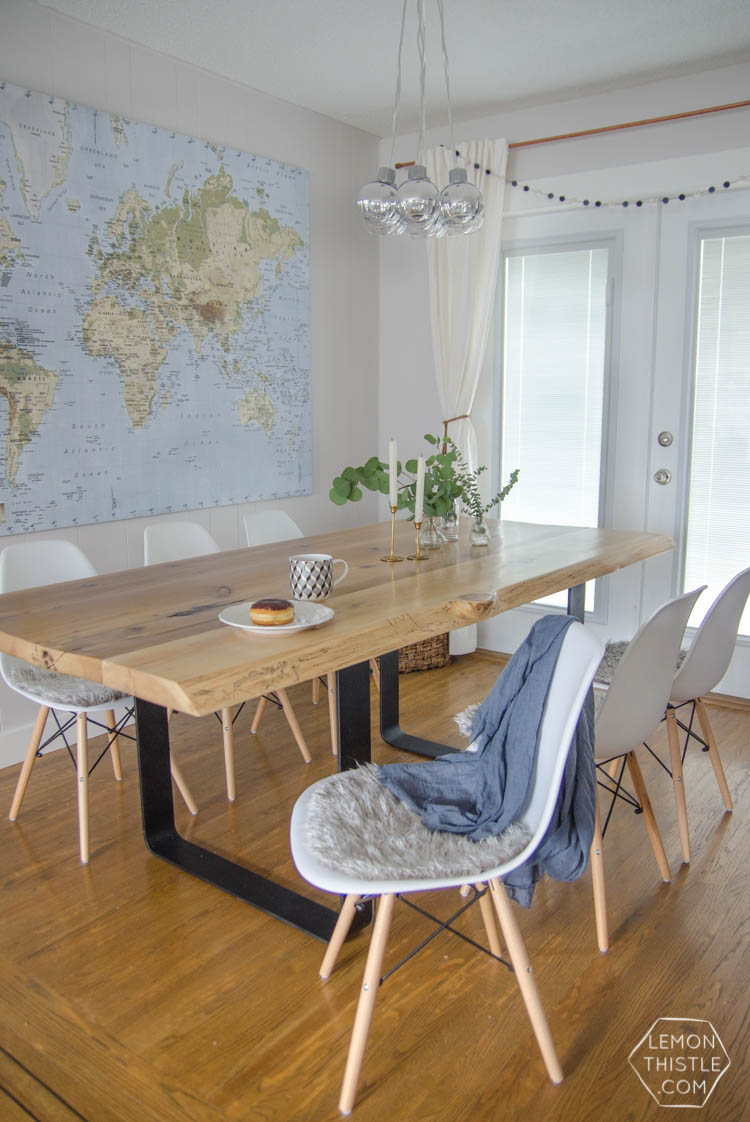 The table is 6 and a half feet long, so we can comfortably seat 8 without pulling out our folding table (you know we have one because… dinner parties). Having 6 chairs out all the time is so nice so we can have another couple over without pulling office chairs and stools to the table to eat. I'm just looking for two contrasting chairs to have on either end of the table now… I have a couple ideas but any suggestions? I'd love something to keep with the scandi style- maybe wood?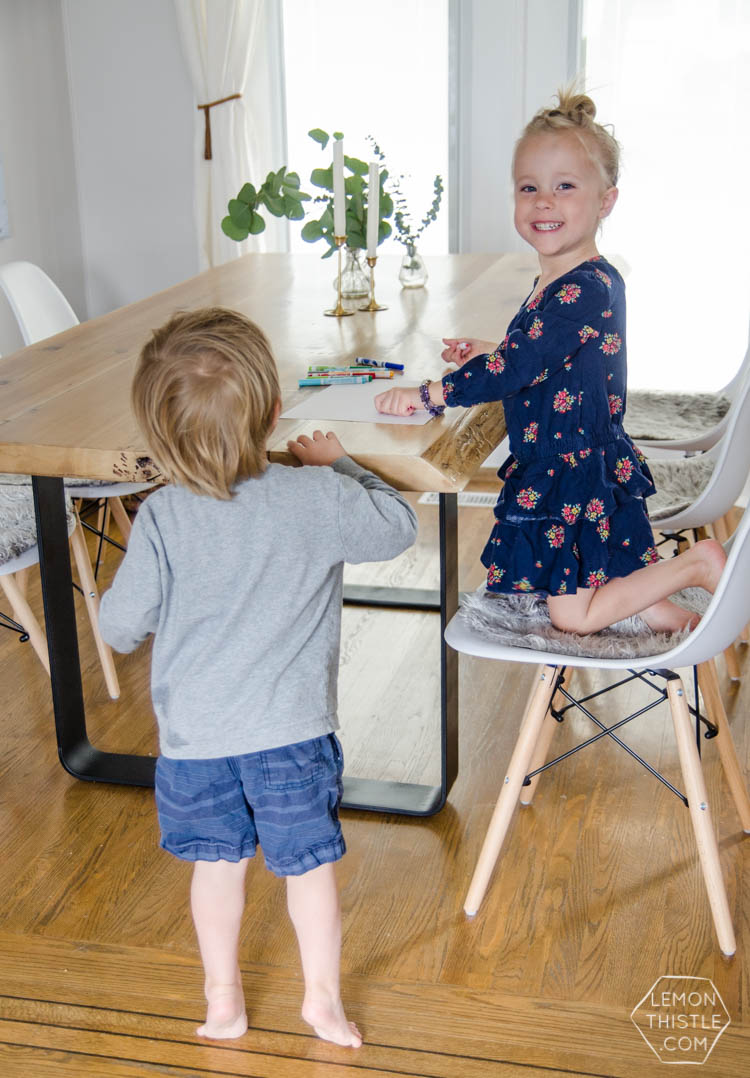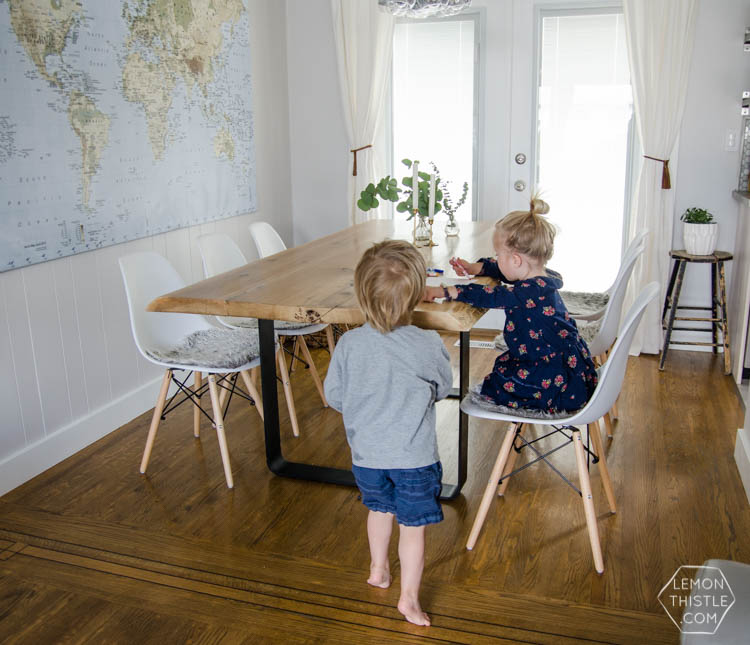 Well, I'll leave it at that for today. And I'll get busy writing that DIY for you all ;) *UPDATE… it's done! Check out the table DIY HERE.
A big thank you to Canadian Tire for partnering on this room! I can finally pull down the torn out page from their flyer from last spring picturing these chairs off my bulletin board. 
SOURCE LIST
Table: DIY, find the tutorial HERE
Chairs: Canadian Tire
Candle sticks, vases, stool & plant pot: Second hand
Map, curtains: IKEA
Curtain Rod: DIY, find the tutorial HERE
Curtain Ties: Leather tassels DIY found HERE
Light: Canadian Tire
Floors: Refinished Hardwoods, read more about that HERE
Basket: Homesense
Paint Color: Custom, the closest match I've found is called Dreaming in the Clouds by Para Paints
Chair Pads: DIY, no tutorial (faux fur from Fabricland)
Eying the kitchen? Check it out HERE