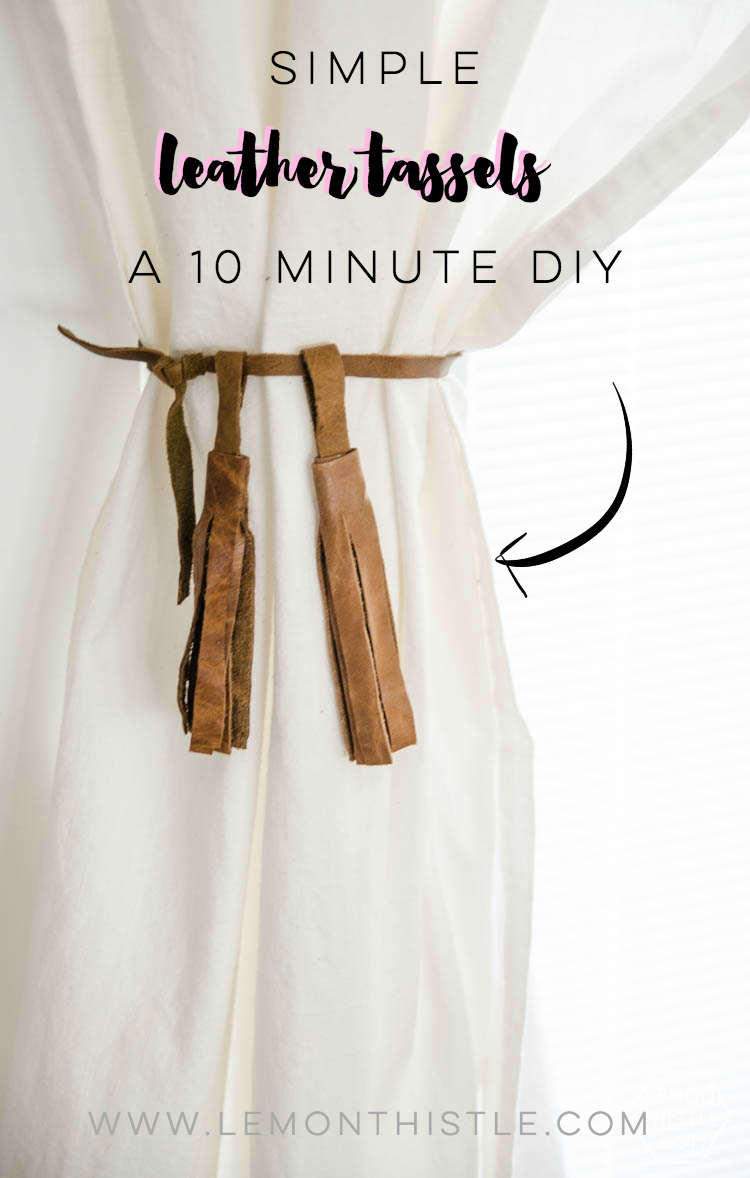 Happy(?) Monday, friends! I am totally struggling to get going this week BUT sometimes a quick craft can make me feel like I've accomplished something with my day. I'm hoping it will help you feel the same. These leather tassels are SO simple to make and they can be done start to finish in ten minutes. I made a handful of them for gifts for my SNAP roomies and I kept a few for myself to use as curtain tie backs in our dining room (which I shared last week!). I'm totally in love with them and given that they're so easy- I think you will be too. And this is my first DIY video for you guys! So no step, by step pictures- video instead! I'd love to hear if you like this format or if you're a pictures fan. Sound off in the comments ;)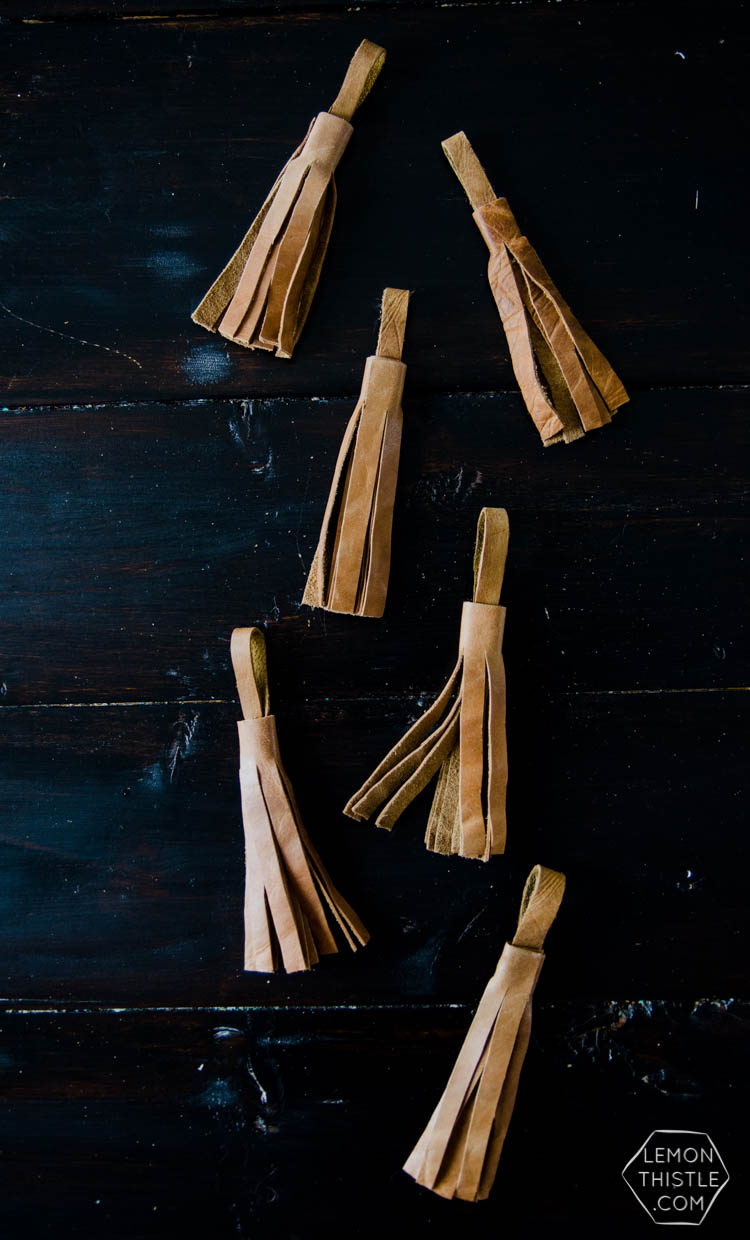 But first… can we talk about leather? I love Vintage Revivals and last year sometime she posted that she likes to snag old leather couches and skin them. It sounds so BA doesn't it?! So when I saw a worn leather couch (quite beautiful, but so worn it didn't really work as a couch anymore) for FREE on Kijiji, I jumped on it. It was a beast, it wouldn't even fit in our front door. So I skinned it in my backyard and now have heaps of leather which is so wonderful. So this is the first of many leather projects, I'm sure and that's why this leather has such wonderful wear and texture.
Alright, ready for the DIY? I've got all the steps and tips for you below as well!
Pretty simple, right? One day, I'll invest in a good rotary cutter. But for now, I've got my trusty fabric scissors. And they're so wonderful. I used to have Fiskars and they were great, but I cut through a pin by accident and they've never been the same (obviously). When I went to buy new ones, I spotted these Loops & Threads ones (sold at Michaels) and they were beautiful so I couldn't say no. They're AMAZING. They cut through leather like nothing, you guys. But they're nowhere to be found on Amazon, so just trust me that Michaels sells them.
Anyways. Here's what you'll need to make your own DIY leather tassels:
Leather (might I suggest you get perusing Craigslist?)
Ruler or straight edge
Quality fabric scissors
Tacky glue or equivalent
Start by using a straight edge to trim up your leather. You want a strip about 5″ wide. I did a whole bunch of these at once so took a longer strip. When your edges are trimmed straight, draw a line about one and a half inches in along one edge. this is your 'do not cut past here' line. Cut from the edge up to that line, making your tassels. I did mine about .5″ apart. When you're done, cut a 6″ chunk of your fringed leather per tassel.
You'll need to cut a thin strip of leather (.5″ wide, 2.5″ long should be good) for the loop. Use tacky glue to run along the top edge of the tassels and fold the loop in, adding glue to secure. Roll it all up with the loop in the middle and you're DONE.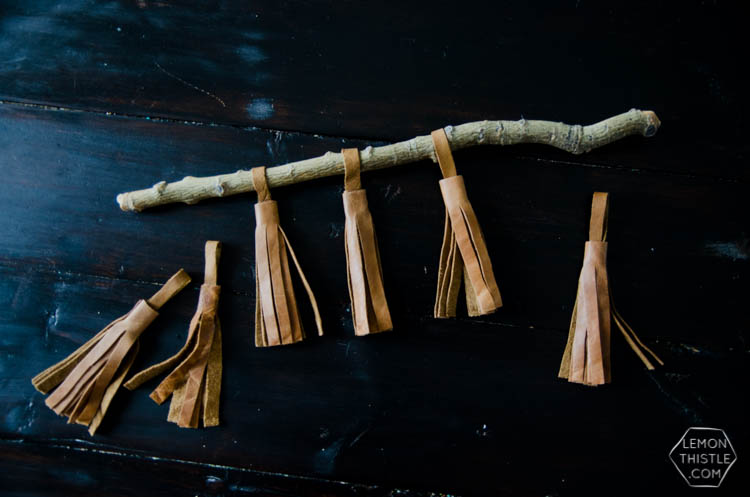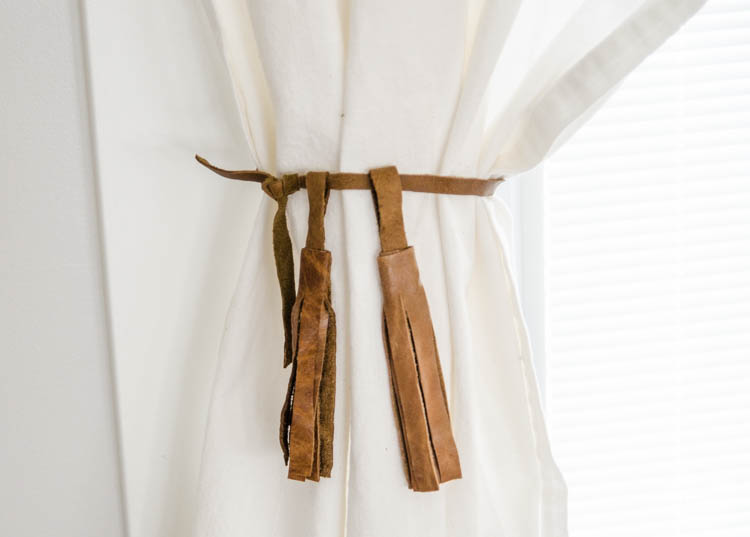 Just like that. Kaboom. I've totally avoided making tassels for a while because they seem difficult. Maybe string ones are, but leather? Bingo. I'd love to see what you use them for!