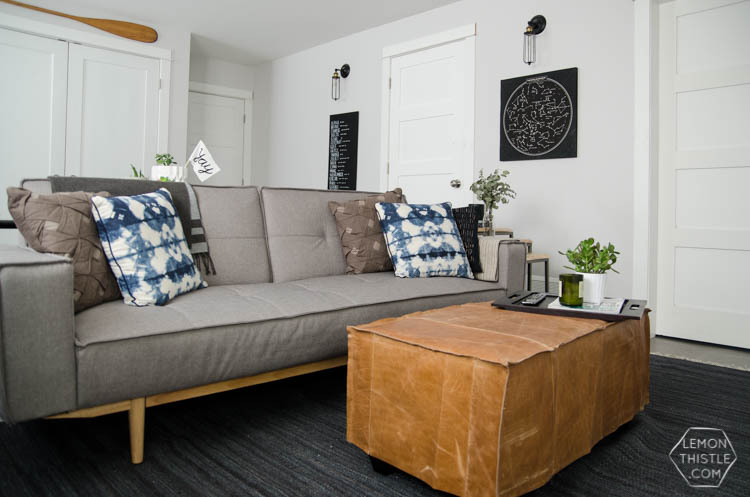 I am so excited to share this space with you all! It feels like it has been SUCH a long time coming. When we moved in this wasn't a space we could even use and now it's one of the most hard working rooms in our home. Want to see the before? A total transformation, right?! You can see our whole home before HERE.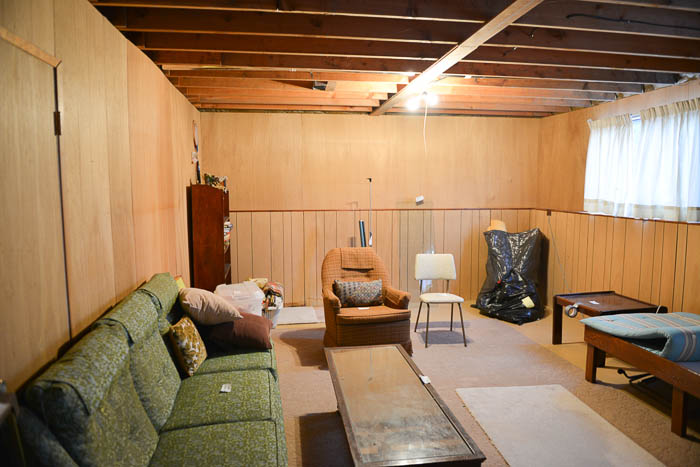 This space is a multipurpose room at it's finest. It's a nice size for an older home (considering more than half of our basement goes to a tenant!) and it has a few different uses. It's the home to our only TV, so we spend a lot of evenings down here, it's my office since we had our third babe, it stores ALL my stuff, it's our only place to host overnight guests and it's our kids' playroom. Oh, and it's a kind of hallway to get to our laundry room (is that a use?).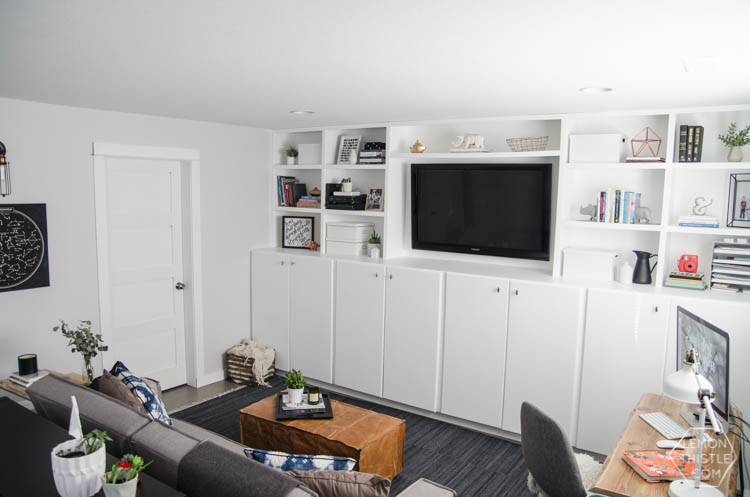 Since we are cramming so many things into this room and it's not a giant space… we had a few challenges in picking furniture that would work hard but not take up a ton of space. And I had a bit of a challenge styling those shelves to still be killer storage but not look messy. I actually called in backup and had my sister-in-law (who has amazing style) come over and help me move these shelves around for a couple hours.
Today I'm sharing the TV/ office side of this room. Im really happy with how it's come together, the furniture pieces we've chosen and how it's working for us (finally!). The other half of the room still needs some work (and a rug!!) but I just couldn't wait to share it all with you at once. So I'm breaking it up. Ready for all the details?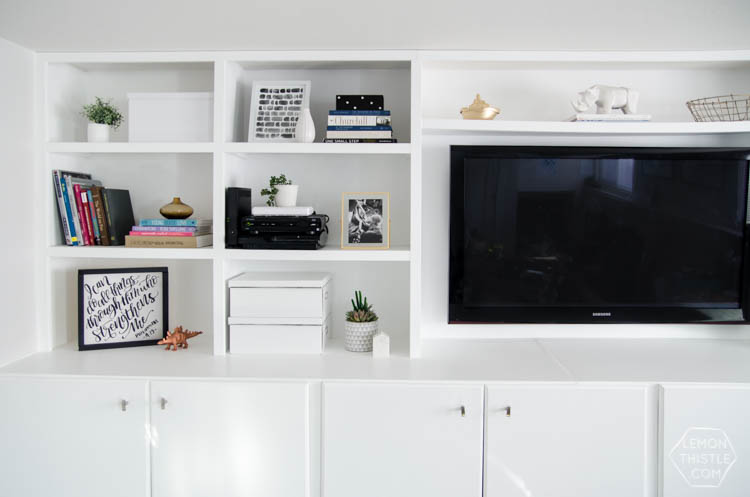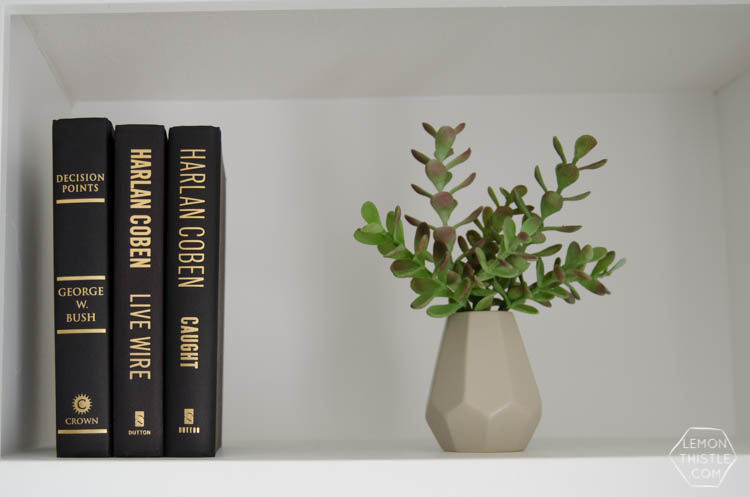 Let's start with these built ins, why don't we? I am SO happy we decided to build them. You can find the whole DIY post right here if you're interested. They do a few things. First, they provide so. much. storage. I had an entire storage room of an office that needed to be moved when we had Windsor (that room turned into his nursery). It went downstairs into this room in boxes. One of the downsides to having a basement suite for a tenant is that you lose all that storage space. We really were feeling cramped upstairs and even though we were finishing the basement, moving all that *crap* down there made it impossible to actually use the space- we couldn't leave toddlers down there with boxes of paints and power tools and glitter.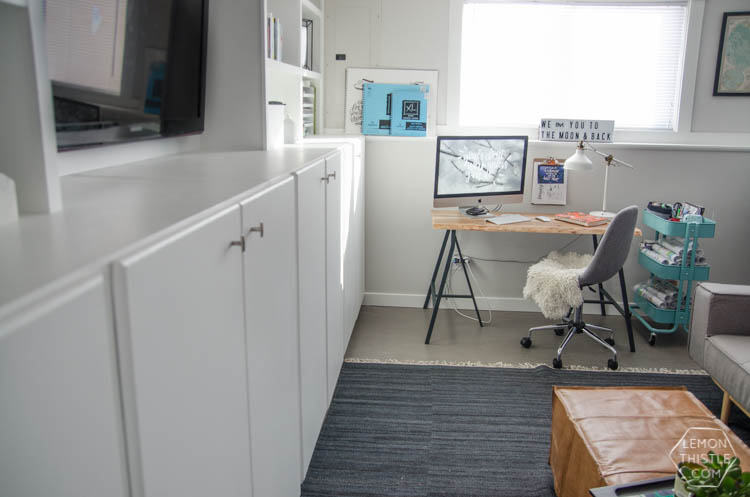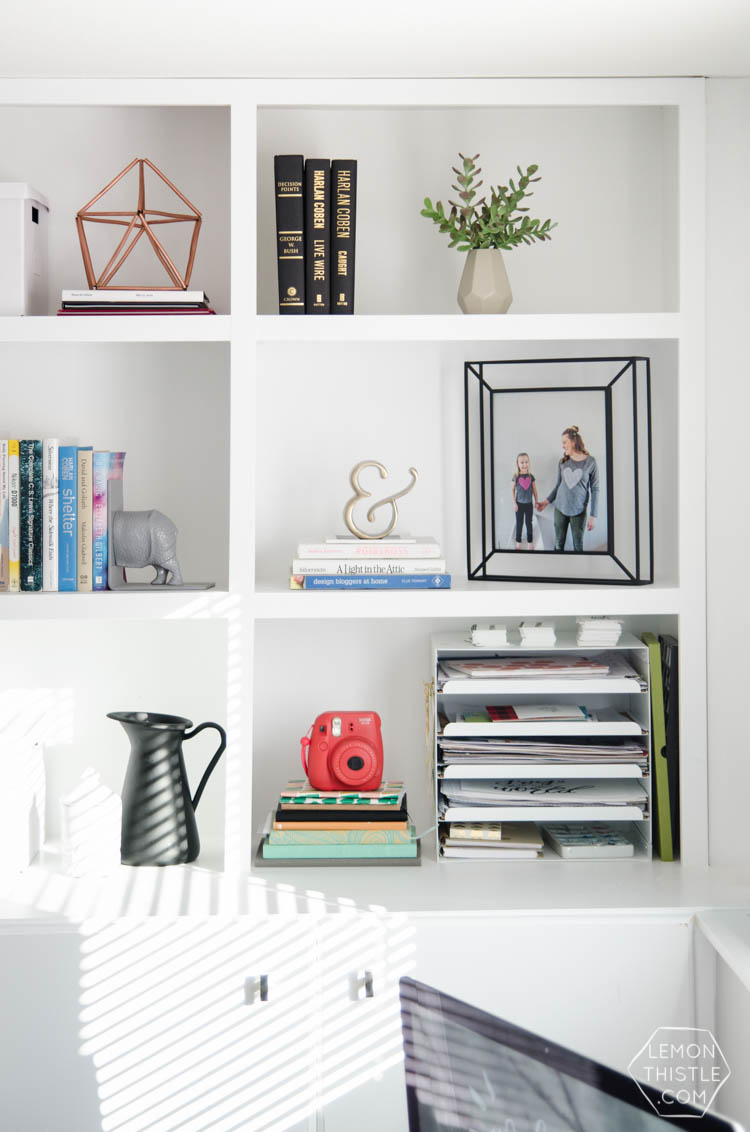 These built ins were the answer to our storage problem. This room is so long that losing a couple feet of floor space for storage was totally worthwhile. And we were pretty much able to cram everything that was in that office (storage room!) into those lower cabinets. We also built in a closet on the other side of the room for coats, kids games and a few other kids storage items (that were also hanging out in my office before #allbusiness).
The upper half of the built ins was more of a challenge. Originally, we just unboxed all the books and stuff that we had in storage since moving here a couple years ago. That was great to have things out of boxes but it left us with really messy looking shelves. We purged a LOT and there are still some books that we don't have on this shelf but by adding white storage boxes (Ikea) to put books, movies, controllers and all those random bits in we were able to house most of them without it looking packed. We also have all those TV boxes that are black and white and bulky and I wanted to find a way to help them blend in as much as possible. The ONLY way we found to do that was to balance the book shelf with black books and other black accents. I also stacked them as compact as possible and added some decorative bits to that shelf/cube to take the attention more than the boxes themselves.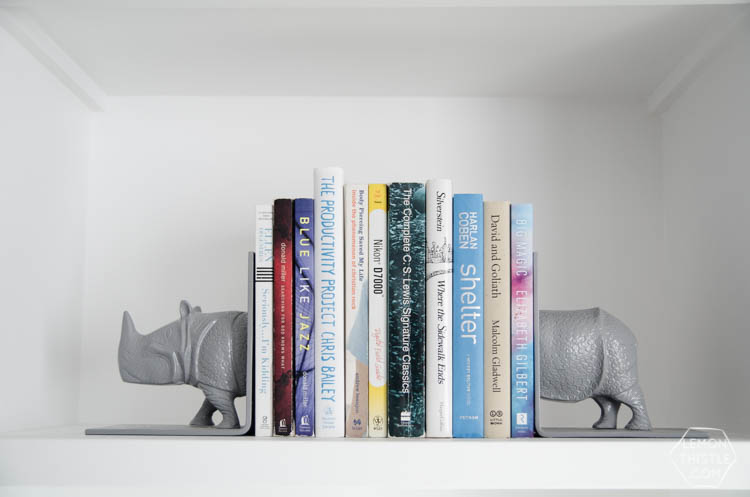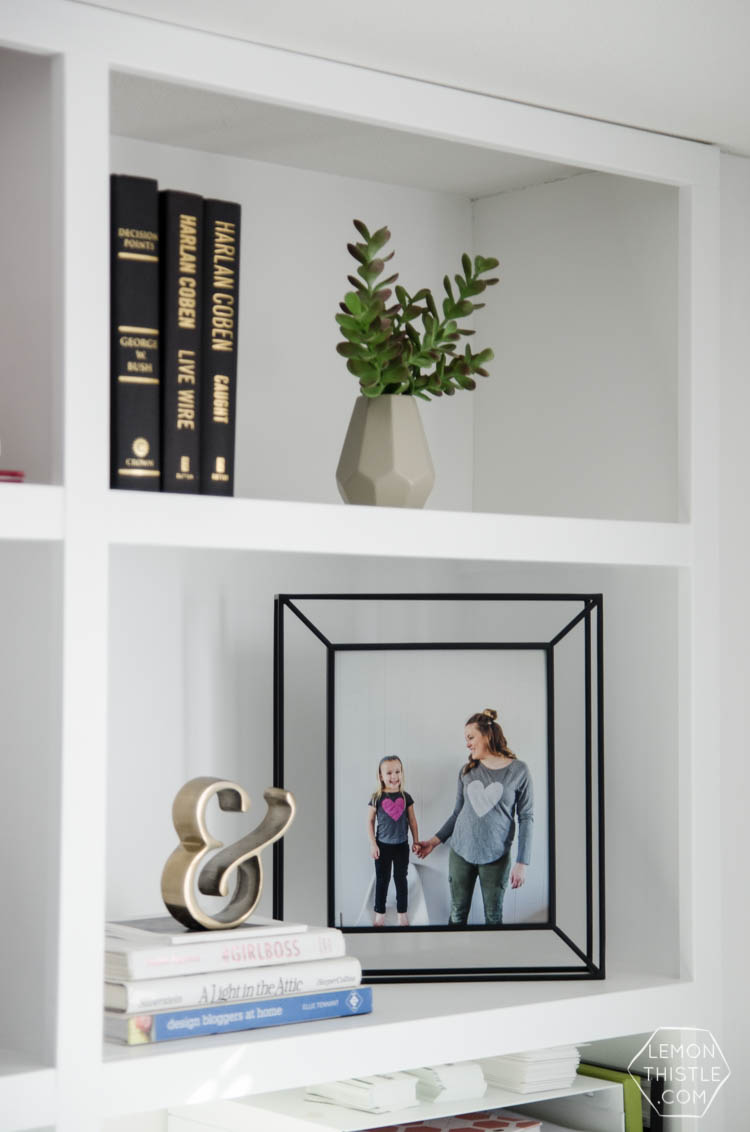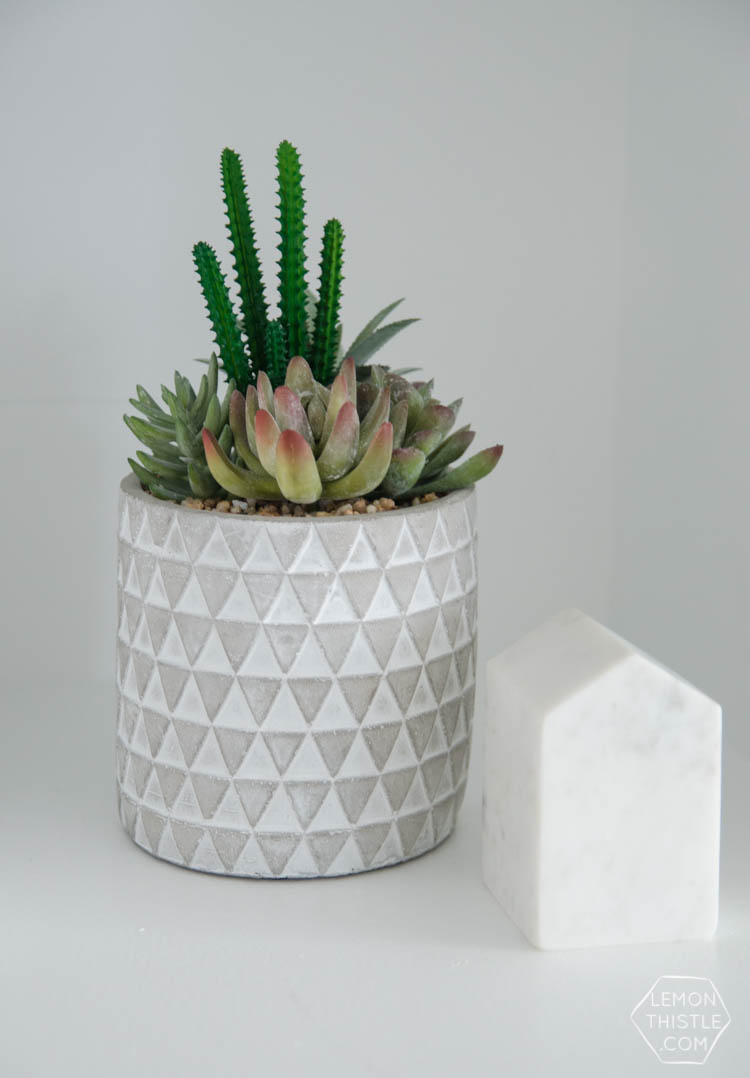 It was also challenging to leave white space when you have SO much stuff to store. We really have more books than we have pretty things. I pretty much cleared out all the stuff I love from every other area in our house to make this shelf look how it does… but we spend so much time down here staring at this wall I wanted to to be a wall I was happy at looking at. Now I just have to work on the rest of the house again- ha! But shopping your own house has it's perks- the only thing I bought to style this shelf was a couple fake plants ($17 total, thanks to Homesense!).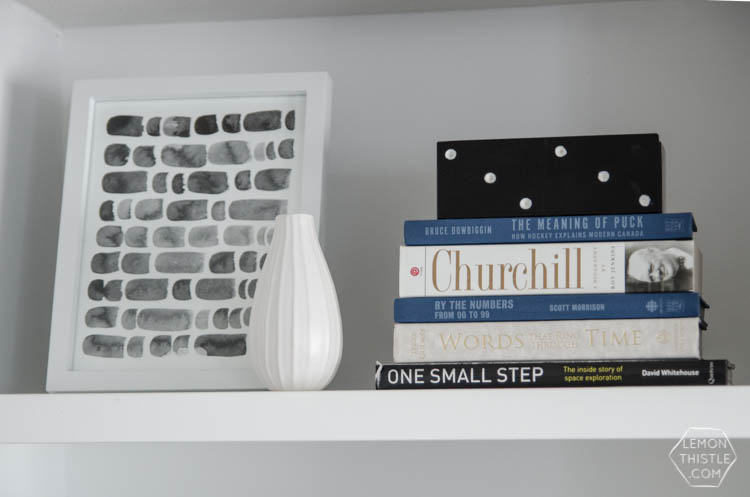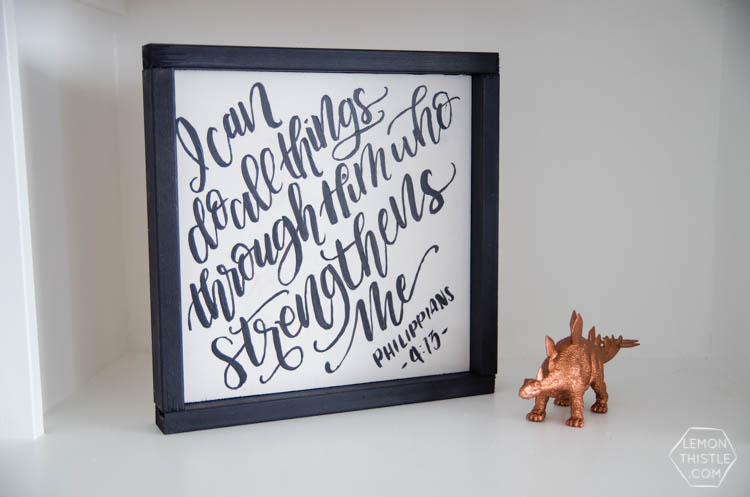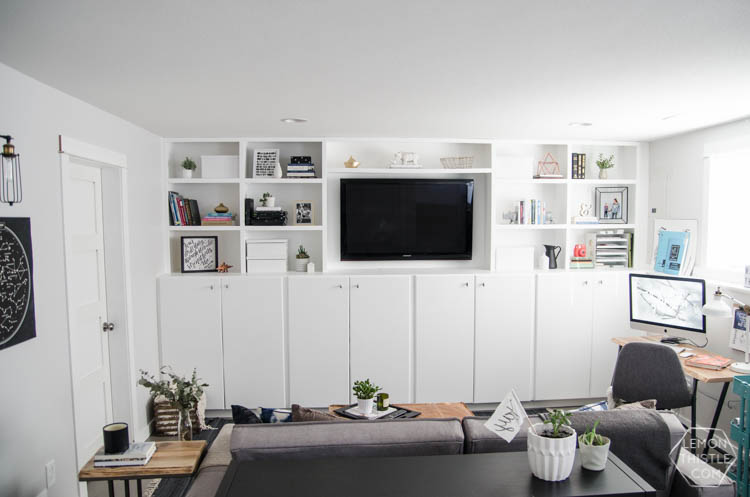 If you look at the DIY post for the built ins, I mention that we installed pull out shelves on the one closest to my desk. There's also a plug in there so I have my printer, Cricut, and scanner in there- all wireless which saves on desk space. The space is really tight to have a desk in there as well. We actually made that live edge number to get one the perfect compact size without sacrificing style. Plus- by building our own it cost just a portion of what buying one would have (hello Ikea hack!). The only challenge is that by making this choice I sacrificed drawer space, but the rolling Ikea cart holds all those bits (and all my vinyl!).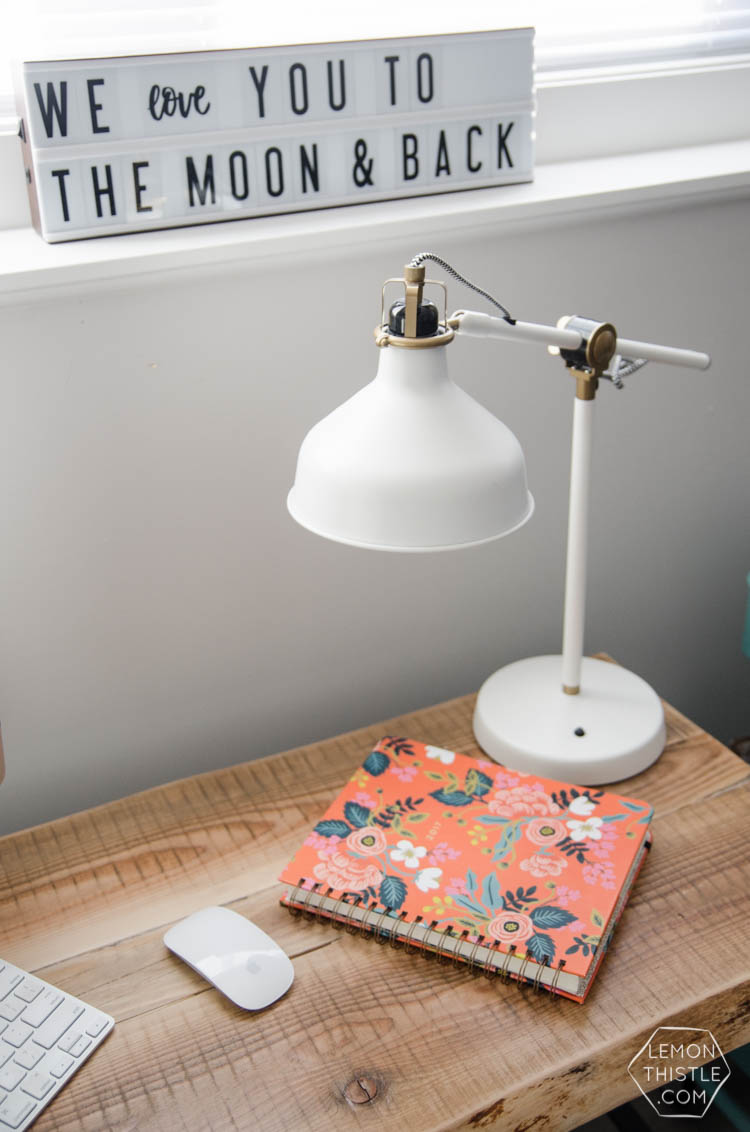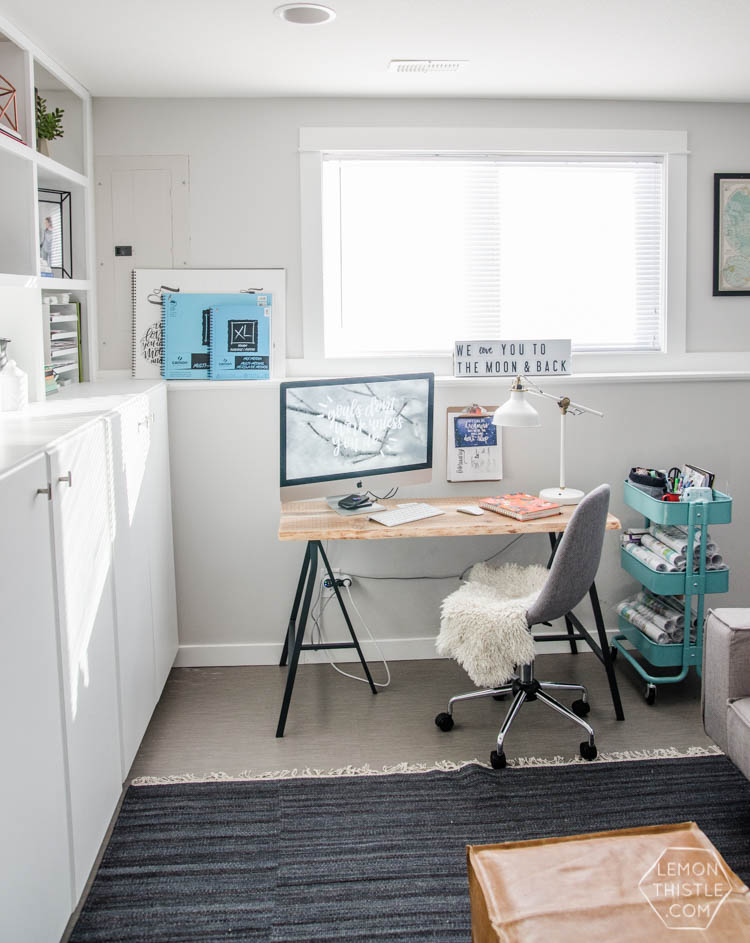 I am trying to keep all my paper clutter under control between a clipboard to hold the lists I'm working on off my desk and the paper drawers I've put on the built ins shelf. So far it's actually going really well (about a month now) BUT I'm not going to lie- a small desk is a total challenge for me, especially when I work on a giant desktop that takes most of the space and really love having a task light since I do so much work at night. See my day timer? That's really all that fits on this thang when I'm working unless I move my keyboard off.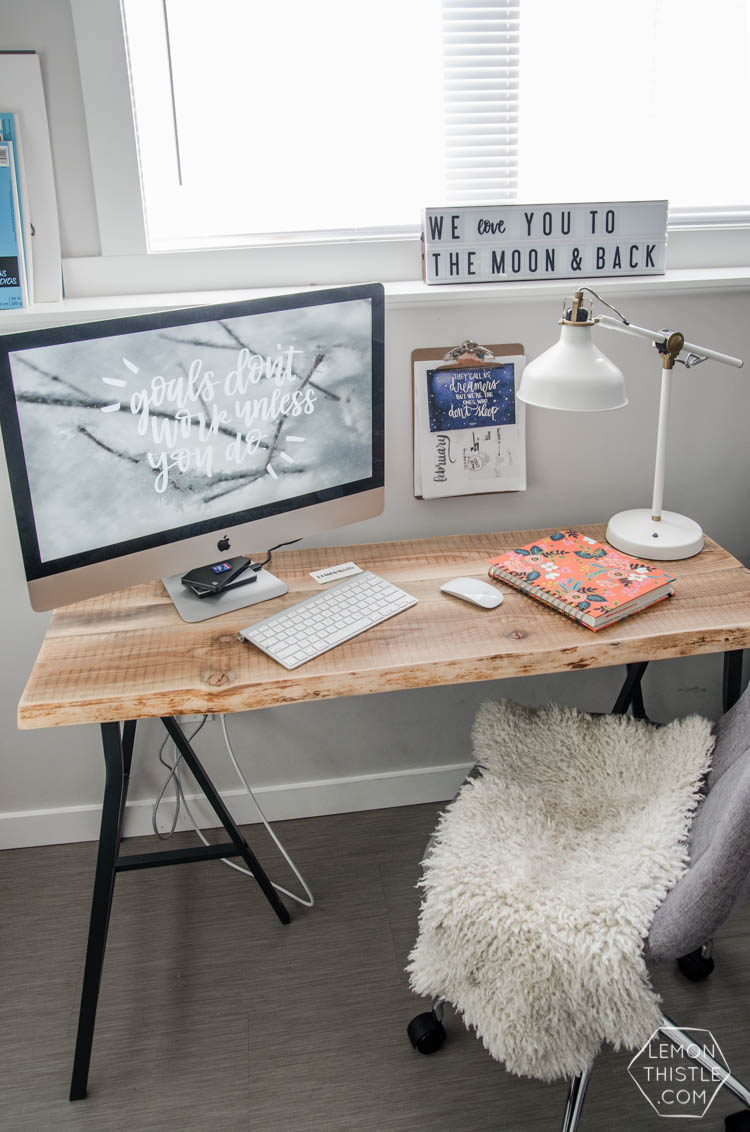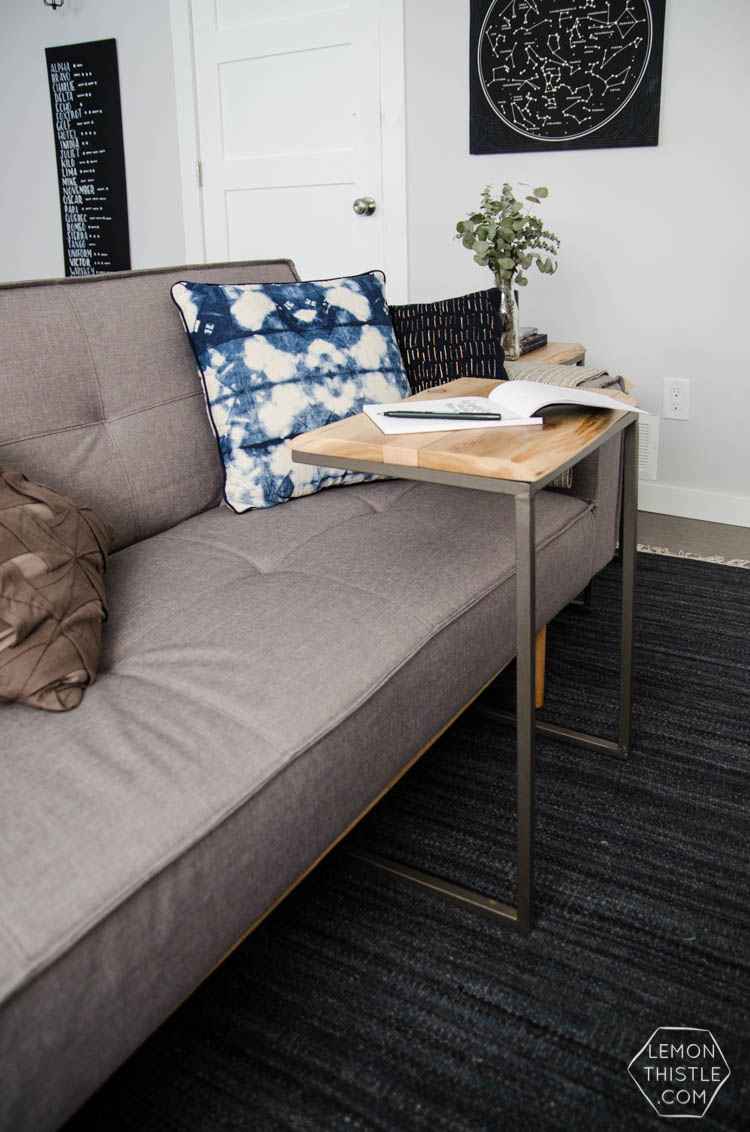 Because of that, I've found myself doing lots of work like lettering or sketching on the couch (futon) or ottoman. The side tables are a sort-of DIY from nesting tables (animal print vinyl!) I got for $7 for the bunch and painted up and resurfaced. They work great for working at the couch since they only have one set of legs. And seriously, you can't beat the price tag!
And the ottoman… let's talk about that! I shared the process on my Insta stories (are you following along?) and will share the full DIY later BUT that's just a slip cover I made for one of those old storage ottomans. It's fake leather underneath and tearing and super beat up but we love having something to put our feet on while we watch TV and a new ottoman, coffee table or pouff just wasn't in the budget. Since I had this leather from an old couch it just cost me the thread and leather sewing needles. SCORE. This wouldn't be the best choice if you want to get into your storage in there a lot, but we have some extra photo frames we haven't found a place for in this house along with some other things we really don't use (we should probably just get rid of).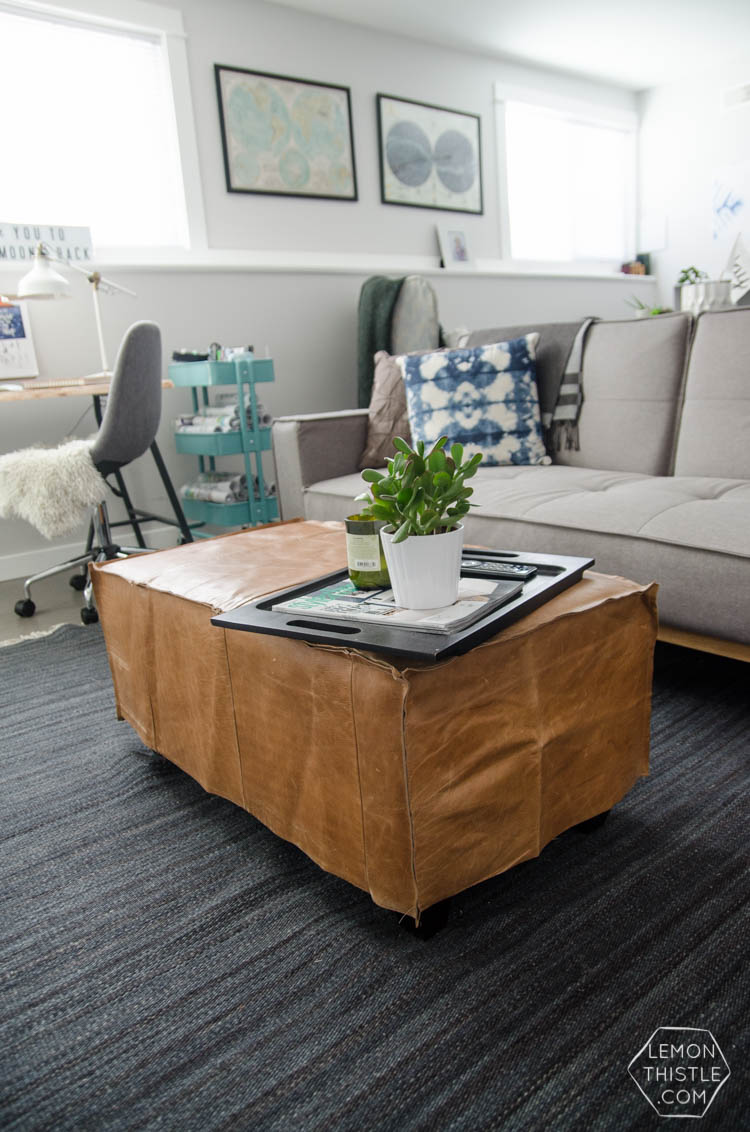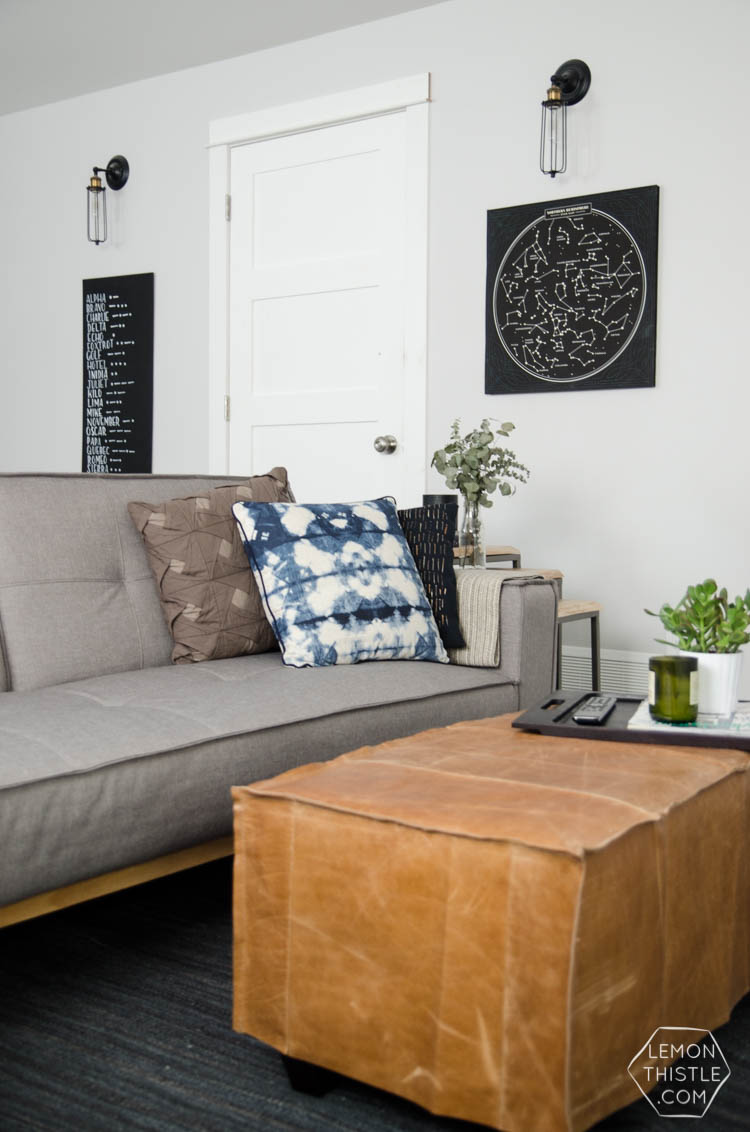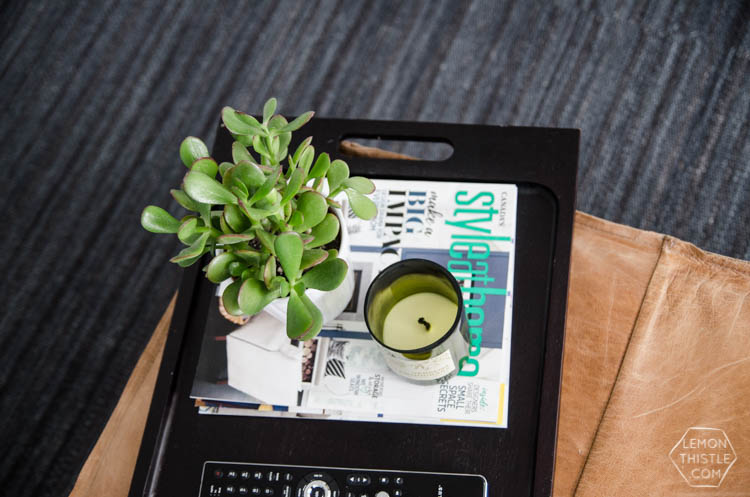 Now that we've talked about almost everything BUT the biggest pieces in the room… let's talk about the rug and futon! The first thing we wanted to do when we were dividing the long room into two spaces was to get rugs that would help define the separate spaces. When Rug Expedition reached out for sponsorship I knew this was the space that needed one the most. This one was an easy pick- it's a gorgeous rich colour with great texture. It's from Rug Expedition and it's a Loloi rug (LOVE their stuff). It's called Anzio in Charcoal and did I mention it's on sale right now ;) The only downside is that the vinyl flooring we have down there (LOVE it) is slippery and this rug being a flatweave doesn't have a backing. It really needs a rug pad but it just wasn't in the budget right now. Keep that in mind if you're ordering a flat weave for a non carpeted space!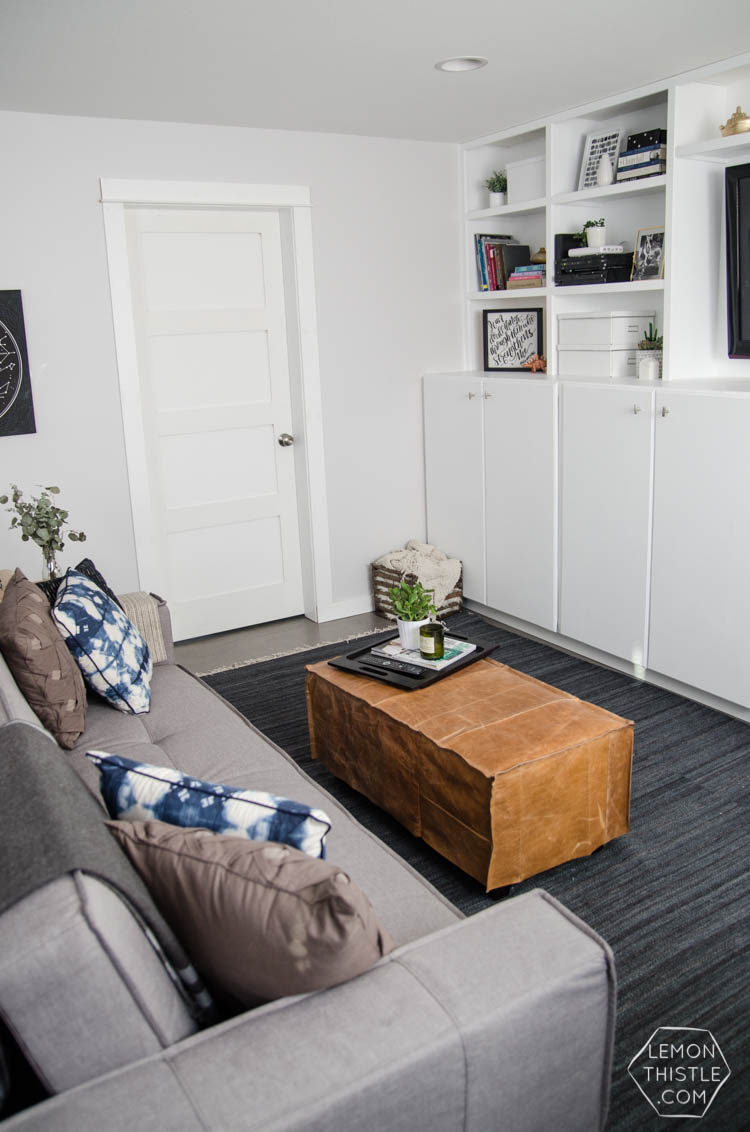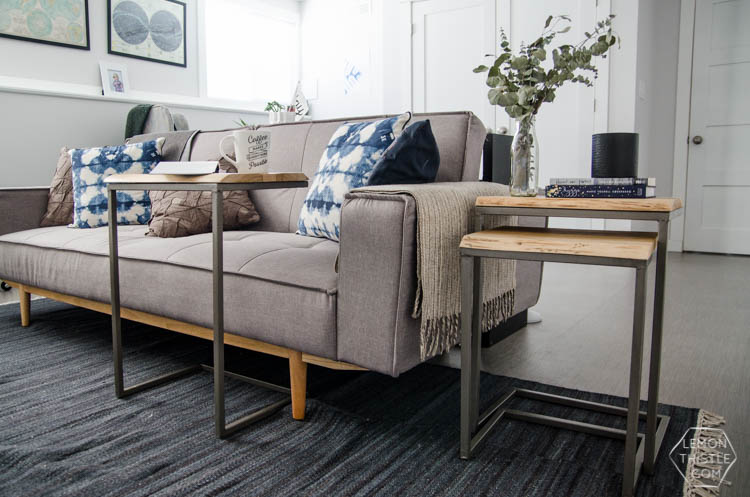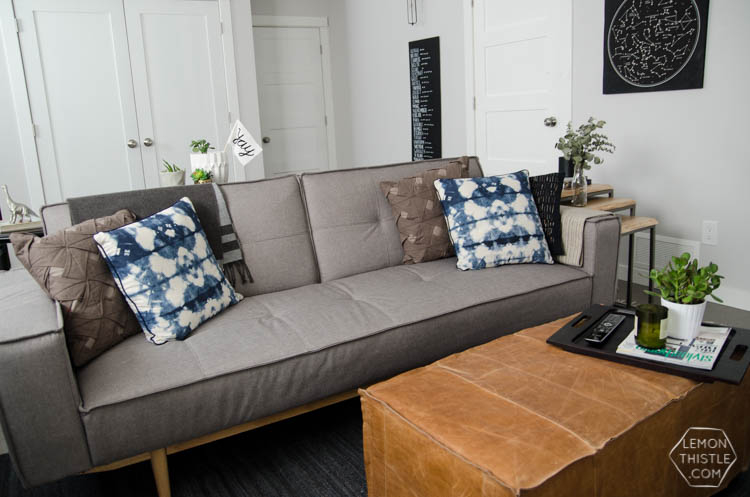 And the futon! Ooooh the futon. Isn't she beautiful? We don't have a guest room and we actually do have overnight guests a few times a year. It is SO nice to finally have a proper place for them to sleep other than the floor. It's not the fanciest BUT it's comfy enough to watch TV on every day (for a few months now, and I stand by it!) and for the price through Wayfair, it just couldn't be beat. Why are so many futons or pull-out couches so 90's looking!? I love how square this one is and those legs! Plus, it's compact which is just what we needed for this space.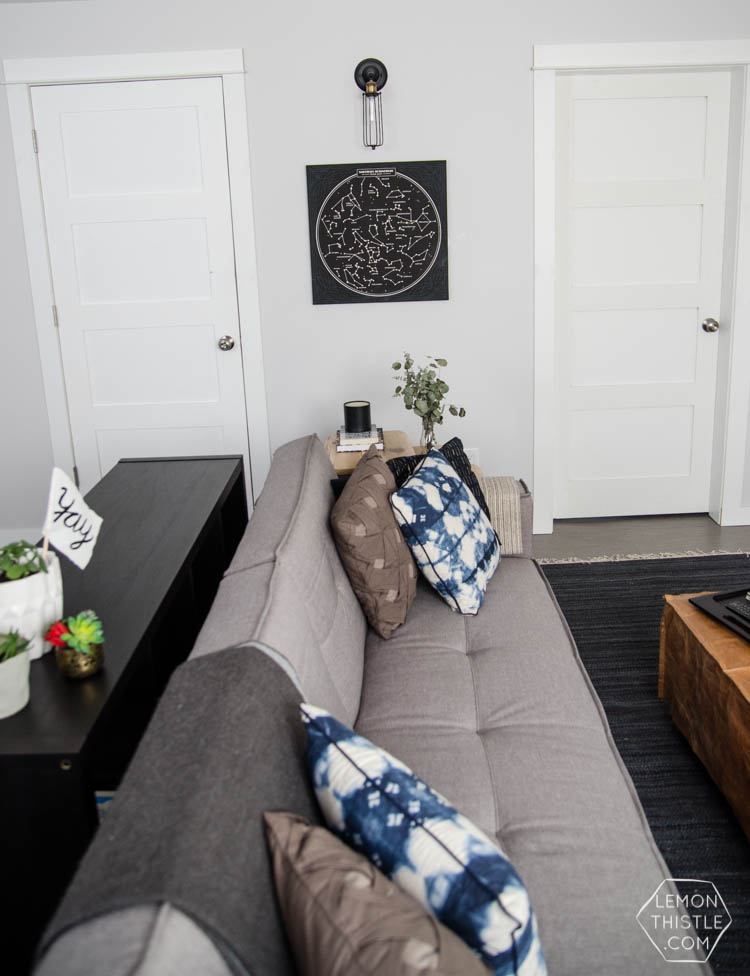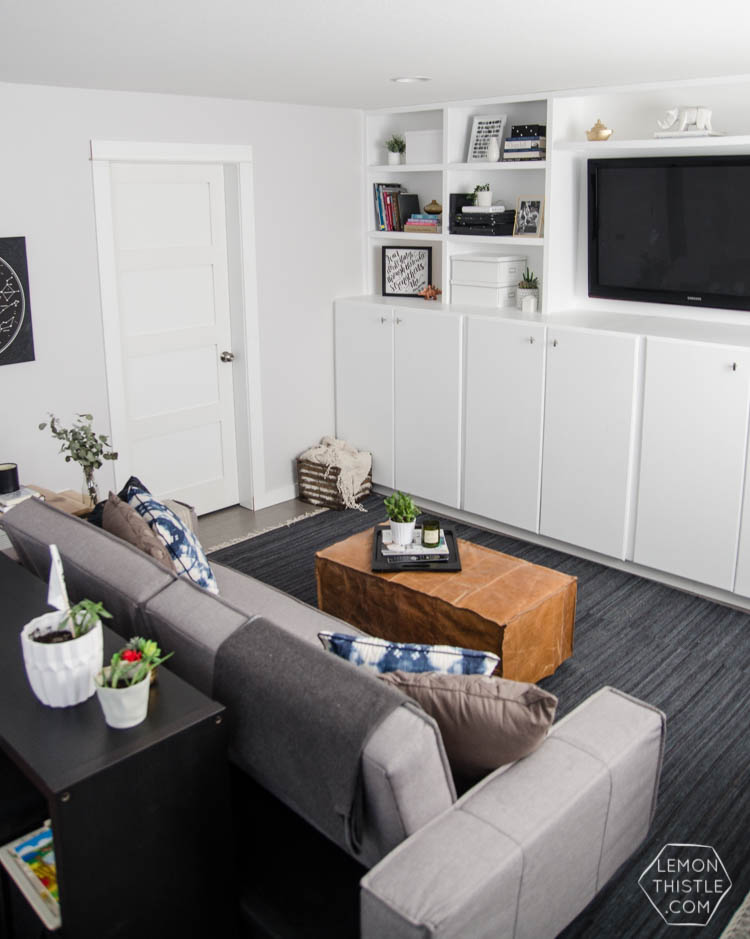 I topped it with some cushions I'd had from Target years ago and grabbed a couple new indigo dye ones from Superstore. The only thing to be conscious of with a futon (especially when you're using it to divide space like we are!) is that the back isn't the most beautiful. You can kind of see in those two photos above that the back just folds straight down which means it's not the nicest to look at. We are using the other half of the room for a playroom which meant a long shelf for toy storage so that covers it for the most part but if are having a futon away from a wall I'd totally recommend a solid backed sofa table or bookshelf to go behind it.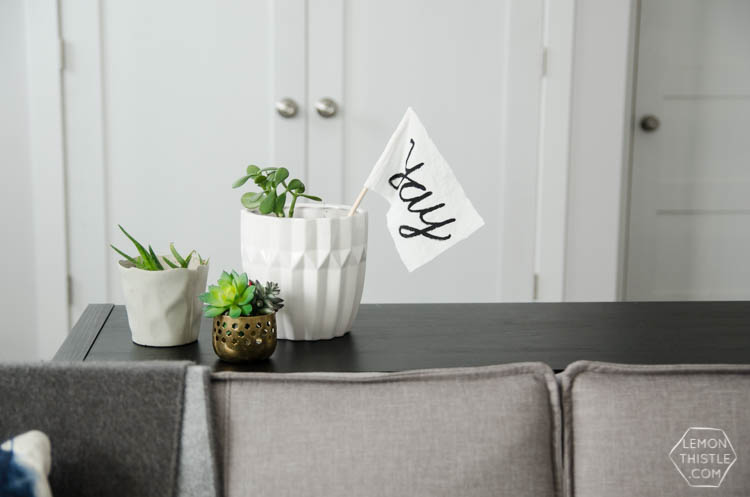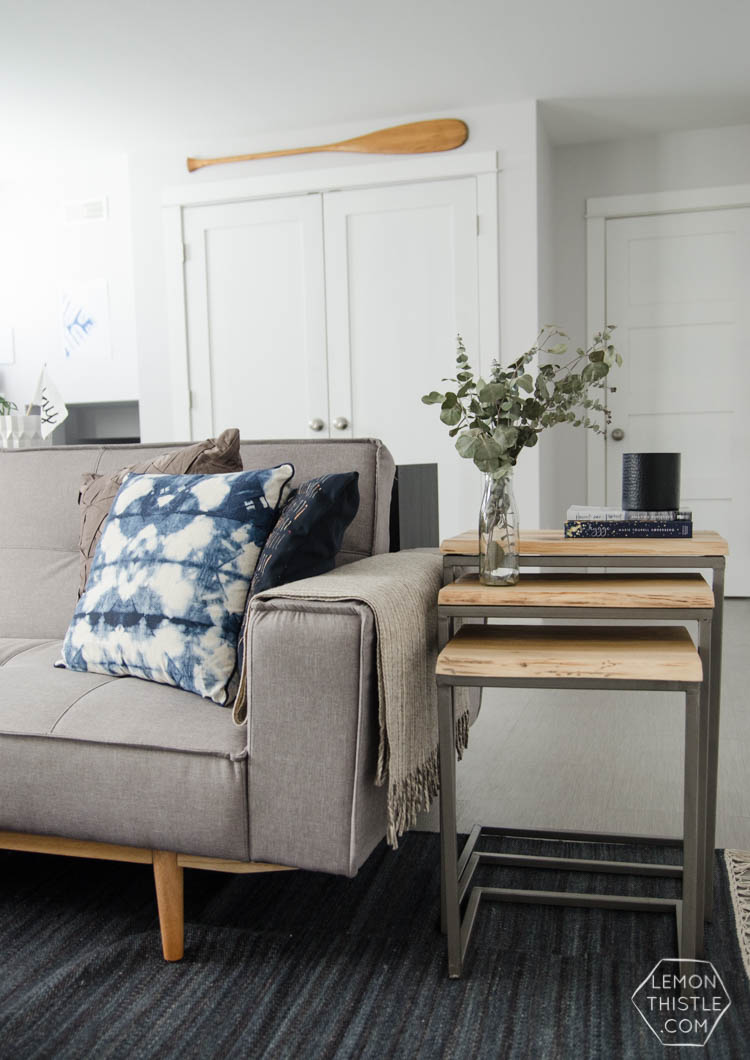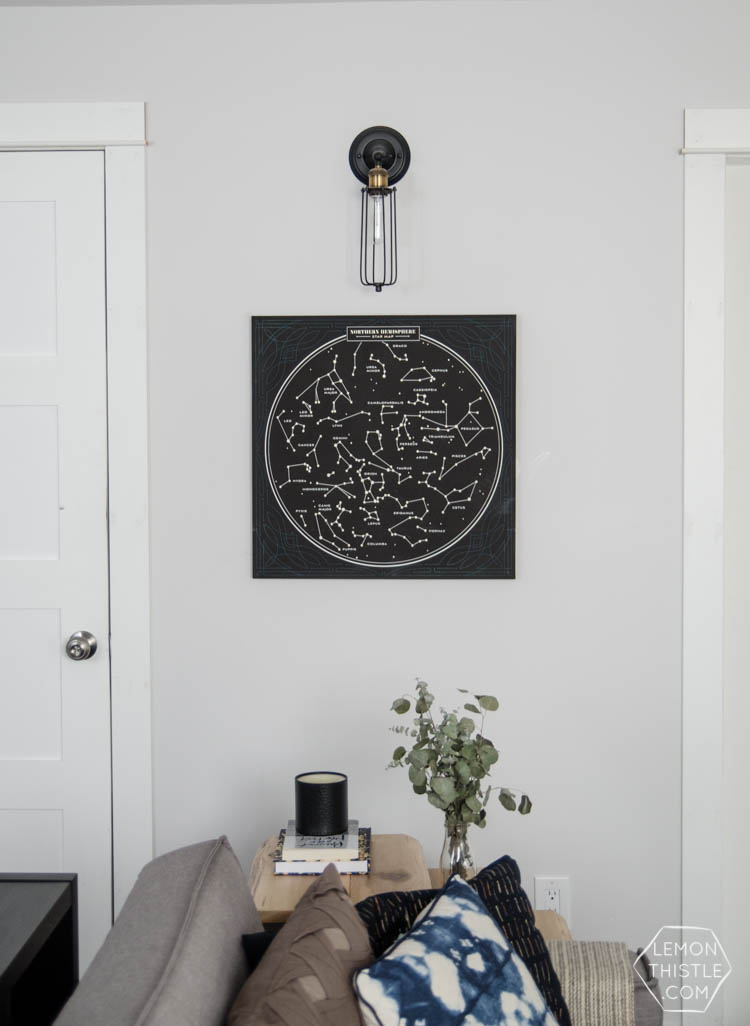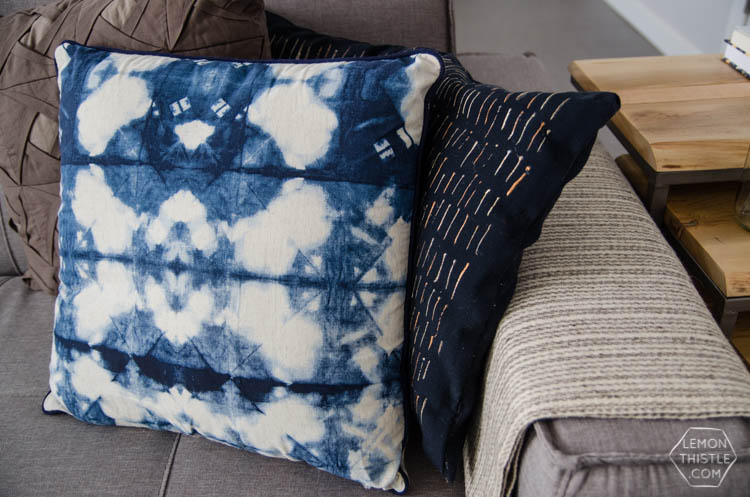 Alright! I hope I mentioned everything you might be looking for- I'll leave a source list below, but in the meantime… can you spot the two things that drive me bonkers in this space? Okay, I'll tell you ;) 1. The cords below my desk! Gaaooosh they drive me nuts. I really need to get some wall mounted clips to make them a bit more tidy. 2. We missed painting the end cut of the trim over our laundry room door #doh. We have the same thing on our bathroom in our main hallway and they seriously drive me batty. But not enough to pull out the paintbrush and fix it!
SOURCES:
Futon- AF Living from Wayfair
Built In Shelving- DIY
Live Edge Desk- DIY
Rolling storage cart (blue)- IKEA
Ottoman- DIY coming soon
Tie Dye/Indigo Dye Pillows- Superstore
Brown Pintuck Pillows- Threshold at Target (discontinued)
Navy and Foil Tick Pillow- DIY
Nesting Tables- DIY coming soon
Wall Sconces- Parrot Uncle
Constellation Map- Modify Ink (discontinued)
Black Cube Photo Frame- Umbra from Indigo Chapters
Gold floating photo frame- Indigo Chapters
Rhino Bookends- The Land of Nod (discontinued)
Brass Ampersand- Chapters Indigo
Task Lamp- IKEA
Vintage Lightbox- My Cinema Lightbox
White Geometric Rhino- Homesense
Copper Dino, Gold Boat- DIY
Black and white wooden sign- DIY coming soon
Black and white watercolor art- Mattie Tiegreen
LIKE IT? PIN IT!