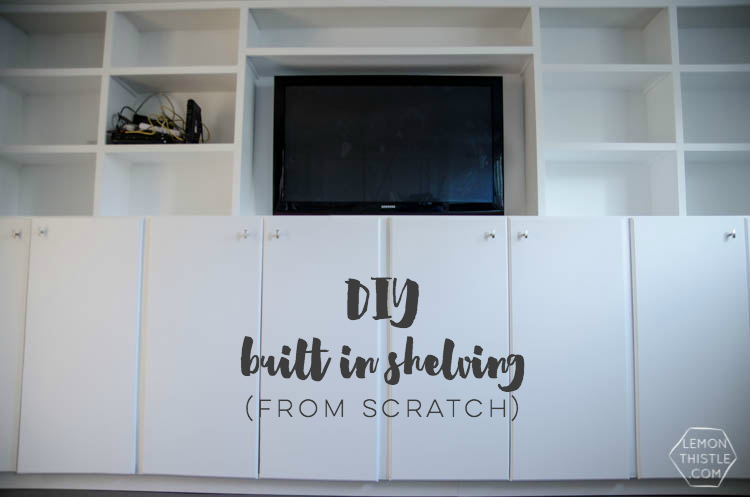 Whew! You guys, this one is a doozy. It feels so good to have it done, we kind of feel like it's the best thing that we've made. Like our kitchen is pretty awesome- but you are given the pieces and just have to assemble. This? custom built in shelving unit was built from scratch. And designed in chicken scratch ;) I'm so happy The Home Depot Canada trusted my vision on this one.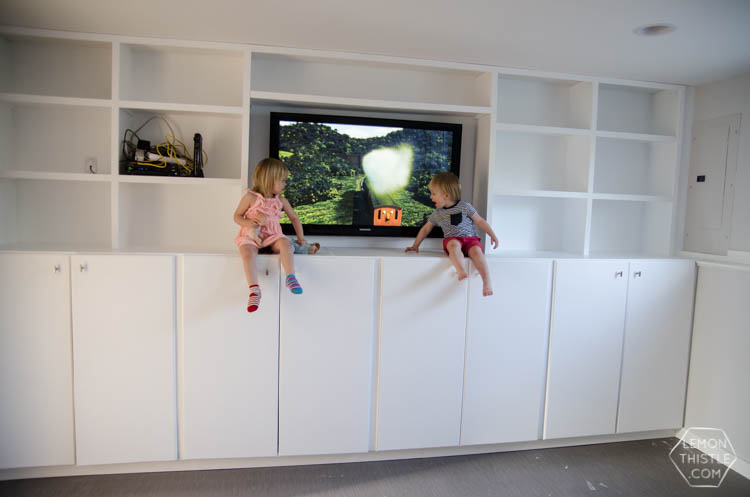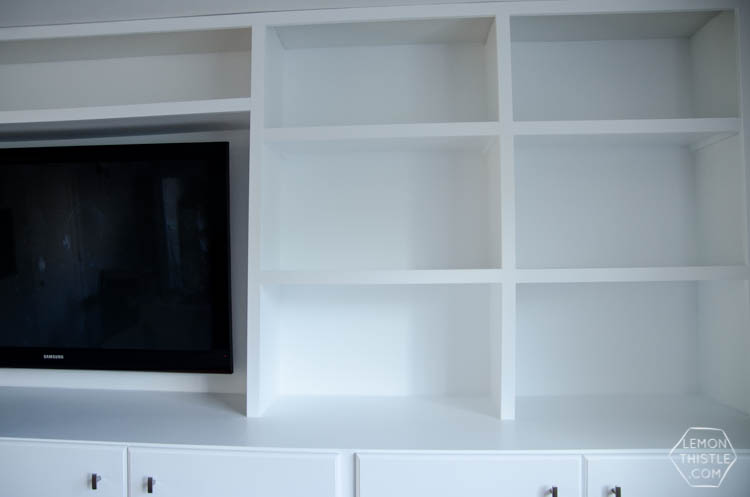 Today I'm going to share the how-to with LOTS of process photos, some sketches, and supplies lists (including my spreadsheet I used to calculate the budget… down to the penny). It's a big one- but I thought you'd rather have it all in one place instead of jumping around to different posts for everything. I'm working on getting the rest of the room looking less like a work zone, then I'm going be be sharing the whole room reveal with you! So, here we go… our custom built in shelving unit…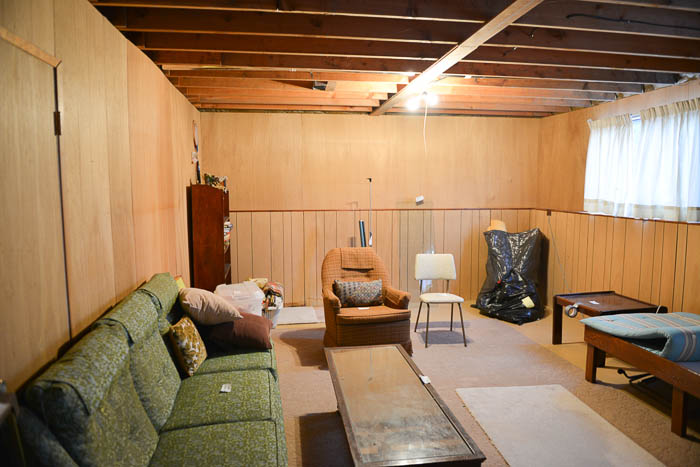 Let's start by talking about the design. This is what the room looked like before (yep- it was b-a-d). You can see all of our before photos of the house here.The foundation made for a ledge part way up the wall, so we designed the change in depth to be at that level for simplicity. We wanted the bottom half of our custom built in shelving unit for concealed storage since my office is displaced for Win's nursery (also so exciting to share with you!) and if you are a crafty person- you know that's a LOT of crap supplies to find space for. The top half needed to house our TV, electronics and all the books we collect (that have been sitting in storage since we moved in).
I loved the look of chunkier shelves and liked the idea of facing standard thickness board for a seamless look (suggested by Young House Love). I was also looking for it to be really smooth and wanted to avoid hours of sanding. We chose to use MDF for all of the project and I'm so happy we did. There's a few things you would need to do differently if you were to use wood- just keep that in mind as you go through.
Our wall was 16 feet long on the bottom half (four inches longer on the top half accounting for the ledge- we ignored this and built a filler piece over there to keep things symmetrical. We knew that some of the books and pieces we wanted to store on our custom built in shelving unit we big so we made sure our shelves would accommodate. We also measured our TV to make sure it would fit. I would leave more space around the outside of the TV if we were to do it again. Not because of how it looks but just because mounting a TV with little space for tools to get around the sides is trickier than we expected.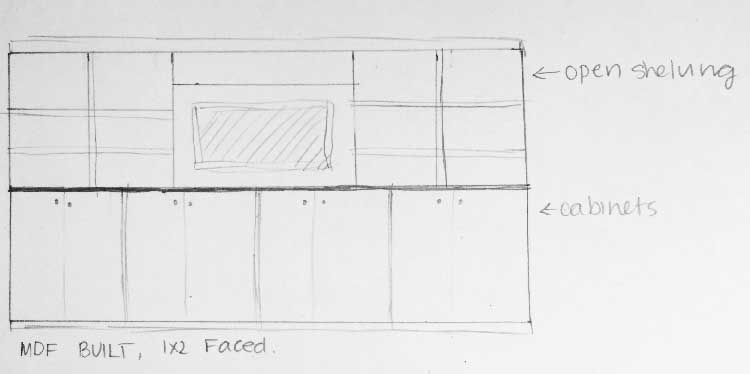 When we sketched out the plans for the custom built in shelving unit, we wrote down the measurements of all the pieces we would need then added them up into supply lists. For the lower units, the uprights, shelves and doors are all made with 5/8″ MDF sheets. The supports for the shelves we ripped from those same sheets. I found it easiest to draw out on graph paper the size of a sheet of MDF 4×8′ and shade out the squares of the pieces we'd be cutting out of those sheets to make sure we got enough in one trip but didn't end up with waste. There are also MDF shelves available (which works out cheaper!) available in 12″ or 16″ depths, but our bottom shelves were deeper than that to accommodate for some specific storage items. The open shelving and supports for the upper shelves were all made from the 12″ MDF shelf boards. The facing to make it look chunky was done with 1×2″ MDF. The whole thing was set on top of a 2×4 base. We chose to have hidden hinges with subtle hardware.
Here's what our supply list looked like (although yours would be different depending on your size of space). We were able to get all of our supplies from The Home Depot (I love when you only have to make one stop!) but one of the tools we used is only available online where we live. You can download our supplies/ shopping list with CANADIAN pricing right here. This does not include the tools we already had (painting supplies, saws, etc). I'll link everything I can so you can see what it looks like in store.
Building:
4×8′ 5/8″ thick MDF Sheets (7 sheets)
12″ x 4′ 5/8″ thick MDF Boards (8 boards) (I could only find the 1/2″ to link to)
1×2″ x 8′ MDF trim (13 pieces) (This is a different size, same idea)
2×4″ x 8′ Lumber (6 pieces)
Construction Adhesive (we used PL) and a caulking gun
Brad Nailer with 1″ nails
1″ Screws
Small L brackets (we found white ones in store)
Drywall Anchors (Super strong! We used this butterfly kind)
Drill
Circular Saw with Rip Cut (cutting guide) or Table Saw (one day we'll get our hands on a table saw!)
Chop Saw (although a circular saw would work)
Measure, Level, Pencil (y'know- the basics)
Baseboard to cover length along the bottom (4″ to cover the 2×4)
Finishing:
120 grit sandpaper
Oil based primer (Oil for MDF- if you were using wood you could use latex)
Cabinet Paint (may I suggest Low VOC)
Painting supplies
Hardware of your choice (we used these babies and I've already purchased them in brass for another project I love them so much)
Hinges (we used this kind)
Paintable Caulk and caulking gun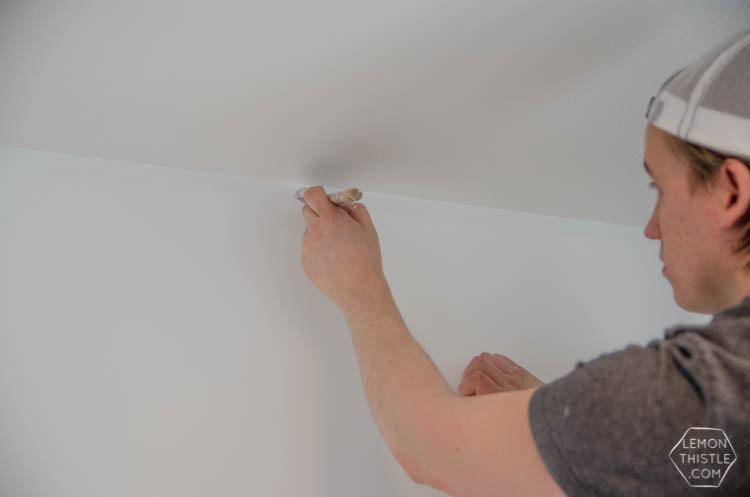 Before you do anything, paint your wall the colour you'll be painting your shelving.

Alrighty- let's talk assembly. The first thing we did is built a base. We used 2×4 for this and made sure there was support for each of the shelves and extra support under the uprights. We smothered that in construction adhesive (magic glue that will never move, I swear) and placed our bottom pieces of shelf right on top. We left an overhang (the base was slightly less deep) for a kick, just as you would with kitchen cabinets.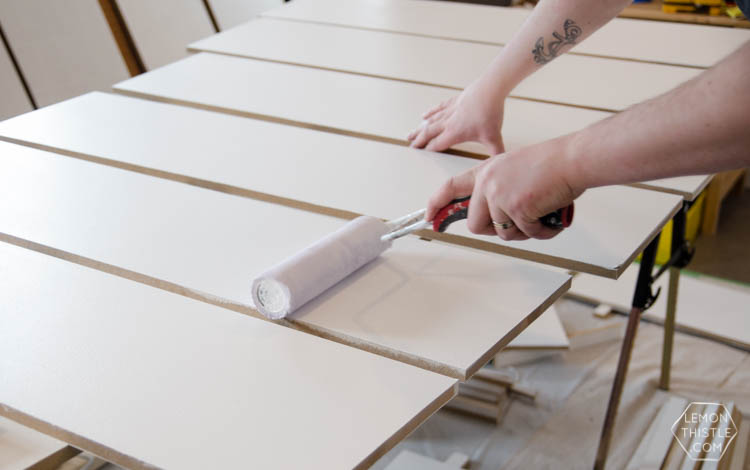 To cut the MDF pieces, we used a circular saw with a cutting guide but a table saw would have been the best choice. You could also make do without a guide if you were careful using a square to mark it out (like the second photo- that was an adjustment cut). We did a light sand on the edges before installing. We chose to prime all the shelving and apply two coats of paint before installation. I'm happy we did this because painting installed would have taken waaaay more time. We just set up sawhorses and a dropcloth in our basement since the paint was low VOC (low odour/fumes essentially). Please, please take note that if you're using MDF you need to use an OIL based primer before your standard cabinet paint. If you are cutting AFTER painting, it's a good idea to cover your guide in painters tape to avoid marking up your paint job (shown in the second photo).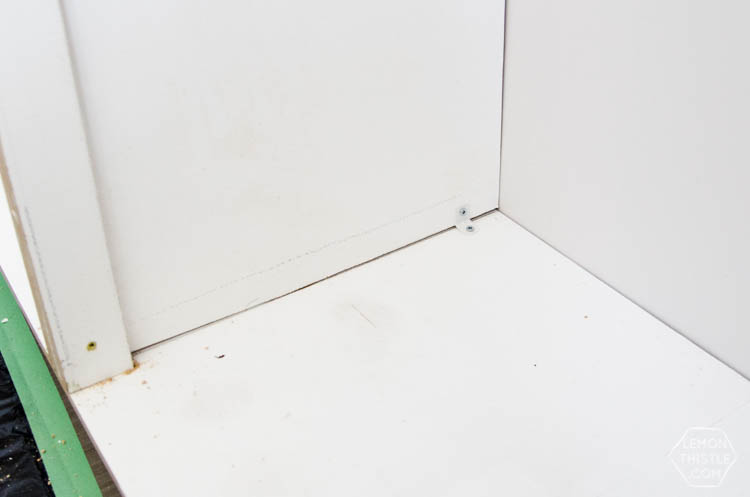 We used construction adhesive, small L brackets and screws to assemble the lower unit (since it would all be hidden) and anything visible was assembled using construction adhesive and brad nails. We thought we would need more but after talking to our builder brother (handy to have), he said we definitely would be more than safe with just that (told ya- miracle glue). We applied glue to the side panels before attaching them to the wall as well. We had originally planned to use pocket holes and a jig to attach the pieces but we decided we would take a few shortcuts and I don't regret it for a second. This is the amateur way to build built ins but you do not see them unless you stick your head in the shelves and look up, they're totally secure, and took a fraction of the time. Win-Win-Win. We used two L Brackets on the top and bottom of each upright in the cabinets and uprights just on the top front (hidden by the facing) of the upper ones. Construction adhesive holds them in place, then the shelves add strength.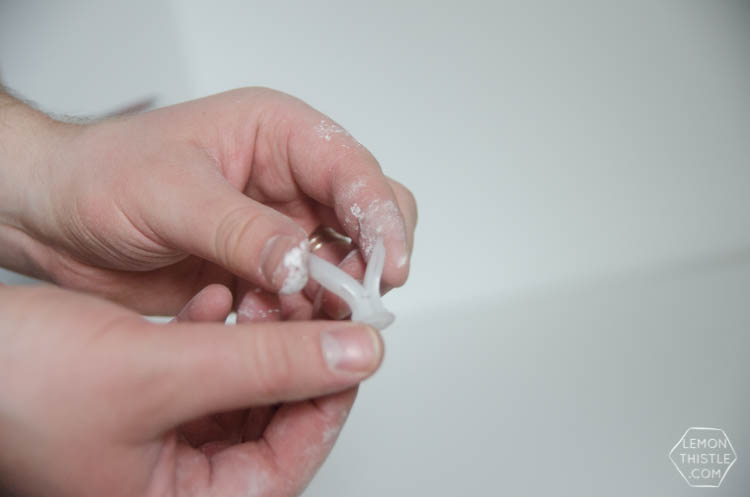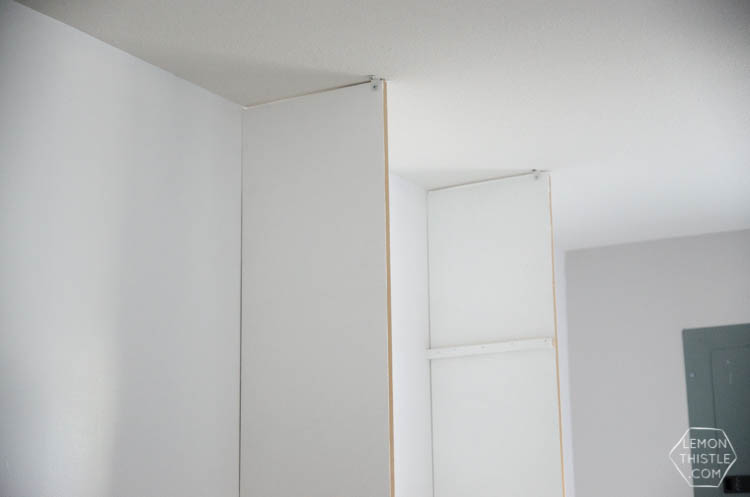 The upper L brackets screw into the ceiling, so we used heavy duty butterfly drywall anchors. They will be resting on the lower unit and adhered to the back wall so don't need to hold them hanging in the air- just to keep them from wiggling too much. Hold the anchor in place, mark where the anchor should be with a pencil, then install the anchor according to package instructions.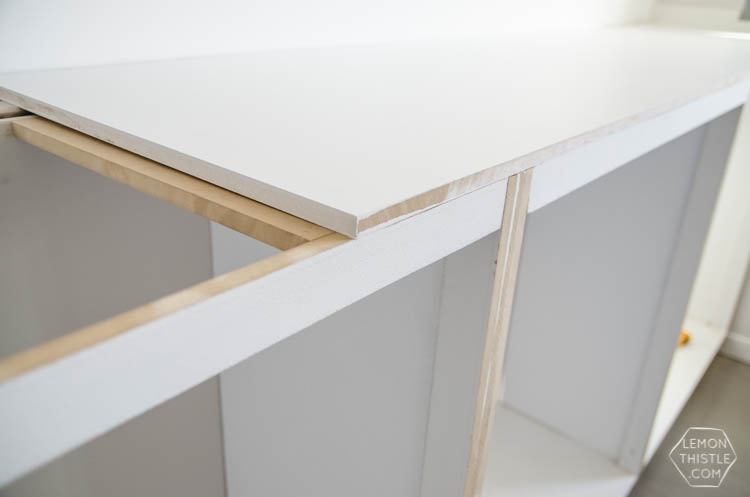 To use the hidden hinges, we needed a bigger space between the doors (when they open) so we added MDF strips to either side of the uprights at the front with adhesive and screws.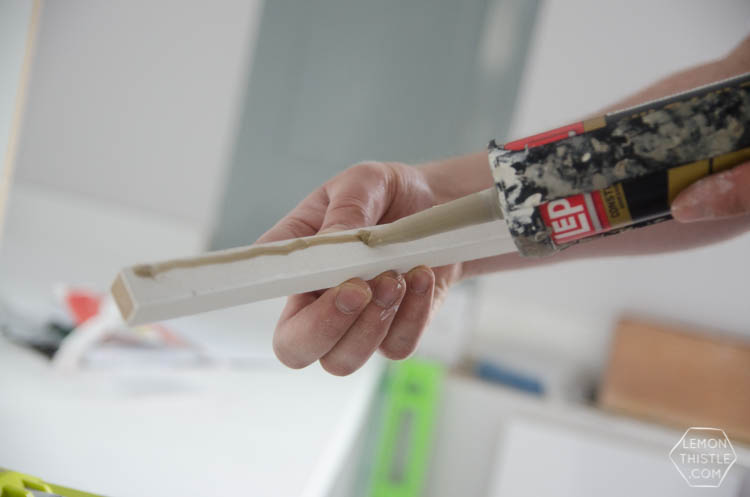 To install the shelves, we ripped 1″ strips of MDF sheet for supports. (we used the 1×2 in the lower cabinets since they won't be visible). This is the perfect size since it is hidden under the facing. We measured and marked the spacing with a level then applied construction adhesive and used brad nails to secure. We also used screws on the cabinet shelf supports since they will be holding more weight. This is overkill really. We installed the lower cabinet shelves last so we could sit in there while installing the doors.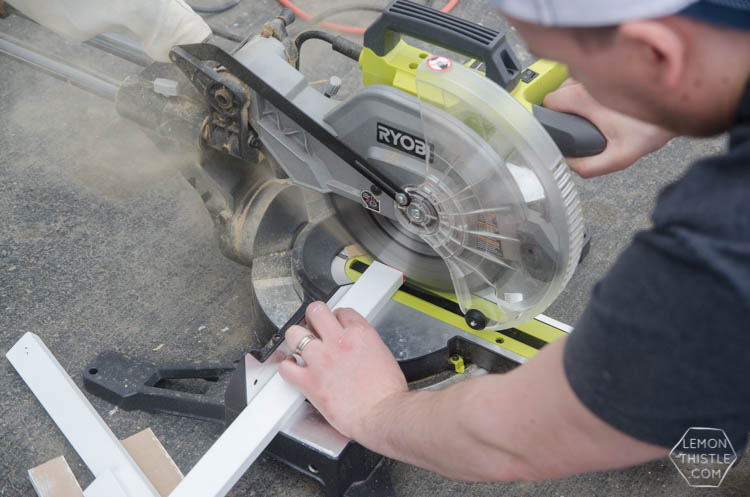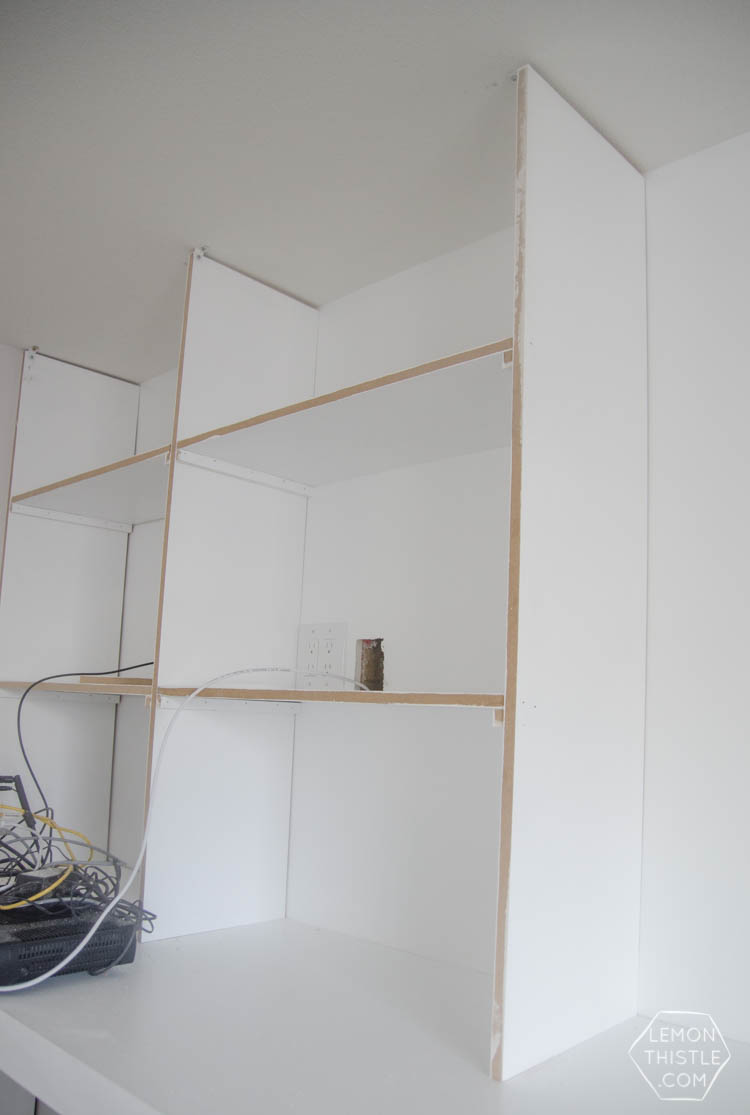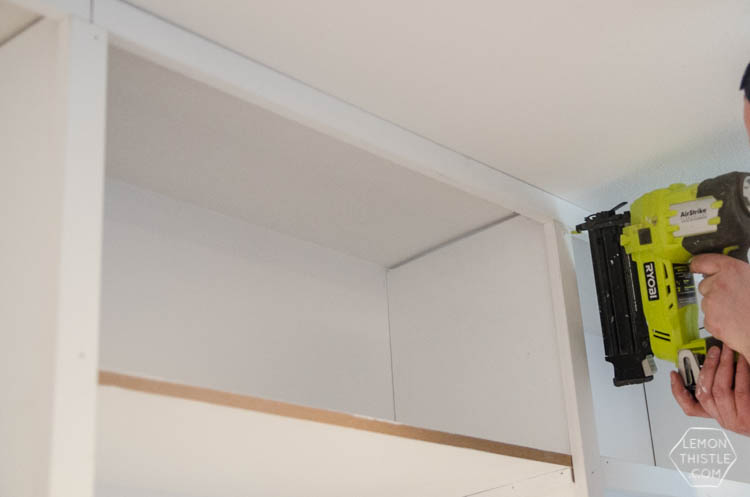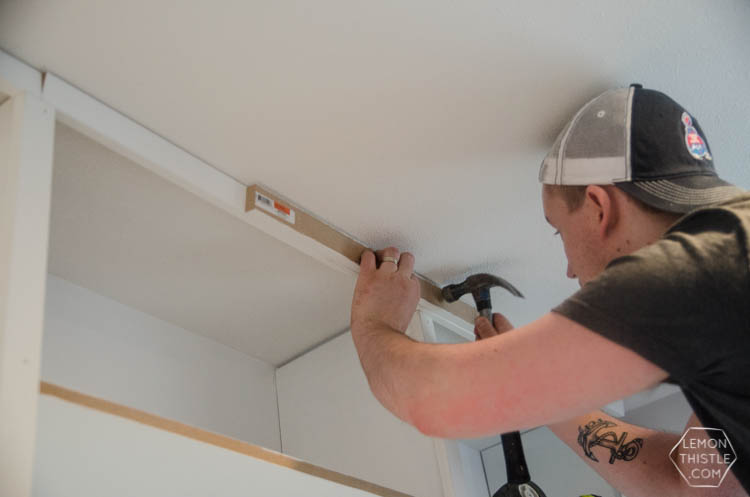 We added the facing on with butt joints (instead of mitred) and they look really great. We just used construction adhesive to attach with only a few brad nails these since they won't be holding any weight. When you're adding the facing, make it flush with the top of the shelf- where you'll be placing stuff; hanging over the bottom to hide the supports. If you need to tap it into place (it should be tight to eliminate gaps), use a scrap painted piece as a buffer and tap that (like shown) to avoid marking it up. We also used construction adhesive to attach a piece of baseboard over the 2×4 base.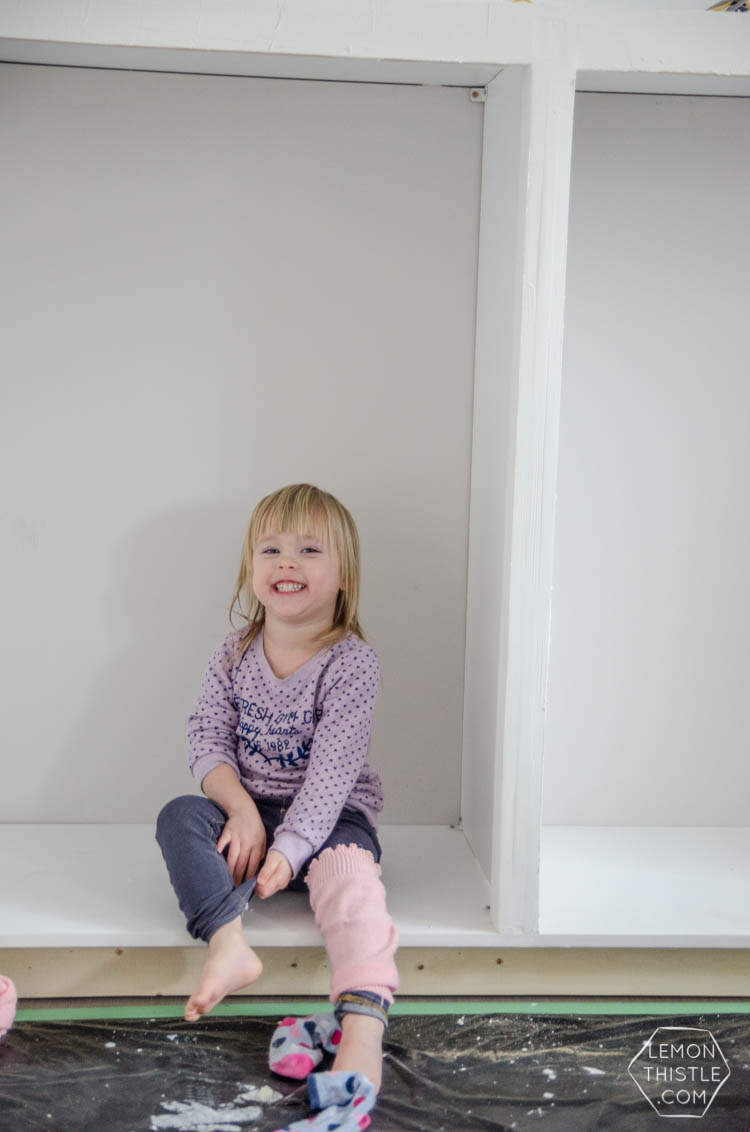 Side note: We had awesome little helpers for pretty much every step here. Instead of sanding MDF to death- here's the trick (and I LOVE this trick): use drywall mud to fill it THEN sand when it's dry. It gives you such a smooth finish it's incredible! Just mud, dry, sand a couple times until it's perfectly smooth.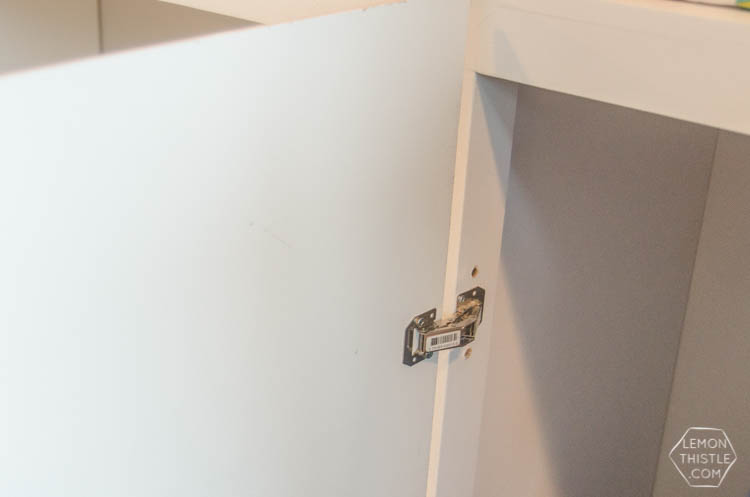 For the doors, we chose to router the edges to give them a proper cabinet door type look. This was done by hand and was so much easier than we had thought it would be. Installing the doors is the only two person job in this whole thing. Two people are helpful for other parts but for this it's totally necessary. We used the hidden hinges and you need to have the door held in place while the hinges are attached (and with doors this big… that means a second person). To get the proper spacing, we used a scrap piece of MDF the same thickness as our doors to screw in to one of the hinges to make sure it didn't bind while opening. That was the template we used when screwing on the hinges to the doors.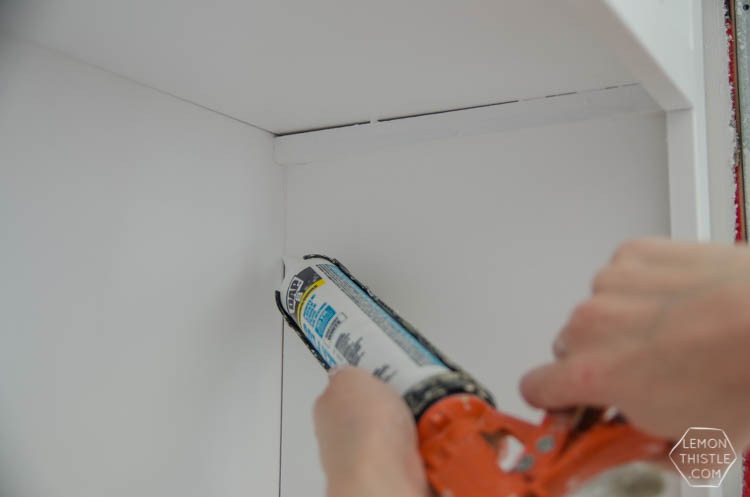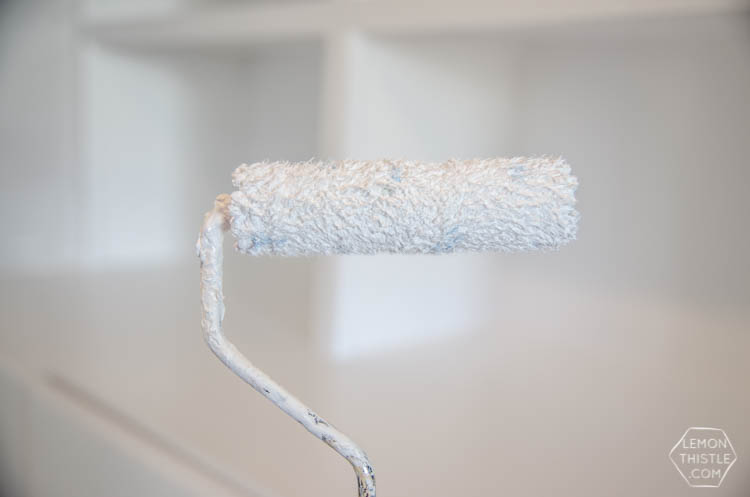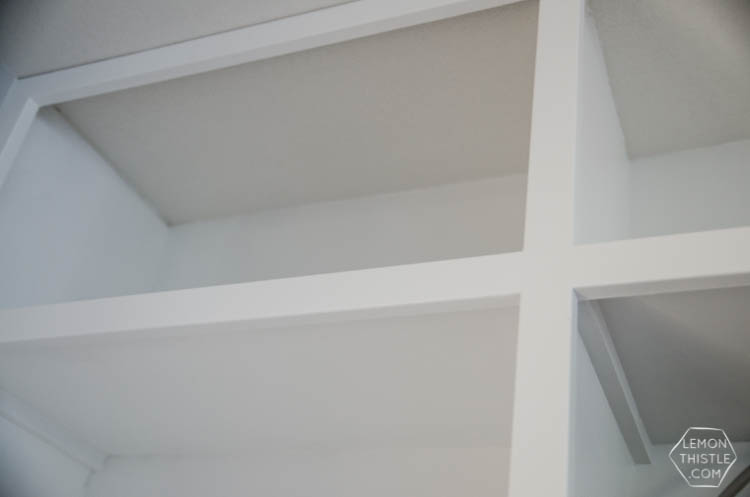 When everything is installed, it's time to paint. But first? My favourite… caulking! I tried to get some good images to show you how HUGE of a difference this makes. Don't even think of it as optional, just do it. I have a little video in a post from a couple weeks back sharing tips on caulking so hop over and check that out if you're unsure. I caulked all of the seams (ALL OF THEM) and it took me about one whole day (while breaking for lunch, several coffees, and feeding a baby) to do that, wait two hours and paint it all. If you weren't multitasking with three kiddos around, you could probably get it done in much less time! Painting should be done with one of these fuzzy rollers NOT a foam one (lesson learned) and a high quality brush to eliminate nasty marks (we love the Purdy ones, which you can also get on your trip to The Home Depot).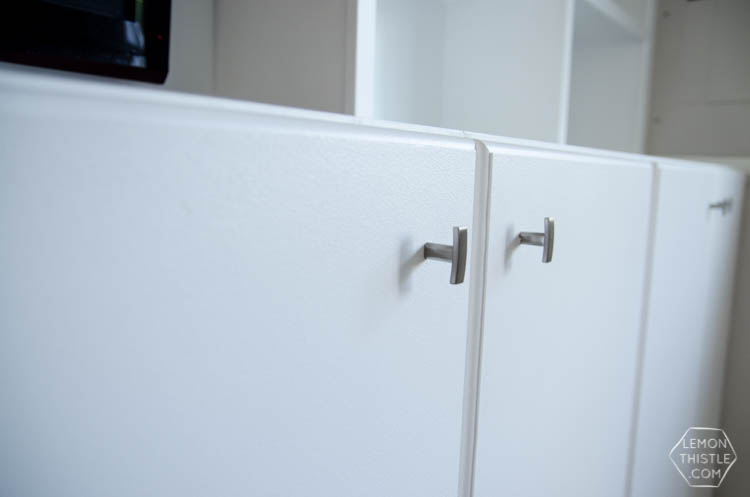 Last but not least, install the hardware! We decided where we wanted it and made a template with cardboard to make sure they're all the same (just drill through the cardboard).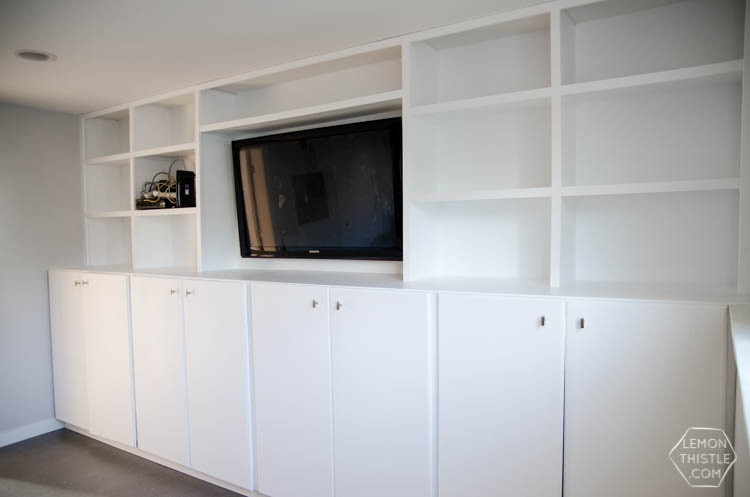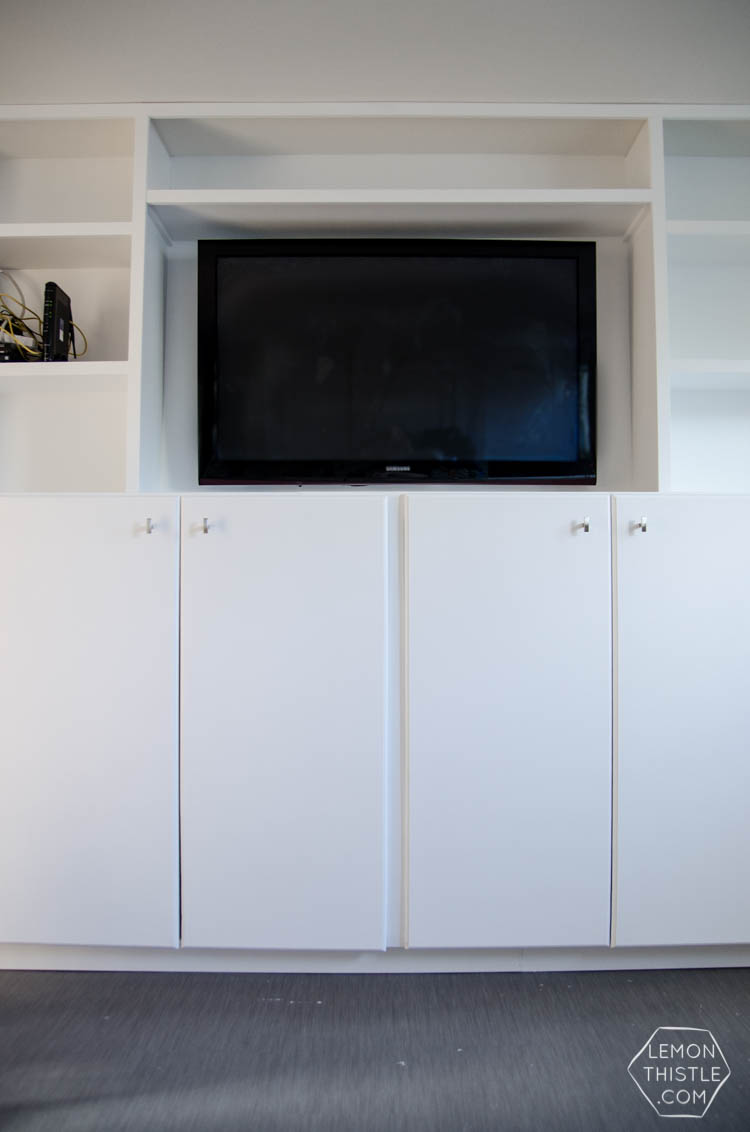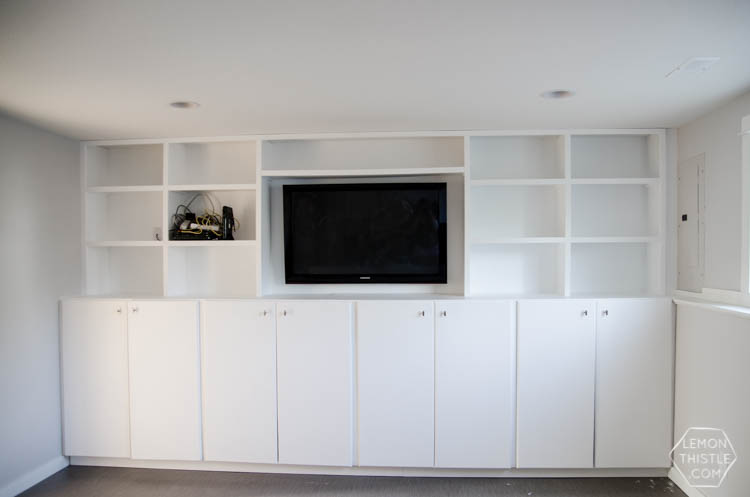 Ta-Da! Big post… right? Now I will tell you that I had this novel proof read but if both Shane (hubby, hands in most of these photos, and proofreader) and I have forgotten any notes that make it hard for you to follow- tell me! I'll do my best to update and answer any questions you guys might have.
This custom built in shelving unit is changing the way we live (hello, proper storage!) and looks totally pro now that it's all done (even with the shortcuts we took). It also adds value to the house since it stays and it's a bit of a luxury. If you're thinking about it… I'd say go for it!
UPDATE: We've moved to a new home since building this and had to leave it behind BUT of course we did it again! Here's the awesome DIY Shelving we built in our new home.