This post is sponsored by Home Depot Canada and Alexandria Moulding. You can find all my policies here.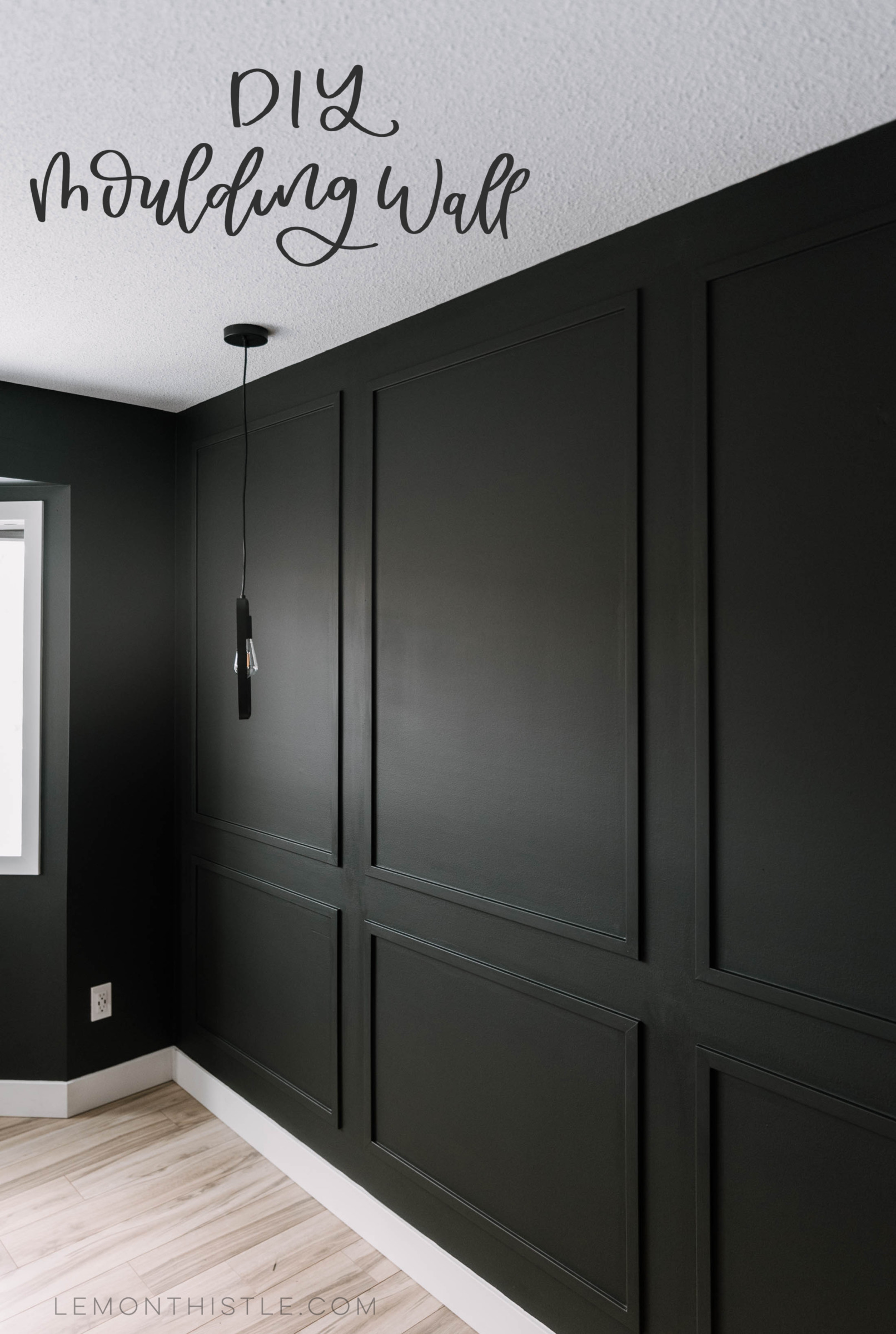 YOU GUYS. This turned out better than I'd imagined. I'm so excited for where this room is headed and can't wait to get to the decorating it! If you didn't catch it, last week I shared the design board for our master bedroom and this moulding wall is the first tutorial I'm sharing from the space. We've done a lot in here since the before when we bought the house. We've done floors and baseboards and doors and now the paint, mouldings and lights… but there's oh so much more to go!
Besides decorating (what am I going to put on the other wall? And what about window coverings?! All the fun stuff!)… We have to pop the trim off the two old windows and order new ones (the seal is broken), I'm hoping to get a chair for our bay window (now that we have no dresser, there's so much space!) aaaand would love to refresh our pillows- I can't believe how beaten up they're looking after just one year. But before I get to any of that… let's talk about this moulding wall!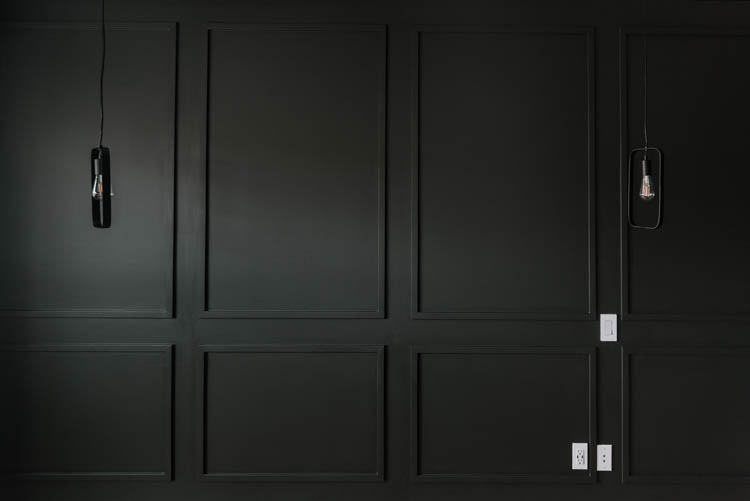 We loved having a dark and moody bedroom at our last house and the added dimension of the moulding wall in that room was something we wanted to do again… but different. And this? It's everything I hoped it would be! I'm excited to be partnering with Home Depot Canada and Alexandria Moulding to share the tutorial and full time lapse video of the wall coming together! 
Explaining the math behind laying out the moulding wall is definitely not my strong suit. I wanted to write it out too because I seem to be a *little bit* better than that. I did all the math horizontally first, then did the math vertically second. I am NOT super strong at this thing, but I did it all myself and didn't even have Shane double check it this time. I was pretty nervous putting up that first piece, but it worked out (happy dance!) perfect. The first thing you'll need to decide is how many rectangles across you would like and your spacing. I decided I wanted 5″ between each rectangle (and around the edges) and four panels. That means that I would have 5×5″ spaces to subtract from my overall wall length. That remaining length gets divided into the four rectangles.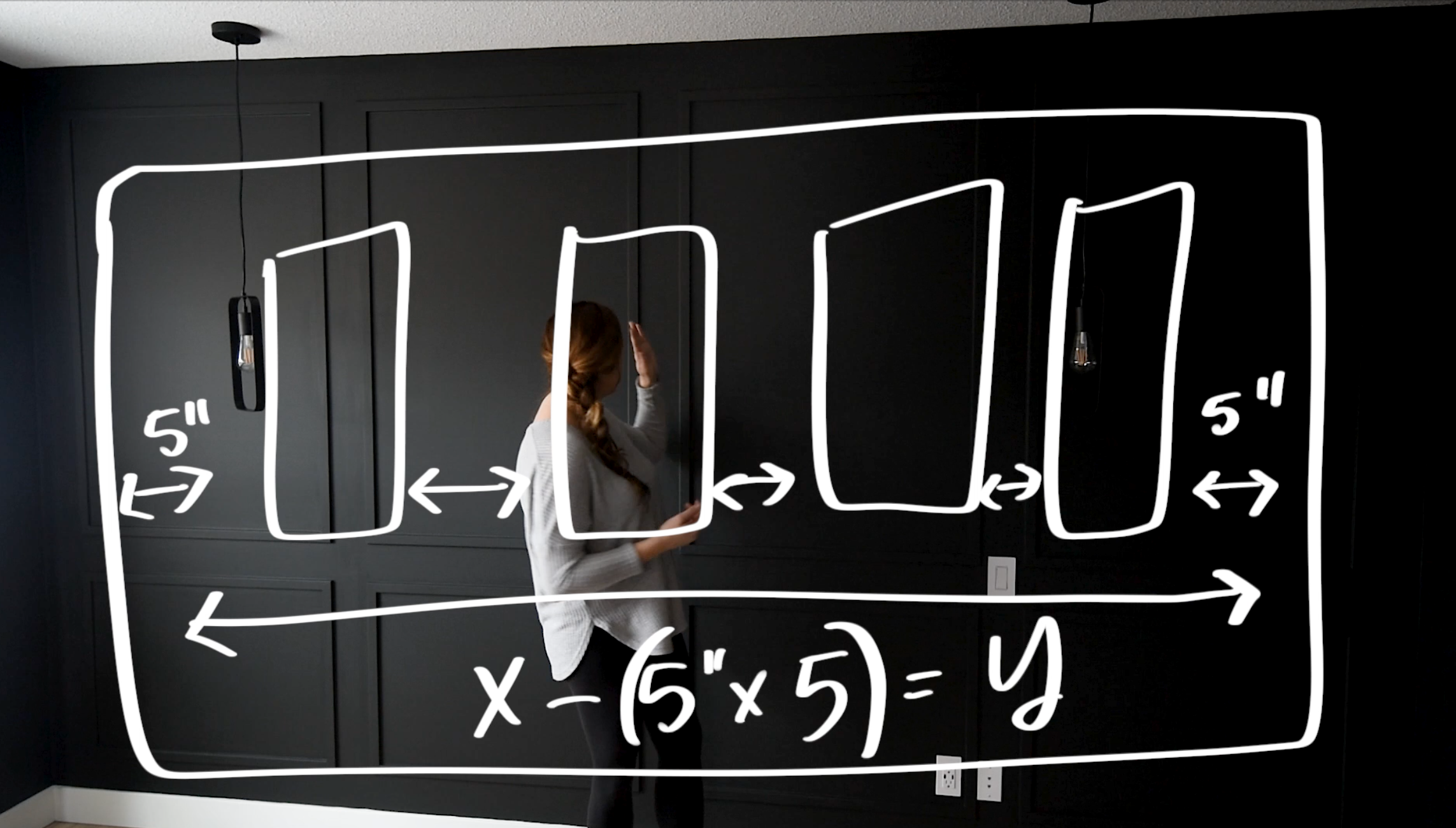 That's it, really. Vertically, I measured the height of my nightstands that I wanted the top edge of my bottom rectangle to sit above and decided the heights of each (less the 5″ spacers) from that. Since the corners are being mitred… this is all the math you need to do. It doesn't matter how thick your trim is as long as you cut the mitres so that these lengths are the LONG edge. You've done your math on the outside edges of the rectangles. I hope that makes sense!
For the trim, I chose to use door stop from Alexandria Moulding at Home Depot Canada over a classic detailed trim that you would see in traditional picture frame moulding. This gives it a more modern feel that I'm totally loving.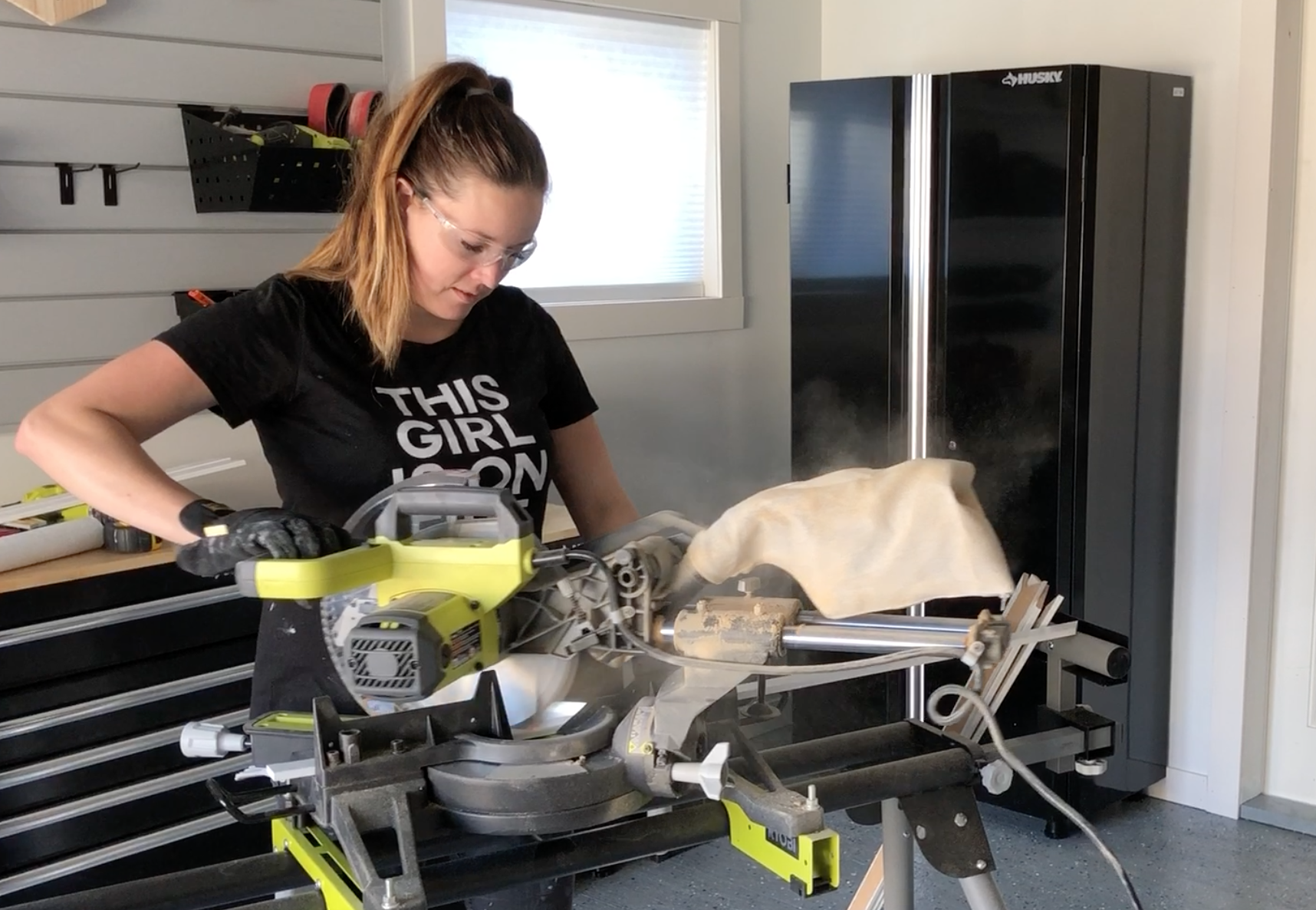 Since you are cutting a lot of the same length pieces of trim, we chose to set up our saw stand with the guard for the measurements. This means that we could move quicker without measuring each individual piece with a tape measure. We just cut one miter as close to the end as possible (to minimize waste), then turned it over, holding the mitred cut against the guard as we cut the other end. This made the cuts go so quickly! We only had to adjust it three times (the two different heights and the width that was the same for both the small and large rectangles). Also… can I just say how AMAZING it was to work in our new shop/garage?!
Once the pieces are all cut to size, time to get installing! We started in one of the top corners, marking 5″ from the ceiling and from the wall. Since we were going to be painting the wall a second coat, we just marked it in pencil. That mark was the outside edge of the corners. We used a level and drew a line down the wall from that mark to line up the outer edge of the moulding piece with and nailed it in place with a brad nailer.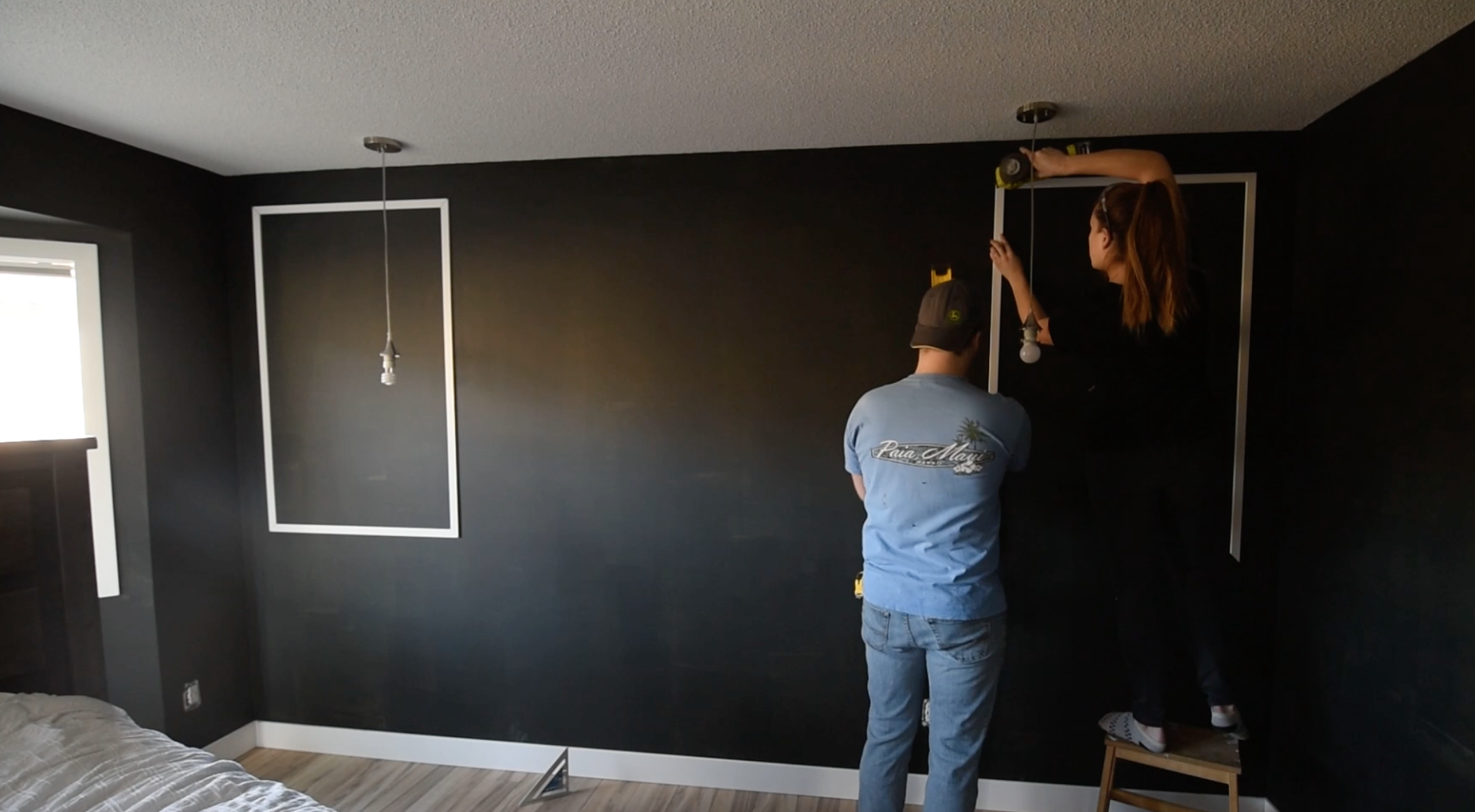 Then you can line up either the top or bottom of your rectangle tack one nail in where the mitred edges meet. Then use your level to line it up perfectly (one nail in the corner will still let it move enough to level it) before nailing in the rest of the trim piece. Do this to finish off your rectangle. The last piece should fit perfectly (we didn't have any issues using this method!).
We did both of the outside upper rectangles before moving to the middle two. We did this so if our measurements were off at all, the spacing would still be perfectly equal. How do you double check? Once your outer rectangles are up, measure between them and subtract your rectangles (the two that need to fit), then divide that number by 3. This will give you the measurements for the gaps between the rectangles. Ours was just a tiny bit over 5″ which allowed for our plugs in the wall.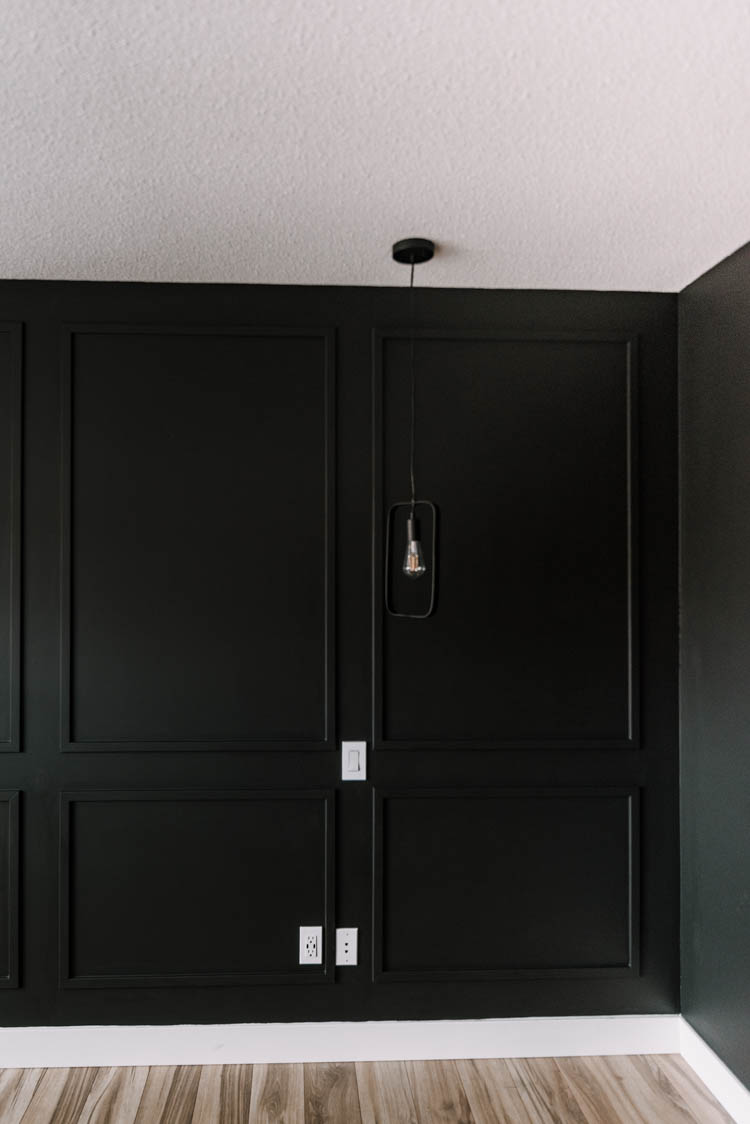 When it's all installed, it's time to get to finishing! This is the most time consuming part. Make time to caulk all of the joints- this will take it from trim being tacked onto your wall to a beautiful feature wall. If you're brand new to caulking, I made a video about it years ago and although I'm incredibly uncomfortable (it was the first video I ever put on my YouTube channel!) it should help you get started. I always use this paintable caulk and have for years! Nail holes are best filled with wood fill and sanded lightly once it's dry. I like to let the caulking and wood fill dry two hours before sanding/painting.
It took two coats of the Behr Marquee paint to get a beautifully even coverage. I used a matte finish and oohhhh you guys, it's just so good! The colour I chose is called Broadway from Behr and is the perfect deep black without feeling too overwhelming. I mentioned it in my design post, but when I was a teenager, I used black paint in my bedroom on my mouldings and it was such a deep, dark black and this is nothing like that… even though it's black. I don't know how to explain it.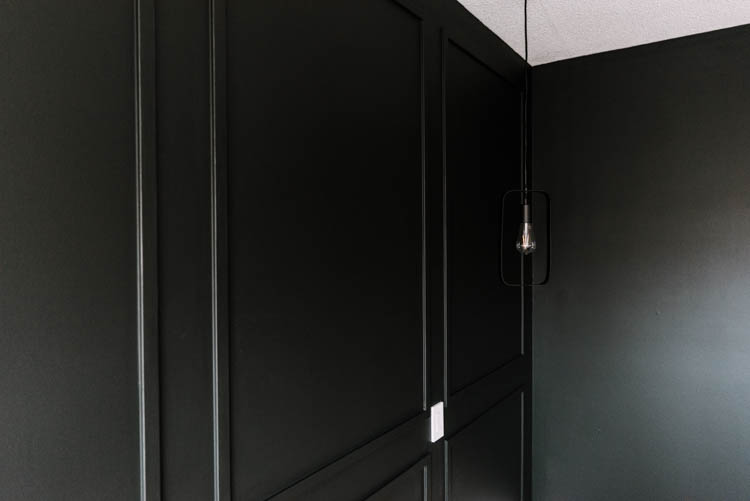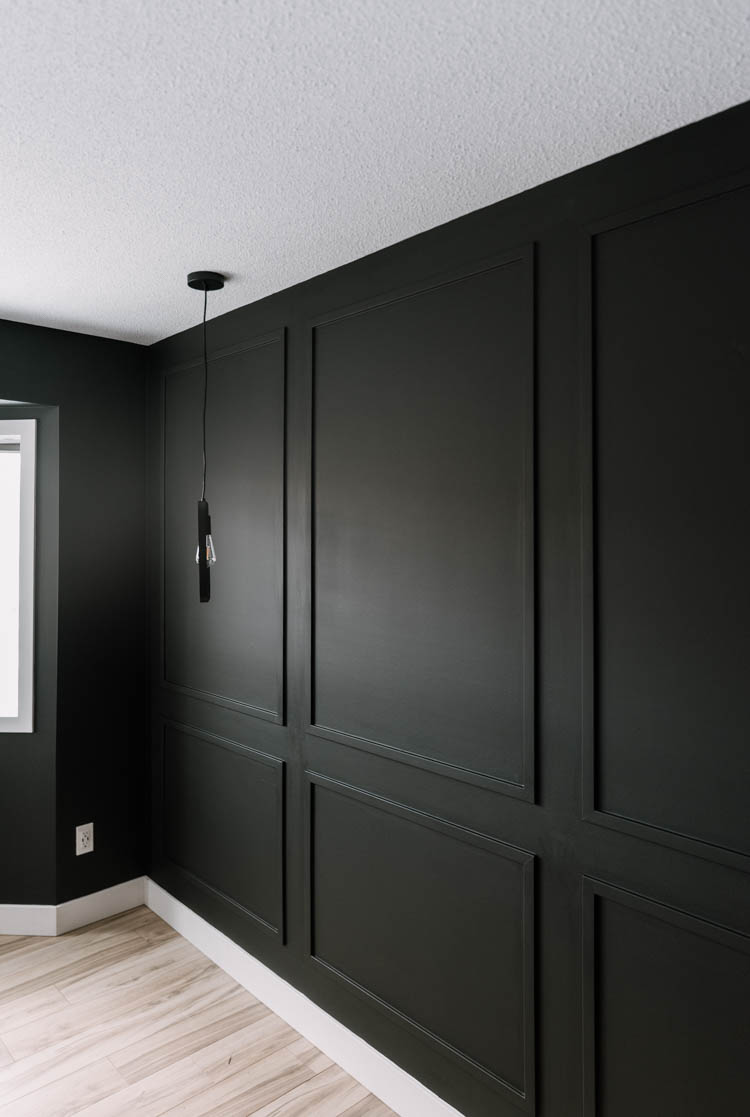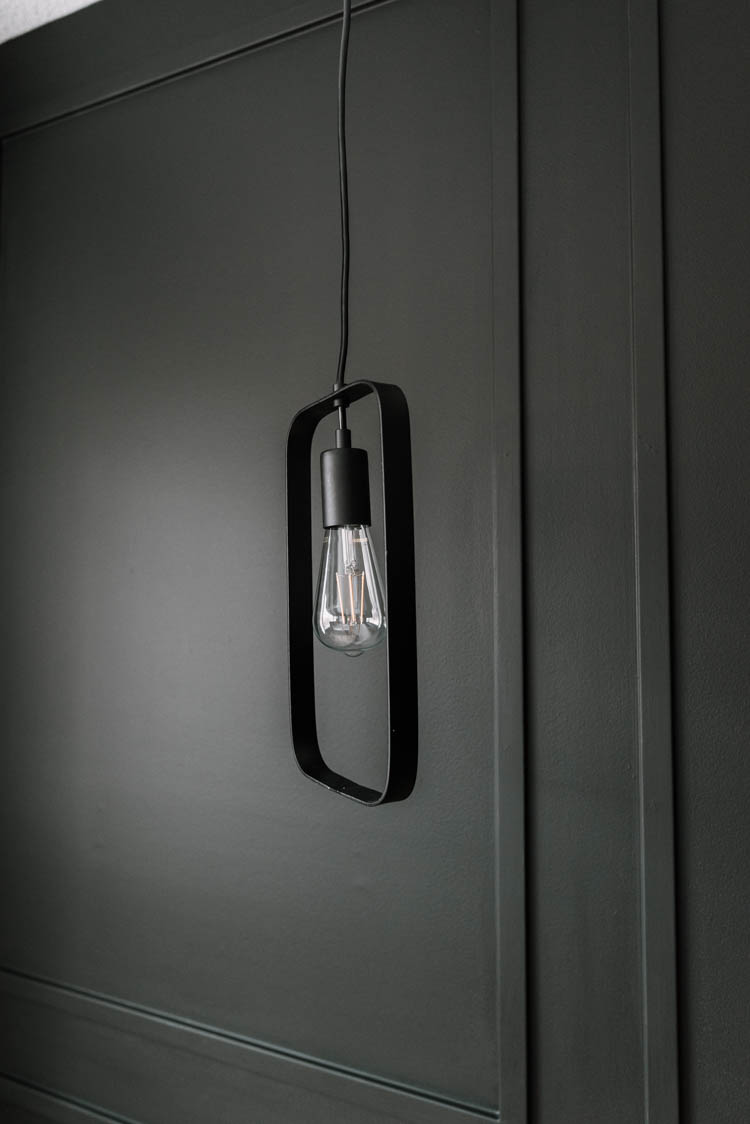 The other thing that we did on this wall is switch out the brown swirled glass pendants for these modern black ones. They are perfect on this wall and since they're the only light in the room, I love that the exposed bulb allows the light to be so much brighter than the old ones. They're also super affordable!
Alright, I'm going to leave it at that and continue my online shopping for chairs… until I can make it to a store in person one of these days ;)