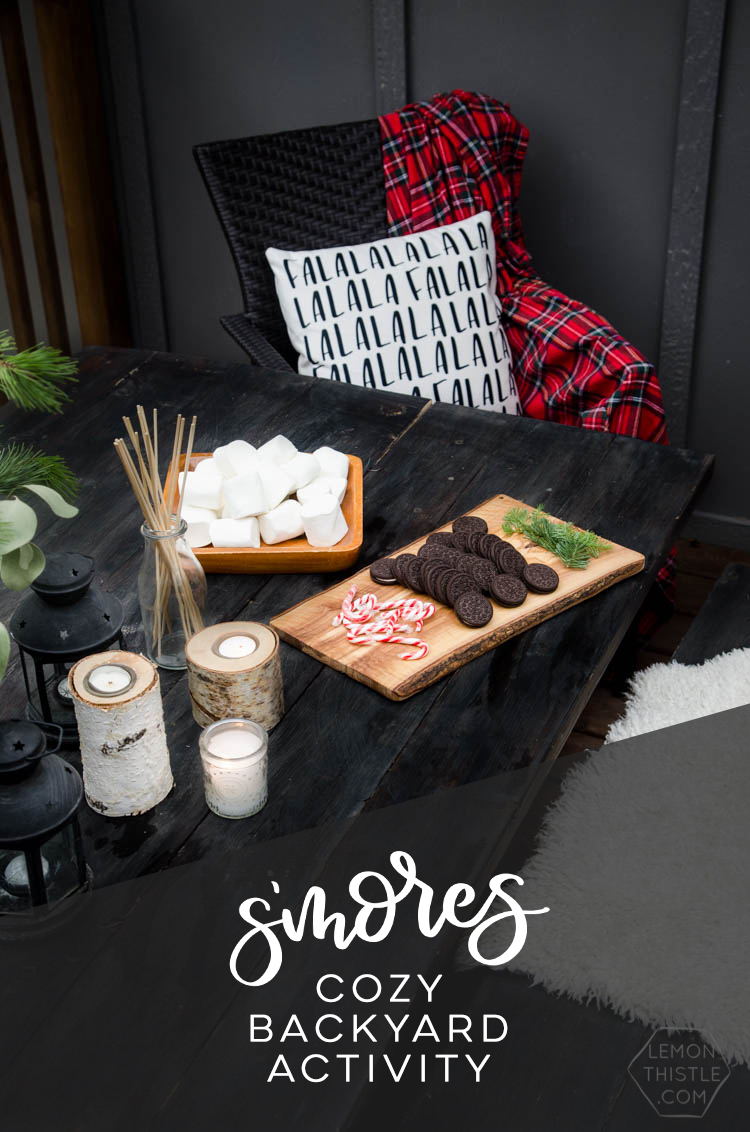 One of my favourite traditions we started with our kiddos is doing an activity advent calendar each year. Every year it looks a little different but the idea is that on each card, envelope, or with a note inside a box every day an activity is written. It's completely customizable and you can leave the activity note until the night before to make sure you have the time/energy/stuff to make it happen. For example… last year Aubrey broke her collarbone. So we had virtually NO outdoor activities. This year, we had a baby- so the first week of December is pretty low-key (Christmas story, anyone?!). And if there's no snow, then don't write down 'build a snowman' and save it for the day you get a big dump. Kind of awesome to have that flexibility, right?
BUT coming up with ideas in the moment… at 10pm because you forgot… can be a challenge. So I created a printable list of 50+ simple activity ideas so that you never stand there staring at your kids' advent calendar questioning why you started one in the first place. Even though it really is your favourite tradition. Not that I've been there ;)
Grab it at the bottom of this post!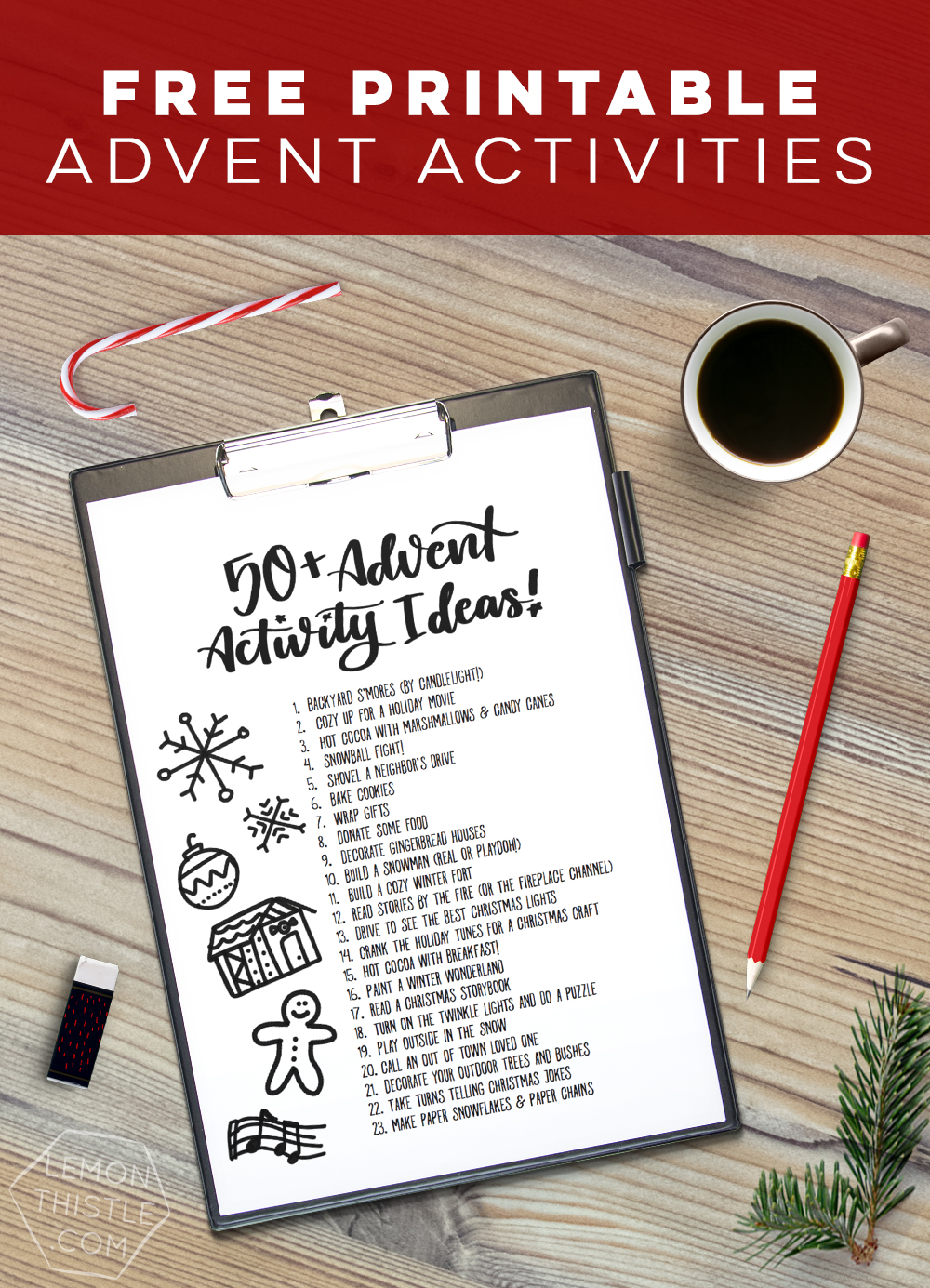 I also want to show you this super fun backyard s'mores activity my sister-in-law helped me pull together one afternoon for my kiddos! It was totally not planned (as some of the best things aren't) and used only things we have in the house. It started with hot chocolate and marshmallows then turned into s'mores with Oreos (the only cookies we had in our house) and the kids even chipped in their candy canes they got at the Santa Claus parade.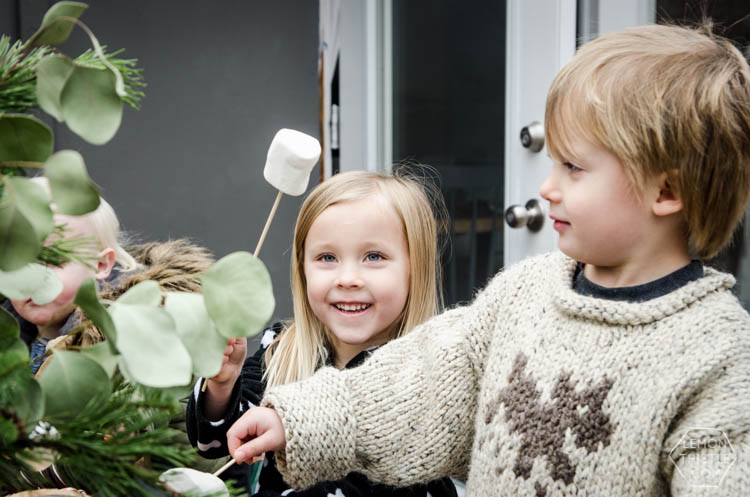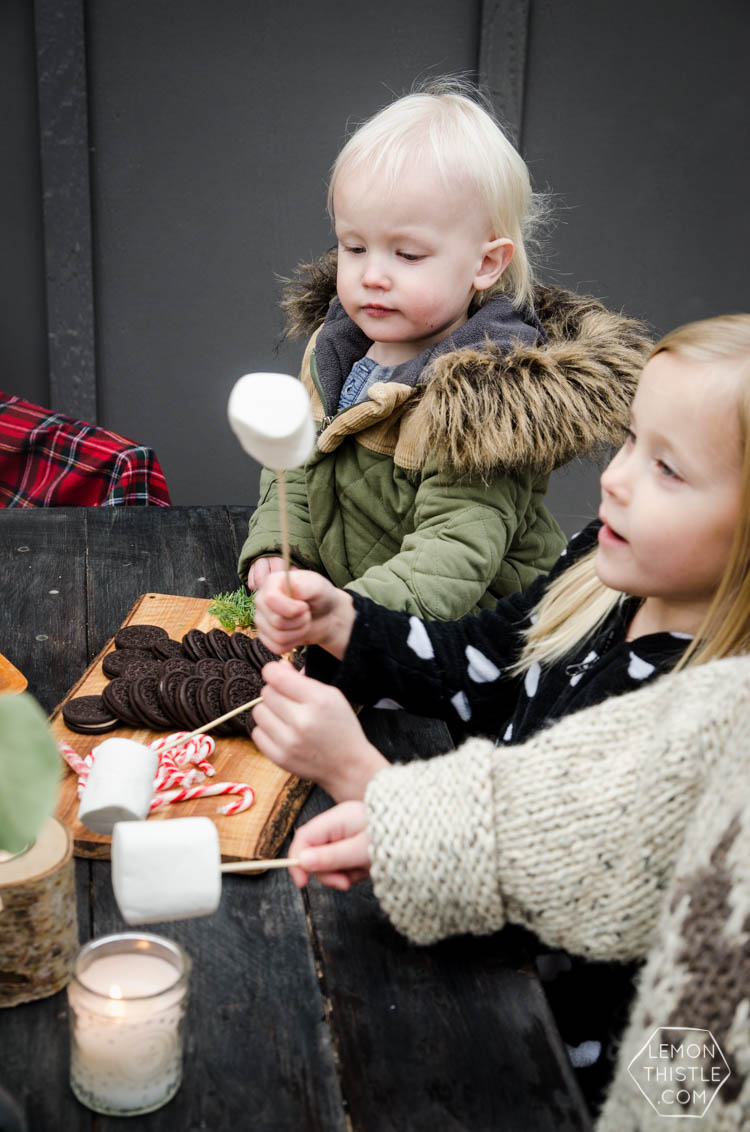 Not only did those kiddos look super cute drinking their hot chocolate with rosy red cheeks and noses, they had a ton of fun- so I put this as number one on my list of activity ideas… because you really should try it!
Okay… can I get the elephant out of the room, though? The elephant being the most giant marshmallows you've ever seen? Haha! They're all we had and they're totally not the best ones to roast over a tiny flame. When we've done this in the past (usually indoors, but yes we're crazy and HAVE roasted marshmallows at home before), we would either use the mini marshmallows over tealights like this (can even use toothpicks for these tiny ones) OR we would use cans of gel fuel (they're the tins catering companies use to warm chaffing dishes) for the regular sized marshmallows. You can see what that looks like in this post here.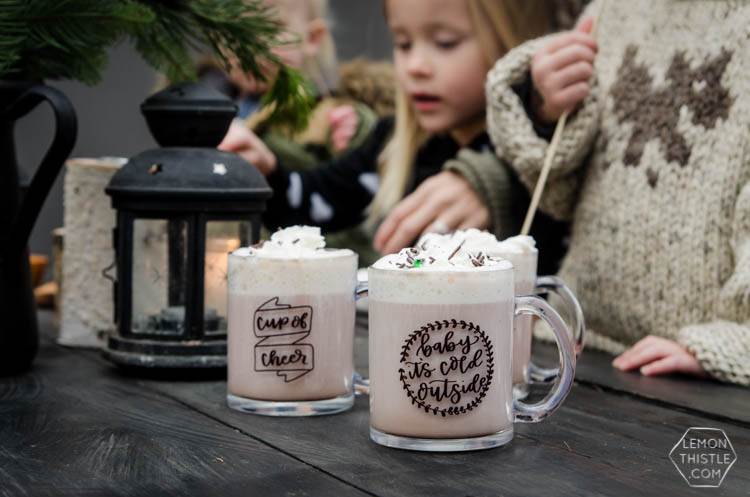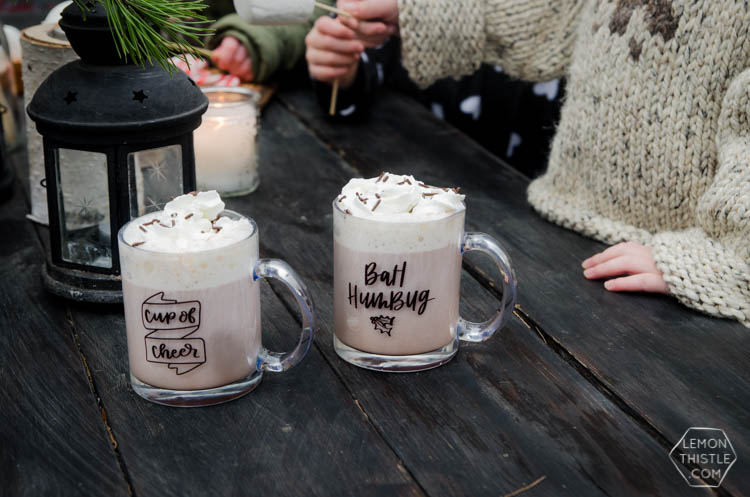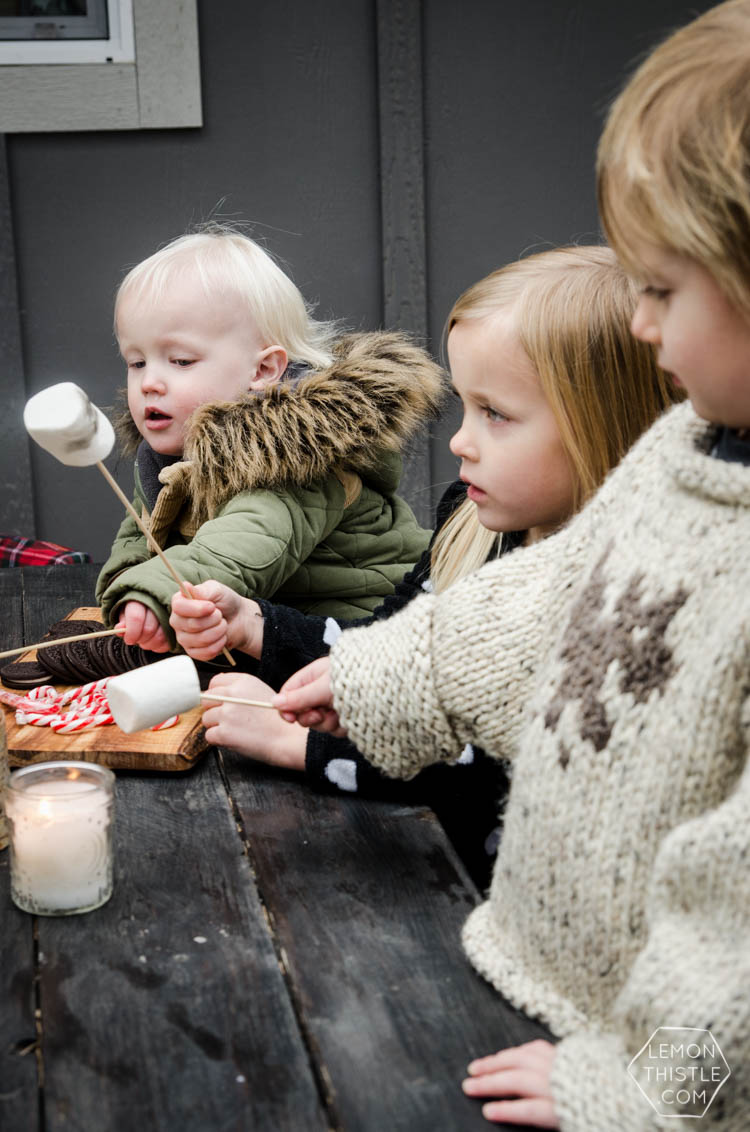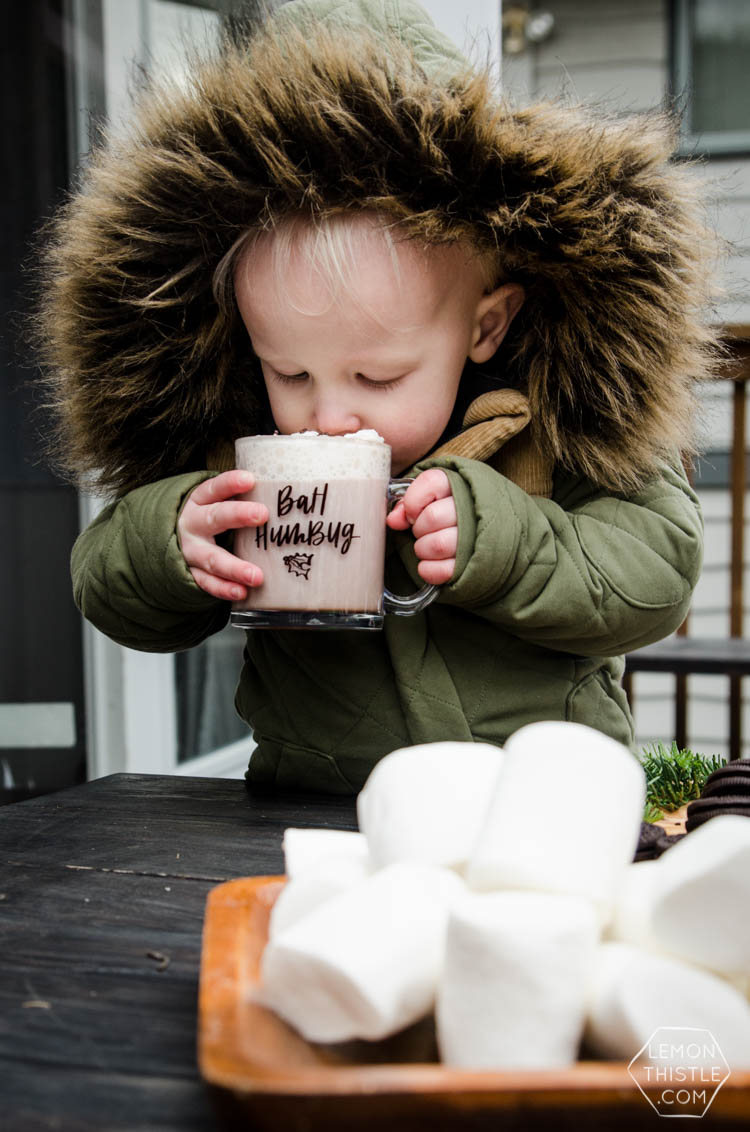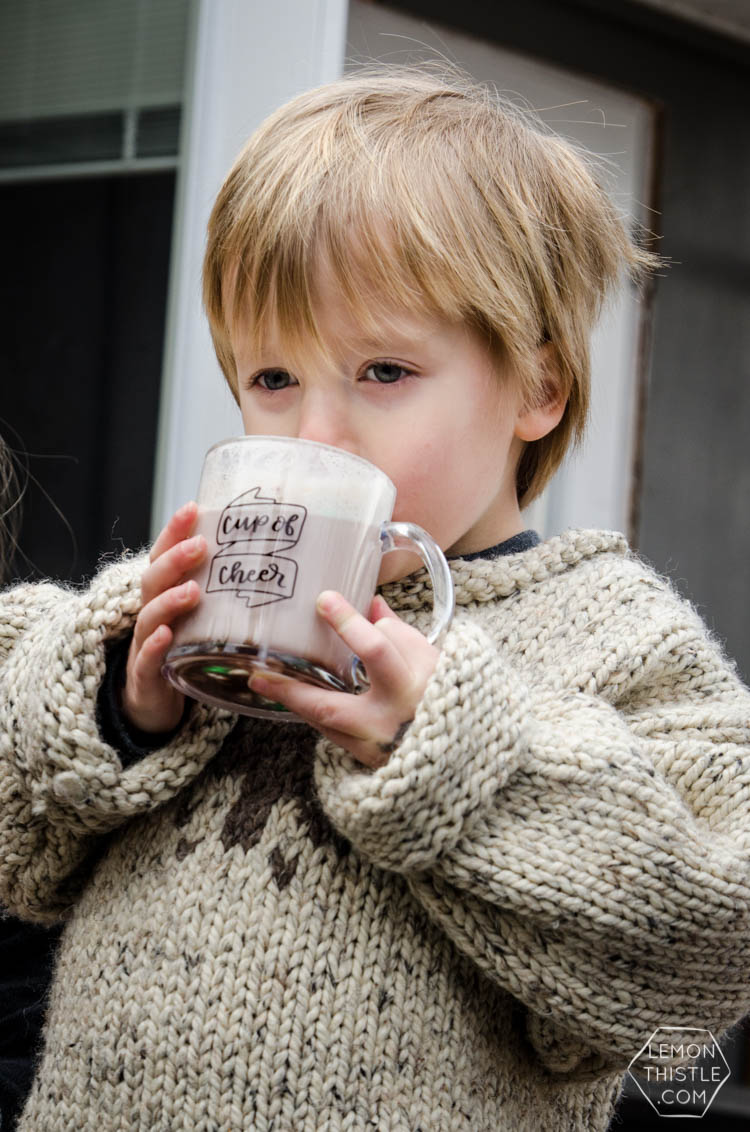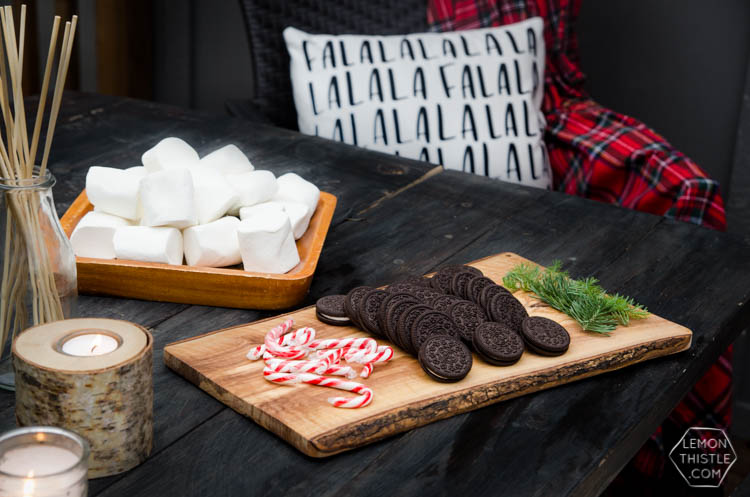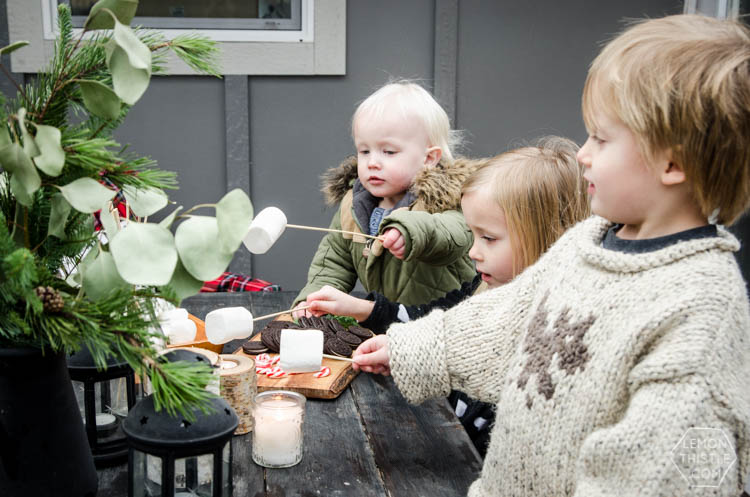 We also pulled out our new holiday mugs (they're from my handlettered collection!) and gave the kids some hot chocolate with whip cream and sprinkles. That pillow's from my holiday collection as well!
I love how easy it was to pull this together in a hurry (an extra set of hands made it go way quicker!) and it makes me happy to think that these will be some of the memories our kids will have of the holidays as they grow.
What are some of your favourite memories of the holidays growing up? Why not carry that on with your kids as an advent activity?