This set of free printable advent calendar mini envelopes makes creating an activity advent calendar for your family simple (and beautiful!) with 4 styles to choose from plus lots of tips to make it stress free!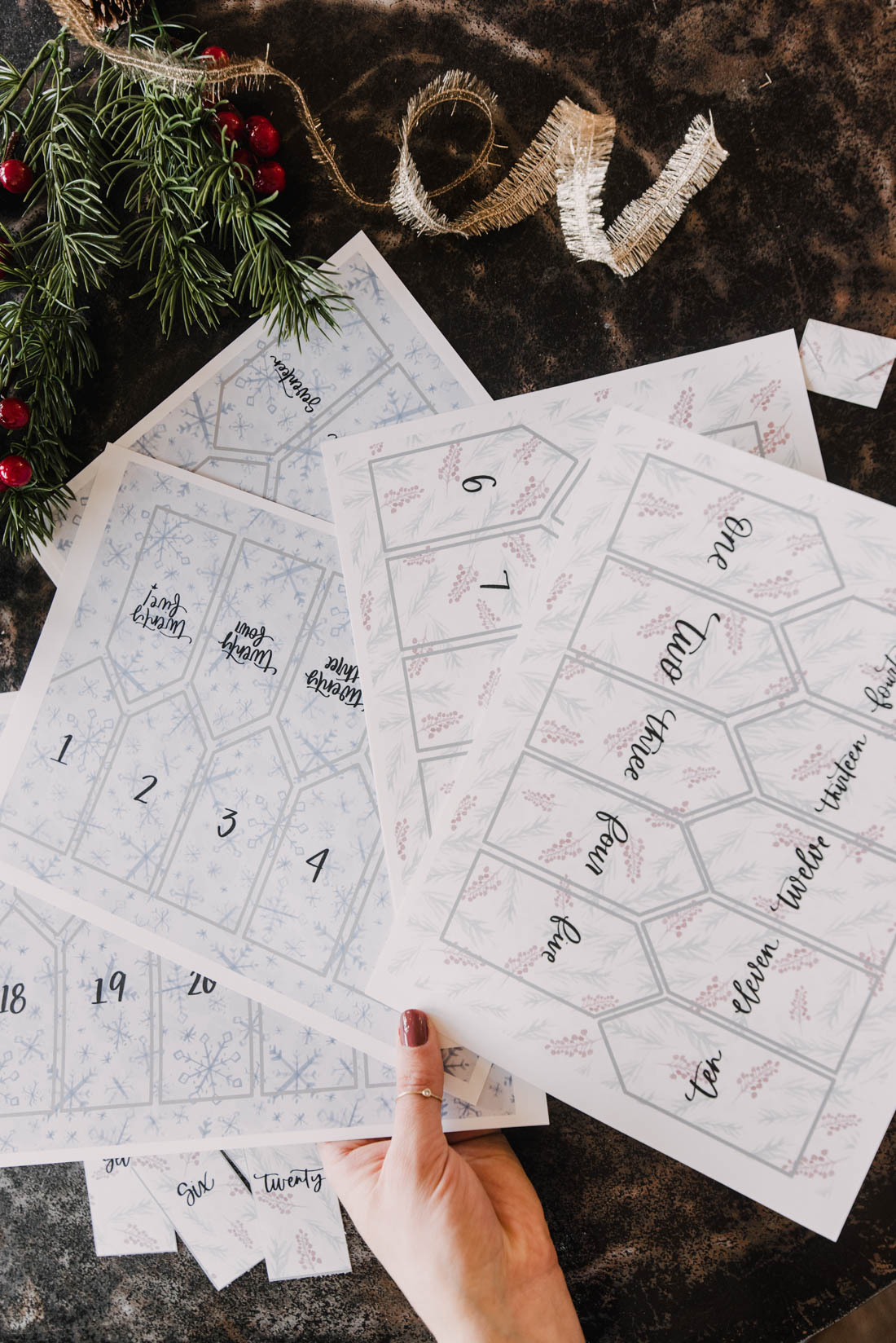 The countdown to Christmas is always a fun one and I'm sure you've realized there's 1 million ways families do this. Growing up, we had a homemade advent calendar full of chocolates and gifts and I loved getting to open a goody each day. Now that I have a family of my own, I wanted the count down to Christmas to be just as special, but I also wanted to have a little less stress, more simple joys, and less stuff… not to mention less sugar ;)
We've been working towards simplifying our home over the past 5 or so years- extra stuff seems to come into the house with kids at every holiday so adding 24 things per kid (4 of them!) seems like too much for our home. Plus- we still have so much halloween chocolate! So since our kids were old enough to open envelopes, we've been doing an activity advent calendar. I LOVE this tradition.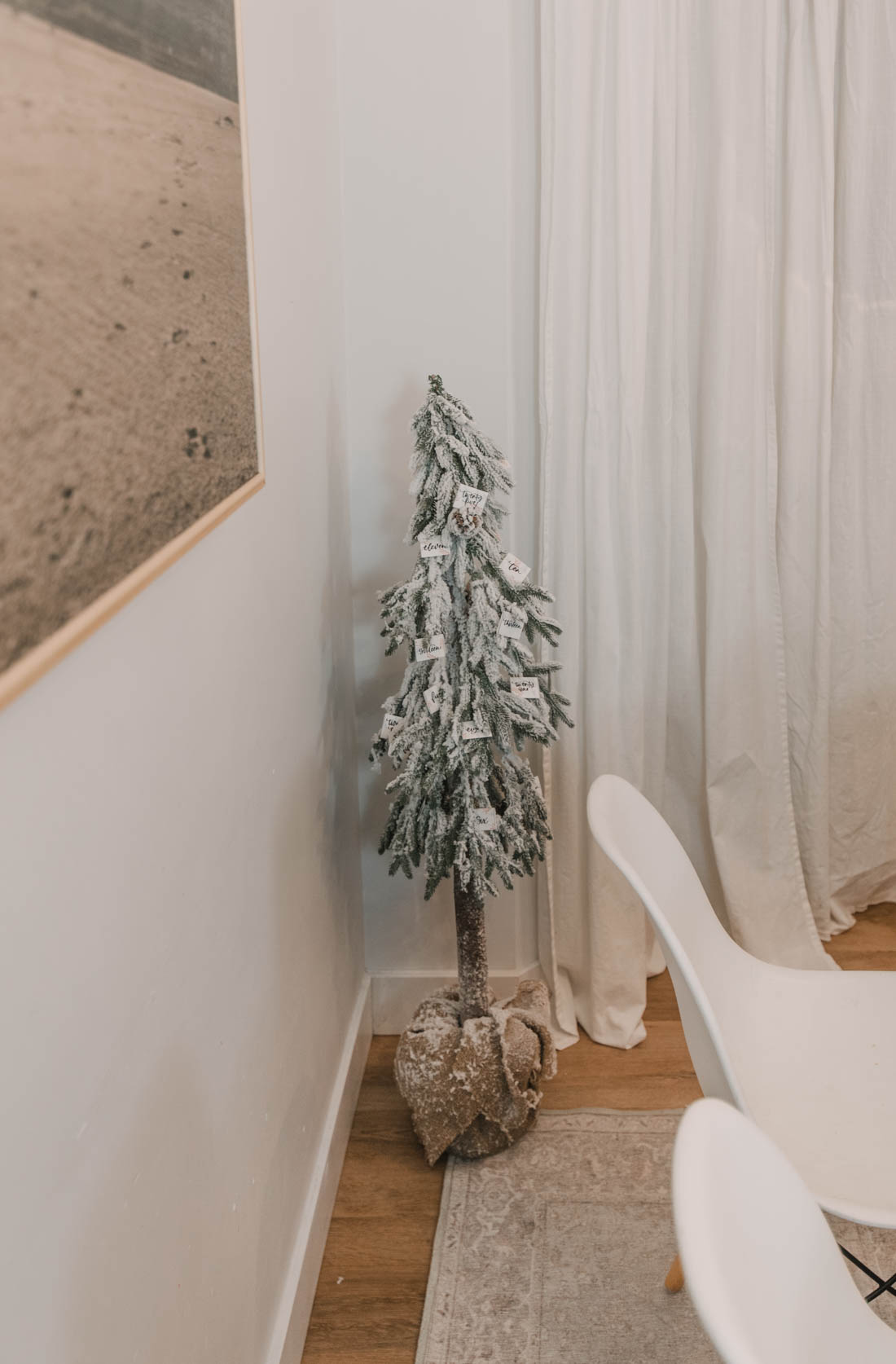 We've done it a little different every year, but the last two years I made tiny envelopes and tucked them in our dining room decorative tree and the kids have latched onto that as a tradition of ours. So who am I to argue with tradition? ;) Today I'm joining in with some amazing bloggers as part of the Christmas 2021 Seasonal Simplicity Series to share a free printable for the holiday season, and for mine? I'm sharing these free printable advent calendar mini envelopes! There are 4 designs to choose from. To check out the rest of the projects from my blogging friends, make sure to scroll to the bottom of this post.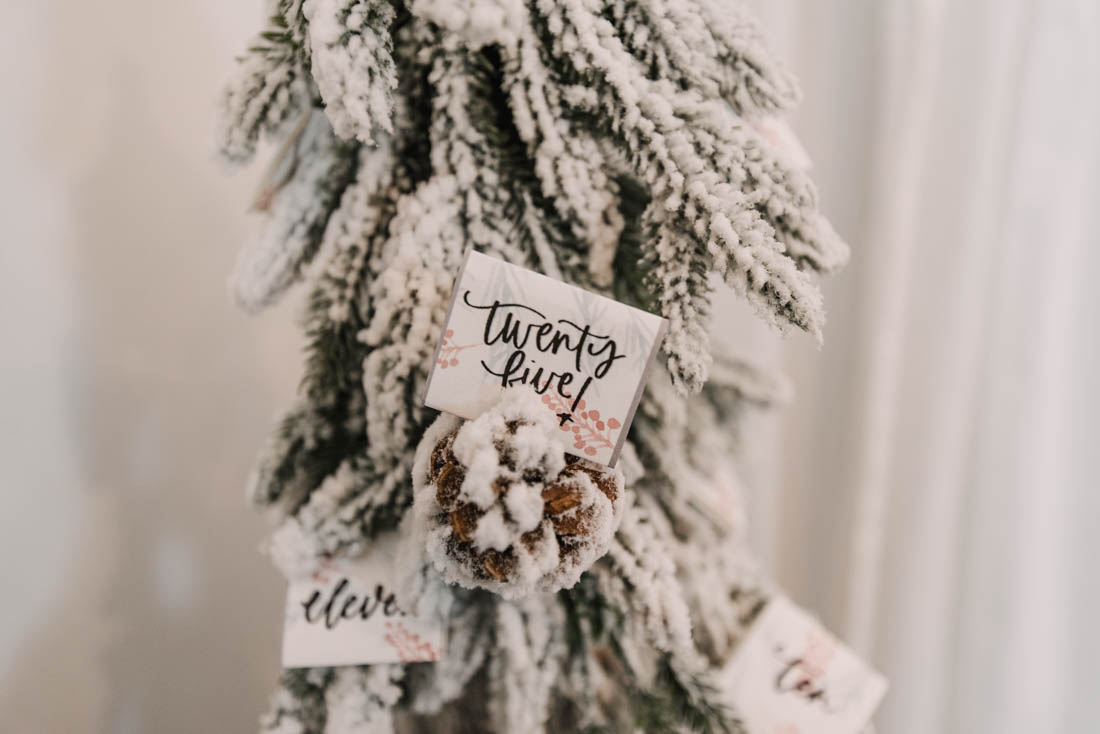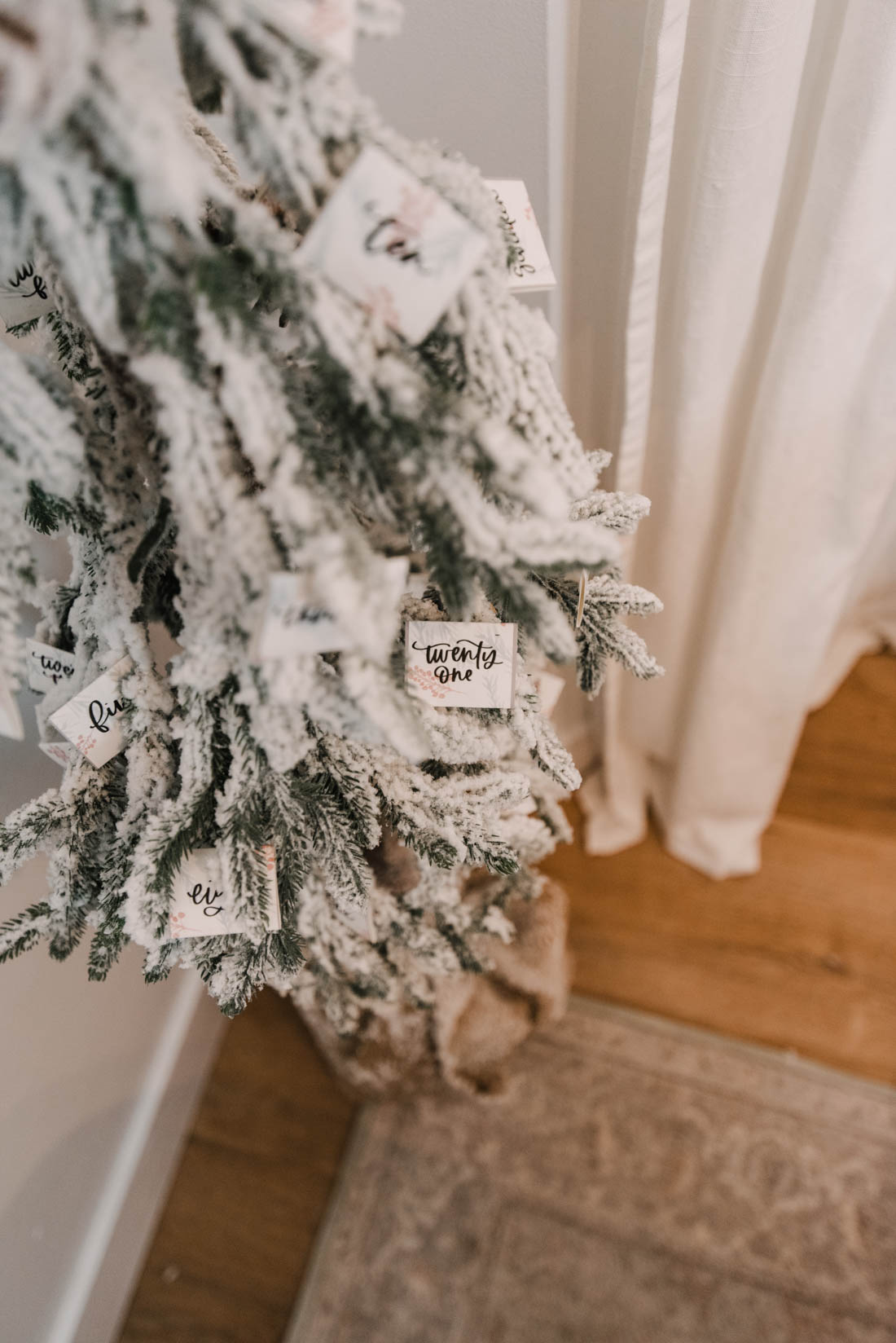 If you're a last minute crafter and mom like me, you wouldn't be surprised to hear that the last couple years I've crafted these little envelopes at 10pm November 30th. You can see the simple envelopes in my holiday home tour last year.
This year I thought I'd make a pretty printable version for you to download and use in your own home if you like! Which means that I'm ready for December ahead of schedule. I have been asked about these quite a few times so I'm excited to be able to send this blog post as the 'where did you get those?!' answer!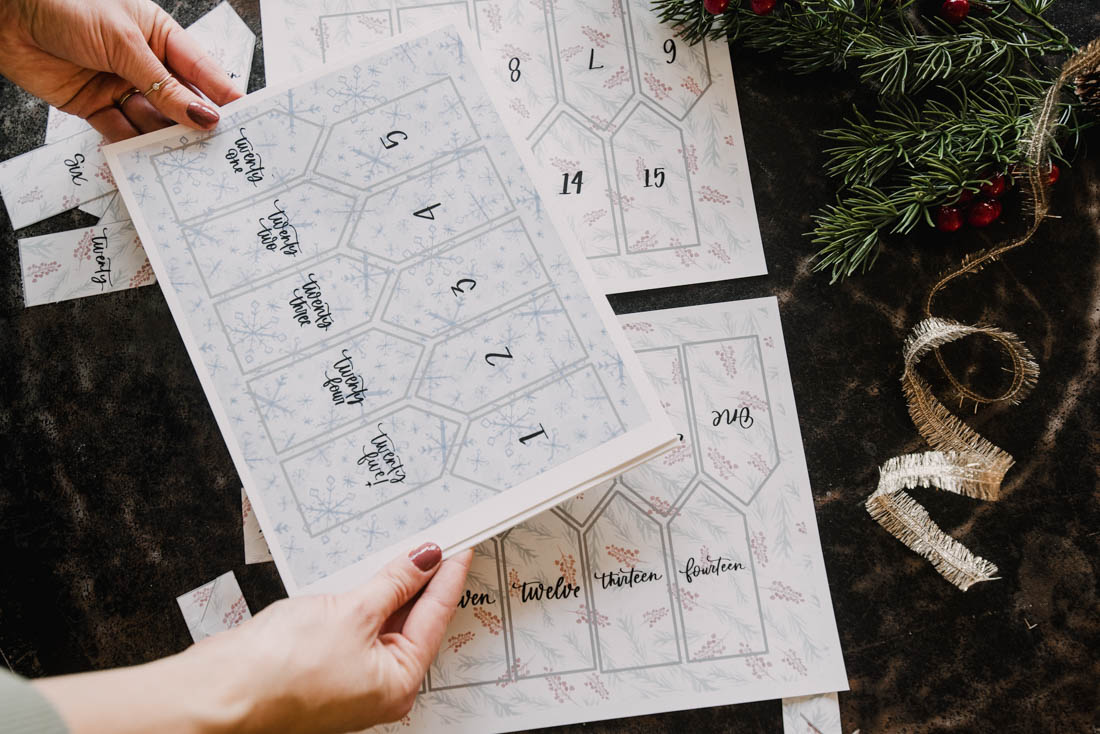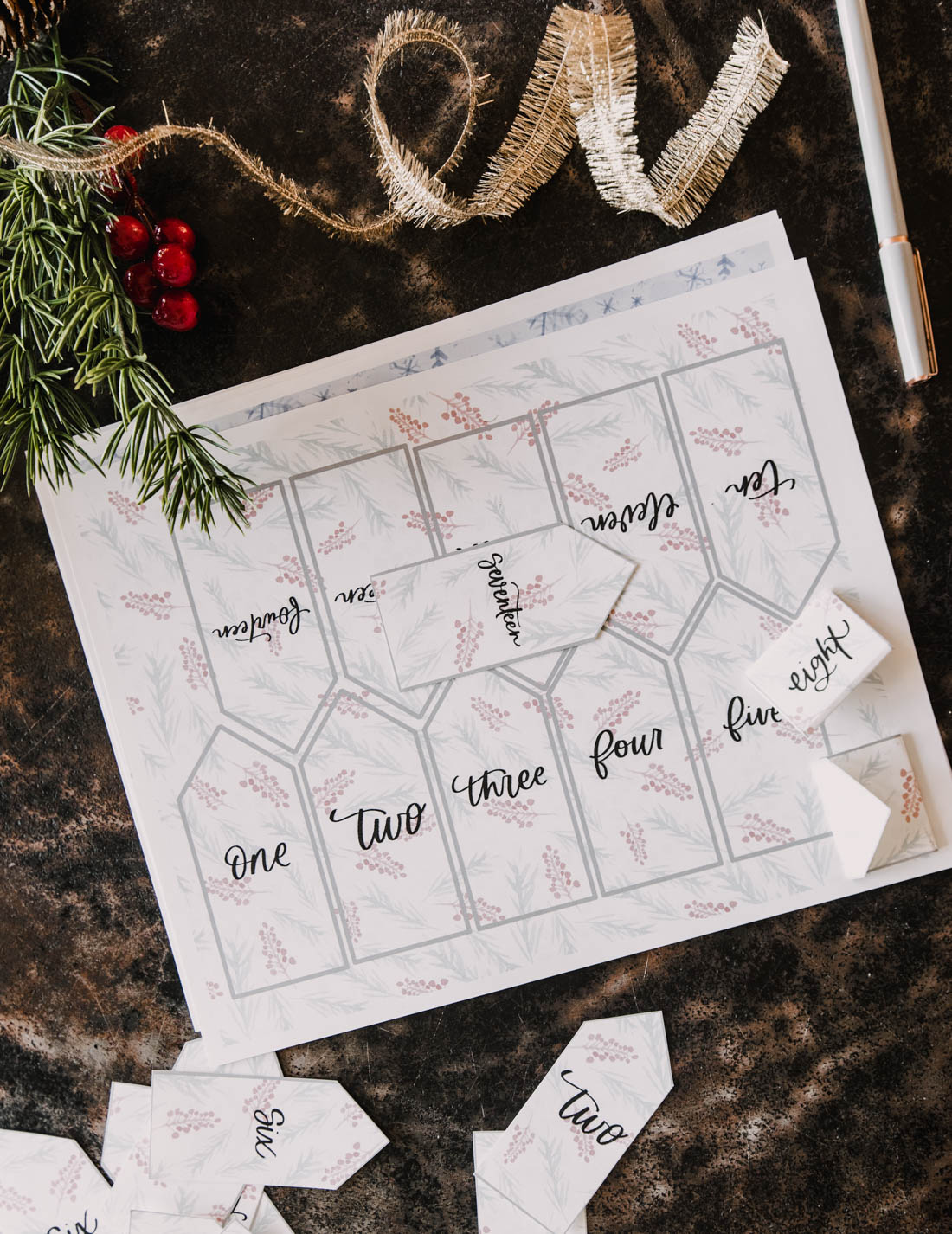 Simply download the file, pick the design you like (there's 4 options!) and print on cardstock. Cut them out and fold them up then tuck them in a tree, wreath, or garland.
I designed two different colourways- a traditional holiday watercolour design with green branches and little red berries and a blue snowflake design. Then each colour has the option to print in the hand lettered script like I chose or in the simple hand drawn numbers. I love the look of brush lettering but know kids don't learn cursive in school anymore! My kids are interested in it since I letter often at home and have been working on learning cursive themselves so I did choose that one for our own home.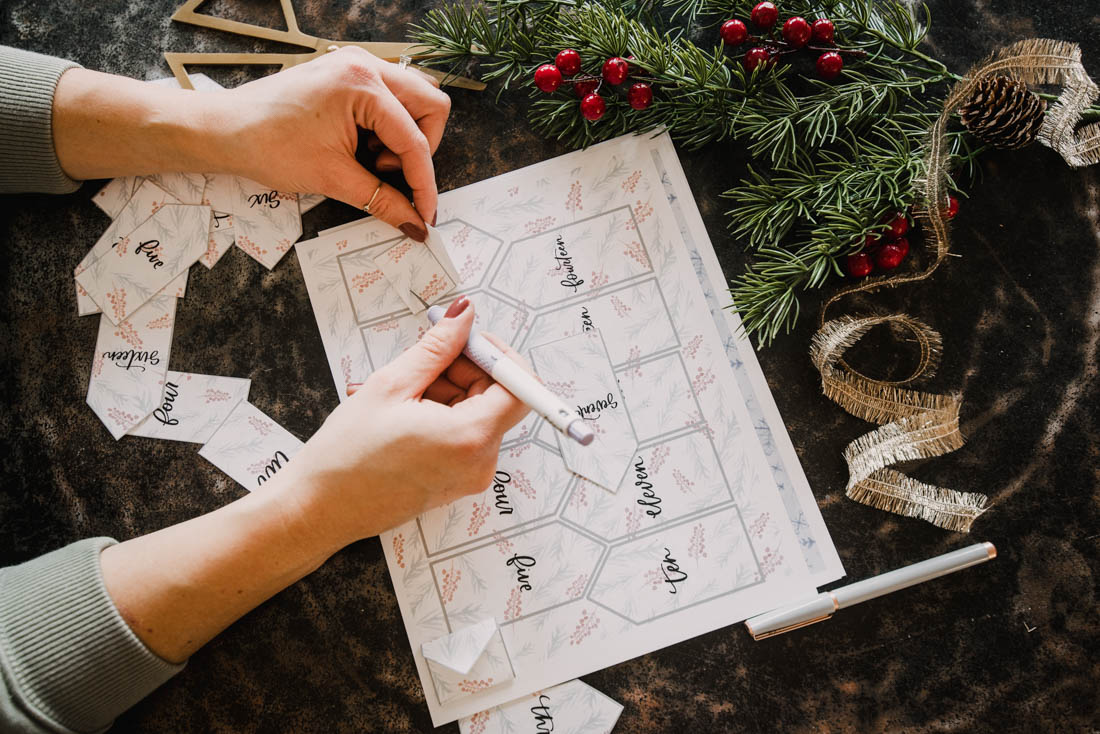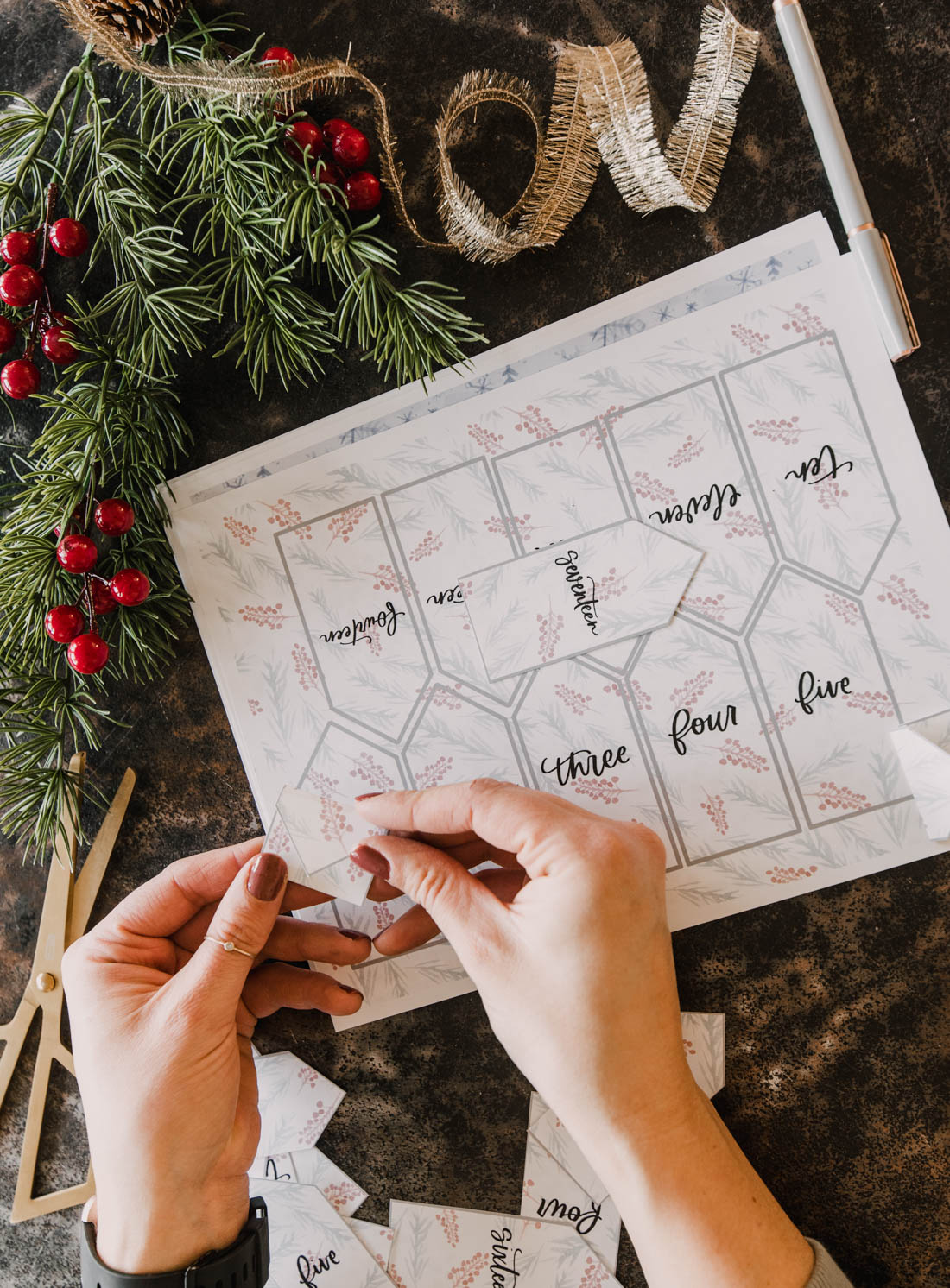 To keep the envelopes folded until the proper day, I just cut a little slit in the envelope to tuck the corner of the envelope flap into. You can see me doing that here with a craft knife but a couple years ago I couldn't find one and used a steak knife. Yeah, it's not classy but it worked well in a pinch!
You can see one with the point tucked in to the right of my hand in the photo below this. You can see where that cut slit shows on the inside of the envelope on the card I'm writing on in the photo below as well.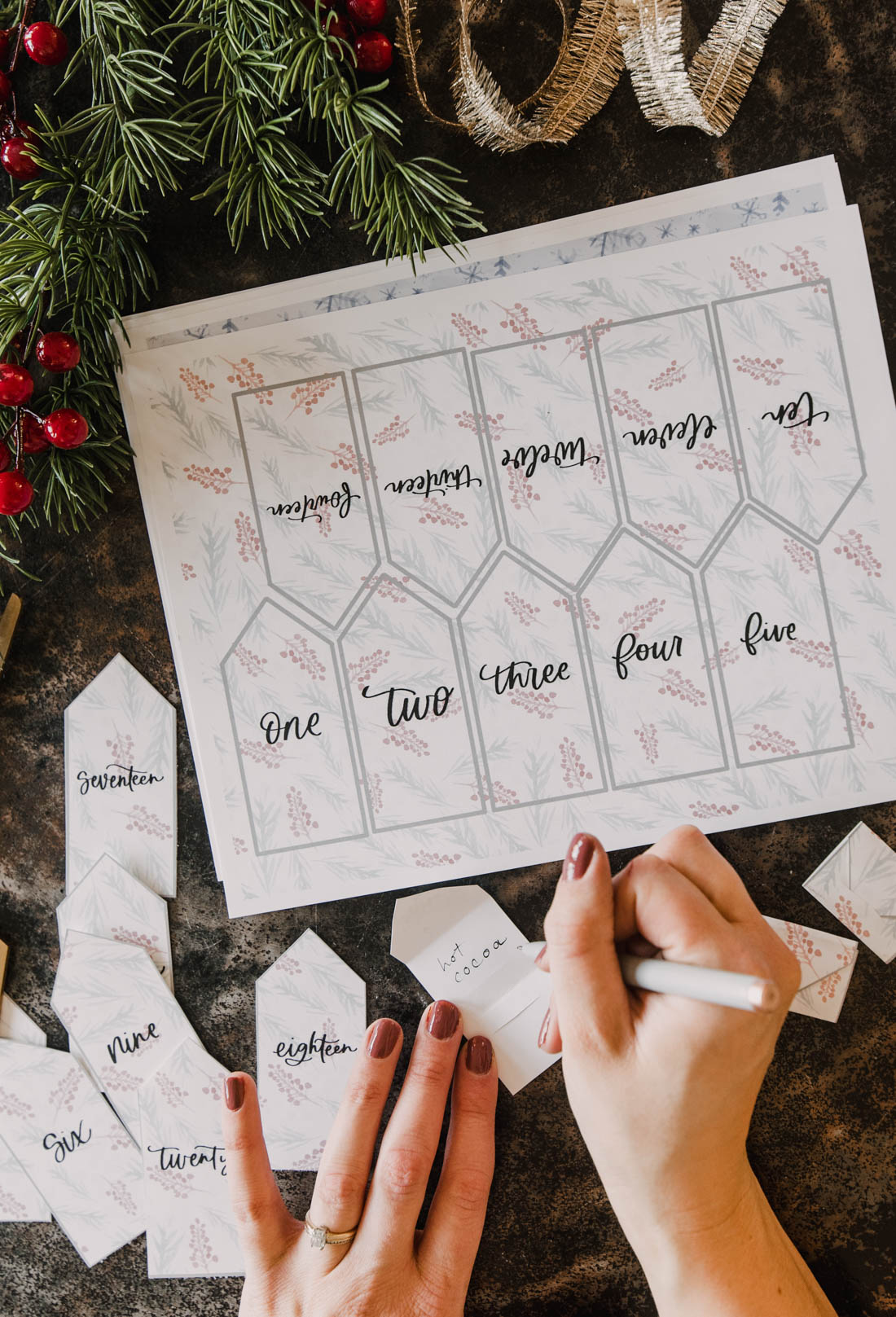 Tips for a simple activity advent
I've shared about our activity advent before both in blog posts and over on Instagram. I thought I'd give you some of the tips that I've picked up over the years and answer some of the questions that I get every year!
So how do you plan what activity for what day?
Mama… you don't! I used to try plan out the whole month, I'd get a calendar and get stressing over dates. But here's the thing… you only need to write in your envelopes one or two days ahead of time! So leave them easy to open with the little slit fold and set a reminder in your phone for 8pm every night. That way if it doesn't snow, you're not explaining to your kids why you can't build a snowman even though the card says to. Or if you get invited for a birthday party, you aren't stuck also baking cookies on that busy day!
And if you forget one night? Ohmygoodness, how fun! It's a pick your own activity day! Get the kids to write down what they dream up!
What activities can I do without a ton of prep?
One of the comments I get the most is, that sounds so fun but I just don't have the time/energy! And here's the thing… neither do I. Whether we had a toddler with a broken collarbone (no outdoor activities!), a newborn baby (keep it easy!), I was very pregnant (december 27th baby meant lots of movies!)… there's tons of activities that you can do with very little prep work.
Think of all the things you love about the season and that you want to squeeze in! Holiday movies? Great! Read a Christmas story by the treelight? Perfect! Hot cocoa with marshmallows? Heck yes! Wrap presents? How fun!
These are just some of the activities we'll be putting in our activity advent for days when 'baking cookies' or 'snowball fight' seem like too much for this mom. You can find a free printable list of 50+ activity advent ideas in this blog post I shared a few years ago! There's so many fun ones that are great for even really young kids.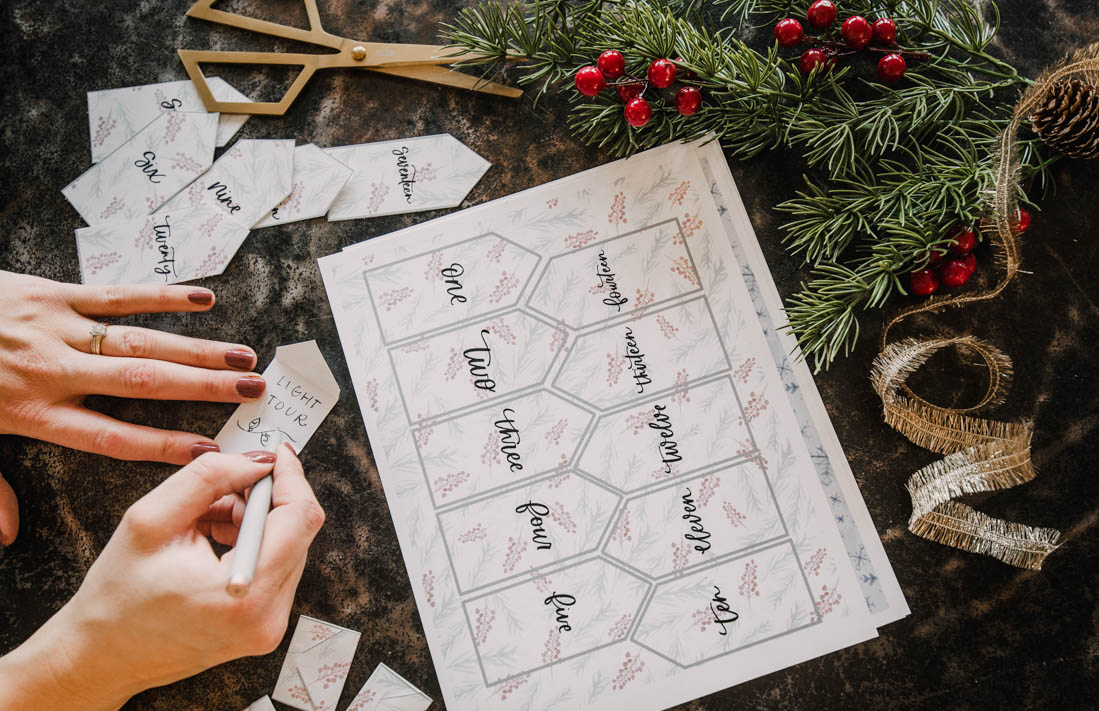 What activities do I NEED to include for an activity advent?
Like I mentioned above- I have a list of 50+ advent activity ideas. This is way more than you could ever use. There are a few I definitely will never skip though. For each family these will be different, but for us- we look forward to our holiday lights tour, a visit to santa, baking cookies (even if they come from a tube at the store!), and delivering cookies to family. And making a snowman… we can't forget that or I will hear about it!
What if I don't have room for a tree to hold the cards?
You can display these envelopes however you like! In a little dish on your table? Why not?! One year we taped little cards to the wall. Display them however you like, we just choose to do the tree every year now because our kids decided that's their favourite. They like to hunt for the envelopes each morning, like a scavenger hunt so I make sure to hide it pretty well when I write in it the night before.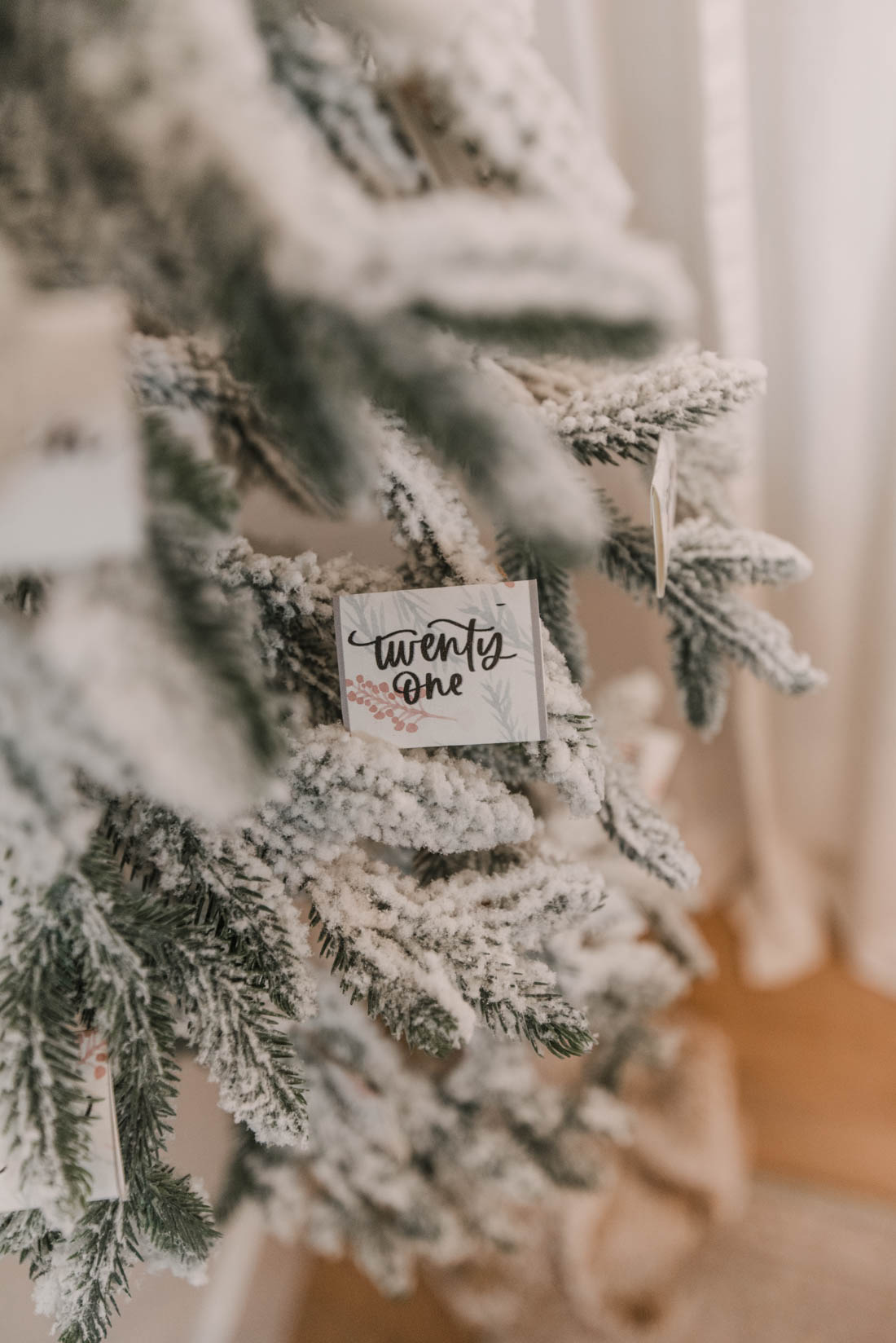 ---
Alright, that's all my tips! I'm sure I'll come back and add more to this after I get some more questions on Instagram this year ;)
Now it's time for the printable! If you'd like to snag this free printable to use for yourself, just click the linked text below to open the PDF file, then send it to your printer! Choose only the pages of the file that you'd like to print once you've picked your design and number style. I suggest cardstock, but if you only have regular paper- that will totally work too. And if you don't have a printer at home, you can get same day printing done at places like Staples for only a few bucks, just upload it online to your local store!
DOWNLOAD THE FREE PRINTABLE ADVENT CALENDAR MINI ENVELOPES HERE
As a reminder, all free printables on Lemon Thistle are for personal use only. Make them for yourself, your friends, whoever- but they're not for you to make money off of :)
---
Now it's time to check out the rest of the beautiful free printables from my amazing blogging friends!
Be sure to visit their posts by clicking on the links below the images.
Free Printable Christmas Art for Thrifty Holiday Decorating at The Happy Housie
falalalala Three Colorful Holiday Prints at Tatertots and Jello
How to Use Free Christmas Printables as Decor at Grace in My Space
Free Inspiring Christian Christmas Printables to Frame at She Gave it a Go
Free Printable Letter to Santa at Life is a Party
Merry Little Christmas Free Printable at Clean & Scentsible
Free Printable Cozy Cottagecore Christmas Gift Tags at The DIY Mommy
Christmas Deer Watercolor Printable at Place of My Taste
Christmas Planner Pages for the Kitchen at A Pretty Life
Printable Christmas Wreath Gift Tag Stickers at Zevy Joy
Free Printable Advent Calendar at Lemon Thistle
LIKE IT? PIN IT!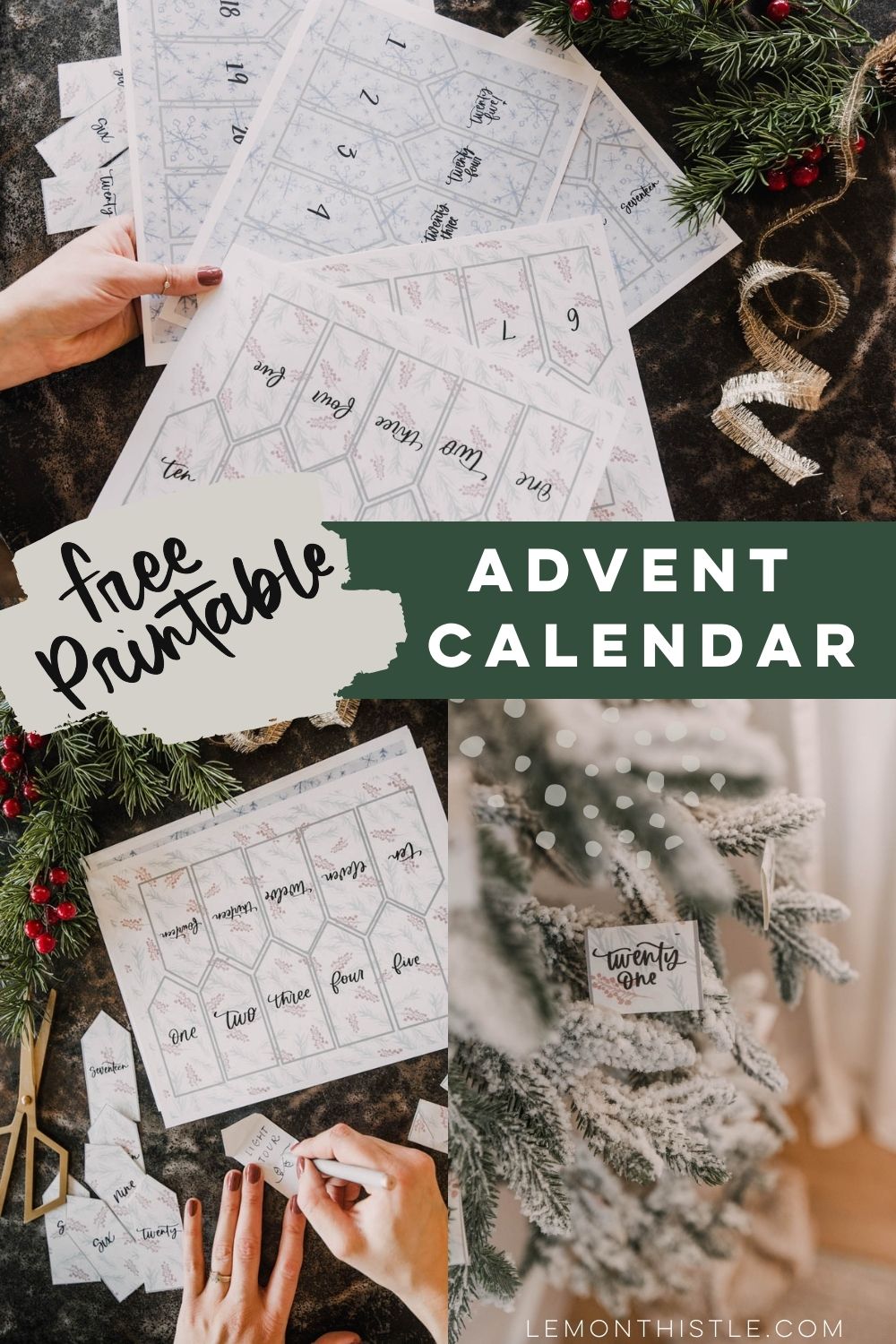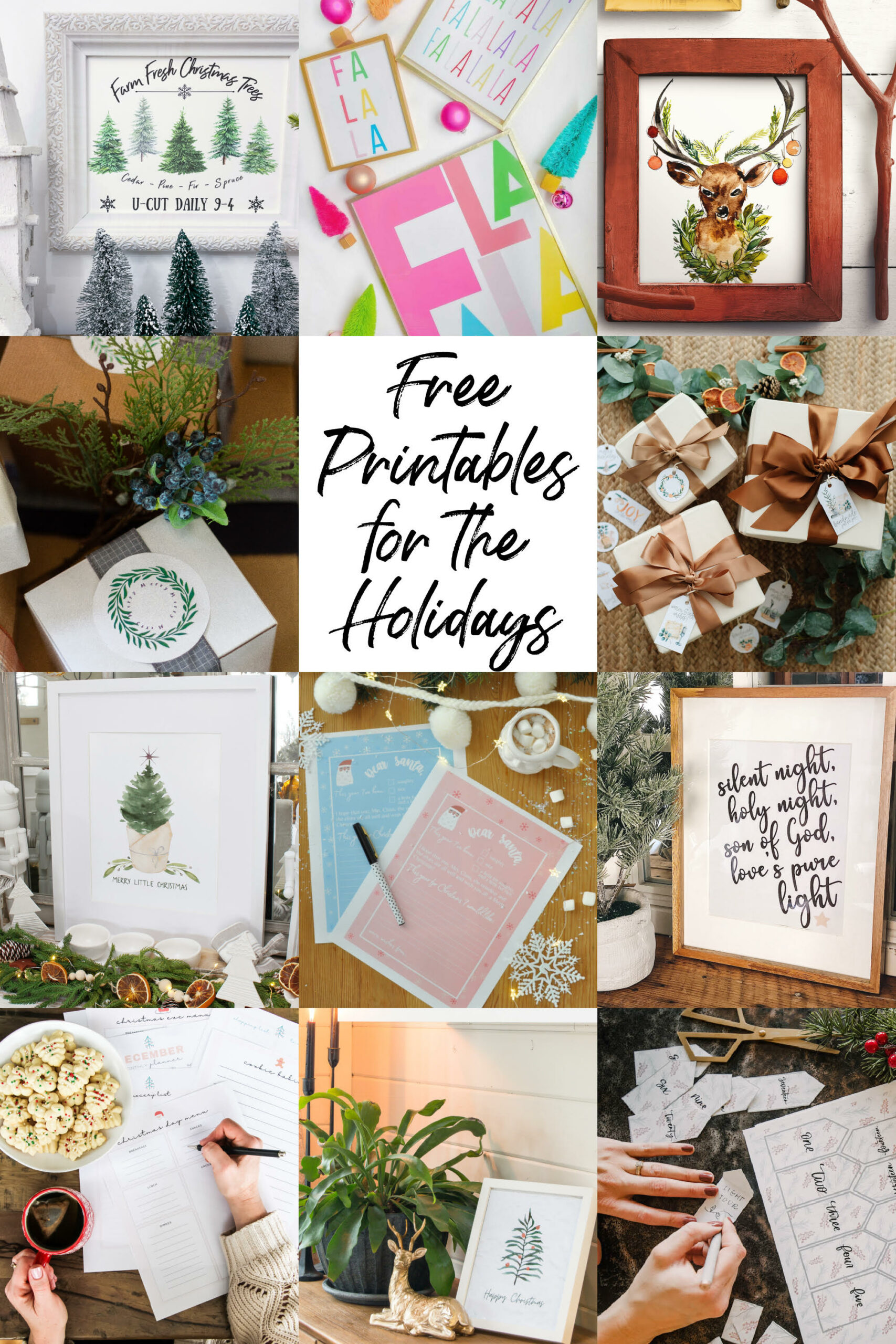 I
T
W