Today I'm so excited to share my black and white Christmas decor and give you a tour of my home, all decked out for the Holidays!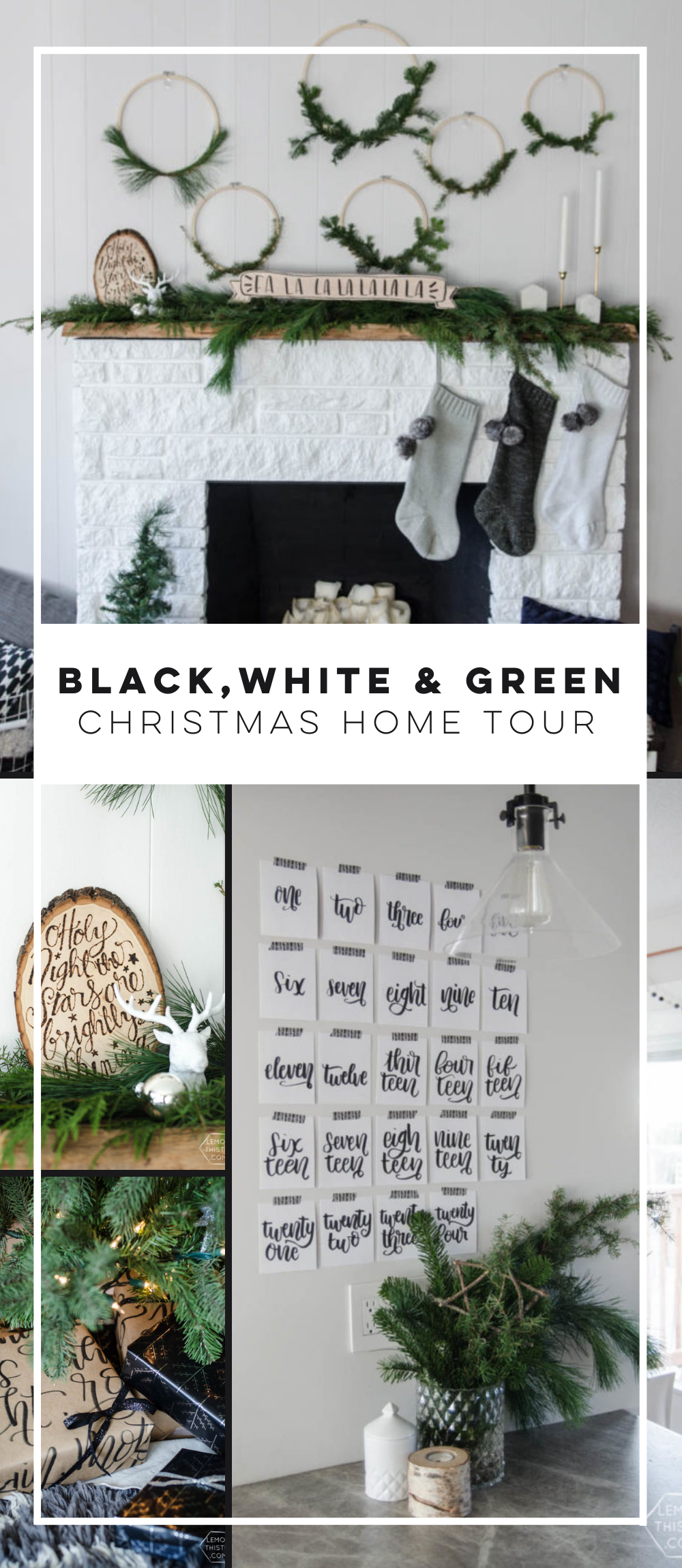 I've teamed up with some totally talented Canadian bloggers to share Christmas inspiration with you all. There are 25 bloggers joining in the Canadian Christmas Home Tour so you'll have oodles (yep, oodles) of inspiration. There's links to each down at the bottom  of this post.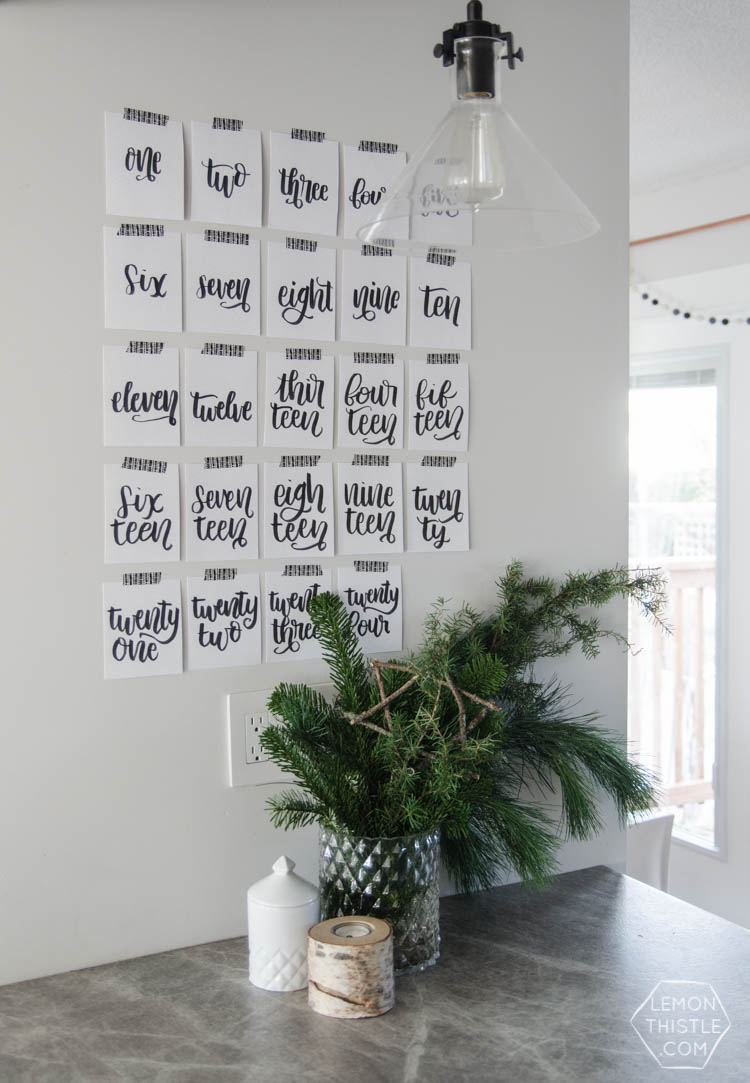 We got our black and white Christmas decorations up a couple weeks ago but I find I always take a while to move things around and play until I'm happy. This year, our holiday decor is all about the black and white, tons of greenery and wood tones, and lots of hand lettering. It's also pretty minimal, nothing too fancy here. Did I mention kid-friendly?
Since Windsor is just trying to walk, he pulls himself up on EVERYTHING. He's certainly a wild child and between him and the twins (they're three) I just couldn't spend my holidays trying to enforce a 'no touch' rule. So all of our fragile stuff is out of reach (all the nutcrackers Shane collects are on our entry stairs) and the tree is almost entirely non-glass ornaments. I made a few exceptions near the top (like those handlettered ones I made last year!).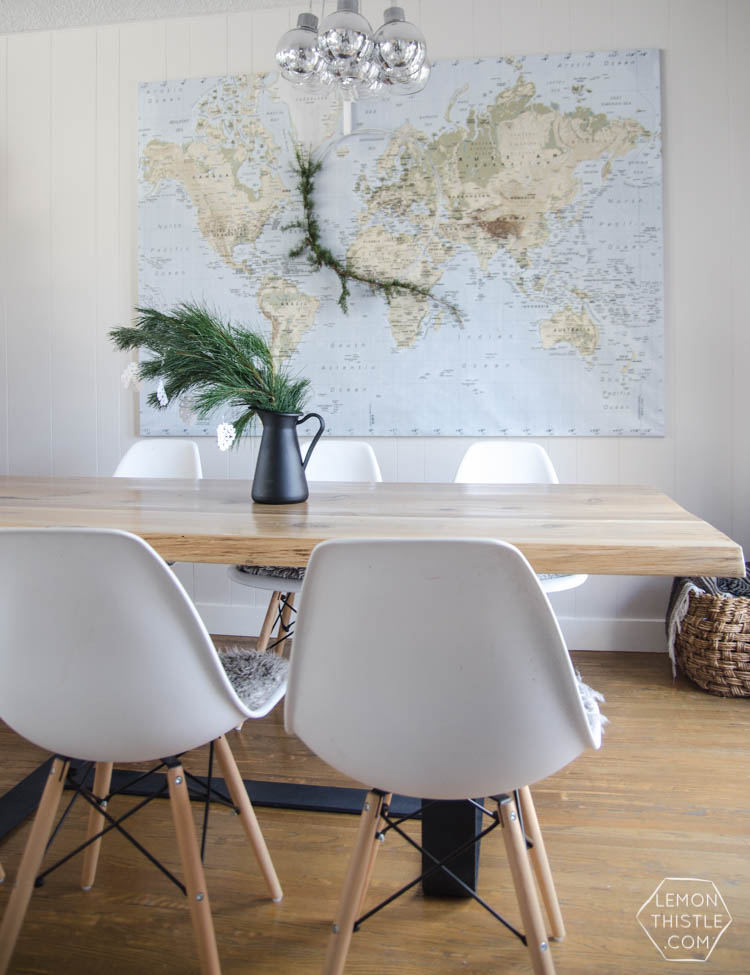 The one thing that's not kid friendly… that I moved the minute Windsor crawled on out here? That copper candle on the ottoman. But I seriously love that thing so I actually throw it back out there every evening after he's in bed. I'm bummed that Indigo discontinued it or I would be stocking up for the holidays.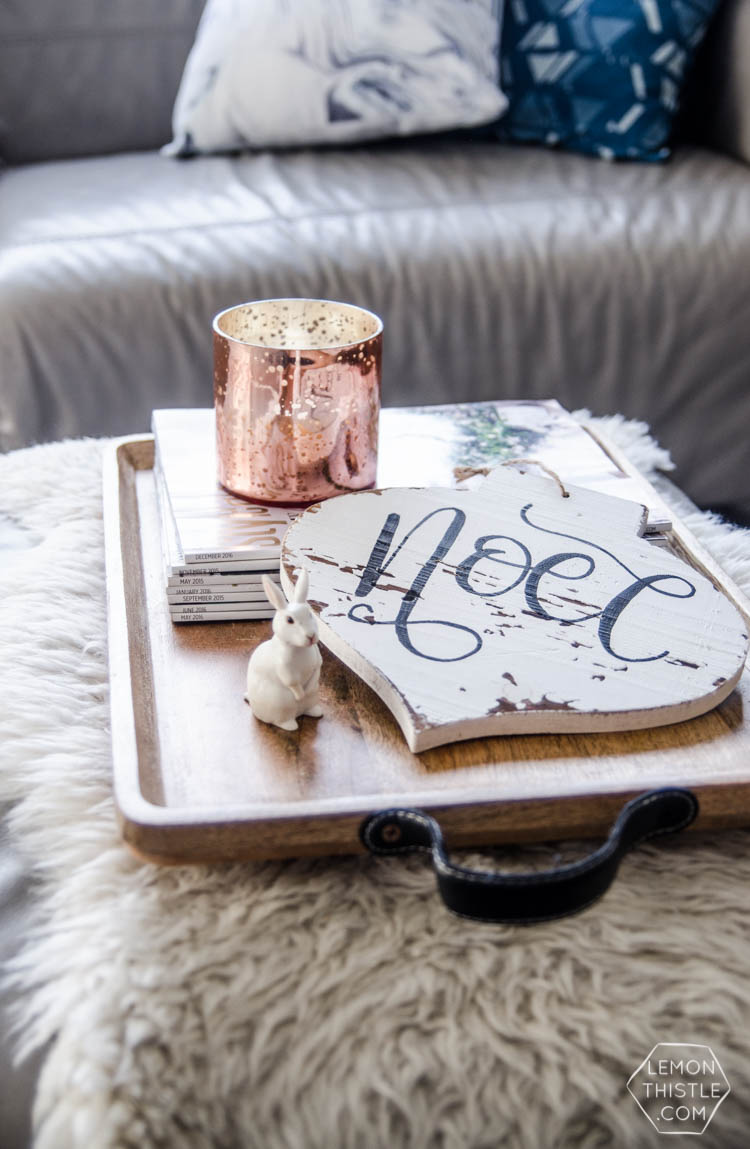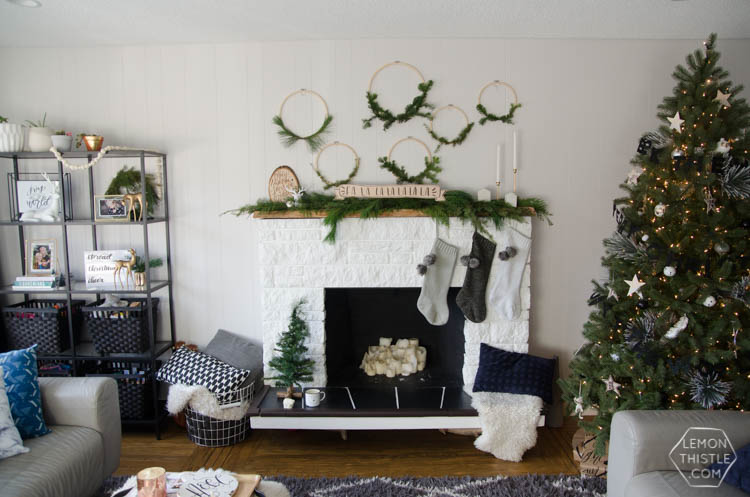 This is the first time I've actually showed most of our home in a single post! I did a kitchen reveal a couple years ago, and a dining room reveal earlier this year… and the fireplace makeover in the spring. But other than the 'before' photos, I've never shown the whole space! We've made oh so many changes since then. I tried to take some photos that shows how the space fits together. It's a cathedral (split) entry from the 60s, so all the living area is in this one space.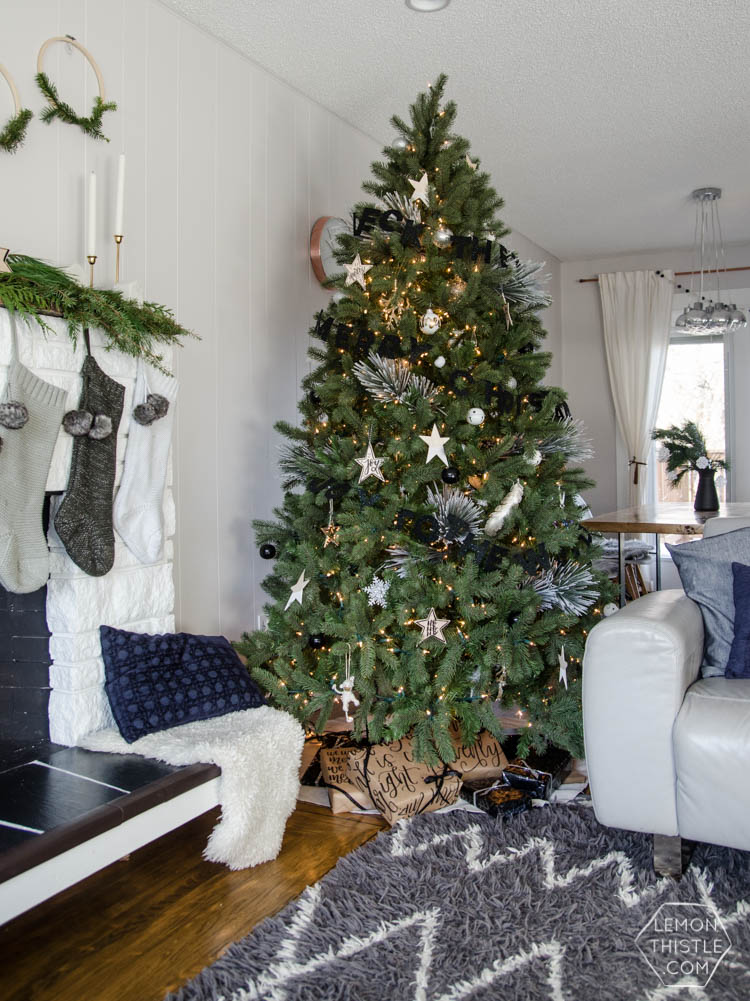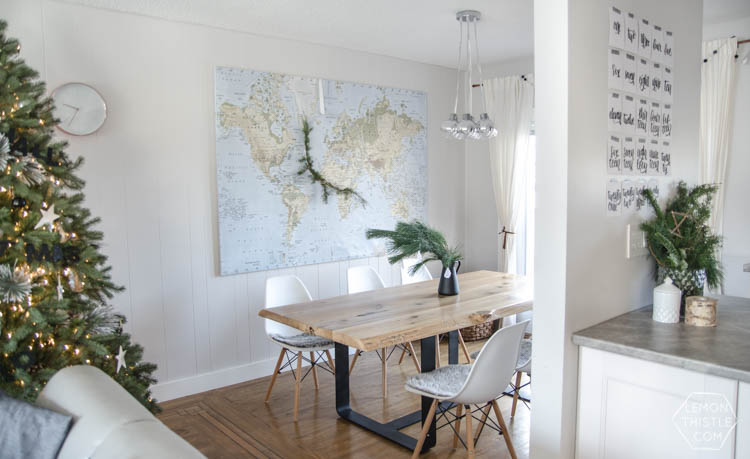 Let's talk about that mantle! I know I kiiiind of shared it when I shared those hoop wreaths… and then again when I shared that little wooden sign. But I made a few changes since I pulled out the rest of my holiday decor and I'm so happy with it! I feel like throwing a ton of fresh greens up on a mantle is really all it needs to feel festive. Since I'm doing a few private wreath workshops leading up to the holidays, I have SO much fresh greenery in our house right now. I have a giant bucket by our front door as well (not shown), so I don't need to make another trip to the florist. When I tried bringing the bucket upstairs, Shane told me I better stop because it was looking like a plant land in here. What's so wrong with that? ;)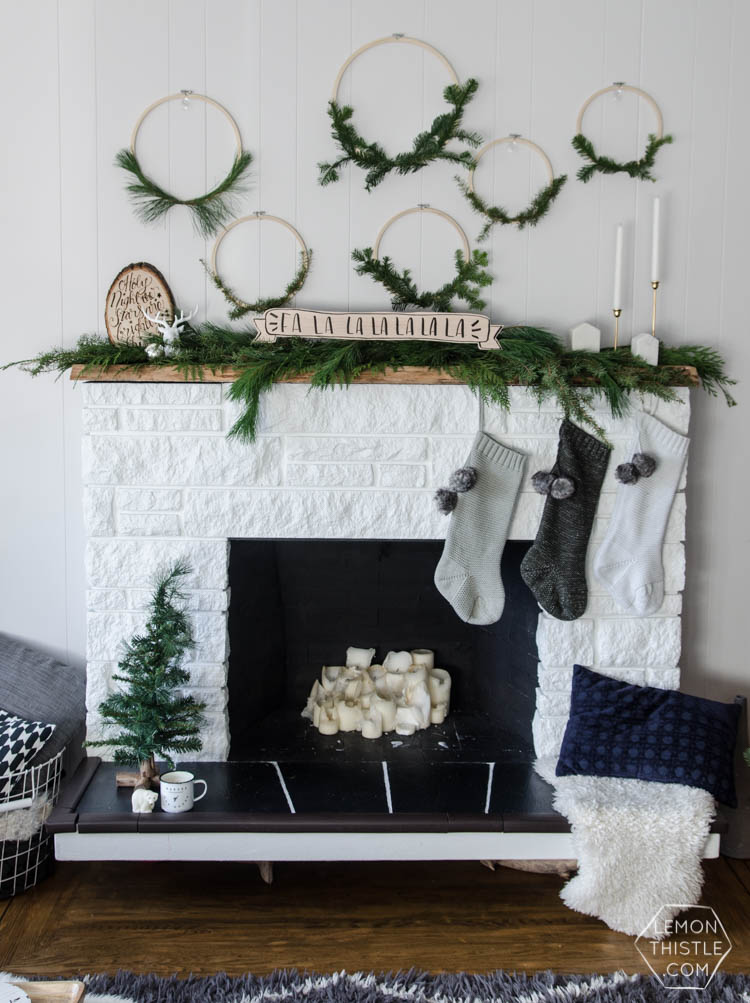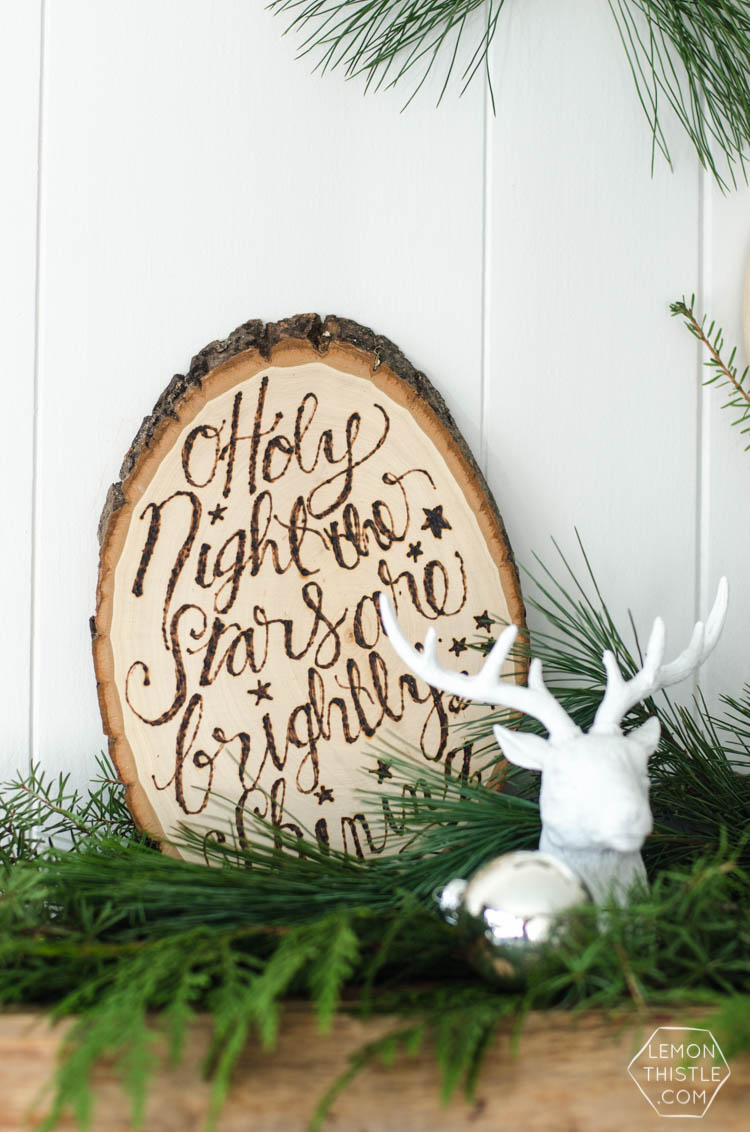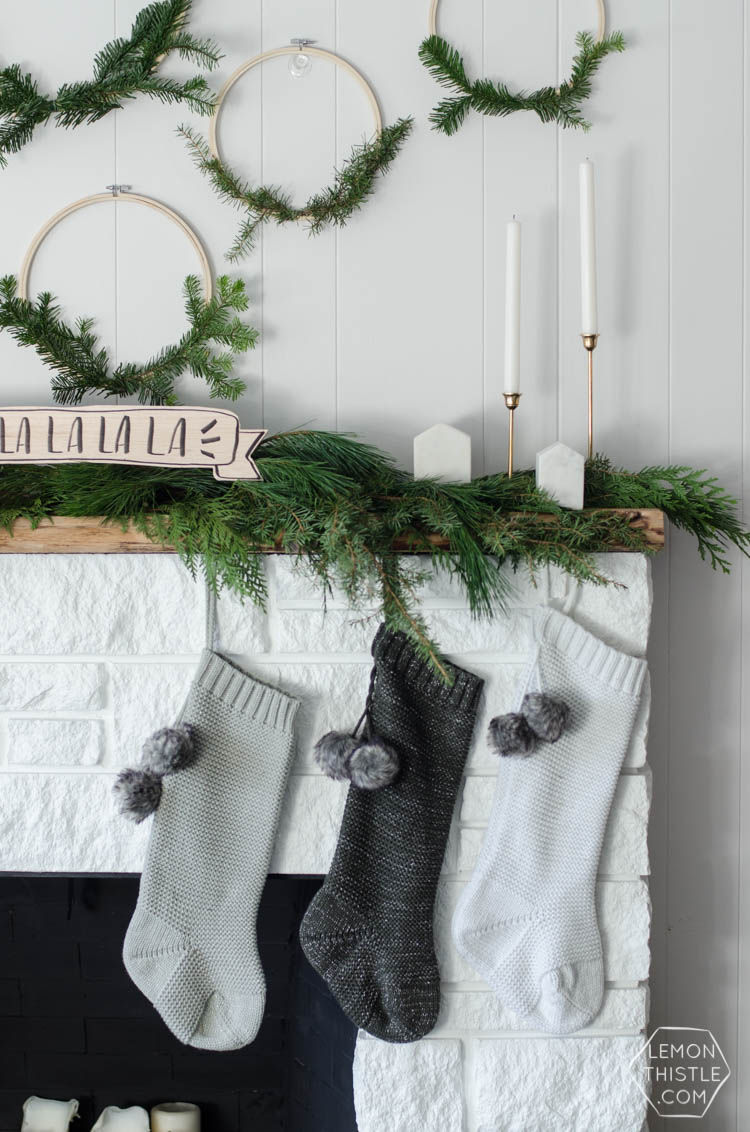 Can we talk about those stockings? I bought them back when we had a Target (I'm still mourning the loss) before we had Windsor and I cannot for the life of me find another one! So we just put up 3/4 that we have- one for each of the kids. If you see these anywhere… would you tell me? That'd be amazing, friend.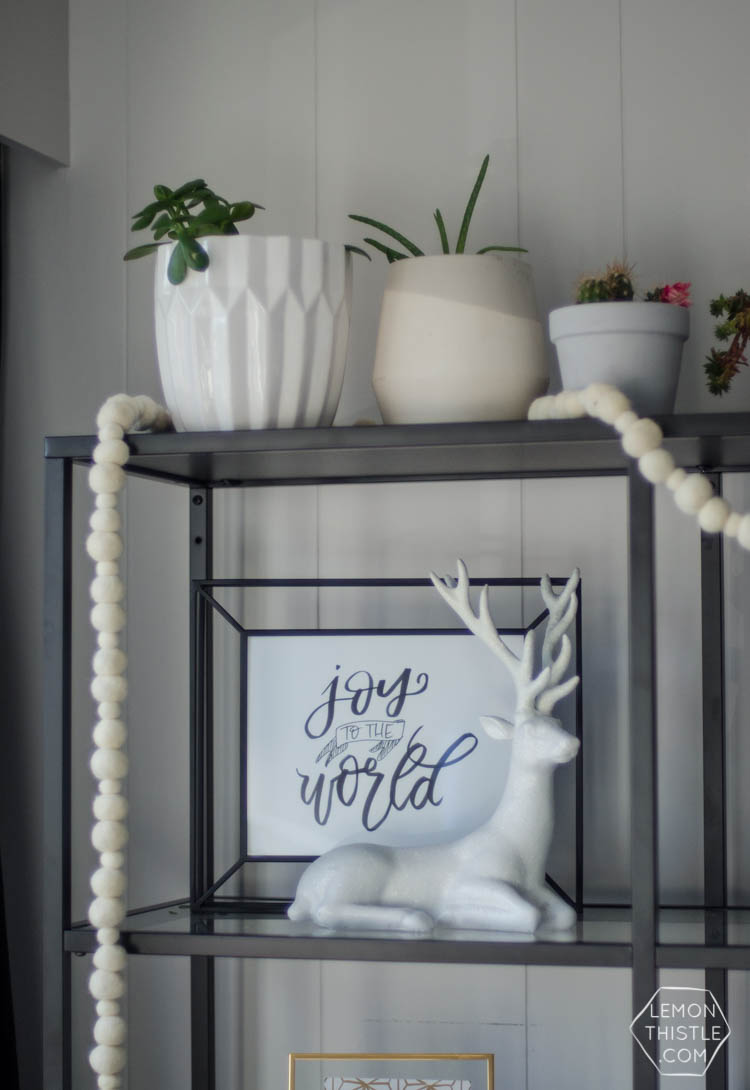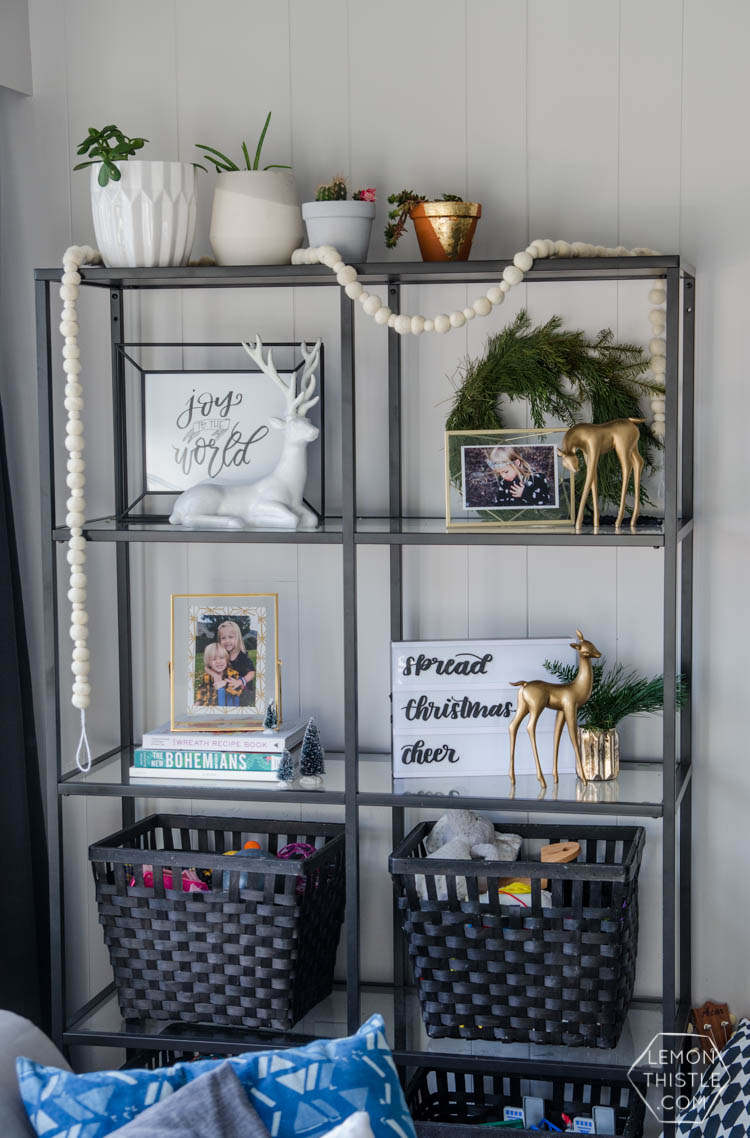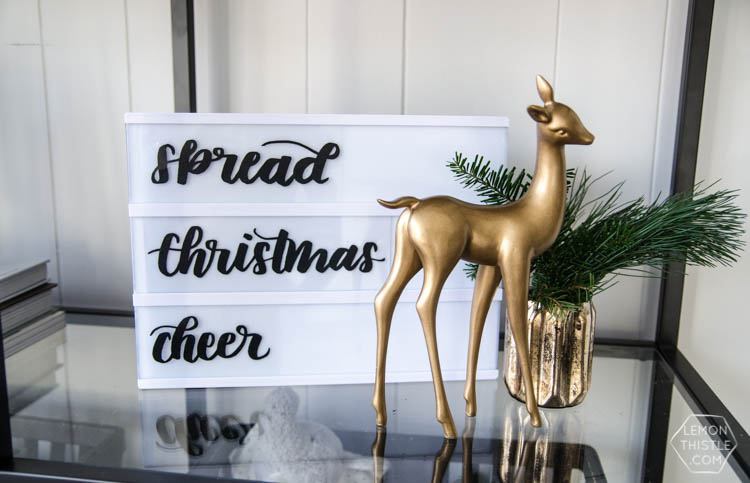 Other than the mantle and tree, we mixed in a few holiday pieces to our regular decor (and baskets and baskets of toys!). I lettered that Joy to the World piece and that holiday phrase on the Lightbox is a DIY I'll be sharing next week. If you're all in to the handlettered stuff and want to learn, you would love my new e-course! I bought those deer the first Christmas Shane and I had together (8 years ago!) and they still make an appearance every year. I can't say that for most things I bought back then ;)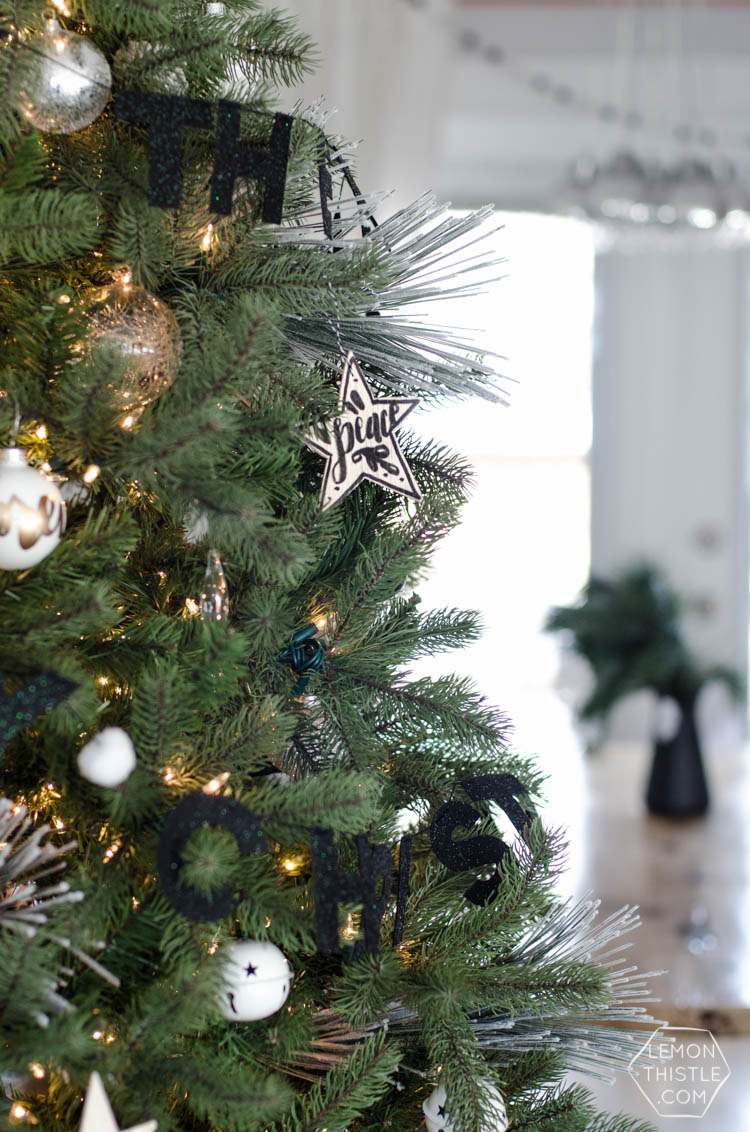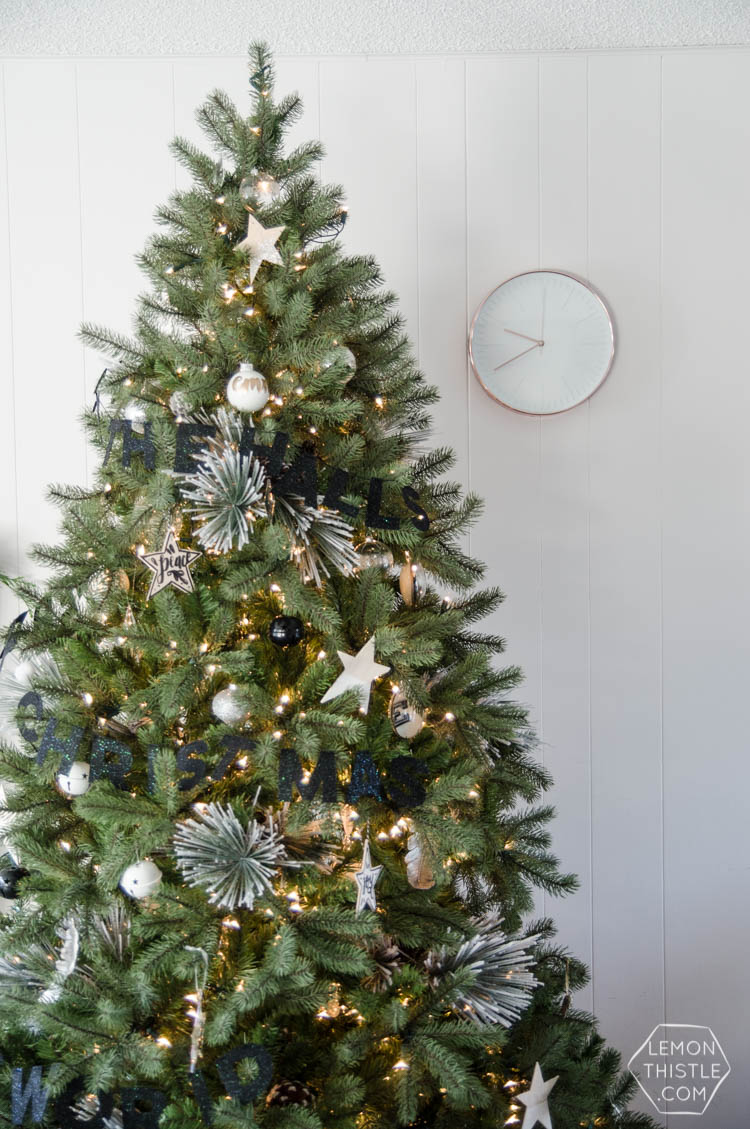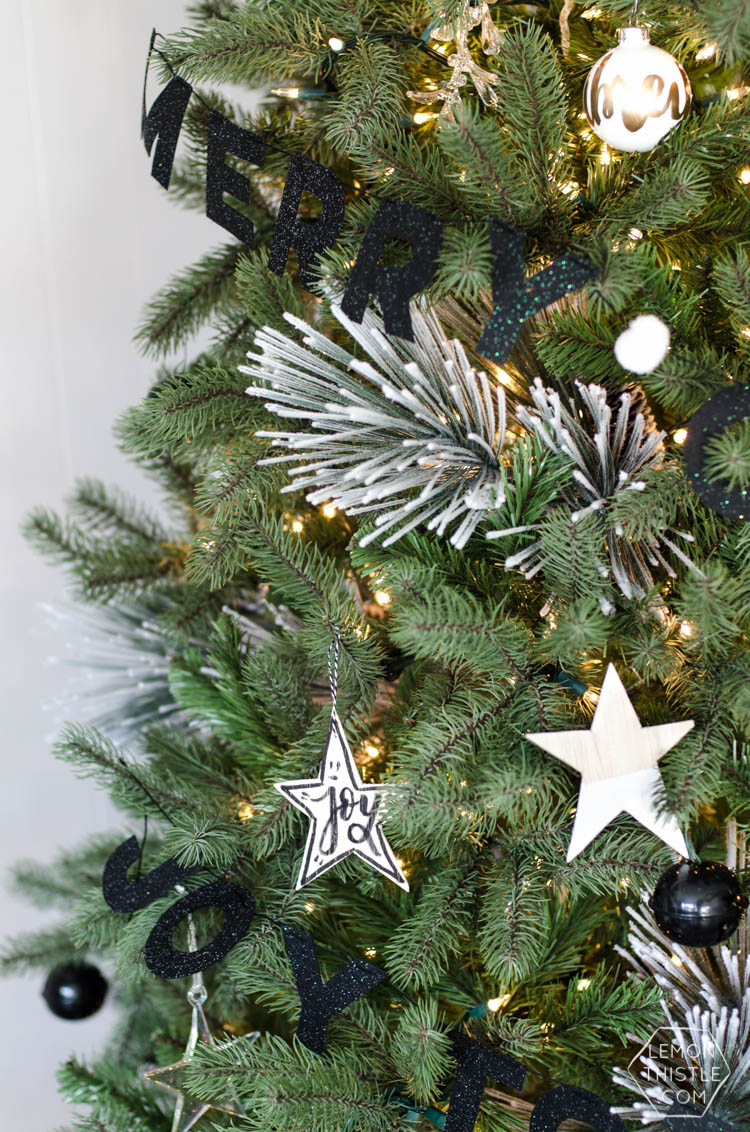 Do you get a fresh tree? I love the idea but… I'm a fake tree fan. Eventually, I'd love a flocked fake tree… but we were handed down this baby and it's goooorgeous. So that's definitely not a priority.  I grabbed some flocked sprays from Michaels on Black Friday to give a bit of that feel- I'm so happy with how they play with the black and white theme!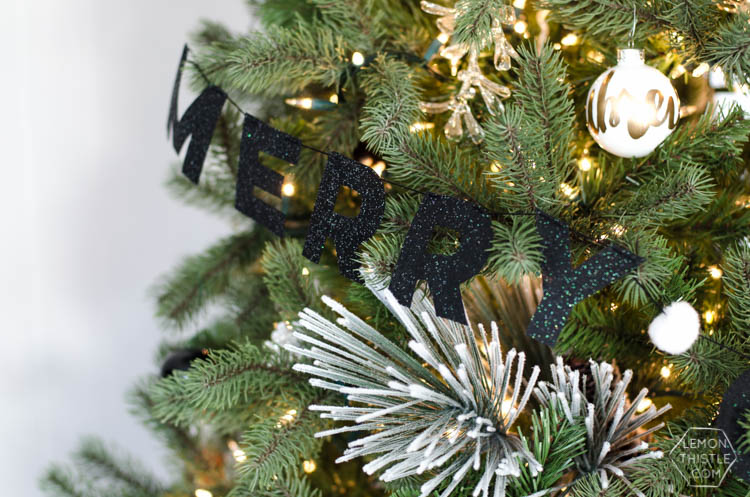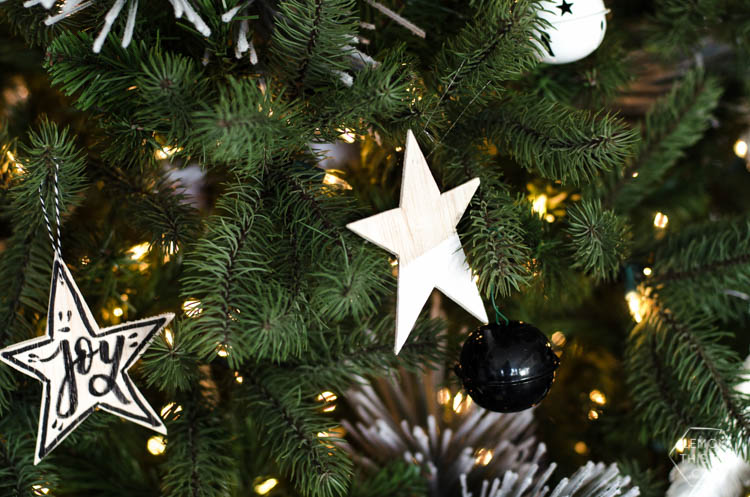 Pretty much every ornament on that tree (besides those bells and some of the plain balls) are DIY. I would love to go out and buy new ornaments every year to give our decor a refresh, but it's just not in the budget. I love that DIY can get me some new things to help change our style a bit without a big bill. I'll list all the sources (bought and DIY tutorials) below. We wrapped the tree in felt letter garland in the phrases, 'Joy to the World', 'Merry Christmas', and 'Deck the Halls' instead of the usual ribbon. Thanks to DIY, we probably only spent $70 this year to decorate (including all those DIYs, giftwrap and greens) but the feel is completely different than last year.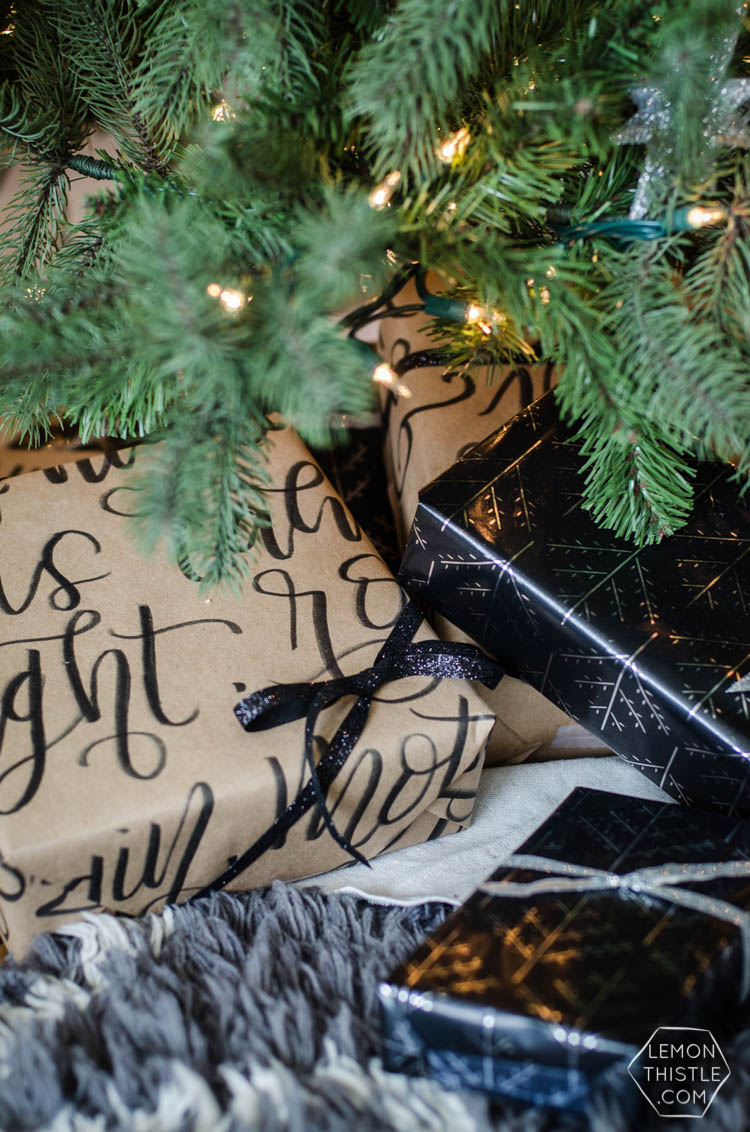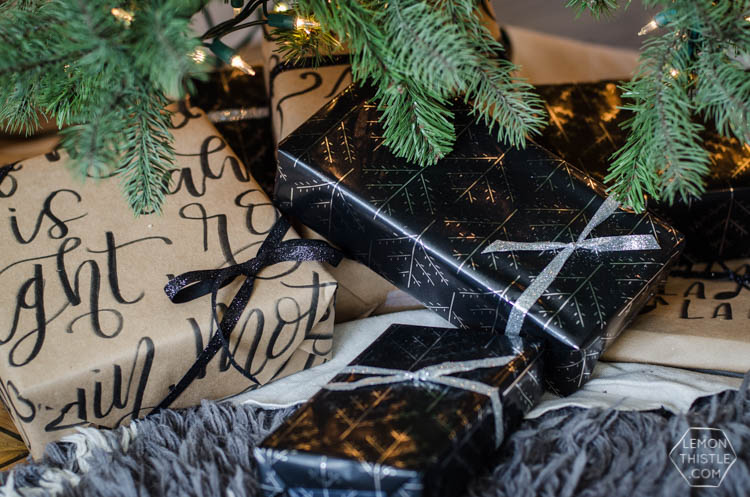 I'm keeping wrapping pretty simple this year. I grabbed that black and silver wrapping paper from Ikea a few weeks ago and glittered ribbon from Michaels (#thankyoublackfriday). I brush lettered some Christmas carol lyrics on kraft wrap for the other gifts and I LOVE how it all plays under the tree! The kids know that these gifts aren't for them, but they sure love playing with them.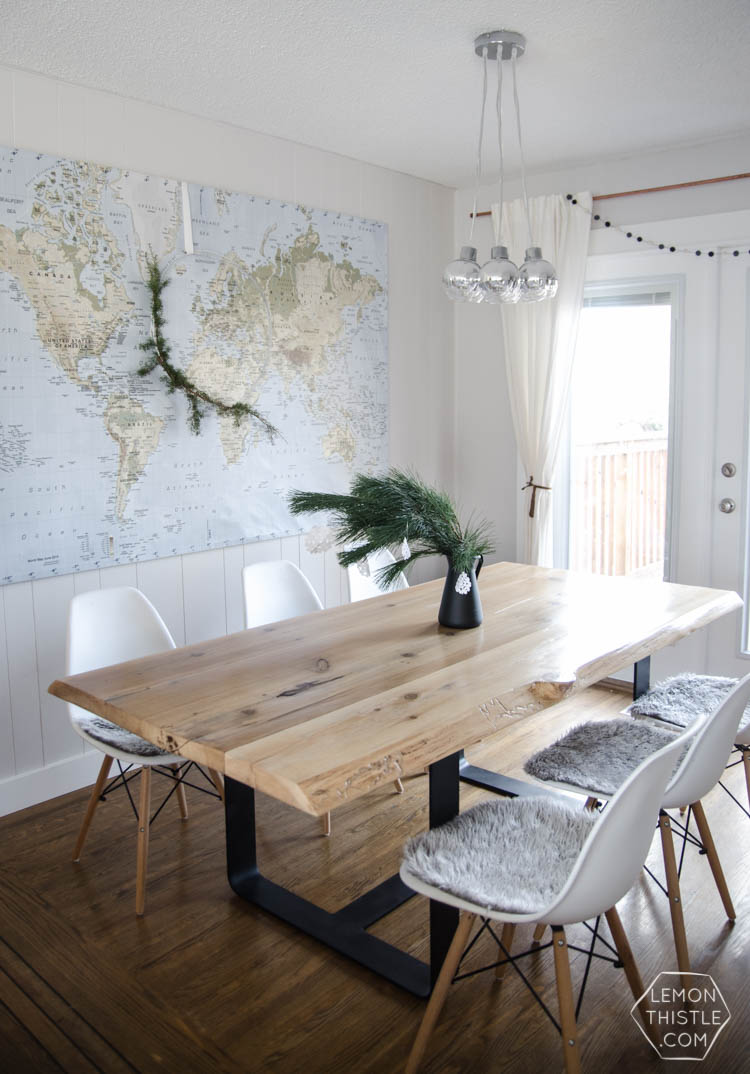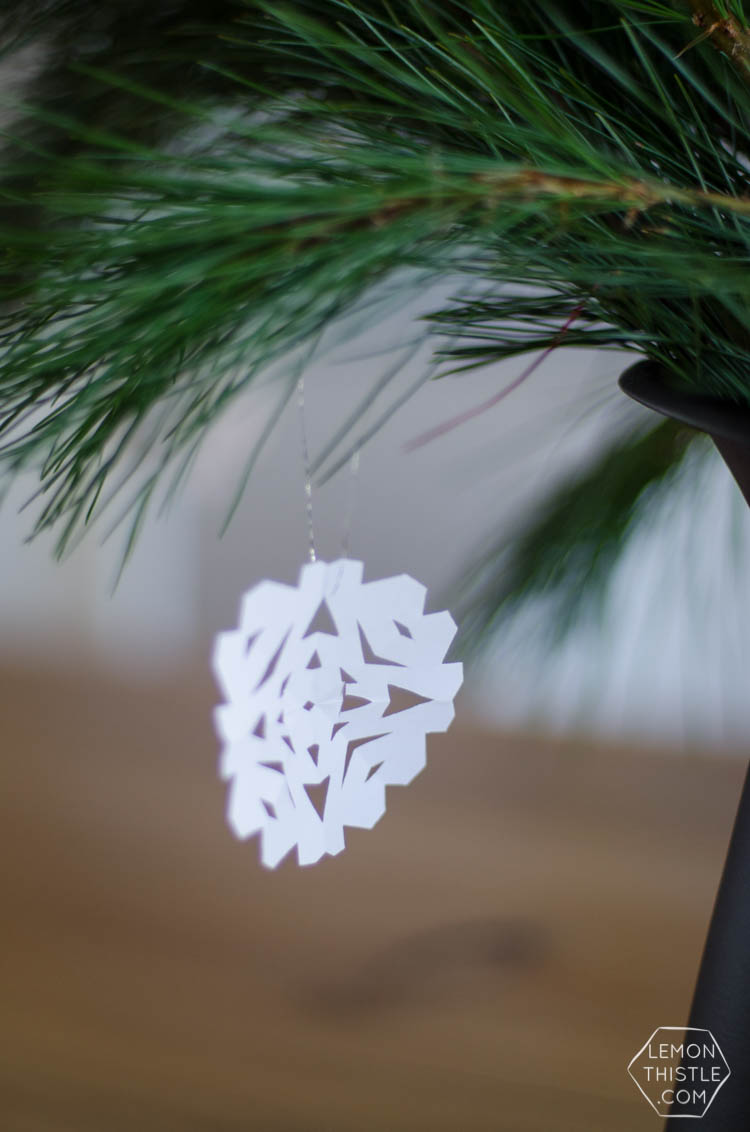 Other than the living room, we kept it pretty minimal. My simple twig wreath from last year got an asymetrical makeover and I have a jug of fresh pine on the dining table with paper snowflakes. The twins had fun 'helping' make them… although they really just cut paper into chunks, but they'll never know ;)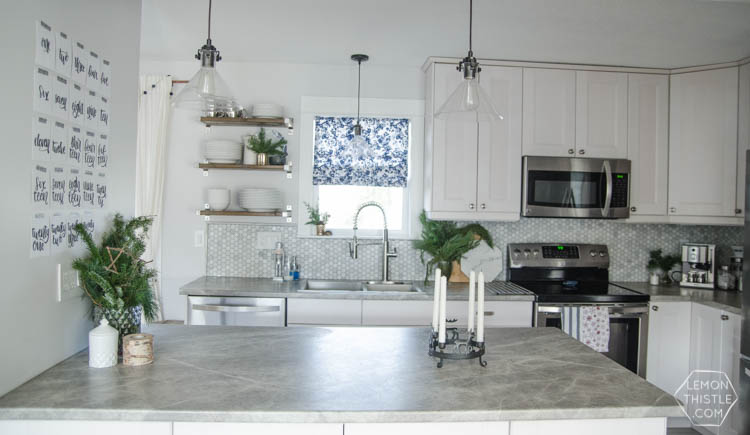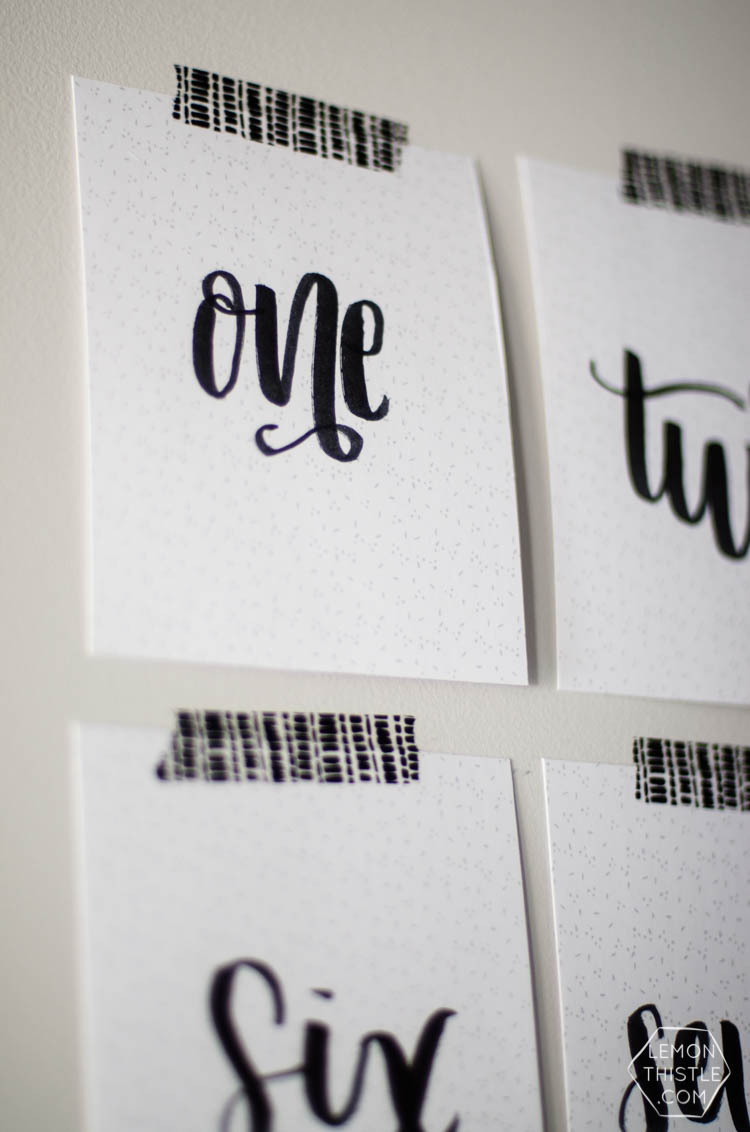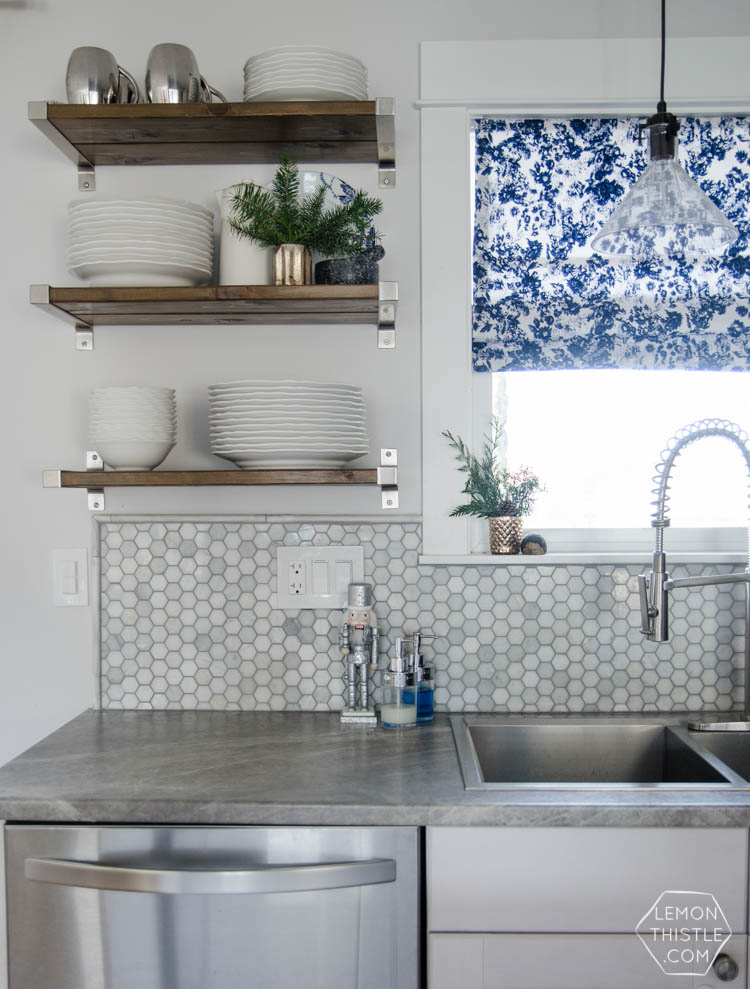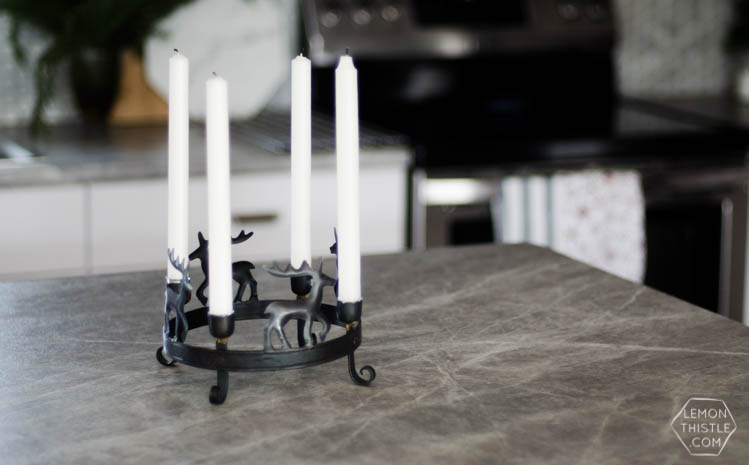 The kitchen, just has some fresh greens (more! I love them so, so much), candles, and the kids advent. Oh, and a nutcracker… because we needed at least one in our main space. The advent calendar was so simple to make, I just printed off some dots on cardstock and lettered the days on. The night before, I write an activity on the back for the twins. That star in the greenery arrangement is one the kids made with their aunt- they always come back with the coolest crafts and they love to see them on display (I cleared the fridge of all that art for this tour though!). Lastly… isn't that wrought iron candleholder amazing? I bought it years ago from a friends' shop (they imported gorgeous stuff from India) and it's always been a favourite of mine- this year it actually matches my decor though which is a bonus!
I hope you enjoyed seeing a bit of our space and how we chose to decorate for the holidays! We really don't go over the top- this is more than we've done the past few years actually. I thought I'd wrap up with a couple photos of the kids enjoying the space. Because… I just can't help myself!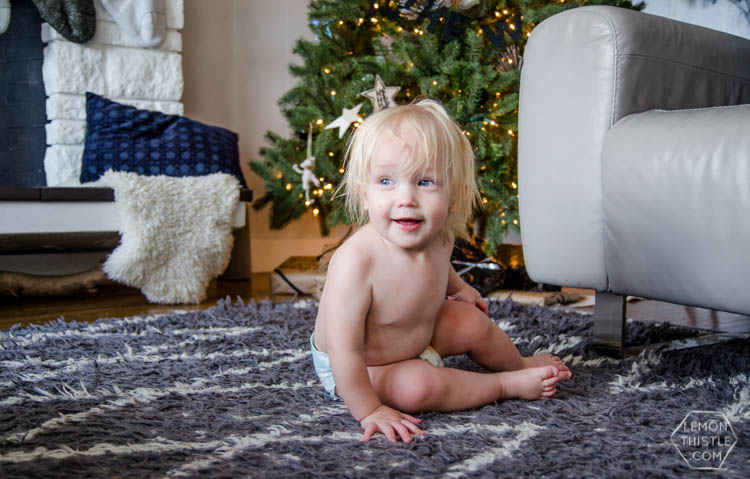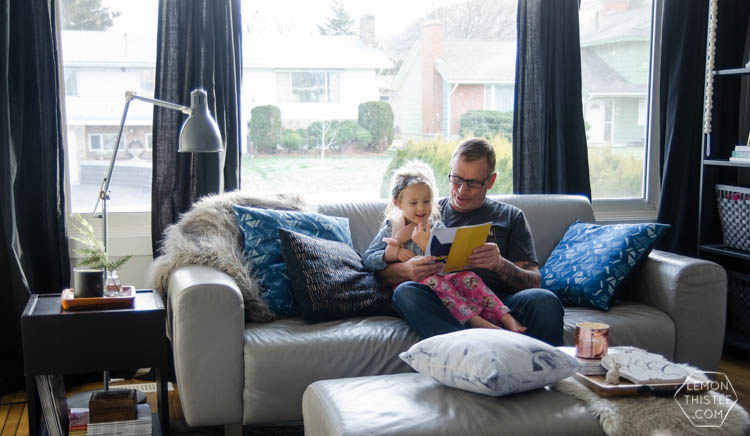 SOURCES:
DIY Handlettered Lightbox (coming soon!)
DIY NOEL ornament sign (coming soon!)
Fur Throw- Homesense
Rug- West Elm (only Ivory available now)
Living room furniture- The Brick/ Italsofa (discontinued)
Indigo dyed pillows- Indigo (discontinued)
Marbled pillow- Walls Need Love
Bookshelf / Baskets / End Table – Ikea
Mini Tree – The Land of Nod (out of stock)
DIY Scandi Inspired Lettered Wooden Star Ornaments (the white ones are the same, just half painted)
Cream Felt Ball Garland – The Land of Nod (out of stock)
If I missed anything at all you're curious on- just ask in the comments!
I'm SO excited to have teamed up with some AMAZING Canadian decor bloggers for a Canadian Bloggers Christmas Home Tour! These ladies have some rad style! Every day this week, a few more will be posting their home tours, so make sure to check out all the links below for some serious Christmas home decor inspiration!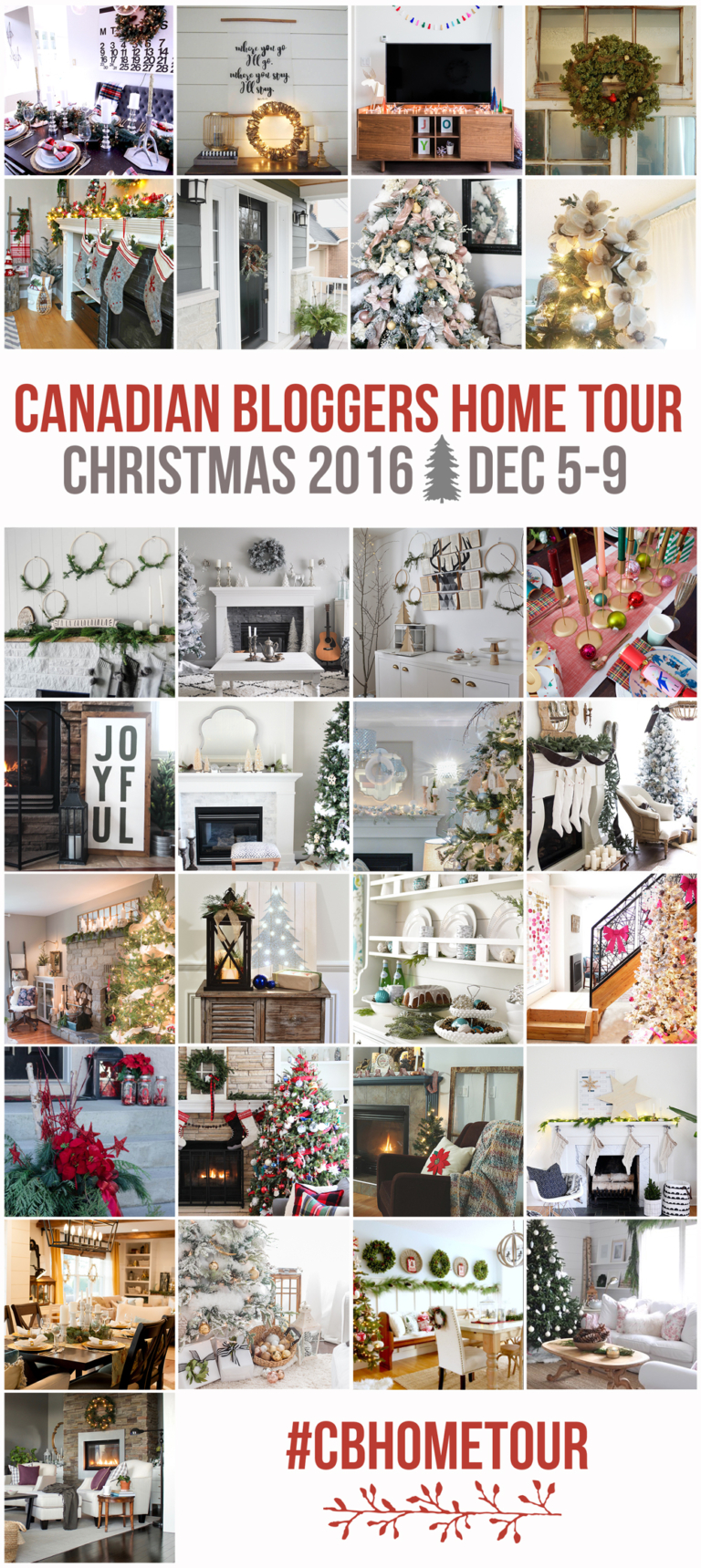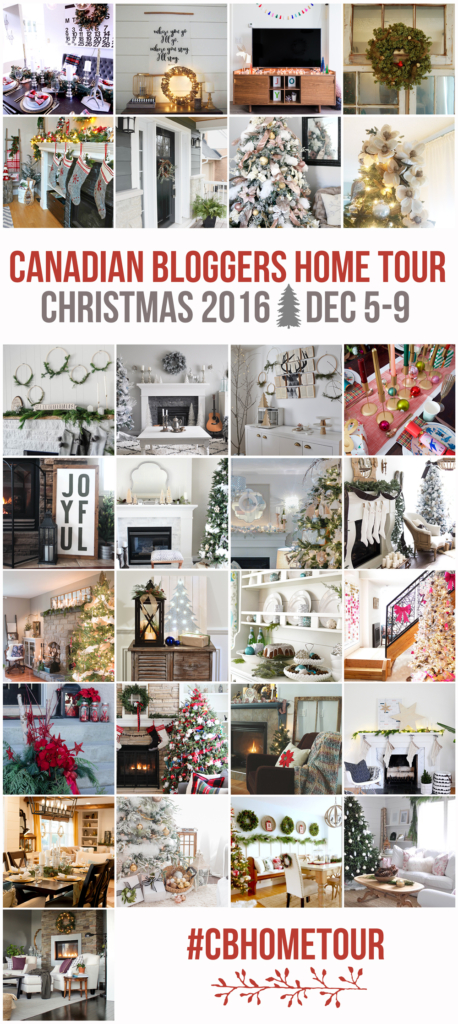 Monday
Northern Style Exposure
The Learner Observer
The Uncommon Law Heather In Heels
Clean and Scentsible
The Sweetest Digs
Tuesday
Amidst the Chaos
Brooklyn Berry Designs
Lemon Thistle
Suburble
Life is a Party
PMQ for two
Wednesday
Love Create Celebrate
Satori Design for Living
A Pop of Pretty
So Much Better With Age
VinYet ETC
Woman in Real Life
Thursday
The DIY Mommy
Fresh Crush
Time With Thea
A Pretty Life
Home To Heather
Nalles House
Friday
This Little Estate
Craftberry Bush
The Happy Housie
Kimpowerstyle
Elliven Studio