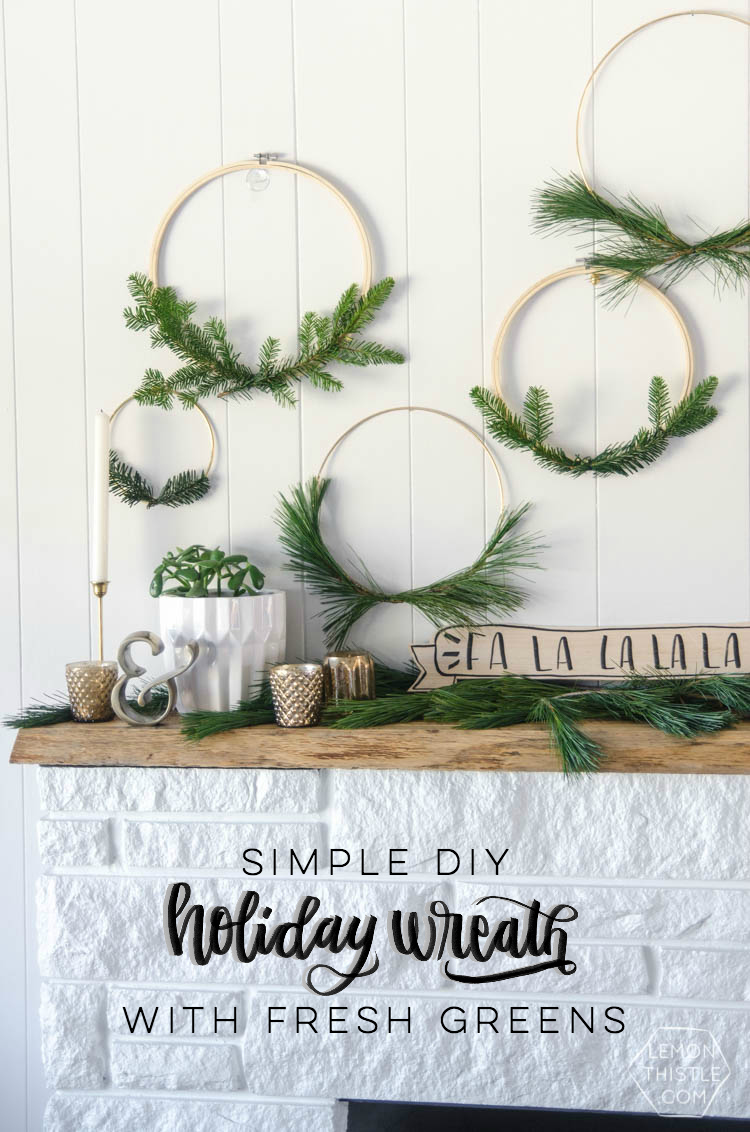 Halloween is officially over so, yeah… I'm going there ;) The holidays are coming and it's time to start thinking about them! I couldn't be more excited, the twins are even more aware of holidays now and are already asking questions about Christmas. They also told me that, 'that looks really pretty mom, I like it' when I was putting these up, so of course I want to decorate the whole house now. I actually pulled this whole mantle together without pulling out our holiday decorations. I love that the fresh greens are perfectly suited to my every day decor, then I whipped up that sign to add a bit of holiday cheer. That DIY will be coming out soon, pinky swear.
These holiday wreaths are perfectly minimal. I'm all about simplicity and neutrals for holiday decor and these wreaths are a great balance of decorative without being over the top. I actually made them a few ways. I'm not totally sure which is my favourite though! Maybe you guys can help me decide. I made the brass ones with pine (that's the long needles) and while I love, love, love them the most… as soon as I put them up on the wall they look kind of whiskery because of gravity. Maybe I will need to go back and wire them some more. Then I did fir on the embroidery hoops and I really love the darker color on the light wood. I decided to mix a couple up and do a collection of both the hoops above my mantle and I think that ties in my brass and gold decor with the natural wood tones of the mantle the best. But I'm still undecided. See both the other ones right here: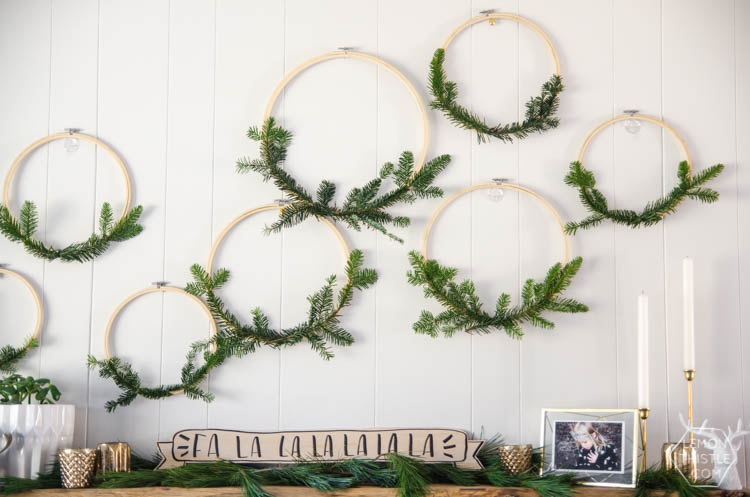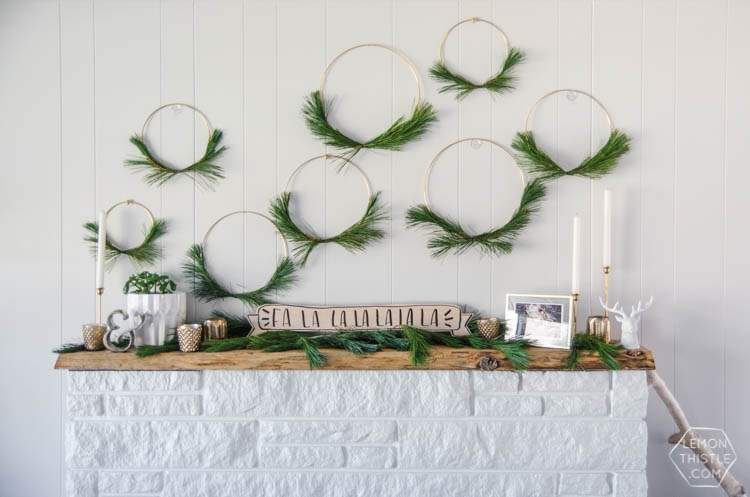 Okay, let me spill the news. I really, really love these wreaths and think you will too. So I'm excited to be partnering again with MakeShift (Kamloops) to bring a DIY workshop! We'll be making three of these babies and sipping cocoa and eating cookies. It will be the perfect night to get you into the holiday spirit (November 17th). You can check out all the details and find registration info over at Makeshift.  I'll be sharing some fun variations of these guys over social media in the next few days (minimal ain't your mama's style? Bring on the baubles!) if you're local and on the fence!
But if you aren't local (or you aren't up for a night out) I've got the whole DIY for you! They're really simple, you guys. My style of DIY!
To make your own simple hoop holiday wreath with fresh greens, you'll need:
Hoops of your choice- I used both bamboo embroidery hoops and brass macrame hoops. Both should be available from craft stores. The largest I have is 14″ and the smallest 4″
Floral Wire
Fresh Greens (I used pine and fir)
Gardening Sheers (and if you're protective over them, get wire cutters too!)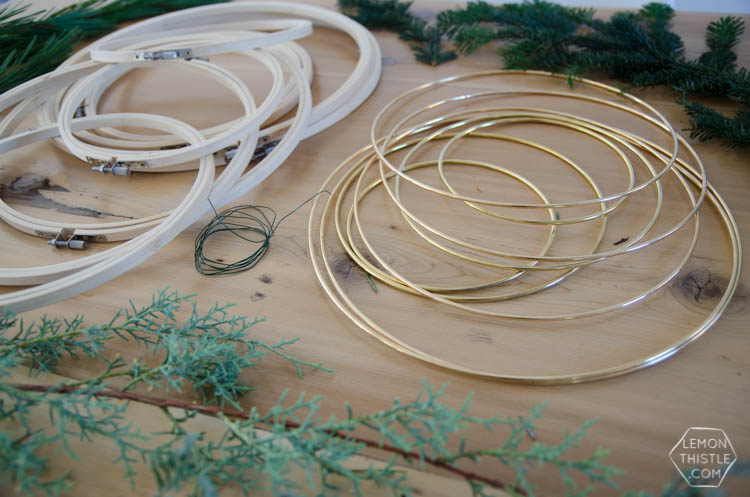 Get ready for this, it's super complicated.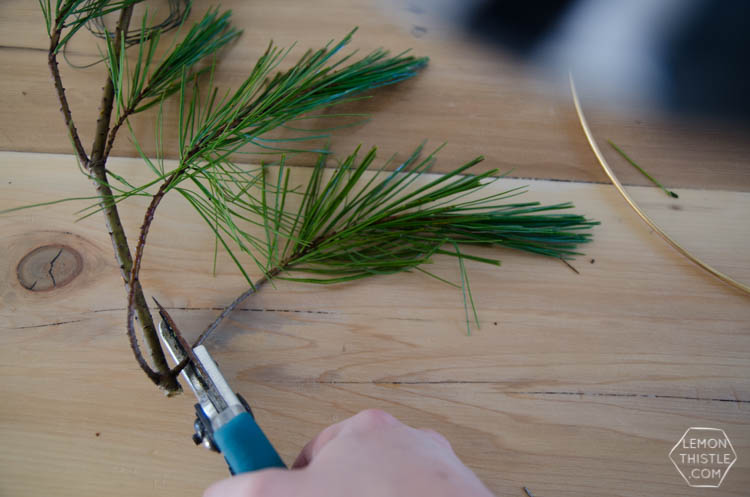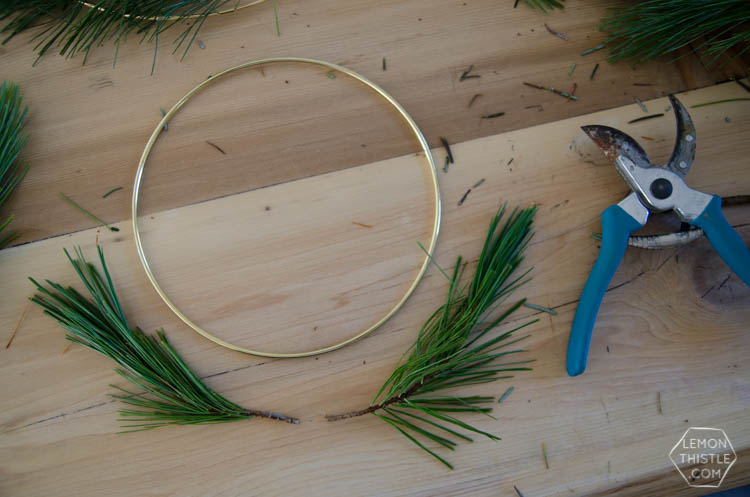 Cut your boughs down to size. Find matching sized pieces. Wire them on.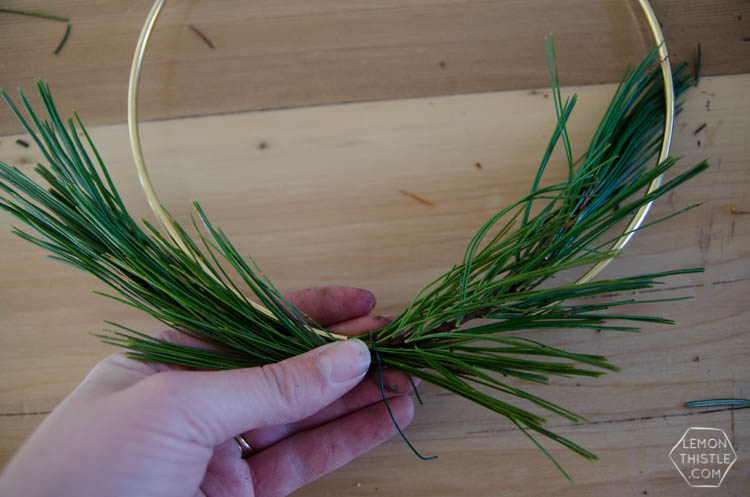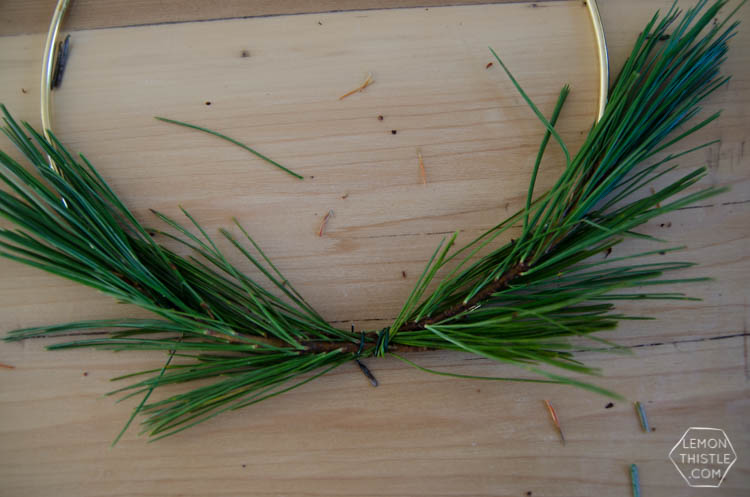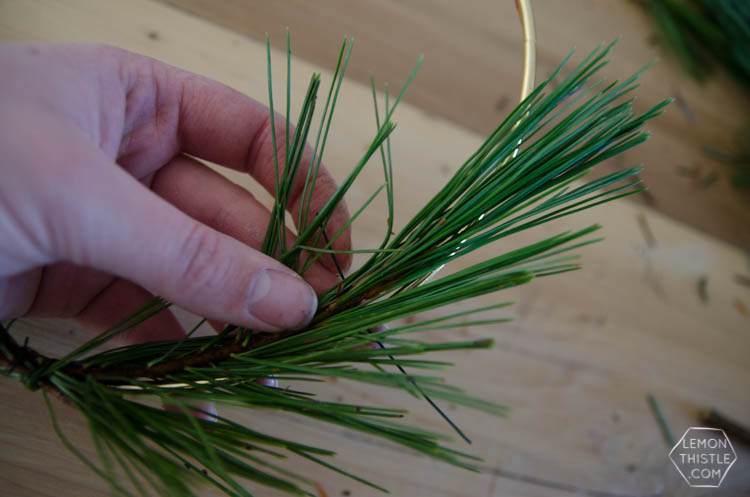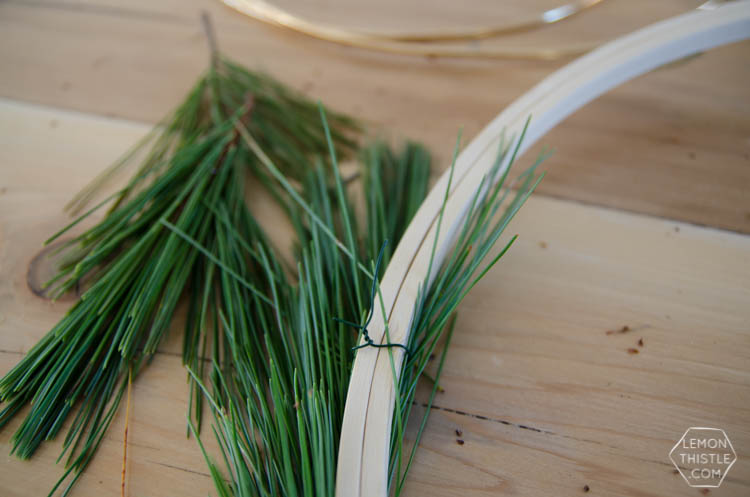 Seriously, that's it. But there's a few tips I have for you. If you're using fresh greens, start by cutting the end of the branch off before you do anything else. Those things leak pitch like crazy and it will save your hands/ table/ whatever. I always unwrap my bundle, cut all the ends off, then get to breaking them down. I tried to keep the branches only on the bottom half of the hoops. I overlapped the two branches at the bottom and wired those on first. I made sure they were super tight before adding a wire to each of the ends to wrap them up the hoop. You can kind of hide the wire by wiring close to the branch itself instead of overtop of all the needles (see photos above).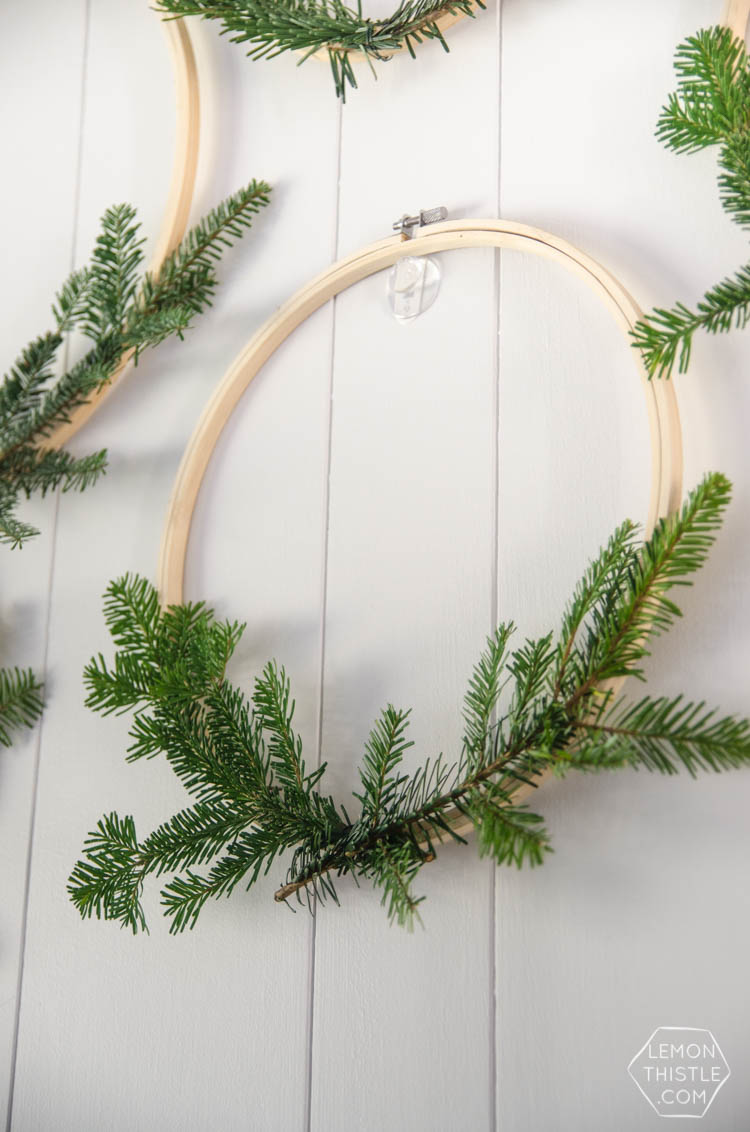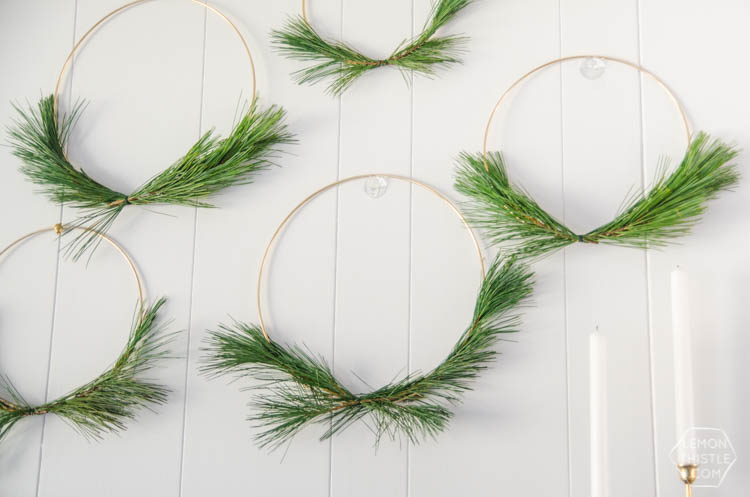 Ta-da! They're so simple but I am in love with them in a collection like this! I'm going to try styling a couple solo and I'll be updating the post. But really… you should probably just make a bunch ;)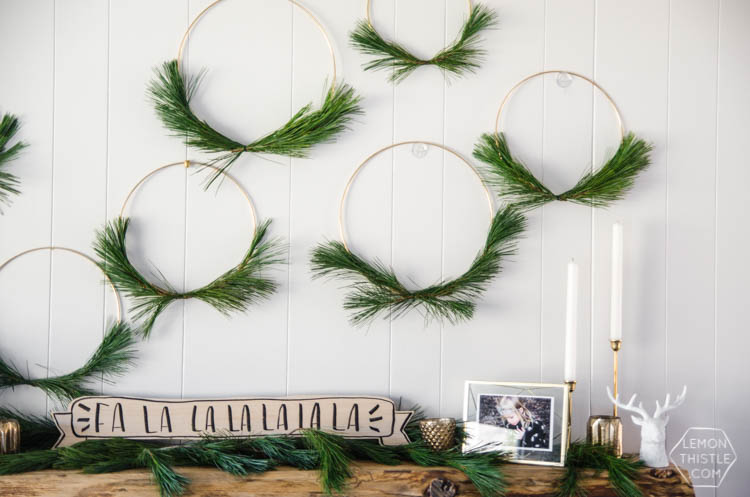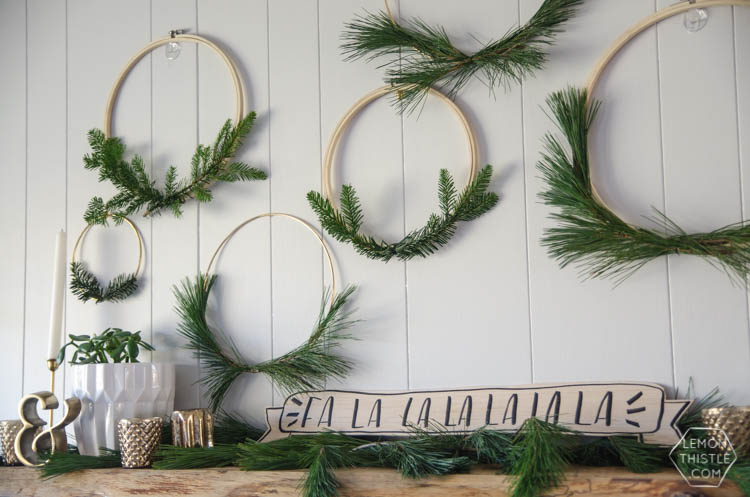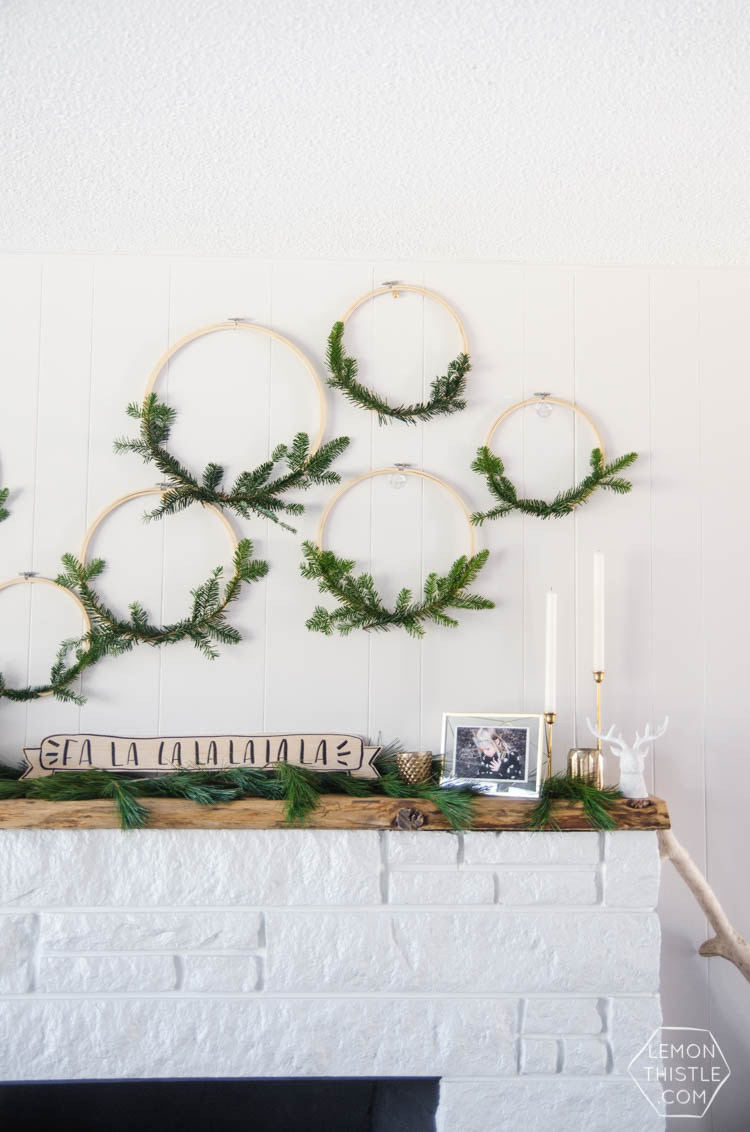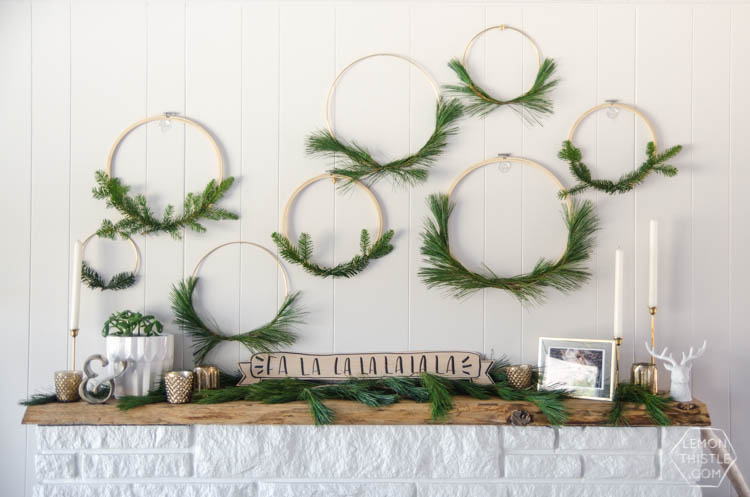 So- what do you think? Could you get in on the simple style of this holiday wreath DIY or are you all about bling around the holidays? And if you do make this DIY I would LOVE to see a shot! Email me or tag me on social @colleenpastoor
LIKE IT? PIN IT!