*This post has been sponsored by Dremel in a holiday gift guide challenge, but all projects are chosen by me (full disclosure)*
I'm going to assume that if you're reading this you love DIY- I mean, that's why you're here, right? Those DIY skills you've got can make your holiday gifting totally awesome… if you find the right project for the right person. I've got you covered, I went ahead and rounded up 20 rad DIY gifts that are totally worth pulling out the power tools for. And I made sure to pick something for everyone on your list. From your niece to your mom to your uncle. And in case you're only handy with a few of them, I'll tell you with the link what tools it takes to make it happen. I'm going to leave off 'sander' because anything wood… you really should sand it ;)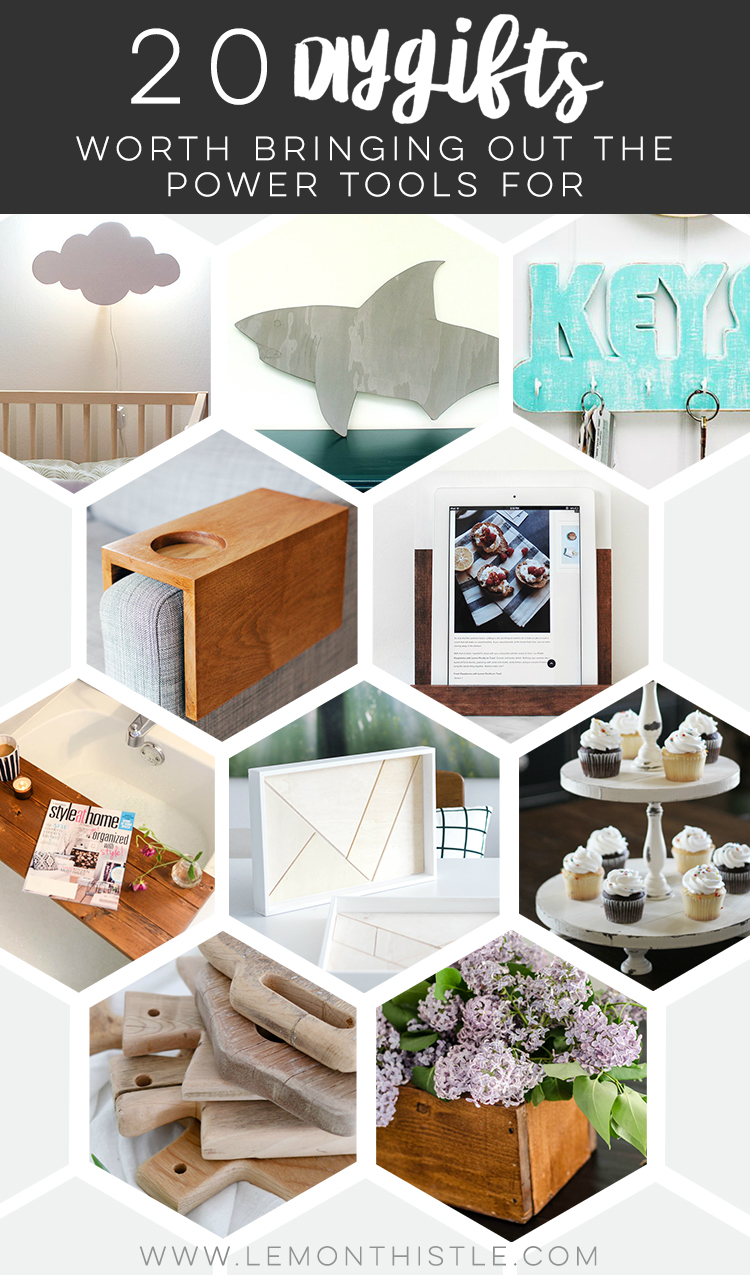 LEFT TO RIGHT/ TOP TO BOTTOM
ONE: This cloud light is beyond adorable, if I had spotted this before Windsor's nursery reveal, we might have a whale light on the wall! This DIY calls for a jigsaw or scroll saw and is actually in Swedish (thank goodness for Google translate!) over at Atilio.
TWO: This is another cutout that calls for a jigsaw or scroll saw- I'm all about the wooden cutouts lately! It also uses a Dremel Micro to carve in the details. Imagine how awesome this would look with no paint! You can find the full tutorial over at The Boxy Colonial.
THREE: I love this one! I'm in love with my Dremel Moto-Saw (a kind of jig saw/ scroll saw combo) and I love seeing what other people create with the tools I already have. Live Laugh Rowe used hers to cut out this rad key holder. It's such a fun idea! I'd love to see it painted a boring old color like black ;)
FOUR: Is there anything that A Beautiful Mess makes that isn't wonderful? This wooden sofa sleeve is the perfect Dad gift and only takes a drill (with jig and saw bit) and a saw to cut your wood to size. Easy peasy.
FIVE: One of my fave DIYers for minimalist style is Molly from Almost Makes Perfect. She shares this simple color blocked iPad stand over at The Artful Desperado in my favorite type of color blocking… white and wood ;) This DIY is the perfect gift for any cook that swears by Pinterest recipes. Thanks to wood glue, the only tool needed for this baby is a saw to cut your wood to length.
SIX: Since I made this DIY wooden bath caddy last year I've had SO many people tell me it's on their wish list. And it's ridiculously easy to make. All you need for this one is a miter (optional) chop saw and a drill. Grab the full DIY instructions here.
SEVEN: These tangram trays are another international DIY (German this time!). The DIY instructions can be found on Sinnen Rausch and the only power tool you'll need for this is a jigsaw! Another jigsaw (preferably scroll saw) DIY from Sinnen Rausch is this totally rad clock. I want one. I wish I'd spotted it before right now or it would be in this round up! Consider it a bonus ;)
EIGHT: If you love to build stuff and haven't heard of Shanty 2 Chic, well… you should check them out. I've recently started following them on YouTube (I've followed the blog for quite a while) and these girls make the. best. building videos. This cupcake tower (I've also spotted these used for mugs on an oversized island) DIY only calls for a saw and a Dremel Multi Max to cut the circles.
NINE: I've had my eye on some wooden cheese/cutting boards for a while now. They're such a trend but I just can't drop the cash on something that will mostly be decorative on my kitchen counter right now. BUT Tidbits shares a handy DIY version out of old boards on Craftberry Bush and not only does the pricetag fit my style… but you can make them any shape and style you want so they're bound to be perfect for you (or your giftee). Tools for this DIY are a scroll saw (or jig saw) and a router (although you can skip that). FYI my fave food safe oil to seal something like this is walnut oil.
TEN: Another one from me! This DIY rustic wooden centrepiece was made for Christmas last year but it looked just as gorgeous filled with lilacs in the spring. Right now I could have it full of autumn foliage if I wanted to- it's so dang versatile. And it's a simple build. Just a saw to cut to size and a nailer. Get the full DIY right here.
Ready for 11-20 of this round up? Read on, friend… there's some good ones!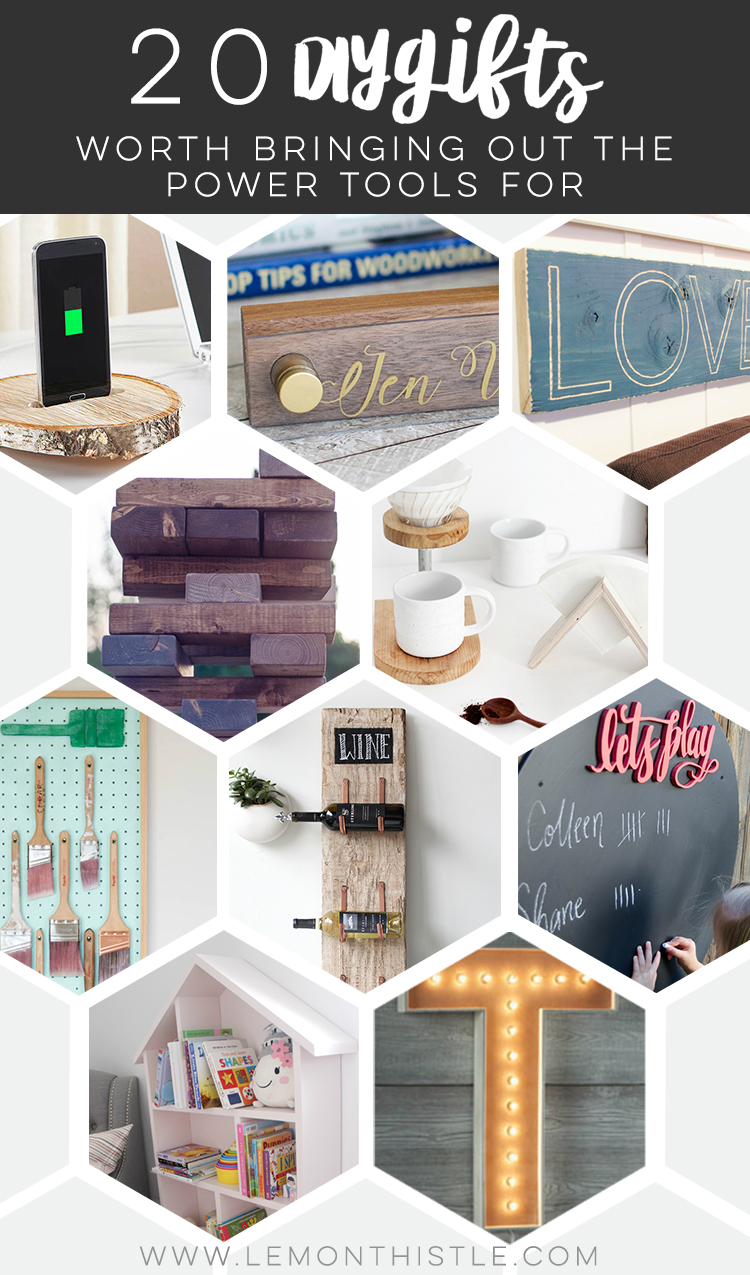 LEFT TO RIGHT/ TOP TO BOTTOM
ELEVEN: I've had a fancy phone charging station on my wish list fuuurever. This DIY wood round one is perfectly simple and would match what we've got going on in our home to a tee. The only tools for this baby are Dremel Rotary Tools. Grab the DIY instructions and full tool list right here. 
TWELVE: Want to know my favourite site with rad DIY builds? Jen Woodhouse. She's ah-mazing, you guys. This DIY Walnut and Acrylic Desk Name Plate is a testament to that. All you need for this one is a saw to cut the wood to length and a drill. Done deal.
THIRTEEN: Don't you just love this love sign? Cassity over at Remodelaholic is another girl that can build almost anything, but this sign takes almost none of that DIY know-how. All you need is a saw to cut the wood to length and a Dremel Rotary Tool to engrave the lettering. Get the full instructions right here.
FOURTEEN: This is my most popular project of ALL TIME you guys. And it's also the most popular thing I own (to be borrowed). And it's dead easy, you guys. Just a saw is needed for this giant jenga. I have a bunch of other giant yard games in this DIY tutorial as well– why not make a kit?
FIFTEEN: If you have a coffee lover in your life, this DIY coffee station from The Merry Thought is the perfect minimalist style gift. The coffee filter stand takes a jig saw and miter saw and that coffee pour over station takes a saw to cut wood to size and a drill or drill press.
SIXTEEN: DIYing for a DIYer is always something that scares me. Why? I just feel like they can do it themselves, why would they want what I've made instead? But this? The perfect solution! It's darned cute and it's something that will make their DIY storage 10x better. I made this paintbrush storage board using my Dremel Moto Saw, a drill and a circular saw (table saw would have rocked). Get the full DIY right here. 
SEVENTEEN: Any wine lovers in your life? Of course there are. This DIY wine rack from I Spy DIY is perfect and really simple to make. All you need is a drill and if you're wood's not cut to length… a saw. Notice the copper? Instant win in my book!
EIGHTEEN: This is the first project I made using my Dremel Moto Saw and it is one of my faves. You could cut ANY lettering you want to put on top of this round chalkboard and it would be a win. Believe me. Groceries… To Do… a last name… it's all a win. Grab the full directions here.
NINETEEN: This little book shelf is the perfect gift for any little in your life. Switch up the paint color to suit their style and you're set. Kids will be happy because it's totally sweet and parents will be happy because it's a gift that doesn't make noise when you step on it in the night. You'd need a table saw, miter saw and drill for this one. Hop over and check out Love Create Celebrate for the full tutorial.
TWENTY: Last but certainly not least! Marquis lights are such a trend right now. You would get major bonus points if you built one from scratch. Plus, you can scale this to be giant which is is always more fun. This DIY calls for a drill and one of the Dremel saws (depending if you're doing a curvy letter or a straight one). Full instructions right here.
SO, what do you think? Will you be DIYing for anyone on your holiday shopping list this year? I always have the best of intentions but my follow through isn't as great. Maybe this will be the year that I really do check every project off my list in time to gift them. But really… this is coming from the girl who made a sign for Fathers Day for her dad and it's still sitting waiting for a clear coat before he can put it up. *sigh*