If you have a more minimalist style, this post is for you! Let me share with you the different ways that I like to decorate seasonally without clutter.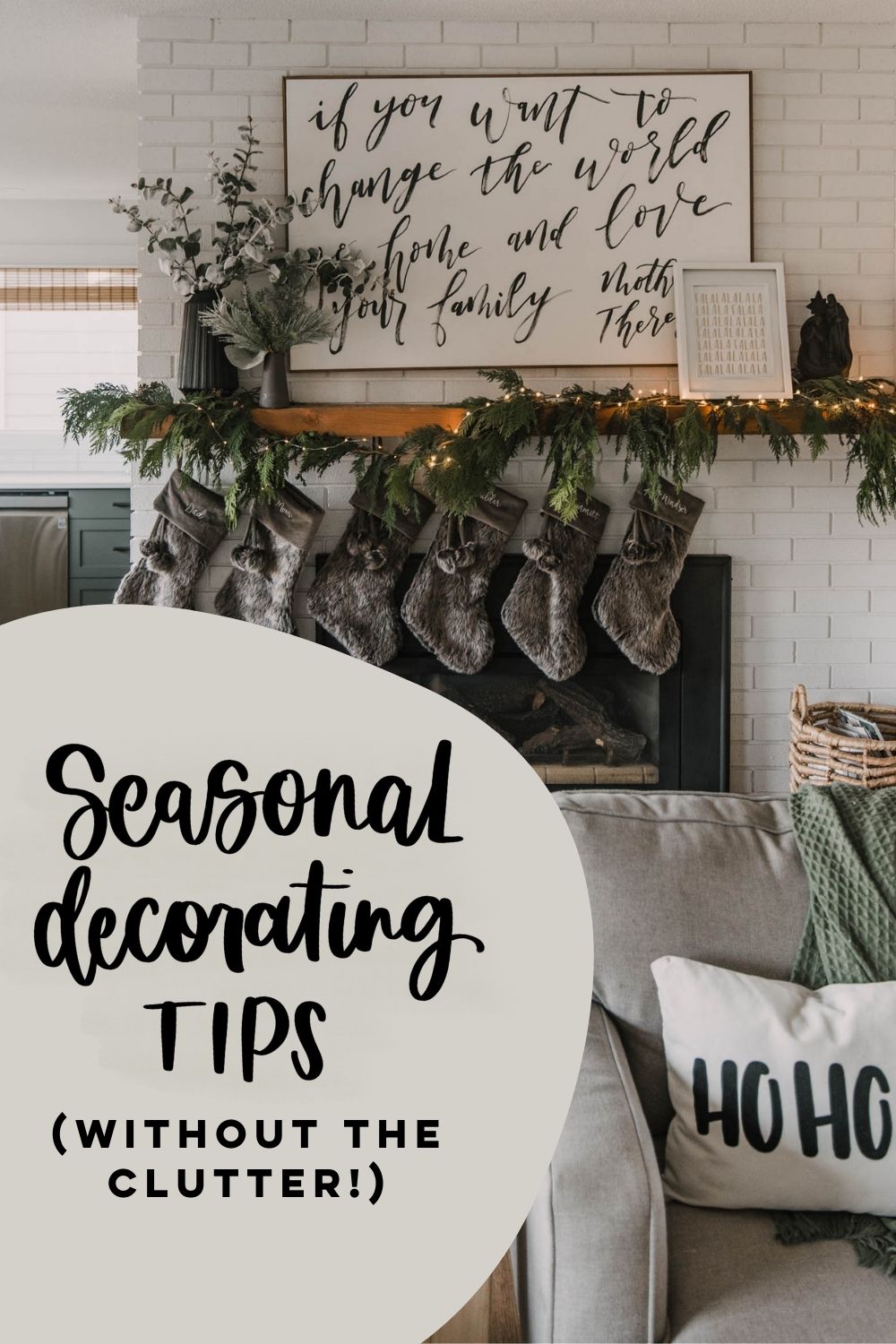 Today I am excited to talk about decorating seasonally, WITHOUT adding clutter to your home! While I love refreshing my house as the seasons change, I don't like having STUFF everywhere, which is sometimes what holiday decorating turns into and which I find too overwhelming. Now that I have really found my style and the décor that I love, I enjoy leaving most things as they are and simply adding seasonal touches.
If you also have a more minimalist style and prefer clear surfaces, fewer knickknacks, and generally less stuff in your house, this post is for you! Let me share with you the different ways that I like to decorate seasonally without adding clutter.
Of course, these are just some tips and as with anything, 'rules' are made to be broken! Do what works for you in your home and take what catches your eye. For Christmas, we add a tree and when my garden is in full bloom I have more vases full of flowers than any one person needs. It's your home, make it work for you! Let's dig in ;)
Texture can Change the Feel of a Space
Different textures can dramatically change the feel of a space, without adding anything new! For example, you can swap out a furry winter blanket for a casual linen blanket for spring or summer, and still end up with only one blanket on your couch.
You can use patterns too! When it is time for the holidays, you can use some holiday pillow covers on the pillows that you already have on your sofa. This is a really simple and easy idea, and it doesn't add any clutter at all. Store the pillow cases or just layer them on, switching which is on the outside.
Switch Up Your Wreath
I love hanging different wreaths for different seasons. You can only use one at a time, so having seasonal wreaths won't make your door feel more crowded or cluttered. You can hang different wreaths for summer, spring, fall, Christmas, or just plain winter! The other fun thing about wreaths is that while you can purchase them ready-made, you can also DIY them as fun seasonal crafts.
Branches, Flowers and Foliage
Nothing says seasonal like the things that are actually in season around you! I love to collect branches and flowers from my garden, or to forage for them in the wild, or visit the florist to pick out some stems of something that is in season. Switching out stems in a single vase does not add any clutter at all, and is a very effective way to change the feel of your space each season. And if you don't have access to living plants, you can use things like dried pampas grass, which will last forever. Or, you can totally go faux! Dollar Store eucalyptus stems can be spray-painted black for Halloween, and then switched for faux evergreen and berry stems for the holidays for a dramatic and easy festive change. I find this works really well for seasonal decorating without adding clutter to your home.
Candles and Scents
Scent is a powerful decorating tool that we don't often think of in this way! The smell of pumpkin pie makes us think of fall instantly, evergreen scent takes us right to Christmas feelings, and a hint of citrus in the air reminds us of a fresh summer morning. So, I love to change out my candles seasonally, which changes the feel in my home but does not add anything extra to my surfaces. If you prefer a diffuser and essential oils, changing those up seasonally will have the same effect! These are both great ways to do some seasonal decorating without adding clutter.
Change Your Signage and Wall Décor
If you have a letter board or chalkboard on display in your home, adding seasonal messaging on it is a fun and creative way of changing your decorations without adding more. You can also take down a sign or picture that was appropriate for the last season, and add one that is good for the current one. For example, you could take down your summer-themed letter board, and put up a pumpkin wall hanging for the fall. All this swapping means that your surfaces do not get anymore cluttered than you were already comfortable with!
Make Space for Permanent Vignettes
I find it helpful to dedicate very specific areas in my home to vignettes that remain in place all year, so that when I add holiday décor it is not necessary to create new spaces for these pieces. These areas include my mantel and a small space on my kitchen countertop. When I'm decorating, I just swap something out of an already-styled vignette to match the season, like swapping a small Christmas tree for a pumpkin. This saves time and makes décor decision-making very easy, and prevents clutter from spreading across surfaces.
Think Outside The Box!
Of course, the tips above are just suggestions to get your creative juices flowing. What else do you use all the time in your home that you could decorate with seasonally without adding more THINGS? What about a holiday entry or kitchen mat, or themed tea towels? There are many practical, everyday items in your home that you use all the time that could also bring a festive feel to your space with a little tweak here and there. The sky is the limit!
These are not hard and fast rules, and sometimes it does feel good to add something obviously, unapologetically seasonal. Hello, Christmas Tree! But hopefully I have shown that decorating seasonally does not have to end with a cluttered house. Let me know in the comments below if you have any tips for seasonal decorating without adding clutter!
Once you have your home decked for the holidays, I'd love to see it! Tag me on instagram @colleenpastoor
Watch: Tips for Seasonal Decorating without the Clutter
LIKE IT? PIN IT!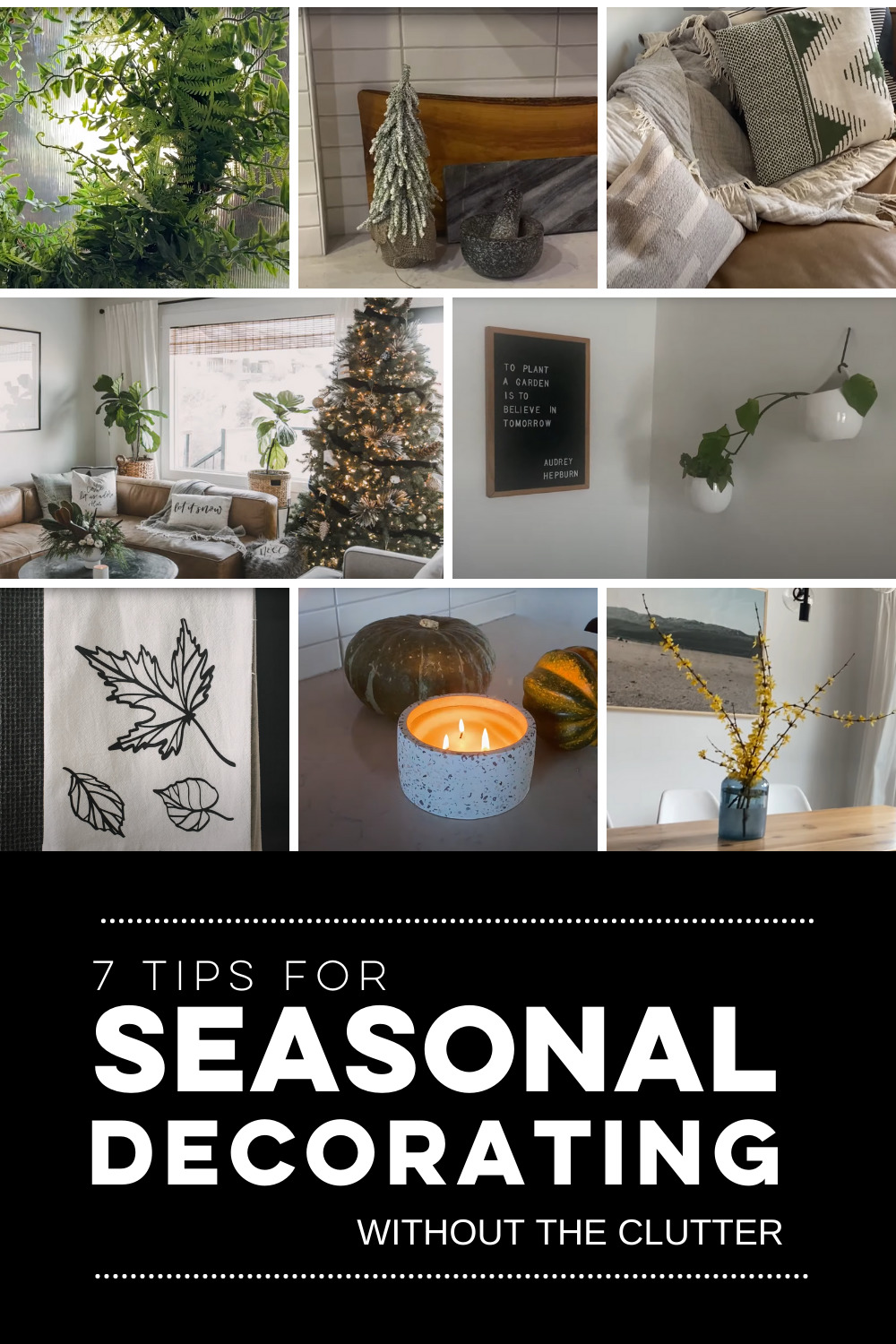 Looking for more seasonal decorating ideas? Check this post where I show you how you can change up your Christmas tree colours easily and affordably – only using one box of coloured ornaments!