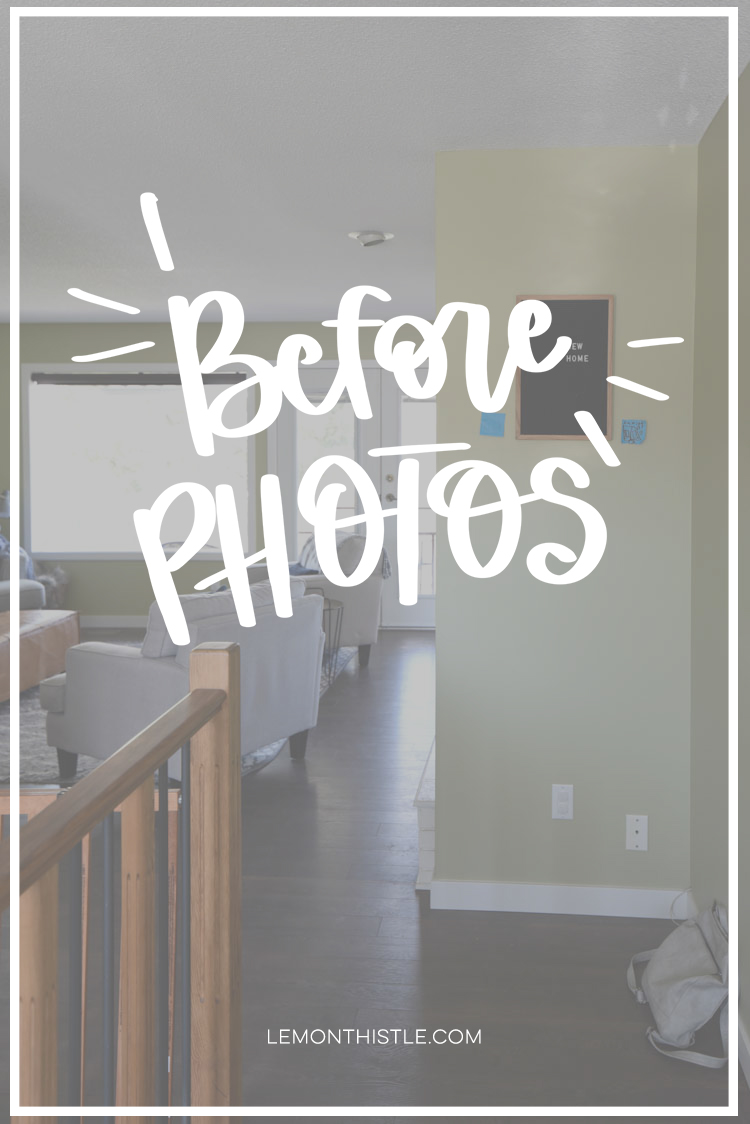 So it's no secret that we bought a new house and today I'm excited to share all of the before photos with you guys! We sold our first family home (we'd had an apartment before that) and bought this 80s rancher pretty much the minute we finished renovations on our first home- which was a total fixer upper. This new one definitely wouldn't be called a fixer upper but there's a ton of room for making it our own style and updating it. I mean, the ensuite has some wicked forest green faux marble tile that's begging for a makeover.
We have SO many plans for this home that I couldn't cover all in one post, but I did want to get all the before photos out there before we got too far ahead. You'll see in these dining room before photos- we already removed the trim to measure for new windows and there's some plastic tarping up because I didn't snap photos of the entry before we started kitchen demolition. And if you follow along on Instagram and saw my mini house tour the day we got possession, you might notice that the orange carpet from the laundry room is also gone. We made quick work of that one ;)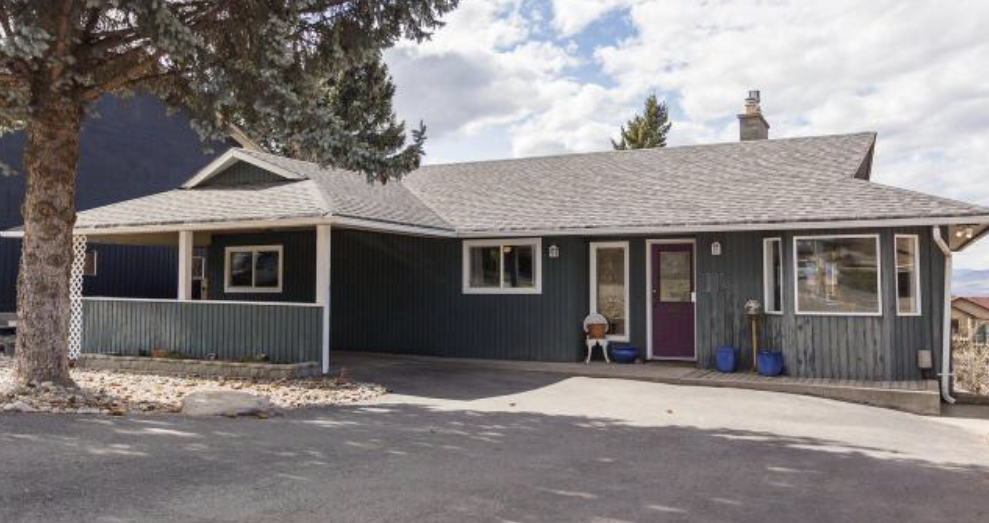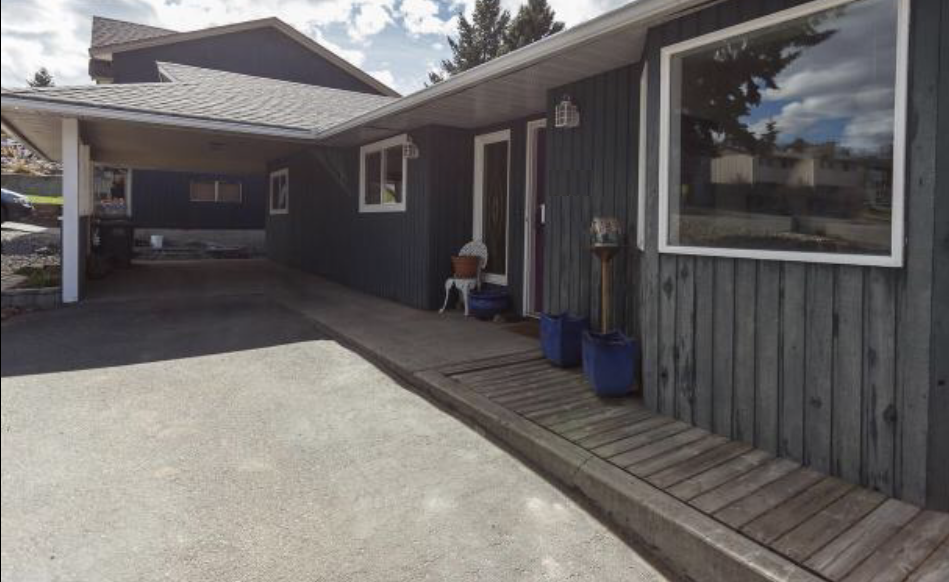 PSSST! I also made this into a video if you prefer that! It's a very… low quality video compared to what I like to put out BUT I wanted to get it out there anyways! CHECK IT OUT HERE!
Alright! Let's get to it. Meet our new home! This is it from the outside according to the realty listing. We also made quick work of that giant tree in the front yard because the amount of sap that thing dripped on the cars in the driveway was gross. Every time our kids went out and rode their bikes in the driveway, they came back with sap on their clothes. Needless to say. It's already gone. Which makes the entire front yard a big rock pit and NOTHING ELSE. It's pretty bad, you guys. We're planning to take on the exterior next year and not only side the place but hoping to make that carport into a garage. And give this baby some mad curb appeal. It's sandwiched between two monster houses and looks pretty sad right now. I think when we're done doing a bit of landscaping and giving the house a facelift it will stand out even between those two giant houses.
Oh! And to answer the one question I get asked from every single person who has visited our new place… No, we won't be keeping that purple door forever.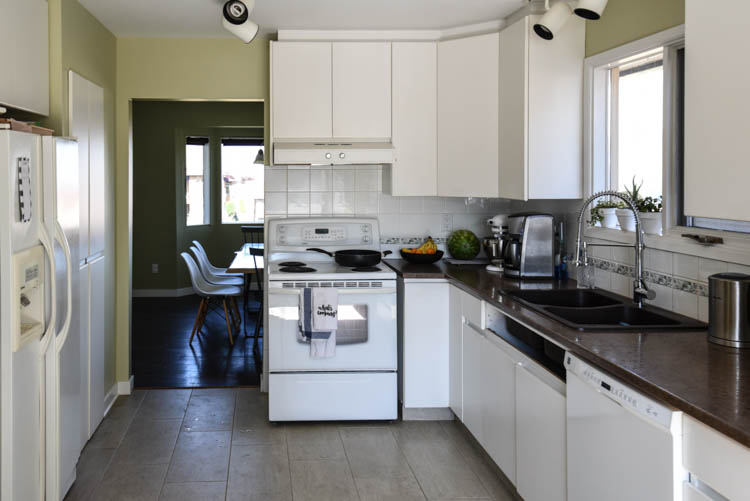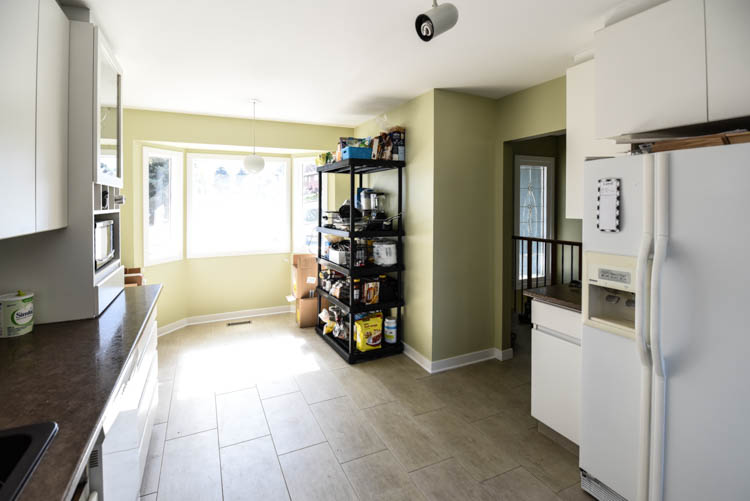 Let's move inside. Shall we start with the space we're taking on first? The kitchen! Whop Whop!
I've been sharing all sorts of progress updates and peeks over on Instagram Stories of this. None of this space looks the same. We're moving the kitchen to the dining room and the dining room to the kitchen and in the process… we're regaining that wasted breakfast nook area. I'm SO excited for this one and am going to be sharing the design plans for the space in the next week or two. The kitchen cabinets and backsplash were original 80's but it looks like the sink, faucet, and countertops had been replaced. The things that really bugged me about this space? The wasted space at the front of the house (I'm assuming it was meant to be a breakfast nook) and that there are NO sight lines to the living room or the backyard where my babes will be most of the time. Also… there's remarkably little counter space considering all the square footage of this kitchen! We're fixing aaaaall of this in our remodel!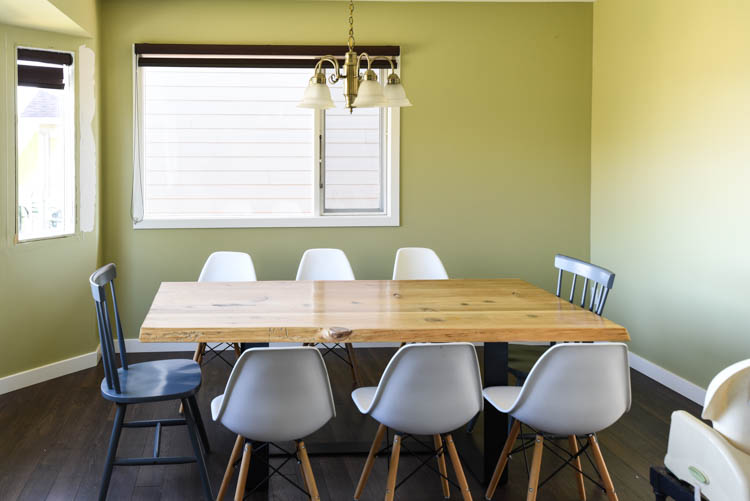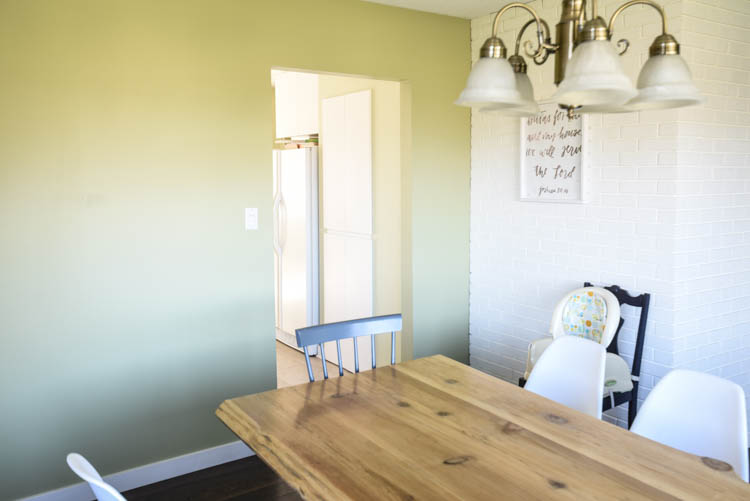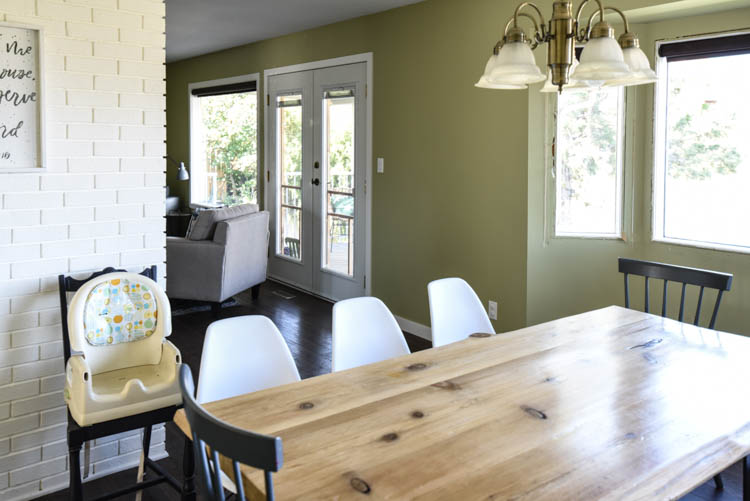 The dining room is changing too with the kitchen renovation (we've already pulled off the window trim for measuring before I snapped these shots). It's a good size dining room that fits our giant table- we're planning to keep it the same size, just move it! And notice how big the opening is to the living room here? That's going to be for the kitchen now and that makes me SO happy!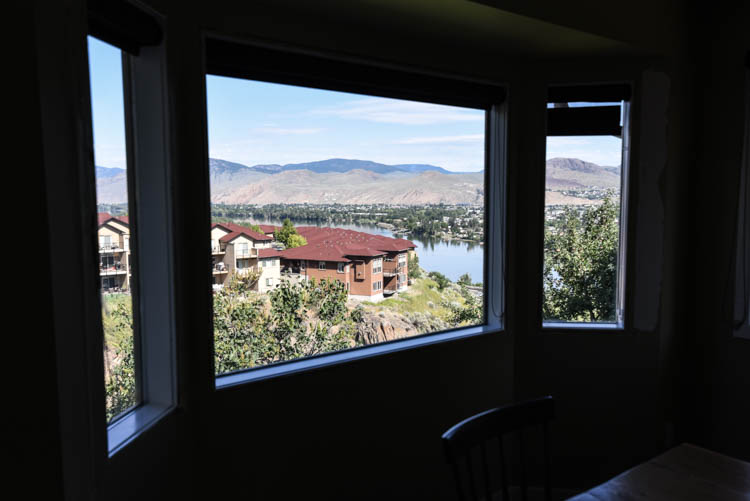 PS. Look at the view out the dining room (soon to be the kitchen) windows!… I'm loving it!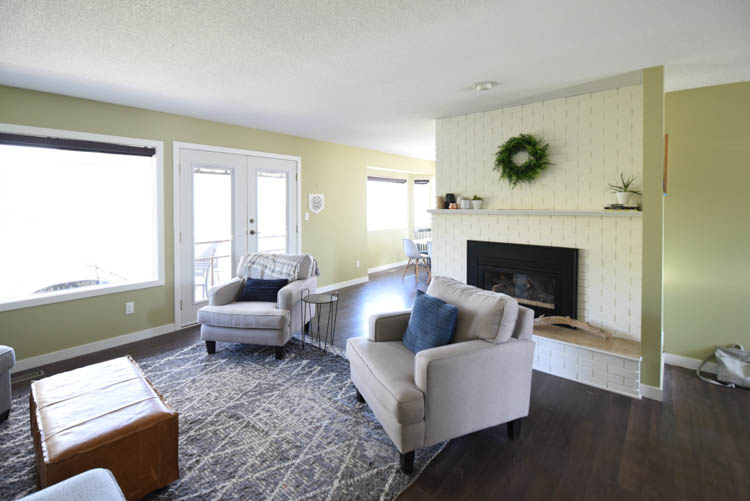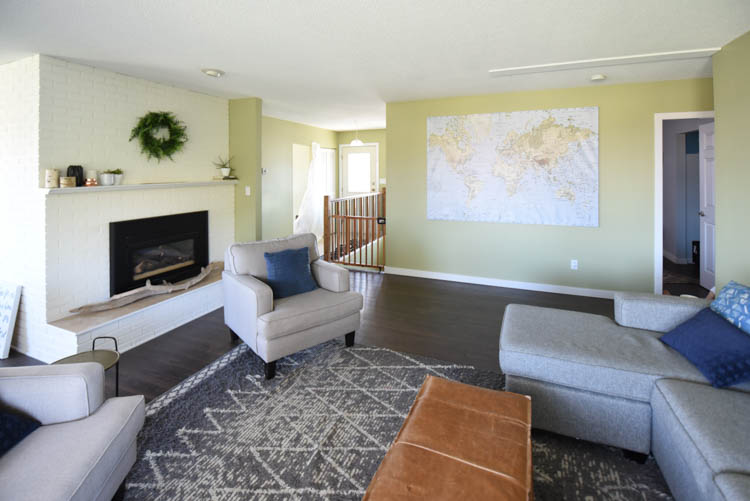 The other main space is the living room. It's a really great size- our living room furniture fits way better in here than in our last living room BUT it is a hub. So the fireplace is actually a walkway to the dining room (new kitchen) and to the deck. So you can't use that area. And the hallway is the other wall. And the window… well, you don't want to block the view! So the furniture arrangement is pretty limited I'm finding. I'm excited to play around with this space a bit once we're finished the kitchen (that's taking all of my creative energy right now!).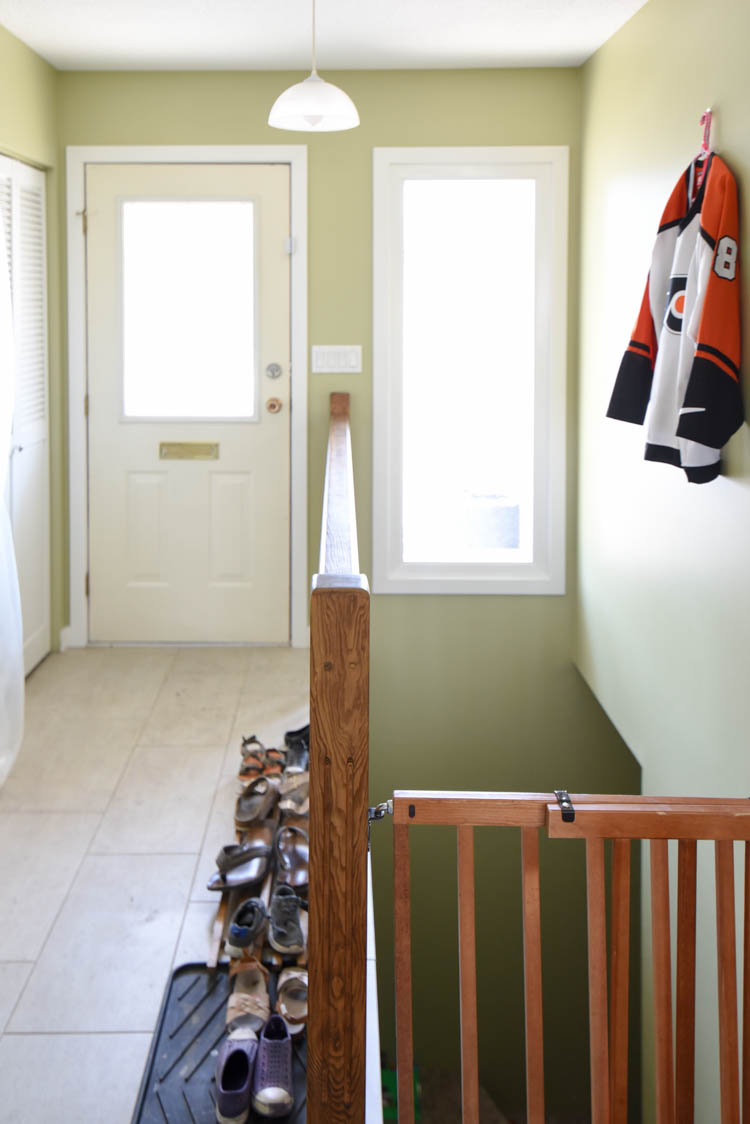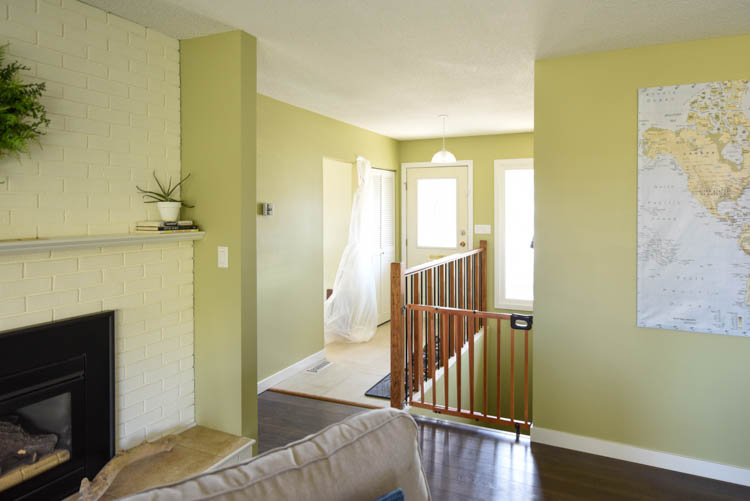 The entry way here is super cramped. Originally, I'd wanted to blow out that closet and open it up BUT I didn't realize that the entry is set back into the house and that would make you enter directly into the middle of your dining room. So we're keeping the closet (Shane is happy about this- we didn't have a coat closet in our last place!). We are making some changes to the space though, so I'm thinking it will make a big difference even without taking out the closet. We will have to wait and see!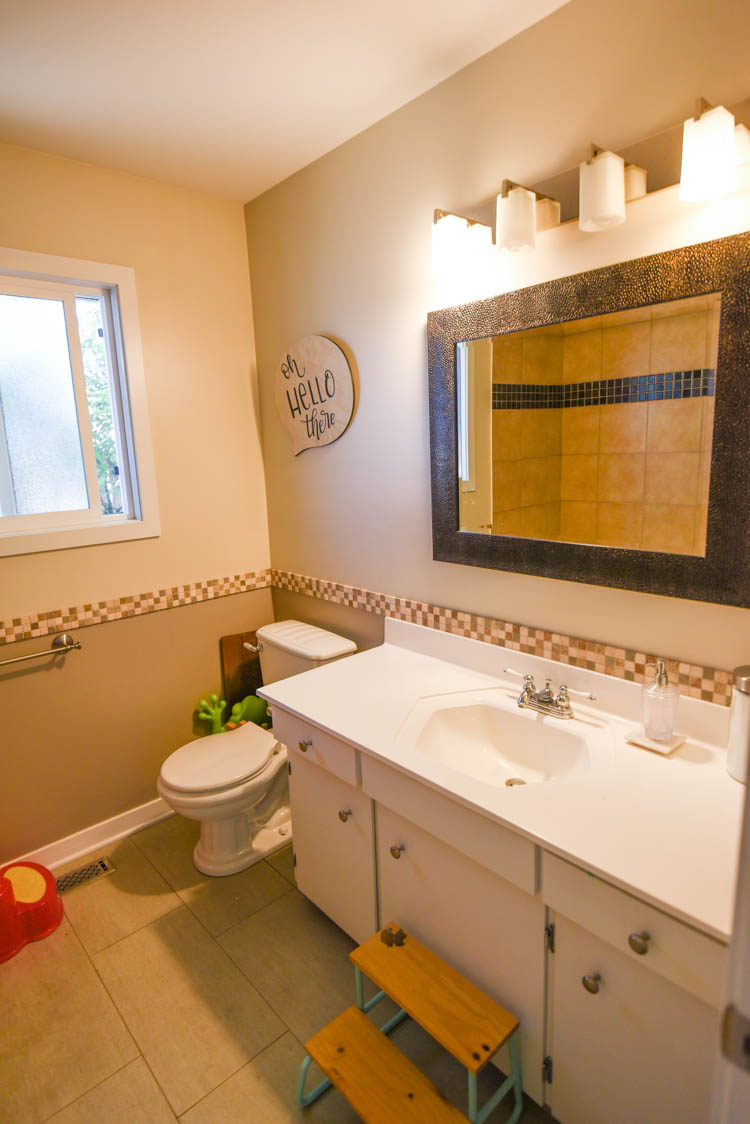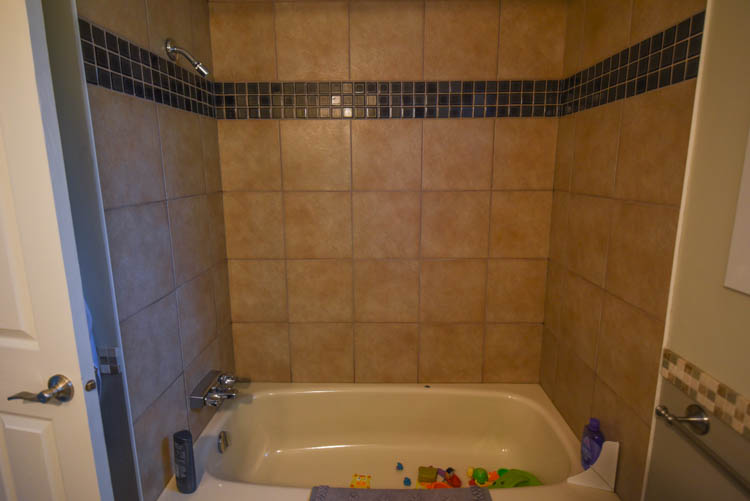 The thing we are most excited for with this move? OUR OWN BATHROOM! We are a family of 6 now and having only one bathroom shared between all of us was getting to be a frustration. The move gave us our own bedroom ensuite and then the kids share the main washroom. That's what this baby is. It's pretty spacious, but the bath tile leaks a bit. We are going to seal it up for now and plan to renovate that another year. There are other little things about this space I'm excited to get changed… like the built in hexagon sink and the toilet seat that won't stay on and the tap that is broken ceramic… but all in all, it's totally good for our family for now.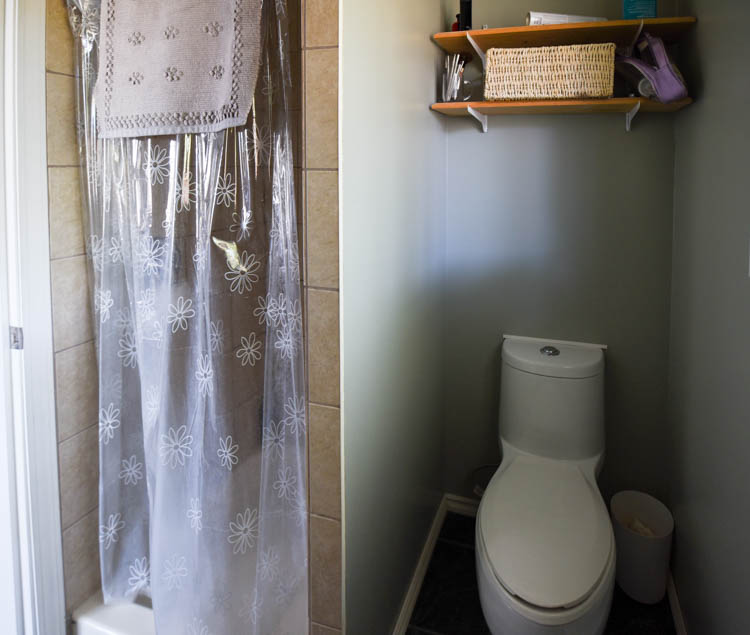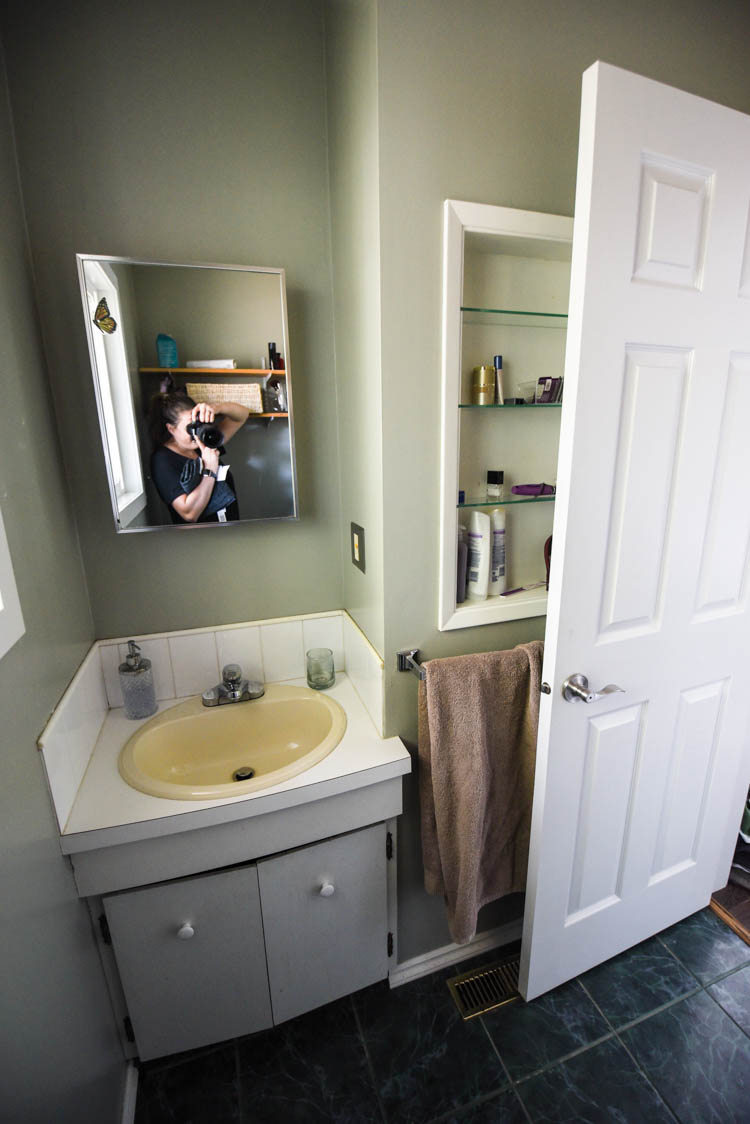 This is our bathroom ensuite and that wicked green tile I was telling you about. It's something else, right? I can't wait to take on this tiny space for a renovation. It feels so cramped right now, I'm dreaming of ways to make it feel more spacious without moving walls.  Like that toilet is set back IN to the wall because there's so little space. It definitely needs some work.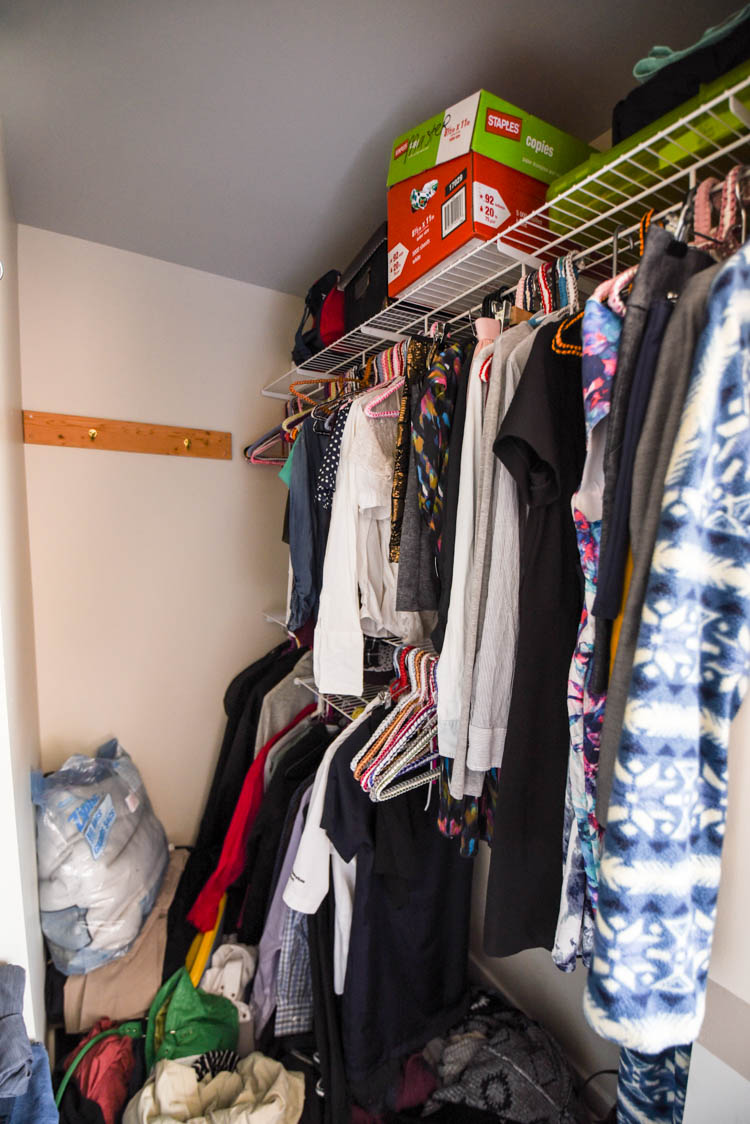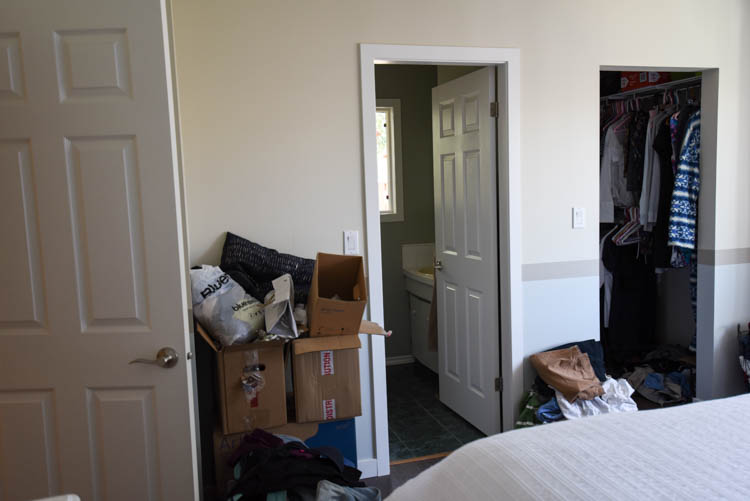 We also gained a walk in closet in this home and while we're SO excited about it, it's totally not functional. You see wire shelves and you think it's good, right? But it wasn't installed correctly and the shelves actually fall off the walls when you hang stuff on them. Which is why there's a ton of stuff on the floor. I gave up. And couldn't even shut the door because there isn't one. This is a project we're in the planning stages of- it just can't wait, it drives us so crazy!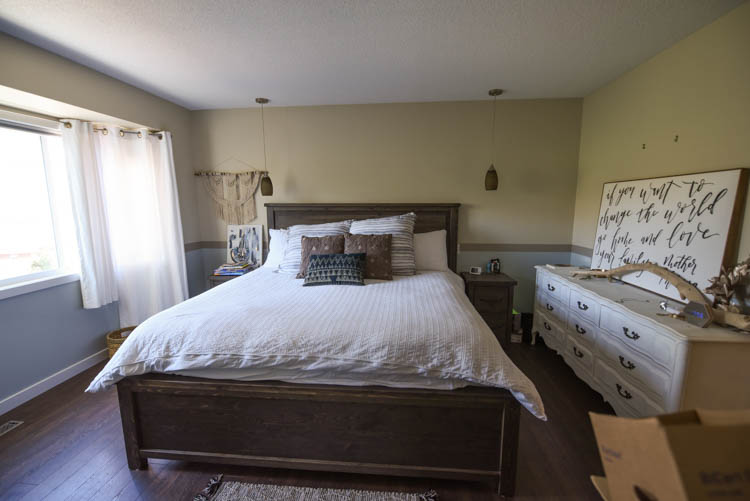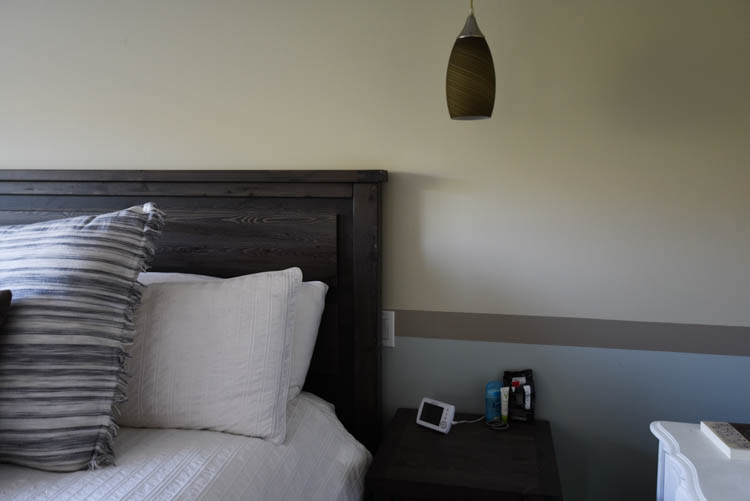 And then the master bedroom… so beachy, right? We are definitely painting this room out a bold colour (dark, just like our last room!). We also need to rewire those lights. They are an awesome idea and we're going to keep the same idea of lighting BUT they are not meant for a king bed. We've had to push the bed to one side to reach one of the light switches, but that makes them really off centre. We're going to have to widen them up to make them work for a king bed.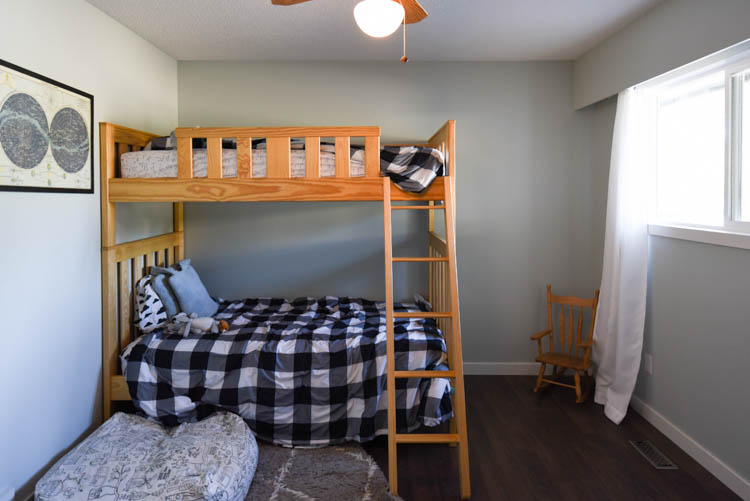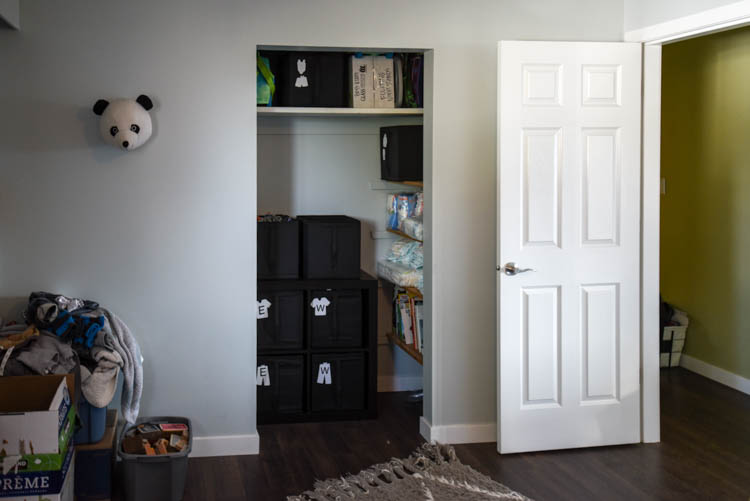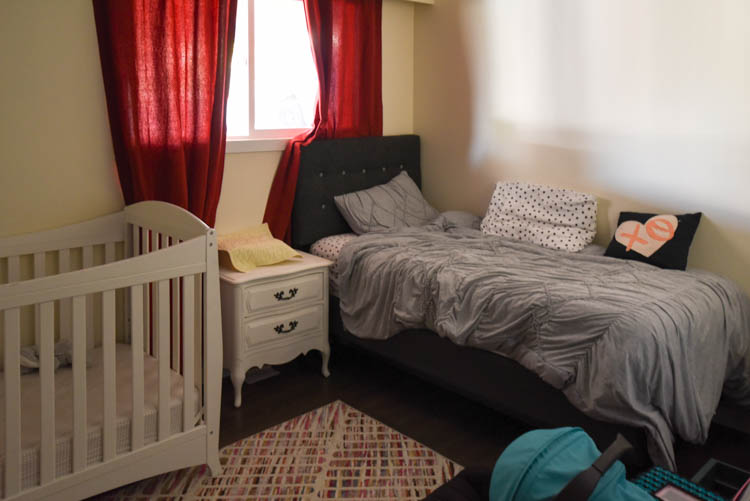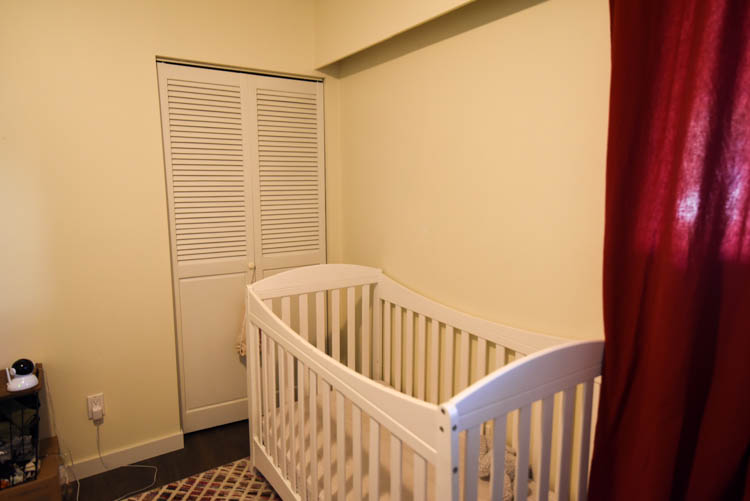 Kids rooms! They are a good size which is what sold us on the house. We were amazed at how many three bedroom (main floor) houses didn't have room in the bedrooms for ONE bunk bed (it fit in our last house– which was built in 1965!). There was a window or door on every wall that made it impossible to put a bunk bed in. We will eventually be moving Calder into the boys room once he's out of a crib, but for now Aubrey's the baby whisperer so she gets him in hers (instead of a nursery like we had at our last place). Since bedrooms are a smaller project compared to bathrooms or kitchens, I'm thinking of taking on one of these rooms for the fall One Room Challenge. Do you think I'm crazy to do that on the heels of a kitchen renovation?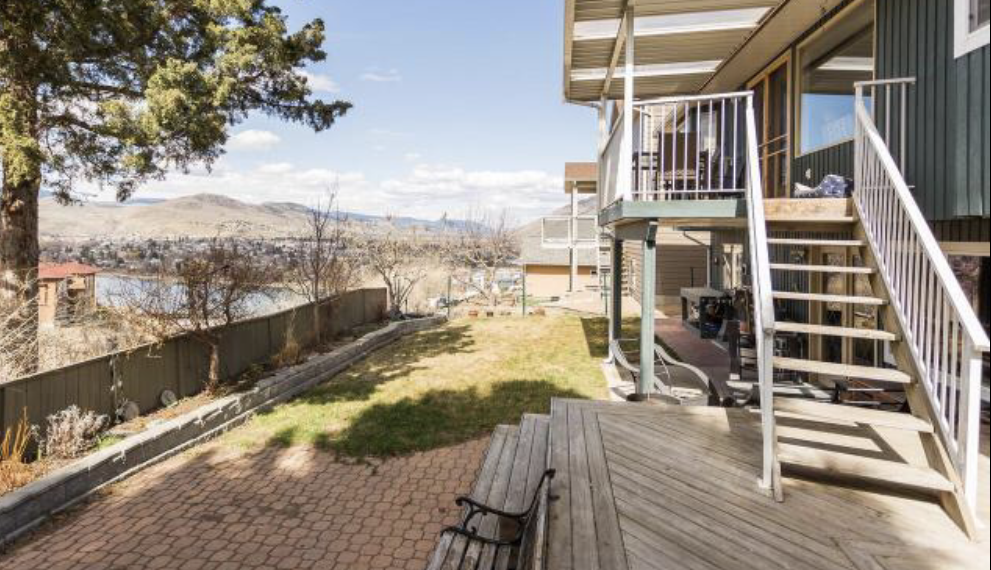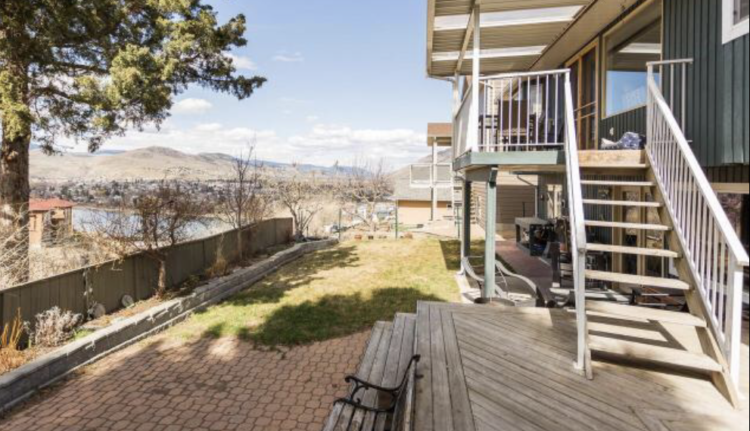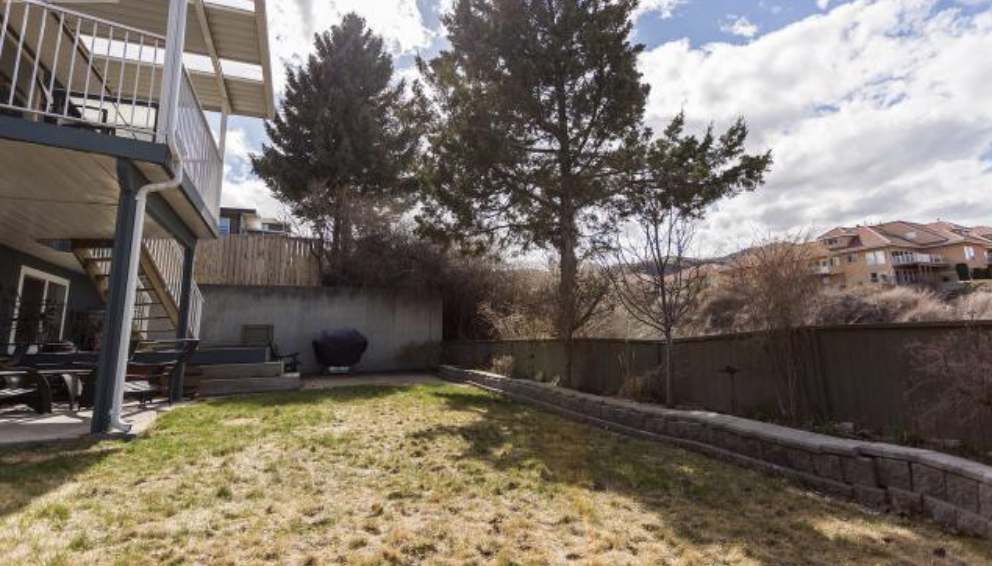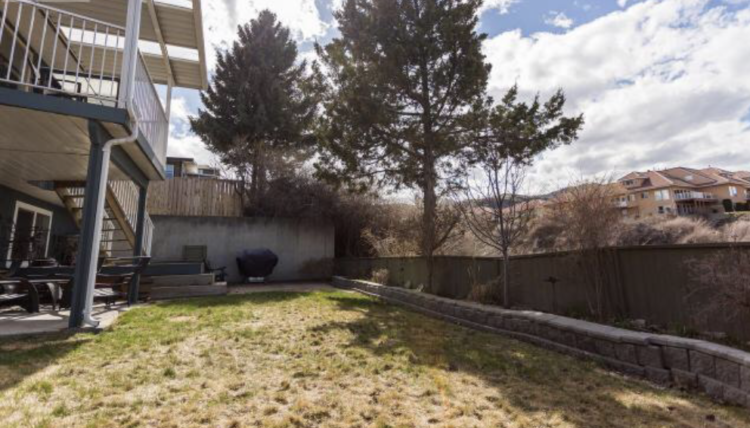 (these two photos are from the realty listing… the yard has NO shed and we had a 10×10 before. So all that stuff is stuffed into the yard in a heap… thank me for not sharing those photos). Right off the living room, we have this tiny little deck. It's got a beautiful view, but it's too small for either our outdoor sectional or our outdoor table. When we take on the exterior next year, we want to try to expand this a little bit more to make room for one of those.
The rest of the yard is much smaller than our last place– other then our amazing neighbours that we had to leave behind in the move, that giant yard was the other hard part to leave. I do like the brick pavers that are out here so I'm excited to take on a few small projects next year to make this space somewhere we love to hang out. And to make it somewhere we're not worried about the retaining wall coming down on. #homeownership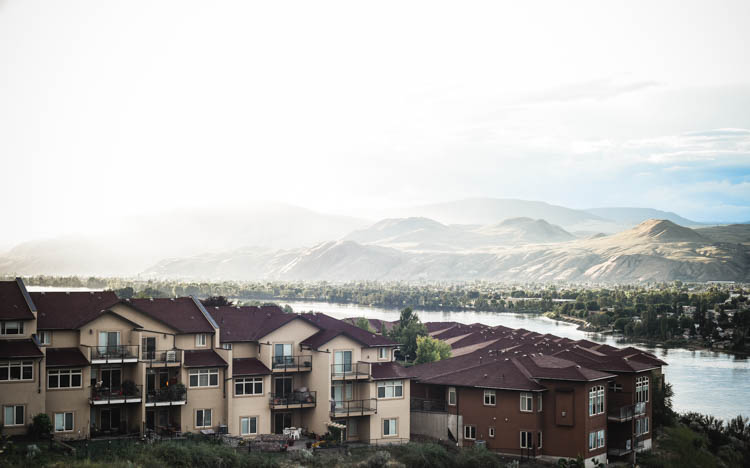 But the view is so great from that little deck. I shot this photo sitting on the deck at golden hour the first week we moved in. Recognize it from this month's tech wallpapers?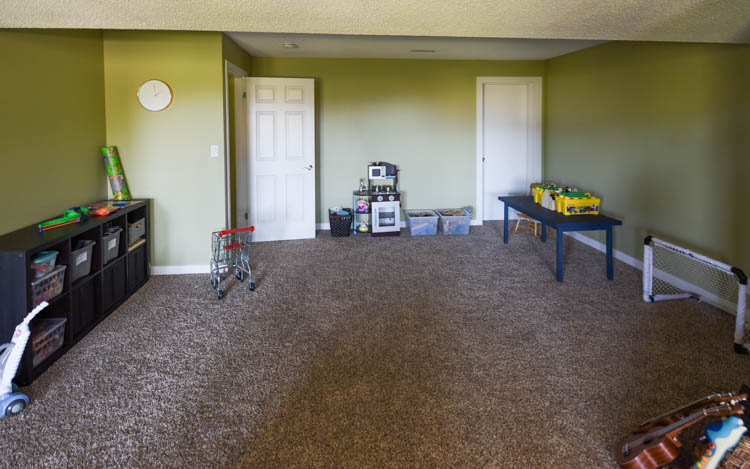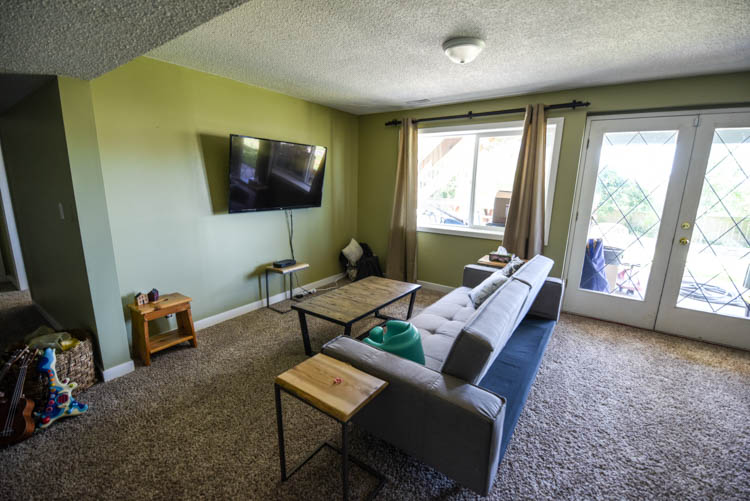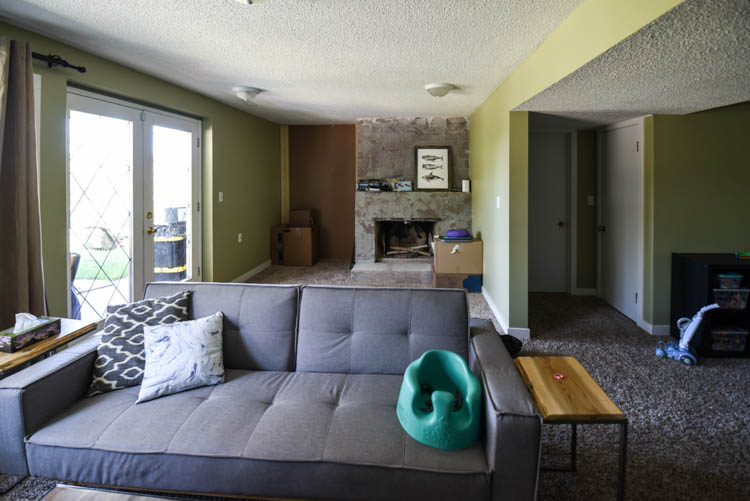 Back inside, we have a full basement that's got tons of space for us to make our own. Yes, it's all green too! This is the main section- it's a playroom/ TV room and where we will keep the only TV in the house. It's so much bigger than our last playroom/rec room but I need to get creative with storage since we lost our mega built in shelving unit. It also has a sketchy fireplace with a gas line capped in there. Emmitt has asked that we work on the 'scary mantle' before we work on other projects. Also… that's not a brown wall beside it, that's just hardboard tacked up over the opening to the storage room/workshop that will become my office. And lucky you, even though I didn't show you photos of our crap piled in the back yard, you got a sneak peek through those windows. ;)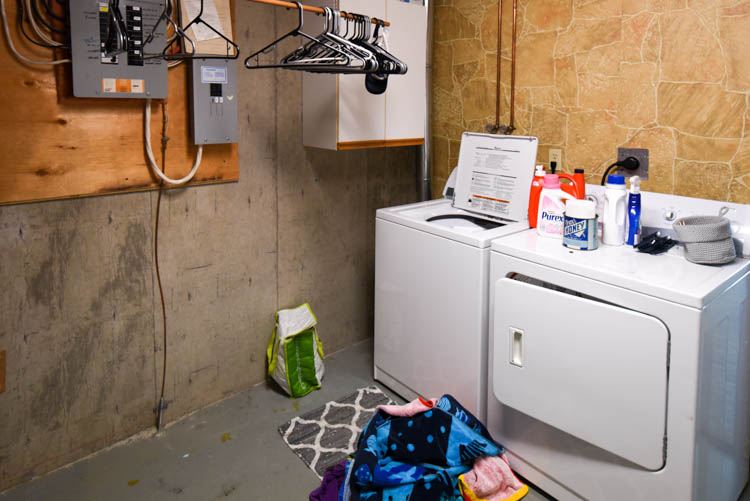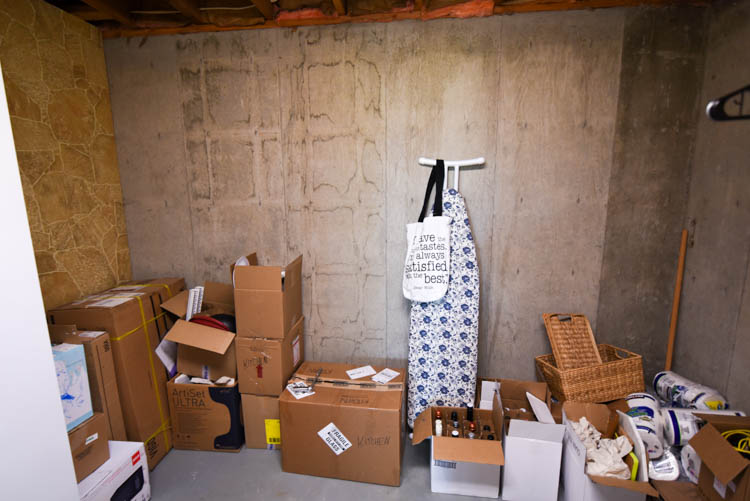 Also down here is the laundry room which is really a blank slate… unless you like that vinyl stone look ;) I'm excited to take on this space and make it both beautiful and functional. That was one of my favourite spaces to take on in the last house because we'd never had a laundry room before. On this one, I'm crossing my fingers that we can make a laundry sink fit in here. And I'm still loving the wood countertops we did in our last one, but Shane is pulling for laminate. What would you do?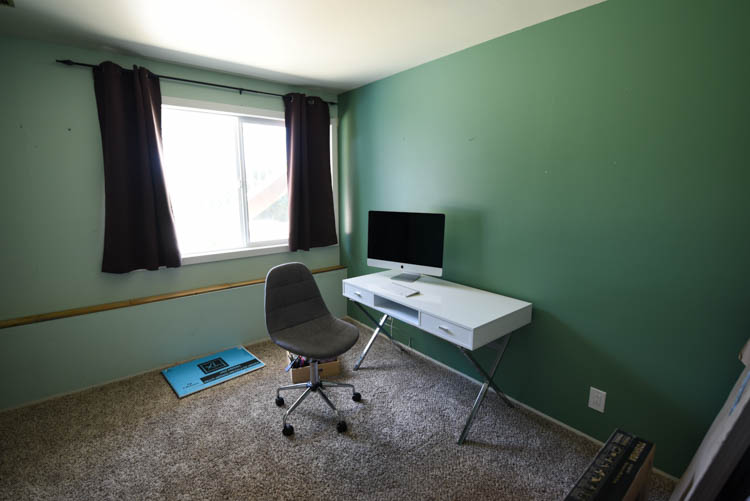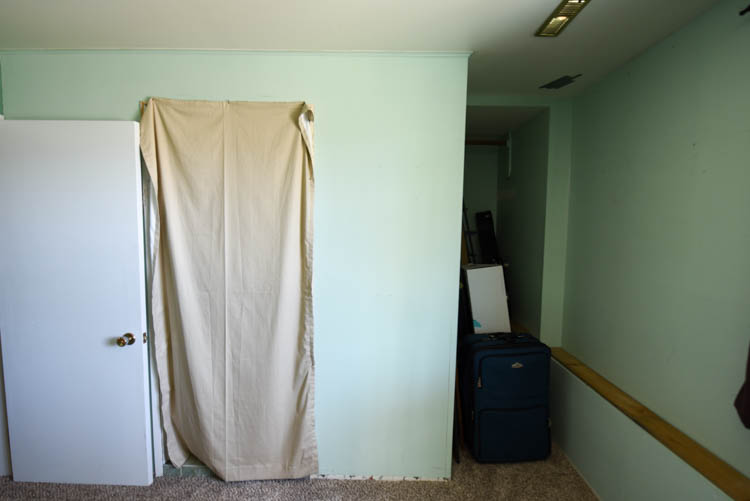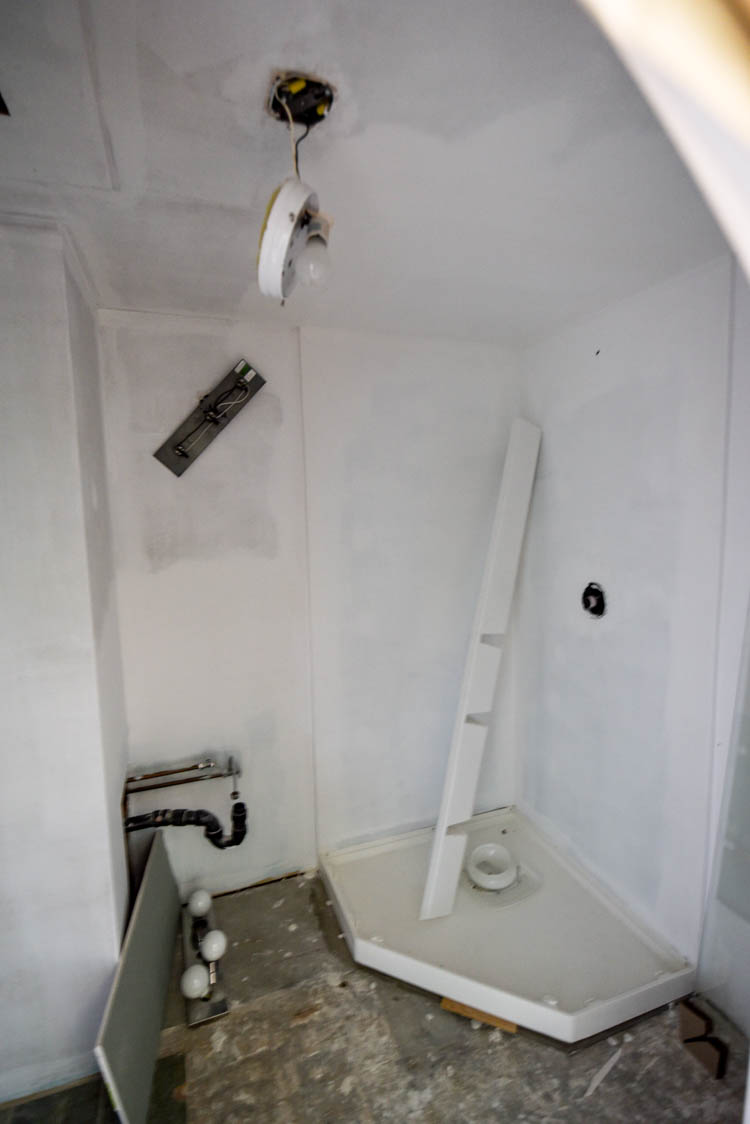 And our first ever guest bedroom… which has a roughed in ensuite! A THIRD bathroom once we finish it, you guys! That's what's hiding behind that curtained off hole. Which has more green tile. This room needs a lot of work- it has holes in the walls, no baseboard and different levels for the washroom. But it's going to allow us to have overnight guests more often so we're excited about that! We've never had a guest bedroom so it's a total upgrade. Also… it's a different colour than the entire rest of the house. But it's STILL GREEN. Someone must have loved the colour green. Would you believe it if I told you I'm planning on doing a green wall in here?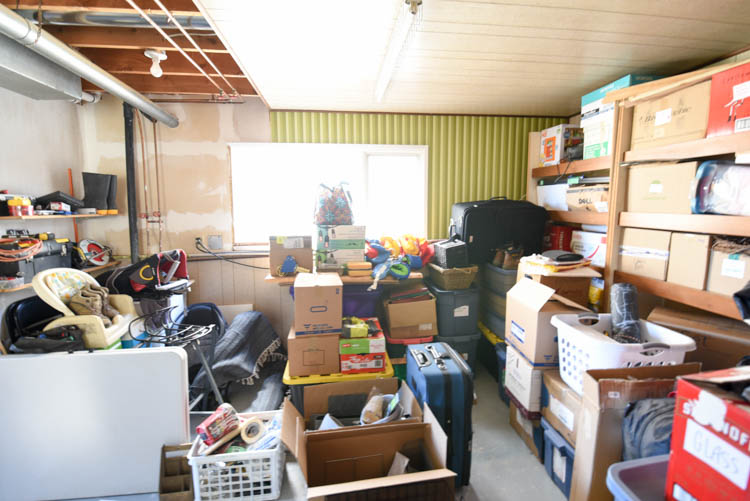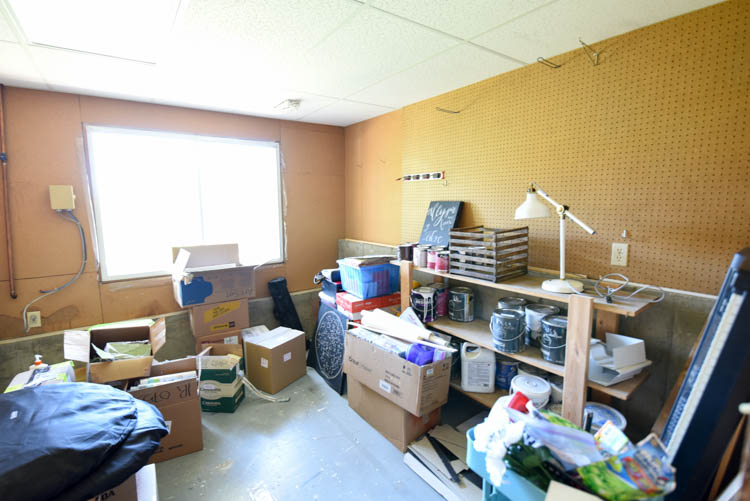 Last but not least is this space here (even the wallpaper remnants are green!). It looks like a storage room but it's going to be my office. My giant studio/office and it's going to be beautiful. One day ;) For now, I'm using the guest bedroom until we can free up some time to get started down here, but it's going to be so nice to have the space to keep on-the-go projects out without taking up our kitchen table.
I can't wait to share some of the design plans with you all and the reveals of course as they happen! Like I've mentioned, we've already started in on some work (we don't waste time, apparently!) and will have some progress updates for you shortly!
If you didn't catch the 'Before' photos of our old place… you can hop over and check them out here. For some reason, that is one of my most popular posts EVERY SINGLE MONTH. Why? I don't know! But I'm going to be doing a full before/ after post for the house when I have time to sit down and pull it together, so if that's your thang- keep your eyes out!