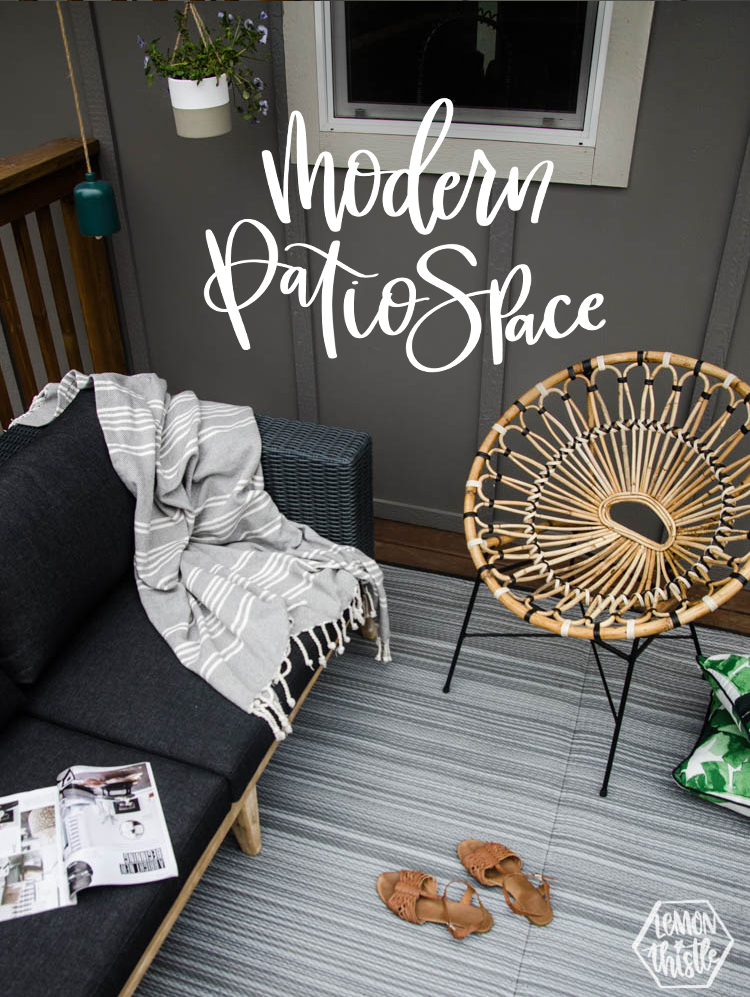 Guyyys! I'm so excited to share this space with you all! We recently partnered with Article to change up our outdoor space and I'm beyond in love with what it's transformed into. Even better, I can't wait to get these pieces into our new yard (did I mention we're moving in a couple months?!), they're totally inspiring what I want to make that new space into.
We've always had a patio table on our deck and I thought I was and would always be a table person. I loved being able to dine out there with the kids BUT Shane has always been team conversation set. The table we had out there was a DIY we made with DIY benches and I still love that thang but benches aren't for relaxing and even with chairs added at the ends for Shane and I- we weren't going to hang out long after dinner with friends drinking wine and visiting. Because… wooden benches. So when we started looking at changing things up from our DIY patio table, Shane lobbied hard for a sectional. And I caved. And you guys, I've never been so happy to lose an argument! Ha!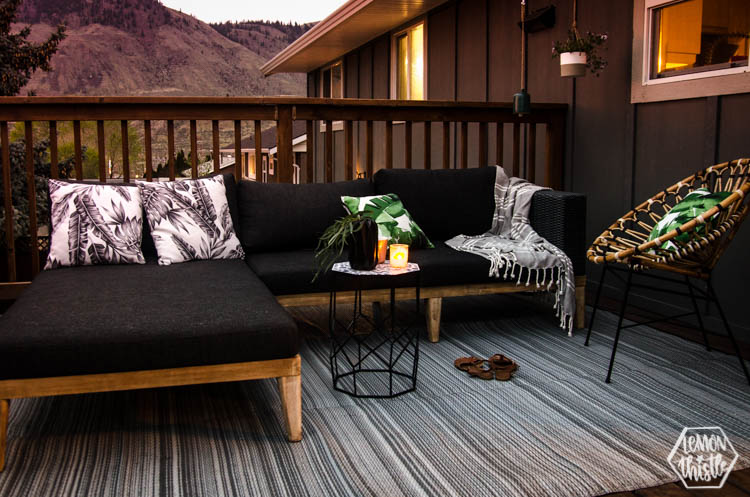 This space has become such a hang out space since the switch. It's somewhere I want to sit for hours now. We chose the Urba Slate Gray Sectional from Article and since that baby showed up, I've been lounging. I drink my coffee there, enjoy the warmer evenings here, lay baby Calder on the couch beside me while the kids play in the yard here. I have coffee with friends who lay their babies on the couch beside me. And that's seriously what it feels like. A couch. It's like real deal furniture but for the outdoors. Which is a huge difference from any outdoor pieces we've had before. I'm in love.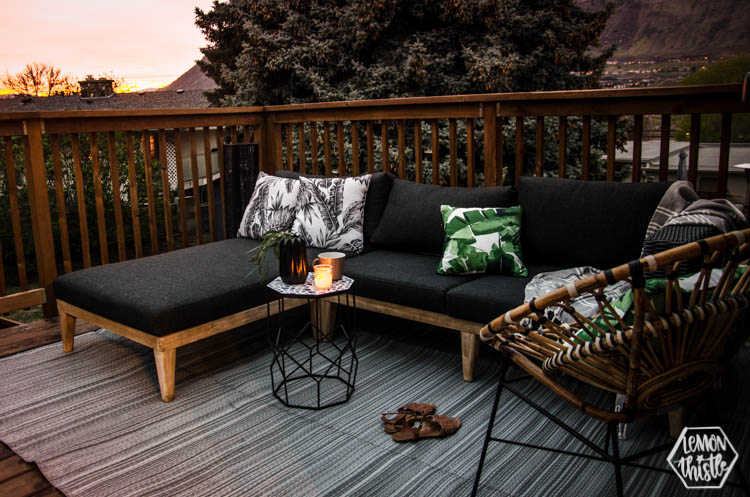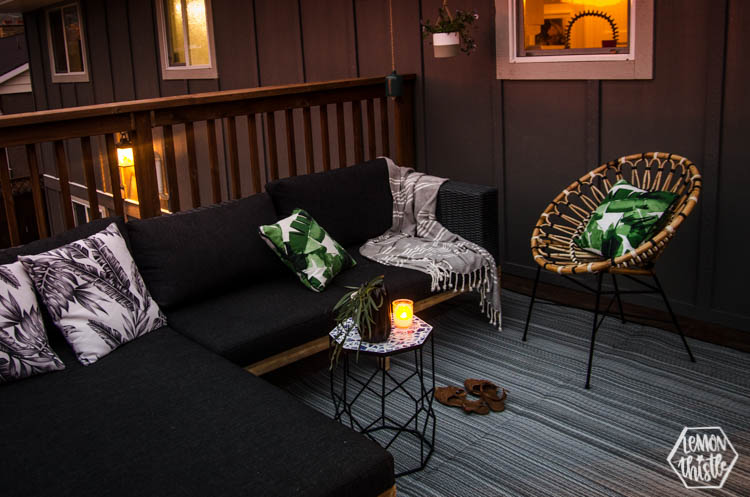 Plus it's totally beautiful. Those wooden legs? I mean, come on! They're so pretty. The low profile of the Urba Sectional looks so lovely and modern and the wood legs against the charcoal cushions is just such a nice contrast. It's like the design you love from your indoor furniture… but for outside. But I'll rest my case.
One thing I did want to to chat on…  I'm not sure about you, but until the last few years, I was a 'buy my furniture in person' type of person. But since we've started ordering online (because Pinterest) Article is one of those companies that I've been drooling over all. of. their. stuff. I am set on having one of their gorgeous leather couches one day because they are #goals. But as with anything online, it's hard to know exactly what you'll get. I am blown away with the quality for the price on these pieces, you guys. And can I just say that with every kid we get a little bit more in love with online shopping? Because I definitely don't feel excited to pack up all four of my crazies and bring them into a quiet furniture showroom where they can't touch anything.
As a side note- they have a rad sale going on right now through May 28 for Memorial Day! Like a suuuper big sale. You can check it out here!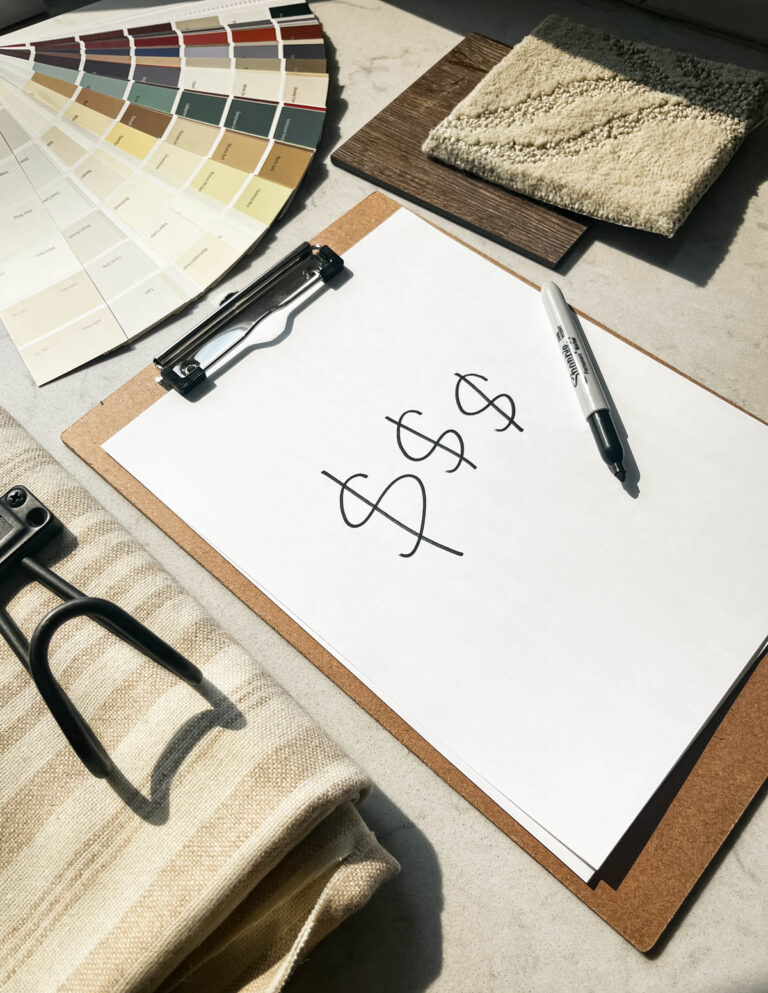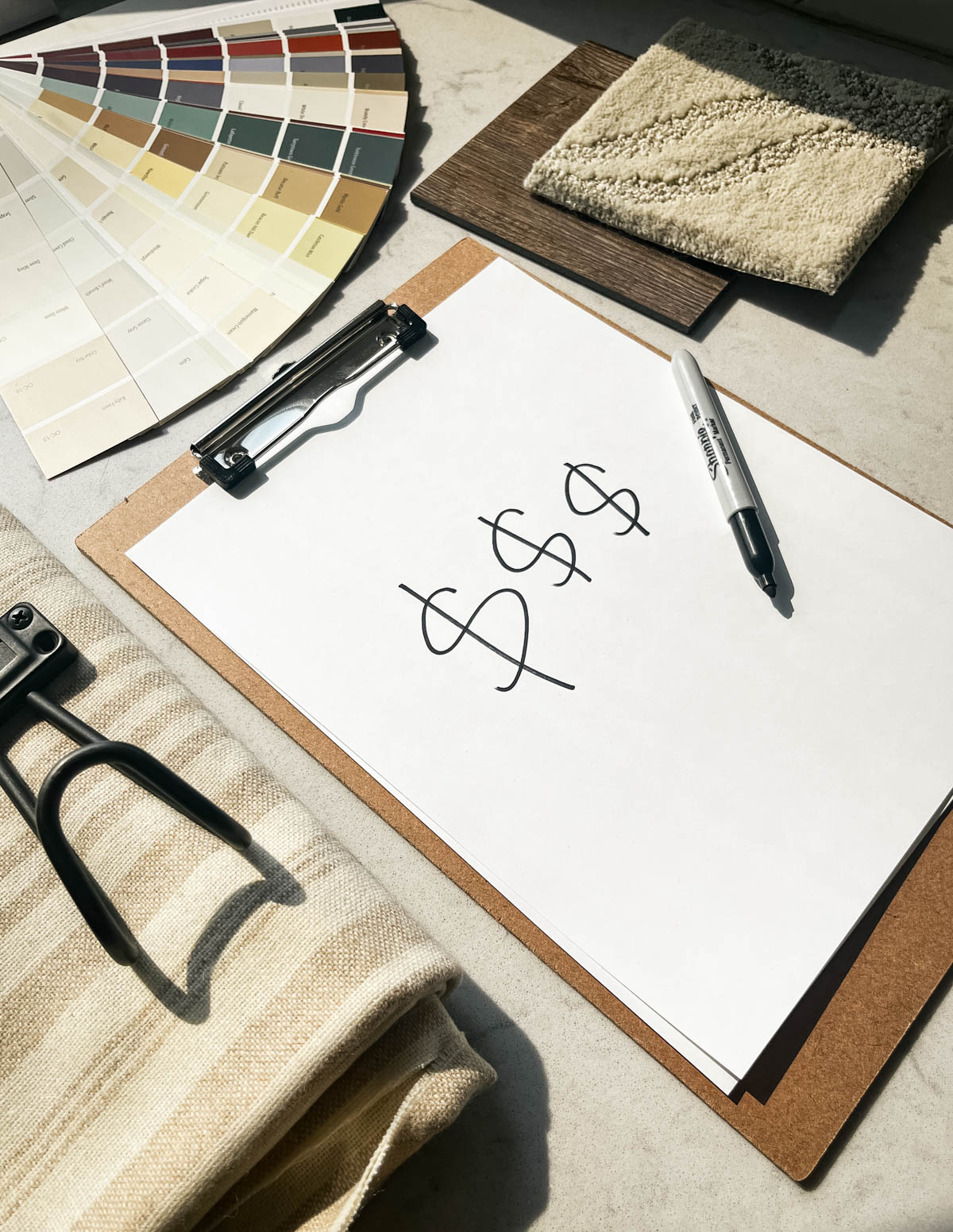 Make budgeting a part of your planning.
Check out all my tips for creating a DIY room makeover budget so you can focus on the DIY not on the dollars.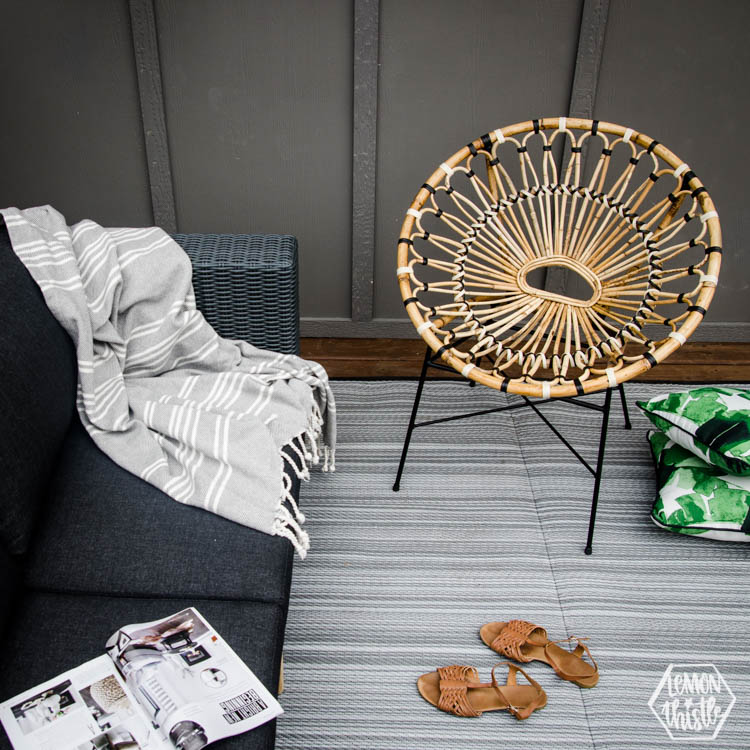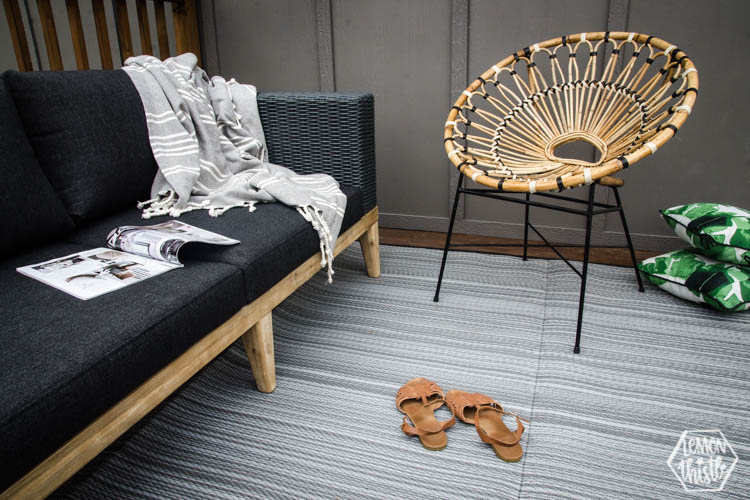 The other piece we chose is that rad Daisy Lounge Chair. My kids call it the fancy chair and say that it's like sitting in a big flower. That kind of makes me love the chair even more. I wanted to balance the large, dark sectional with something lighter to balance it and create a little conversation area. I thought this chair was so beautiful so went for it even though I was skeptical of the comfort. But it's totally surprised me! It's as comfy as it is beautiful. Which says a lot, don't you think?
I really love how the black legs and details modernize the classic wicker design and play off the darker sectional. They're the perfect pair for me!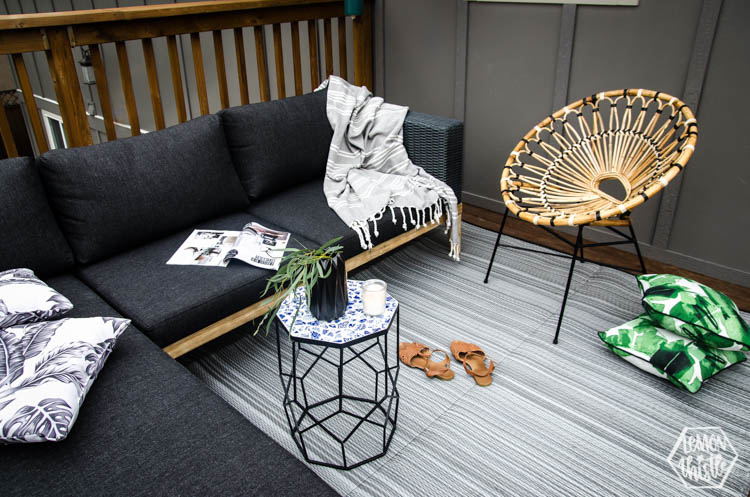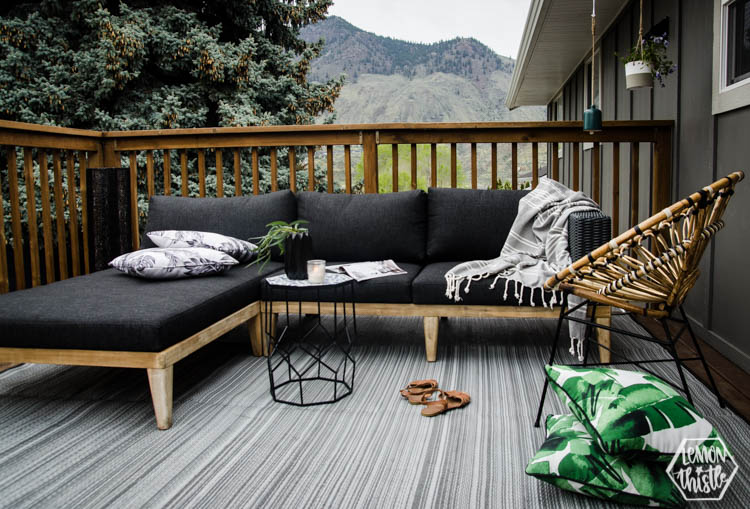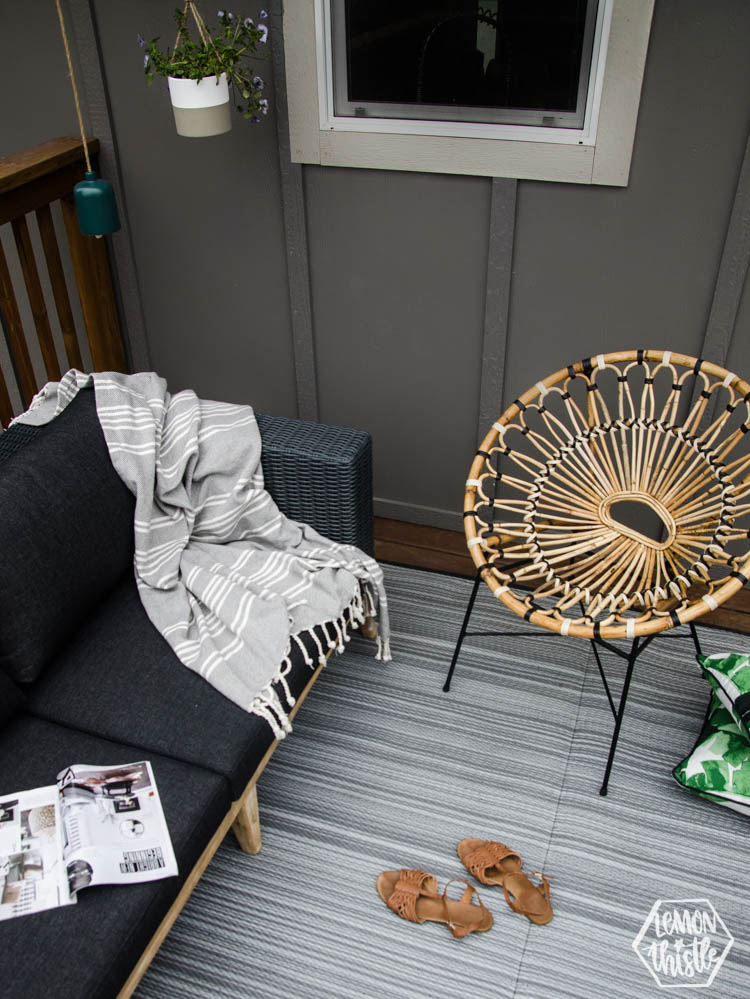 Alright, I will leave this post at that! I can't wait to move this little set up into our new backyard in a couple months- in the meantime? I'll just sit right here and ignore the packing craziness that's happening inside our home!