This DIY concrete wall cover brings a modern feel with some 1x2s and black paint to a patio space that was overshadowed by an old concrete retaining wall before.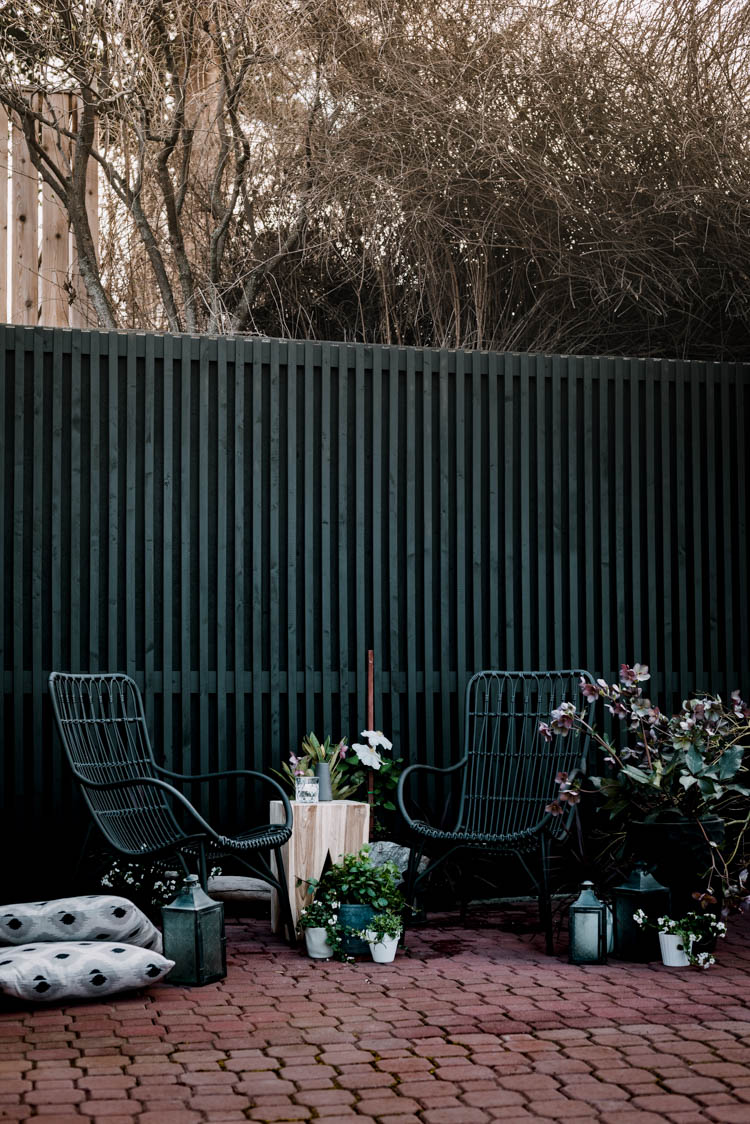 When we moved into this house, this backyard felt like a bit of a compromise compared to the last house. It is much smaller than our last back yard and the decks were pretty unusable for a family our size and then there was a giant concrete wall at one end of the yard- cracked and not at all pretty. We've been in the house for one year now and this upgrade on the patio wall has me starting to love our yard. If you've been following along on Instagram (or spotted the last photo in this post), you'll know that we're also rebuilding the decks so that they'll be totally usable and wonderful. Next summer, this is going to be such a great space (even with the smaller yard!) for our family.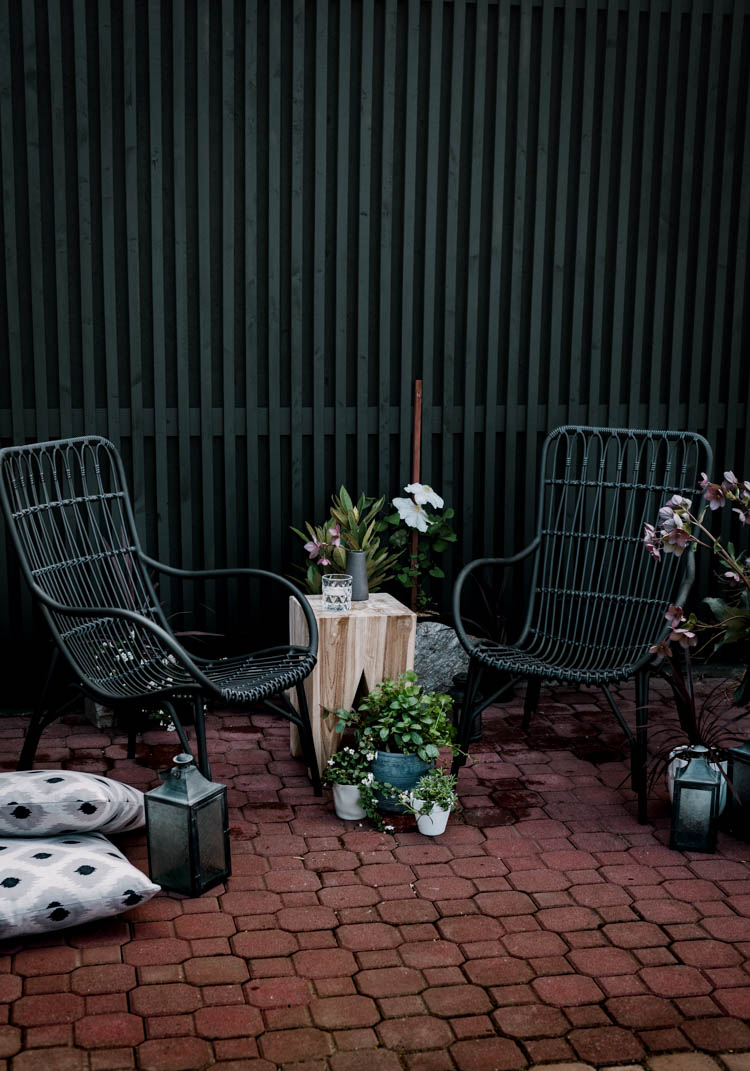 So I'm going to share not just what it looks like, but I've partnered with Home Depot Canada to share the DIY tutorial as well if you have a concrete wall you're looking to cover up at your home! And no… we didn't just glue the wood to the wall (the things people say! haha!).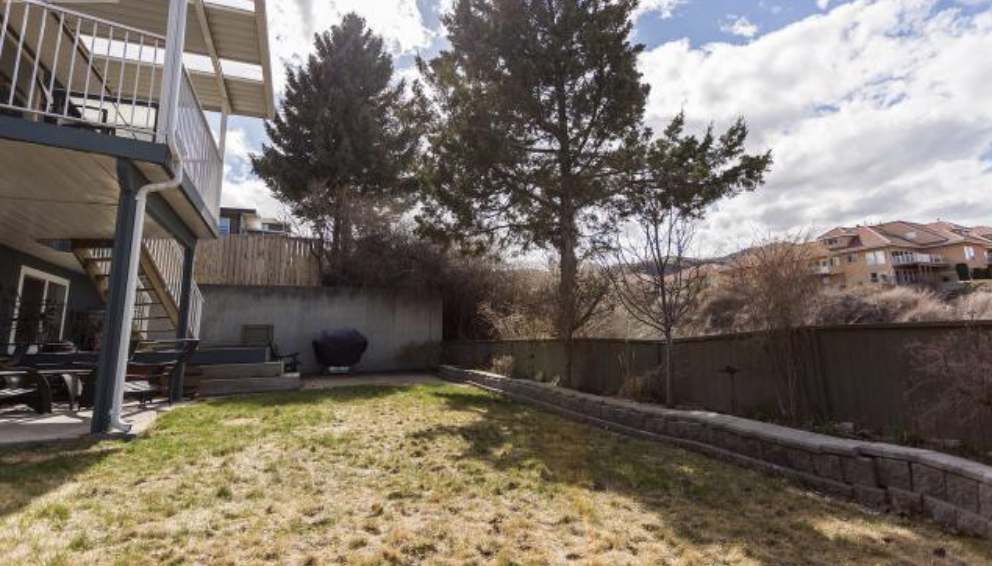 So our concrete retaining wall was leaning pretty badly due to poor drainage. When we bought the house last summer the inspector wasn't concerned about it in the immediate future but strongly suggested drilling drainage holes in the bottom of the wall. We rented a drill from Home Depot Canada to do this but for the remainder of the drilling into concrete, we just used our Ryobi Hammer Drill with a masonry bit.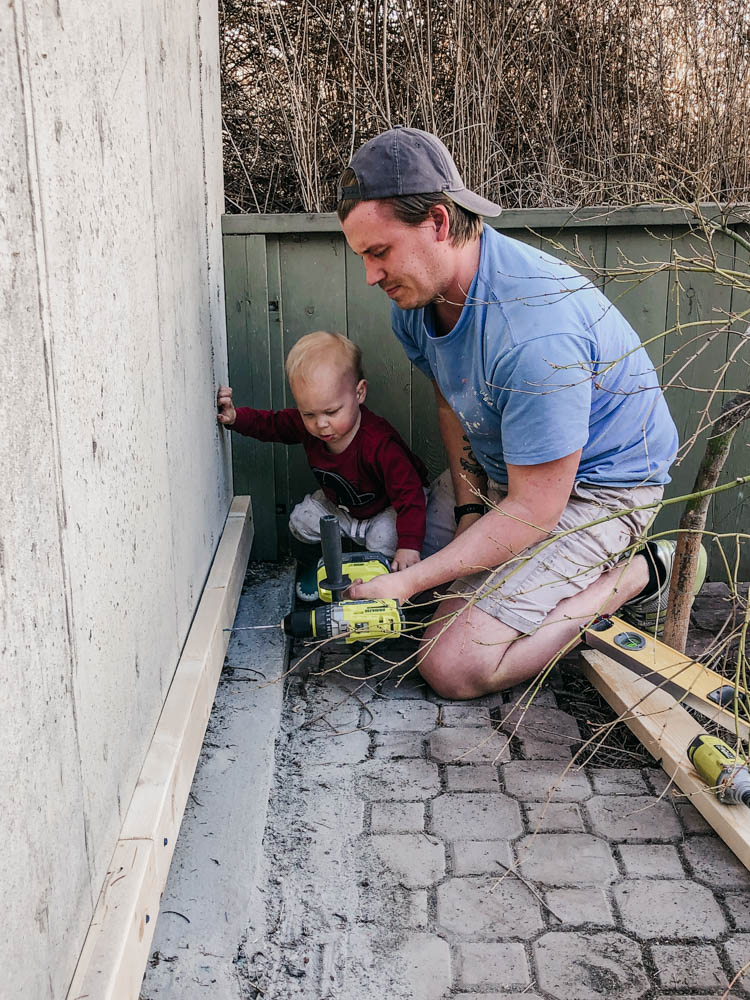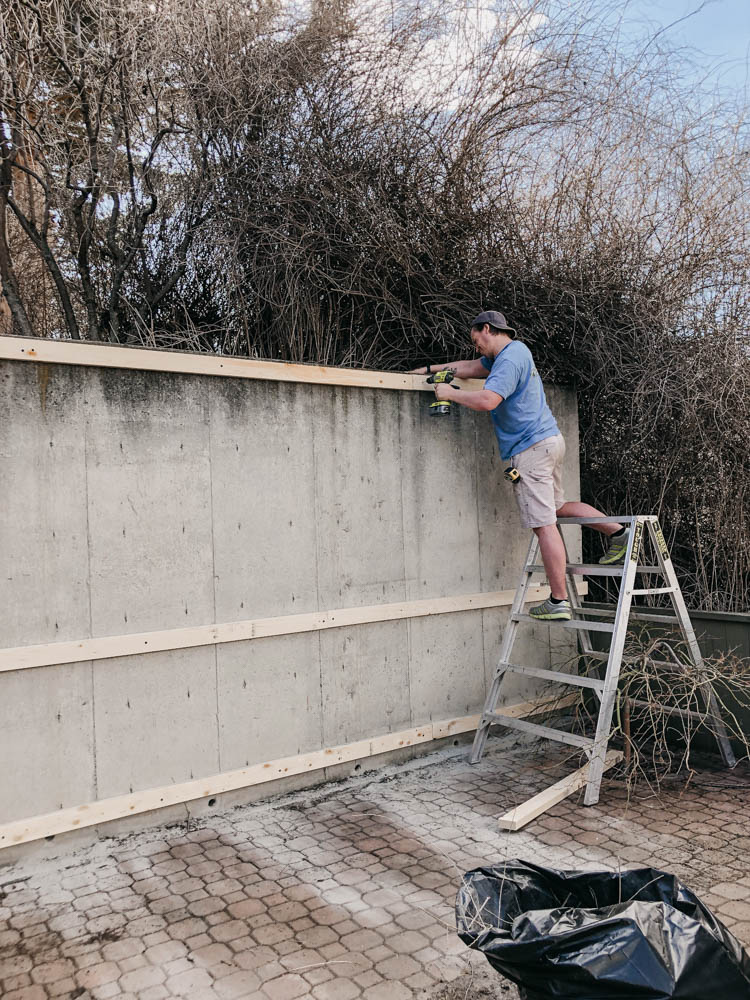 The first step was attaching 2x4s horizontally to the wall. We levelled these but in hindsight I'm not even sure that was necessary. We did three: one at the top, middle and bottom. To attach them to the wall, Drilled pilot holes in the 2x4s and marked the wall through those. We used a masonry bit on a hammer drill to make holes in the concrete. Choose your bit size based on your screws (suggested size on box)- we used concrete screws to then attach the 2x4s to the wall. I should mention that we did double check with a contractor that this wouldn't affect the integrity of the structure. We put the bottom board above our new drainage holes.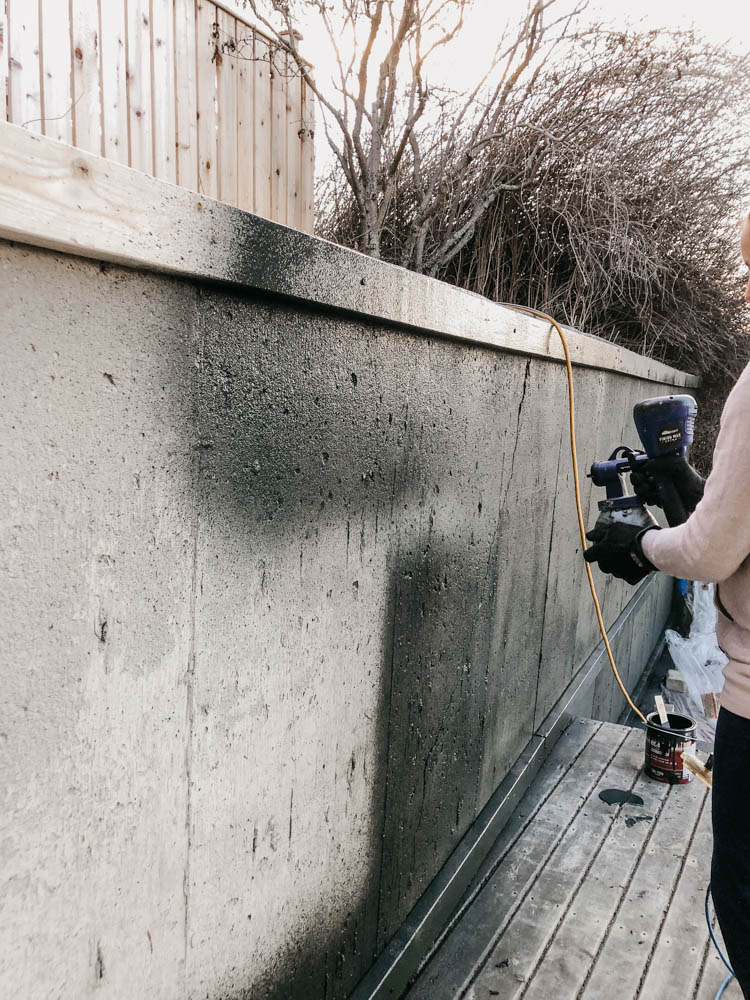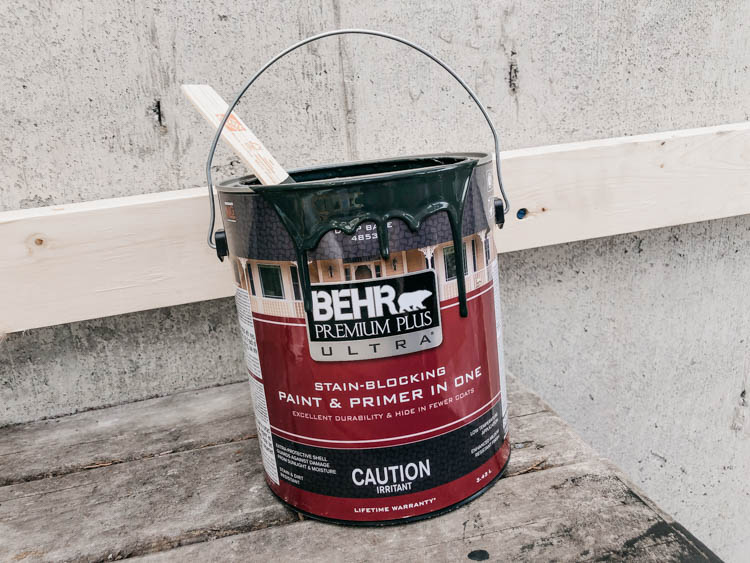 Once those three boards were up, we used our paint sprayer to paint the wall and supportive boards. We just did one quick coat to make sure the coverage through the slats wouldn't be an issue. The paint we used is Behr Stain Blocking Paint + Primer in one for exteriors. It was suggested to me to use this one paint for concrete and wood outside. The colour we used on the concrete wall cover is called Broadway and is the same black we used in our bedroom.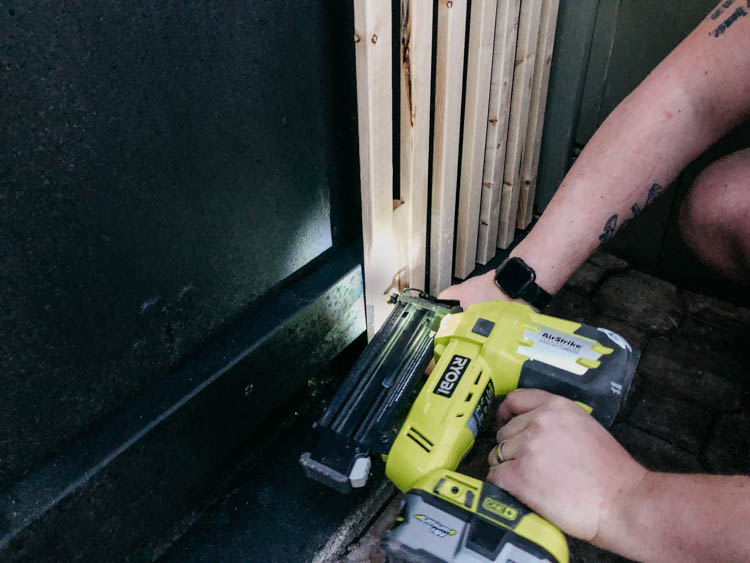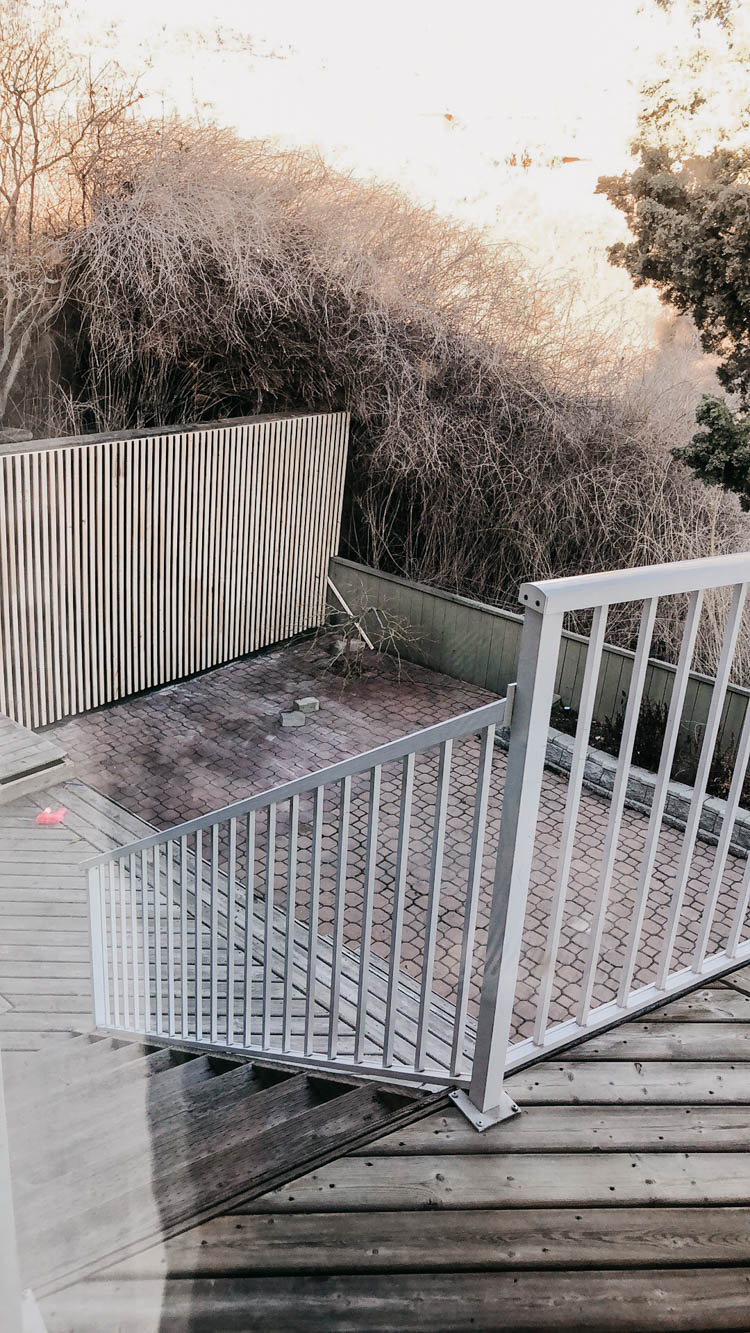 Once we had a coat on the wall, we started attaching our uprights. We used 1x2s cut to length on the chop saw. We measured and cut 5 or 6 then attached them before we measured again to attach more. We found the wall varied by a couple inches as it had settled over the years. We just attached these 1x2s using a brad nailer and 2 nails per 2×4 support. We spaced them out using a 1×2 to keep them level.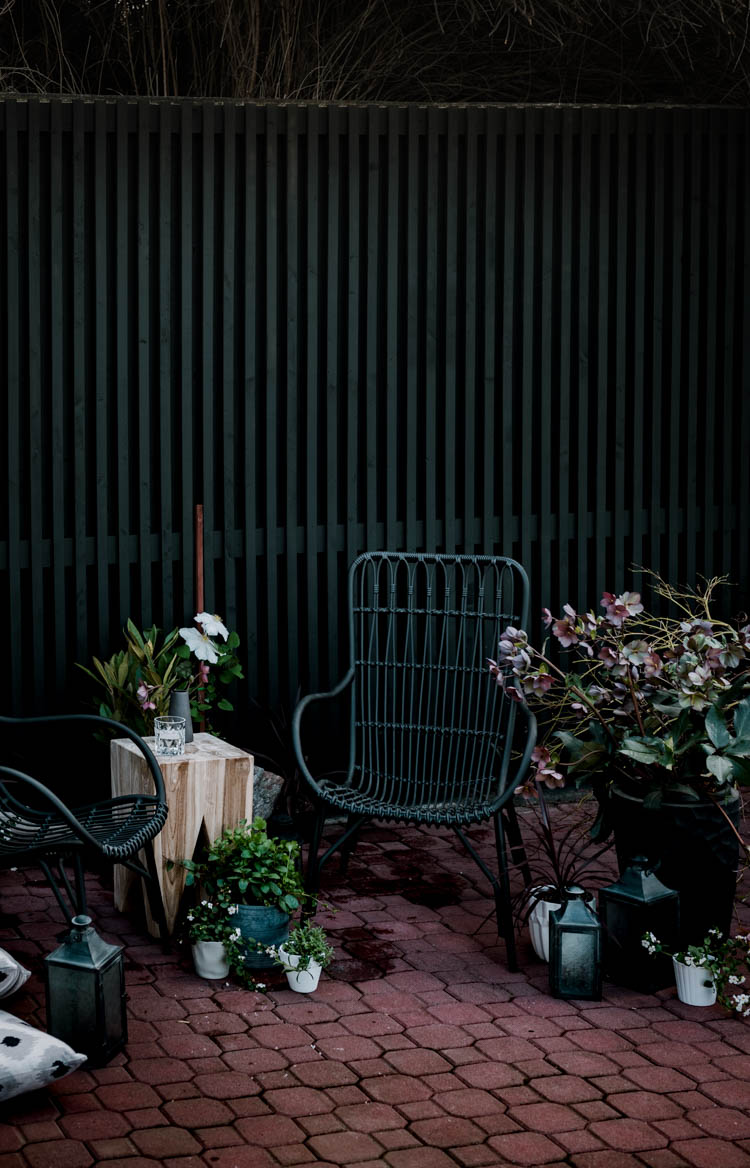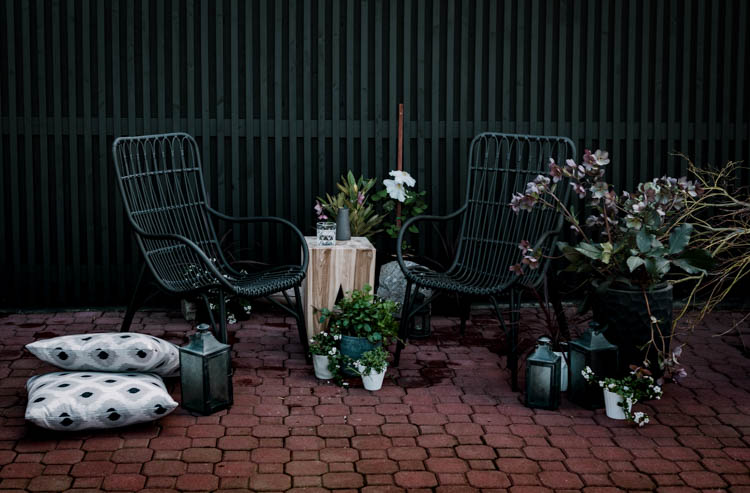 Once all the boards were on… we painted again! We did two coats using our paint sprayer to get a great coverage and to seal the wood…. and then it's DONE!
We are so darn happy with how this transformed our space, you guys. It's night and day how the space FEELS, really. And looks. But it's somewhere we love to hang out now thanks to this concrete wall cover- not an eyesore that happens to be the only sitting area in our back yard. You can tell how much I love it by how many times I've posted this space over on Instagram! Now I just want to add some string lights to the top of this wall and then we're set!
PSST! If you're wondering about the furniture in this post- find all about it here!
Big thank you again to Home Depot Canada for partnering on this project- it's a one day DIY that makes such a big impact!