We painted the french doors to our patio black and it totally changes the feel of this space! Sharing how we did it using our paint sprayer as well as the before and after (and in between).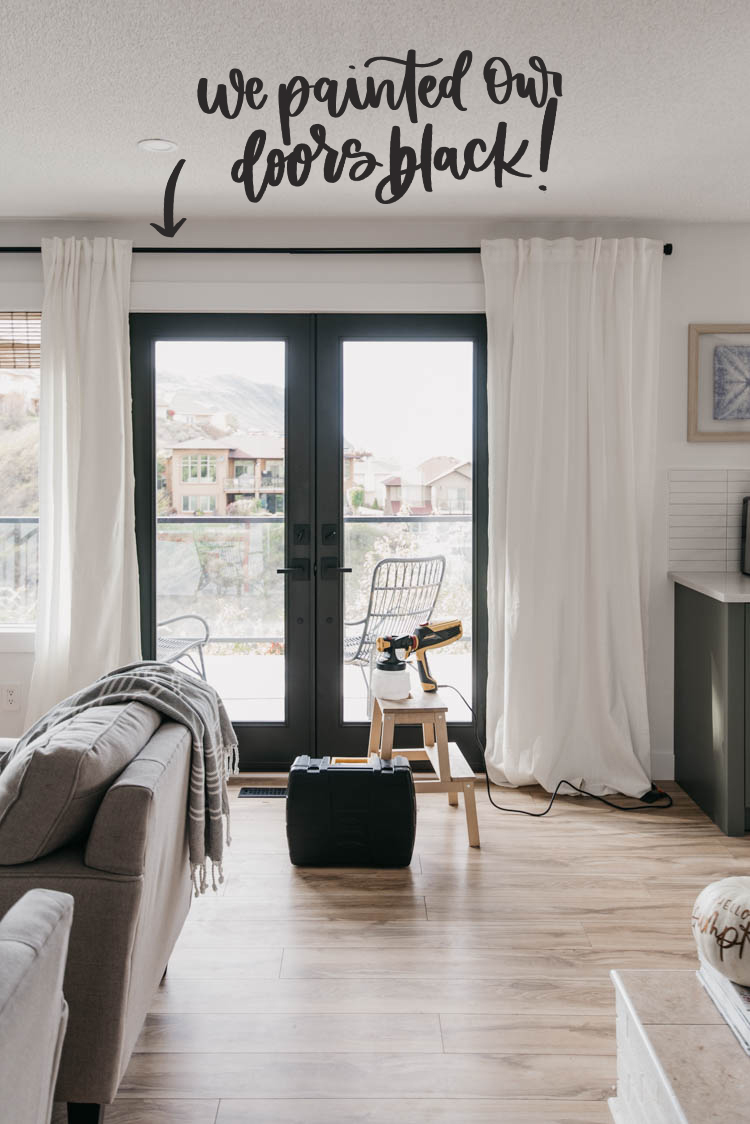 So we did a thing… we painted our patio french doors black! And I'm obsessed with it! When we moved into our house last summer, we painted over the green walls with a nice bright white. Then we ended up replacing all the floors after our kitchen flooring issue (see alllll about that here if you like, and the finished space here). We love how this looks but this one wall in our living room seemed 'empty' even though it was full of a window and door. I added curtains over the window but it still felt so plain.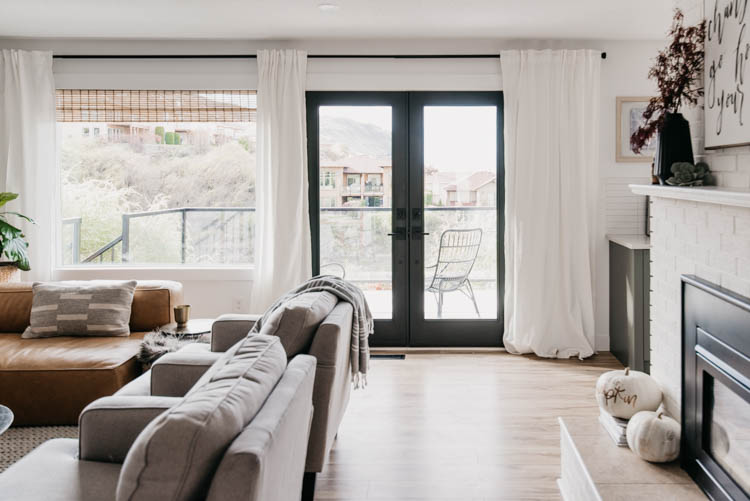 So today I'm excited to share the transformation (before, in between, and now!) in partnership with Wagner Spray Tech. I've made a video of the process, but will also share some photos here in the post! This is one step closer to having our living room 'made over'. This room has been seeing small changes all year and I can't wait to wrap up my office remodel so I can start painting that fireplace to get this 'makeover' complete! You can see what I'd dreamed for the space back in this post here and I think we're getting pretty darn close to it!
Okay… let's take a trip down memory lane, shall we?! Here's what the house looked like after we moved, painted, and laid new flooring (and finished our kitchen!)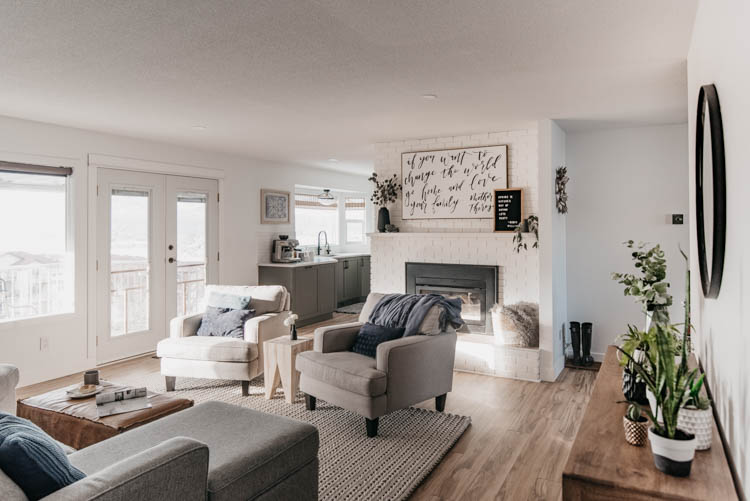 After we stained our front door interior black, I decided that the patio door had to be black too. We were replacing our patio door (we will reuse the other one downstairs) for one with a bit more glass so we decided to give it a paint before we installed.
The colour we chose is called Broadway from Behr and if that name sounds familiar and you read my posts often, it's probably because it's the same black we used in our bedroom and on our patio wall outside. We love this colour. A lot. We got a new tin because doors call for a satin finish (or semi-gloss) and we'd been using flat paint in the other spaces.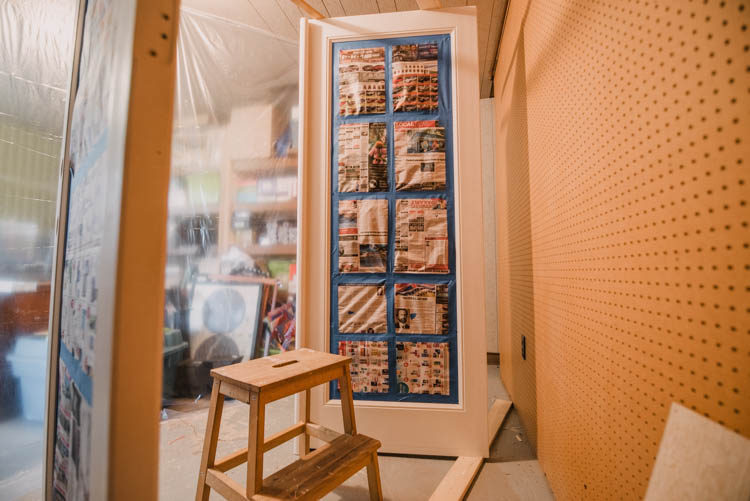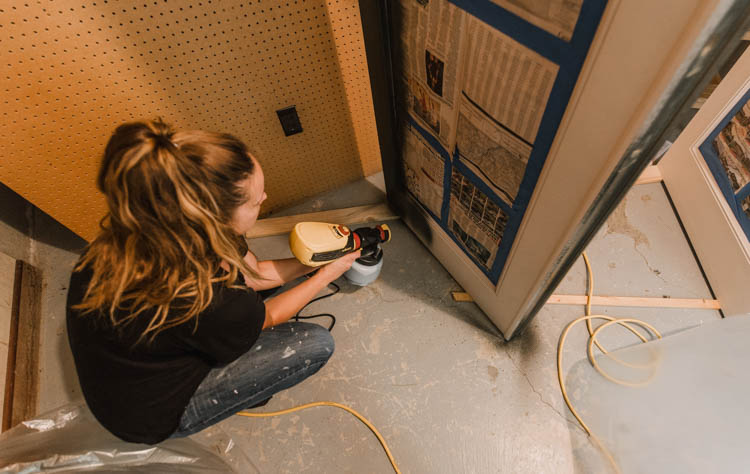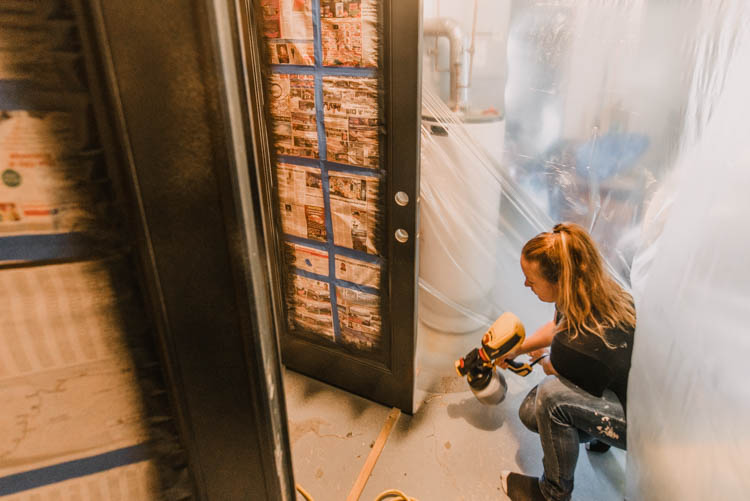 We really wanted a beautiful finish on this door- it was new and I didn't want to be painting over a poor finish for the rest of our lives. I partnered with Wagner Spray Tech on this post and you guys- I'm so in love with this new sprayer! I've used paint sprayers before but always struggled to find the perfect spray pattern for thicker paints, but this one handles it perfectly. It's the FLEXiO 3000 and my favourite thing about it is that it's easier to clean than my other sprayers have been. The gun part with the motor doesn't even touch paint and disconnects from the parts that do- so you don't have to haul that and the cord to the sink and worry about getting any parts wet.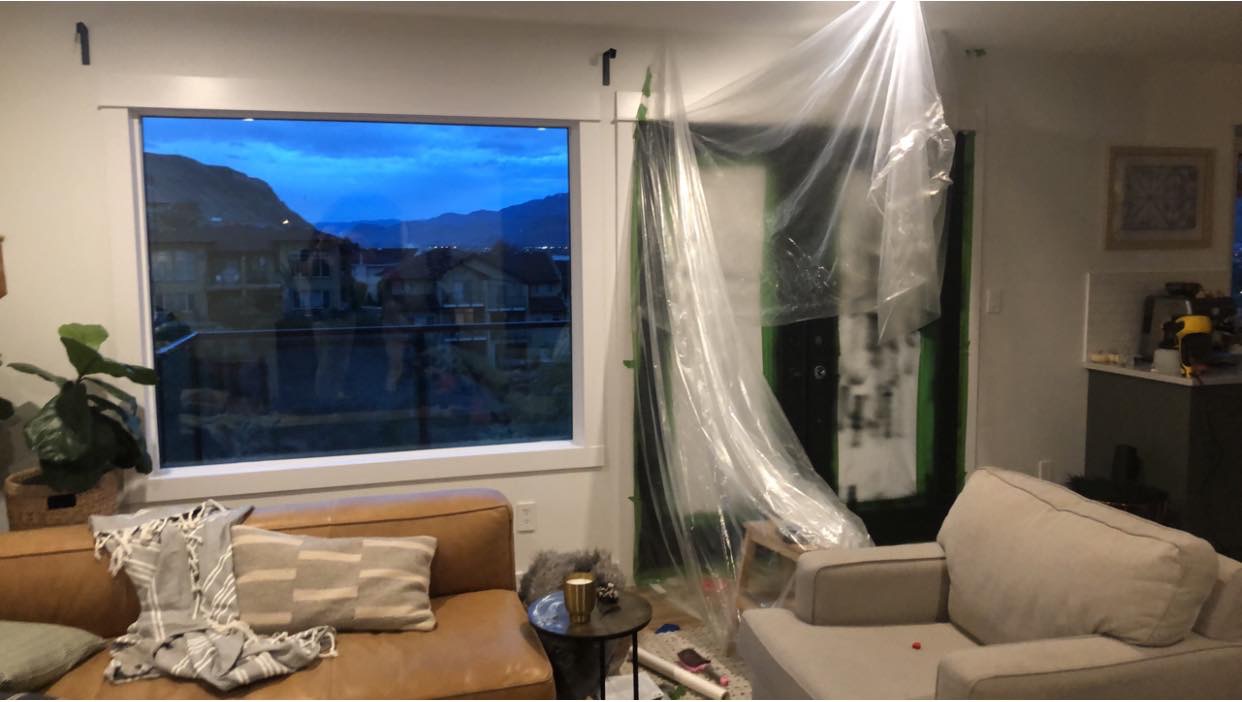 So I'd mentioned we decided to spray it before we installed it. This was great in theory. We sprayed it in our basement where the floor and walls could get paint on them so we only masked off our furnace and storage items. We got a beautiful finish (we also masked the windows!) BUT then we installed it… and totally scuffed the paint a bit! Ha! We live and learn. After install, I masked off the living room and painted one more coat to touch it up and now it's beautiful and perfect.
I'm really proud of this because I've been avoiding using a sprayer in our home since we got a sprayer. I've only sprayed things outside because I've been so afraid of getting paint everywhere. But the masking worked perfectly and now I want to spray everything (like my fire place!) because it's so much quicker than rolling or brushing. The photo here is after I took down half of the spray tent- and also features my kids mess… but I wanted to show you! Their video says it's 10x quicker and I don't doubt that at all. To speed up clean up even more, I used their sprayer cup liners.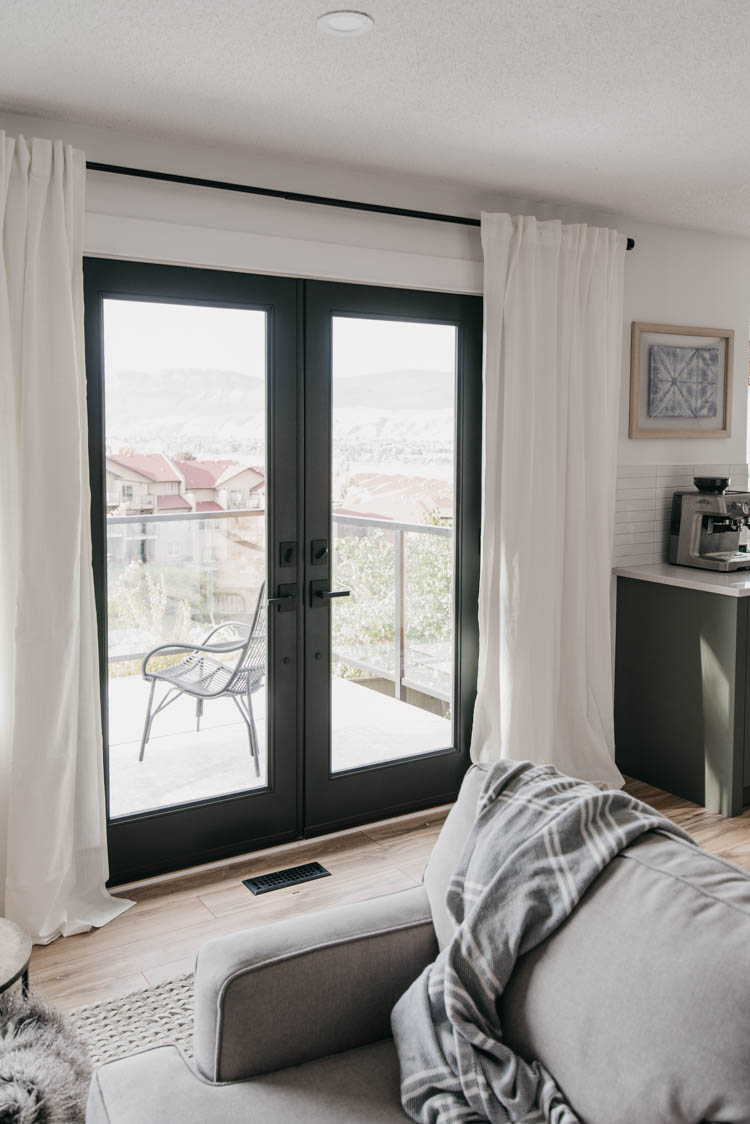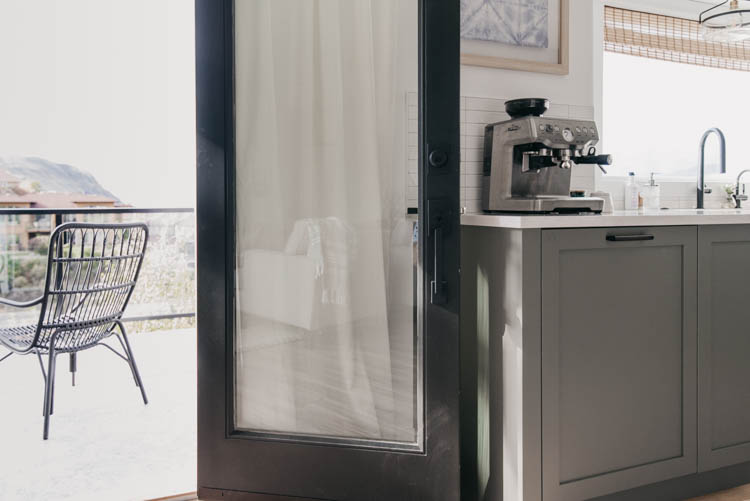 Okay so other than painting the door- we also got new hardware (can you see where we goofed here? The door is actually at the shop right now getting it fixed- ha!) for the door in a beautiful matte black. This hardware matches the rest of our house and our front door. We also installed an extra long curtain rod to add texture to the whole wall (and allow us to close curtains for privacy should we ever choose) and then I made a faux wood shade for the living room window.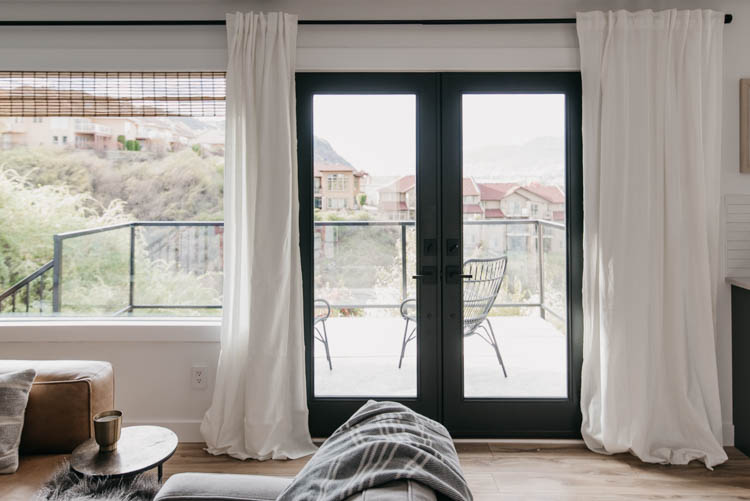 These three changes made SUCH a big difference in the feel of the whole room. Every time I walk in to this space right now I stare at it. So much texture and contrast and interest without clutter. That makes me so happy.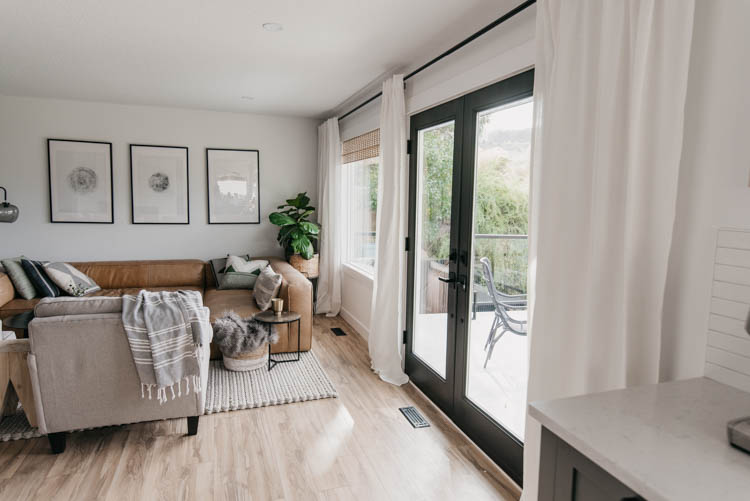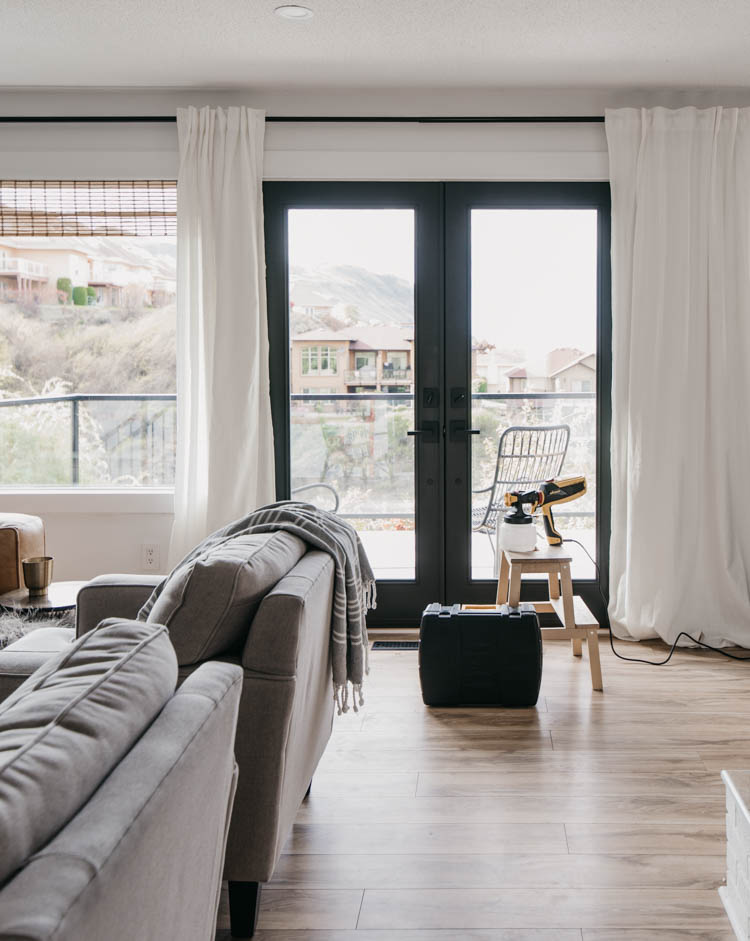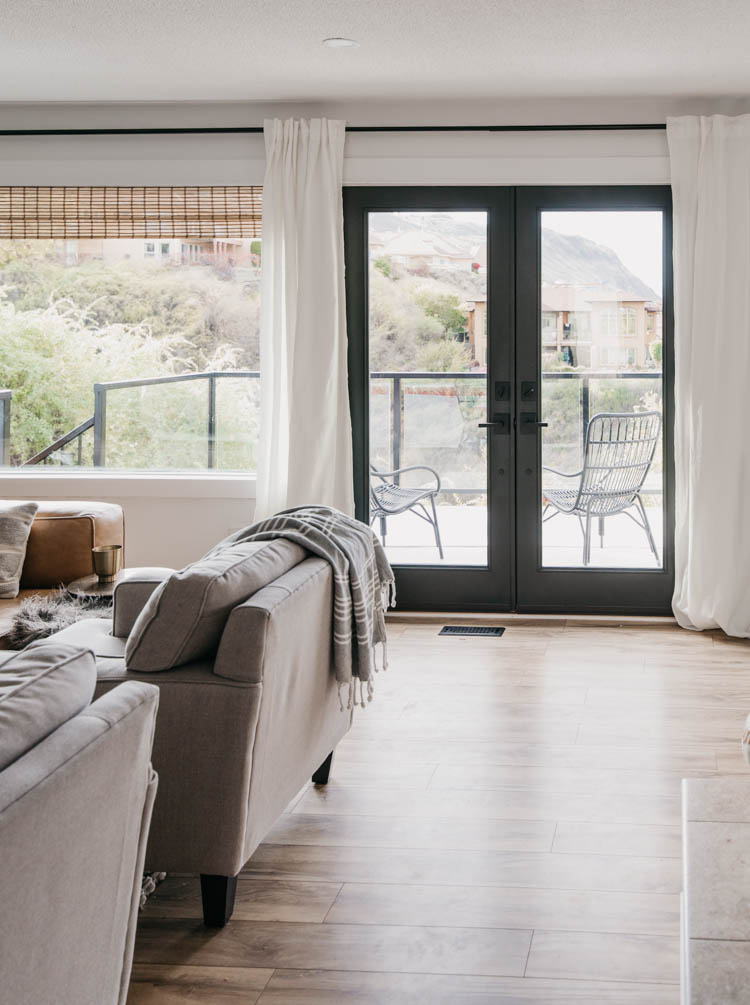 Now that you've seen the power of paint on interior doors… would you paint your doors black? Just one or two like us? A different colour? I'd love to hear!