This bright white entryway makeover featuring tons of storage has been a long time in the making. With warm wood details, pops of black contrast and lots of decor without the clutter, come take a tour and see the before + after!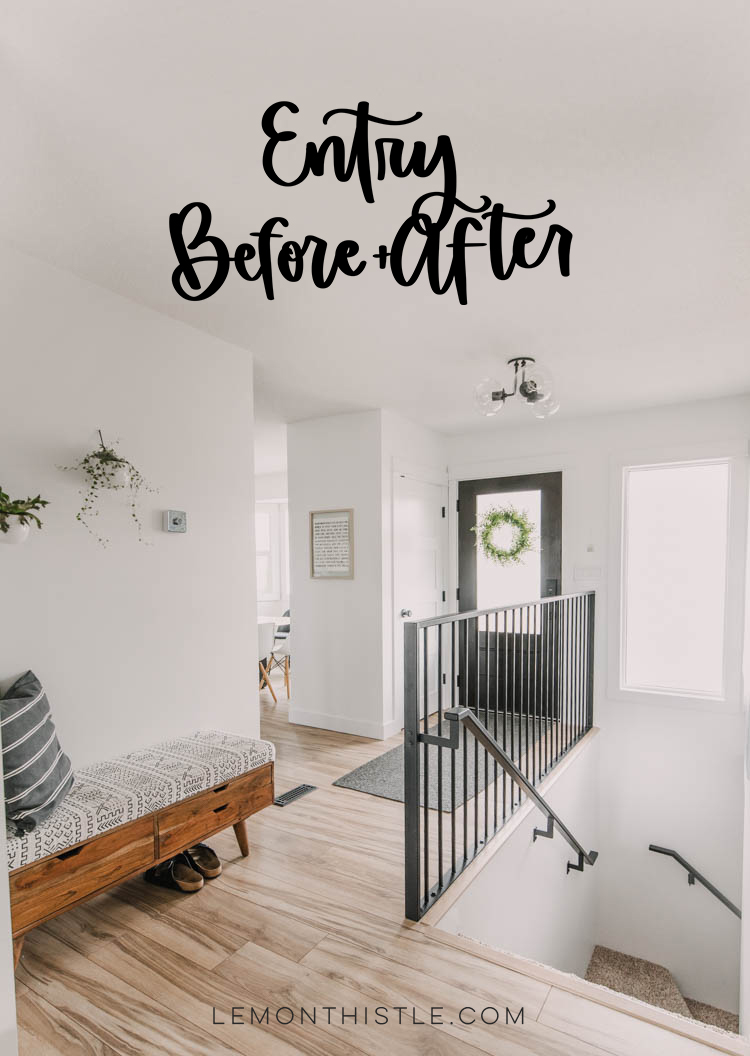 Room reveals are some of my favourites to share because it feels so good to call a space DONE but man, they are a lot of work. Ha! Just when I think I'm close to done I realize I still have to patch nail holes in trim and painting trim on a window above a stairs is a pain, guys. But now it's totally done and I can celebrate! Do you remember our entryway design board? It was so long ago now! We've been working on this space for 5 months! But really, we've been working on it longer than that. The drywall work and flooring happened months before that. It's slow and steady and now that I see that before and after side by side, it's so very worth it.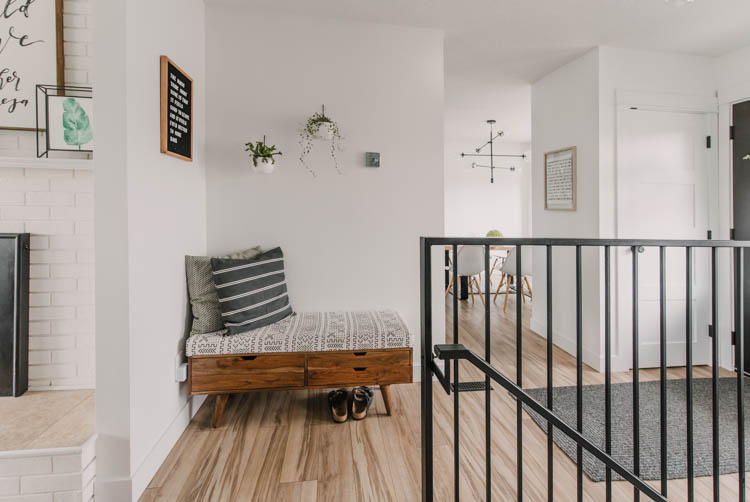 The space feels completely different. When we moved in (see photo below), it was dark, crowded and difficult to fit our family with Calder's baby carseat through that entry. We were leaving a small entry (cathedral entry) and were looking forward to a more suitable sized entry for a family of 6. This felt like a bit of a compromise on what we'd wanted when we were house hunting. Now? it's bright and, for it's size, feels spacious. It has ample storage and still has style for a space that isn't typically known for decorations.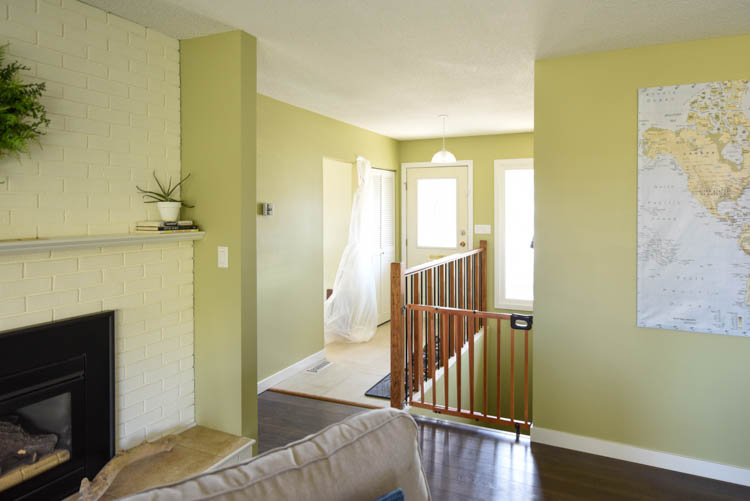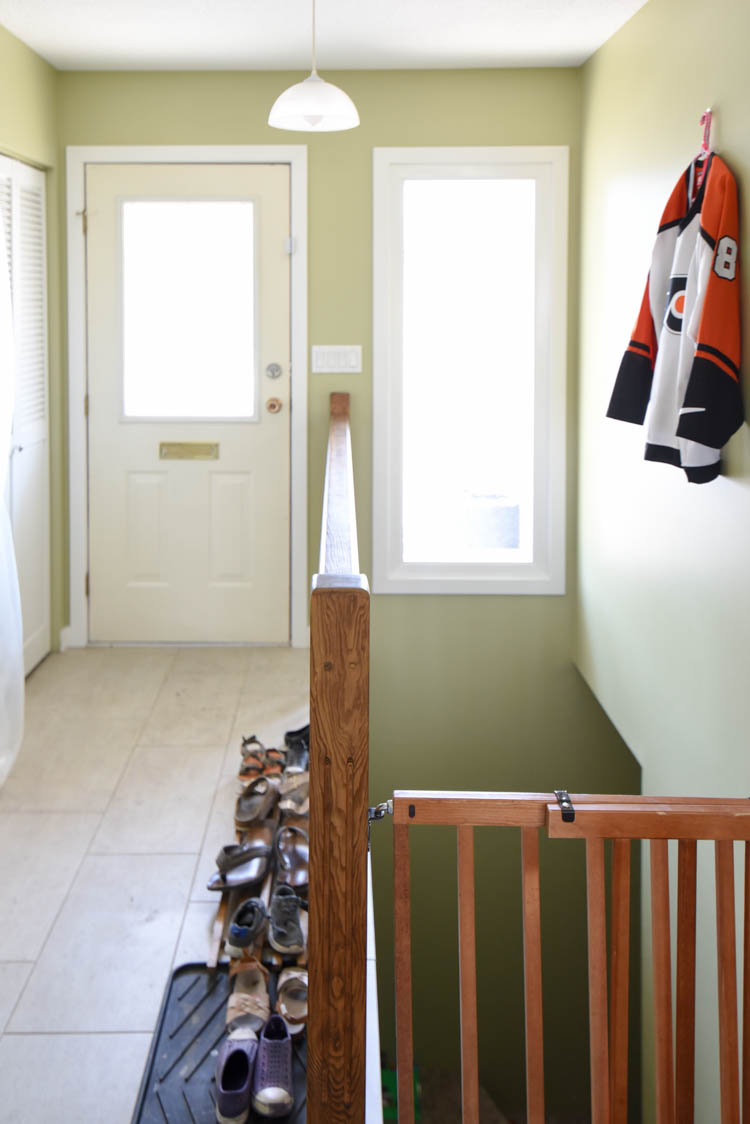 I was a bit nervous to design this space because I really, really loved our last entryway makeover. Out of all the rooms in our last house, it's probably the one I was most proud of. Cathedral entries (split level entries) are tricky and I felt like we really made the most of it. I wanted to do the same on this one but honestly didn't know if I'd be able to. I'm happy to say I think we even topped it!
Here's a video tour… otherwise read on for more details! Are you a video fan? Make sure to subscribe to me on YouTube as well!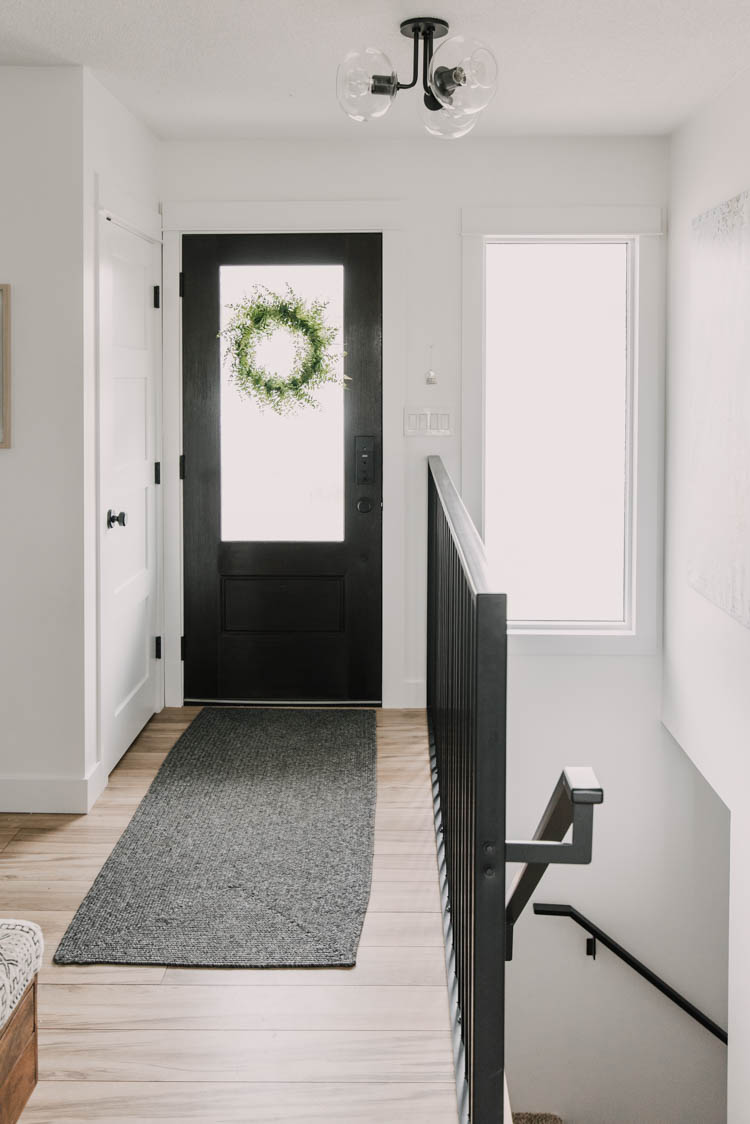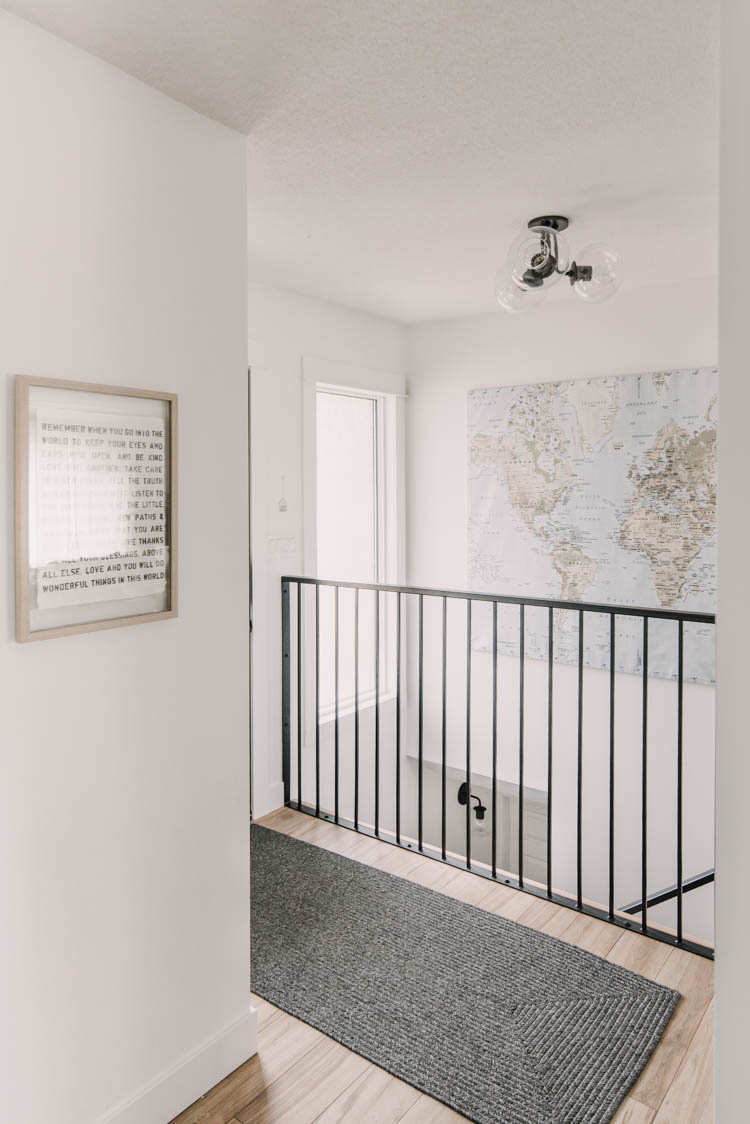 The first thing we did was open up the entry to the dining room more. We moved the kitchen last summer and when we did that drywall work and flooring work, we did this as well. We removed the header and opened up the opening by another foot or more. This in itself helped it feel so much bigger! Now when a large group of guests or a family comes in, people use that space into the dining room as part of the entry so this feels less of a hallway type bottleneck situation.
The other thing we did right away is change the flooring. We were originally just planning to replace the entry vinyl tile with ceramic or stone and then when we started to pull out the tile, the railing started falling apart. Only the end post was secured through the flooring which really wasn't secure for a railing… especially for a family of toddlers that love to hang off railings. At the same time, we were trying to find laminate to match the flooring in our main floor to patch where we were moving the kitchen from. We couldn't find a match (you can read about that here if you like) so we ended up getting all new laminate for the main floor. We decided instead of trying to rebuild the railing that wasn't put in safely in the first place, we'd order one that we would love instead.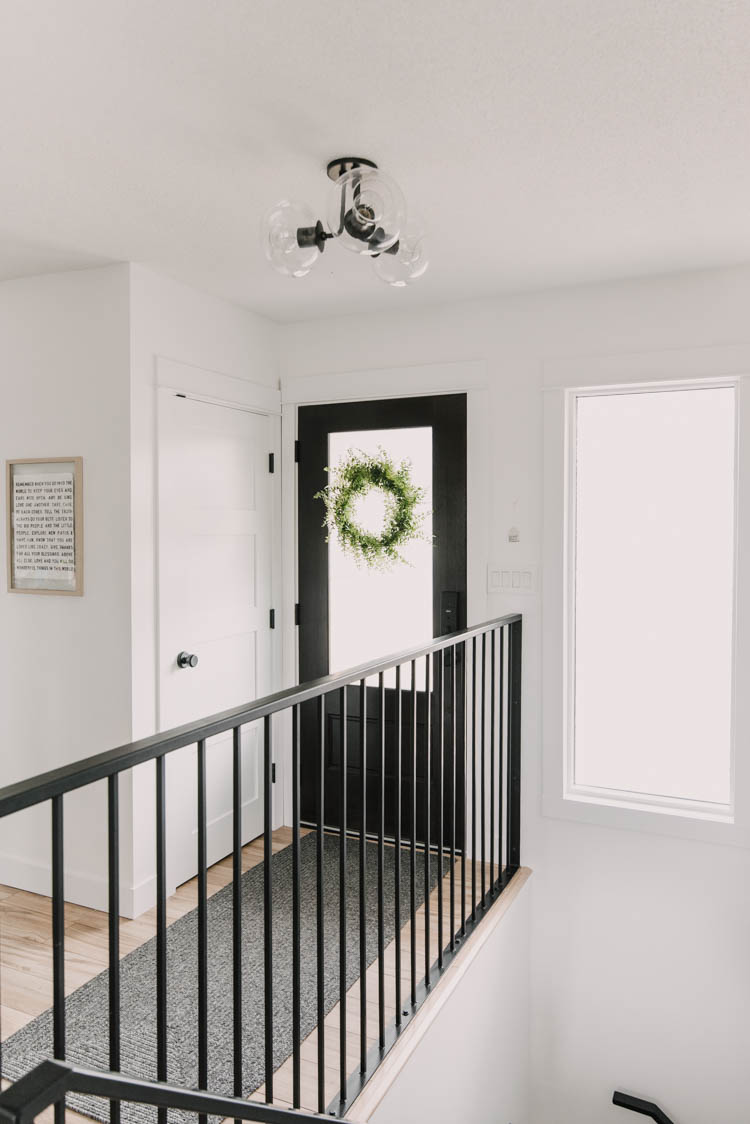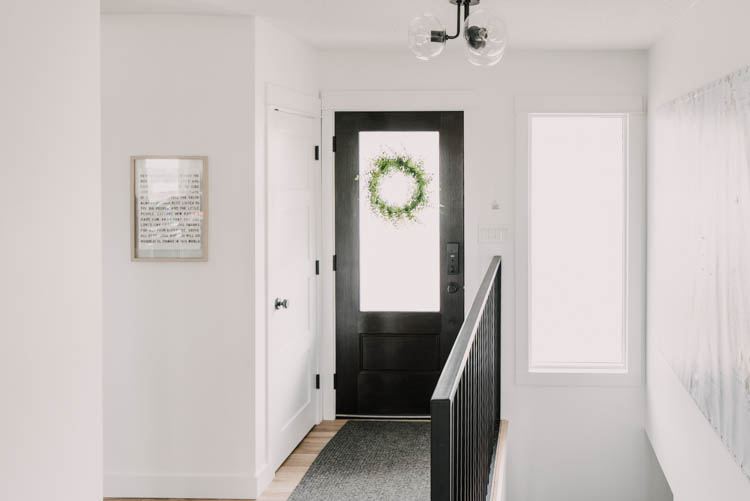 The railing makes SUCH A BIG DIFFERENCE. I'm obsessed with it. I worked with a local steel shop to design it and it's so simple and clean and I'm so happy with it. The stairs also had no railing when we moved in, so we had a railing fabricated to match. Normally, you'd have the railing on the other side of the stairs, but these stairs have a turn at the bottom where that side of the stairs drops off. We needed the handrail on this side to keep it safe. I'm so happy with how this simple modern railing came to life and adds to the space. Since it's not as heavy as the wood railing, it makes the space feel more open as well.
We also swapped the doors and window. This is something we've done in all the rooms in our house. We moved from hollow doors to solid wood shakers in this house and in our last one. I love how they instantly update a space. We also moved to a more basic privacy glass over the stairs and a matching glass 3/4 light door. One of the things I wanted to point out on this door is the flush glaze glass. This just means that unlike most glass doors that you get- there's no white trim piece. I love the look of wood doors like this one but the climate here just doesn't favour wood. We chose this fiberglass door with a wood grain and the flush glass. This means that we can have the look we love but the trade off is that it was a bit more expensive and if the glass breaks, the door would need to be replaced. We stained it black on the inside for some contrast to the white and to save us trying to coordinate with the wood flooring and bench.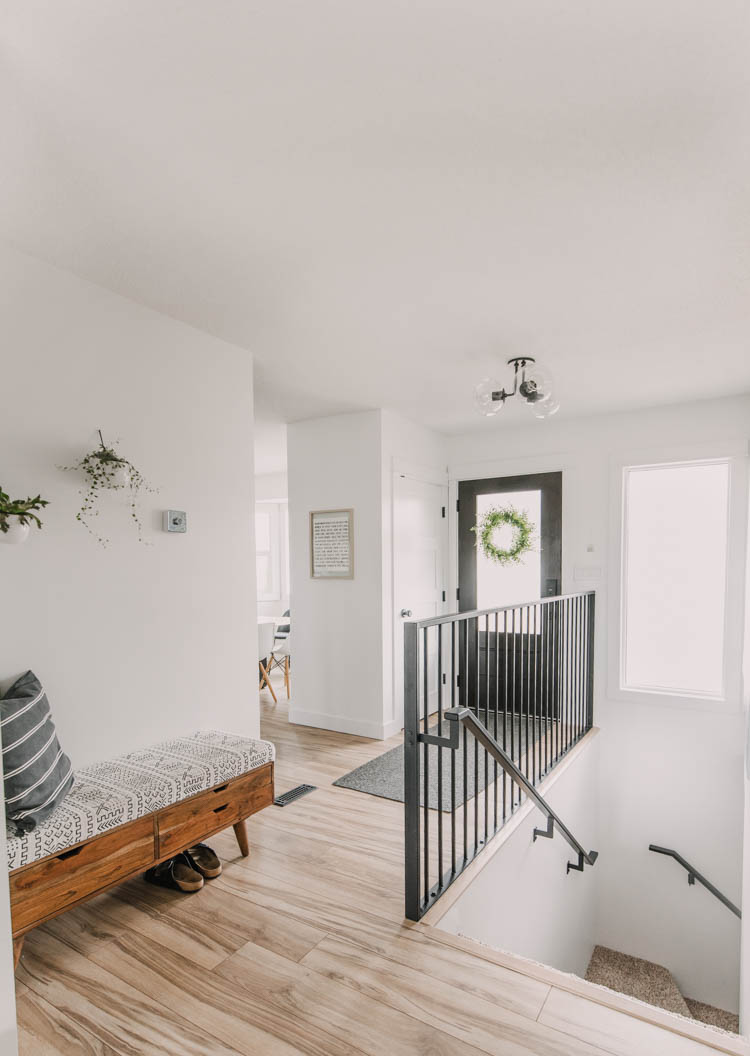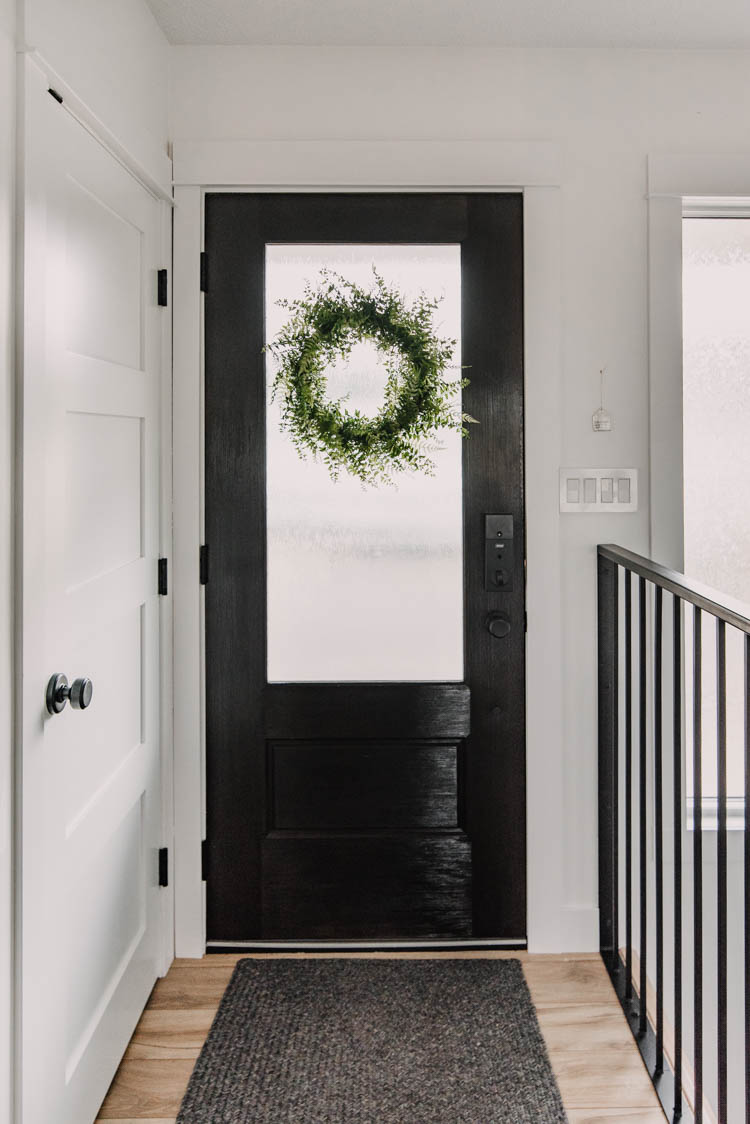 That extra bit of window in the door and going to regular glass in the window makes SUCH a difference in how much light comes into our space. Our whole living room feels so much brighter now. This side of the house gets morning sun and in the morning light streams in so beautifully. It was actually tricky to photograph this space because SO MUCH LIGHT comes through those windows. It's amazing.
I talked more about the door hardware we chose in this post here– but I love the modern style of this smart lock and handle set. We have matte black hardware all through the house and I love how it ties into the metal railing.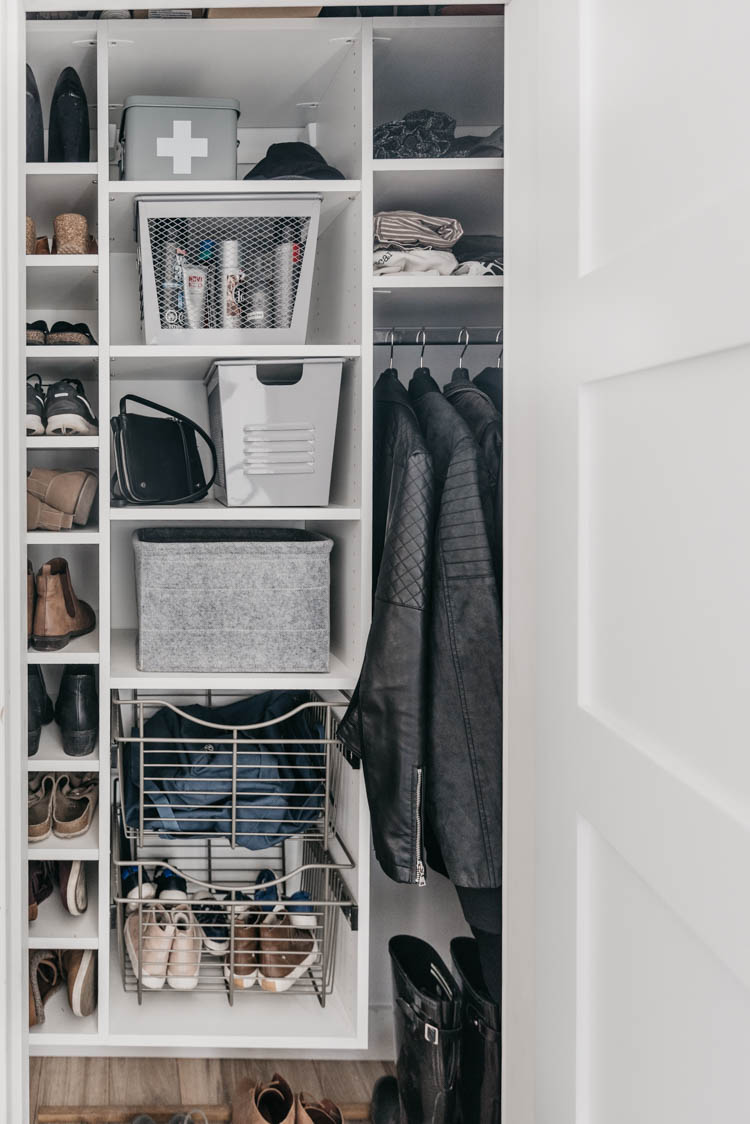 Let's talk storage! One of my biggest challenges and goals with this space was to make it hella functional for our family. We need storage. I wrote a whole blog post about entryway storage right here. But we put in a killer closet organizer (from Imagine the Room Kamloops) in this closet and then got beautiful bench with storage as well (found at Homesense). These changes made this entry work SO HARD. We fit everything we need in here and that closet isn't even packed. I love it.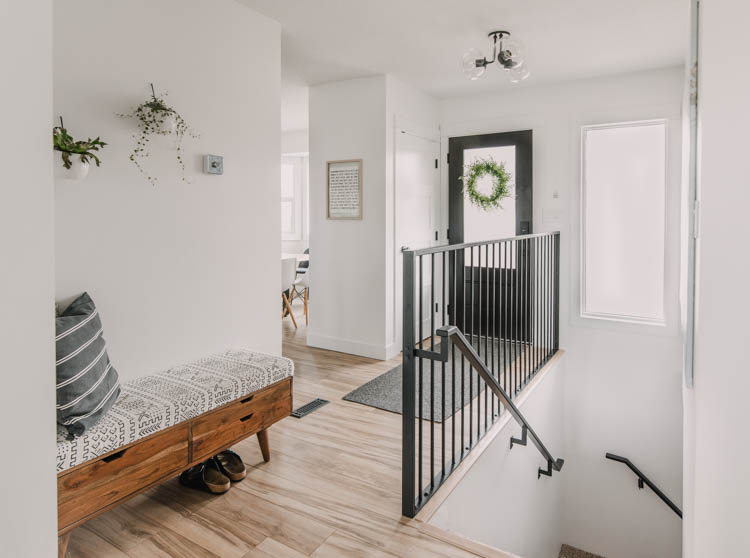 I ordered this beautiful indoor/outdoor runner from Rugs USA after it being recommended by my friend Kim from Todays Creative Life. I wanted something darker to hide the dirt but also beautiful. The woven texture on this one is so pretty and it's holding up really well. We do have one chocolate stain (ugh) so have flipped it over, but it's honestly doing really well. In the winter and spring, we put a utility runner underneath it to keep the water from snow getting to the laminate.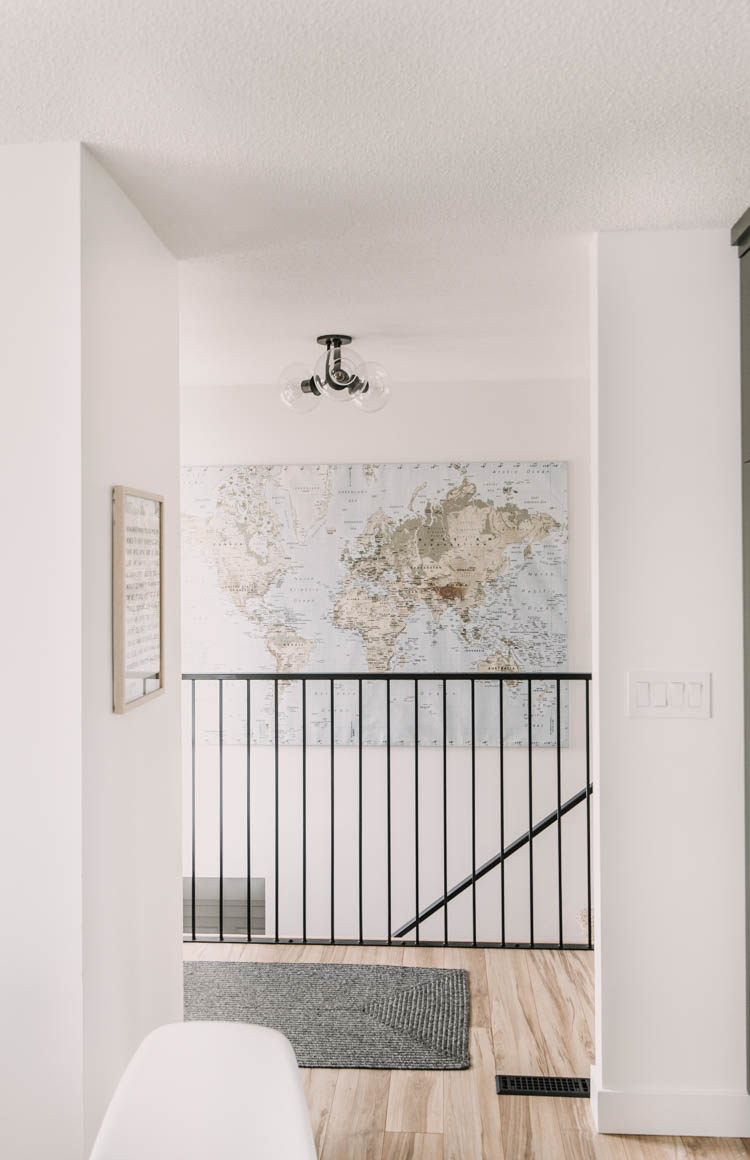 Let's talk decor! The biggest thing in here is of course that world map. If you've been following me for more than a year, you might recognize it from the dining room in our last house. It's an IKEA find and it's something we so love having in our home. The neutral colours work really well for our decor but we also love that our kids ask so many questions about geography and this map is such a conversation starter for us. Also Shane loves maps- I don't get it, but I'm loving this one… ha! We hung it here temporarily while we were patching drywall last year and ended up leaving it here because we liked it so much.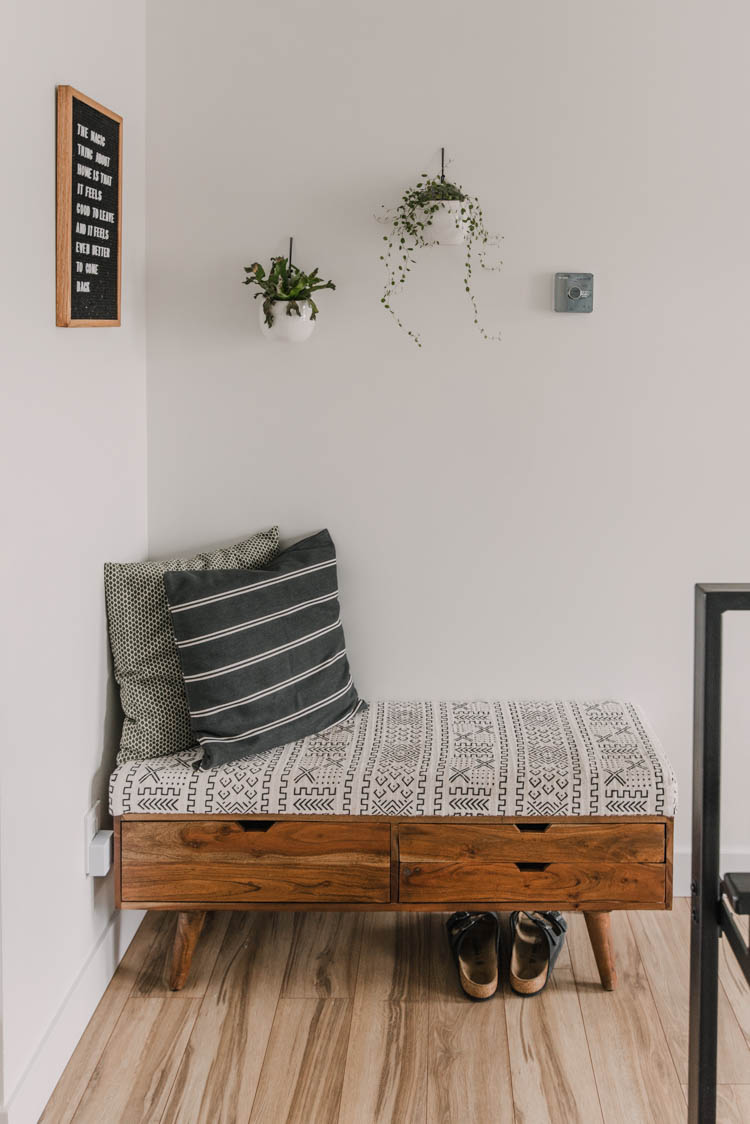 The other spot that we wanted to decorate in this entryway makeover was above the bench. I would have loved to do something large and center it but the thermostat made that impossible. A lot of people suggested moving the thermostat but we had just finished drywall work… we really didn't want to do that. We ended up reusing these hanging wall planters that we'd bought for our bathroom makeover at our last house. They're about $8 each- such a steal! I'm already killing the fern I have in the one but am trying to bring it back to life. *sigh*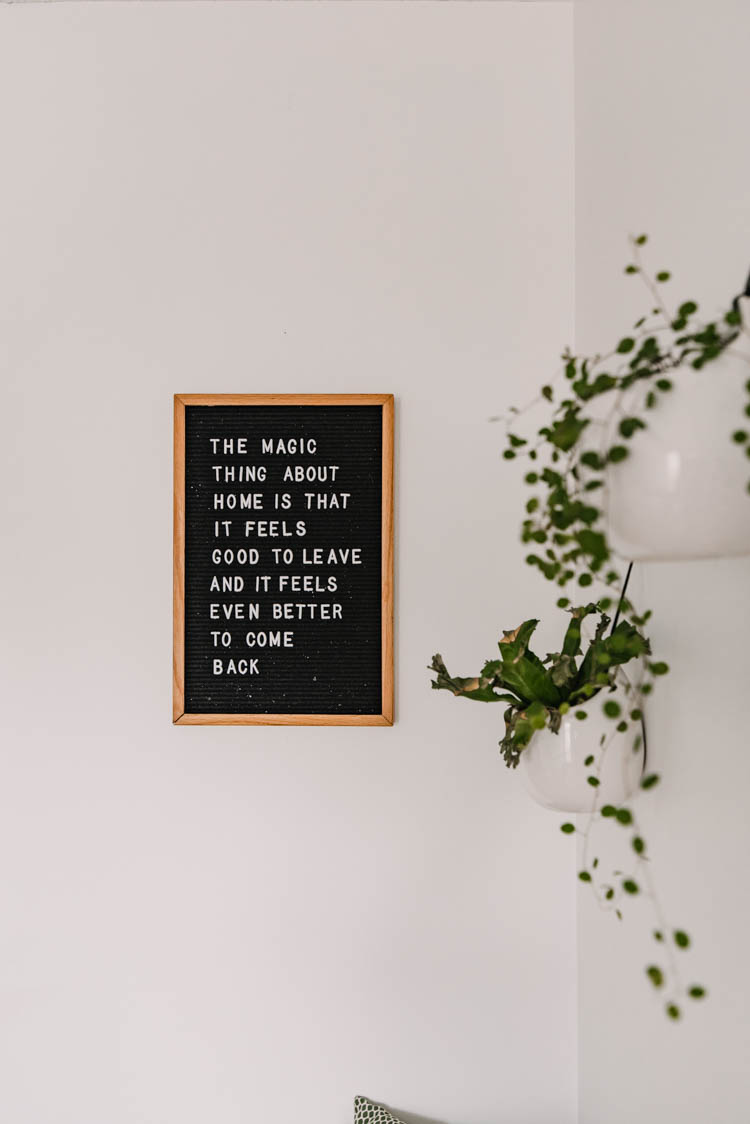 My letterboard is right on the wall that you see when you walk in- I hung it here the week we moved in and love seeing whatever quote is there when we first walk in the house. This quote is so perfect for the entryway- especially during these busy summer months when we've been travelling so much, "The magic thing about home is that it feels good to leave and it feels even better to come back home," is by Wendy Wunder.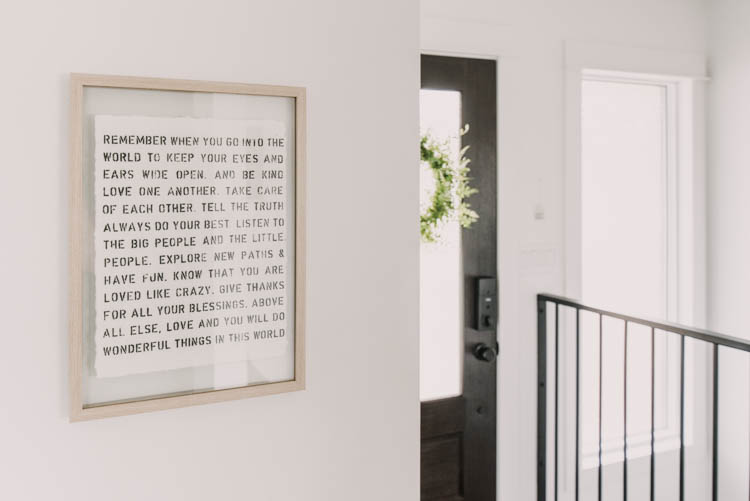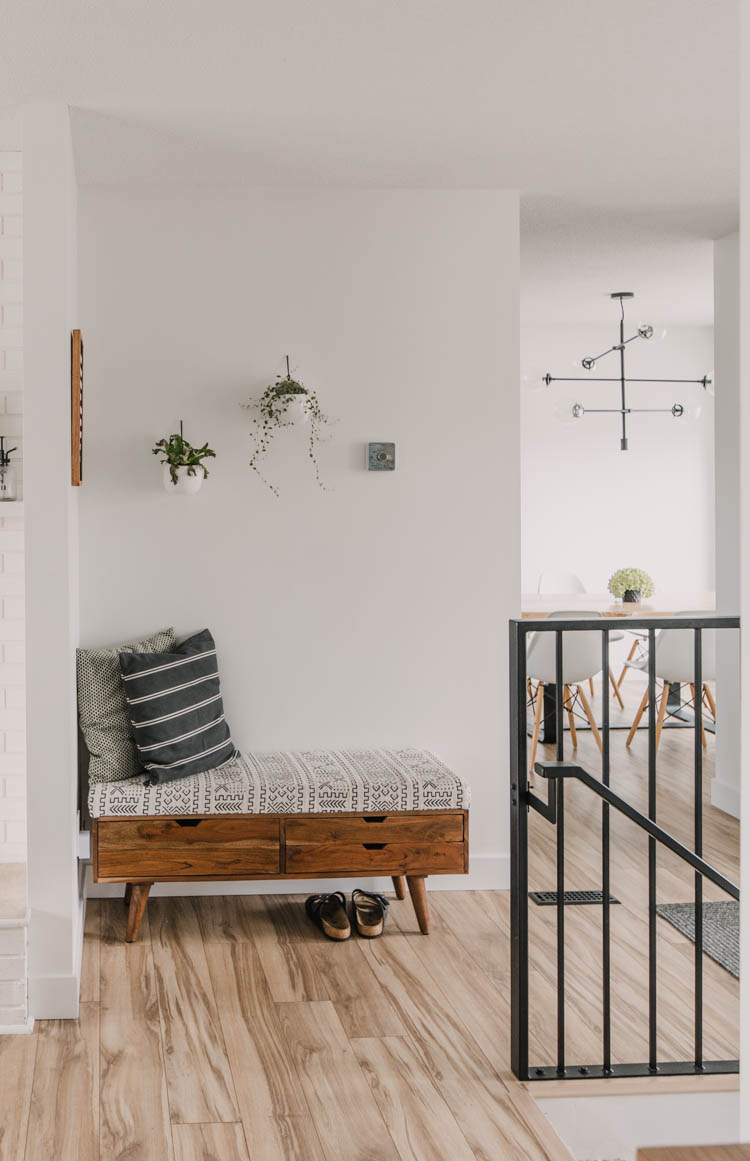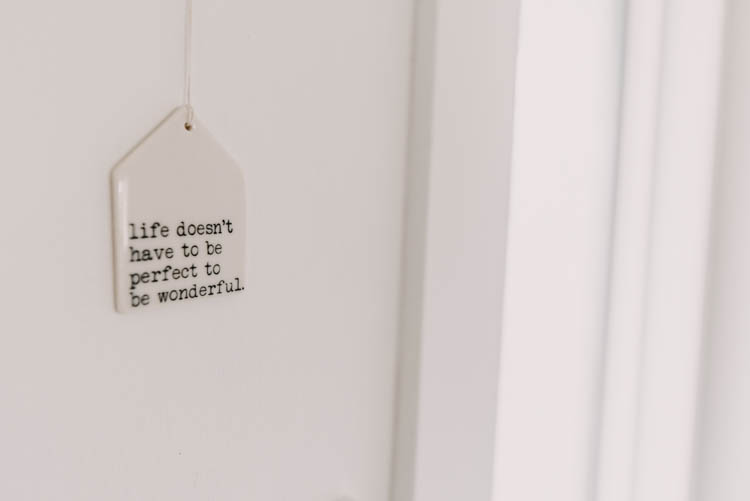 I know it's been said to have only one thing of word art in a space but I'm obsessed with word art. So I break that rule a lot. I have my hand lettered canvas in the living room (right on the other side of this little wall with the letterboard), I have the letterboard, I have this framed print and this tiny ceramic quote. The tiny ceramic quote was a gift from a friend when we moved into this house last year. She has a similar one hung by the front door of their house and I put it there the day she gave it to me. I love this reminder, "life doesn't have to be perfect to be wonderful." This is especially needed as we live through all these remodels!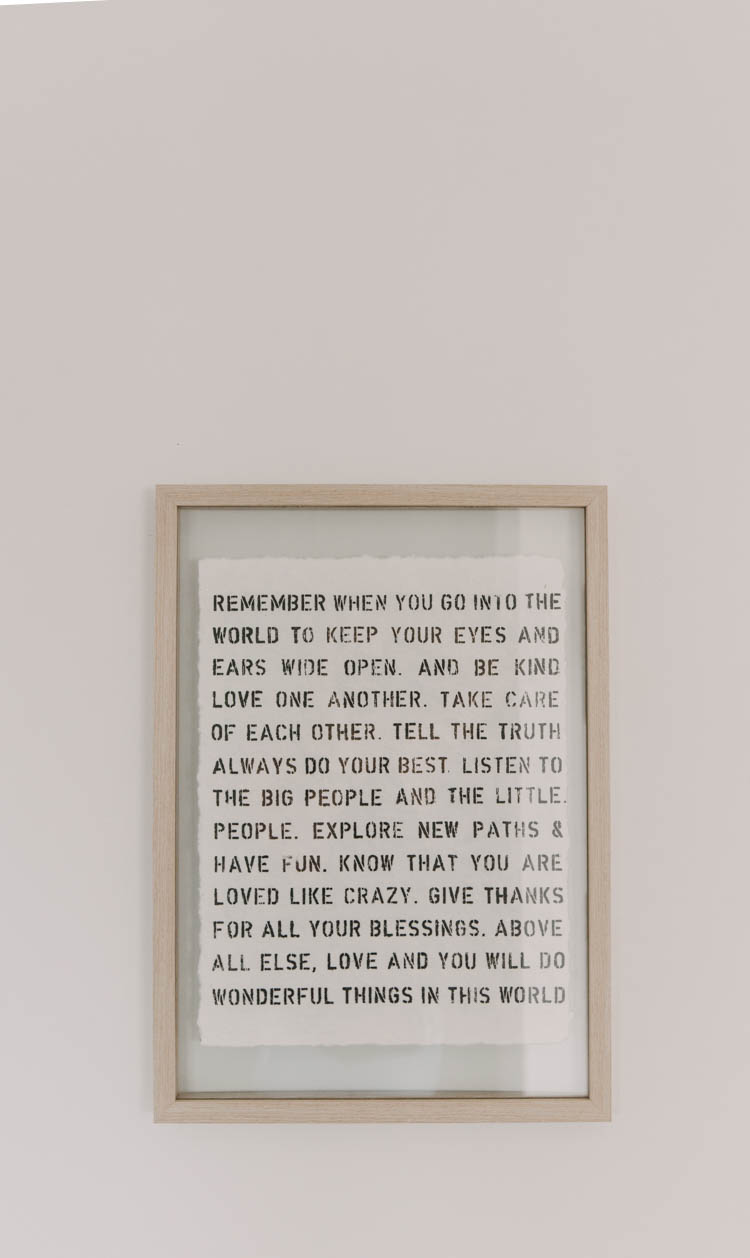 Speaking of beautiful reminders… this quote is one we picked up in Vegas this past winter (with the same friends- ha!) and I carried that baby on the plane to make sure it came home without being bent. It reads,
"Remember when you go into the world to keep your eyes and ears wide open. And be kind. Love one another. Take care of each other. Tell the truth. Always do your best. Listen to the big people and the little people. Explore new paths & have fun. Know that you are loved like crazy. Give thanks for all your blessings. Above all else, love and you will do wonderful things in this world."
Isn't that lovely? My kids can't read it yet, but when they can, I love that they'll be seeing this as they head out into the world every day. The floating frame that it's in is from Michales- the same (just smaller) as the one we used for that textile art in our kitchen.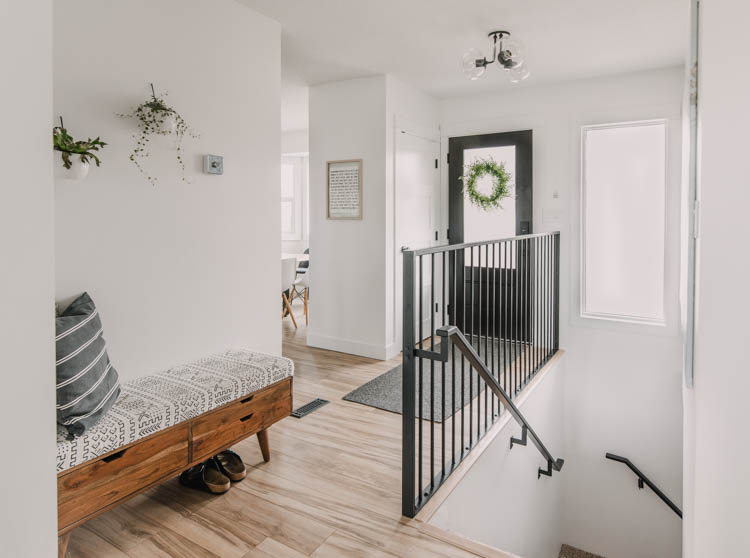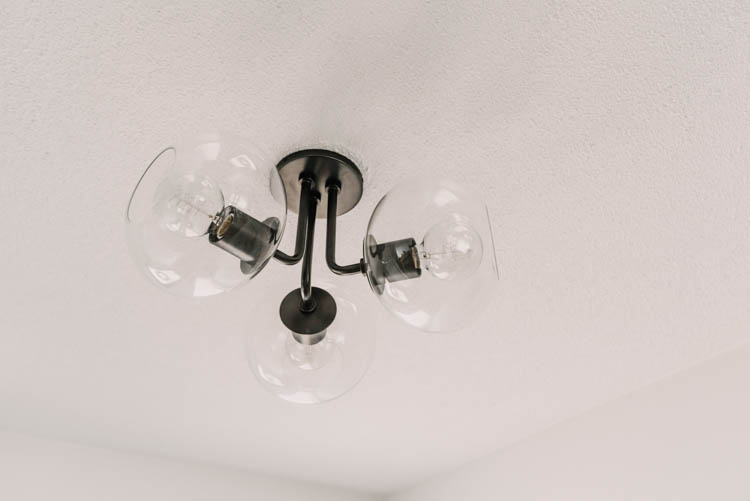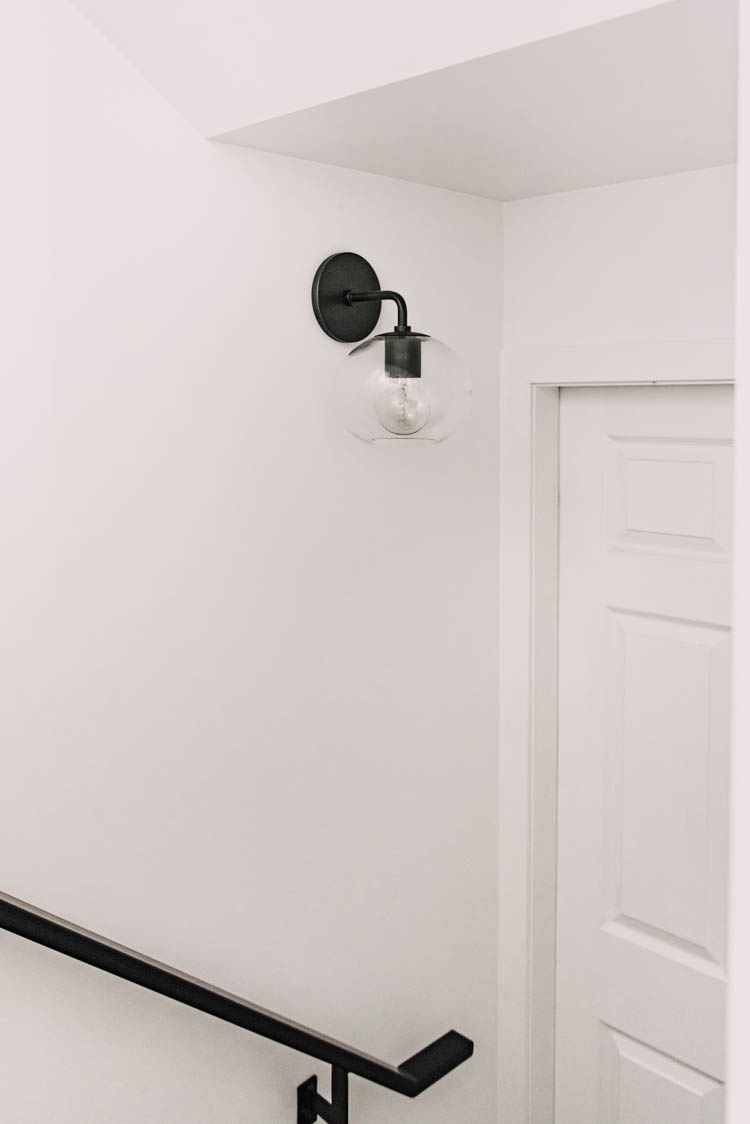 Oh! Lights! The last thing we did in in this entryway makeover was change lights. We had ordered this light for the space (the one from our design board) but found it to be too small. I am so happy with the one that we ended up choosing from Mitzi. I have a post in partnership with them next week talking about how to choose lighting for a space so I'll keep this short today but we put a coordinating light in the stairway (you can see it from the entry too).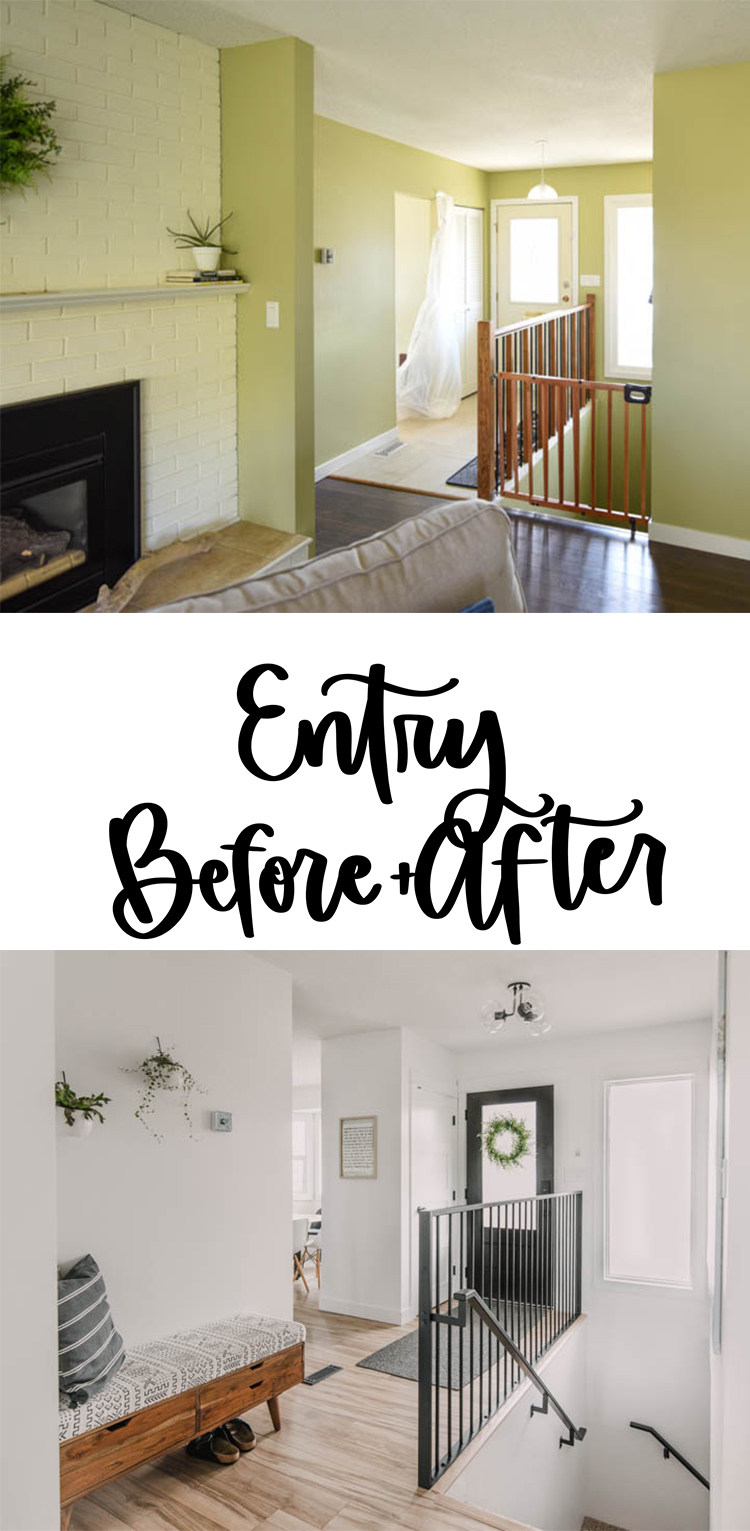 Alright, I'm going to leave it at that! I'm in love with this space and how this whole house is transforming, honestly. It's so rewarding to look back at the before photos and know that the hours you spent levelling a new door and cutting flooring around all those corners and caulking trim on a ladder all wasn't wasted.
Entryway Makeover Sources: