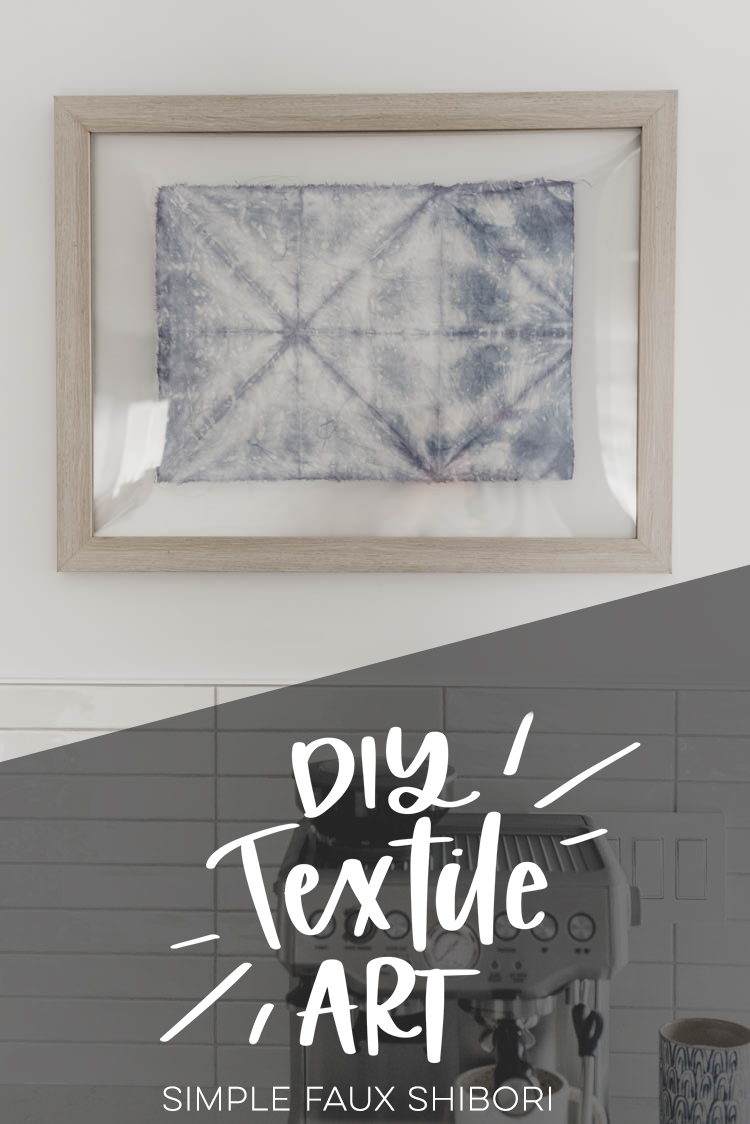 I'm slowly digging through the many, many photos I took during our kitchen remodel and getting organized to share a couple of the DIYs and informational posts that I'd promised through that whole process. We shared our finished kitchen remodel at the end of 2018 and of the last things I did in there was this piece of art. I was so stumped on what to put above the coffee bar here- I considered my usual go-to hand lettered art, I considered a photo, I considered a mug rack… but none of them seemed quite right. I wanted to balance the wood from the open shelving and faux wood blinds but wanted to keep it pretty subtle, not to draw attention away from the view we love so much.
One day, Ashley from Arrows and Bow shared a piece she found at Home Goods (maybe? it was somewhere I don't have here in Canada) for her boys' room in her Instagram stories. It was perfect. It was subtle but full of texture and I started thinking about how I could create something similar for this spot. I headed to Michaels to find a floating frame with a similar wood tone and dug in my scrap fabric bin. I did a little bit of google and had a solid plan. I made this in between cleaning my kitchen for final photos. I had no idea if it would work or if I would have nothing to show for it at the end, but ohmygoodness I'm so glad I took that risk and tried. It's perfect. You'll have to excuse the wall paint on my fingers… I hadn't planned on getting crafty and taking photos but inspiration sprung ;)
So if you're looking for something a bit different but not too bold for your space… this DIY is for you! If you have been dreaming of adding some shibori to your home but don't want the hurdle of learning a new material (shibori dye is different than regular fabric dye)… then this is for you too!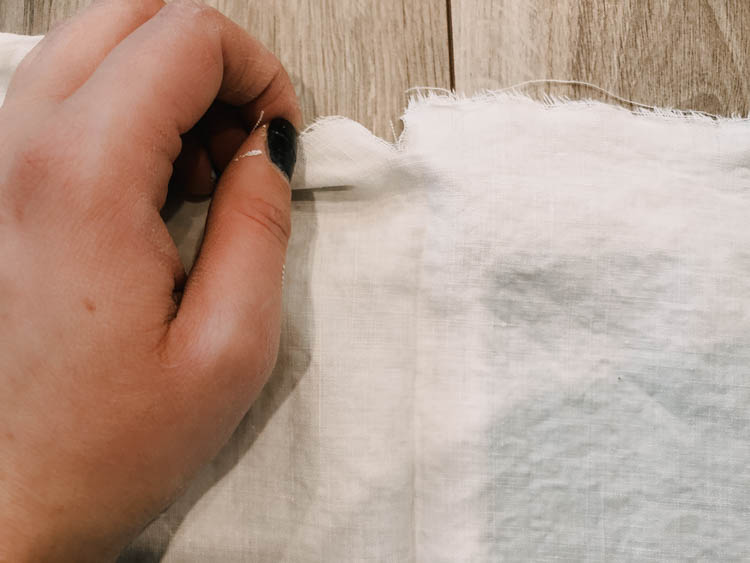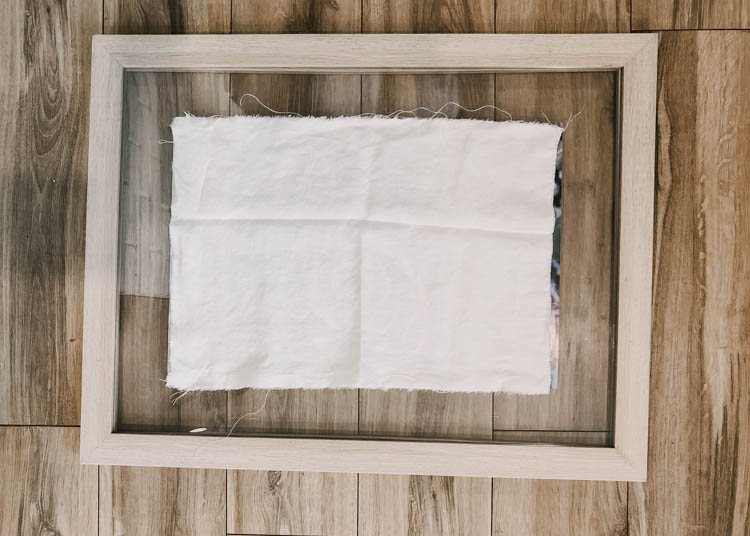 The first thing you'll need to do is to find your material. I used a scrap of linen that I had leftover from an old pillow case. I tore it down to size to leave the edges raw and wild. I love this look. To do this, just snip a start in the fabric where you want and firmly grip both sides to tear it. It should tear beautifully along the weave.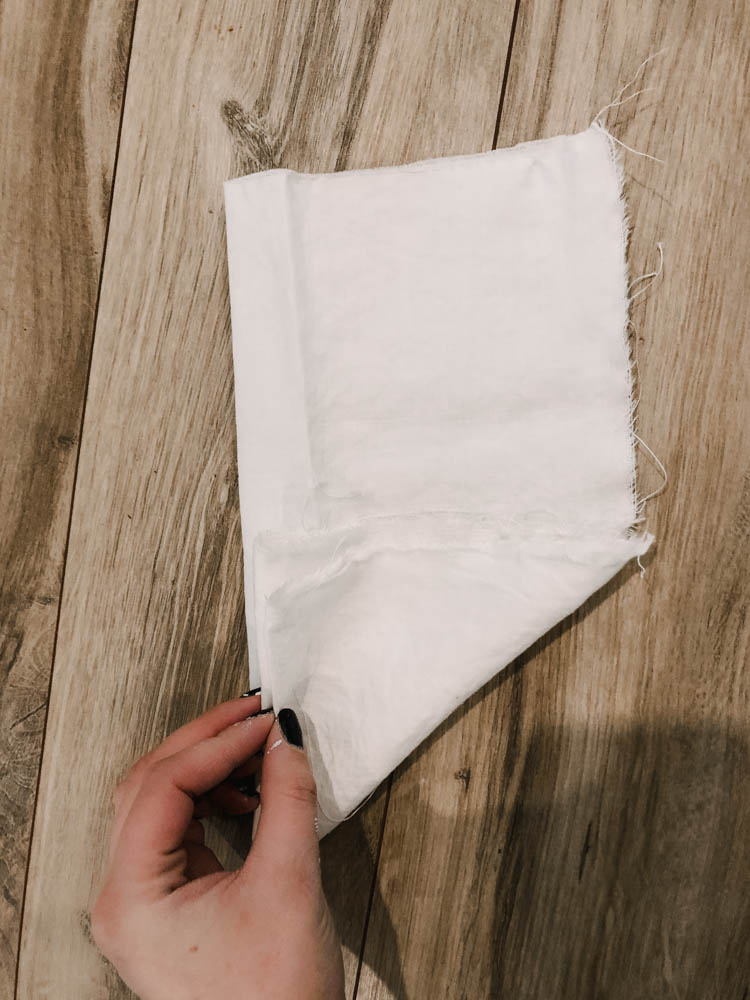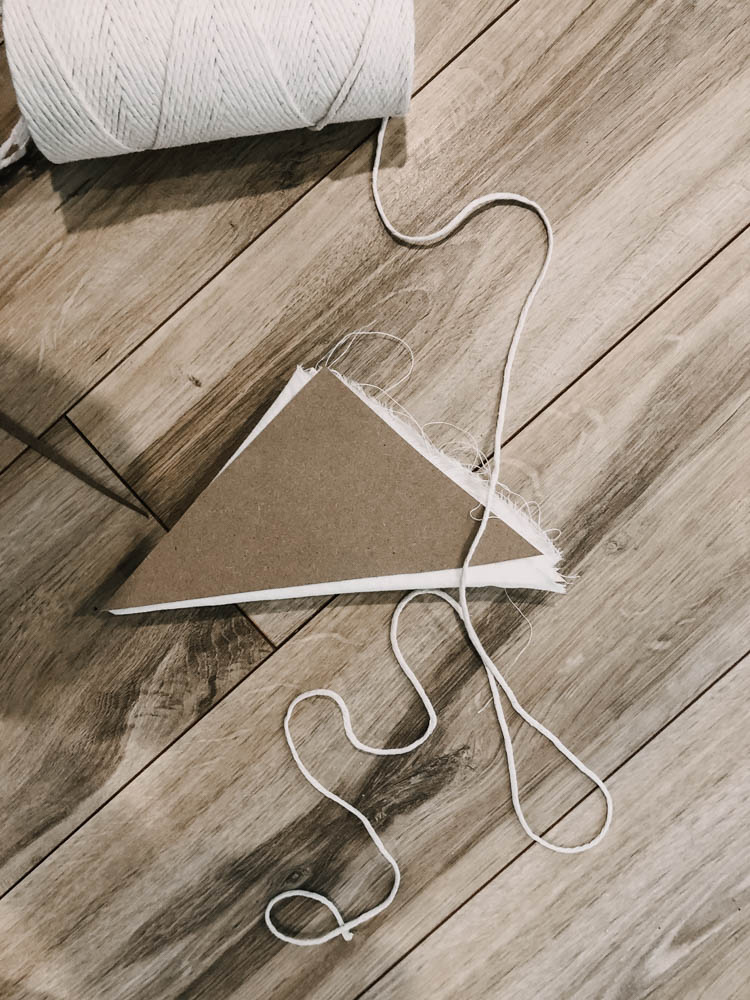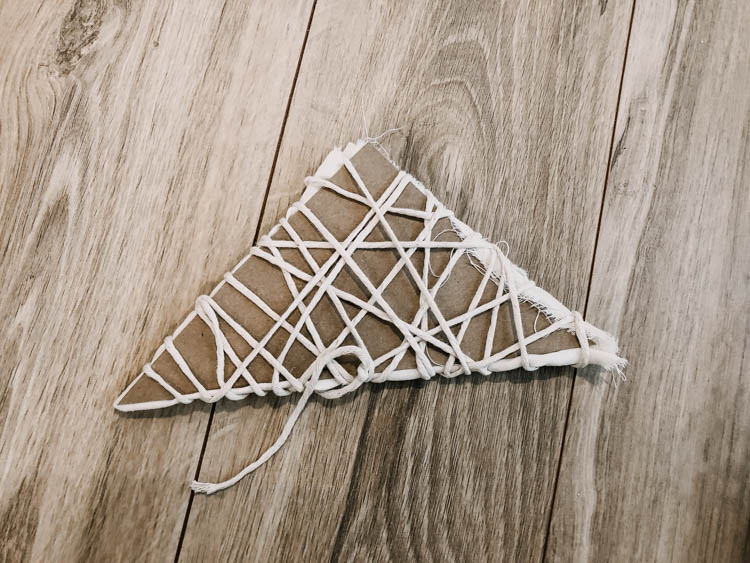 Once it's torn, it's time to tie it up and get to dying! To create the pattern that you see here, I folded my material into triangles. I started by folding it accordion style into thirds. Then, accordion style, I folded triangles in to the strip of fabric. When this was done, I cut cardboard to size and used cotton string (any string would be fine, I'm sure… or elastics) to tie it tightly.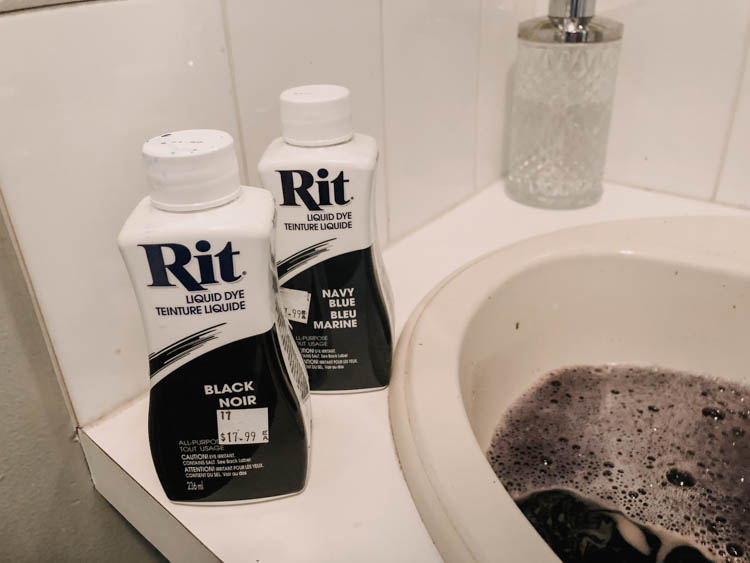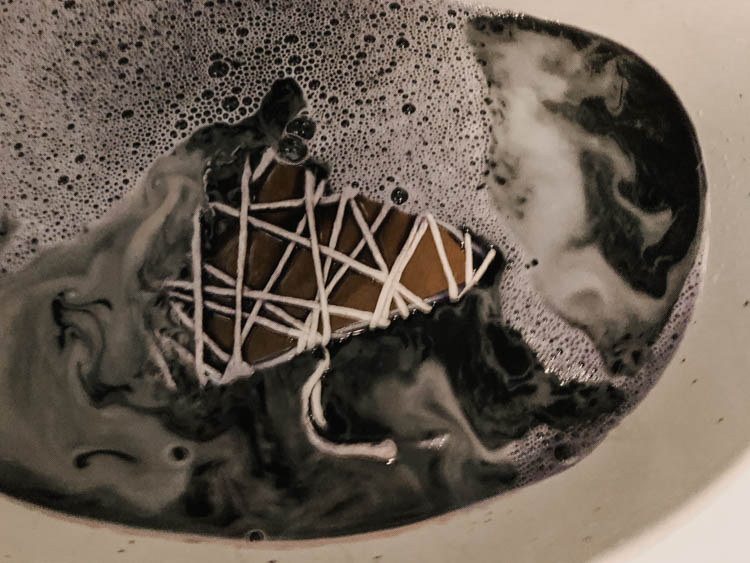 Now… dye! To get an even fabric dye, you would typically wet your fabric first. Since I didn't want it to dye all the way through, I just dunked the fabric all bundled up in the water for a few seconds. Then, I added warm water to my sink and added my liquid dye. I had bought the giant liquid dyes for another project- you definitely don't need full bottles for this. I mixed the navy blue and black Rit dyes for a muted blue-gray colour.
Immerse your fabric bundle into your dye and walk away. I left mine for about 10 minutes for this soft colour. You could leave it for much longer or add more dye to your water if you wanted a bolder design. Keep in mind that your dye will dry a bit lighter than it looks when it's wet.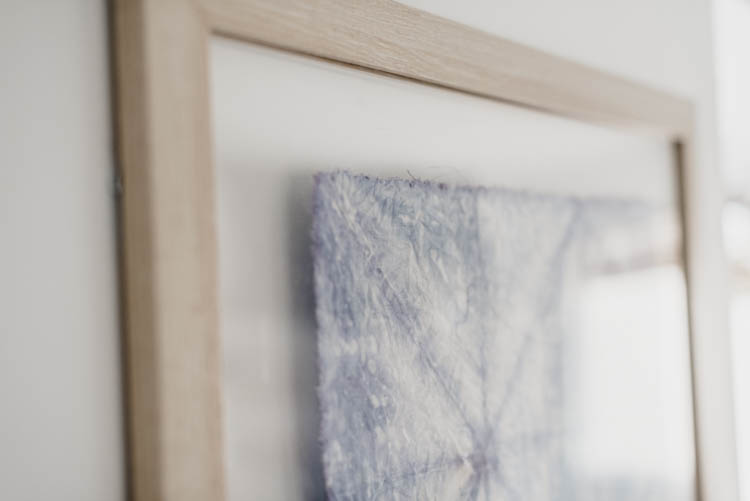 I let it dry a bit before unbundling it (just to minimize mess) and when it unfolded, I knew it was the perfect solution to my lack of art in the kitchen! The raw edges, the crinkled texture, the soft tones, and that wood frame that ties it all together… it's exactly what I needed here!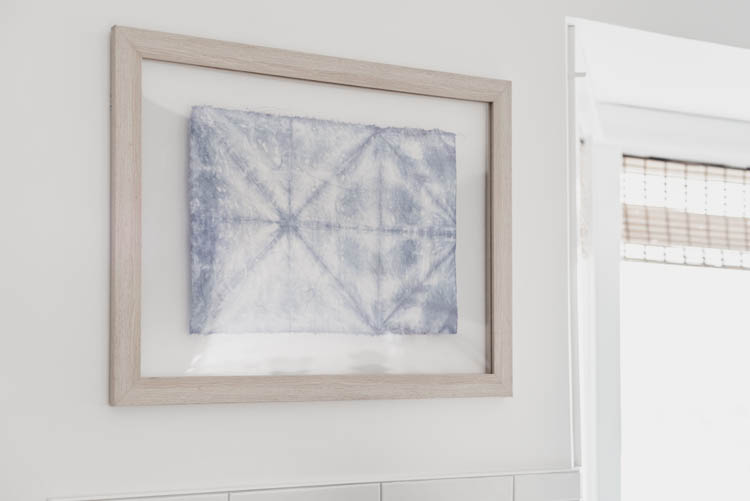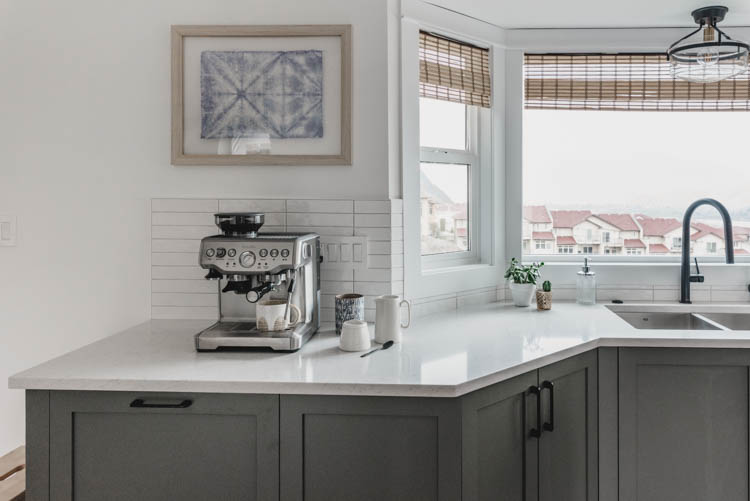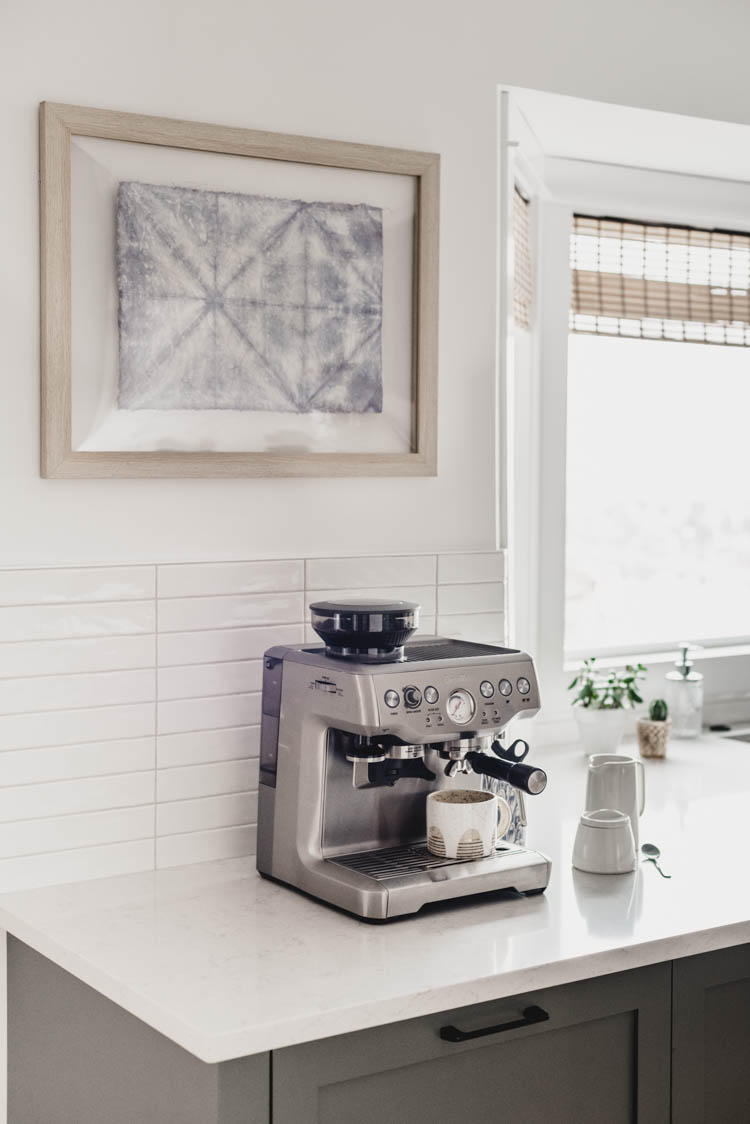 So there you have it! How you can make your own subtle textile art. I want to do something in similar tones for our dining room but am thinking maybe a photograph there. If you see anything that you think I need to see… send it my way, friends!
LIKE IT? PIN IT?