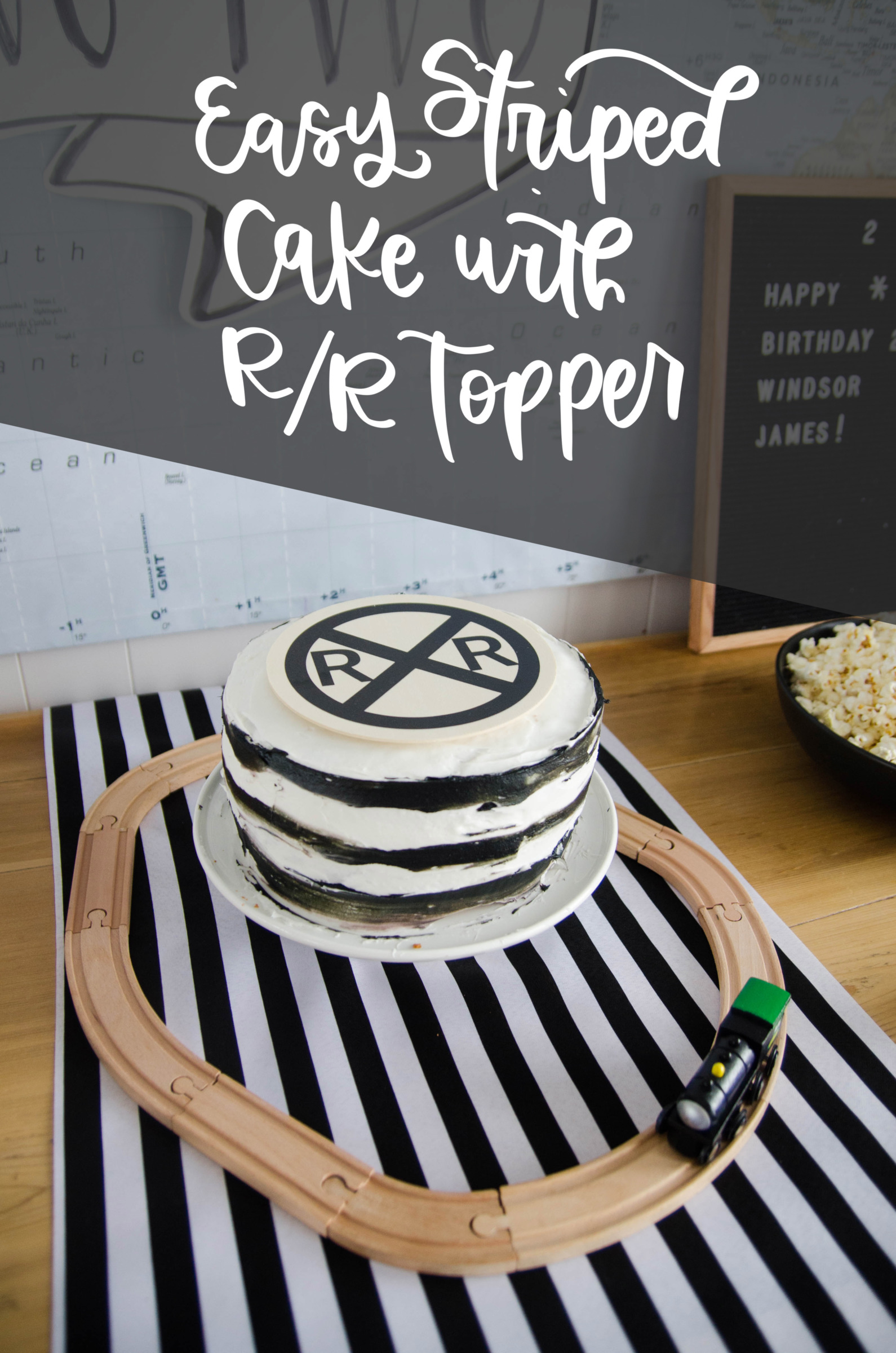 If you've been following along with Lemon Thistle for a while, you'll know that I love a good cake hack (a super simple way to decorate any cake, even one from the grocery store that looks homemade and rad). But you also might remember that I shared this birthday party A YEAR AGO. I'm digging deep in the photo archives as I'm working to make my yearly photo book and realized with the move and starting this renovation, I have SO MANY posts, videos, projects, and photos that I never actually shared with you! So expect to see some of those slowly making their way out to you this year. And this is one of them!
Today I'm sharing this easy striped cake with a wooden railroad cake topper that I made for my son's second train themed birthday party. At the time, I couldn't find a tutorial for a modern looking striped cake that WASN'T fondant (what mother of 4 has time for that!?). So I made one for you. This cake is so simple to make with pre-made icing and NO piping bags or fancy tools. Plus, it's the perfect train themed cake for a kids party! It has that modern organic (a little bit messy) look that I love. I'd rather it look intentionally wild than looking like I tried to have perfect stripes but it just didn't happen.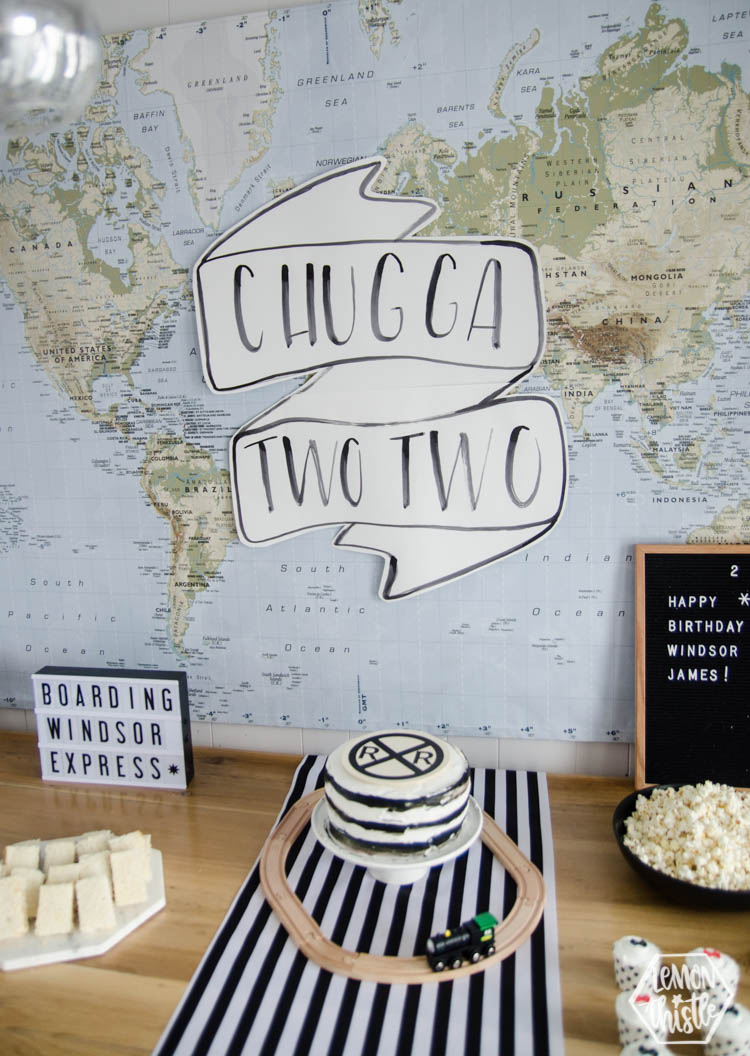 And the cake topper? That's a wooden railroad sign DIY top that I'm totally in love with. It's different than the standard cake topper that stands up and faces forward and that lends to the simplicity of it. I love the natural wood colour against the black design- it's perfectly graphic and neutral and everything a modern trains party should be. I'll share the details and instructions on that one as well, plus the design so you can make your own.
I've got a video tutorial for this one so it will be super easy to follow along, but I also have photos if you are watching from work or can't do video. Ready to see the how-to?
ICE THE CAKE
This cake is just two round cakes stacked with some icing holding them together. So you don't think I'm too fancy- they're definitely boxed funfetti cake mixes. The icing I used for this one (and most cakes lately) is the fluffy white icing from Betty Crocker. It comes mixed in a container so you don't have to take one of the few minutes you have the morning of a birthday party to mix icing. I took two containers for this cake. The first thing is to ice your cake in white icing. If icing cakes is a pain for you, can I recommend two things? The first is a metal spatula. This angled one is my favourite, I've had it for 10 years and won't use anything else if I'm pulling out icing. Second thing is a turntable. I just use this one- it's super affordable and compact (easy to store!) and it makes decorating cakes go SO MUCH QUICKER plus it's easier to get long smooth lines because you don't have to move around the cake yourself.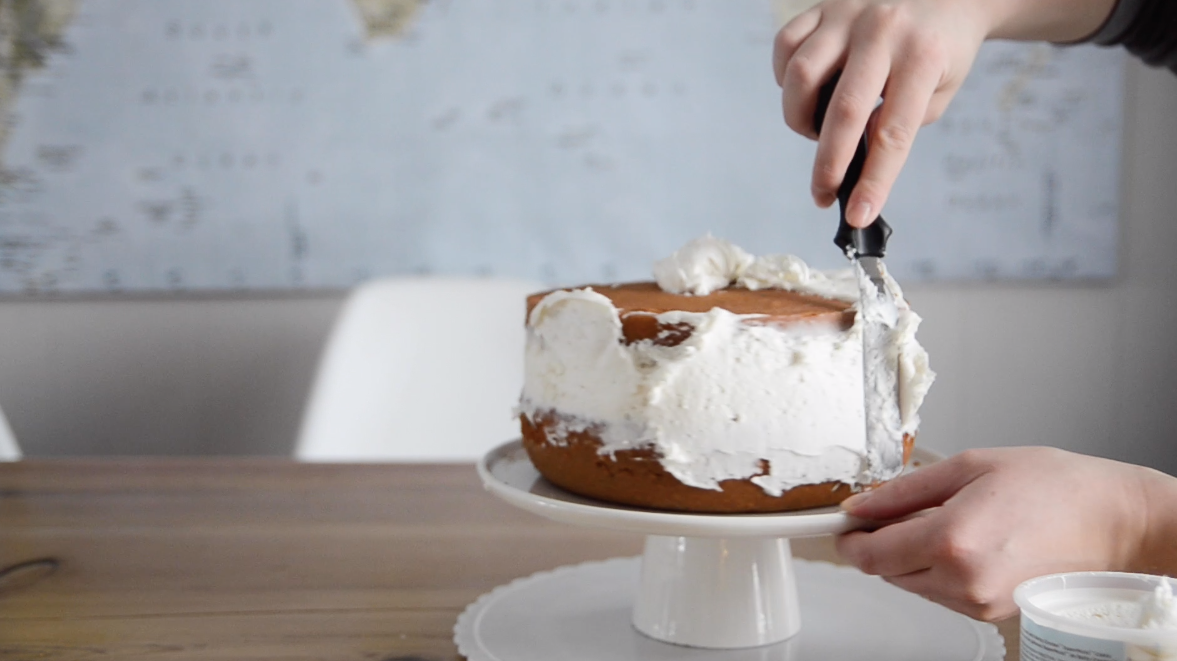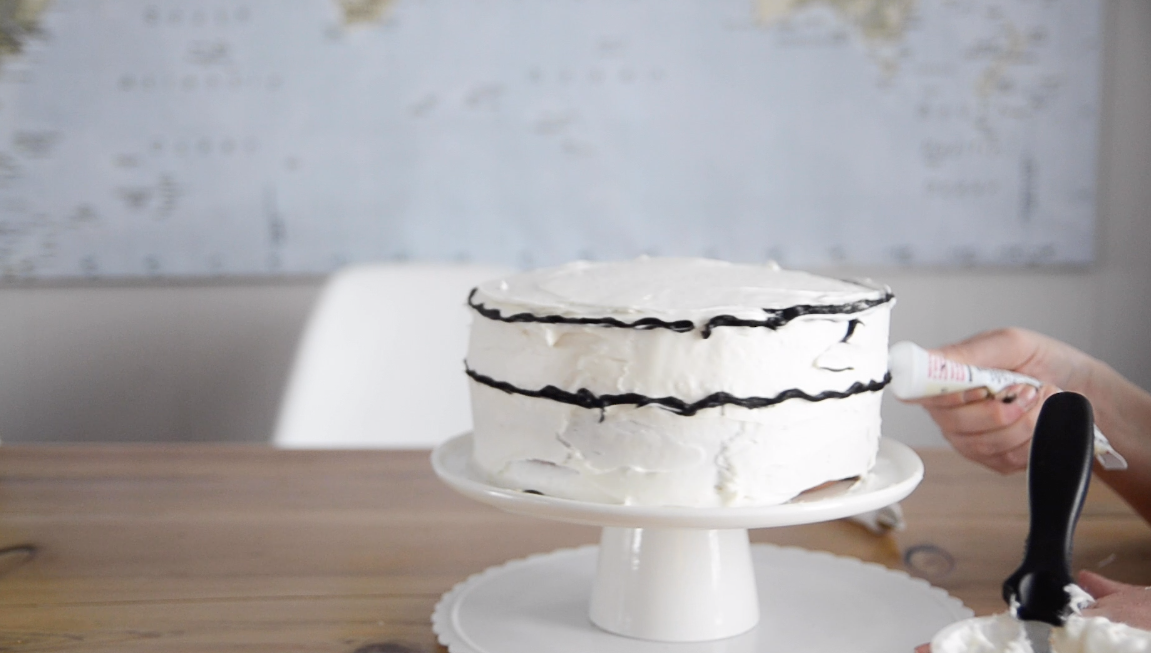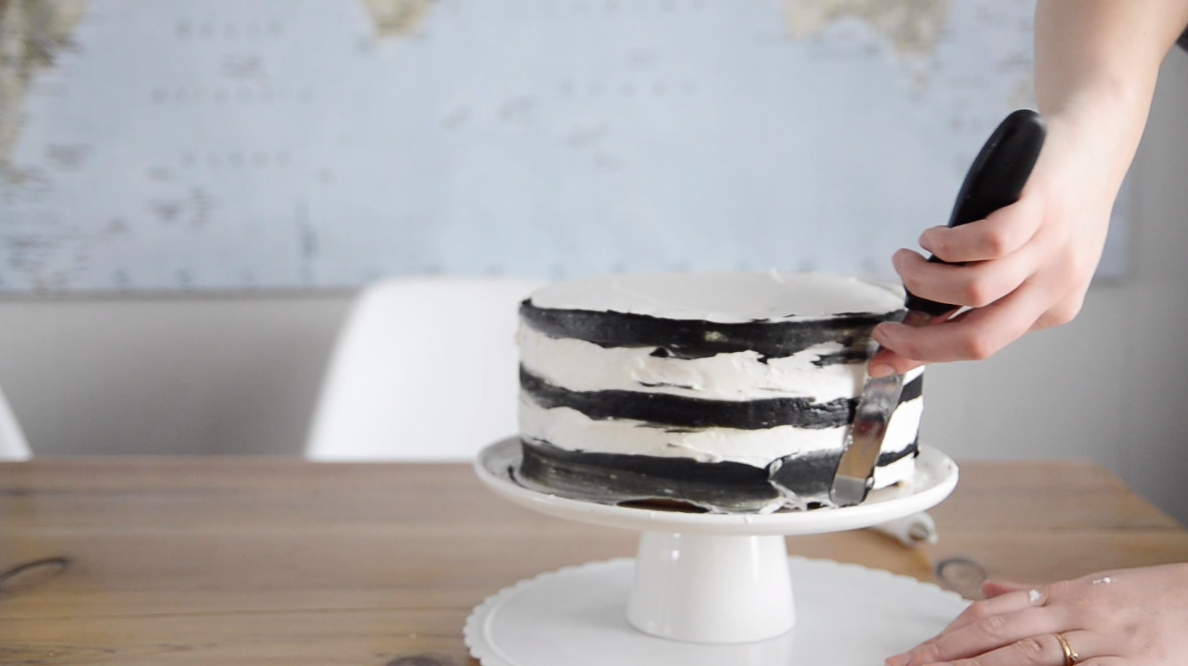 Once your cake is iced, it's time to add the black stripes! Now… if you want black BLACK black icing, you're really not going to want to make it yourself. The amount of dye it takes to get it nice and black is ridiculous. I bought this tube of black icing from the grocery store forever ago and use it to write on cakes (like on this one) and it's such a time (and sanity and dishes) saver. You could pull out an icing tip and get fancy here but the point is just to get it on the cake in relatively level lines. Once it's on, you'll use a clean metal spatula (run it under hot water to get it clean) to smooth out the lines and give them this wild modern look that I love.
That's really it. So simple!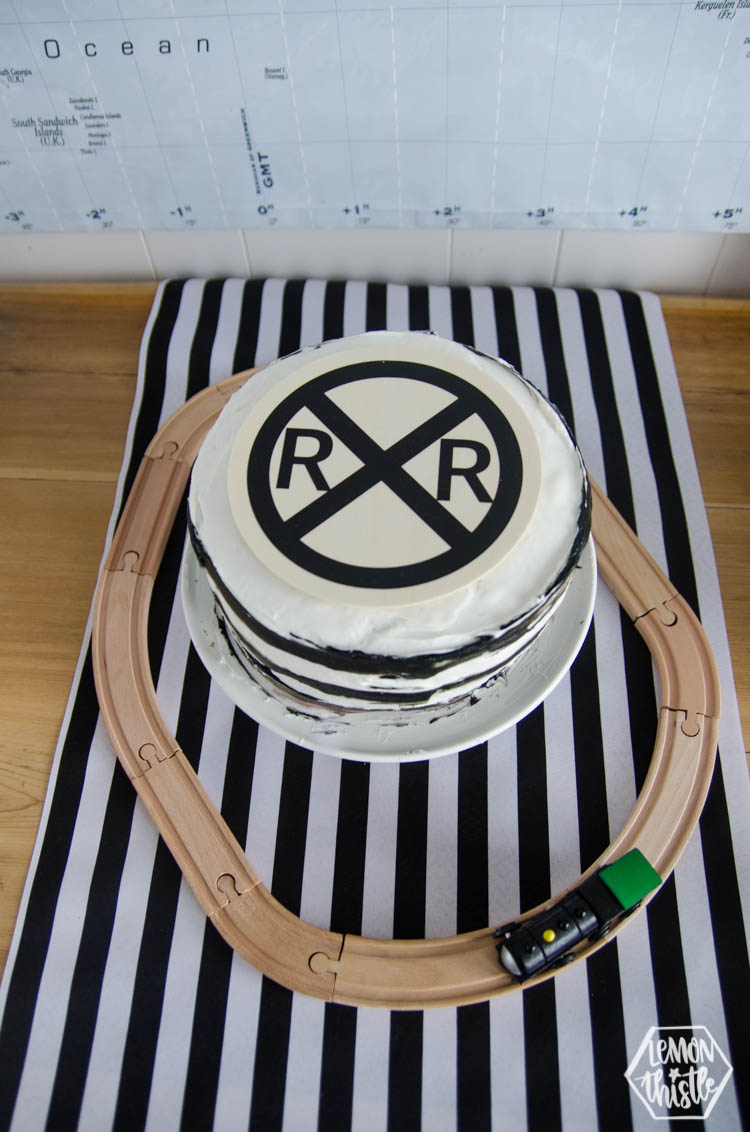 MAKE THE CAKE TOPPER
The cake topper is pretty simple too. I got this 6″ wooden round from Michaels for under $1 and created the RR sign using basic shapes in Cricut Design Space. You can use my pattern right here if you like. I cut this out of iron on vinyl using my Cricut Explore Air and weeded it using my Cricut BrightPad (just a lightbox) to help shine light through the cuts so I could see where to weed.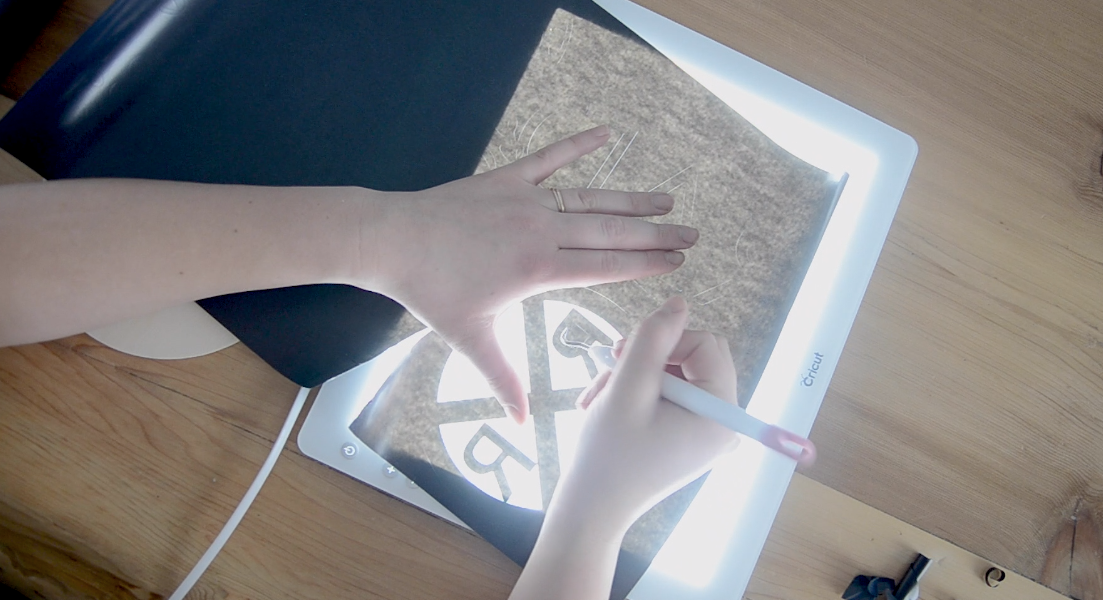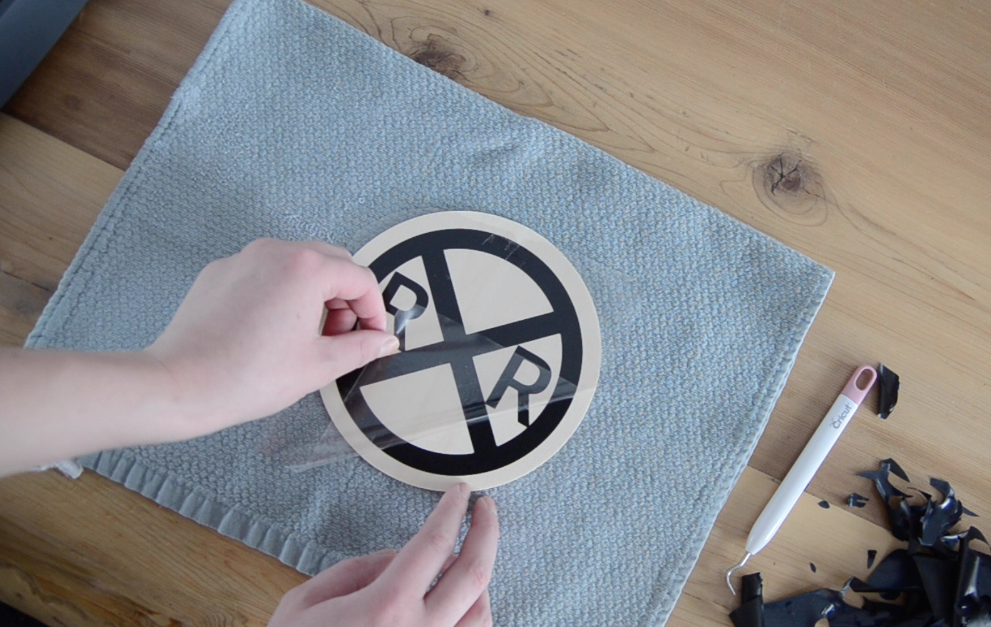 Then, the fun part! I ironed it on to the wood round. I used my Cricut EasyPress for this but you could totally use an iron. Lastly, I scuffed this one up with sand paper to give it a bit of a vintage effect but honestly, I'm not sure that I'd bother again. If you would like more instructions on cutting and using heat transfer vinyl on WOOD, I have a whole tutorial about that where I use this exact project as an example. You can see that RIGHT HERE.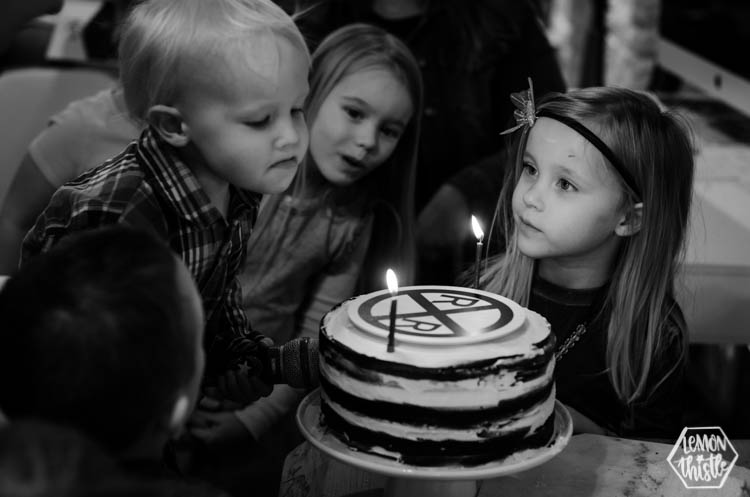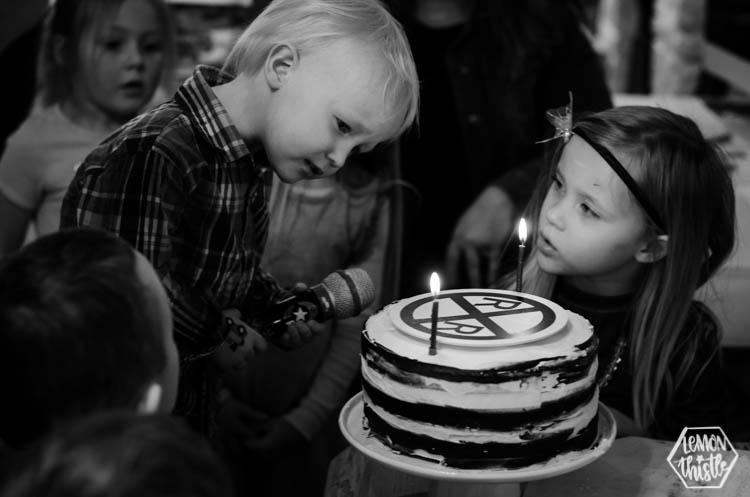 Alrighty! That's it, that's all. This cake made for one of my favourite birthday party moments ever- this sweet boy blew up his bangs and was so confused that the candles wouldn't blow out. It was perfect. If you're looking for more rad but ridiculously SIMPLE cake hacks, you can find all of mine RIGHT HERE. If you want to see this whole birthday party in action, check that out RIGHT HERE. And if you want to see all the kids parties I throw my many children (jk, there's only 4 kids- that's normal, right?!), you can see them RIGHT HERE!
And as for being behind on posting all these projects… kids birthday parties is something I'm SUPER behind on. Like… I have 3 whole parties waiting for ya. I'll try space them out so I'm not the crazy kid party lady, K?