This post contains sponsored or affiliate links which help support Lemon Thistle. As always, I'll only recommend things I love, love. Full disclosure here.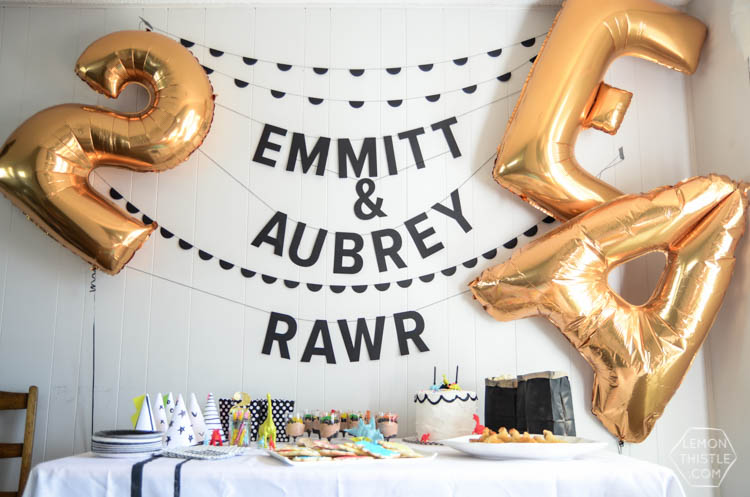 You guys, we had such a great weekend! Today we're celebrating the twins turning 2 (where did the time go?) and we invited family and a few friends over yesterday to celebrate. I'm taking their naptime today to share some photos from the party- a modern dinosaur party! We went with black and white with pops of neon (I can't say no to neon) and lots of dinosaurs for the bash. I'm still feeling a bit of a sugar crash from the amount of cake/ cookies/ and treats that I consumed yesterday… but it was. so. good.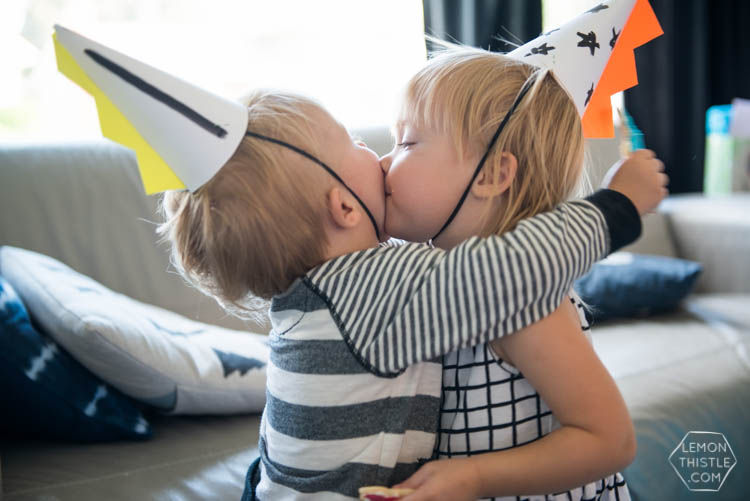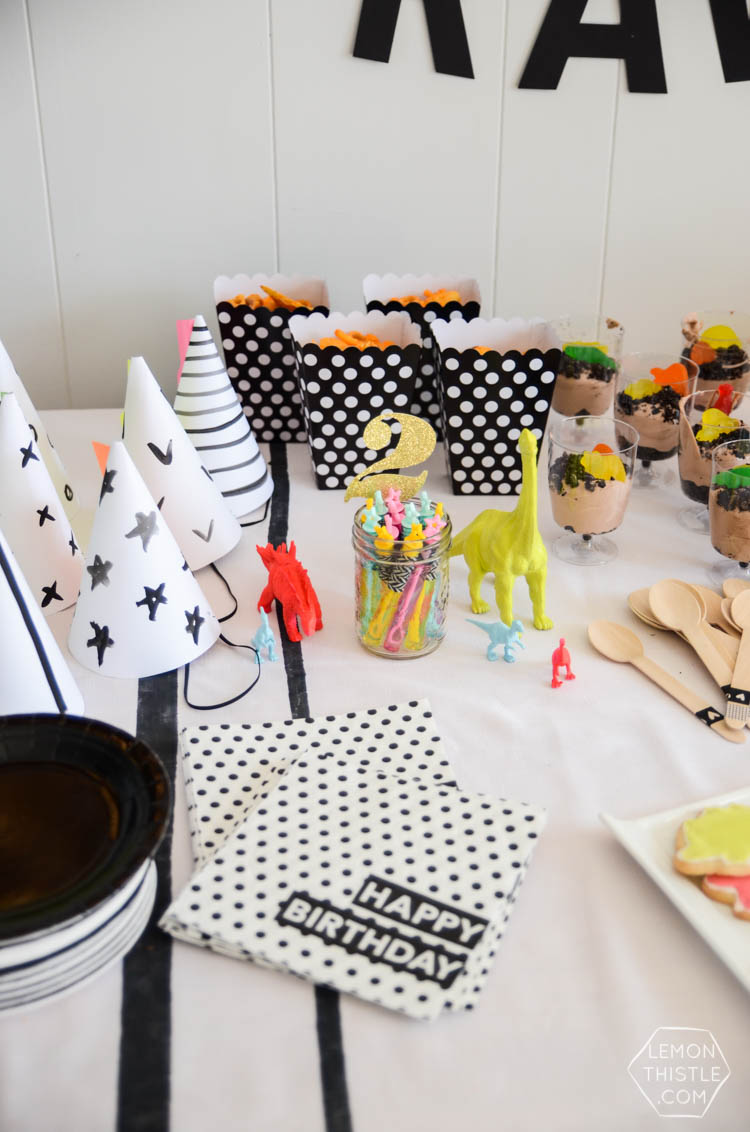 It was so fun to throw a party that they could help pick details in. We actually couldn't decide if we'd do a dinosaur party or a tattoo party because they're so in love with both… I'm glad we decided to combine them both. They woke up this morning grinning ear to ear and showing me their dinosaur tattoos, asking to see mine. By choosing black, white and neon (I'm pretty much a black and white party fiend by now) we were able to make the boyish theme of dinosaurs a little more gender neutral (hurray for pink dinos!).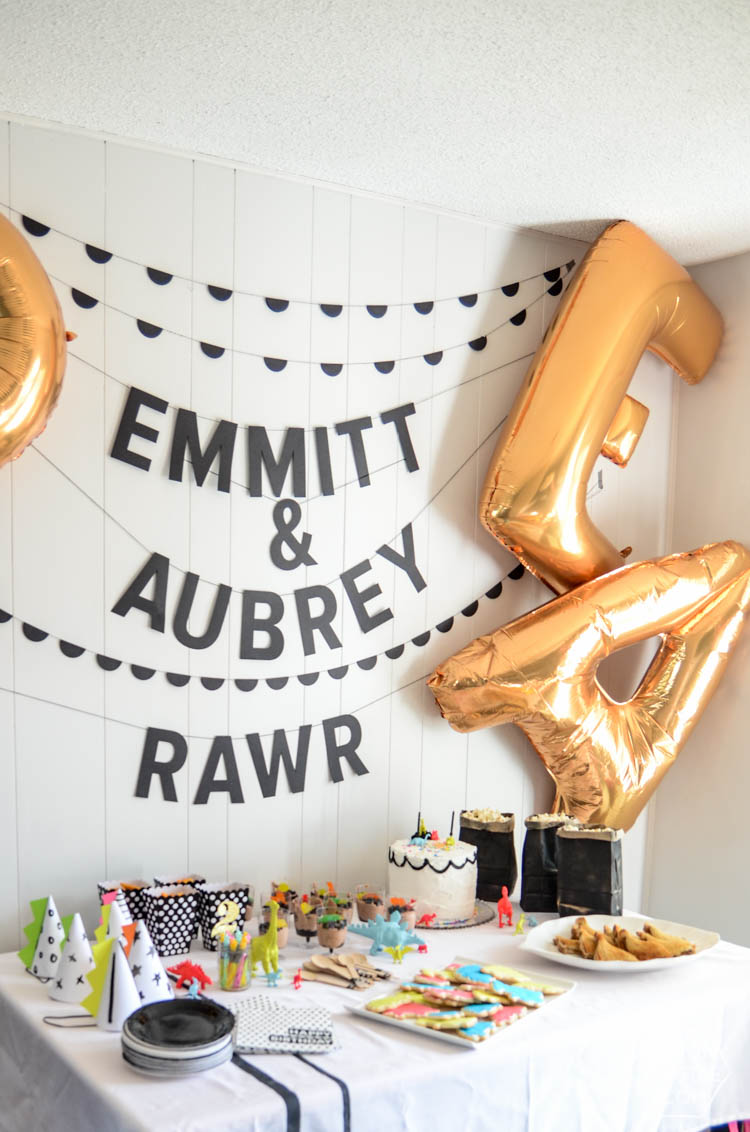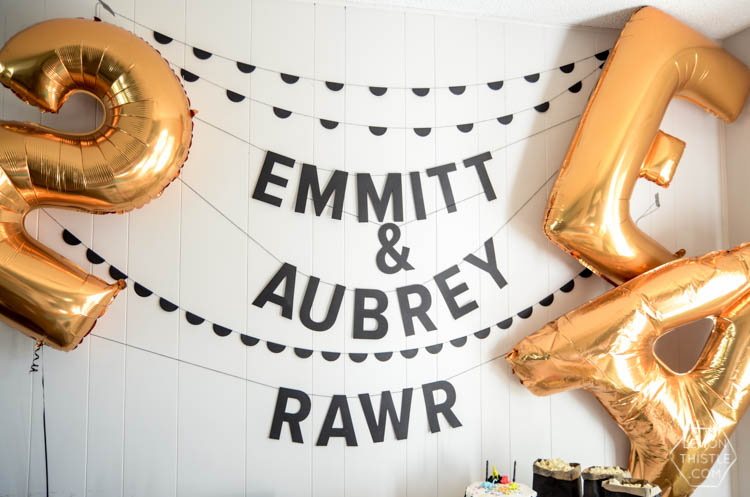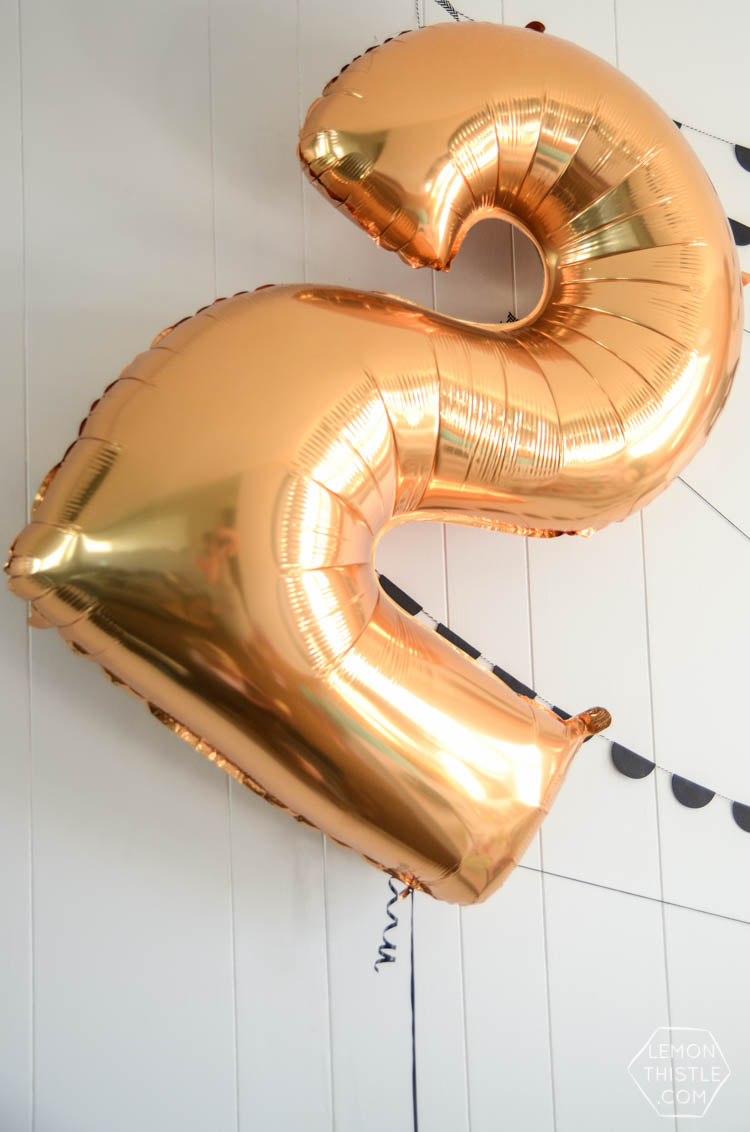 The party backdrop was so fun to make thanks to my Cricut Explore Air (have I mentioned I'm addicted?) and some giant balloons from Lampshade Bash (they're Canadian!!). You can find the DIY instructions for the scalloped banner over at Today's Creative Blog today and the DIY instructions for the modern lettered garland right here. After seeing how much fun the twins had with these giant (they're seriously the same height as them!) balloons… I think I need them for every party I every host… ever.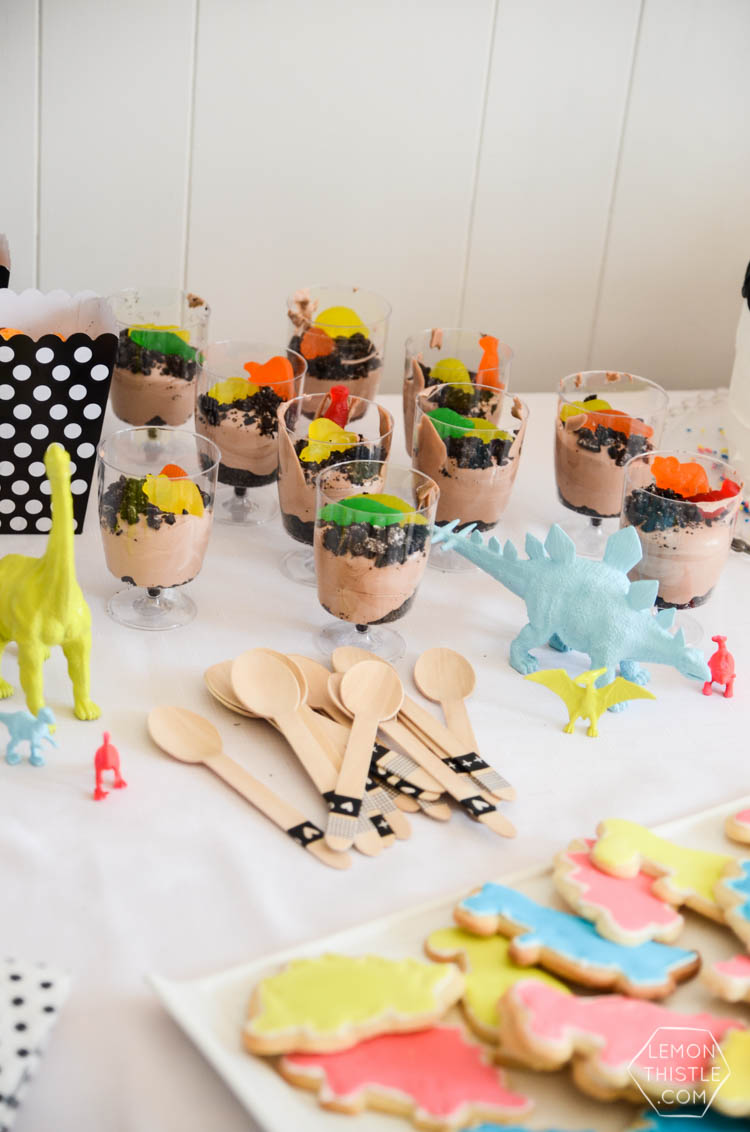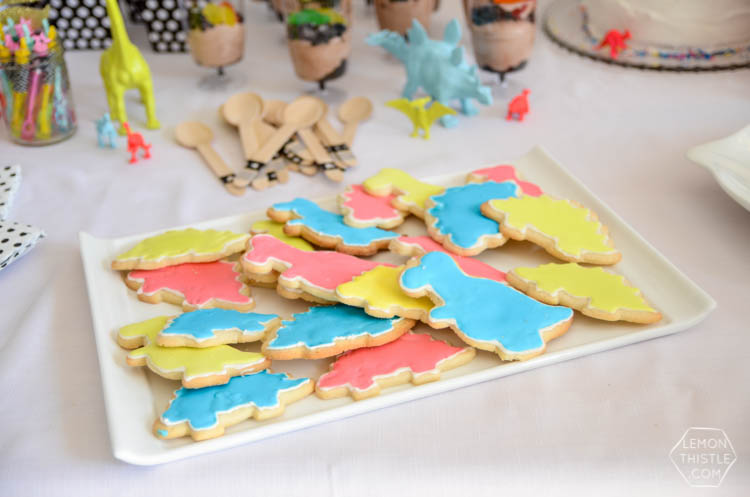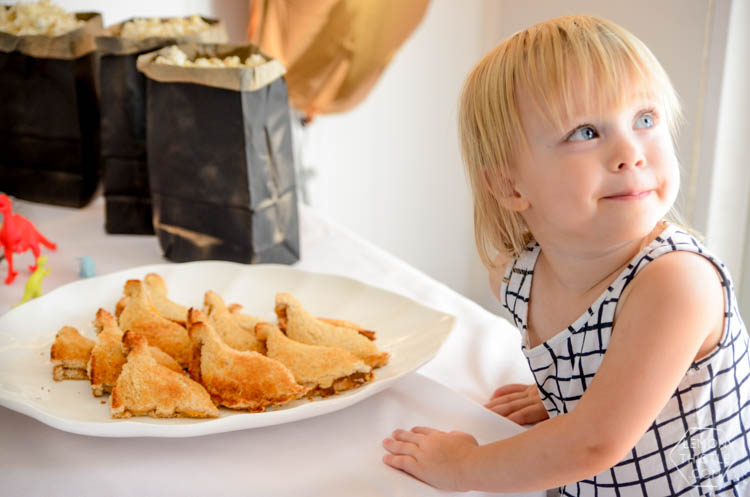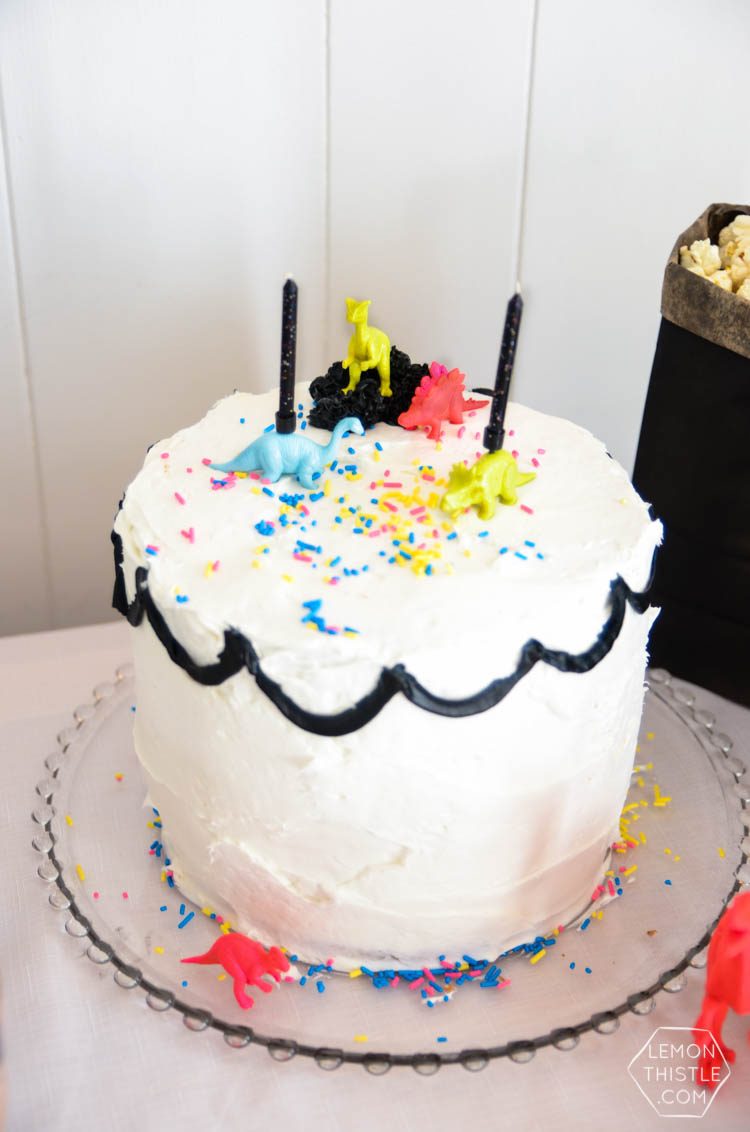 We feasted on SO much sugar. Not actually… that's just all I chose to eat. We actually had veggies and fruit as well as those dinosaur grilled cheeses- promise ;) My mom and I got busy making my favourite sugar cookie recipe to make neon dinos (I can't stop myself from eating these cookies… and we made so many!). My dad's wife got busy baking their super tall cake and I pulled out my icing bag to add some scallops and some sprinkles before adding some mini dinos that I painted and drilled to hold the candles. The candles I used are from Wilton
– they're black and glittery but mostly I love that they come with little picks so I didn't have to drill a giant hole in my dinos. Just so you know… black icing is the WORST to mix up yourself. I always buy it in tubes
now and will never go back.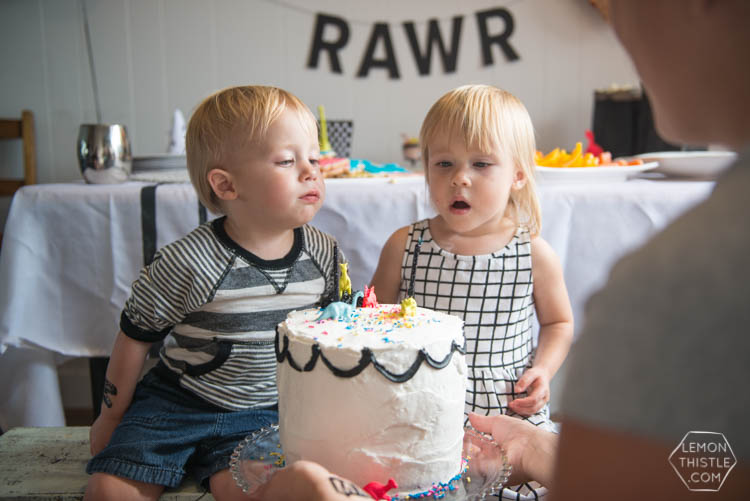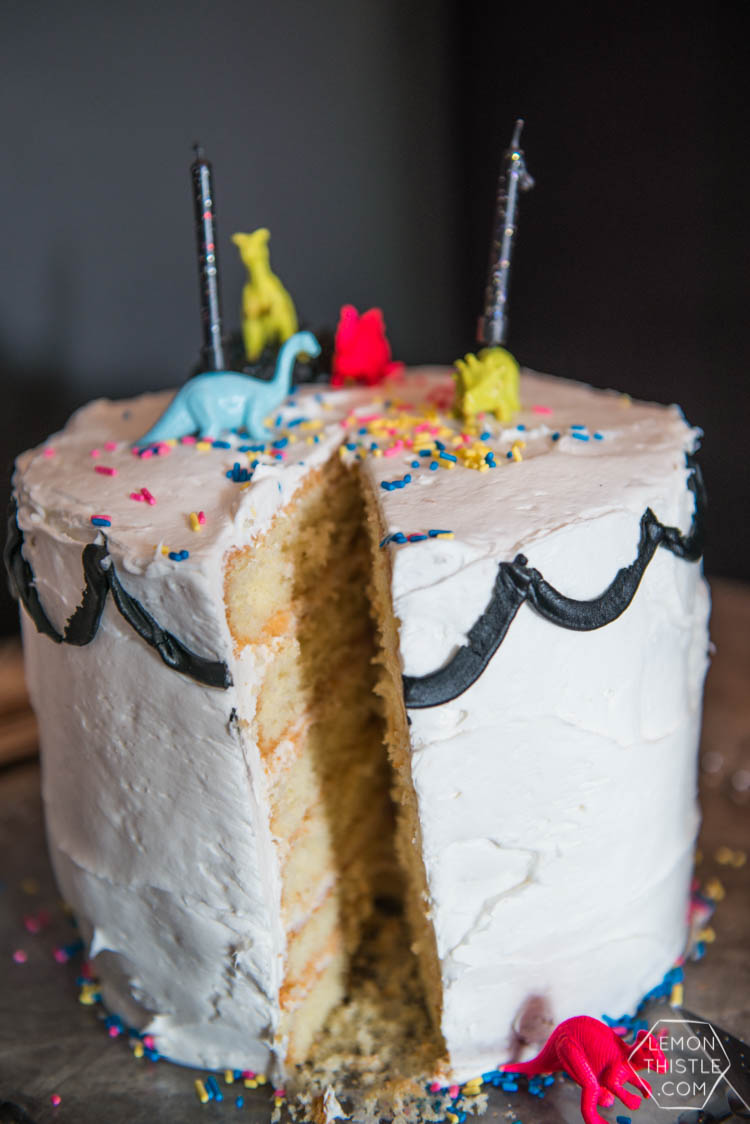 Since blowing out their candles yesterday, that's all they've wanted to do. This morning Shane popped out of work and surprised me with a coffee and the twins with their favourite Starbucks treat- a banana bread with a candle for them to blow out. I'm pretty sure their day has been made (mine too!).
We didn't have any goody bags (is that really something we need to get on board with?) because I thought they're only 2! But we did have a fun tattoo station with tattoos I designed and bubbles for the kids to play with outside. I wrapped the neon bubbles in black and white washi tape because I like to wrap everything in washi tape- see the cutlery?! And popped them in a jar with a sparkly 2 cake topper. I'll be chatting about the tattoo station and giving the designs away in another post so keep your eyes out if that's something you're in to!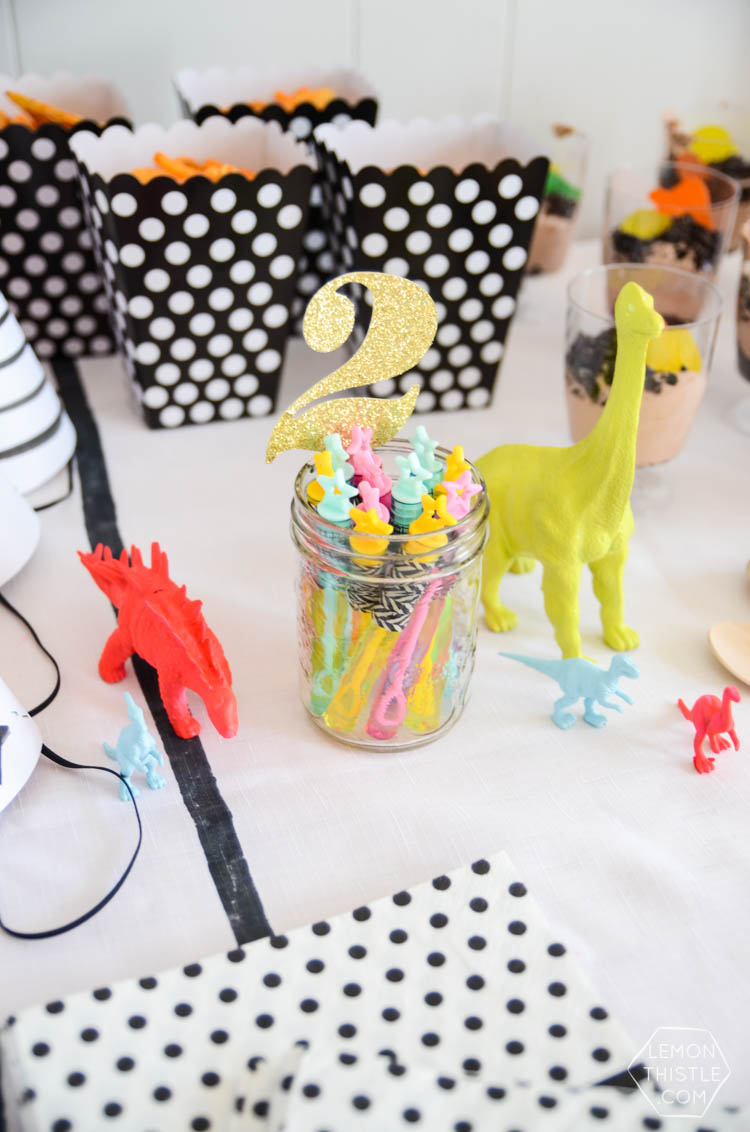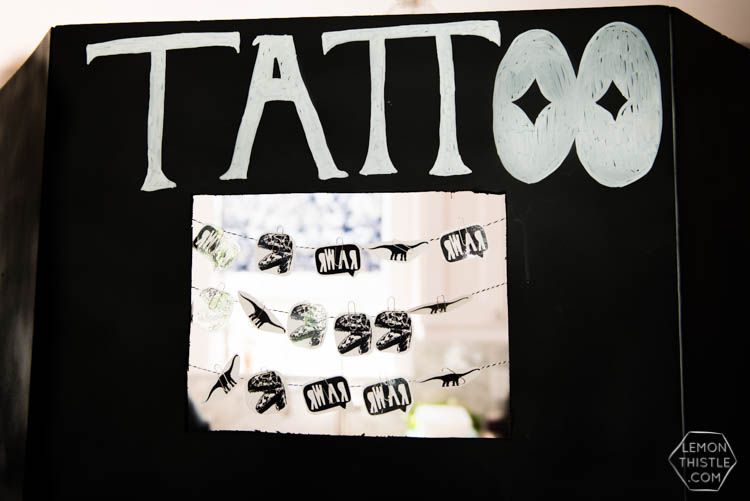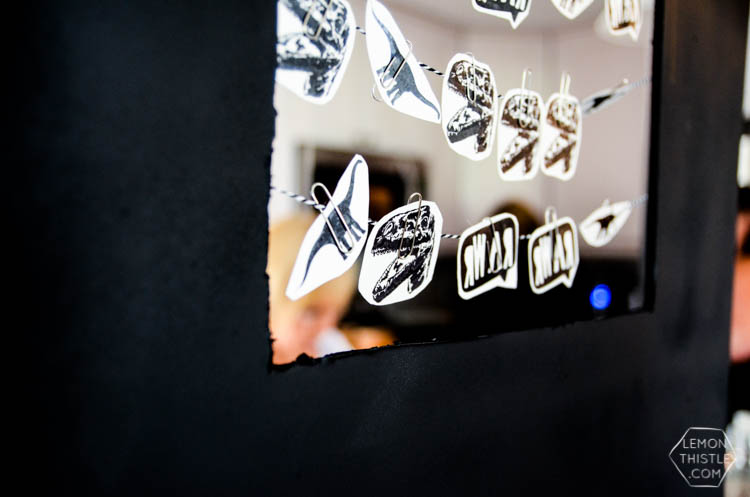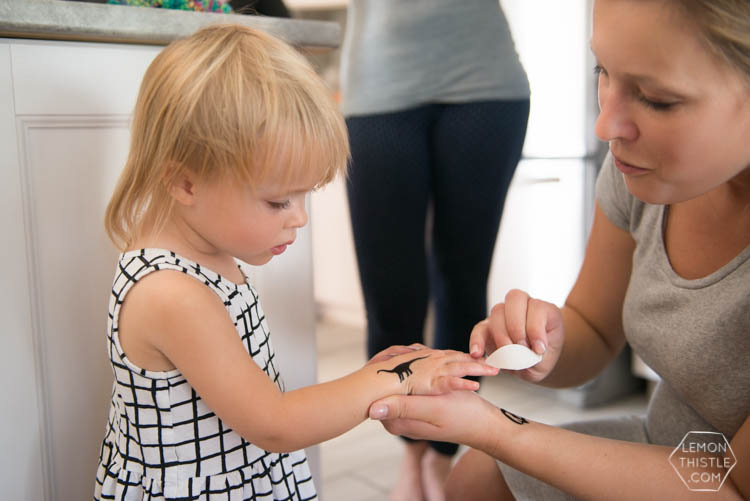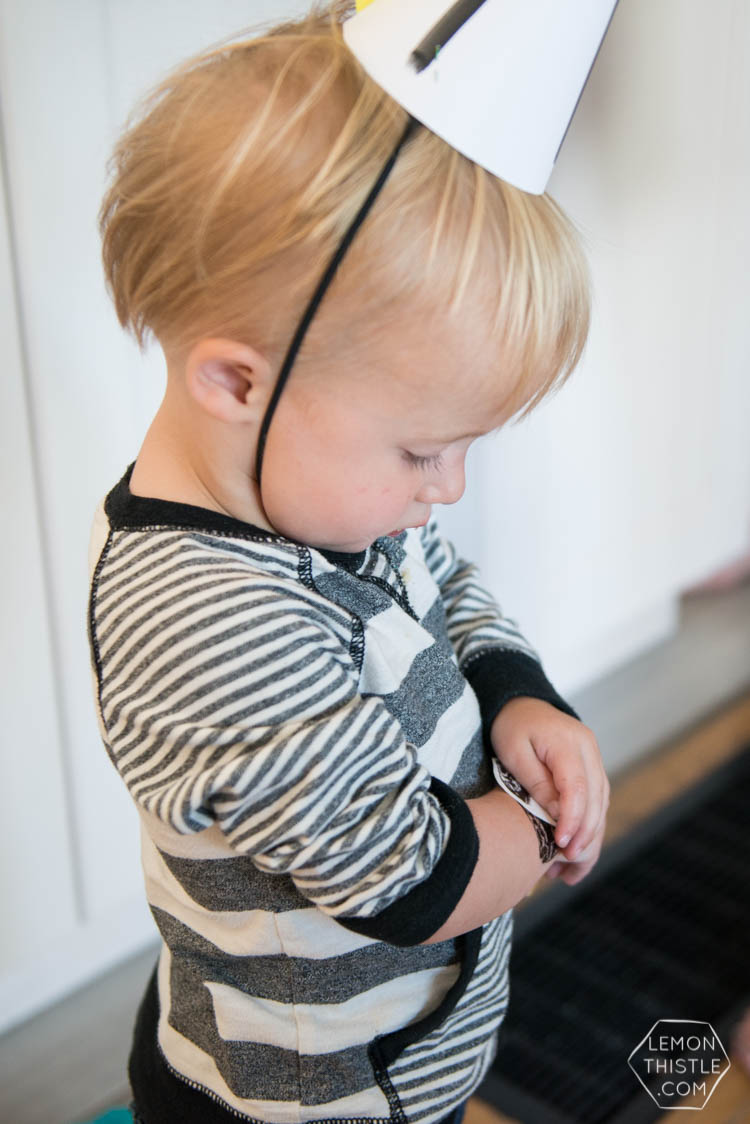 Other than that, I added some dinosaur sass to some standard black foil balloons which has given me all sorts of ideas for upcoming holidays (any guesses?!). I also added hand pained patterns to the paper party cups and the dinosaur party hats we made. I'm loving these patterns and hoping to translate them into some sort of party printables in the future. We also found (what are the chances?) some inflatable neon dinos right beside the lunchkits we just bought our kids on clearance for $2… the cousins rode them around all day and dressed them up in mittens, scarves and party hats. I didn't get a good photo of them- but there's a shot of Emmitt giving his favourite one some love.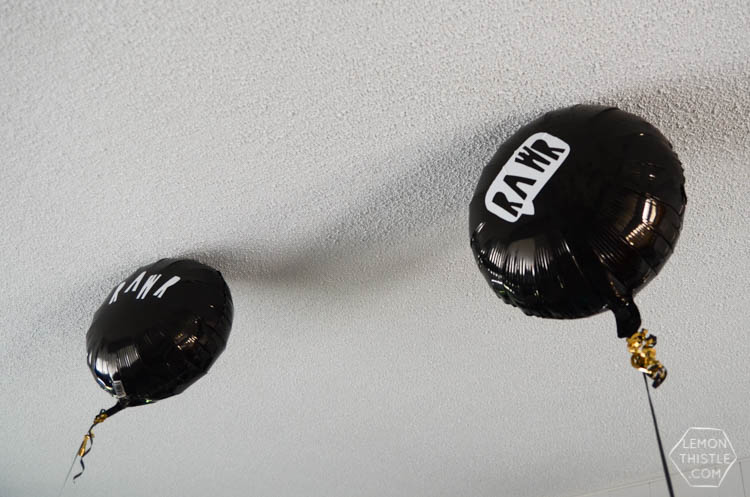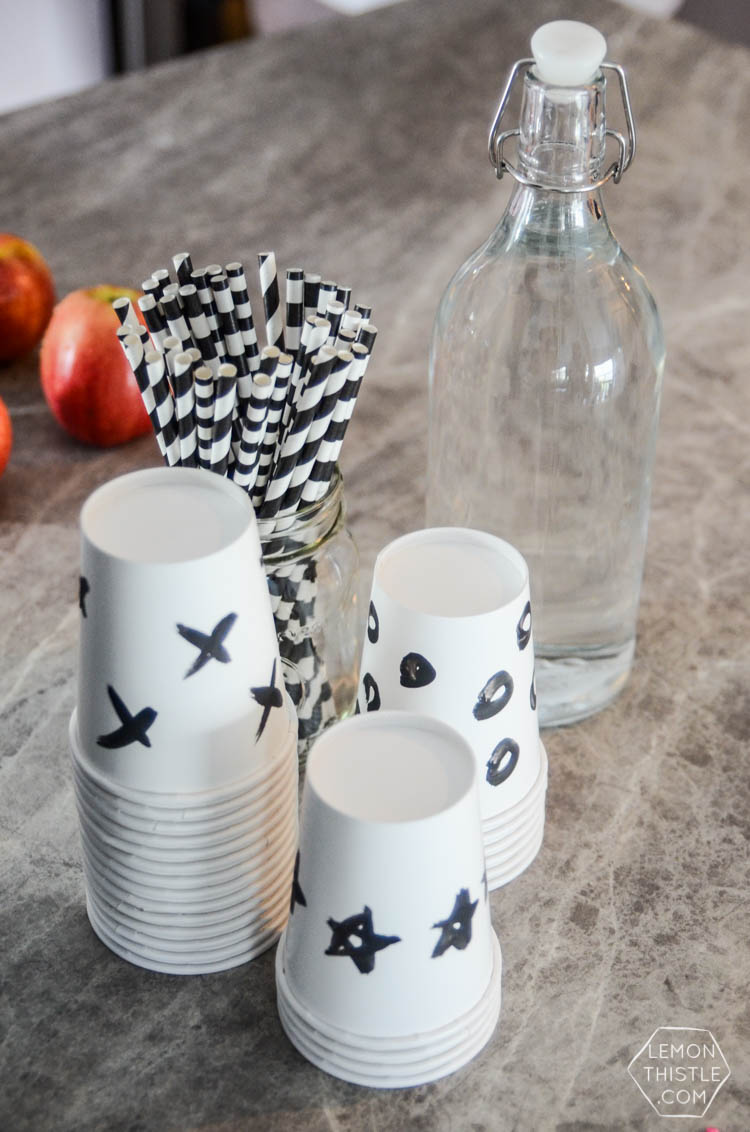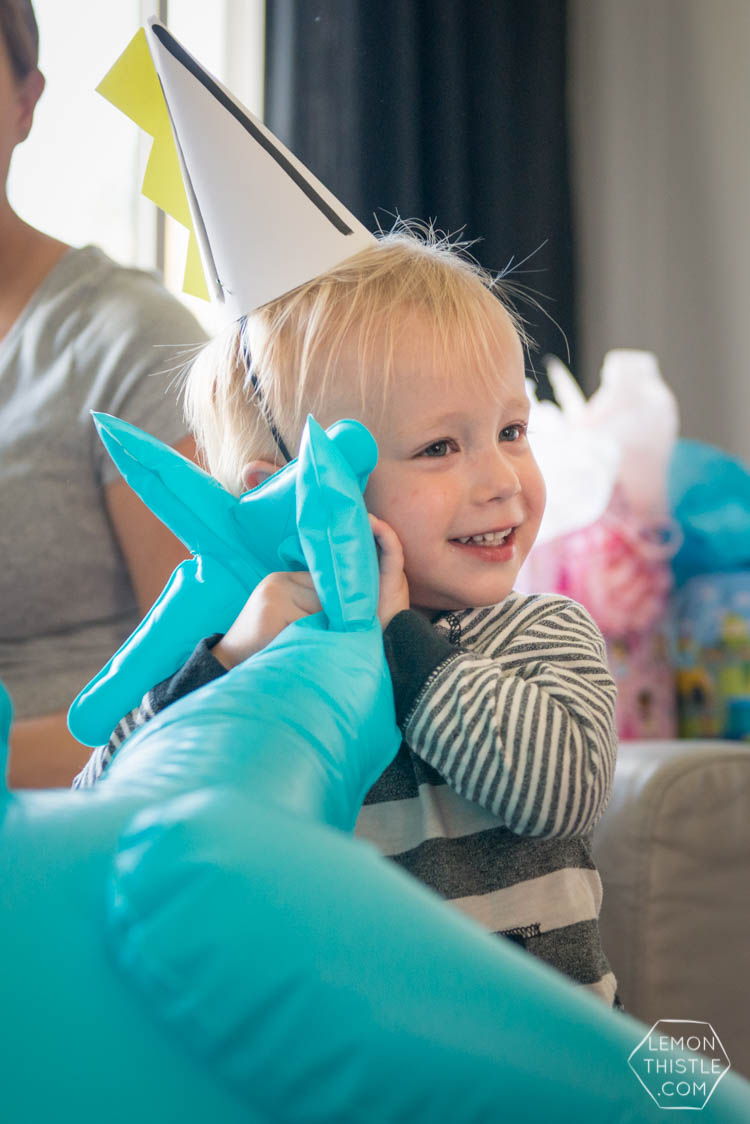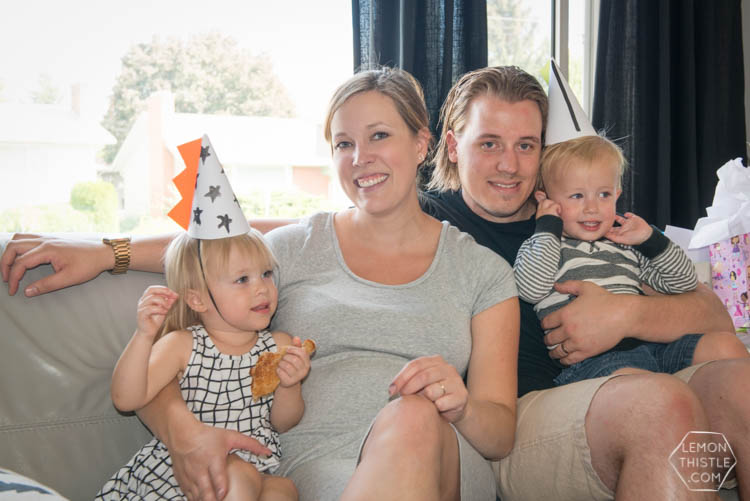 Phew- photo overload? I hope not ;) Well I'll leave you with those fun details and I'm off to make lunch before the birthday babes wake up. I have to say as much as I love throwing a good party- I really love the people I have in my life that like to help! Other than the help baking (definitely not my strong point), my friend Megan did all the late night shopping for supplies with me and my friend Tylene crafted the hats with me then showed up early to make sandwiches and popcorn- theeee best.