*This post contains sponsored or affiliate links- as always, I'd never write about a product I didn't 100% love (full disclosure)*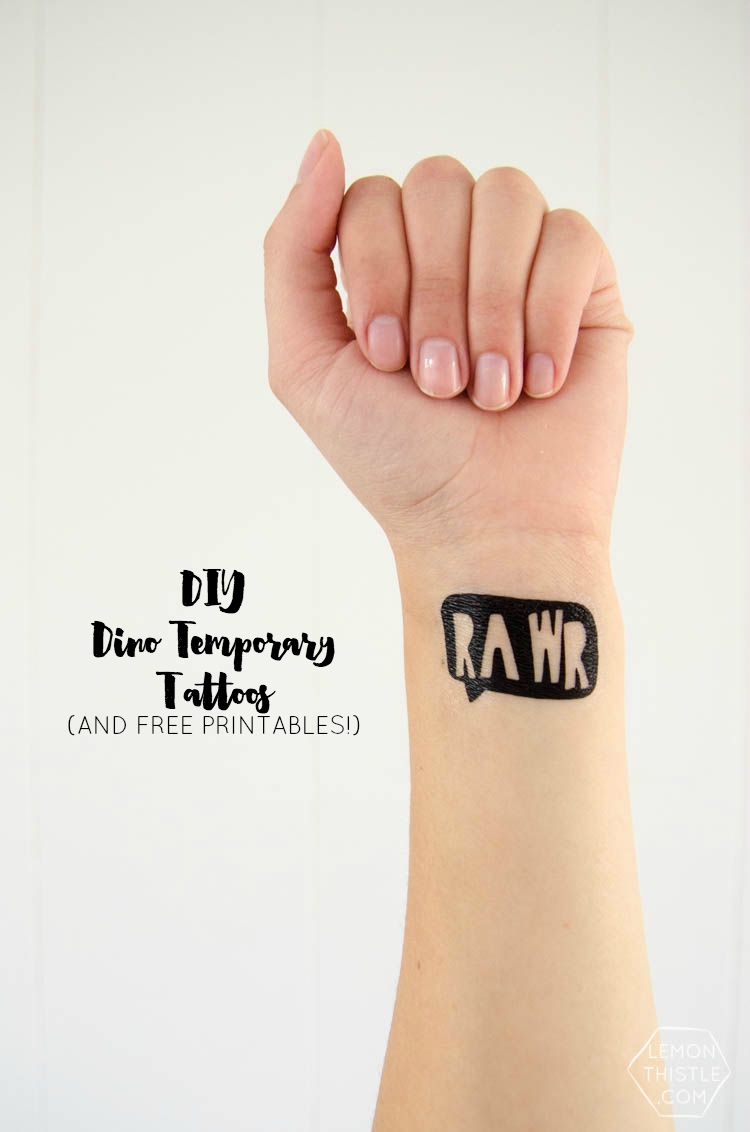 Okay, so the part I loved most about our kiddos second birthday party? Other than how ridiculously happy they were the whole time… is the tattoo station! Our kids really love tattoos. Both Shane and I have them and so do both of their grandpas and a lot of our close friends. They like to point them out and this was the first time they've ever gotten temporary tattoos of their own, so I knew it would be a hit with them. Temporary tattoos are fun just on their own, but I thought it would be awesome to make a few specific to their theme (you know I'll be sharing them with you!) and even more awesome to make a little station where they could put them on. Meet our little tattoo station!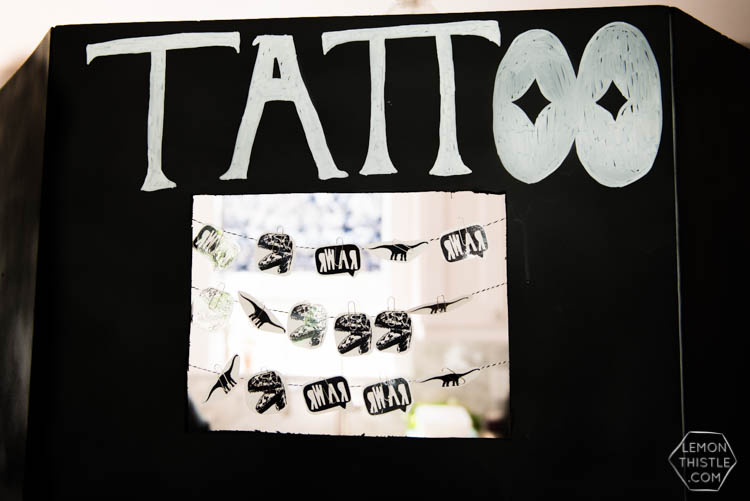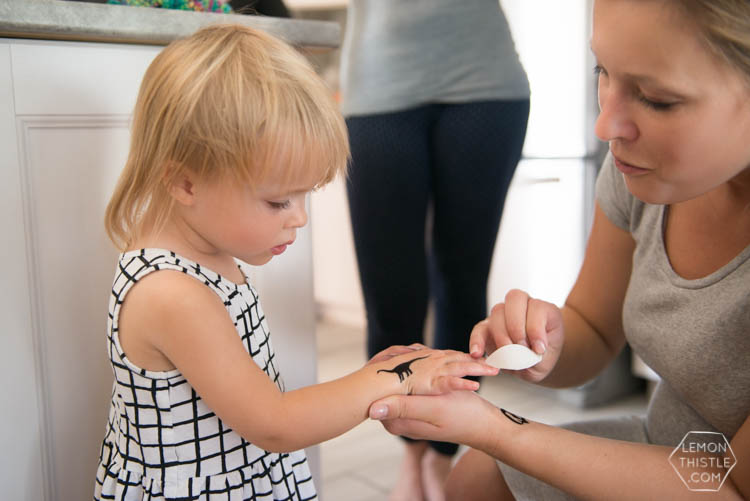 Since I shared the twins Dino Party last week, I've already helped a friend order their own tattoo paper and make tattoos for a wedding (super fun!). So I thought I'd put a post together showing not only how I made the tattoo station but also the tattoos. And share the tattoos I made as a free printable!
Here's what you'll need to make your own:
For the Tattoos:
For the Station
Okay, so for the tattoos, you pretty much just follow the instructions on the paper- design your tattoos, reverse the design, and print on an inkjet before adding the sticker sheet over top. BUT I don't have a proper scraper like they suggest, so I just used a credit card- worked like a charm. Also… I just used scissors to cut my tattoos out because I only made one page (and had more than enough). You can grab my dinosaur tattoos right here. They print 29 to a page (mixed between the three dino designs).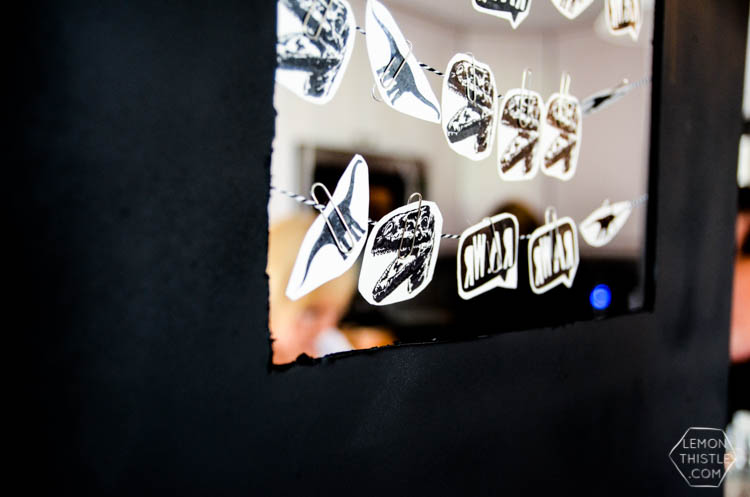 As for the station, it was so simple! I think I'll be using this design to create stations for kids parties in the future… now to dream up those stations! I used a foam display board, like kids use at science fairs. They only were available in white at my Walmart, but of course Amazon has black ones
(which would have saved me a step!). I cut out a little window to hang the tattoos in with a craft knife before giving it a couple coats of flat black spray paint
front and back. I used a paint pen/marker to write 'Tattoos' above the little window. I first tried using a chalk marker and it just wasn't cutting it for me. I really love the way the Elmer's Painters opaque paint markers
work on spraypaint so that's what I ended up using. In full honesty… I'm a huge procrastinator you guys and I did this about 20 minutes before the party started. In hindsight I would have done it sooner and maybe it would have looked a bit better! Any other procrastinators out there?
Then, I went to the back of the window and taped three strands of black and white bakers twine up with some washi tape. I used paper clips to hang the tattoos and left the extras on the table in front of the station for guests to grab and apply.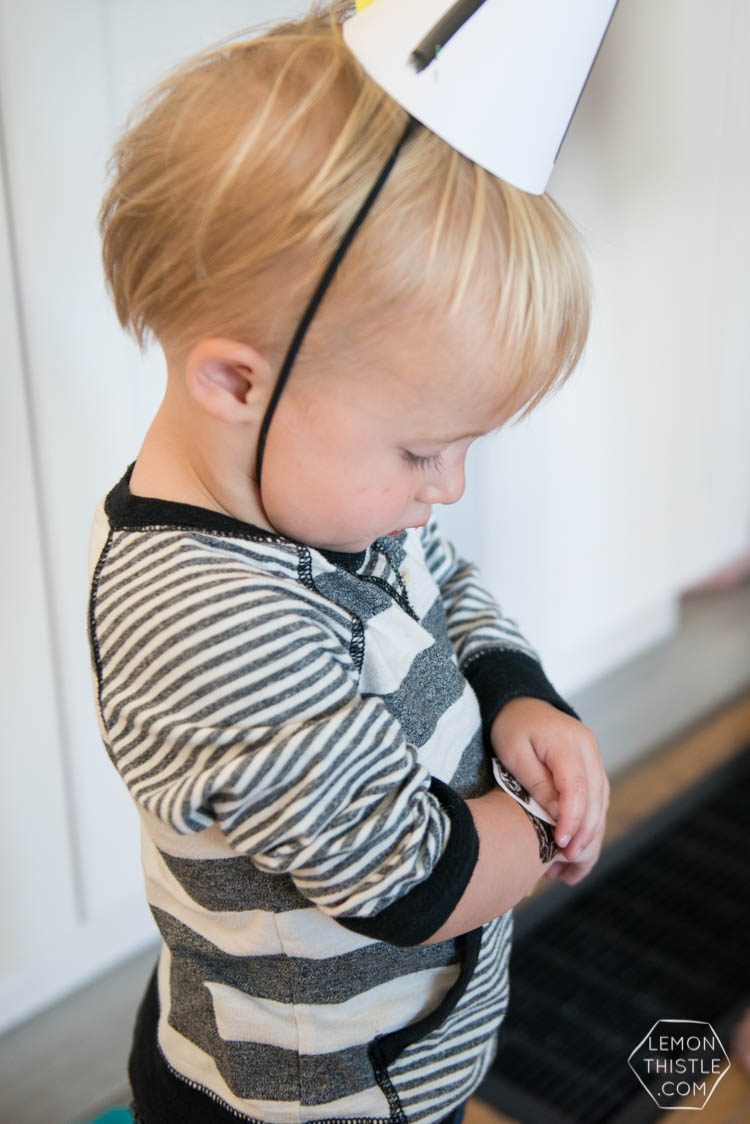 We're still working our way through the tattoos (I'm wearing one now!) but I would caution that this tattoo paper is awesome BUT they wash off super easy. But the glue doesn't. So the first time you shower or wash your hands (if it's on your hand) the ink will start to run. And if you wash it off, there will still be adhesive residue which is kind of a bummer. But they're still so much fun… so I don't mind all that.
What do you think- would you do a tattoo station? How about temporary tattoos for a special event? I'd love to hear how you'd use these!