This loaded Peanut Butter Blueberry Breakfast Smoothie is sure to be your new favourite breakfast. The addition of oats and peanut butter are sure to keep you full till lunch, and it's totally kid-approved – they'll never know it's healthy!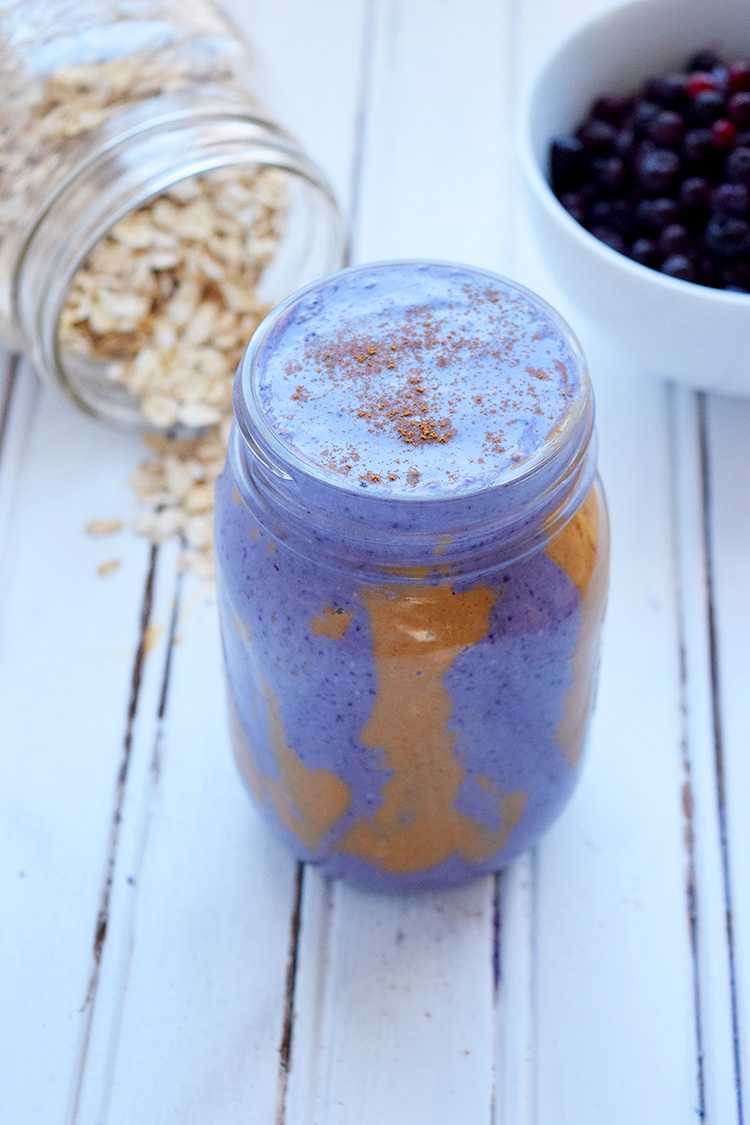 Hi friends! Megan here from over at Straight From The Jar, and I'm uber excited to bring you another recipe today. I sort of can't believe it's my third month over here at Lemon Thistle. Time flies when you're having fuuuuun!
Fall is upon us. Mother Nature has made me very aware of it with that ALMOST frost on the windshield of my car in the mornings lately. I'm not mad about it though. Kids are back in school (I don't have any FYI, I just get jealous when they're on summer vacation), and it's officially back to routine. I for one, am super pumped about sweaters, scarves, boots, lattes and soups.
BUT! I will never store away the love I have for smoothies. Whether I'm wearing my parka or a pair of shorts, I will gladly consume the beloved deliciousness that is a smoothie, especially this one I'm bringing you today – an epic Peanut Butter Blueberry Breakfast Smoothie. Betcha can't say that fast ten times.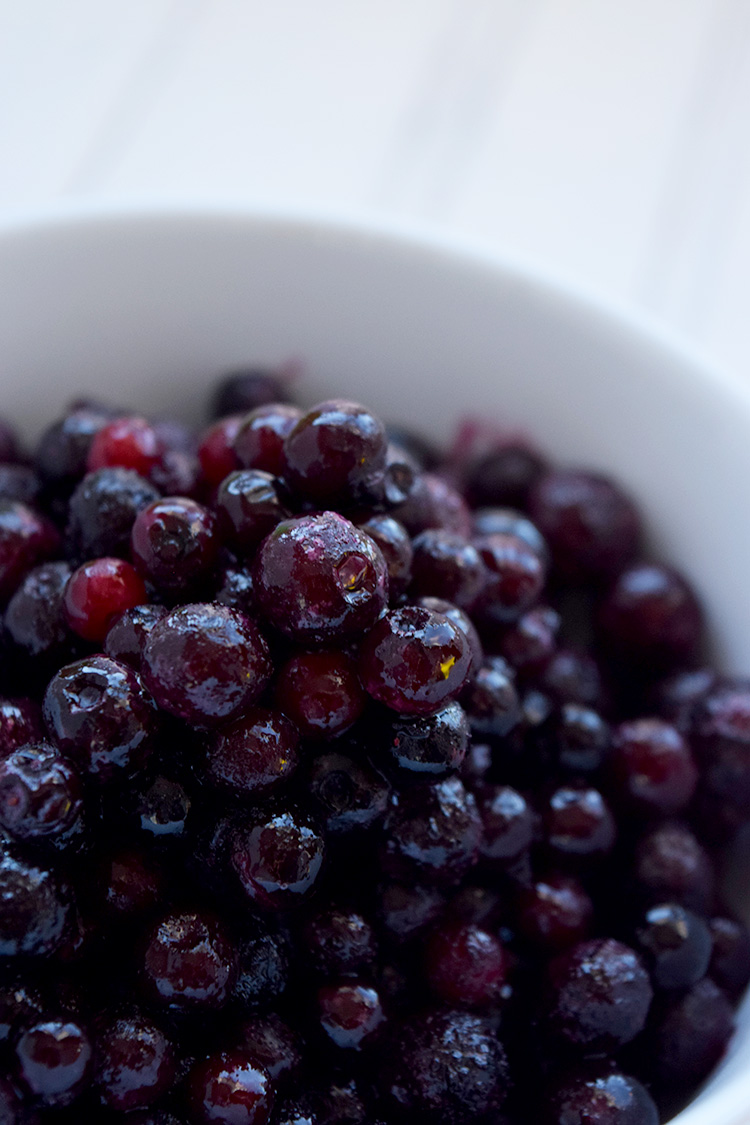 Normally every summer, my mom and I pick a ton of fresh blueberries (from behind my house, I know, be jealous) and I freeze ALL of them. This year, the blueberries didn't grow as well and we didn't have the chance to pick any *insert sad face*. I actually ran out of blueberries from last summer's pickings only a few months ago and I use them pretty regularly. That's how many we picked.
Side thought –  We've actually had a bear problem where I live because of the lack of blueberries, since they significantly contribute to their diets in the wild. There have been a few cases where bears have broken into peoples HOMES this summer. Isn't that nuts? I'm not joking. Check it out here. In case you're like – "Megan, where in the world do you live?". I live in Northern Ontario, and yes, bears roam my backyard on a regular basis.
Ok, back to the food.
Frozen blueberries are great for baking, jams, and of course for smoothies. They're loaded with antioxidants and are considered a superfood too. When they're frozen, they also have a stronger flavour to them which make this smoothie extra yummy.
What I love most about this smoothie though is the addition of oats and peanut butter. If you've never had oats in your smoothies before, you must. They add such a great texture and thickness to the smoothies, which totally help you stay full, longer. It's basically oatmeal in smoothie form. My problem generally with having smoothies for breakfast is that they just don't keep me full for 4 hours until lunch. With the addition of healthy fats like peanut butter and oats though, this smoothie can easily keep be satisfied through the morning.
Please do let me know if you decide to try this smoothie! Well not if, I know you will, because, peanut butter, blueberries, and oatmeal. Come find me over at Straight From The Jar, and make sure to get social with me on Facebook, Instagram, Twitter, and Pinterest too!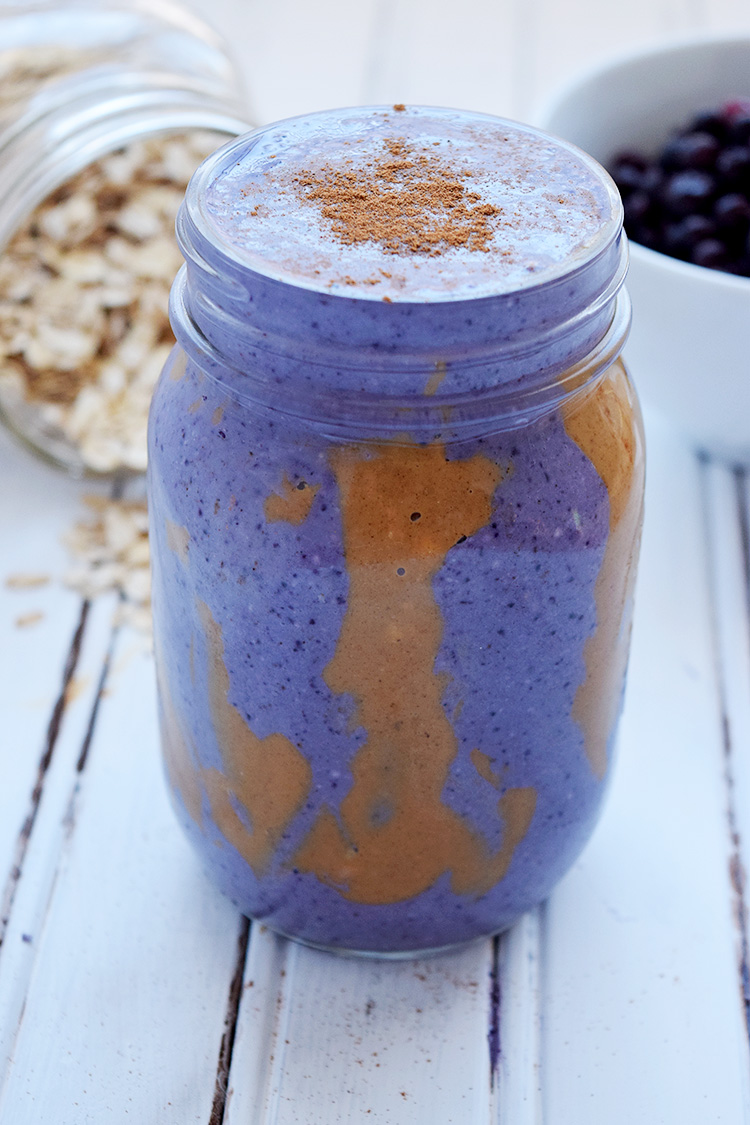 Peanut Butter Blueberry Breakfast Smoothie
Yields 2 smoothies 
Ingredients
3/4 cup of rolled oats (gluten-free if desired)
1/2 cup of full-fat vanilla greek yogurt (watch for brands that are super high in sugar!)
1 cup of frozen blueberries
2 tablespoons of peanut butter
1 teaspoon of cinnamon
Optional: 2-3 Medjool dates
Instructions  
If you're using the dates, pit and soak them in a bowl of warm water for about 30 minutes. I love the flavour dates add to this smoothie so I like to use them!
Combine all the ingredients in a high-speed blender. Blend until smooth.
Notes
You can use fresh blueberries if you prefer.
If you require this smoothie to be peanut-free, simply sub for a different nut butter such as sunflower seed butter!