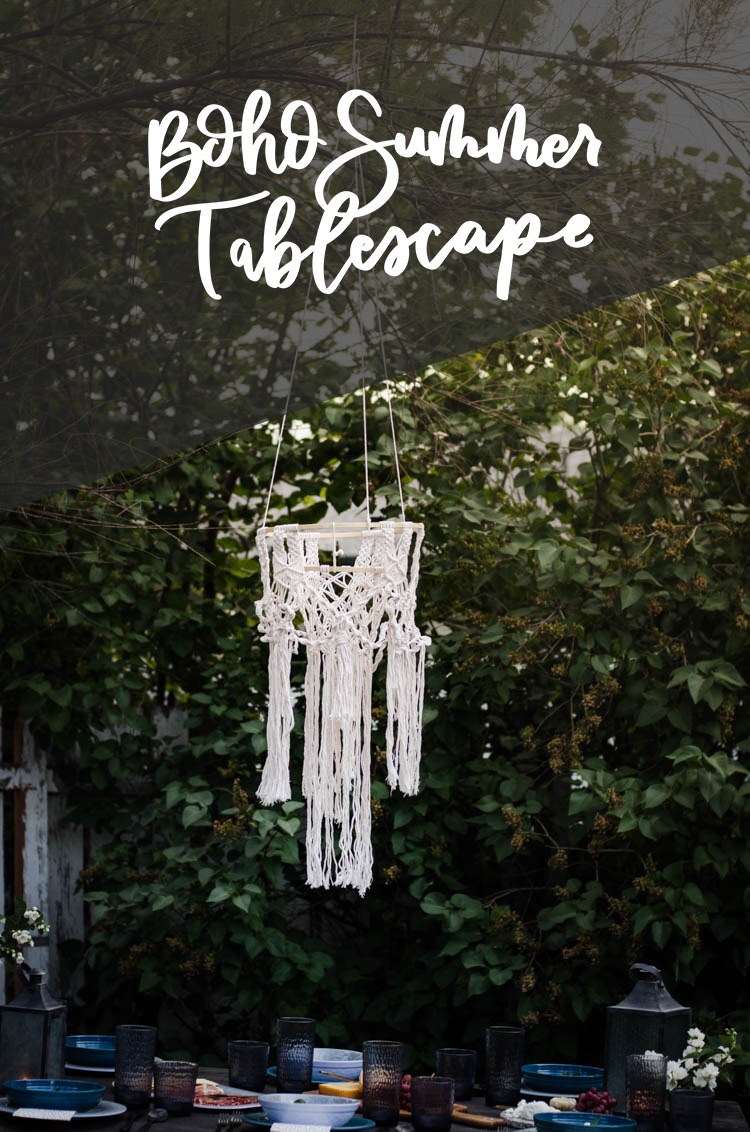 There's something about outdoor living, you guys. I love it so much. Even with the mosquitoes. Today I'm excited to be sharing this little al fresco dining set up we put together in our yard as well as this summer tablescape! This post is part of my favourite collaboration- Modern Handmade Home. This month, we're taking on gorgeous summer tablescapes in partnership with Kitchen Stuff Plus and I have to say… this is one of my fave challenges we've done yet. Because, outdoor living ;)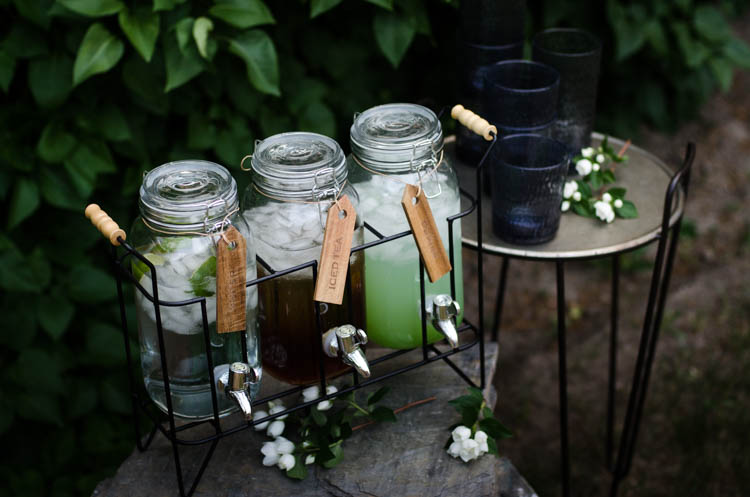 Early this spring we switched up our patio and opted for a lounge set instead of dining set. Since we didn't have any room on our deck for the dining table and benches we built, we moved it down into the yard and while I love it down here (Shane and I agreed we should have done this way sooner, we love it!), I wanted to make it a little more special. I made a macrame 'chandelier' to hold space and really make it like an outdoor dining space (there's no lights, I am just calling that because of the shape). I'm hoping to make a YouTube tutorial for this hanging, I recorded all the steps!
As for the table? This one is a first for me. We've never had patio dishes! We always just brought our glass ones outside. But now that the table is down a set of stairs and across the yard. And now that we have kiddos that want to eat on adult plates… I'm so glad to have melamine plates for out here. Bonus points that they're dishwasher safe.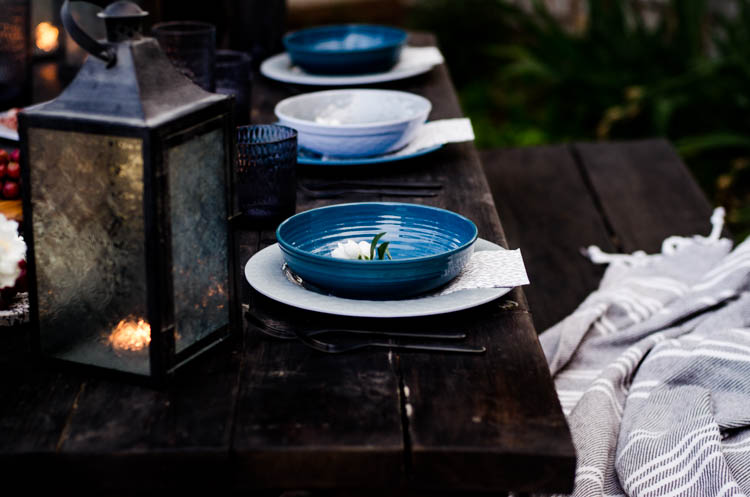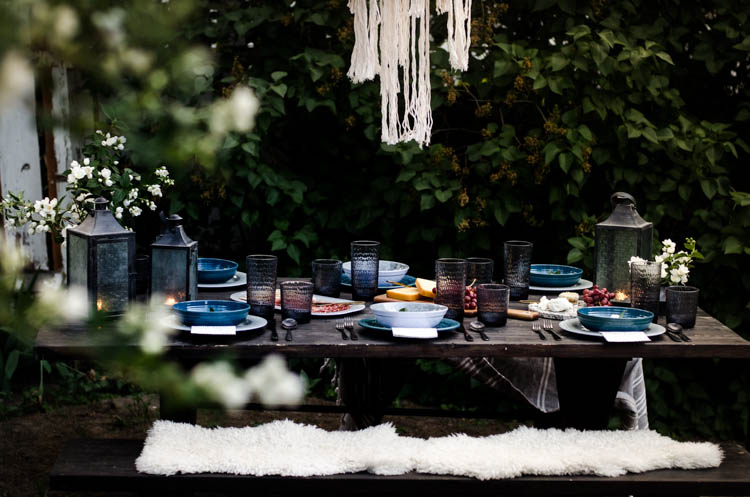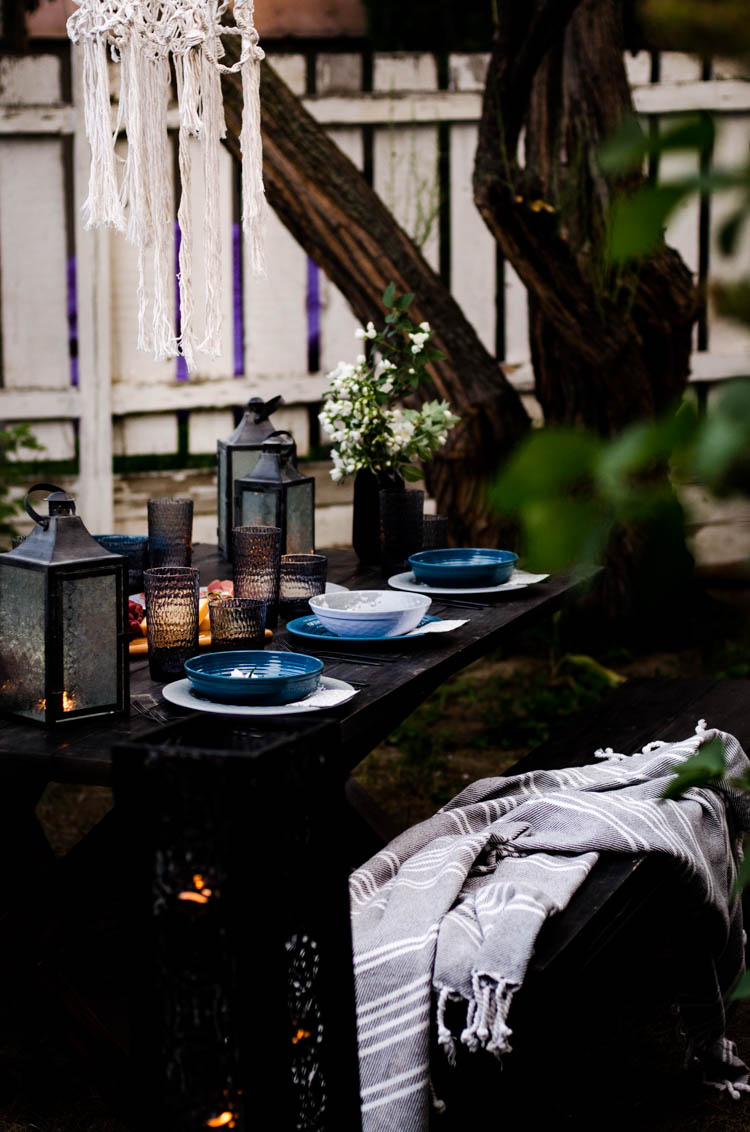 When I was putting this tablescape together, I knew I wanted it to look casual and inviting, but could also dress up a little bit for company. I wanted a dinner tablescape that we could sit around talking long after eating just as we would with an indoor dinner party. The lanterns totally help extend the evening and give off such a beautiful glow. I love that these lanterns are metal and glass and the pattern in that glass is my favourite part of them. Because they're metal, they actually give off quite a bit of heat for a little candle inside.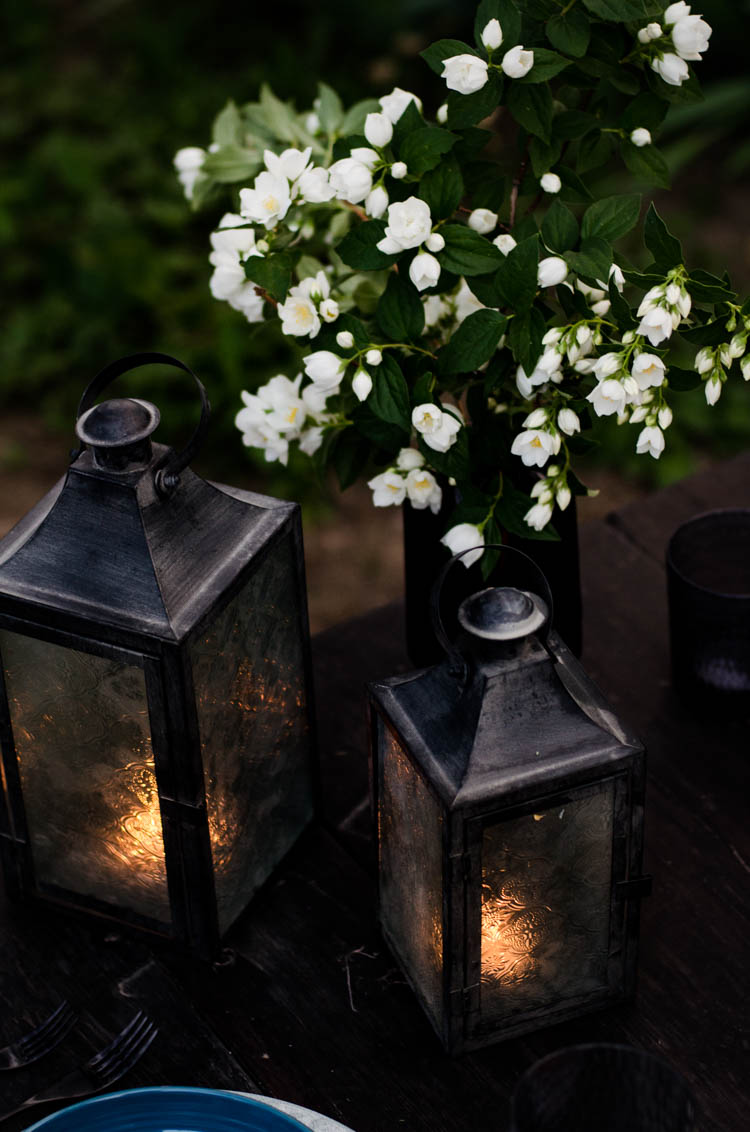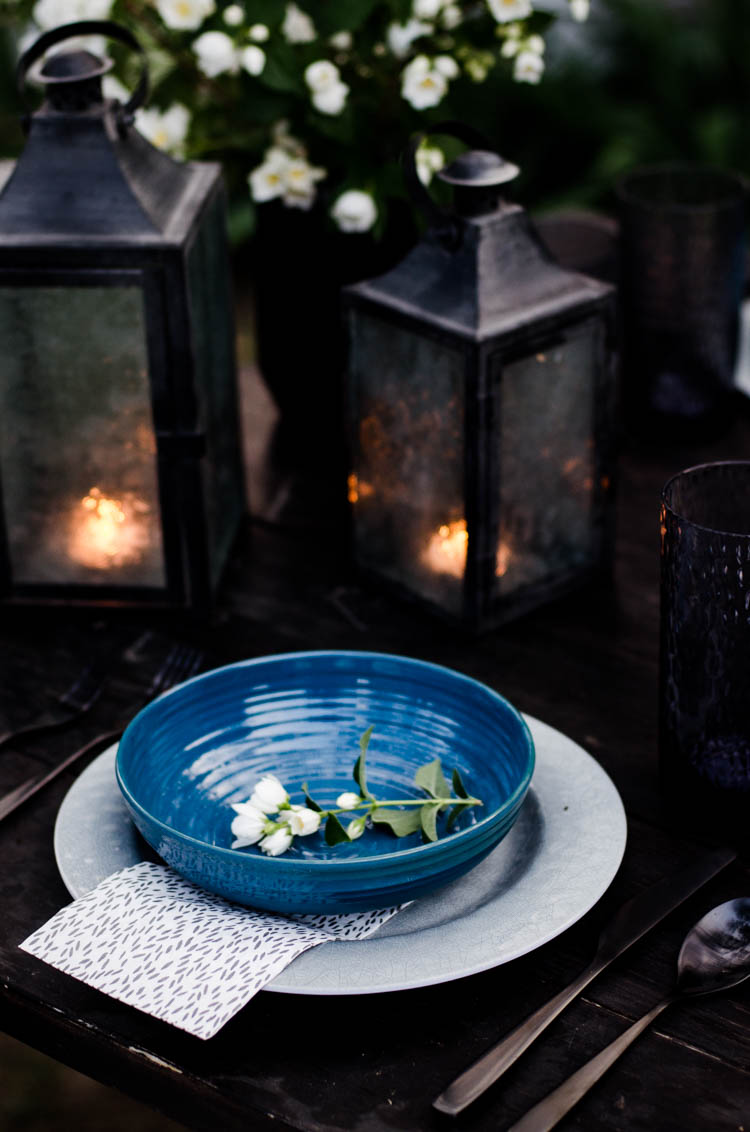 We mixed and matched two different sets of patio dishes for the tablescape- the ripple blue and the antique grey. When I was ordering them, I thought for sure the crackle pattern would be my favourite but I should get a little crazy and add a colour in since it's outdoor. But now that we have them? The blue ripple is definitely my favourite. I love the deep blue and the texture of those dishes so much!
Each setting is a contrasting plate and bowl, I love how these patterns play together! I also have the side plate for each which I'd save for dessert! Or for the kiddos who have their own little picnic table.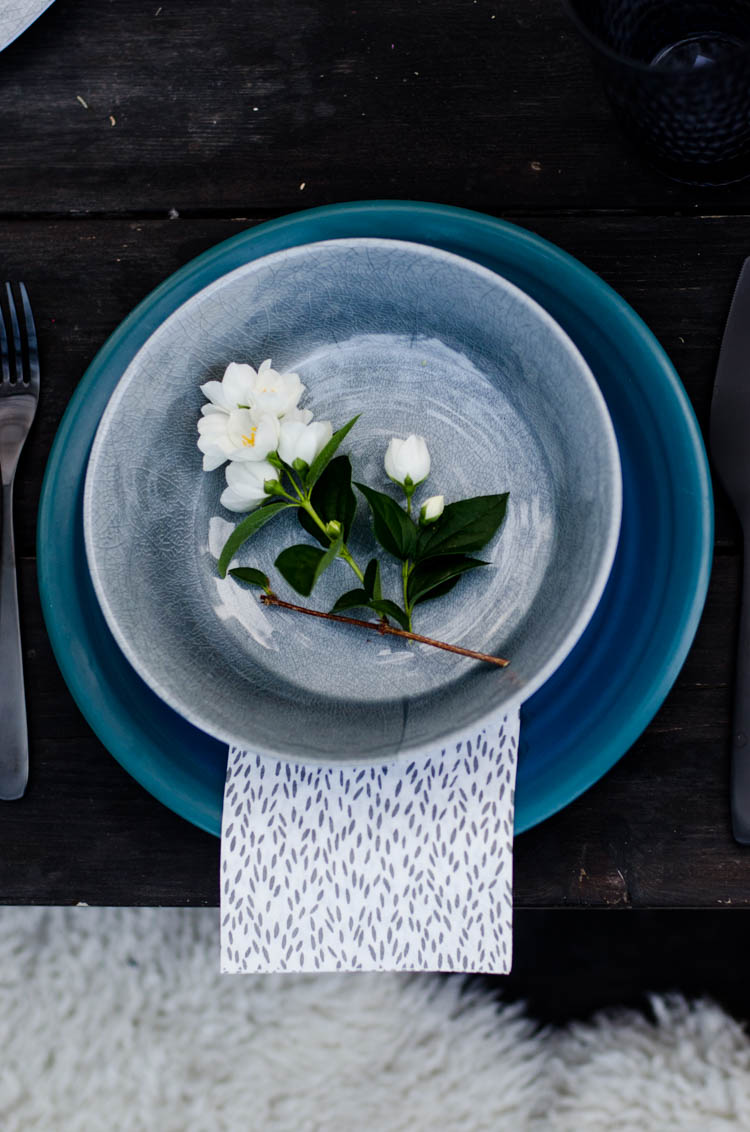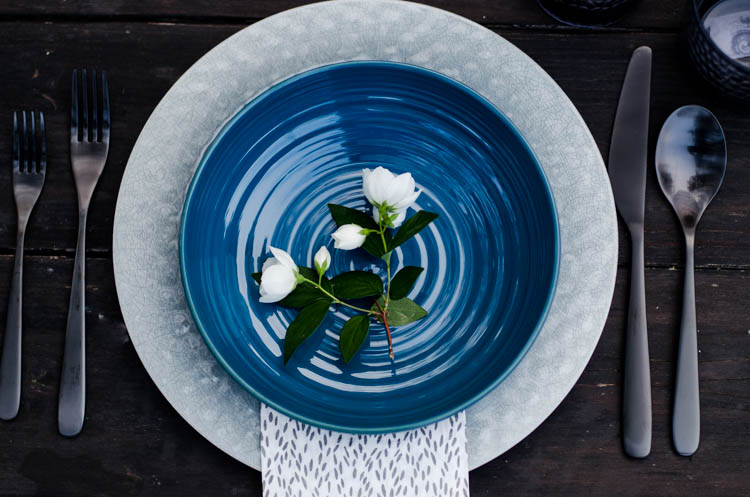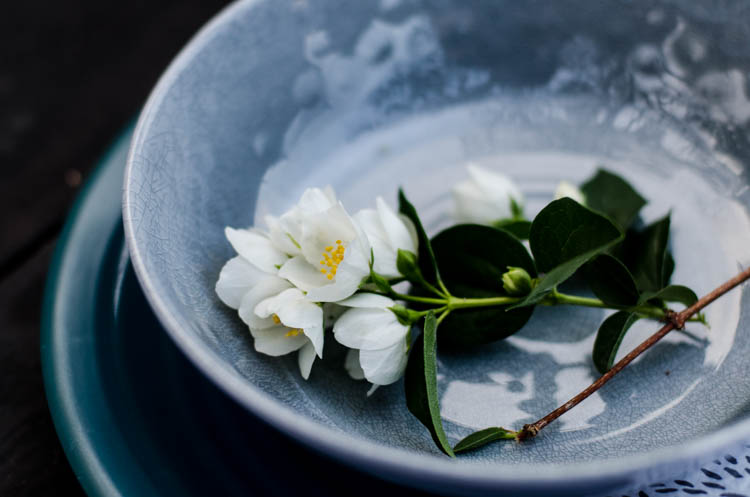 I put a cut flowering branch in each bowl to dress up the place settings a bit. I also put some of those flowering branches in vases by the lanterns. I love that this flowering tree is right behind the table so it reads as casual and organic even though cut flowers are usually a bit fancy.
By positioning the lanterns and vases of flowers to the ends of the table instead of in the middle like a usual tablescape, it really opens up the table for conversation and family style dining or charcuterie. The macrame 'chandelier' fills the middle so it doesn't feel empty.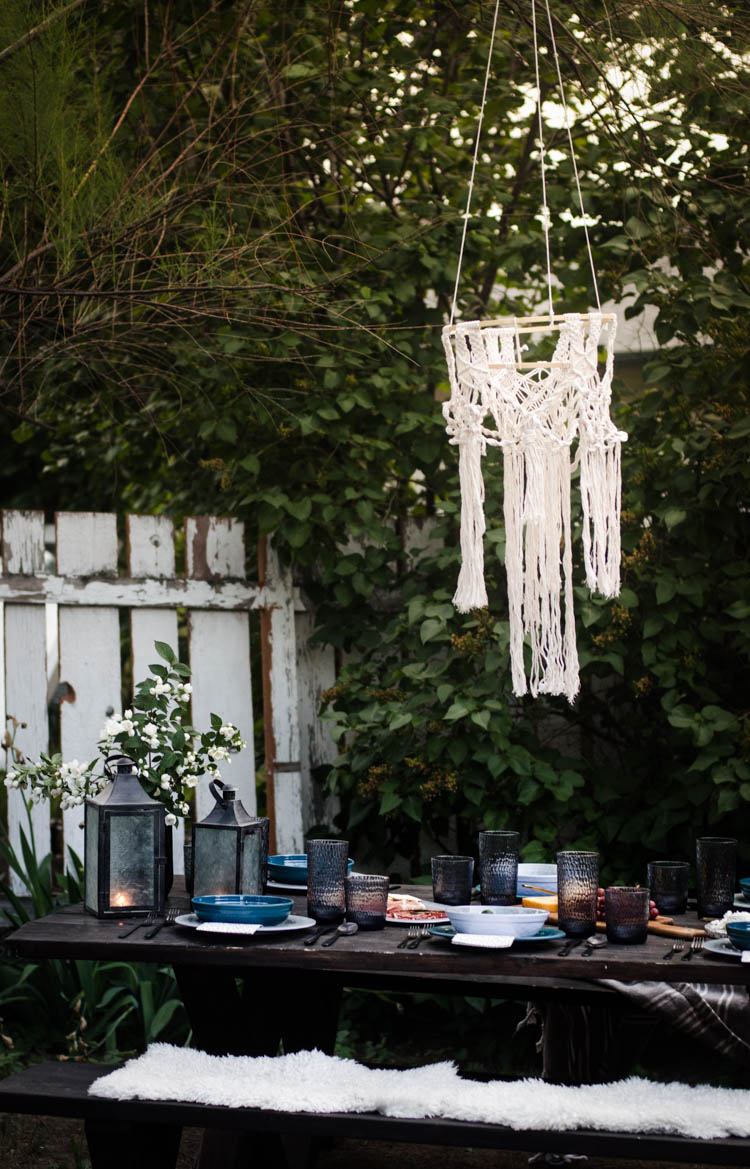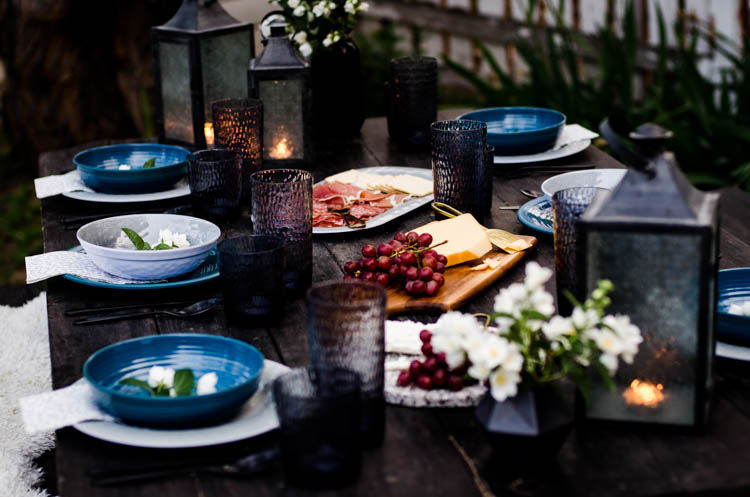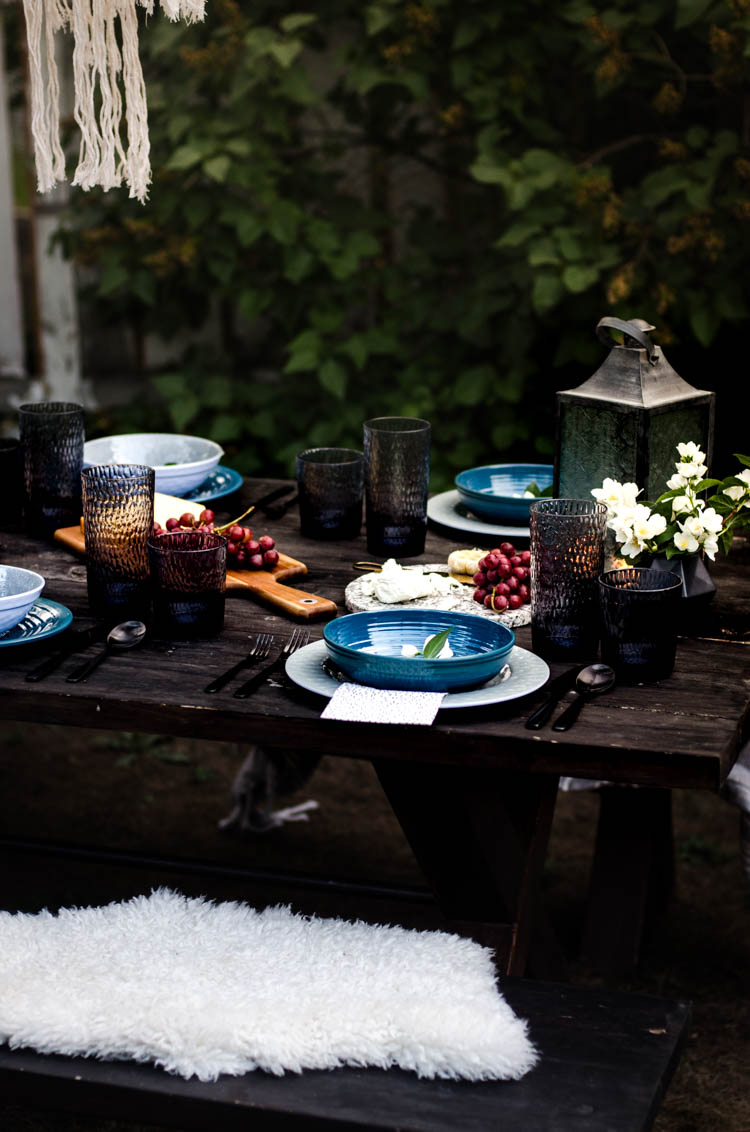 I mixed and matched the serving dishes too. The serving dishes that came with these two sets of patio dishes are beautiful (See the one with the meats?!), but I loved the granite cheese platter and the acacia wooden serving boards as well- even better, they work great for indoor parties! I'm such a serving dish collector, my husband rolled his eyes a little bit as I pulled them out of the box. I'm pretty sure that he commented on how I needed more of those. Ha, if you say so!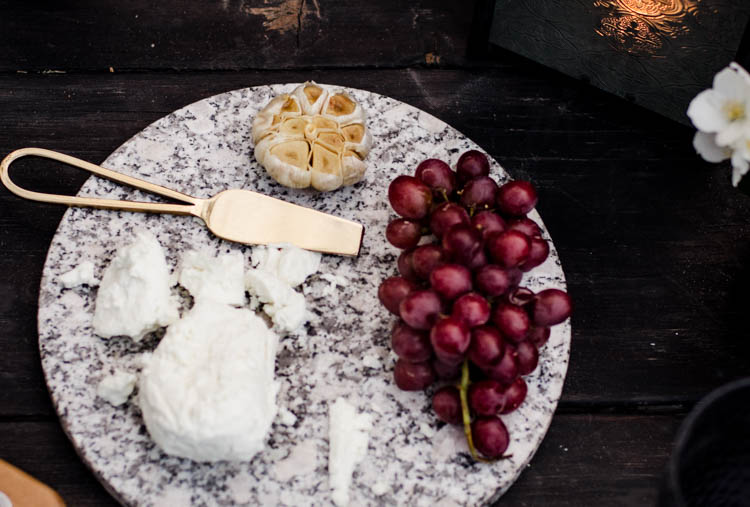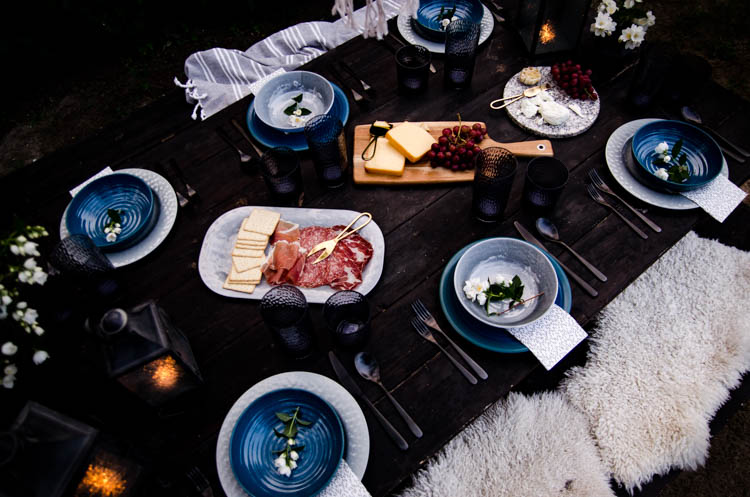 Okay, this might seem like a silly thing to say… but my favourite part of this tables cape is actually those acrylic cups. The texture and the smoky tone is so darn pretty, you guys!
Last but not least is the little beverage station. UMM how cute did this come together? I didn't want to take up any of the table space with the drink dispenser but also wanted to have it close by. We stacked up some of our flagstones (I've had a pile of them sitting waiting to be made into a little path one day and it held the three jar drink dispenser perfectly. I brought out a lightweight end table to stack drink cups on and am seriously so happy with how cute this little set up is! I need a reason to have guests over and do it again ;) Also… aren't those little wooden tags for the drinks cute? The one for the margaritas says 'spiked', I love it!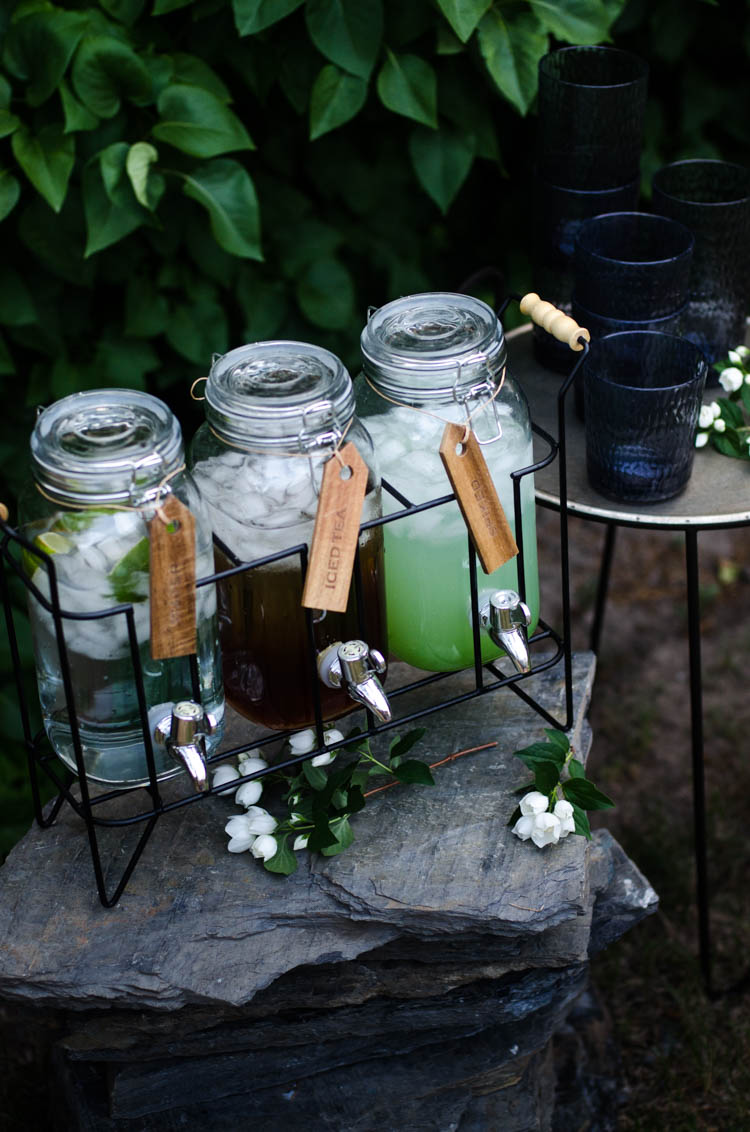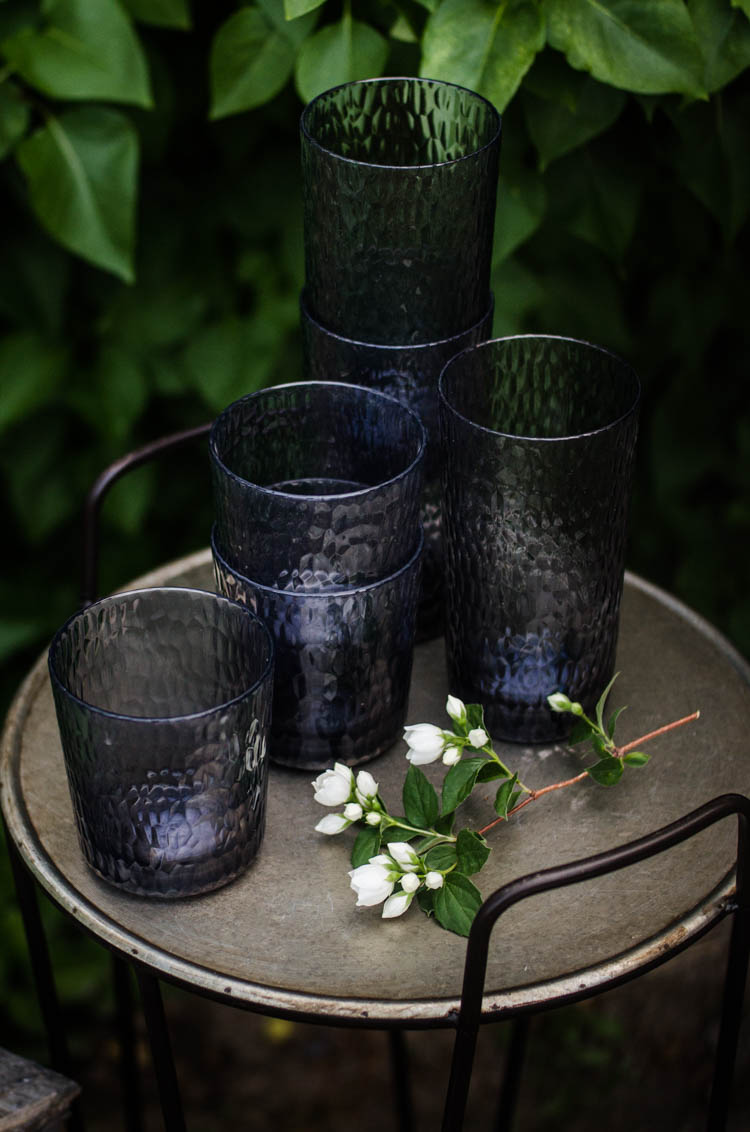 Alright, if you enjoyed this and you'd love to see some more summer tablescapes… make sure to hop around and check out the other four ladies' posts in our Modern Handmade Home Series! I've got all the links below. ALSO As a huge bonus, you can get a 20% off coupon when you shop at Kitchen Stuff plus! Just click right here to sign up!
Left to Right/ Top to Bottom:
Andrea @ Harlow & Thistle set up a lobster dinner
Gemma @ The Sweetest Digs set up a coastal inspired table
Colleen @ Lemon Thistle set up a boho dinner party
Lindi @ Love Create Celebrate set up a patio table al fresco
Thalita @ The Learner Observer set up a simple al fresco dinner
I hope you enjoy this little tour of outdoor parties, and thanks so much to Kitchen Stuff Plus for being so wonderful to work with!