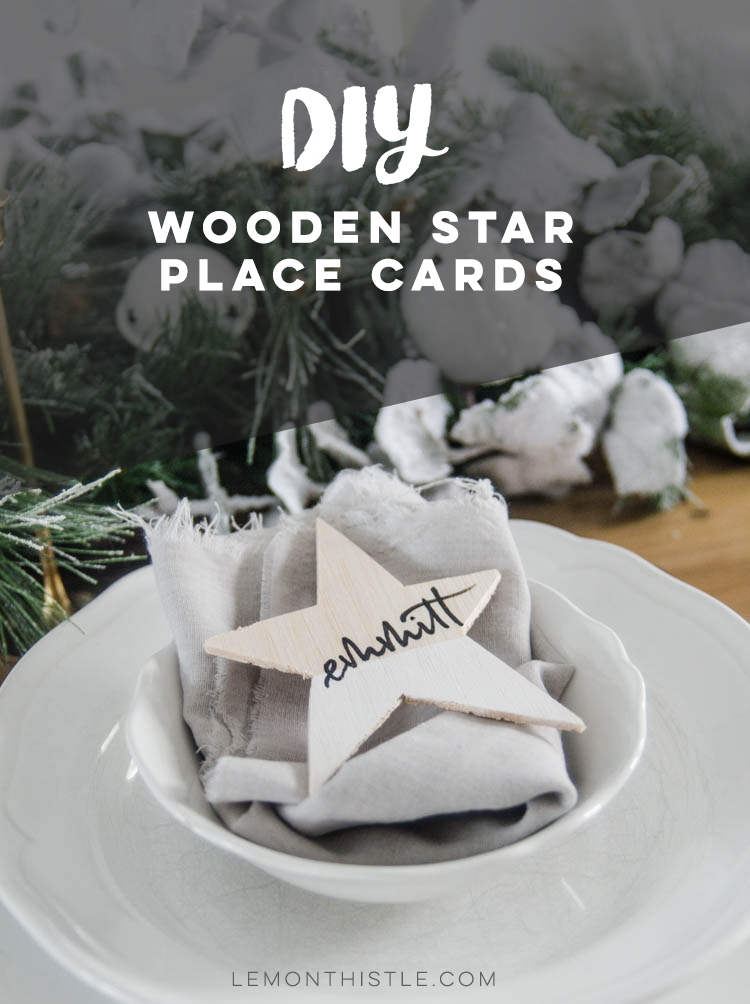 Today I'm excited to share the super simple DIY to make your own paint dipped wooden star place cards that were on my holiday tablescape yesterday! If you've been following along with Lemon Thistle for a while, these might look a little familiar to you. A few years ago, I made a wooden star mobile… and some glittery wooden star ornaments (still on my tree!) and then last year I made some hand lettered wooden star ornaments (also still on my tree!). I'm in LOVE with making these little wooden stars, you guys. They're so darn easy to whip up and they have all that scandi appeal I love. I knew I wanted to find another way to incorporate them into my holiday decor and I'm so happy with how they translated into place cards!
The best part about these little stars is not that they're pretty (although they are!)… you don't need any power tools to cut this wood. It's the first wood I ever crafted with and I am still super in love with it. It's like my not-so-secret shortcut that looks just as good but takes a fraction of the time… and none of the tools. Ready for the DIY?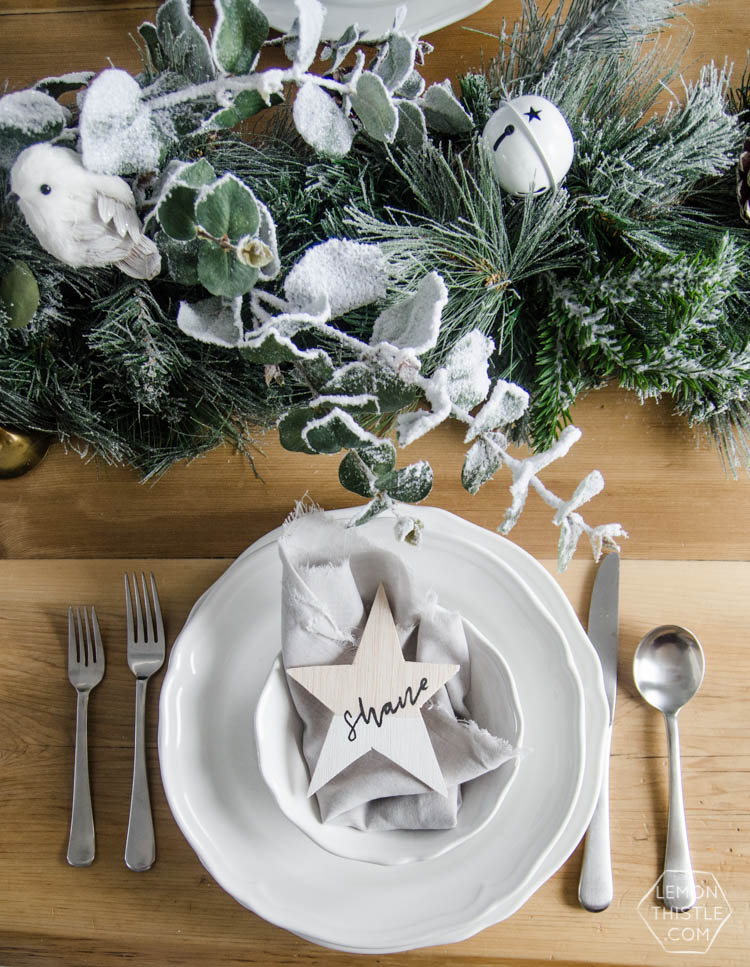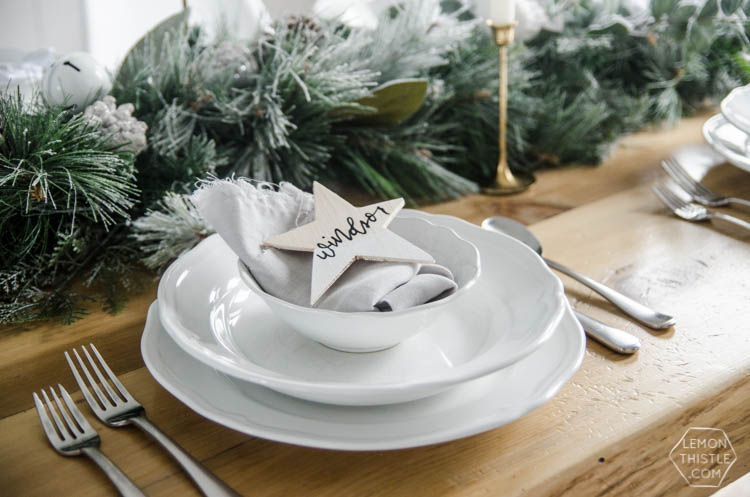 Michaels provided me with a gift card to help take on my holiday projects and decorating and while they have stunning decor this year (those little birds in the garland are some of my faves find from there!), I knew I wanted to use some of it towards some holiday crafting because makers gotta make ;)
For these DIY place cards, you'll need:
Balsa wood
Craft knife
Cardstock or cardboard & pencil (to make your star template)
White craft paint & foam brush
Black paint marker
If you have absolutely nothing for these place cards, it will cost you around $25 to make them all… but then you'll have a craft knife forever and always out of the deal ;)
I get a lot of questions about the balsa wood in my projects. You can get different thicknesses. I usually pick a thicker one for the ornaments or stars that are going to be handled a lot by kiddos. This wood is super soft which is great for crafting because it cuts with just a craft knife but it does make it prone to breaking. I've superglued back together a few of my ornaments and a wooden sign I've made with the stuff after kids have broken them and they look like new- so don't be too worried if you break one while getting the hang of cutting it! They come in these long strips (shown below) so I made the stars as large as the sheets could accommodate width wise.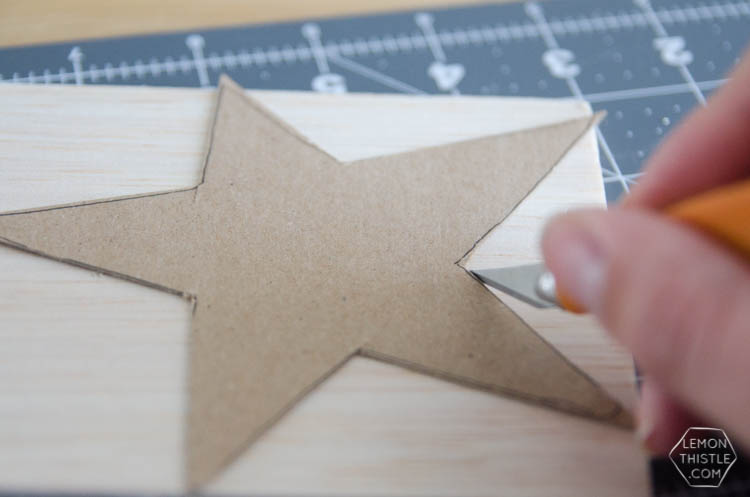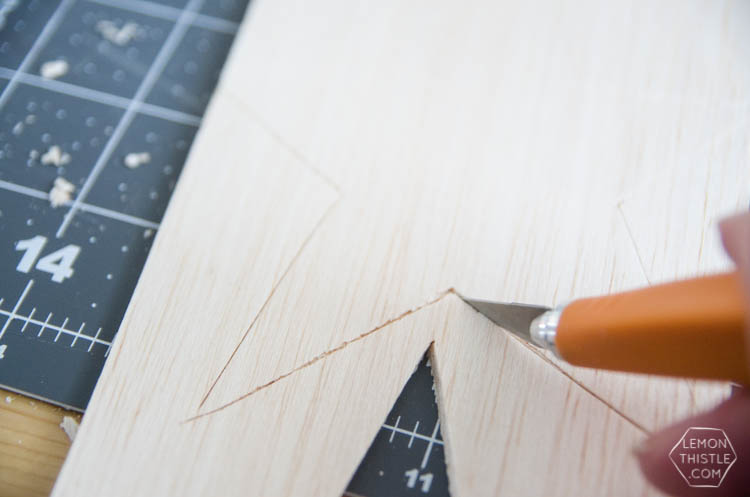 The first thing you'll need to do is cut out a template for the stars. I made one on cardboard and used that. You could trace the stars with pencil first but I'm reckless and traced it gently with the knife. I like that this doesn't leave any pencil marks and since the wood is so soft it does leave an indent that I can then use to guide my knife while I cut. Cut slowly to avoid chipping the wood. I have found that three gentle passes on the wood cuts much nicer than one heavy handed one (prone to chipping that way).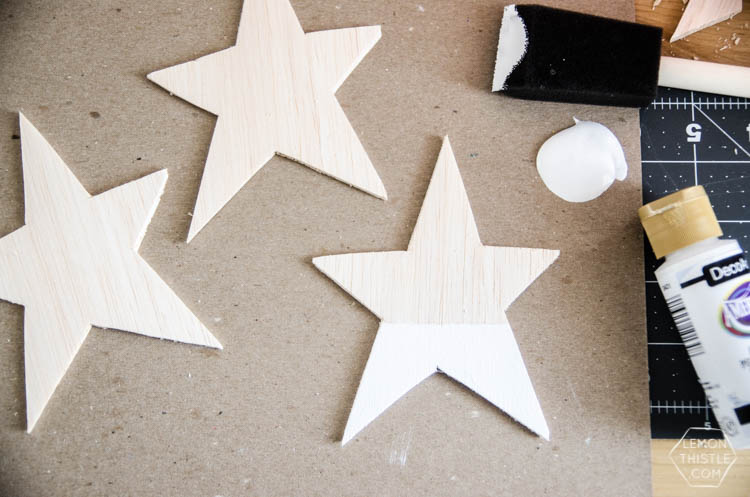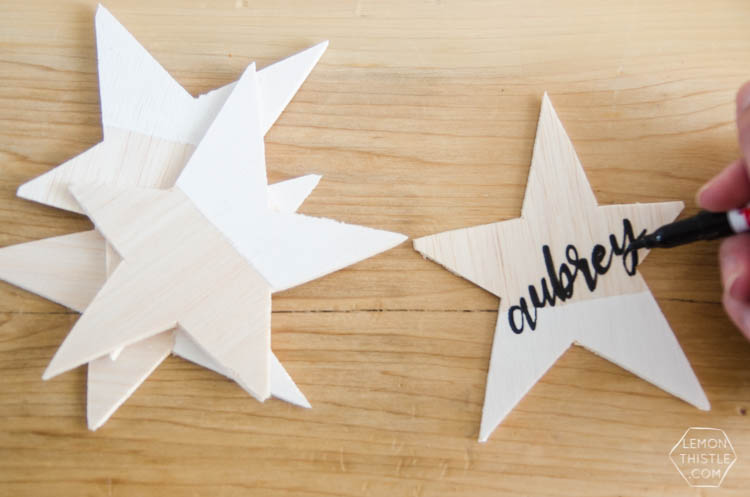 Now it's time to get painting! I used Americana White paint and a foam brush to give the stars a paint 'dipped' look. I really love the way this turned out- I made the line right below the center of the star. I like how easily the foam brush gives a straight line without taping off. You could totally use a regular brush and painters tape as a guide.
When that paint is totally dry, grab your paint pen and get lettering! I originally tried to do a faux brush lettering look but found it too thick for such a small piece. I opted for monoline for the rest (you can see that in the final images). Lettering them on an angle gives a bit more room for the names.
That's it! I'm totally in love with these, you guys! Plus, I love that they were so simple to make for how lovely they are. I am thinking of making some for gift tags as well!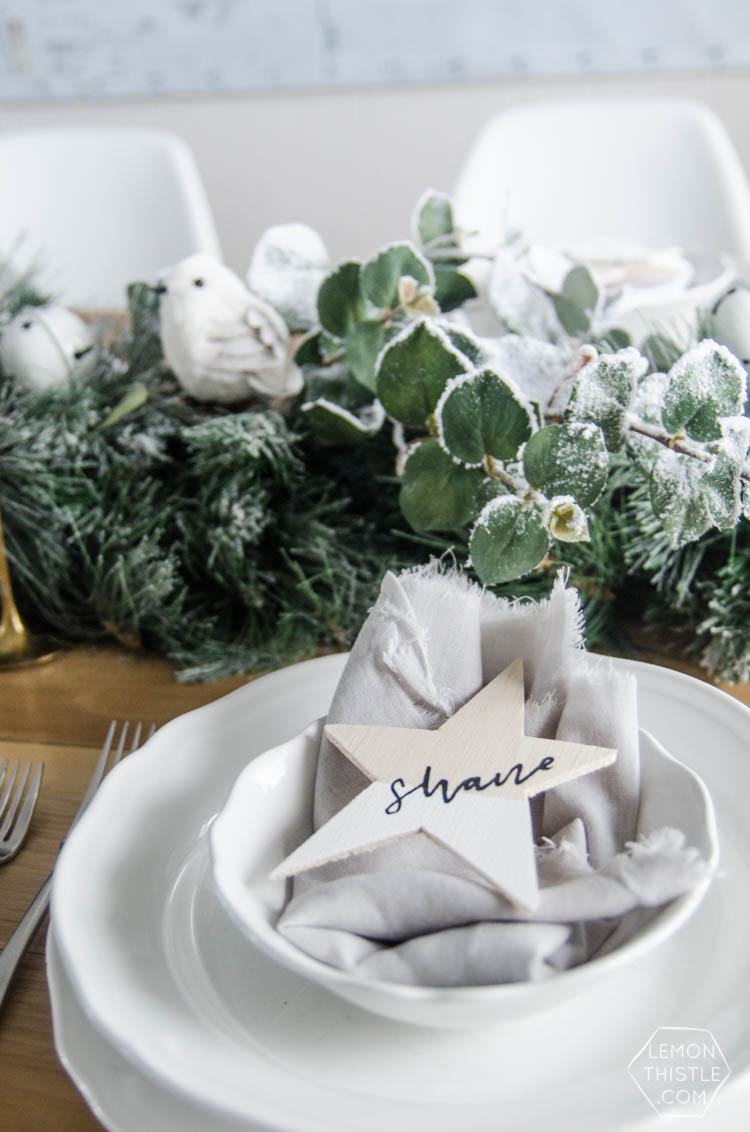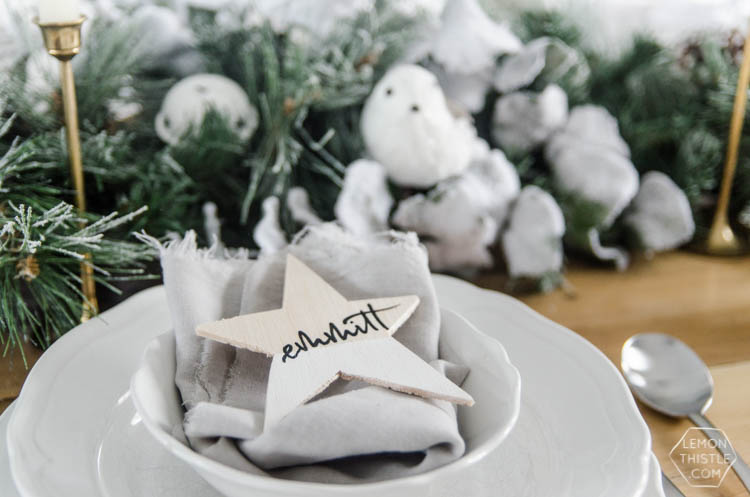 LIKE IT? PIN IT!