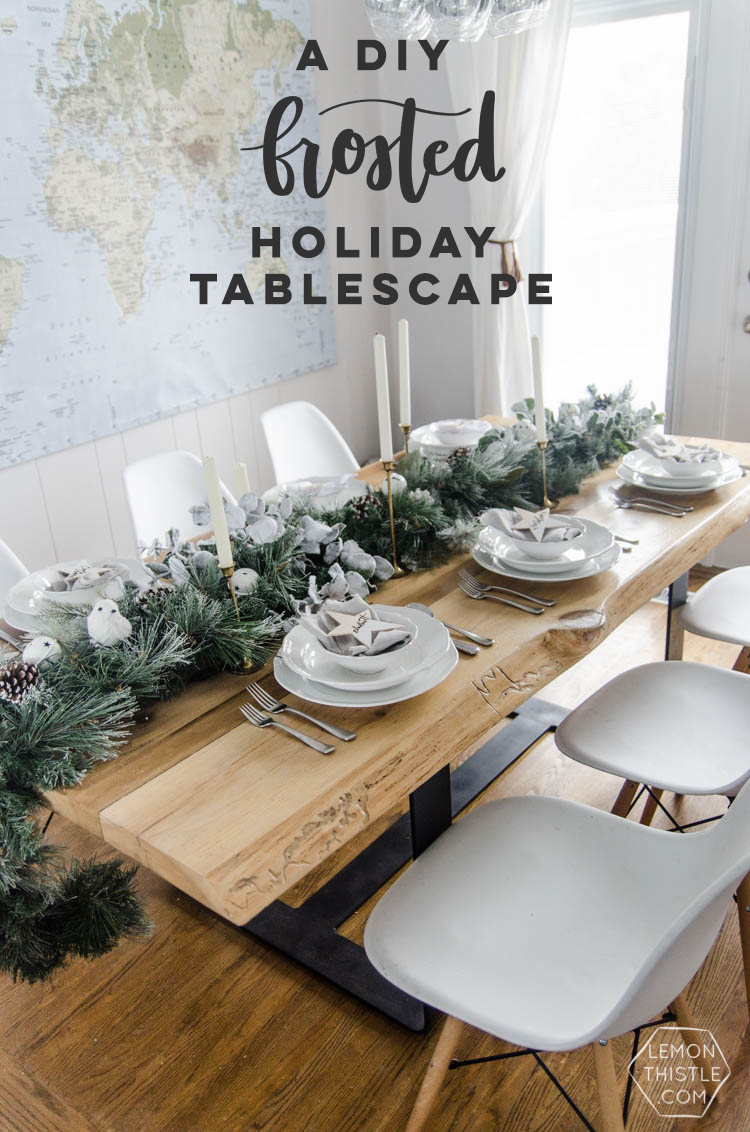 I hope you enjoyed my whole holiday home tour yesterday! If you haven't checked it out… I'd love if you hopped over and took a peek! I really DON'T have my dining table decorated like this every day (yesterday is so much more practical with kiddos!) but love to do something a little special for Christmas. Today I'm not only sharing my Christmas tablescape but I've joined with some amazing bloggers who are doing the same! So you will NOT be short of inspiration… promise ;)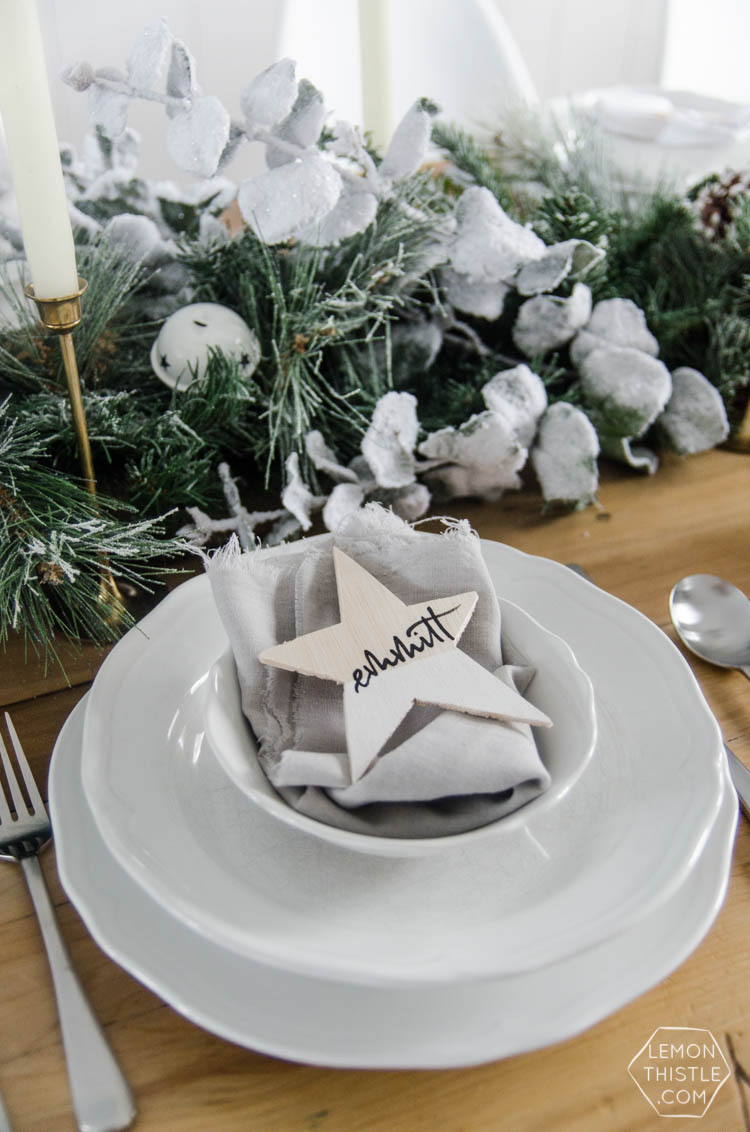 I'm kind of in love with this frosty tablescape! It was actually really simple to pull together and it used pieces I already had on hand. The only change I would make if I were to do it over is to use black flatware. But that's just because I want black flatware in my life all day every day. But that stuff is expensive! Do any of you have it and use it and put it through the dishwasher? I'd love to know how it holds up! I need a push to actually invest in some flatware I love.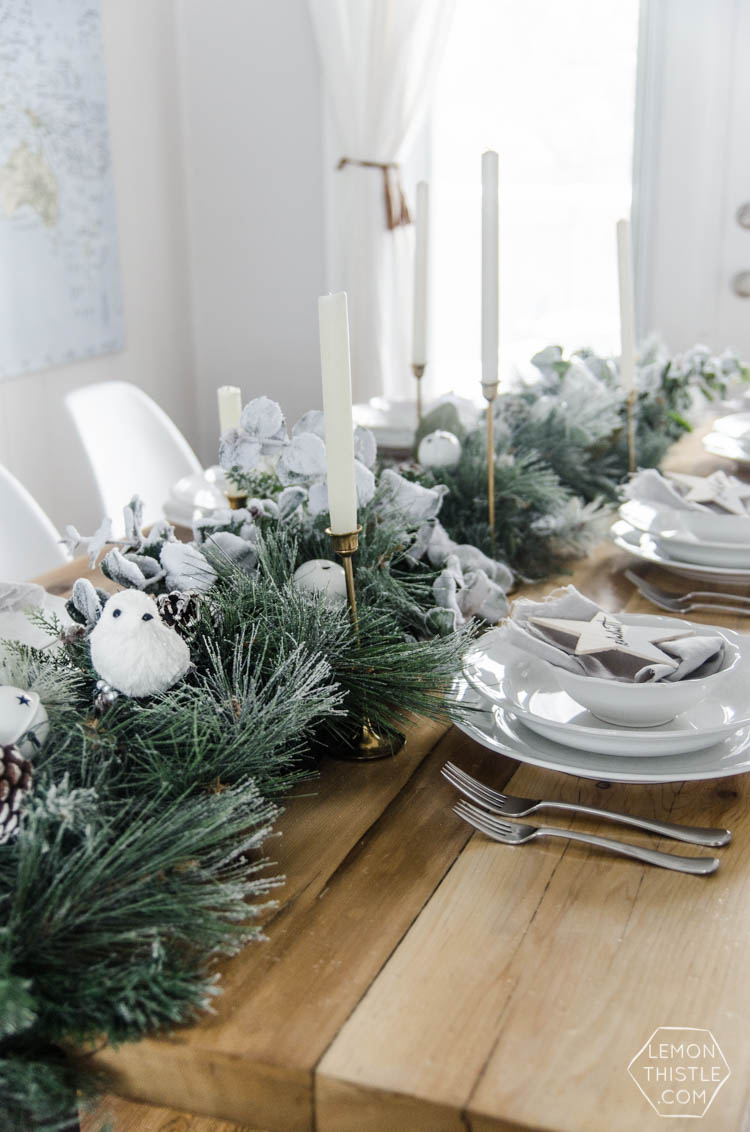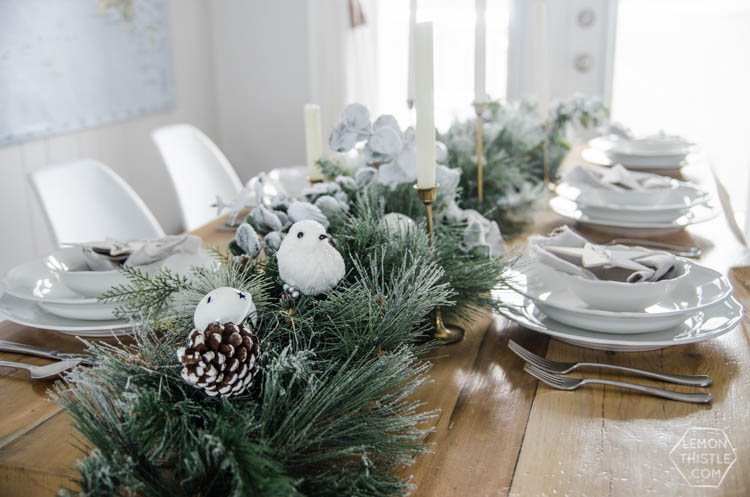 The star of the show here is that flocked garland. I got it through a wholesaler for a shoot I did in the fall but I know there are similar ones at Michaels and Homesense right now. I added in the pinecones, white bells and the birds. The white tipped pinecones are from Home Depot, the bells are from Homesense (a couple years ago- I'm dying to get my hands on more!) and the birds are from Michaels this year… there's polar bears too and they're so darn cute.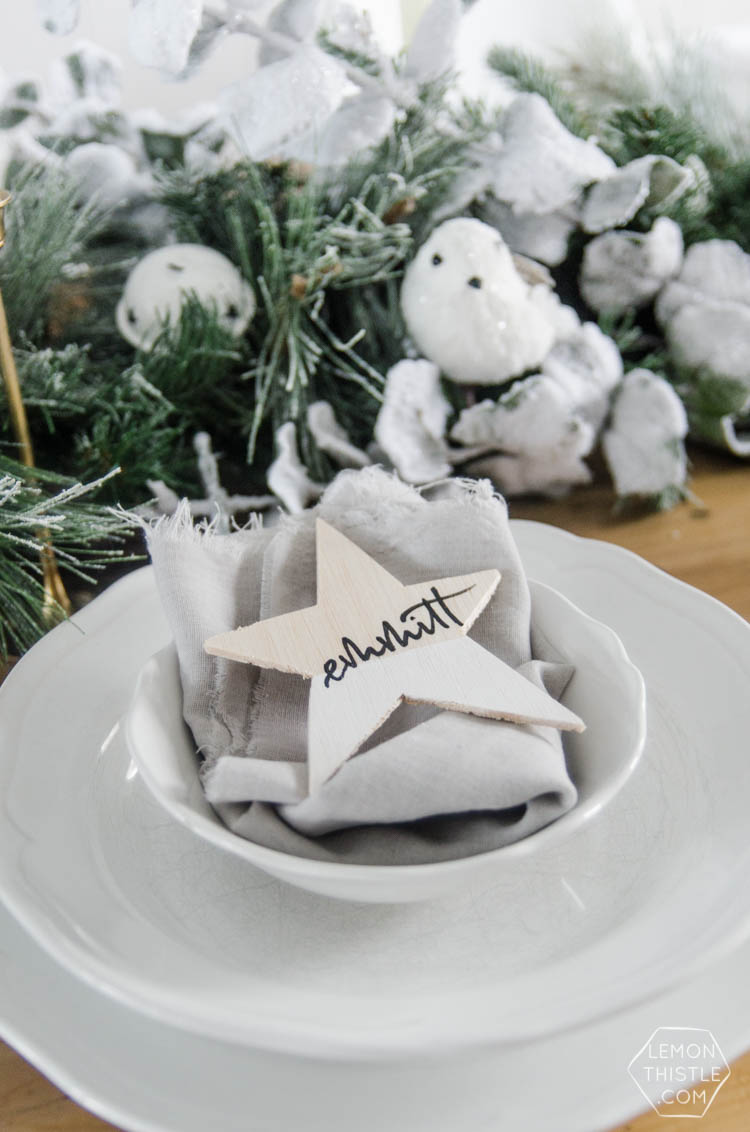 I also added in that flocked faux eucalyptus. I spotted it at Homesense and couldn't leave it behind. Isn't it beautiful? I've moved it into a vase on the table for now because I want it out all the time.
Lastly… I pulled out my trusty brass candlesticks to line down the garland. These candlesticks are total workhorses. I've used them in almost every single tablescape I've posted here on Lemon Thistle because they're so versatile! I think they cost me 10 cents a piece at a thrift store 7 or 8 years ago. Such a steal, right?!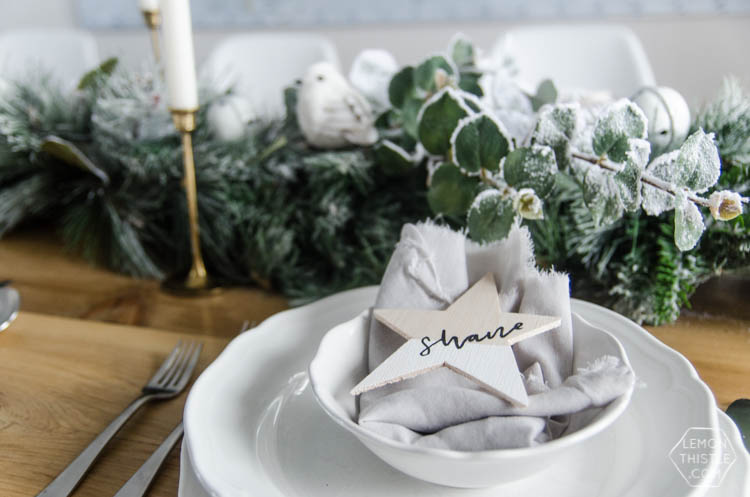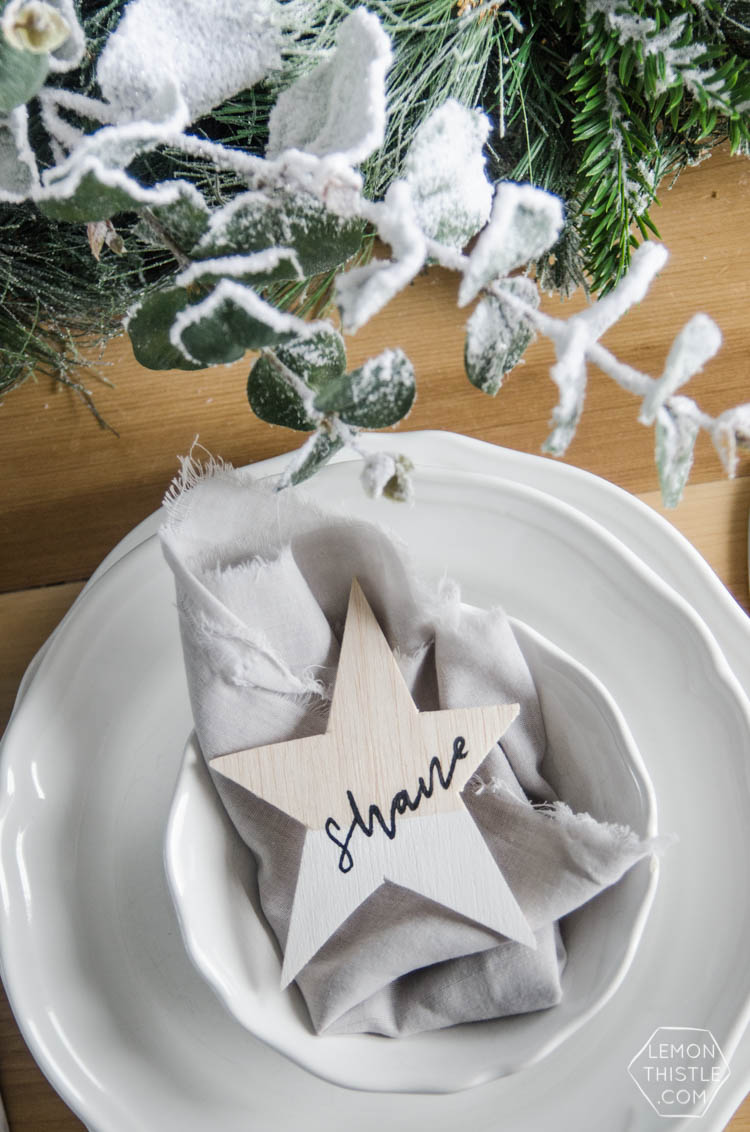 I used my everyday dishware and flatware for this- honestly… that's all I have and with kids that dine with us (even at fancy dinners), there's just no point in upgrading right now. Although I'd really love to. The dishware is from Ikea and the flatware we got for our wedding 8 years ago. Now… those napkins! Those are DIY napkins that I made the first year I was blogging. They cost like $2 for all of them and they're still some of my faves to pull out. That raw edge and the soft gray just gets me!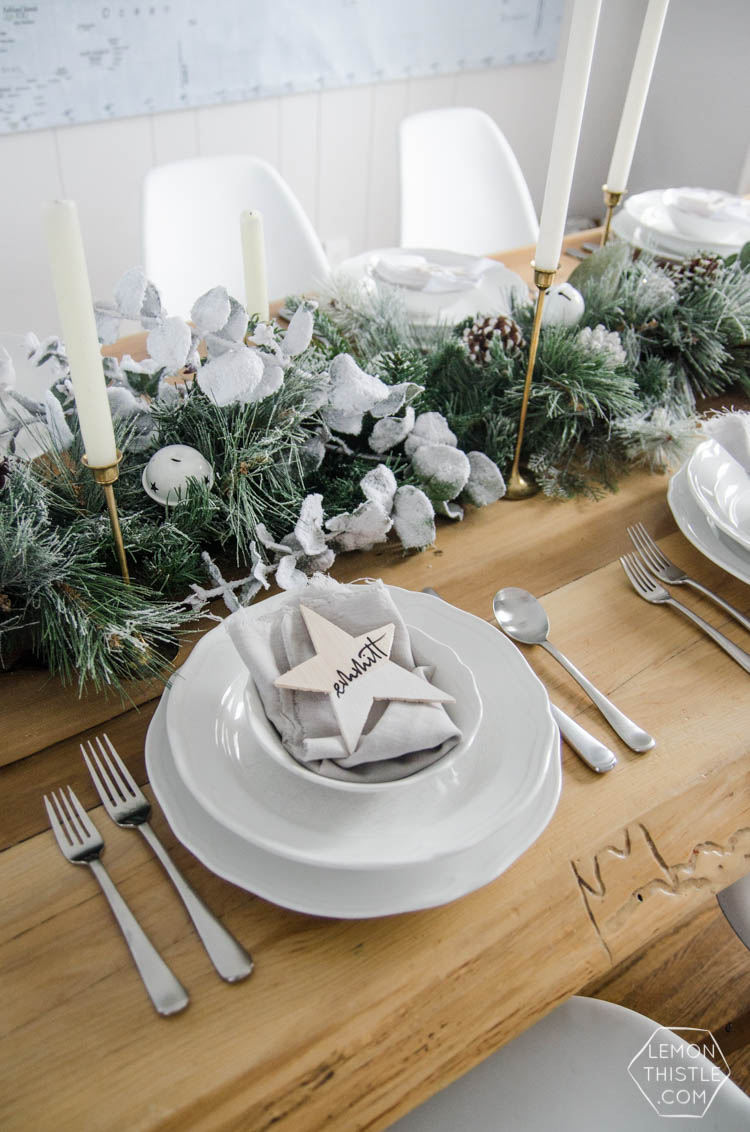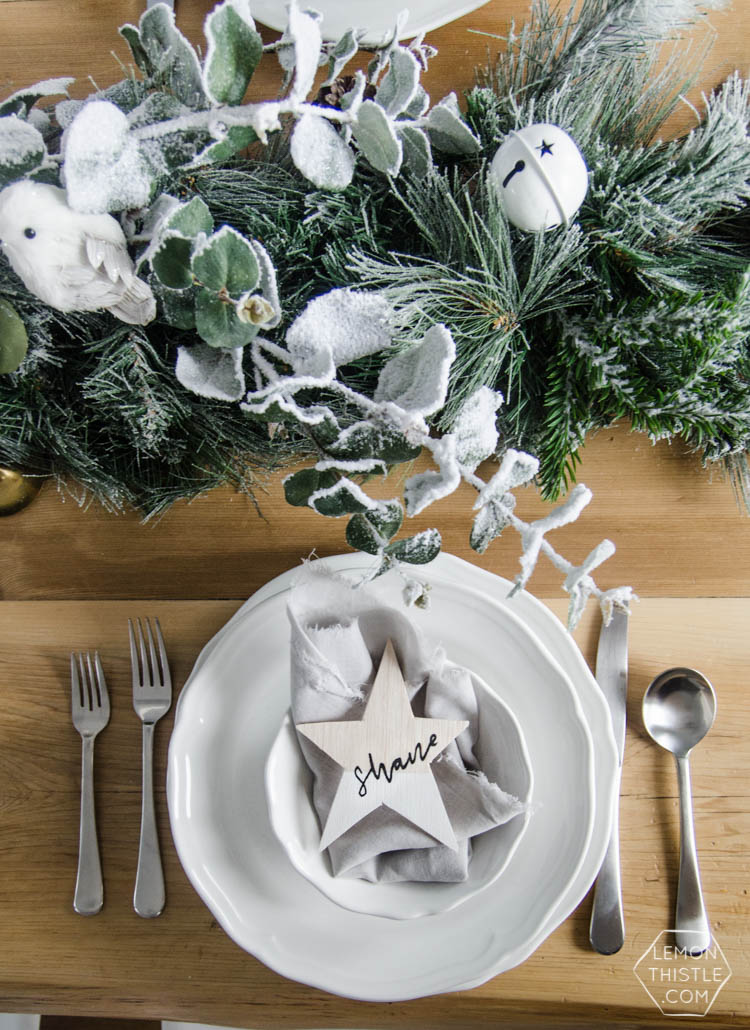 The place cards are also DIY! I'll be sharing those tomorrow but they really are easy to make. I have them stashed away for our Christmas dinner and am thinking of turning them into ornaments for next year. Or gift tags? Who knows- they're too pretty to toss after the dinner!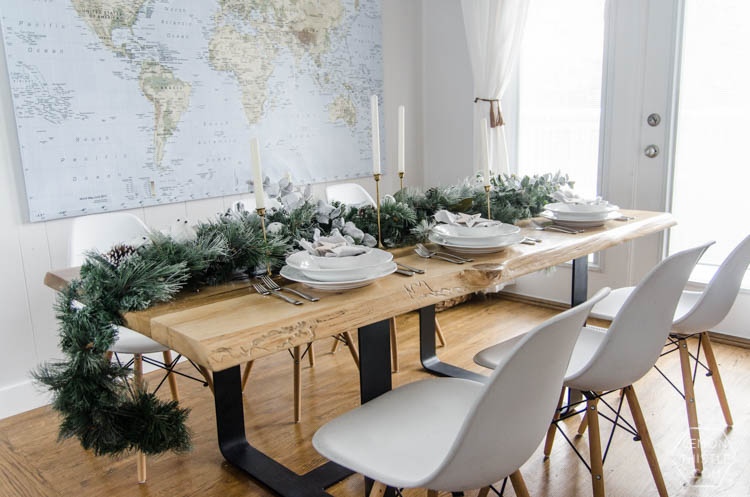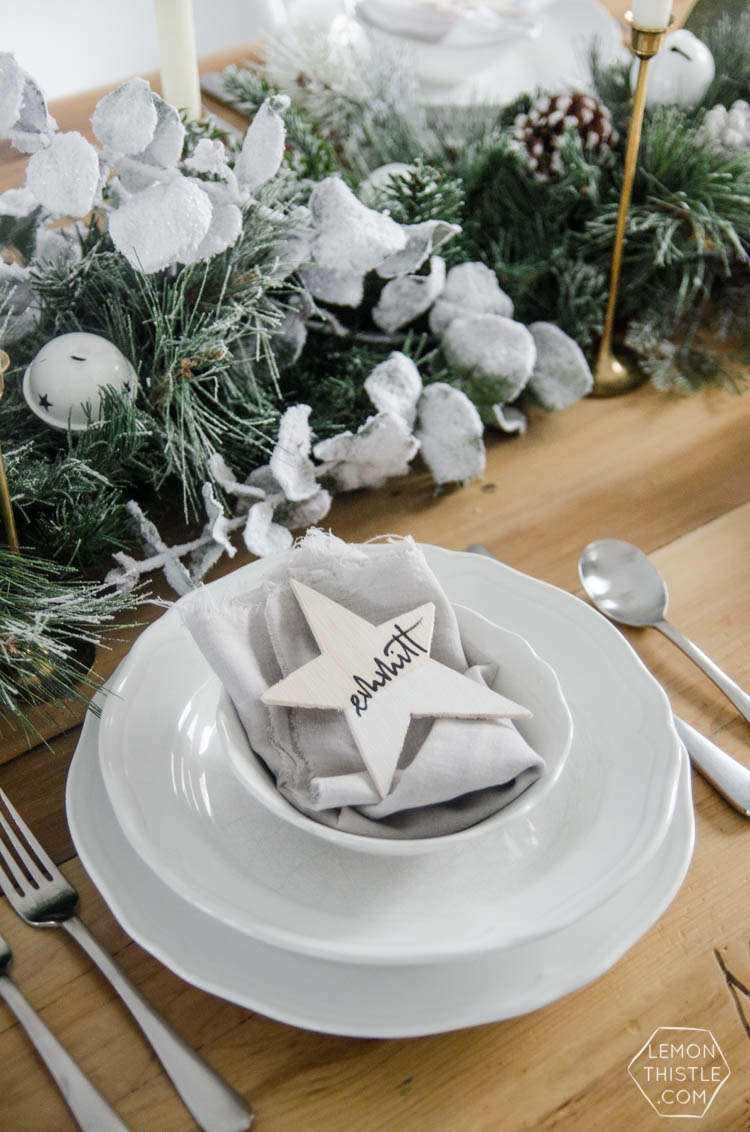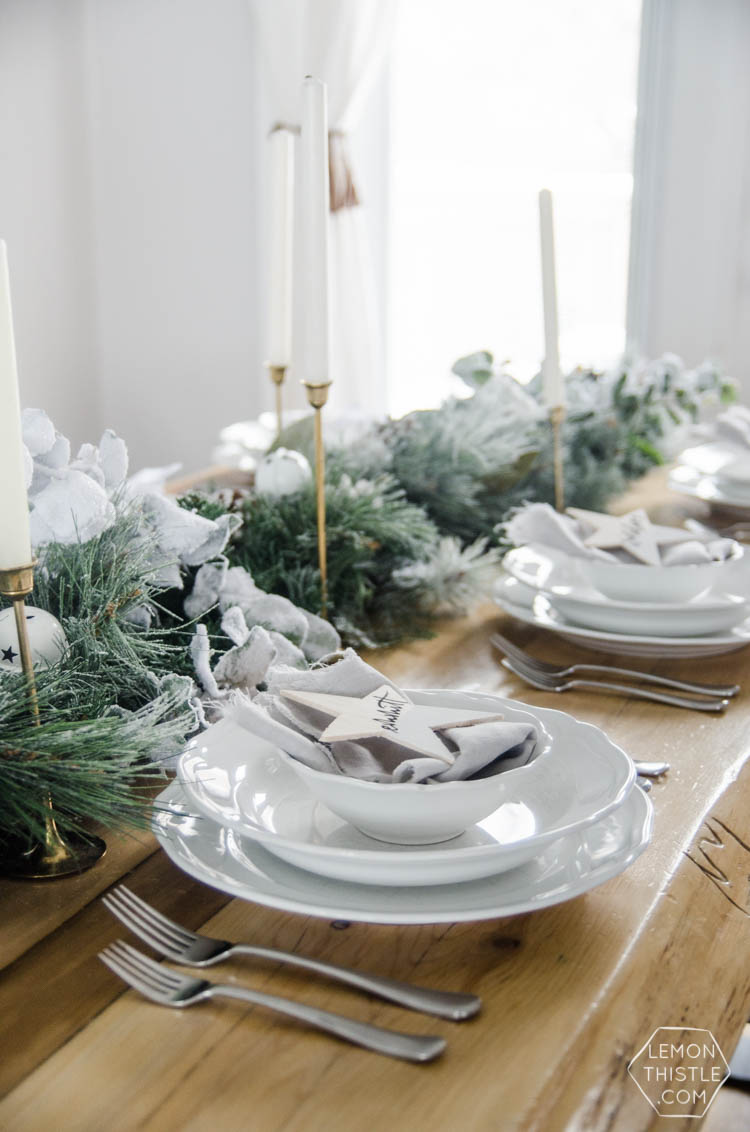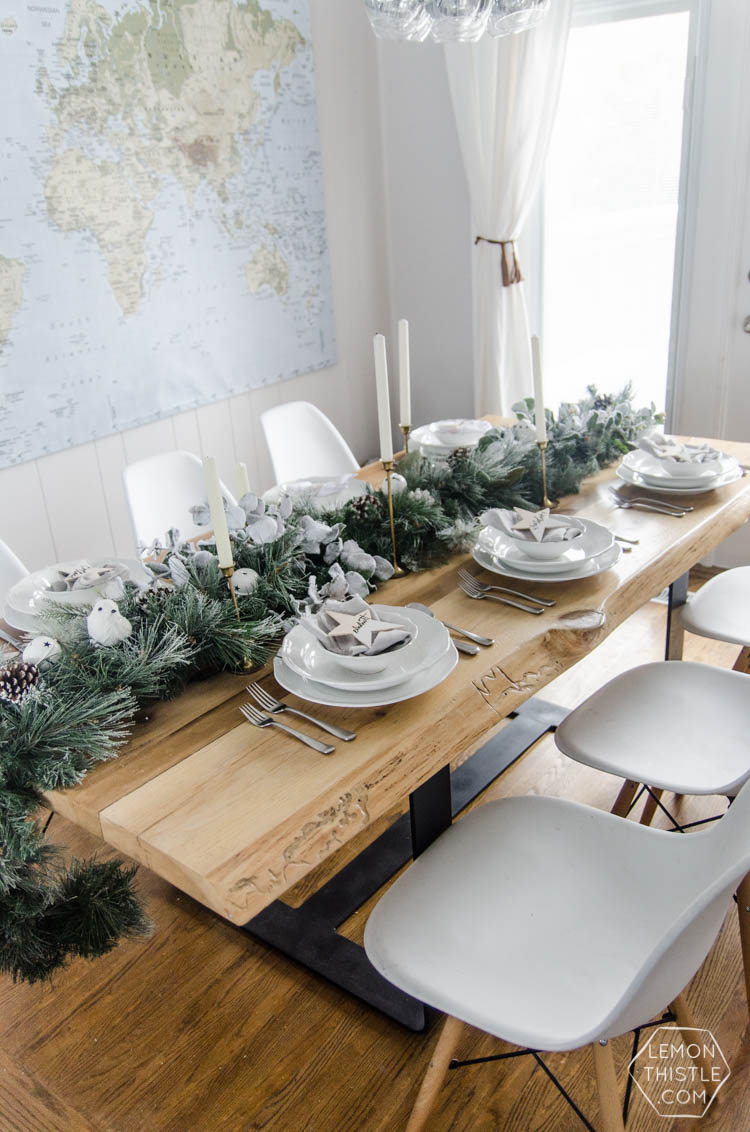 I so hope you enjoyed my tablescape. It was a ton of fun to put together. I had little hands helping me with this one- they actually made their own using everything and then after I photographed their creation, I was allowed to make my own. It was probably one of my fave afternoons we've had working on projects together. I think I need to plan more time to do things like this from now on so that they can play like that- I'm constantly reminding myself to slow down, though! One of these days I'll really learn it ;)
Now… ready to check out the rest? There's some STUNNING ones in here!

The Happy Housie / Paint Me Pink / My Fabuless Life / Lemon Thistle
This is Our Bliss / Newly Woodwards / All Things With Purpose / Blue I Style
Elliven Studio / Lehman Lane / Fynes Designs /Green With Decor / The Restless Arrow
LIKE IT? PIN IT!