Fall is my favourite time of the year for so many reasons and one of them is that we always take more time to get together with friends and family. I'm a fan of sitting around the table until the candles burn and the wine runs out and leaving dishes until the next morning. And having a pretty table to look at while you sit there? All the better ;) Today, I'm sharing a round up of 8 modern fall tablescape ideas – Enjoy!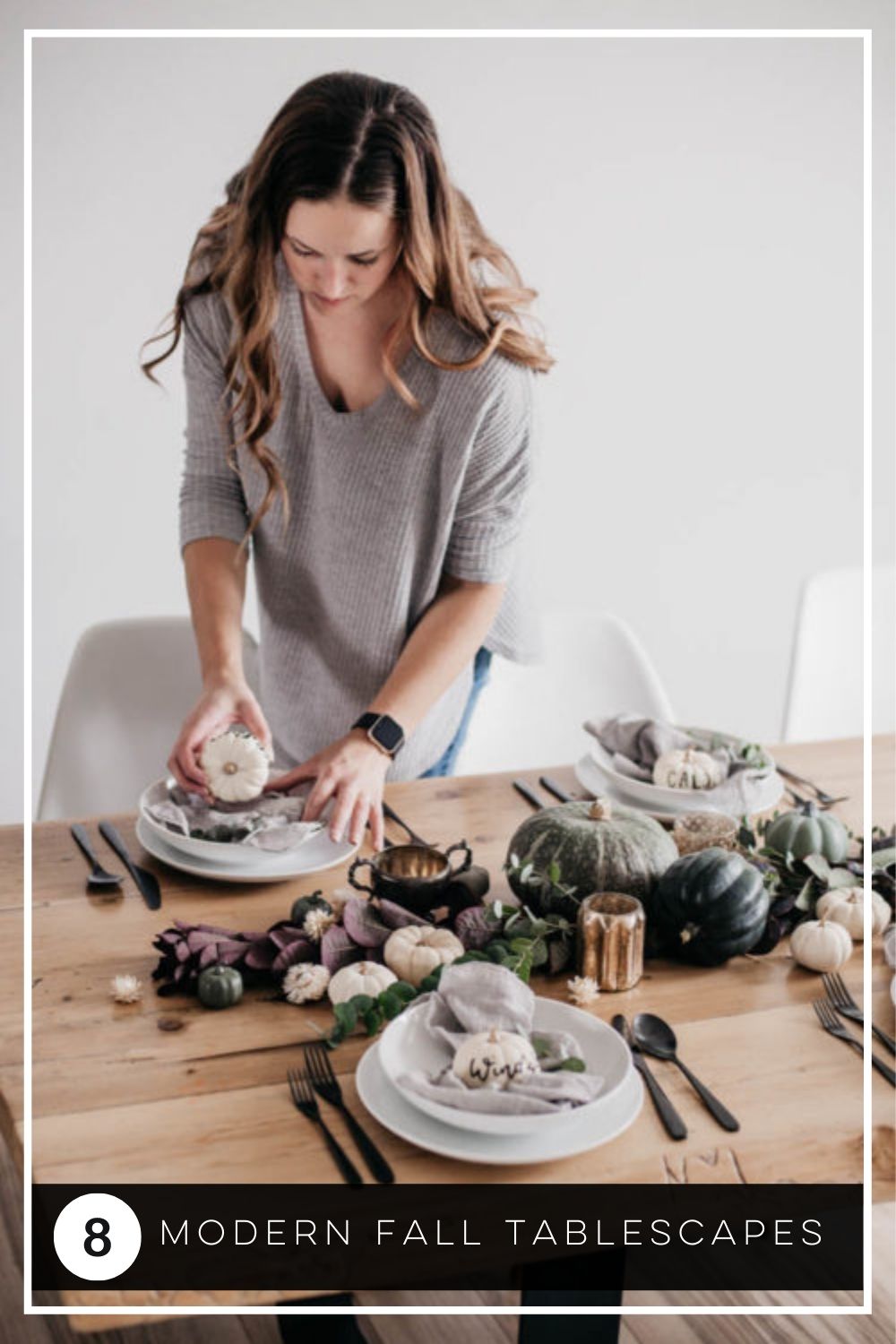 You may know from visiting my fall home tours that I don't really go all out (at all!) with my fall decor, but I do love a pretty table. Today, I am rounding up 8 Modern Fall Tablescape Ideas – I'd love to know which is your favourite, feel free to leave me a comment at the bottom of this post :)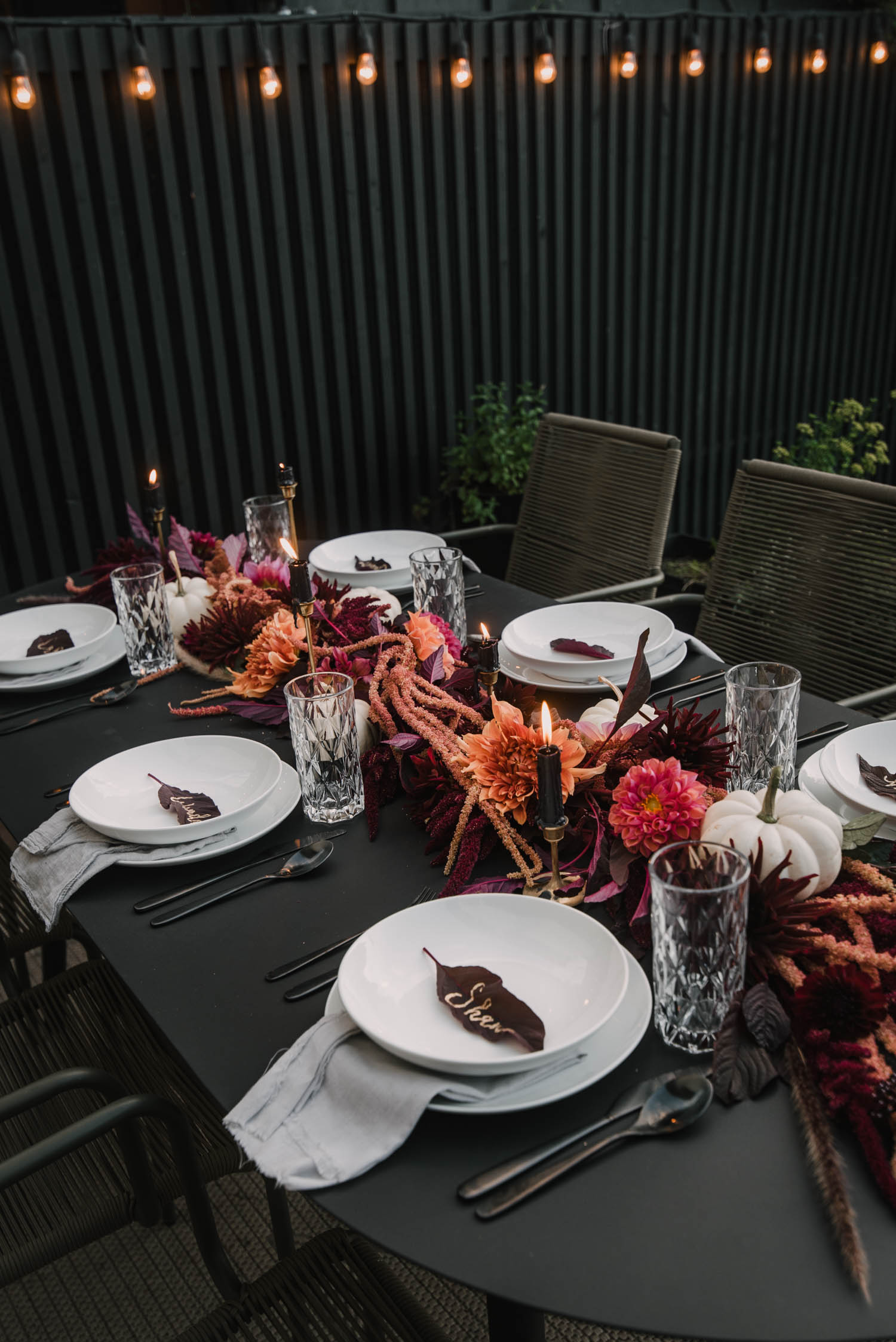 Look familiar? Yes, I just shared this one, but had to include it here! This outdoor moody fall tablescape features fresh blooms with deep red tones and golden candlesticks for a dark and unique autumn table setting. I raided my garden and chopped armfuls of amaranth and dahlias and even some fall grasses. The deep reds and brownish oranges look so beautiful against the black table and retaining wall cover. It pops and is moody and is the perfect dark fall table setting.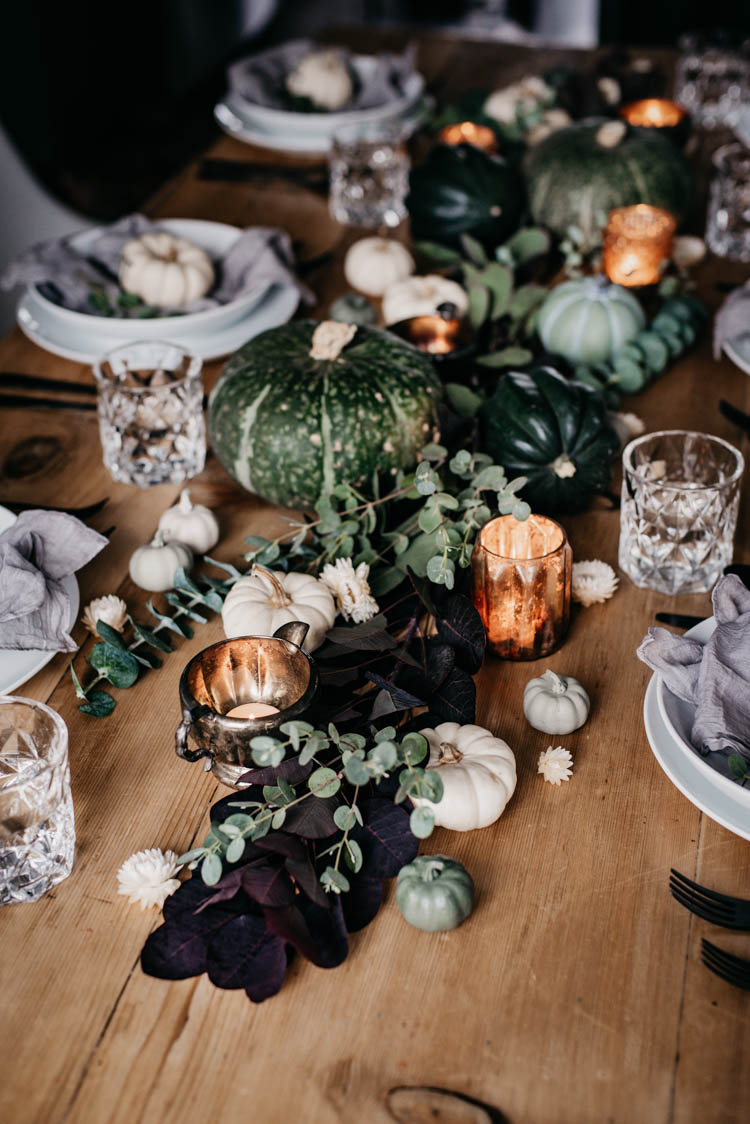 While autumn tablescapes are my favourite to decorate, traditional autumn colours aren't my jam. I challenged myself to use some different colours here. This one is all about autumn greens with little pumpkins, fall foliage and glowing tealights. It's the perfect cozy fall tablescape for a dinner party (or thanksgiving)!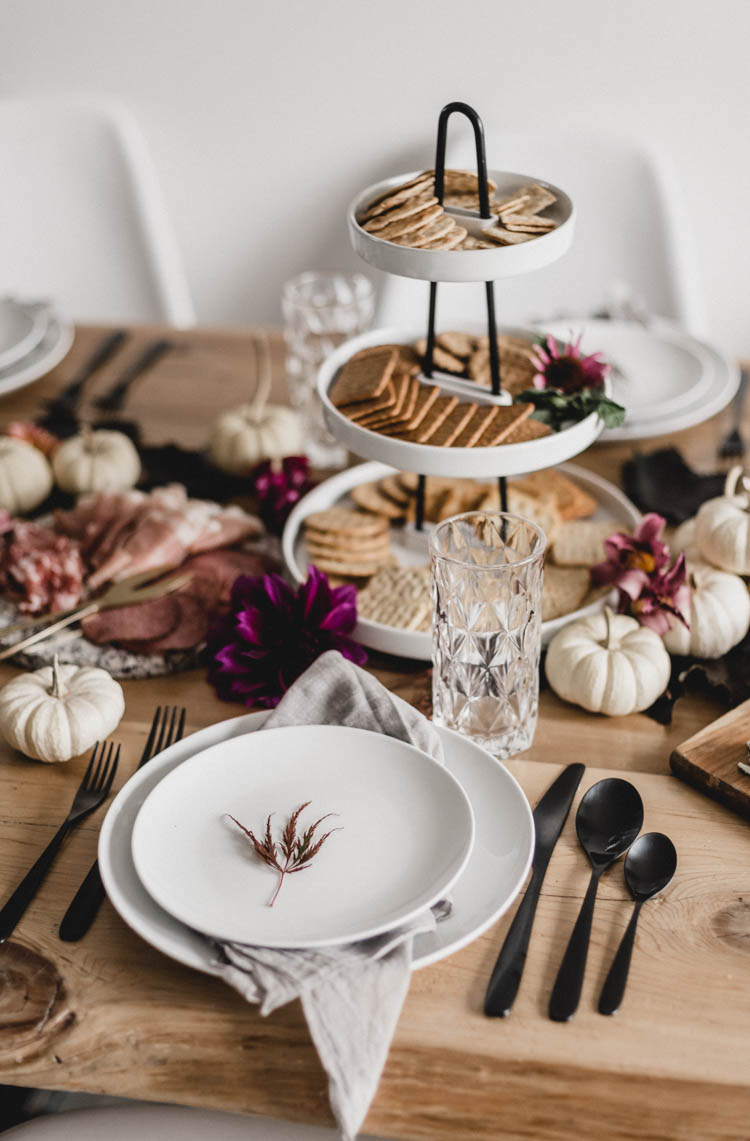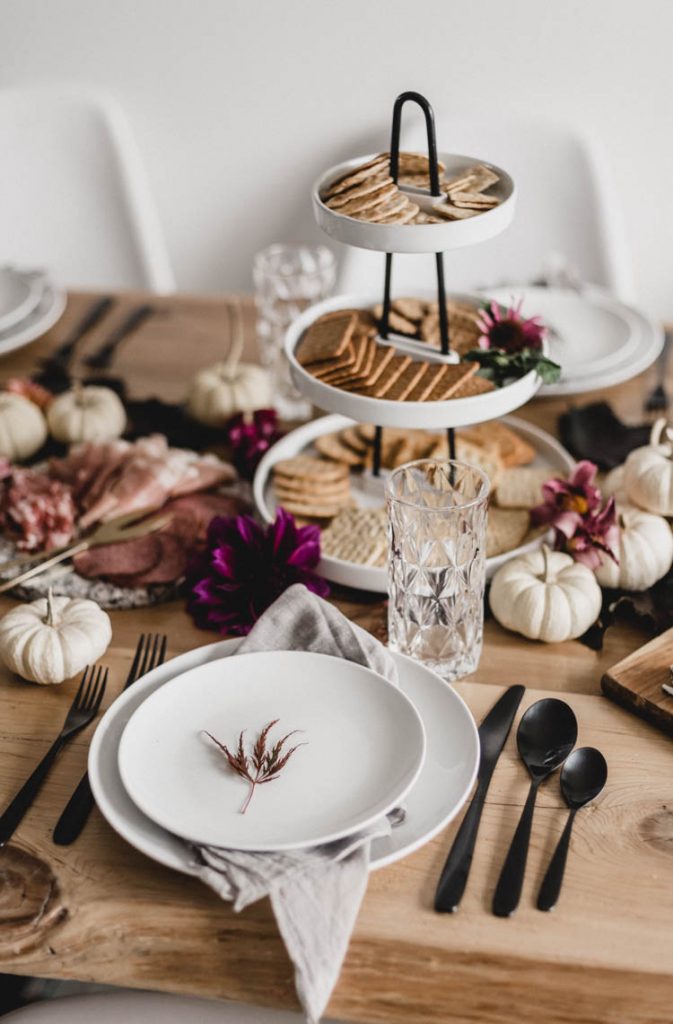 I always love trying something new with my tablescapes and this time around that means pink!? I know that's not usual for my neutral black and white loving self- but I can't get over how beautifully it works with the dark autumn foliage. It's such a lovely twist on typical fall colours. This modern fall tablescape idea honestly felt like a celebration!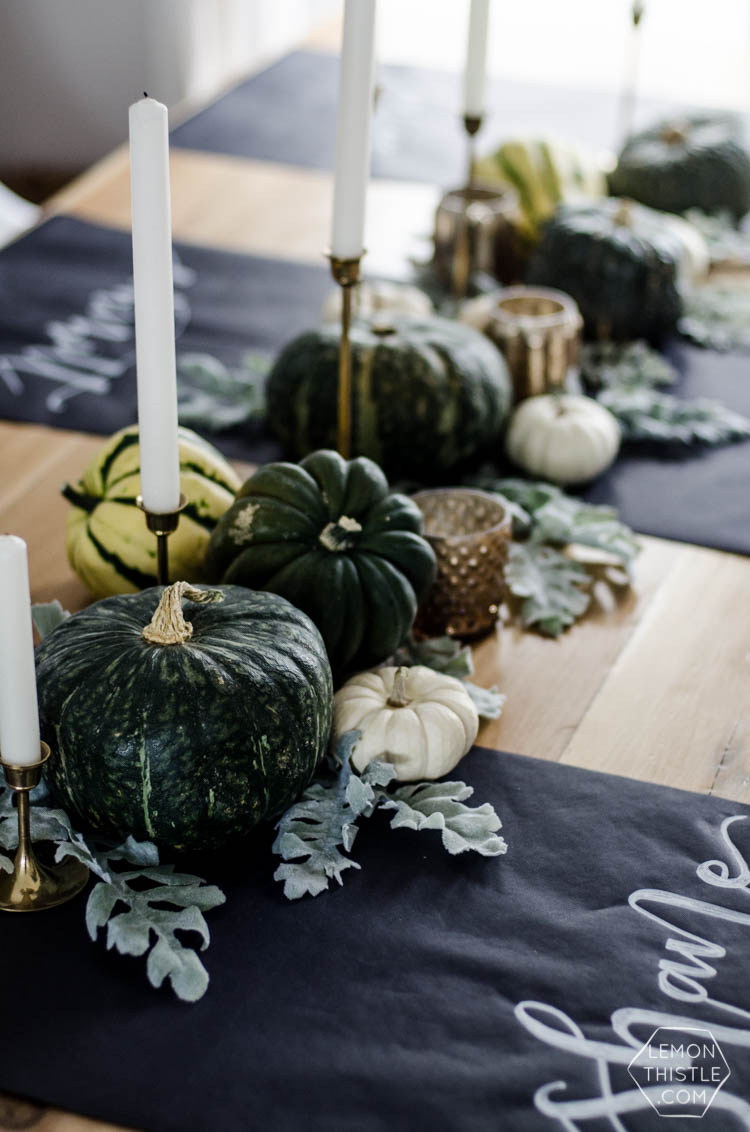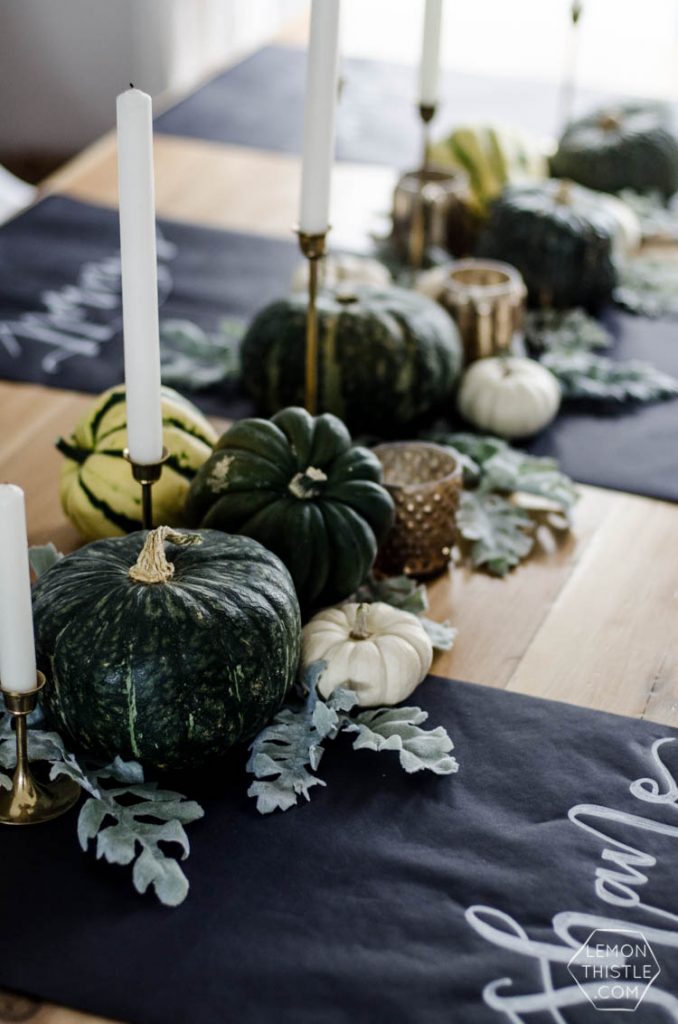 You might have noticed that all my tablescapes have a few things in common. I don't ever want to have something I will only use once, and I'm pretty frugal with what I spend. So, squash I'll for sure be cooking up, mini pumpkins I'll be decorating for Halloween with and candleholders I already had on hand? Done. And as for that chalkboard paper… I'm totally in love with it.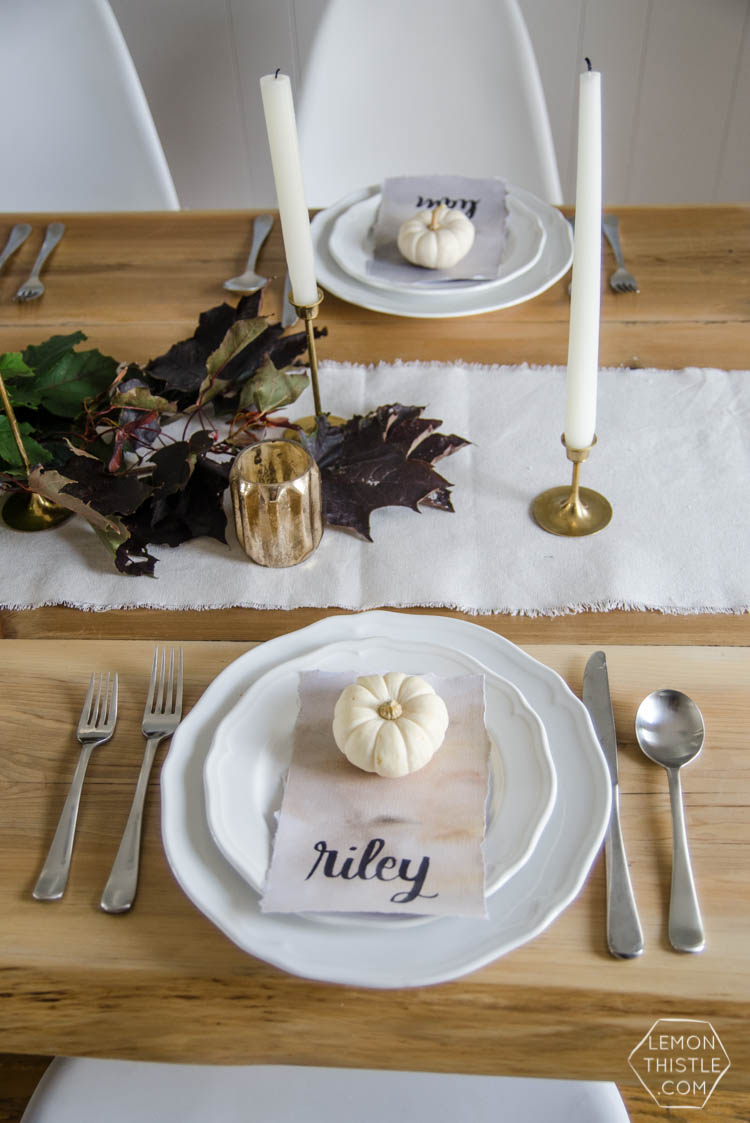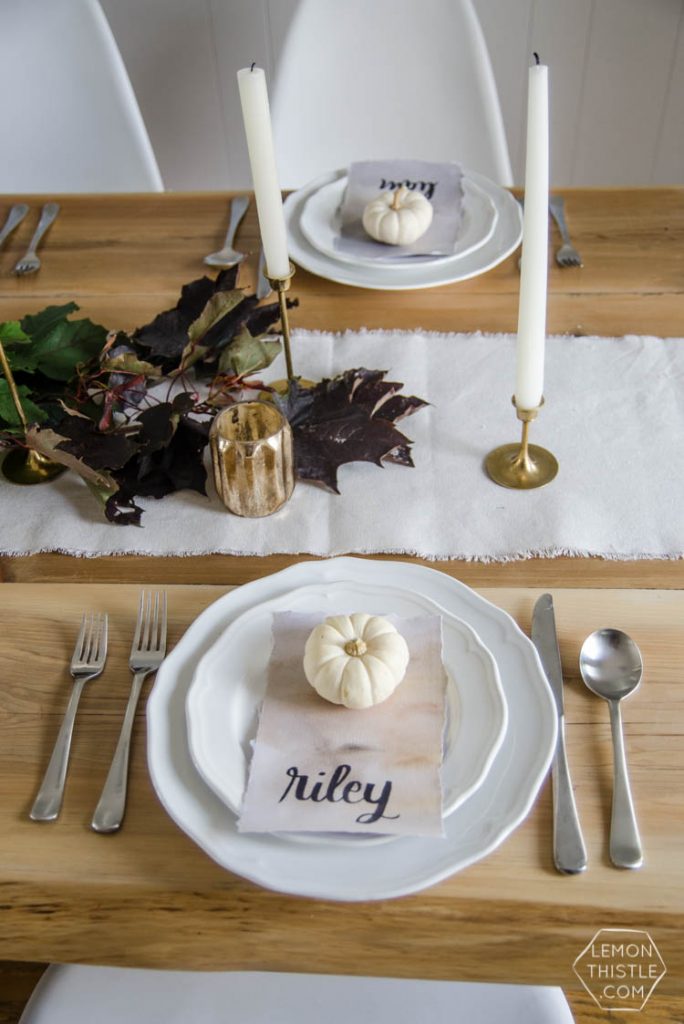 Autumn is my favourite season- the crisp weather… beautiful trees… there's so much to love, really. Let me show you how to create another modern fall tablescape idea using beautiful natural colours. Don't get me wrong, orange is gorgeous… but it 'aint my style. This one uses branches foraged from the yard and grocery store mini pumpkins. You can get these place cards as a blank printable too!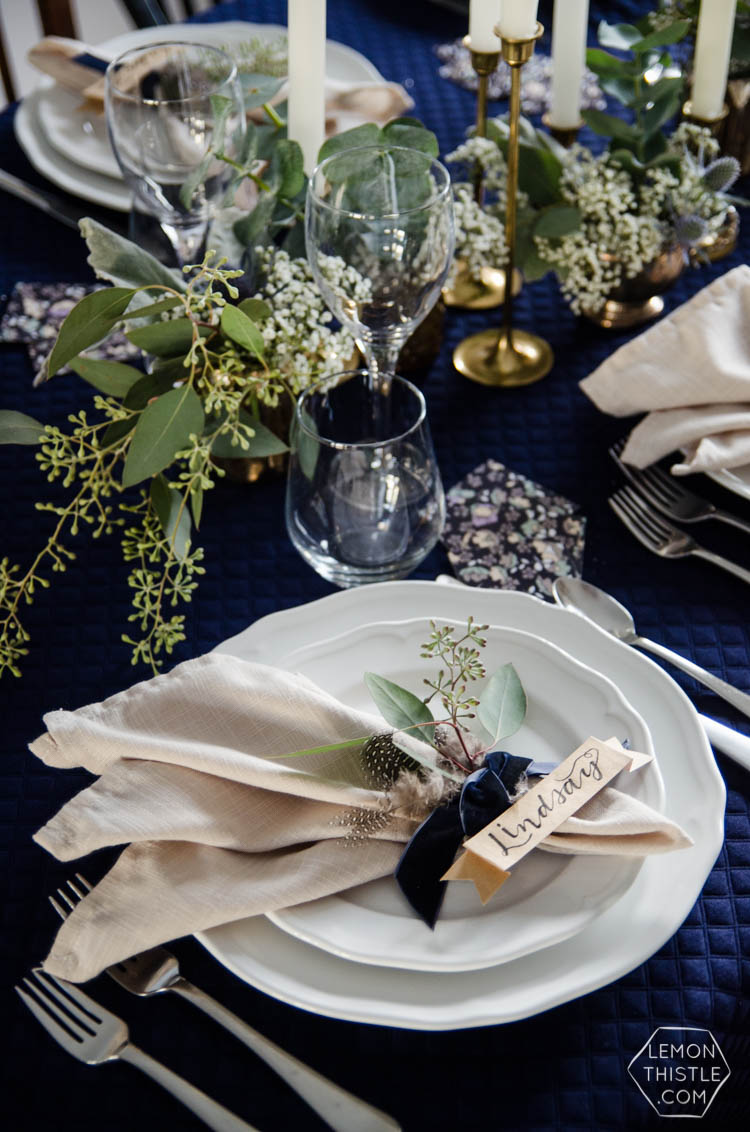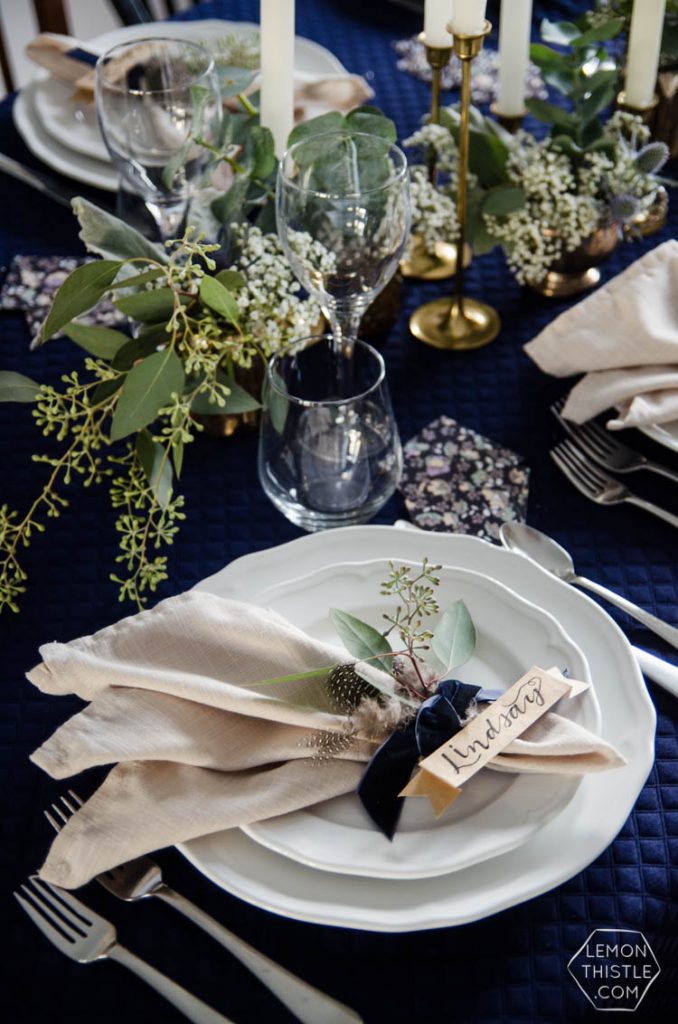 I think dinner parties are my favourite type of party because of the quality conversation that you get to enjoy around a dinner table.  While I created this tablescape mostly using things I already owned, there's one thing I purchased for this one in particular… a tablecloth! This post also includes how an affordably sourced tablecloth can add to your party atmosphere.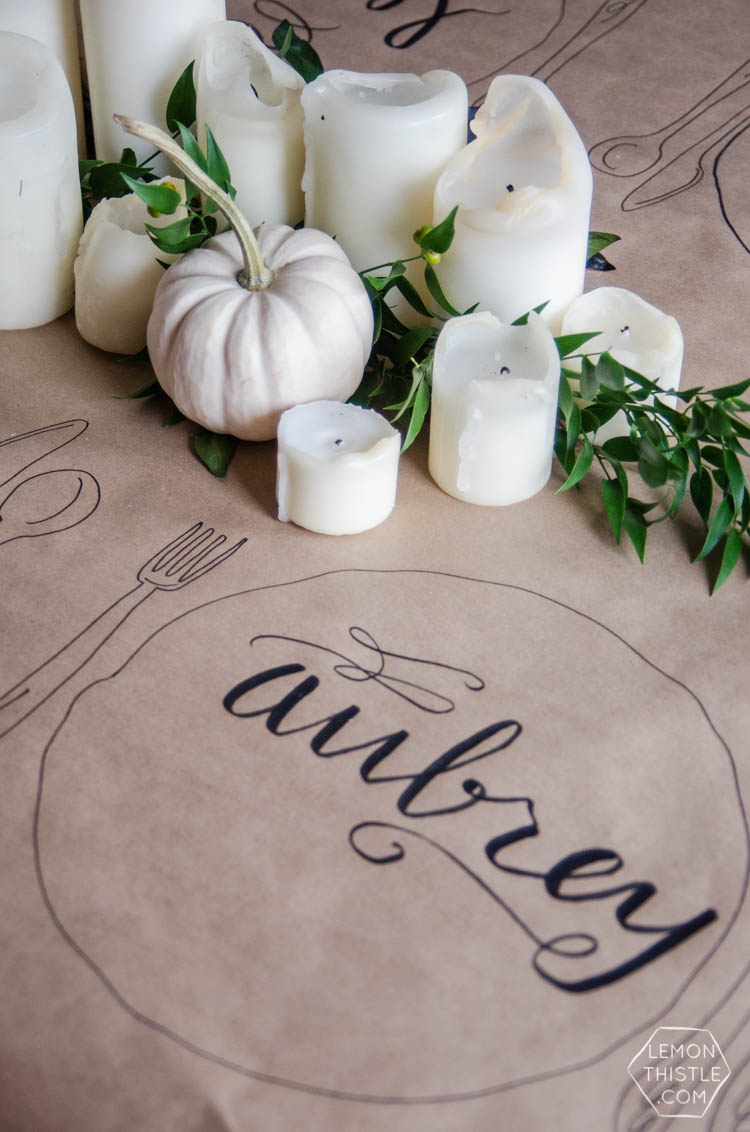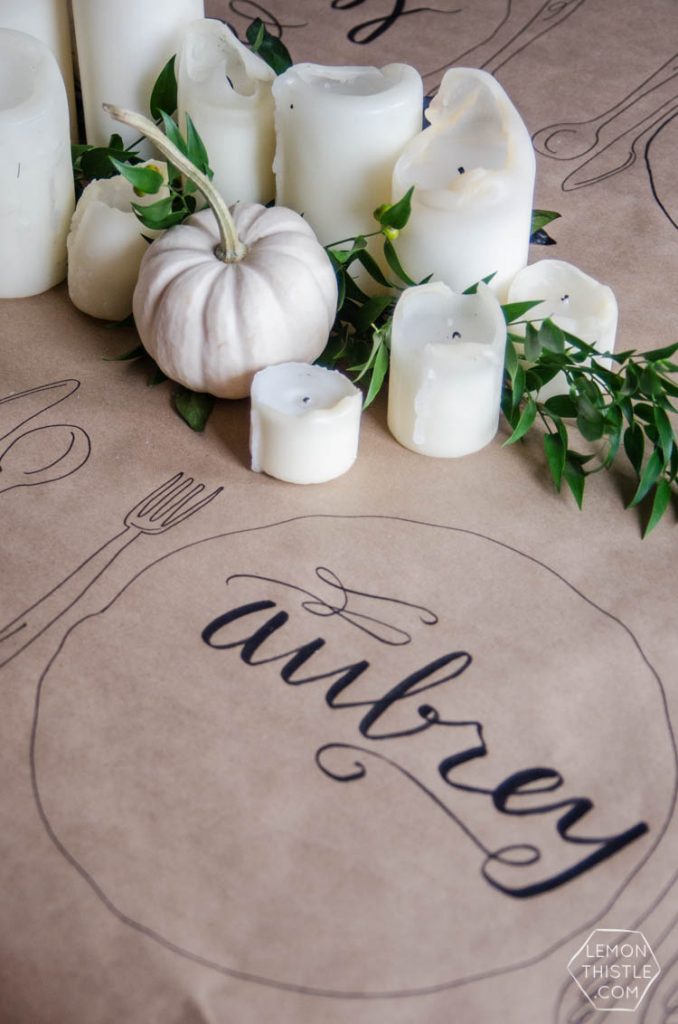 I love how this simple, casual and organic décor turned out. Kraft mailing paper, heaps of ivory pillar candles that I already had and fresh greenery made for a beautiful tablescape. It is anything but tedious and the cost can't be beat! Perfect for any Thanksgiving celebration.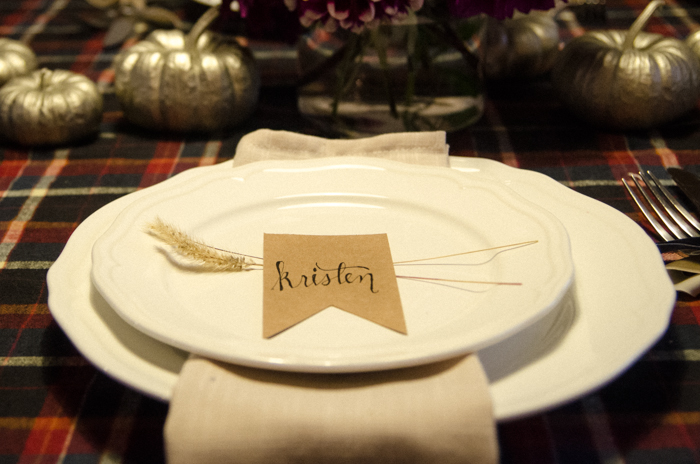 There's something so GOOD in the whole concept of 'Friends-giving'. Celebrating what we are thankful for with friends… who we're thankful for. We had such a good time enjoying each other's company, catching up, and sharing old jokes- plus, the food was dynamite. Here's how we pulled it together! PS. this one is SO old but I had to include it because it was the start of this whole thing! amazing to see how far we've come, right?
There you have it! 8 modern fall tablescape ideas! Are you decorating your table for Thanksgiving this year? I'd love to see it! Tag me on instagram @colleenpastoor!
Love it? Pin it!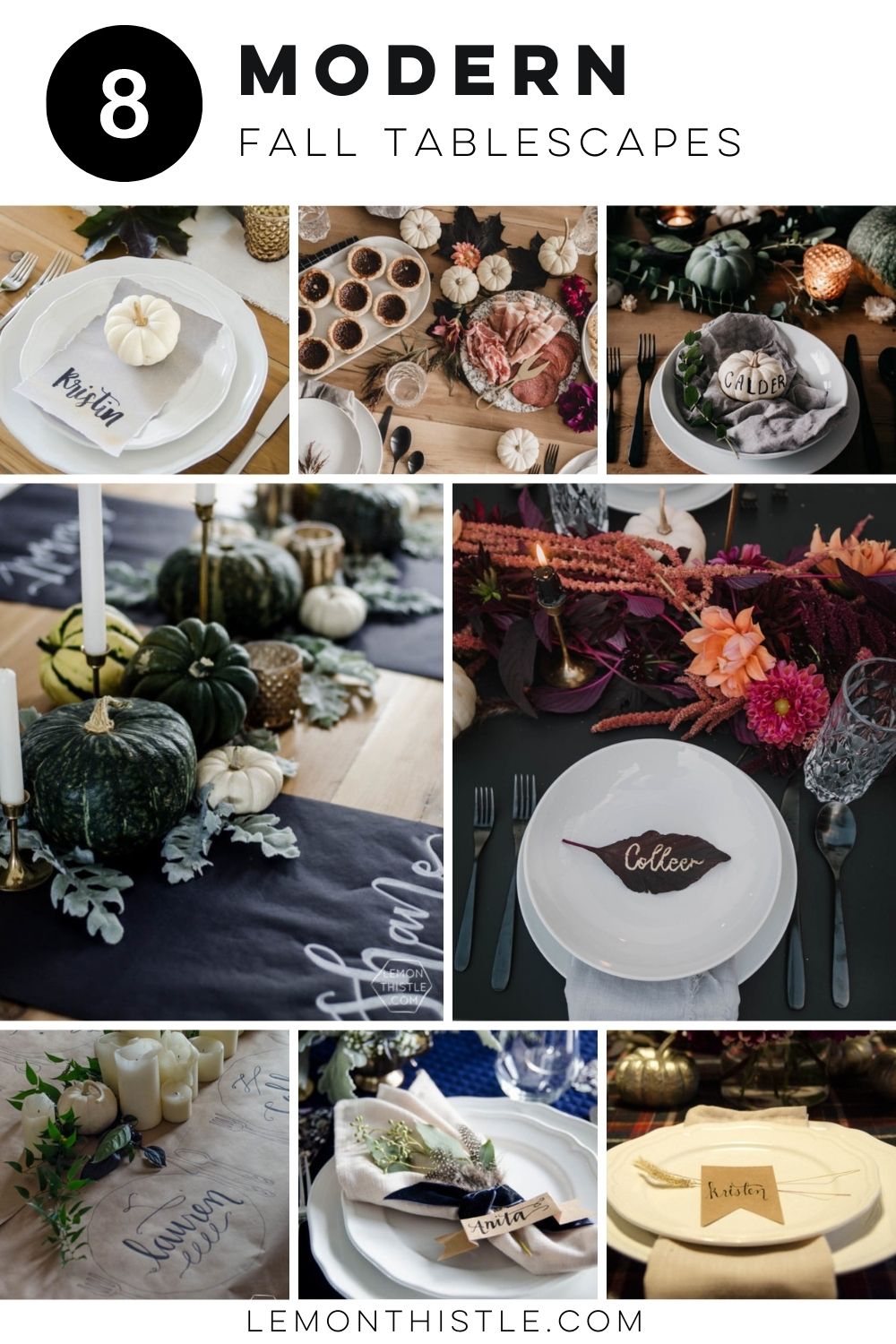 L