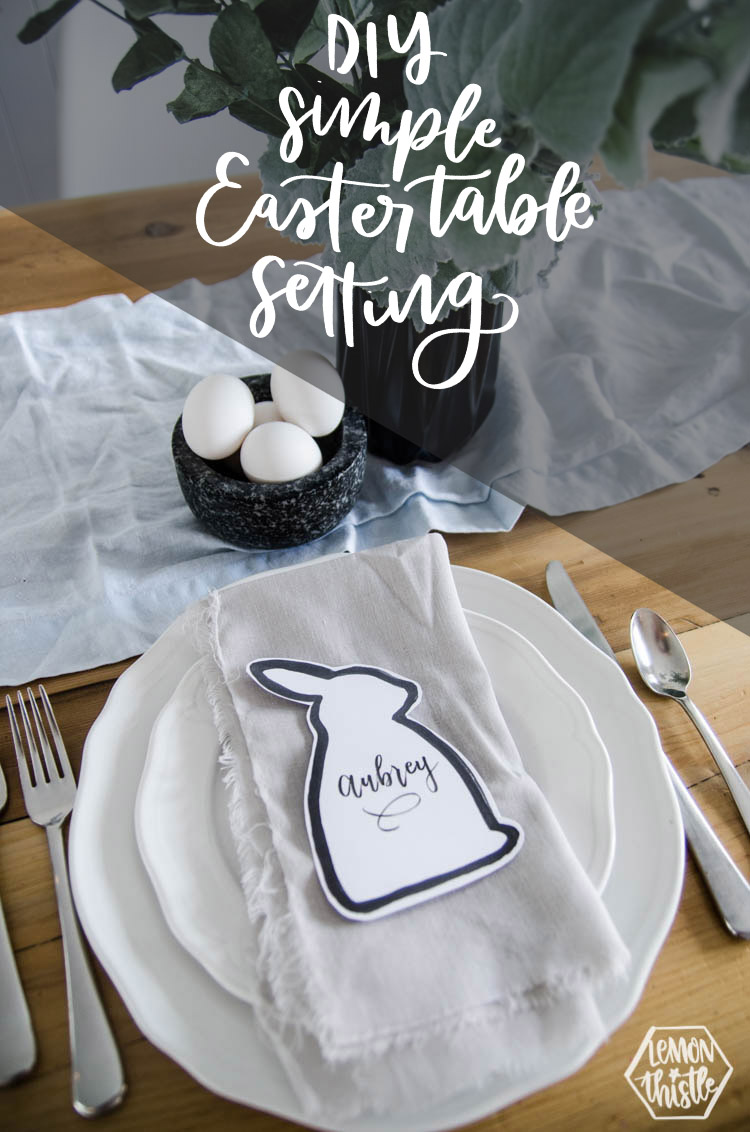 Easter is one of those holidays that I love for what it symbolizes- but I haven't decorated for in the past because all I think of is bright pastels and baskets and bunnies everywhere. Now- there's nothing wrong with these things but they're totally not my style. I thought it would be a fun challenge for me to take a traditional Easter tablesetting with bunnies and pastels and give it a modern twist. And I am so in love with how it turned out! I'm excited to set my Easter table this year now.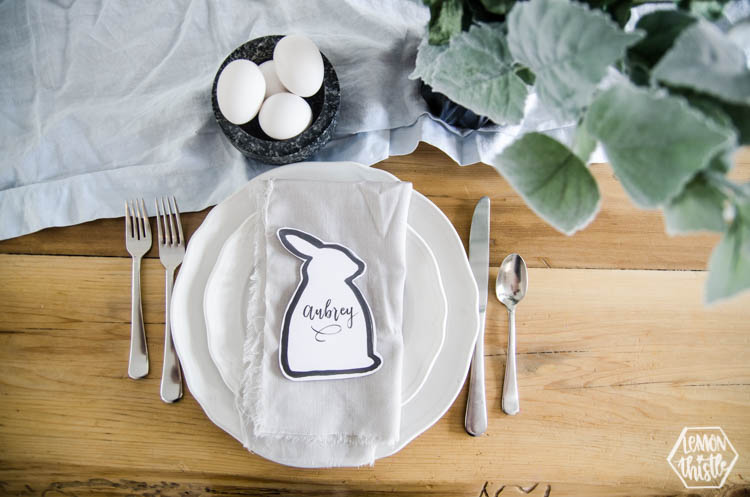 I illustrated this brush stroke bunny silhouette a couple years ago when I made this DIY bunny tea towel and then this Easter Bunny Printable. I've always used that design (and I still use that tea towel! I don't know how it's not stained yet) and wanted to try something different with it. These place cards were on my mind and I'm so glad I gave it a go. 
This tablescape is SO simple to pull together. All you'll need to make the place cards is the printable design, scissors, and a brush pen. In the video I give some tips about brush lettering but if you are really wanting to learn- I have a whole e-course for that I think you would love!
Alright… time for the video! If you haven't subscribed to me over on YouTube… I would SO love if you did! I'm posting DIY and decor videos over there as often as I can (aiming for once a week… wish me luck!).
Before I get into the place cards… here's some details on the tablescape! I know… it's not really a tablescape because I didn't set the whole table. But just imagine it, okay? ;)
Our dining room has blues in that giant map, so I pulled out an old table runner that had that pastel blue look. This table runner is so old, you guys. I don't even remember where I bought it. I do know that I bought it the year we got married so that thing is 9 years old now. It's also completely wrinkly. I used to iron it everytime I would pull it out, but now the wrinkles have grown on me and I love how it adds texture. The other linen piece is the napkins. Those are DIYs also from years ago. You'll never guess what they're made of!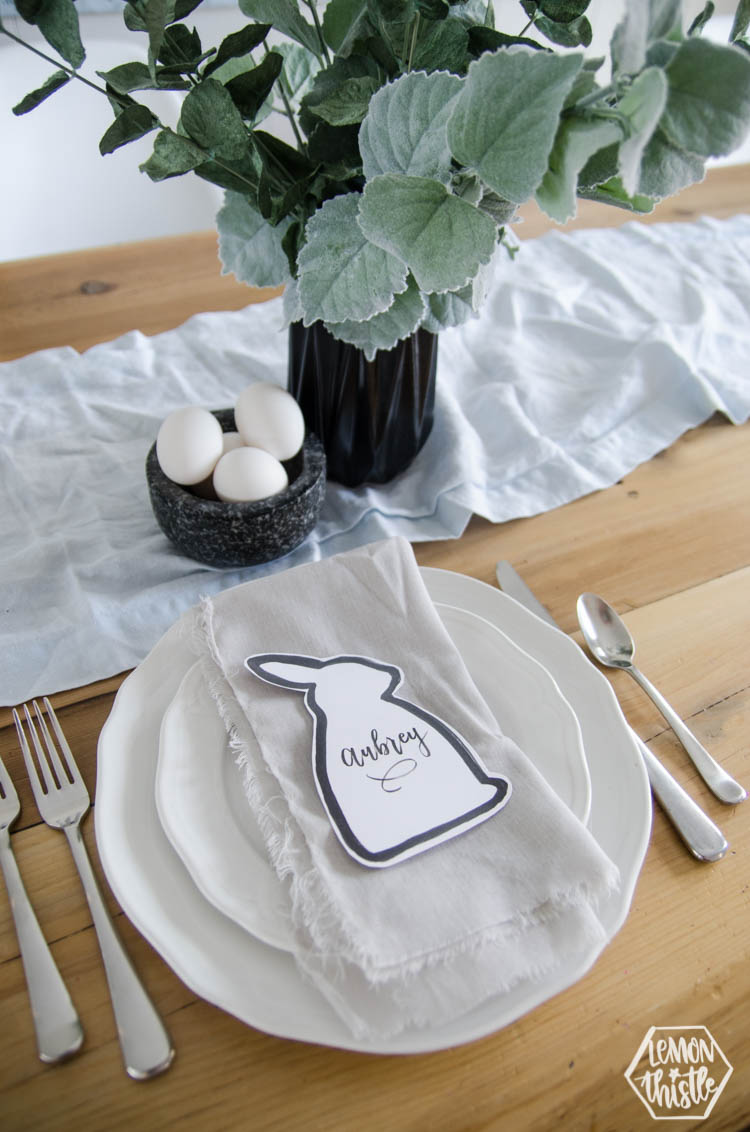 Then I added those punches of black. These punches of black are what makes this pastel tablescape modern and they tie in to the brush stroke of that bunny rabbit printable place card. I found that vase at Homesense and that bowl is actually a mortar that I usually have styled on my kitchen open shelves. I put some eggs for easter in there and some faux eucalyptus and other greenery in the vase. The faux eucalyptus is available at Michaels right now. As much as I love the real stuff… it's not economical to have it in our house at all times- so this is a nice alternative to pull out in between.
The dishware and flatware are just our every day stuff. I'm dying to get my hands on black flatware (I've put in an order with my Dad who's going to Ikea later this month!) and that would have made this place setting just that much more rad I think.
Now for the DIY Easter Place Cards!
First, you'll need the place cards themselves. You can grab the PDF printable bunnies RIGHT HERE. As always, these are for personal use only.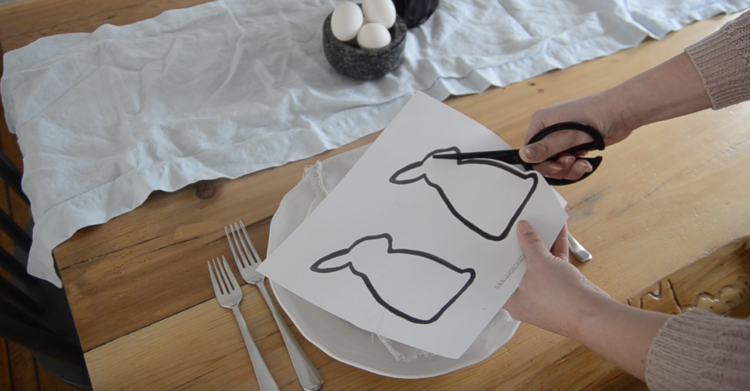 I printed mine off on card stock for a bit of extra weight. Then I cut them out with scissors. I chose to cut them out with a white outline around the brush strokes. You could totally cut right against the brush strokes if you'd rather.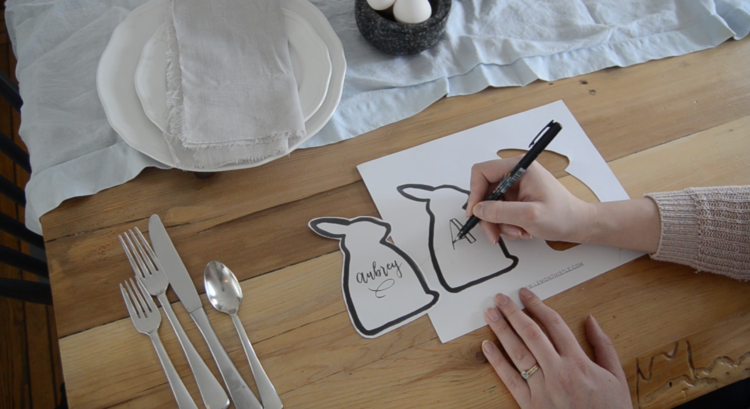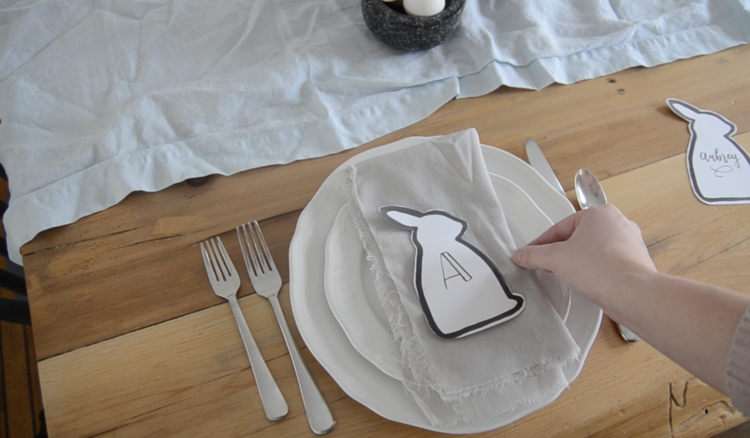 Once they're cut out… it's time to letter them! I used a Tombow Fude brush pen (affiliate link) for this. I love this pen for smaller projects like place cards because you can still get the variation of a larger brush pen but it's easier to control. In the video I do give some tips on using a brush pen if you have never tried it before but if you really do want to learn- I have a whole online course on that RIGHT HERE. I showed three different options for lettering names in the video- a simple brushed sans serif, a script (what I ended up going with) and a large simple monogram which you don't need a brush pen for.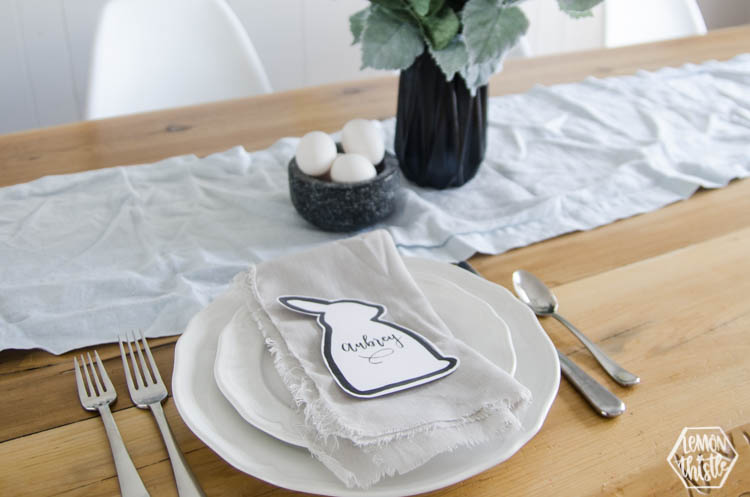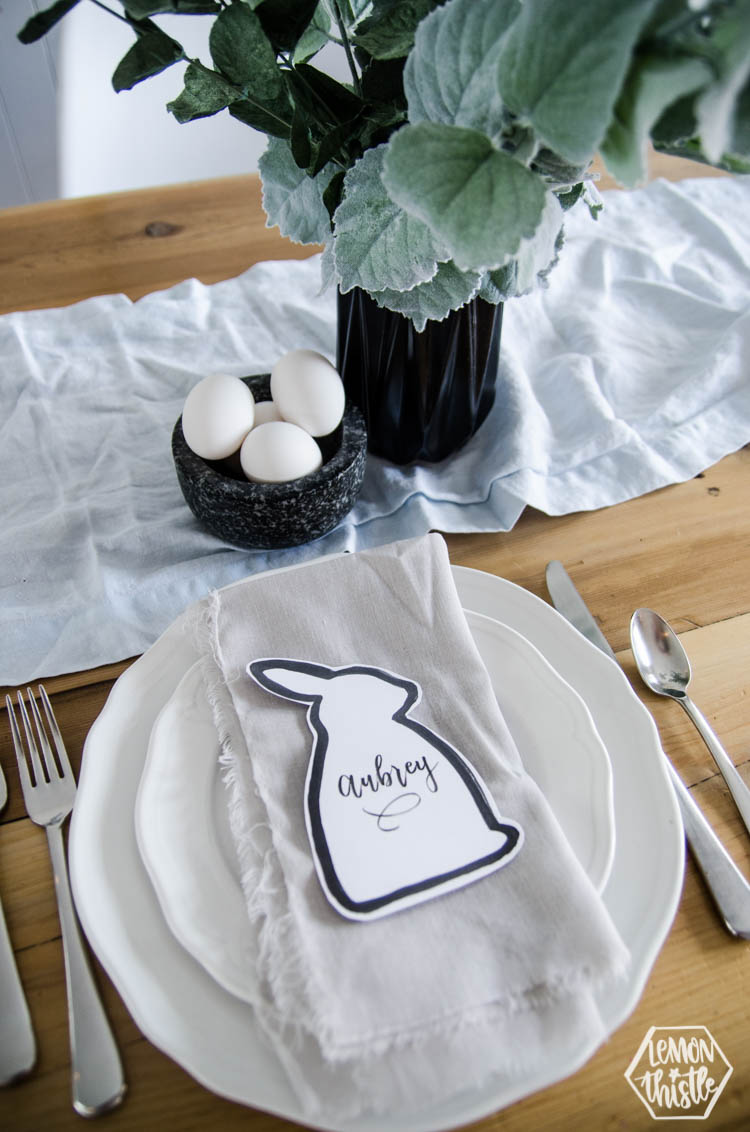 That's it! Super simple to pull off but I really can't get over how rad the black is with the pastels. I hope you enjoyed this simple Easter idea and that it's inspired you to play with some modern touches in your Easter decor as well! If you do end up using these place cards, I would SO love to see a photo! You can email me [email protected] or tag me on social @colleenpastoor.
If you love the bunny design- I've used it in this DIY Tea Towel and this printable as well!
LIKE IT? PIN IT!