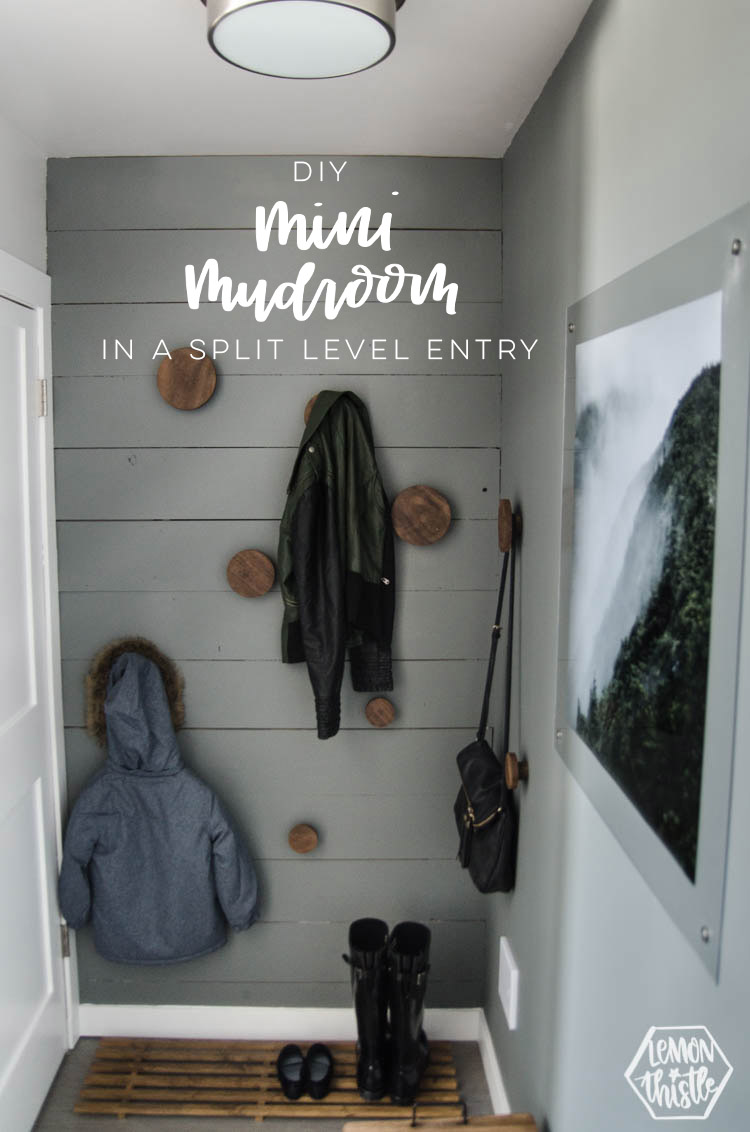 You guyyys! I'm really excited to share this little space with you. If you have been following along with Lemon Thistle for a while, you might remember that we live in a split level entry (or Cathedral Entry) so a mud room is something that we only dream of. BUT we got a bit creative and turned a useless little space at the bottom of the stairs into our own mini mudroom and I'm so happy with how it's turned out.
I had planned to share this post last month, but when our babe got sick this one got put on hold. This post is part of our Modern Handmade Home series where 5 rad bloggers are sharing DIYs and decor around monthly challenges… and this month? PAINT! We partnered with Para Paint on this one. The *one* space left in our home that I wanted to give a coat of paint to is this little one. I'd gone BOLD and painted this space a couple years ago with bold green brush strokes also in partnership with Para. It was really fun and while I loved it… I didn't love it for our home. It was the only bright colour in our home and I wanted to tone it down a bit, especially now that we are working towards getting the house totally finished and ready to sell.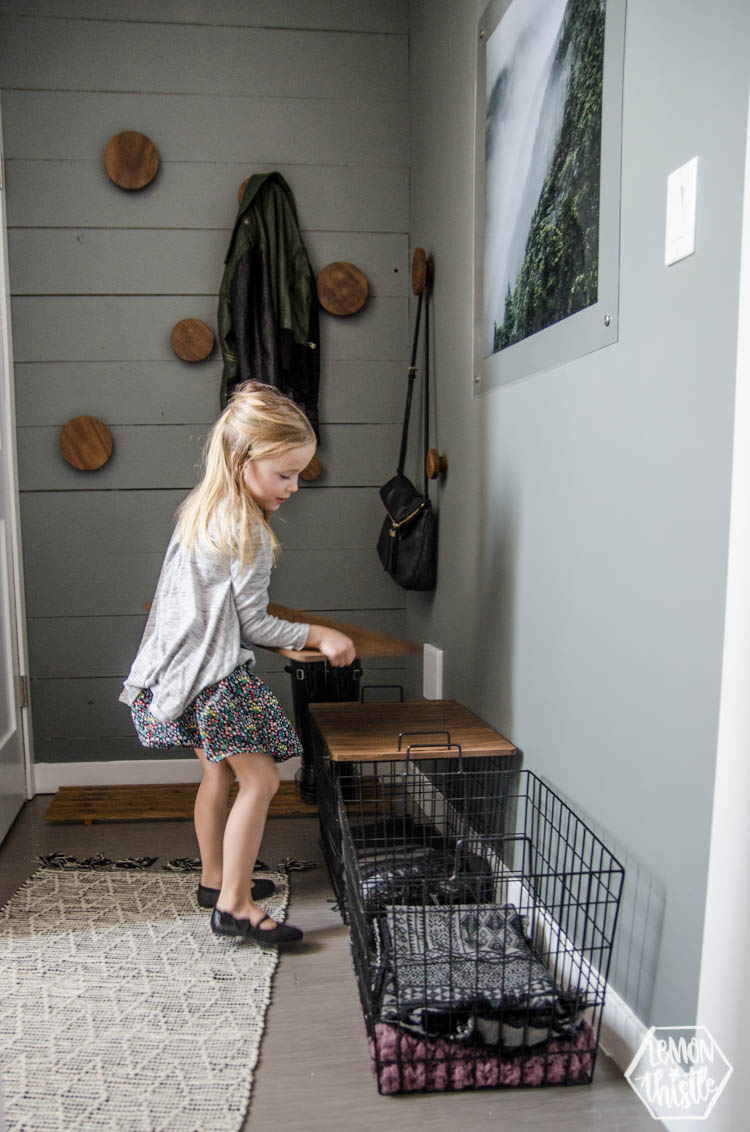 I've shared our entry way here before. We live in a split level entry home (cathedral entry) and one of the biggest downfalls of a house with this design is an entry with next to no space for storage. We made some modifications to the actual entry for storage (you can see that right here), but coats were still an issue. And all the mittens didn't help the situation. This space at the bottom of the stairs was totally wasted. We had set it up with a couple coat hooks but I didn't love that they were in view from the front entry all the time and we used the space more for storage than anything else.
I have to take a minute to say that this little space down here is THE MOST CHALLENGING space to photograph in my whole home! The half that's open to the stairs gets SO much light from the front entry, then the part under the other stairs gets zero light. And then that acrylic frame (DIY is this one here) bounced some light for some interesting shadows. I had to brush up on my Lightroom skills for this one. I think my Dad would be proud of me- haha, he taught me everything I know about a camera and editing.
This photo shows a little better what's going on there. You can see where the space opens up to the stairs. This is what you see from the entry way. I'm happy that now it looks SO much cleaner without coats hanging on the wall right there. And I should let you know that the door that we have the shoes in front of is under stairs storage- so it only gets opened if we are pulling out christmas decorations or things like that.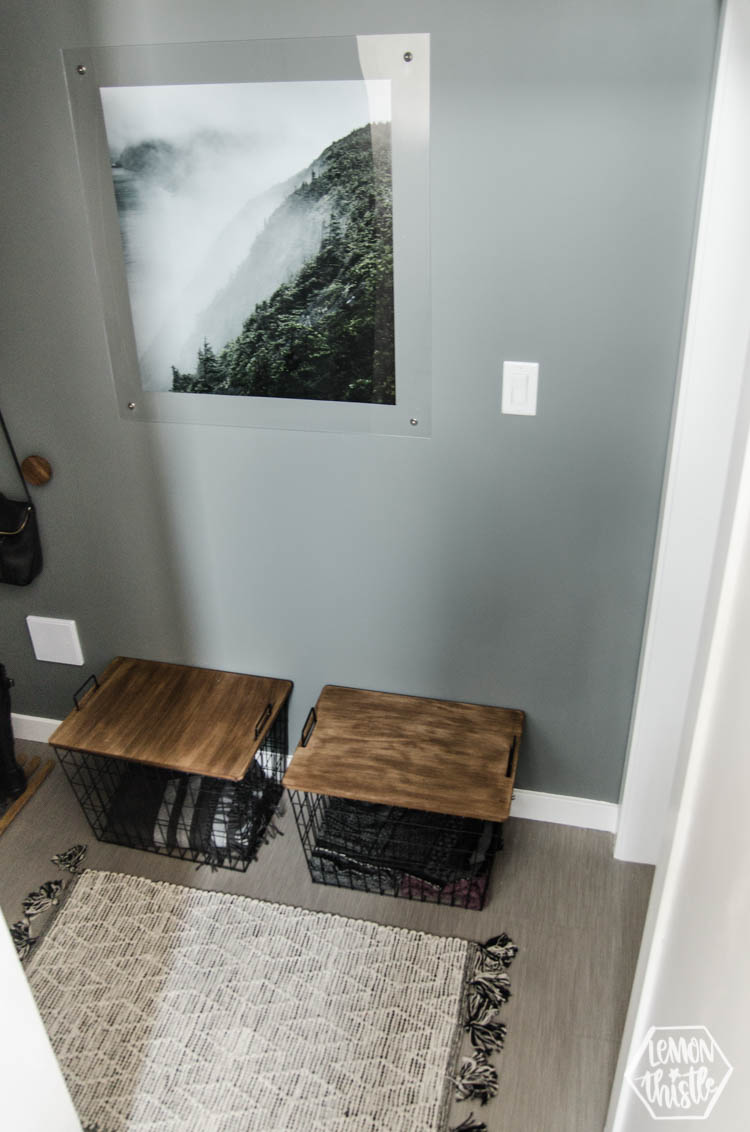 Before I share all the details… want to see what it looked like before I painted? You can check out the whole space and tutorial for that brush stroke wall RIGHT HERE. I would totally do it again… but maybe in grey ;)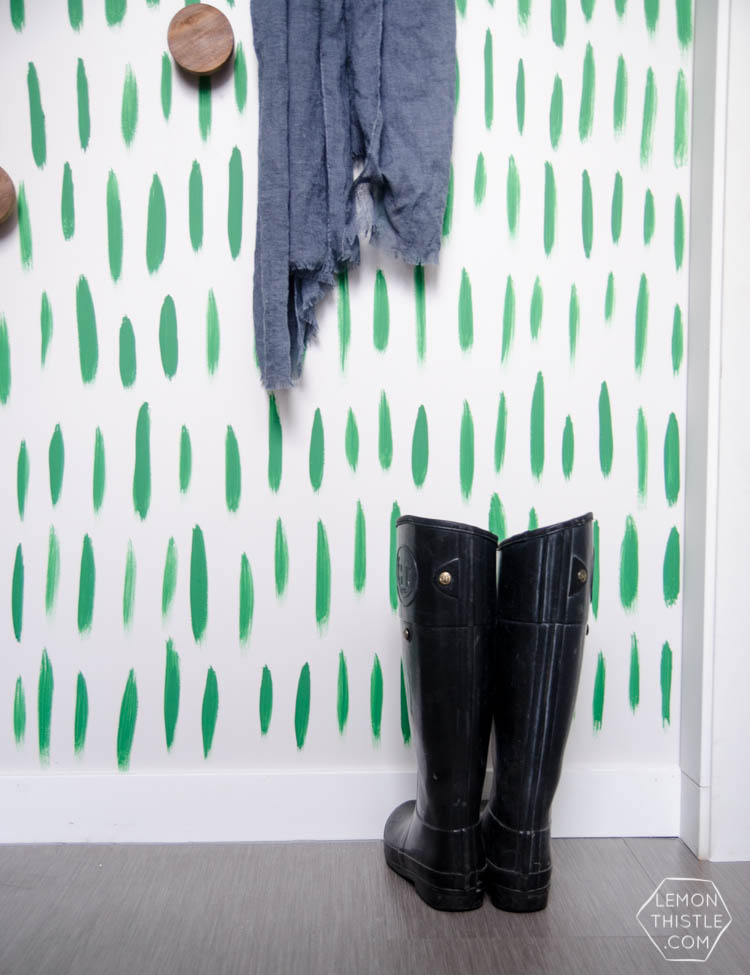 You might be thinking that those strokes are a lot of texture to cover over with paint. And you're right. When I covered the cloud wall in the twins room, I did a TON of reading about how to best cover that. Here's the quick summary of what I've learned (and done):
Give it a sand to get any really raised edges off
Use a great primer- this will go a long way
Use a flatter finish paint
After painting this… I kind of want to do a flat finish paint in my whole house… it's so smooth looking! I've used Para Paint products a lot before but since I'd ordered a flat finish, I tried out an acrylic paint that Para offers… did you know there was such a thing?! I didn't! I was so impressed with this stuff, you guys. It had a lot to cover and it totally did. I can see this paint being really good for furniture because of how nice and thick it paints on with a brush. It's called Para Elite Suede and it lives up to it's claims (gloss free and washable… I've already had to wipe it down because #kids). I had originally wanted to do a green colour, but ended up making a last minute decision to go for one of the colours they'd featured on their Instagram account called Arctic Char.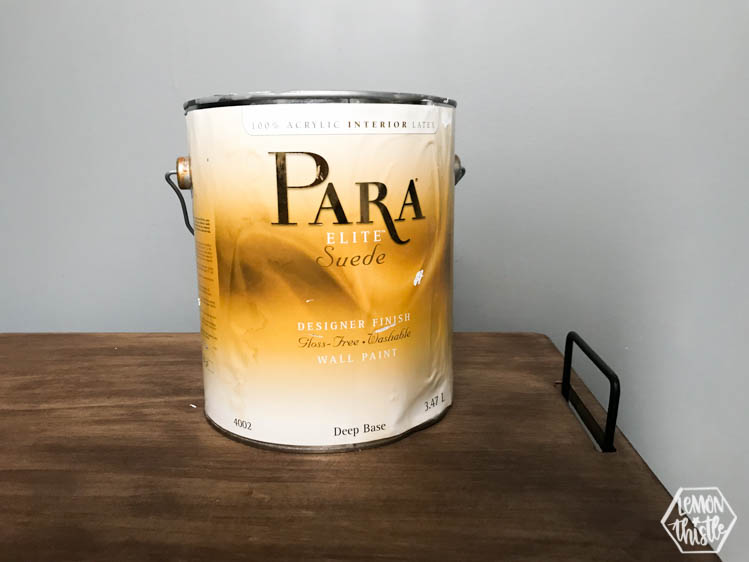 I'm not going to lie… I'm a tiny bit sad I didn't go for the green. Just a tiny bit. It would have been fun to try a little bit of colour in here. BUT the colour I chose is totally beautiful, it compliments our floors down there and the best part? Because I went grey, I decided to print a colour photo for the space. I have long been in love my friend Becki's photography and asked if I could print one of her gorgeous images for the space. Isn't this photo beyond stunning!? It was taken on the Newfoundland coast which is on my dream list of places to visit one day. I actually would love to do a month or two road trip across Canada- spending most of the time on the East Coast. It seems dreamy. If you aren't already following Becki and Chris on Instagram, you probably should ;)
That frame is a DIY. I made it exactly like the ones I made for our nursery but only used one sheet of acrylic. You can find the tutorial for these RIGHT HERE.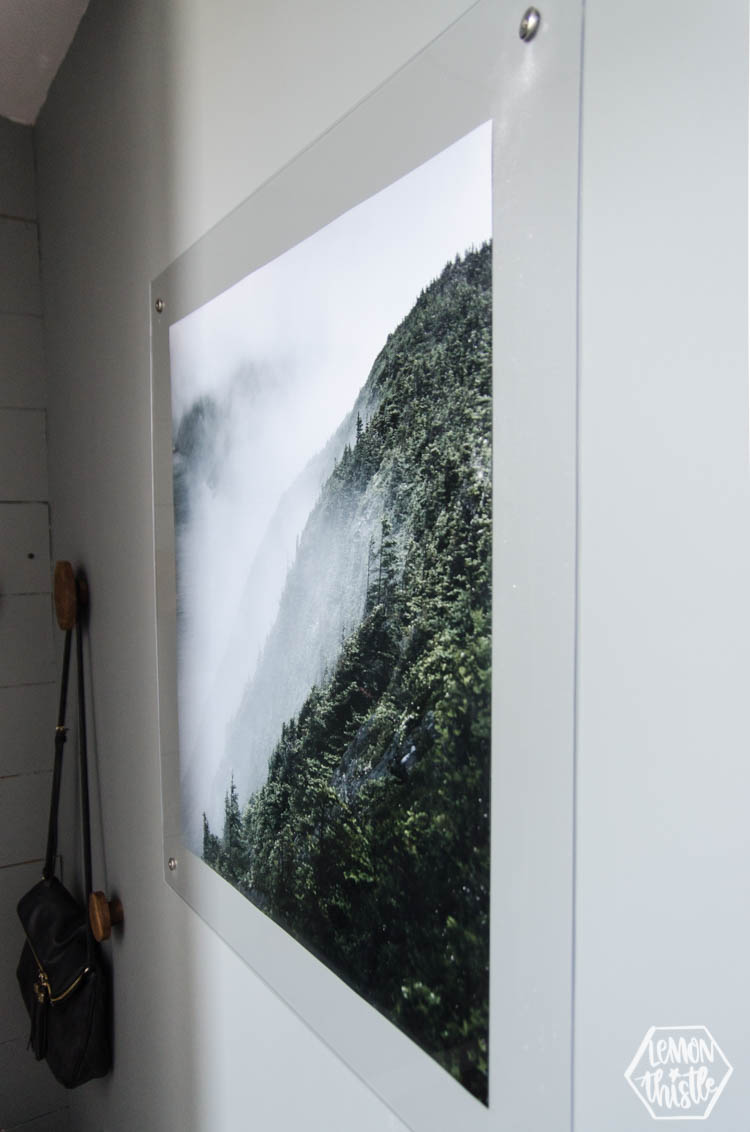 I love that this is what you see when you enter our home. I've had lots of people suggest we add more decorations to our entry- big paintings or an accent wall and I really love the way the entryway stands on it's own with such clean details. This is a fun pop that you can see and then around the corner does all the hard work. That little throw rug is from Homesense and is the same brand and similar style as the one we have in our entryway. It ties together really nicely.
Those baskets that double as benches were ten bucks each, you guys. TEN BUCKS. From a little outlet here. We stained the MDF/ Wood veneer lids to match the hooks. I have scarves looking all nice in these baskets for the photos… but they totally hold kid backpacks and snowpants now that the photos are done ;) It's our little secret. The other rad thing about these baskets is that they double as benches for the kiddos. And me. My goal originally was to build a bench for this space, but we never got around to it and when I spotted these, I decided for $20 total I couldn't pass them up.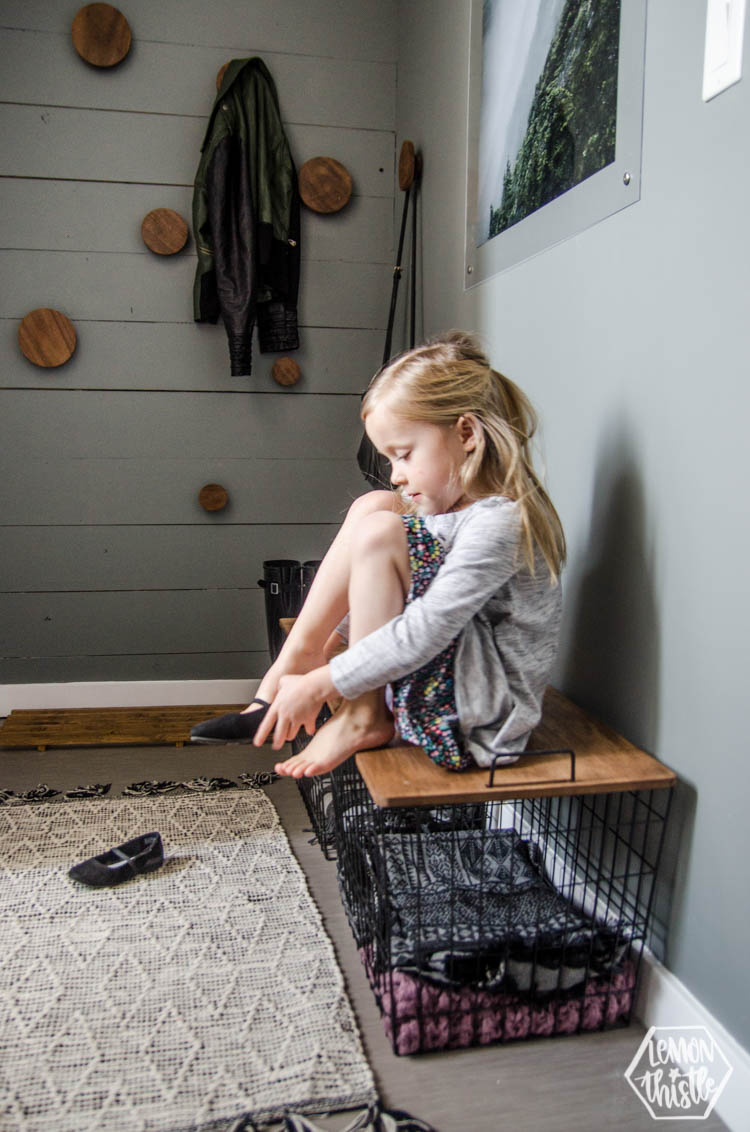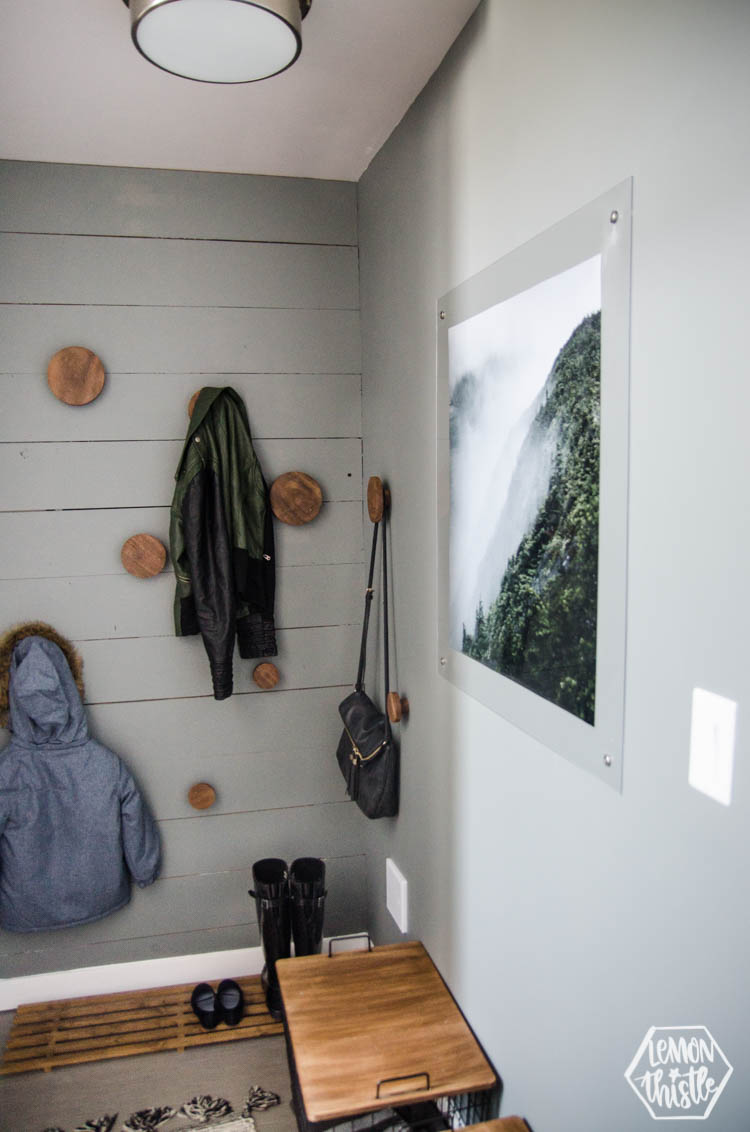 These hooks I bought a couple years ago now from CB2 and I love how fun they look while still working hard. We had some issues with them being pulled out of the anchors by our kiddos using them in the drywall. Moving them to the shiplap wall means that will never happen again. The one that is low in the drywall is on a stud. Lastly, that little shoerack is from the entry. Now that I've tried it down here… I need to make another one. When the weather gets nicer and I can pull the saw out ;)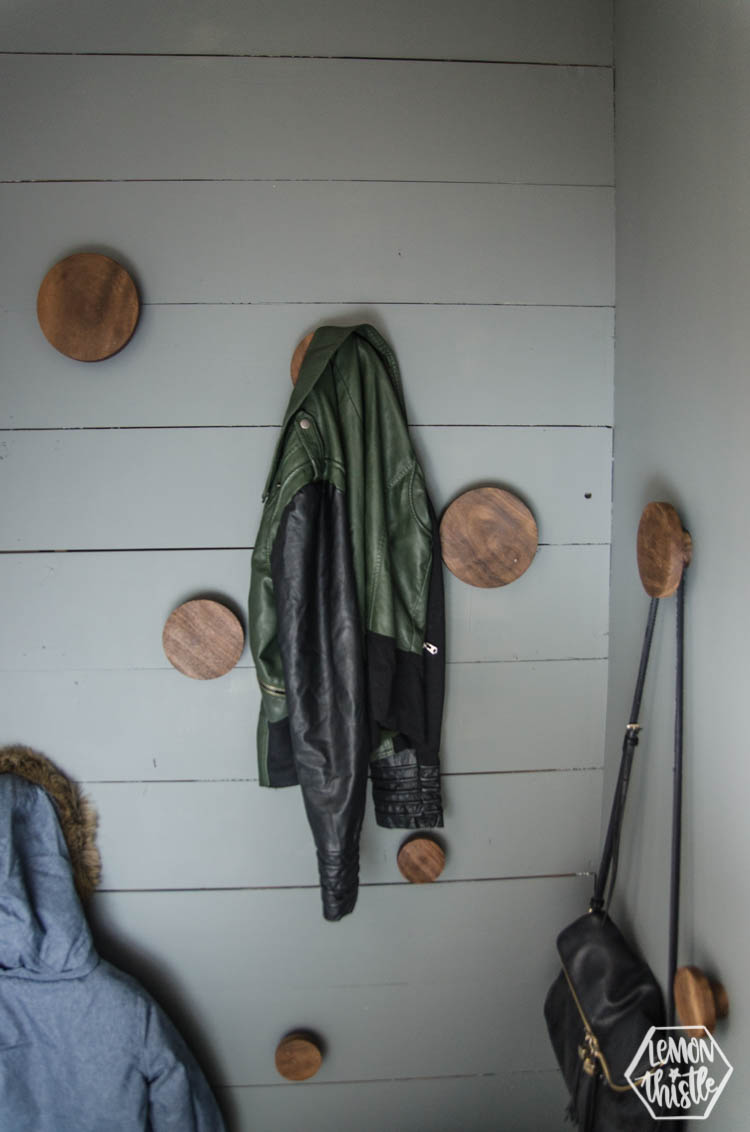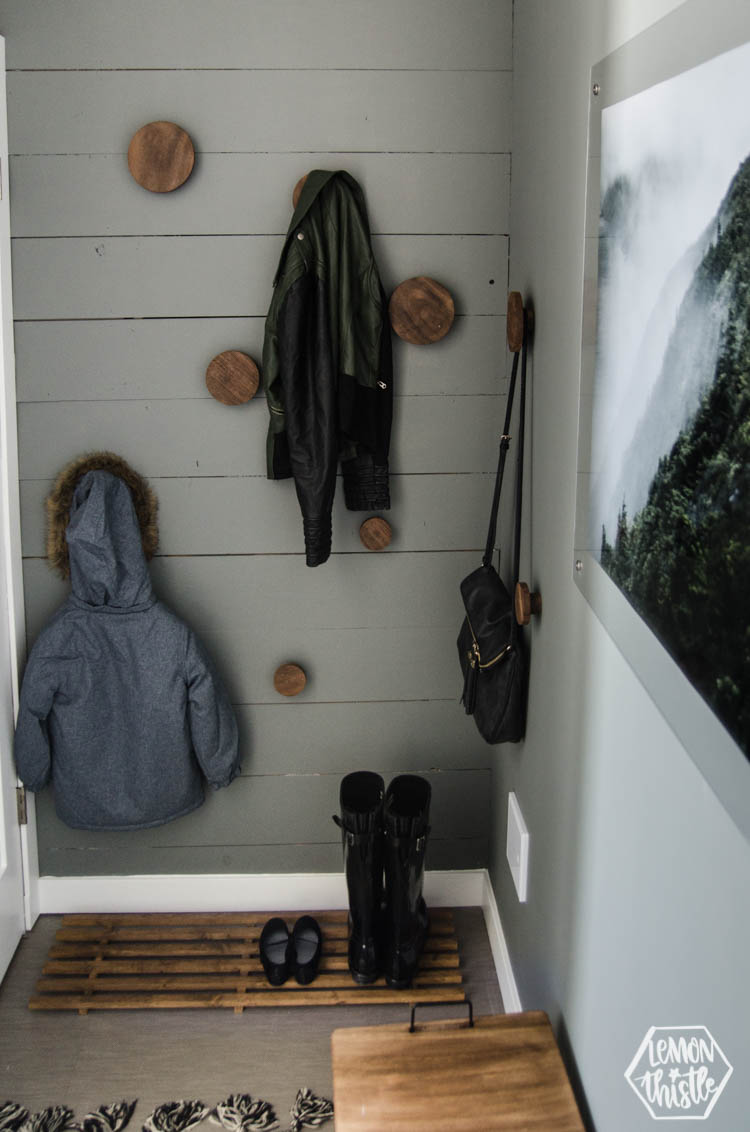 Alright, I'll leave it at that! I'm so happy with how this little space turned out and feel like it was the perfect use of an otherwise wasted space. Do you live in a split level entry? Would you give this a go? Let me know!
Each month I join with four other amazing bloggers to share our modern handmade homes. Check out the spaces they transformed with Para Paints this month! 
Harlow and Thistle
The Learner Observer
The Sweetest Digs
Love Create Celebrate
Lemon Thistle