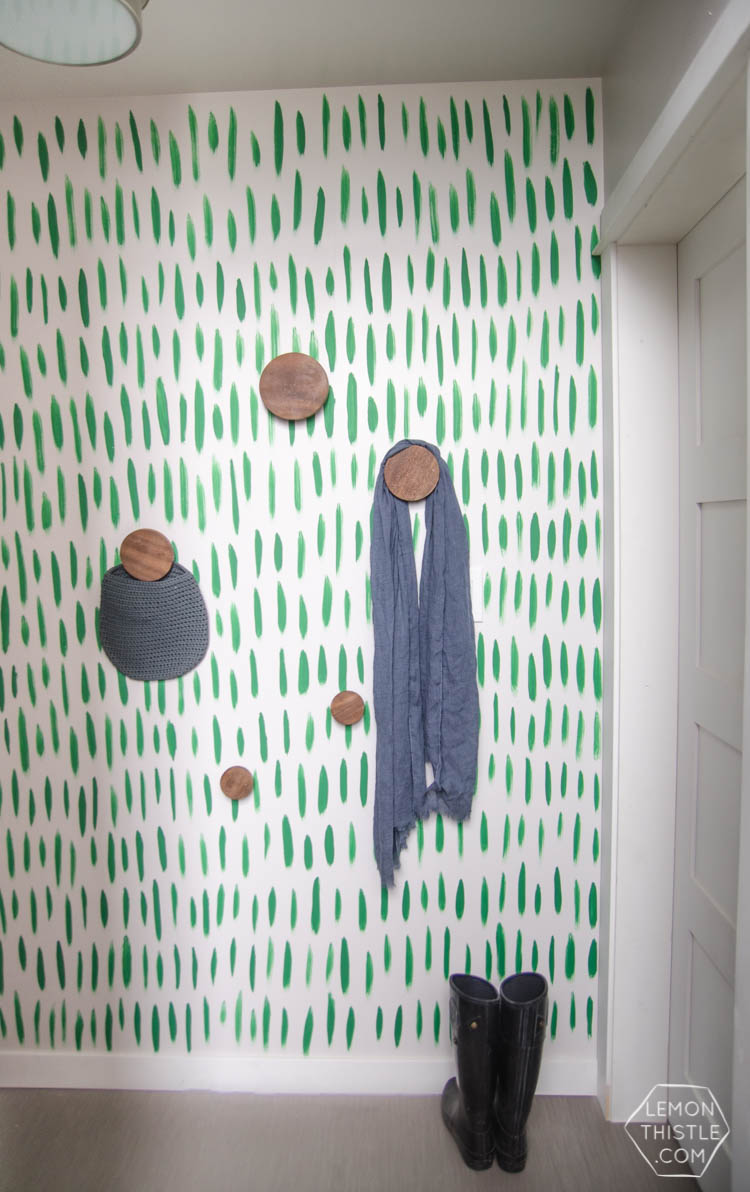 I know what you're thinking, "Colleen, I thought you don't like colour!" But it's not true! I actually love colour, I'm just a fan of neutrals in my home. BUT every once in a while, I like to do something fun like a bold blue dresser, or a kelly green patterned wall.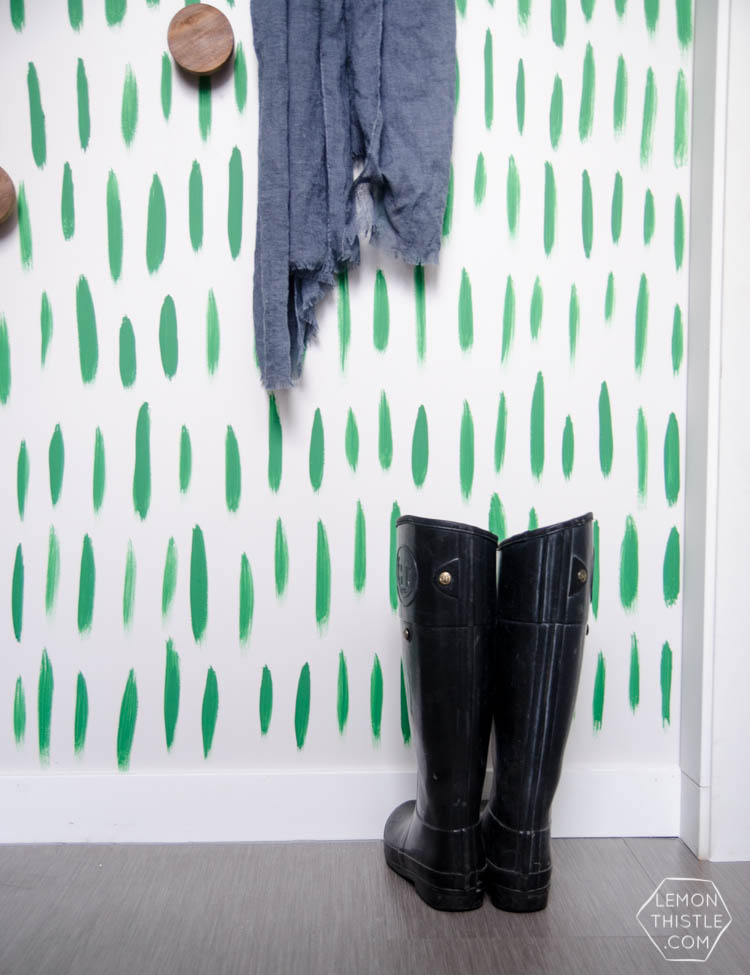 I am really glad I took the risk and tried this wall- it is so much fun. I kept telling myself it's just paint, you can always paint over it if you hate it. But I don't hate it at all. This wall is at the bottom of the stairs right now and is the only spot we really have to hang jackets right now. I wanted to finish it up and make it more of a feature and less of a boring wall with hooks (that makes you wonder where on earth the coat closet is). I was looking at some more complicated patterns, considering stencilling, and going back and forth between just ordering wallpaper, when I saw this hallway. It was so graphic and wonderful and it was painted by hand without a template. The organic look is what made it stand out and it's totally something that anyone could pull off. It was just my type of project.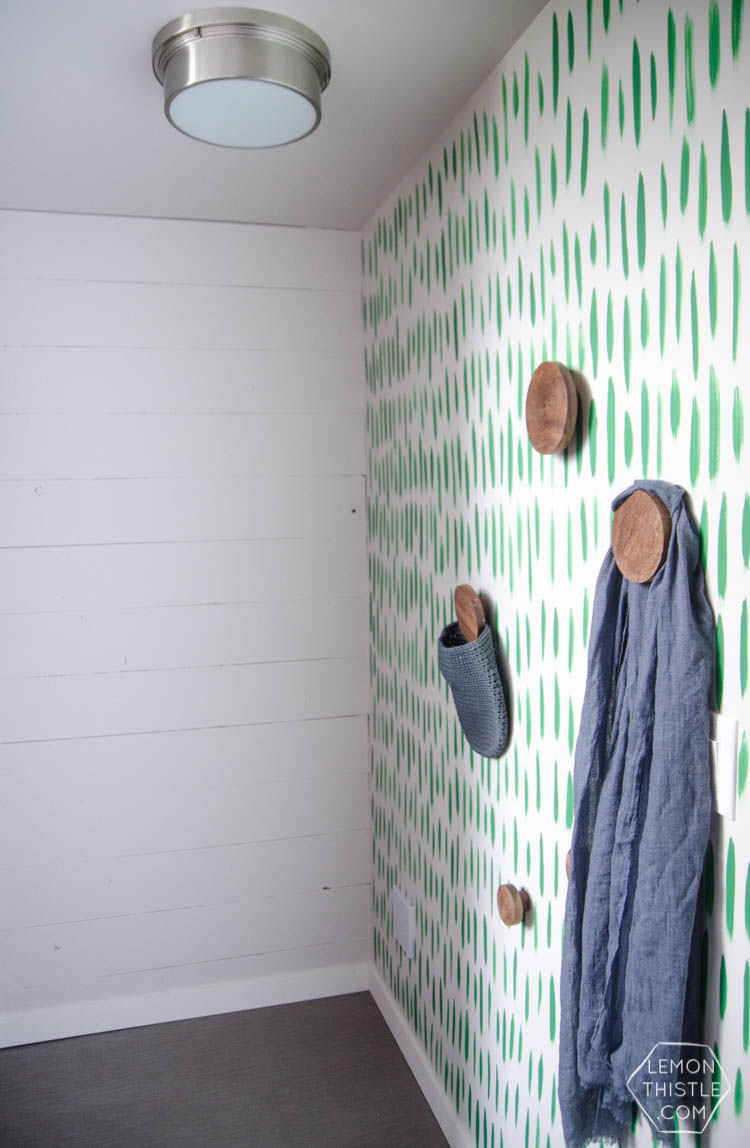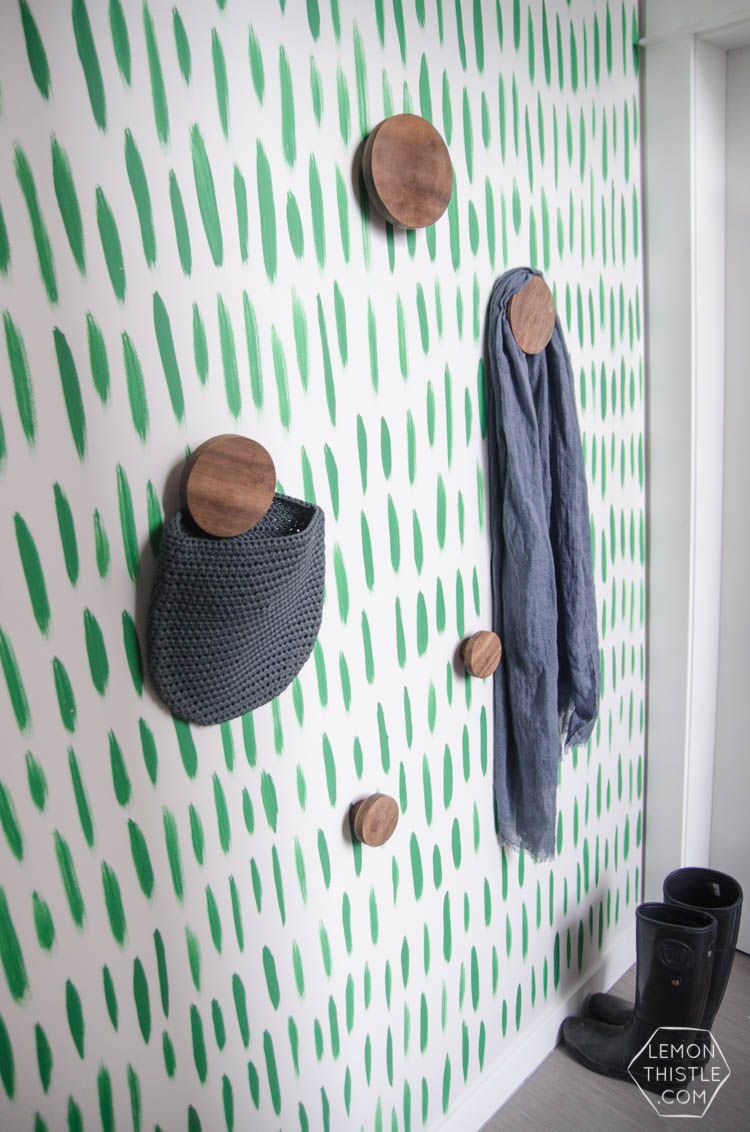 Since I've partnered with Para Paints this year, I've been able to try some bolder colours than I'd usually pick out. I picked out this kelly green, 'Place Your Bets' from Para Paints. I'm not going to lie, when I saw how bright it was in the can I got nervous again. I really don't do colour in my home but it was an excited kind of nervous, so I just went for it. You can find all of the tips from Beautiful Matters' blog post, but the gist is you just grab your paint brush, dip it in the paint and start painting tallies until your brush runs out of paint… then do it again. I love that it's not perfectly uniform in size, shape, and opacity. It's got so much character and texture.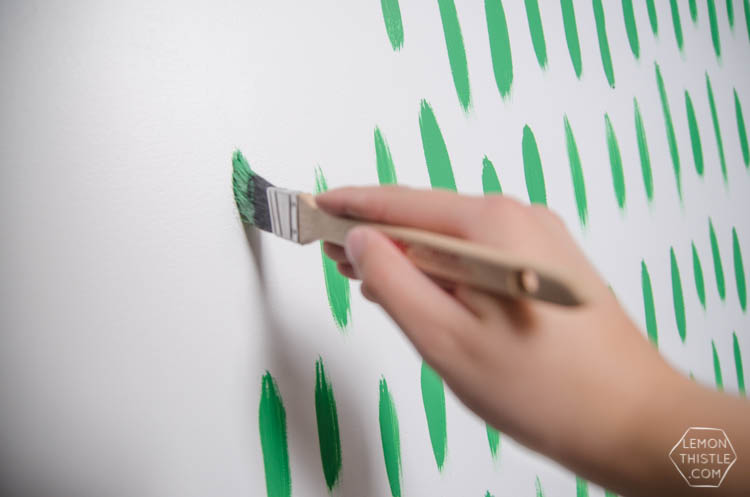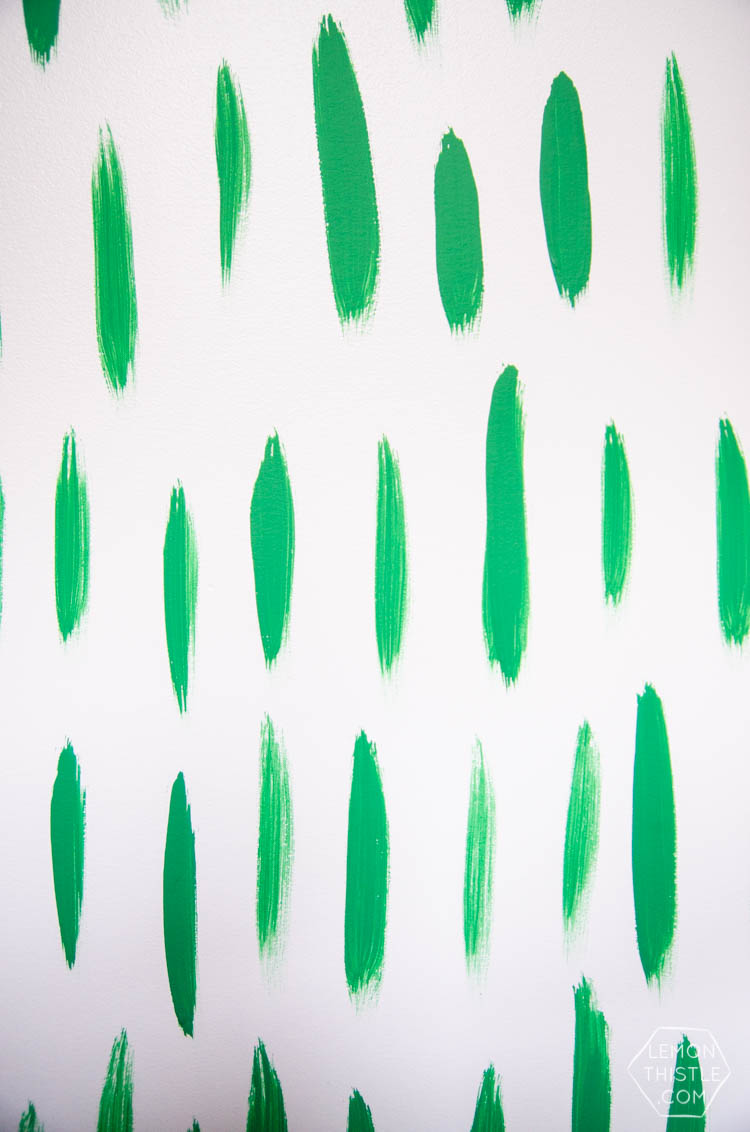 The hooks we chose are from CB2 and I love them but they are really more form than function. I was super excited about them when I ordered them because they're so darn beautiful, but they don't hold as many coats as we'd like. I'm considering building a coat rack to put in the corner down here to hold a couple more. But really… they are beautiful and if you have a coat closet like almost every other house out there- I'd totally recommend them. They match the narrow wood shelf we built in the entry way perfectly too! We hung them randomly, which I love the look of, keeping some of the smaller ones lower to the ground for little people to hang their coats on (and they're pretty excited about it).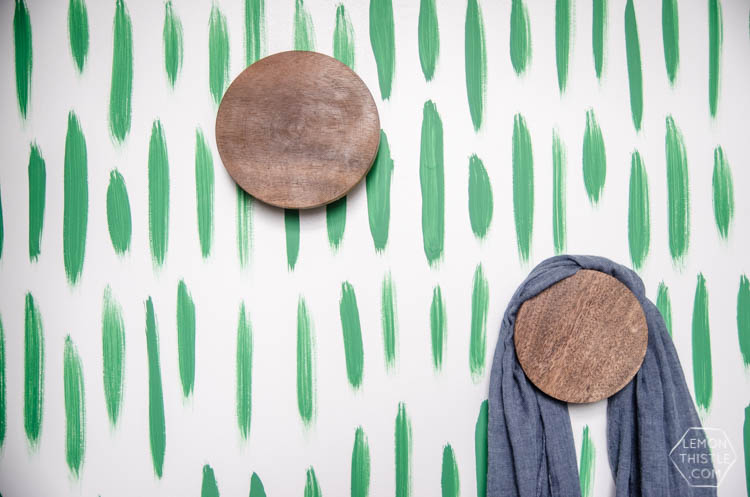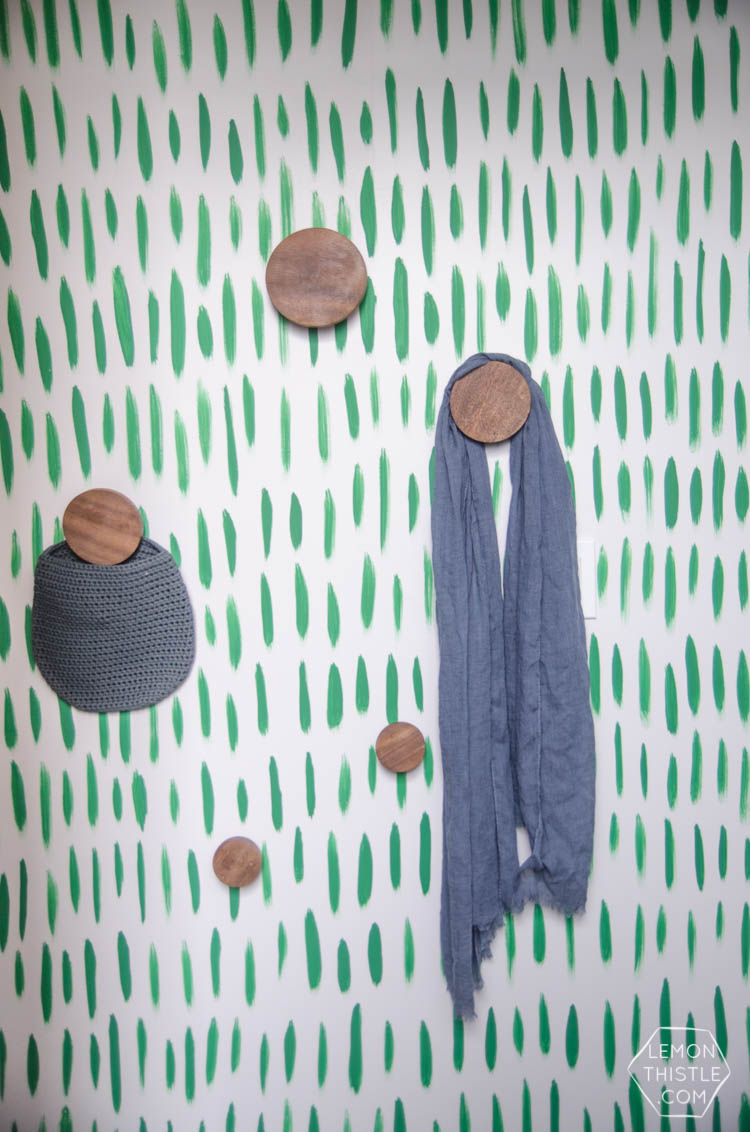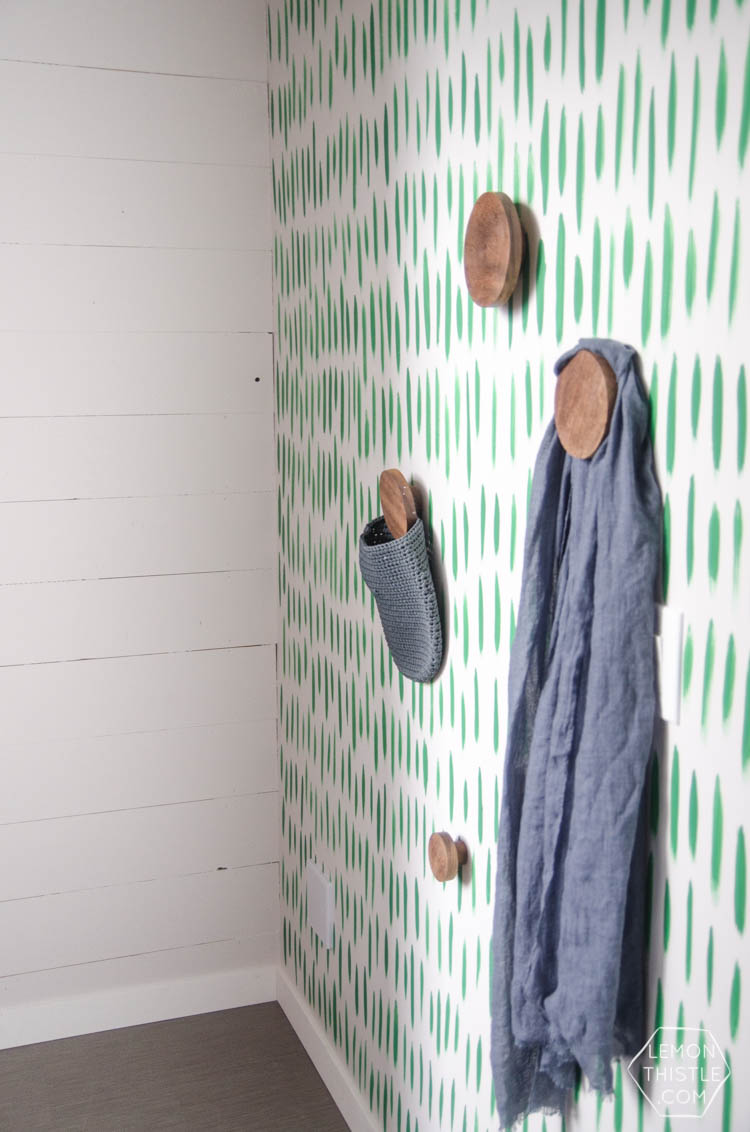 Oh, and if you're wondering what that tiny shiplap wall is all about… it's actually covering a door frame that leads to our basement suite. We found we were getting a lot of noise transfer through that thing so we packed it with insulation and shiplapped over. When we pull it off, we just need to trim out the door to hide the nail holes from this treatment and it will go back to being a normal door. In the mean time… sweet silence ;)