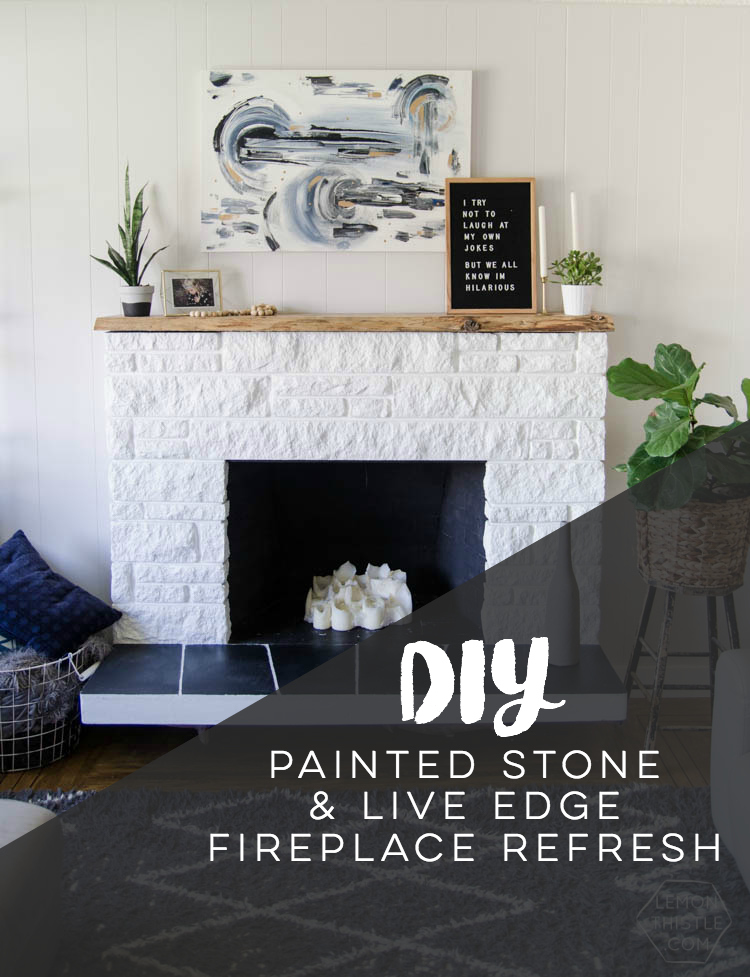 If you've checked out either of my home tours, you might have noticed our fire place. I gave the fire place a refresh last year and it's one of my favourite things that we've done in our living space. This is a low cost makeover and I totally love having this fireplace in our space now- and before, it bugged me every time I looked at it. Now… I know painting stone is tabu to a lot of people. But I feel like if you are not happy in a space because of something superficial like that. You can't really ruin it.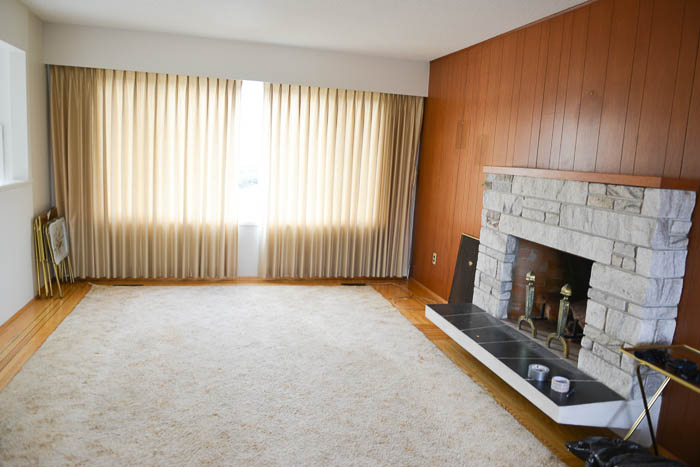 When we moved into our place a few years ago now, the living room had brown wood paneling, damaged hardwood flooring (with a piece carpet overtop), and this baby- a tan stone fireplace with wood panel mantle. It just wasn't our style. You can see the before photos from the whole house here if you're interested. We painted everything, added new trim, and refinished the hardwood floors before moving in, but the fireplace? We didn't want to wreck the stone because we'd had so many people tell us that would be a crime. We eventually hoped to resurface it, case it in to the ceiling, and remove the hearth. But that's a lot more money and mess and time than painting it.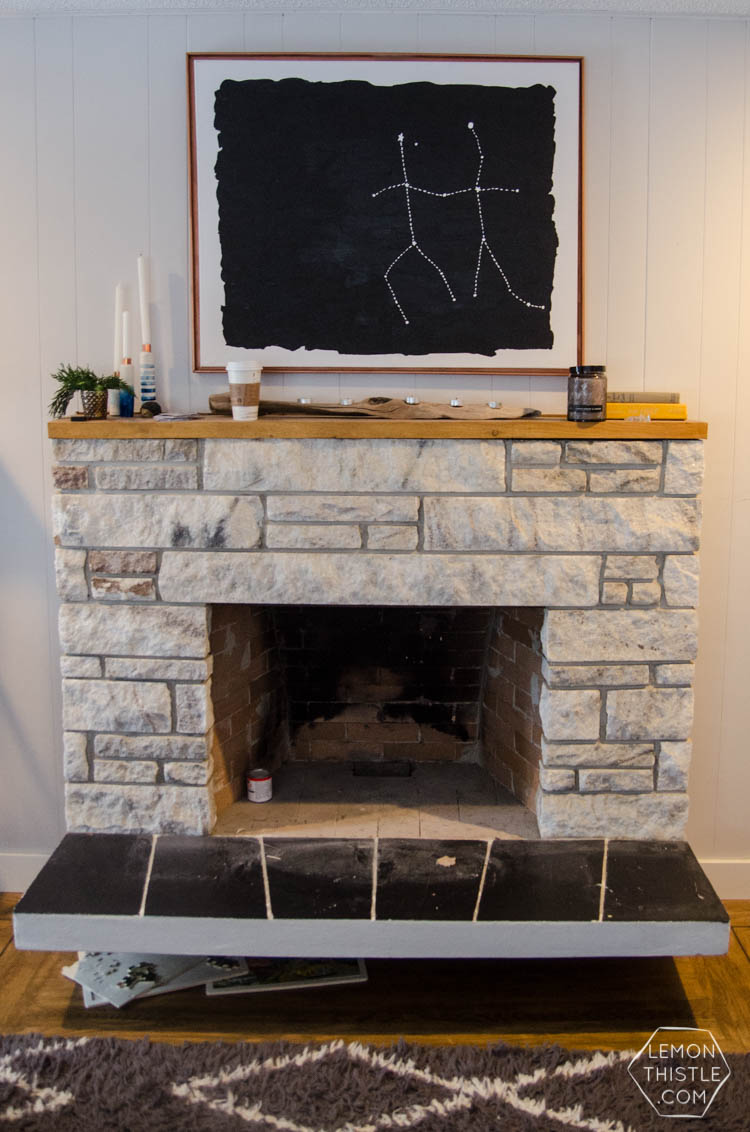 We left it for a while but I got to the point where I thought- until we can afford that, I'm going to spend the $70 and paint it. And now? I don't think we'll ever do more work on it. It fits our style and our life just fine. I originally published this makeover over at Remodelaholic and one of the comments I got the most was that the mantle isn't chunky enough. And honestly, I agree! But this guy was $40 and a larger one was hundreds. So I took it and love it for the cost. Because, remember… if budget weren't an issue we would have completely redone this baby. For those in the area- I get this live edge cedar (the same stuff from our table!) from a small shop between Blind Bay and Salmon Arm- the one with the canoe shaped bookshelves out front.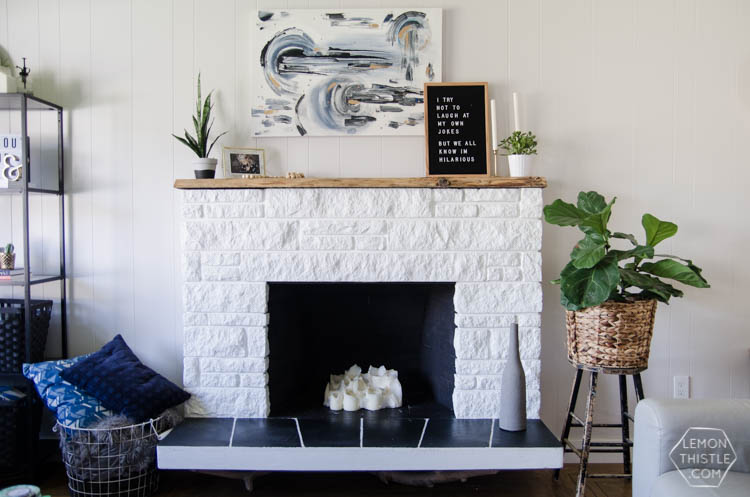 I bring this up juuuust because sometimes it's easy to look at renovations or blog posts or other people's Instagram houses and think they have all the money to do all the things… I know I feel that way sometimes! But you don't need to spend a fortune to start turning your house into a home you love. If you ever have budget questions about projects I've done- feel free to ask! We do a lot of research before we spend any money on our place, so I'm sure I can provide some insight ;)
Okay… ready to hear all the dirty details and tips?
The first thing you'll need to do is clean it up! This took fuuuurever. It's a wood burning fireplace after all. Use a stiff scrub brush or wire brush to do this, then follow with a rag and soapy or TSP (a cleaning agent) with water. It took a few passes for it to be 'clean'. The cleaner it is- the better the paint will adhere. At this point, we also pulled the mantle off.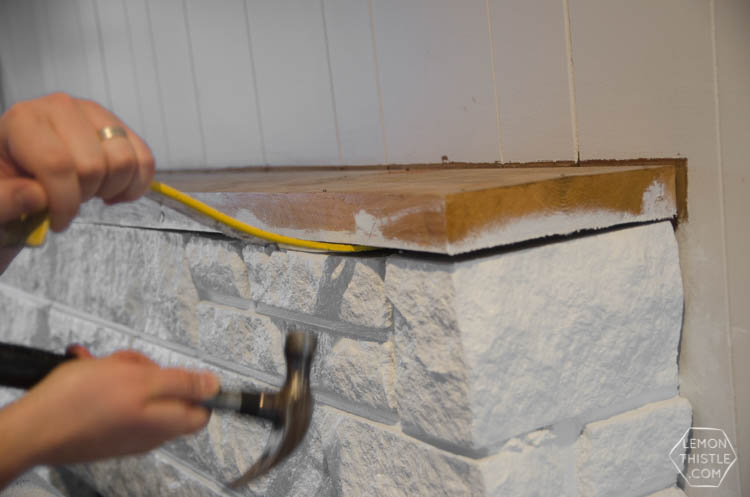 When it's all clean, it's time to get priming! I'm not going to lie… this also took SUCH a long time. It was a pain. And my hand was cramped. BUT, I stand by it being worth it. The first coat- the primer- really soaks in, so you need to apply it liberally. Get the cheapest brush you can get your hands on because you will totally destroy it. Use a stone/brick/masonry primer, they are made for exteriors. There is absolutely NO issue with adhesion with this. It works like a charm. I used a CIL brand primer- it's just what was in stock at the time. You'll spend a lot of time dabbing to get in all the nooks and crannies and all the grout/mortar lines.
I also primed the base of the fireplace and the grout lines of the slate hearth- these were both looking so grungy before.
When that coat is dry, you can switch to ANY paint you want to. I used our trim colour which has a bit more of a shine to it than standard wall paint. I really love how this looks. Again, I laid it on pretty thick to get the coverage, but I only did one coat since I'd done a good job covering with the primer first. And my hand was cramped so I really didn't want to do a second coat ;)
The inside of the fireplace I decided to paint as well. Since we didn't close off the fireplace chimney, we used a heat friendly paint. We used Rustoleom High Heat– it's meant for BBQs and things and safe for fireplaces. It stinks to high heavens though, so wear a mask! If you buy this stuff, ask them to shake it for you, it really clumps up at the bottom if you don't. You can also get a spraypaint version.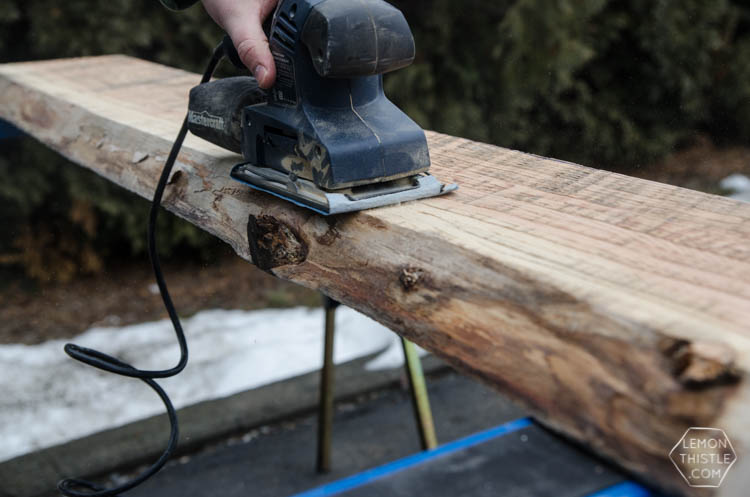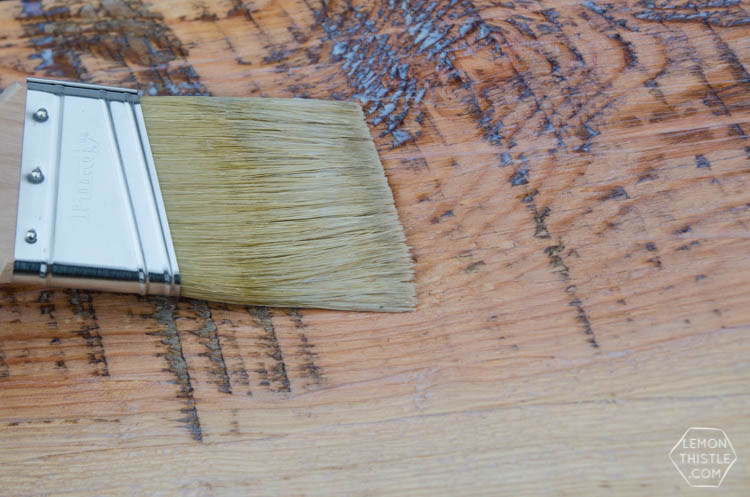 Now the fun part… the mantle! Just like my other live edge projects, this one is made of cedar. And just like the rest… I just gave it a light sand to keep the saw marks and detail. I also used a wire brush to clean it first. Then, I used about six coats of Varathane Crystal Clear in Satin. I use this stuff for most projects, it goes on sooo well. You'll notice it goes on white but it dries clear. As with any clear coat, you really want a great paint brush that doesn't shed hairs- our favourite is Purdy brand. You also want to dedicate a brush for clear finishes- nomatter how well you clean it, there's always the chance of dried paint flakes up in the brush that can fall down and drive you crazy in the finished product. We just attached the mantle using construction adhesive (PL) applied with a caulking gun.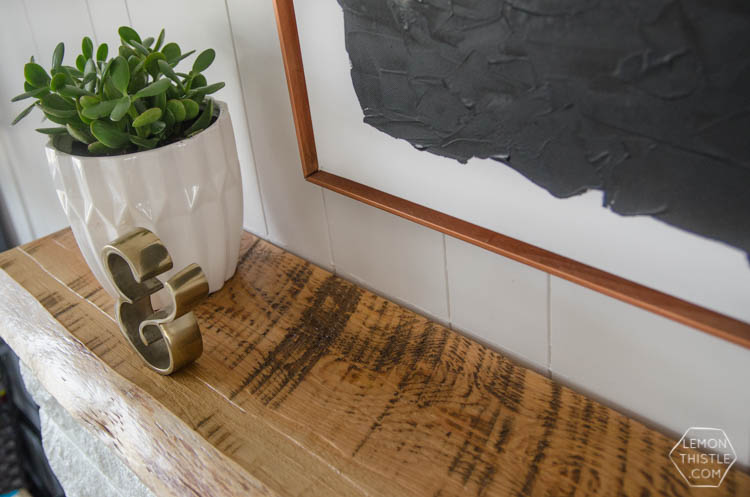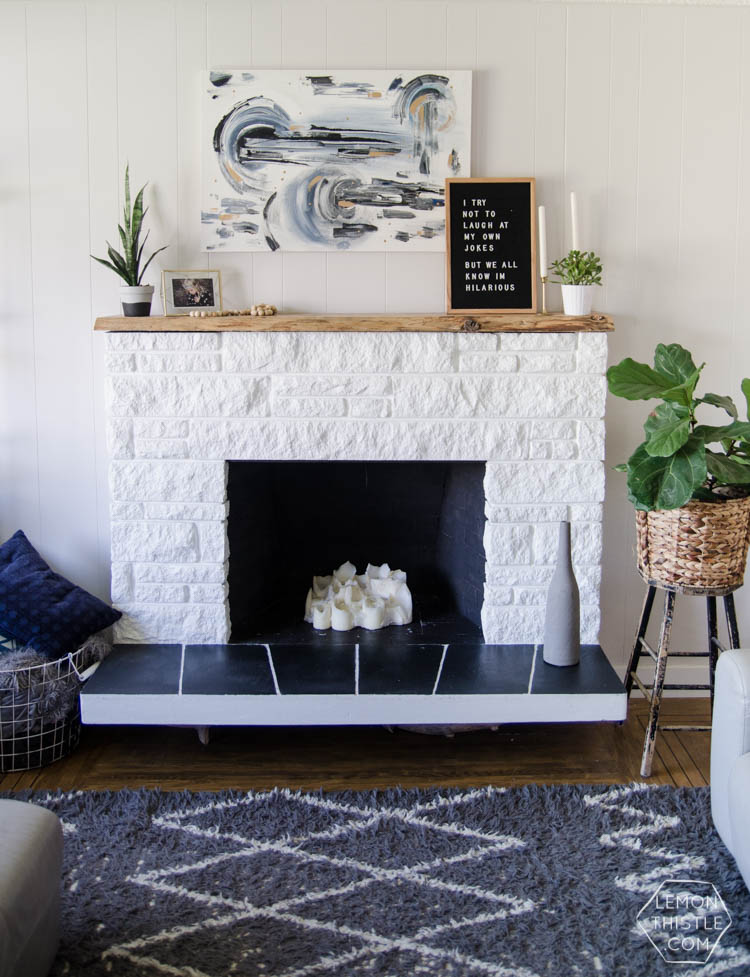 That's it! I'm really happy with how it turned out. If we were planning to stay here as a forever home, I'd love to knock the hearth off or box it in to a less dangerous slate edge… because, y'know kids and all! But for the price and for the look- I'm so thrilled with this solution in the meantime! Tell me… would you  or have you ever painted stone? I'm really happy with our decision to- it brightens up the space so much!
LIKE IT? PIN IT!