This is the house our family of 6 is currently living in! It's a rancher style home with a walkout basement and we love it so much. I get asked all of the time where I purchased certain building materials and modern decor used in my home, so I thought it would be a great idea to have it all in one place for you! We bought this home in 2018 and started renovating it right away. You know we love a great DIY room makeover and the first one we did here is the kitchen. Since then… we haven't stopped, and there's more still to come! You can see the full before tour from the week we moved in right here and the most recent full home tour including unfinished spaces right here.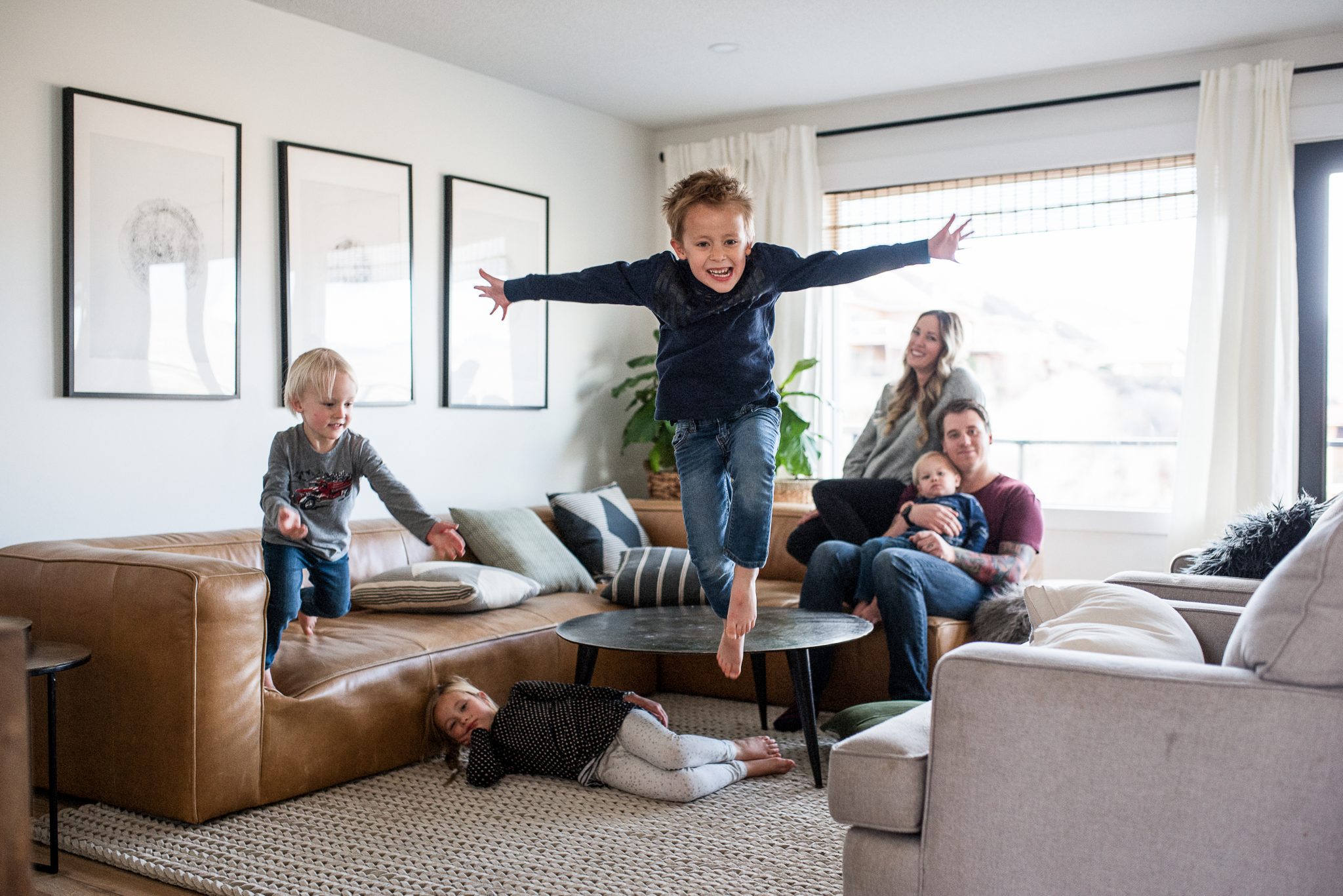 If you know which space you're looking for, you can save some time scrolling and click the link below:
If you don't see what you're looking for, check out our former home here.
Many of the items I have in my home are from photography campaigns or sponsored posts from the past 8 years of blogging. I'll mark products received with an asterisk*. I've also used affiliate links wherever possible in this post. You can find all of my blog policies here.
Exterior
Since moving in, we replaced pretty much everything you see here! We re-sided, replaced windows, the door, replaced the decking in front of the bay window, the soffits, gutters… all of the decor! You can read more about that journey, right here.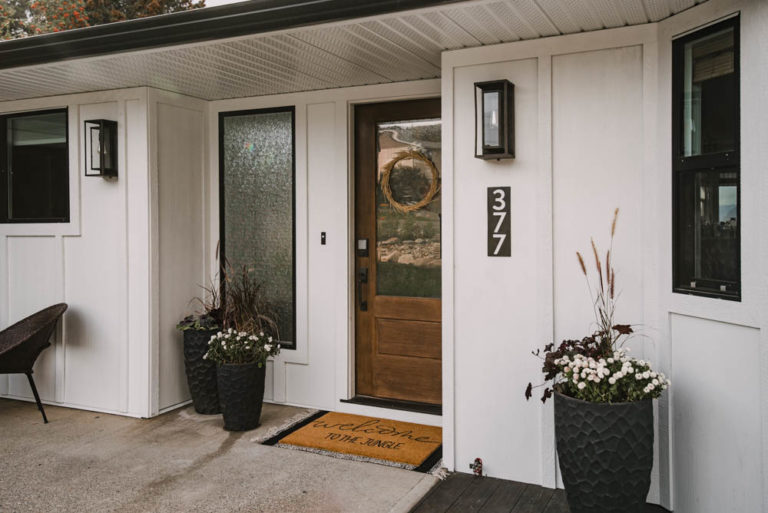 Modern Entryway Decor
This bright white entryway makeover featuring tons of storage was a long time in the making. With warm wood details and pops of black contrast. When we moved in, it was dark, crowded and tough to fit our family of 6 through the door. Now? It's bright and, for it's size, feels spacious. You can read all about the transformation right here.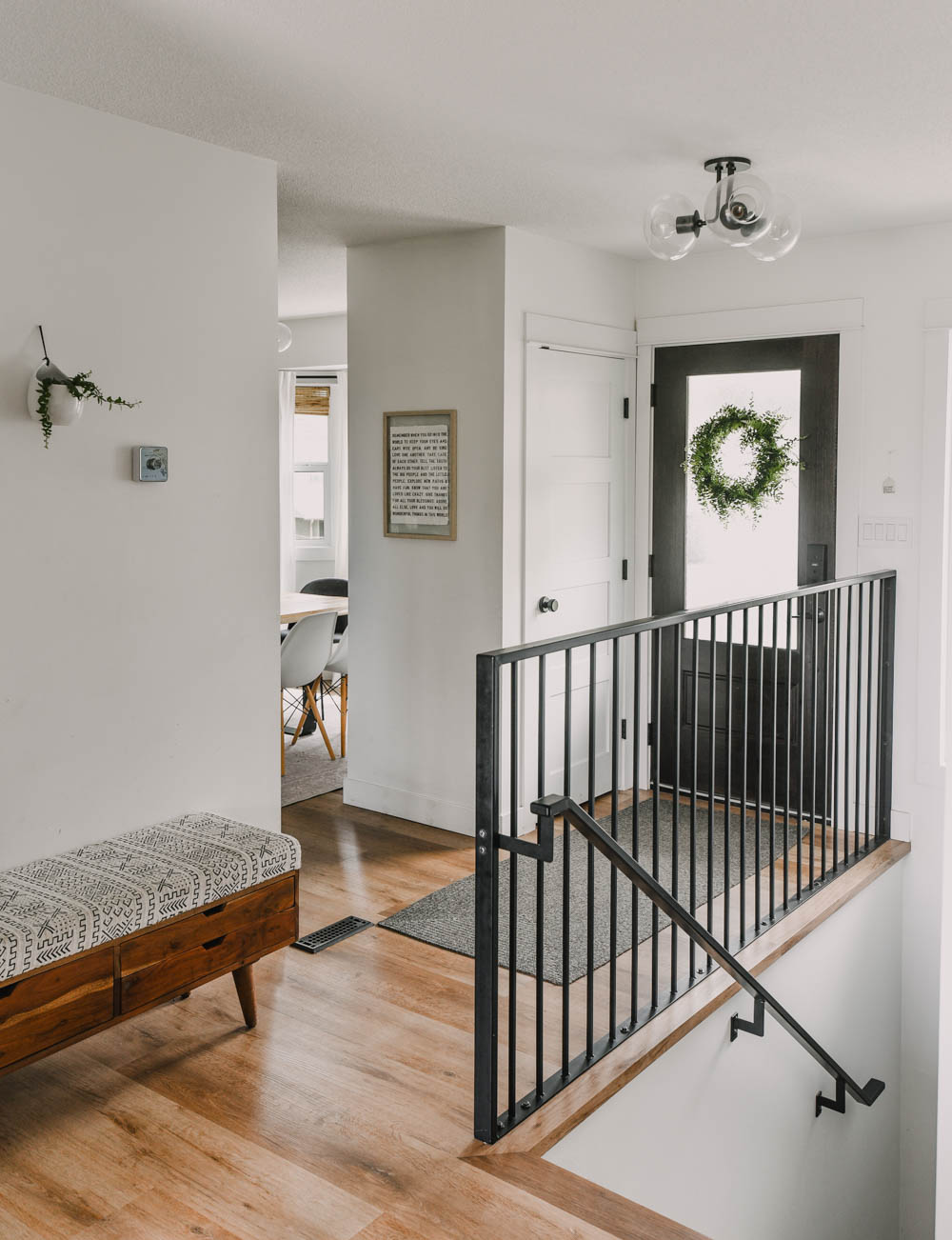 Modern Living Room Decor
The decor in this living room is minimal and most importantly, built for a family of 6! It's taken the longest of all the rooms to feel 'right'. We're actually still looking to make a couple changes and because of that it's the one 'finished' room in our home I haven't shared a reveal/room tour of!
But what's gone into it so far? We needed ample seating, durable furniture, easy to clean leather and of course, a washable rug! Once we had those basics, it's a lot of DIY and of course, lots of plants.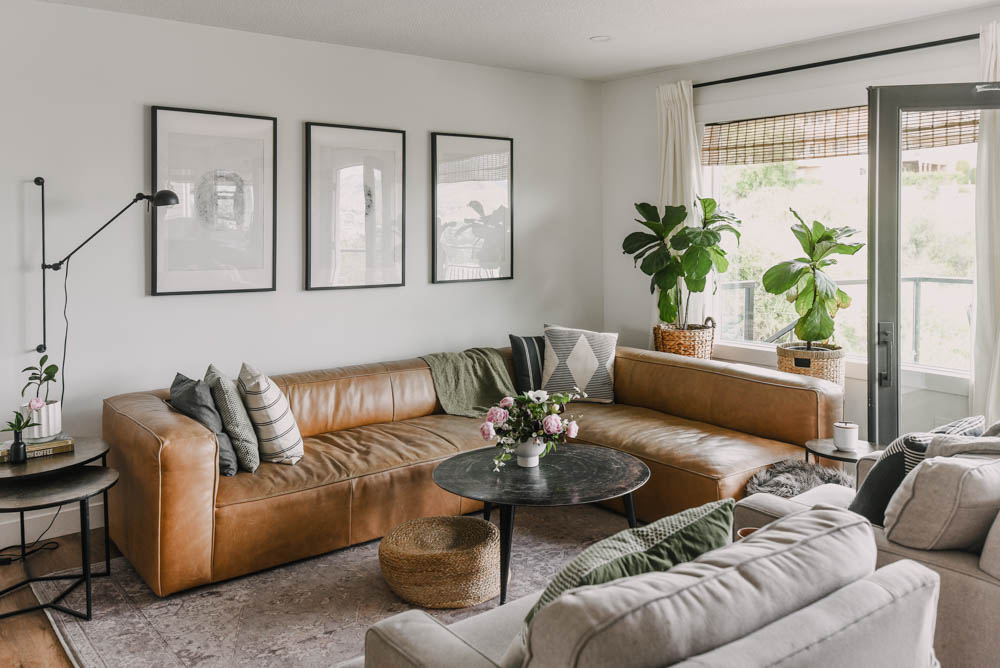 Modern Kitchen Decor
This kitchen was such a labour of love but also so rewarding to see come to life. It's not just the sweat that we put into the space (which we really did!) but also the reward of seeing the design and time that we spent dreaming about it coming to life. You can read more about how we balanced DIY and contractors to make this happen, right here.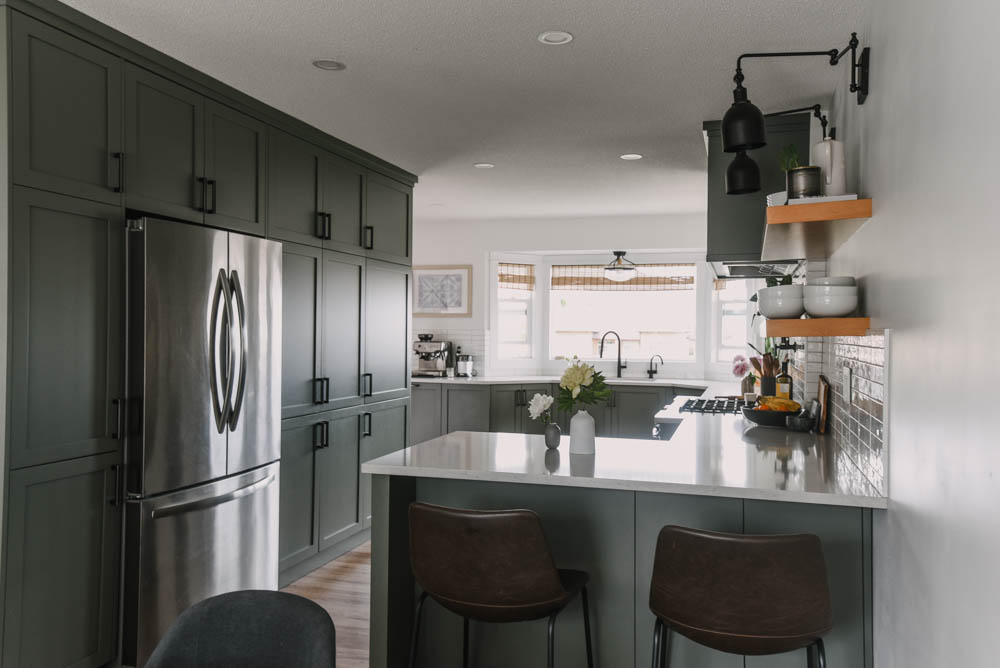 Modern Dining Room Decor
This space was the last of the common areas to come together. I wanted it to feel cozy and inviting. I decided to keep it neutral so that I had the flexibility to add pops of colour with seasonal decor.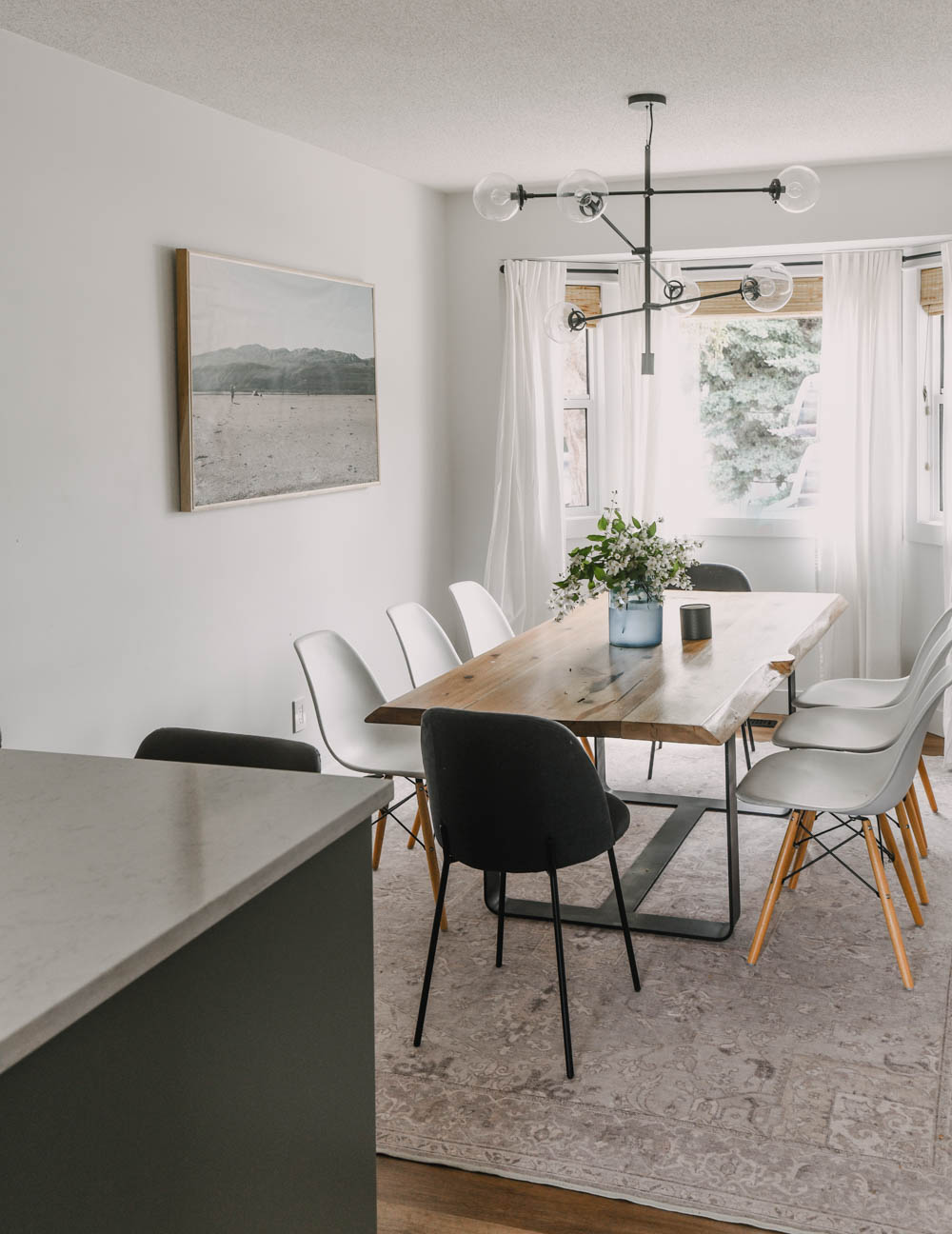 Modern PRIMARY Bedroom Decor
We loved having a dark and moody bedroom in our last house and I knew that I wanted something very similar for this home as well. This space features a DIY molding wall, layered window coverings and of course… a lot of DIY Decor!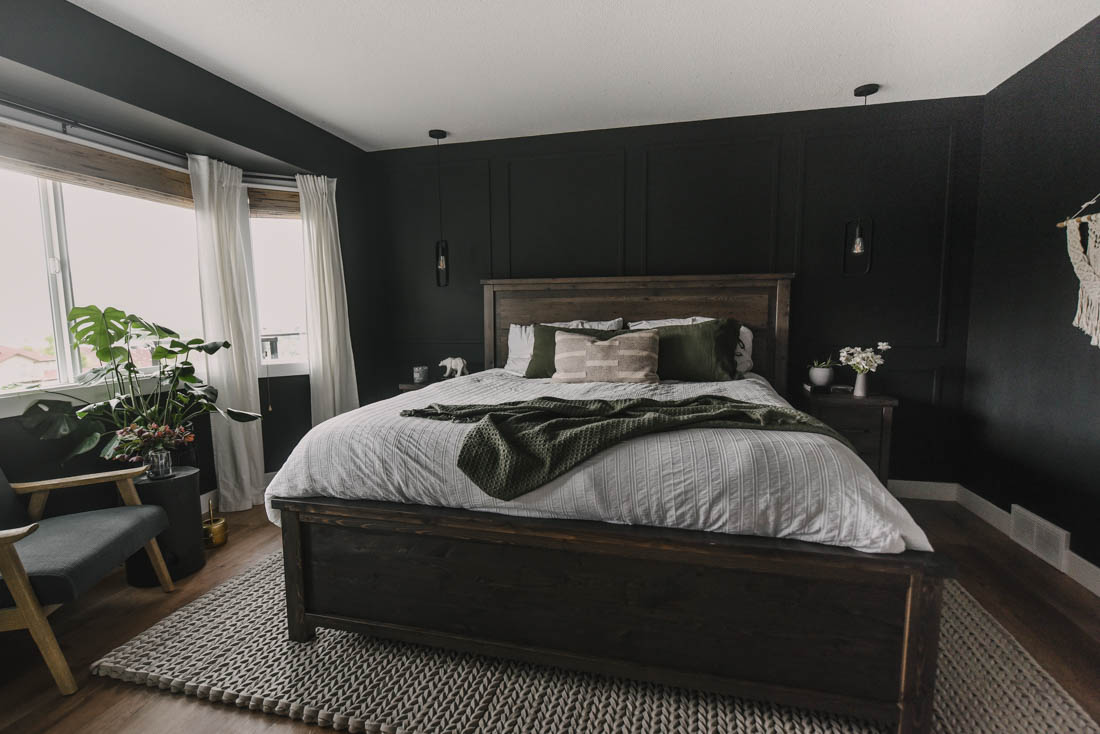 Shared Boys Bedroom Decor
With a Nordic Industrial vibe- this blue boys room is packed with storage and simple, tone on tone style. There's three kiddos in this space so it had to be completely functional with lots of storage and still leave space to play and create. And sleep ;)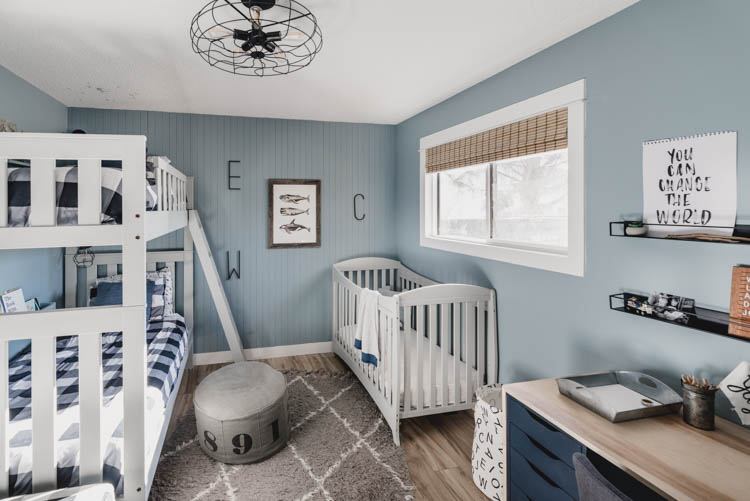 Girls Bedroom Decor
Light, bright, PINK, and modern. I designed this room with my daughter. I had such a fun time talking with her about what she likes and wants and was always so curious to hear the things she came up with. I love all the texture in here and how much the space reflects who she is and the things she loves! You can read the full post on her room, here.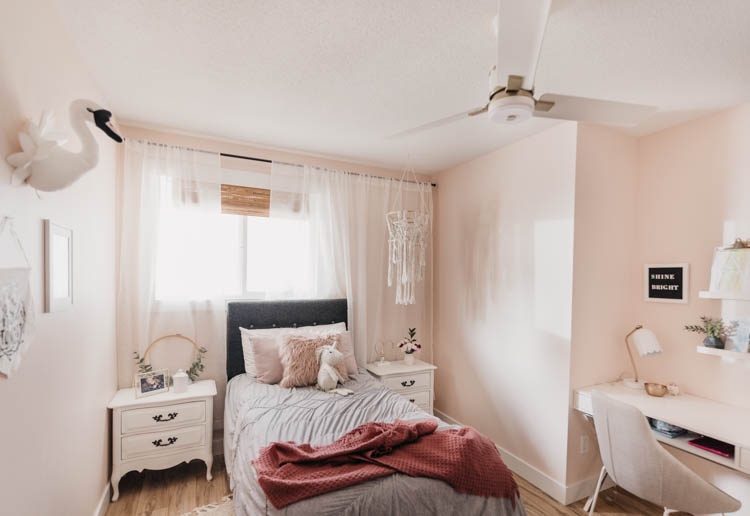 Modern Bathroom Decor
This bathroom turned out better than I'd dreamed. We hadn't planned to remodel it during the pandemic (we took it. on after a flood), and I felt pretty discouraged with the access to decor but once it all came together, I fell in love with it. It always amazes me what a bit of DIY can do for a space!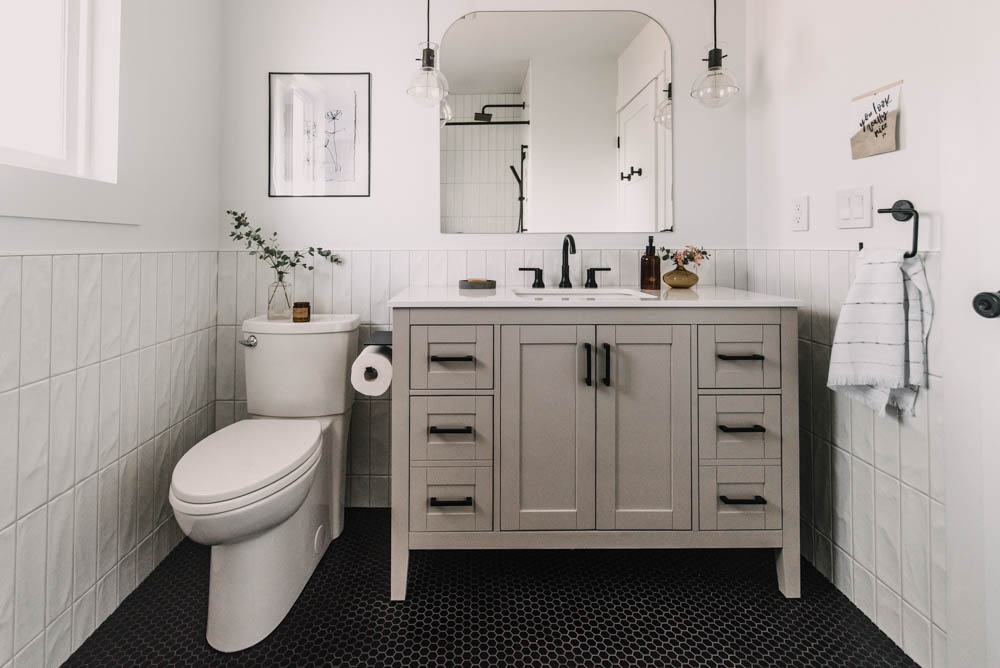 Modern Home Office
This blog studio and office is white, bright, and full of DIY storage… all out of a dingy unfinished basement! This might be my favourite room in our house – it's truly a dream to get to work in here. This is really two rooms, so here's two photos ;) If you'd like to see more, you can see the full reveal here!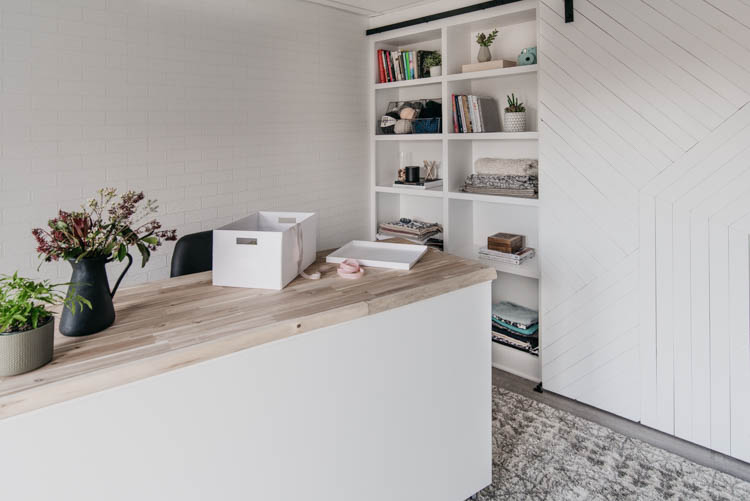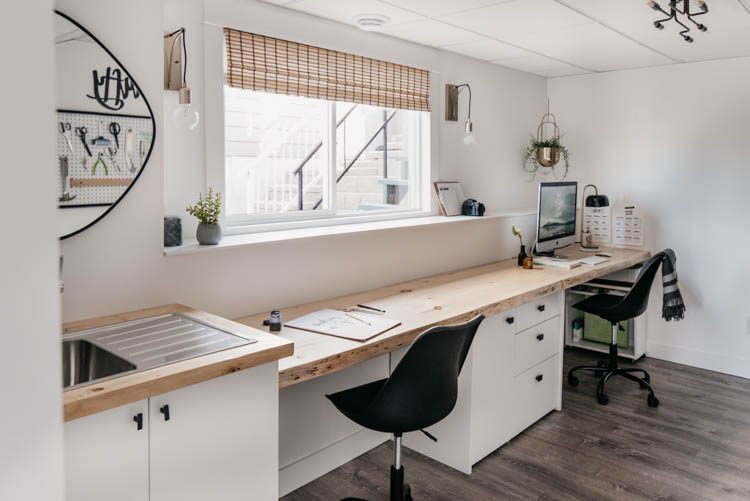 This space was a super fast makeover. We finished it in just one week. ONE WEEK! It's the perfect little space for guests and for the kids to use (their playroom is right next door!). You can see the makeover right here.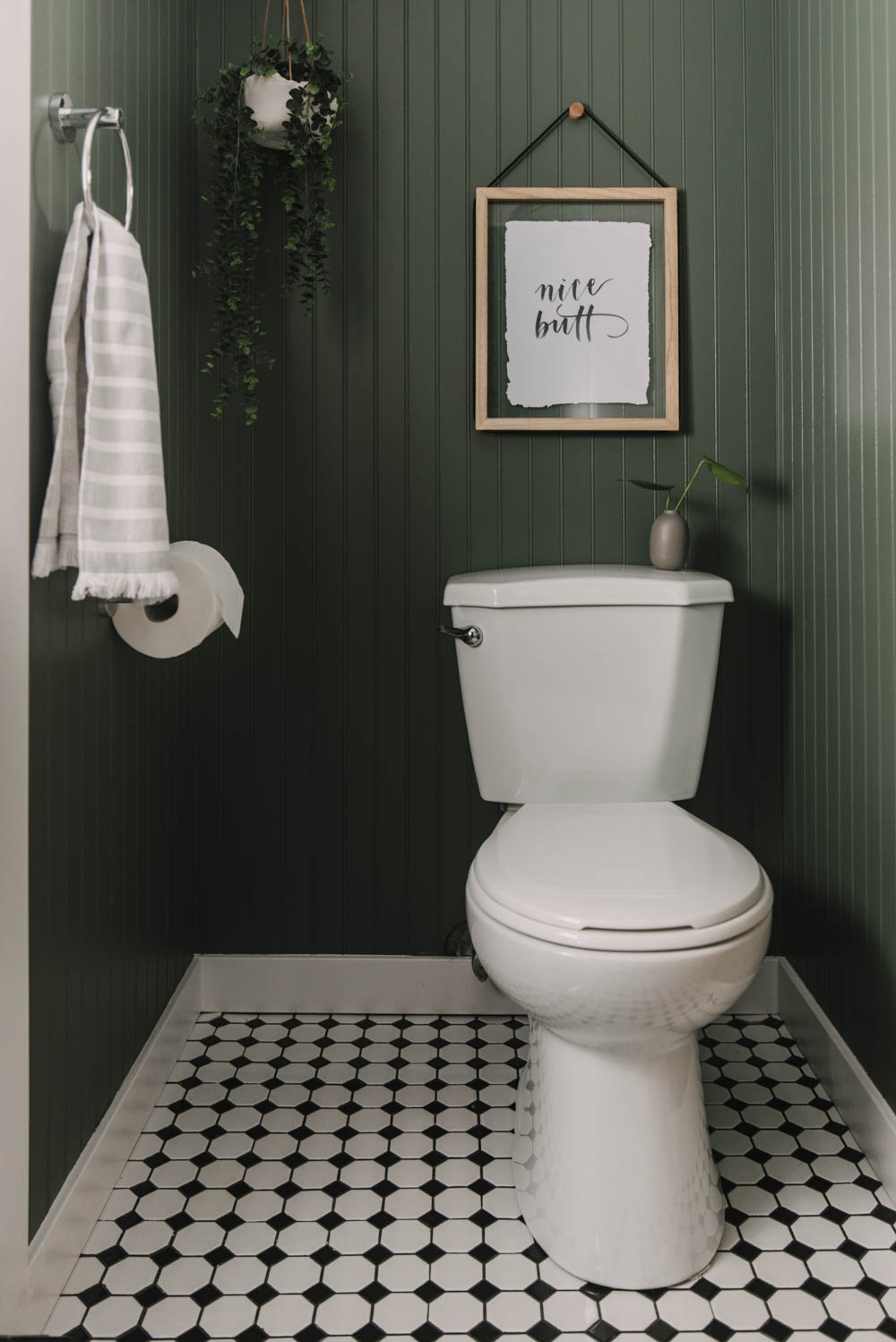 This space was made over using what we had plus a $100 budget. It's always so fun to see what you can do when you put yourself on a budget and challenge yourself to a deadline. You can see the full makeover with all the DIYs here.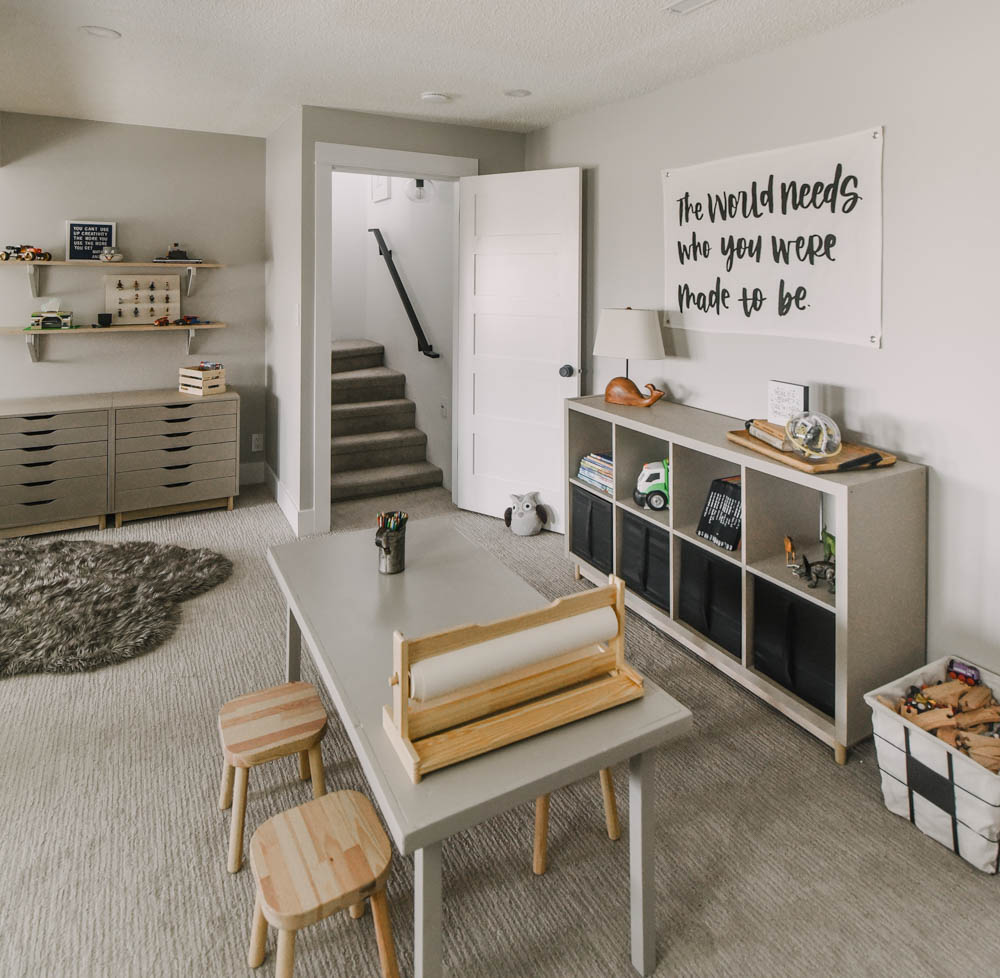 I know this isn't much of a room to source, but I do know this photo has made it's way around the web once or twice ;) If you happen to be looking for this space… I got you!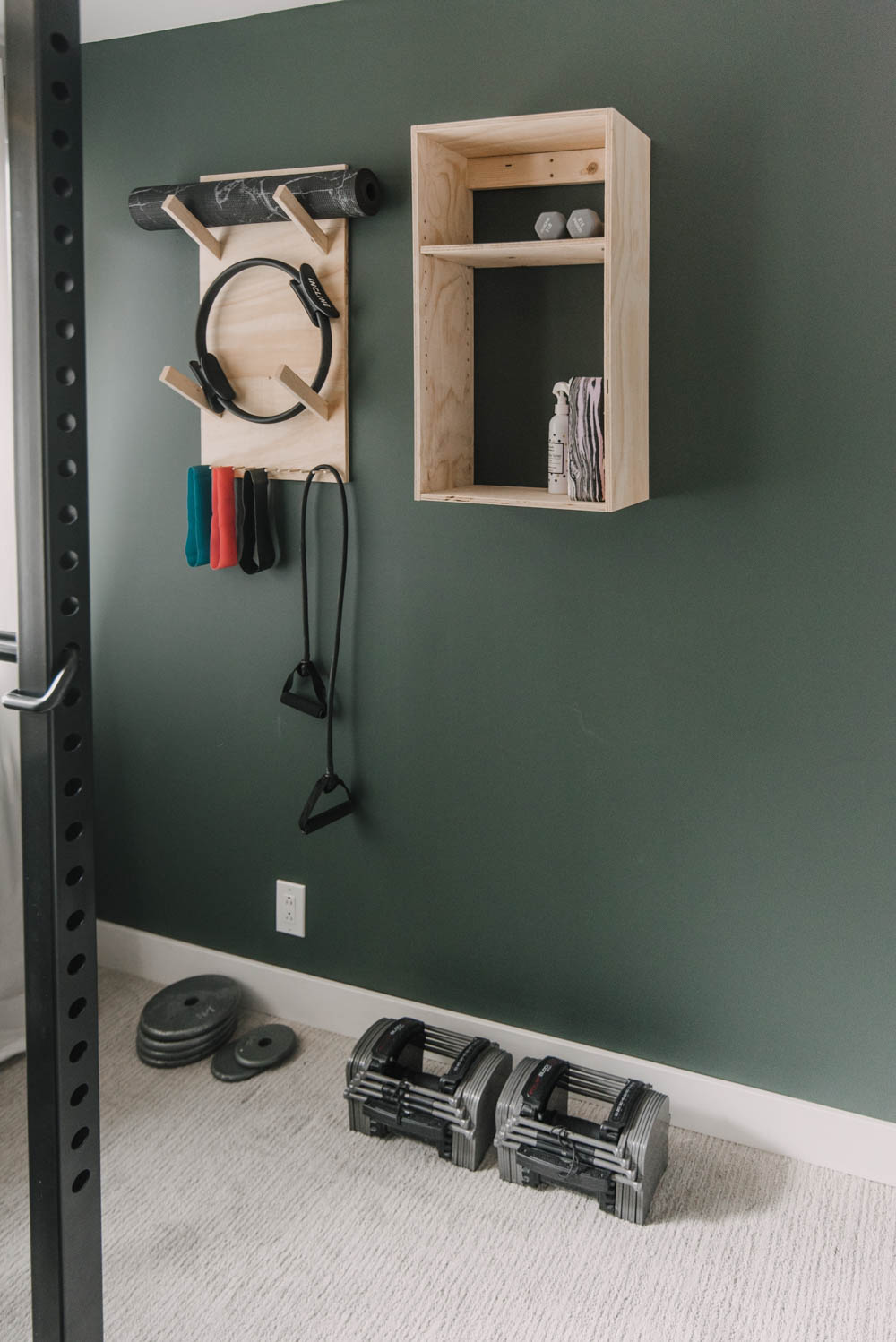 Modern Patio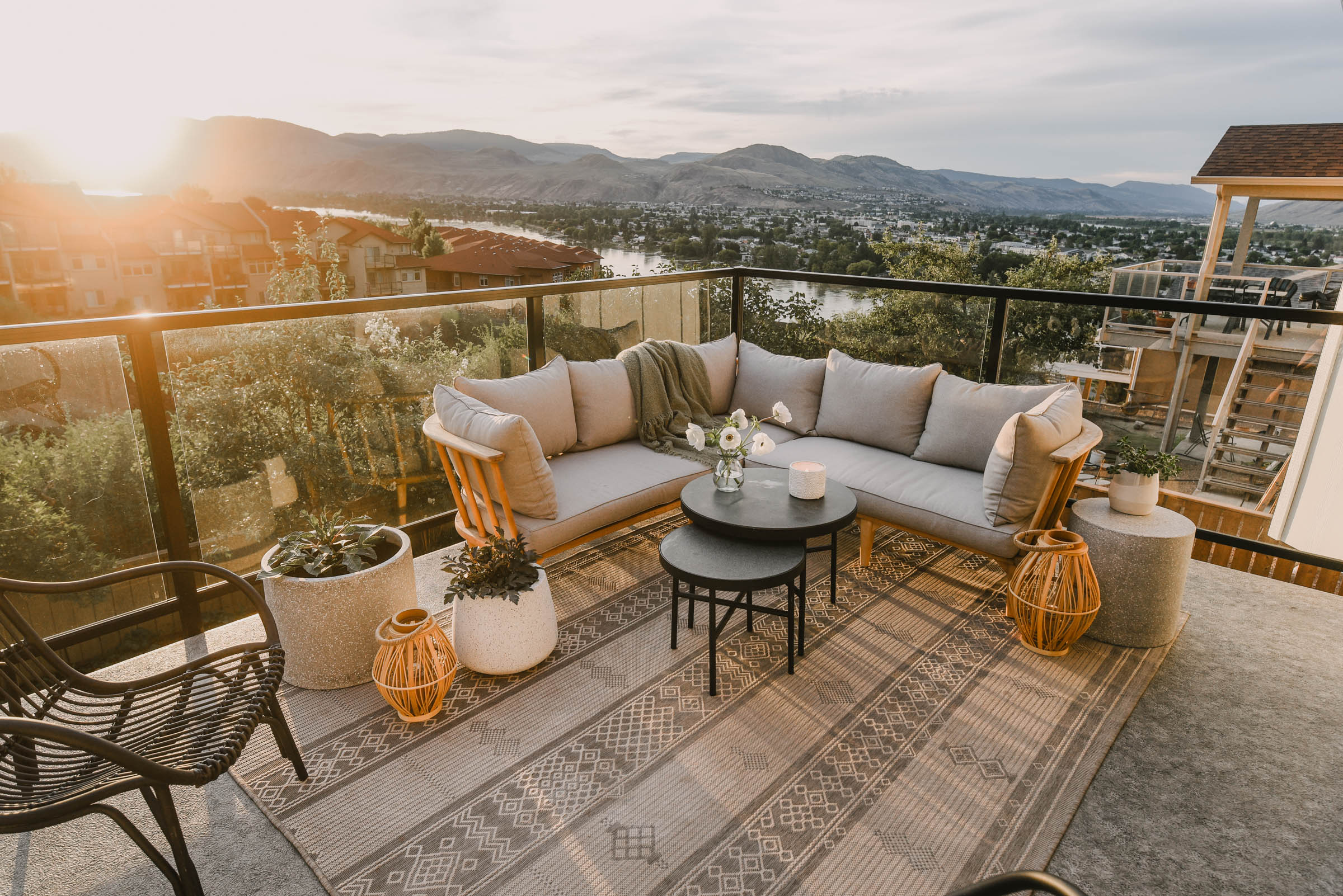 Looking at this now, wow! This space has seen a few changes since I've photographed it. But the staples remain the same- it's such a wonderful place to dine outside! You can see it's original reveal here.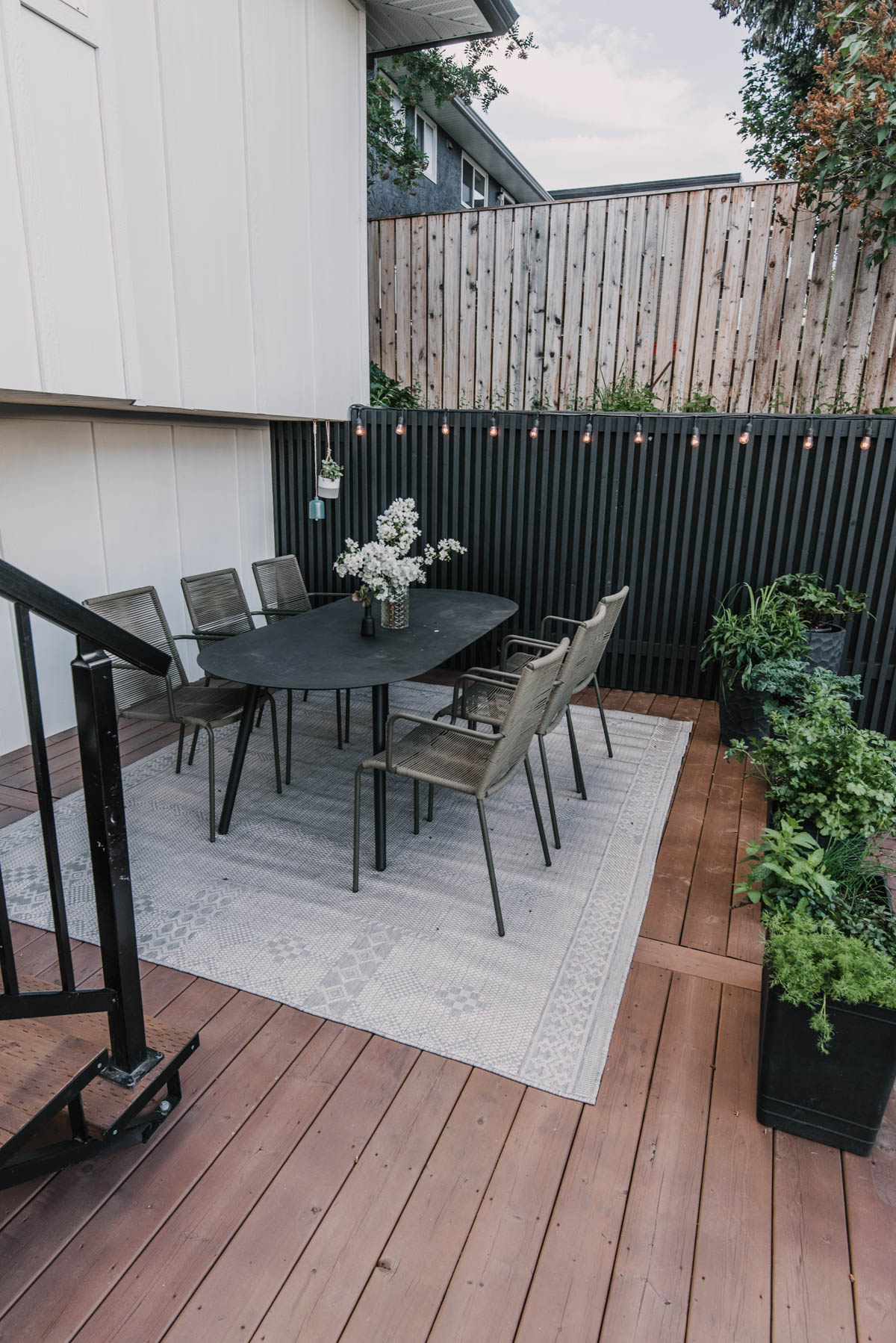 This patio changes with the seasons, we move the seating under cover (under the upper deck) when fall hits so we can keep cozy but this space has the best shade in the heat of the summer day. It's where you'll find me 3pm on any given tuesday June-September ;) I don't have a blog post about the space currently, but you might have spotted it on IG. You can see the original reveal of the space here.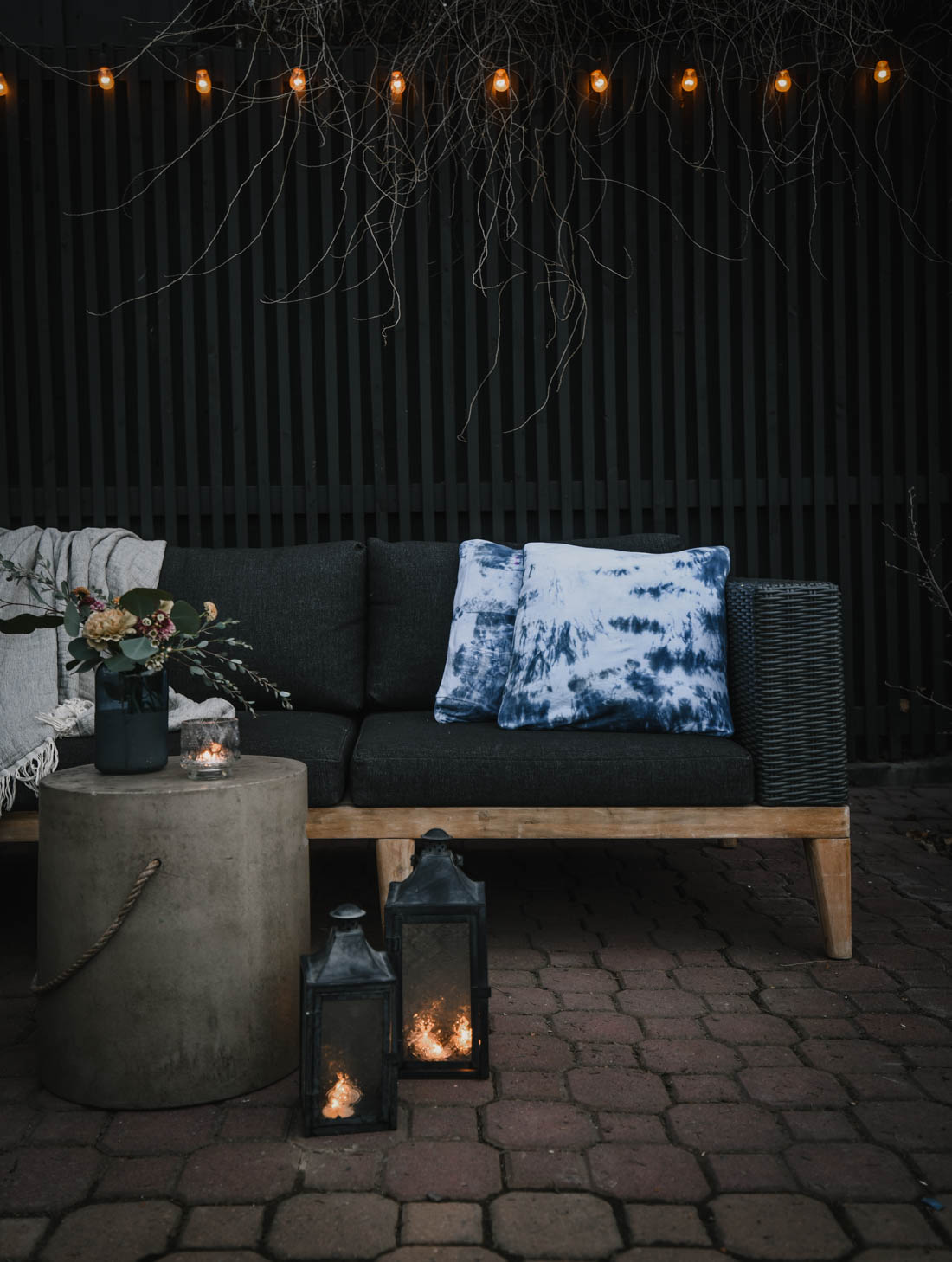 Okay, okay, I know this isn't technically OUR house BUT I get a few questions about it so thought I'd add it in here :) You can read more about the exterior here and the inside decor here.