Taking a basic boring hallway and giving it a DIY hallway makeover with intentional decor and simple upgrades.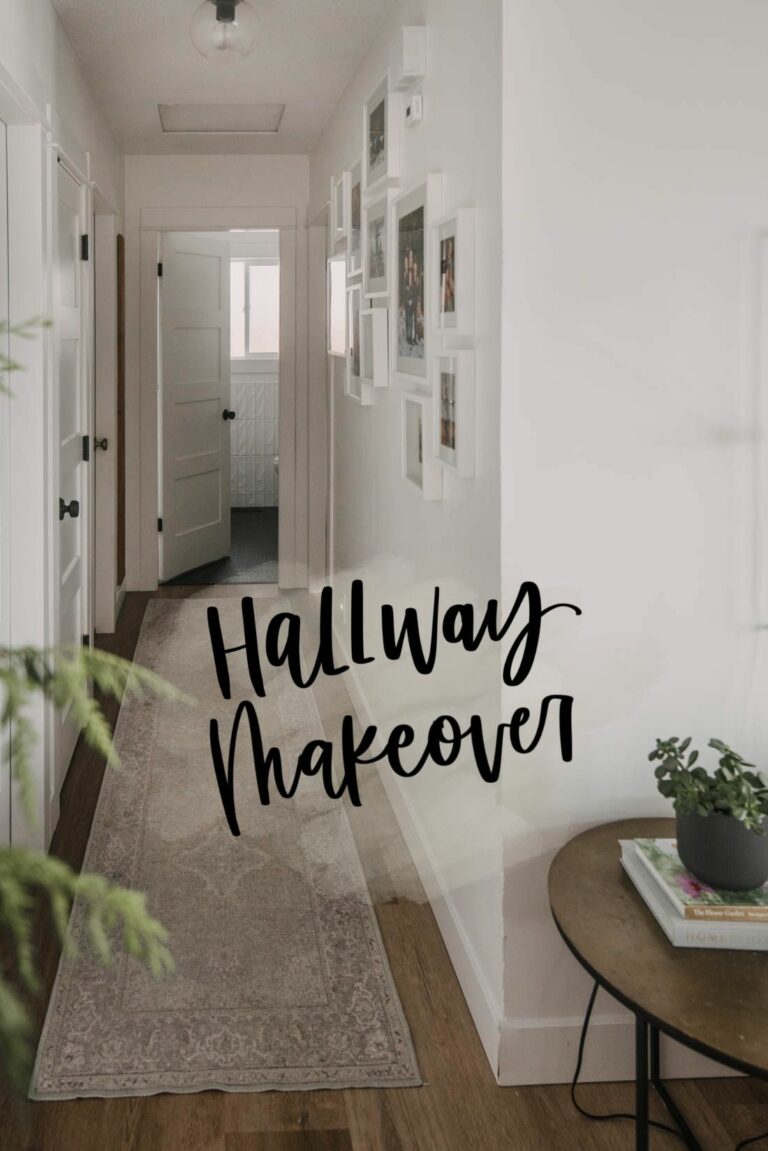 Never did I ever… think I'd be writing a blog post about a hallway. This hallway is nothing special, really. It's a short hallway with 5 doors, an attic entry, carbon monoxide alarm and doorbell. BUT every time I've shared sneaks of it on IG, I get so many questions, reactions and it turns out… a lot of you have hallways just like this that you'd like to give some love too.
I wish I'd taken a true before photo, but honestly… I didn't think of it. I'd never thought I would write a blog post about a hallway! But it turns out a lot of you have hallways you want to give a makeover to and I think that's a great idea ;)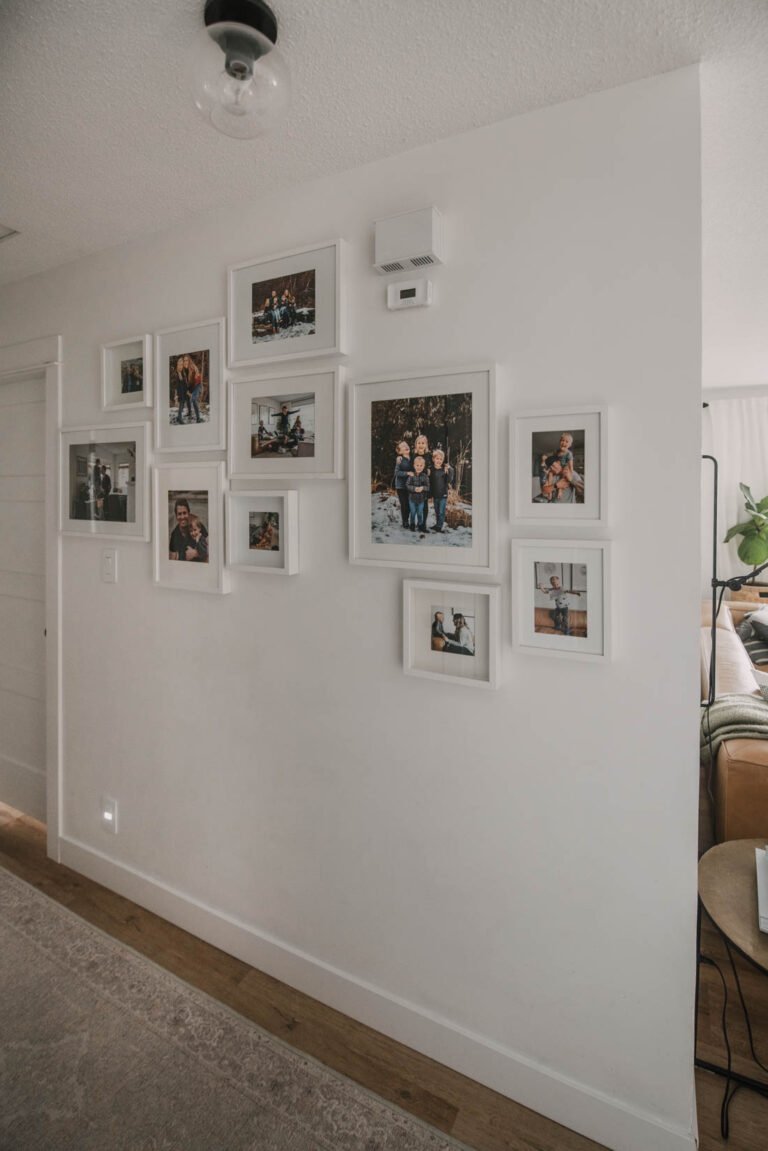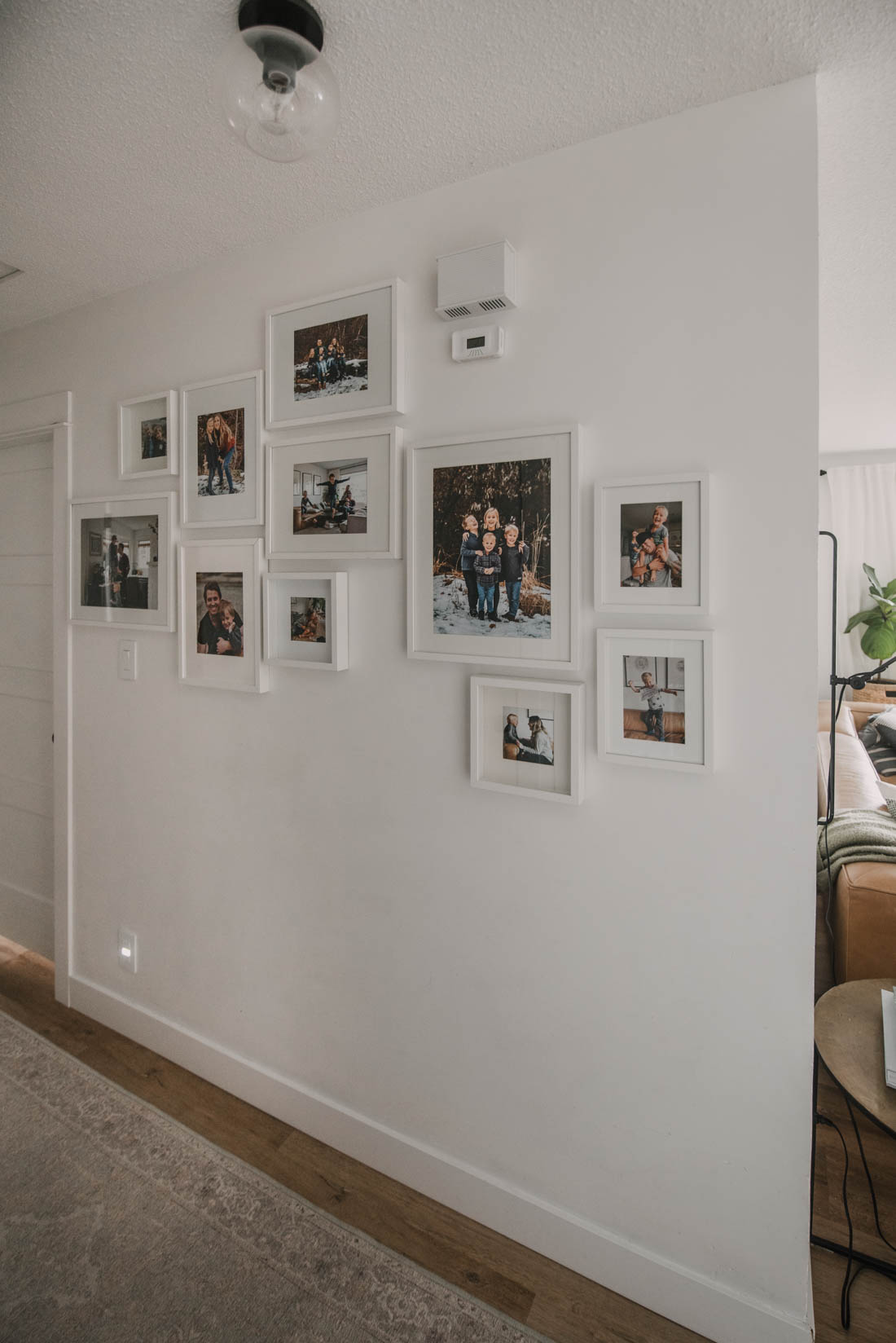 Ever since we owned a place of our own, I've been stuck on the idea that hallways should be full of family photos. In our first apartment we had two hallways and both of them got covered in photos with black frames. When we bought our first house, I asked for white frames for Christmas and my SIL gifted me the same IKEA Ribba frames we still use today. It's the perfect place to hang family photos en masse without it looking cluttered. But other than photos in the hallway? This hallway got some simple updates and I've been asked enough questions over on Instagram that I thought it was time I put all the answers in one place in a blog post.
So when we moved in, we did a full main floor remodel (almost, we still need to do our ensuite!). We gave our home new flooring, paint, doors and trim. In the hallway, that was already a huge upgrade from what it was. Now we have beautiful shaker doors with farmhouse trim whereas before we had the 80s builder grade basic and green paint.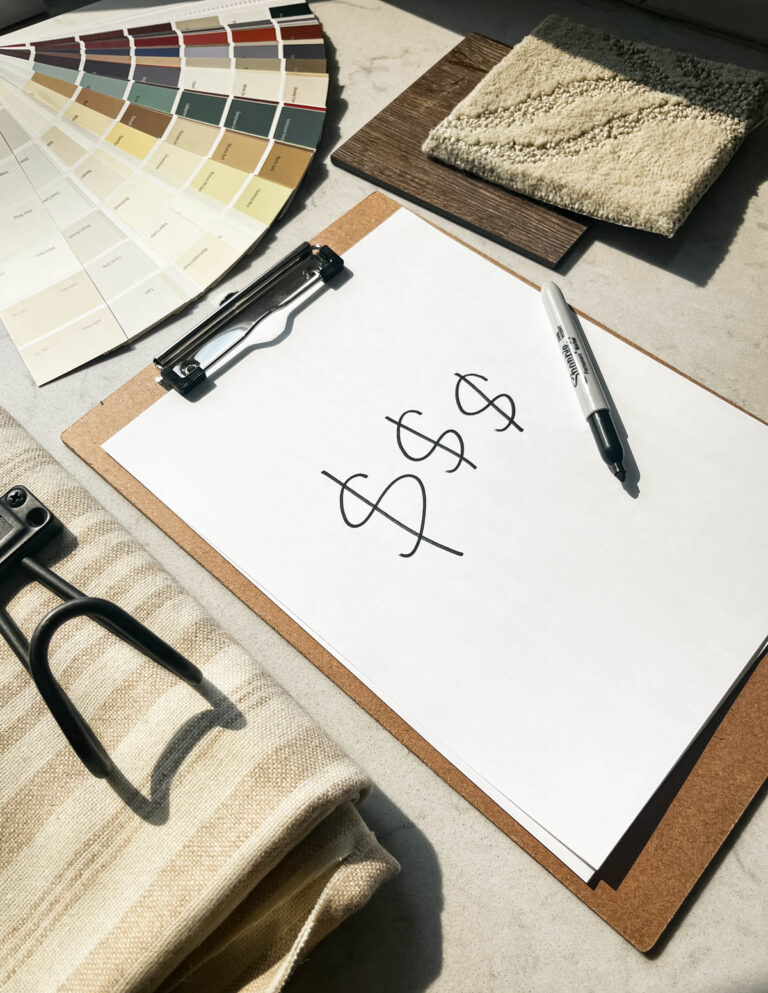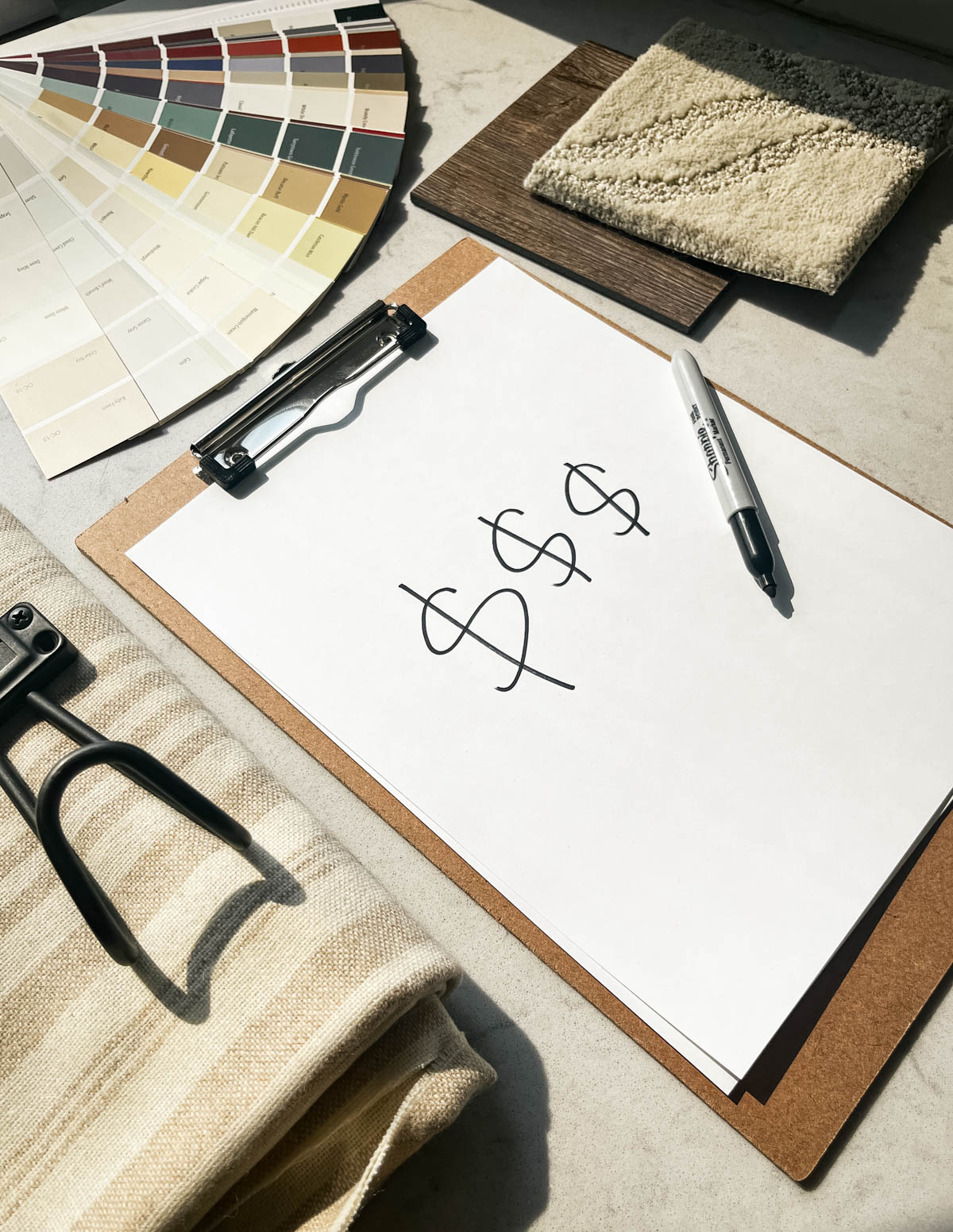 Make budgeting a part of your planning.
Check out all my tips for creating a DIY room makeover budget so you can focus on the DIY not on the dollars.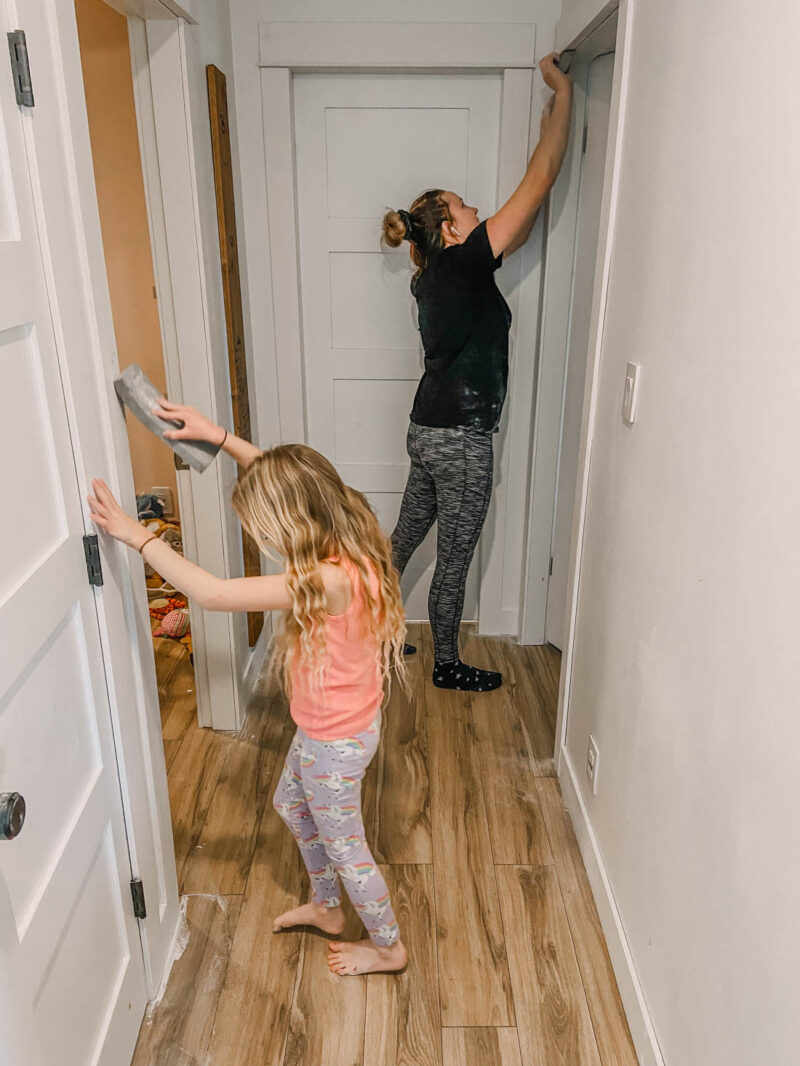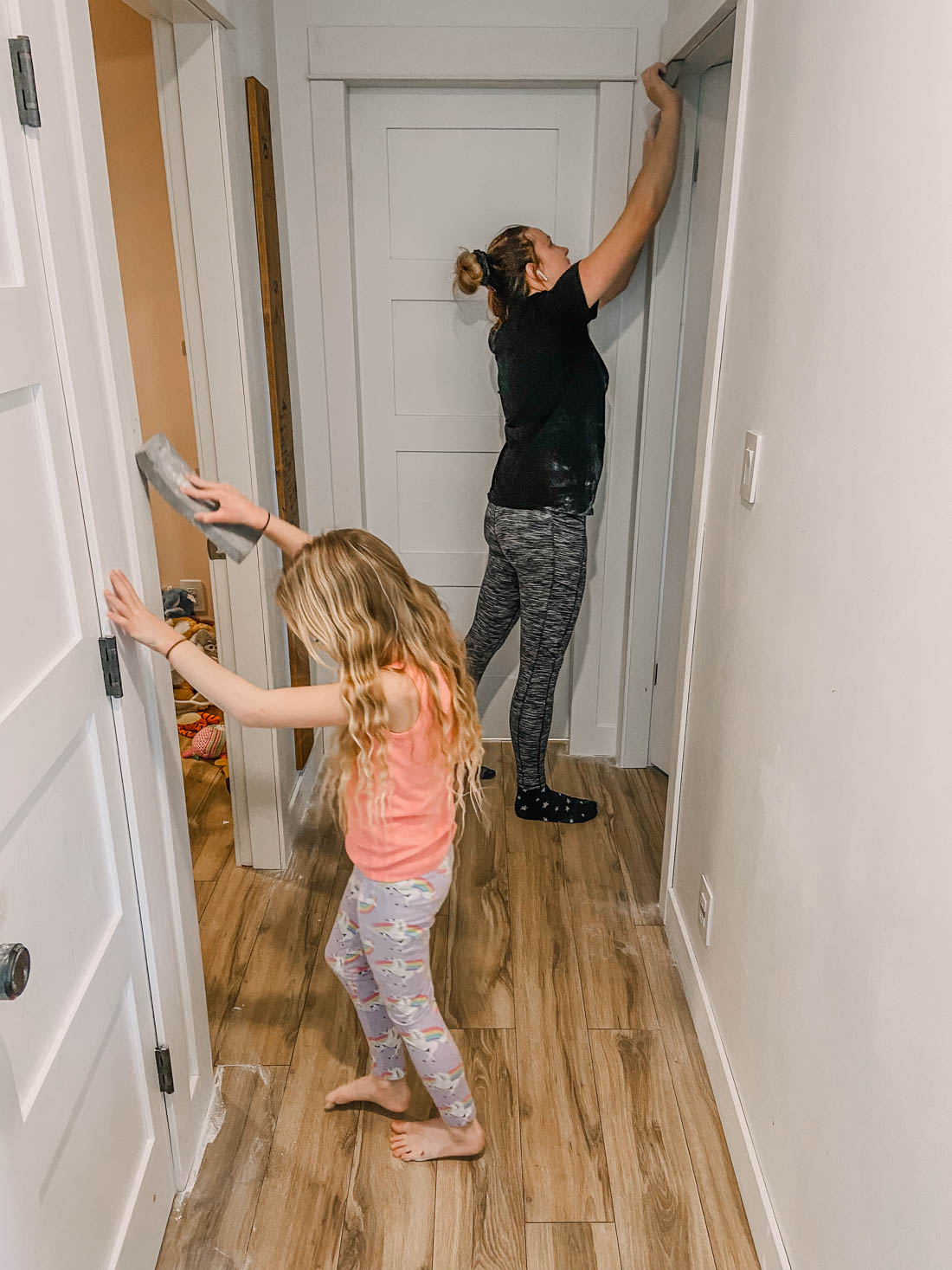 But as much as the white paint and fresh trim made the space much better than it was, it was still just a white hallway. A boring hallway. So last summer we gave it this refresh… And now I'm sharing that DIY hallway makeover with you!
The first thing we did was replace the light. We installed this gorgeous flush mount Mitzi light in bronze (looks black) which helped distract from the attic entry. I love how this ties in with all of the other light fixtures in our home without getting in the way of any doors opening and closing.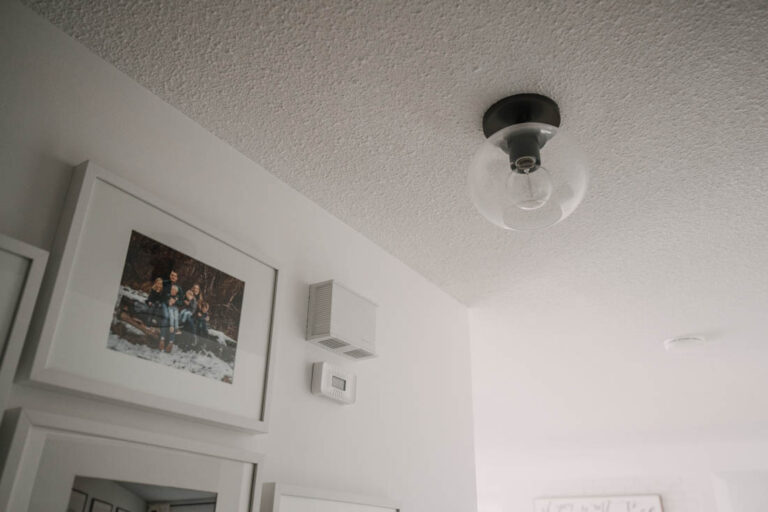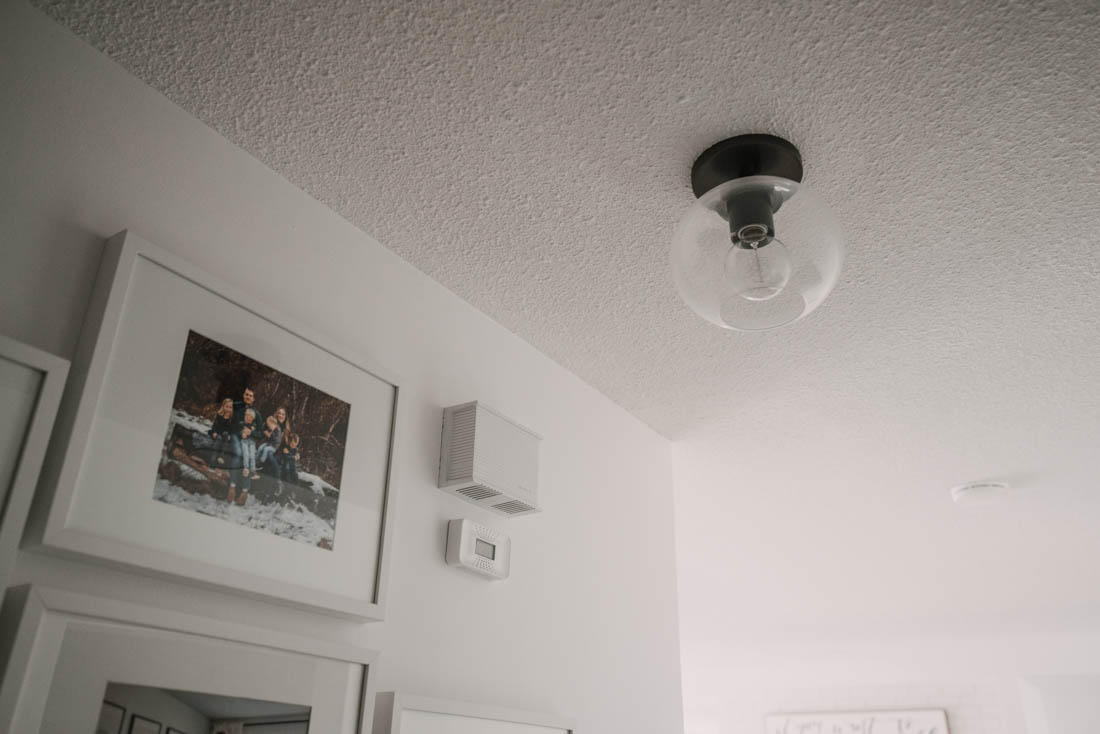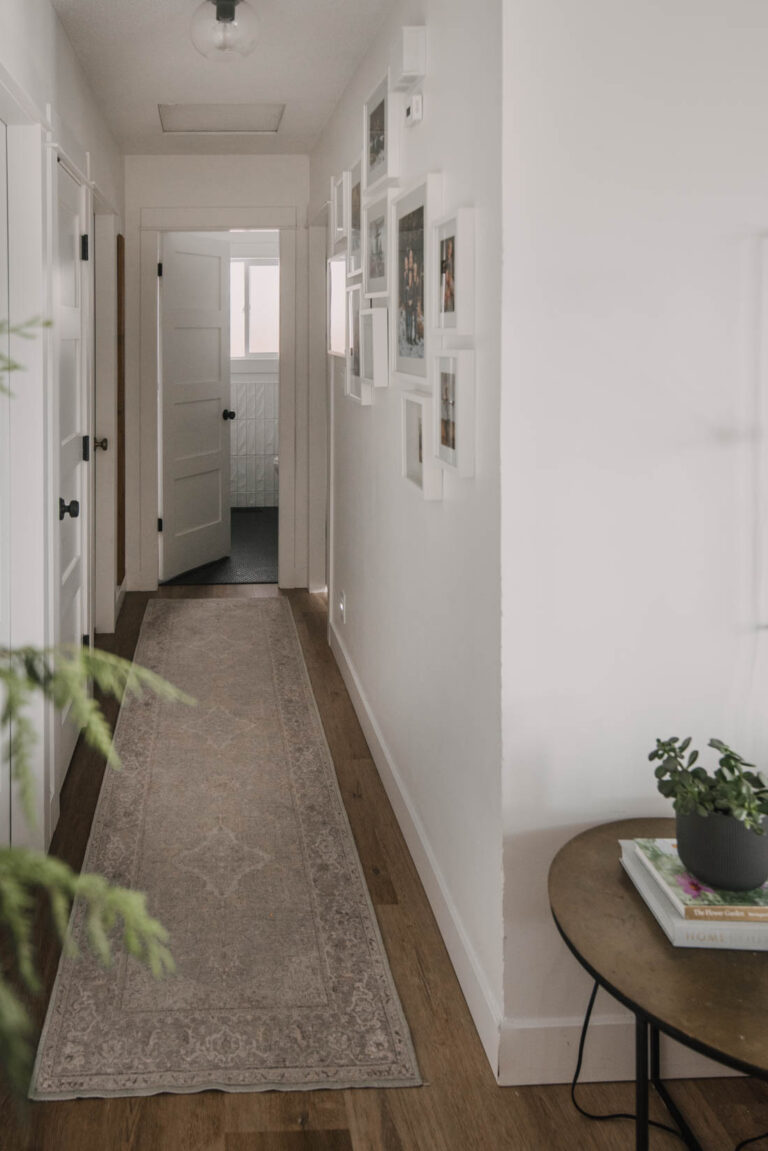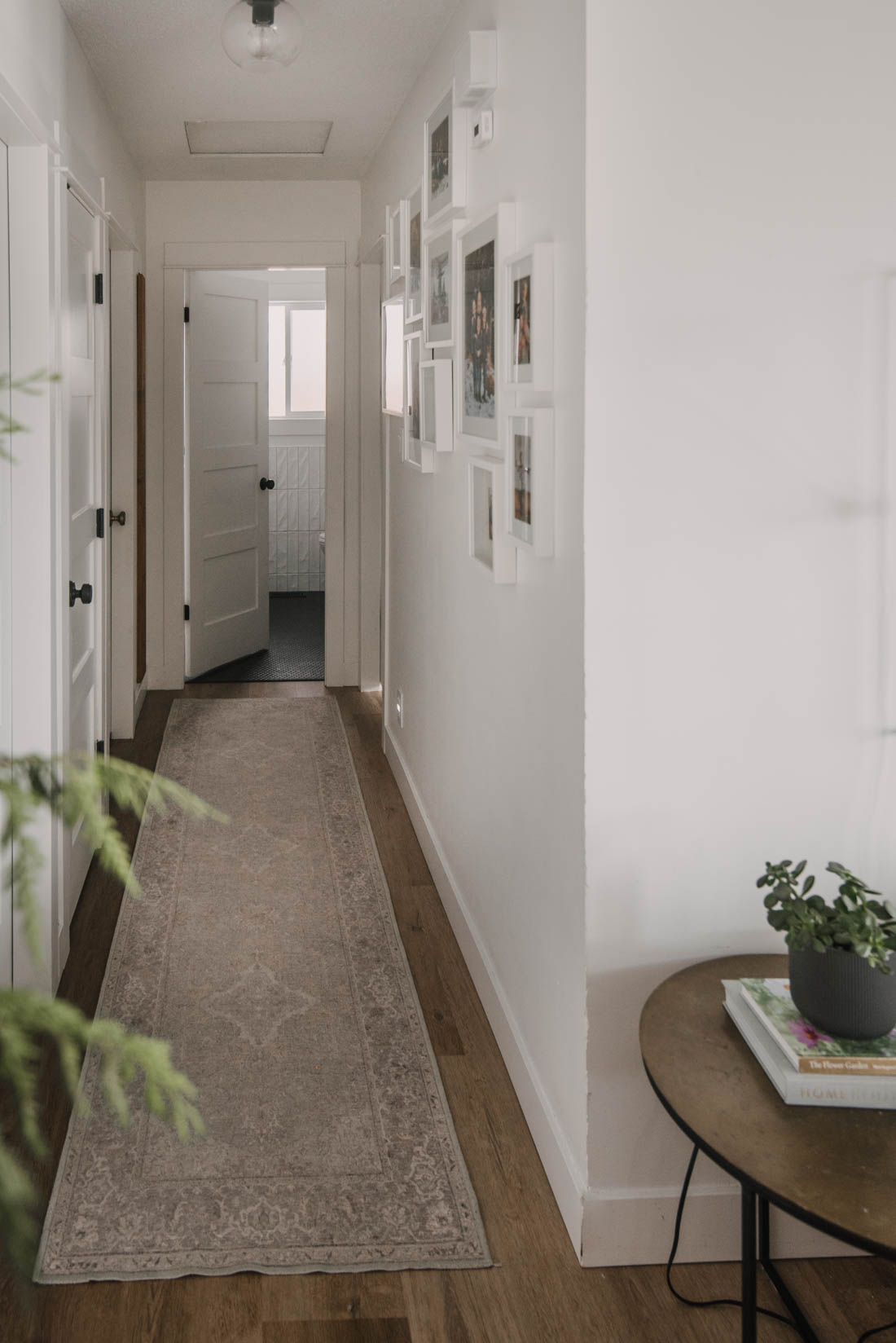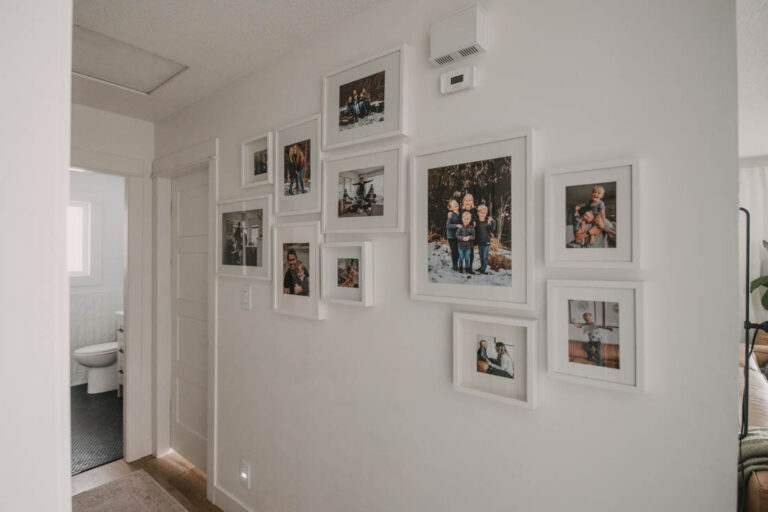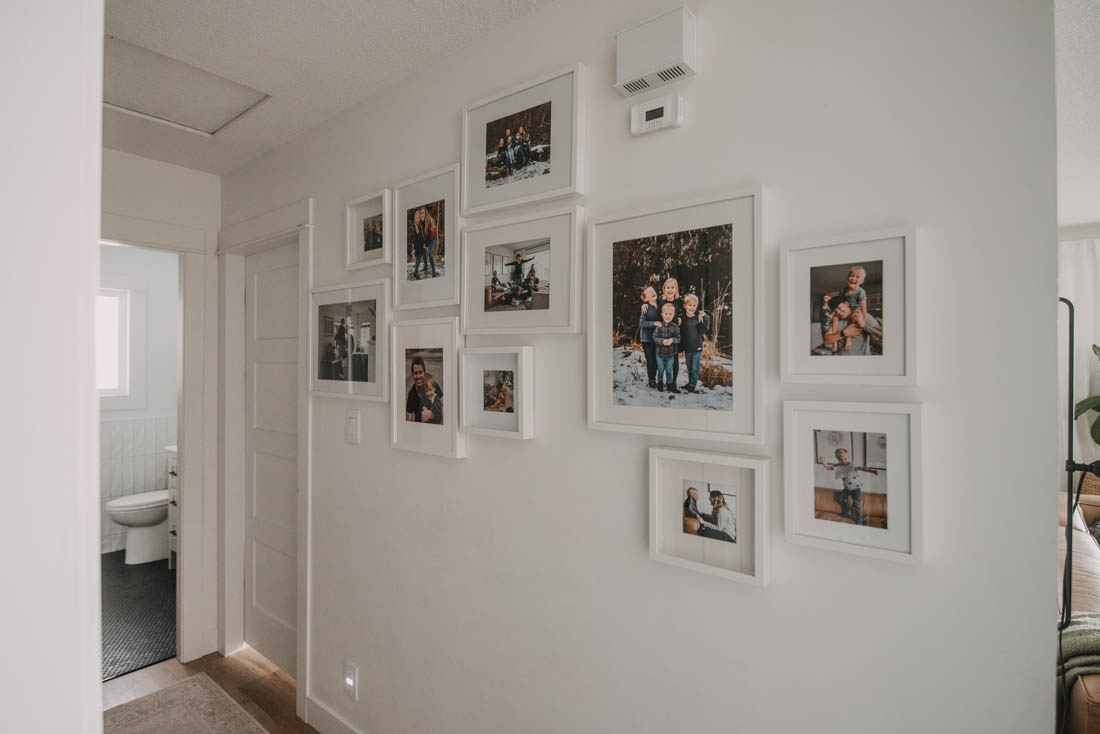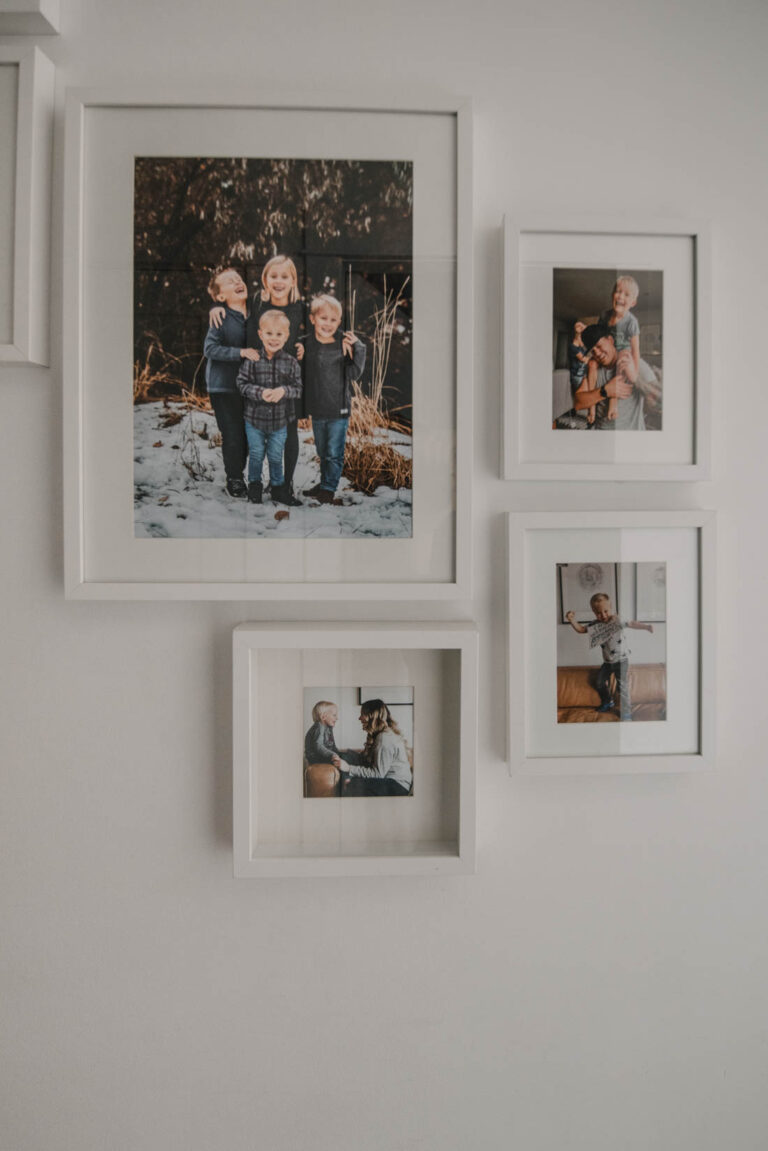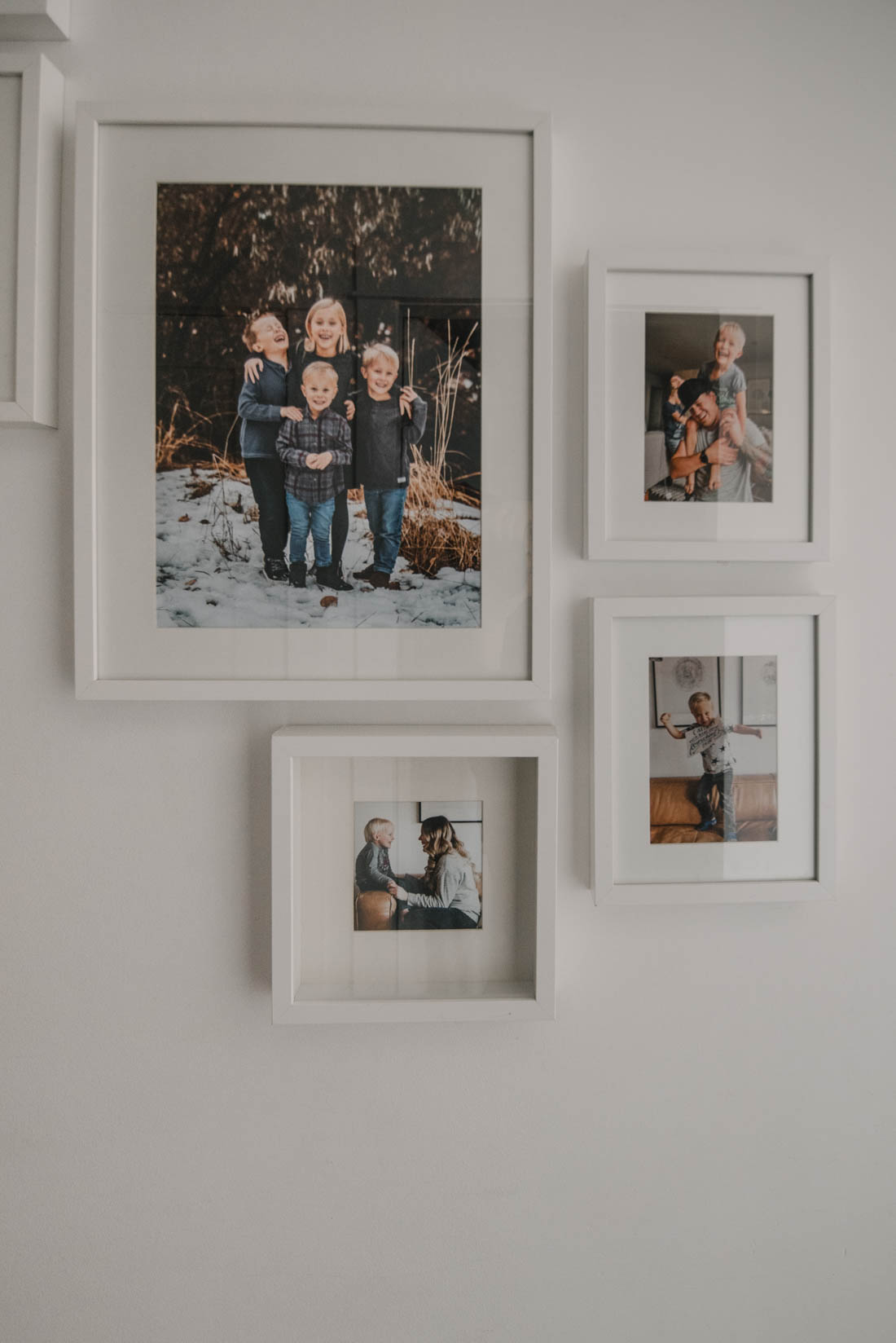 Next, we added the gallery wall of family photos we still had in storage from our last house. I updated the family photos in the frames and got those on the wall. I expect this gallery wall to grow each time I hit IKEA ;)
These frames are so affordable, but they're also perfectly modern and simple. I get asked all the time where they're from and I'm excited to share that they're IKEA every time. I use the same ones in my living room for our giant tree ring prints. They're just a great frame for a good price.
I like to mix both family photos we get done each year with candids from our phones in this space. Any photo that makes me smile is a great candidate. If you're looking for other ways to get your photos printed, I also have a full blog post about how we do our family yearbooks right here! Also! If you're not happy with the candid photos you're getting of your kids… this post from my photographer friend Troi might be a great help for you!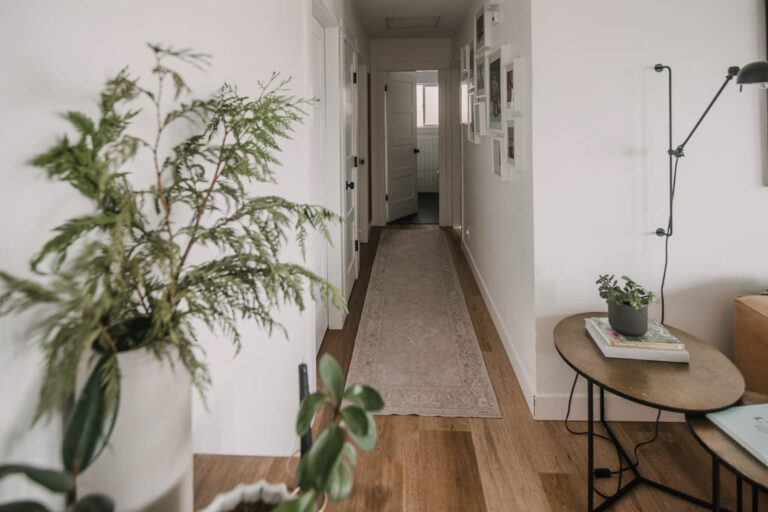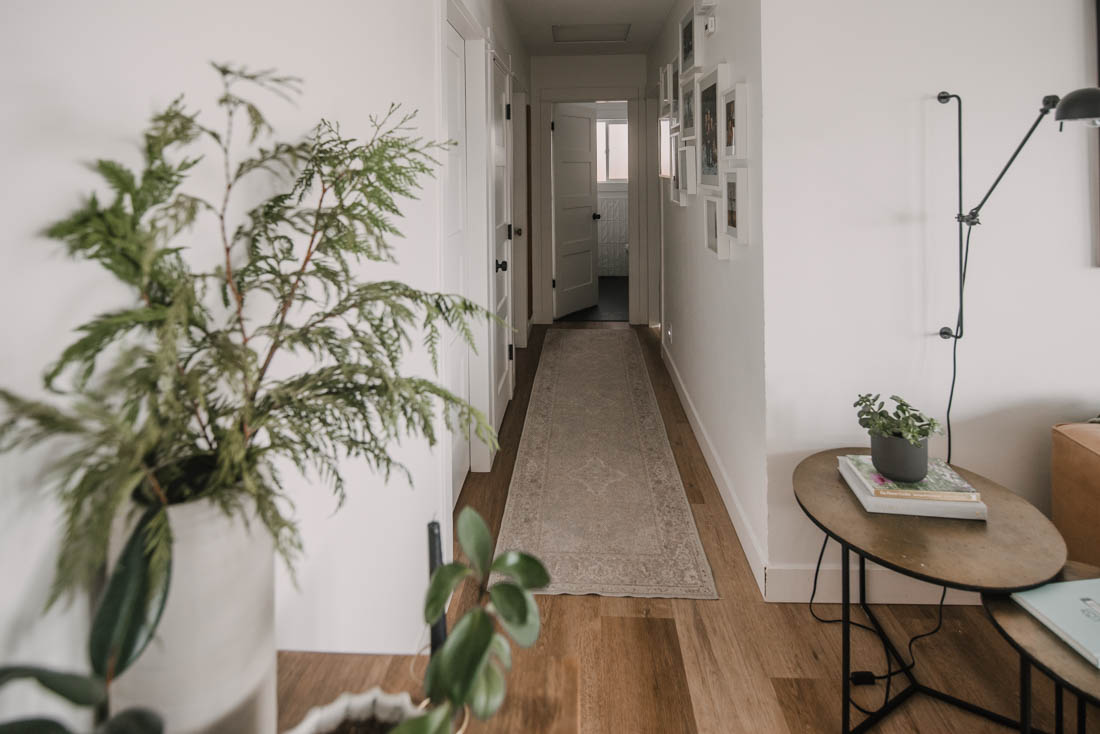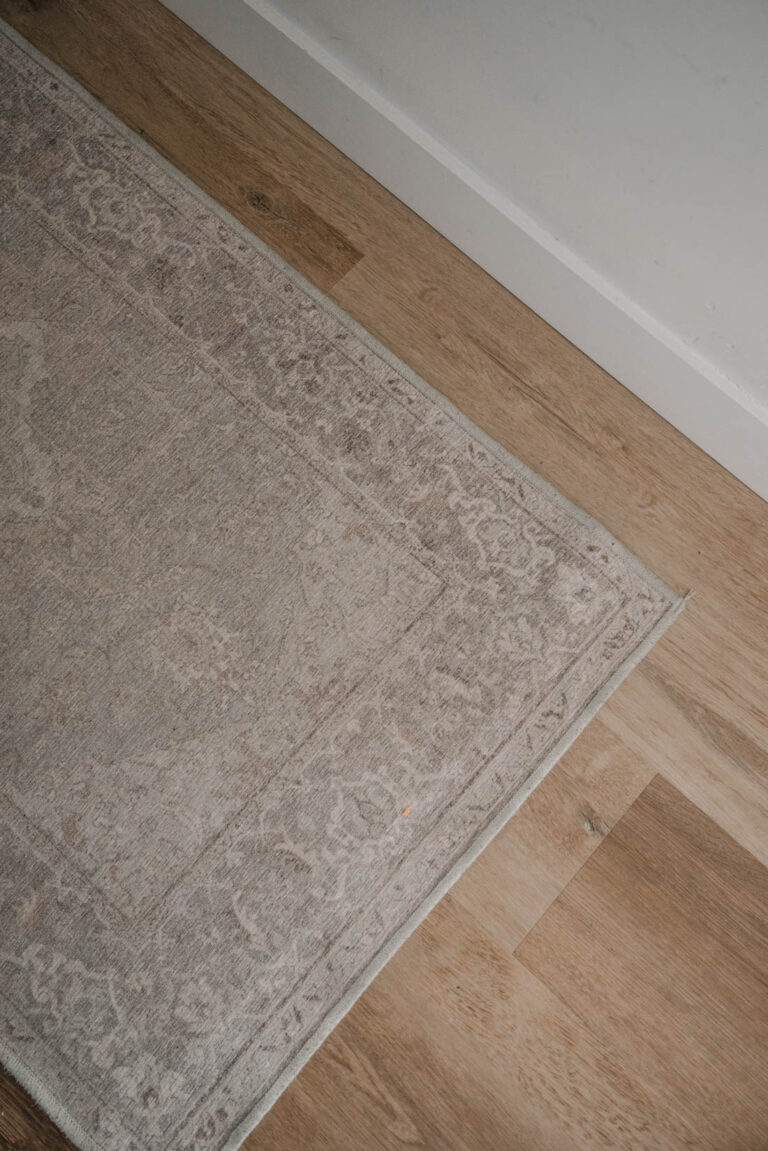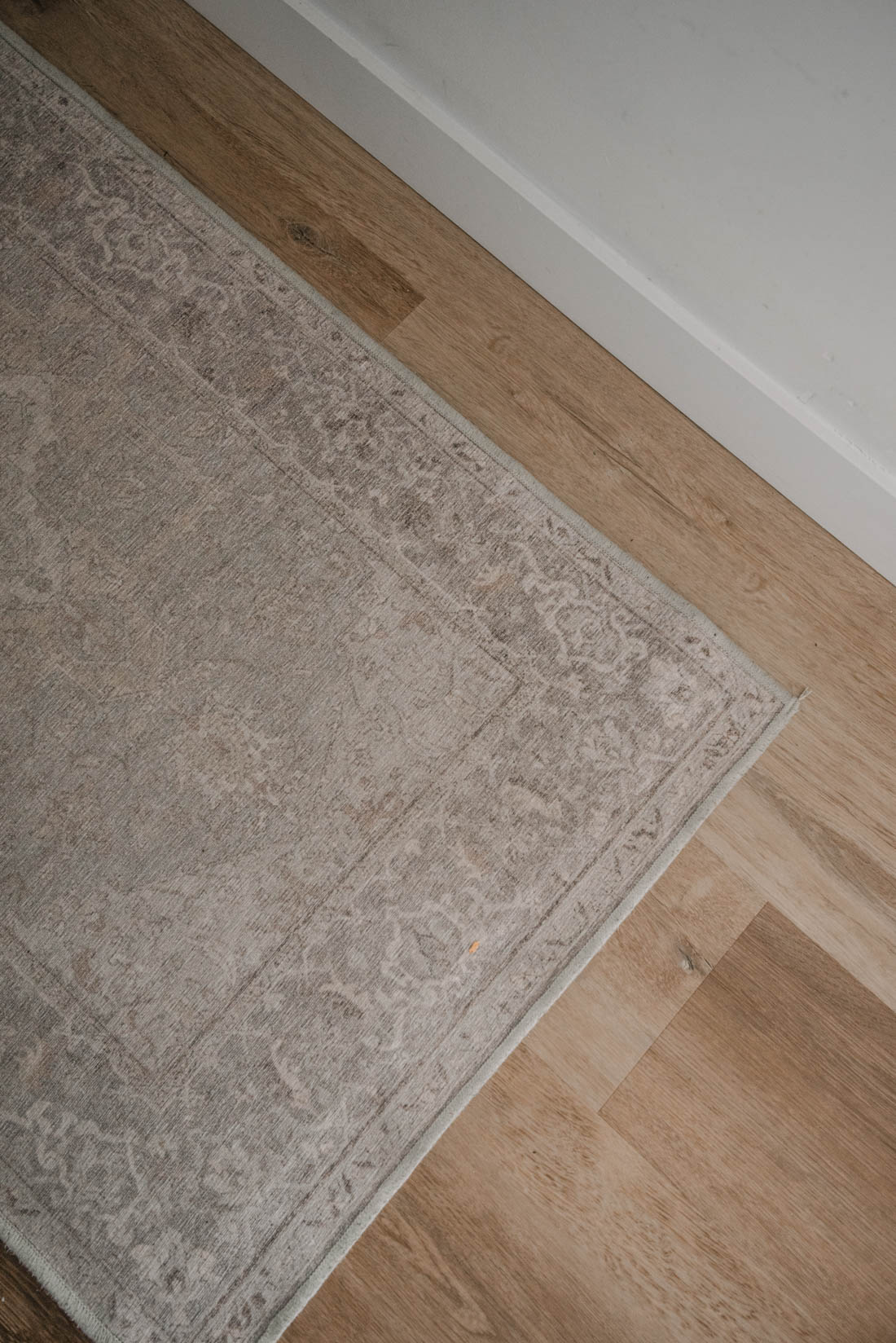 Lastly, it was still lacking a little something. I moved this runner into the hallway and all of a sudden it felt complete. I love how cozy this makes the space feel, it's really perfect in here! It also matches the rug in our dining room so it ties the spaces together just like the lights.
The only other thing in this space is that growth chart that my SIL made for us when the twins were born. We've brought it with us from house to house but I don't have a tutorial for it :)
Well, there you have it! A blog post ALL about our hallway. These updates are so simple, but they really do make the space an intentionally decorated part of our home. Not only that, but with the addition of the family photos- it's a space in our house that now brings me a smile each time I walk down here… which is a lot!
H