Sharing this boys bedroom makeover full of DIY tween bedroom decor ideas with a modern aesthetic, moody blue paint and industrial details.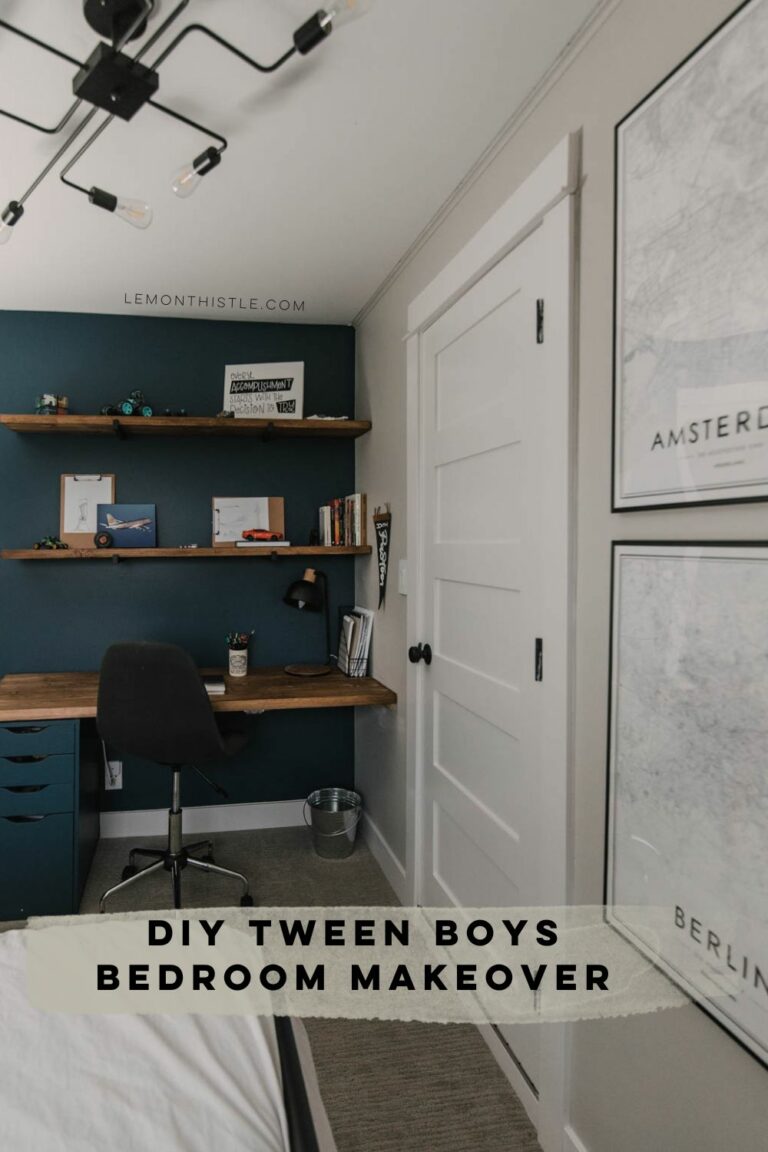 We worked hard last year, making over an entire home for our Calgary AirBnB. As much as I love the DIY, room makeover life… that was a lot and we took a bit of a break after we wrapped that project up in the summer. So in the fall, we moved my son down to the basement to have his own bedroom for the first time (he's a twin!), and we took it slow.
He was so patient with us as we used weekends to work on projects to get his room complete instead of hustling through the makeover like we have in the past. He moved in while we decorated and was a part of every design decision- he has such great ideas.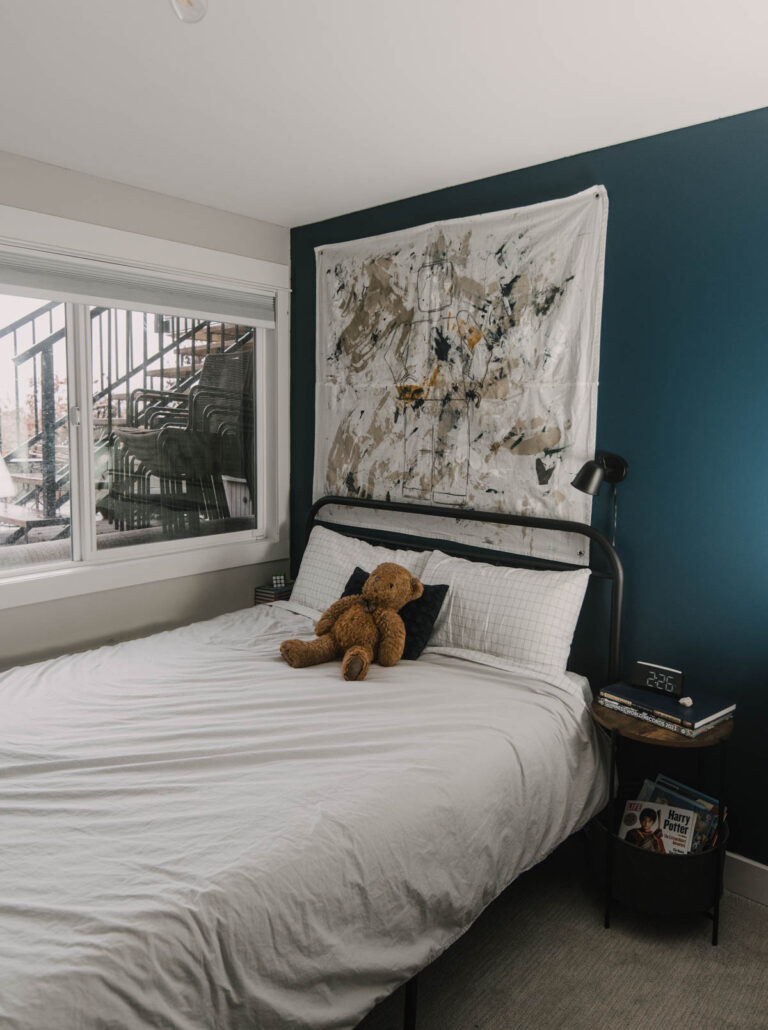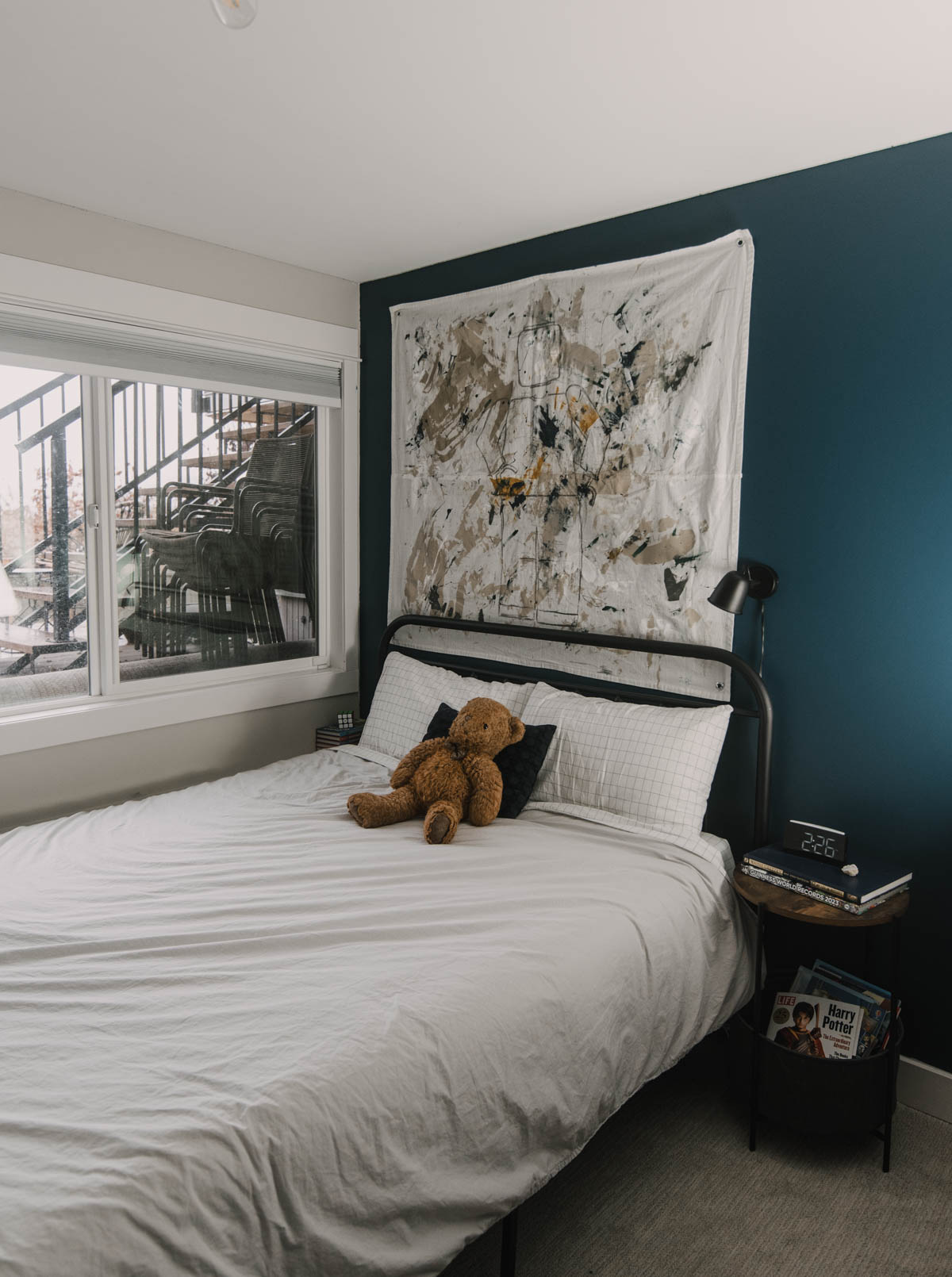 I'm so excited to share with you the finished space today- this preteen boys bedroom makeover is full of grown up touches but playful DIYs and makes the absolute most of a small bedroom.
Let's jump back to the before of this space, shall we? I like to point out that home takes time. A before and after is a pretty way to wrap things up, but for most of us, we're making changes and our home is growing and changing with us. When we moved in to our home just over 4 years ago, this room was minty green with lots of damaged walls and a curtain into an unfinished bathroom.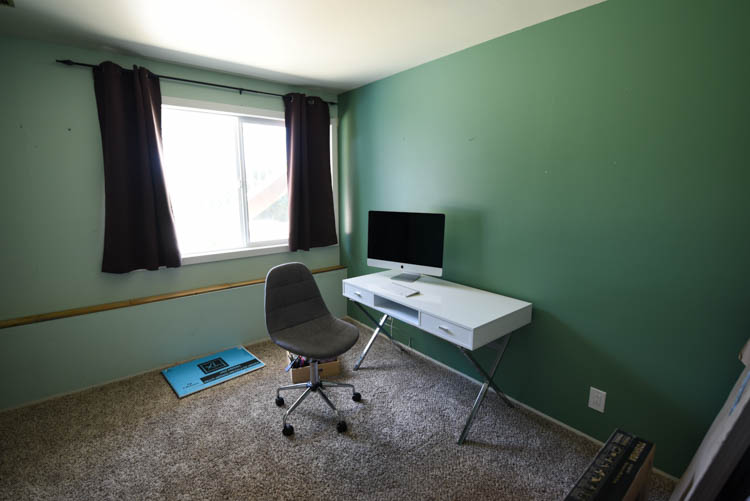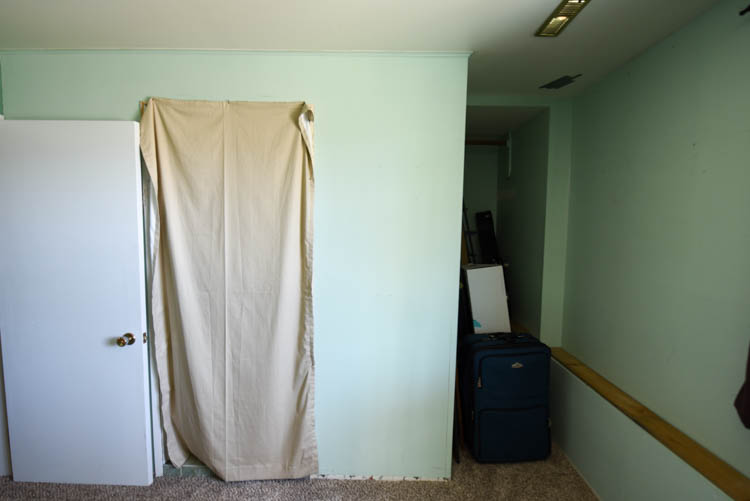 We painted a beautiful green and greige to turn this space into a guest bedroom in 2018, then in 2019 decided the space would be better utilized as a workout room.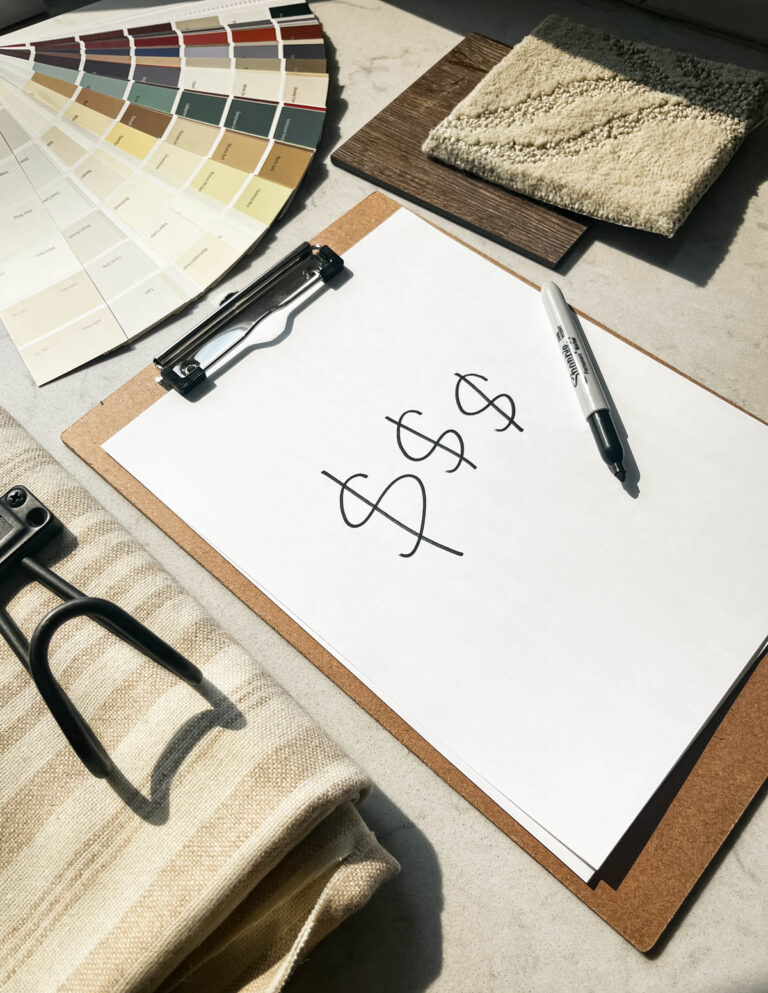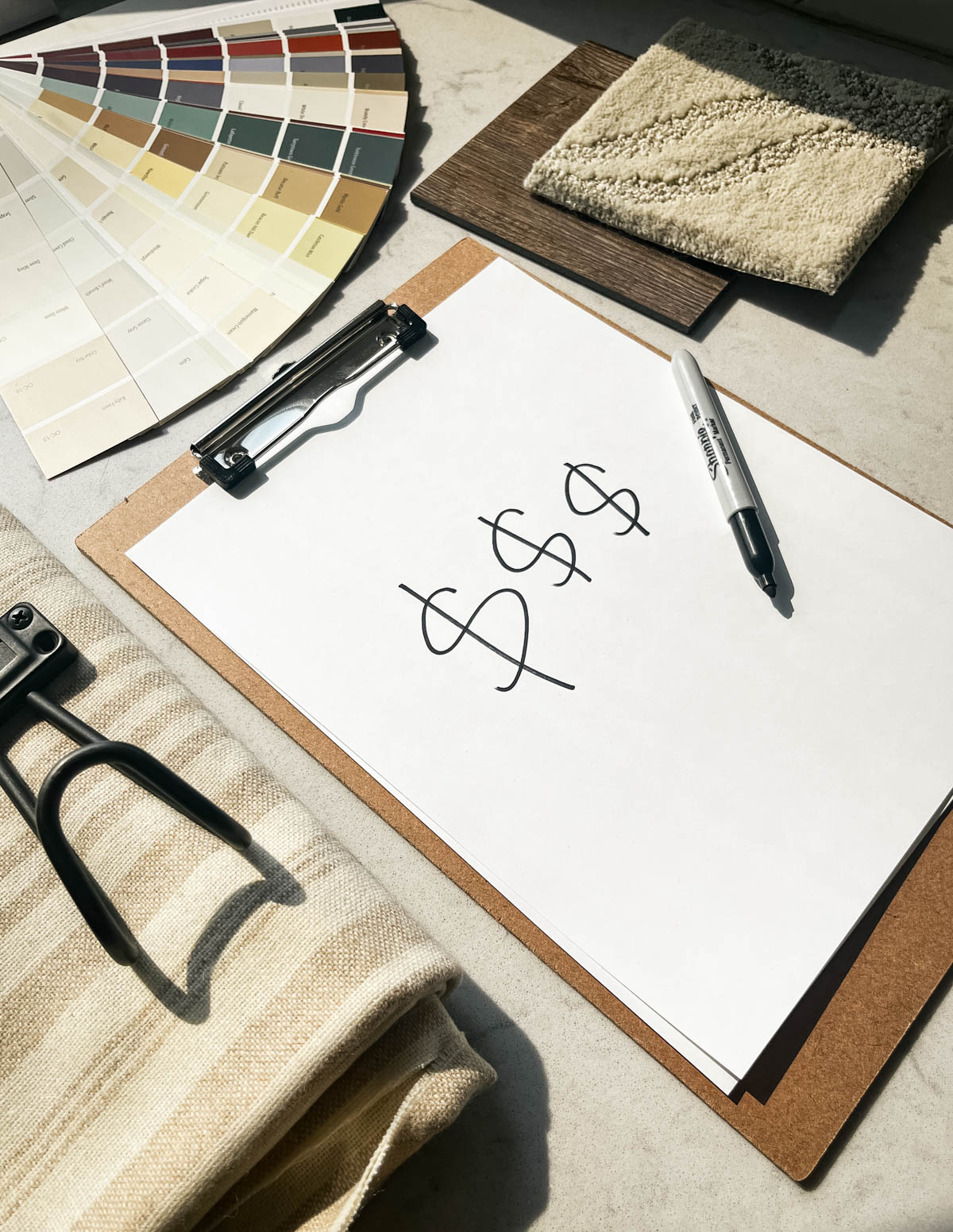 Make budgeting a part of your planning.
Check out all my tips for creating a DIY room makeover budget so you can focus on the DIY not on the dollars.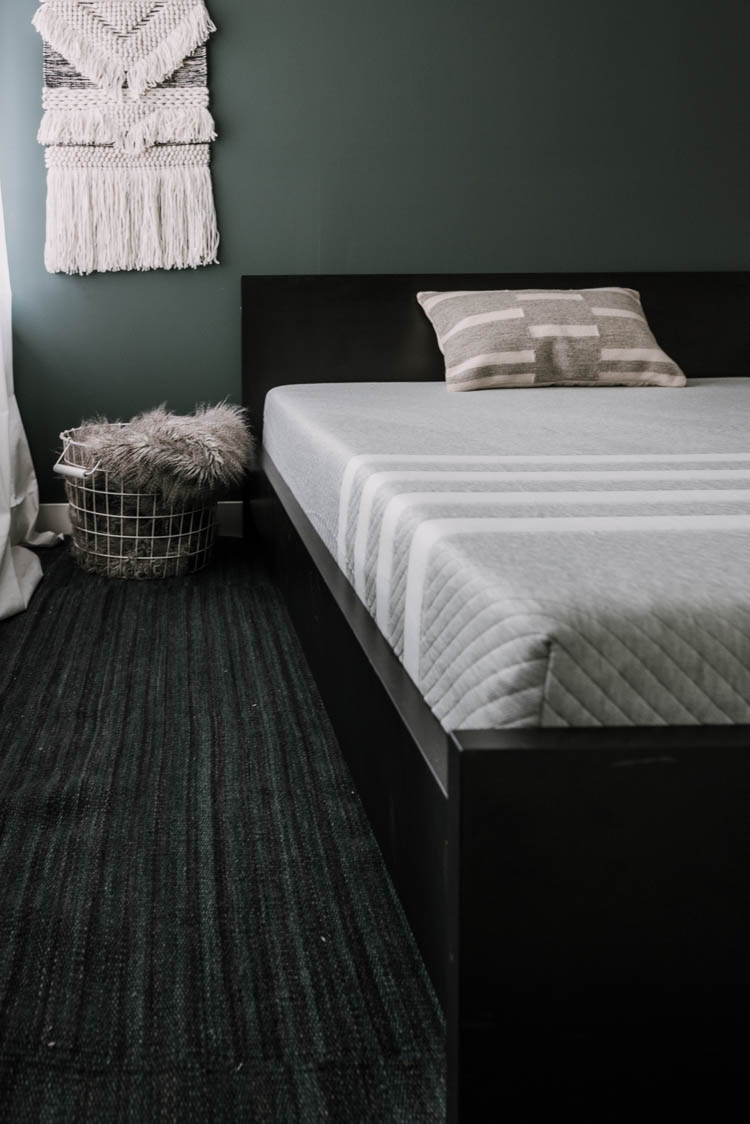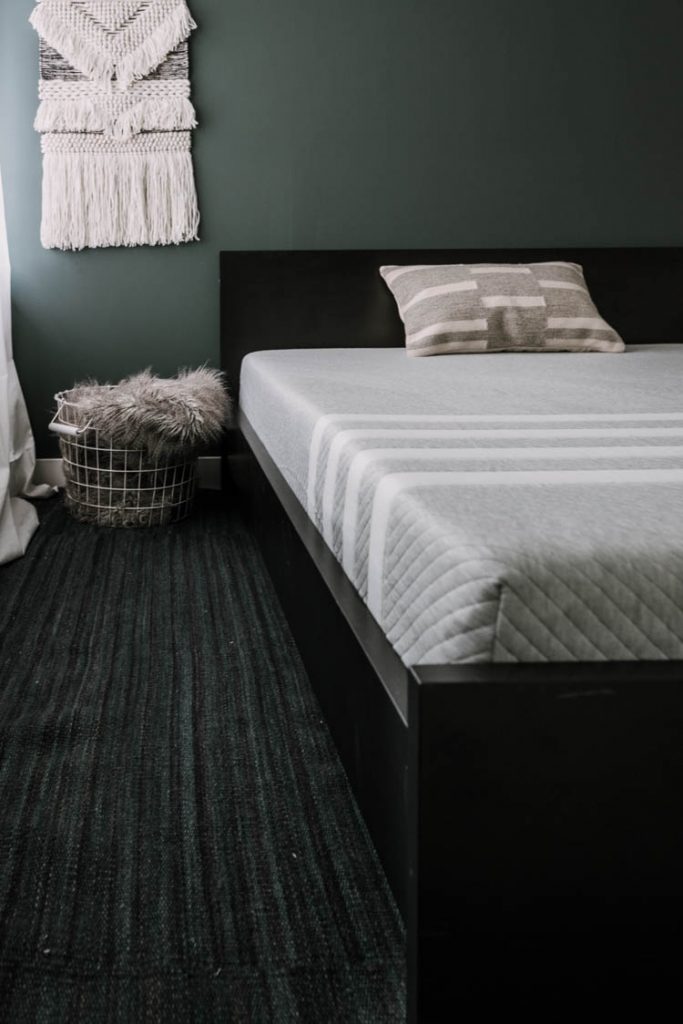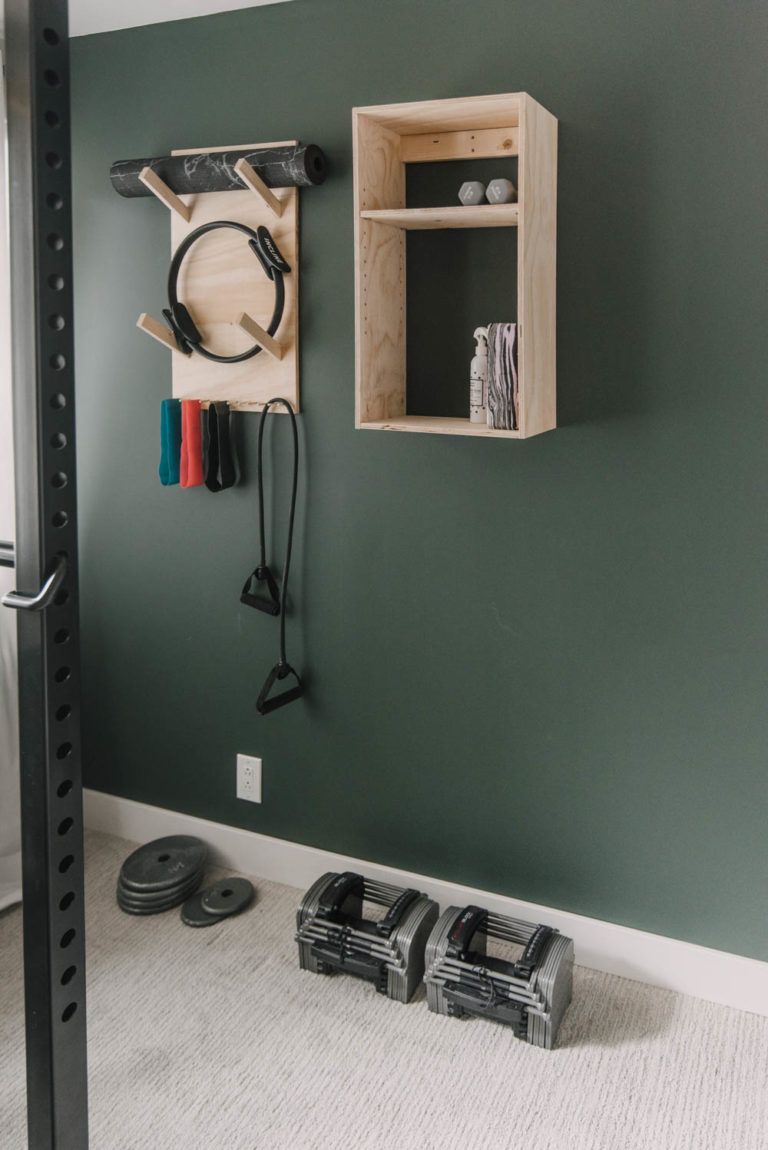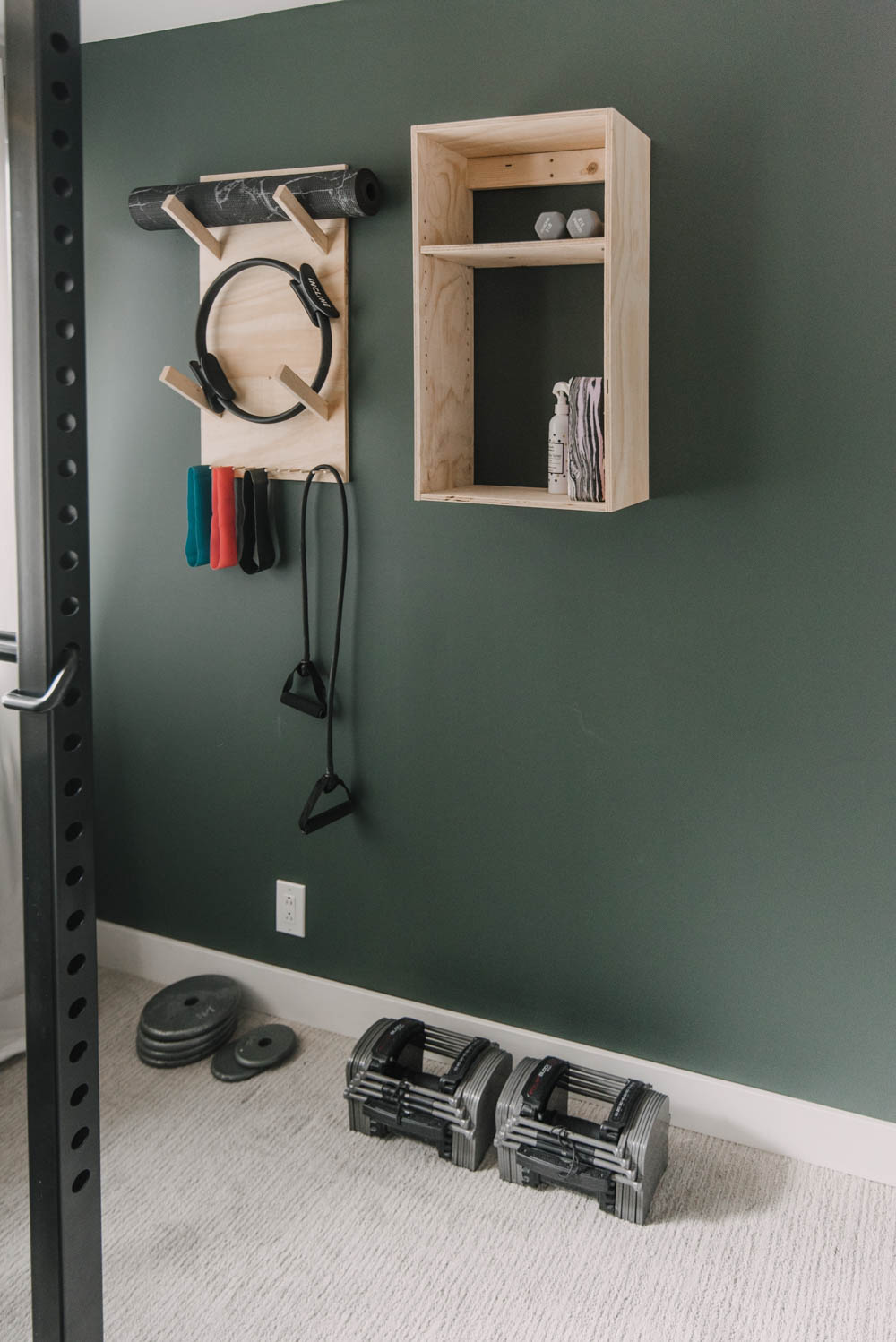 When our home flooded in 2020, we made some changes to our basement which included moving the door in this bedroom and replacing the carpet. Later 2020, we finished the bathroom in here (lucky kid gets his own ensuite!). We enjoyed the workout room until 2022 when we started tearing down the equipment to get E his own space to enjoy.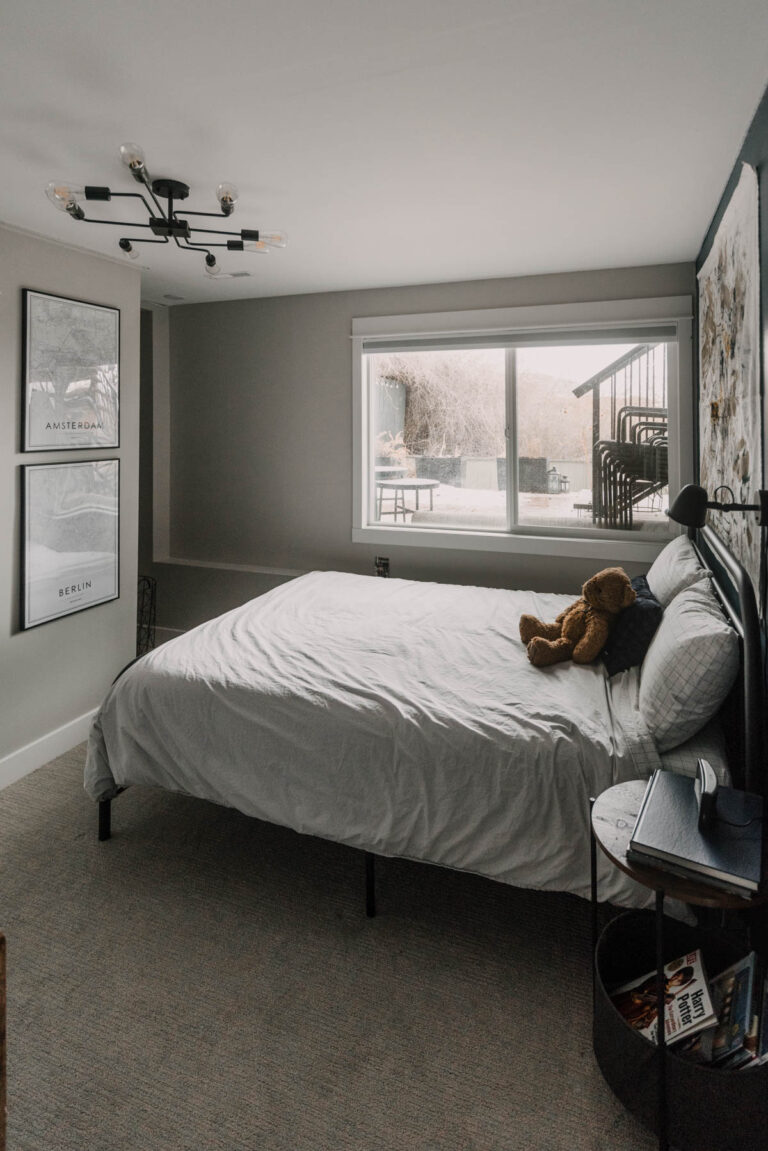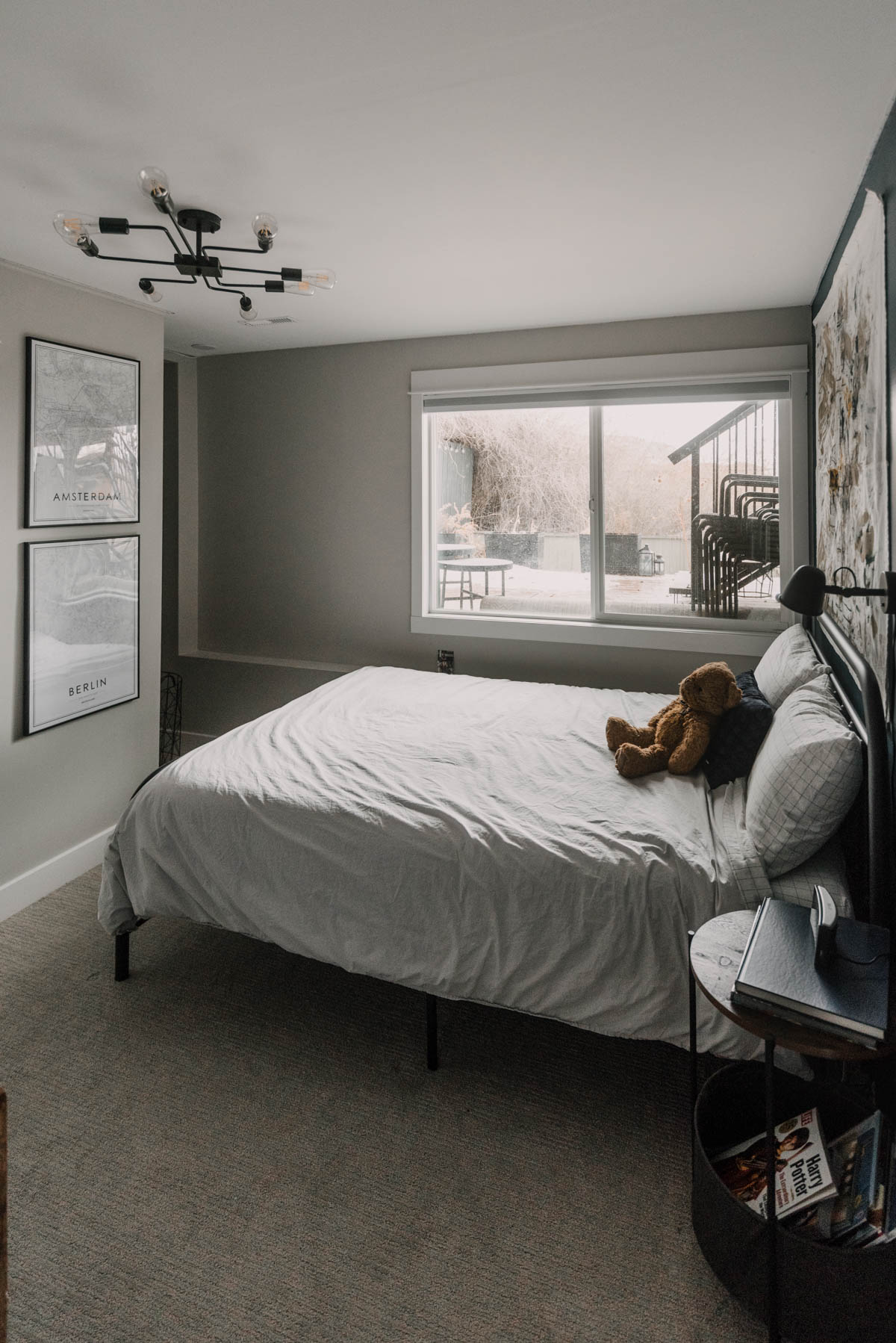 E's whole life, he's shared a room. He's a twin and so his room has always been shared with his twin sister, then with his younger brothers (see that shared boys bedroom here). He's been wanting his own space as he's moving away from all the toys, wanting a space to read quietly, sketch (he loves to sketch) and keep his things tidy… not like the 4 year old wants!
He agreed that if he were to take the basement bedroom, he would have a larger bed and when we have guests, they get to take over his space. Since this is a small room, a queen bed takes most of the space so we were limited in what else we could do in here. His big request was a desk with shelves to display his creations.
We enjoyed browsing pinterest for ideas, I especially loved this post for male bedroom ideas on a budget.
H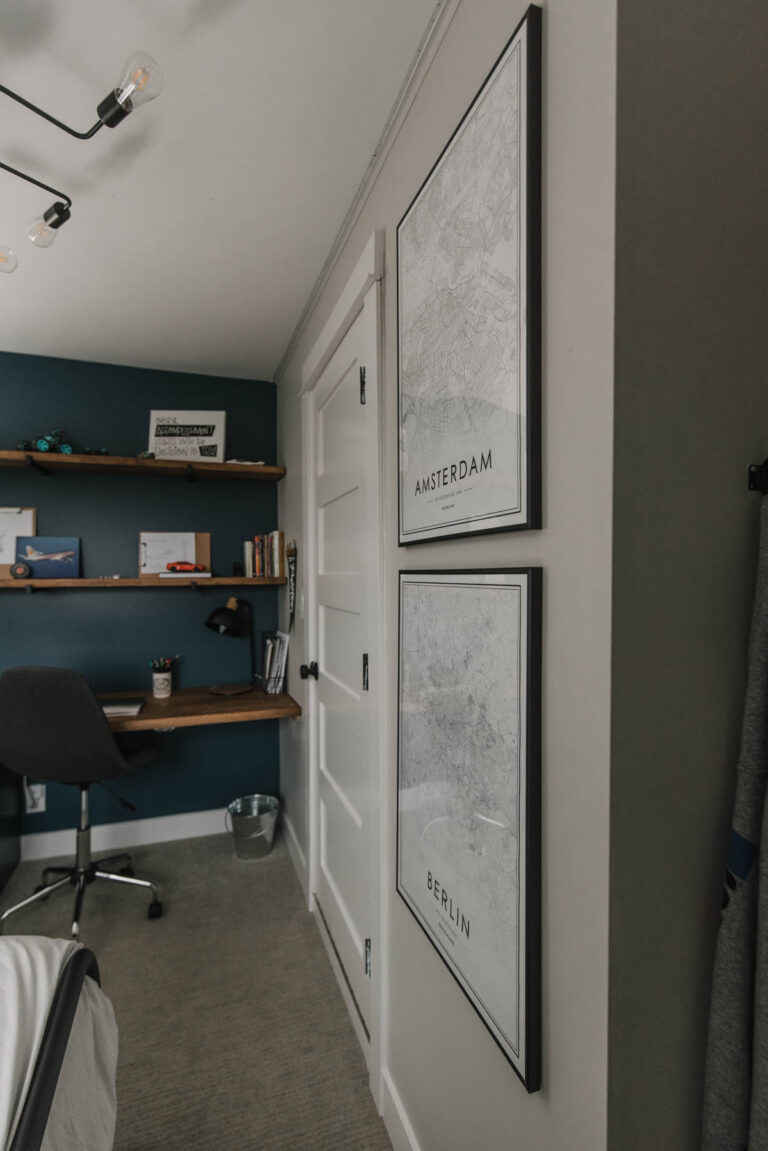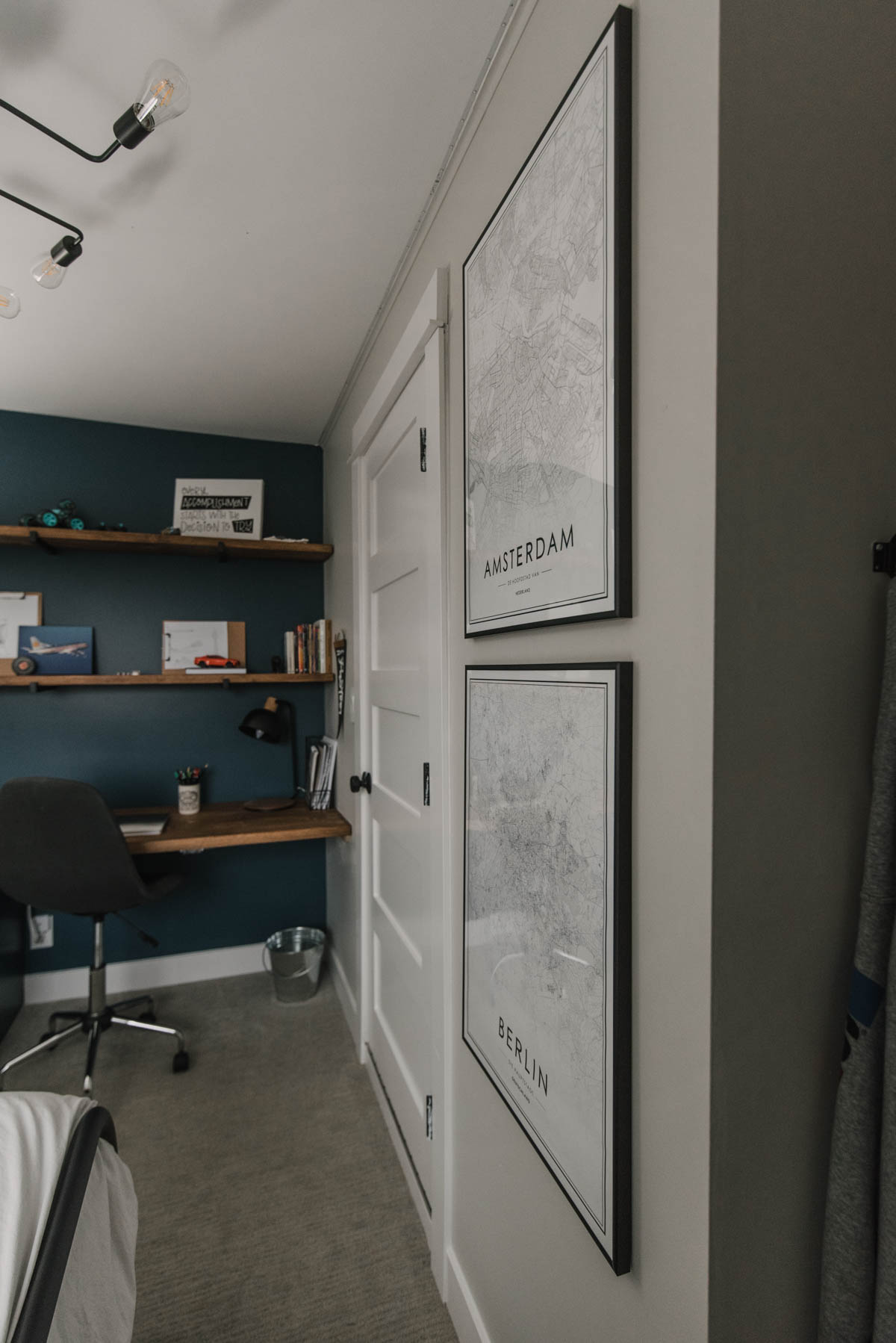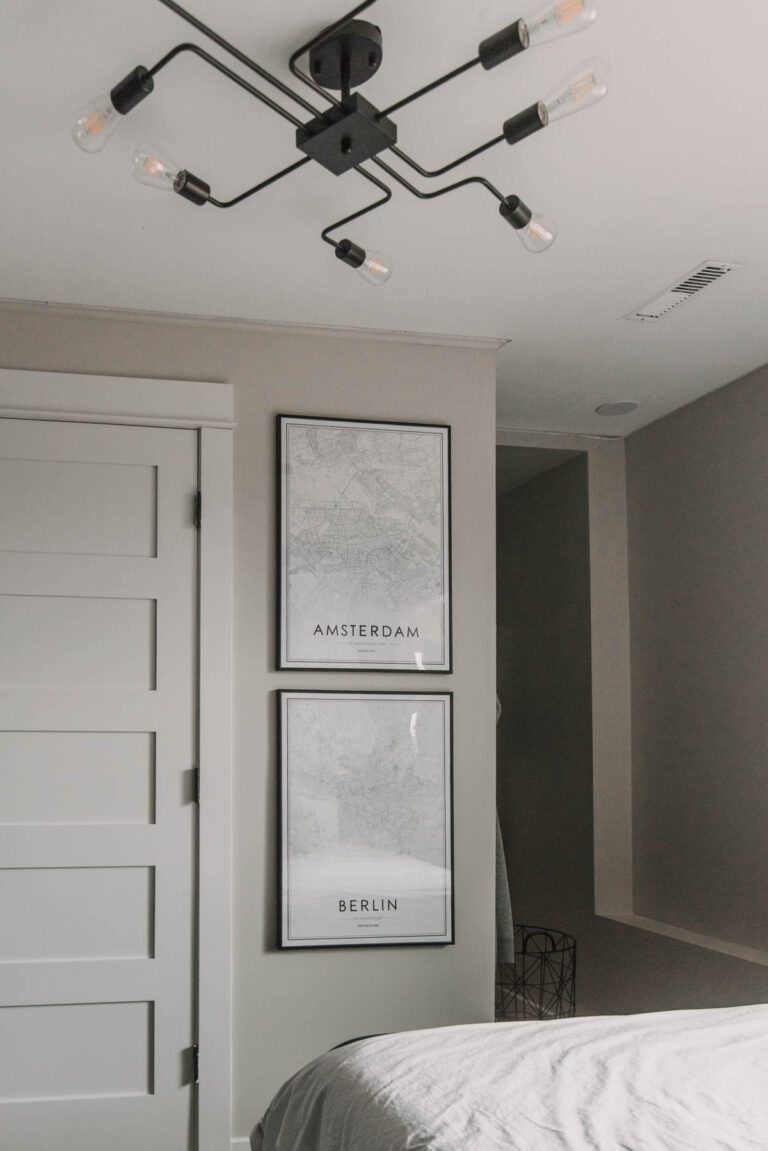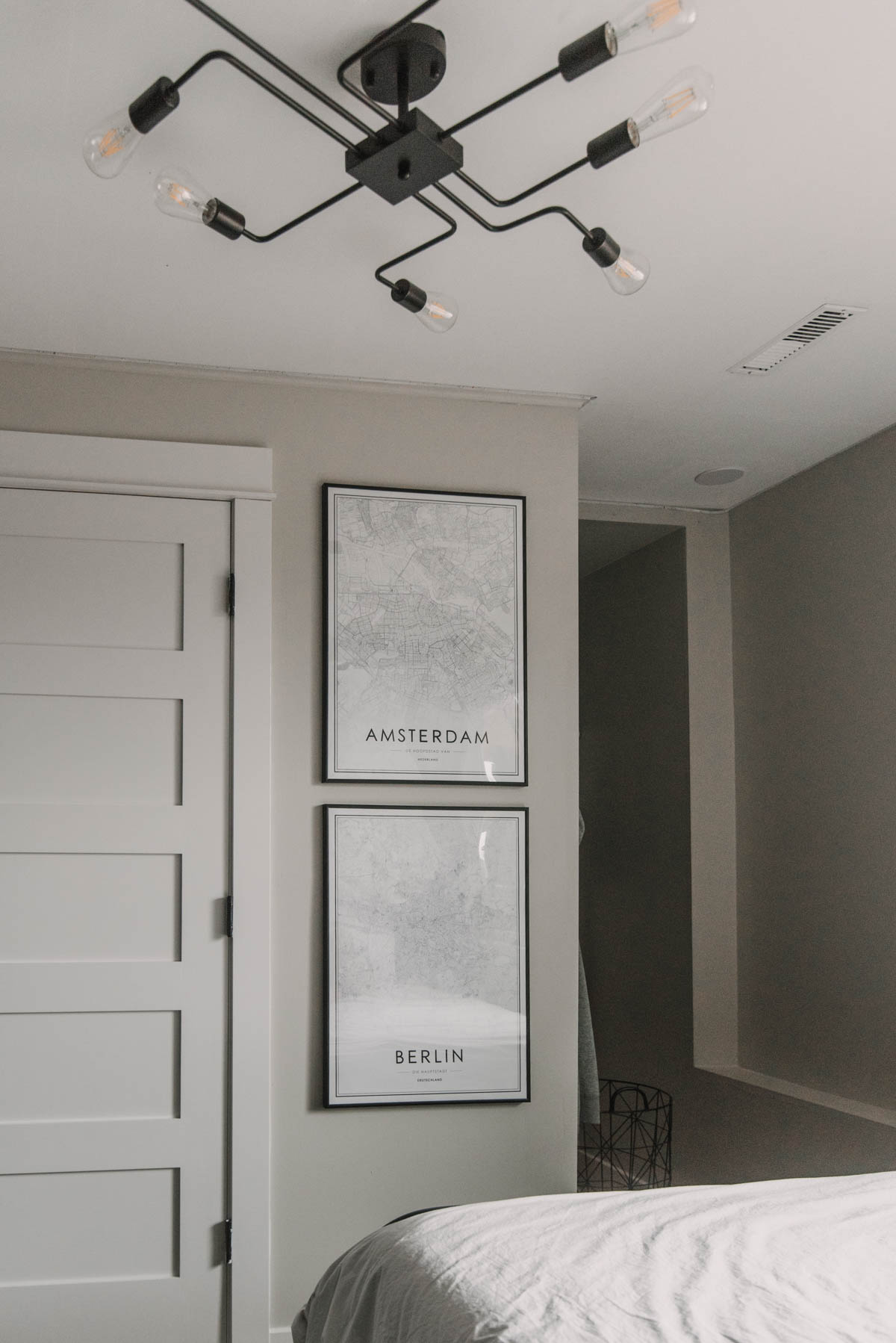 He also wanted dark walls. While I'm usually such a fan of all the walls in a room being painted the same colour, this is a basement bedroom with some weird angles and trim. We agreed painting the headboard and desk walls would draw attention to them and we could leave the long hallway like closet and bathroom door wall the taupe like in our playroom (it's called Swirling Smoke from Dulux with only a 3/4 tint). I think this helps keep this space a bit brighter too.
I shared a few years ago that I like to let my kids choose their bedroom decor but in a way that we can both get excited about. I wrote a whole post with tips on how to plan a bedroom makeover WITH your kids, you can see that here, obviously as they grow they get more of a say and more directive which is so fun.
E told me he wanted a dark blue paint, so I went to the store and picked up a handful I loved. He took his time and chose his favourite of the colours and I'm so in love with this one! It's called Deep Breath from Behr and it's perfectly moody but still has some of those teal undertones so it's more interesting than a typical navy.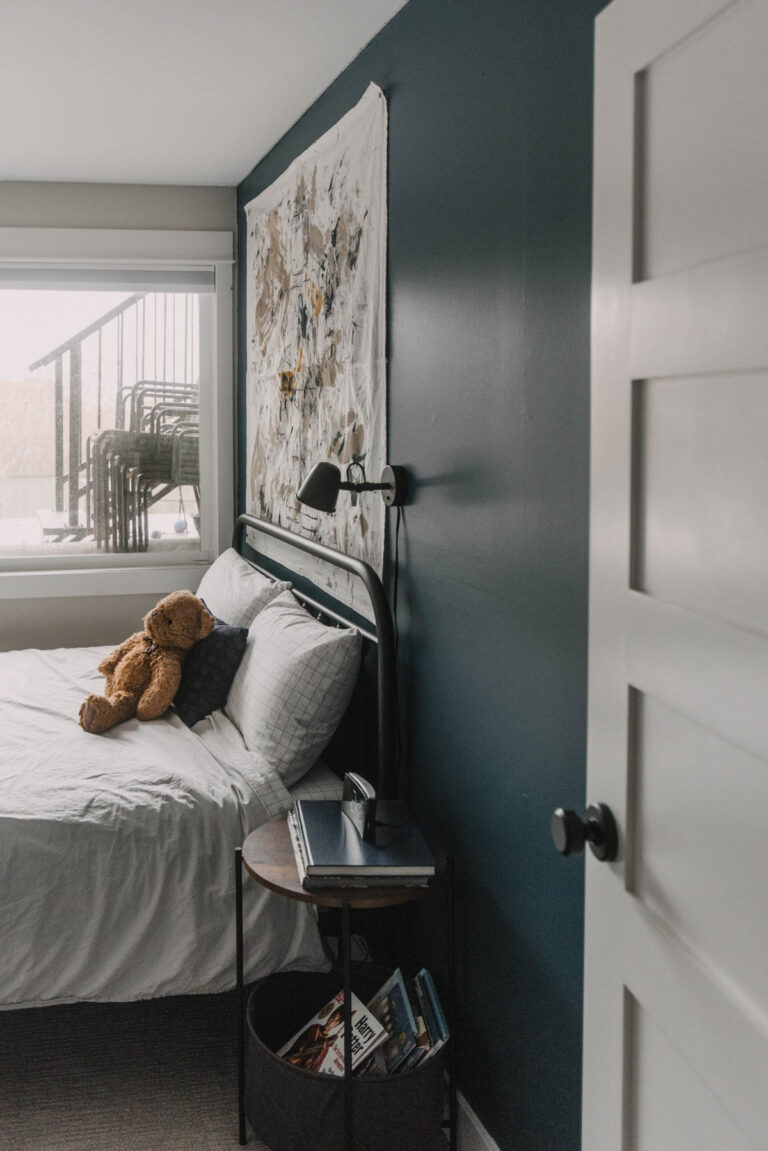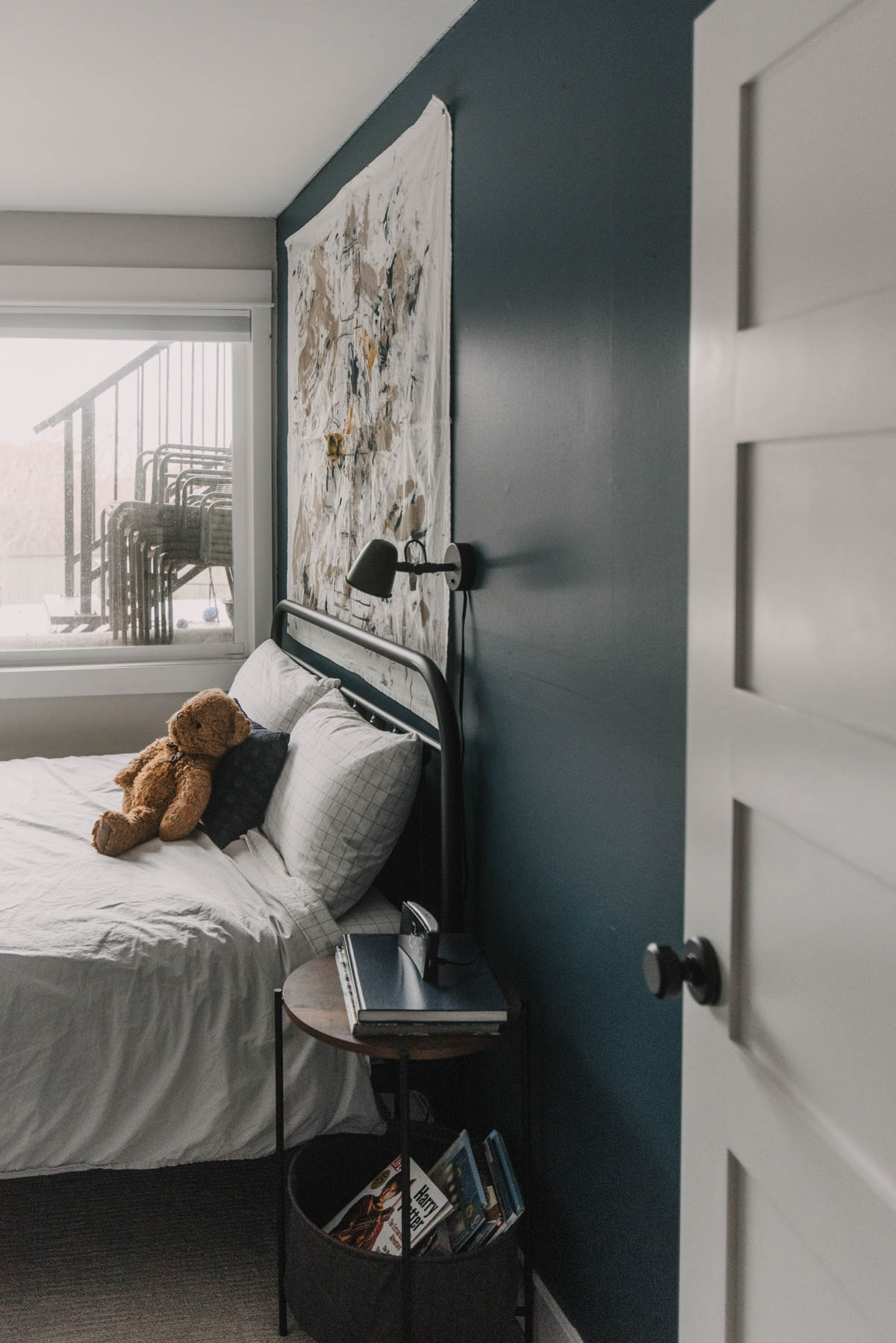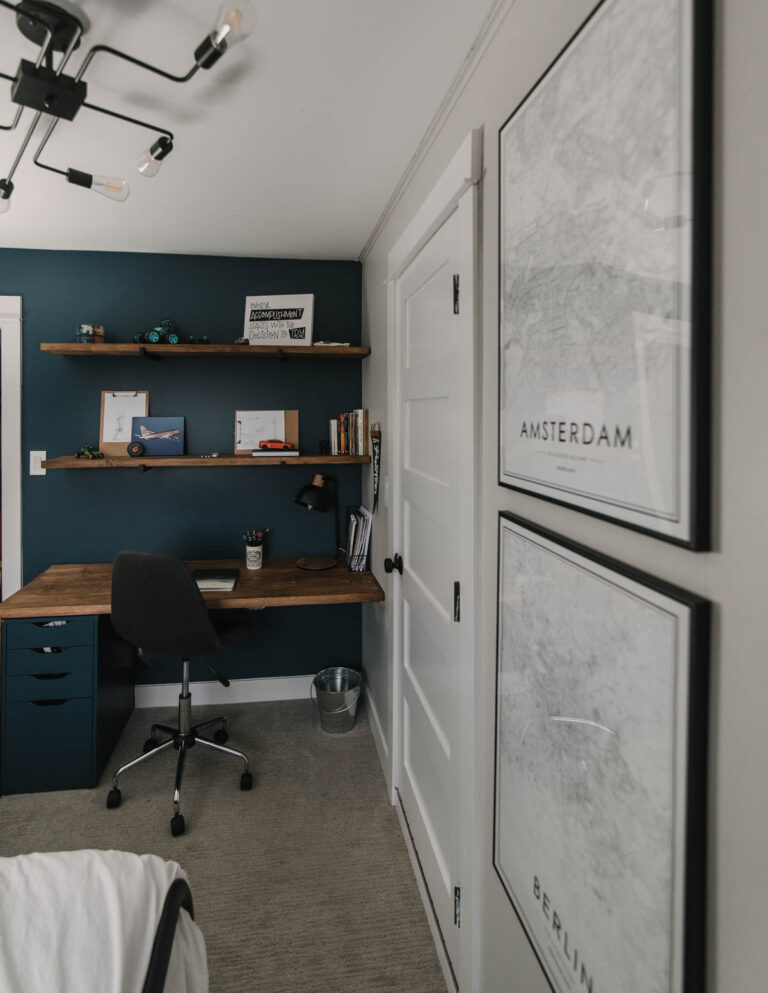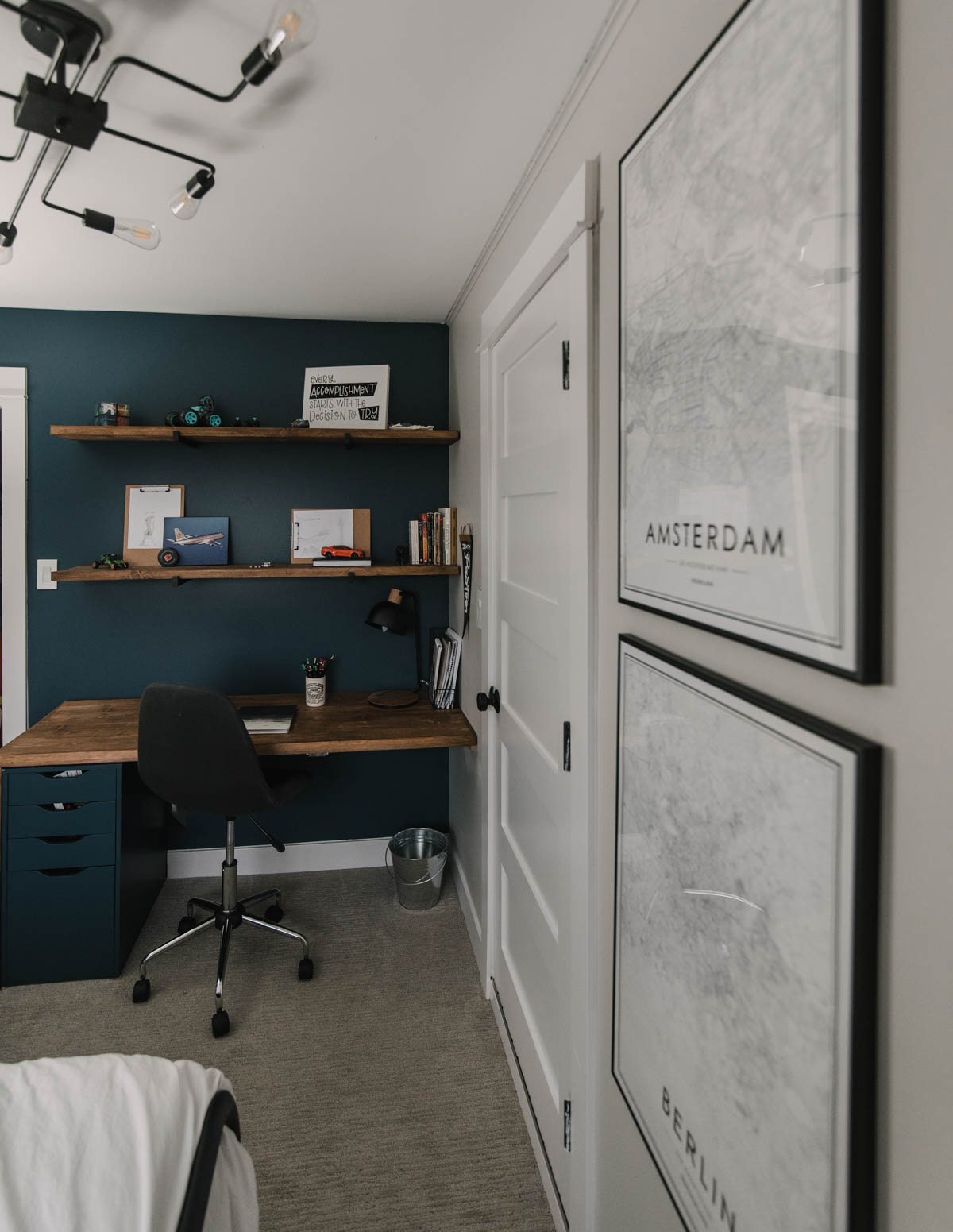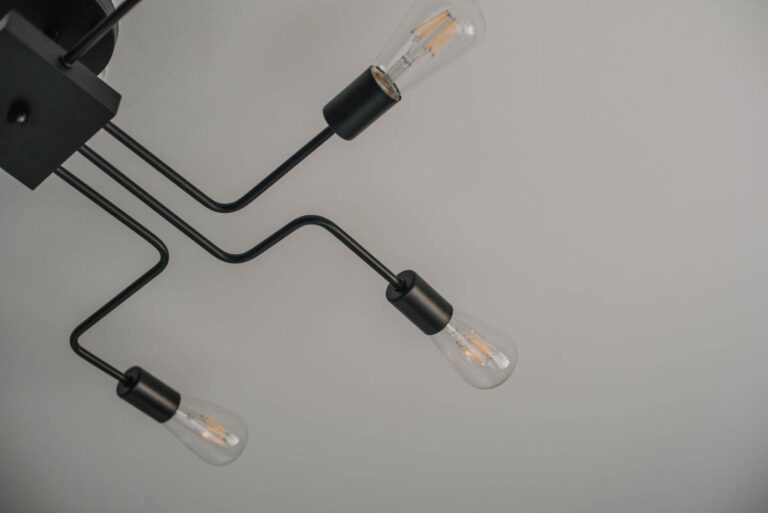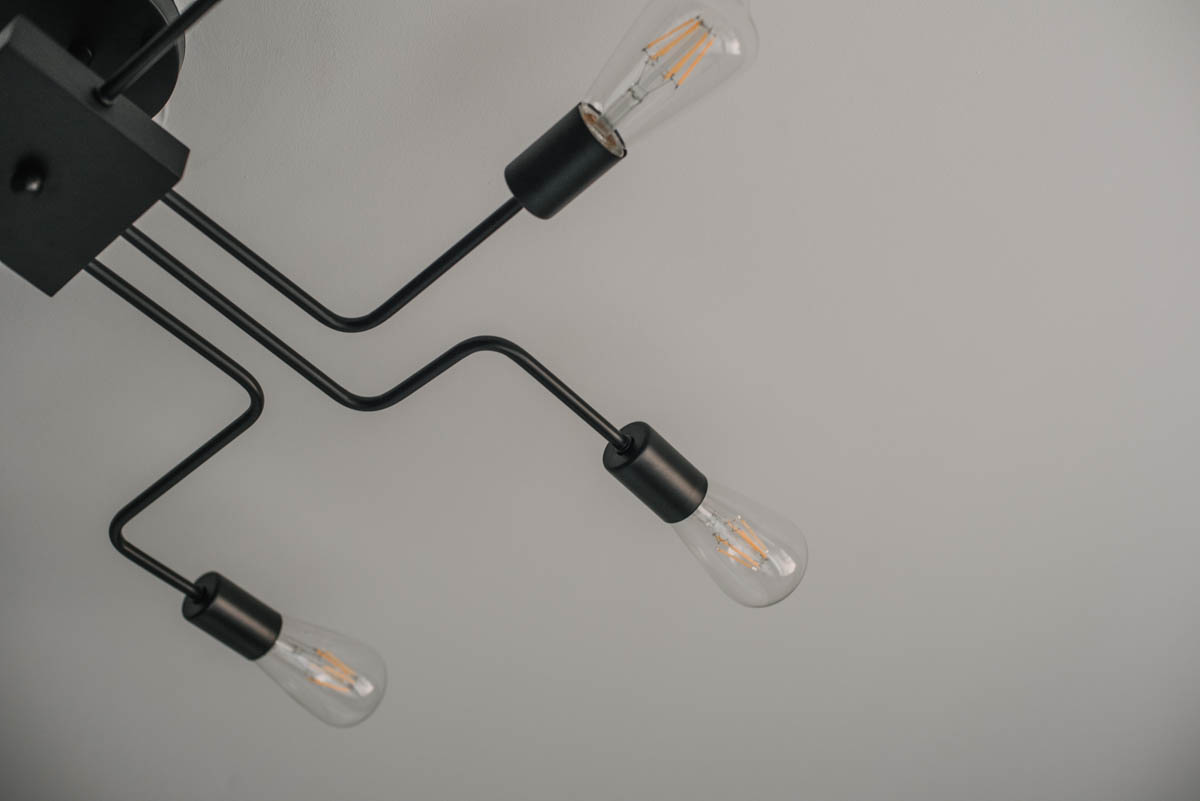 His other request was for an industrial light fixture. He liked the ones in both his old bedroom and my office, so we hit Amazon and he chose this light. I think it looks so great in there- and with all the bulbs, it's a bright space for all his sketching and Lego creating.
I chose a simple black bed frame. I like how the metal bed frames feel airier than wood and given that it's a small space, it helps keep it looking open. It also doesn't have any sharp corners to bump your shins on getting into the closet. This one was affordable from Amazon.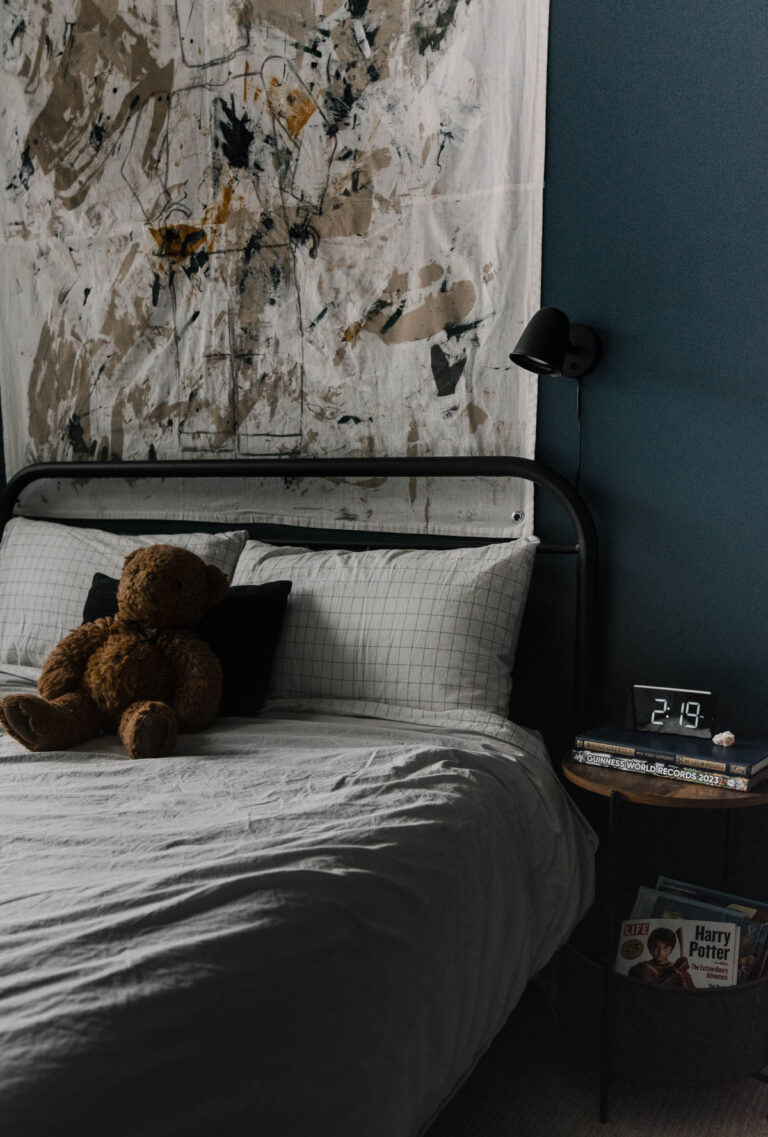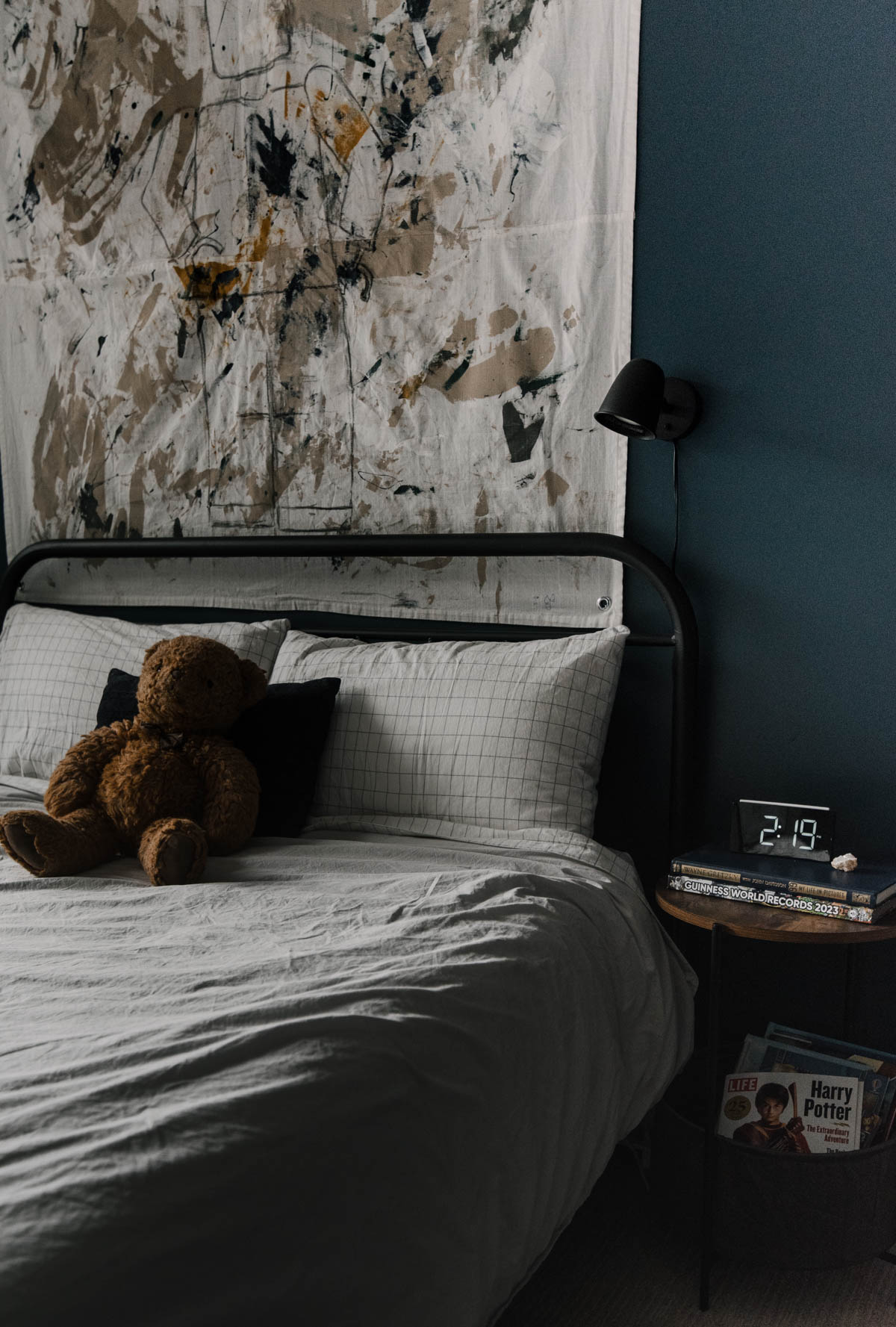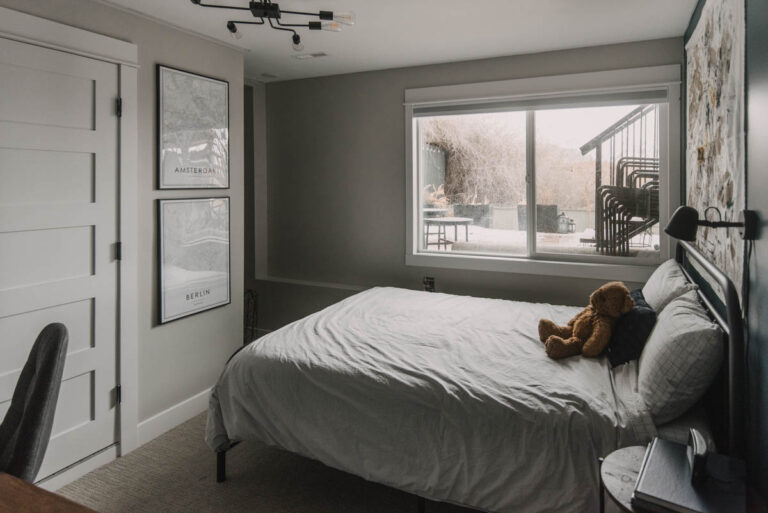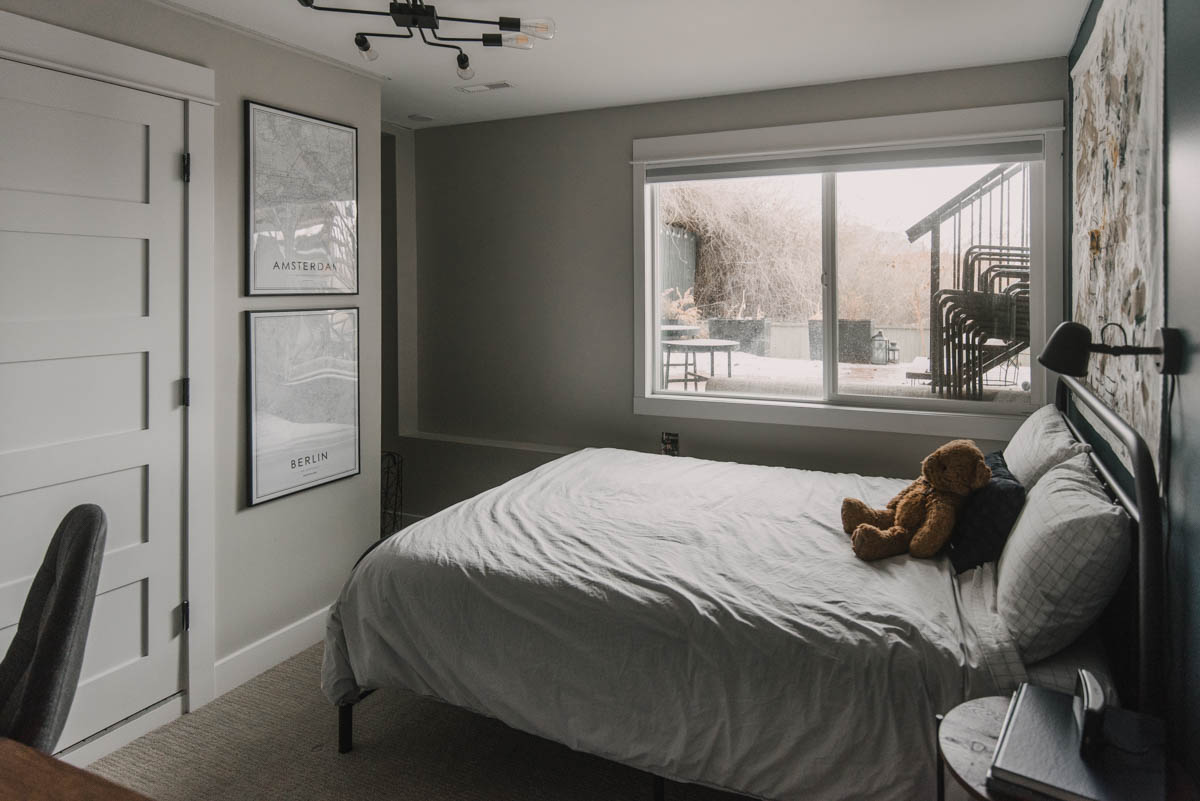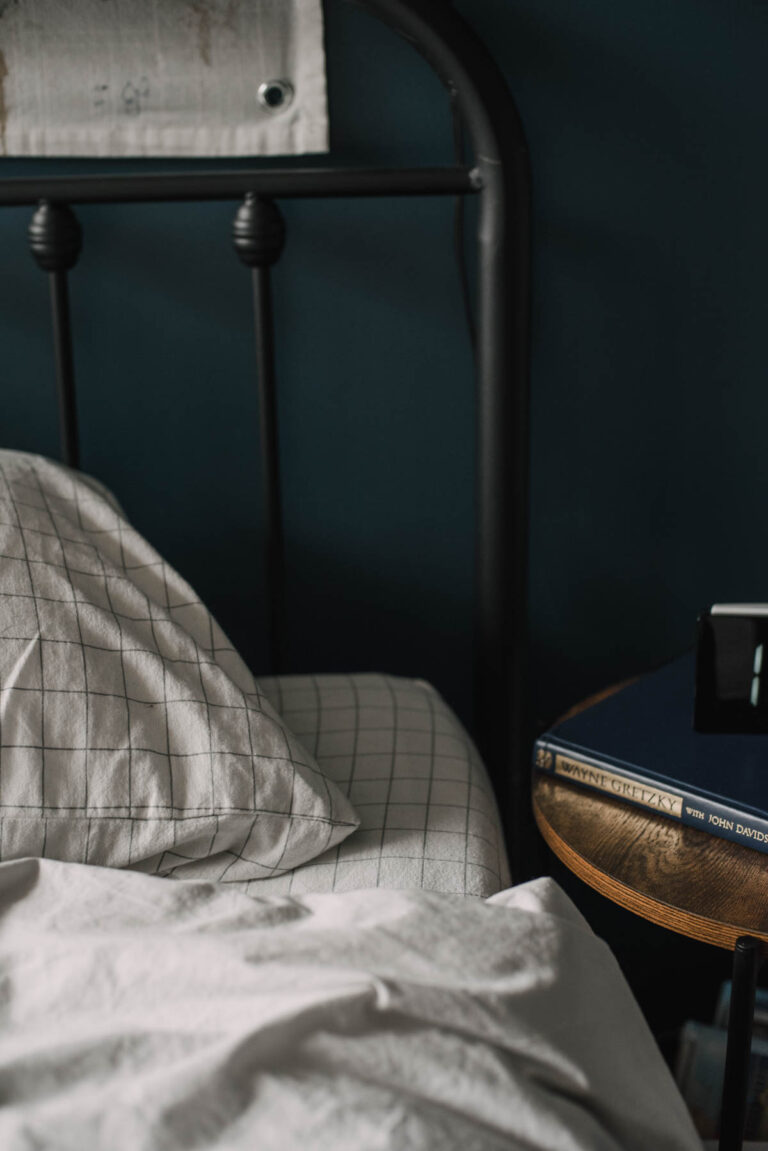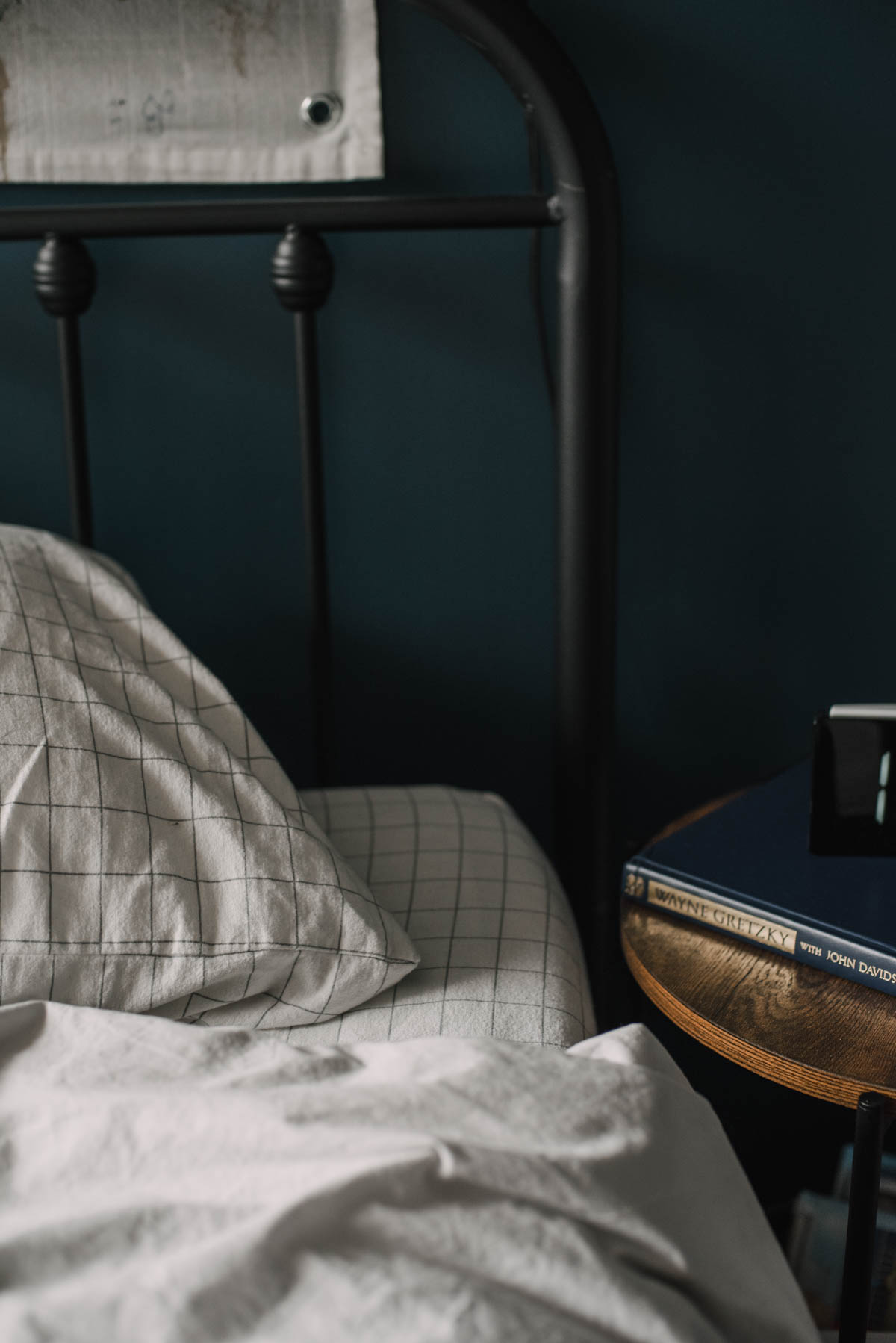 He really wanted simple, grown up looking bedding. We chose these windowpane flannel sheets we found at Homesense and a plain greige duvet cover from Indigo for the bedding. He likes this one throw pillow we've had for years in here (it's a great match!) and displayed a teddy bear I've had since my 1st birthday. I'd put a bugs bunny one out and he swapped it for this, honestly guys, this kid is just so cool.
We found this small, simple nightstand that had both black metal (check!) and a wood top (check!) to match the other finishes in his room. Since it was a tight fit and we chose a smaller nightstand, we didn't want to take up space on there with a lamp. We love wall mounted sconces for bedside lamps. You can see we've done that here and here as well. This is just a simple IKEA one.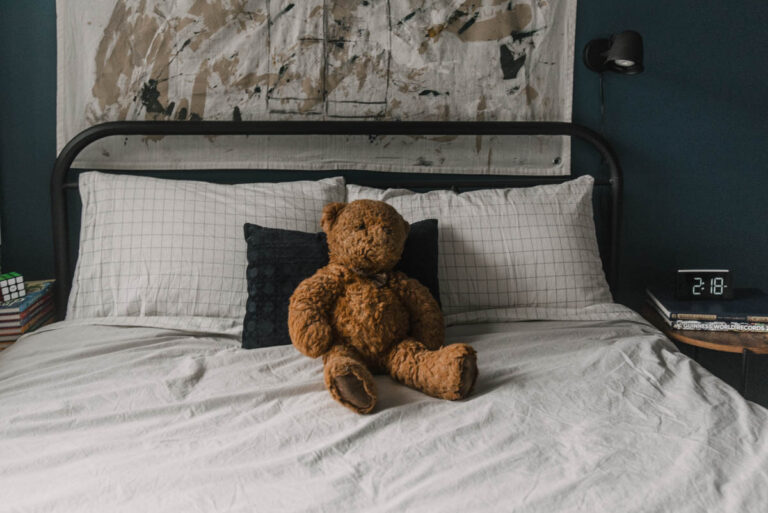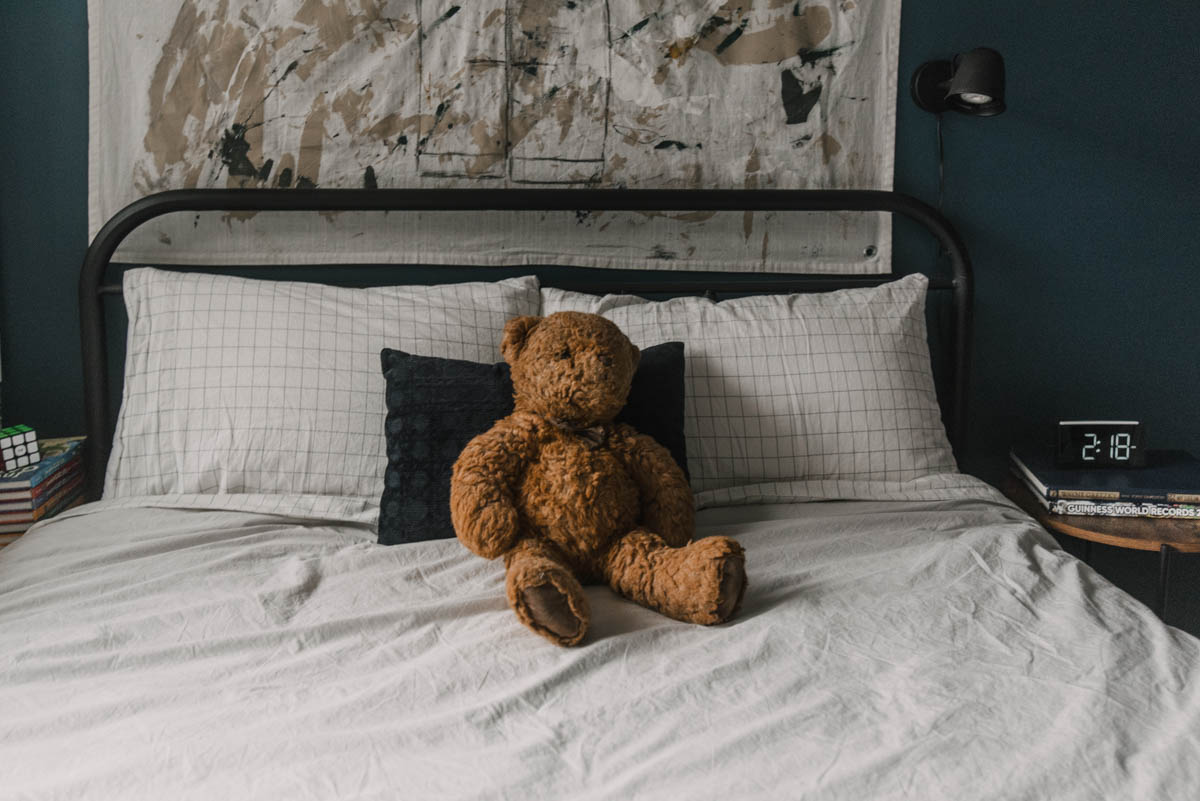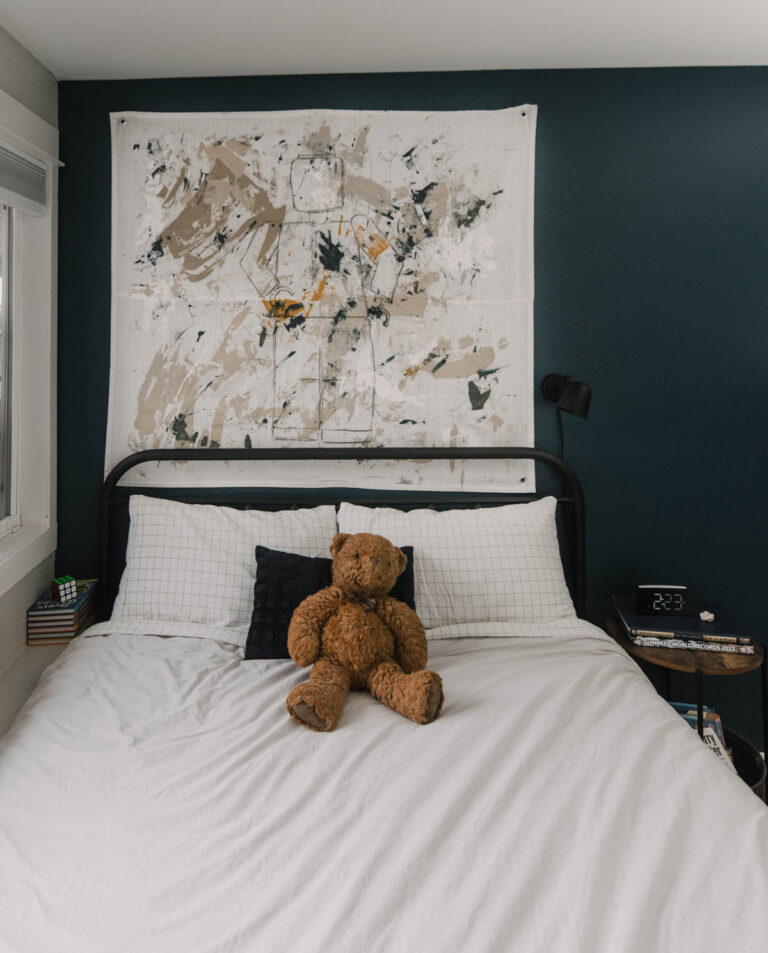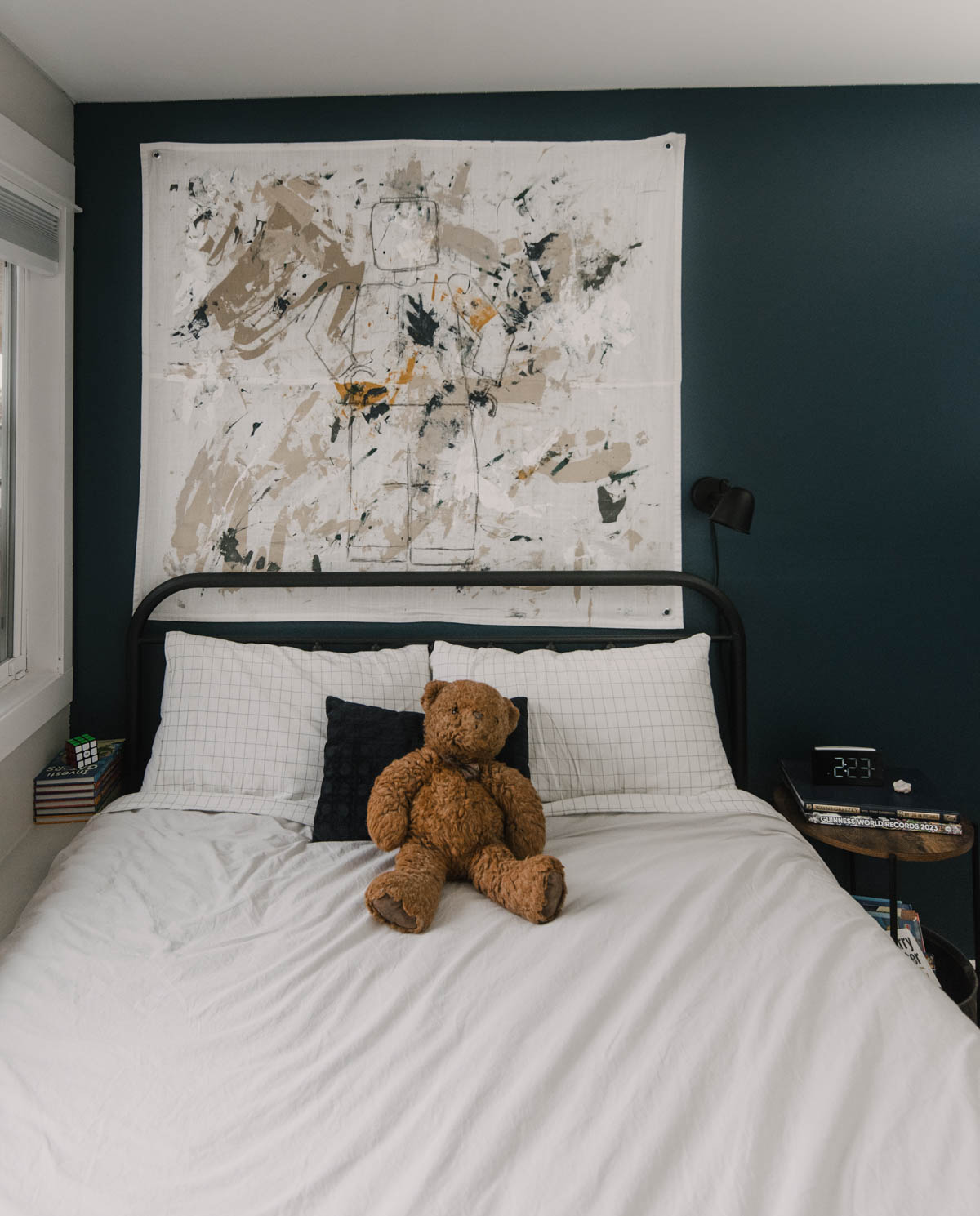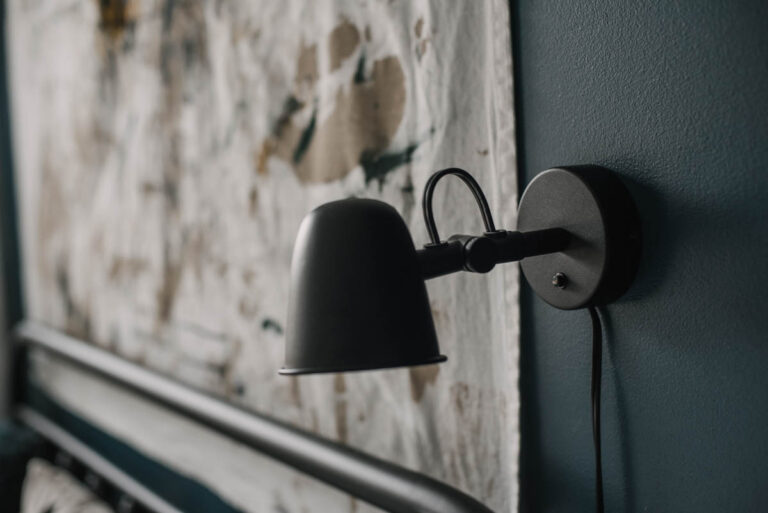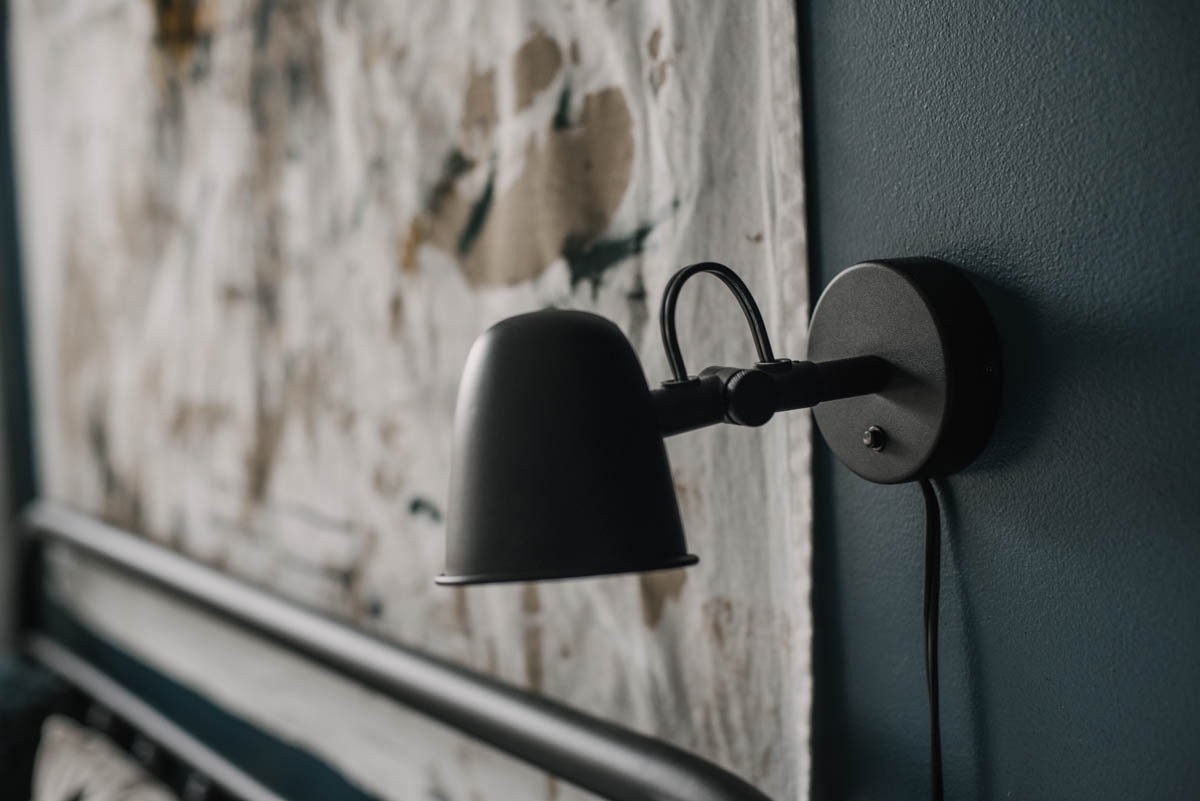 I'm pretty sure E is going to grow up and be a minimalist. He really didn't want curtains or a bamboo shade – just plain white shades. He had a list of things he didn't want in fact. To avoid having all his creations on his desk, he asked for shelves to be able to keep his creations up high, away from his younger siblings.
We decided to build in a desk to fit the space perfectly and build matching open shelving above. We used the same general idea to build this desk as we did the built-in desk in the boys' bedroom. We used an IKEA Alex drawer unit and painted it to match the walls (enamel paint is a dream!), then created a waterfall countertop using 2×8 planks. You can see more about how we installed that in the other bedroom (but using plywood for the desktop) here.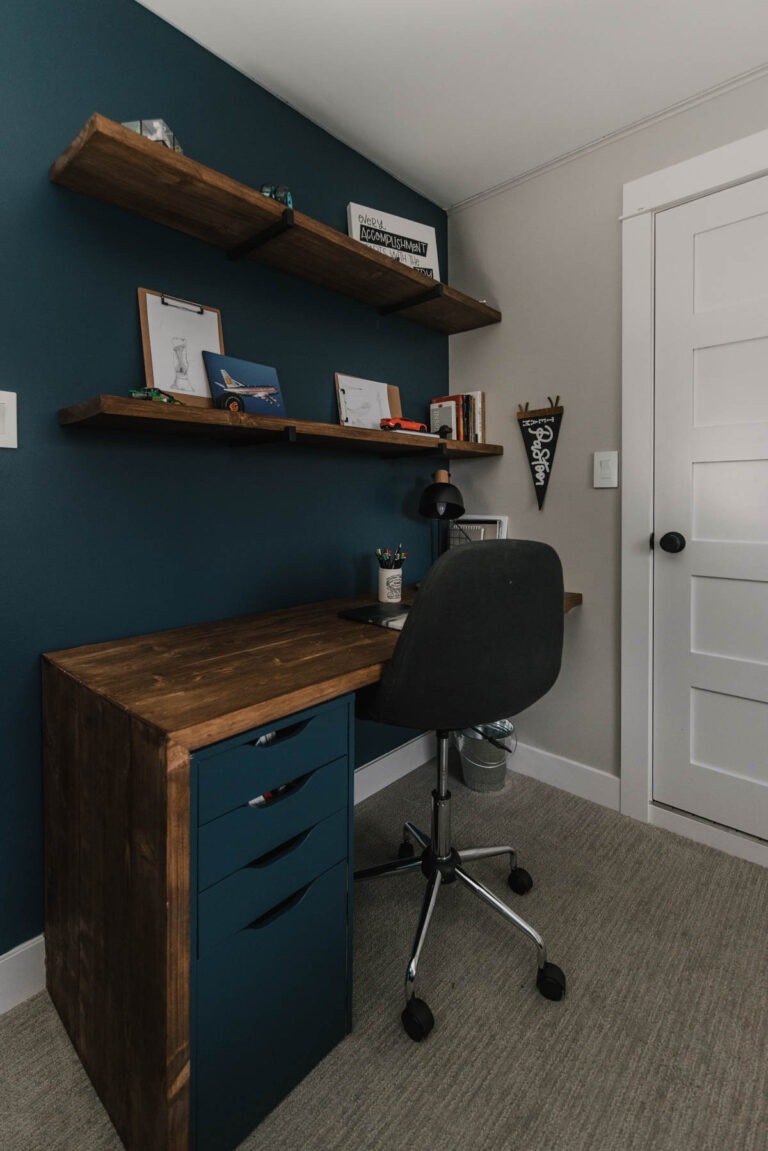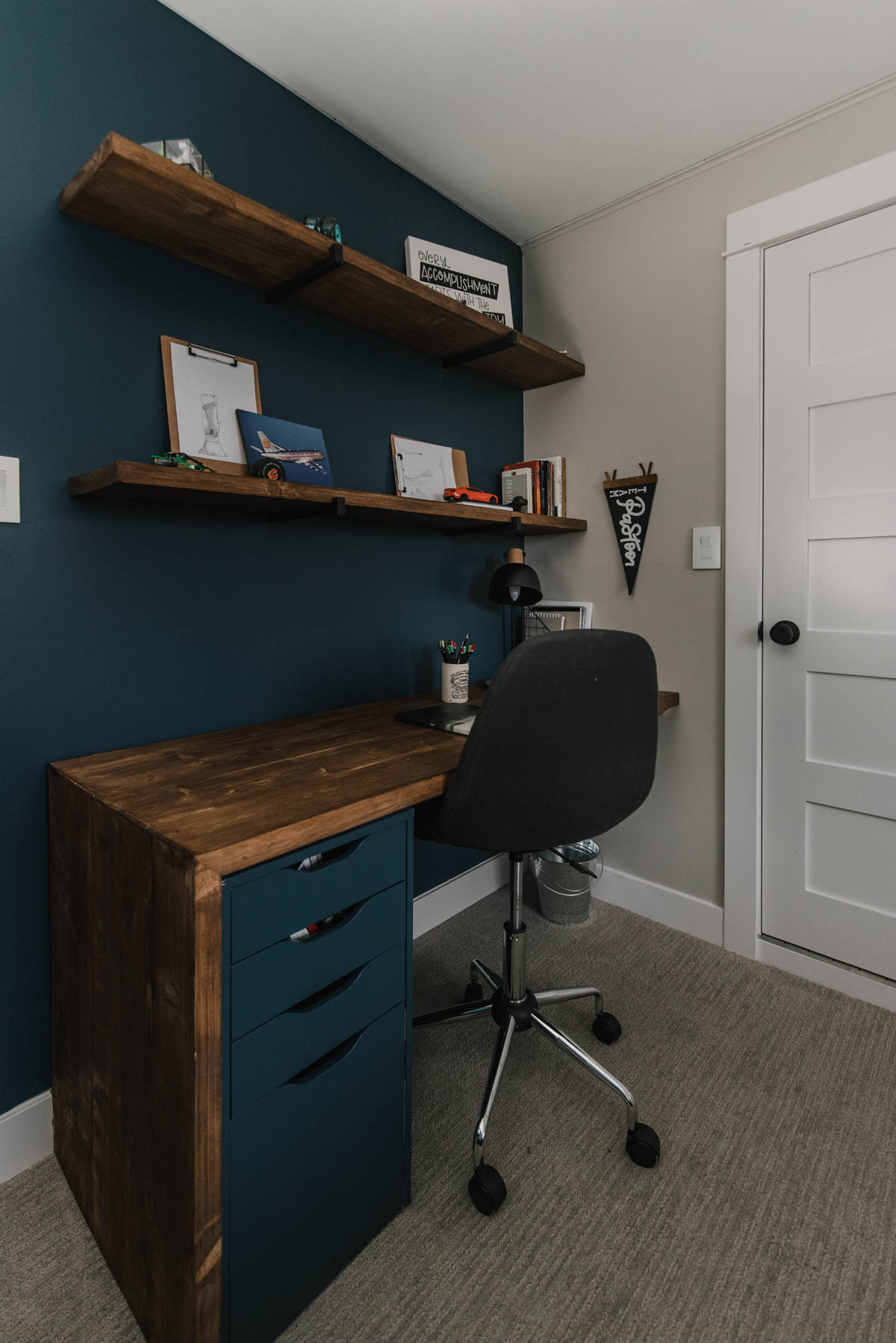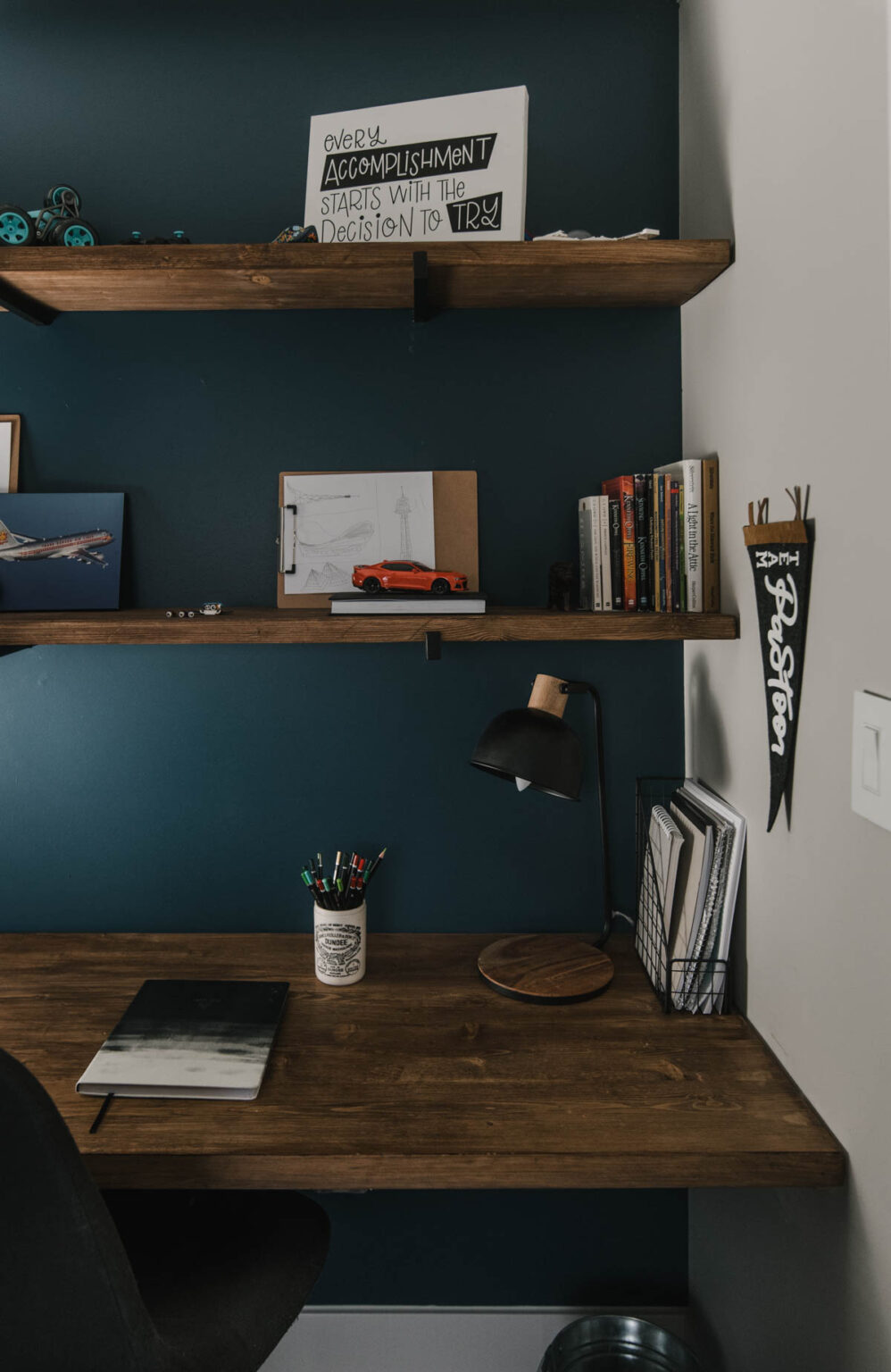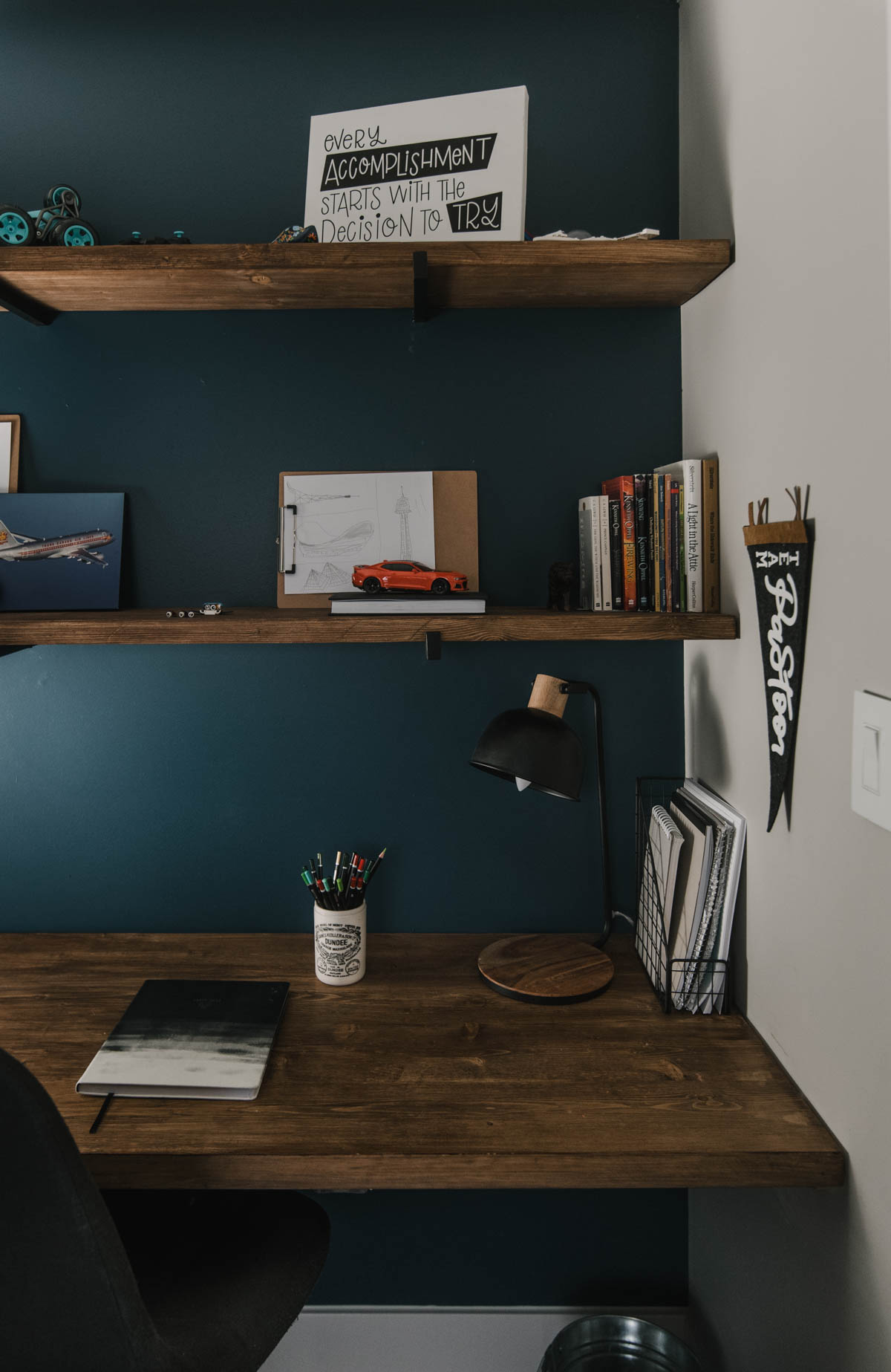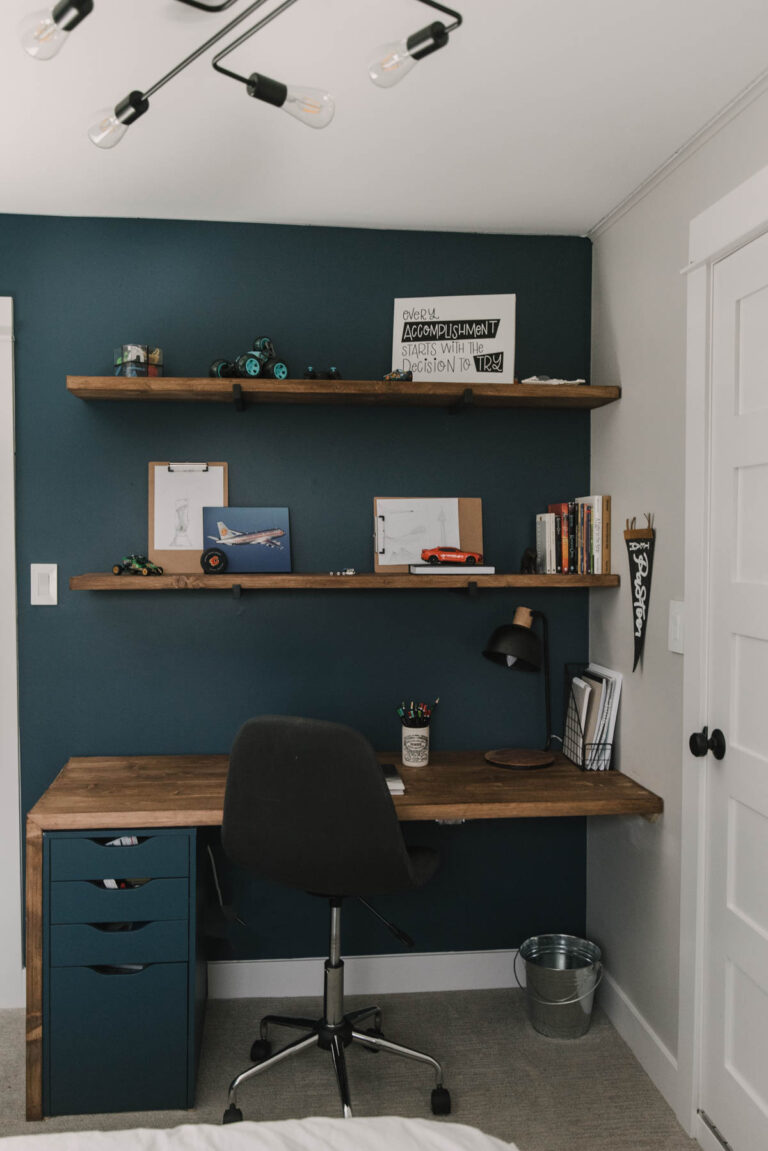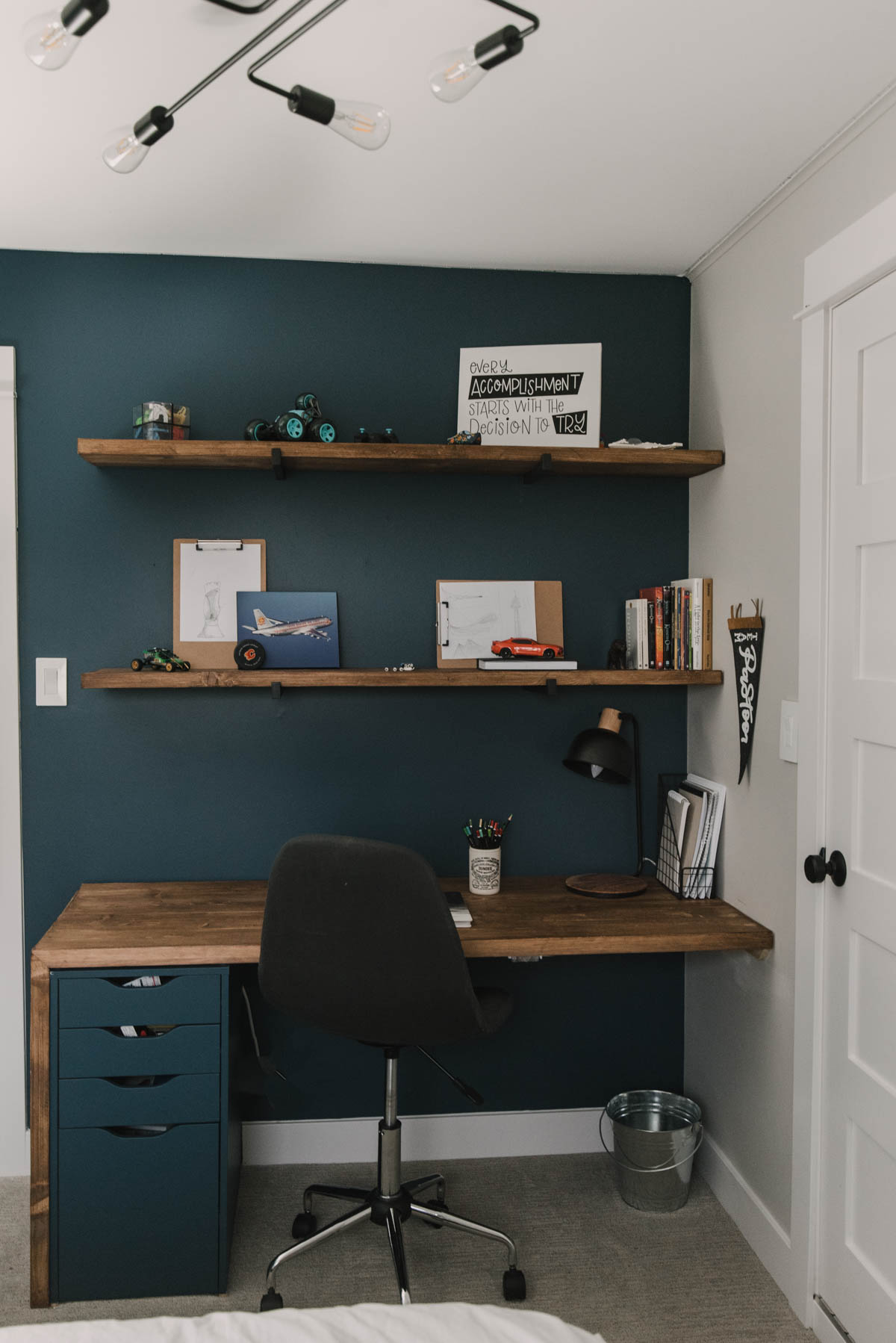 The shelves are also just 2x8s and we used these shelf brackets from Amazon. We used Special Walnut stain for these to match his nightstand, the colour is perfect with the blue! I can't wait for him to fill the shelves with all of his creations! I styled it all while he was at school, he's been filling the shelves with treasures, a little each day since. We added a couple clipboards so he could display his favourite sketches of the week- simple and affordable DIY tween bedroom decor win!
We tested out painting fabric on this office chair- it worked really well! We followed this tutorial, my only learning is to shave the fabric first- we didn't and definitely should have. We were using a chair I'd had in my office that my toddler spilled paint on years ago. If you're choosing a chair second hand, I would choose one with a tighter weave.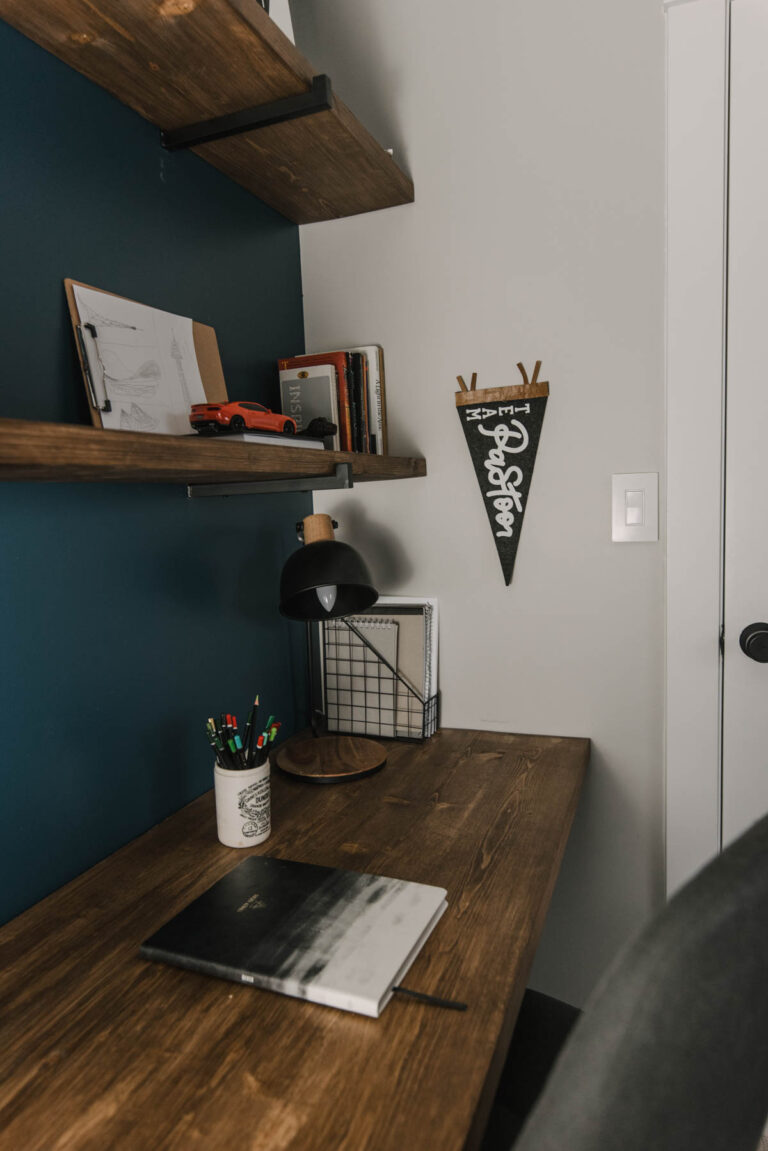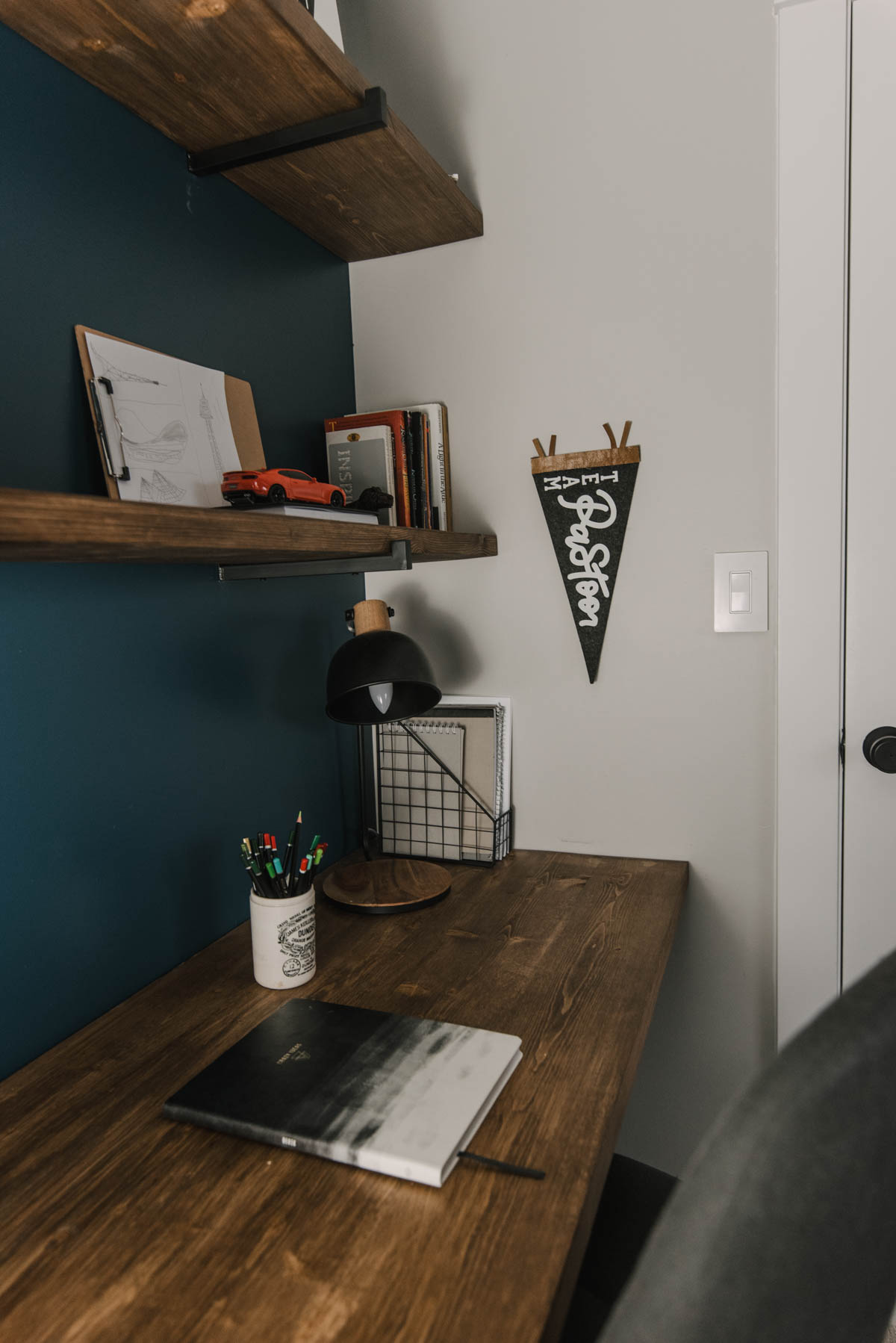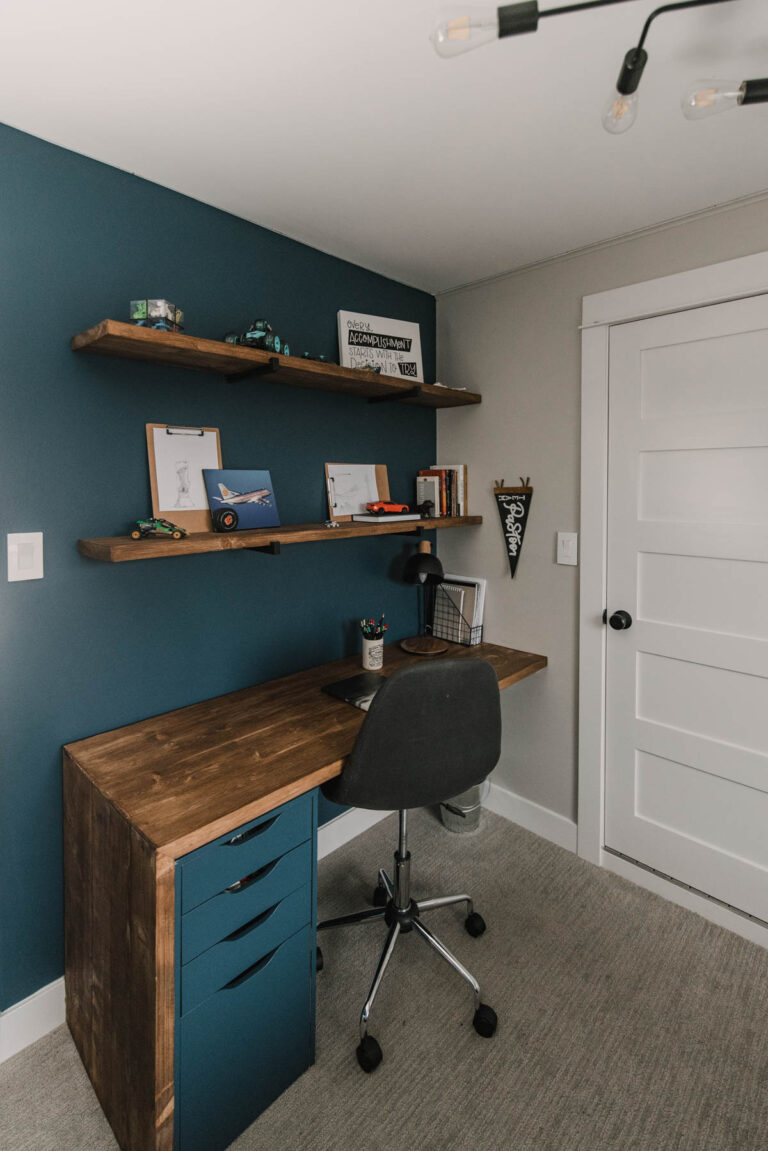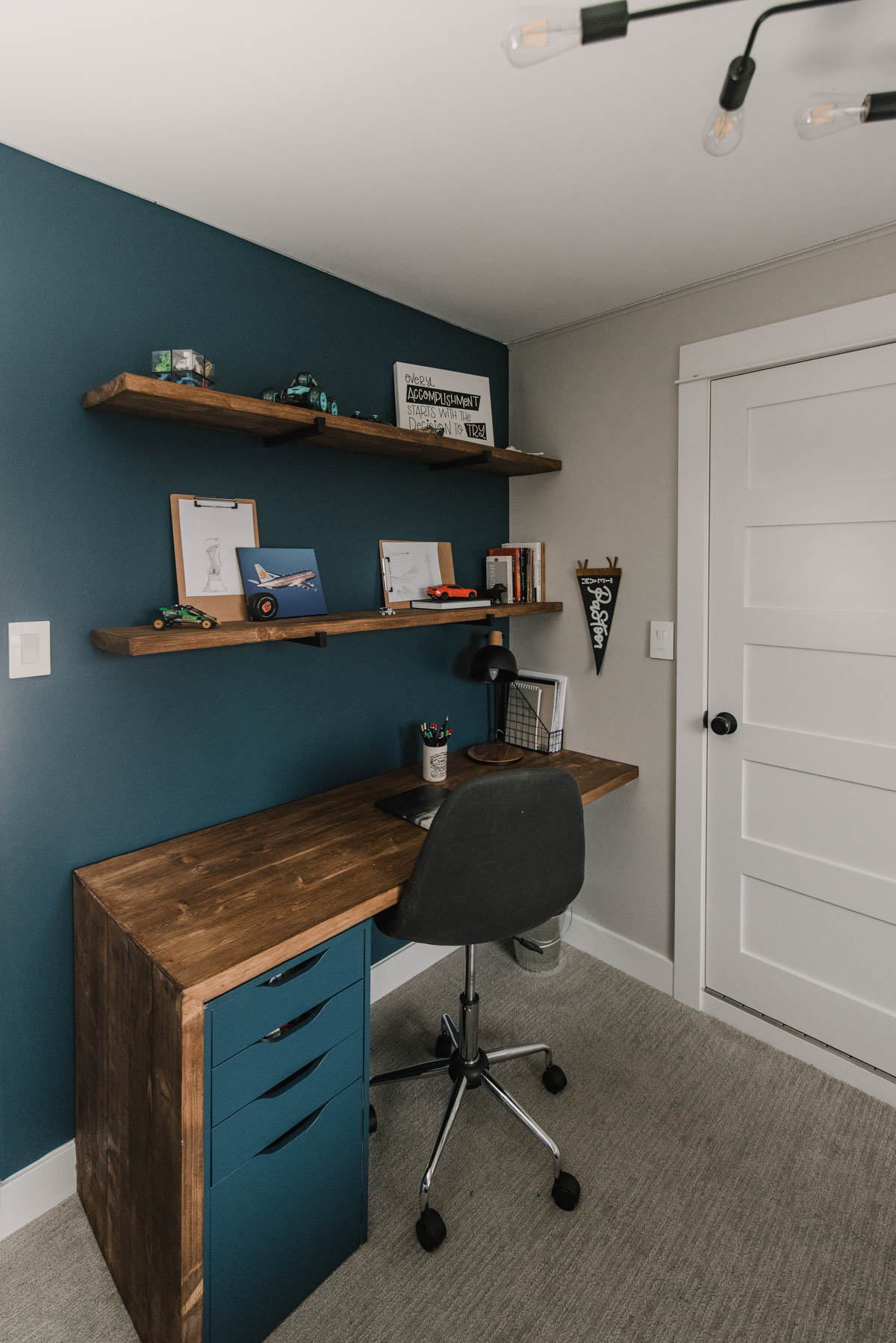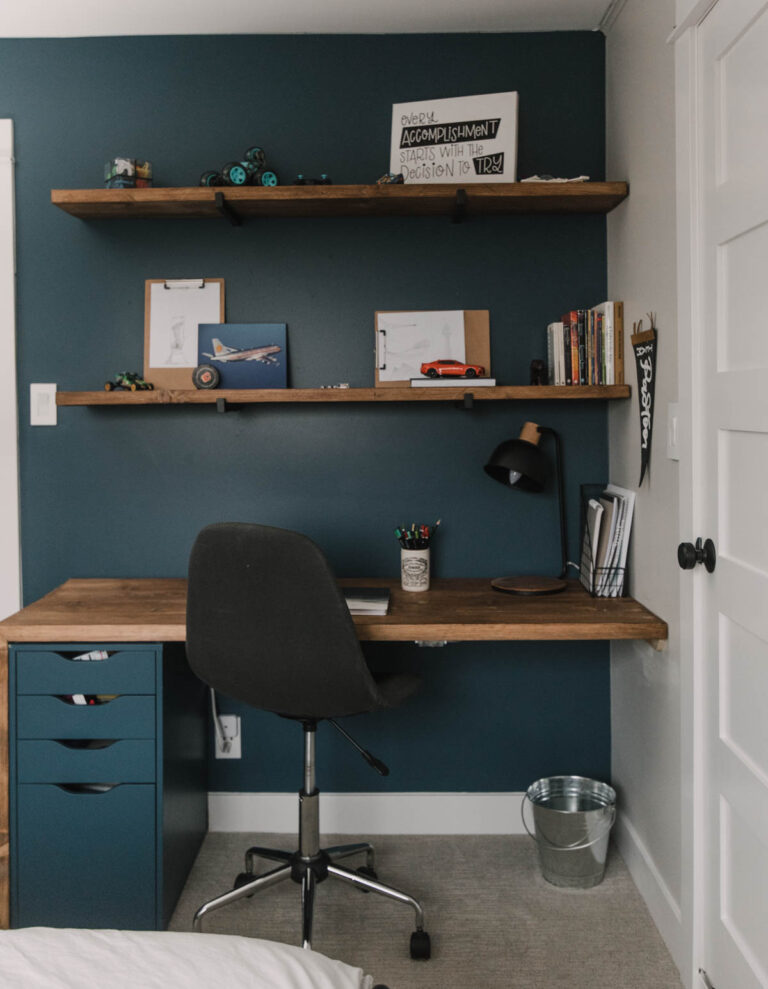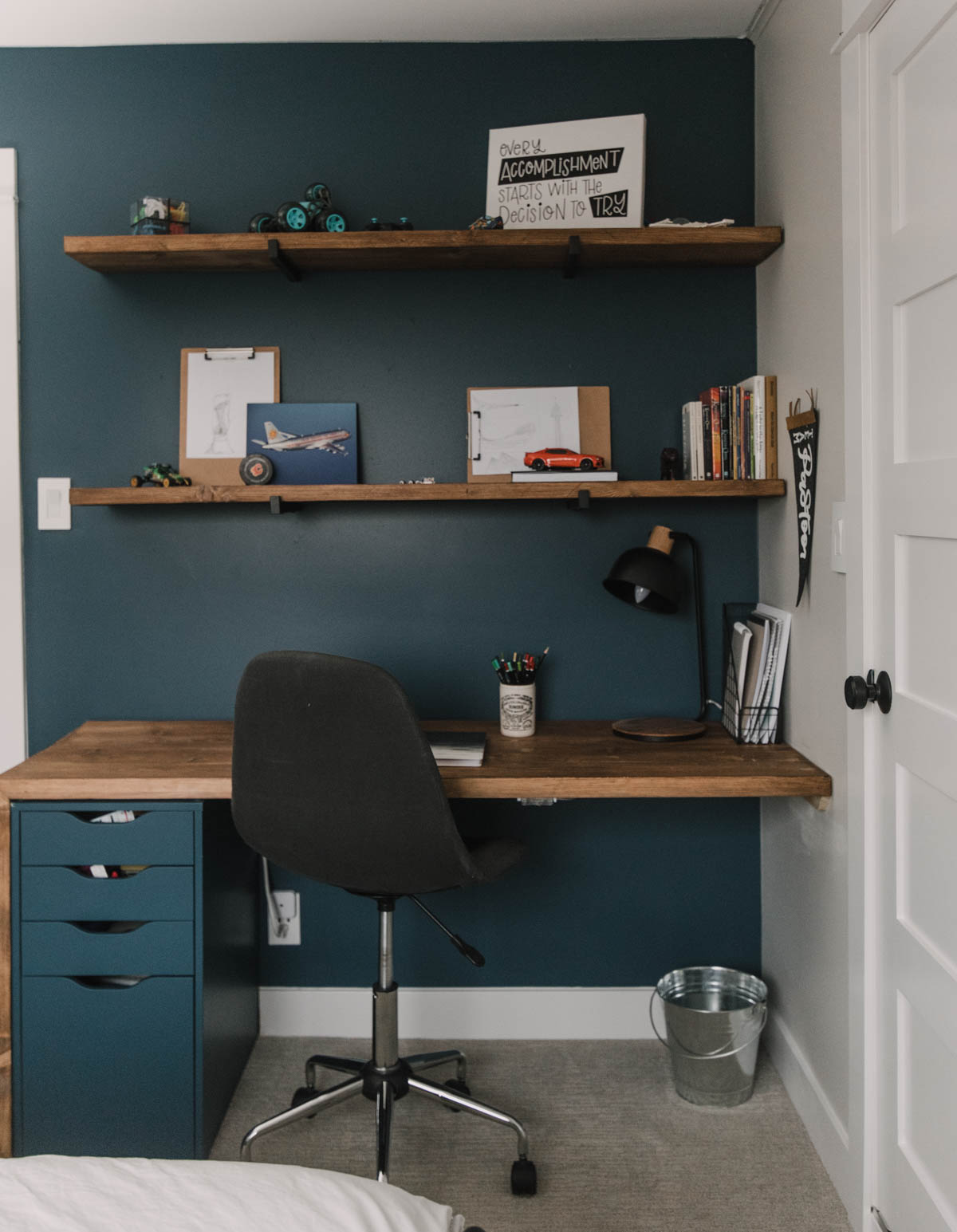 Once we had all those functional items over it was time to add some wall art full of personality! We brainstormed DIY Tween bedroom decor that would be affordable to create and a fun reflection of his style. He moved one of our felt and leather wall pennants into his room as well as some art that he'd collected from around the house (that top one is a free printable here!).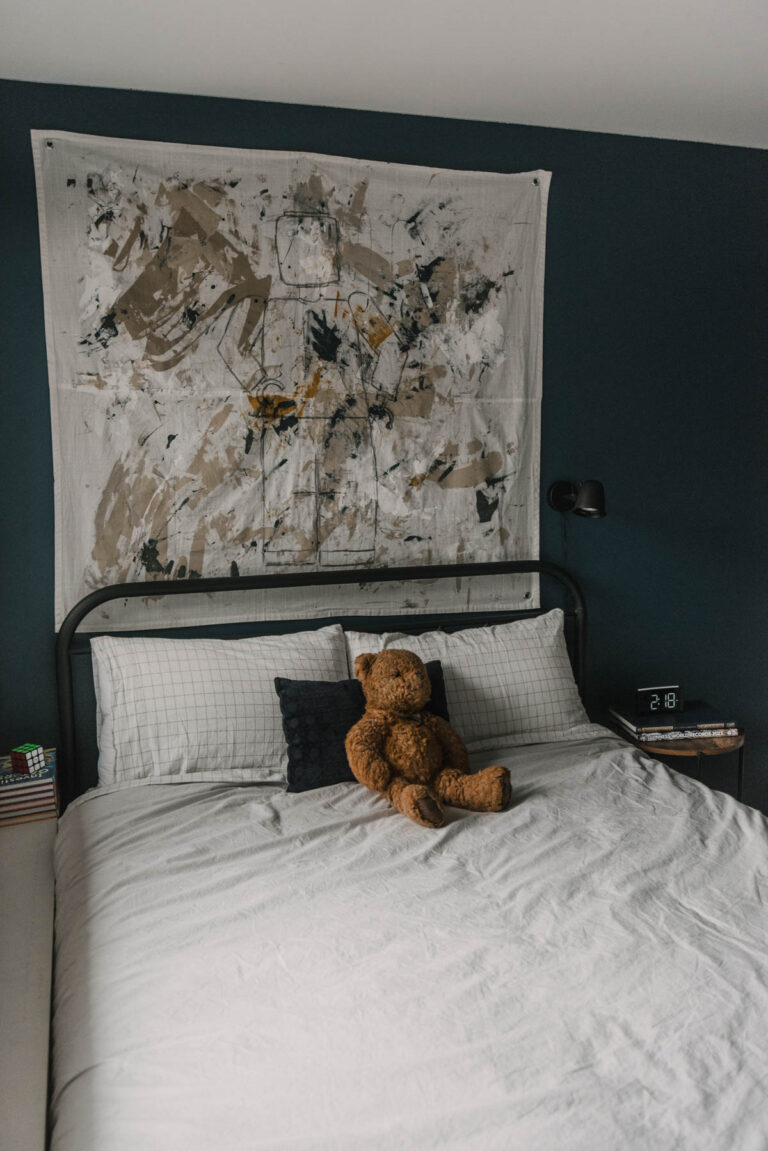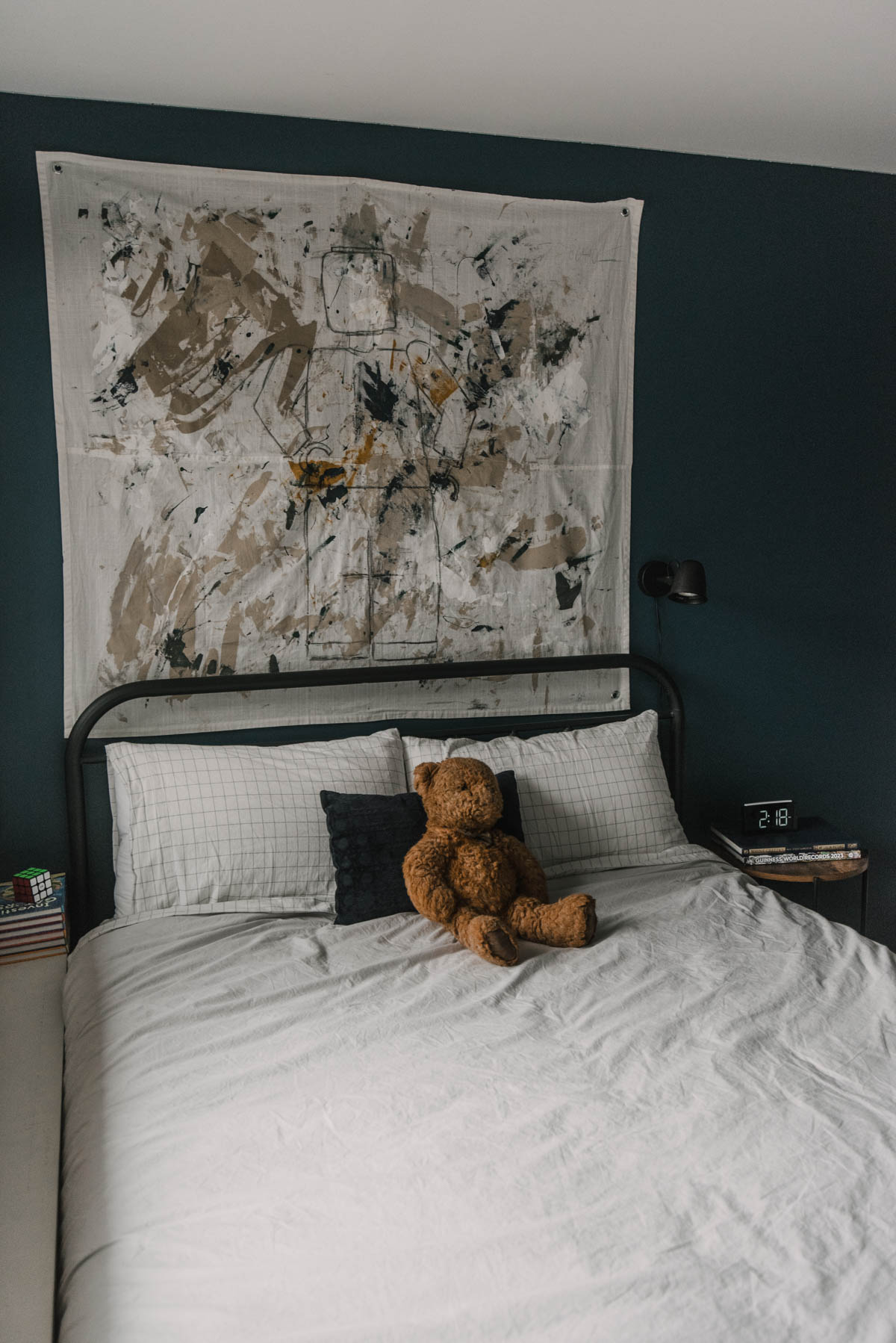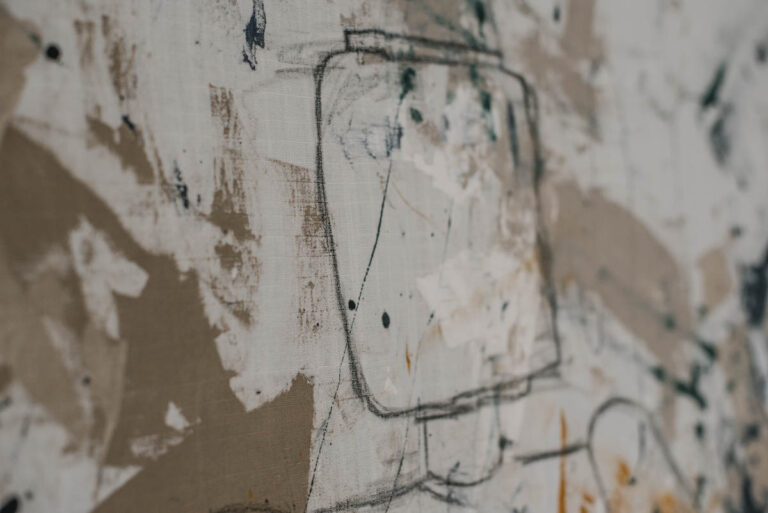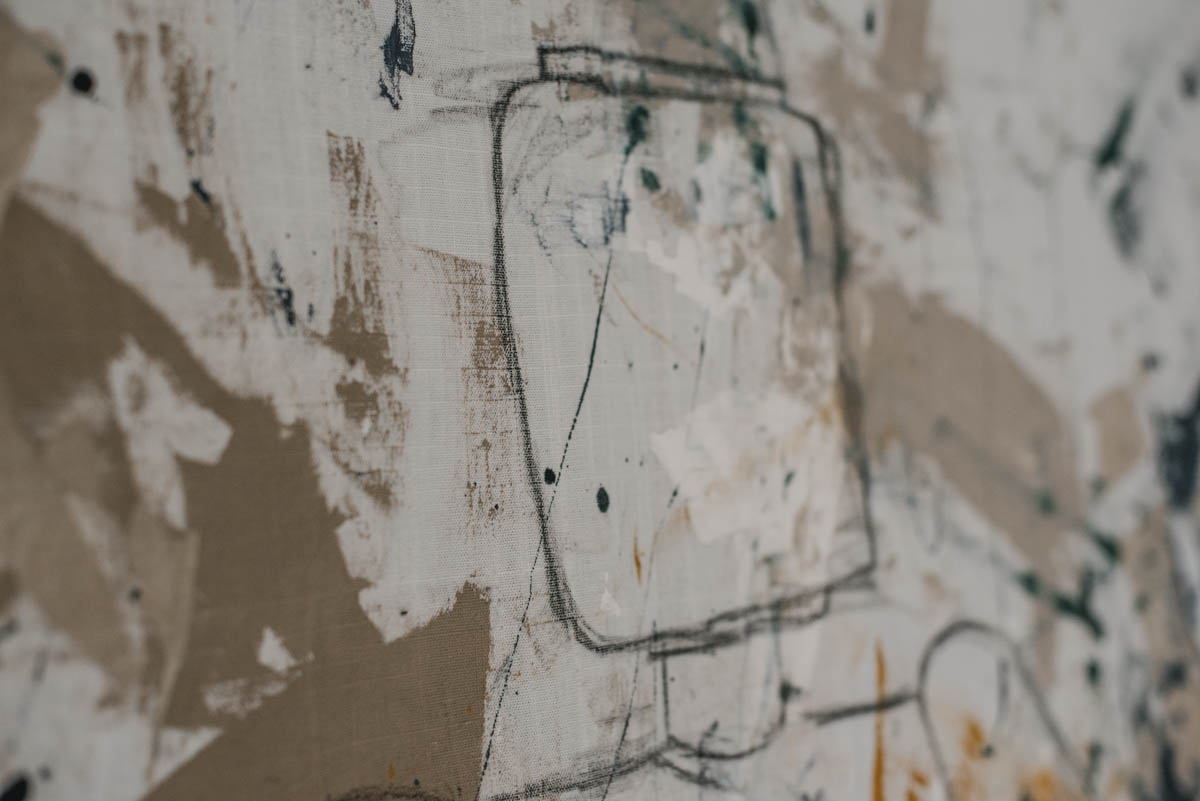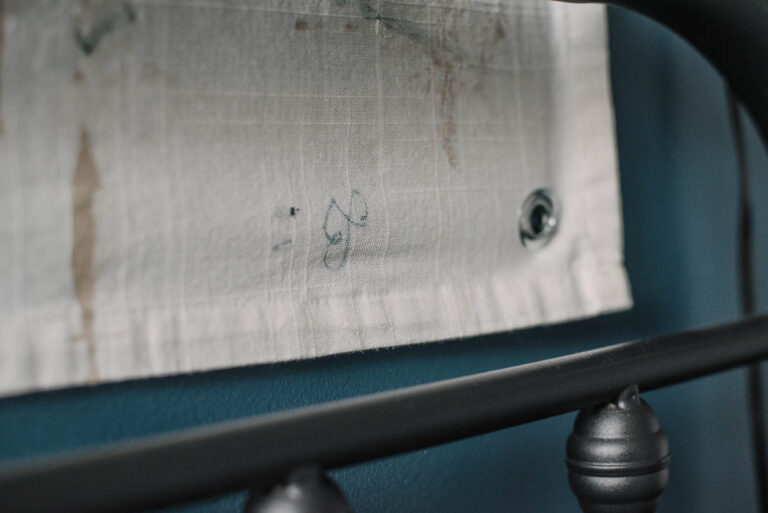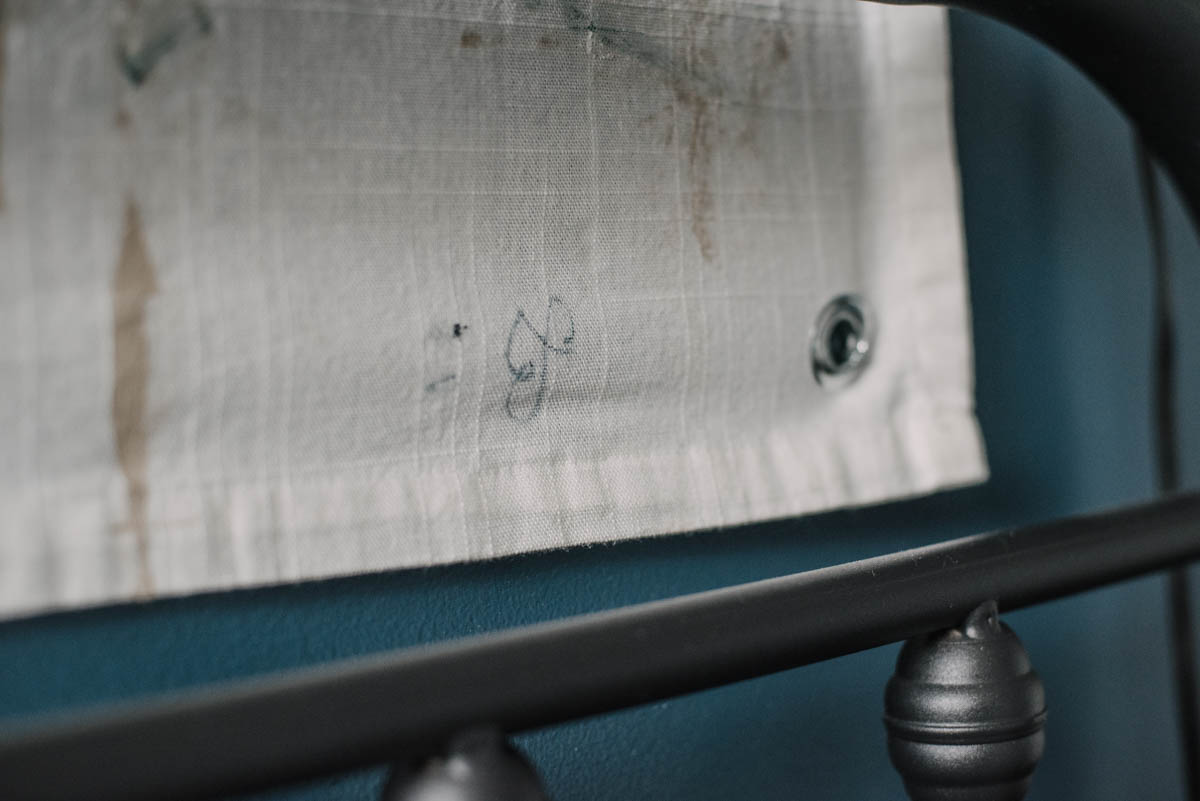 We also decided to DIY this large wall hanging. It was a fun project to work on together, I sewed a couple scraps of curtains (from hemming curtains in our bay windows) together into a wall flag, then we got to painting together.
This DIY tween bedroom decor project was totally free thanks to my craft supply hoarding. He also signed it which… I just love. You can see a DIY tutorial to make a giant wall hanging like this here.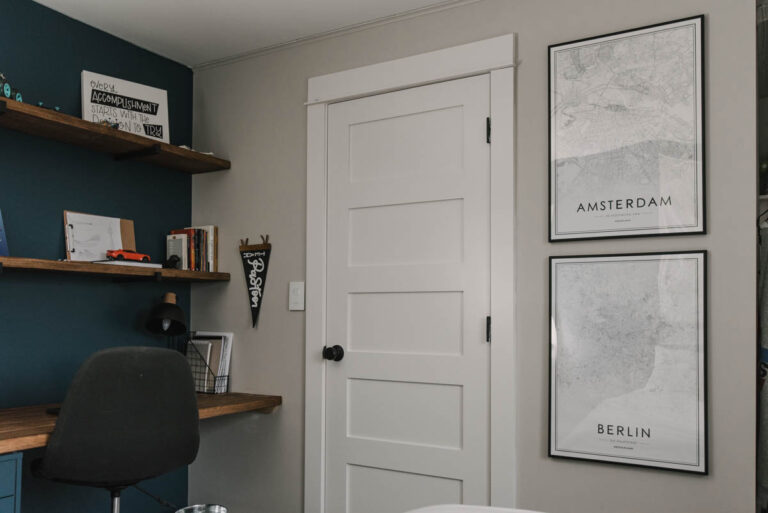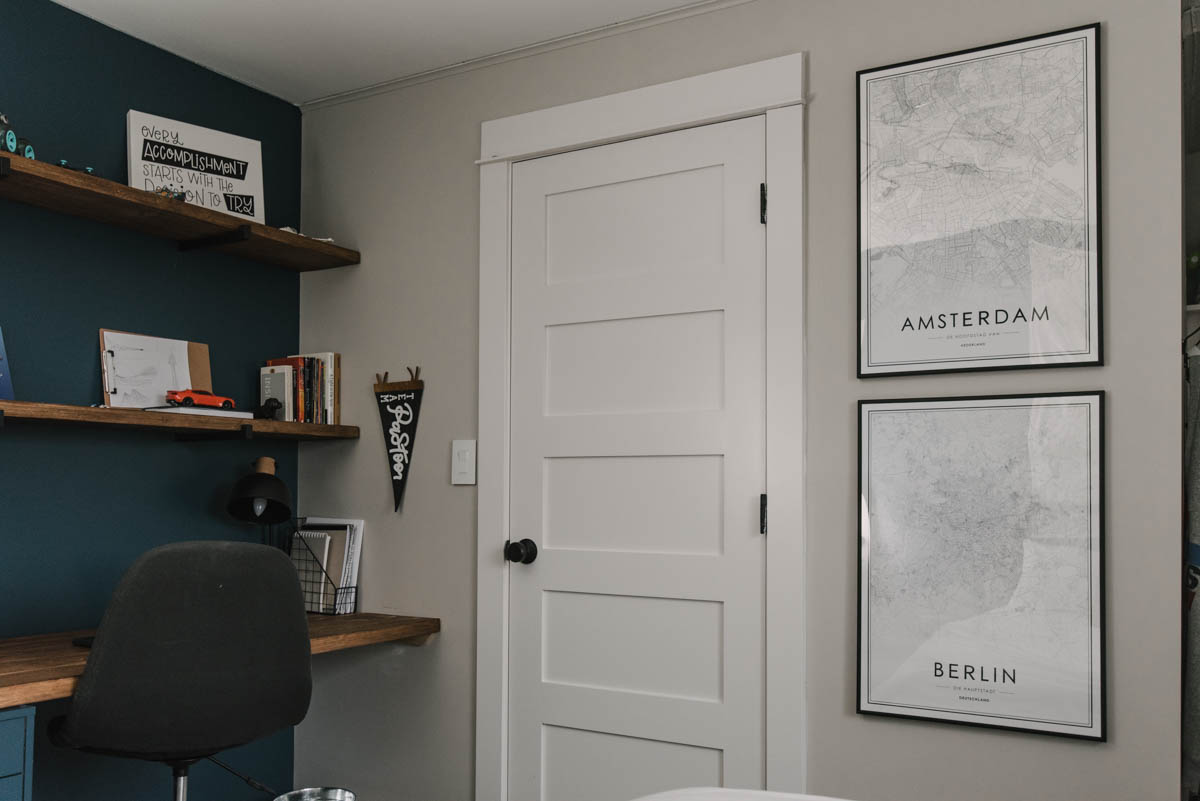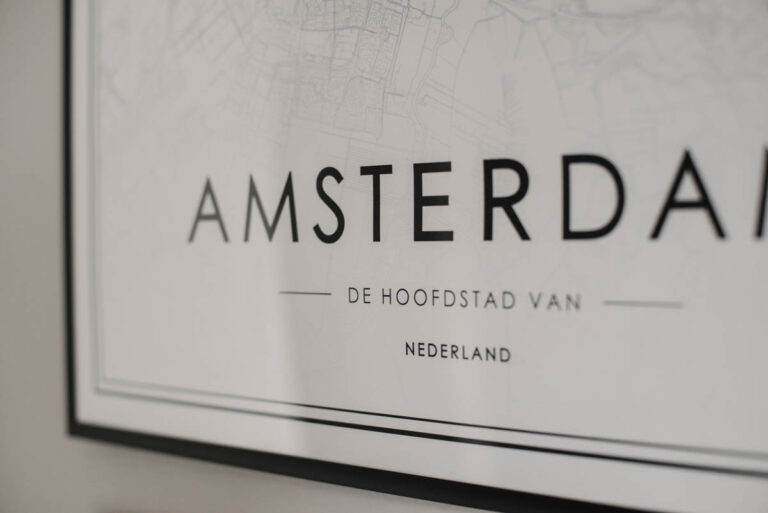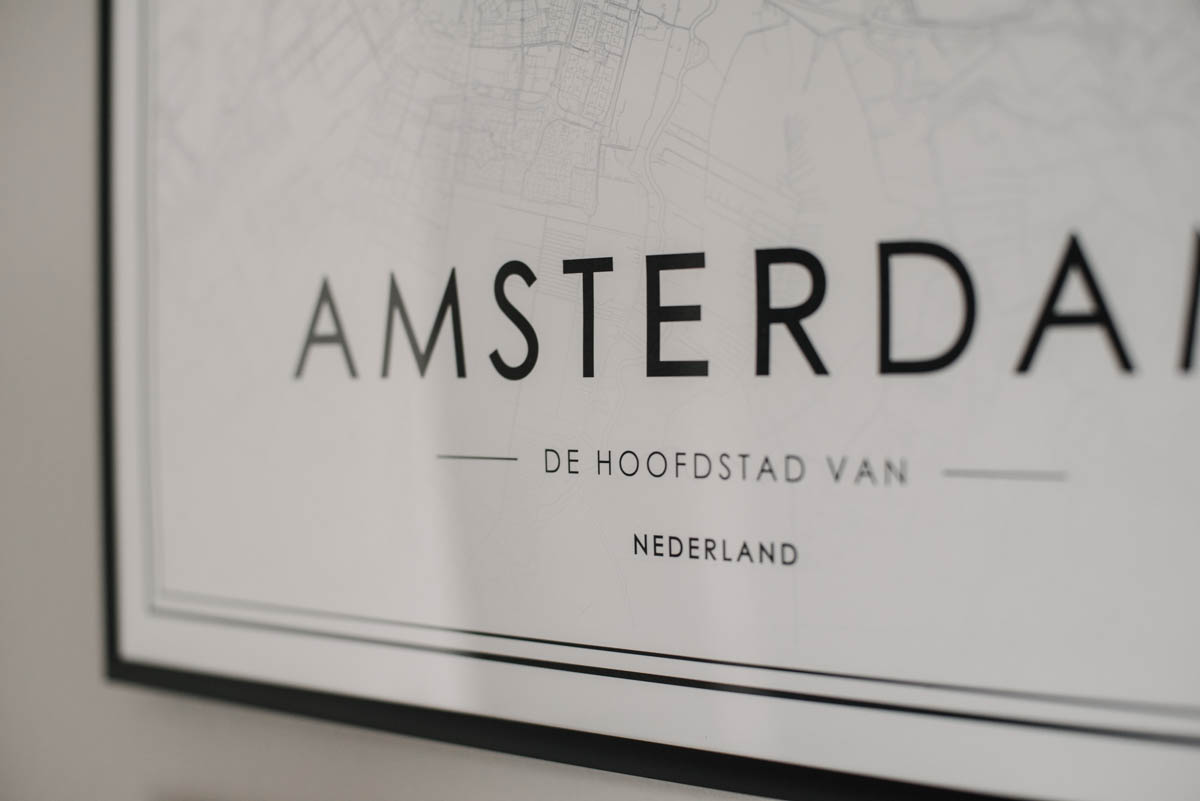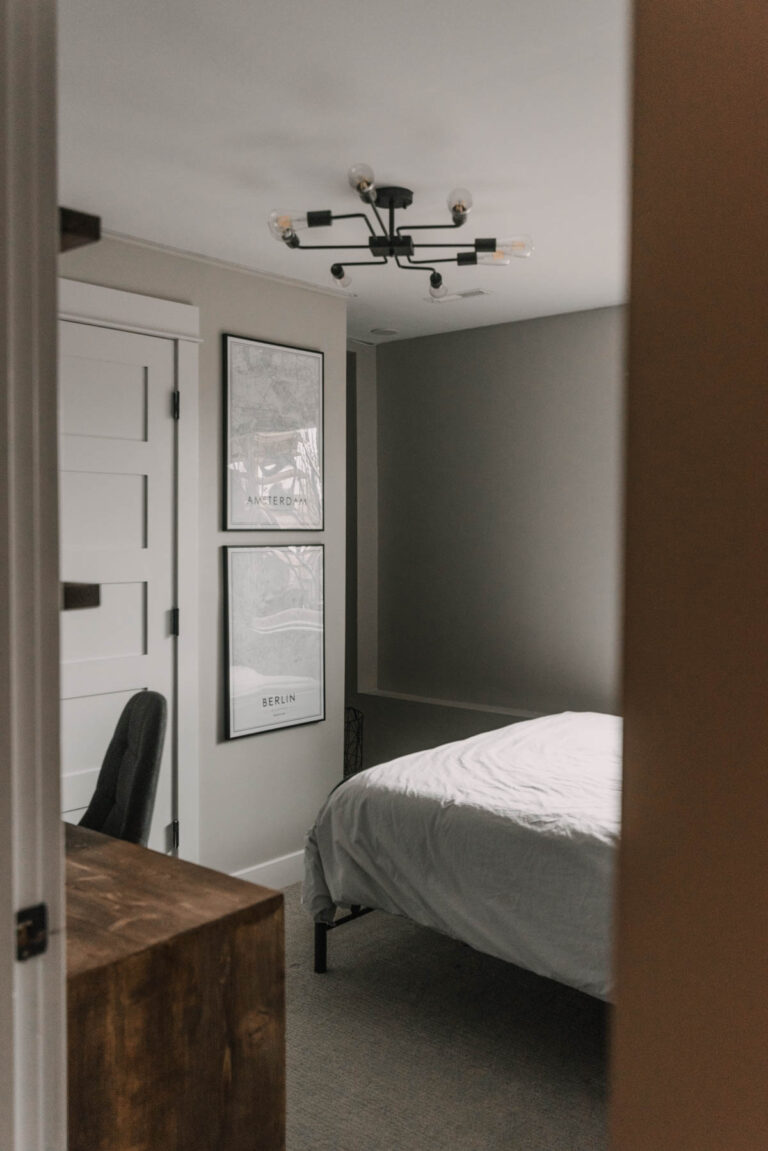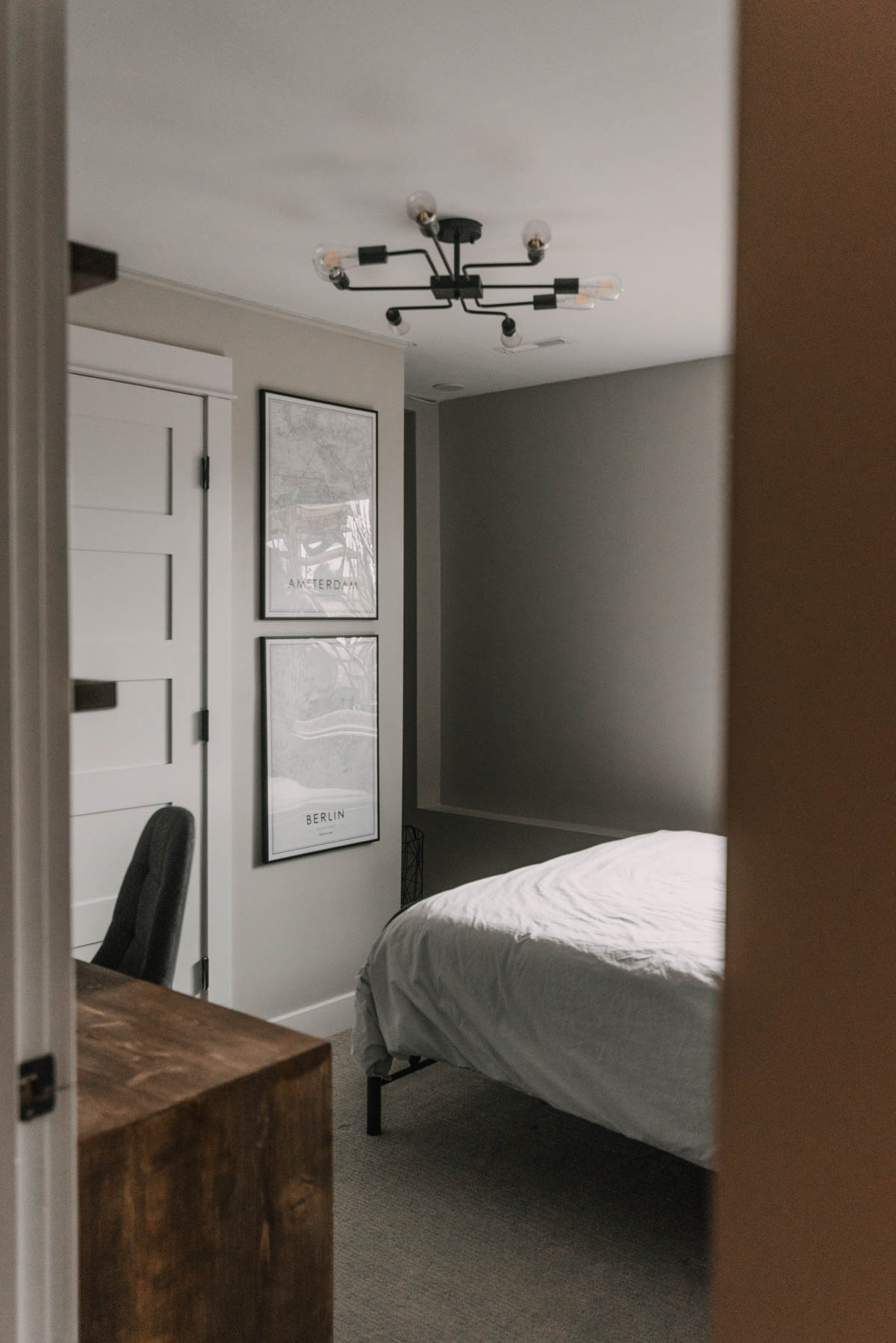 One of the things he absolutely loves is maps and history, he spotted these map prints for some European cities that looked grown up and 'cool' so we ordered those to fill the wall space that he looks at from bed. I love how two larger prints look stacked on a smaller wall. It's such a statement, but the minimal style of the art keeps it from looking too busy. This is what you see from our basement common space- it's such a cool feature to look in to see.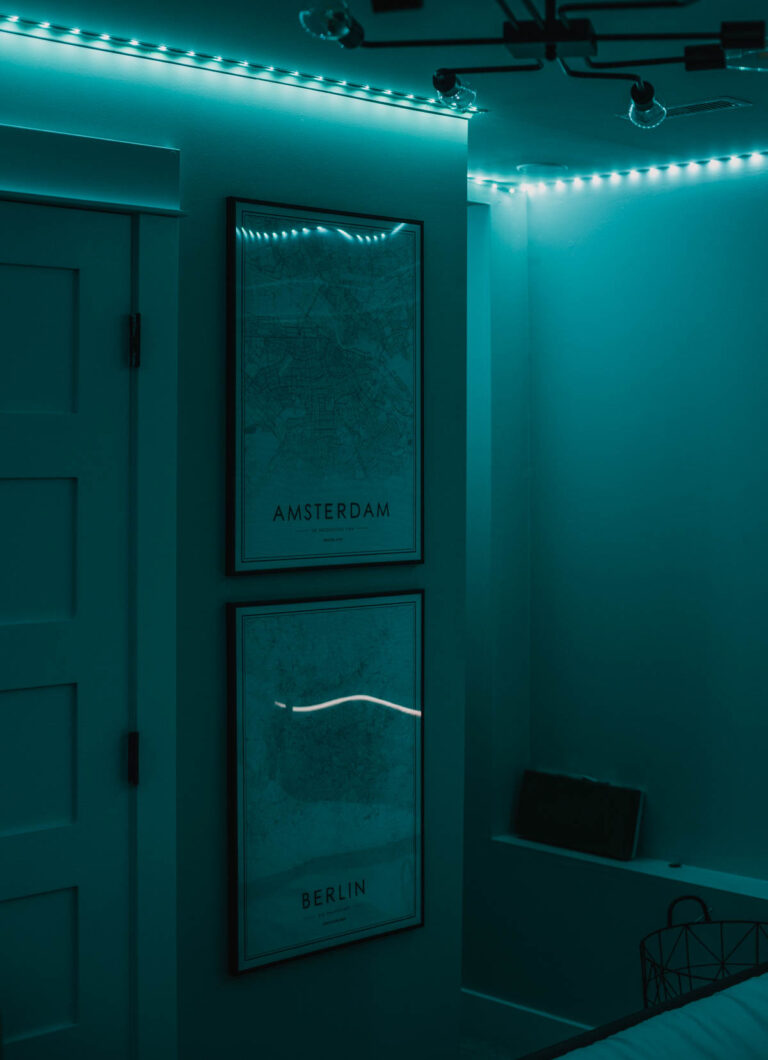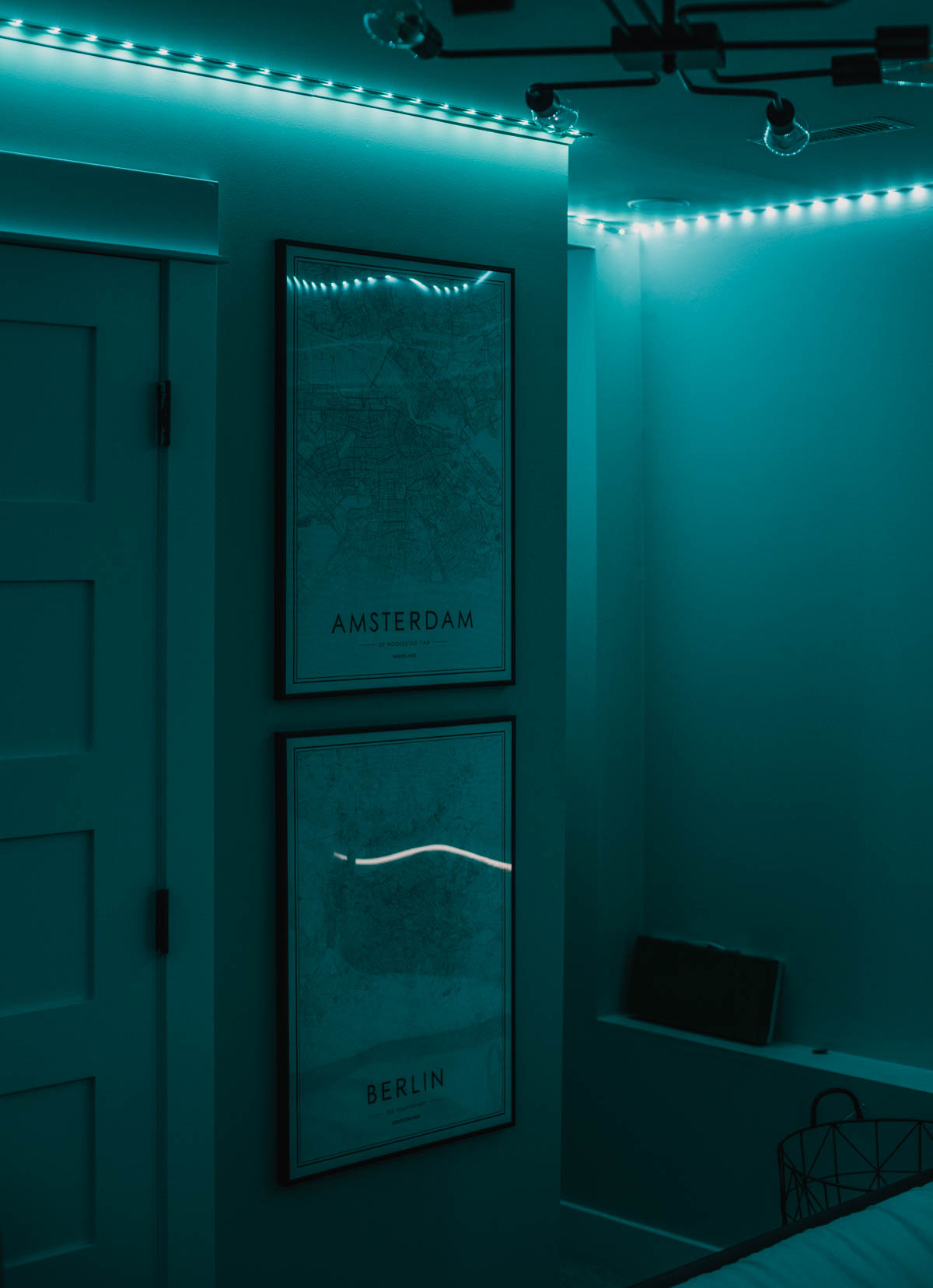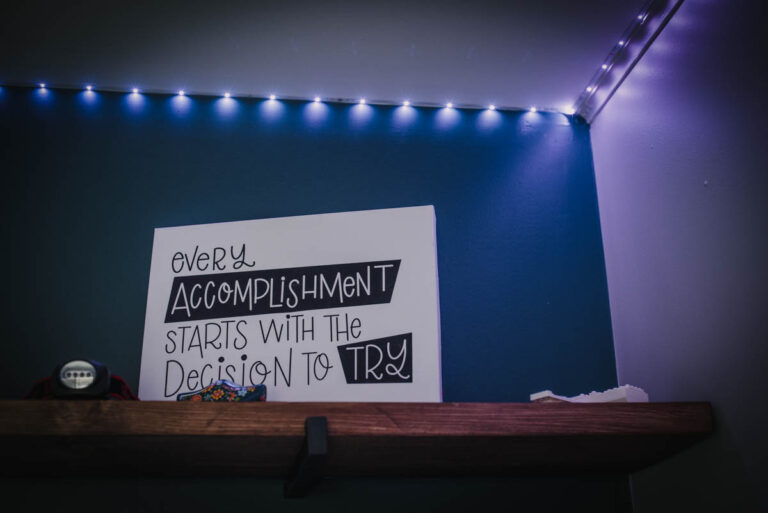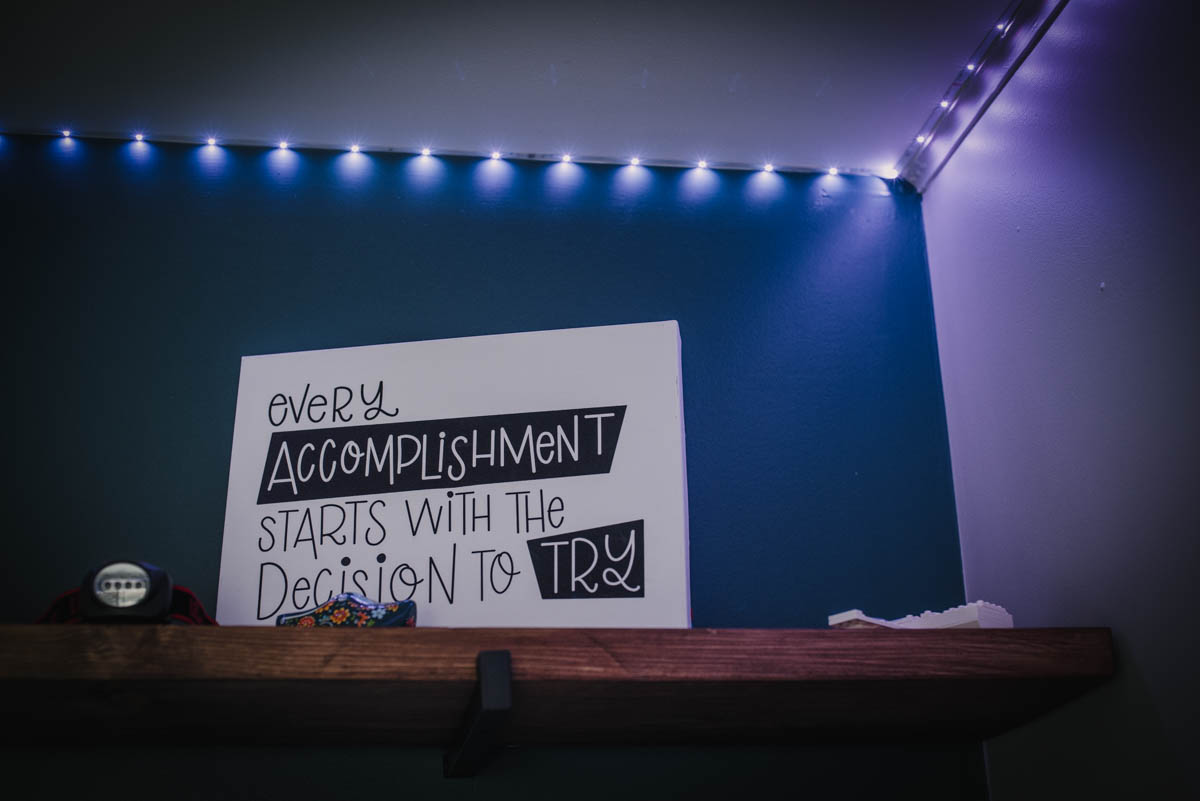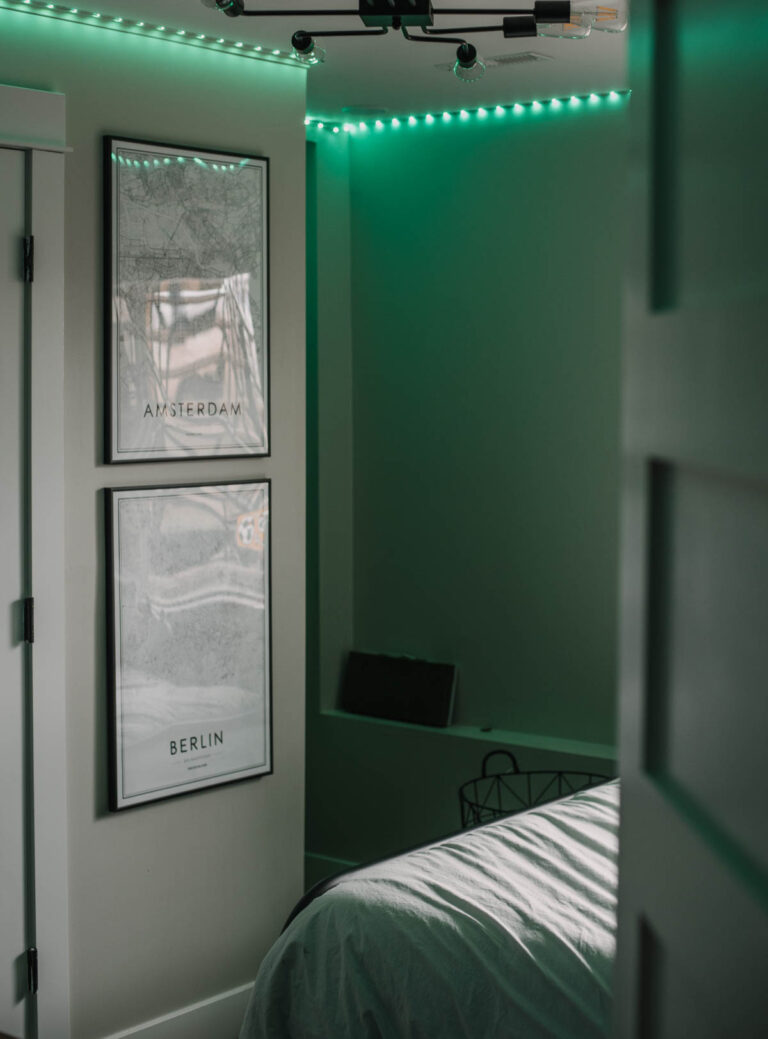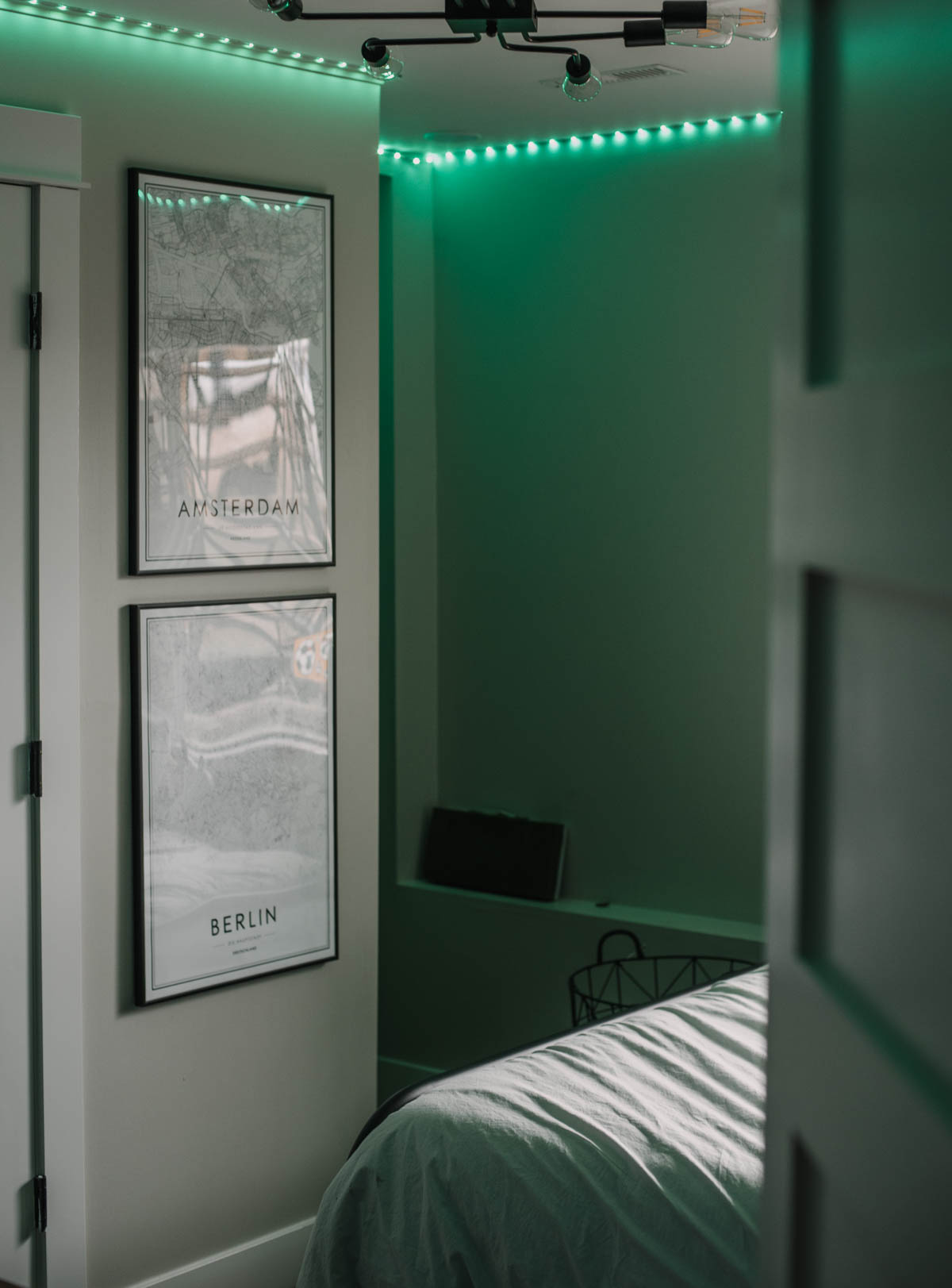 Speaking of features and cool… one of the big requests was LED lights. As someone who gets a headache if the lighting isn't adequately 'warm', I honestly hate this. But I'm not a tween and it's not my bedroom so we ordered these LED strip lights from Amazon and surprised him with them as the finishing touch to his space.
The strip is long enough to make it all the way around the room and came with double sided tape already attached so it was SO easy to put up. You can change the colours with a remote so he keeps them on until he's ready to sleep and turns them off from bed. You can grab them here. Even though they're not my personal preference… they're pretty darn cool.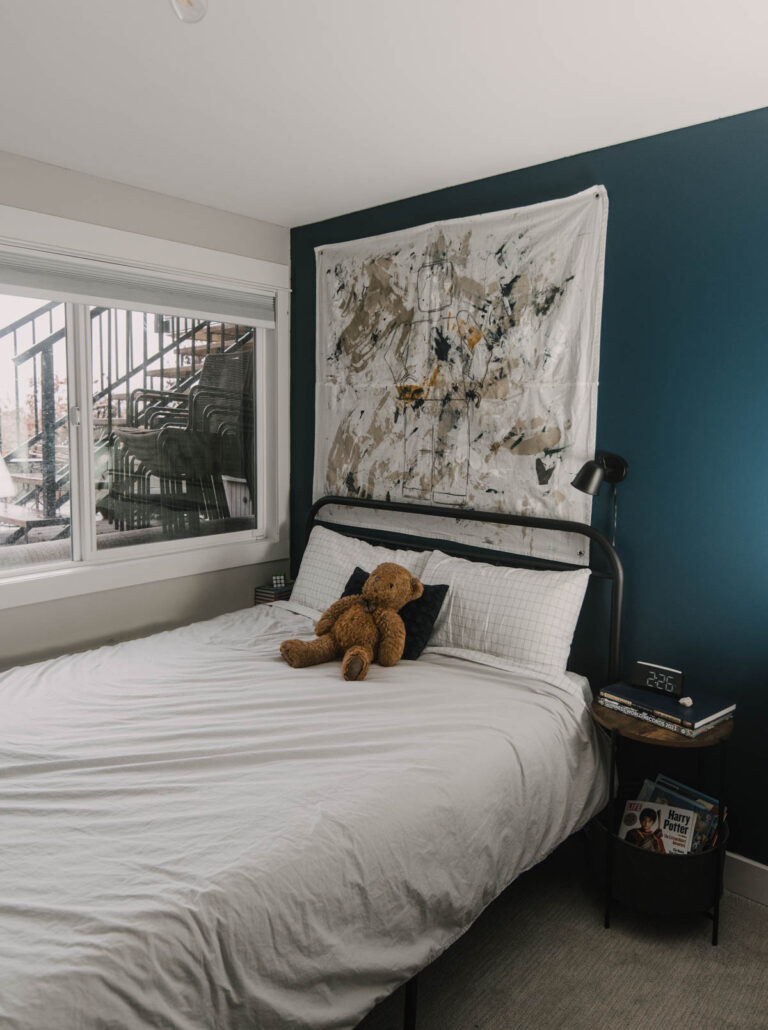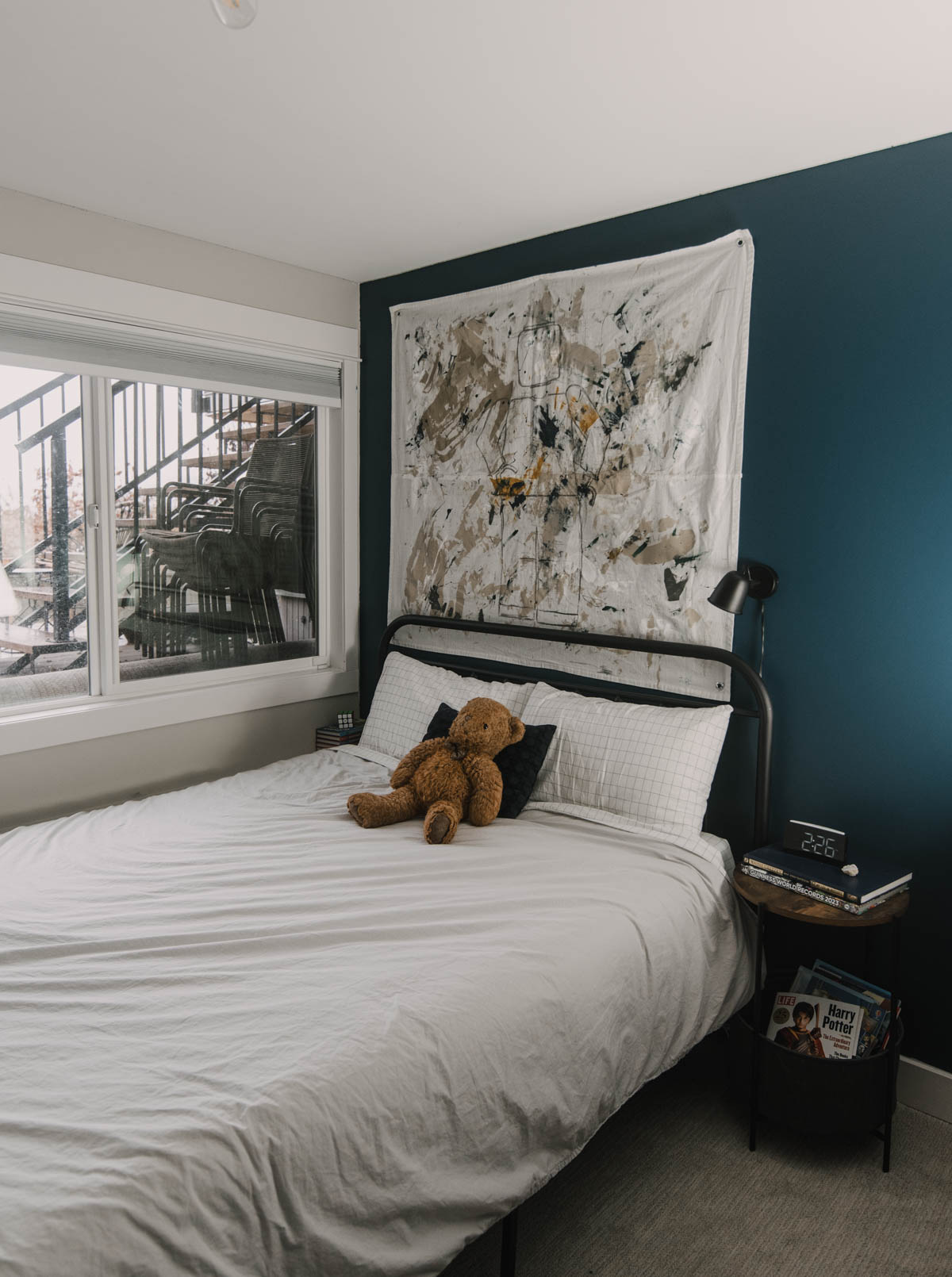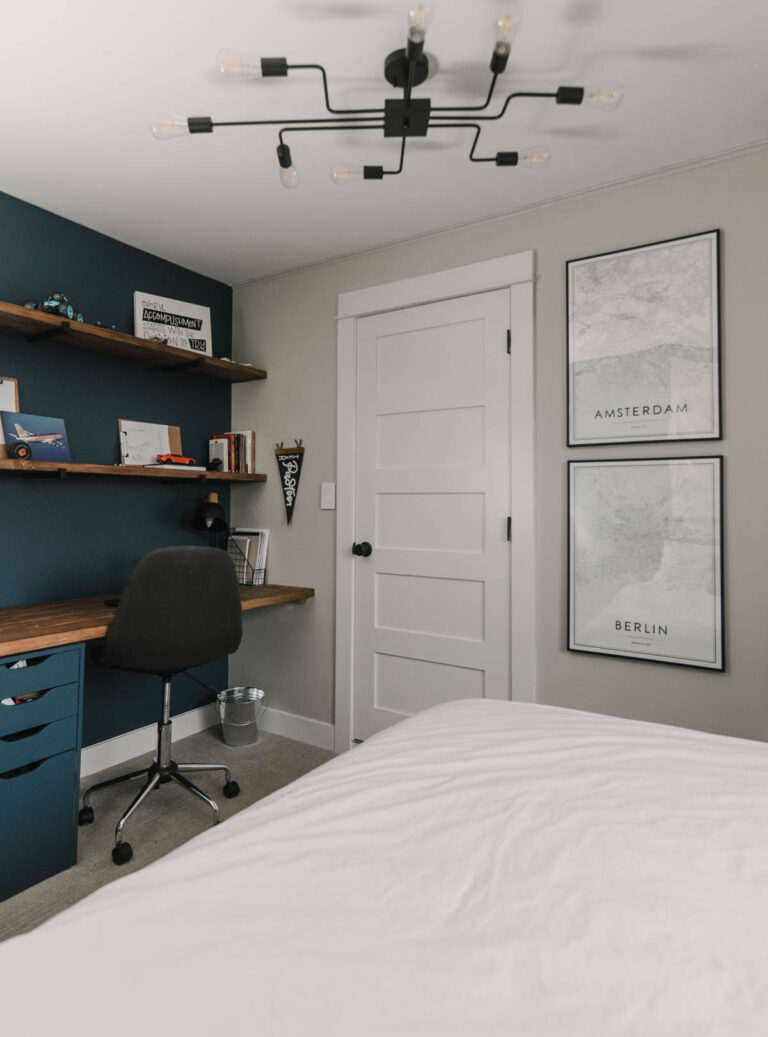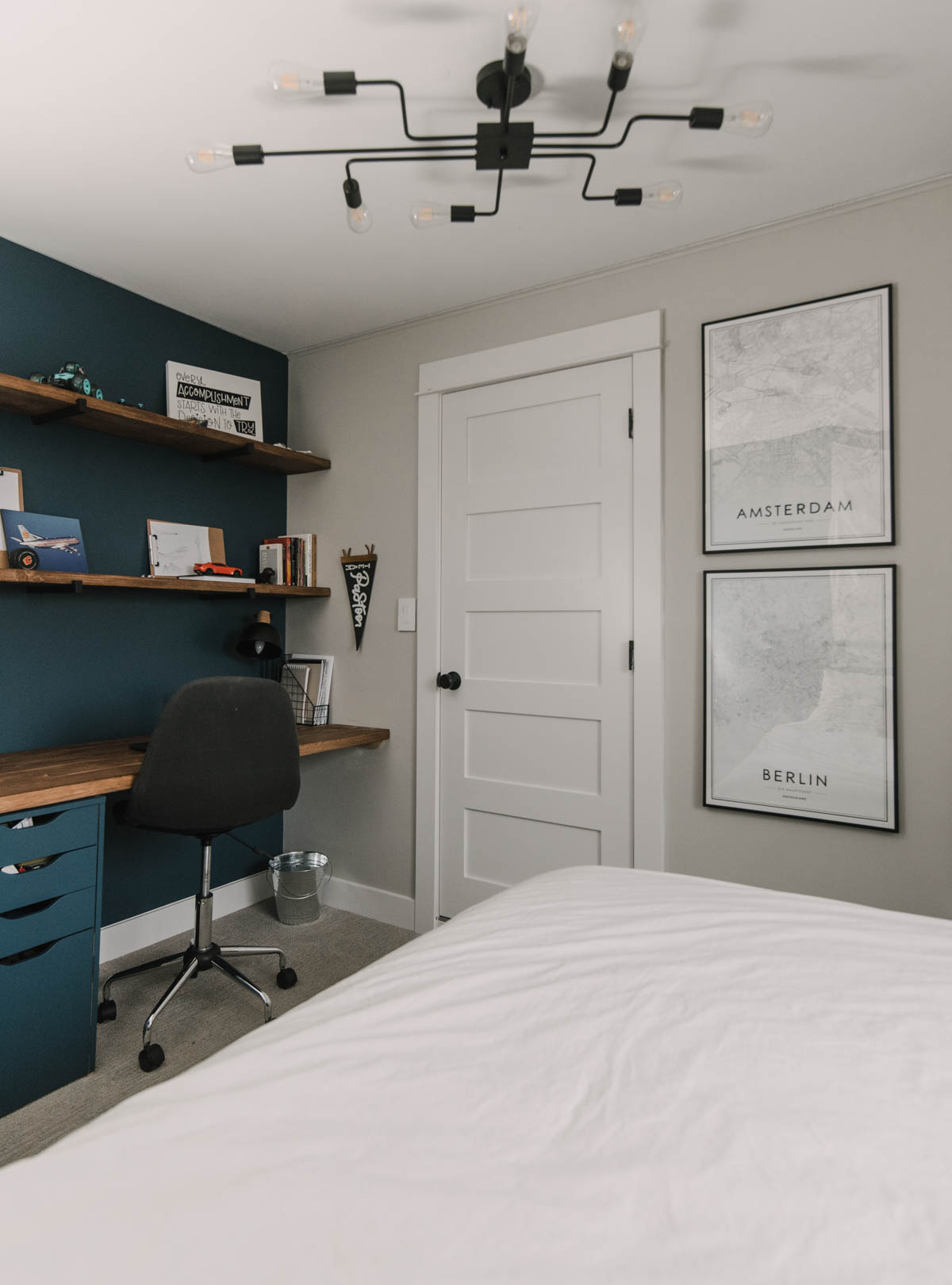 I love that we were able to work together to create a space that felt cool for him and that I'm equally happy to have in my home. I like the quality time working together on a space gives and how much better I get to know my kids by going through this process with them. I'd love to hear your favourite part of this DIY tween bedroom!
LIKE IT? PIN IT!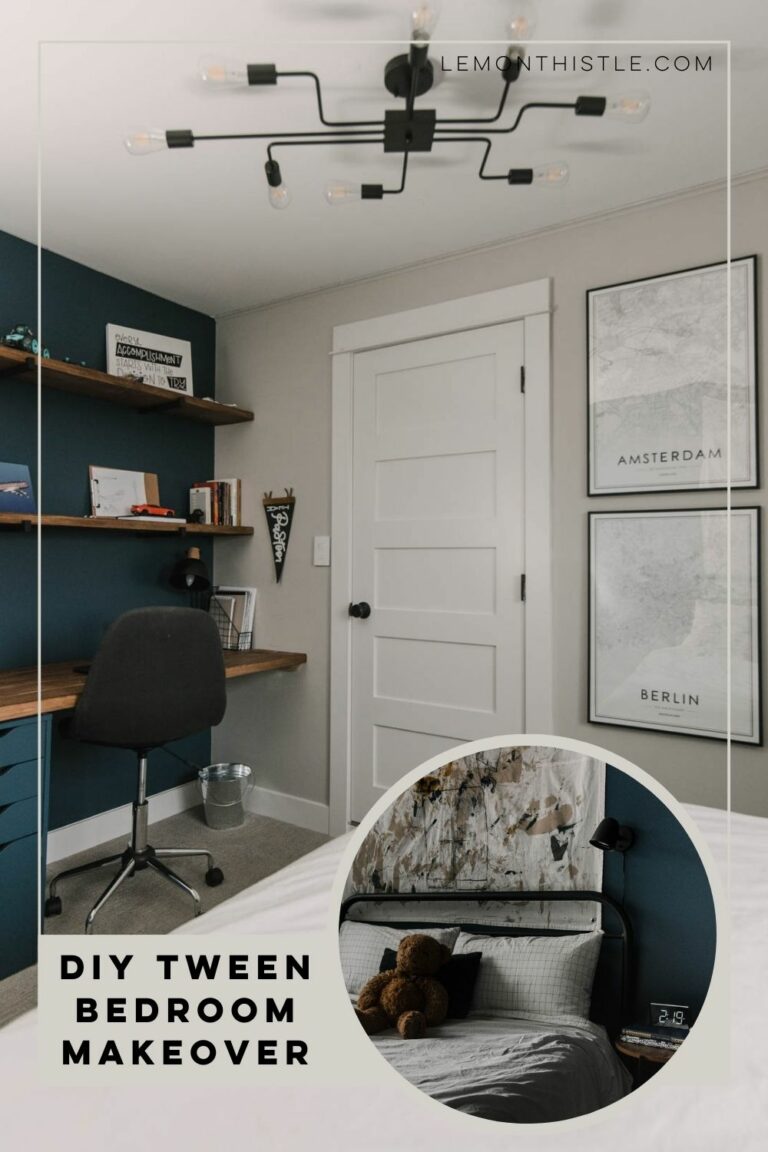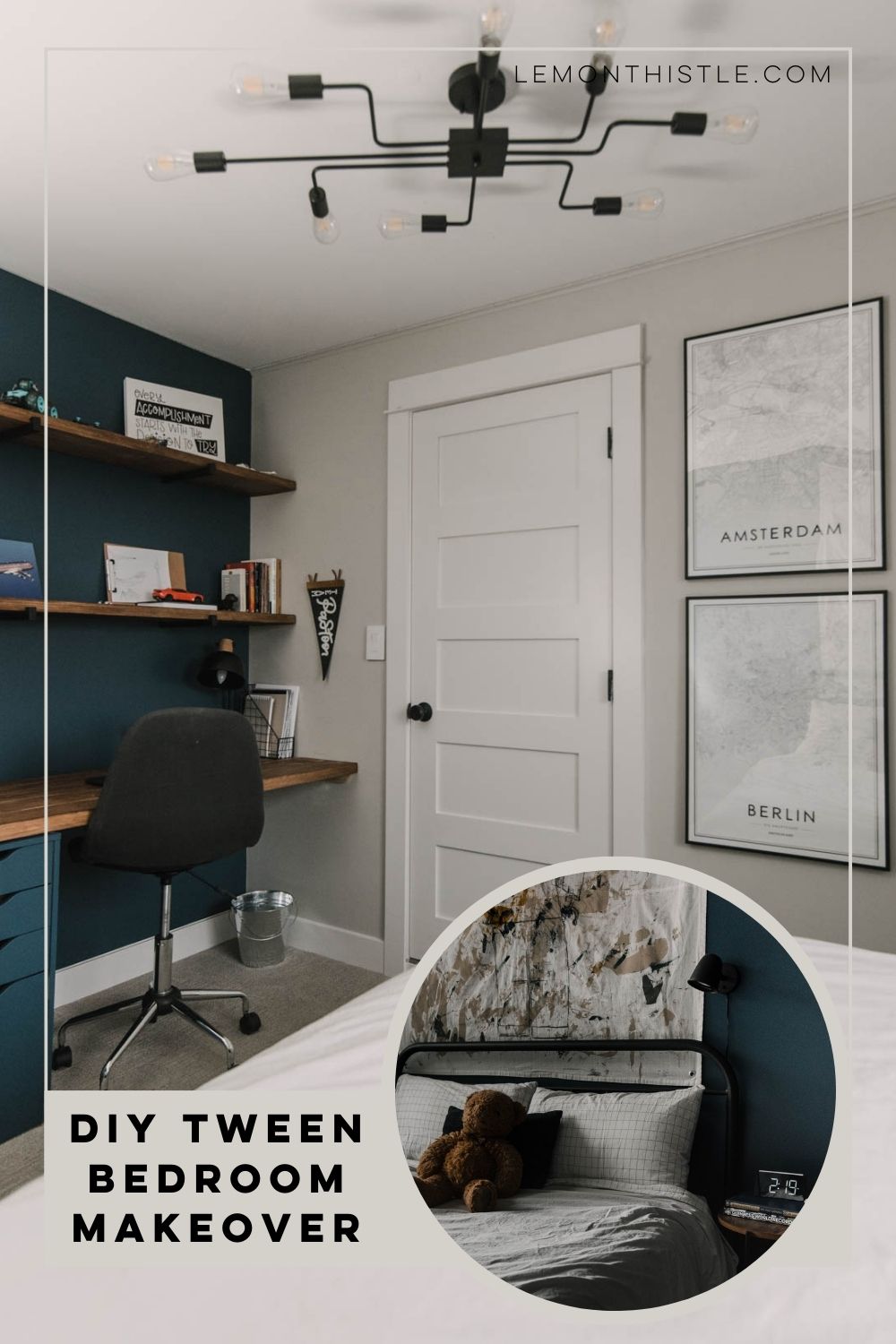 SOURCES: