A basement office reveal full of bright white, warm wood elements, Scandinavian style and tons of creative storage solutions for craft supplies (with DIY tutorials!).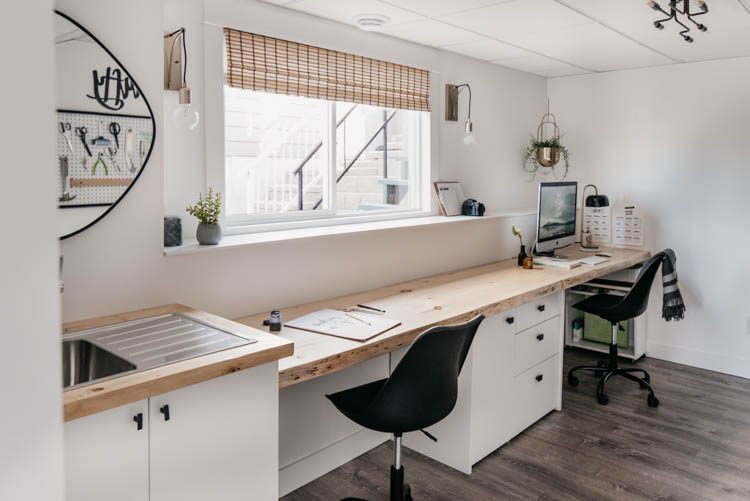 It's that day, friends! The FULL reveal of my basement office and studio! If you missed it yesterday, I shared the studio side of this basement office and today… the rest! This project has been such a labour of love, making over this basement storage room into the office of my dreams, Honestly… photos of this side just don't do it justice. Let me just tell you… it's a total dream in here.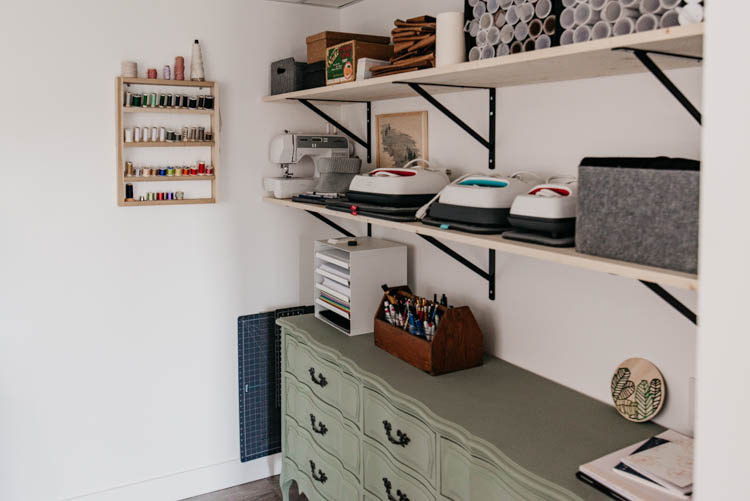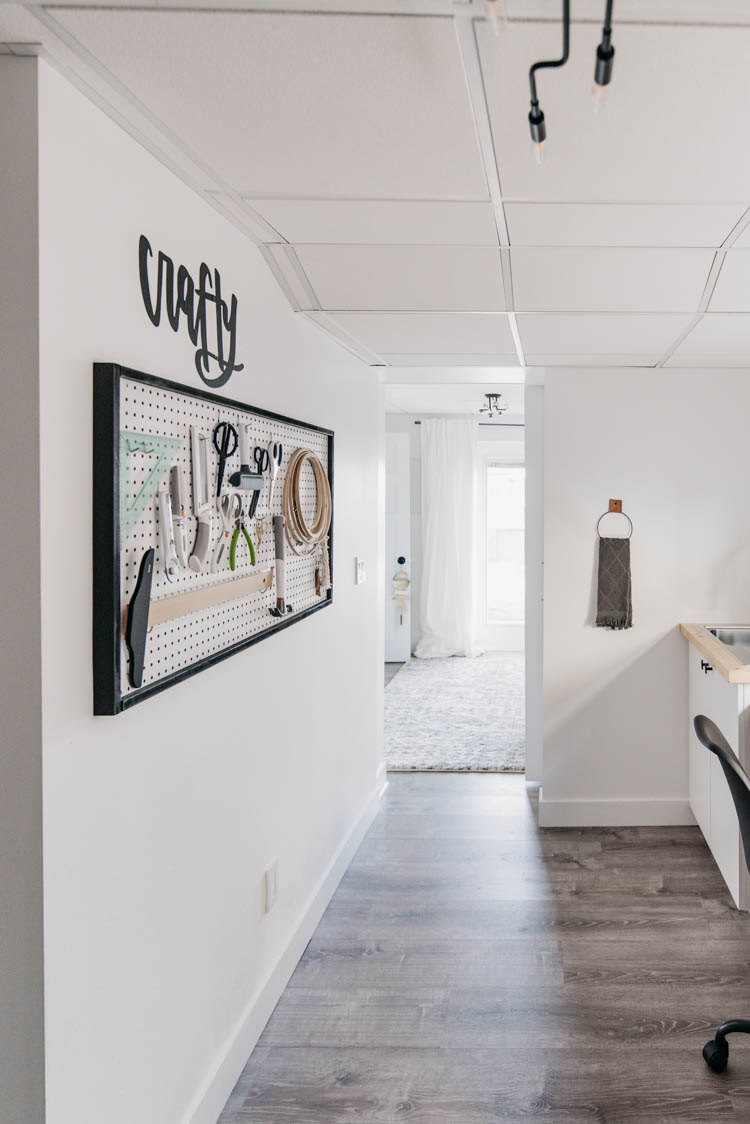 Before we get to the details… should we remind ourselves what this space looked like before?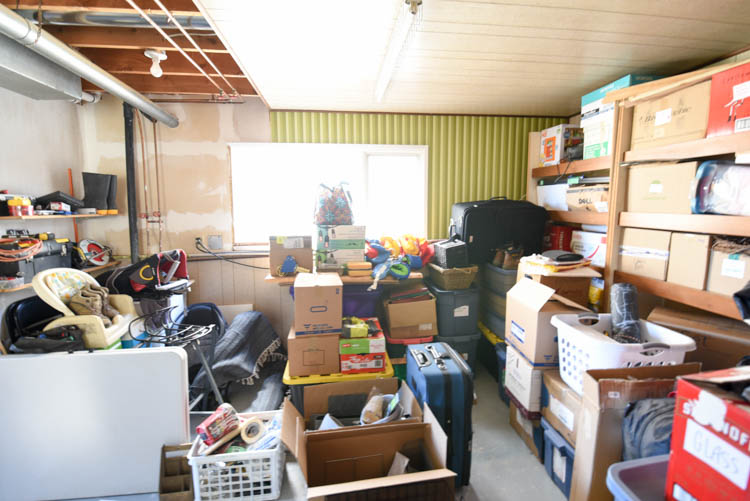 Yikes! Right?! Haha and the same view now: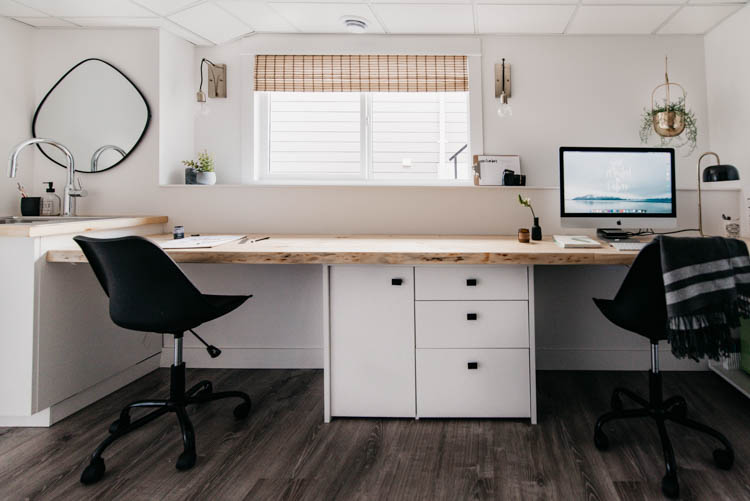 You'll notice right away that this is a long, narrow room. It's the layout we have due to foundational walls in this basement and from walling off the hot water tank and furnace that was in this space. This long wall to wall desk makes such a great use of this awkward space and I can't tell you how good it feels to spread out and take up this whole darn thing.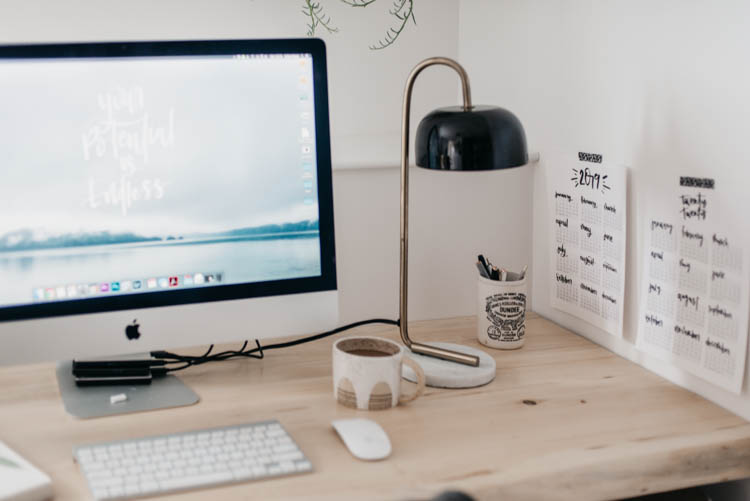 Since I started blogging, I've been working off the kitchen table, countertop, a desk in the basement playroom, from my bed… really anywhere but a proper office. To have space where I can not only spread out but also leave things out? Total dream, you guys!
If you haven't been following along on the whole remodel, here's some links to get you started!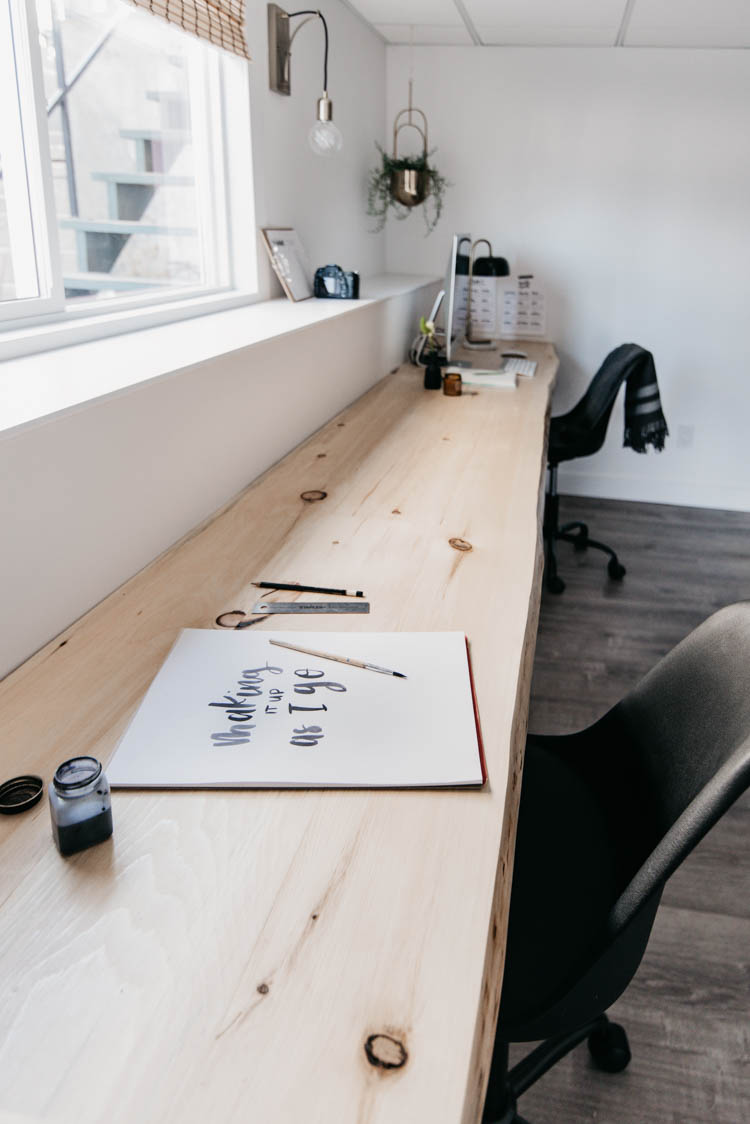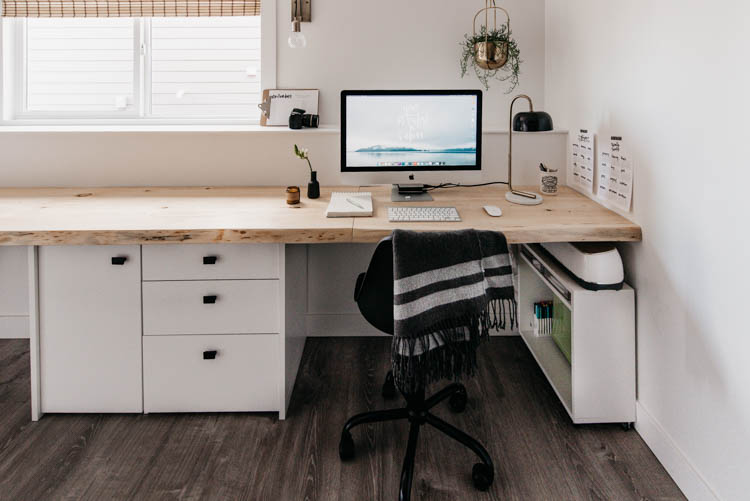 The feature of this room is totally the wall to wall desk. I'm crazy happy with how this opens up the room, making it feel spacious. It's also more work space than I've ever been lucky enough to have. Did I mention live edge? It's my fave. You can find the tutorial to make your own desk like this right here.
A couple things I wanted to point out? That Cricut storage! Look at how handy that guy is! I've used him a couple times since the office has been finished and it's so darn easy to pull out and get crafting and I don't have to waste any time digging for the right tools. It's all right here. You can find the tutorial to make your own right here!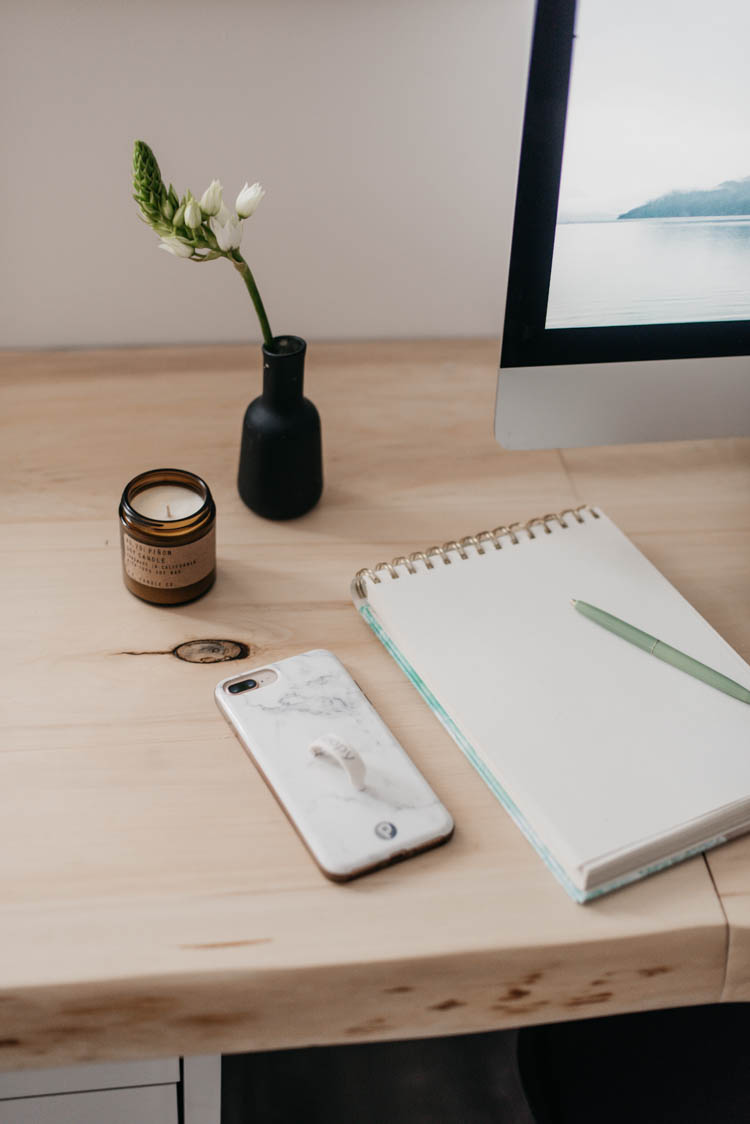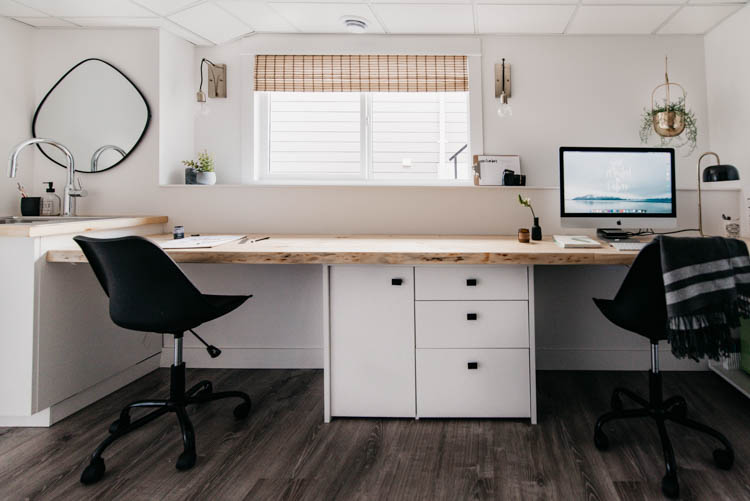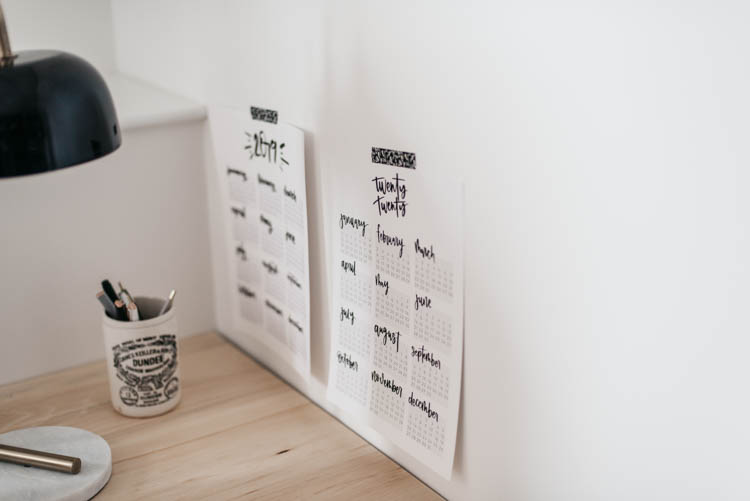 There is so much room here for me to spread out and have notes going and a candle burning (like it is as I write this!) and I usually have my daytimer spread out here too. The simple calendars on the wall are a free printable I make every year and they make it so easy to set dates for my posts as I'm working ahead.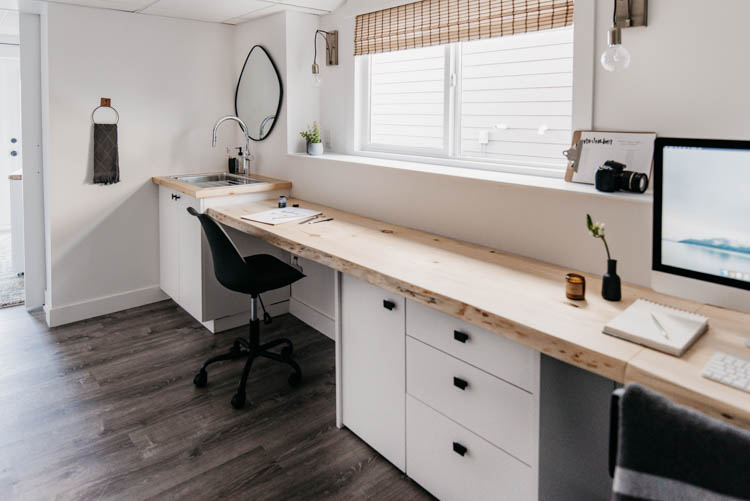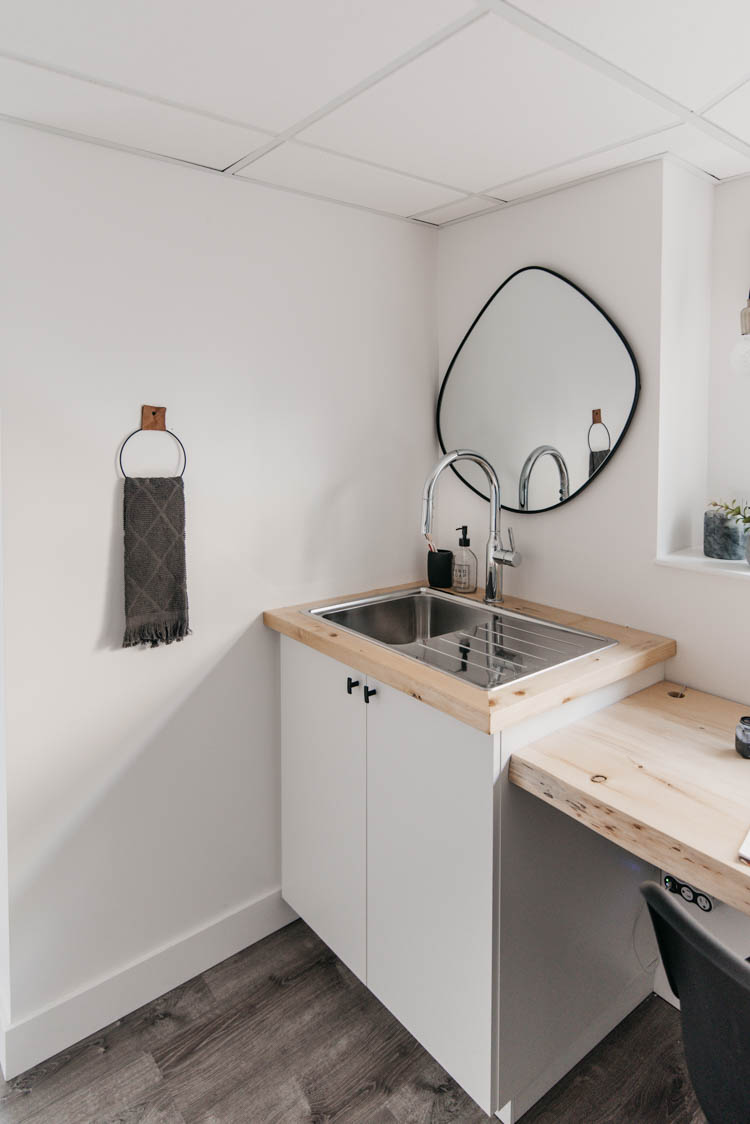 The desk runs 11 feet long… in to where the sink is. We actually had our plumber here taking out the water line that ran through here. There was a cold tap only with a laundry style sink when we moved in and as he's capping it off, he was asking why we don't just run a hot line and leave the sink here. It was a total light bulb moment… of course I'd want a sink! I do so much painting! So now I'm excited to have a sink where I can wash my paint brushes and fill my water cup as I work. We built our own countertop using 2×6 to help give a continuous look with the desk being a natural wood finish as well. Didn't know you could build your own countertops? We did it in our old laundry room as well and stained them black!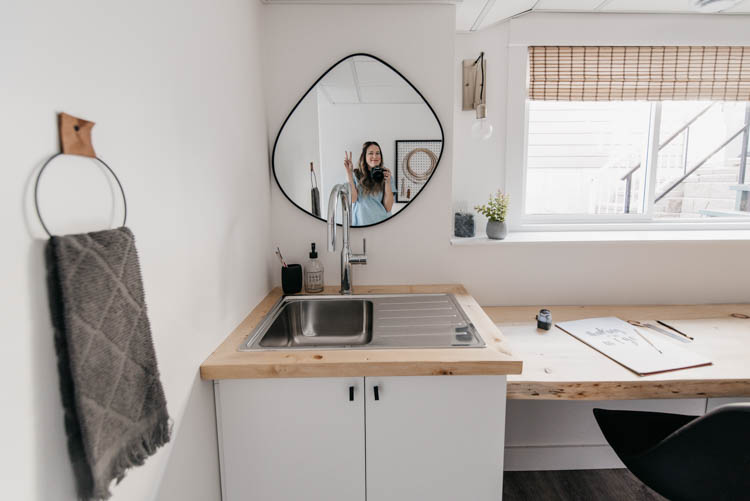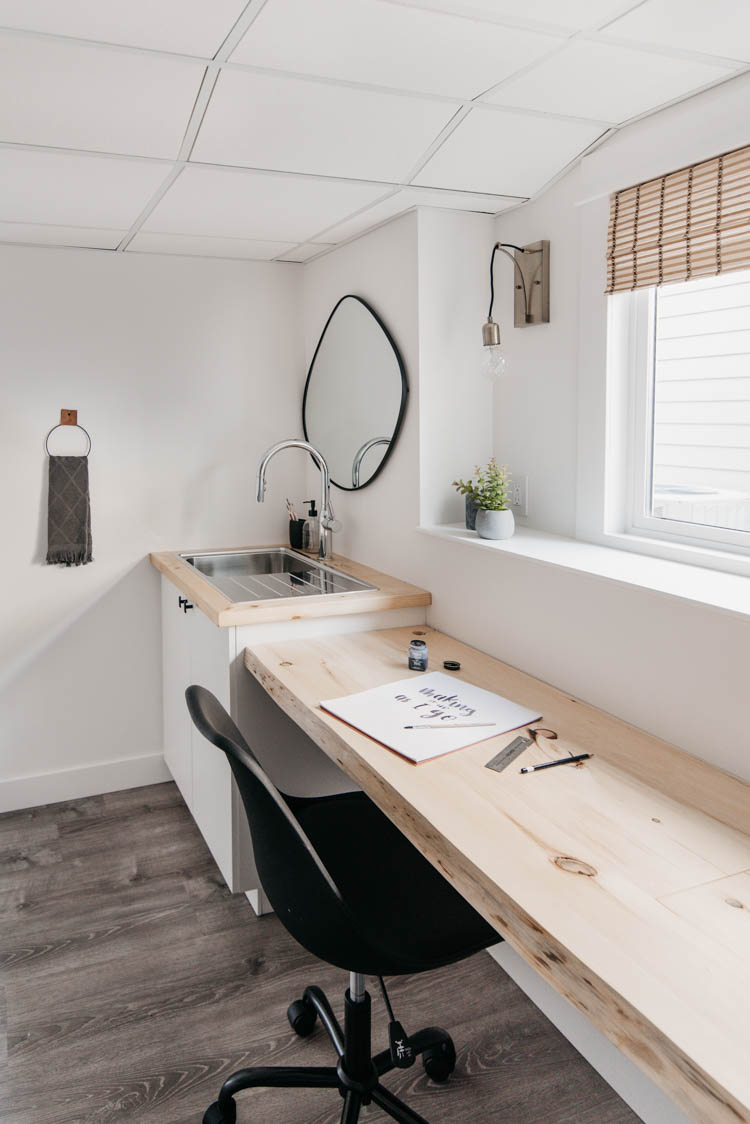 I totally lucked out with this mirror- I love how it's imperfectly shaped and a bit oddball. The wall with all the plumbing didn't run the full width of the sink cabinet, so I didn't want something to look off centre. Honestly- I don't think you'd even notice if you weren't told. The sink is also a left basin sink, so the drain isn't centre on the cabinet either (which means the faucet isn't either) which alllll lines up to make it balanced in a weirdly wonderful way. I would link it for you- but it's a HomeSense find.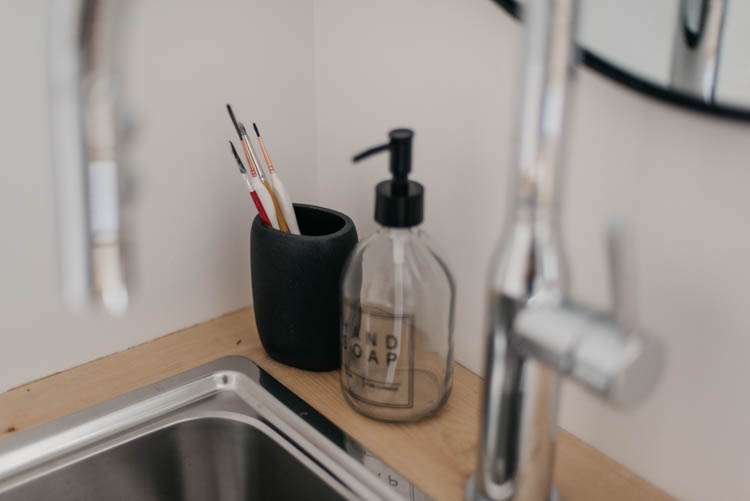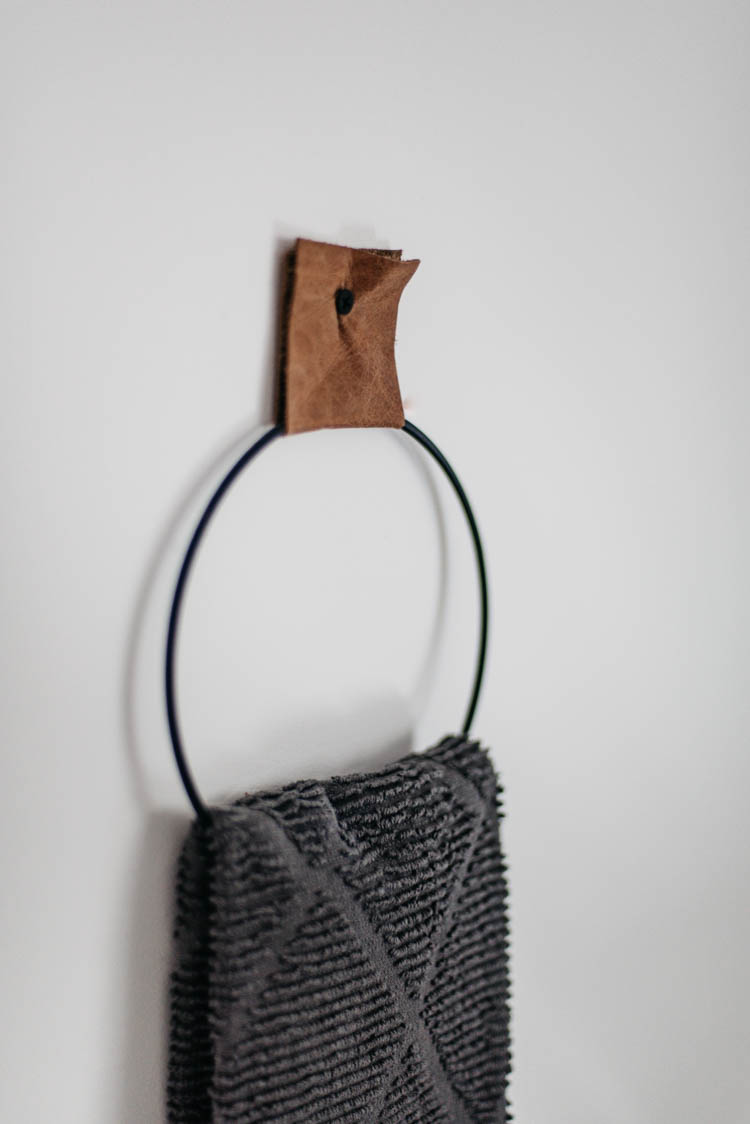 That towel ring… a DIY too! I didn't share a tutorial because it's very very inspired by this one that The MerryThought girls did a couple years back. I just sprayed my hoop a matte black and used wider leather. I'm loving how it turned out for just a couple bucks! I hadn't thought of a towel ring until we started using the sink in the space and I realized we had no towel!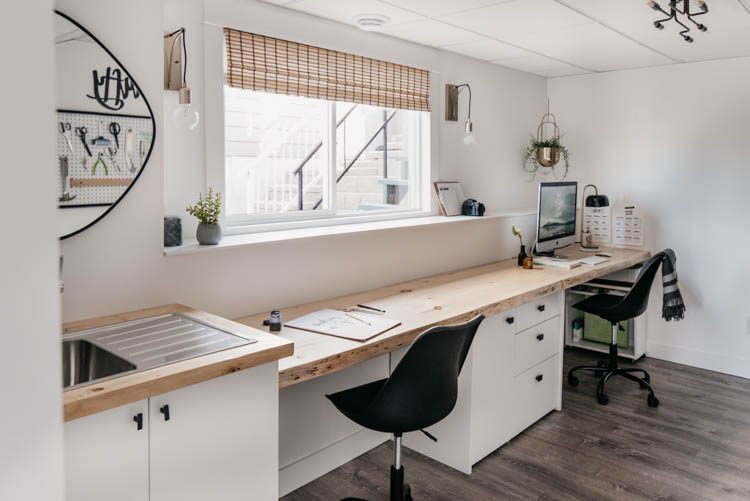 I had wanted to do that hanging plant in this corner, but it ended up being all too crowded when it came time to hang the plant, so I put it at the other end of the room. I love how it balances the gold sconces by adding another punch of gold/ brass into the space. Speaking of… how pretty are those lights?! You'll never believe the price on them!
On that wall I also added one of my faux wood shades over top of some light filtering pull down shades. It totally warms up this room just that little bit more. All the natural wood details, mixed metals and textures help make this bright and grey box cozy without affecting how bright it feels in here. All the plants help with that too (there's some in the other room as well! I have a couple real ones I'm going to try keep alive down here, but the ones behind the barn doors in the other room are of course faux… because plants like light ;P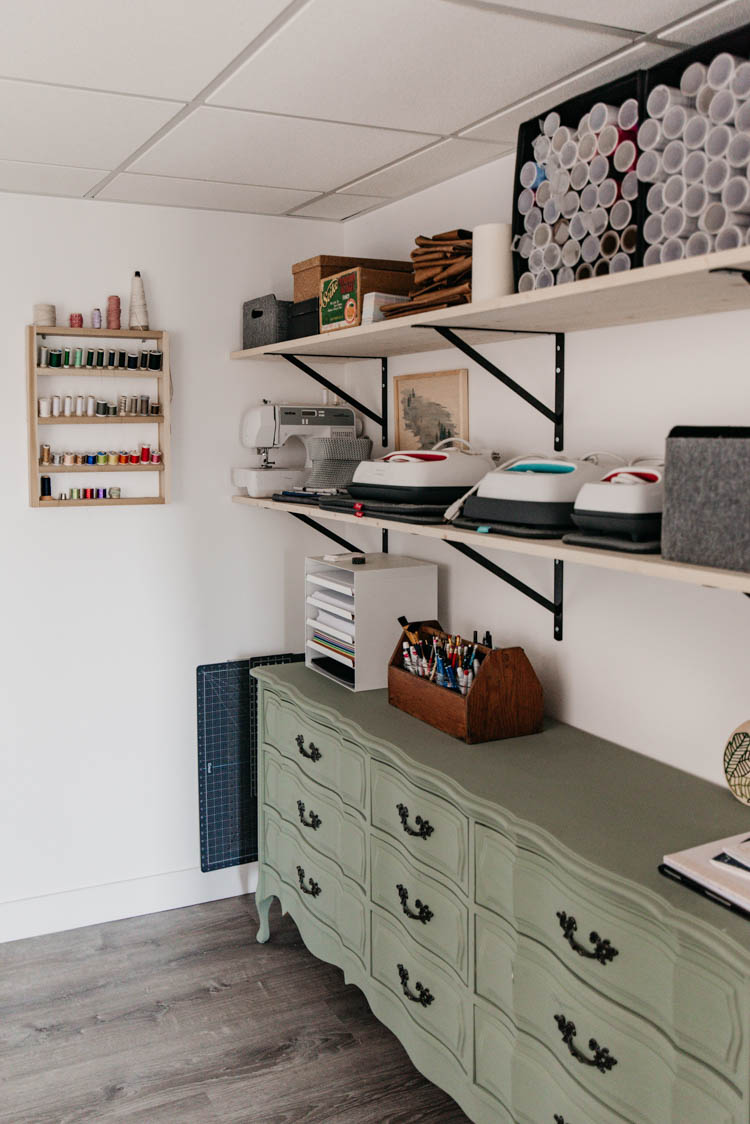 But wait, there's more. I always want to say that, isn't it so cheesy good? The other side of the room is all storage, baby! I painted up the vintage dresser we had in our last room a soft green and we added some utility brackets and shelving above them for all my craft supplies. The dresser is painted Dusty Laurel in the Behr tintable chalk paint.
The drawers house all my lettering supplies, greeting cards, workshop supplies and smaller craft supplies while the shelving holds all my Cricut vinyl and EasyPresses. How many is too many guys? It also holds my sewing machine and some shoeboxes of craft supplies.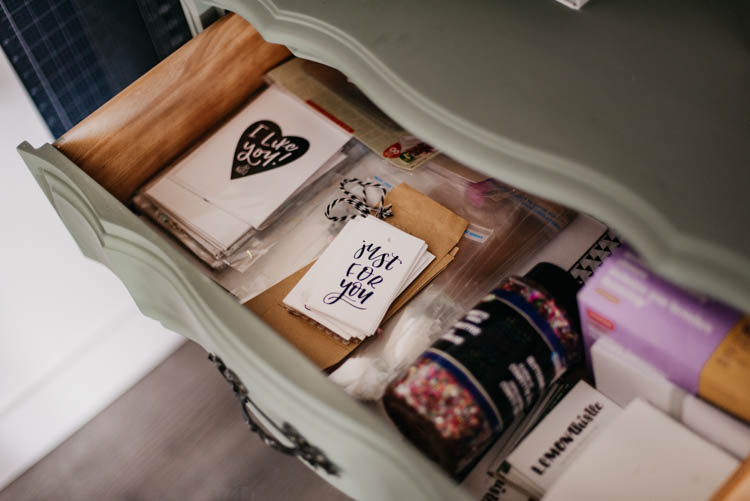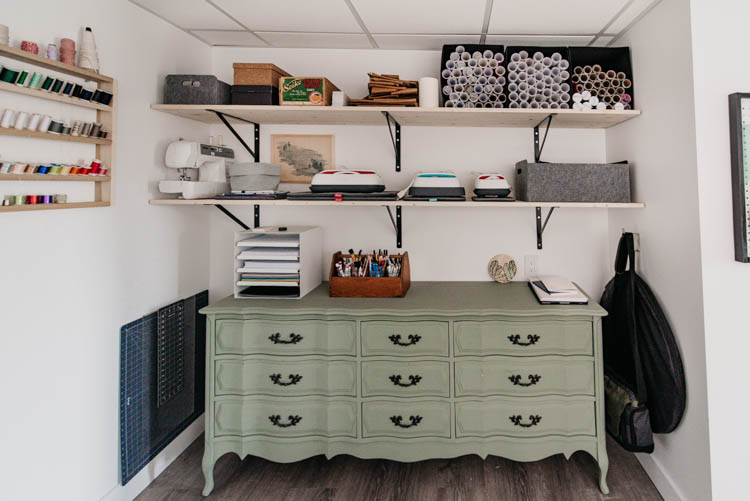 I really like having everything out in the open- there's nothing worse than spending my limited work time hunting down that one random supply or tool. As someone who's spent their entire adult life doing that because I had no where to put the craft stuff I've collected… this is going to be life changing, I can feel it!
The one thing I don't have on here? My printer. Because it's red. And aesthetically I couldn't bring myself to move it on to the dresser or my desk before photos. But there's an outlet there for it when I make that move. Or for when I buy a white one…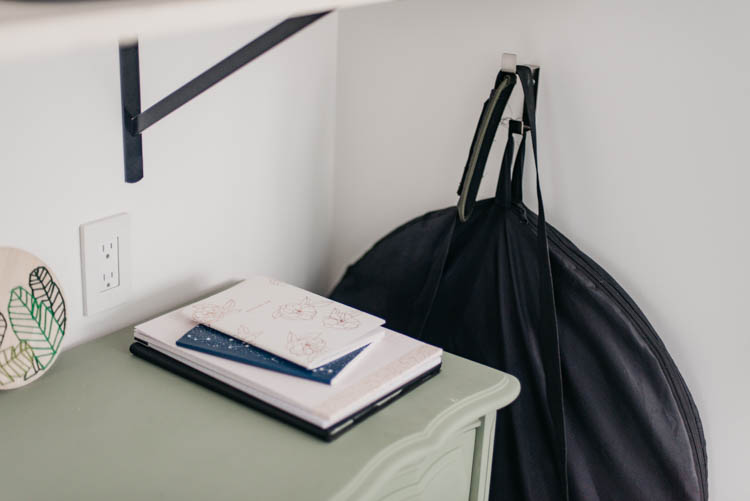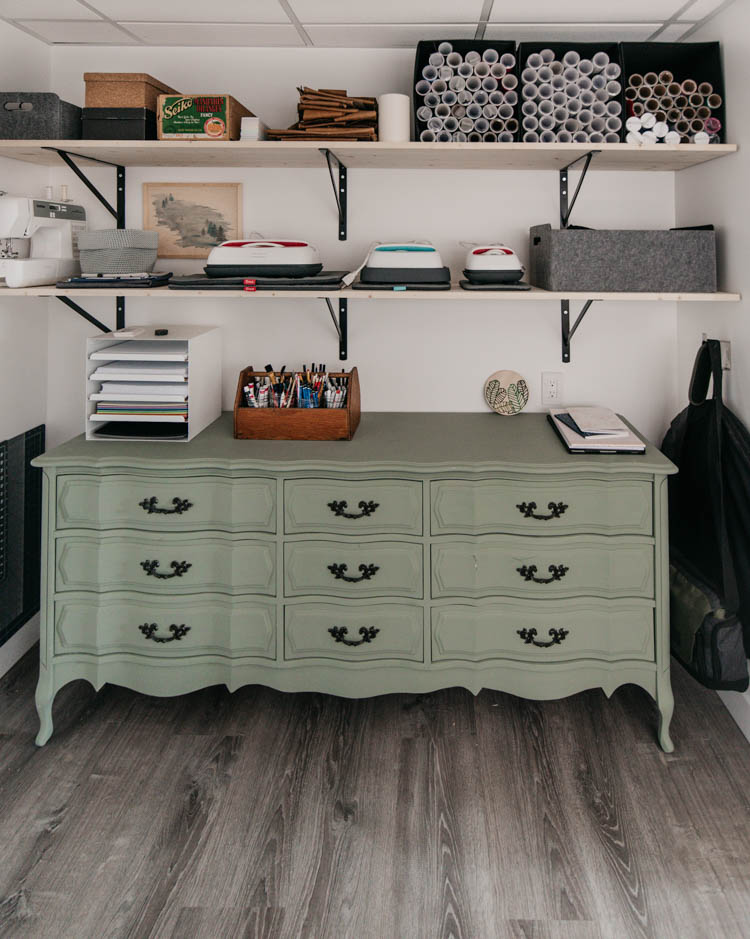 There's also hooks on the walls for my cutting mats and for my camera gear. I have a couple more hooks for camera gear still but I couldn't decide where to put them quite yet. We picked up these ones from The Home Depot Canada– they're the perfect modern shape but sturdy enough to hold all the gear.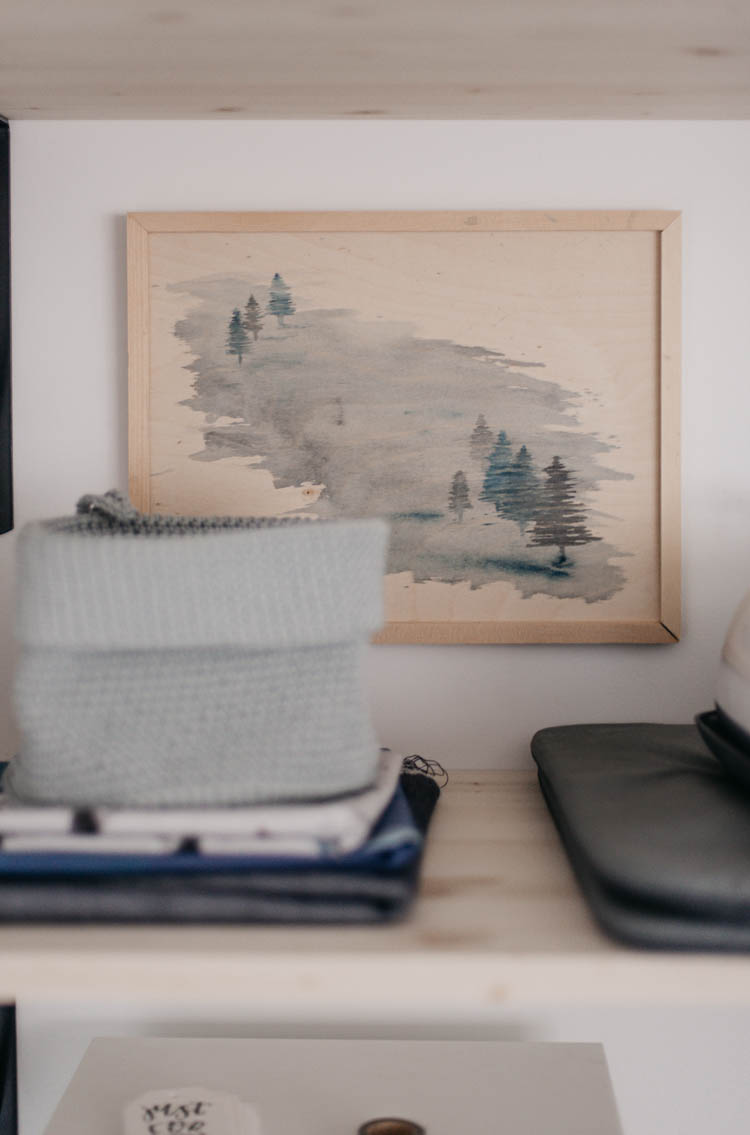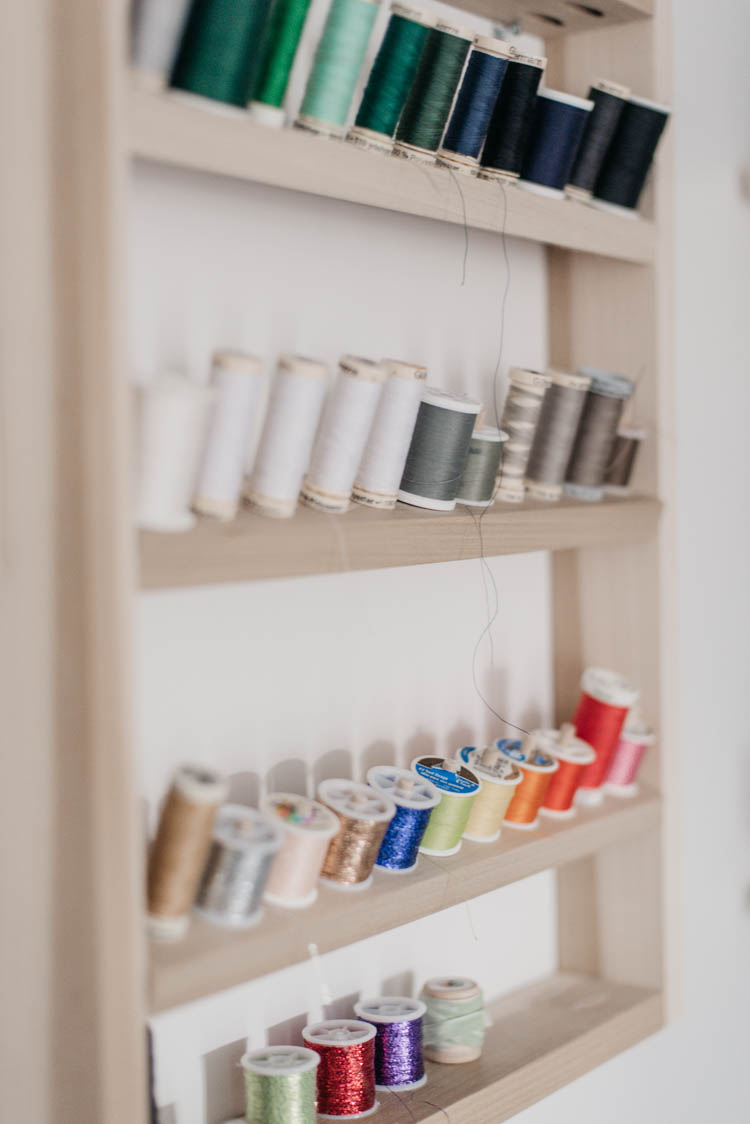 You might notice one or two… or a few of my old DIYs here too. Like that thread holder or the watercolour wood panel or that embroidered wood art. I have so many DIY and craft projects that just don't have a home in this new house so it's fun to get to display a couple of my favourites in here!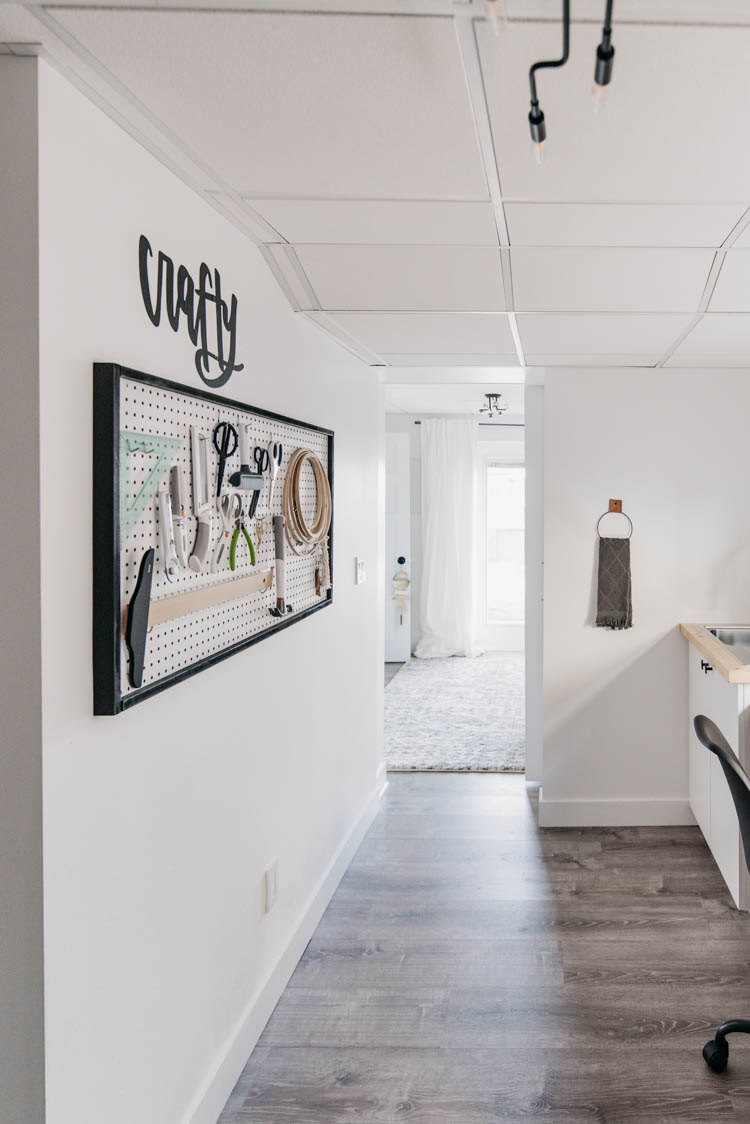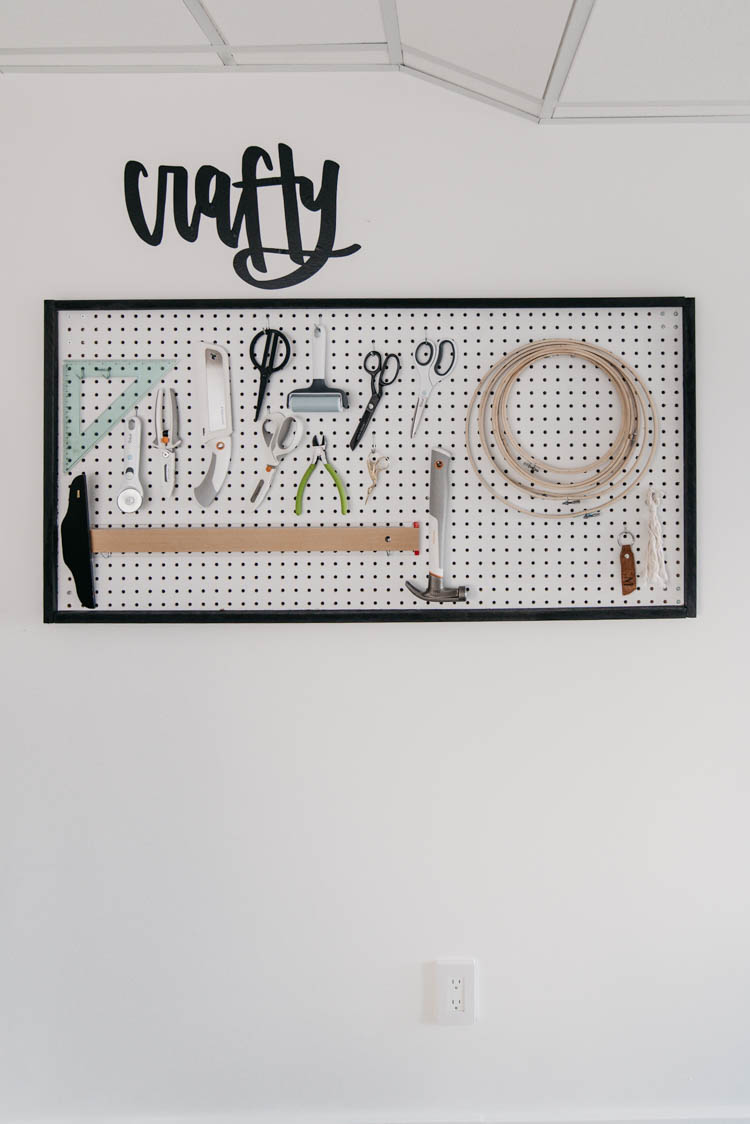 On the other wall, I've built a framed pegboard for all my sharps and a couple other tools and supplies. I love how simple the black and white design is and then I used my Cricut to cut out some hand lettering of mine (you can learn how to do that here!) to put over the pegboard. The tutorial for this pegboard will be going up on The Home Depot Canada blog but I'm not sure when- I'll be sure to update this post when it does but in the meantime, this one is similar, just a little less fancy ;)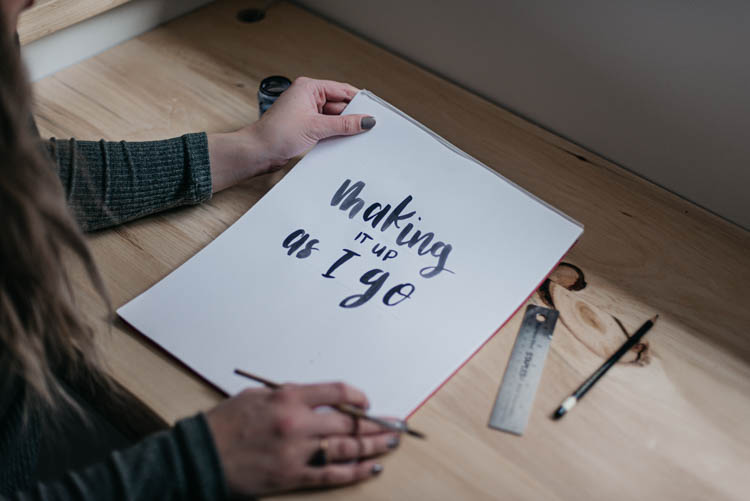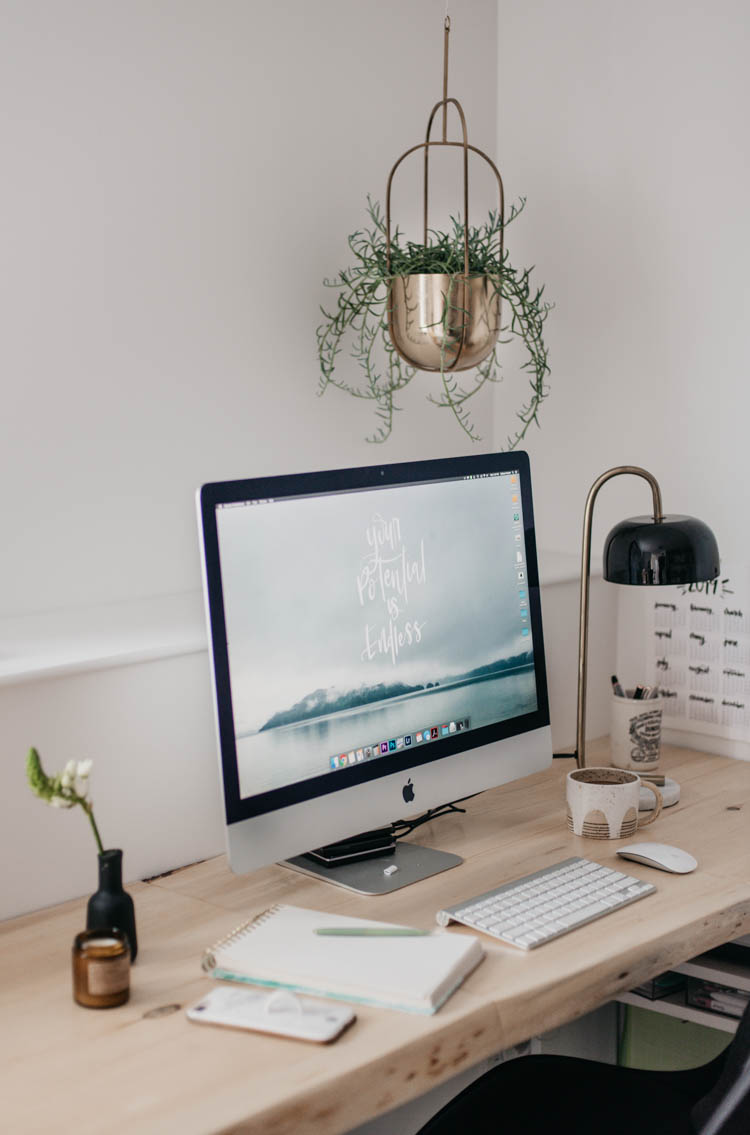 Whew! I think that's all the details I wanted to point out! I'm so so happy with how it came together. It's a total dream to be sitting in here writing this post. I have all the space I need for my supplies and for my gear and when I look up from my computer screen I get to look at all the pretty details- not dinner dishes or boxes of storage I was supposed to deal with.
Big thank you to The Home Depot Canada again for partnering on this project and making this dream office space a reality!
SOURCES FROM THE OFFICE REVEAL: