This modern barn door is such a great way to add texture and pattern into a space. The simple DIY tutorial takes only two angles to learn in the abstract design.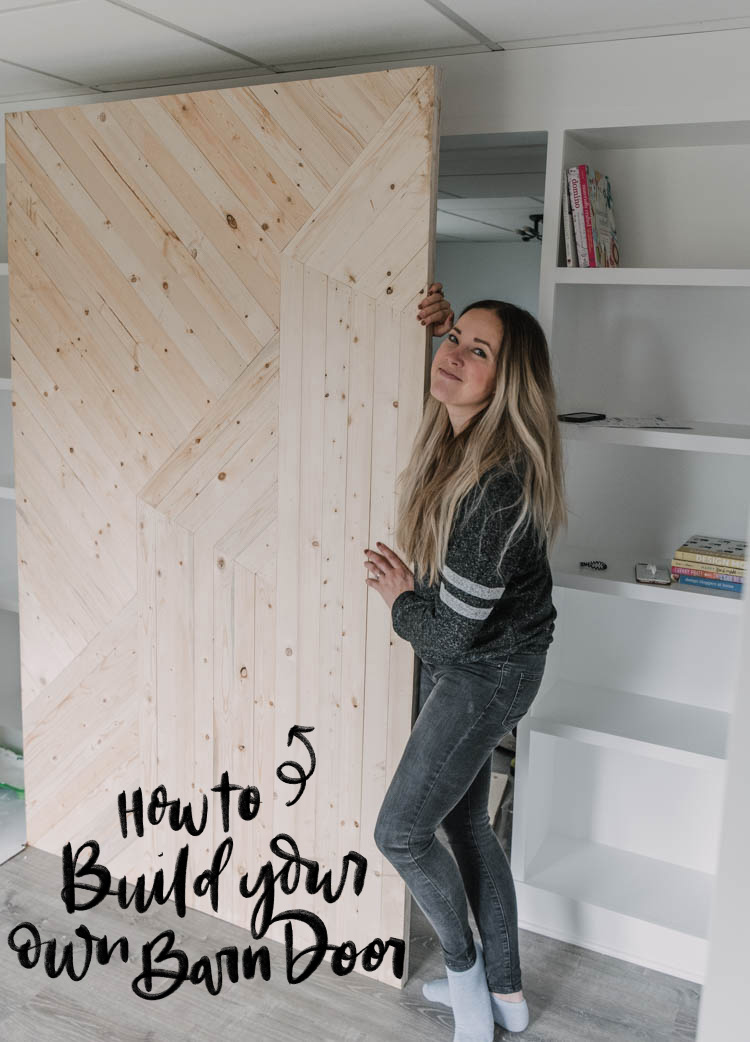 Psst! I'll tell you a secret… my office is done but there's a few more tutorials I want to get out to you before I share the finished space! This barn door is one of them!
This modern barn door is so full of texture and pattern but also such a neutral backdrop in my new studio office space. It's a fairly simple DIY and you can make it in any size to suit your doorway. This one is extra wide to cover my built in shelving when I'm filming tutorials, but the pattern would translate really well to a smaller door too.
If you're looking at this DIY barn door and are thinking that it's a lot of angles… guess what?! There's only two that you'll need to cut. I built this boor myself (I had Shane's help lifting it up though!) so I'm sure that you can pull it off too!
Before I get to the tutorial for this modern barn door… I should tell you that the door isn't *quite* done in these photos. Besides needing to be hung, I'm also painting this baby! I can hear the IG story replies already, 'Noooooo!' but YES and I can't wait to show you how it all comes together!
Alright… on to the tutorial!
This project and this whole office makeover is in partnership with The Home Depot Canada- you can see all the plans for the space right here!
Supplies Needed to Build Your Own Modern Barn Door: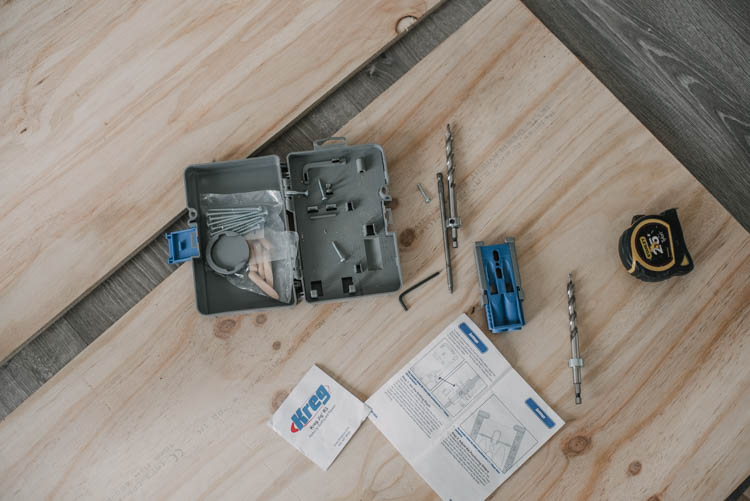 Okay, before I get on to the fun part of this- if you want to make a door that is wider than a standard sheet of plywood (4 ft), you'll want to attach two pieces of plywood together. I had these cut to size at Home Depot so I didn't need to run these through my table saw. Since I knew the door would be heavy, I didn't want all the weight of the door on the screws connecting the pieces of plywood. I chose to connect two vertical boards for this reason- the barn door rail would attach one to each of them to split the weight.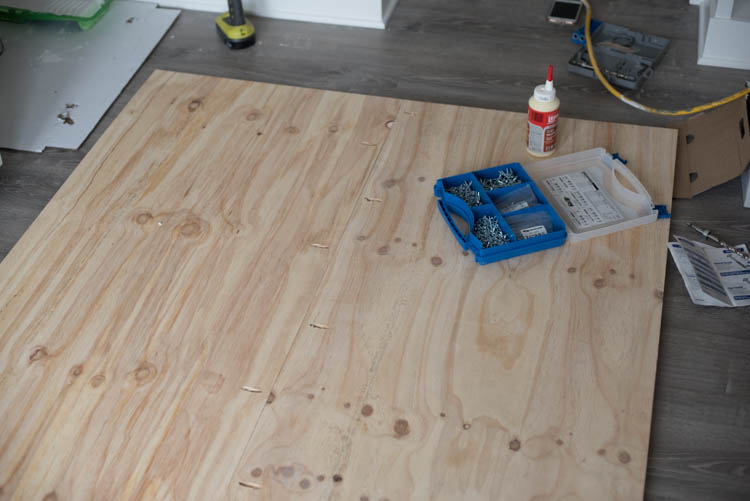 I attached the two pieces of plywood using pocket holes, wood glue and screws. I used my Kreg Pocket Jig for this and alternated sides to have the holes drilled. Then I set out on the design!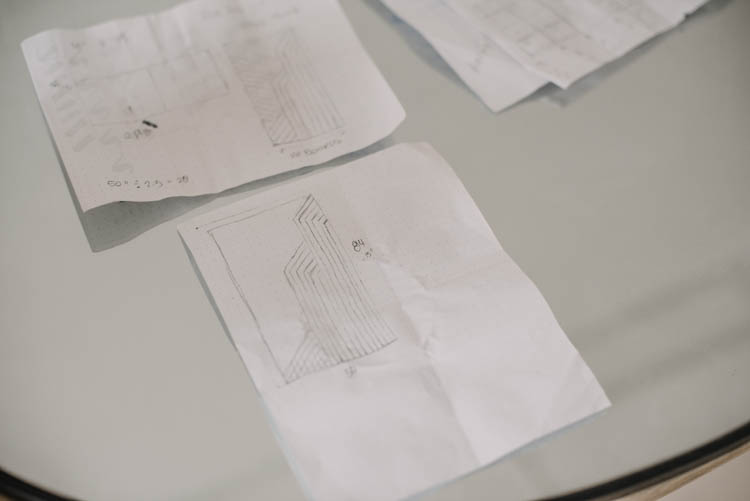 The first thing I always find helpful is to draw out my design on grid paper. This is approximate but it helps me check in with my design and what I want it to look like as I go.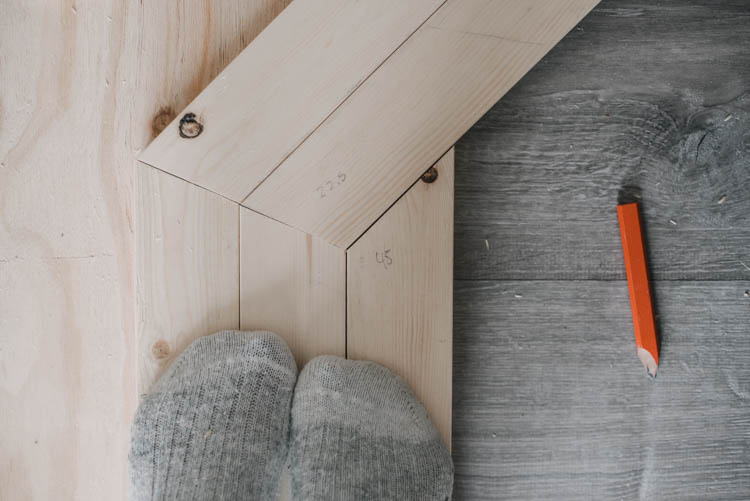 Cut your first boards! I worked from right to left on this design. This first board will be cut at a 45˚ angle. The next boards will be cut at a 22.5˚ angle. These are the ONLY TWO angles you're going to need to remember for this project.
You'll want to cut one whole section of boards before attaching them with the nail gun, just to ensure your spacing is what you'd like. The top pieces of wood have the 22.5˚ cut to match the 22˚ cut on the vertical piece, and then a 45˚ cut along the side edge of the door.
I opted to make all my cuts along the edges long (and in some cases skipped them!), trimming them off with a skill saw after the fact. This is great in theory but was a total pain to carry outside after I was done building it to cut- I would try cut closer to the edge of the door, leaving just a little bit to trim down if I were to do this again.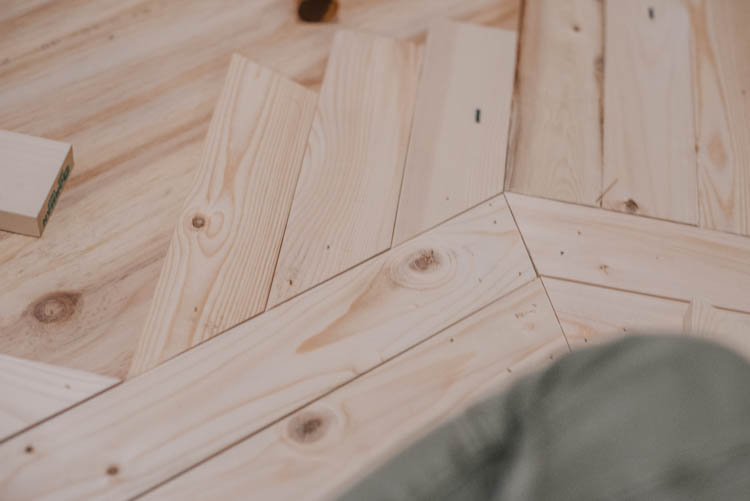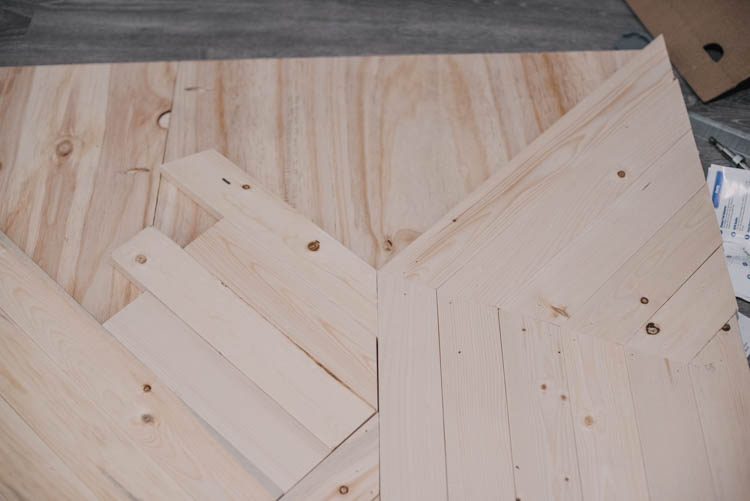 When you are laying out your design, you'll want the top edge of the last board in your first section to line up with the corner of your door. This is why you'll want to cut that whole section first, you may need to move it up or down according to how many boards you decide to go wide. I did 6 including that first board cut at the 45˚. At this time, you can mark the bottom of the board and cut those to length (leaving a little overhang to trim after the door is assembled). Then nail them on! Opt for less nails in case you need to pull up your design to adjust. You can add more when you're done :)
Now measure where you'd like that next section to start! Everything is designed using the width of the 1×3 boards. You'll need some boards cut at 45˚ angles to space this out. I used scraps as shown in the photo. When you have a spacing you like, start cutting your next section of boards, again starting with one 45˚ cut before switching to the two pieces of wood cut at 22.5˚, and the other end of the shorter (top) board cut at 45˚. At this point, you should be able to cut a handful of boards at a time now that you have the hang of the pattern.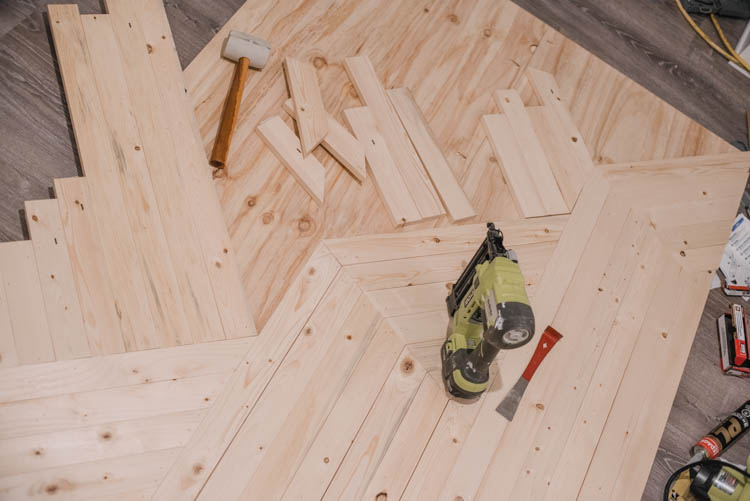 The third and last section on the door is essentially just the top half of the other sections. These pieces will run on an angle with no verticals. They are cut at 45˚ on both ends. Before you tack these on, make sure to measure out how far down they start using your scraps of 45˚ pieces!
Next, fill in the whole top left side! I started from the bottom using straight cuts against the bottom section (45˚). When you hit the verticals of the next section, you will use 45˚ cuts. And so on.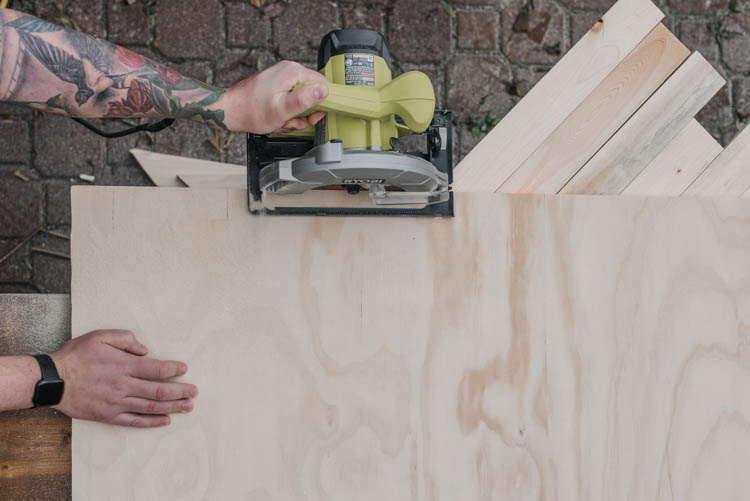 When it's fully assembled, pat yourself on the back and then get a hand to bring it where you can trim off the edges!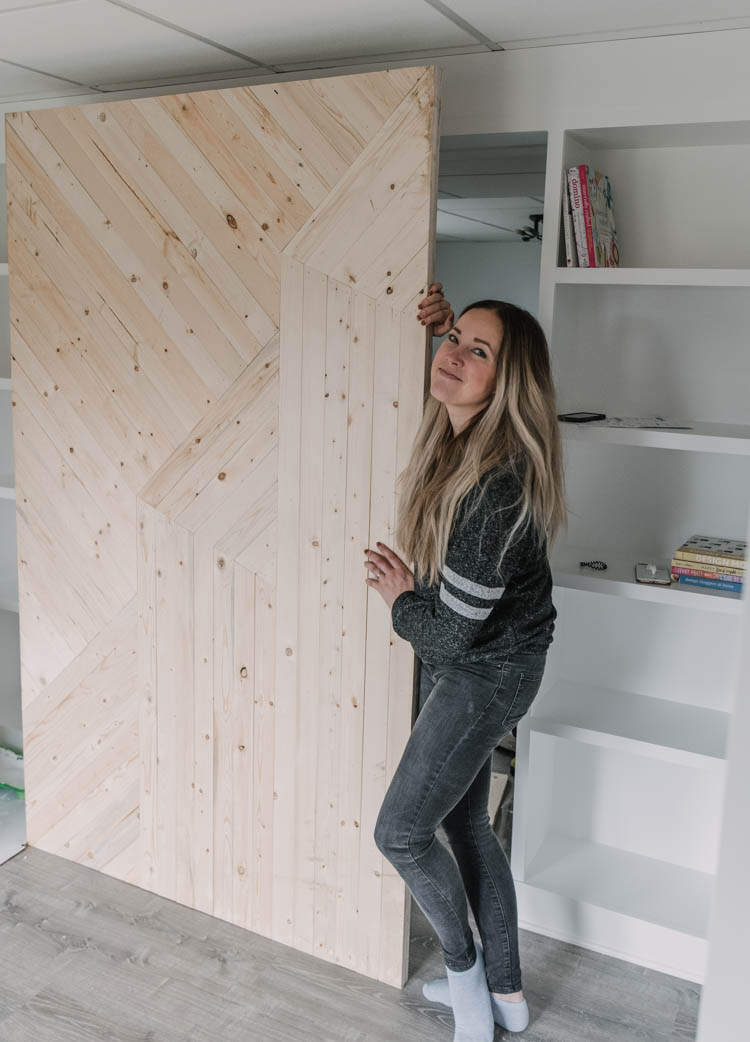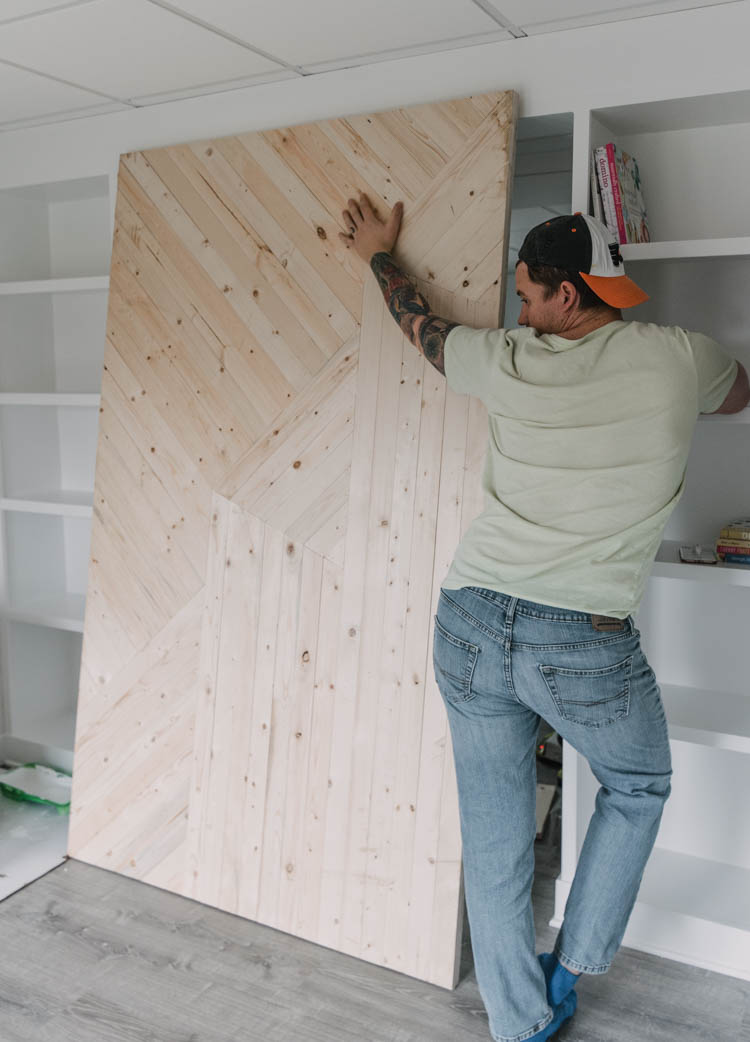 I had to throw this last photo in here for you guys- it cracked me up! I asked Shane to take the photo of me with the door and while I was getting my settings all set up for him, I snapped this of him modelling the door for you. Ha!
After we finished this- I filled the nail holes with paintable wood fill and then we sanded it and painted it. This was the perfect finish for this modern barn door! I can't wait to show you the whole space put together, it turned out SO GORGEOUS!