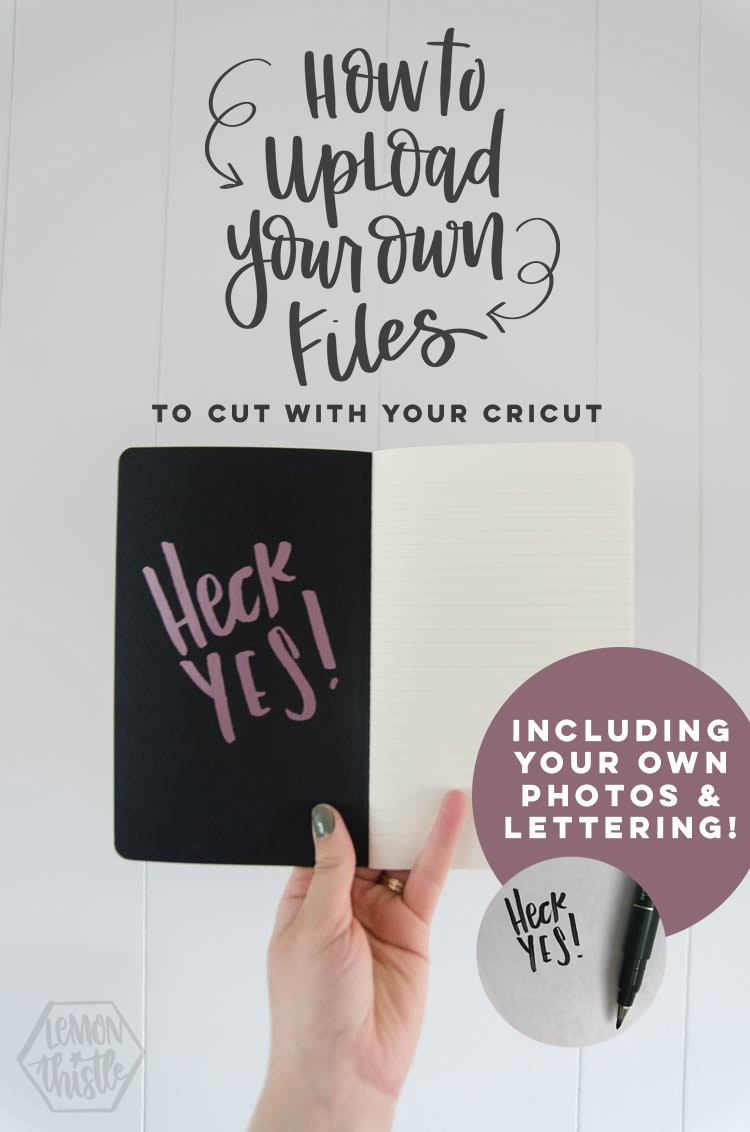 It's that time (I'd put the dancing girl emoji here but can't figure out how to do that on my keyboard)… Alexis from Persia Lou and I are back with another Silhouette VS Cricut challenge! Today we wanted to go basic and take on something that we do all the time as bloggers who make our own designs. We're talking through how to cut any image by uploading your own files! I'm team Cricut so I'm walking you through how to do that in Cricut Design Space and Alexis is going to walk through the process for Silhouette. But we're not just talking basic uploads.
I'm chatting about the three different file types (.svg .png and .jpg) that I use on the regular (what are the differences!? what works best for what!?), how to change colours of designs, how to add patterns (2 ways) for print then cut, and how to get your picture from paper to vinyl using only your camera phone and the Cricut Design Space software.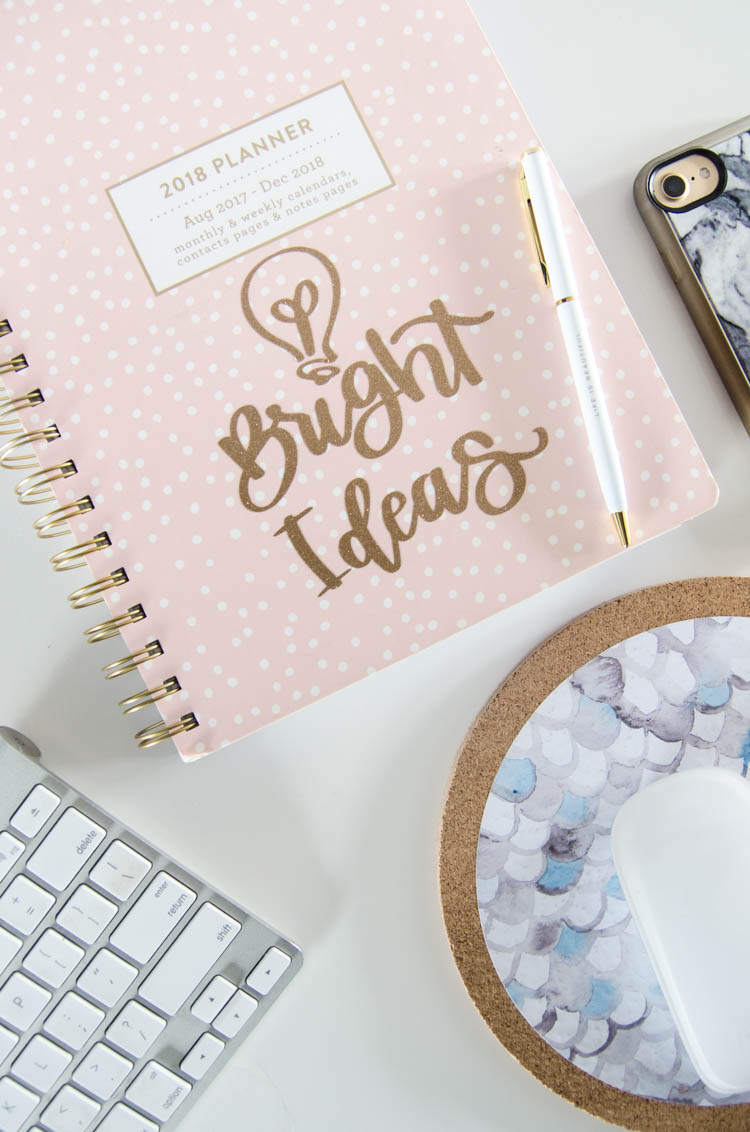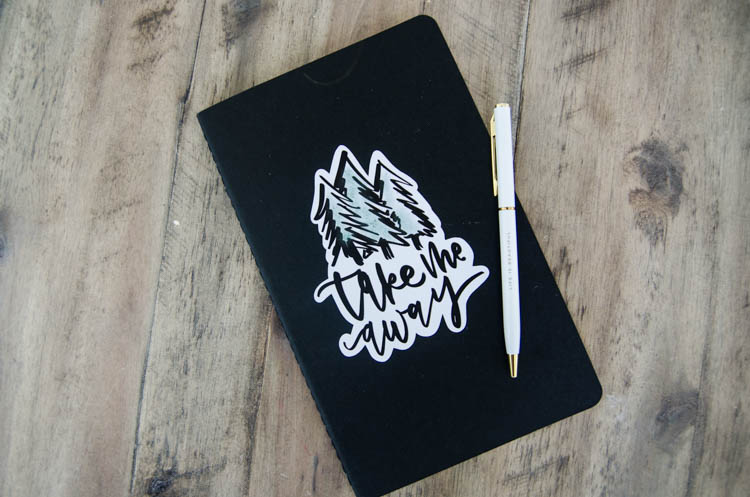 If you're looking for how to get your lettering ready for cut using PHOTOSHOP instead of design space… you can find that in this tutorial here. But you don't NEED photoshop if you'd rather save those bucks.
Before I get into the step by steps of uploading each file type, I wanted to point out the three different ways you can get designs onto your mat in Design Space. There are a TON of screen shots in this post because I'm doing several tutorials in one SO what I've done is made them small for ease of reading and if you would like to see it bigger, just click and it will take you to the full image size. Sound good? Good ;) And before we do that… how about the video?
The three different places you can insert designs onto your mat is the 'Images' tab, 'Shapes, and 'Upload'. Images is where you'll find everything that is offered by Cricut. There are free images, there are paid images, and there are images that are included in Cricut Access (a subscription service). I use this most for basic images for party themes (like the train for this party). Shapes is handy, but there's not a ton to choose from. And upload? That's what we're going to concentrate on for this tutorial.
When you click on 'Upload', there are two different options. There's Upload [a cut image] or Pattern Fill. I always prefer to use the upload option… even when I'm going to use whatever that image is for a fill (not a cut outline). I have an example of that in this post/video as well.
IMPORT SVG IMAGES TO DESIGN SPACE
SVG Images are the easiest type of images to upload into Design Space. If you buy a 'Cut' file, this is typically what you would be buying (like our Fresh Cut SVG Bundles). SVG stands for Scalable Vector Graphic and that means that you can size it up or down without losing quality. These images also have the most options for customization within the Design Space Software and that is because it imports each cut as a separate piece. For an example on this one, I used this simple floral graphic that Erin made for the Spring Fresh Cut Bundle (no longer available). I chose this one because it is only three pieces, but if you import a larger file keep in mind that it will look much more overwhelming in the layers tab because there is a layer for each cut made.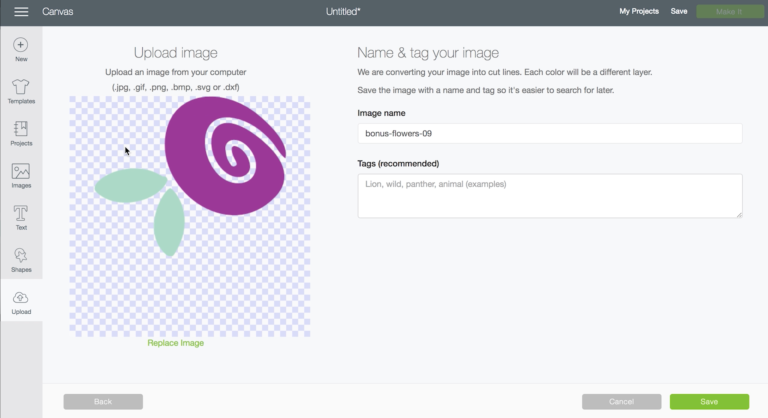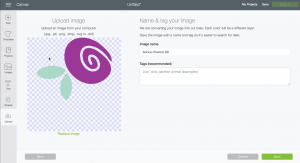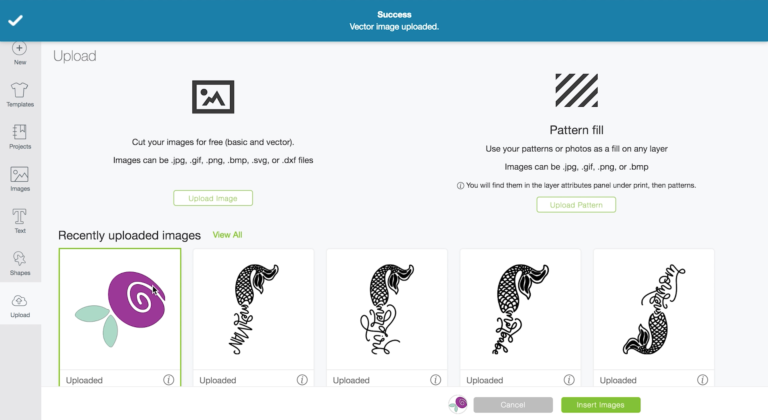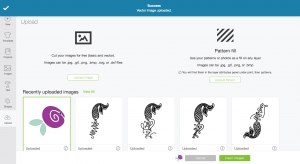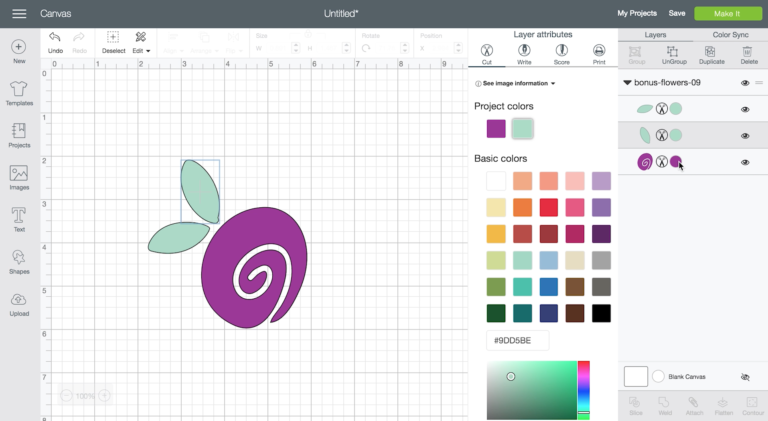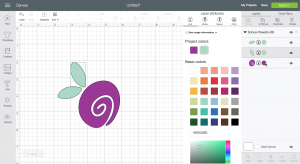 To upload any file type, hit that little cloud symbol with the up arrow. Click upload [cut file] and select your file. That will open up a screen where you can name your file and add keywords. Then you can hit Insert Image and it will be inserted onto your canvas. When you click on that design and drag it around, it will seem like one piece. It sticks together after all. But notice in the layers tab on the right now each piece is a different layer? You can change the colour of each piece and cut them off of different maps. When you have sized it to your preference, hit MAKE IT (top right) and see how the pieces lay out on the mat.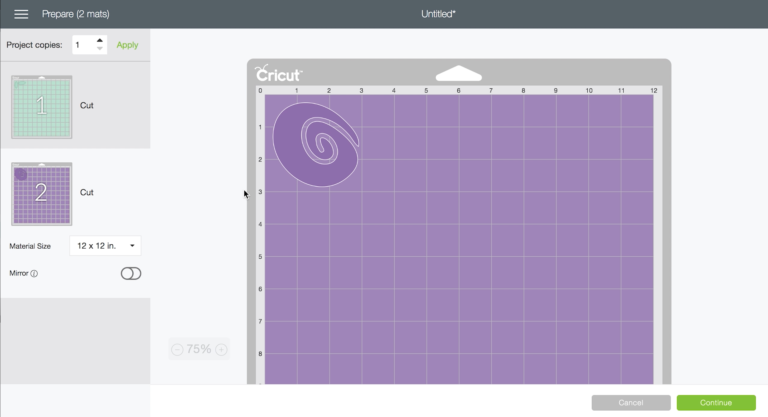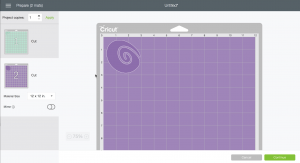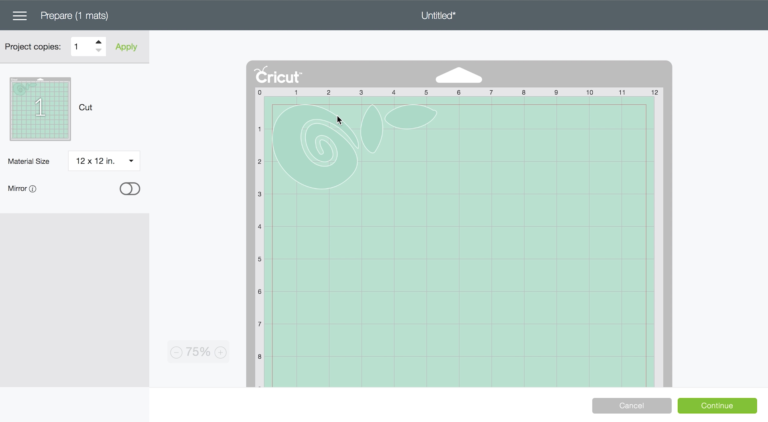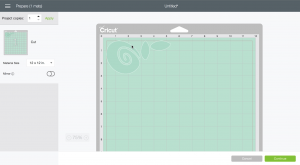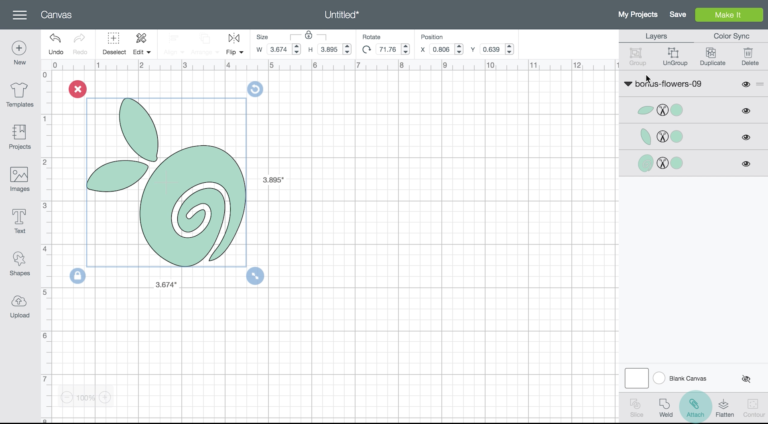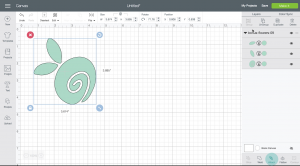 They're on separate mats! Of course they are, because they're different colours and you need two different colours of vinyl. If you're anything like me, you'll probably go back and make all the pieces one colour and try again. But you'll find the design is all jumbled. Here's why. Cricut Design Space tries to make the best use of each piece of vinyl by arranging all the different pieces on your mat for you. This might conserve vinyl but it might be a pain in the butt if you're trying to get everything lined up by hand. SO go back to your canvas and select all the pieces of your design. You can do this by holding down CTRL on your keyboard and selecting all the layers on the layer panel OR you can just click and drag your mouse over the design to select it all. Then click that little Attach (paperclip) button at the bottom of the layers panel (highlighted in blue). This will hold all the piece together without permanently losing the data of them being separate. When you click 'make it' you will see that the design holds together this way. And since they're just attached, you can detach them at anytime and change the size of one pieces or decide to cut the rose out of purple and the leaves out of green. Here's the shirt I made my daughter using this design: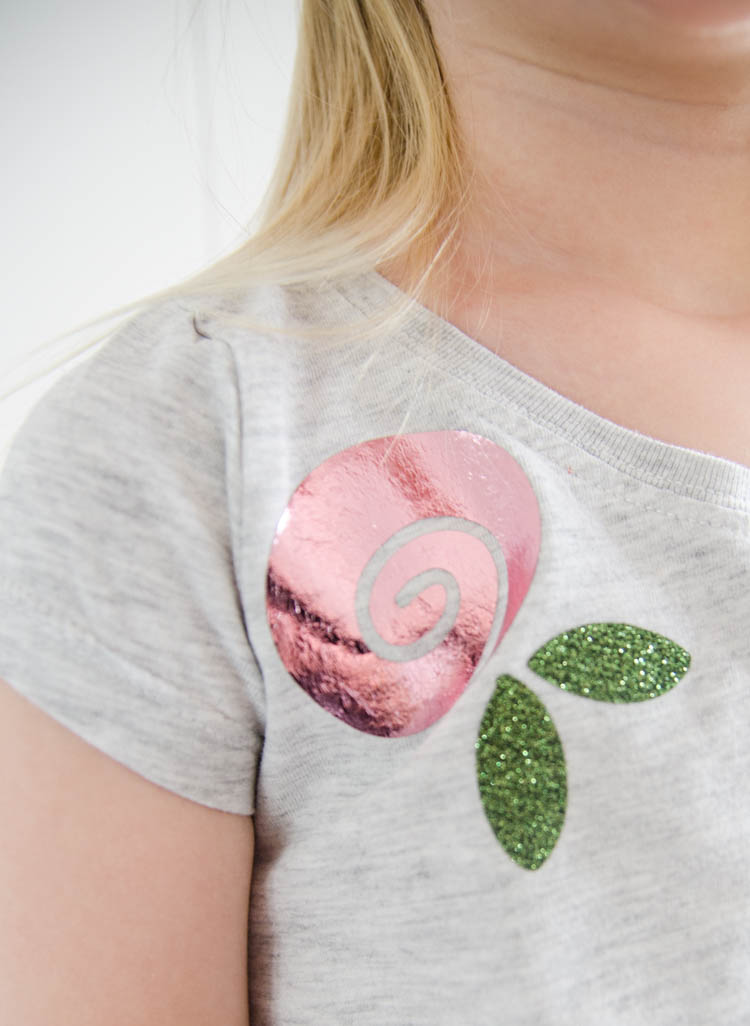 I made this shirt by keeping the rose on a separate mat (I left it purple in Design Space) and selecting the leaves and attaching those two before cutting them. The leaves are made with Cricut Glitter Iron On and the flower is made with Cricut Foil Iron On.
IMPORT PNG IMAGES TO DESIGN SPACE
PNG files are my most used with Cricut. PNG stands for Portable Network Graphic which is a lossless image compression file type. That means that it has a lot more information than a JPG (for example) and the *biggest* thing to me is that it can have a transparent background which makes importing and using them for cut really easy. This is the type of file I use the MOST often with Cricut. The images upload as ONE layer and that means that it will stick together and cut exactly as it is imported. What does that mean? You can't easily change the colour of one piece of the design or rearrange letters of a design once imported. But most of the time… we want it to look like how we imported it, right? So that works best for me.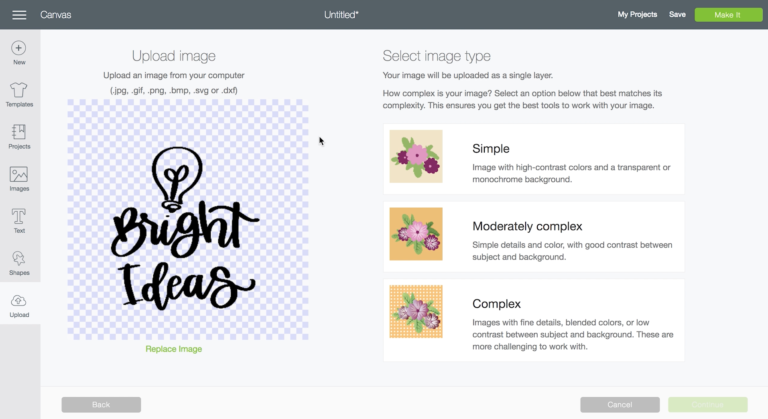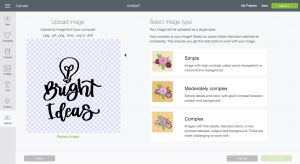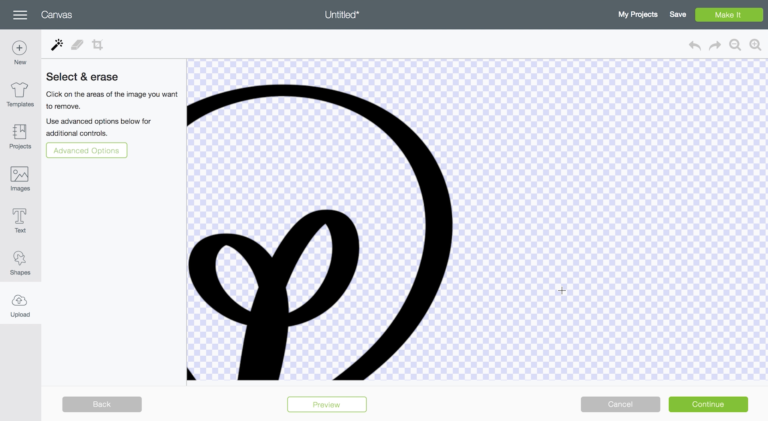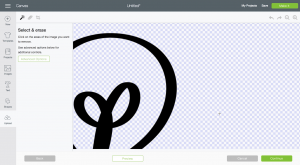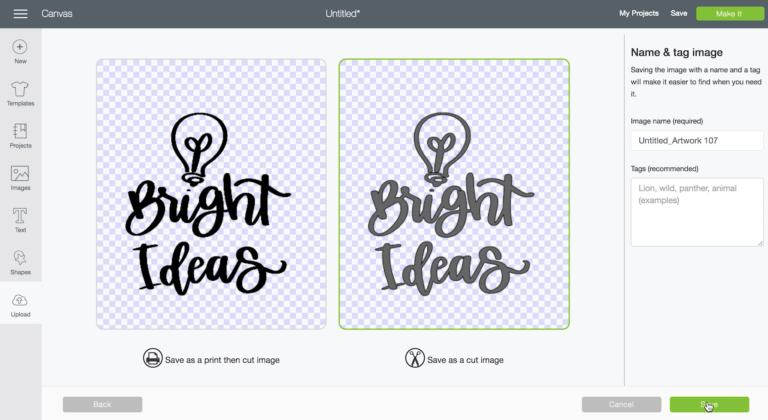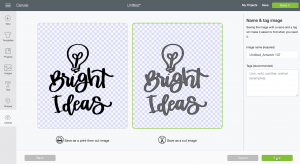 I create my PNG images in Photoshop after scanning in lettering or straight off my iPad Pro (Procreate exports in PNG format which is crazy handy) but before I had either of those, I used PicMonkey.com to create my PNG graphics with transparent backgrounds. This 'Bright Ideas' example I made on my iPad Pro and exported with the transparent background. To upload a PNG with a transparent background, you again click that little 'Upload' with the cloud and you will have a few more steps than you did with the PNG. After you select your file, you will be prompted with choosing if it's a Simple, Moderately Complex, or Complex image. For this simple black/transparent design I choose 'Simple'. Then, you'll be brought to a page where you can erase any parts you don't want. For a file that already has a transparent background and no pieces you do not want… you can skip over this step. Then, you'll be prompted to choose either print then cut for your upload or just a cut only image. Choose cut only and your design will be loaded into your uploaded images gallery and can be inserted onto your canvas.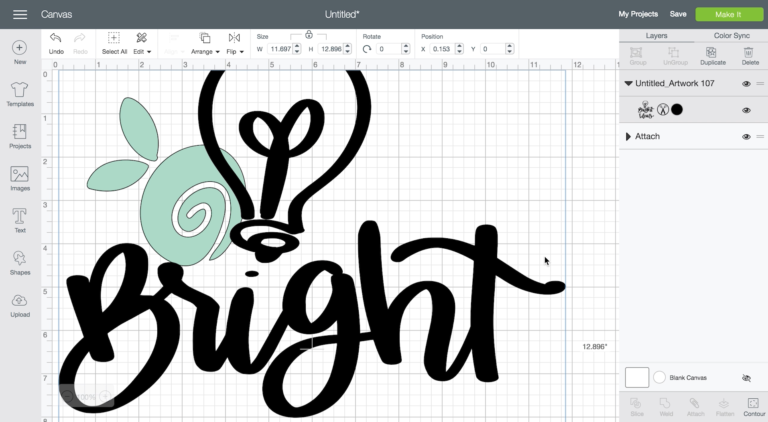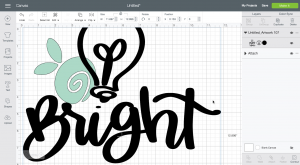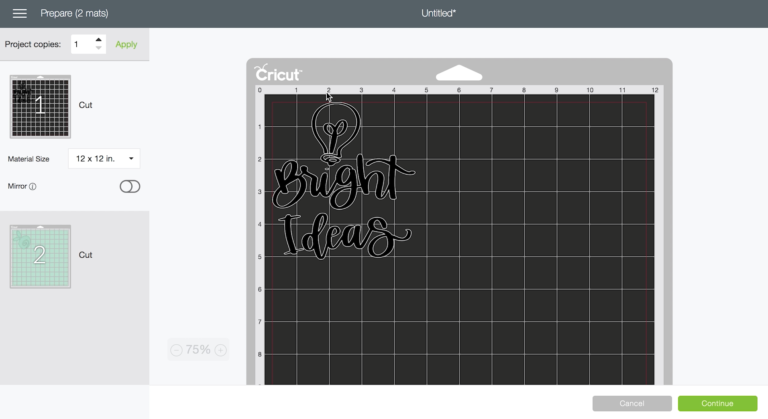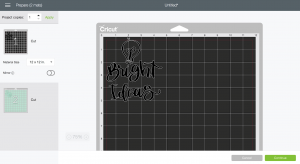 Once it's on the canvas, you can see that it has a transparent background, you can move it around and resize it just like the SVG but you'll notice there's only one layer in the layer panel. This means you can't select just the lightbulb and make it a different colour to print on a different mat (although you could duplicate it and contour the lines to have the parts separate… but I'm not going to go over that here). When you hit 'Make It', you'll see that because it's all on one layer, the pieces don't jump around- easy peasy! This way it will cut all in the exact layout you uploaded it in, making it easy to apply your transfer tape and pop it onto your surface. Here's the 'bright ideas' decal on my dayplanner.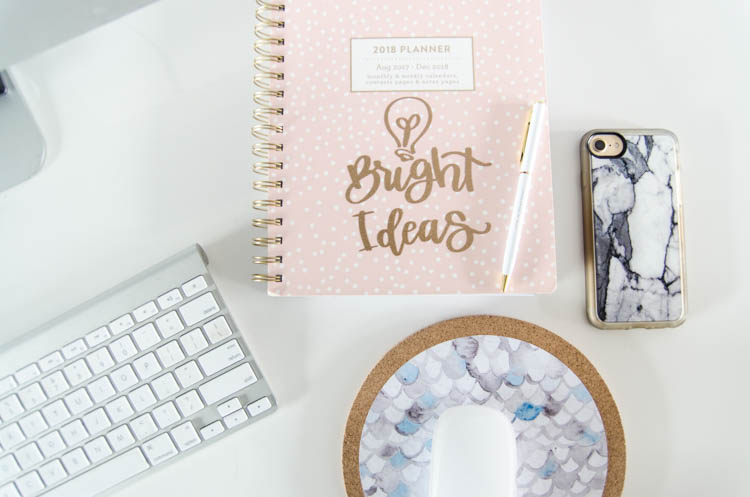 I made it using. Expressions Vinyl Smooth Gold Glitter Vinyl and in the video, you'll see I'm using their paper transfer tape as well.
IMPORT JPG IMAGES TO DESIGN SPACE
JPG is a photographic file type which is named after the group that named the file type (from what I understand). It's perfect for photos as it handles all the colours beautifully BUT it cannot have a transparent background. This means that you need to make changes when you are uploading the image through the Design Space software. Let's take a look!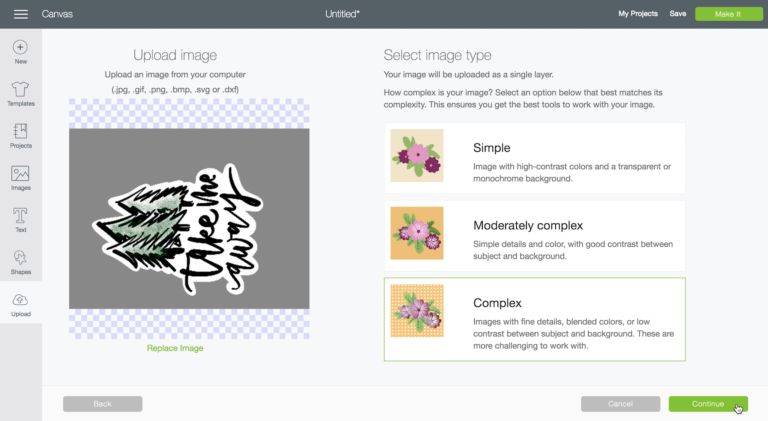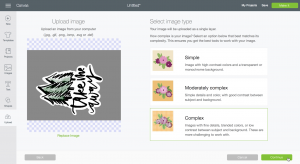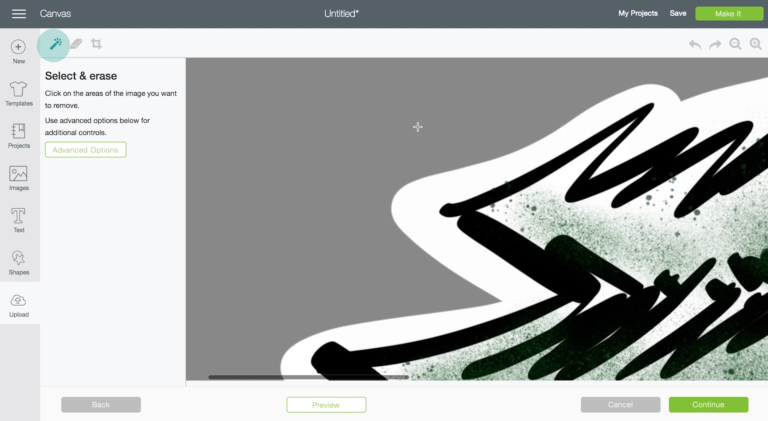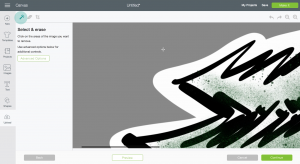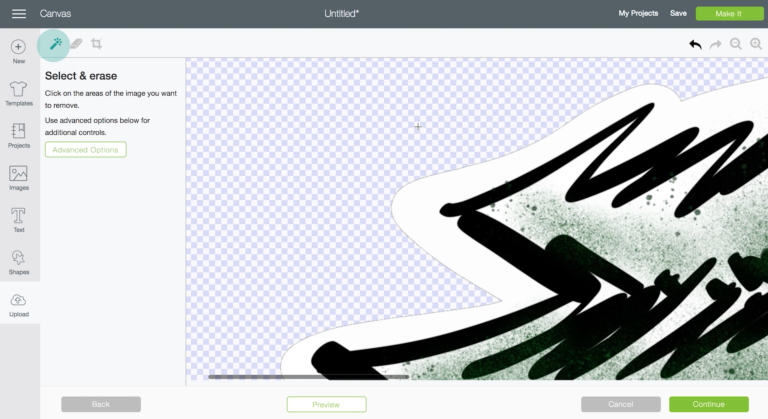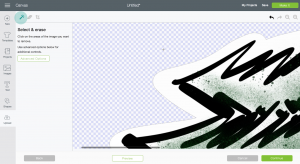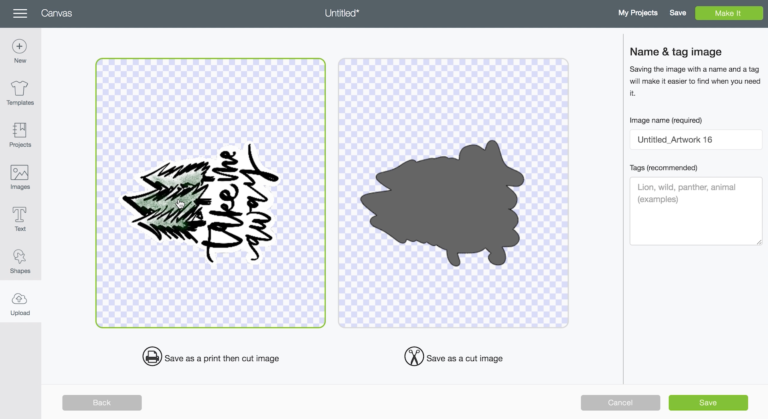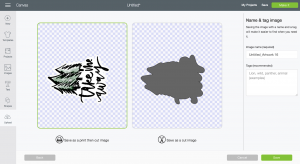 This example I lettered/illustrated on my iPad Pro again. You'll see that it has some colour and is not just black and transparent (because it's a JPG). I made the background a solid grey to make it easy to erase. This is what you will want to do to make it easiest to have a simple selection for a print then cut image. You can also do a PNG with that white background and export without the grey background if you are working in Procreate. SO when you go to upload it in, it's the exact same steps. Click that little 'Upload' cloud and then when you get to the image type, I chose 'complex' to retain all the quality of the design I want to print. Then, when it's time to erase, I chose the magic wand (highlighted in blue) and clicked the grey to erase the background. I didn't have to do any more touch ups since this image was very clean. Depending on your image, you might need to do a bit more in this tab before moving on. When you go to the next screen, you can choose either print then cut or a cut only image. For this one, of course, I chose print then cut. You can see how clean the cut lines are on the cut only image- that's how you know you don't have anything additional to erase in the previous tab. Then it will populate in your uploaded images and you can insert it onto your canvas.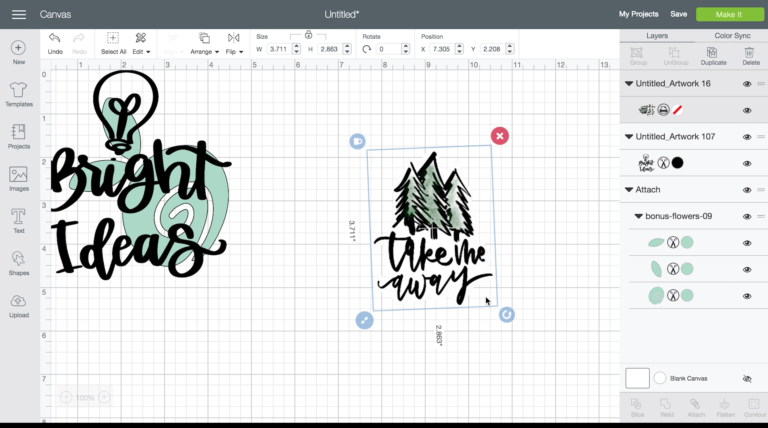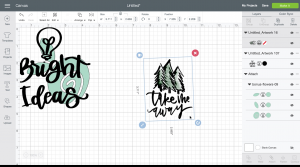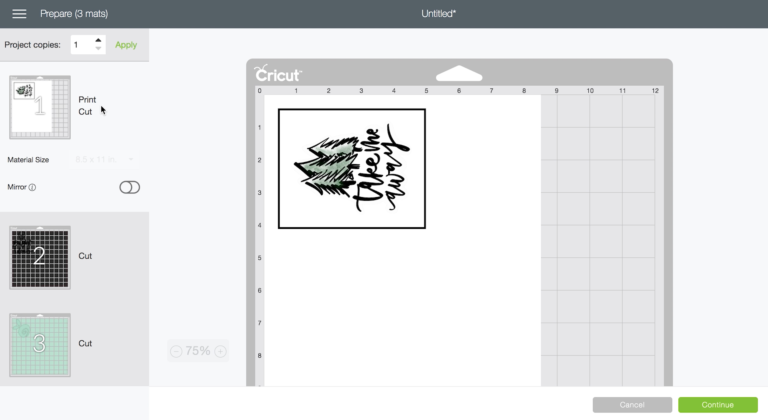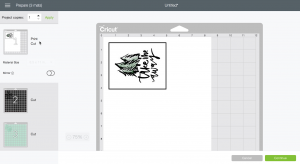 Like the PNG, you will see that it it is one layer only in the layers tab. Instead of the cut symbol by the layer, you'll see a printer instead. When you hit 'Make it' it will load onto it's own print then cut mat (with a black sensor box around it). From here you would print and then cut it. For a full tutorial on using print then cut on printable vinyl- I've got a video and written tutorial on that RIGHT HERE.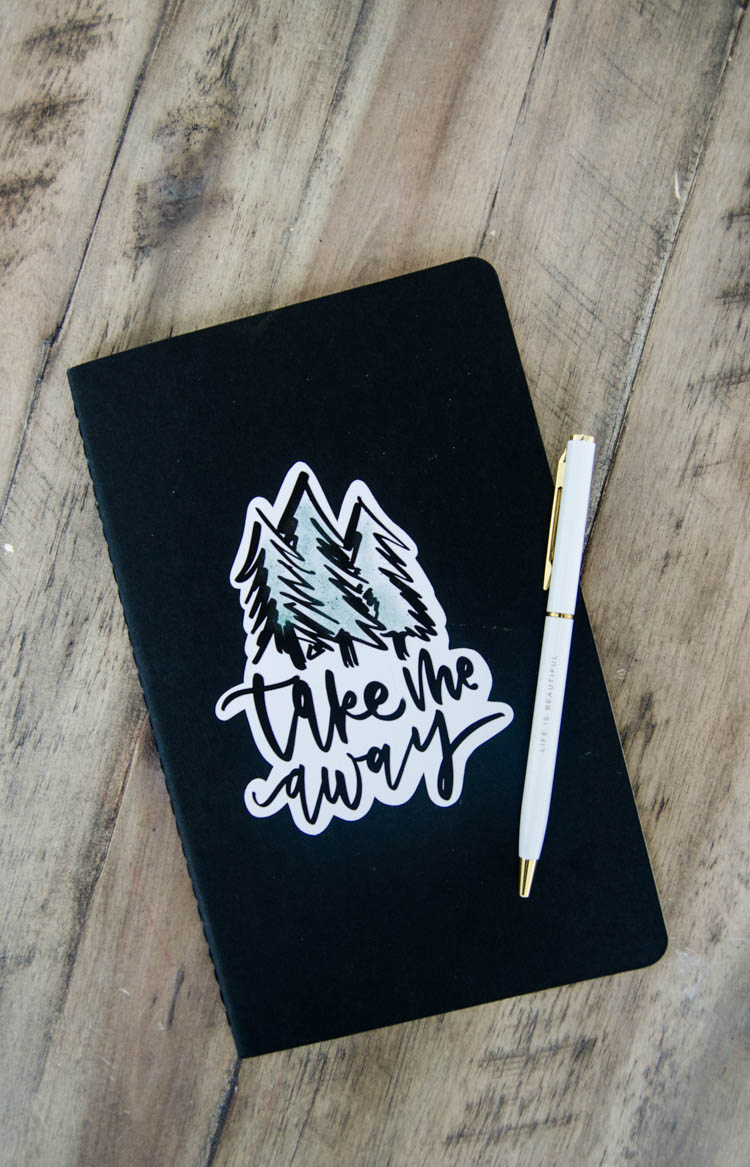 I used this vinyl decal (made with Cricut Printable Vinyl) on my Moleskin black paper notebook and am really so happy with how this one turned out! I think I will definitely be using this design again in the future.
HOW TO USE JPG IMAGES FOR PATTERN FILL (TWO WAYS)
Alright, I also wanted to demonstrate that 'Pattern Fill' option and why I don't bother using it. First, let me show you how I add a pattern to a shape or design in Cricut Design Space. You'll want to upload your pattern (I uploaded this beautiful floral watercolour design for my last Cricut Vs Silhouette tutorial. It's from a pack of watercolour florals purchased here.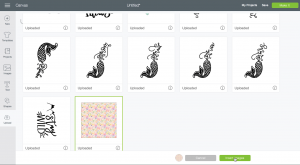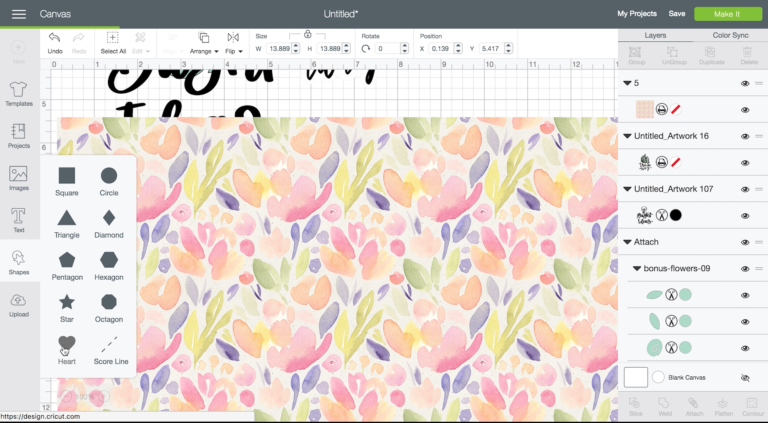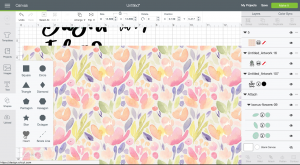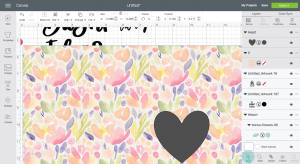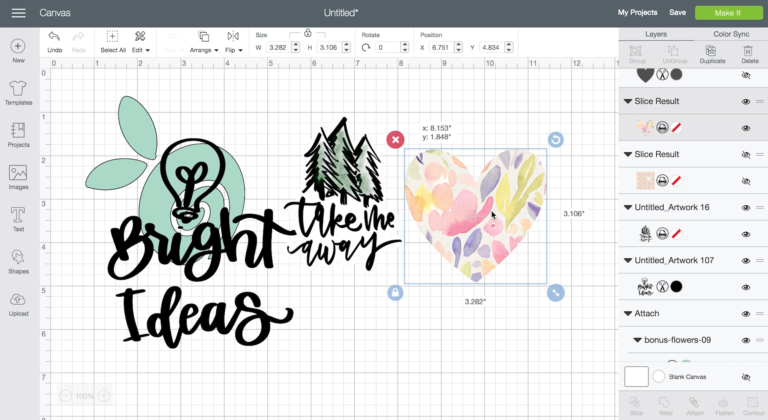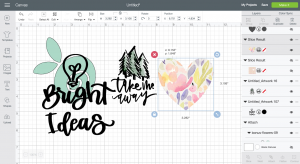 You would follow the exact same steps as the JPG image above (without erasing the background). Once you've inserted it in, add the shape you'd like the pattern to fill. I went simple and chose a heart from the shapes tab but you could use any PNG or SVG image you've uploaded as well. Lay your shape over your pattern exactly where you want the pattern to fill. You can resize the pattern and move it around as well until you're happy. Then select both layers by holding down CTRL on your keyboard and selecting both the layers on the layer panel OR you can just click and drag your mouse over the pattern and shape to select them both. Then click 'Slice' at the bottom of the layers tab. This will give you three layers. You can click the little eye beside the layers you don't want to use (or just delete them) so you're left with your pattern filled shape. I love how much control this gives me.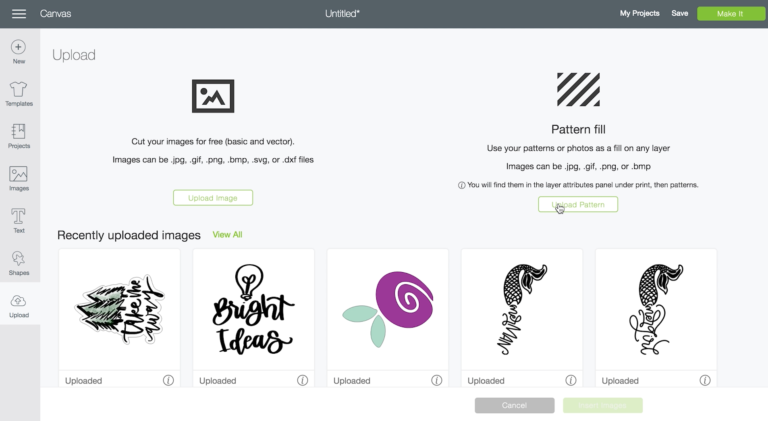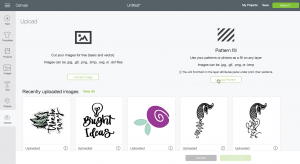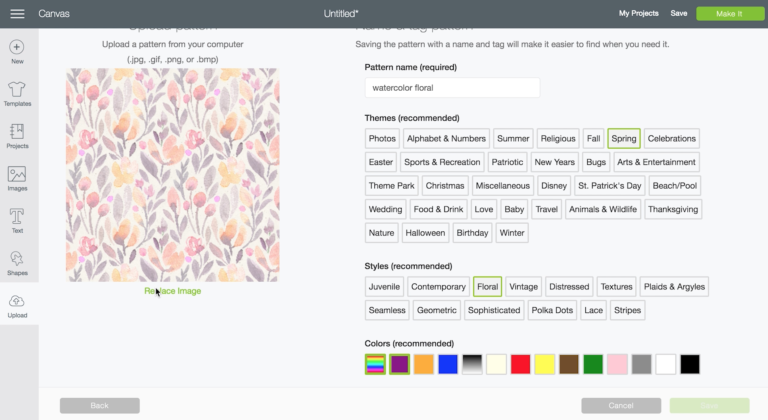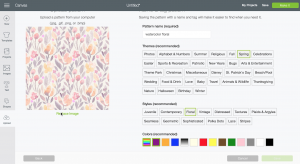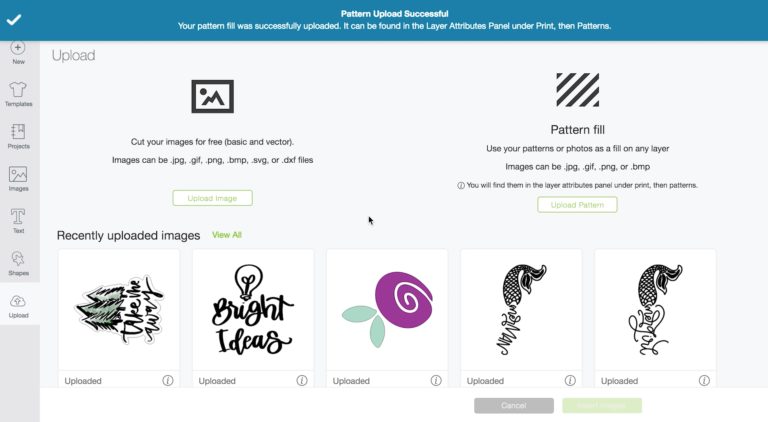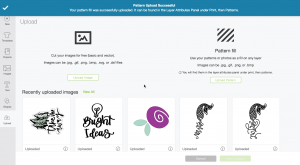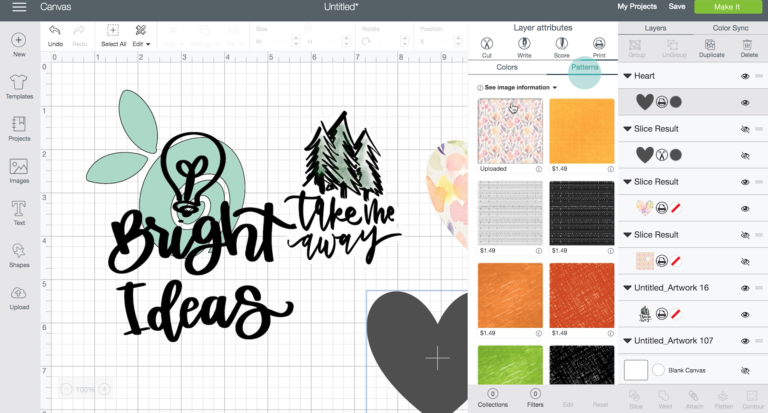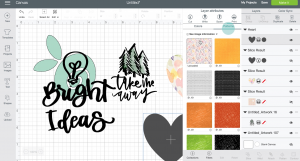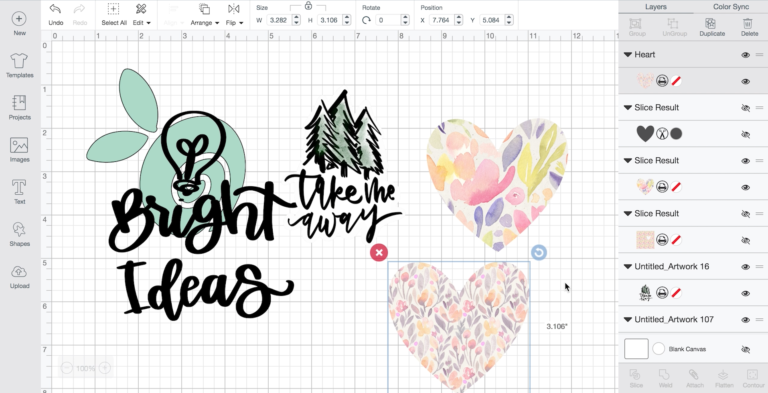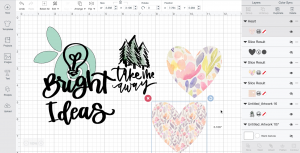 The other way you can get this effect is to upload your watercolour florals (pattern) as a Pattern Fill instead of under the standard Upload. When you go to the upload tab (that little cloud), you have two options. We've been using the Upload option, now let's click the Pattern Fill option. You select your pattern and then you'll get to label or title your pattern before you save it. When you get back to your uploaded images gallery… you'll see it's not there. That's because it's been saved with the patterns, not with the images. You need to select the shape or image that you'd like to fill with the pattern first and then turn it to a print (not cut only) in the layers tab. Then you will see the option of 'Patterns' in the layers tab and your pattern will show up there. When you select it, it will be added to your shape. NOW in the video, I said you couldn't alter that pattern but it was pointed out to me that you can make some changes it just doesn't provide the same amount of control as the slice option does.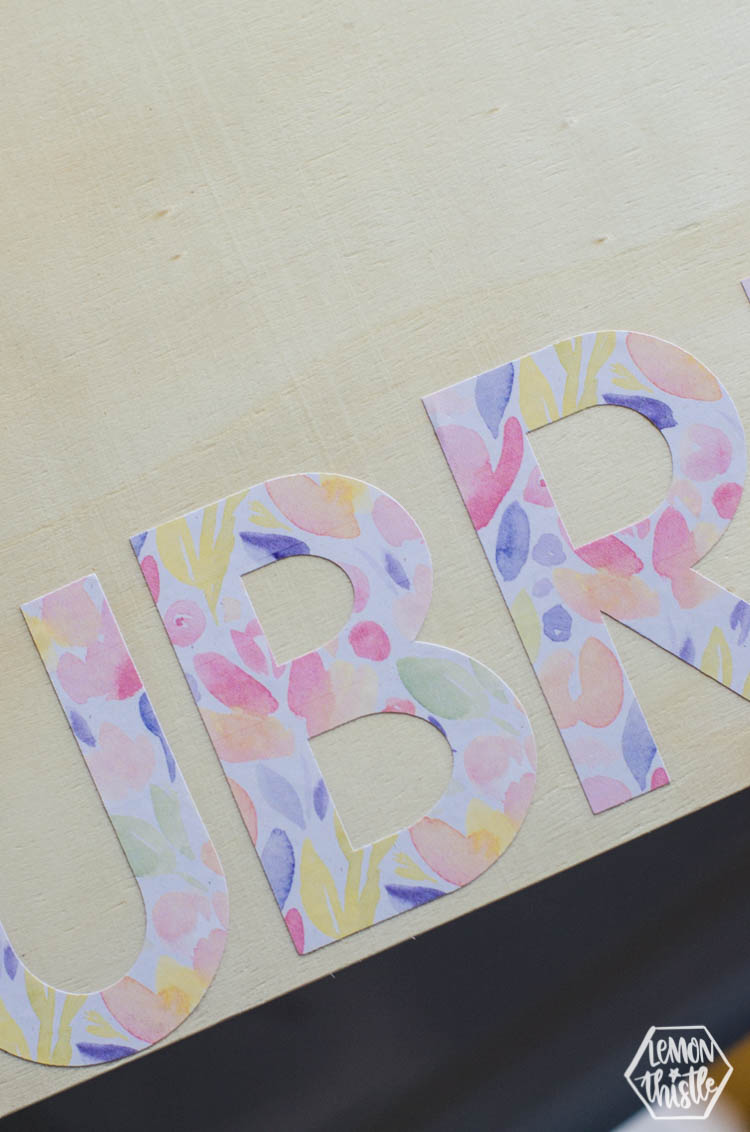 I totally forgot to make these ones into an actual project until I was editing the video and realized I didn't have one! But this is the technique and florals I used for this DIY- you can find the full tutorial for that in this post.
HOW TO GET YOUR LETTERING FROM PAPER TO CUT USING ONLY DESIGN SPACE
Alright, this is the really fun one (if you like to hand letter!). Right off the bat… I do this in Photoshop usually. Not because Design Space can't do it (I'm going to show you how it can!) but because I'm way speedier in Photoshop. If you're wanting a tutorial on how to do this in Photoshop (did you know you can try Photoshop for a month for free to see how you like it?!), you can check out my tutorial on that RIGHT HERE. But for this tutorial… let's look at how to get your lettering from paper to vinyl with only Cricut Design Space and your camera phone!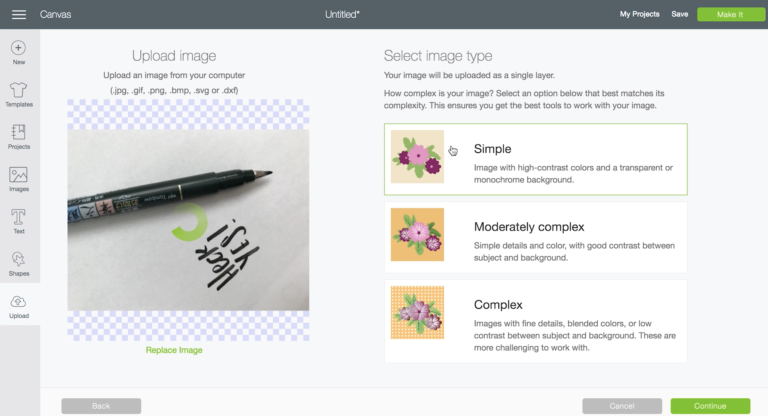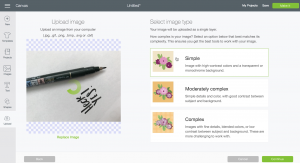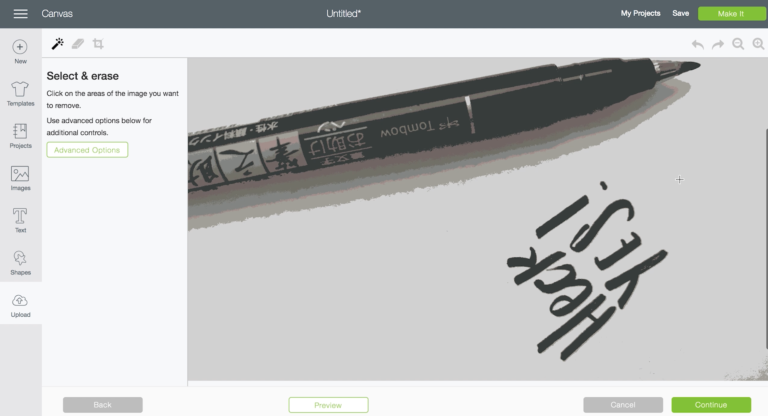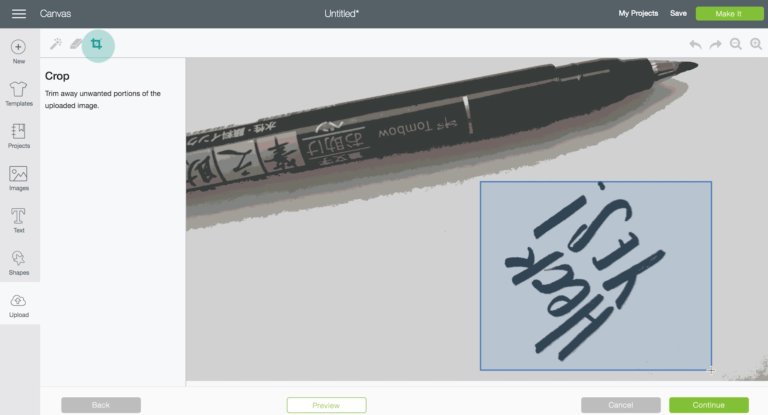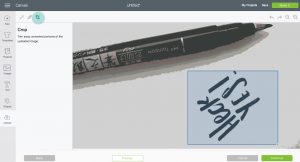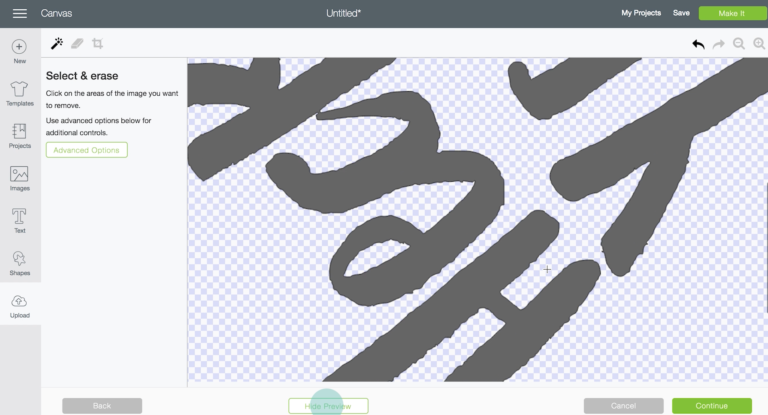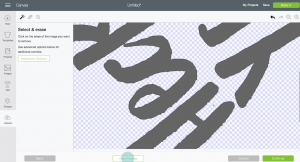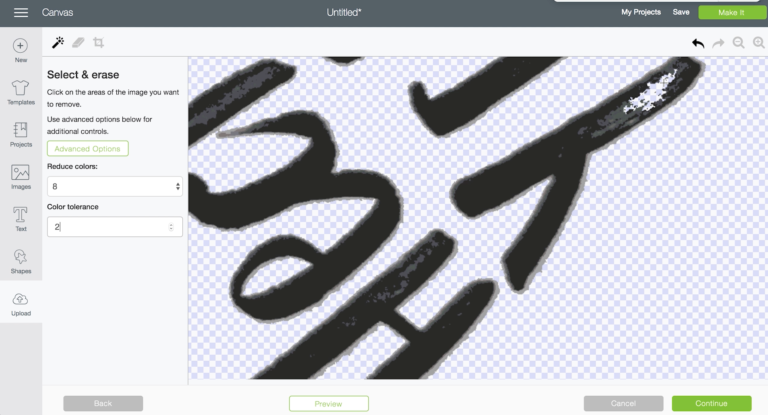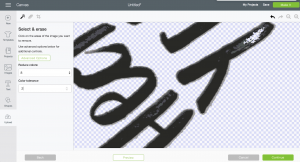 Let me preface by saying that if you do have a scanner, that will give you a better quality picture to begin with. But you really don't need one if you're not wanting to retain image quality (like watercolour details). So I took this photo using my camera phone (low light and all… it's not a great photo) and went to that upload tab (the cloud) and chose this image. When prompted with selecting the image type, choose SIMPLE image. I know, it seems like it's not a simple image but by choosing this, it will simplify your photo, losing image quality (which you don't need anyways), but making it easier to delete the parts you don't want. See how it makes it less detailed? This is perfect! The first thing you should do is crop it down to just the area you want to keep. Even if you don't have a pen in the picture, I find that the edges of the photo are always darker and I always seem to have little scraggler dark areas to erase if I don't crop first.
Once it's cropped down, you can use that magic wand to erase the background. You'll also want to delete the background within your loopy letters (like in the e). You can click on the 'preview' button (highlighted in blue) and check and see what it will look like as a cut file. You might see some dots outside of your design that need erasing. Switch to your eraser tool to do this. I toggle back and forth between preview and erase until I'm happy. When you're happy, you can choose 'cut only image' and insert it onto your canvas for cut. That's what this decal is on the notebook. I did go back in though and show an option to give your decal a brushy look. You can see the brushy detail, for example, in this project here. To erase some of those 'brushy' spots, just click on your magic wand and delete some of the lighter coloured areas. If it deletes too much, you can undo and go into the advanced details to lower your colour tolerance to try again. Just a little tip if you like that brushy look :)
Just like the PNG and JPG images above, this will import all as one layer and retain it's layout when you click 'Make It'.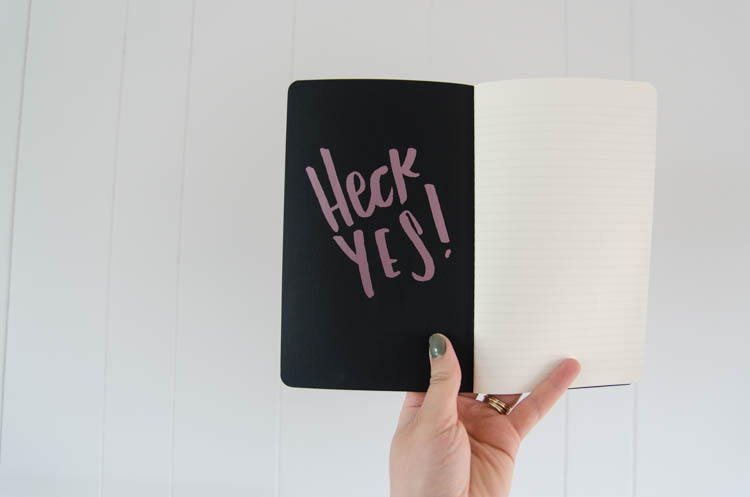 I didn't have anything else that needed a decal (I've stuck vinyl on everything in my life already) so I put this one on the inside cover of my notebook. This is just the Cricut Adhesive Vinyl in Rose.
Alright! I SO hope that you found all the details you needed in this tutorial. If you have any suggestions for future Silhouette VS Cricut videos, feel free to request them in the comments!
Here's some more great beginner Cricut Tutorials!