This is a sponsored post written by me on behalf of Cricut. All opinions are 100% mine.
From labelling iPads to labelling pantry containers and kids' drawers, I'm sharing 5 ways to organize your home with Cricut Joy- easy and beautiful.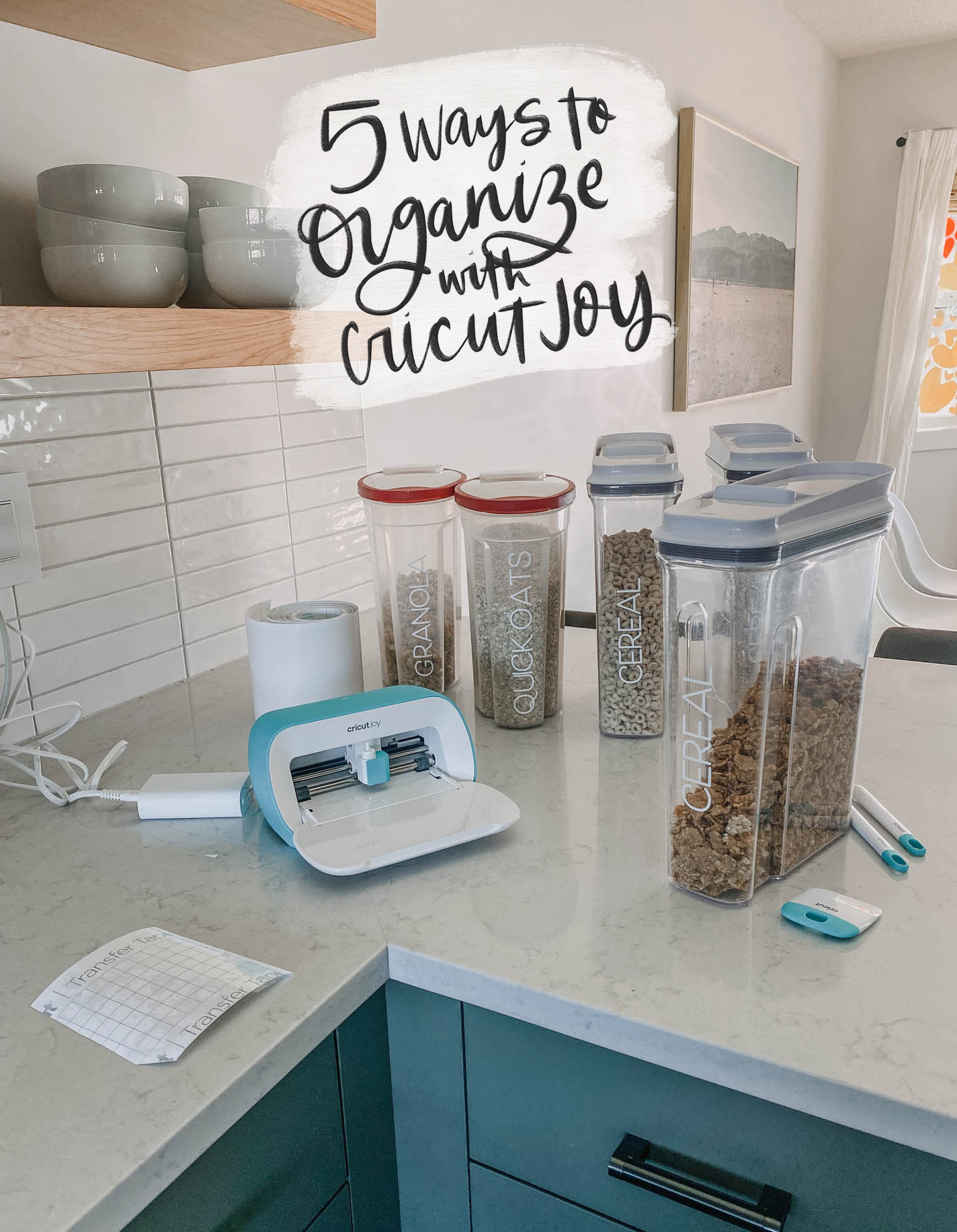 A couple weeks ago, this little cutie showed up in the mail and I knew I'd be carrying it around the house labelling all the things. I thought I'd share 5 of the ways I've been able to organize and label my house with Cricut Joy- from my kitchen pantry to my office and aaaaall the kids stuff. This was my first time using the new Cricut Joy so I learned a few things as I created I'm excited to share with you!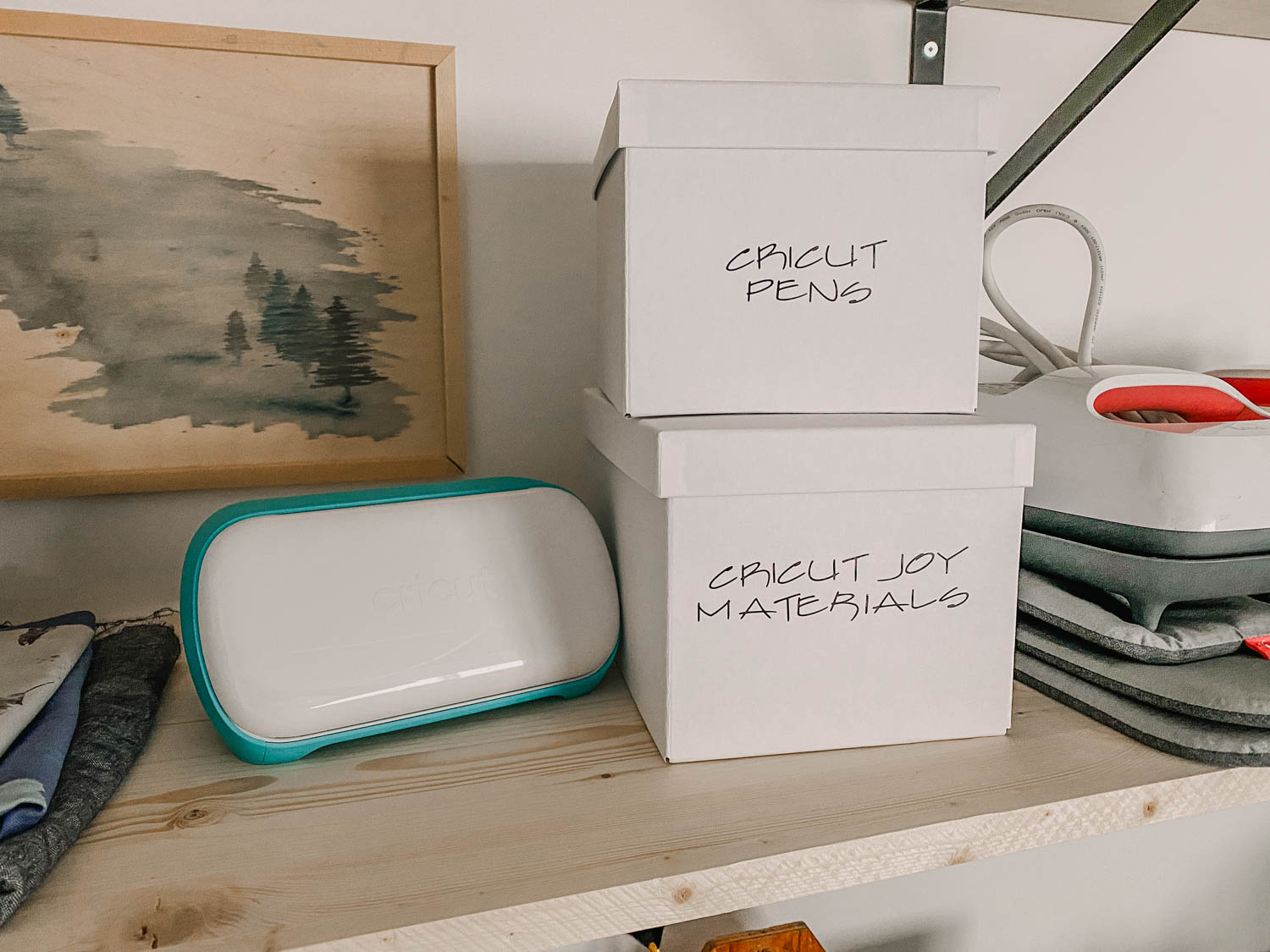 There are a couple projects I've been meaning to do- to label the kids iPad (we had an old one that wasn't being used I upgraded for my work) so we can tell it apart from Shanes (same case) and to label the pantry items. Now that our kids are doing school from home, I also wanted to label the boys' desk drawers so that we could keep their schoolwork and supplies together- until we did this, those materials seemed to end up everywhere.
Alright! Here's the 5 home organization projects I took on:
Label Kids Closet Drawers
Label Pantry Containers
Label Kids iPad to differentiate
Label Office Storage Boxes
Label Desk Drawers for purposes
Alright, friends… let's get labelling! I'll share the material I chose for each project and why, the font I used for each style of label and some photos of each! All the fonts are available in Design Space in this project so you don't need to download any fonts to make these!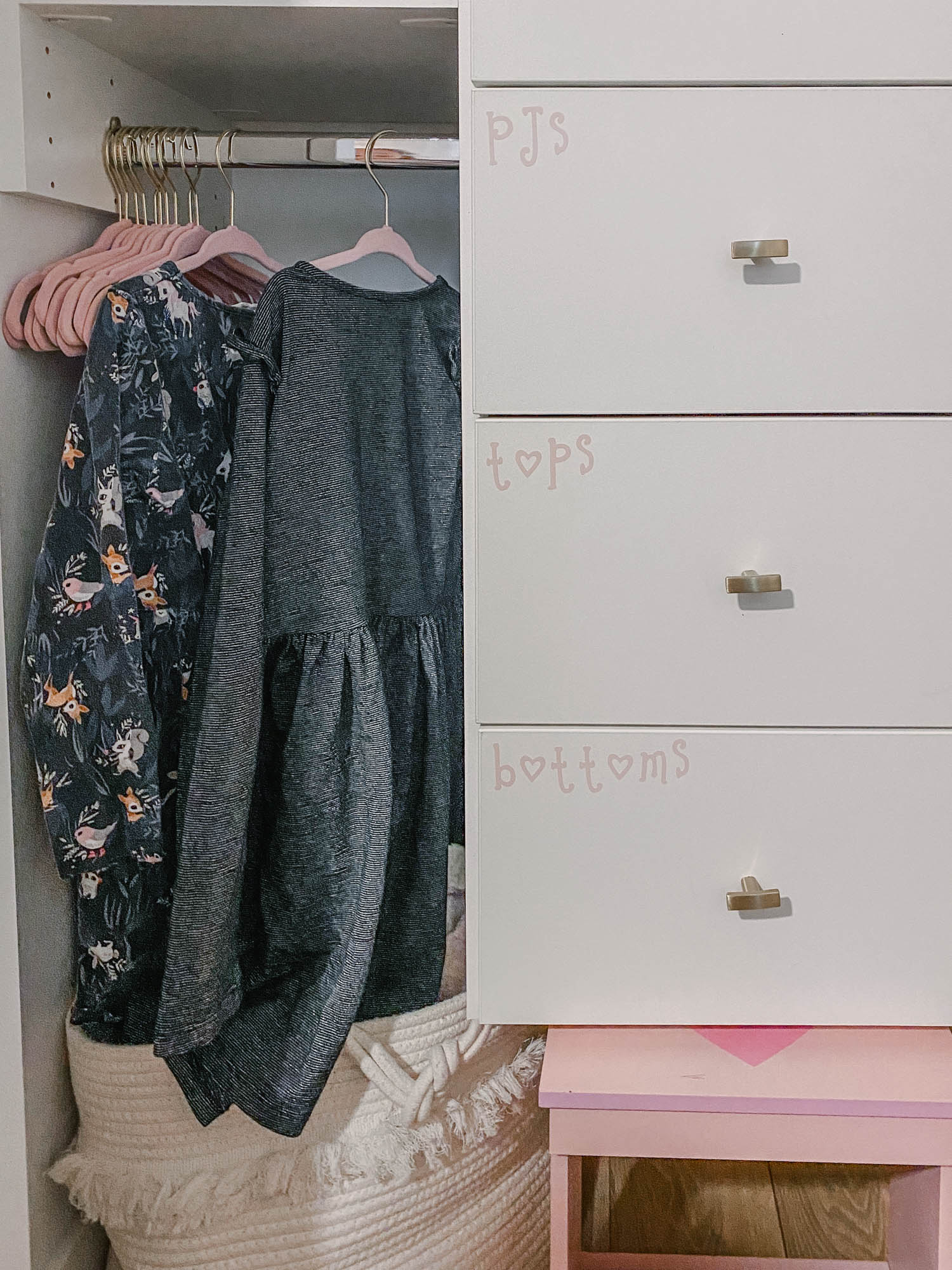 Label Kids Closet Drawers
Since we've moved in we've made over every closet in our home (almost, our linen closet is pretty sad still) and by doing that we've been able to eliminate dressers from all of our bedrooms. I love that this opens up floor space to use it how we love instead of how we HAVE to. I have been wanting to add some fun labels to the drawers to make it easier for kids and Shane to put away kids clothes in the right spots. So I tackled Aubrey's closet!
I chose a permanent adhesive vinyl for this so that with the heavy use it would stay put. I know that I can remove permanent adhesive vinyl with a hairdryer without damaging the surface so I'm confident to use this material on the drawers. I used a smart material meant for Cricut Joy meaning that it's a perfectly little roll and you can cut with these materials without a mat. How stinking cool?!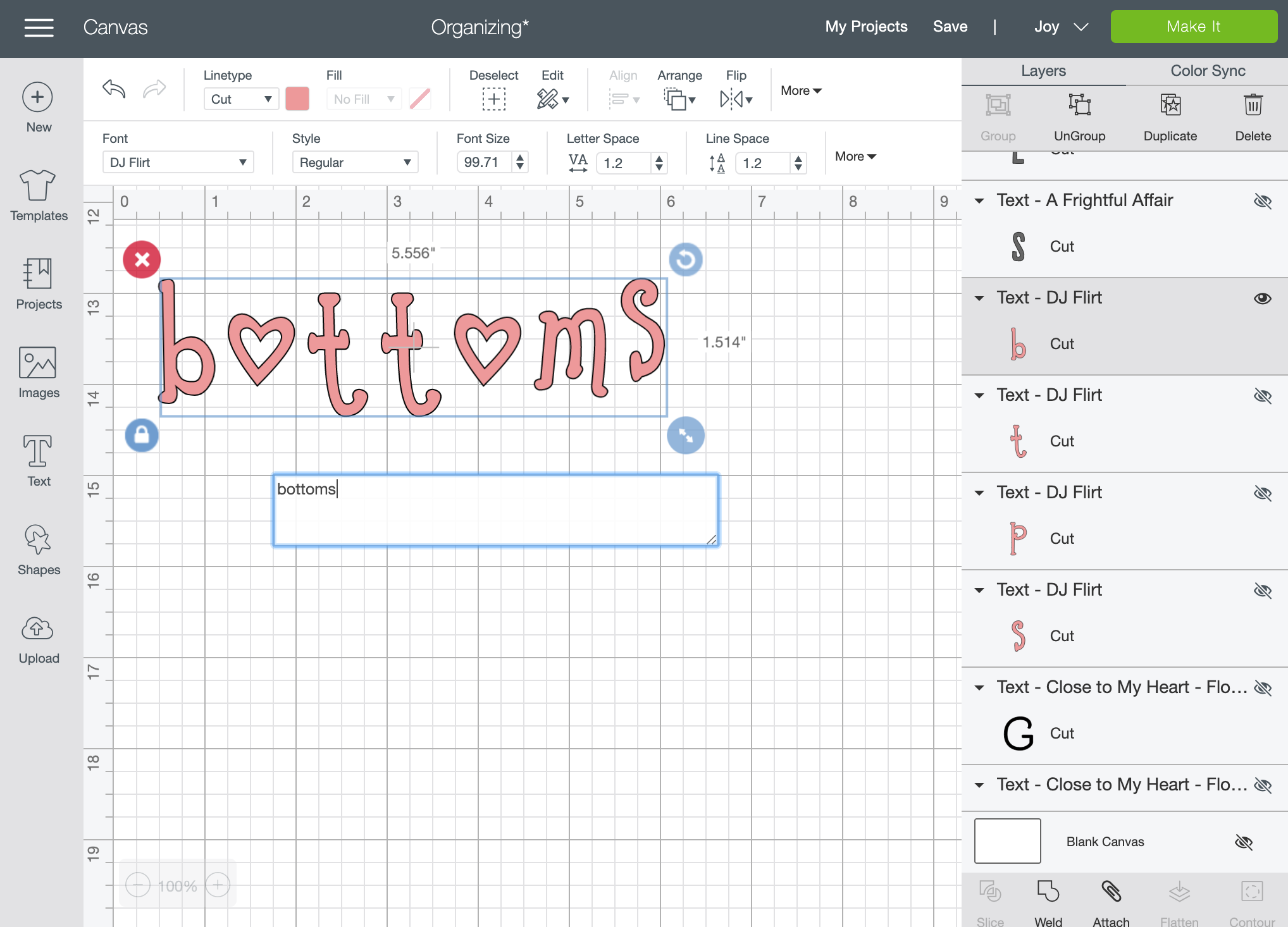 I used the font DJ flirt for these labels because of the cute little hearts in the font. Just make sure you size your labels before hitting 'Make it'. I found it easiest to size them the same by resizing one how I like, then just type that text size for each label. Once you hit 'make it', you can move the pieces around on that mat but you don't have the option of moving between mats like you do with the other Cricut machines.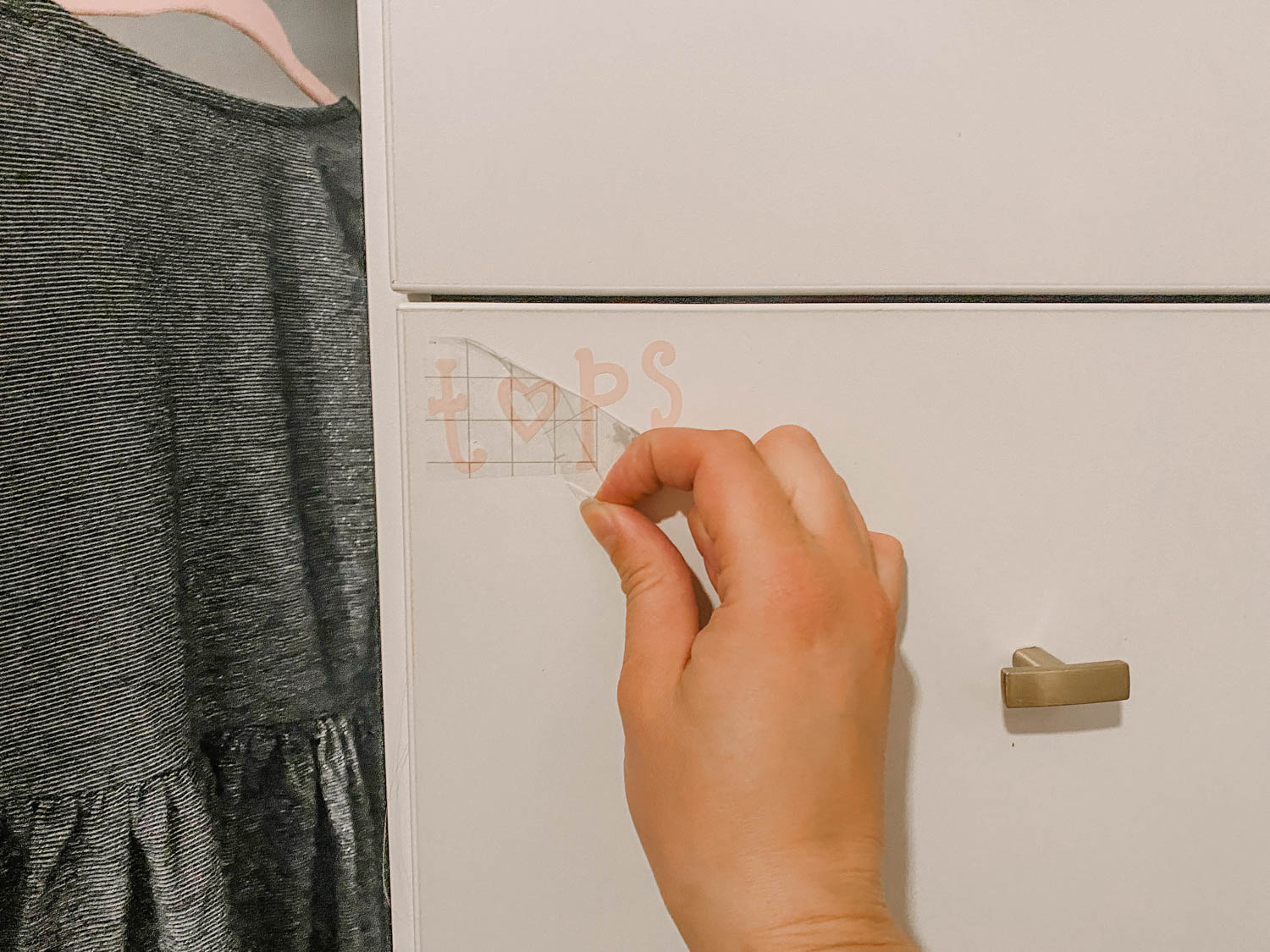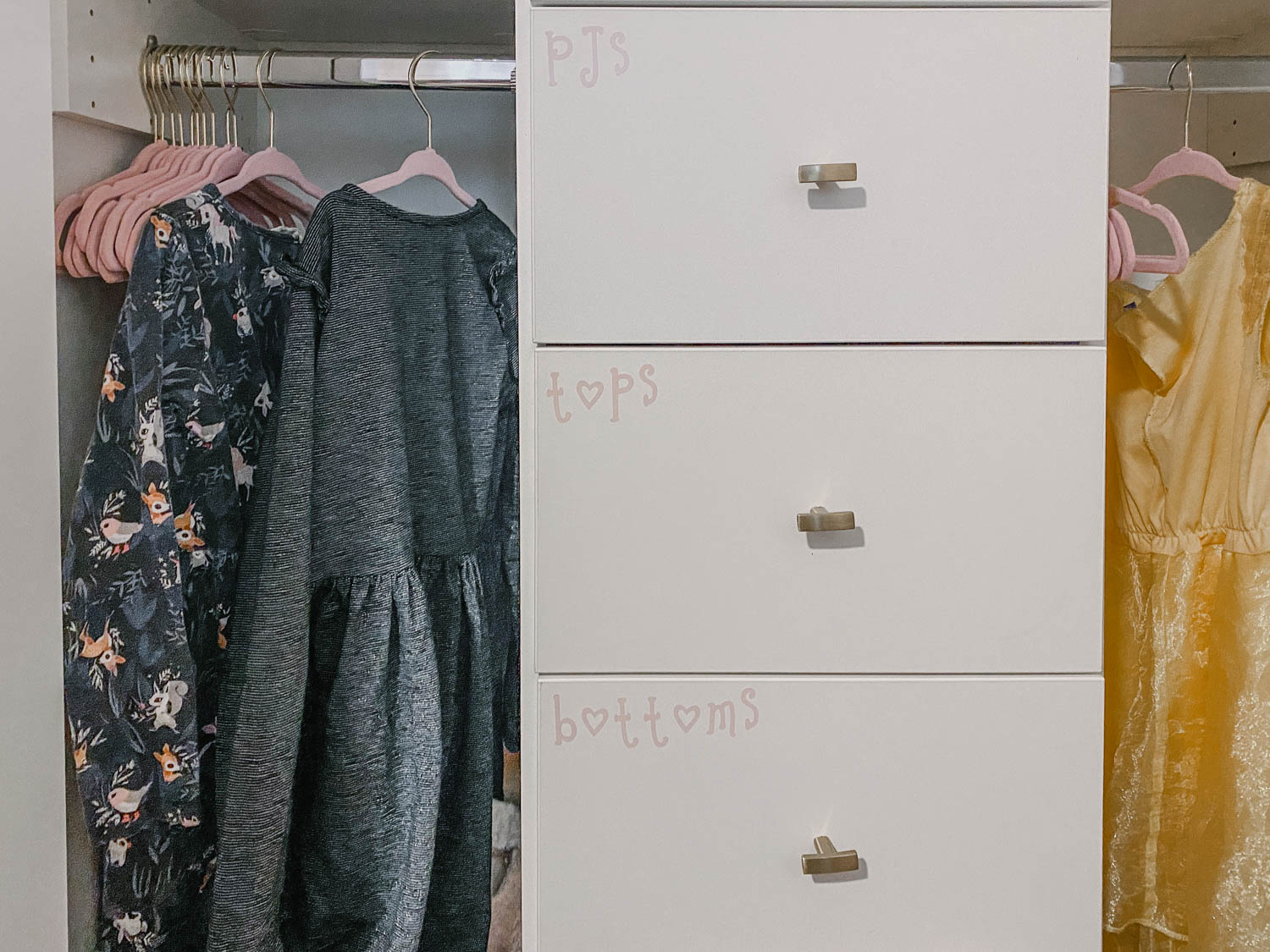 After you weed your labels, you can add transfer tape, cut them apart and apply them! Make sure to smooth them down so no corners of letters come off with the heavy use.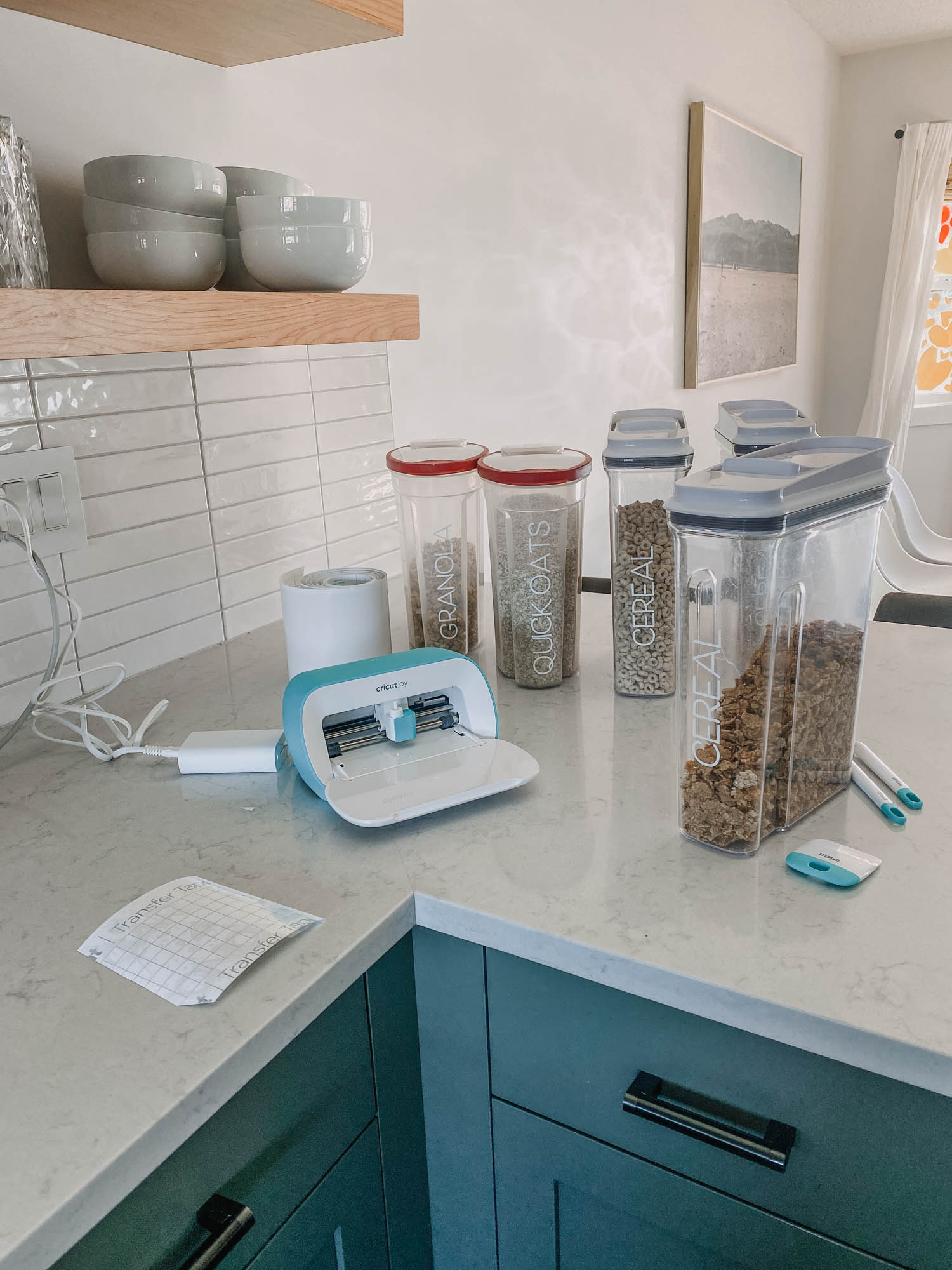 Label Pantry Containers
I've spent so much time organizing this pantry and I'm really happy with how hard it works for us now. It's been a couple years of using these containers and figuring out which ones work best with what we put in them. I wanted to label them so even if I'm not the one putting away groceries, the things end up in the right containers. Also… I just love how pretty it looks with these clean white text labels!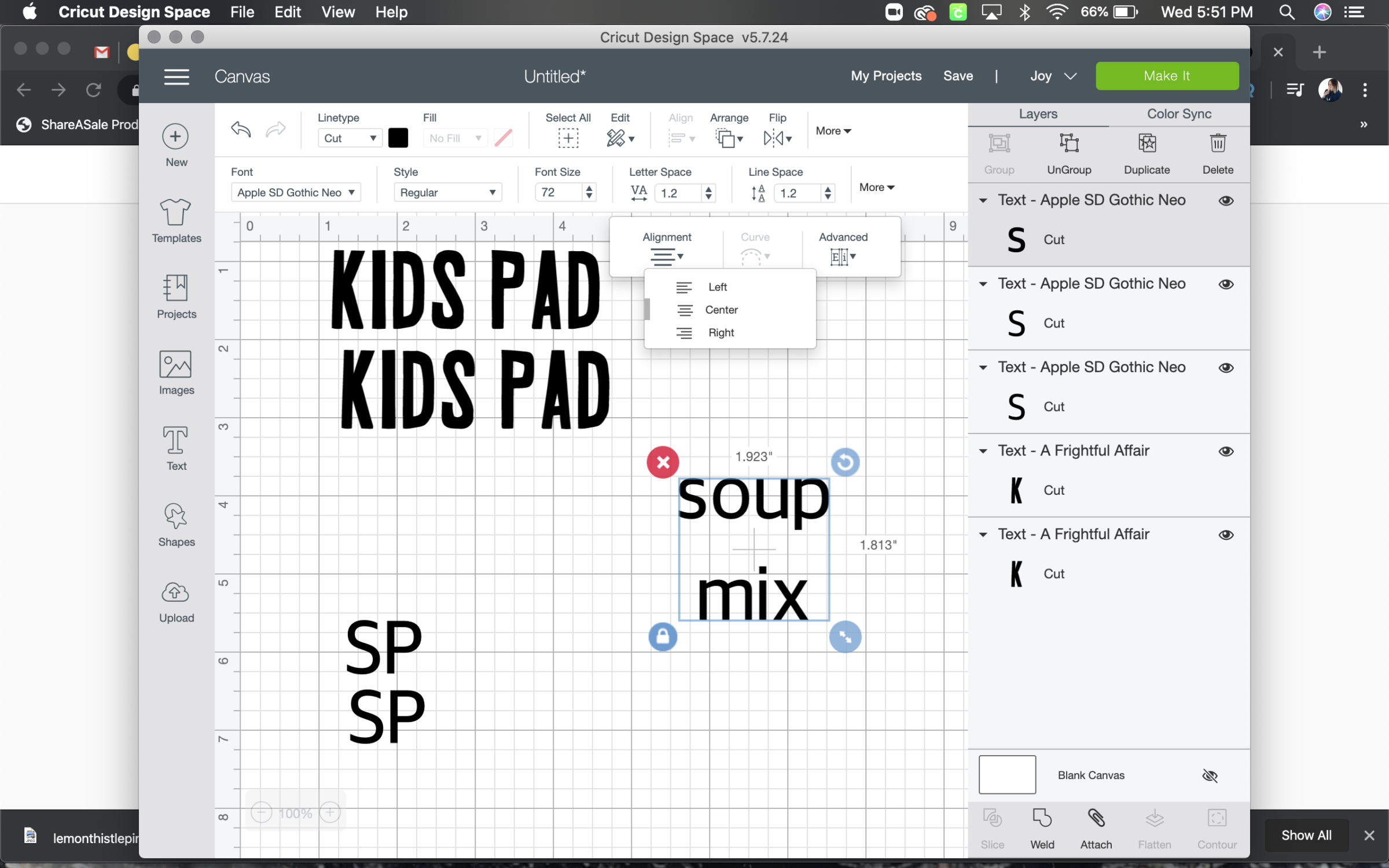 I used a permanent adhesive vinyl again for this one that was also a smart material for Cricut Joy. The font I used for this one is called 'Close to My Heart- Flower Market 1'. I made the labels a bit bigger than I'd imagined. It's a good reminder for me to actually measure before I cut- not just eyeball it.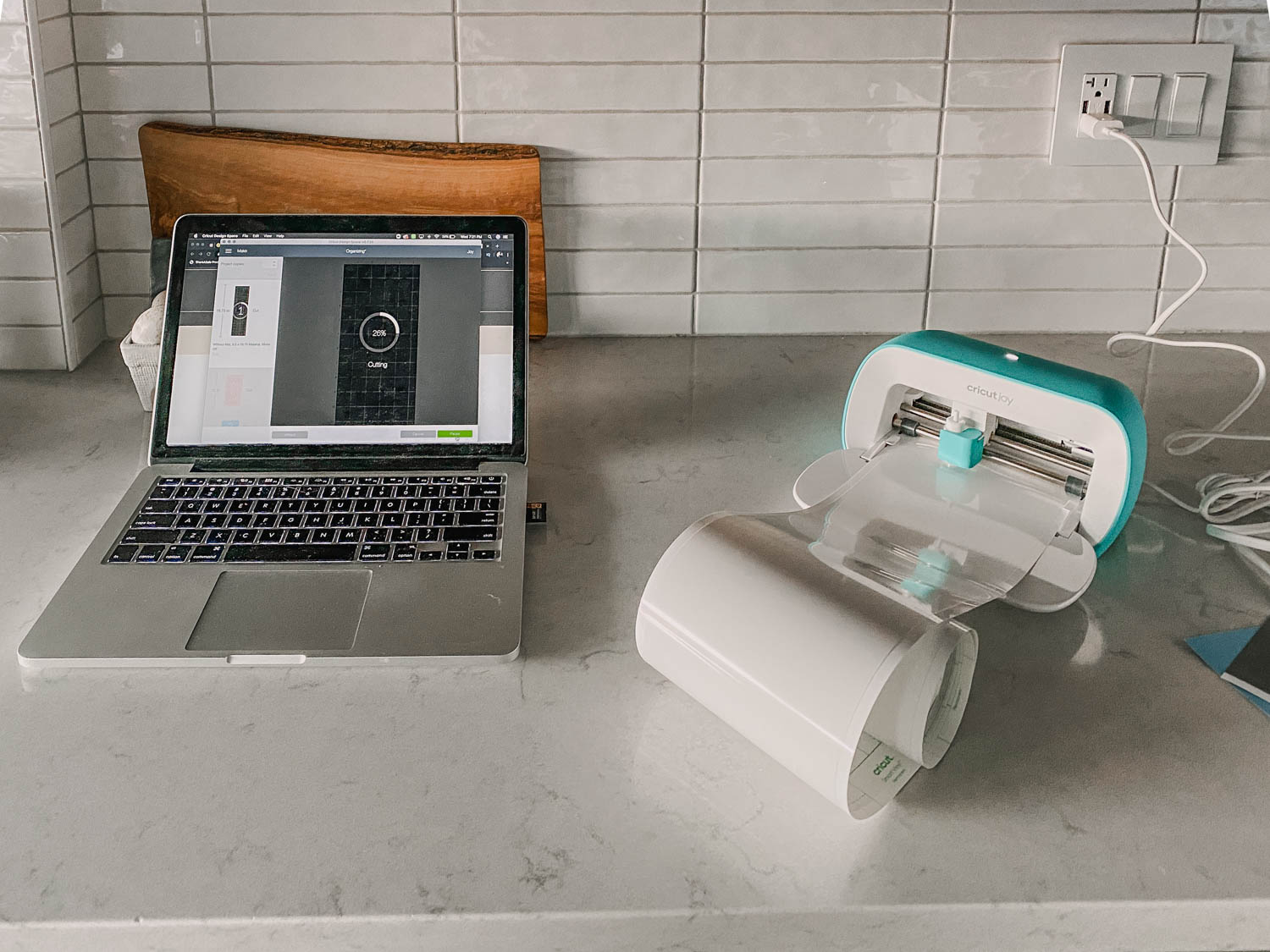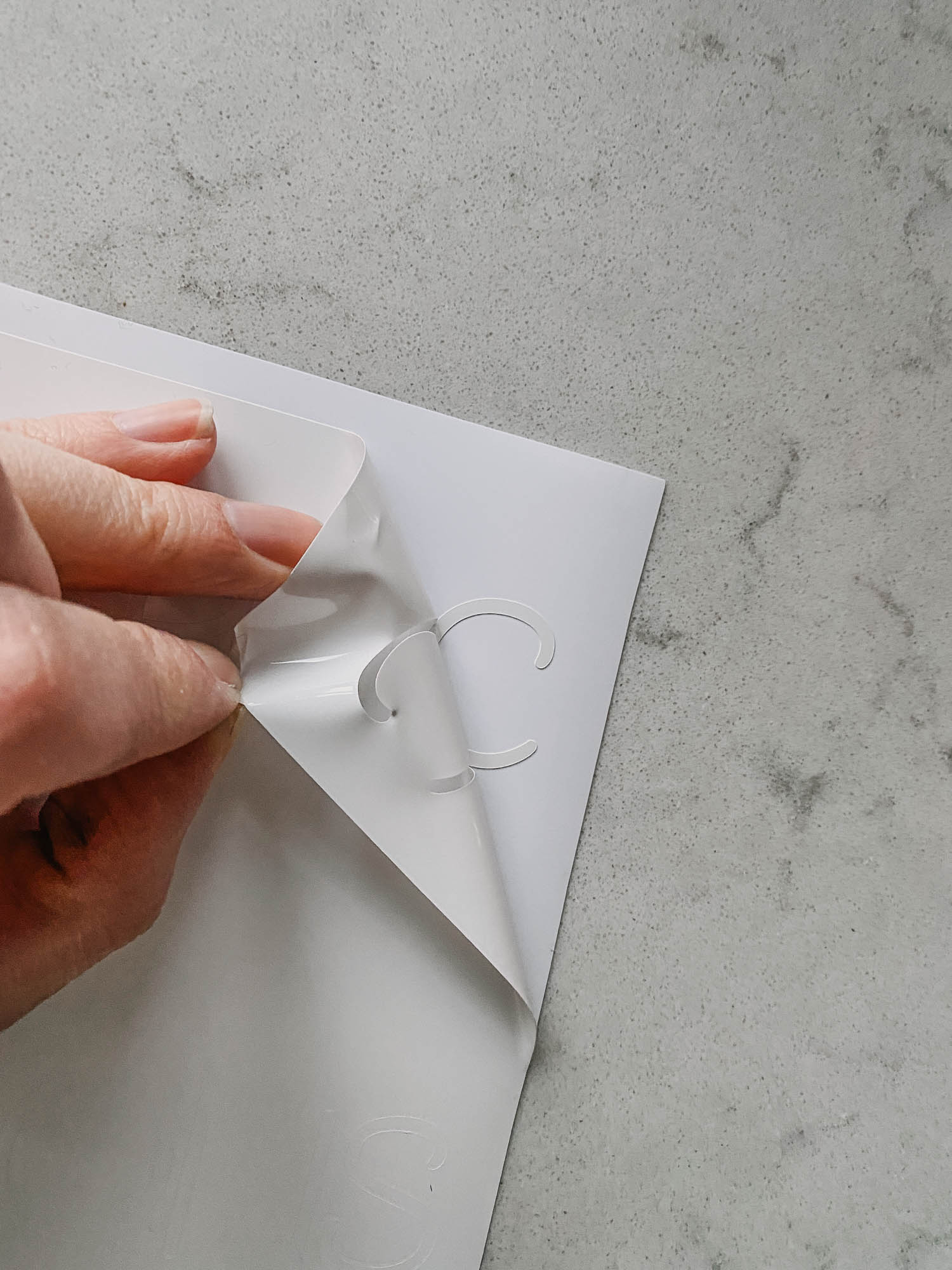 When you hit 'make it', select your material and hit go- you'll notice there's NO machine buttons. I kind of love that. Just load up your mat (it auto feeds!) and hit GO on your computer.
One thing that I love about the smart materials for Cricut Joy is that the gaps on the edges that don't have vinyl make it SO easy to start weeding. No more picking at the corner to try get it started!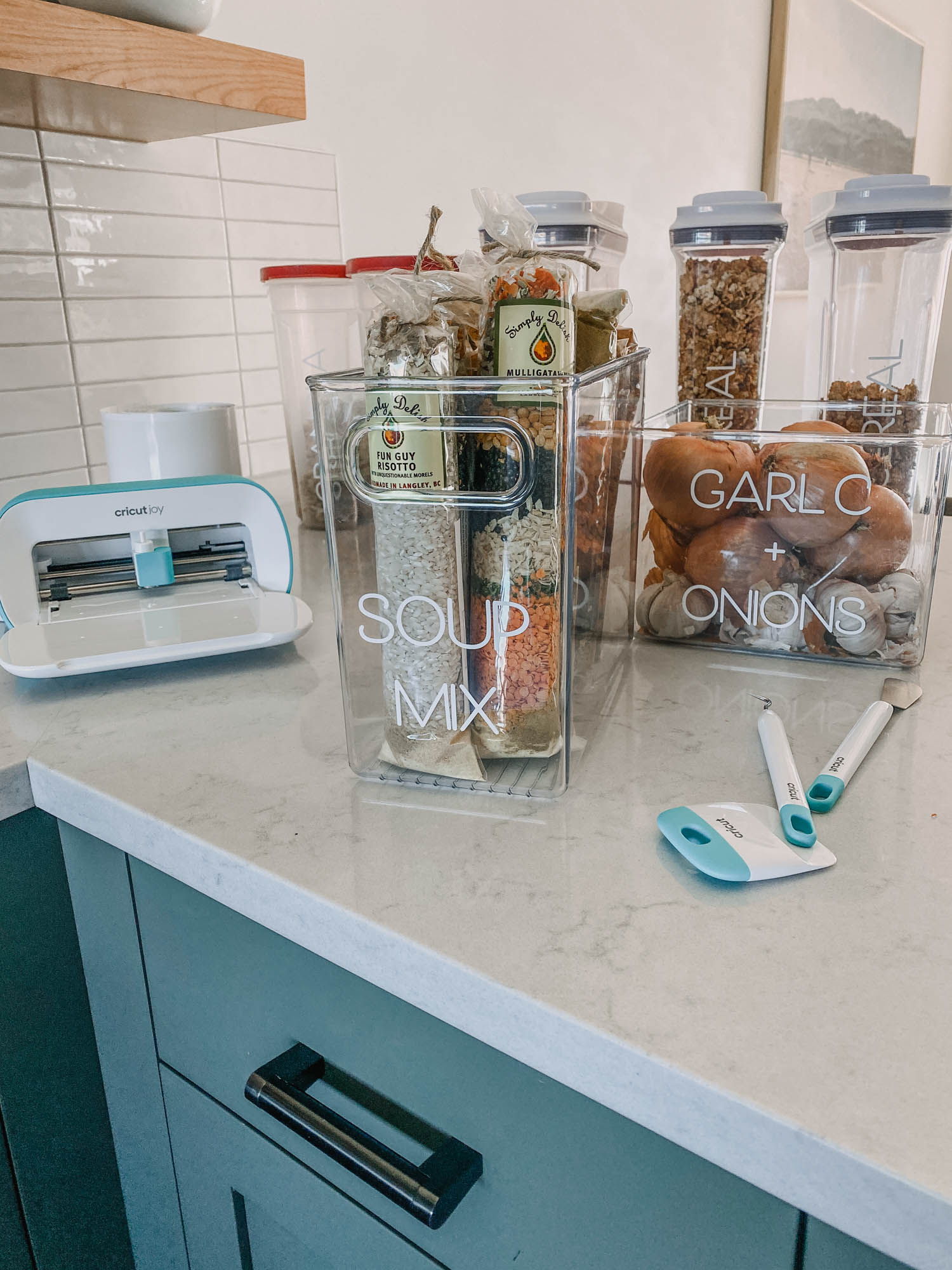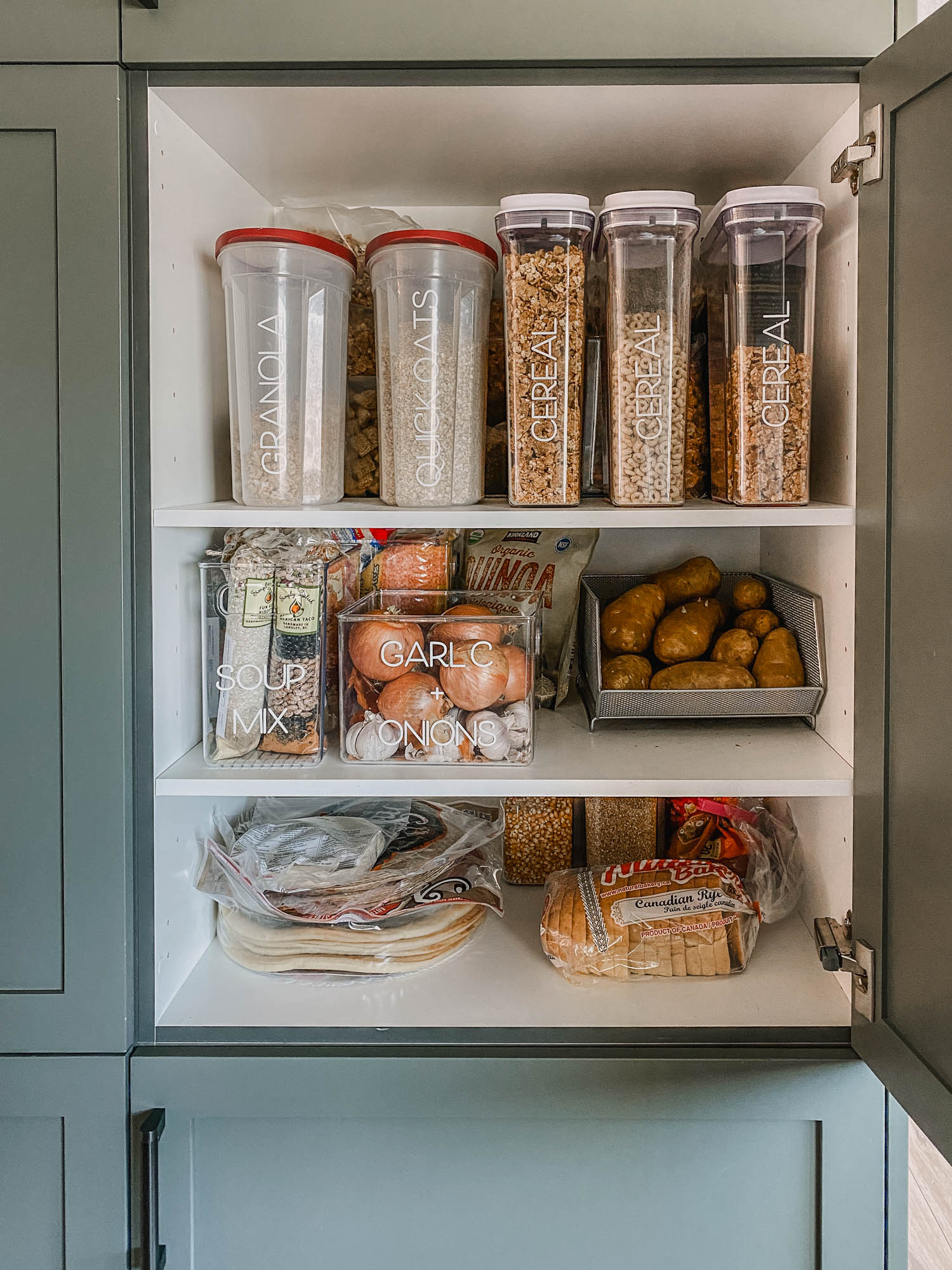 Then you can weed them, put on transfer tape and get labelling!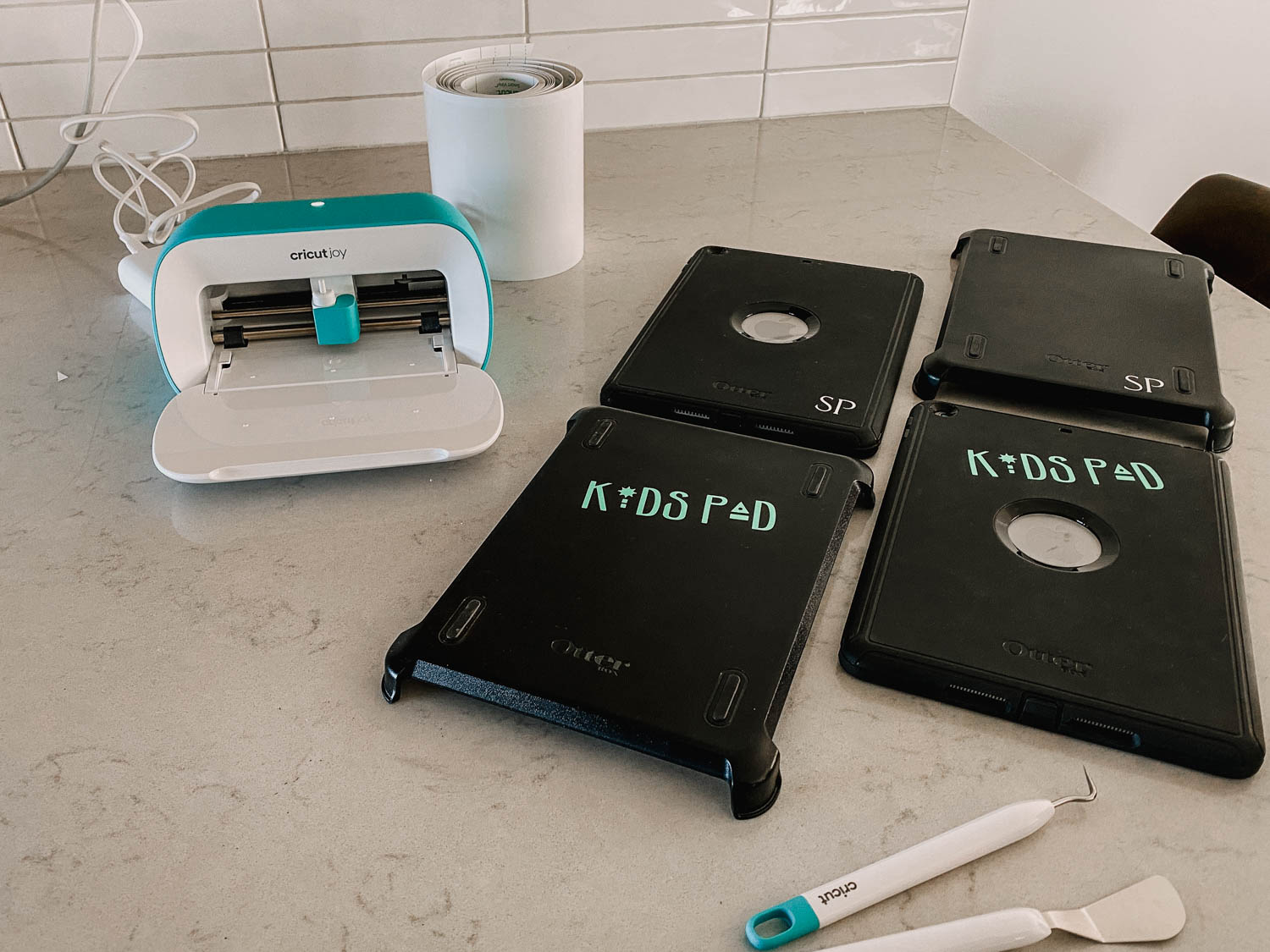 Label Kids iPad
Back when the twins were babies, Shane and I saved up for an iPad, we were so excited to have this thing to play Candy Crush on. Only kind of joking. Our twins were tiny and sleep training was hard, so I'd sit outside their door and play to pass the time without crying. But then I started lettering and bought myself a work iPad Pro and Shane's job at work moved to iPads so this old one didn't get used. Then our toddler locked us out of it INDEFINITELY. But now that the kids are doing school from home and video chats with friends, teachers, dance teachers… I spent the time reading all the online tutorials to unlock it. It's doable, if you are wondering. It'll just cost you hours of your life.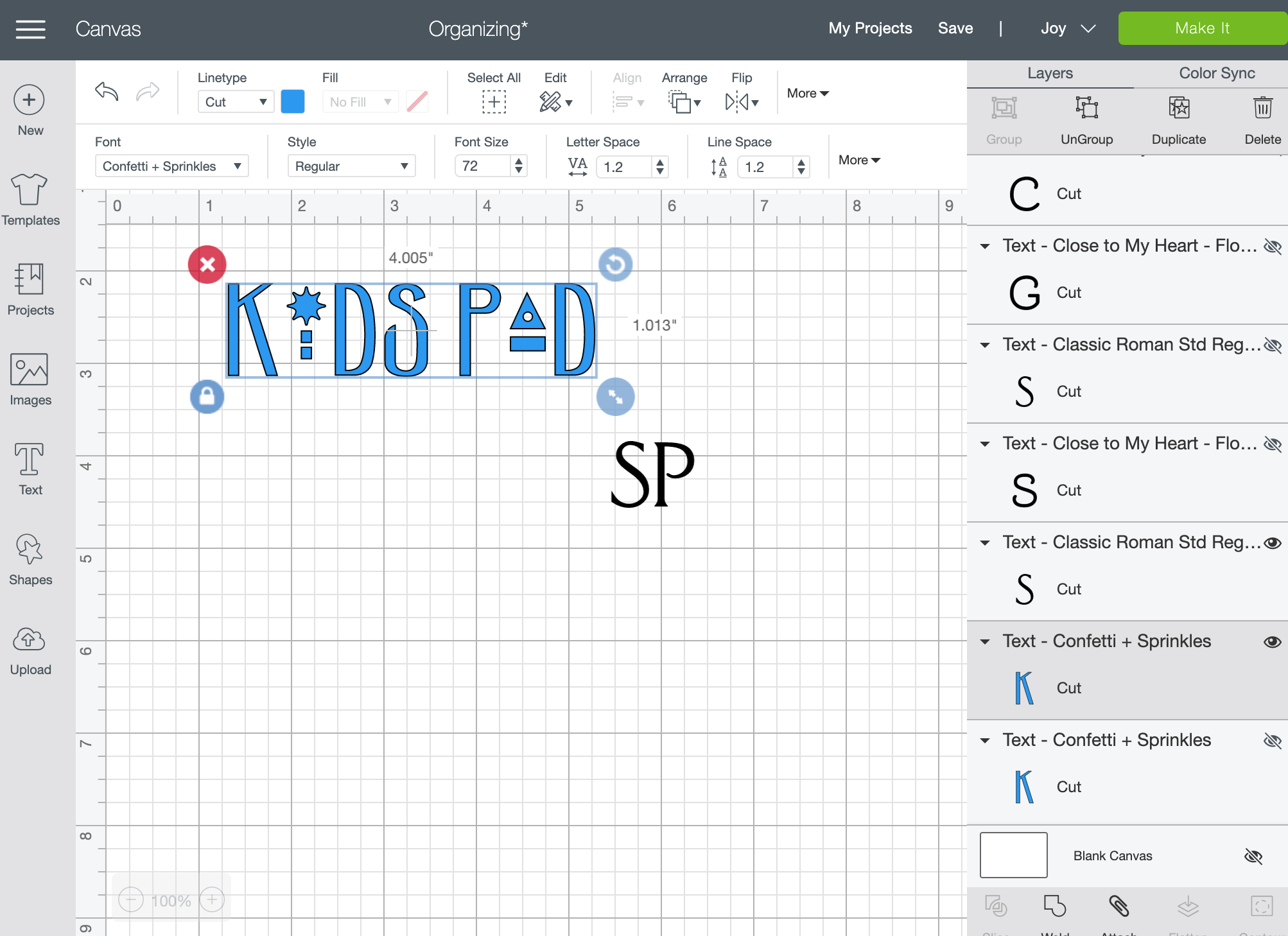 It's now theirs to use for their schoolwork! We have the same case for it as Shane's work iPad so to keep them from grabbing his, now we have labels! I made Shane a simple SP label for his iPad as well. The fonts I used were Confetti + Sprinkles for the kids and Classic Roman Std Regular for Shane's.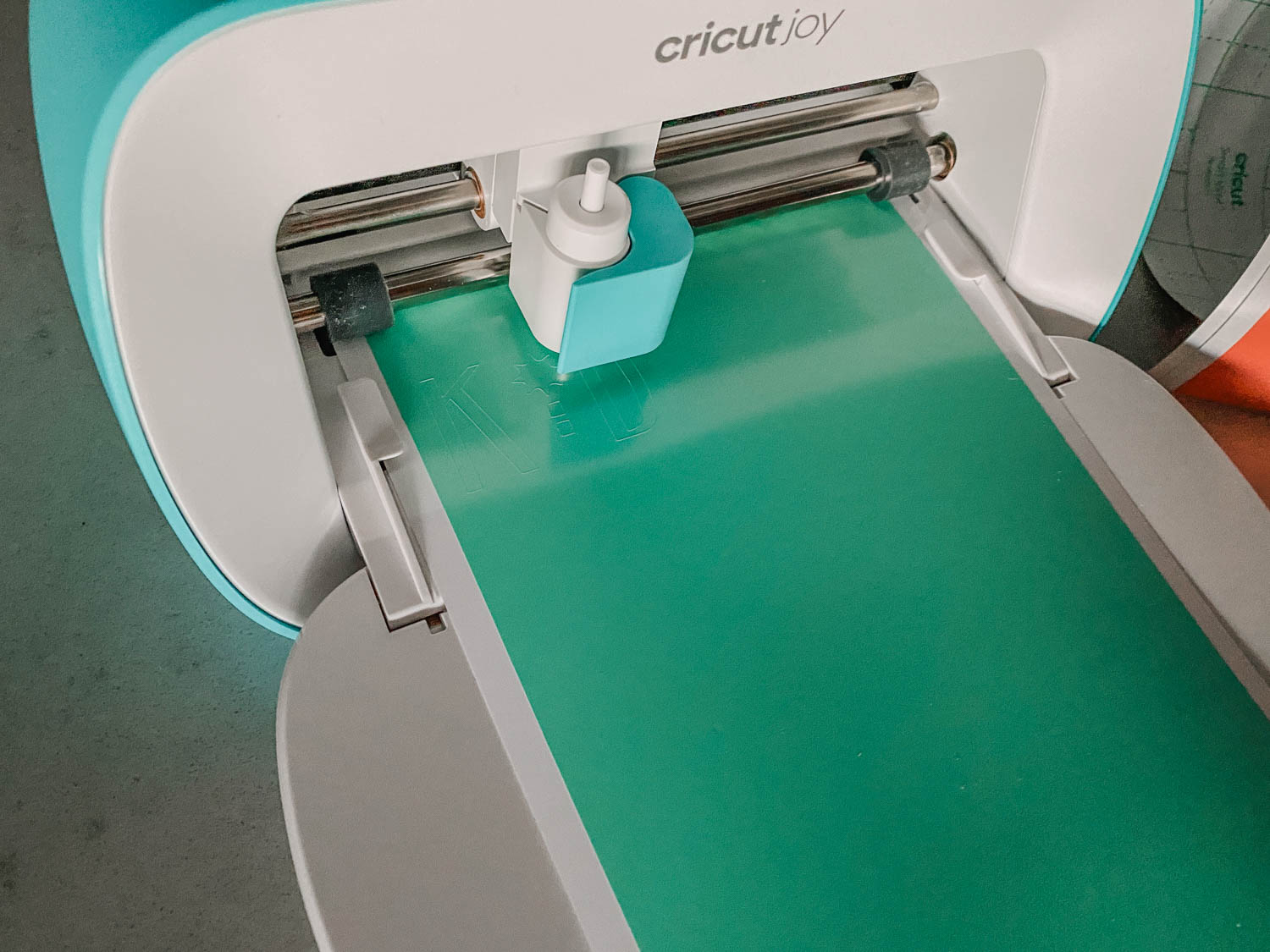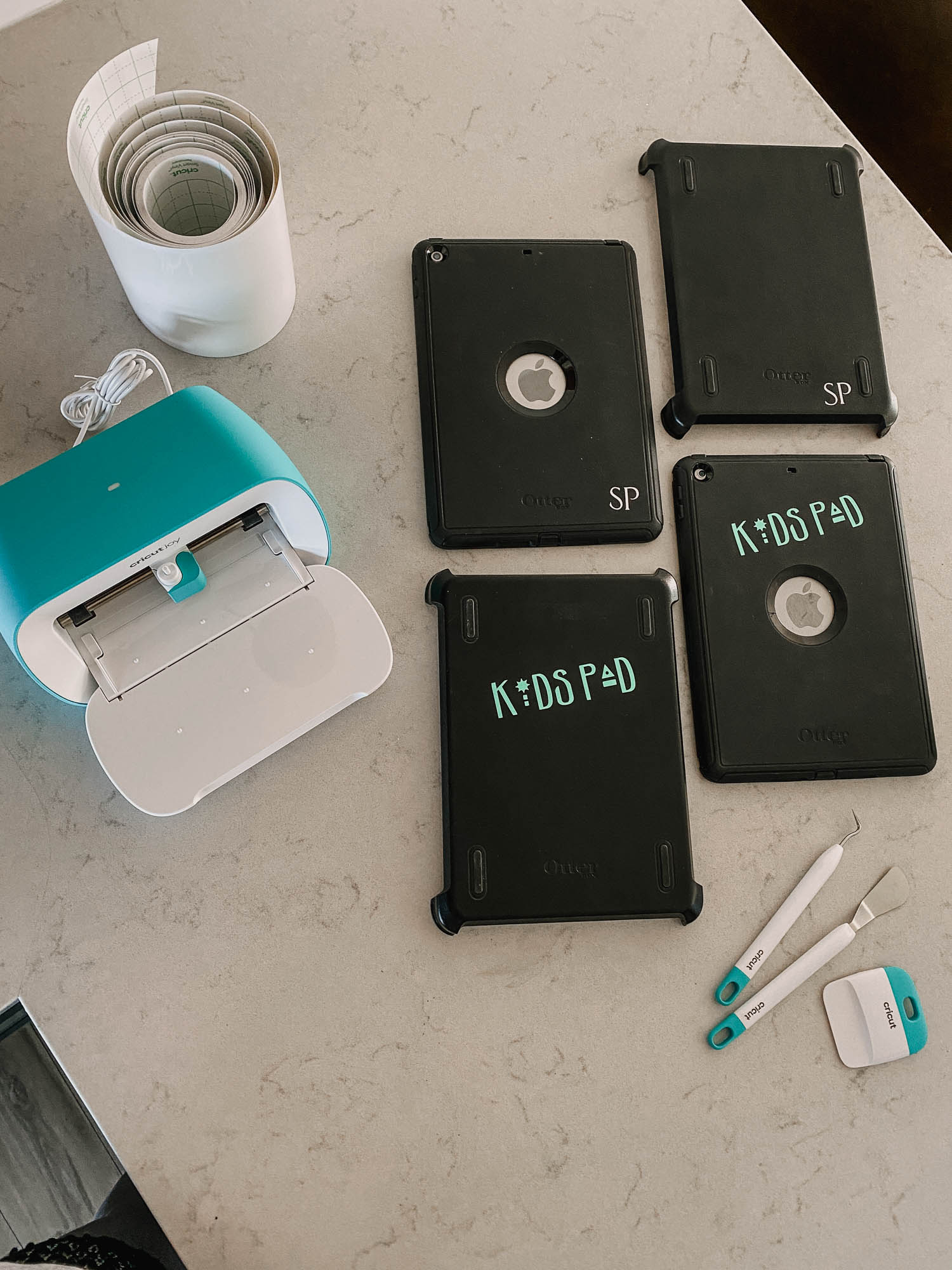 Again, I used permanent adhesive vinyl since it's such a high touch surface. This was also a smart material for Cricut Joy so I cut without a mat. Weed it, add your transfer tape and you're good to apply it!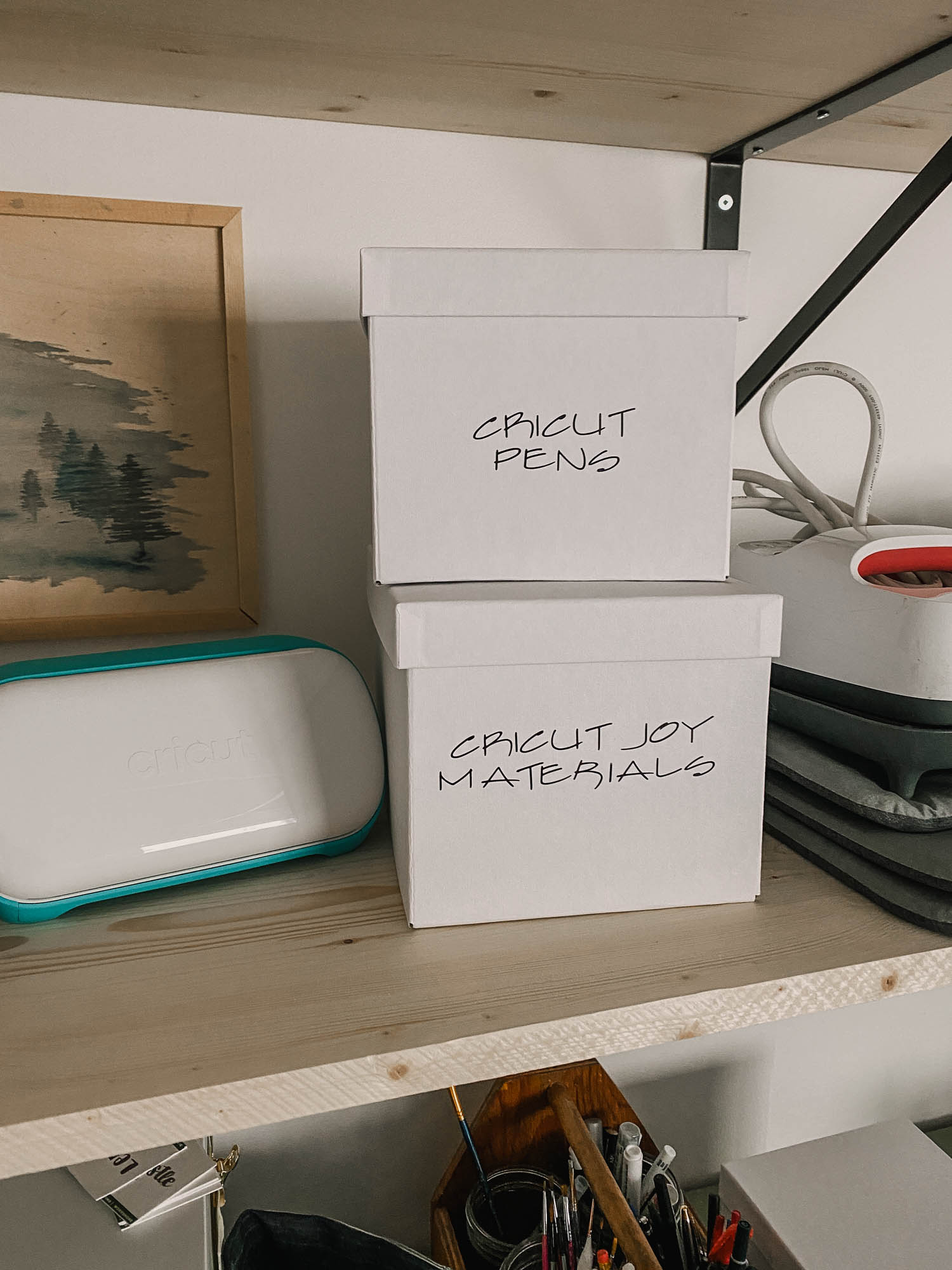 Label Office Storage Boxes
I love the look of plain white boxes for storage- especially since I updated my office and have open shelving. But I open 3 boxes before I find the one I'm looking for. I could have just hand lettered on these, but wanted to test out a different material in the Cricut Joy so that I could test out the mat. Isn't the mat freaking adorable? I just love anything mini, it's so cute.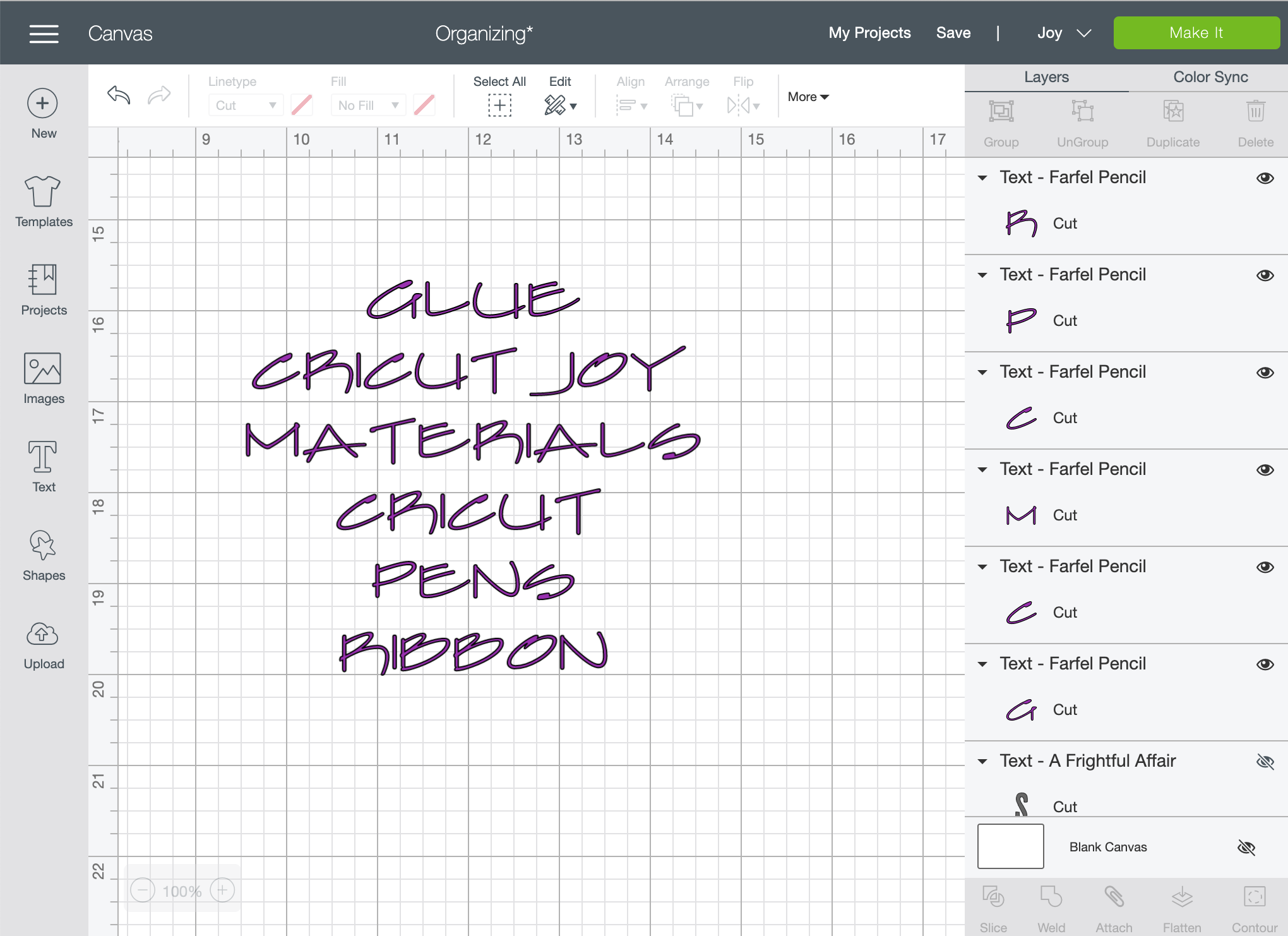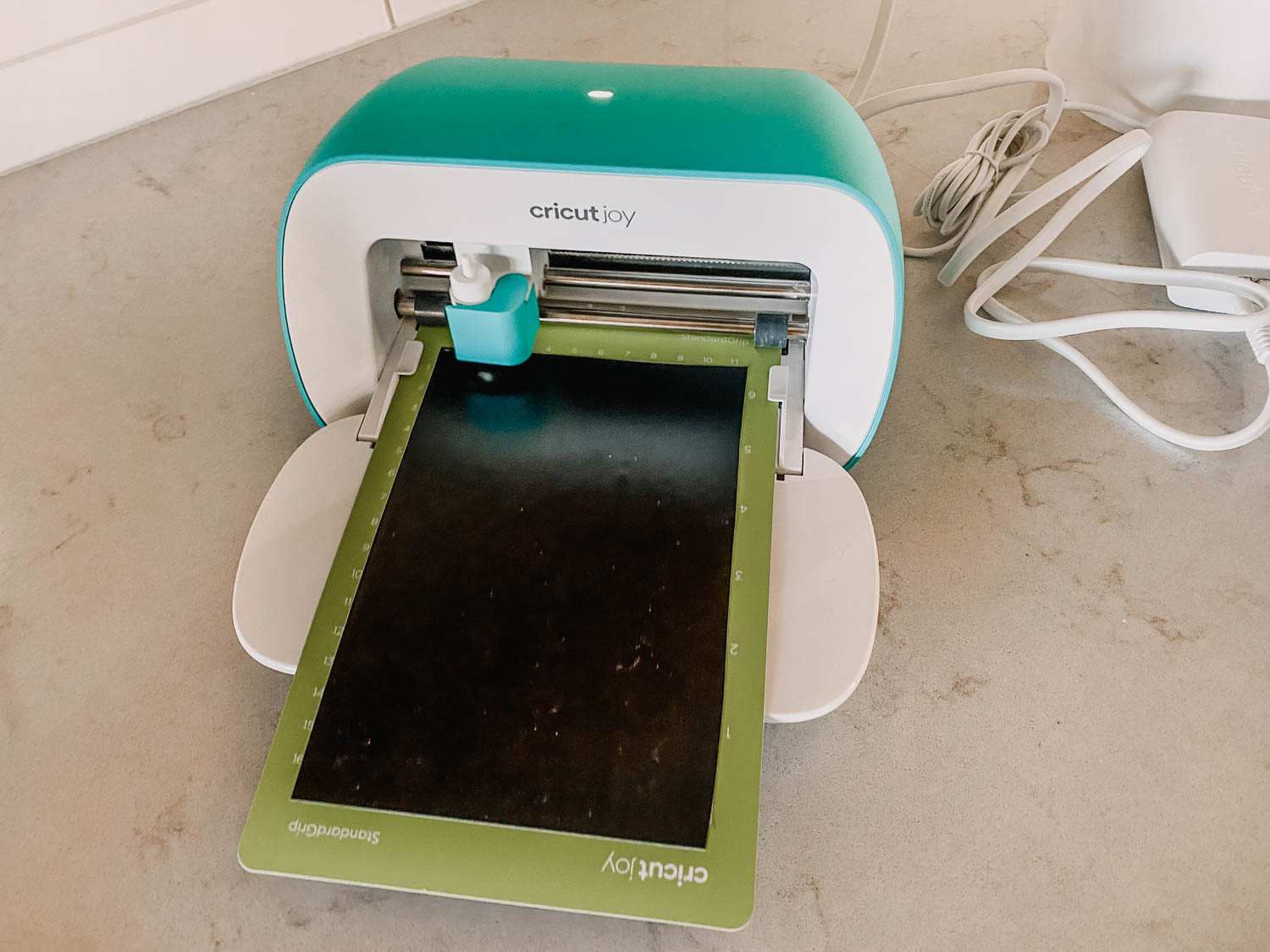 The font I used for this one is called Farfel Pencil. I used a scrap from my basic black adhesive vinyl stash. You load it up on your mat as usual and then select 'other material' instead of smart material. I did find that depending the width of your design, you may be limited to smart materials.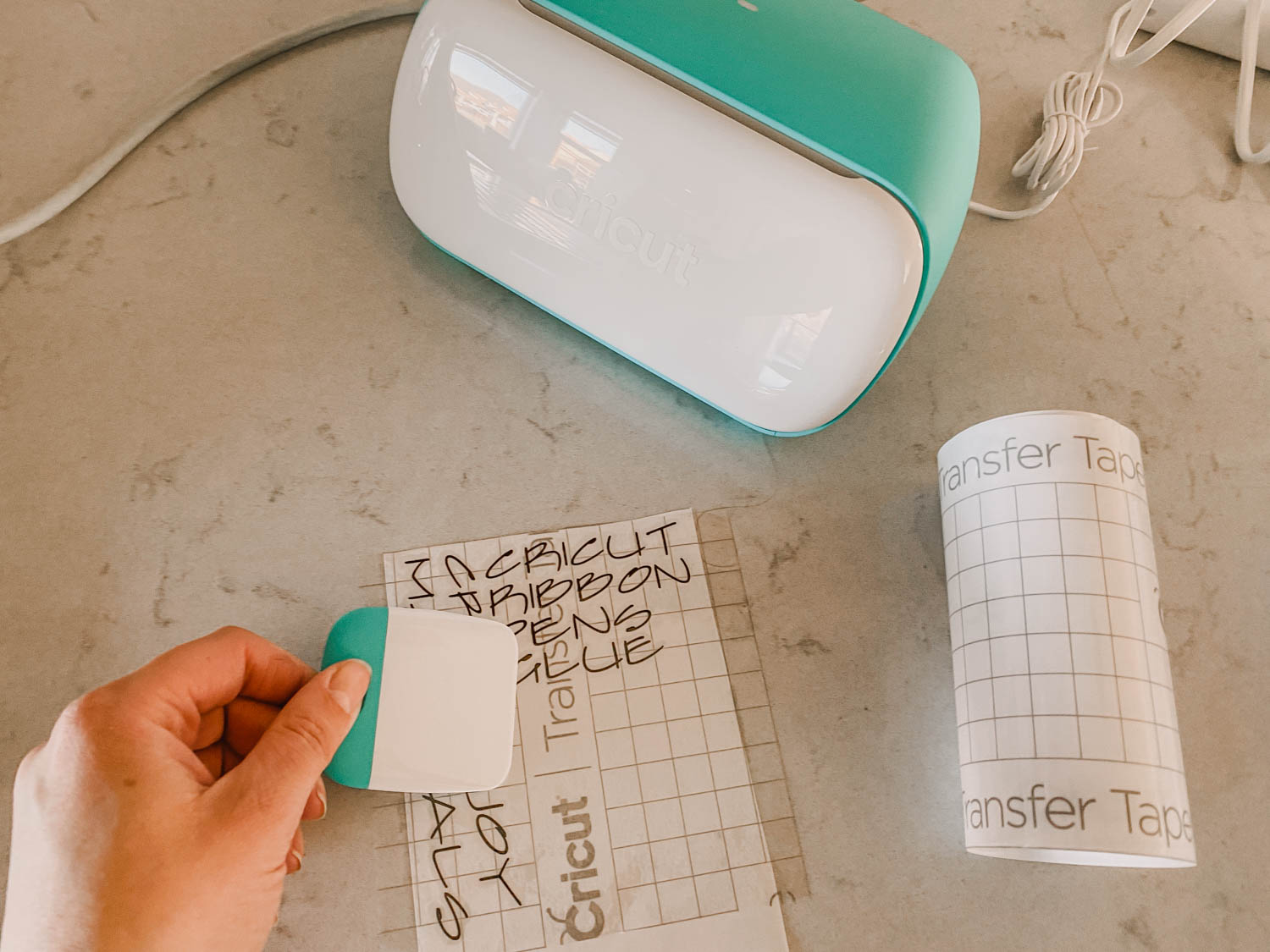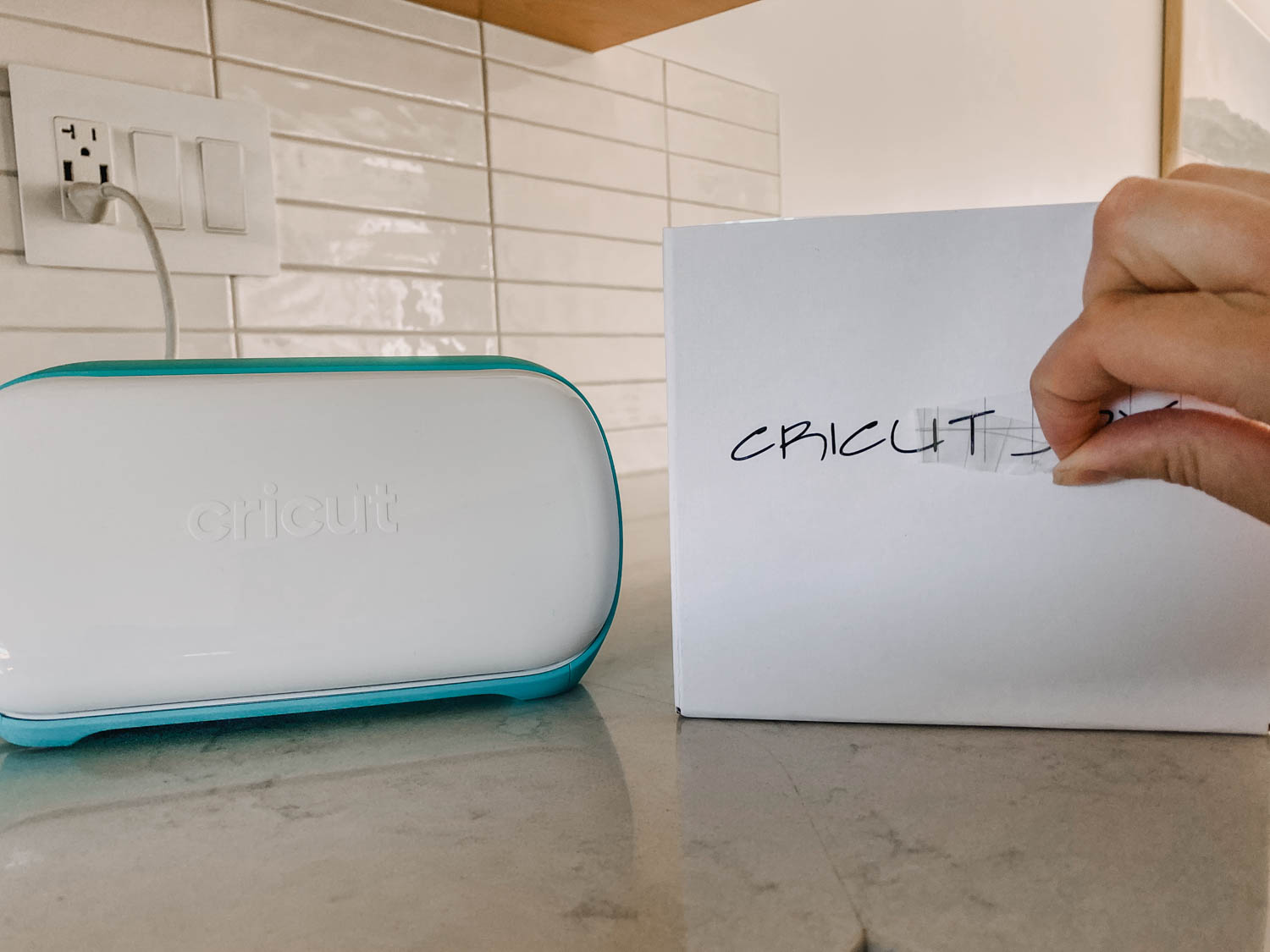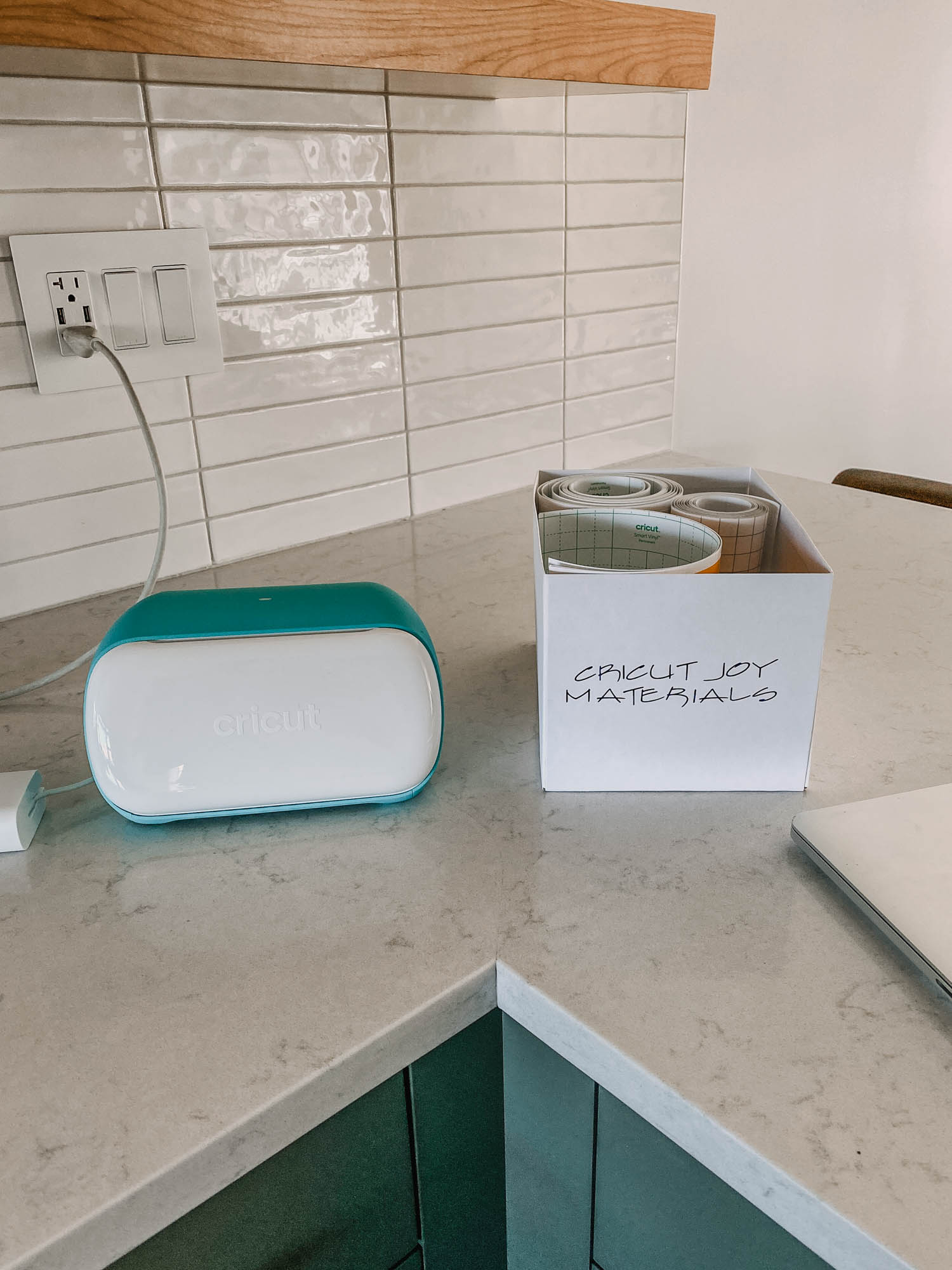 Once you cut them out, you can weed them and use transfer tape to apply them!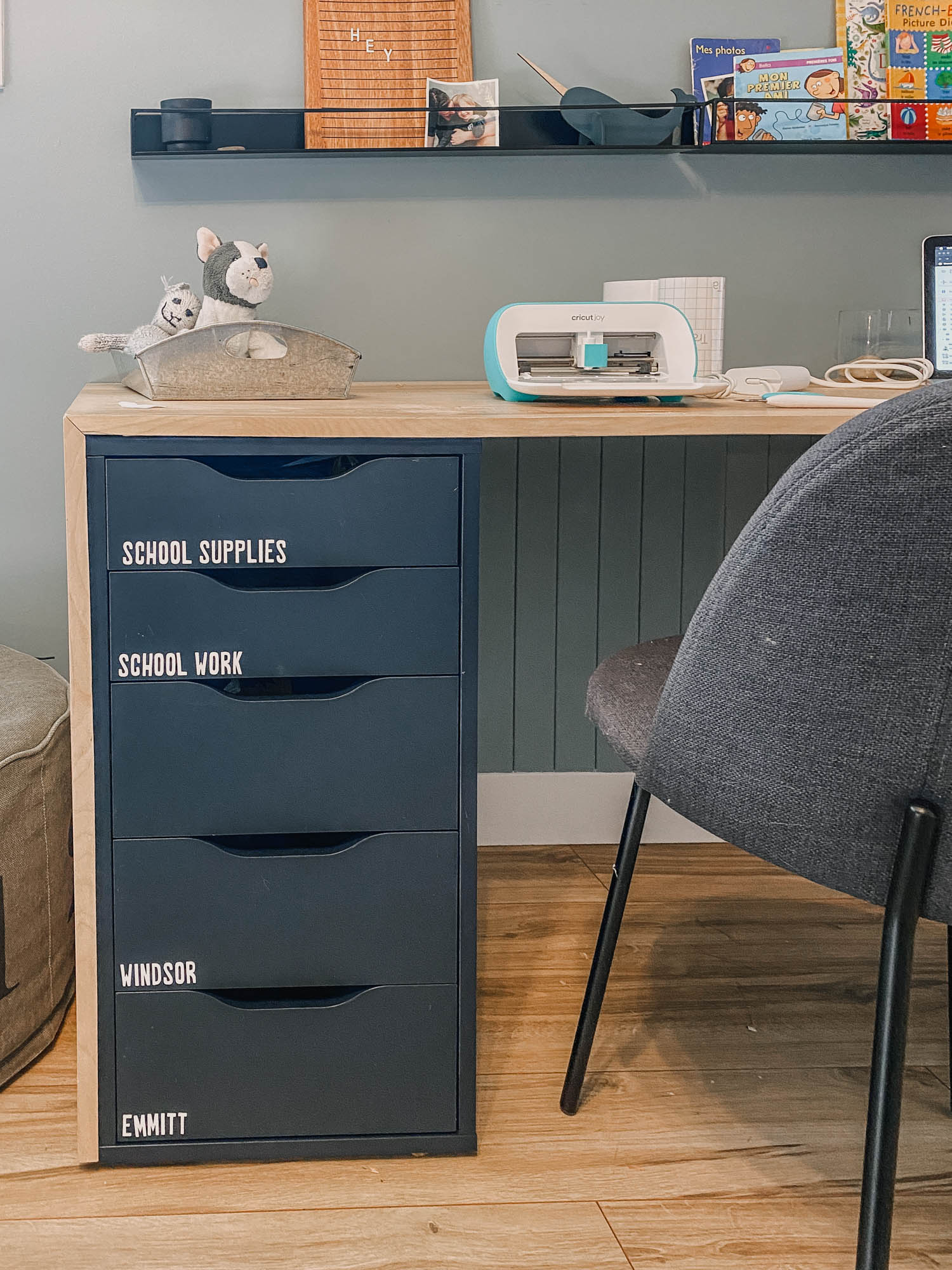 Label Desk Drawers for Purpose
Now, I don't need to do this in my office… but since our kids have started doing school from home, they have specific school supplies here. We have been using the boys' desk for the twins to do their school calls with since it has two chairs and we can close the door to keep the little brothers' noise to a minimum on their calls. They have all their worksheets and books, then their teacher is so wonderful she also sent home some school supplies for them to specifically use- markers, crayons, scissors.
The boys' desk has been used for… literally anything. Junk, really. Except the bottom two, which each of the boys have a special drawer of things. So I've taken the time to label the top two drawers for school items and the bottom two with the boys' names. They can keep their junk in all the other drawers, but those top two? School stuff. Hopefully we can keep track of it all for the rest of the school year this way- ha!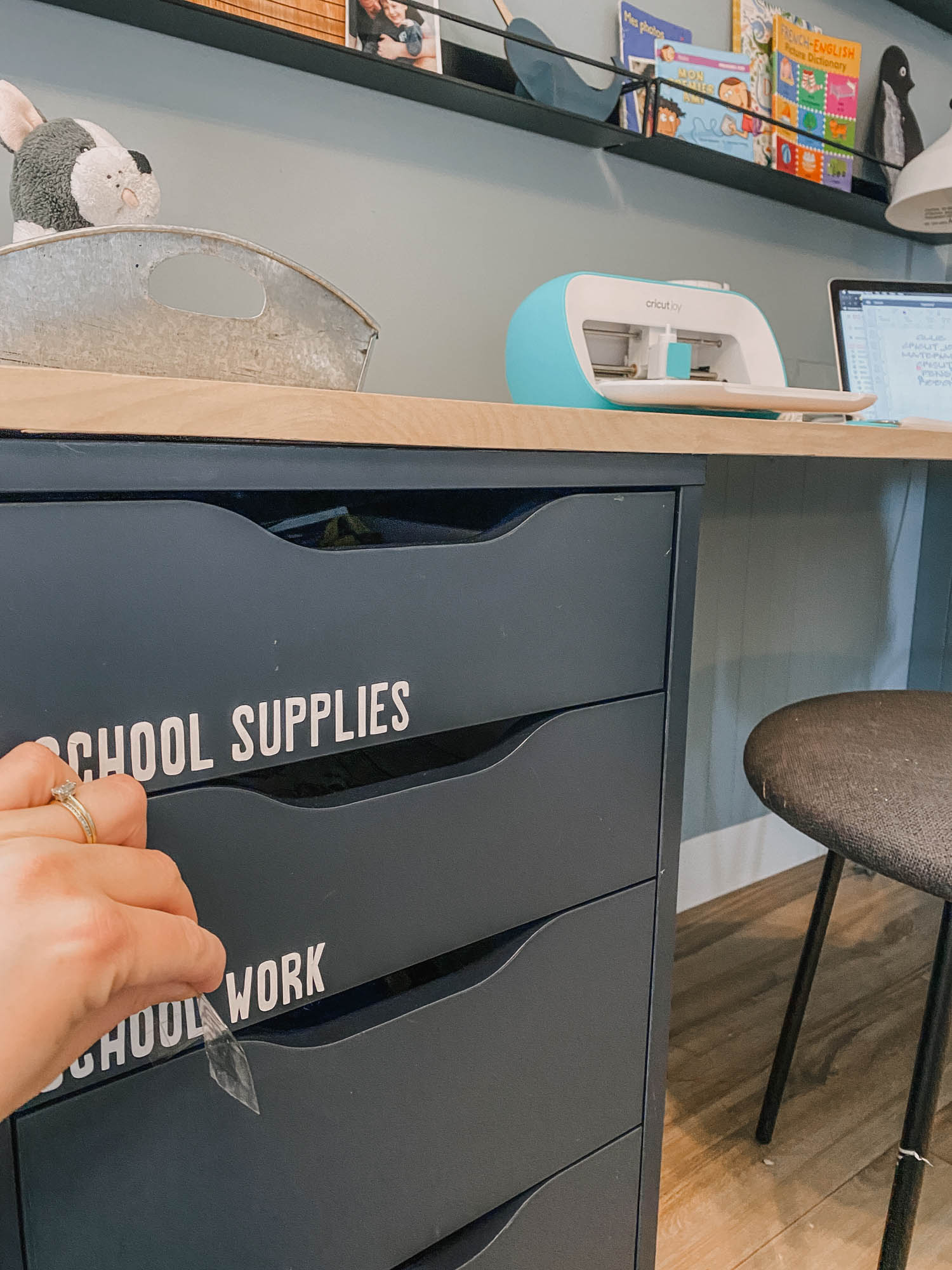 The font I used for this one is one of my favourites- A Frightful Affair. Again, I used the permanent adhesive vinyl in white– it's one of the ones I have the smart material for Cricut Joy in. Once they're cut out, weed them and apply them using transfer tape. Cricut also sells transfer tape in the smaller size rolls to match the smart materials. You could use regular transfer tape, honestly. This roll is just so cute.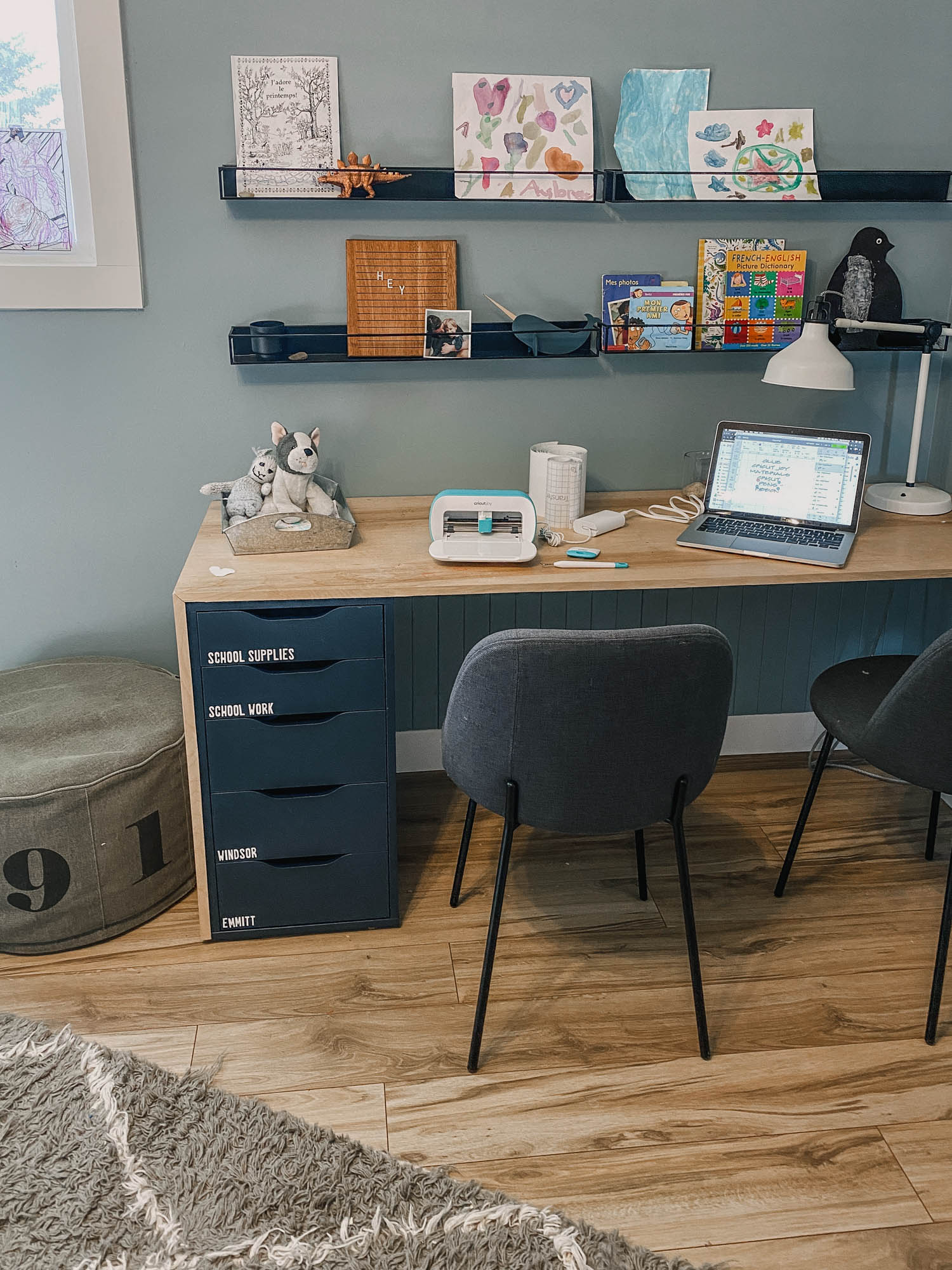 ---
Alright, there's my five ways to organize your home with Cricut Joy! There's SO many more I had in mind, but since our flood a couple weeks ago, we have a lot of our things in boxes, so I stuck to the rooms and spaces that were still mostly put together. I can't wait to pull this out again once we get everything put back in place! Just think of the possibilities… craft supply labels?! Bathroom hook labels?! One for each kid! Labelling charging cords? Heck yes!
Tell me… what would you label first?