If you're loving the enneagram as much as my friends, these hand lettered designs are for you! DIY Enneagram shirts with hand lettered designs for free (plus one if you don't care about it).
A few years ago, my friend Shawna introduced me to the Enneagram on a work retreat. She shared how it's affected her life (in the best way!) and encouraged me to check it out. I did a bit and figured out my number, but it wasn't until a year or so later that we went to visit my brother-in-law and him and his wife said pretty much the same great things about it that I dove in. I bought a book the next week when I went on a trip to visit my sister and we spent the week talking about it.
It came up casually in conversation with my friends a couple weeks later and fast forward a year or two and I have a group chat on Instagram where we send Enneagram memes. It's a thing, you guys. And if you're not in on it, you're missing out. Unless you're that one friend that doesn't like it. And if you are, I made a design for you too. I see you, Vanessa ;)
Okay, if you are wanting to take an enneagram test to figure out which type you might be- you could do this free test! I'm a 7. That's the enthusiast, if you were wondering. In case you weren't clear already based on how freaking enthusiastic I am about this DIY.
And if you just want to make the shirts (heck yes, you do!). I've got some free hand lettered designs for you to do just that! These make the perfect gift for your Enneagram loving friends and come together in such a hurry thanks to the ready-for-you designs. Plus- since they're pocket tees (the design is where the pocket would be), they can help use up your vinyl scraps. Does it get better? Let's get to it.
I'm offering these as .PNG files so you can cut them with your Cricut or Silhouette OR you can print them on to transfer paper and iron them on if a Cricut is still on your wish list. They can be downloaded below and it will give you a .zip folder with the 10 images, one for each of the 9 enneagram types and one for the friend in your group who just doesn't care about the enneagram… there has to be that one.
I made these enneagram shirts with a pocket size design, but you can make them giant if you'd rather. You do you. I love a good DIY pocket tee. Small designs where your pocket would be are the perfect amount of personality for a tee without being… really loud. Plus, they use up those vinyl scraps!
I've made a lot of them for me and for my kids and I buy shirts like this too, you guys. I love 'em. See a 'love' one here, these fathers day gift tees, these 'pinch free' saint patricks tees and these kids ones are on actual pockets (so fun).
If you're new to using iron on vinyl- you can check out this tutorial here for a bit more information! The short tutorial? Here we go!
Download the designs above and choose the ones you're using. Upload these to Cricut Design Space and size according to your preference. Click 'make it' and make sure to mirror your design for iron-on vinyl. Load up your machine with the HTV (heat transfer vinyl, also known as iron-on vinyl- this is my go-to kind) shiny side down and hit go!
Once you weed your design, removing the parts you don't want to iron on, heat up your iron or heat press to press the design onto the shirt. I love to use my Easy Press for this, it makes shirts so simple to create. Peel away the backing once cool and enjoy your shirts!
And if you make them for yourself… or your whole friend group (heck yes!), please share a photo with me! I'm @colleenpastoor on social or you can email me colleen@lemonthistle.com.
I invited a couple of my friends over for NYE brunch and gave them their enneagram shirts… they were such good sports when I told them I needed a photo :)
If you're looking for a card to gift these with for the holidays… might I suggest these free handlettered enneagram holiday cards I shared over on Handletteredprintables.com? So fun!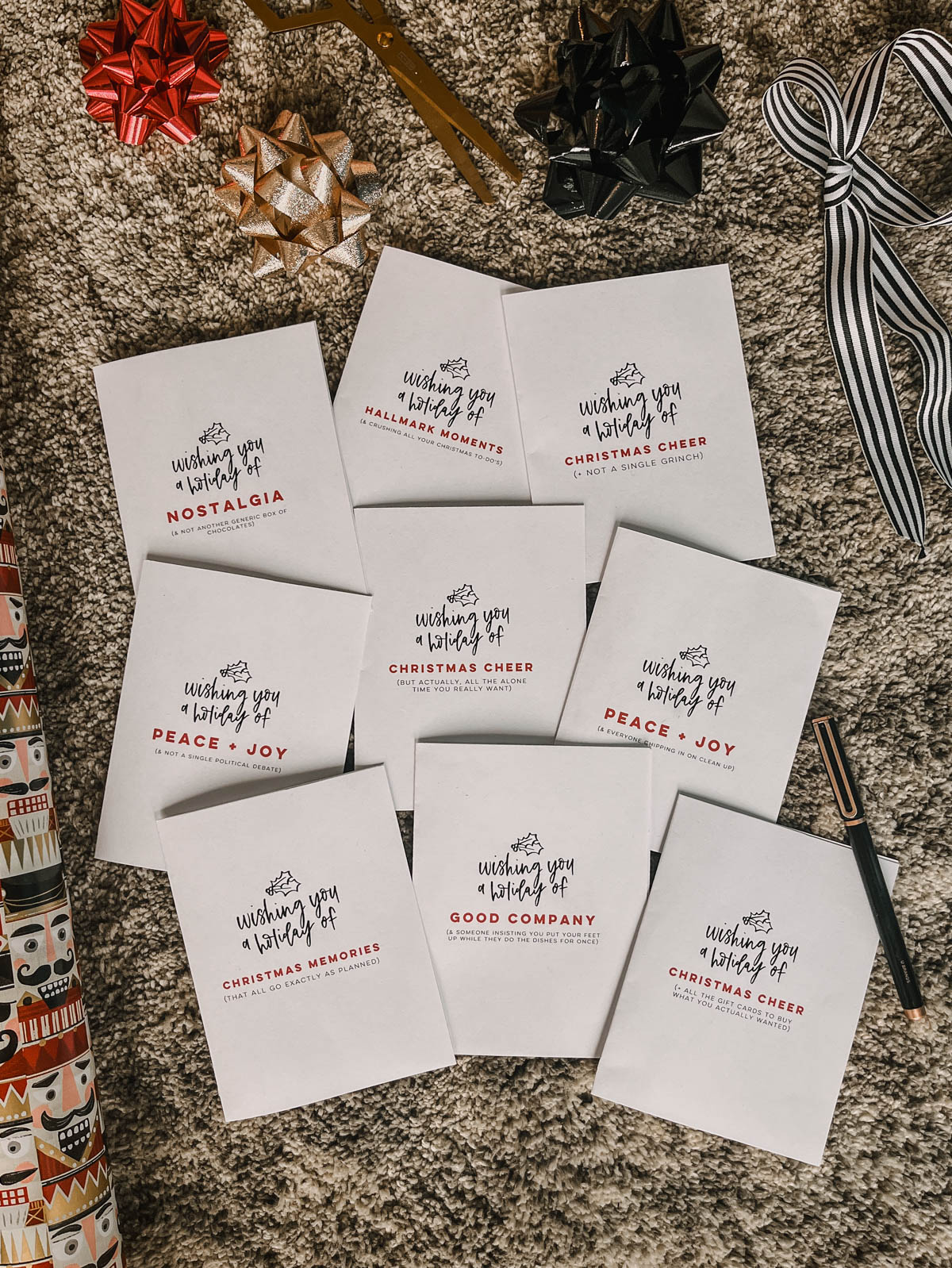 ---
PS! Did you know it's officially CRAFT WEEK?! A bunch of Cricut bloggers are sharing fantastic Cricut projects today to celebrate. Check them out!
LIKE IT? PIN IT!