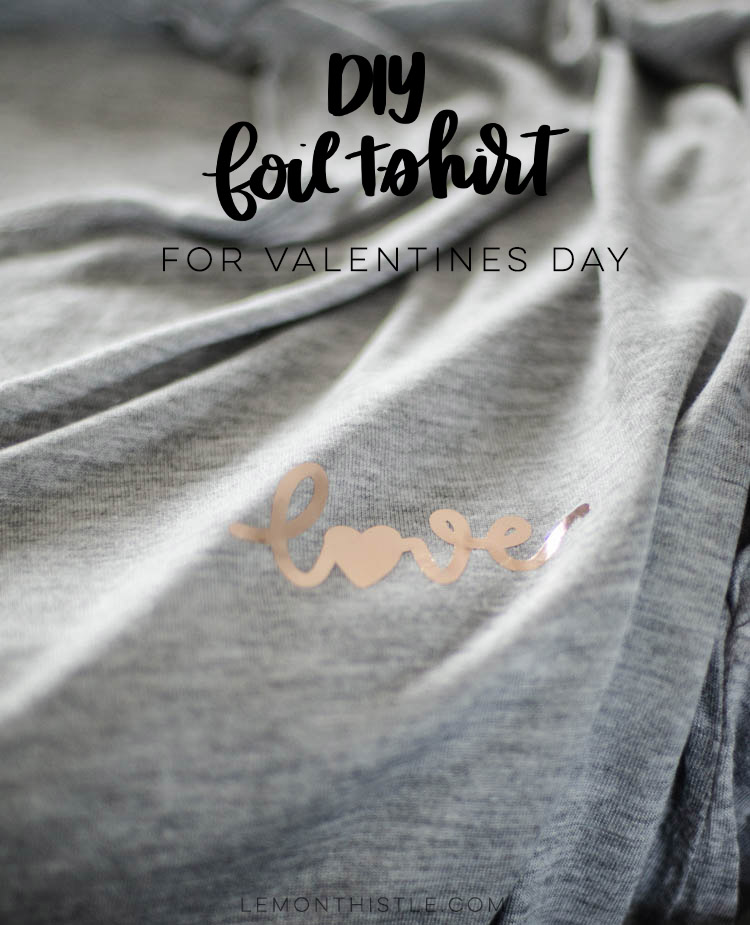 It's February! That means it's officially time for all things Valentines Day! Bring on the love, baby ;)
Today I'm sharing these DIY LOVE tees with you- including the free design and how to make foil shirts. I'm kind of in love with how they turned out. Love with a heart instead of the O… y'know? I made these shirts for Aubrey and I- just like I did for Valentines Day last year. And just like last year- the boys requested something else. That means Emmitt's getting a fire truck shirt and Windsor is getting an airplane shirt. But they like how the design is where a pocket would be- so I'll consider that a win. But enough about the boys…
I'm also joining up with some amazing Canadian bloggers to share 30 (YES 30!) sweet Valentines Day ideas to make bake and create. So not only can you check out these lovely shirts- you can check out all their projects as well! Just scroll down to the bottom for all of those.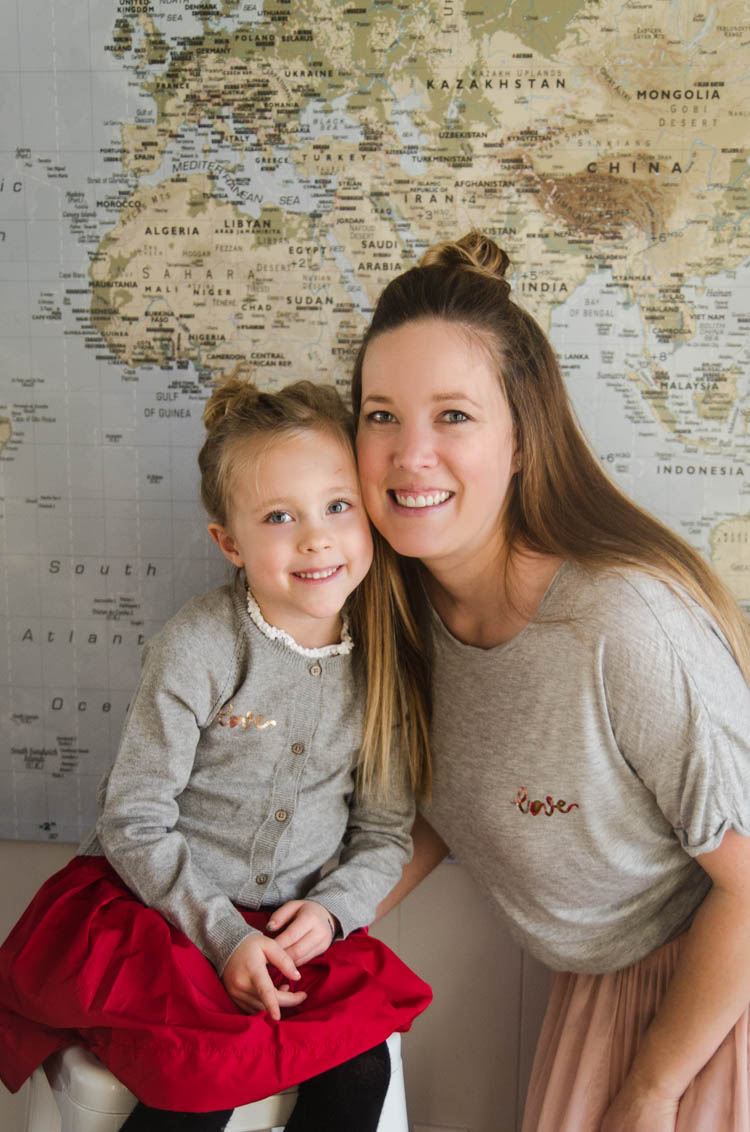 Before I get into the DIY, can we just talk about how fun it is to make things for little girls? They just light up! Plus, I've got three boys- they have things that match and have fun with that and Aubrey doesn't get to match anyone all that often. So it's really fun to do Mother Daughter matching shirts like this. And can I just say how easy to impress four year olds are? They think I'm SO clever for swapping out the O for a heart. They don't know how often this is done, so right now… I'm genius.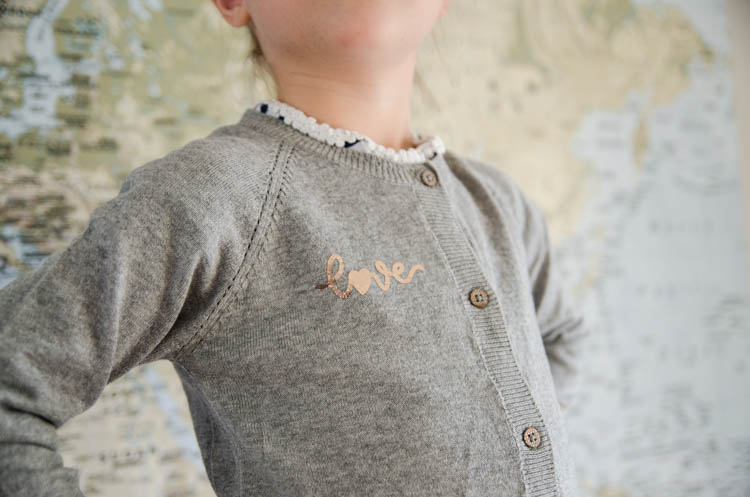 I have been loving all the pocket tees out there lately- those little stitched numbers, the screen print on the pocket… they're all so cute! I found this grey cardigan when I was searching for a plain clearance shirt for miss A (can you believe this cardigan was only $5?!) and decided to run with having it small on the one side instead of a larger design like I've done in previous years. I lettered this little love design for it and cut that out of rose gold iron on foil using my Cricut. I didn't know quite what to expect when I ordered rose gold foil but I'm so impressed with the colour. It's not too pink or to orangey- it's the perfect champagne rose gold.
You can download the free printable love design for yourself RIGHT HERE
(as always, designs are for personal use only)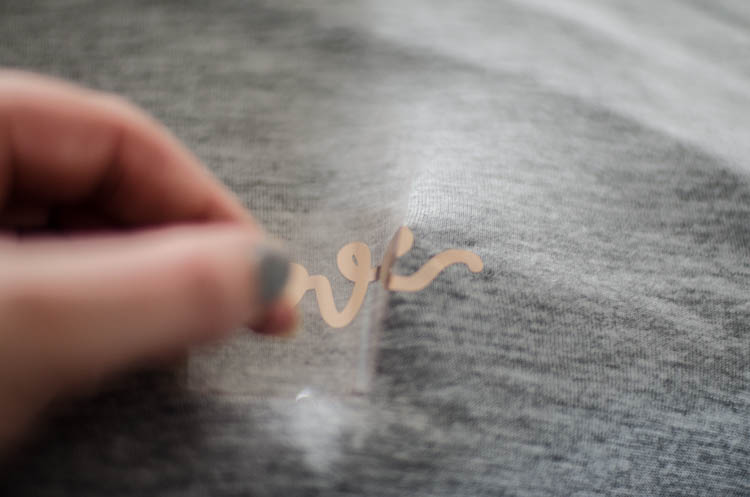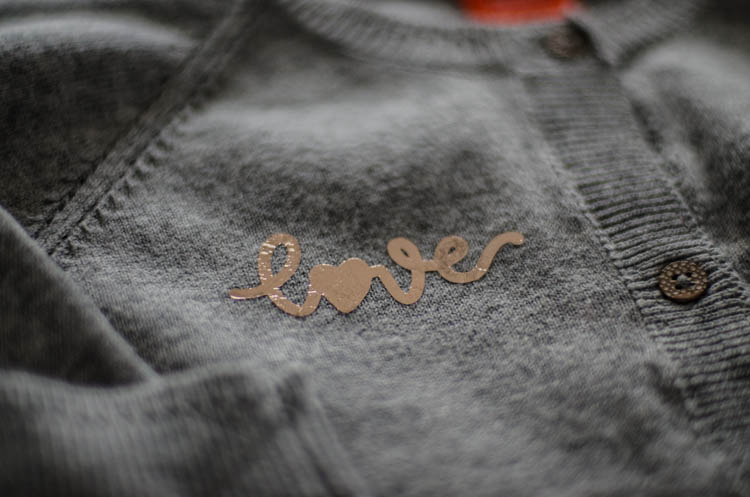 If you haven't uploaded your own designs to Cricut before- The basics? After opening a new project in Design Space, click upload, choose the design, select simple design, don't erase anything, choose cut only file, and insert it. Ta-Da ;) As always with iron on materials, make sure to mirror your designs before cutting.
I've been using my Cricut EasyPress to iron on vinyl and am finding it is so much easier than an iron! I love how fool proof it is. The biggest tip I can give you on heat transfer vinyl- ESPECIALLY the foil variety is to let it cool completely before peeling it back. And I say this because I'm SO impatient, even though I know that's the best way to get a good result, I still always try to rush it. You can find more tips on foil vinyl iron on and uploading designs to Design space in this post here.
That's it! So easy, thank you to my Cricut. If you DONT have a cutting machine like a Cricut- you can totally print this design and hand cut it out of vinyl. Tedious, but effective none the less. I hope you like the project as much as I do! Aubrey and I both have been wearing our shirts on repeat. They are definitely not waiting for Valentines day and aren't SO valentinesy that they can only be worn for the day.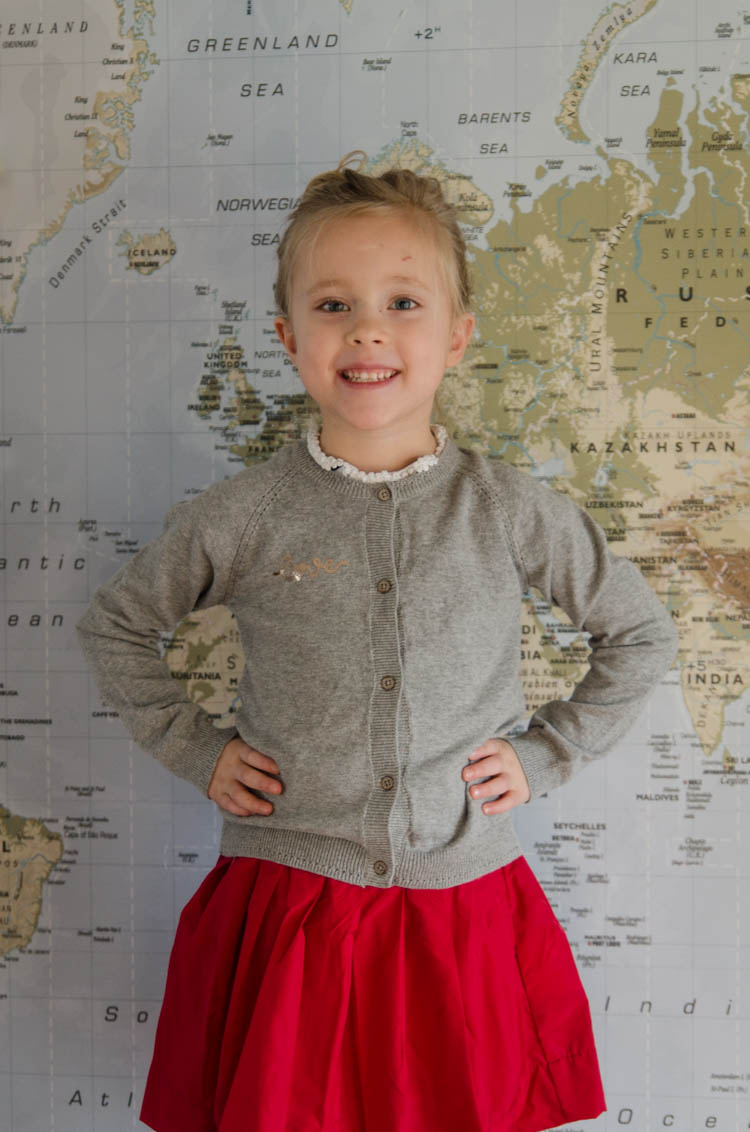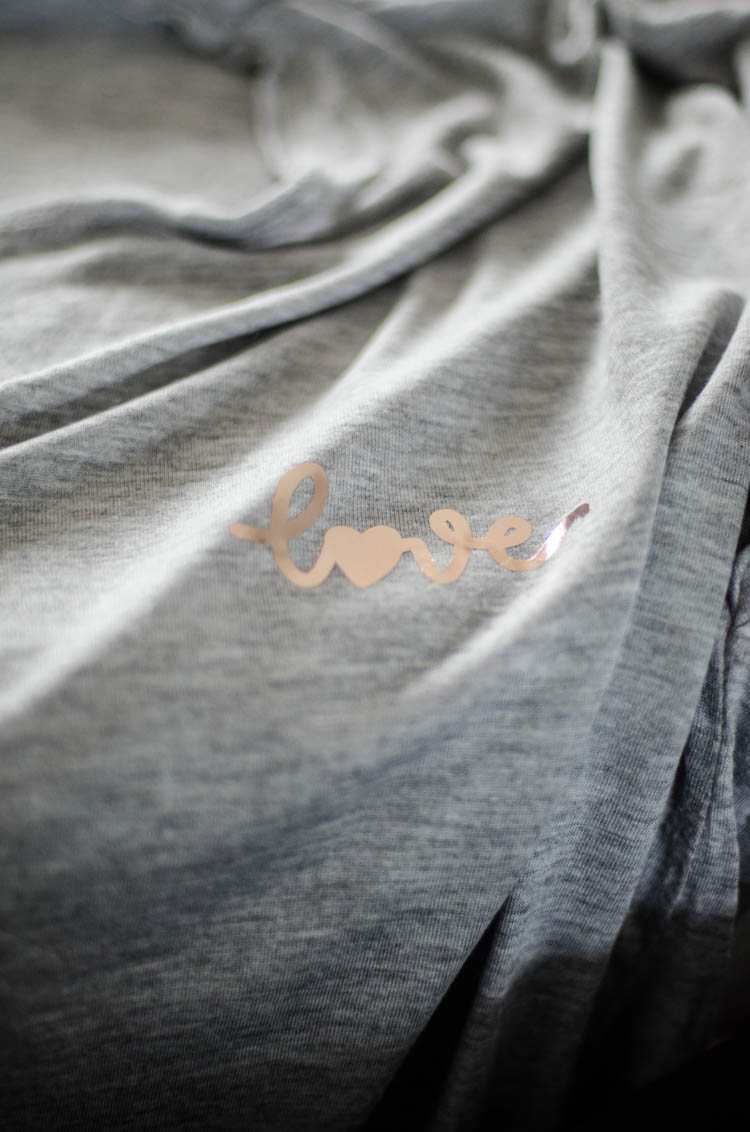 Psst… this is one of many DIY shirts I've shared free designs for ;)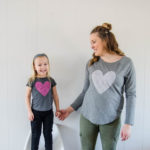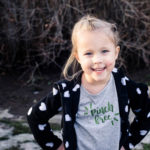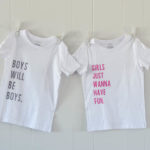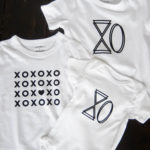 Make sure to hop around to the other amazing projects and check them out! I know I've planned a date with myself and a coffee at naptime to check them all out!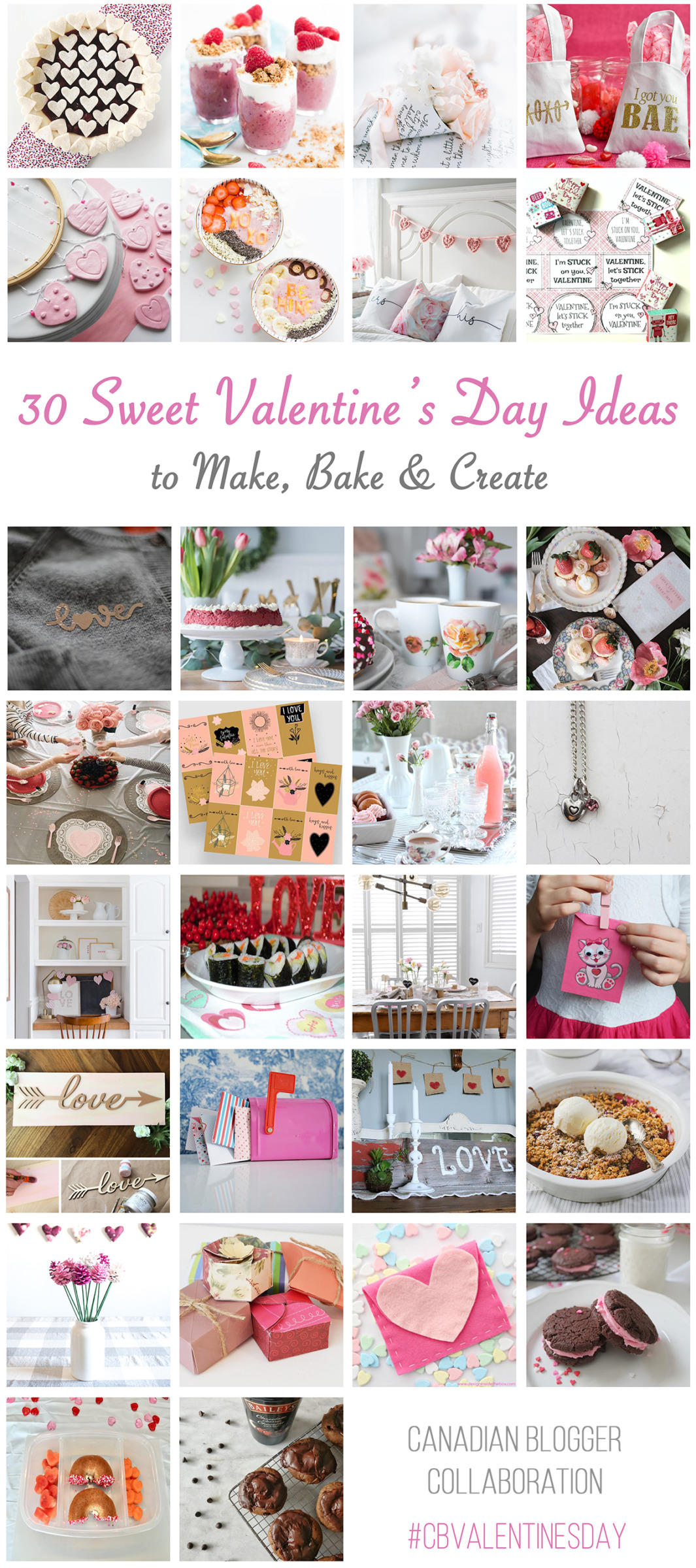 Valentine's Day Cherry Pie by Jo-Anna of A Pretty Life | Valentine's Triple Berry Breakfast Parfait by Joanna at Lazy Moms Blog | Valentine's Day Mini Bouquet with Printable Wrap by Lucy of Craftberry Bush | DIY Iron-On Mini Tote Bags for Galentine's Day by Joann of Woman in Real Life
DIY Clay Valentine Heart Wall Hanging by Jen of Kitchen Counter Chronicles | Valentine's Day Smoothie Bowl by Kristeena of Motherhood in Stilettos | Chunky Crochet Heart Banner by Christina of The DIY Mommy | 'I'm Stuck On You Valentine' Free Printable by Chandra of HashtagBlessed Blog
DIY Love Tees by Colleen of Lemon Thistle | Red Velvet Cheesecake by Kim of Kim Power Style | Custom Floral Dishware DIY with Temporary Tattoos by Christine of Amidst the Chaos | Valentine's Day Keto Cheesecake by Thalita of The Learner Observer
How to Host a Mother/Daughter Galentine's by Kelsey of Kelsey Diane Blog | Free Printable Farmhouse Style Valentine's Day Cards by Shannon of AKA Design | GALentine's Day Tea Party by Shauna of Satori Design for Living | Valentine Heart Necklace by Christine of The DIY Dreamer
Simple Valentine's Day Decor by Alicia of A Burst of Beautiful | Valentine's Sushi Recipe by Stefania of From the Playpen | Valentine's Day Decor by Dannyelle of Life is a Party | Valentine Countdown for Kids by Heather of Raising Memories
Love Sign by Meagan of Row House Nest | Valentine's Day Kindness Countdown Calendar by Jen of Rambling Renovators | Rustic Valentine's Day Decor by Sarah of The Project Pile | Peach Raspberry Crisp by Brittany of My Daily Randomness
How to Make Pine Cone Roses by Jane & Sonja of Sustain My Craft Habit | Handmade Paper Gift Boxes by Jessica of The Vanderveen House | DIY Valentine's Day Pouch by Lidia of Design Inside the Box | Valentine Oreo Cookies by Kendra of Joy In Our Home
Valentine's Day Lunch Idea by Adriana of Chaos and Caffeine | Chocolate Cherries Baileys Cookies by Emily of daydreaming of elsewhere
Did you know I have a whole archive of Valentine's Day posts? Check them out here!