Sharing the easiest way to letter on coir door mats for this DIY personalized door mat project! Mine says 'You Better Like Kids', but yours can say whatever you choose. This way of painting door mats helps the paint hold up longer than spray paint.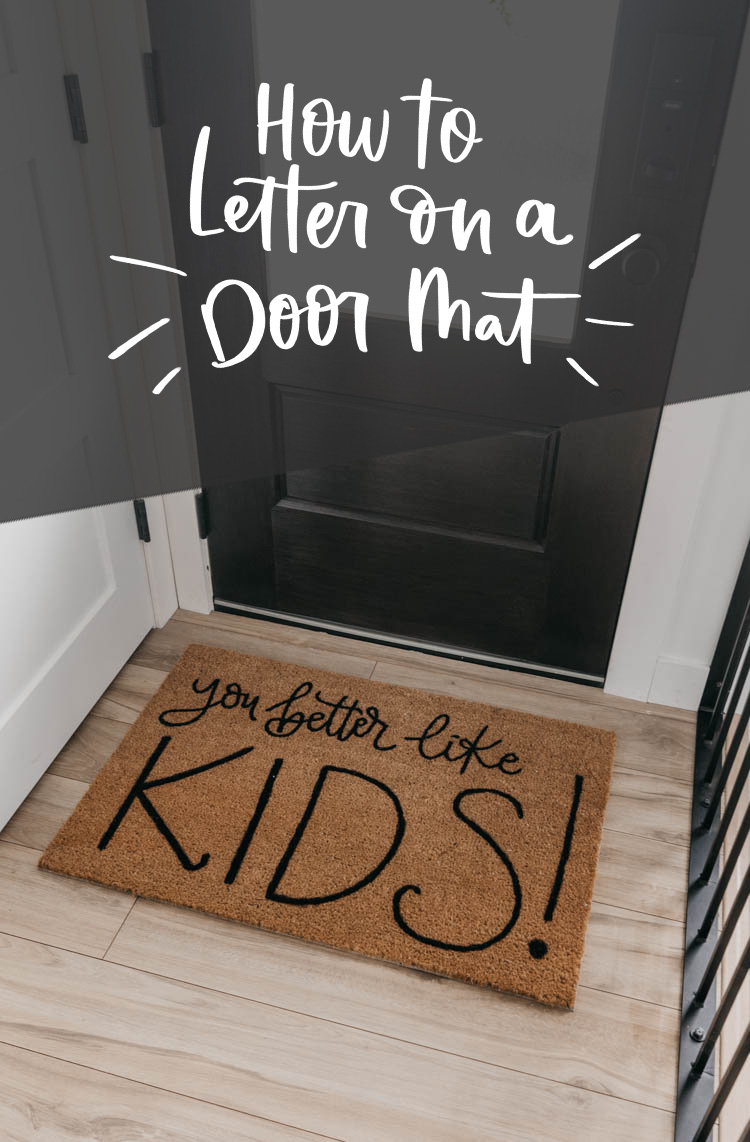 This is one of those projects I've been wanting to take another swing at for SO long. I actually had a friend pick up these mats at IKEA for me last year… LAST YEAR. Ha! So it's about time I made it happen.
I actually made some similar personalized door mats a couple years ago for Christmas gifts and didn't share a tutorial because they were SUCH A PAIN to make. I cut out stencils using my Cricut and spray painted but there was some bleed, so I used the stencils to paint with acrylic and although it worked… it wasn't quick by any means. You needed to reload your brush so often. This method goes a heck of a lot quicker and the edges look so nice and clean. Plus, the black goes right into the fibres so you don't need to worry about your design wearing off too quickly like spray paint does!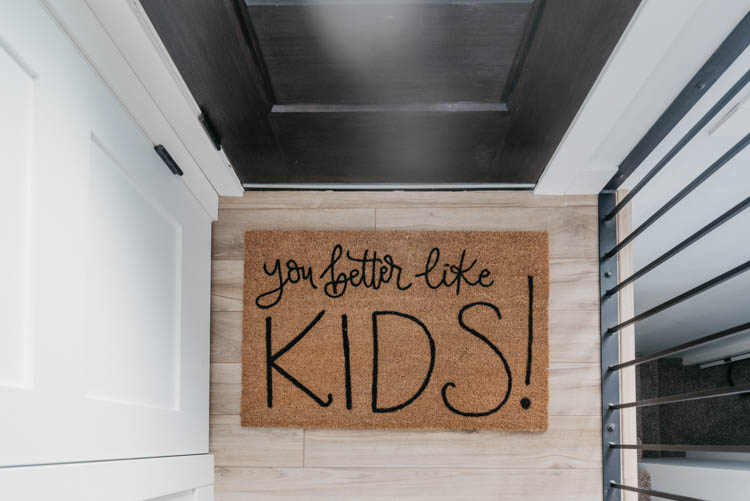 Over on YouTube, I joined in with Christina from The DIY Mommy's Outdoor DIY + Decor Challenge and shared this project. I thought I'd put together a little written tutorial for you over here as well! You can see the video below :) If you're over on You Tube, I'd so love if you subscribed to my channel!
TO MAKE YOUR OWN PERSONALIZED DOOR MAT, YOU'LL NEED:
A LOT OF KIDS. I recommend 4…. JK! You can write whatever you want to on your mat! No kids required ;)
A coir mat, mine is this one from IKEA
A little bit of water
Stiff Paint brushes (I like the crayola kids ones from the dollar store!)
So I've used this technique before but it took me way too long to try it on coir mats. This is how I love to letter on fabric as well. It's a great technique for any rougher material that you need to reload your paintbrush too often.
Here's the quick how-to: Switch out your acrylic paint lid for the fine tip and add a little water to thin your paint if it's too thick to squeeze. I like to use the multi-surface acrylic for better durability than traditional craft acrylic paint. This one is my fave but I ran out for this project so used another I had on hand. Use this to write your design onto your mat. You could do this with a stencil or just freehand it like I did. I would do at least two passes on each line to make sure you have enough paint laid down.
Next, take your stiff paint brush and press it in to your paint strokes to push the paint off the surface and down the sides of the coir fibres. This will help with durability and also makes it look so much more professional!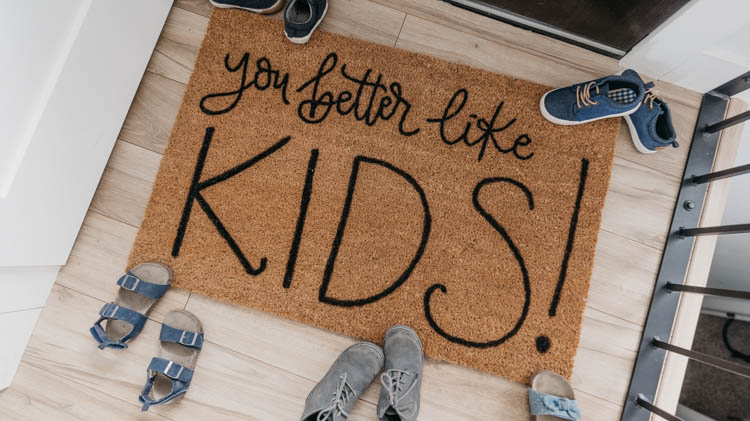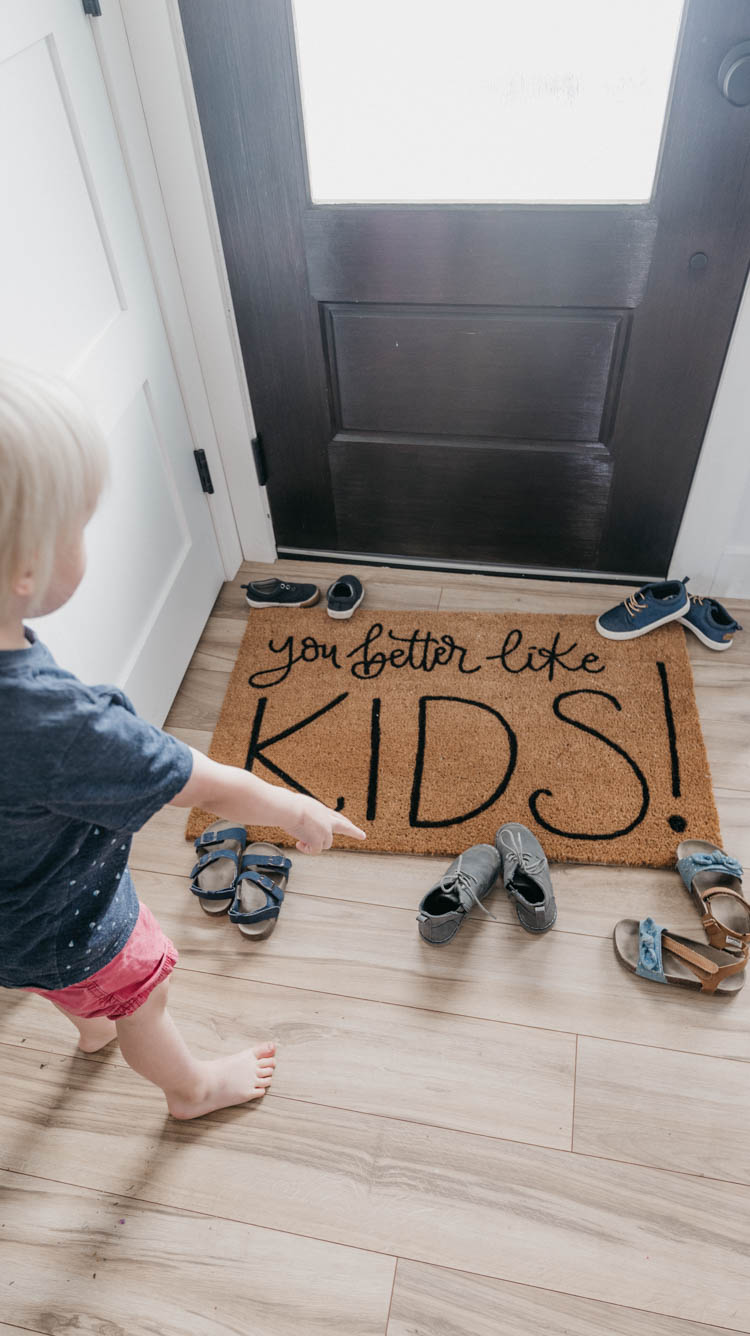 That's it! Super simple and this mat only took me less than 30 minutes start to finish. I had my 3 1/2 year old working on his own project beside me so if I was uninterrupted, I'm sure it would have been done in less than 20 minutes!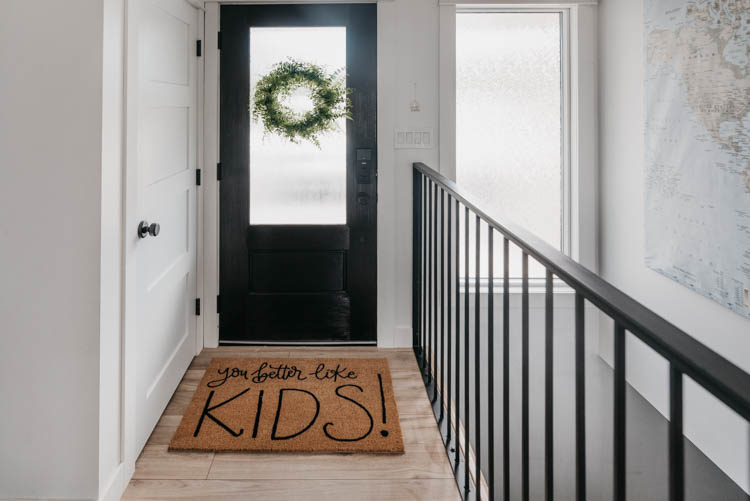 Tell me… what would you letter on your door mat?
PS… a sneak peek of my entry! I have a few more things to finish up in here (lights, stair railing, some painting) but it's coming along so nicely! See what we had planned and the before photos RIGHT HERE.