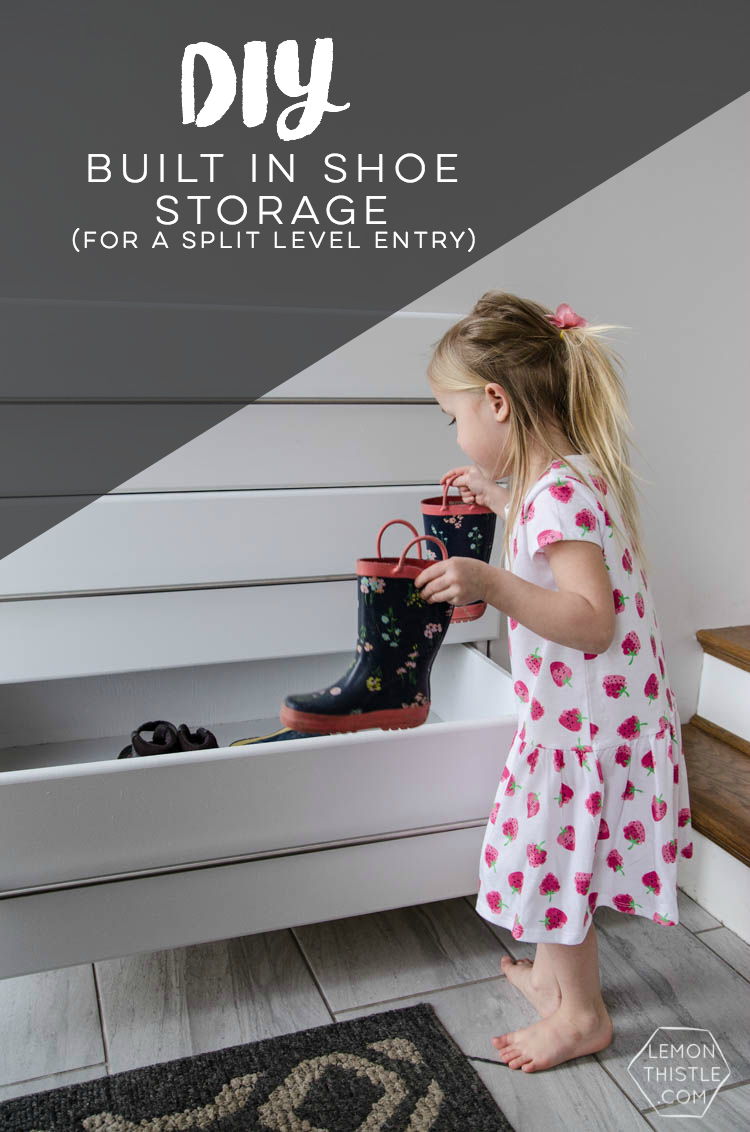 This project is totally life changing for us, you guys! A couple weeks ago I shared the DIY handrail we put in on our split level entry stairs. But this… well, this is better. If you've lived in a split level entry… you'll know the biggest challenge is that stinkin' entry way. It's usually cramped and you're REALLY lucky if you get a closet there. We did not. So you basically walk in and if there's more than one of you (say three kids), you cram onto the entry landing and try close the door (before one of three runs out the door) , then take off your shoes and try not trip on the now 8 shoes in your path to get up the stairs. #perfect
And shoe racks could work, but when it's this cramped and you need to be able to carry laundry baskets up and down these stairs several times a day (I wish I was kidding), there's really not room for a nice one. So since we had an unfinished basement to play with, we decided to use that to our advantage and build in some shoe storage. And friends, it's the best. It is the most shoe storage we have ever had… and I actually had a bookshelf for shoes in our last place. These drawers really hold SO much! And we didn't lose any space to make them. In the basement, we built closets on either side, so that shoe storage cubby is actually level with the closets instead of having an awkward dead space on between the closet and wall. So really… why wouldn't we have used it for this?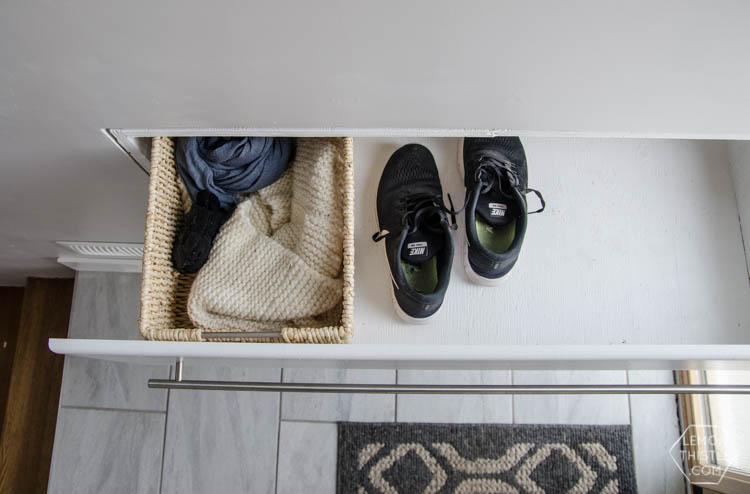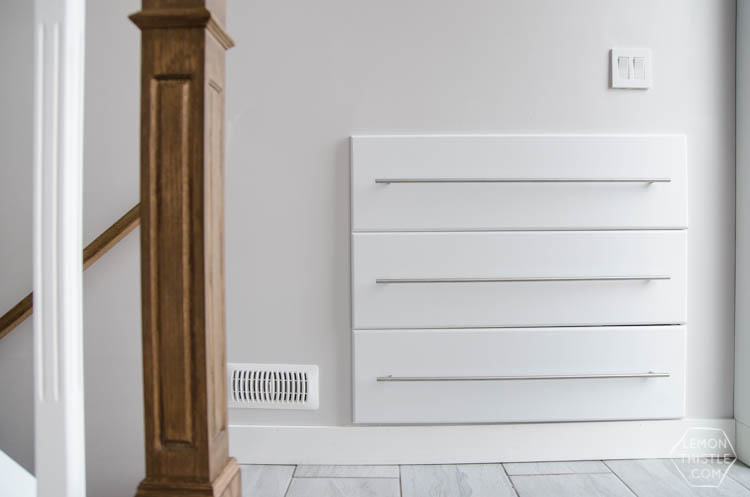 What do I love about these? Well, I Love that there is NO wasted space. Not only do we keep almost every inch of floorspace for little feet to sit and get shoes on BUT these look pretty darn nice (if I do say so myself). As per usual, we built these drawers using supplies from one of my fave partners- Home Depot but those pulls I ordered special from D. Lawless Hardware and I'm in love! They really finish off the drawers perfectly. Now that the drawers are in and the railing is updated it kind of makes us want to go all traditional and do a full wall moulding treatment to the entry. Buuuut we're thinking that done is better than taking that on ;) Ready to learn allll about how we did it? And how you can put drawers in your walls too!?
I'm not sure I'm going to do the BEST job explaining it, so again… I'm turning this one over to the brains and the guy that did *most* of the work on these (I did a top notch job painting them). But before that… remember the Before?Continue Reading…