This post contains sponsored or affiliate links which help support Lemon Thistle. As always, I'll only recommend things I love, love. Full disclosure here.
Today I'm sharing a Video DIY tutorial- how to disassemble a pallet for free project wood (without killing yourself). I know, I know- it's not the most fun DIY, but it's gotta get done to get to the fun part! I've been asked how I disassemble a pallet more than anything else- by friends (if you walk by the side of my house, I've got a few waiting for the treatment) or by readers after I shared my Canadian Flag and Giant Party Chalkboard. And while it's not rocket science… it can be hard work! In this post, I'm showing the easiest way that I have found to disassemble a pallet without power tools. Why? Not everyone has power tools- the space to store them or the cash to buy them. And let's be honest- one of the most appealing parts of pallet projects are not the beautiful clean wood… but the FREE WOOD! And if you want to do a cheap/free project, you probably don't want to be buying fancy power tools.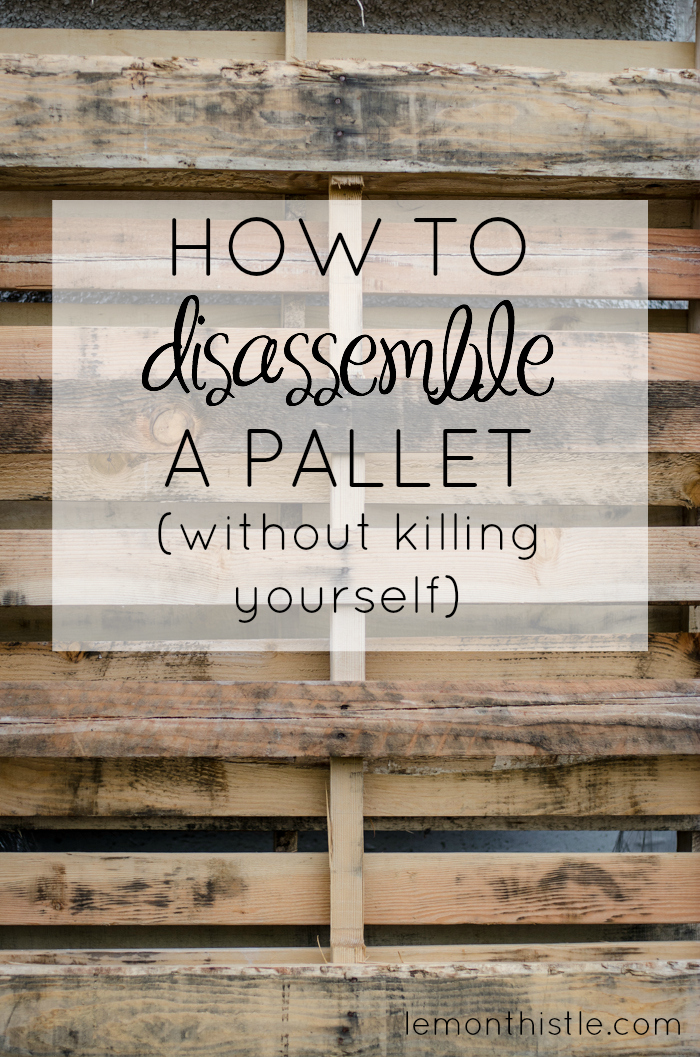 So have you ever tried to dismantle one of these beasts? You've found the perfect inspiration for a pallet project on Pinterest, so you drive until you see a stack and stuff it in your backseat only to get it home and realize that they are SUCH a pain! But that's the price of free. So why are they such a pain? Those nails can be rusty, spiral, or ring shank (they have barbs). And since they're made out of scrap wood- some of the pieces could have old nails that have just been bent over at the back. And the wood? It's scrap wood, so it can have bark, hard knots, and most frustrating of all- it's dry so it cracks so easily!
But it's worth it! Free project wood, guys! Not only do you get the rustic looking wood from the front and back of pallets (what we see in most projects) but we get the supporting pieces which are basically 2 by 4s that are notched out for a lift. These are awesome if you're building a piece of furniture for the supporting bits that you won't see.  Now that we know why we have a love/ hate relationship with these guys… I'm going to show you what I do to get those suckers apart. And if you were wondering… this pallet was turned into a rustic towel rack (even in my finished bathroom renovation, this thing gets most of the compliments!)
*UPDATE* If you're doing a large amount of projects, use a saw. If you're not- or if you're using pallets because you're looking for a cost effective project (and a sawsall isn't in your budget) then use this method. We lived in an apartment with limited storage for five years and only had a power drill, hammer, and pry bar- so this is what was best for me! And as for pallets not being the cleanest type of wood… we know, but it's free and sometimes that's the winning consideration*
So now you've had a peek at my backyard (it needs some love, that's on our list for next summer). Just so we're realistic about this- it doesn't take two minutes for pallet disassembly, it takes about 45 minutes. I'm sure you realize that, but I thought I'd just make sure. I don't want anyone coming back upset that it took them more than a few minutes to take apart a pallet without a saw.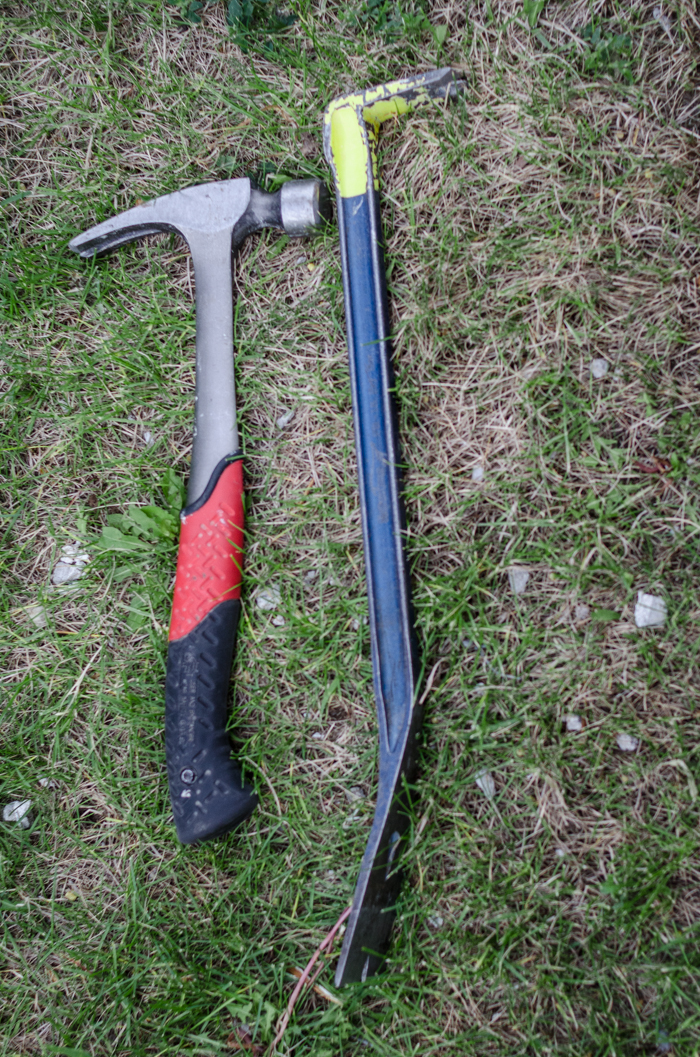 Tools used for pallet disassembly without a saw:
Okay, so in the video, you'll see two different types of pry bars. One is a small pry bar
(shown above)- I love this thing. This one is great for getting between the pieces of wood. You'll notice I tap it in with a hammer, then use one hand to hold it in place, and the other to hit it with my palm to rock it loose. It might seem a bit slower than just muscling it- but I won't be cursing by the end if I do it this way. The other pry bar is a nail puller or claw bar much like this one
. This one gets hammered in right under the nail to pull it up. This is great for looser nails or if you can't get any leverage with your pry bar. I use the same technique to rock the nail loose. The other plus to tapping it loose instead of just pulling on the pry bar is you're less likely to have cracks in the wood when you take apart a pallet. *UPDATE* Since writing this, I've gotten my hands on a Mini FatMax Wrecking Bar
and it's my new best friend. If you need to go out and pick a pry bar… this will be your guy to help in pallet disassembly!*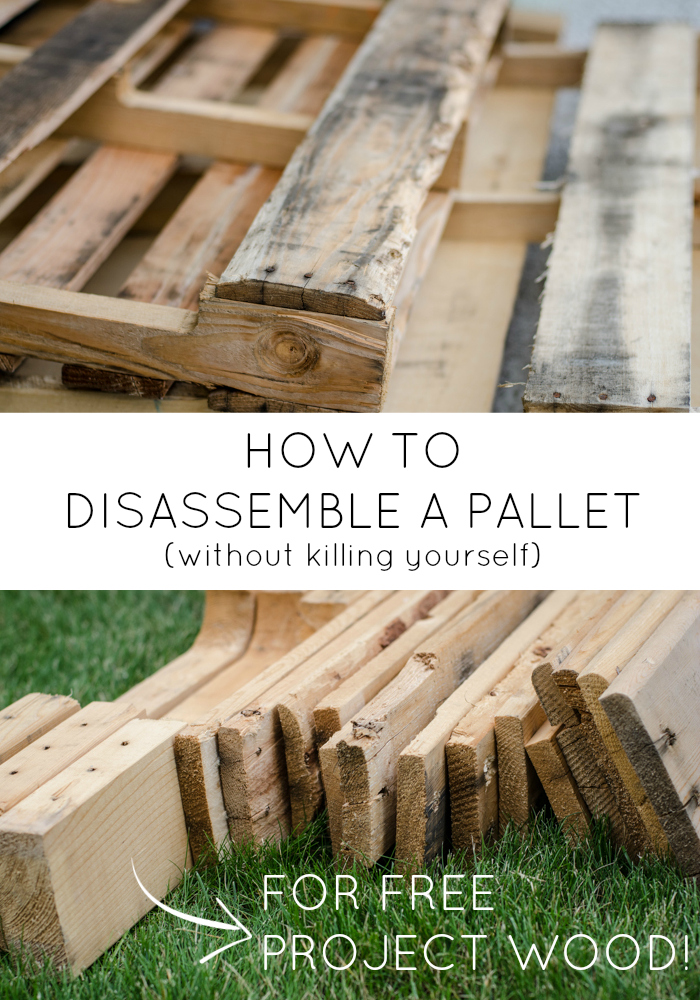 Something to keep in mind- I always prep my wood before I use it in a project. That means I sand it and clean it, so don't worry too much if you get some splinters around your pry marks- you can sand those out. I hope you enjoyed this tutorial on how to disassemble a pallet without a saw!
More DIY Pallet Projects: