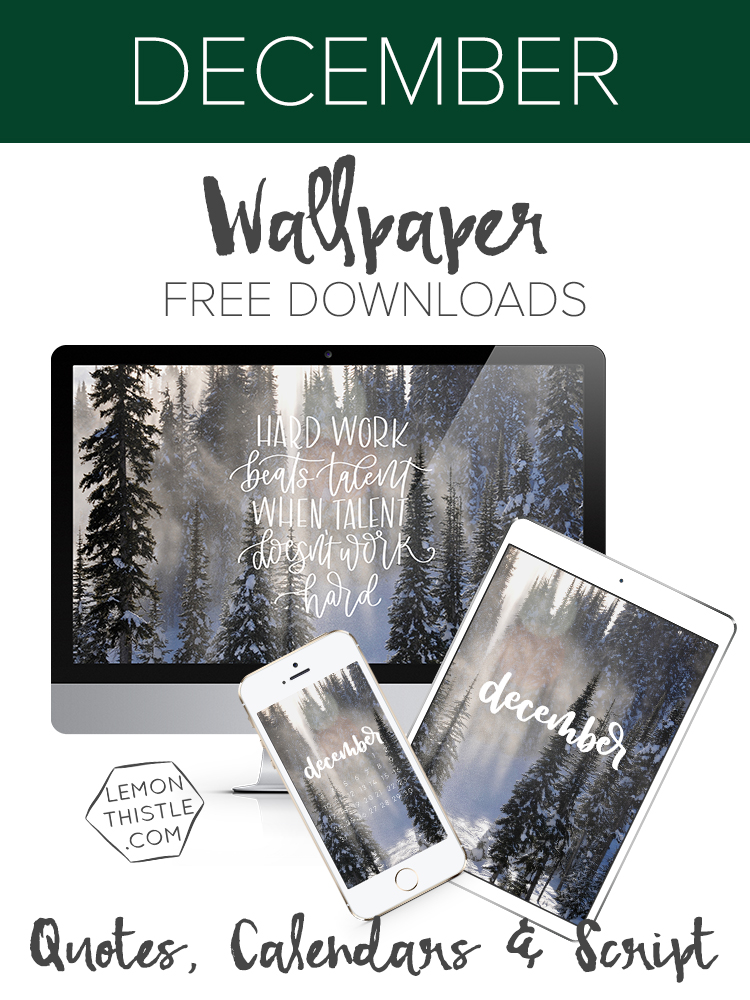 Happy December! I'm so looking forward to this December, we've finished all our major renovations, we're getting major baby snuggles, and the kids are the most excited for Christmas- it's such a fun age! OH and I worked ahead to get posts finished up for the month so I could kick back with the new babe and enjoy some time off. So that's all sorts of wonderful too. I am also excited about this month's tech wallpaper! Like last month, I used one of my dad's gorgeous photos for the wallpaper… isn't it perfect? The snow and that light?! I love it! And as for the quote? I love a motivational quote on my devices. Because it's so easy to sit here and open Facebook or start online shopping instead of getting the things I'd opened up my computer/phone/etc to actually do. Hard work beats talent when talent doesn't work.
If you're new to Lemon Thistle, every month, I create free handlettered backgrounds for you to download. I make each a quote version, a calendar version, and a monthly script version in each desktop, phone, and tablet sizes. You can take your pick! I also create a free printable 8×10 version of the quote for my e-mail friends.
IF YOU'RE NOT YET SIGNED UP FOR MY LIST, YOU CAN GET IN ON THE UPDATES AND FREEBIES RIGHT HERE!

Enough with the chatter, am I right? JUST GIVE ME THE GOODS! Just click the linked words below to download them!Continue Reading…