A simple update for mirrored closet doors and hollow core doors to bring character back into a dated home without replacing them.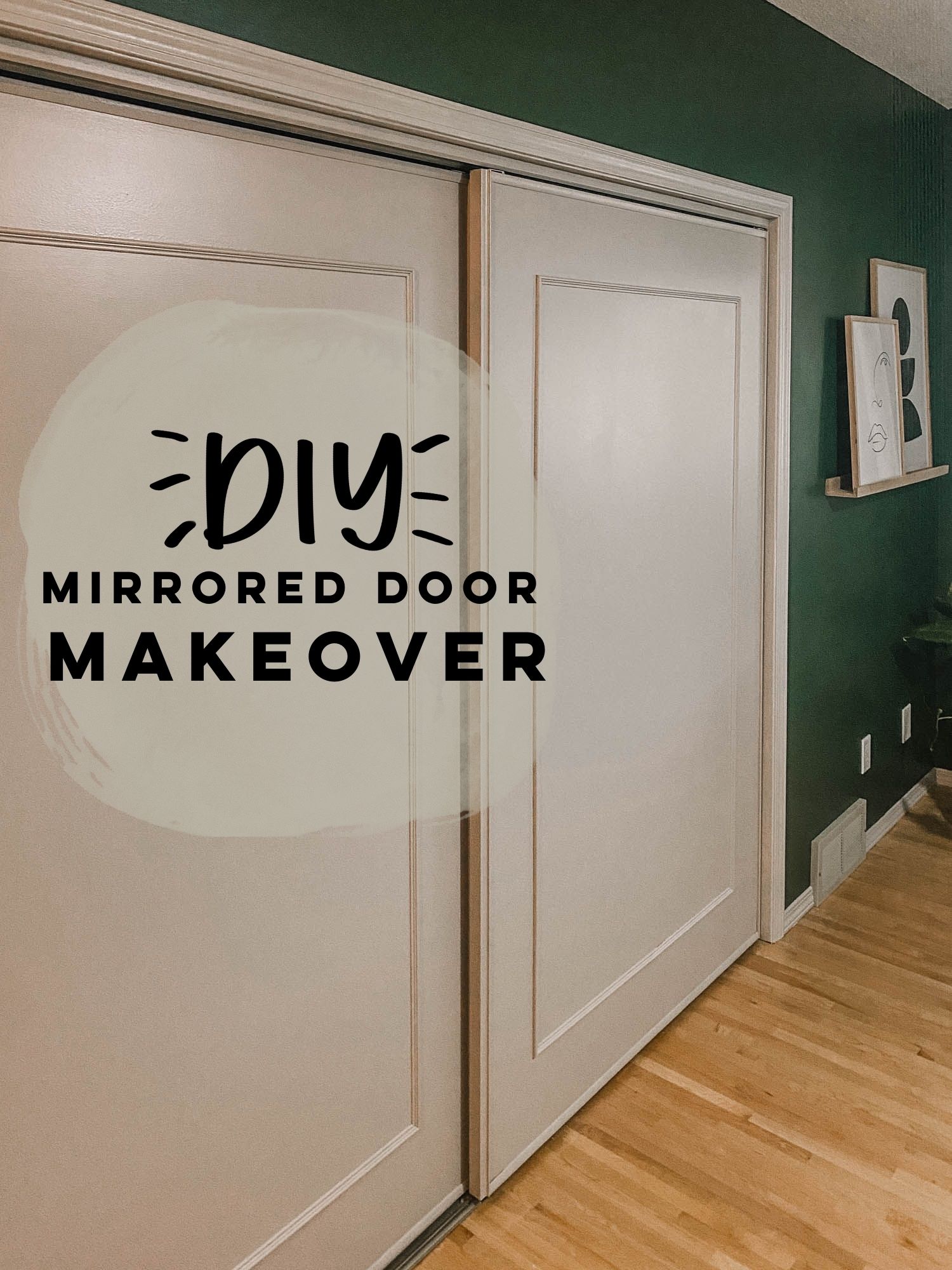 This past week I shared my sister's bedroom makeover. We totally refreshed her space in just one weekend using moulding and paint. The moulding wasn't just on the feature wall though… yep! We put it on the doors too! The room is actually an addition on her home. The original part of the home has the most gorgeous doors and hardware but the addition? Plain jane hollow core doors and the closet doors were those giant mirrored sliding doors.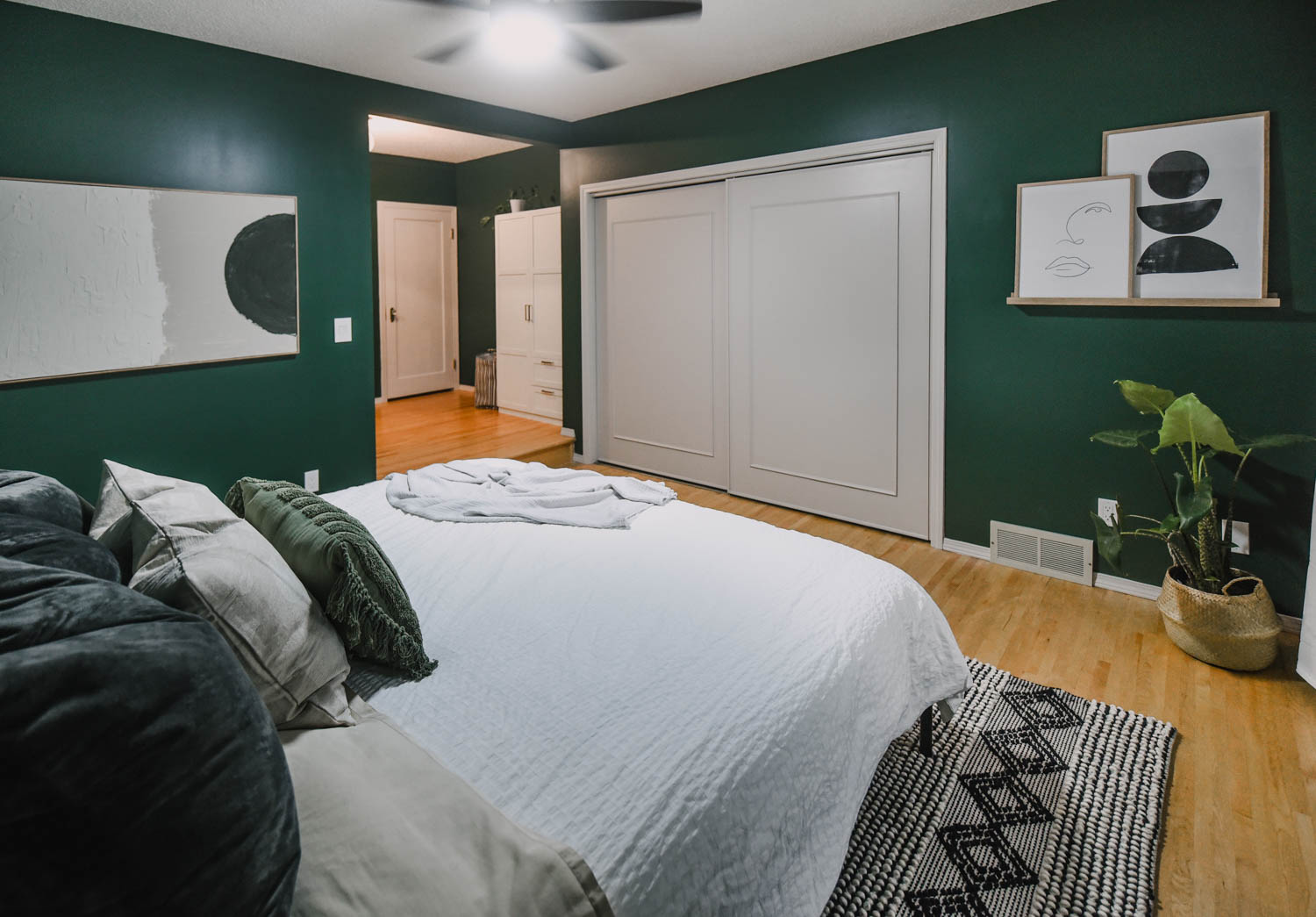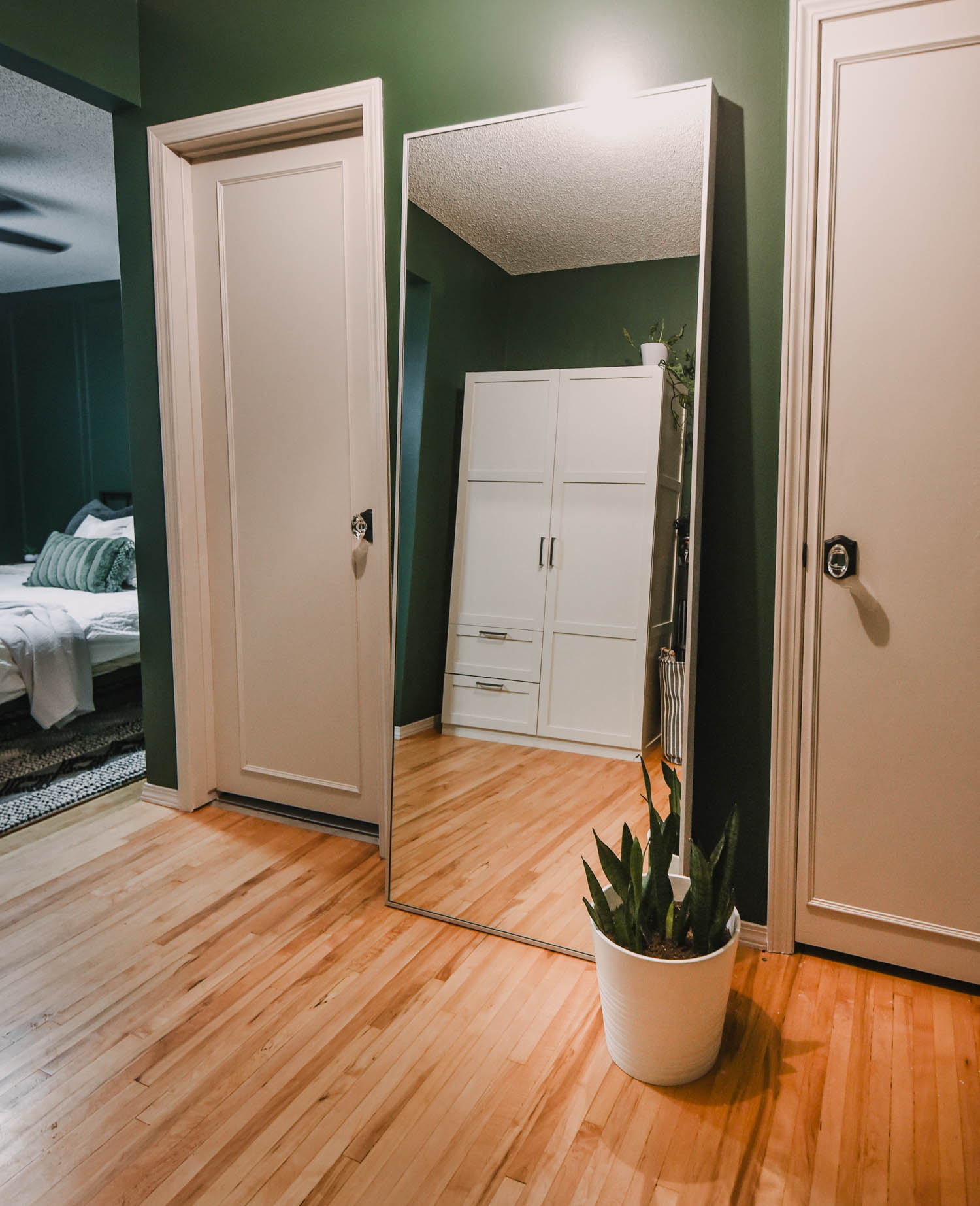 To update them, we added picture frame moulding and paint and it turned out even better than I'd imagined. Now that it's been two months since the makeover and my sister's assured me they're not only holding up wonderfully but she even uses the trim as a handle to slide the doors without any issue… I'm ready to share the DIY! Tested and good to go ;)
*affiliate links where possible
Here's a peek at what they looked like before we started: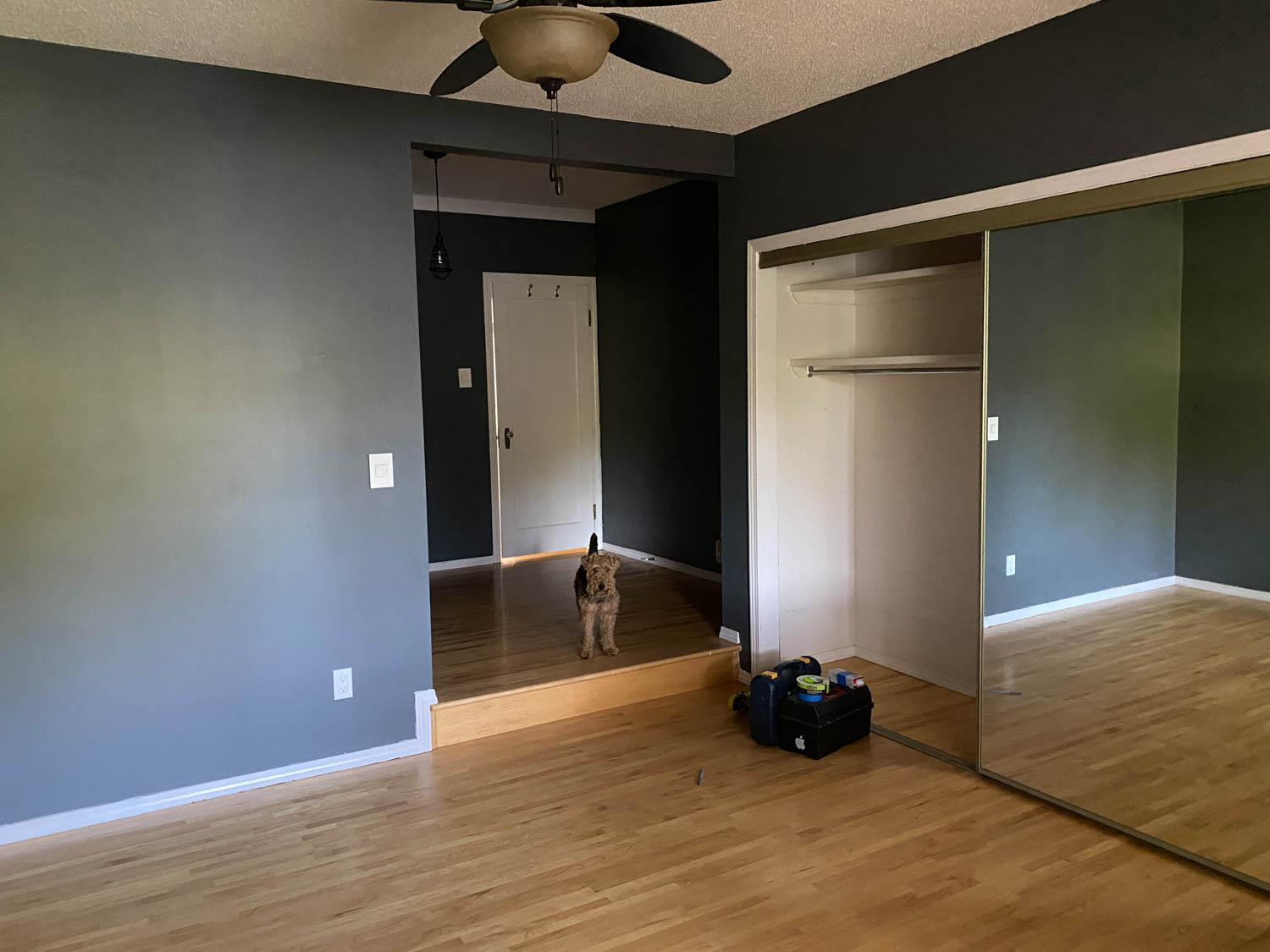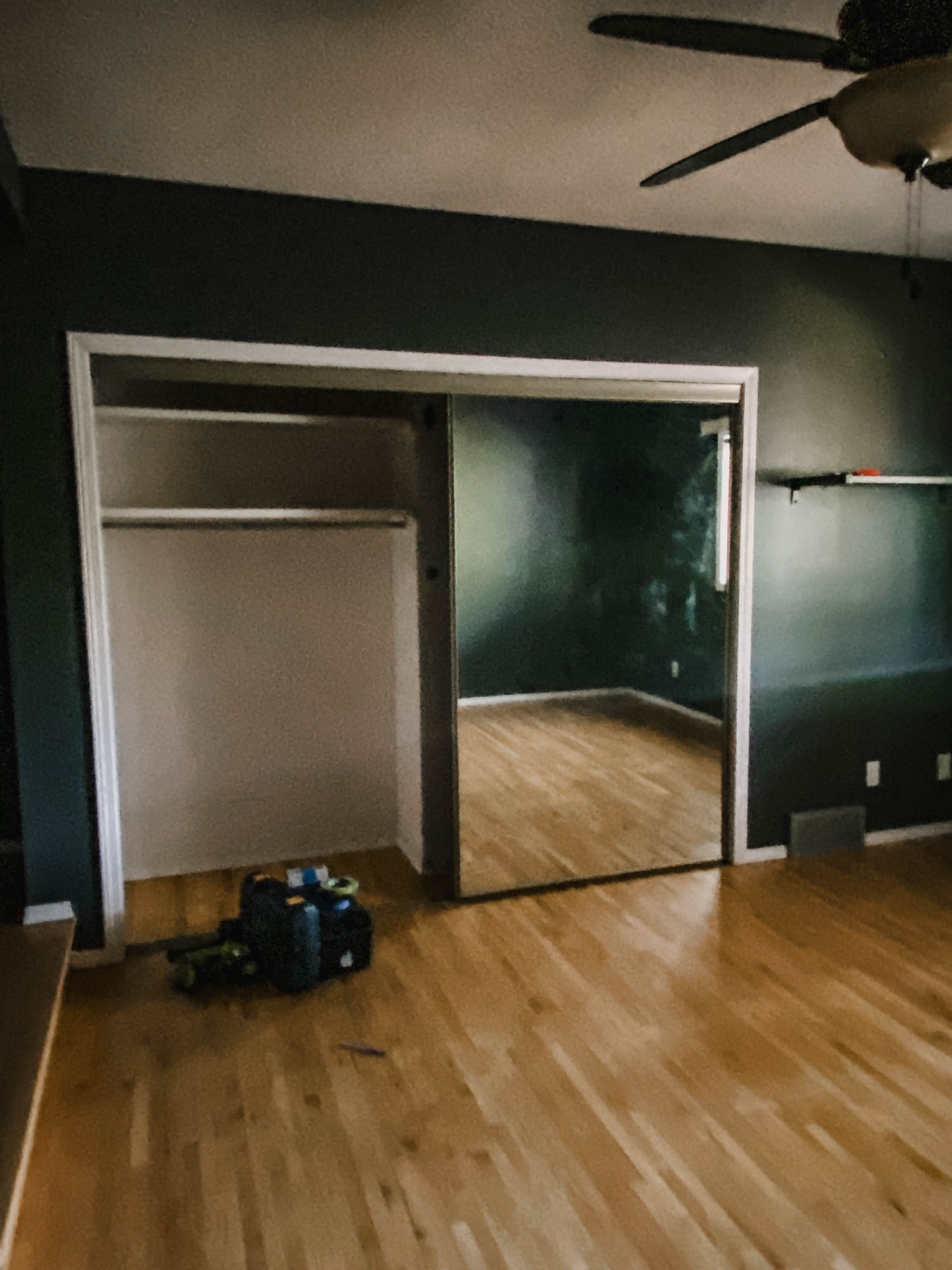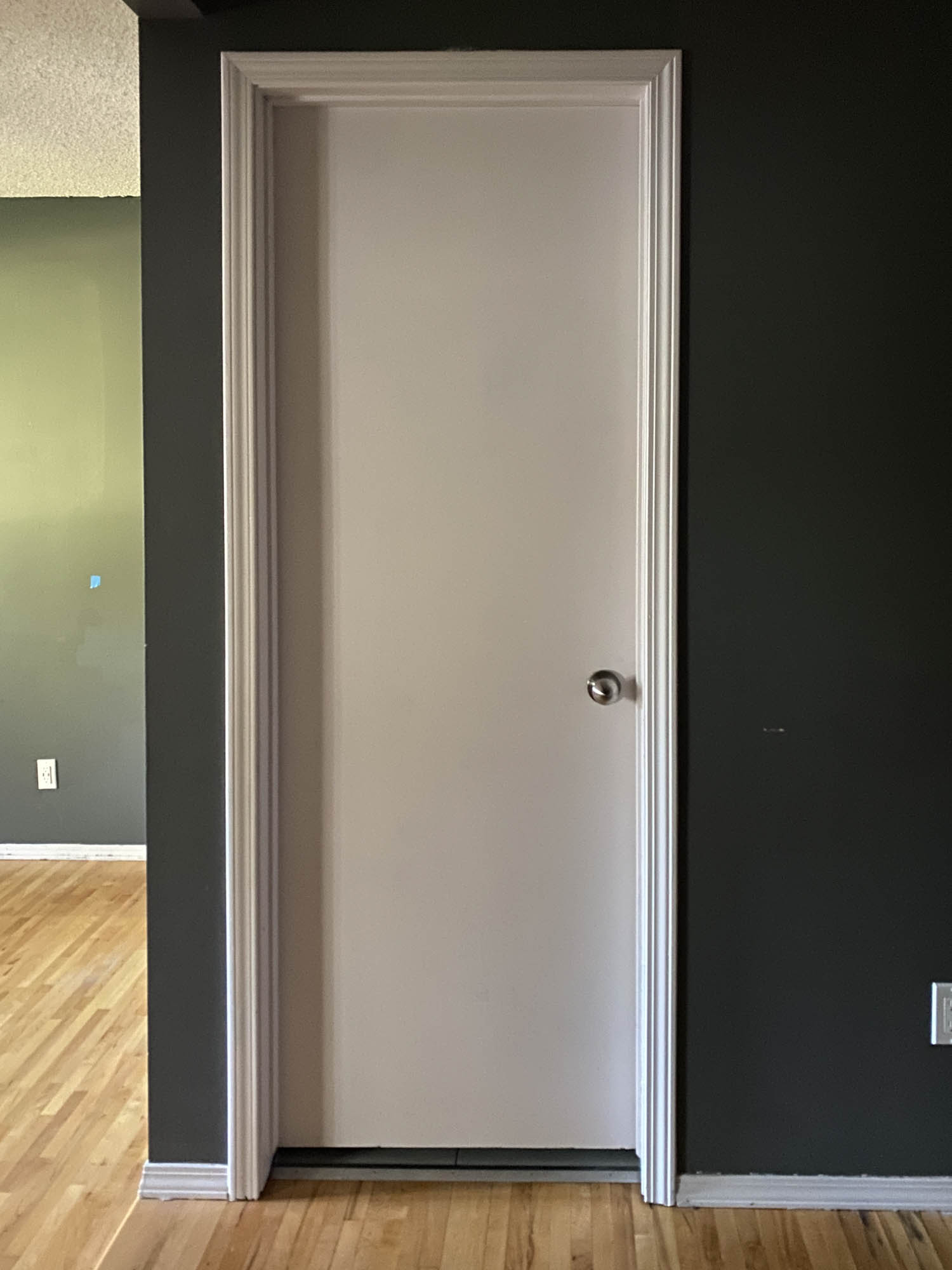 Before anything else, we did remove the extra trim pieces on the mirror door tracks. I think this makes them look more modern. We also sanded them lightly. Before adding anything (paint or moulding) to mirrored doors, I definitely recommend giving a very light sand just to give some grip to the adhesive or paint you use.
ADDING TRIM TO DOORS (MIRROR + HOLLOW)
Half of this DIY is adding trim to the doors, the other half is painting them effectively.
For this project, we chose a very thin decorative moulding. It is a wood moulding from the hardware store and you do buy it by the foot. Measure your doors ahead of time and map out the design you'd like to make to ensure you're buying enough, in lengths that will be useful to you. We just did one large rectangle on each door so the math was pretty simple.
On the larger mirror doors, we did one large rectangle centred and didn't have handles to worry about. On the bathroom and linen doors, we did have handles to worry about. We did the trim outside the handle on one and inside on the other just since the linen door is SO small.
Make sure you account for the face plate of your handle when you are measuring this out. We updated the handles to these beautiful glass knobs. We were looking at these more traditional ones to match the others in the home (mix match, but all the longer plate) but the price point wasn't working with our budget. This oval glass knob with the rubbed bronze plate is honestly a steal!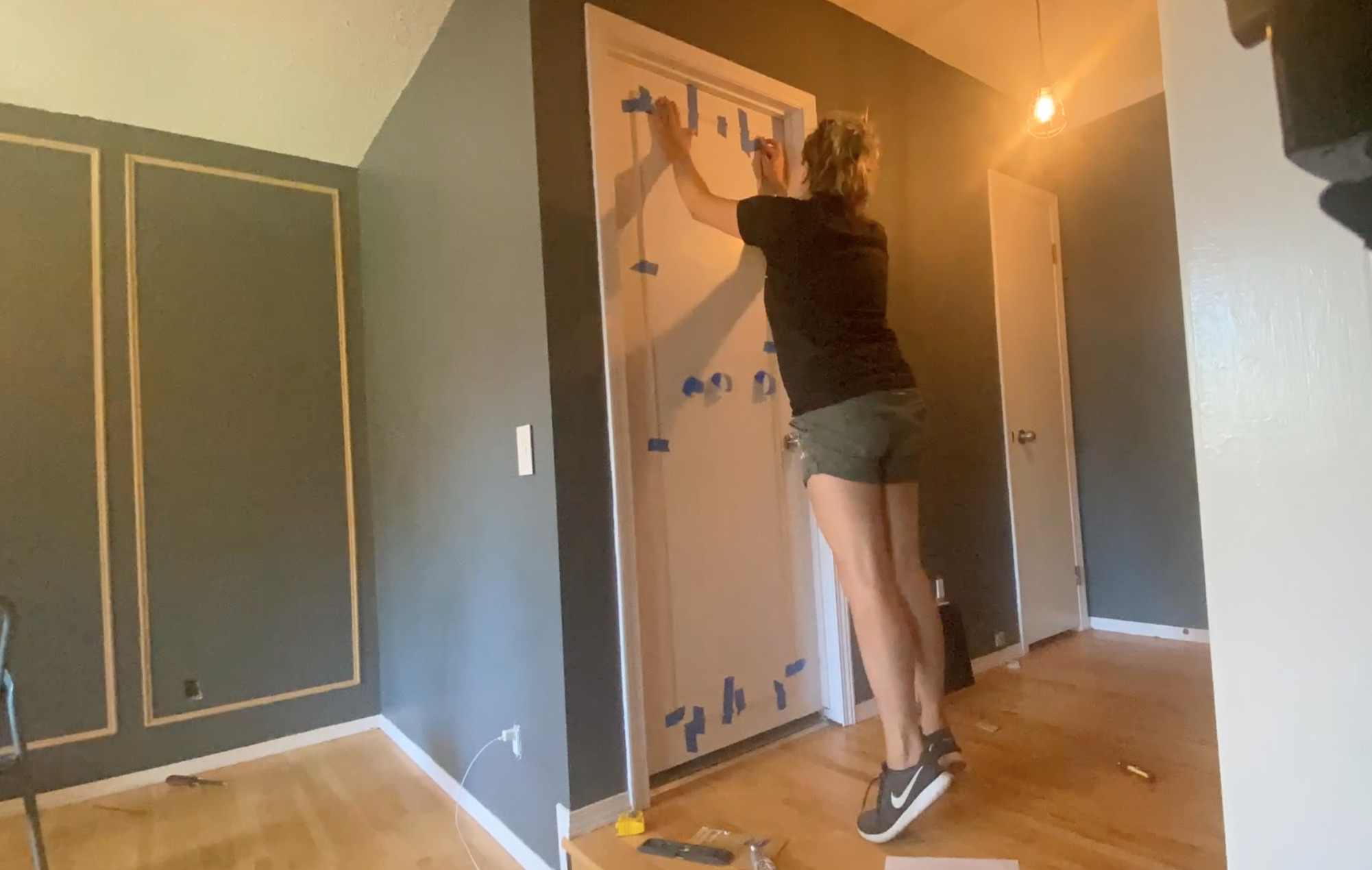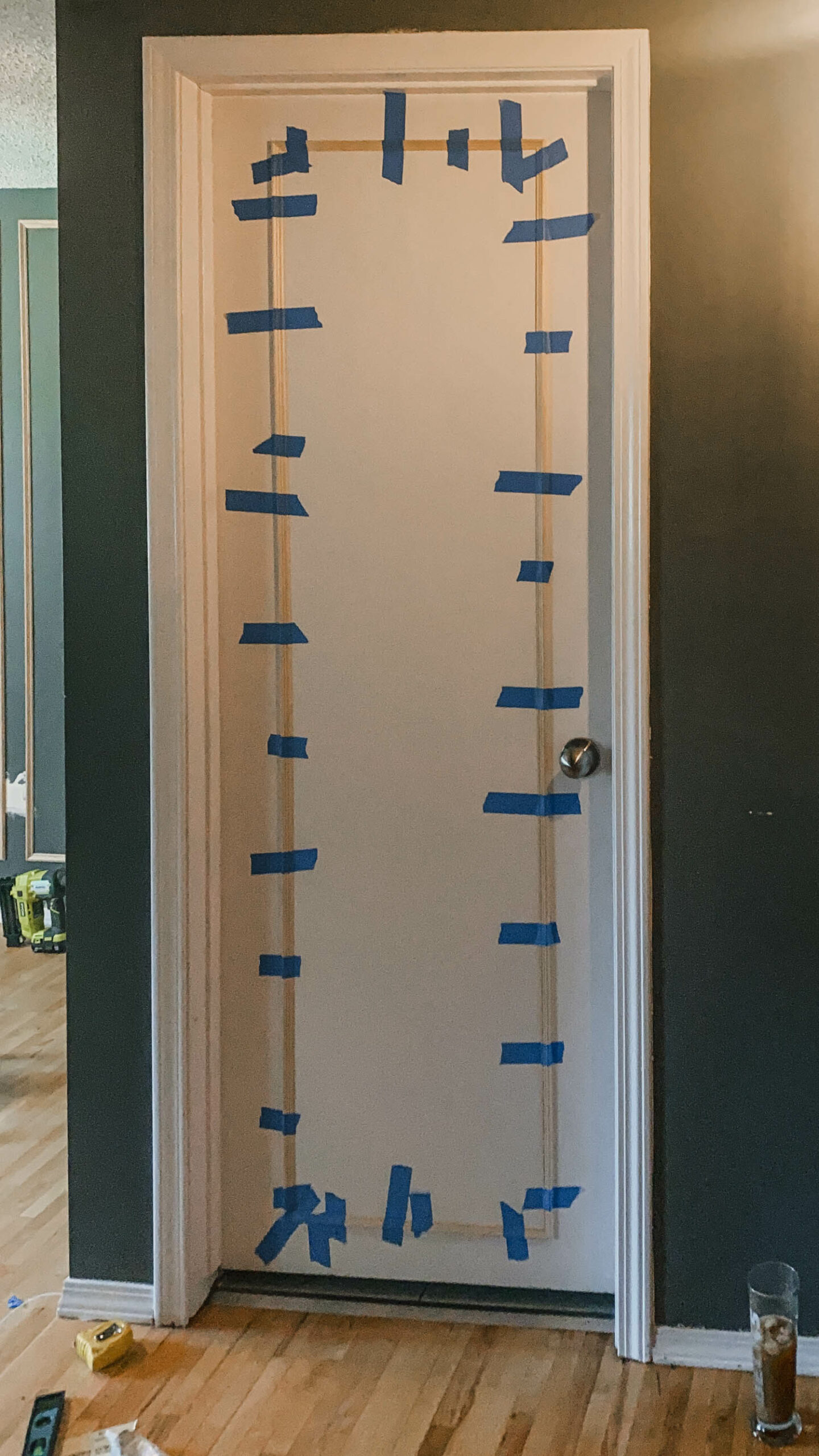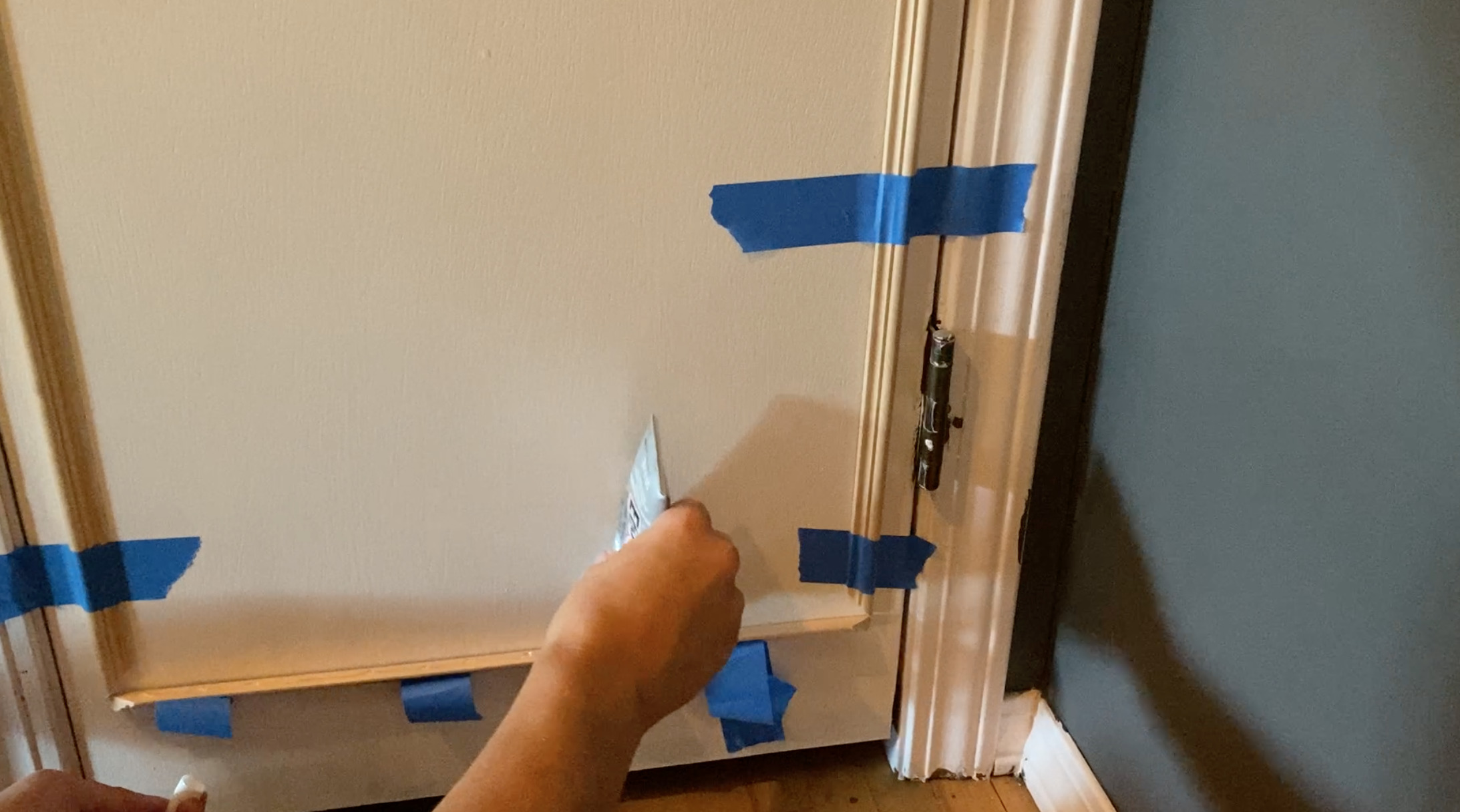 Once you've decided on your design, you can get to cutting. A miter corner will help things look clean and intentional. Give the moulding a light sand after cutting and then tape your moulding in place. I found taping it in place helped me to level and center everything perfectly with tight corners before attaching it permanently. Painters tape works great for this.
You can see in the video how I opened up the painter tape on the inside of the picture frame to allow the moulding to come off of the wall for glue to be applied. I used my favourite E6000 craft glue for this. Once you've applied glue to the moulding, put it back in place and press the tape over to hold it in place. I added lots more tape just to make sure there were no gaps between the moulding and wall once it was dry. Let this dry overnight (not sure if this is necessary but we did and it's held up great).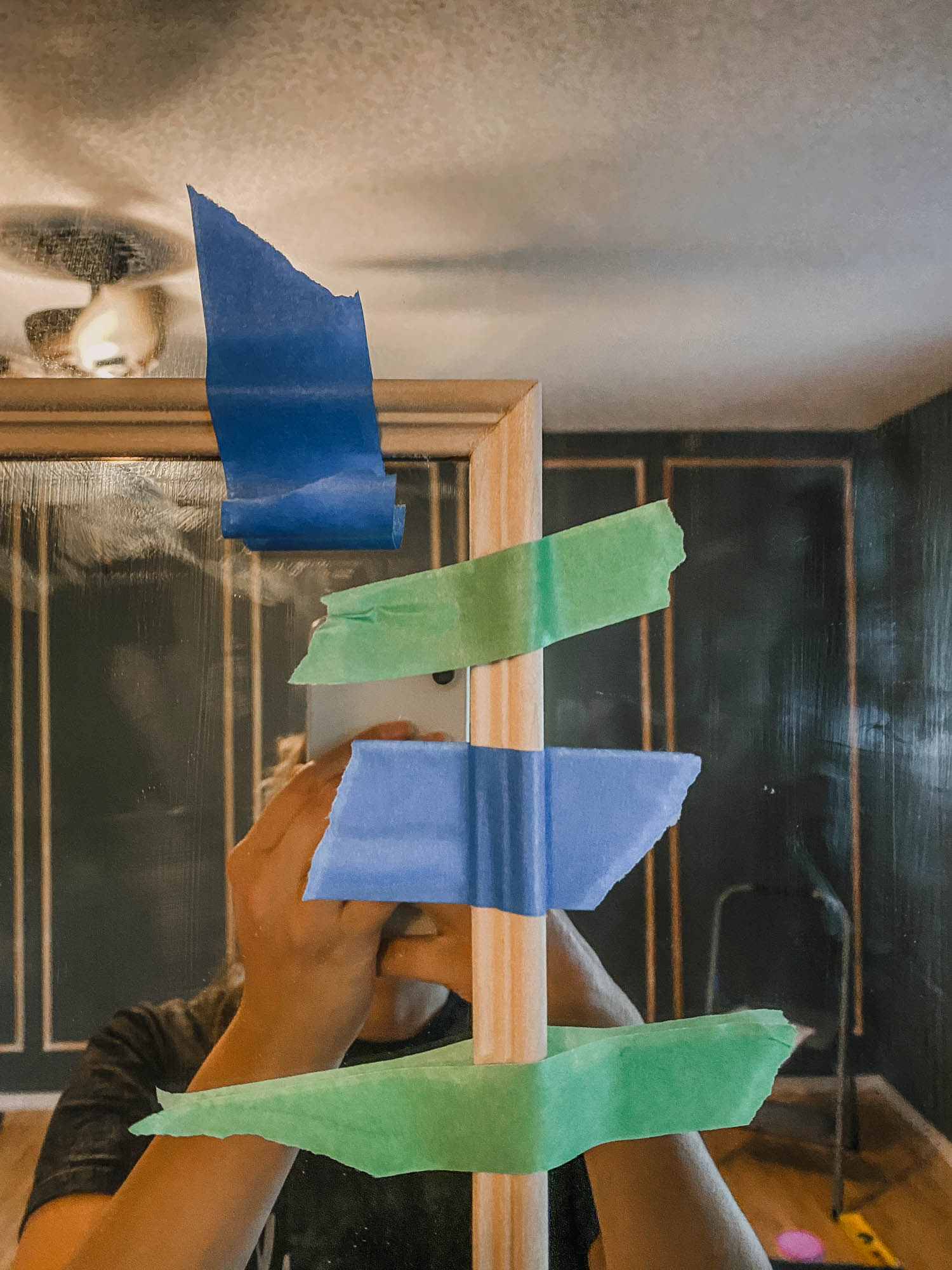 You can fill the corners of the moulding to make them look absolutely perfect with wood filler and you can caulk between the moulding and the door for a really clean look- this will help it look like it's one piece instead of an 'add on'.
PAINTING MIRRORED DOORS
Next up, let's paint! Painting the hollow core doors was simple. We just used primer over the wood to seal it. This will help the wood and the door take paint with the same sheen.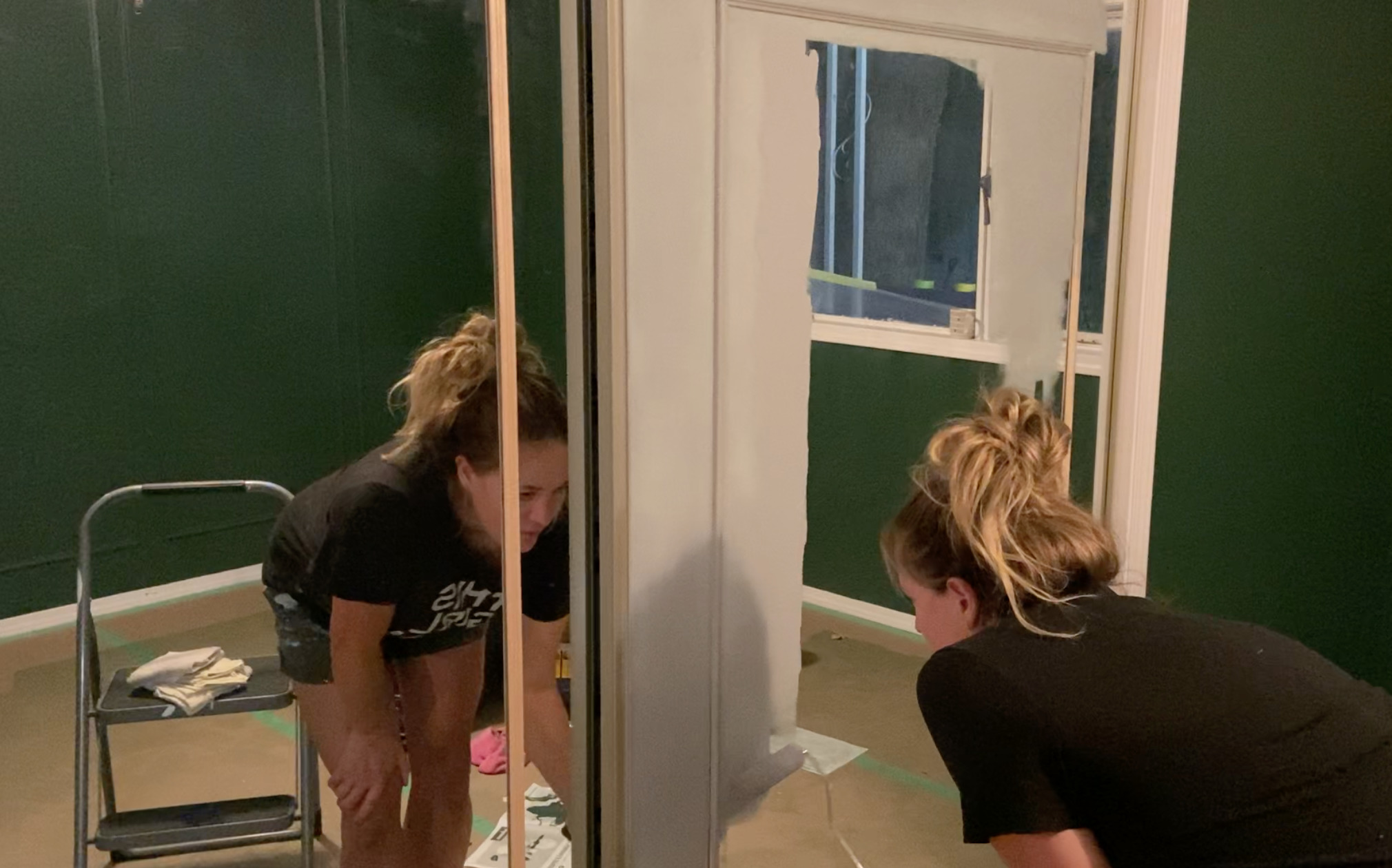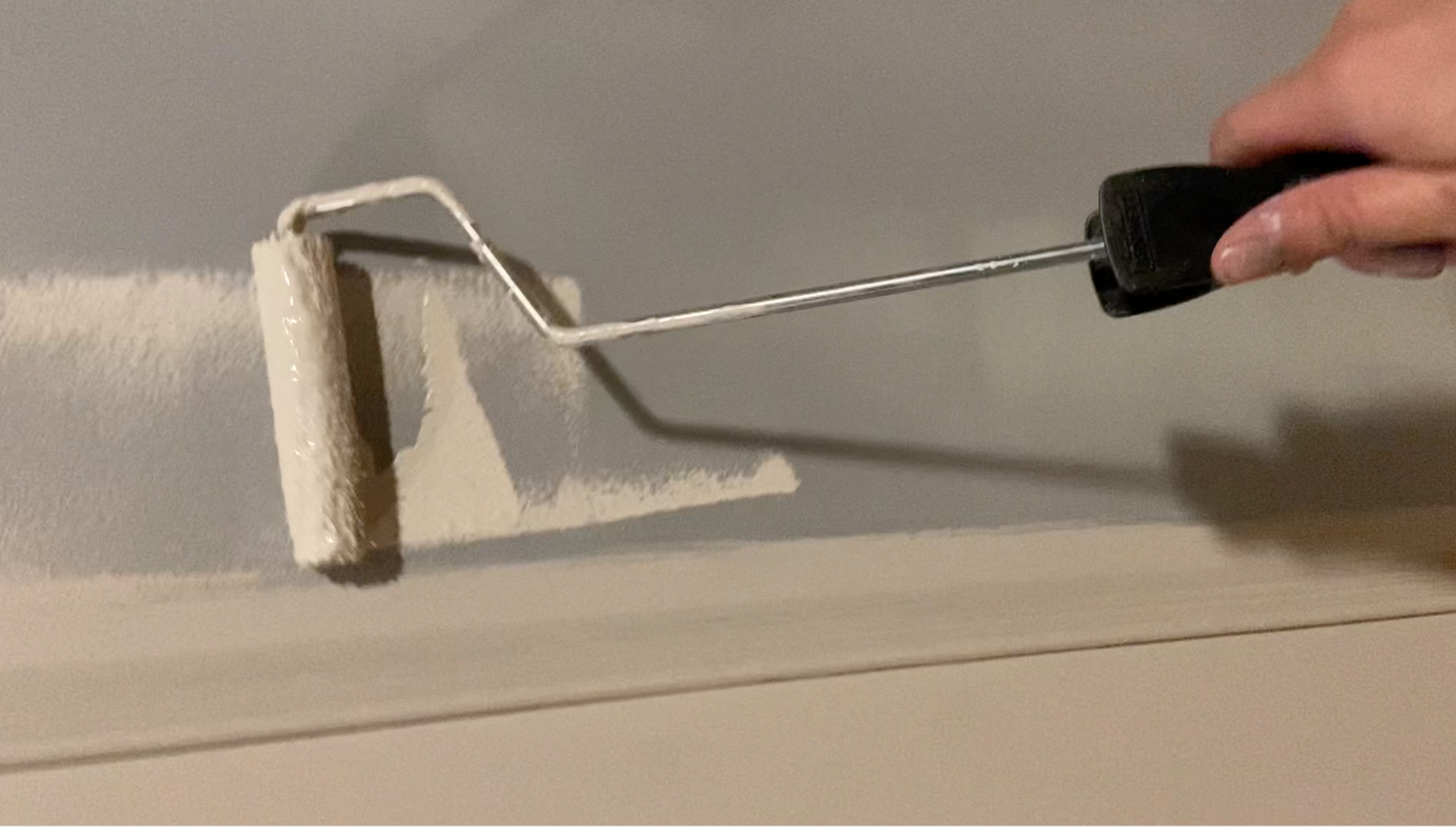 For the mirrored closet doors, we primed everything first with a high adhesion primer. We used the grey Zinsser primer for this. Then once that was totally dry, we used an enamel paint tinted to the trim colour. We used a foam roller for this and a brush for the trim grooves. Two coats of the paint will make sure it's even and letting everything dry in between will make sure it is as durable as it should be. Not only did we paint the doors themselves but all of the track faces and edges of the doors. Everything that was that soft gold colour is now beautiful Ashen Tan colour and I couldn't be happier!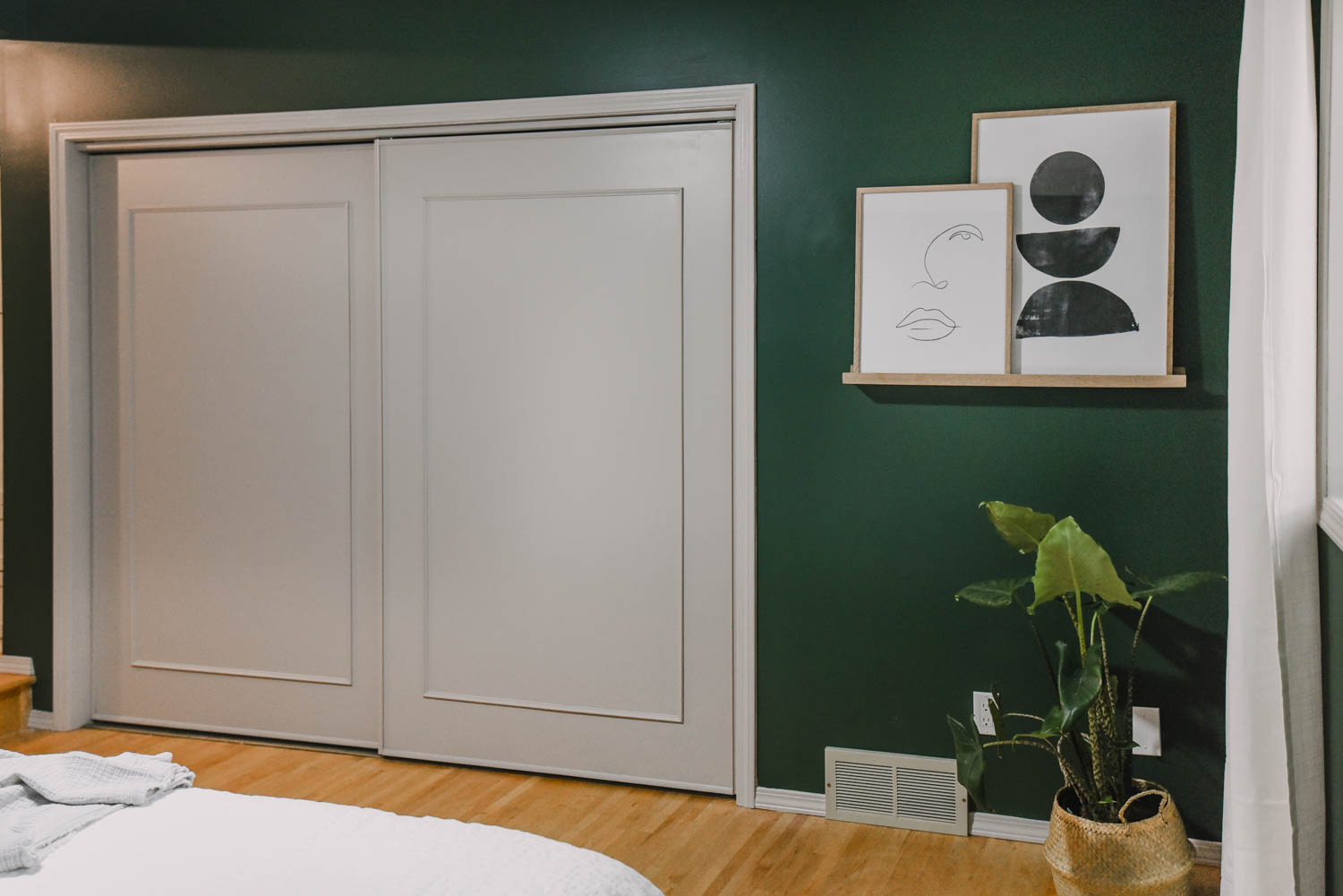 That's it! Let it dry completely then stand back and enjoy the view! Again, these have been finished and in daily use for over two months without any scratches in the paint so we're very happy with the durability of this project.
You can see the doors in the full room makeover before/ after right here.
LIKE IT? PIN IT!