This modern superhero birthday party for our sons third birthday was such a fun theme to put a black and white twist to with comic book bubbles and dollar store affordability thanks to some simple party crafts!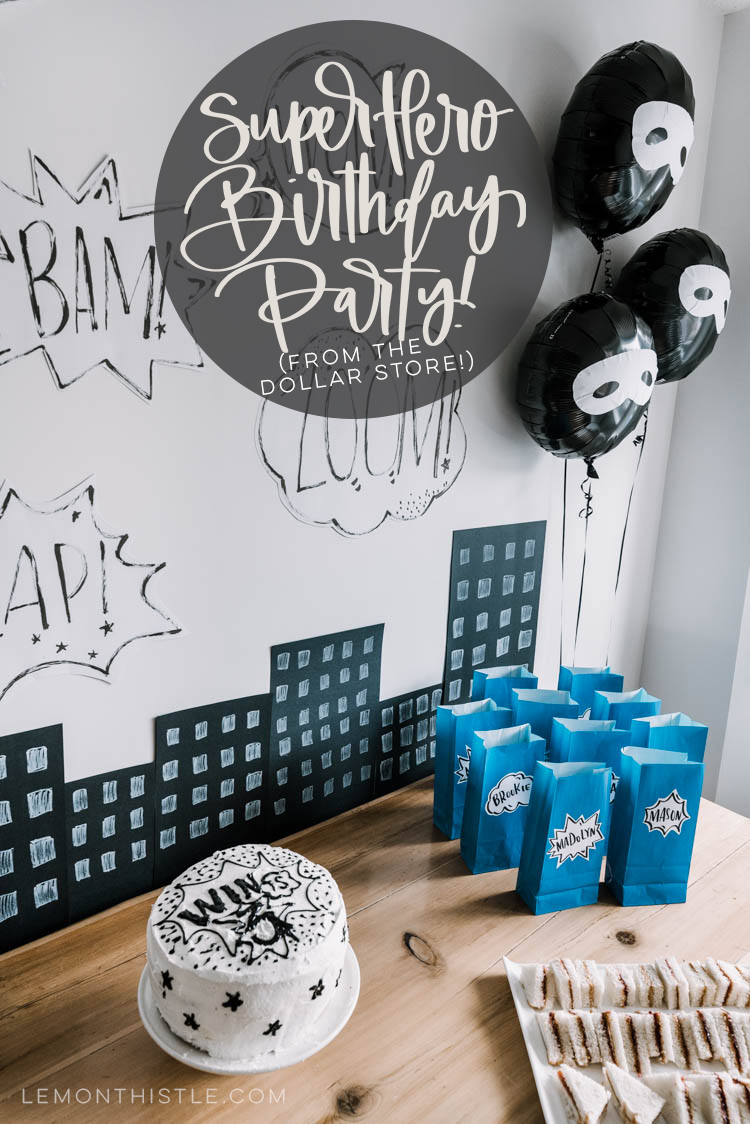 One of the goals I made for myself when this year started was to put time into finishing up posts that were sitting… waiting… to be written. I honestly don't even know how many projects or parties or printables that I've finished and never shared with you. It's outrageous. So today I'm sharing this super fun and affordable birthday party idea that we put together for Windsor's third birthday… and he'll be four in December- ha! But really, this party came together in a snap and was totally affordable- most everything was from the dollar store!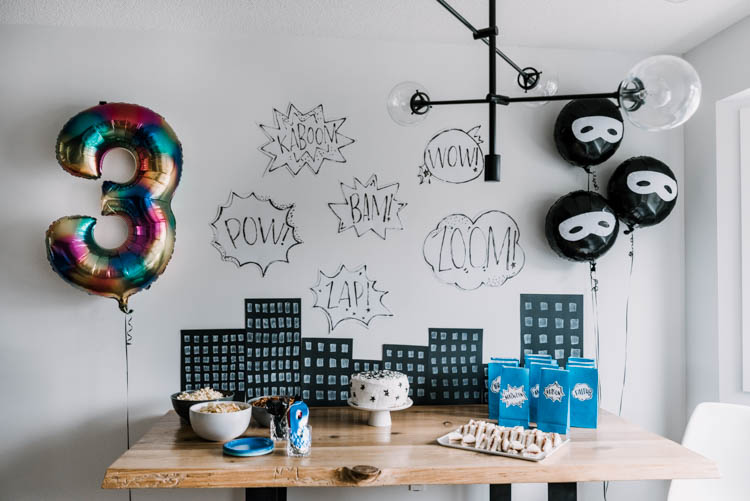 Windsor's birthday is in between Christmas and New Years- one of the busiest times of the year. We have put off a party until the new year and done a family celebration on his actual birthday. But even in January, things seem to be so busy and this year I definitely struggled to plan ahead. His only request was a superhero party and I love the challenge of taking a traditionally bright, colourful and maybe tacky (maybe…) theme and making it modern and something I really love. But when you don't order anything… what's a girl to do? Hit up the dollar store, of course!
A couple days before the party, I took a trip to the dollar store and grabbed everything you see here (and ordered the balloons!). And holy smokes, it came together so well! Even the day of the party, I was only able to give myself about two hours to pull it together and hadn't made a single decoration. It came together really quickly but I'm not going to lie and say I wasn't sweating to get it done in time. BUT, lucky for you… you're better prepared than I am. Look at you, reading a blog post about a superhero birthday party and not making it up on the DAY OF! You're a rockstar.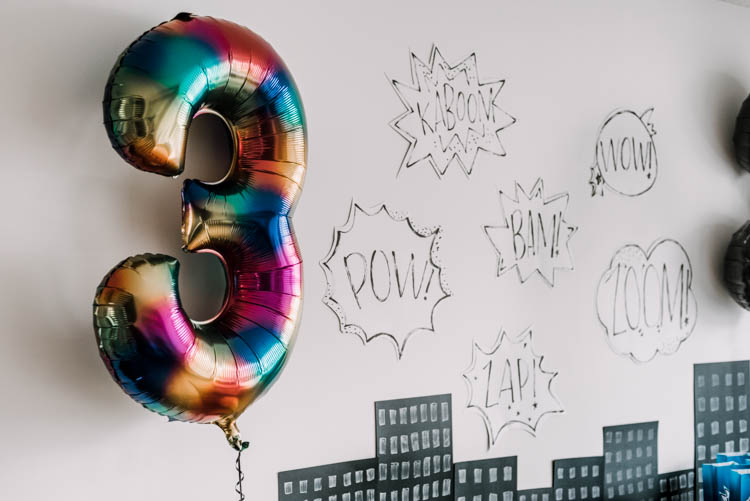 Okay, so what did I buy?
Here's what I picked up at the dollar store for this superhero birthday party:
Black Poster Boards (2 or 3)
White Poster Boards (3 or 4)
Black Foil Balloons
Rainbow 3 Balloon (his pick, this thing made his day)
Blue bags for treats
Foil masks
Superhero stickers
Plastic cutlery, paper plates + napkins
Black piping gel, white icing, cake mix… yeah, I made this from a box #notastarbaker
Some goodies and tattoos for the treats bag
I also used these things I had on hand:
Brush and ink
Scissors
White paint pen
White printer paper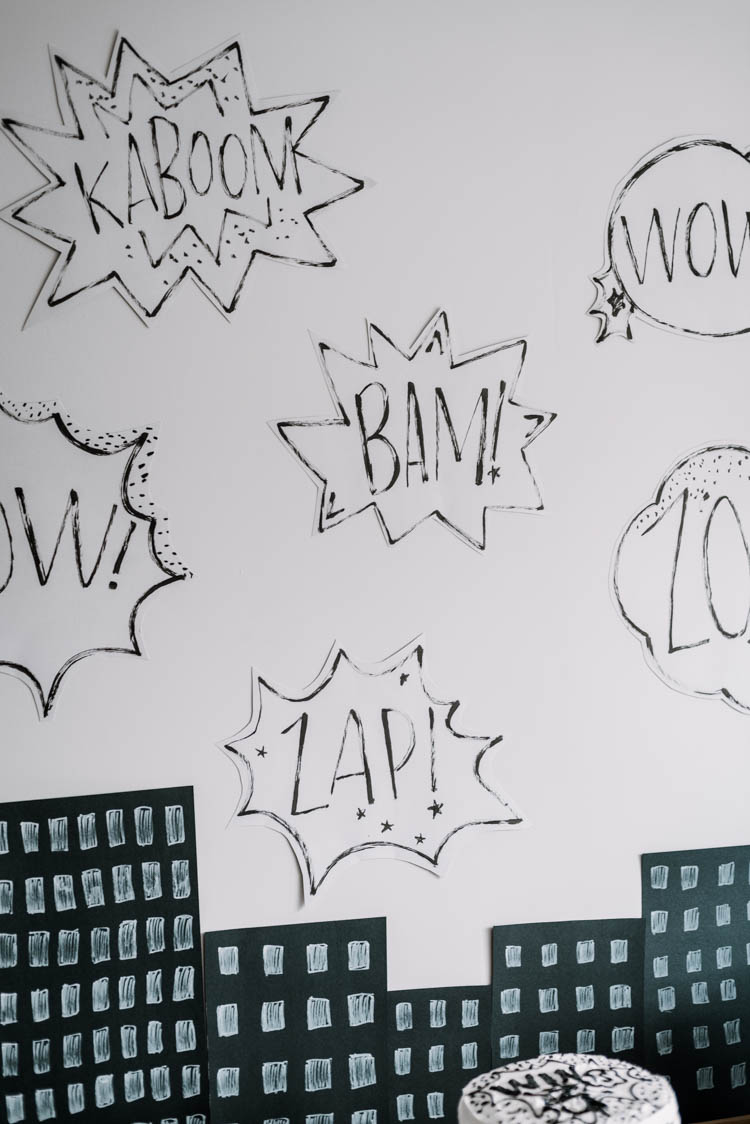 The first thing I did was make this scene behind the table. I was thinking classic superhero cartoon but with modern brush strokes. I used a brush and ink to draw bubbles and bursts and letter in words like 'pow!' on white poster board before cutting them out, leaving a border of white the whole way around. Then I made the black poster boards into buildings, using the white paint pen to draw windows on the buildings. I put these up on the wall just using tape.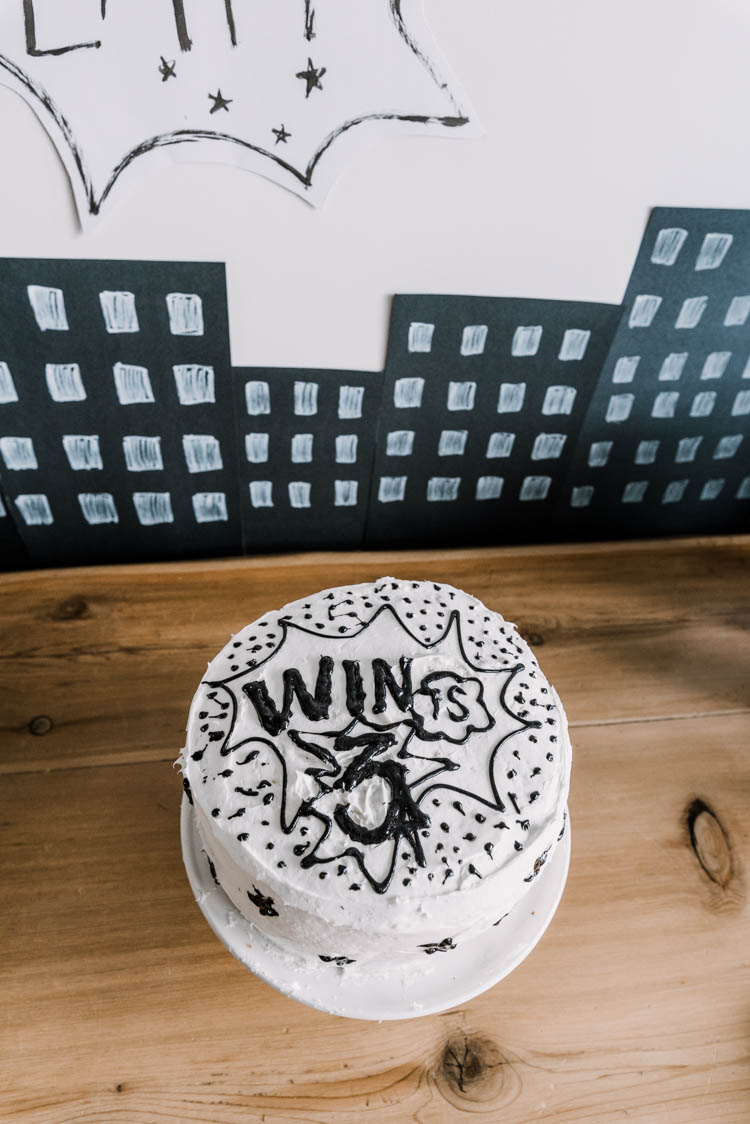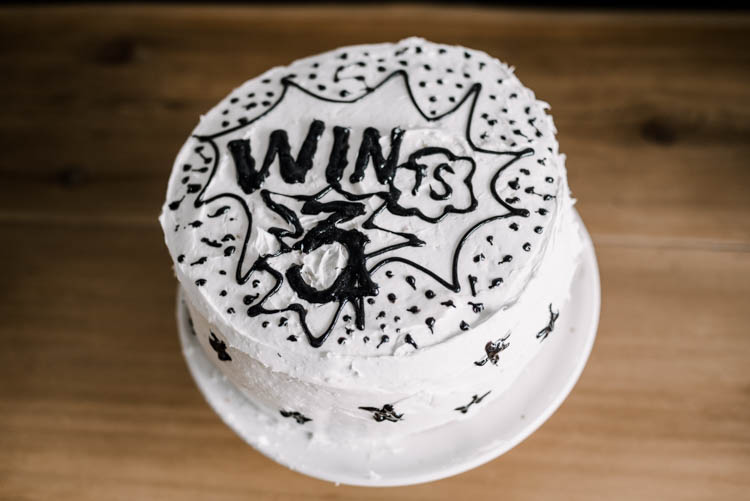 Next, I decorated that cake! I've never been less proud of a cake. But was he happy? Yep! Mom win. I just used a box cake with a tin of icing and used a gel writer to make this comic book like design. I definitely messed up on my lettering. I'm not too proud for box cake… But I like to think I can letter on cakes ;P But… you can't beat this if you're looking at finishing a cake in no time flat.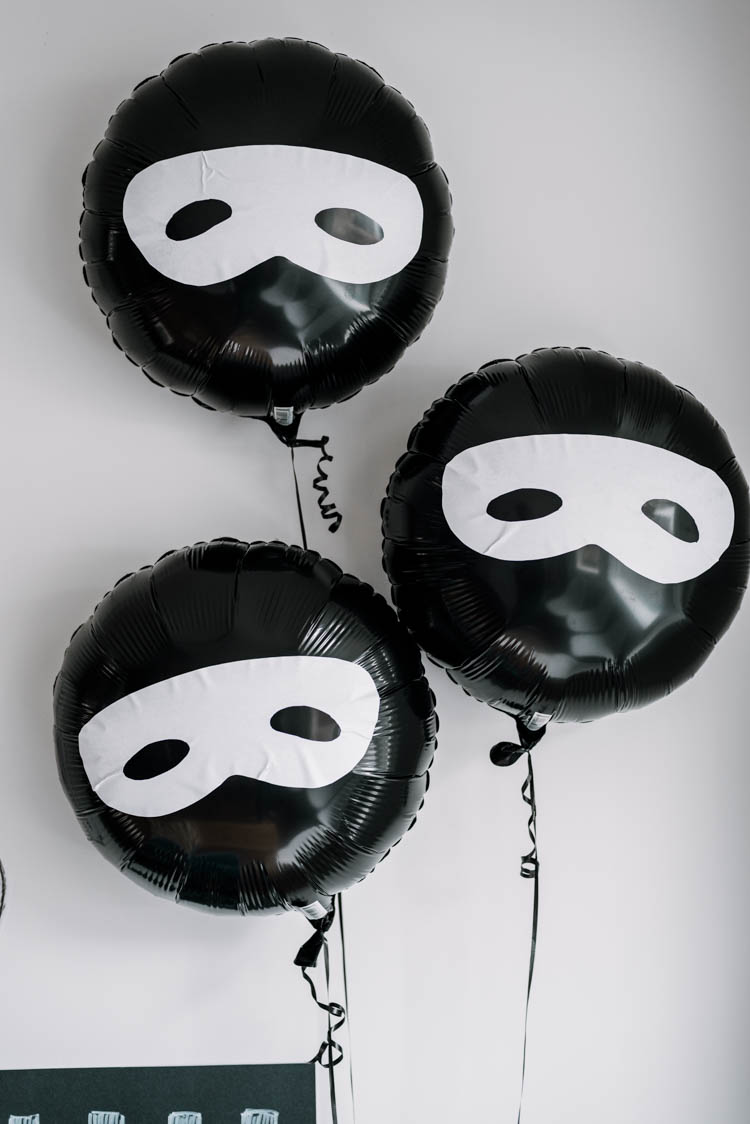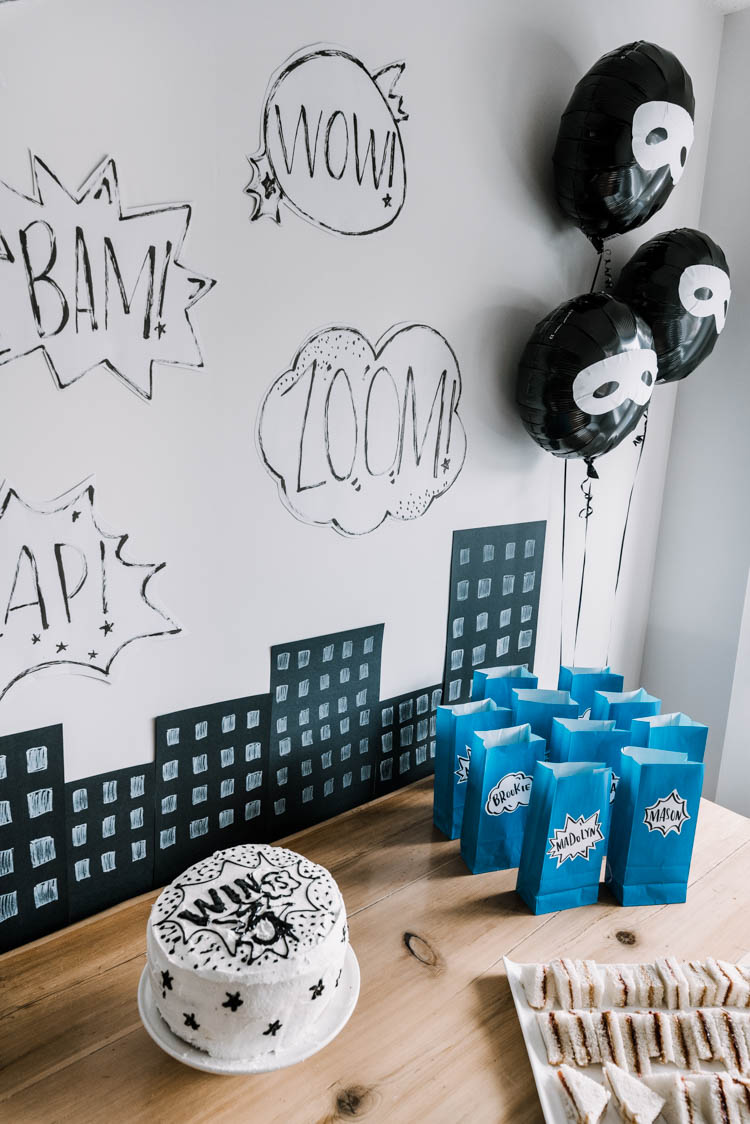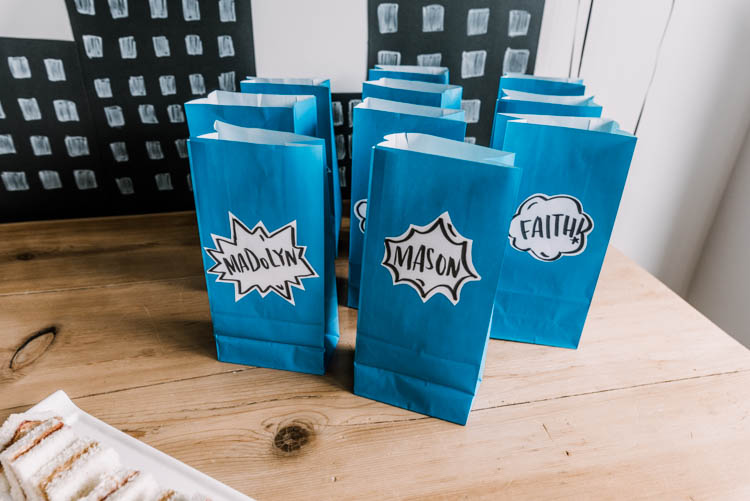 Now… those masked balloons! That ended up looking a little like ninjas. Which he also likes… so again, I'll pretend I planned it like that- ha! I made something super similar to these for halloween a few years ago. You can find the tutorial right here but basically you cut out your shape from printer paper (I just did this with scissors since I was in a rush!) and use spray adhesive to put them on the plain round foil balloons. Magic, right?!
That spray adhesive is magic. Messy. But magic. Make sure you put down newspaper under where you're spraying. Spray the paper you're going to be putting on the surface NOT the surface itself. I also used this stuff to cut out the name bubbles that I put on the plain blue goody bags. I drew these with my Tombow Dual Brush Pen on printer paper and then cut them out by hand.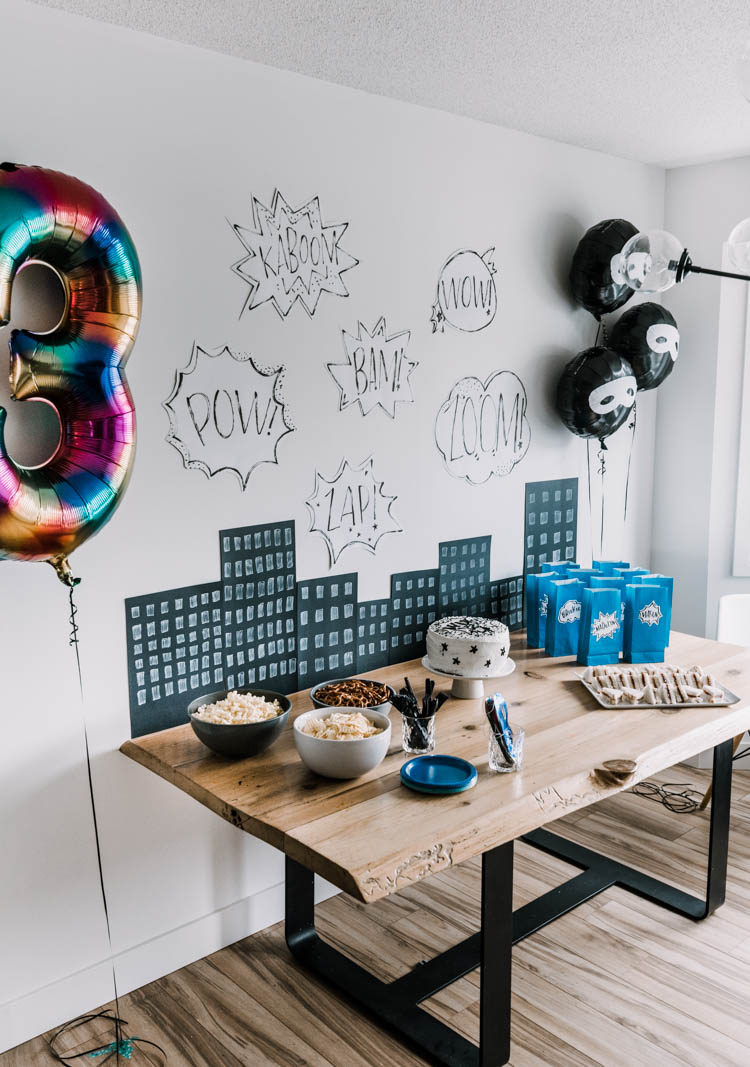 I say this almost every time I share a party on here, but every party I find myself doing less and less. Is this table half empty? Yes. Did anyone care? No. Did I get compliments / asked for the recipe on that boxed cake? You better believe it. Your kids just want to feel special and be surrounded by people who want to celebrate with them. And this party totally filled all of those things for him. We had a house full of cousins and close friends. He ran around like a superhero all day and he didn't stop smiling.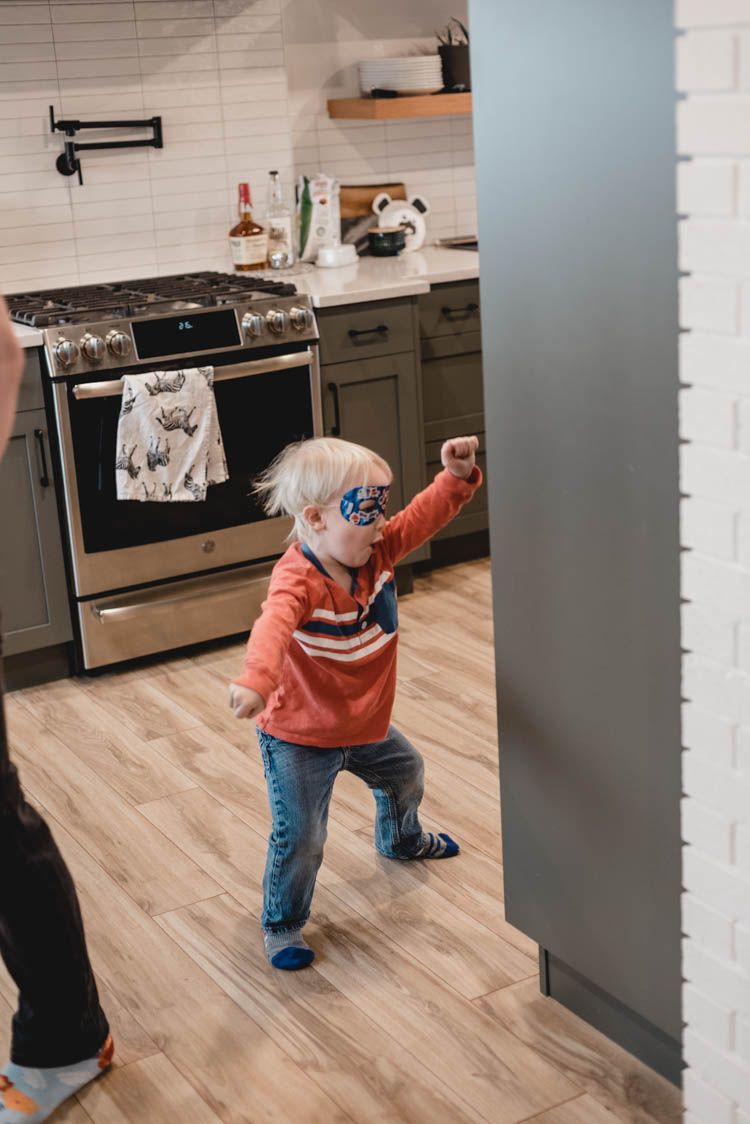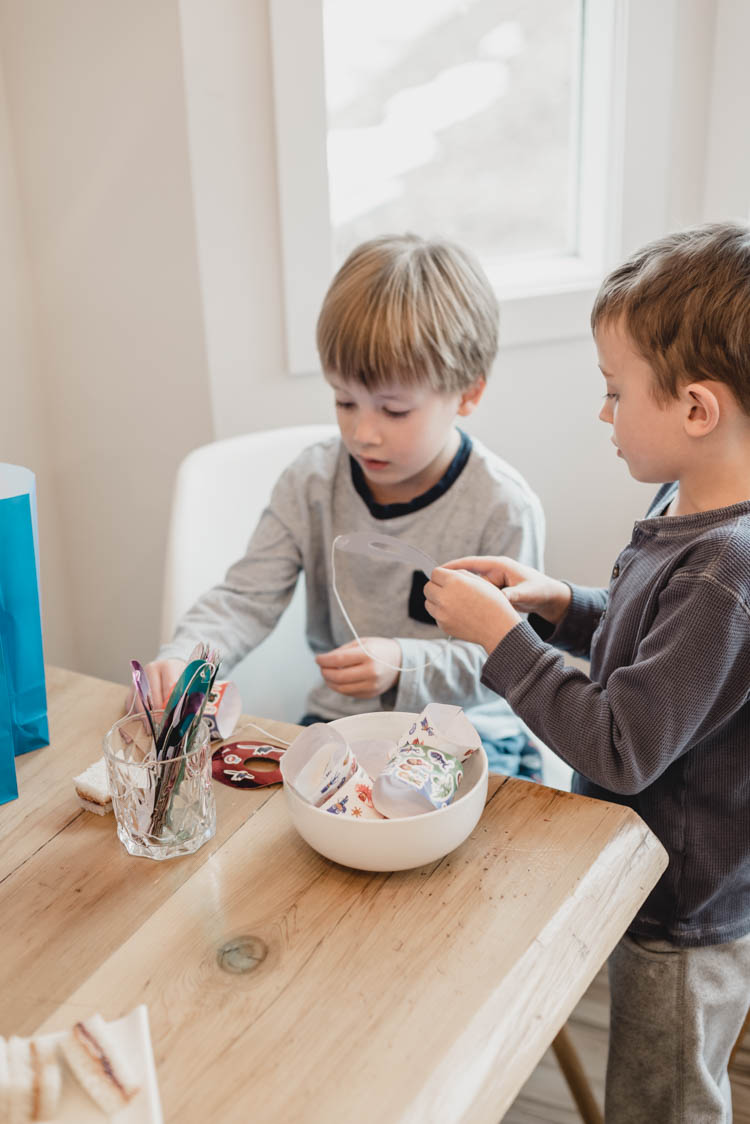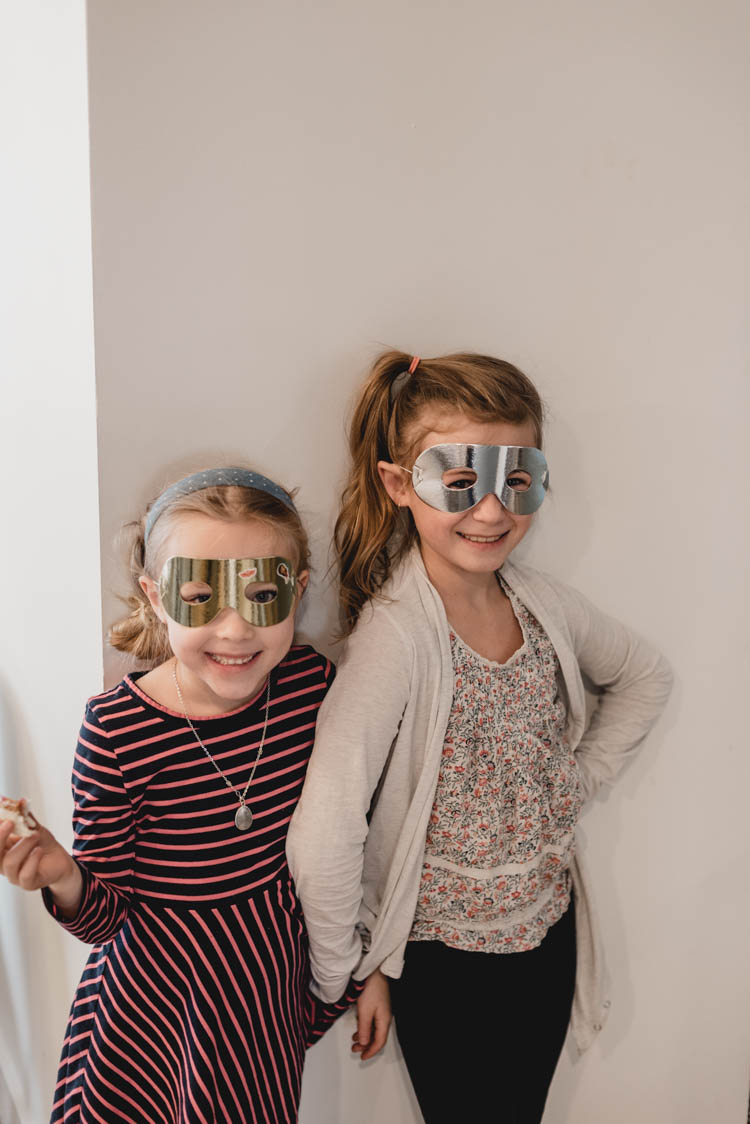 The last thing I wanted to point out was activities! We did two for this party. The first is so simple… decorating party masks. We got some dollar store PJ Masks stickers (at the time, this was his favourite superhero!) and some dollar store masquerade masks and the kids all made their own super hero masks.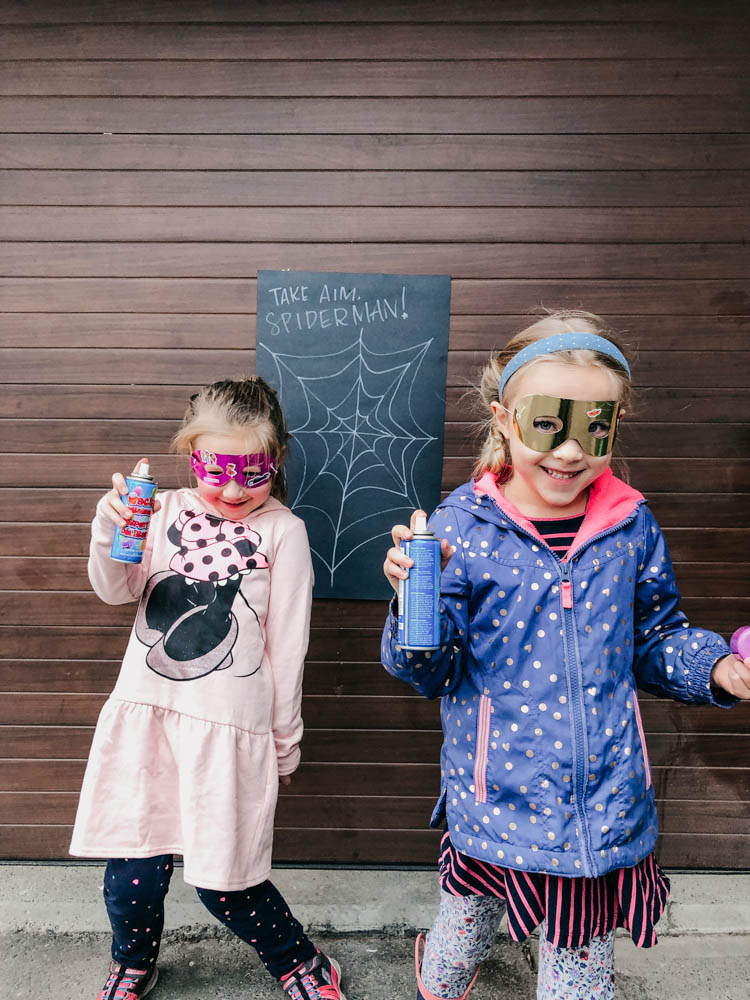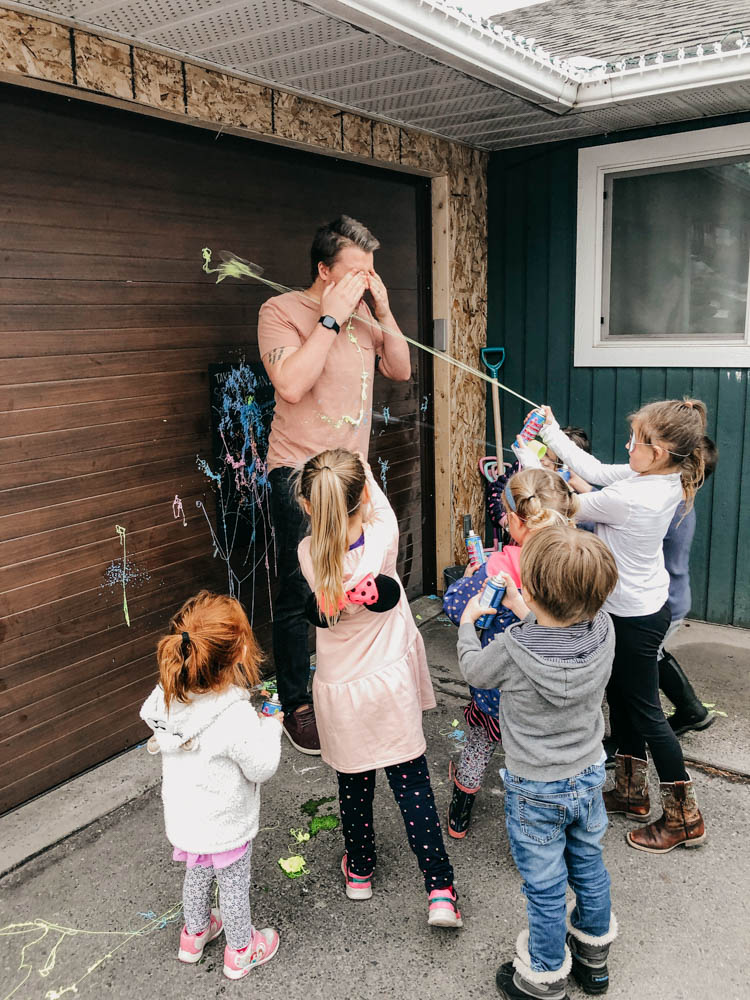 The other activity was super messy so we took it outside. We gave each of the kids a can of silly string and I used a piece of poster board to draw a spider web. We let them spray it like target practice and Shane even got out there and pretended to be the 'bad guy' for them to shoot with their spray string.
Also… take note of our rockin' exterior curb appeal. Can't wait to share how it's coming along with you guys!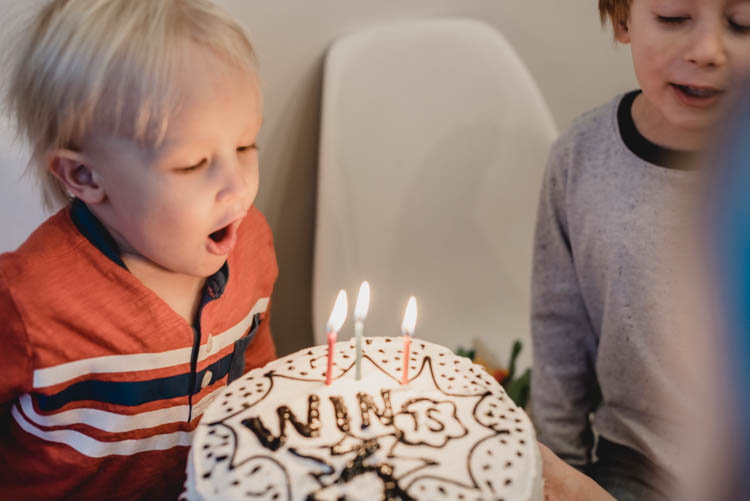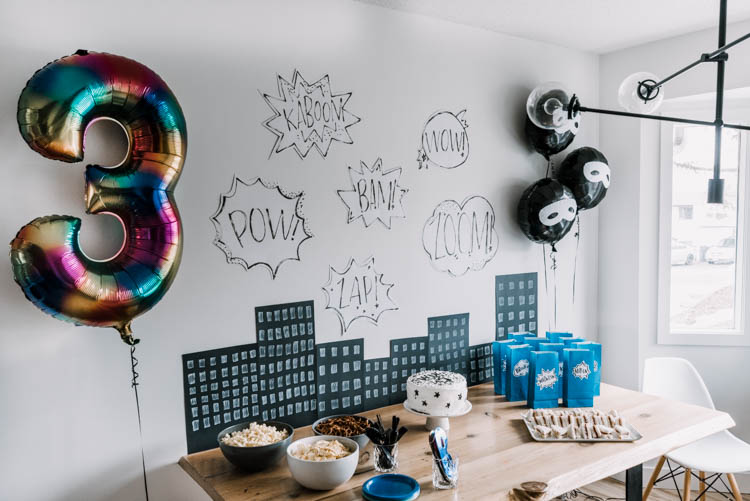 Alright, that's all the details! I'm really super happy with how it turned out and the total cost wasn't bad either. We had such a good time, it was the perfect low-key party for after the busy holiday season. And even though it's 6 months later, he's still telling people about his superhero party. To be three again, right? Everything is magic.