Whether it's a dining room, guest room, or powder room makeover you've got your eye on, before you jump into the world of DIY projects it is essential to create a budget that will keep your decision-making on track.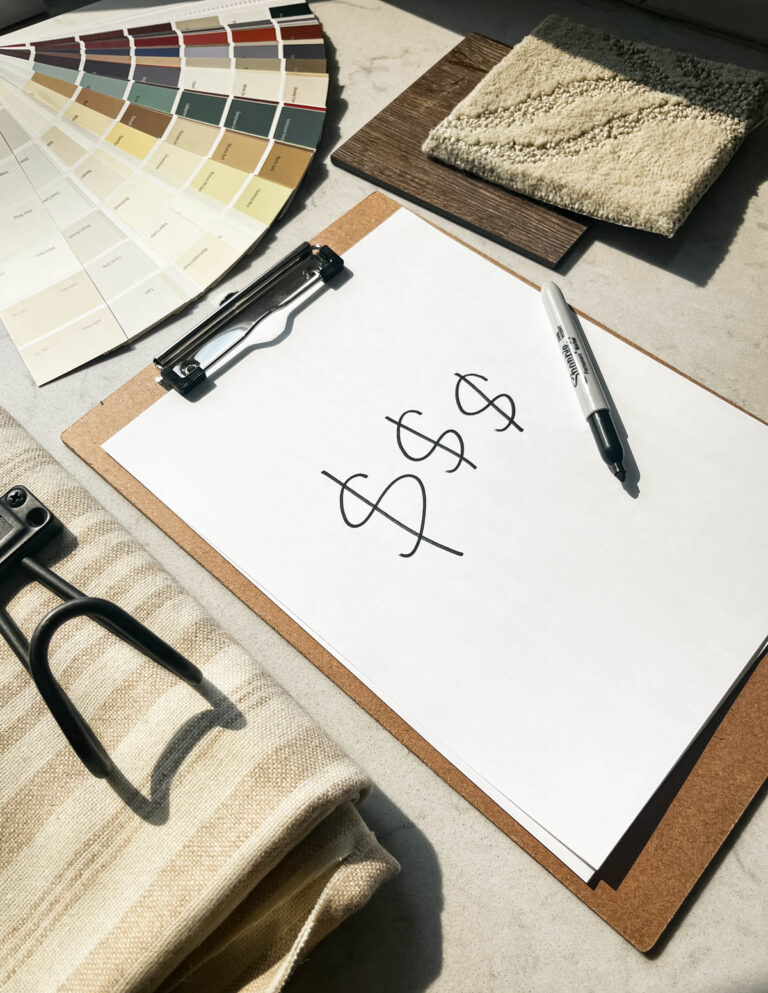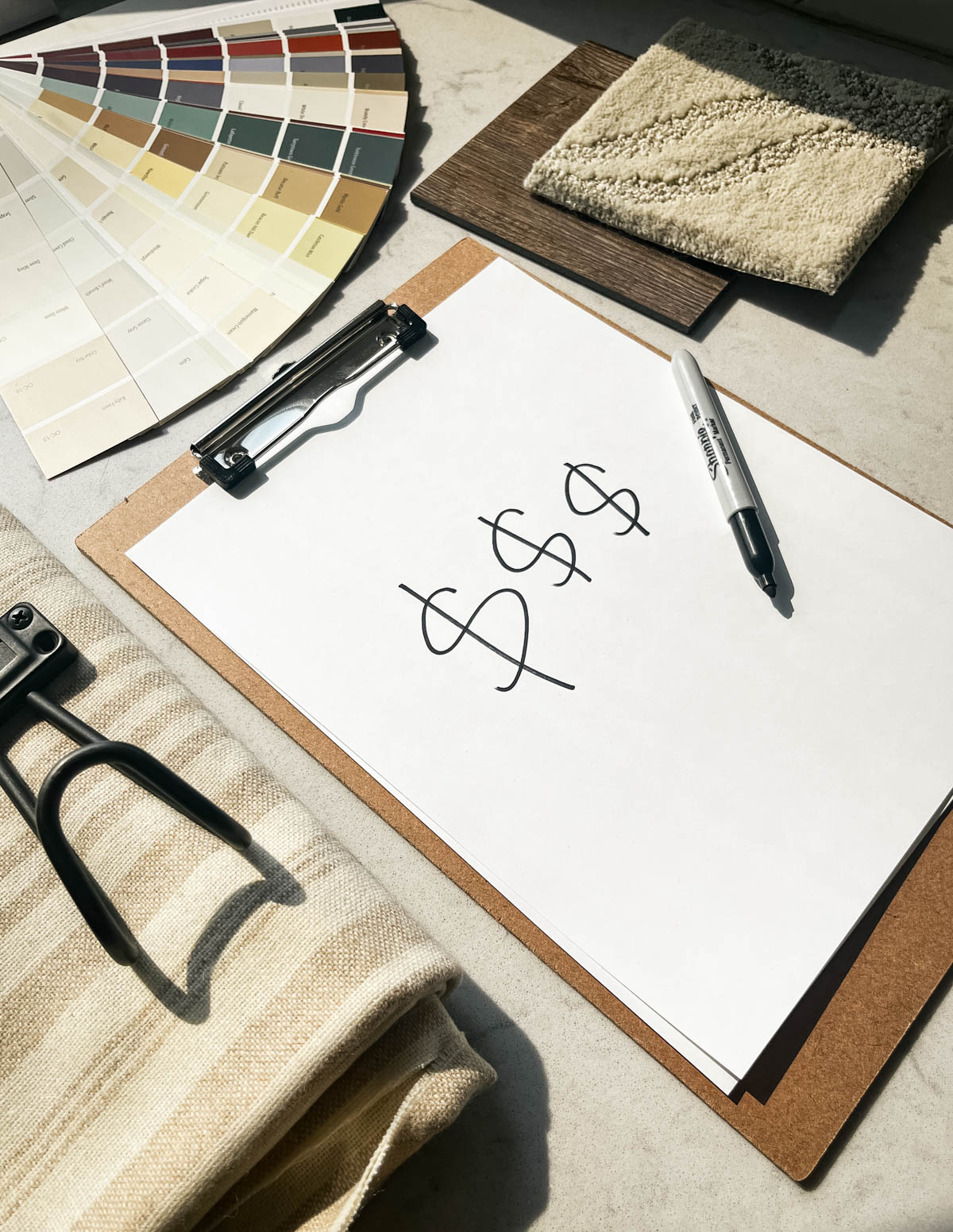 If you're ready to start a room makeover… or a whole home makeover, it's easy to get SO excited and jump right in. Doing things yourself allows you to put your own personal style into your home in a way that hiring out the work never does, plus it can save you a ton of money thanks to that elbow grease!
But have you heard of project creep? A plan for just a fresh coat of paint or new layout can turn into significant changes in a hurry if you don't keep yourself grounded and focused! I'm a squeaky wheel when it comes to planning room makeovers. I am always reminding readers and anyone who asks for my advice to plan first. You can see all my reasons why planning a DIY room makeover is SO important here.
In this blog post, I will guide you through the process of creating a realistic DIY room makeover budget. This is a really important step in the planning process and one you don't want to skip.
Plus- I want to make this SO easy for you. I've created a spreadsheet for you to pop your numbers into that will do all the hard math for you. Get ready to transform your space without breaking the bank!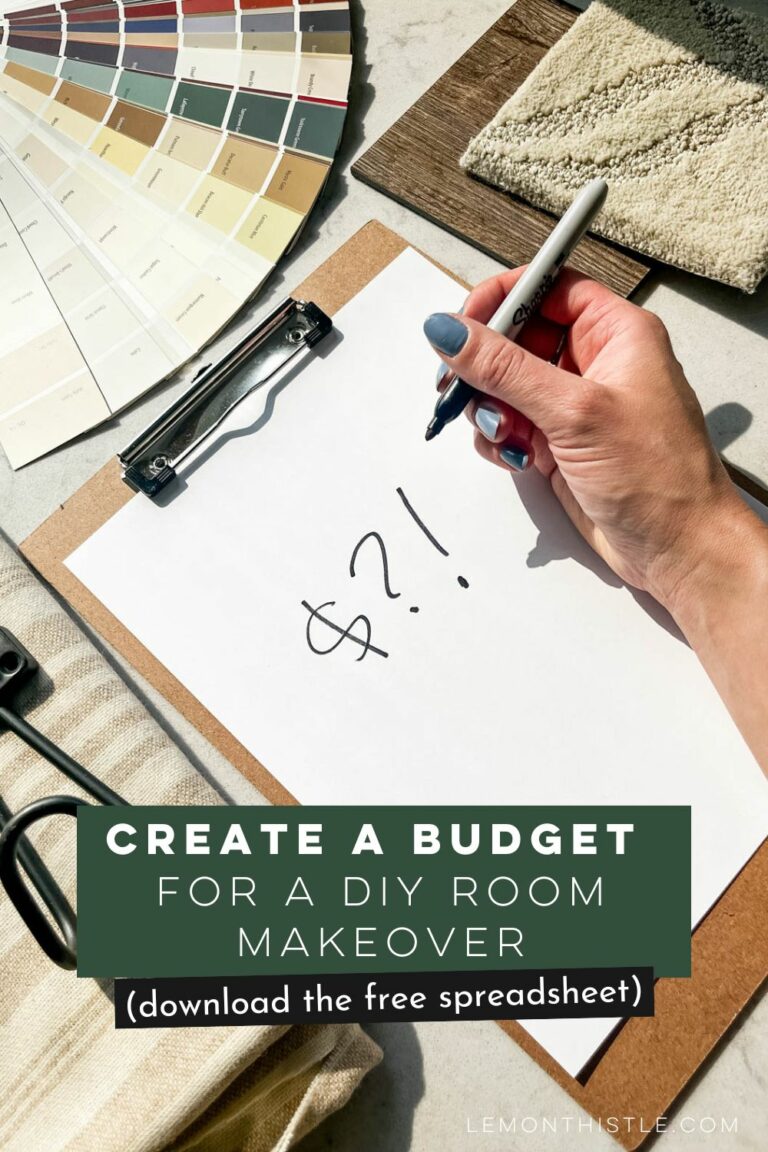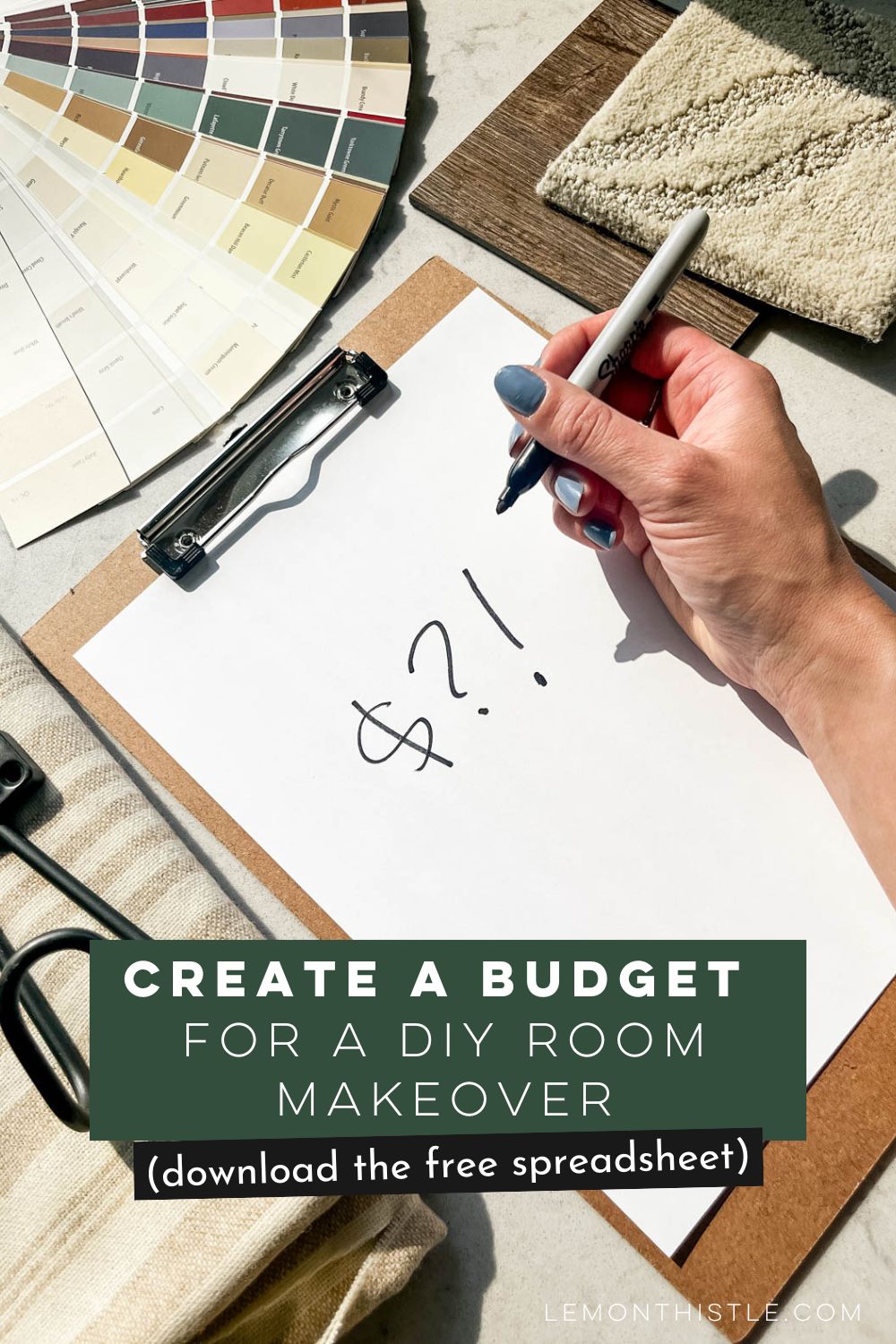 Here's my step by step process for creating a budget for a DIY room makeover. It's such an important part of the design process and you will be so happy you did this once you get started. You might even pick up some room makeover ideas as we go along!
Step 1: Assess Your Finances
Before really diving into the budgeting process, take an honest look at what you can commit to financially. Consider your income, expenses, and financial obligations for the time period that will cover your room renovation/refresh project.
This step will help you determine a realistic budget that won't cause any unnecessary financial stress. It's not fun buying new things that you aren't sure you can afford, and no one wants to be sitting in a beautiful room wondering if it was a terrible decision. So be honest with yourself before you get started. 
You can still make a really big impact with a small budget thanks to DIY, so don't worry about that! I'll write a whole other post about ways to save money on a DIY room makeover soon, so keep an eye out for that!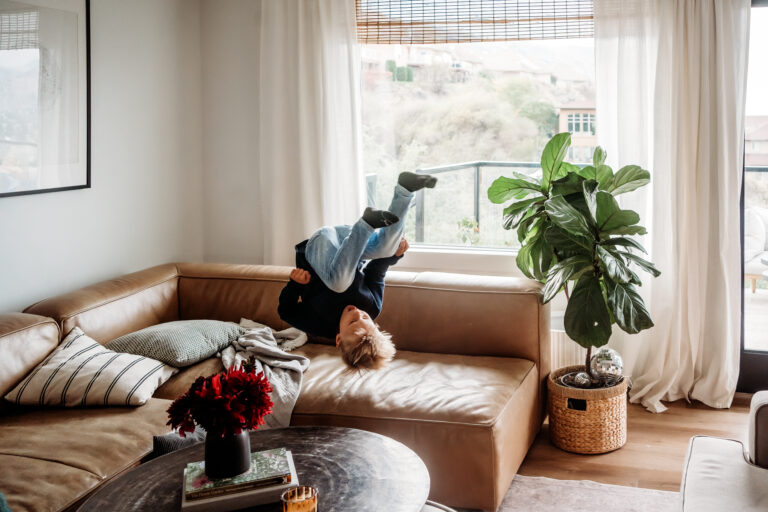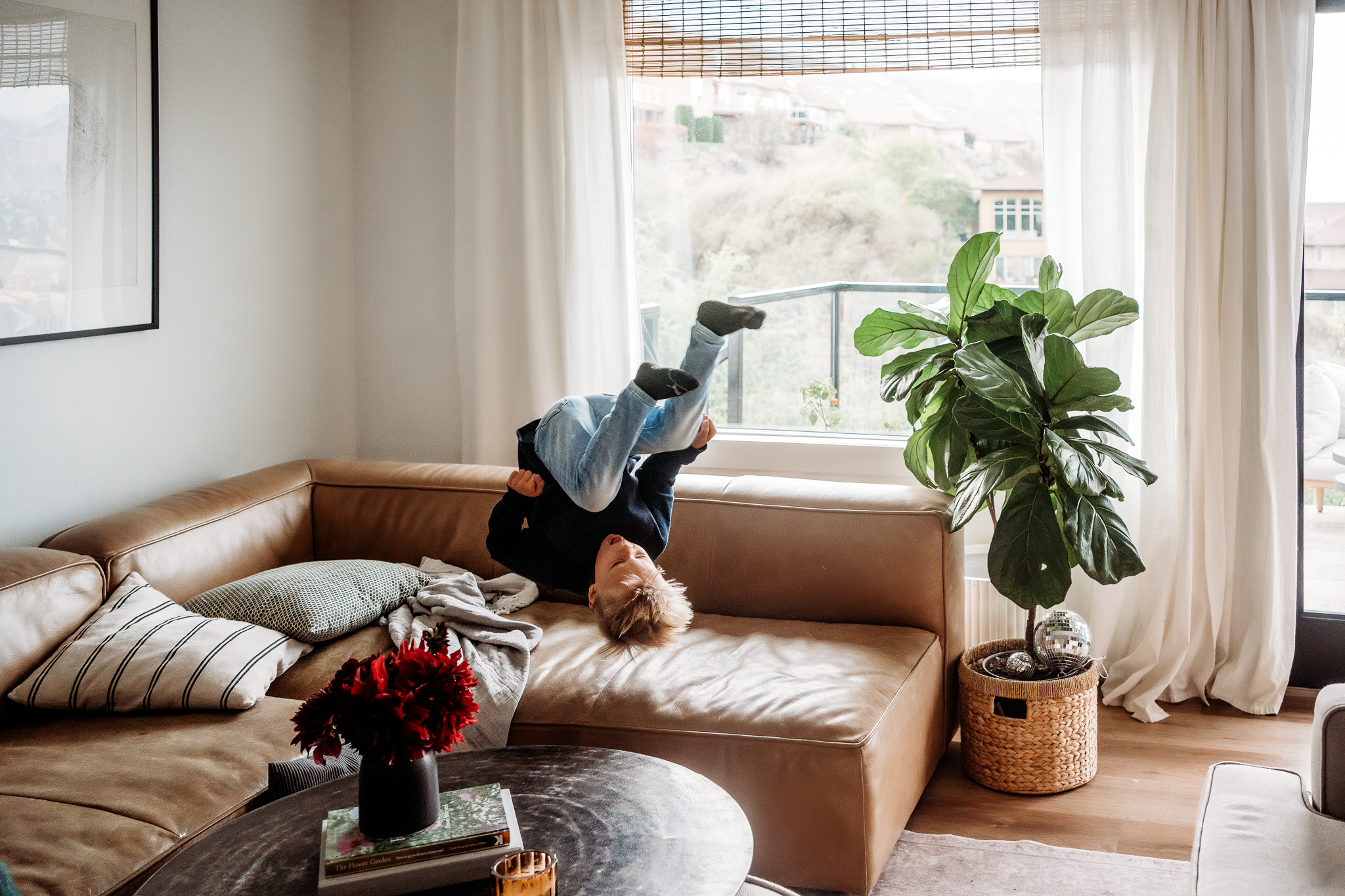 Step 2: Define Your Priorities
What matters most to you?
After you've picked which room you want to focus on upgrading first, you need to get specific.
Does the floor plan and furniture of your living room bother you daily- you want to do a complete living room makeover? Do you want a small bedroom makeover to give your 5 year old a big kid room? Or does your play room just need a good clean and refresh with an updated style and few new storage pieces?
Choose the space that matters most to you, for whatever reason. Doing one space at a time allows you to figure out a clear budget and end goal. It's also going to give you a completed space that you're happy with.
Once you've picked the space you are focusing on, think about the key elements and areas of your room makeover that you're most excited about! Whether it's revamping furniture, playing with wall treatments, creating an accent wall, or upgrading light fixtures, knowing your priorities will help you budget effectively and put the money where it will bring you the most satisfaction.
It will not make you happy in the end if on day one you spent more than half your entire budget on frames for a gallery wall if what you really wanted was more comfortable seating for guests or a plush rug for your babies to play on!
Creating a simple mood board is a great way to visualize the end result and pull in those key features you're set on. See how I make a mood board here. Make sure you know what you really want before you move forward from here.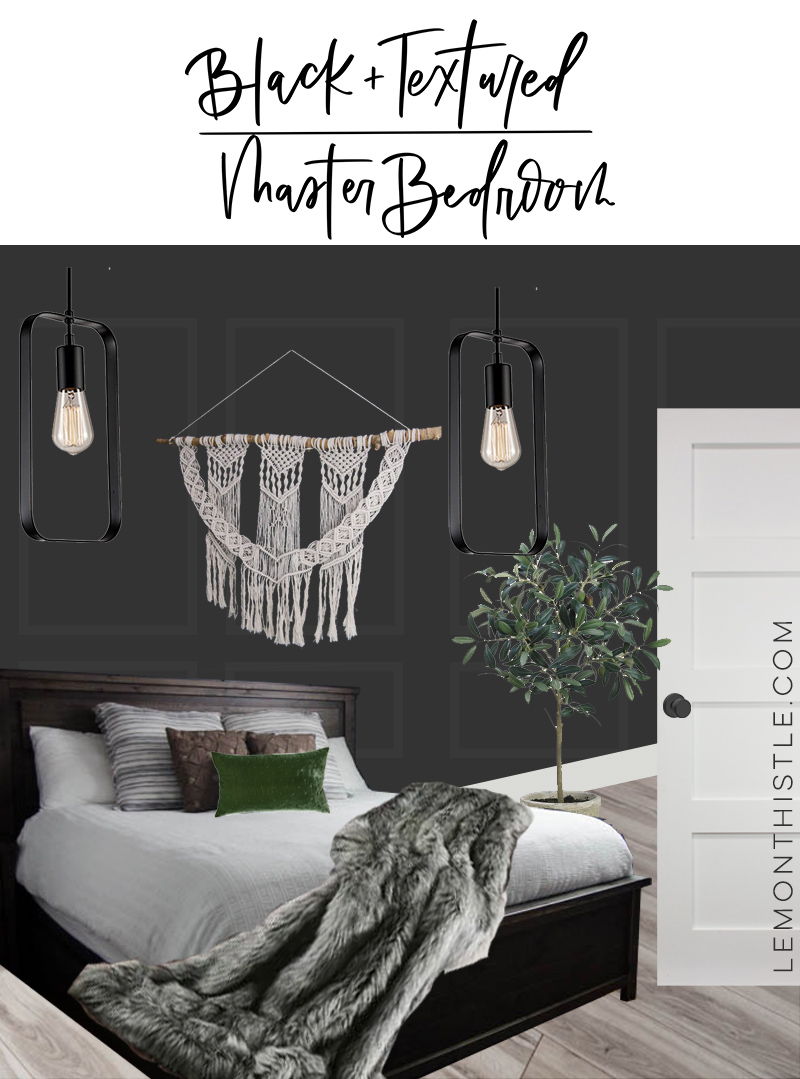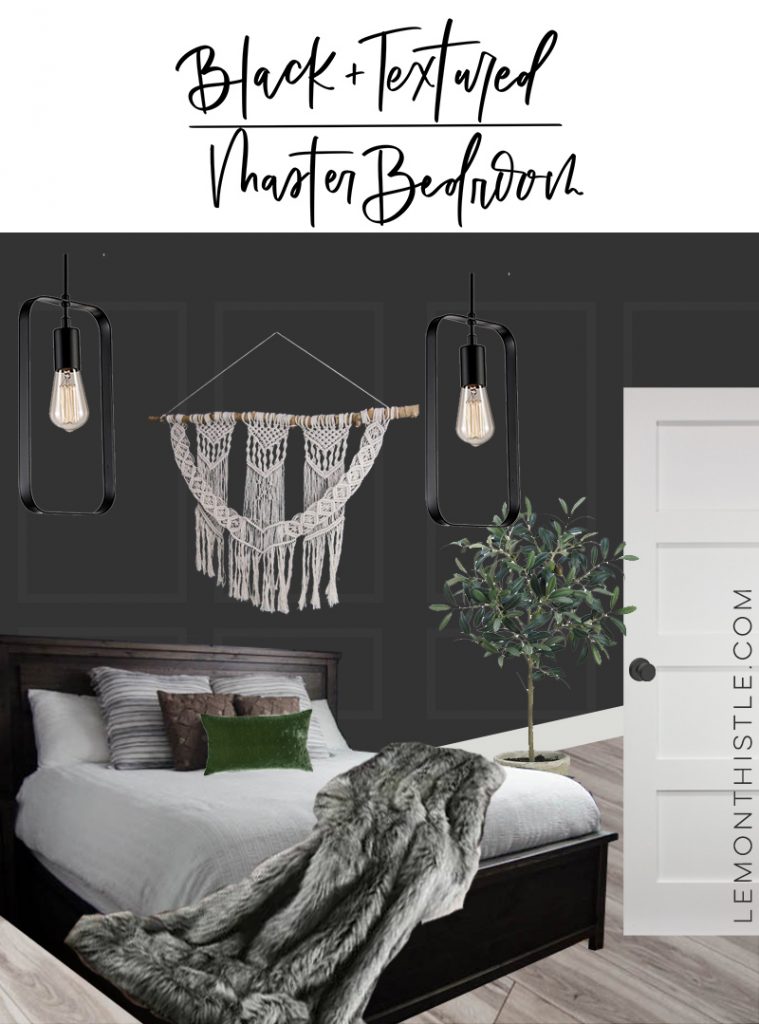 Step 3: Research the Costs
Knowledge really is power! It's time to become a budget-savvy explorer, and because you already know how much money you have to spend and what you want to spend it on, this part of the project can be a lot of fun.
Research the costs of all the materials you might need if construction is involved, any tools you might have to invest in, and of course the fun finishing touches like accent pieces and wall art. I've included a list of all the items I like to include in my budget below.
Visit home improvement stores for inspiration and also look for sales, browse Facebook Marketplace and other sites where you can find great deals on used items, and seek advice from fellow DIY blogs about the best places to score deals on what you're looking for. 
Here is a list of where I shop for home decor and furniture.
I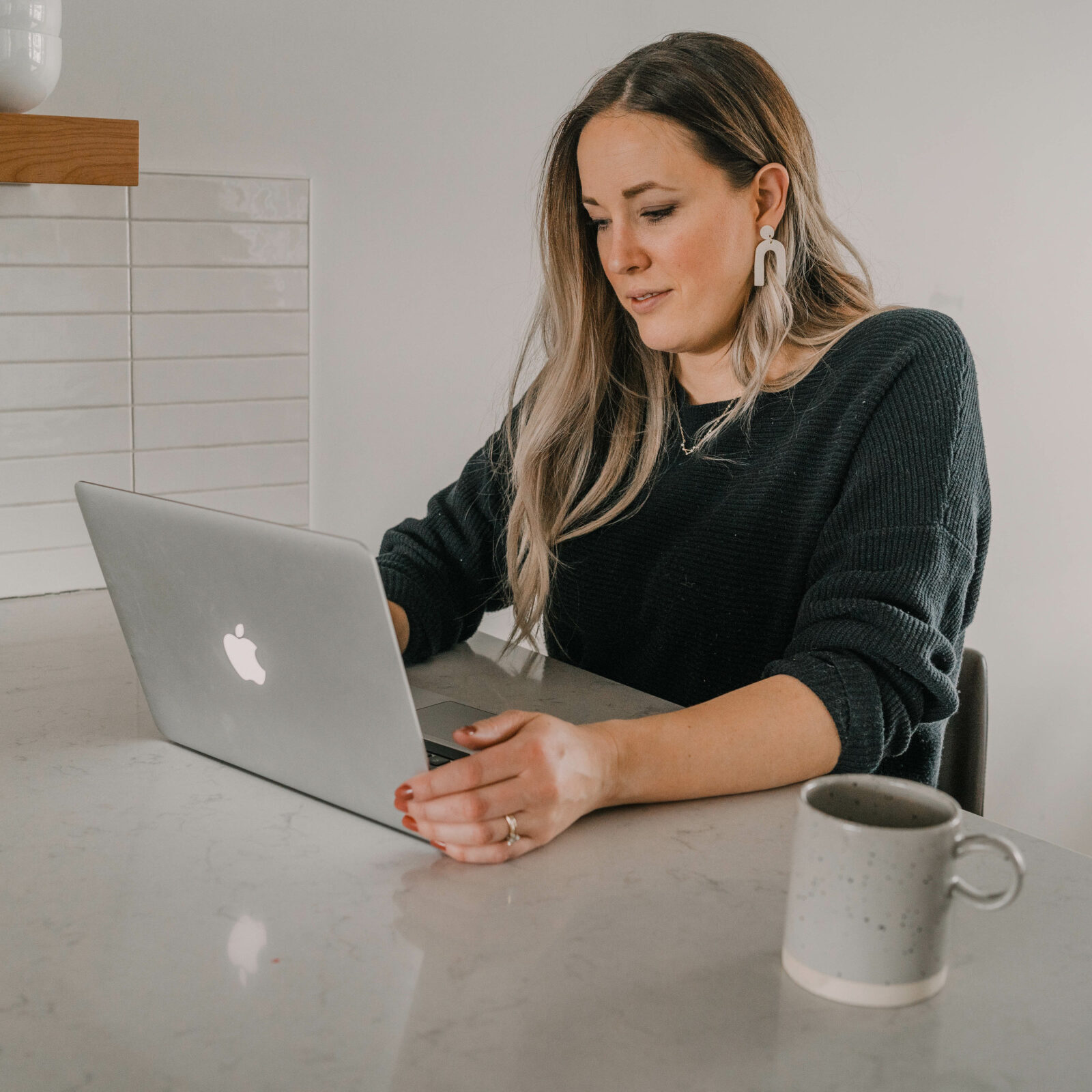 Step 4: Get It Done
Since you know what you really want and you have a good idea about the price for all your desired items, it will be easy for you to push the button on actual purchases.
Now when you see those fantastic bedside tables and table lamp on Marketplace that would be perfect for your guest bedroom makeover, you can buy them stress-free! Sometimes big box stores have great sales on large-ticket items, and you will know if those lower cabinets you have your heart set on for your kitchen reno are in your budget so you can commit quicker. Making purchases confidently with your budget always in mind is way less stressful than guessing.
Consider ordering things sooner rather than later to avoid shipping delays setting back your whole makeover.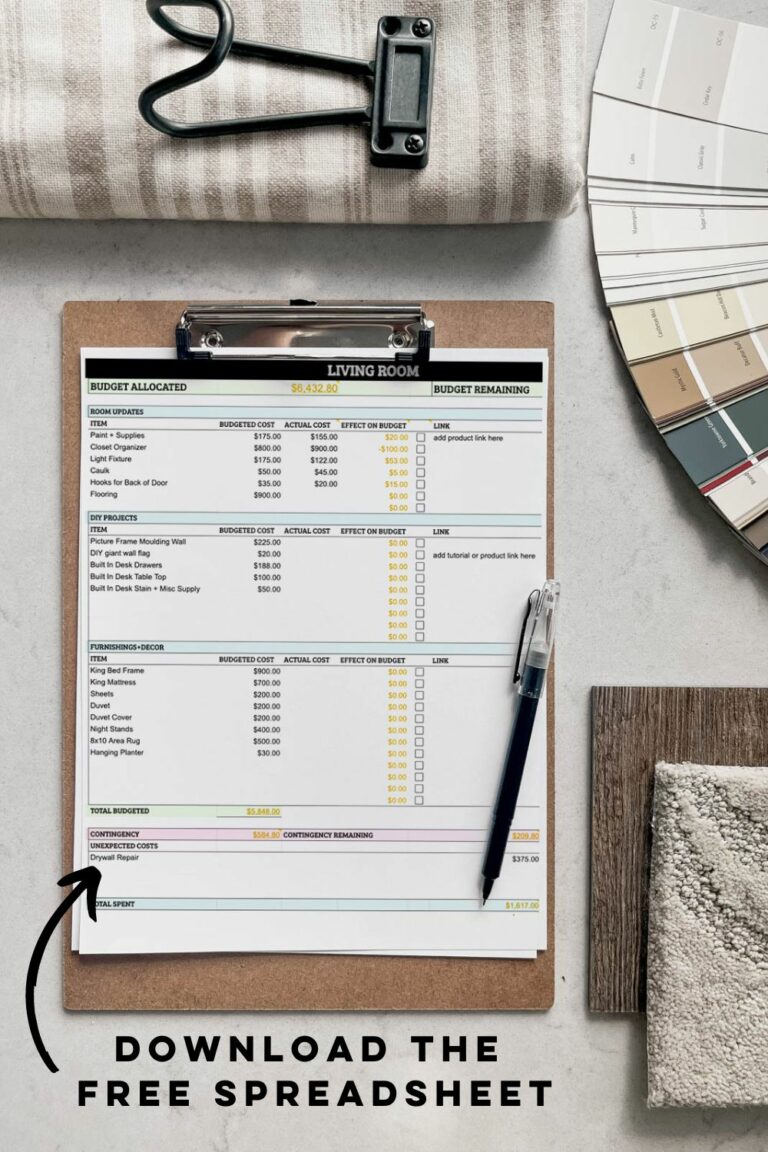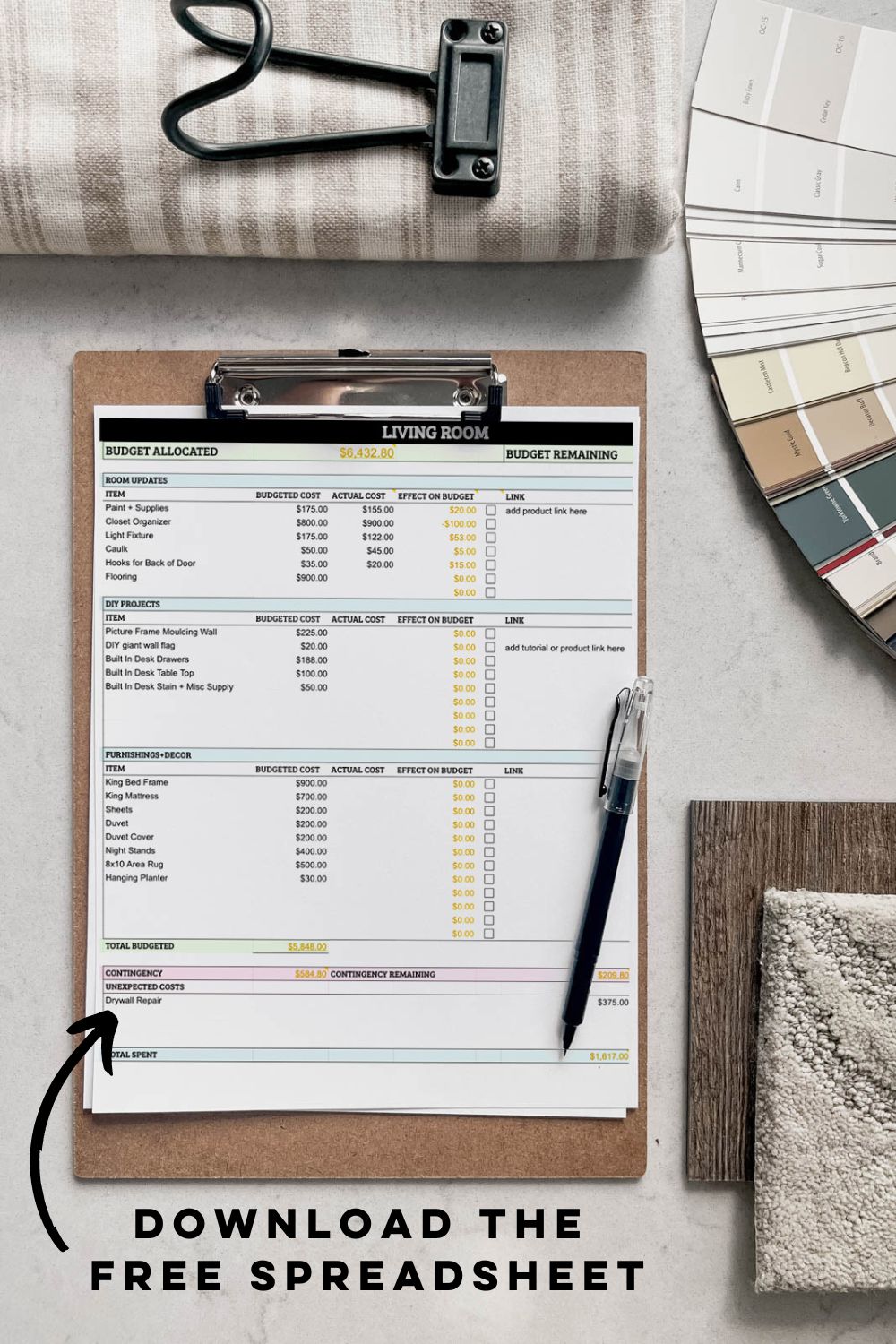 Download your free DIY Room Makeover Budgeting Spreadsheet
I want to make this so easy for you. I've put my spreadsheet into a google sheets document for you to copy and use yourself. There's notes in there about how to use it and the formulas are already loaded so you can just pop your numbers in.
Things to Consider for your Room Makeover DIY Budget
There are certain things that are very easy to forget when you're planning your next room makeover. It's easy to remember all the fun costs and additions, but some of the nuts and bolts of the operation can get overlooked.
Here are some reminders to make sure your budget is complete. Budgeting will allow you to see where money can be saved.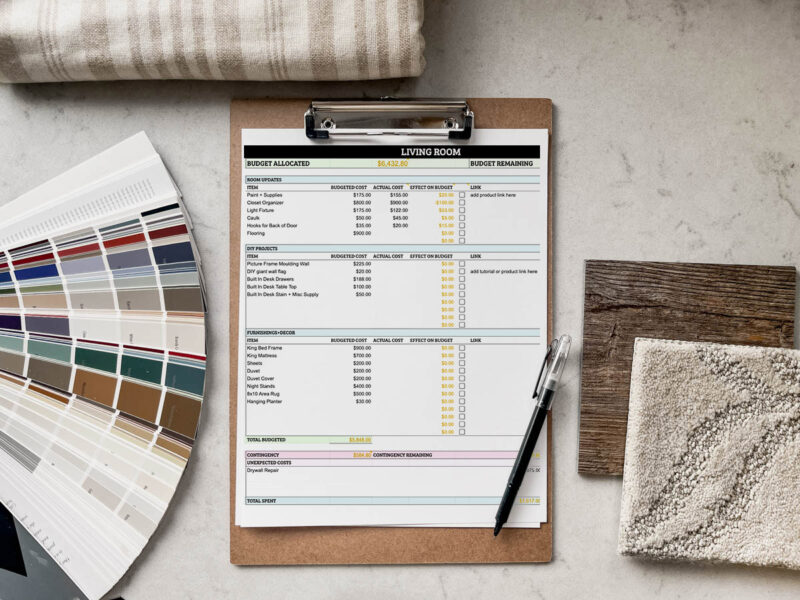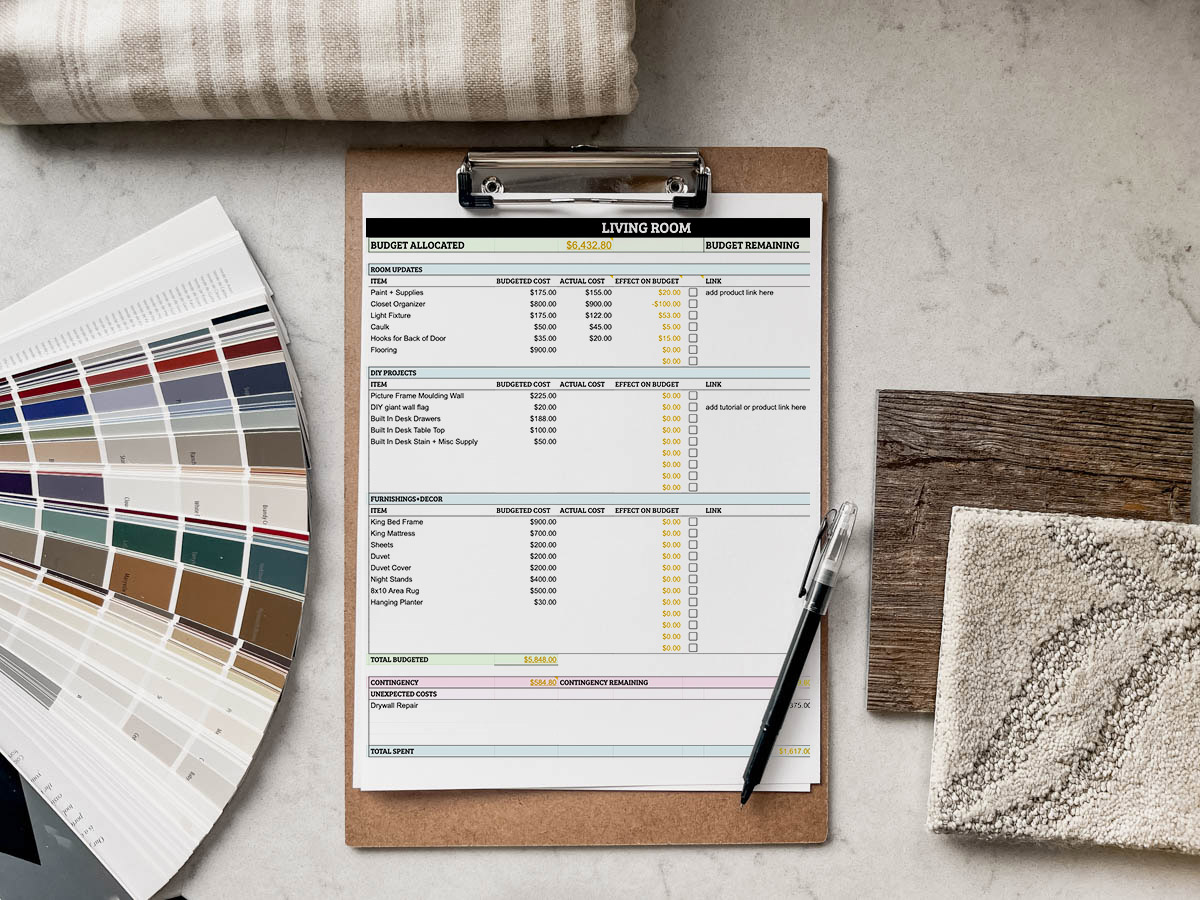 Line Items for Your Budget in your Room
This is my list of things you want to make sure you remember when creating your budget. I have been there done that, forgotten to include these in my budget planning, and then had to scramble to find the money for them at the end of the project. It's just way less fun that way!
I break my budgets into four categories. If you download my free room makeover budget spreadsheet, it is broken down this way.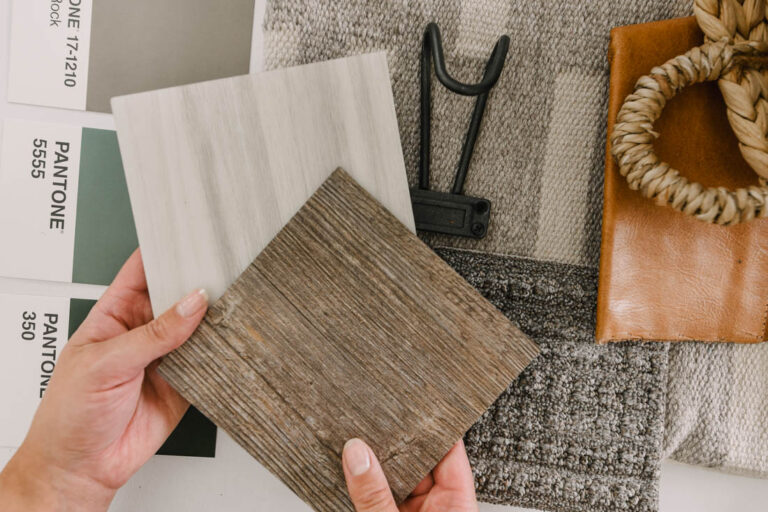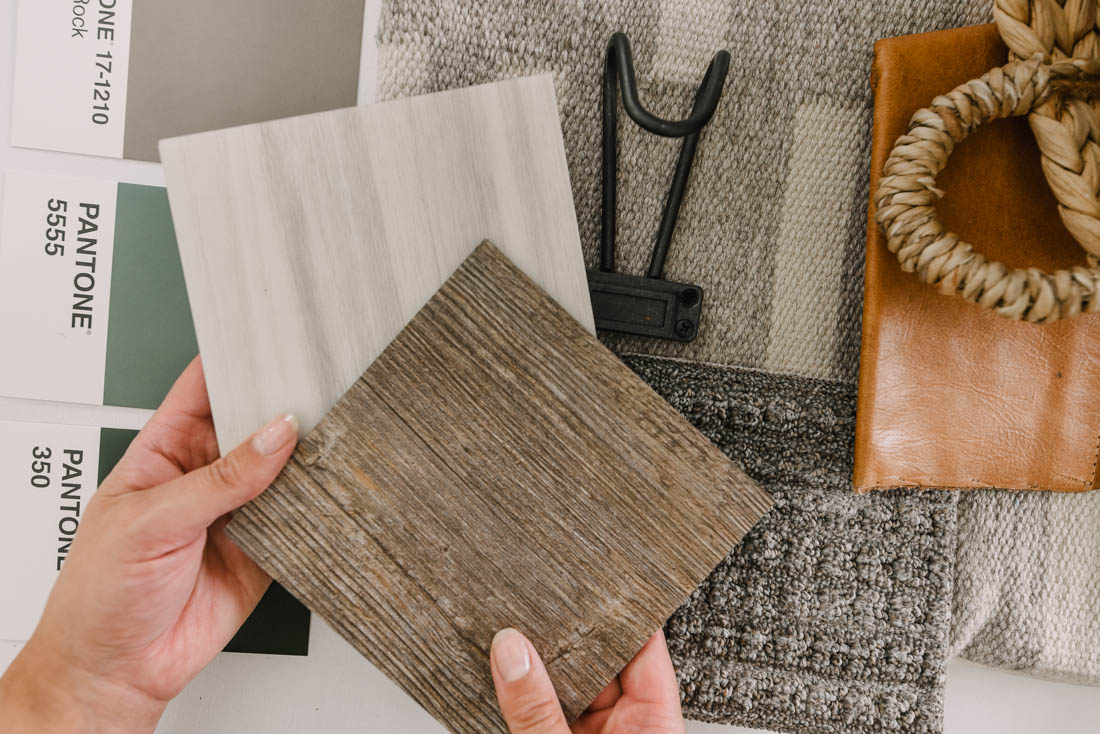 Budget for Room Upgrades
Paint and primer

Playing with new paint colors is so much fun! But remember to factor this cost into your final tally. I like to go with the higher quality paint so it adds up.
Don't forget the paint supplies too if you need new rollers or brushes. It is especially easy to forget the primer, which is essential to furniture and cabinet painting projects.

Tools and equipment
Flooring or wall tile

If you're not just doing a superficial update, make sure you budget in the bigger things like flooring and wall tile.
Get a quote or look a price per square footage and give yourself a healthy buffer when budgeting cost here.

Trades + Installation

If this is a bigger project, you might need to look at hiring out some things. Whether it's tile setting or drywall finishing, you can definitely do it yourself but if you're more comfortable hiring out, don't forget to add that cost in to your budget.
Electrical and plumbing? Gas fitting and cabinet installation? Add those line items in!

Lighting + Plumbing fixtures

Lighting:

Don't be caught off-guard by the cost of new lighting. New lights can cost a lot of money, so you want to decide if that's how you spend your budget or if you look for more budget friendly options.
You can find deals as well- you'll just might be checking Amazon instead of Pottery Barn. Also, consider going bargain hunting on MarketPlace instead. Either way, this is not something to leave until the last second. 

Plumbing:

Faucets, shower heads, bathtubs, laundry basins, hot water spigots and pot fillers… if your space will have water, make sure to factor in your plumbing fixtures. Maybe you want all black faucets or maybe you're happy with a traditional chrome, price both out.
Again, make sure you update your trades section to account for installation if this isn't something you're comfortable doing yourself. Moving plumbing also increases costs in material and trades so keep that in mind when floor planning.

Hardware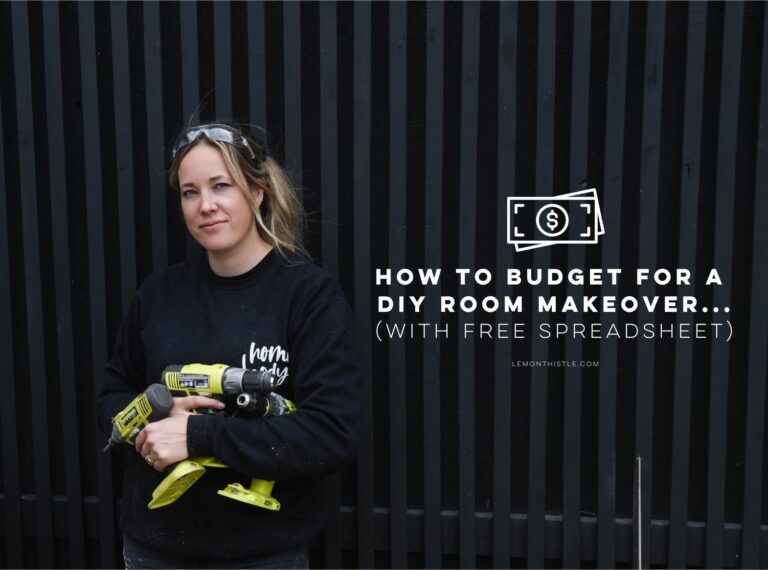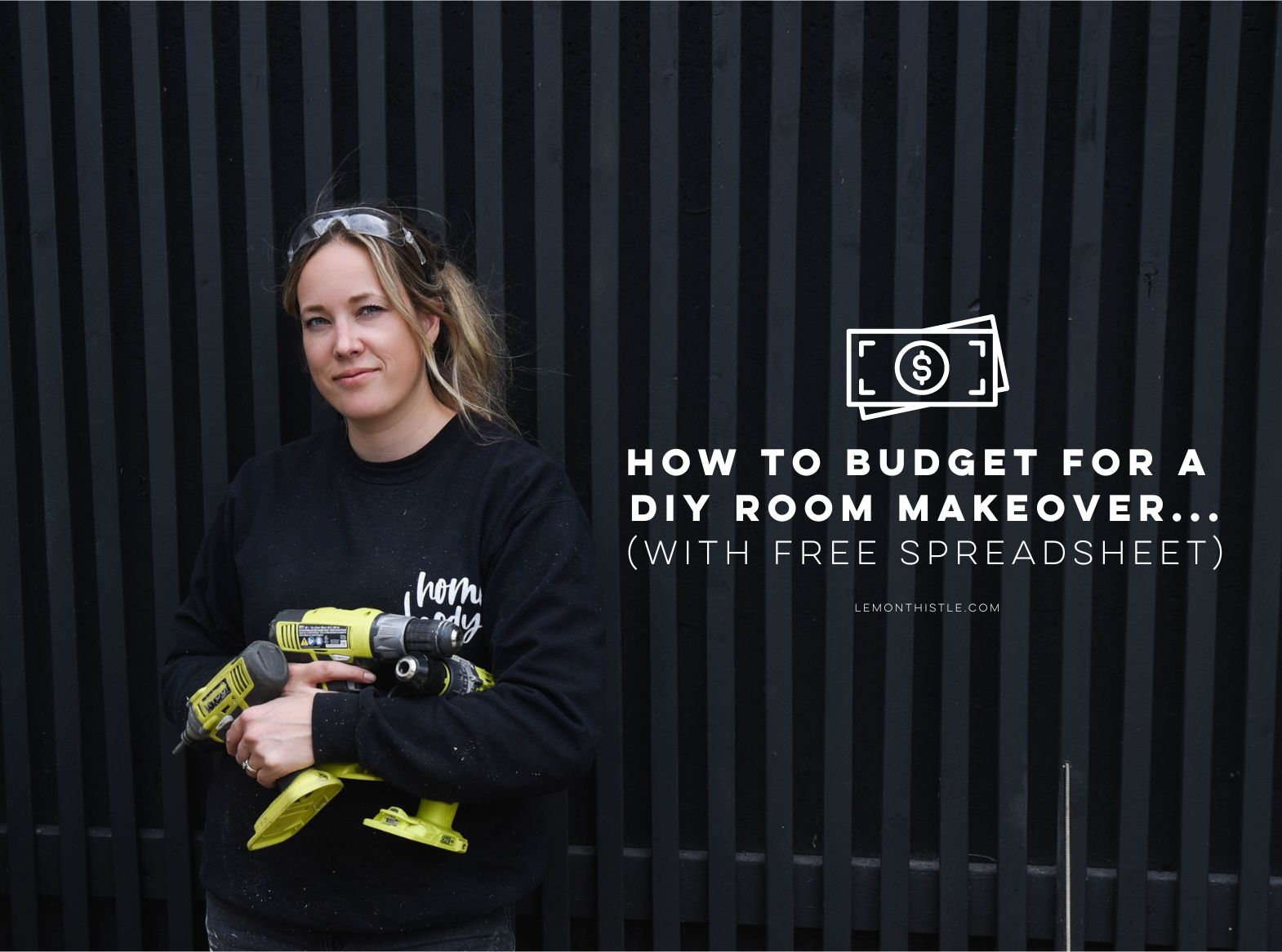 Budget for DIY Projects
I like to plan my DIY projects and budget for these in a separate section since they can often be started ahead of time. This is a DIY blog, after all ;)
Built in features
DIY Furniture

Planning to save some dollars by DIYing furniture? It's a really great place to save some budget! It can also be started way ahead of your room makeover. You don't need to clear out a bedroom or start on kitchen demolition to start DIYing your furniture.
Maybe you'll DIY a dining table or a bathroom vanity. Maybe you'll DIY a kids play table or a countertop for the space. Make a list of your supplies and budget the DIY. Even though DIY will likely save you some money, it will still cost you so account for that.

Smaller DIY Projects

Yes, we've covered some DIY projects already, but think about the even smaller ones. DIY wall art? What will you need cost wise? Making your own window coverings? How much do you expect to spend? Do you have the tools to make it happen?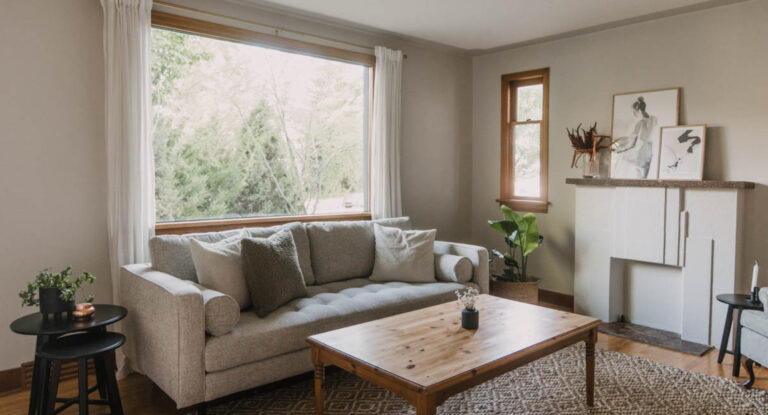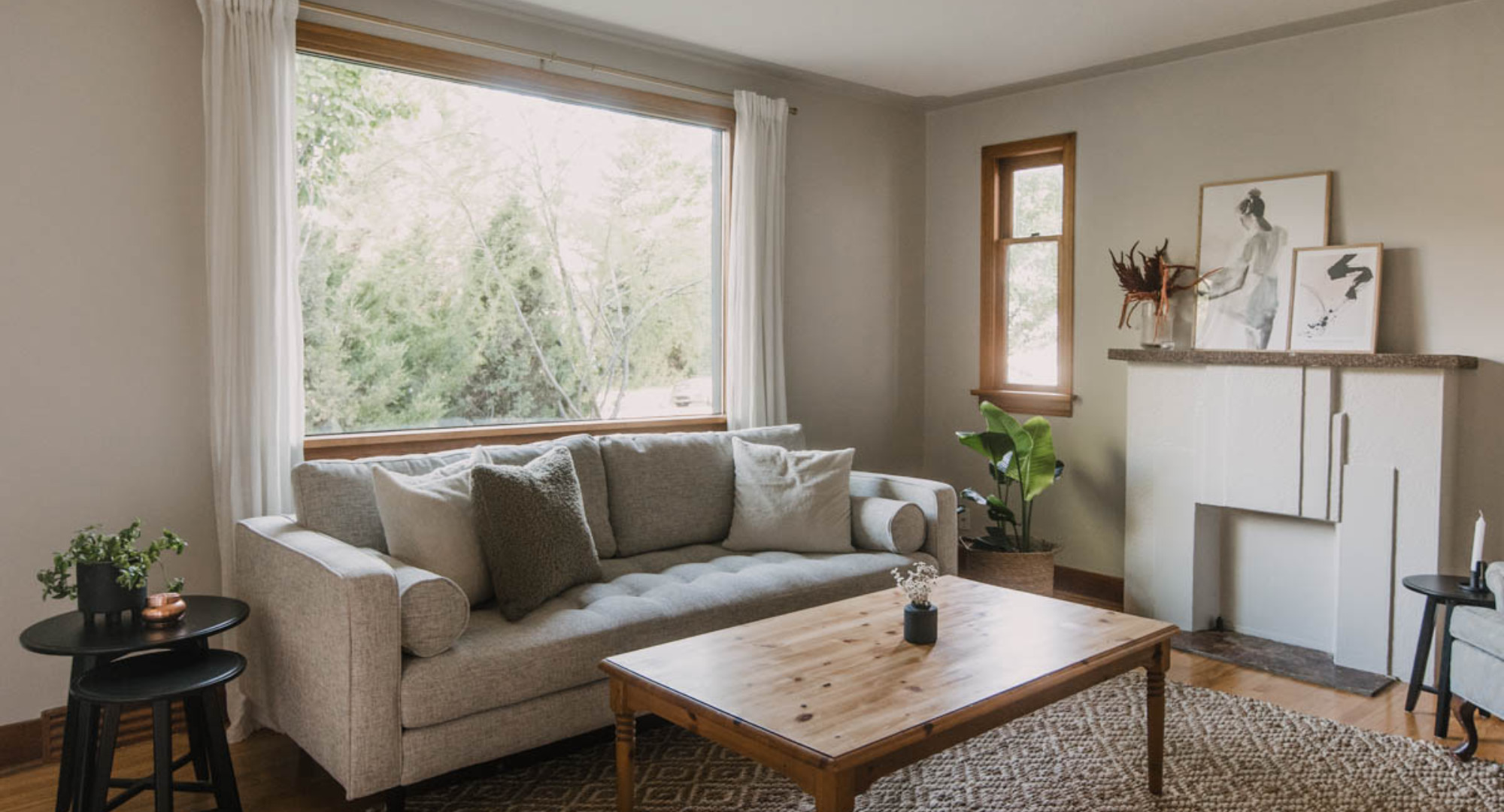 Budget for Furnishings
Furniture

Before you roll your eyes at this, I have legit forgotten I need to purchase big furniture pieces for my makeovers… which is why I now plan every room makeover. What furniture pieces do you wish to have in this room?
Search up a picture of a bedroom or living room and add each piece of furniture to your budget. Don't forget any smaller accent fixtures. Is there pieces you'll be reusing to save budget?

Storage

Storage and organization are so often afterthoughts to a space. For a room that works incredibly hard for your family, consider it as your planning you're room makeover. I promise, you'll be much happier in a room that works for you that isn't just prettier with all the same issues (nowhere to put our stuff!).
Is this built in pieces like a closet organizer (that can go in the built in section), wall shelves for books, or are you wanting to add sneaky hidden storage? Is it new laundry baskets and a tower for storing them? Add those line items in!

Window Coverings
Area rugs

I love what a new rug can do for a space! So depending on the room you have chosen, ask yourself if you will want a new rug too. If you're doing a bedroom, living room, or dining room (anything but a bathroom!), I definitely suggest you consider a rug. I even love washable rugs for outdoor spaces.
An area rug is usually a bigger ticket item than other decor, so make sure you budget it in.

Wall Decor

How do you plan to decorate the walls you're painting? Wallpaper, a large mirror, canvases you're painting yourself or prints you'll be ordering and framing? Maybe a gallery wall or a big ol' wall flag?
The options are endless, but make sure you put a budget in for them. Big empty walls will make your room makeover feel unfinished.

Accessories and accent pieces

Make sure you budget for EVERYTHING! All that decor will go on this list. I like to make this a lump sum ($150, for example then buy little bits as I go and update the 'spent' column in my spreadsheet).
What things might you want to consider here?

Throw blankets
Throw pillows
Accent lighting (lamps)
Plants
Coffee table books
Candles
Vases
Faux foliage
Baskets
Decorative objects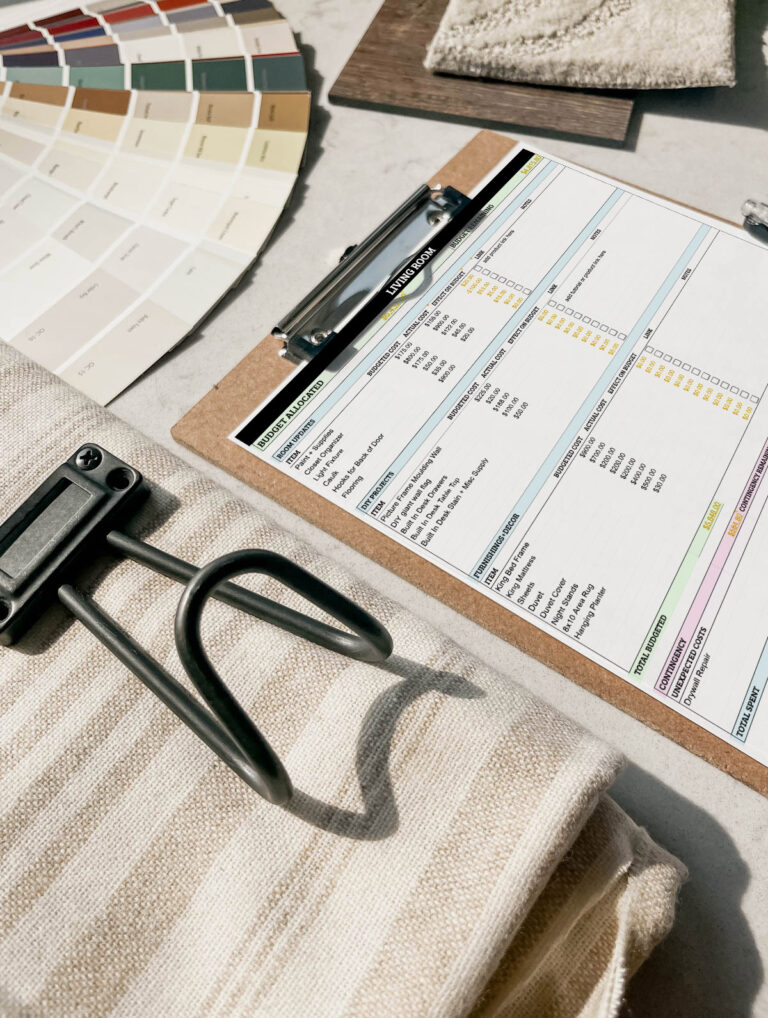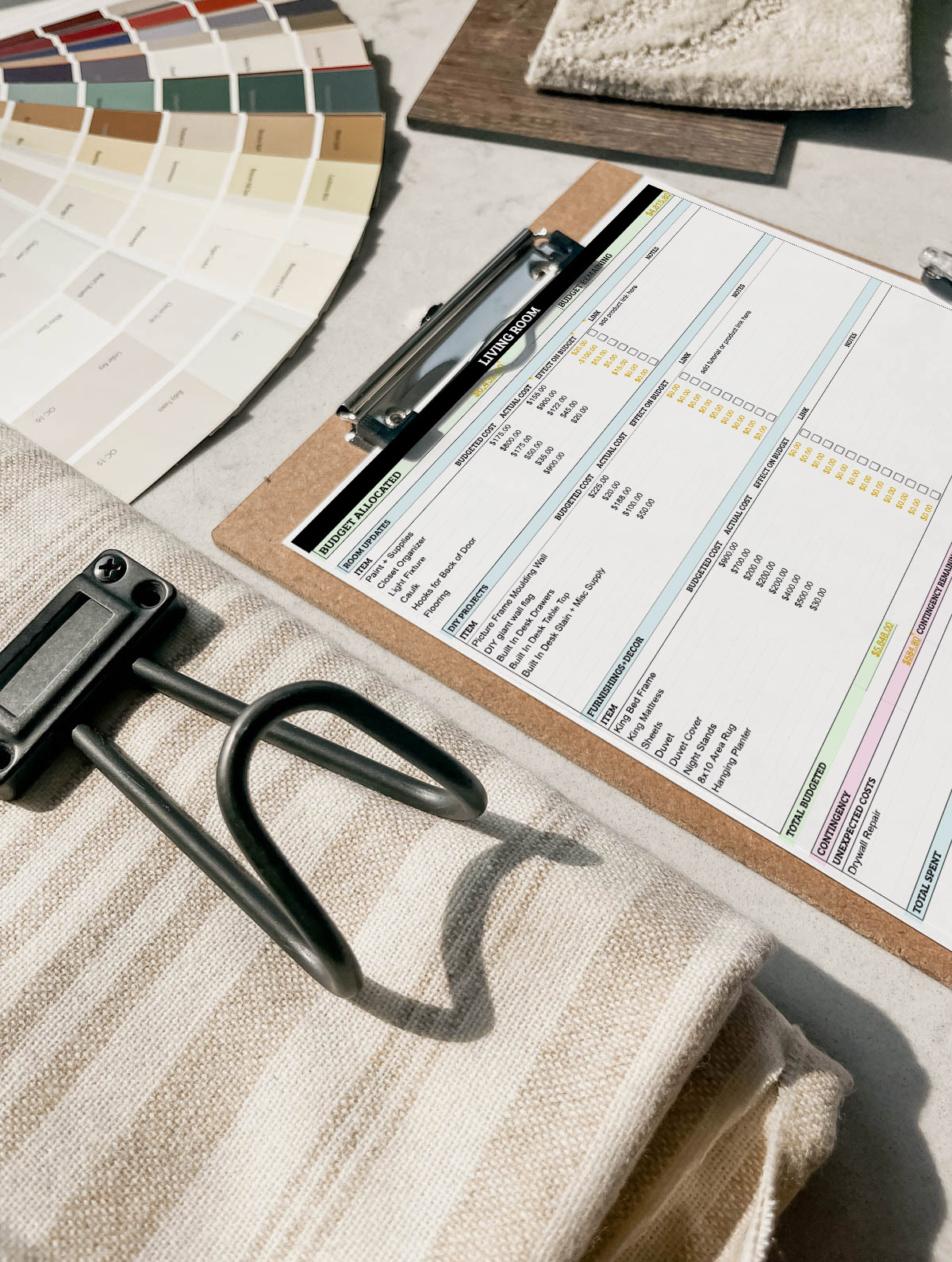 Incidentals + Contingency
Every single budget in the world needs a line item like this. Unexpected costs and surprises are sure to come up no matter how well you have planned your makeover, so just accept it and plan for an extra 10% or so.
If you don't need it, great! If you do, you won't panic. 
In the free DIY room makeover spreadsheet, this section will automatically calculate to 10% of your budgeted costs.
And that's it! Your guide to making a DIY room makeover budget that will give you purpose and direction and take away the worry of over spending. Want to make sure your room makeover hits the mark? This post goes through the things I always consider to get a cozy modern style in any room makeover.
Wondering what else you should be planning beyond the budget? I have an overview of planning a room makeover right here!
I would love to see how the budget you create becomes the room of your dreams. Tag me @colleenpastoor with your before and after pictures, or leave your story in the comments.
---
Pin this for later!
Don't have time to take on a budget right now? Planning to make over your space later this year? Pin this so you can come back to it! Plus, pinning or sharing on FB helps this post reach more people which helps me be able to keep sharing with you. Thank you!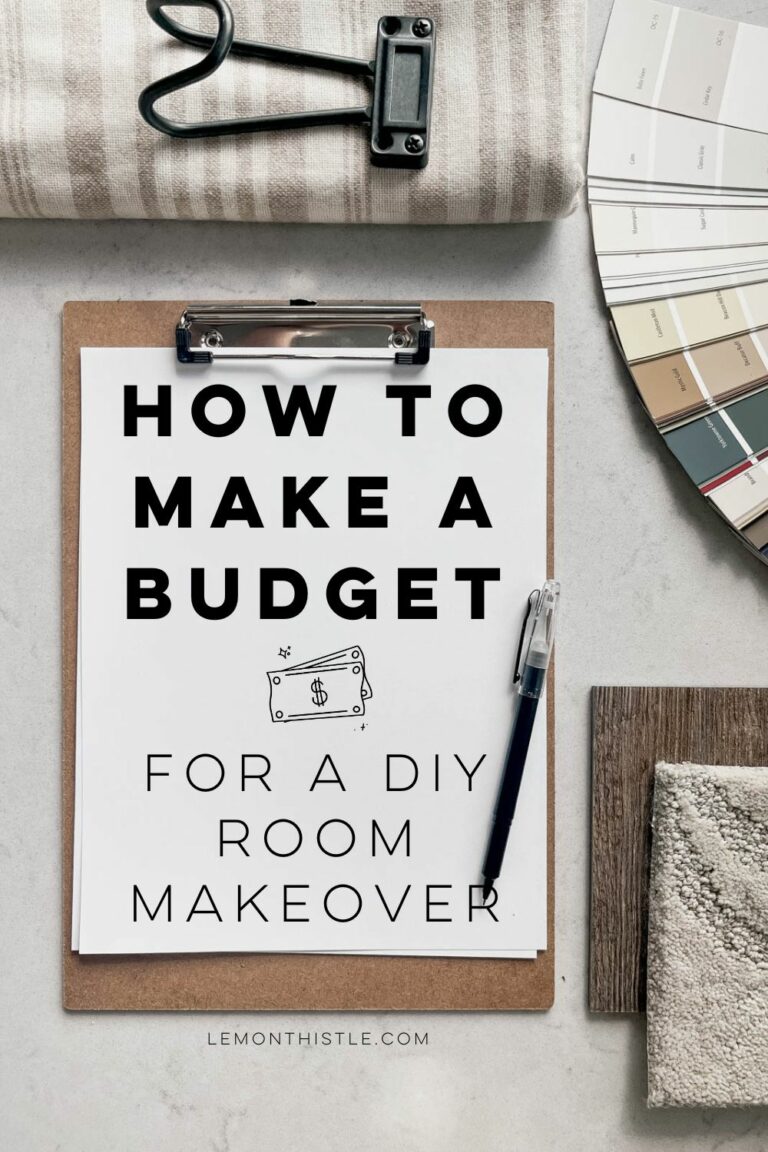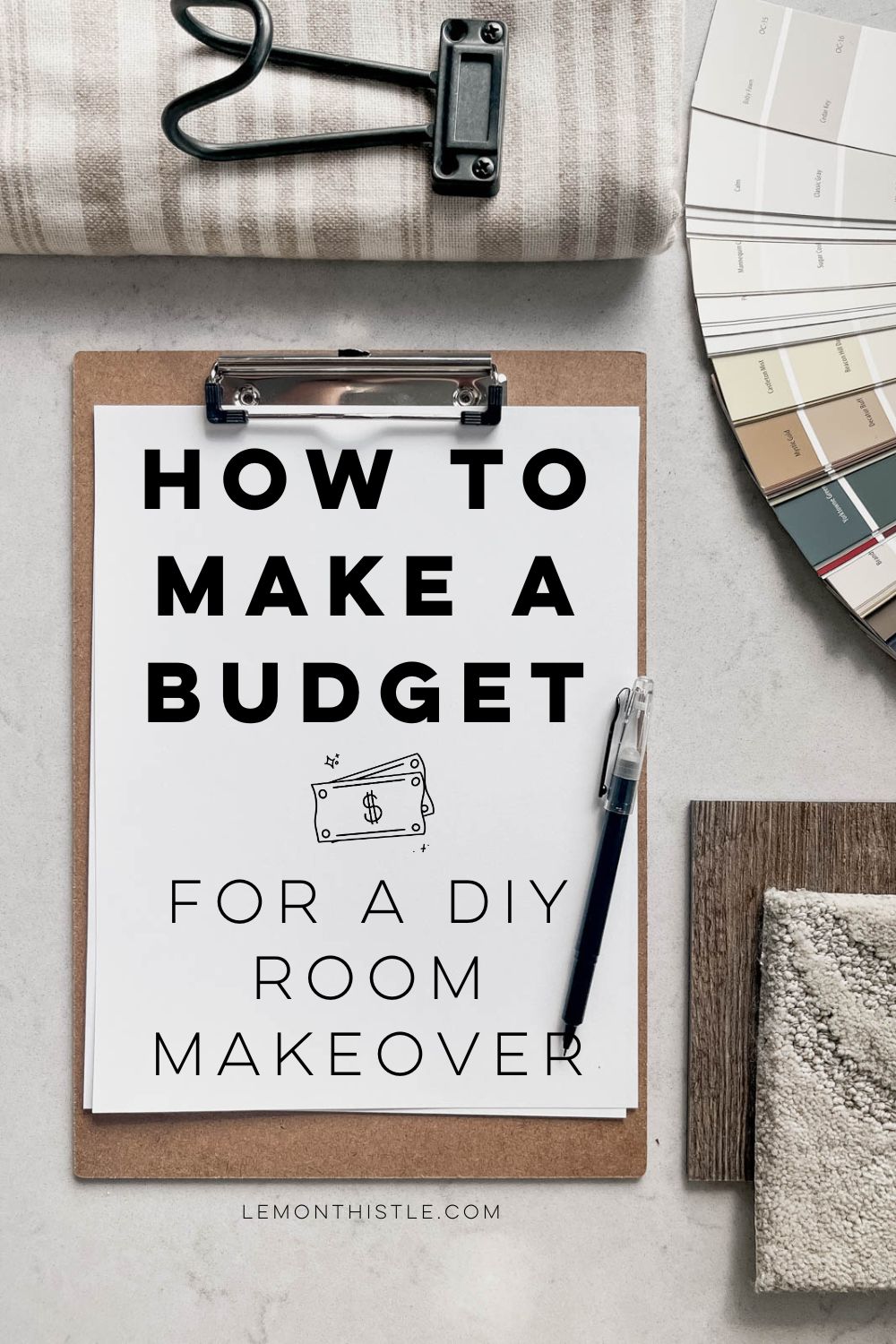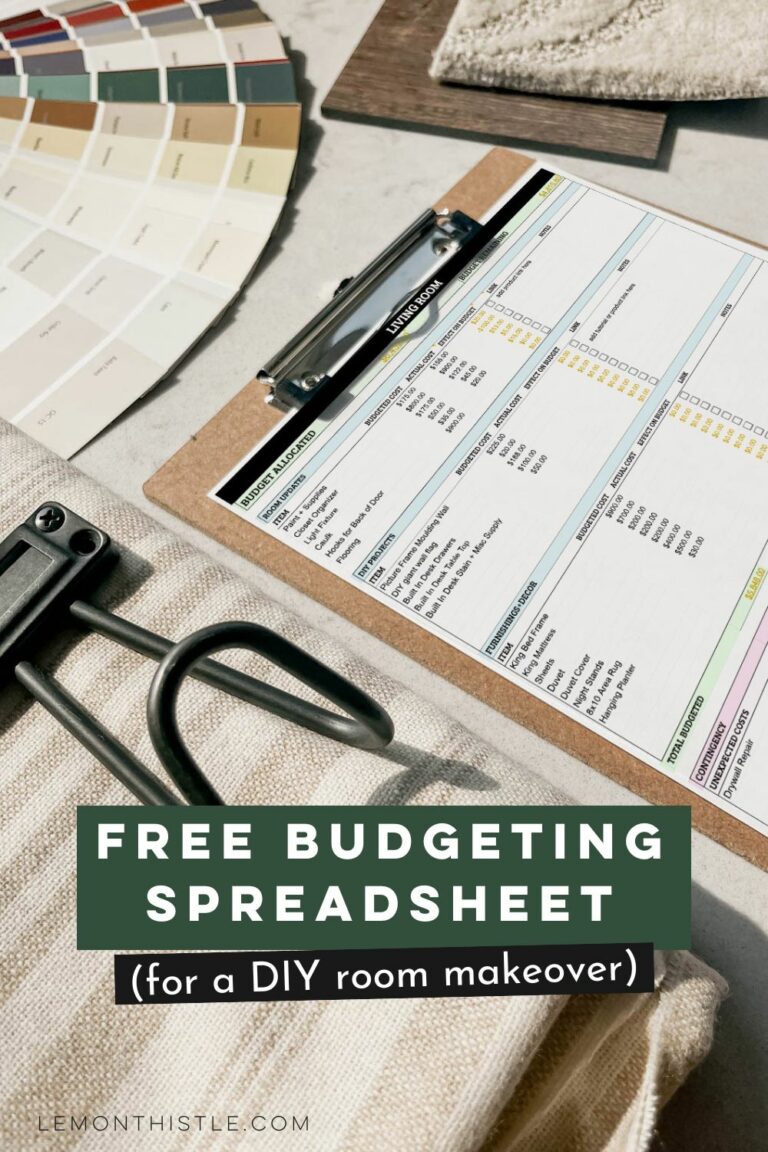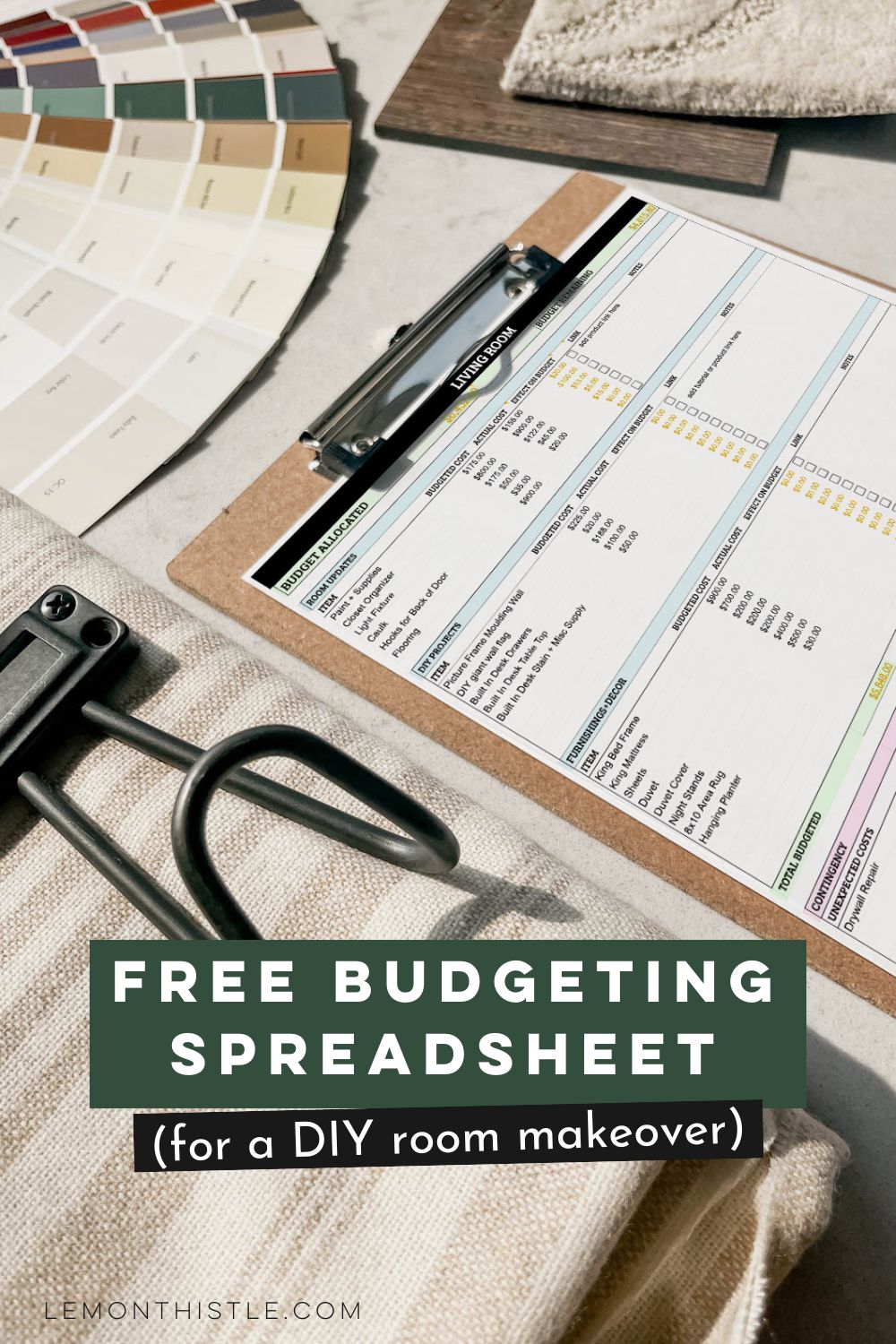 Looking for DIY Room Makeover Ideas?